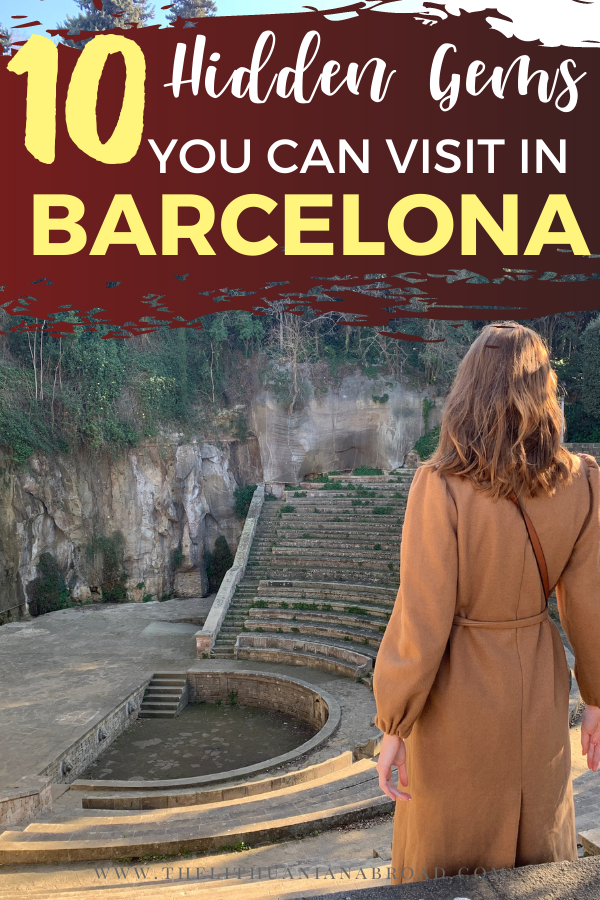 This blog post is for when you want to see the places in Barcelona people usually don't go to. If you are interested in seeing the hidden gems of the city and want to do activities that are not much known. In short, Barcelona off the beaten path. When you have enough of the crowds in the city center and want to dive deeper into Barcelona's history and local scene. This is for the people that already have seen la Sagrada Familia, have already gone to La Boqueria market, and know every single angle of Park Güell. Maybe you have been to Barcelona before and I cannot surprise you with any of the common activities and tourist places. Does that sound like you? Then, this post is for you.
This post includes 10 unknown places in Barcelona you have to visit. Places you probably have not seen before and once you go there, you will be asking yourself "How did I not know about this!!!" So, let's jump into it.
---
Affiliate links may be sprinkled throughout the free content of this blog post. If you purchase from one of the links I may receive a small commission while the price for you stays the same. This helps me cover the costs of The Lithuanian Abroad. Gracias!
Other posts about Barcelona you have to check out:
Let's do a self-guided walking tour of Barcelona: This post includes an itinerary for a walking tour in Barcelona you can simply do by yourself. There is also an interactive map you can download and display on your phone so you know where you are at any moment.
Mount Tibidabo, the perfect one-day trip from Barcelona: If you still have not been to Mount Tibidabo, you should definitely go! The views of Barcelona are incredible up there and it is also home to Europe's oldest amusement park. You can find more information in this blog post.
Barcelona bucket list with 20 fun activities: Don't run out of things to do in Barcelona with this amazing bucket list. This list includes mind-blowing museums, Gaudí buildings, walking tours, the best bars and restaurants, and even more!
12 Things you can do in Barcelona at night! Explore Barcelona's nightlife! This blog post is full of ideas about what to do in Barcelona in the evening. Apart from going out, what else can you do in Barcelona at night with friends, alone or with your loved one?

Don't skip a free walking tour in Barcelona:
I always tell my family and friends how much I love doing free walking tours when I visit the city for the first time. That is why I want to mention them here as well. Free walking tours are the perfect way to see the city through the eyes of a local. The local guides do an incredible job showing you the city and telling you interesting stories about its history. But not only that! You can also ask them for recommendations about what other places you should see after the walking tour.
So, how do free walking tours work? These tours do not come at a specific price, which is why they are free. You need to save your spot in advance, but it's free as well. You will spend a couple of hours walking around Barcelona while the guide tells you everything you need to know about the city. After the tour, you have the chance to leave your guide a tip. And it's totally up to you how much you want to give them. It really depends on how much you liked the tour and what's within your budget. I promise you will love it!
Book your free walking tour in Barcelona here.
Have you heard about the hop on hop off bus in Barcelona?
The hop-on-hop-off bus in Barcelona is a great way to explore the city without having to walk so much. If you are not planning to stay too long and want to see as much as possible of the city, this is for you. How do these buses work?
The hop-on-hop-off buses drive around Barcelona in a circle where they stop at more than 30 stops. These stops are all close to the city's main attractions, like the Sagrada Familia. With your ticket, you can simply get on the bus and leave once it reaches your desired stop. When you are ready to leave you just have to wait for the next bus to come, which is usually only a couple of minutes away.
You can find more information here.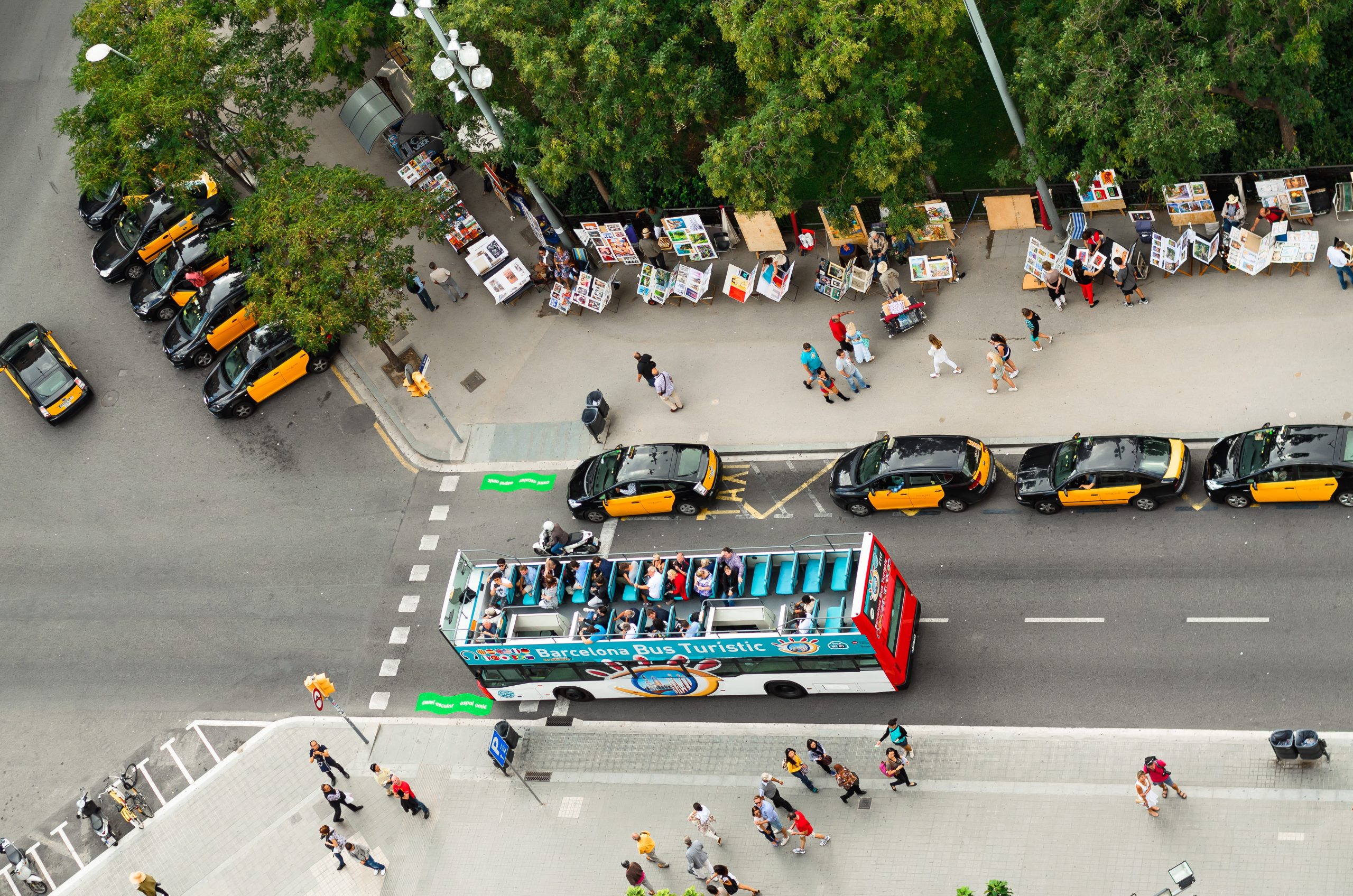 Have you ever been to a Flamenco Show in Barcelona?
But isn't Flamenco from the South of Spain? Yes, you are right. No doubt, you will find the best performances of Flamenco there. But, there are also Flamenco theaters in other areas of Spain that will give you an authentic experience. I just think that if you are already in Spain you should take the chance of watching a Flamenco Show. It plays a very important role in Spanish culture and I promise you will be left speechless. 
In Barcelona, you can watch a world-class Flamenco performance which takes place at the City Hall Theater. This is a gorgeous theater from the 19th century. A ticket for a one-hour performance only costs 18€, which is very affordable. You can book your tickets online here.
Another really beautiful place is Tablao Flamenco Cordobes. It is an authentic Flamenco place right at La Rambla. It was founded in 1970 and is owned by a family of artists. Check it out!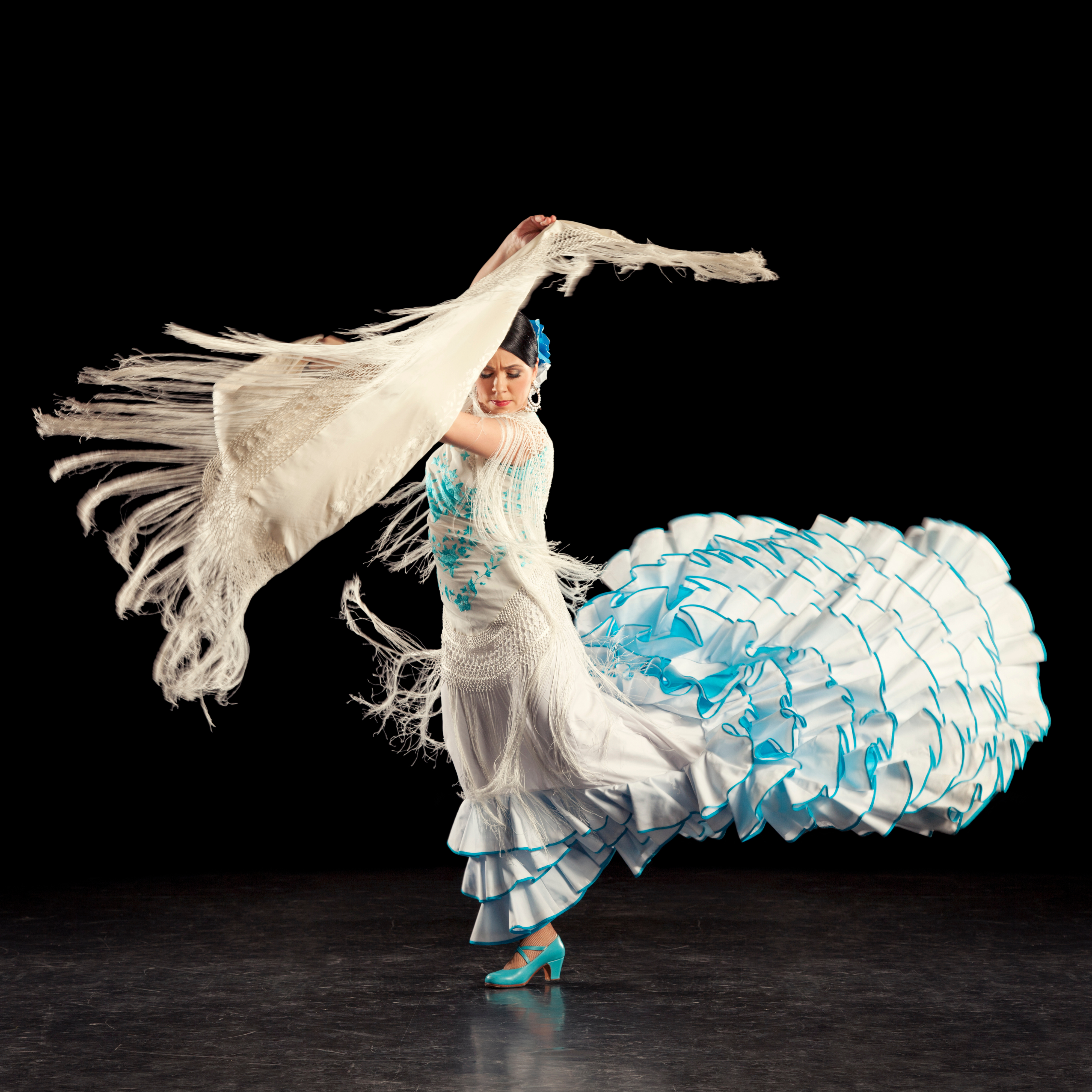 Let's start: 10 Barcelona off-the-beaten-path places you should know about!
1. The Gaudí building many don't know about: Casa Vicens
Let's start with a place that is definitely not unknown, but I feel like it does not get the attention it deserves: Casa Vicens. This piece of art was the first building Gaudí designed, built from 1883 to 1885. It is one of the lesser-known Gaudí buildings, but I believe that it is totally underrated!
Casa Vicens was initially a private villa. After Gaudí finished his architecture degree Manual Vicens hired him to design the summerhouse for him and his wife. Back then, Gràcia was still a suburb of Barcelona, where many wealthy families had a second home in Gràcia.
Gaudí designed a mansion with a total of four floors, and stylistically, it clearly belongs to his oriental phase. And as always, we can see that Gaudí took inspiration from elements we can find in nature. There are a lot of details in Casa Vicens and seeing it from the inside will leave you speechless. You will have access to all of the rooms in the house during the tour. The highlight of your visit will be 'the smoking room'. Casa Vicens was declared a UNESCO World Heritage site in 2005. 

I would advise getting your ticket in advance as it is one of the attractions that are likely to sell out. This ticket enables you to skip the lines on-site so that you do not lose too much time queuing.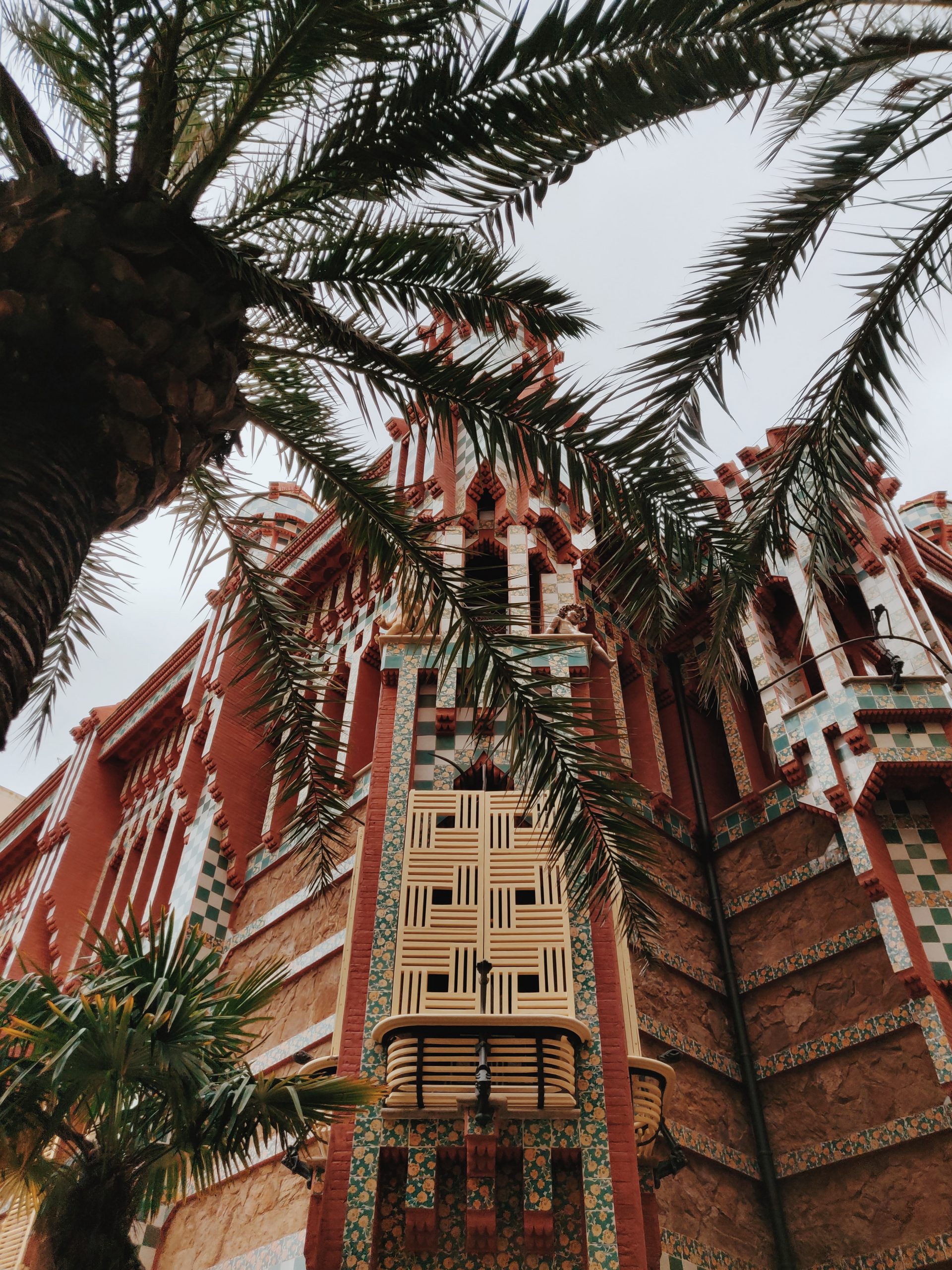 2. Find your way through the maze at Parc del Laberint d'Horta
Parc del Laberint d'Horta is the oldest conserved park in Barcelona and such a beautiful place to visit! To me, it is one of the most beautiful parks in Barcelona. It is located further away from the city center, but trust me, going there is absolutely worth it. 
About the park: It was created in the 18th century by Marquis Desvall for the Catalan nobility who owned this place until the 1970s when it was acquired by the city council. The first thing you see when you enter the park is the little castle, which is the Palais of the family Desvalls, the previous owners of the park. What makes this park special, is that it has elements of Romanticism, Neoclassicism, and even elements of Greek mythology.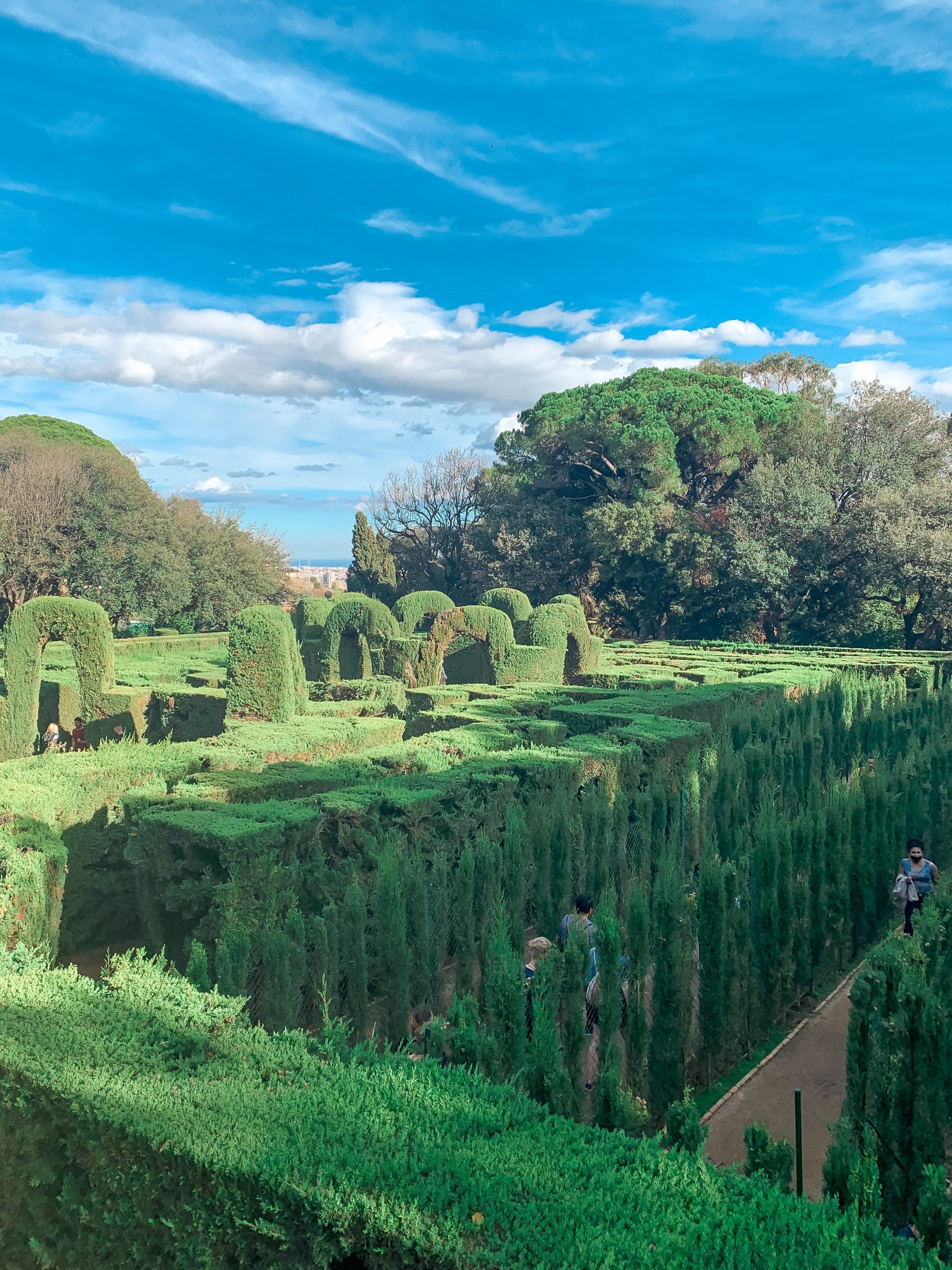 The highlight of the garden is the labyrinth made out of cypress hedges, which gives it its name. And now, of course, it is your challenge to find your way through the park! Once you make it to the center of the park you will see a statue of Diana the huntress waiting to be found by visitors. When you make it through the maze you can walk around the beautiful park area. Look for the beautiful neoclassical pavilion and the little pond. So romantic! By the way, this is also a great destination for children. It will be the highlight of their day to make it through the labyrinth. 
Entrance is free of charge on Wednesdays and Sundays, which are also the days when it can get crowded. On the other days, it costs 2.23€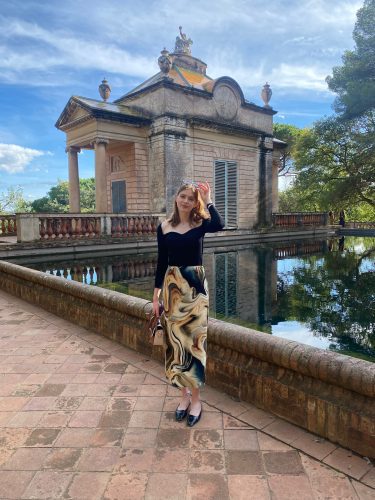 3. Visit Monasterio de Pedralbes, a fairytale monastery
One of my favorite hidden gems in Barcelona! Imagine walking around an amazingly well-preserved monastery from the 14th century while admiring the old furniture and finding out more about its interesting history. That is Monasterio de Pedralbes in a nutshell! 
This secret place in Barcelona is a little further away from the city center, but again, I encourage you to go there and let me know what you think about it. The monastery was created in 1324 by King James II of Aragon for his wife Elisenda de Montcada. During the next hundreds of years, it mostly housed members of noble families. The whole complex consists of a cloister of 3 floors, a central garden, and a small palace that is annexed to the cloister. Elisenda built this palace in 1327. So you can imagine how old the whole place is!
The monastery was declared a national monument in 1991. Nowadays, it is a museum that shows its own exhibitions that consists of many paintings, furniture, and other requisites. I was very surprised by how well-preserved everything was. And you get to see practically all areas of the monastery! Make sure to look at the beautiful garden as well. It is full of orange trees and a small fountain.
By the way! Entrance is free on Sundays from 3 pm & the first Sunday of the month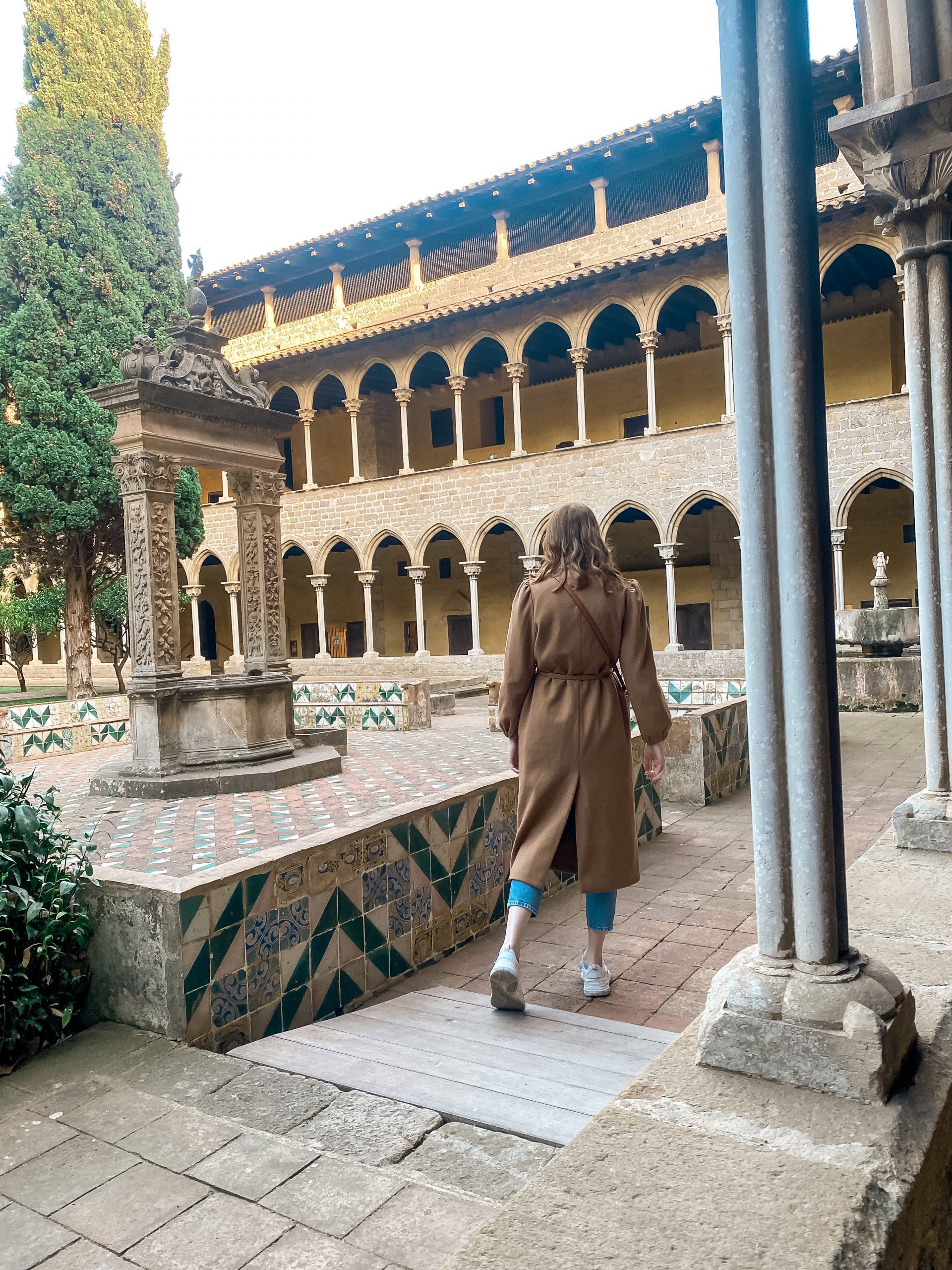 4. Are we in Greece or Spain? Visit Barcelona's Greek Theater
The teatre grec is an open-air theater that was built for the International Exposition in Barcelona in 1929. After the exposition, this theater was widely forgotten about, until Barcelona's City Council decided to refurbish it in the 1970s. In 1976, for the first time ever the Grec-Festival took place in Barcelona. Every summer, it is an important event that unites art, culture, and music together. This festival got so big and popular that many concerts and shows take place in several parts of the city, but the teatre grec is still the main place. 
But I think you can visit the teatre grec and the whole park surrounding it the whole year-round. This is one of Barcelona's higher areas which means you have absolutely beautiful views of the whole city. And the park that is surrounding it is worth visiting as well. There are so many pretty places to explore.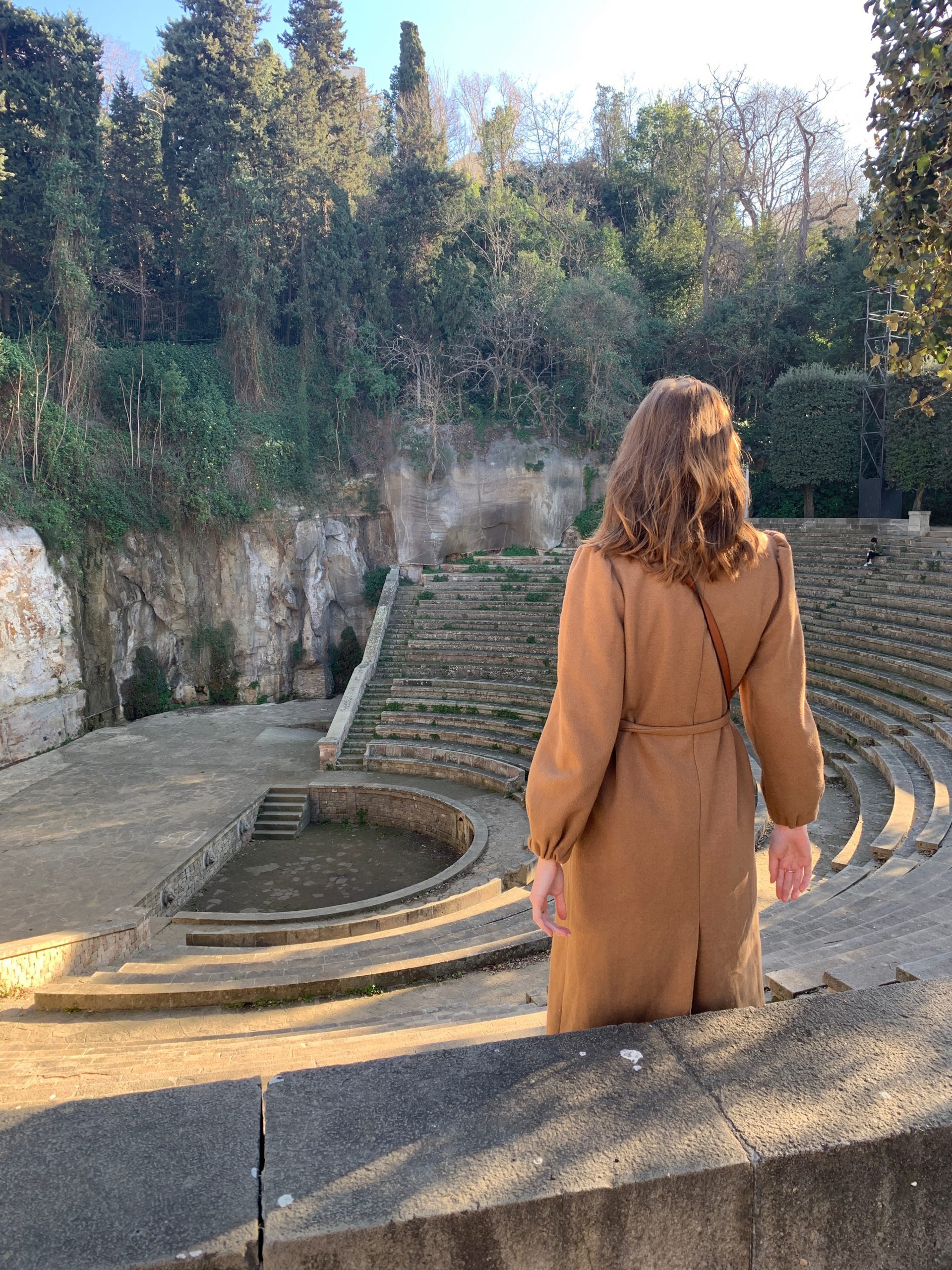 5. Where to have the best view of the Sagrada Familia? 
Ok, I know anything related to the Sagrada Familia might not be news to you. If you ended up on this blog post you probably already have seen it inside and out (If not, I highly recommend getting your tickets so can have a look at it from the inside here). But, did you know where you can have the best view of the Sagrada Familia? And see all the details of the building from an angle you probably have not seen before?
My recommendation to everyone that goes to Barcelona is to see this majestic masterpiece from the rooftop terrace of Hotel Ayre Rosselón. It is a hotel right next to the Sagrada Familia and the best part: The rooftop is accessible to the public if you make a reservation before. When we went there in December I was speechless to see the Sagrada Familia from a whole different angle. Highly recommended!
Important: You need to make a reservation in advance here. The reservation itself is free, but you have to order food/drinks when going up there.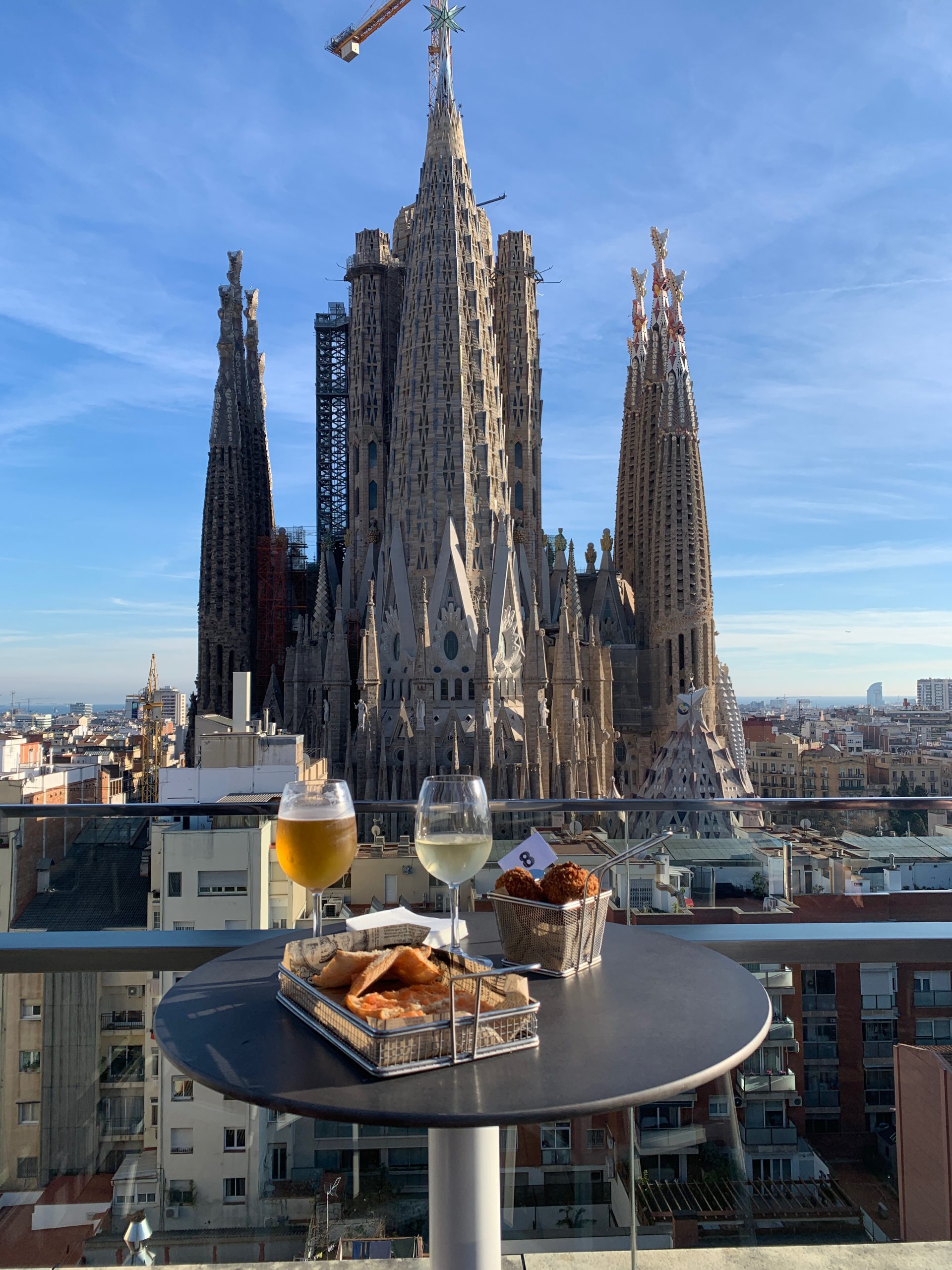 6. The best viewpoint in Barcelona: Mirador del Alcalde
There might be maaany different opinions about what the best viewpoint is in Barcelona, but mine is Mirador del Alcalde. It is very close to Montjuïc so if you are in the area it could be worth checking out this place as well. Right next to it we have one of the stops of the Telefèric (cable car). In case you would like to get there by cable car, you can find more information here.  
By the way, it is such a fun place when there is good weather! The Mirador de Alcalde has a great 180-degree view all over the port of Barcelona to the whole city, while you can clearly see the tall buildings in the skyline. The viewpoint was designed by Joan Josep Tharrats in 1969. 
The whole viewpoint consists of small decks on different levels that are connected by a beautiful fountain, plants, and ornaments. Around the whole area, you can find palm trees that give it a calm Mediterranean vibe. It is a very quiet place where you can hang out and enjoy the view. Especially, during sunset, this place becomes a bit more popular. But I have never seen it crowded. During the warmer days, there is a small shop where you can buy drinks and relax there for a moment. Put this place on your bucket list!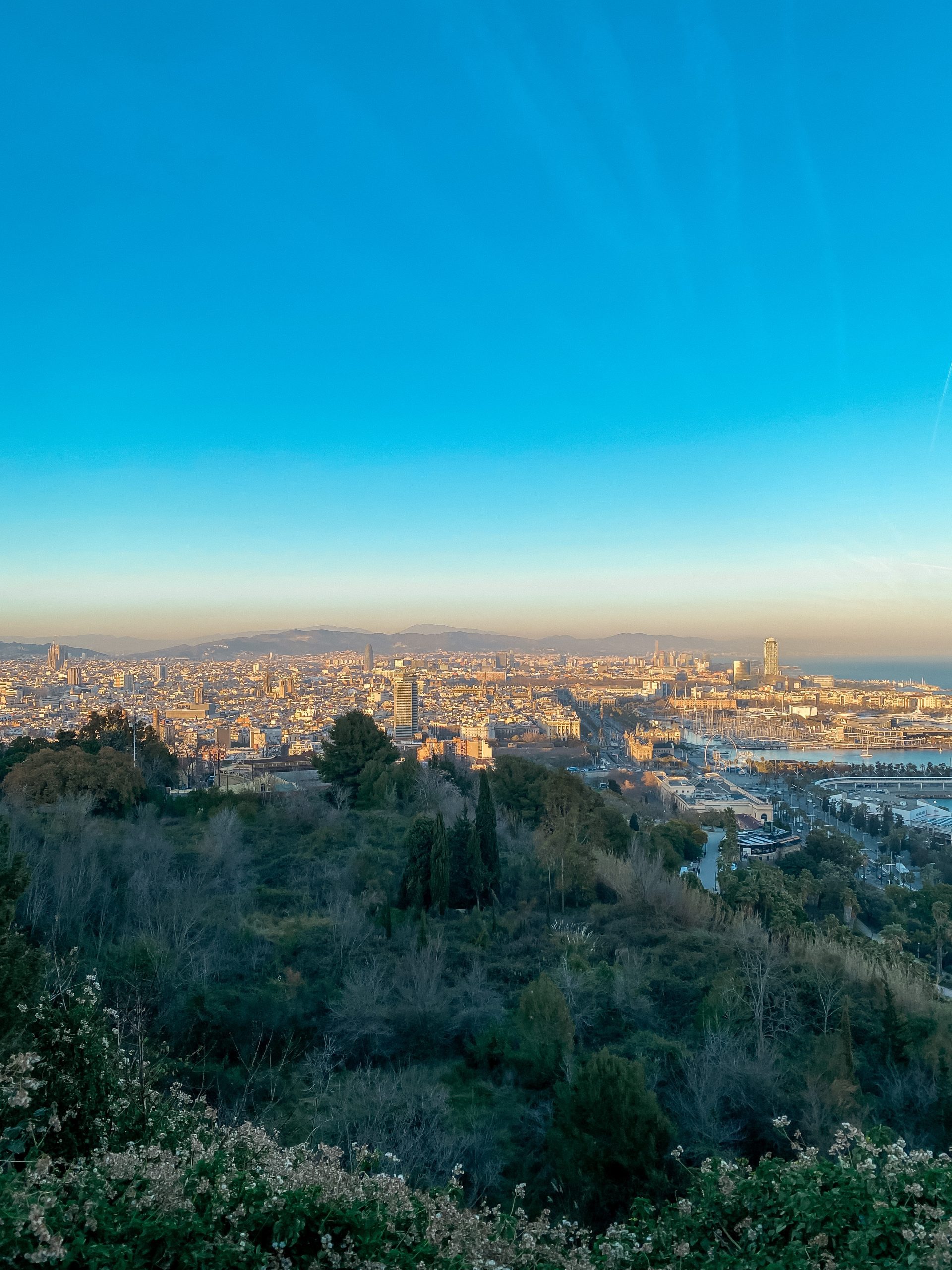 7. Visit Bar La Plata, an old Spanish Bar from 1945
Bar 'La Plata' is one of the most authentic places I have ever been to in Barcelona. This little bar in the neighborhood of El Born was founded in 1945. The interior looks very beautiful and authentic. The walls have the typical 'azulejo' (tiles) pattern that is typical for bars in Spain. Very beautiful!
And the special thing about it: It offers the same tapas as when it was inaugurated in 1945: olives, pan con tomate (bread with tomato), fried fish, and anchovies. Sometimes they do have an additional tapa, but that is about it. The bread with tomato is one of my favorite things to try in Barcelona so it really is my favorite thing to order at this place. 
Make sure to try their house-made vermouth. They even sell it here by the bottle if you like it and want to have more of it. I took my mom to this place and she loved the vermouth and the olives. As they say have 'la tapa en la plata' (tapas in bar la plata!)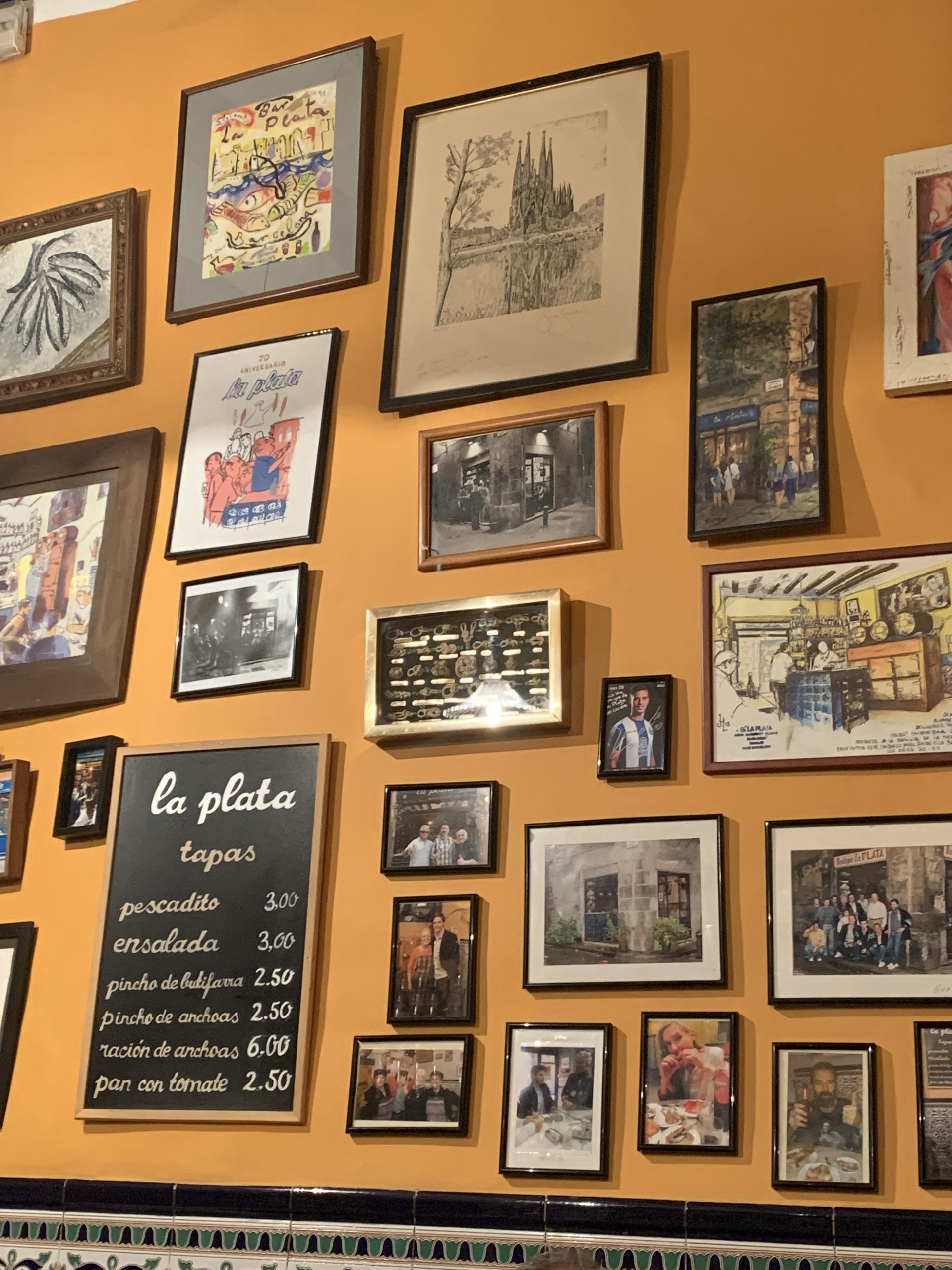 8. Explore the local markets of Barcelona: Santa Caterina Market & Els Encants
After you have already been to la Boqueria and tried everything they had at el Nacional are you ready to visit some local markets? I feel like local food or second-hand markets just tell so much about the place you visit. And I just love looking through the different things locals offer, from old furniture, second-hand clothes to old dishes and souvenirs. Who knows, maybe you will find the perfect Barcelona souvenir during your market visit?
Here are two markets in Barcelona you have to check out:
Get hungry at the Santa Caterina Market in Barcelona
This colorful food market is located in the Born neighborhood in Barcelona. And it has a very interesting history: It was built in the first half of the 19th century to provide the wealthy inhabitants of this area with food. After the Spanish Civil War, this market was the main provider of food for all the areas around Barcelona. 
Nowadays it absolutely worth visiting. You can walk around and explore the food stalls full of local food. The restaurants are worth checking out, as well. You will be overwhelmed by so many amazing options of Spanish food!
Opening Hours: Monday, Wednesday & Saturday, from 7.30 am to 3.30 pm. Tuesday, Thursday & Friday, from 7.30 am to 8.30 pm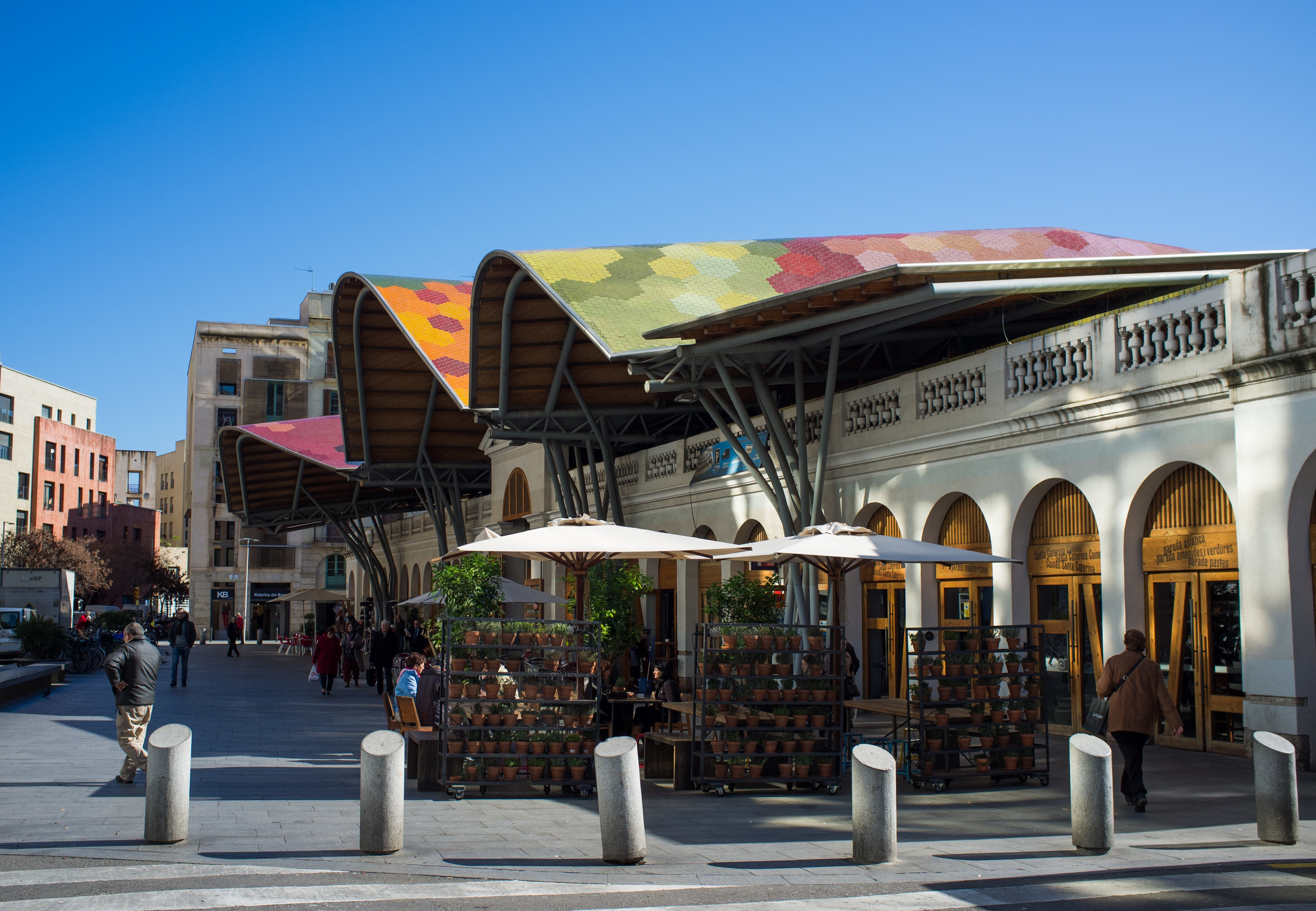 Find a cute souvenir from Barcelona at the Els Encants Market
Now that is a local market in Barcelona: The Els Encants Market goes back to the 14th century when used things used to be sold right next to Barcelona's city walls. During the next hundreds of years, the location of the market changed from time to time, but now it is located in the Plaça de les Glòries.
At this market, you can really find all kinds of sold goods – from vintage clothes, old furniture, textiles, second-hand clothes… And who knows. Maybe you can find a unique souvenir from Barcelona? An eye-catching feature of the market is the roof that is completely mirrored. So not only look down at the sold goods but also up to the mirrored ceiling 😉
Opening hours: Mondays, Wednesdays, Fridays, and Saturdays from 9 am to 8 pm
9. Learn about the tragic history of Plaça Sant Felip Neri
Many people do not know about the sad history of this beautiful plaza which is why I added it to this blog post. Plaça Sant Felip Neri is a small square with a beautiful little fountain, right next to the Church Sant Felip Neri. This beautiful little square actually has a very sad story: 
Fascist bombs hit this place in January 1938, killing 42 people, mainly children that sought refuge in the bunkers underneath the church. You will see the damaged walls of the buildings on this plaza. It reminds us of the Spanish Civil War and the many lives it took. You can find a small sign placed on the square for the victims of this tragic night.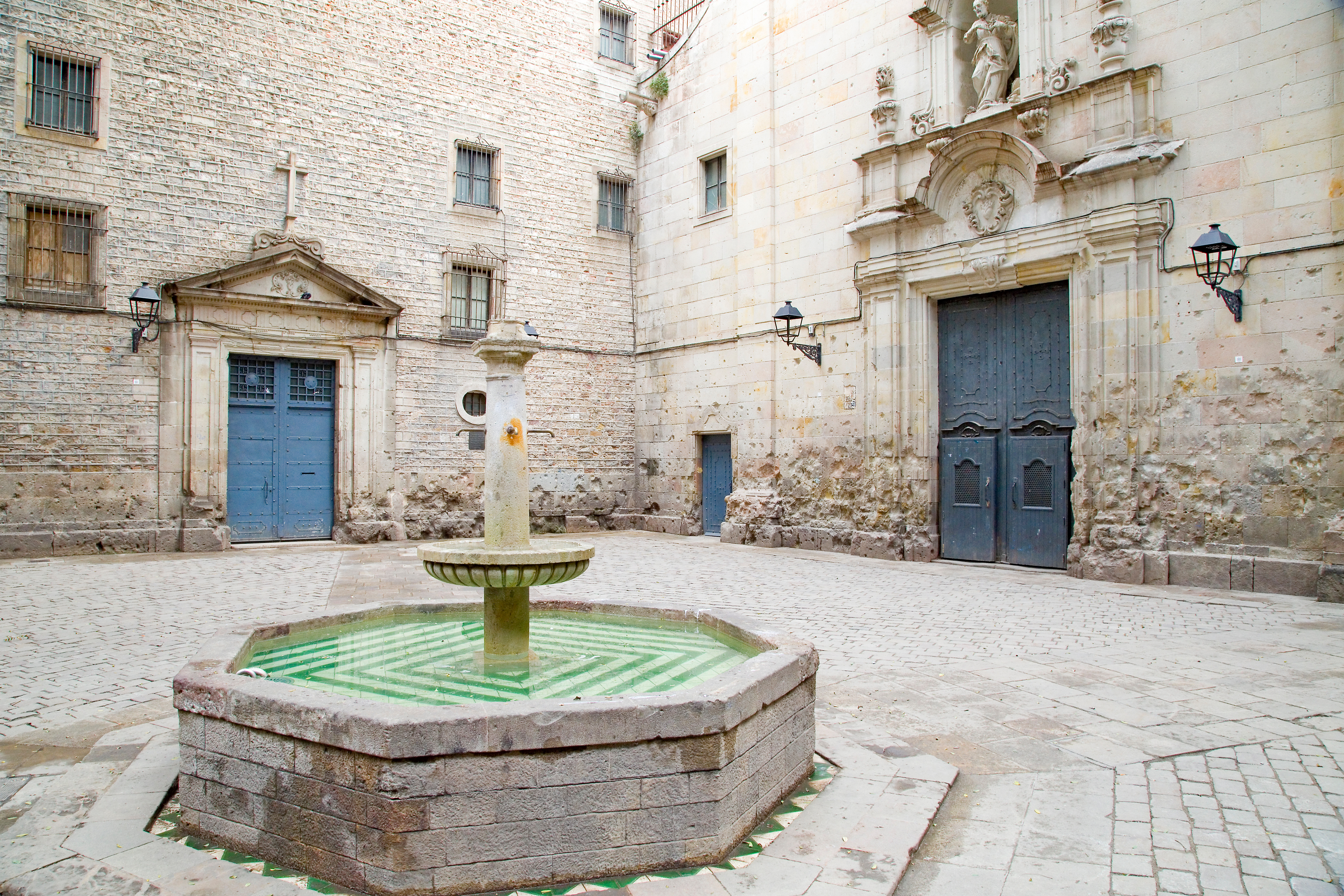 10. Explore Barcelona's cactus park at Jardines de Mossèn Costa i Llobera

This beautiful garden is located in the South of Montjuïc and is home to an outstanding collection of cacti and succulents. While researching this blog post I even found out that this part of Barcelona has a unique microclimate. Because this area is protected from the wind, it is always a couple of degrees warmer there than in the rest of the city. This is also the reason why you will find plants here that usually would not survive Barcelona's climate. But not only that, but due to its location, you also have amazing panoramic views of Barcelona's coastline from here.
In 1987 the New York Times included the Jardins de Mossèn Costa i Llobera in a list of 'The 10 most beautiful gardens in the world'. And if that has not convinced you yet, entrance is free of charge as well!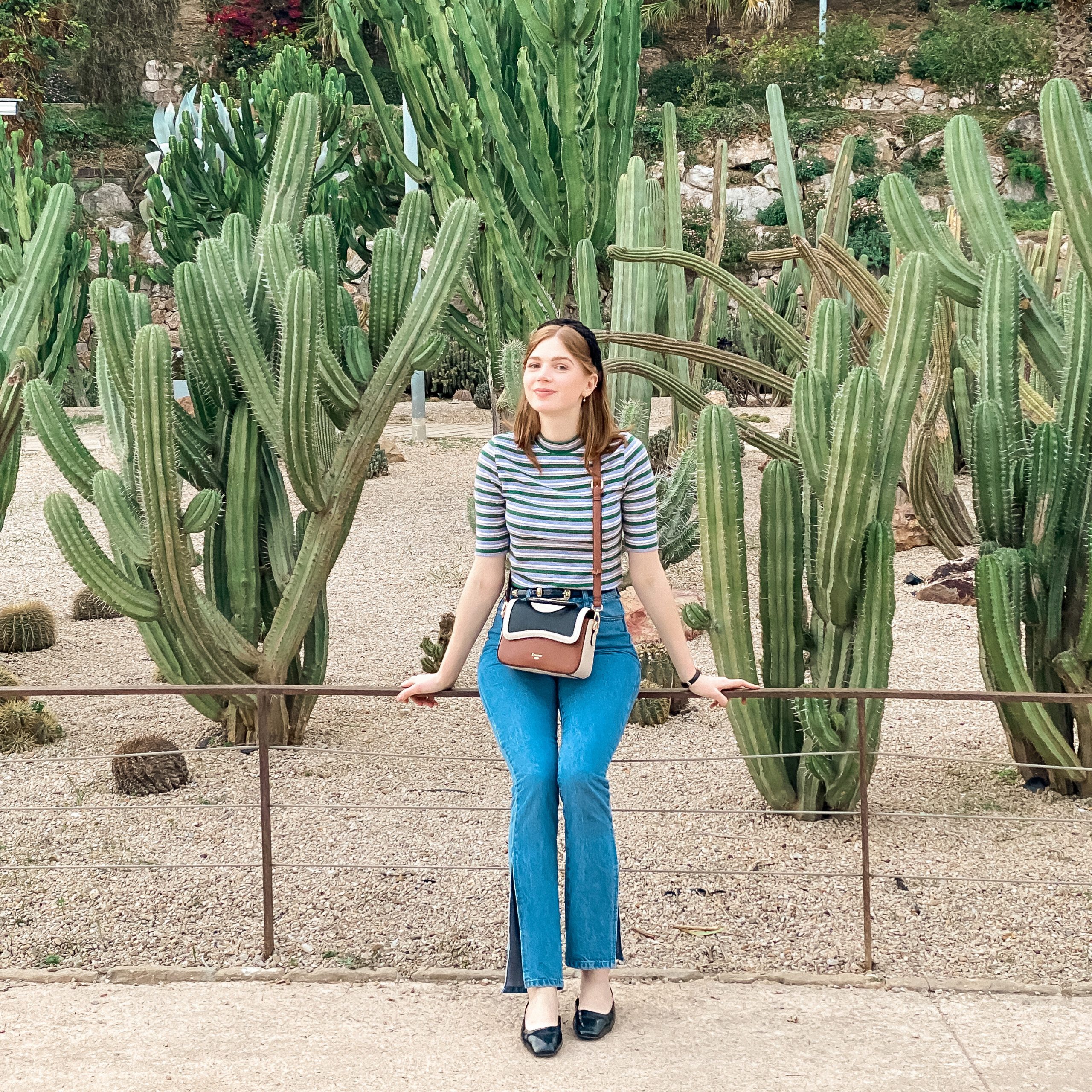 ---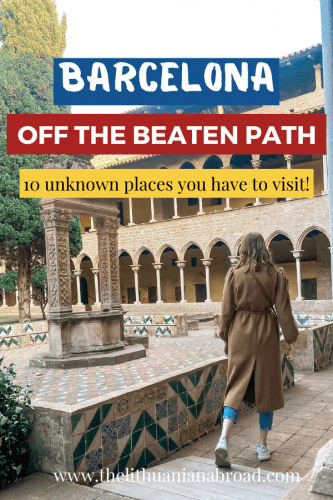 And those were 10 hidden gems in Barcelona that I think you should visit during your stay. The city is really full of amazing places full of history to explore. I especially love visiting new gardens and parks in Barcelona. That is why I think I added a few parks to the list. What about you? Which places are your favorite ones? 🙂