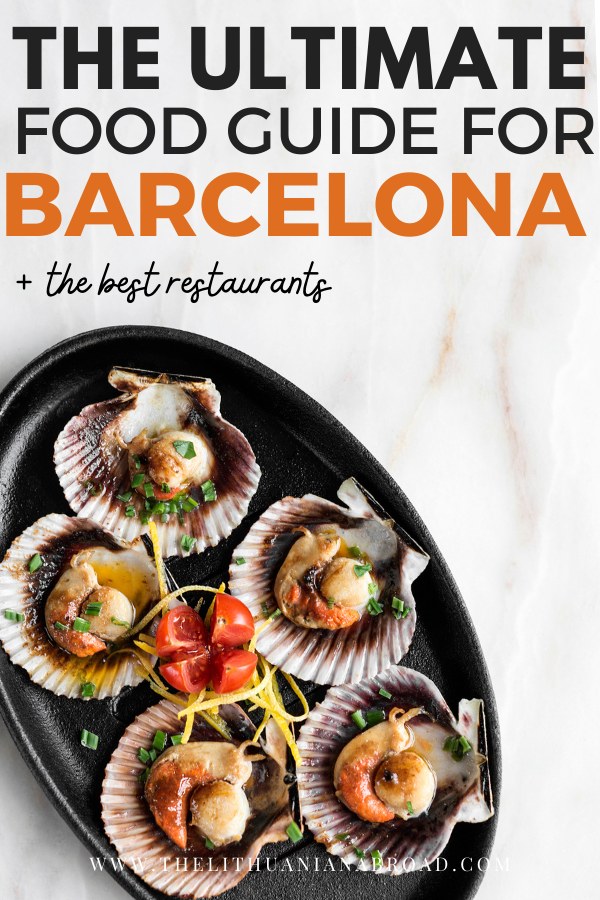 Foodies, you came to the right place. Believe me when I tell you that you are going to eat divine in Barcelona. You just have to give it to the Spaniards (and Catalan). They know their food, they value fresh ingredients and their cuisine is heaven! Welcome to the ultimate Barcelona food guide where I show you food that you have to try when visiting Barcelona: from tapas to seafood, authentic restaurants, and hidden gems. Of course, we will also talk about where to have the best paella in Barcelona. But not only that, I am sure that a couple of these dishes will surprise you. Have you heard about the famous "bombas" in Barcelona? I will tell you more below 🙂 So sit down, lean back, and start taking notes.
---
Affiliate links may be sprinkled throughout the free content of this blog post. If you purchase from one of the links I may receive a small commission while the price for you stays the same. This helps me cover the costs of The Lithuanian Abroad. Gracias!
Other blog posts about Barcelona you should check out:
14 famous buildings in Barcelona and what you should know about them: Barcelona is the perfect destination for lovers of architecture and beautiful buildings. In this guide, we will talk about 14 famous buildings in Barcelona. And I will give you tips if you want to visit them. Gaudí buildings included 🙂
Let's do a self-guided walking tour of Barcelona! This post includes a walking tour of Barcelona you can do by yourself. It comes with an interactive map you can download to display the itinerary on your fun. It includes Barcelona's best monuments and places to see.
Bucket List with 20 things you can do in Barcelona: Here is a bucket list with 20 fun activities you can do in Barcelona. This way you will never run out of ideas about what to do in Barcelona. And even if you thought you have seen all of it, I am sure you will find activities you did not know before!
Barcelona neighborhood map with monuments & places to stay: If you are like me and still get confused about Barcelona's neighborhoods this post is for you! I created a Barcelona neighborhood map with the most important monuments and included the best hotels & hostels.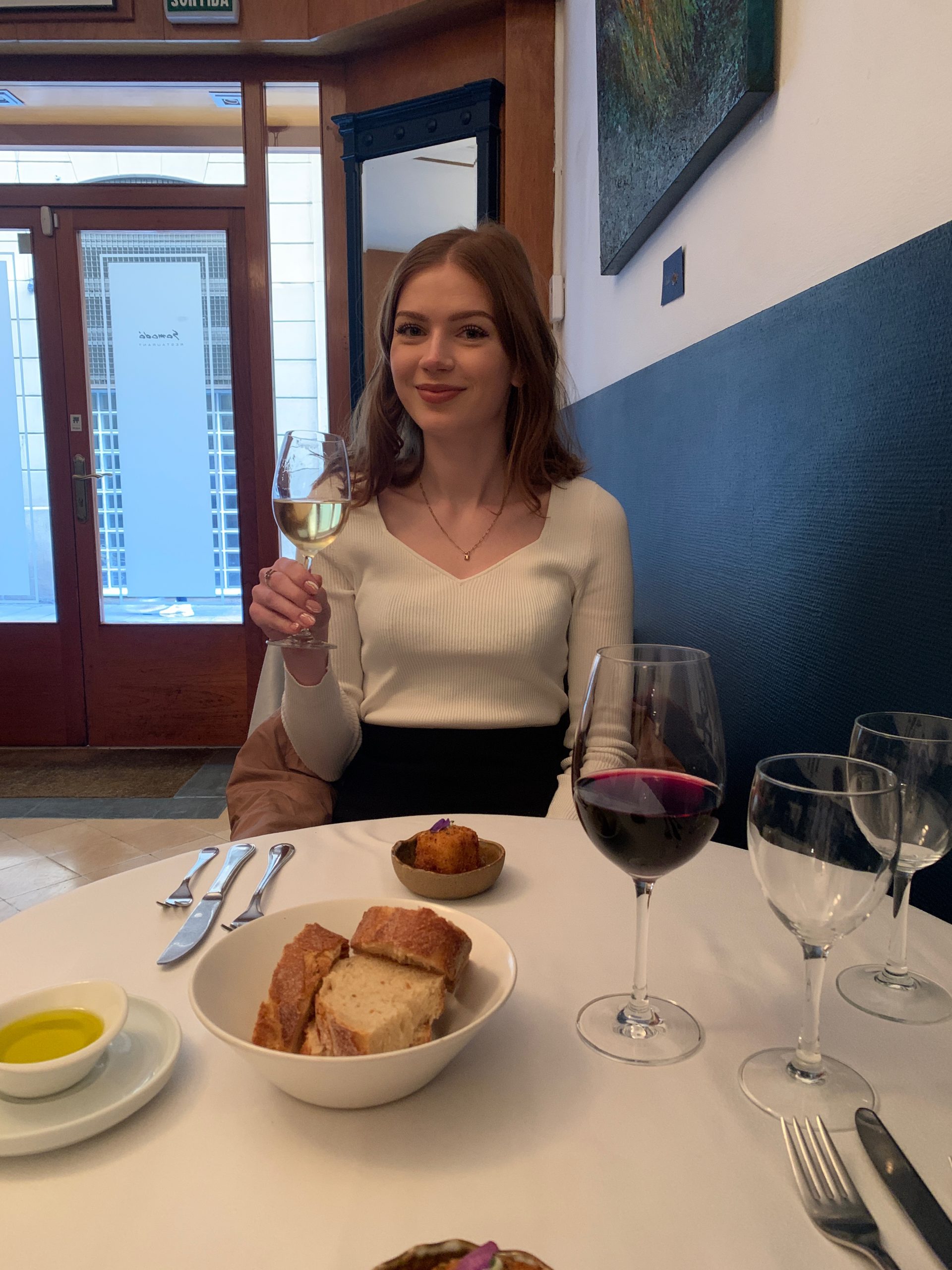 Have you ever done a free walking tour in Barcelona?
I can't stop telling my family and friends how much I love doing free walking tours every time I am in a new city. To me, free walking tours are the perfect way to see the most important places in the city and learn about history and culture from a local. The local guides always do an amazing job showing you the city from the eyes of a person that lives there. And you can ask them for recommendations or places you should see after the tour!
How do free walking tours work? Free walking tours do not come with a specific price, hence, they are free. You do not even have to pay to sign up. You will spend a couple of hours exploring the most beautiful places of Barcelona and learn A LOT about its history. At the end of the tour, you have the chance to give your local guide a tip. And how much you would like to tip him is completely up to you. It really depends on your budget and how much you enjoyed the tour. There are many free walking tours offered in Barcelona.
You can find more information about free walking tours in Barcelona and book a tour here.
Let's start with the Barcelona Foodie Guide: What you should eat in Barcelona!
1. Seafood Paella, your new favorite Spanish dish
Disclaimer: Paella is actually from Valencia. And I know I will upset some people by mentioning paella here. But I know that travelers love trying paella whenever they visit Spain. So let's talk about paella!
A good seafood paella is probably one of the most known Spanish dishes. Paella contains rice, saffron, and, of course, a lot of seafood. It is served in a traditional shallow pan that is used for making paella.
And while it is a very popular dish it is very easy to end up in a touristy restaurant with an overpriced rather mediocre seafood paella. How to avoid that? Here are a couple of rules, if you want to order paella at a traditional paella place:
Avoid places that have photos of paella on their menu or their entrance
Don't go to places that have their menu in many different languages
Avoid places that have a person standing outside trying to convince you to eat there
In a traditional place, paella will be charged per person. You usually have to order for at least two people. If a restaurant lets you order one paella for one person, it is usually not an authentic place.
Another tip: Paella is usually eaten for lunch. It's a very heavy dish to have in the evening.
Where can I find good seafood paella in Barcelona?

A very trendy place that I recommend is Maná. A great place for a special occassion. If you prefer something more traditional, Can Solé is your place to go. It has been serving one of the best paellas in Barcelona since 1903.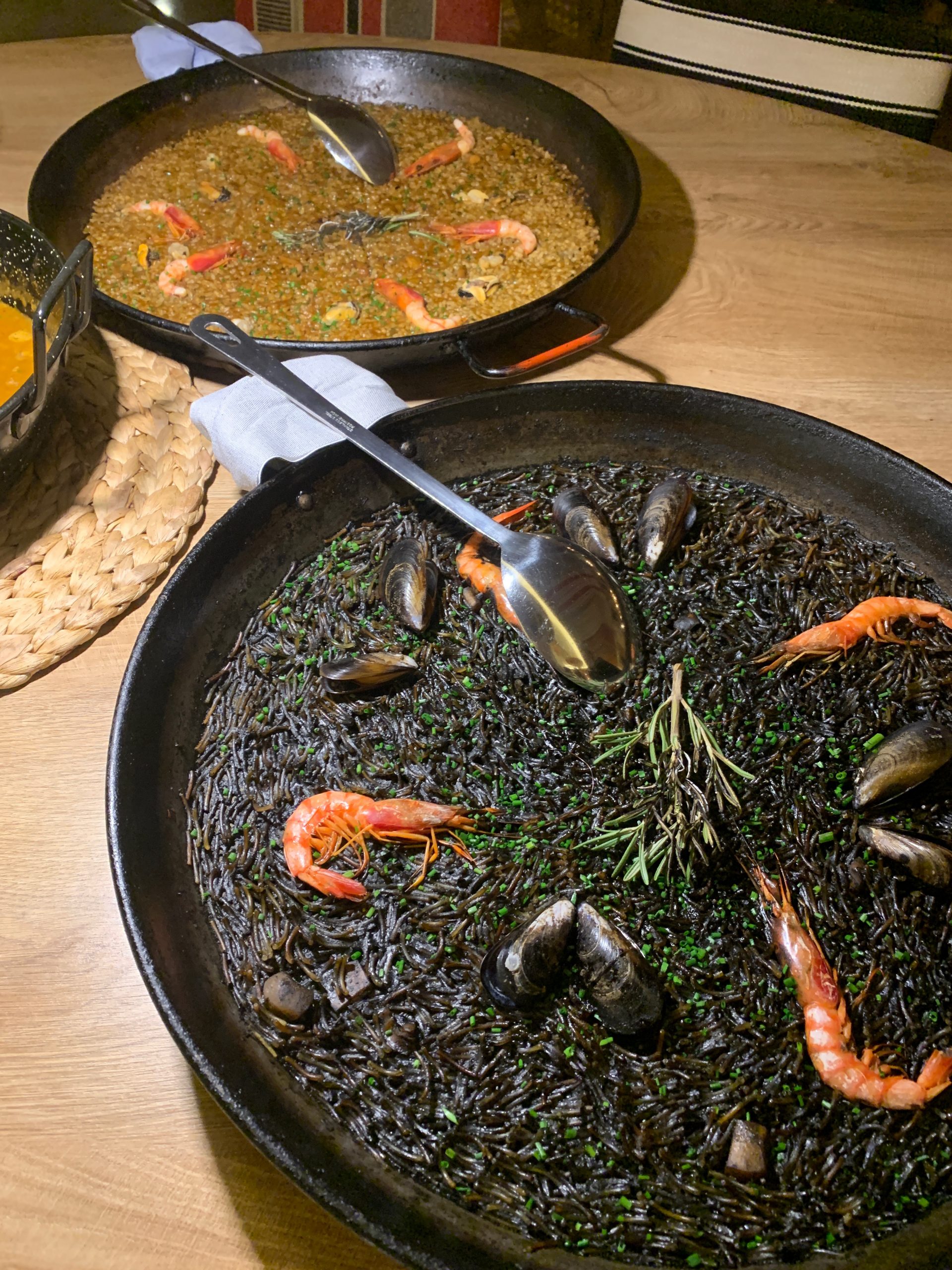 Would you like to learn how to make a traditional paella?
I found a tour on GetYourGuide where you can learn how to cook a traditional seafood paella together with a chef! If you ever wondered what's the secret behind a delicious paella, you will find out here. 
This tour includes a tour around la Boquería market in Barcelona. And you will not only just walk around the market. No! Together with the chef, you have to actually get your ingredients in order to cook the paella in a workshop later. And what is the perfect addition to a nice seafood paella? Exactly, homemade sangría. You will get to make your own sangría and Basque pintxos. Back home you can surprise your loved ones with the incredible cooking skills you learned that way. Sounds like so much fun.
You can find more information about this cooking class here.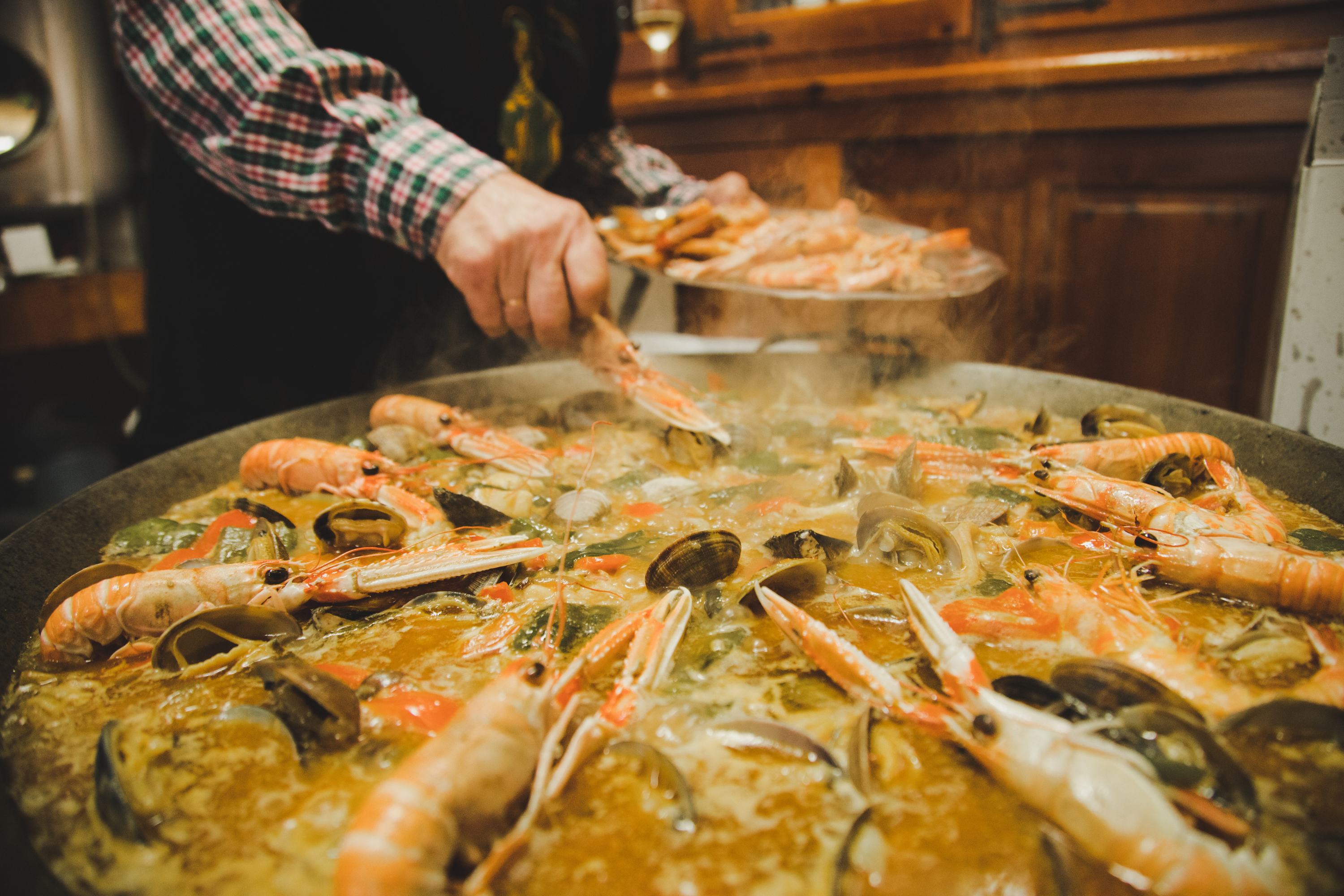 2. Fideuá, if you prefer noodles instead of pasta
Fideuá is one of my favorite Spanish dishes! It is basically another version of paella, with noodles instead of rice. While paella can come with vegetables or chicken, fideuá comes with a LOT of seafood and you can find it in smaller restaurants all over Barcelona. By the way, it is served with delicious alioli. If you are into seafood and garlic, you have to try it!
Where can I find amazing fideuá in Barcelona? 
While you will be able to find fideuá in many restaurants in Barcelona, 7 portes is a place you should go to! It is almost 200 years old and serves incredible fideuá.
Where can I find amazing fideuá in Barcelona?

Many restaurants offer fideuá in Barcelona. 7 Portes is a special restaurant where you can try it. It is almost 200 years old and serves incredible food.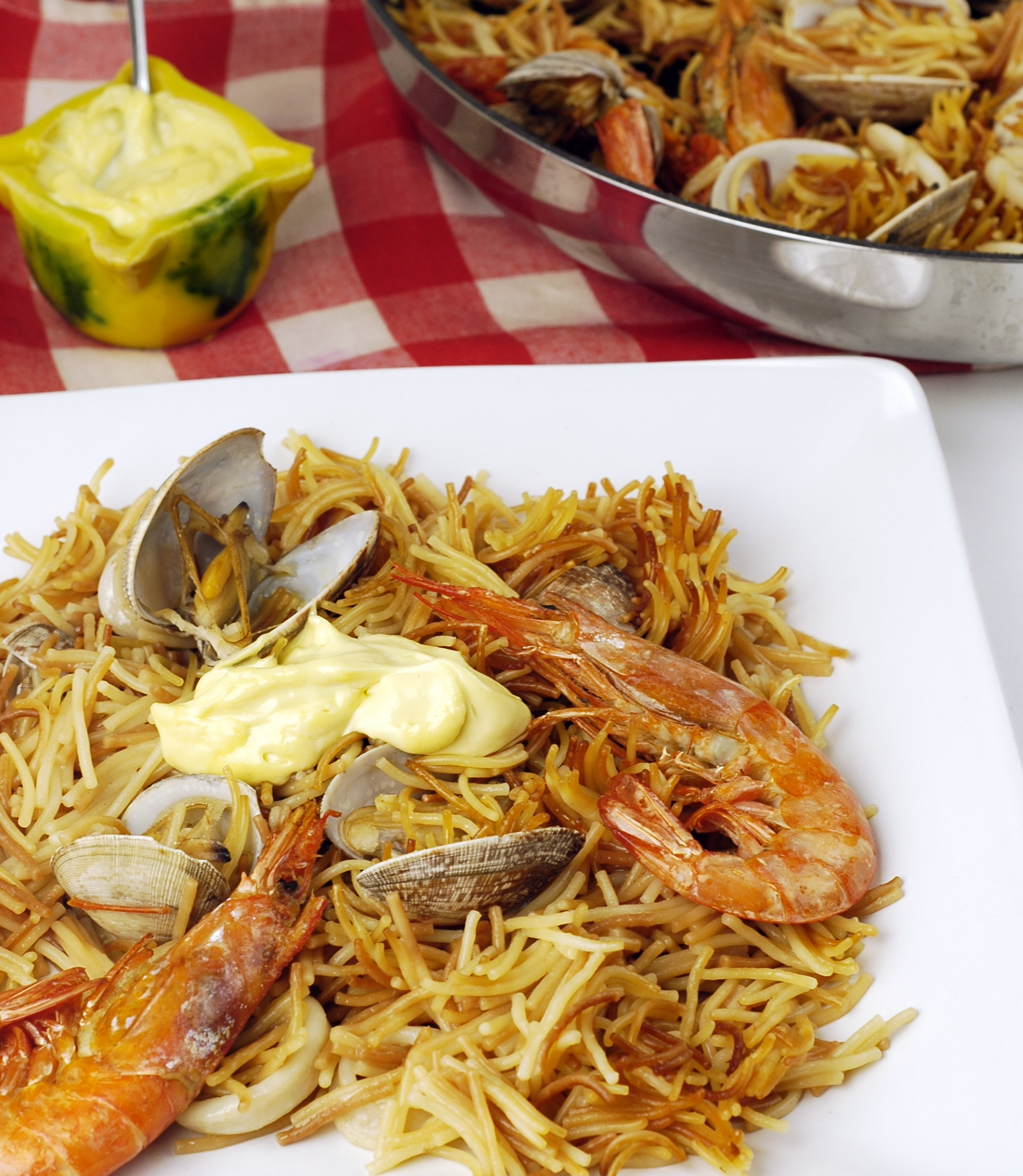 3. Try some pescadito frito, more seafood for you!
Pescadito frito (fried fish) is a popular side dish with a long history: Its origins go back to the 16th century in Spain and Portugal. During the preparation of the dish, the fresh fish gets deep-fried in vegetable oil, which makes it crispy and full of taste. It gets usually served in "chiringuitos" (= beach bars). A simple dish, but so so tasty!
If you want to try amazing pescadito frito I have a secret tip for you: Bar la Plata. La Plata is one of the oldest tapas bars in Barcelona. It has been open since 1945 and the interesting story about it: They still offer the four/five same tapas as they did when it was inaugurated. And pescadito frito is one of them! This is such an authentic place to try in Barcelona. Make sure to put it on your list.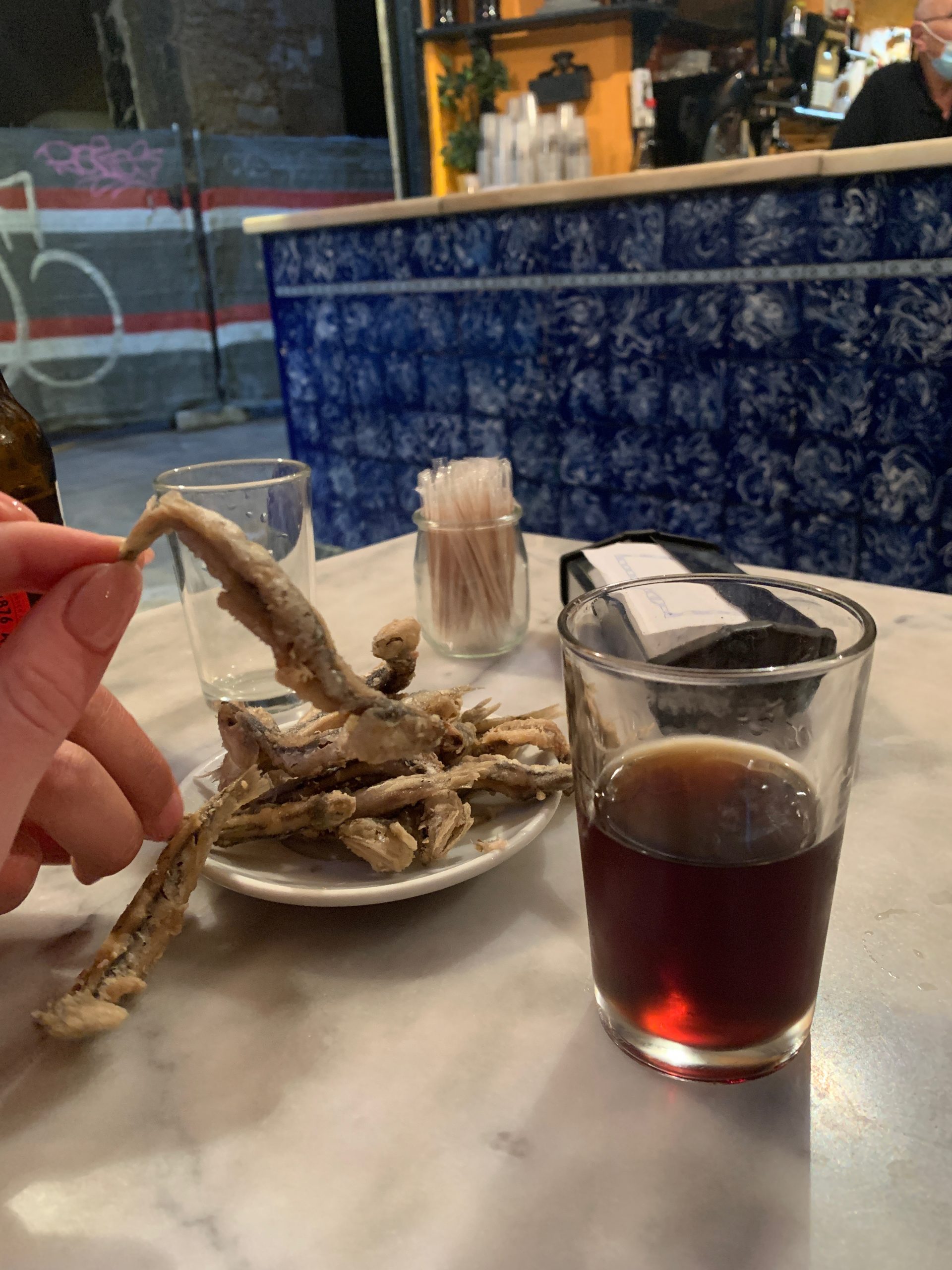 4. Calçots, grilled traditional Catalan spring onions
If you happen to be in Barcelona during early spring there is one special dish that you MUST try: Calçots with Romesco Sauce. You have never heard of it? Calçots are a special type of spring onions that are grown in Catalonia. The calçot has its origin in Valls, Catalonia, where there is even an annual event where the harvest of calçots is celebrated!
All over Catalonia locals prepare amazing barbecues where calçots are served. This event is called a calçotada. Traditionally, the calçot would be grilled over a hot fire, served in a newspaper, and eaten with bare hands! Our local friends even made fun of us when I told them that they gave us plastic gloves when we ordered calçots at a restaurant.
During calçot season, you can also find calçots in restaurants in Barcelona. We went to "Cada Masana" and really liked it!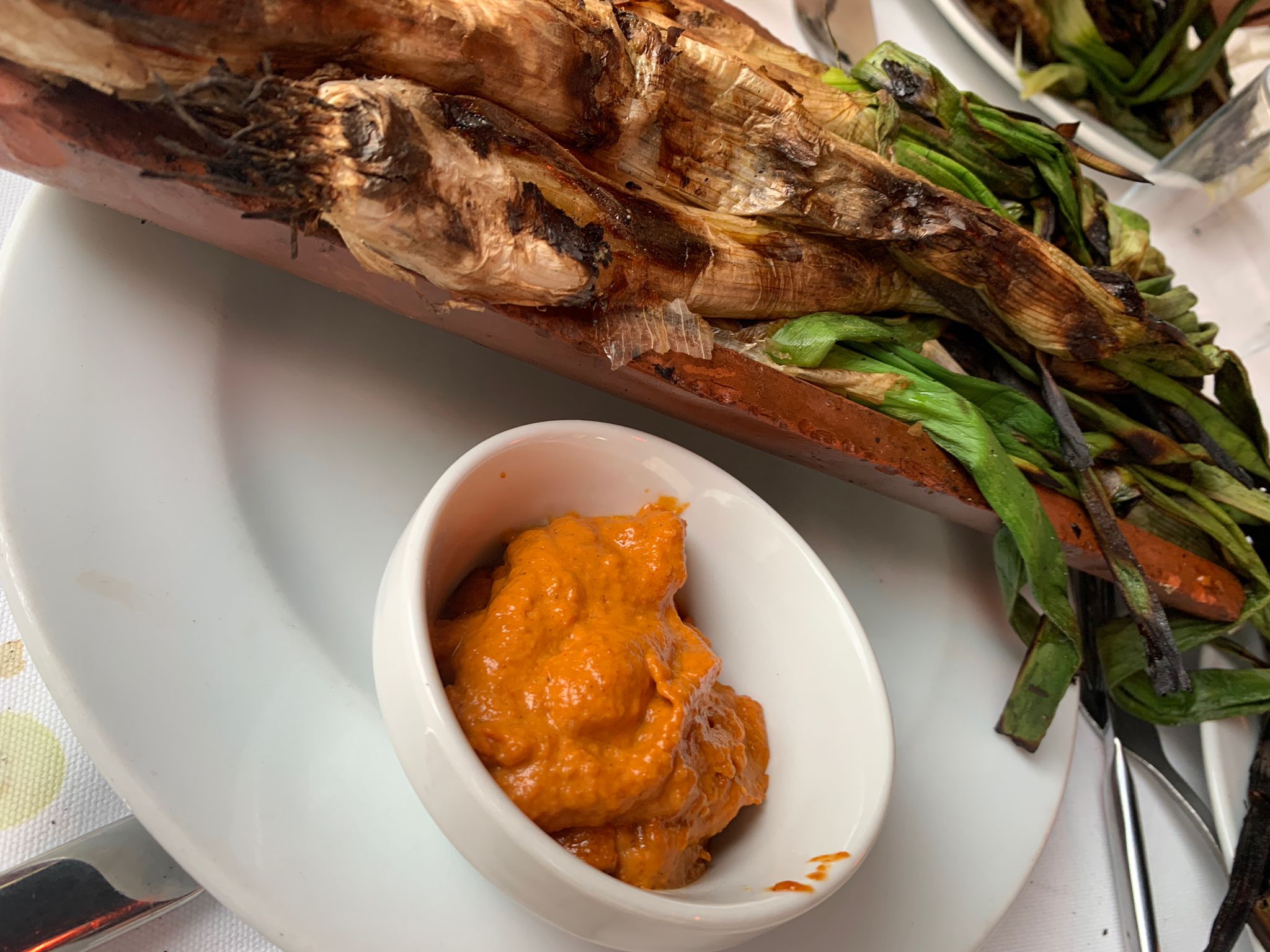 5. Pa amb tomàquet, the perfect entry dish!
Every time you go to a restaurant in Barcelona you should always order a plate of pa amb tomàquet, bread with tomato. It seems like a very simple dish, but don't even think about skipping it. Because the ingredients really make the difference here: We have toasted bread with fresh tomato that is lightly covered in extra virgin olive oil and sprinkled with salt. Sometimes it will be served with a garlic glove that you can rub on the bread to give it more flavor. A classic you cannot miss! Do you want to improve this classic dish? Put some delicious ham on top of it. De-li-cious! It is usually served as an entry dish before a big meal or eaten for breakfast.
Ciutat Comtal is the perfect place to try different tapas in Barcelona. And they will serve you amazing pa amb tomàquet.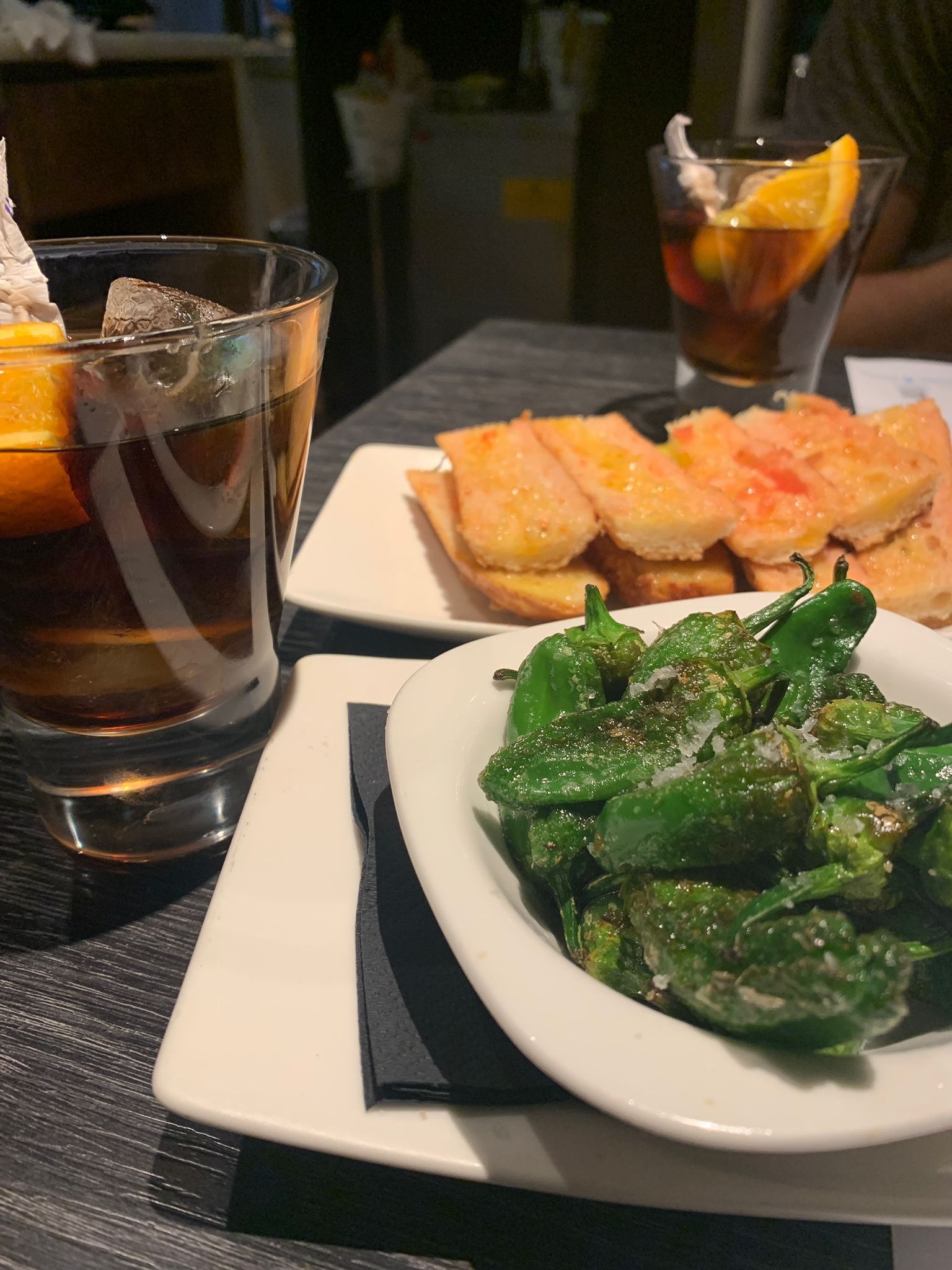 6. Please make sure to try olives!
If you think you don't like olives don't stop reading just yet. I didn't either until I moved to Spain and got to try different olives until they really grew on me. Many places in Barcelona will offer you green olives that are very small, called Arbequinas. You should try them, even if you usually don't go for them. Maybe you will actually end up liking them! Usually, you order olives with vermouth. And if you are lucky, you might even receive them as a free tapa.
Bar La Plata, the tapas bar I mentioned earlier, has some delicious olives. So tasty!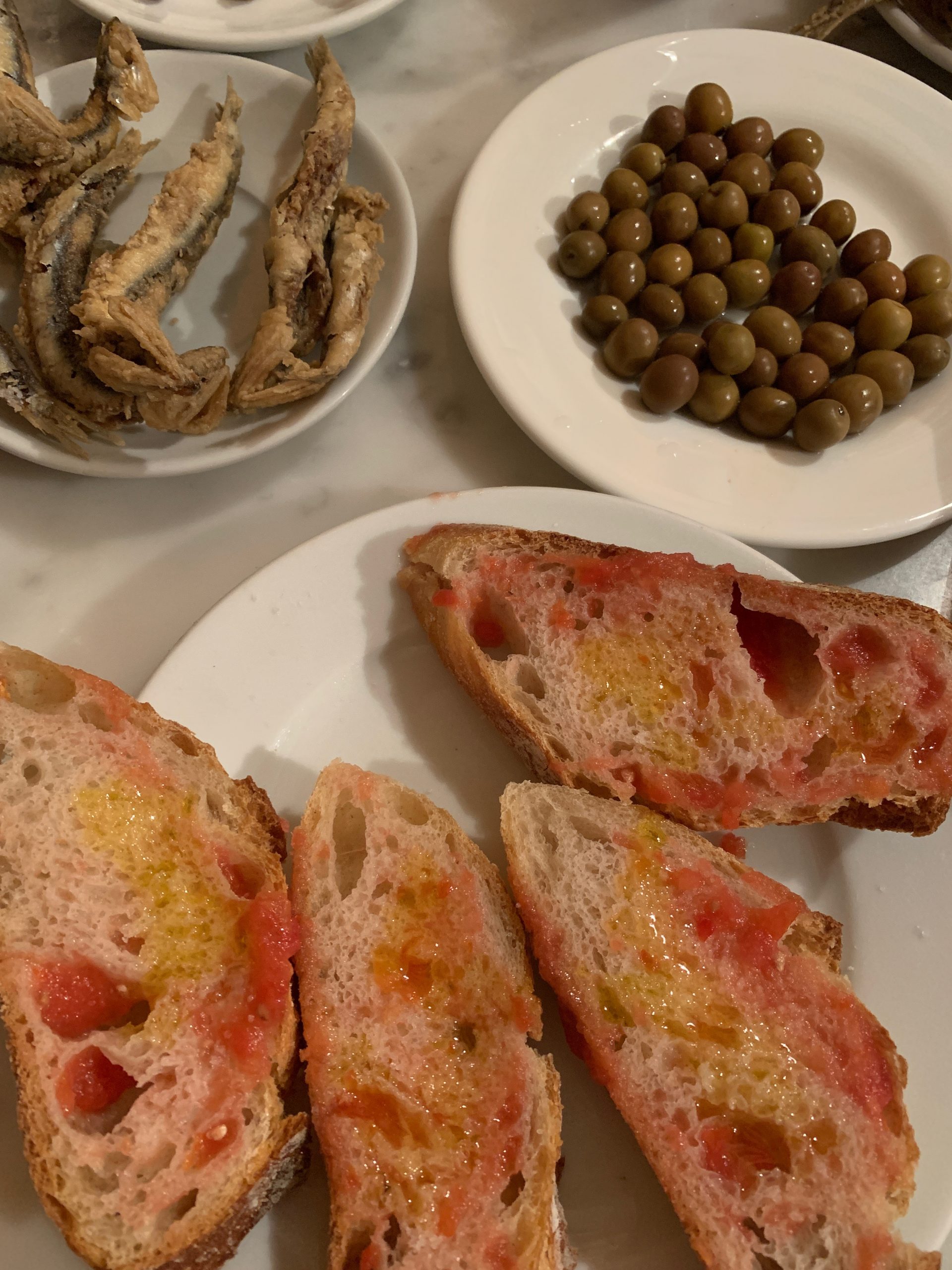 7. For veggie lovers: Try some Catalan Escalivada
Now, we are coming to the food that I had no idea about before I went to Barcelona. So if you want to try a traditional Catalan dish, continue reading: 
Escalivada is a dish with a base of vegetables, usually aubergine and peppers, that are cooked together with tomatoes and onions. All the vegetables are cooked over charcoal until they are soft and full of aroma. The name "Escalivada" comes from the Catalan word "escalivar". It is one of the oldest Catalan cooking techniques which simply means to put vegetables right next to a fire and cook them like that.
Vinitus is another great place to try different tapas in Barcelona. They do have escalivada and many other Spanish tapas like patatas bravas or croquetas. L'Antic Bocoi del Gòtic is another amazing restaurant that serves traditional Catalan food.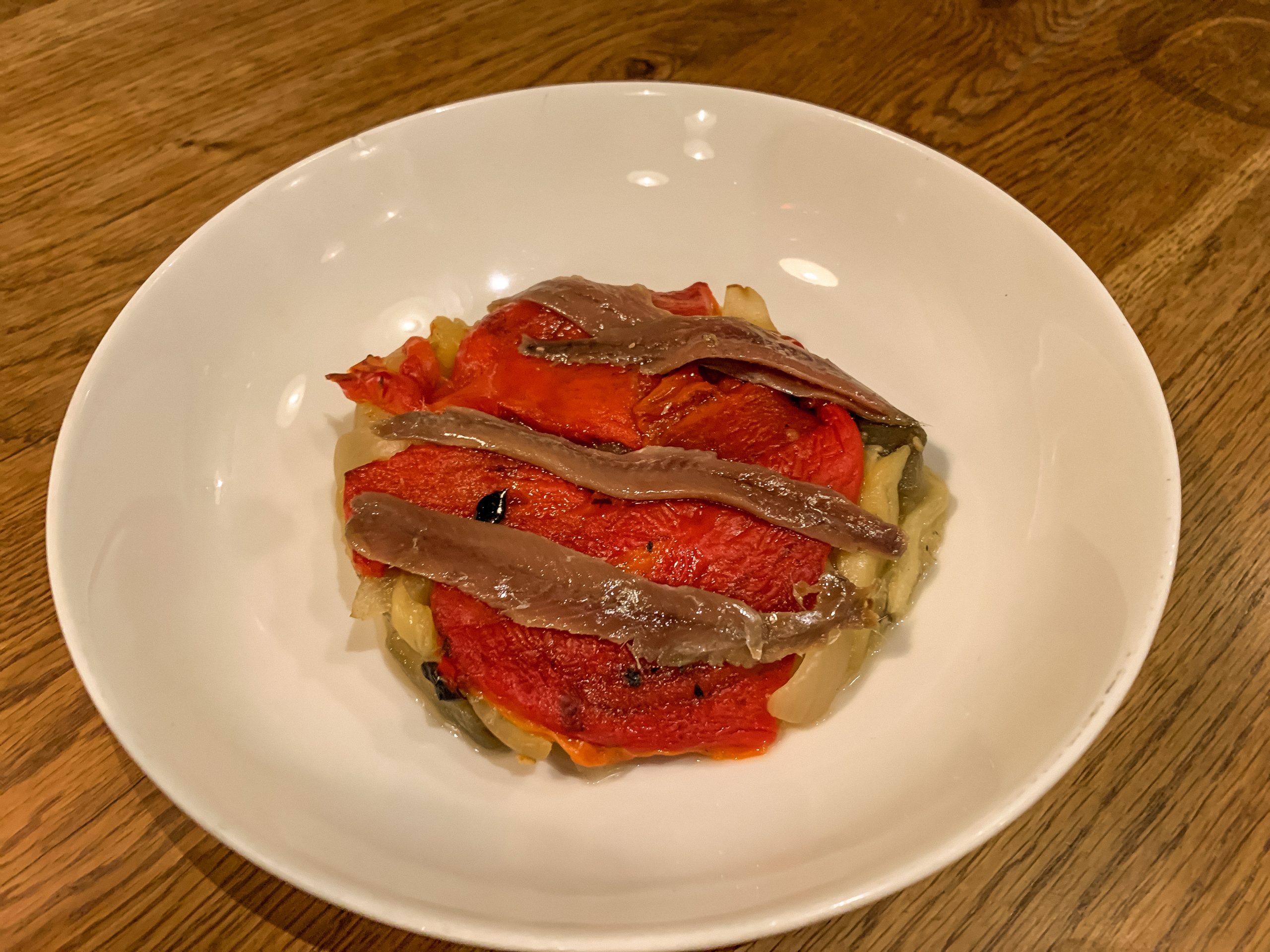 8. Bombas, the ultimate croquetas
Ok, let's be honest! Who does not like croquetas? And if you already like croquetas, then you also should try "bombas". Bombas are basically a deep-fried mixture of mashed potatoes and minced meat. They are served with alioli and a spicy sauce. A real food bomb!
Here, I want to mention where the name "bomba" comes from. This tapa has its origins in the neighborhood of la Barceloneta. The area was a working-class neighborhood as many factories were located there in the 19th century. A small place called la Cova Fumada came up with new ideas for tapas for workers who would come to the place to have breakfast before going to work. And this is how bombas were invented. The best part: la Cova Fumada is still open today and you can visit it to try their famous tapas.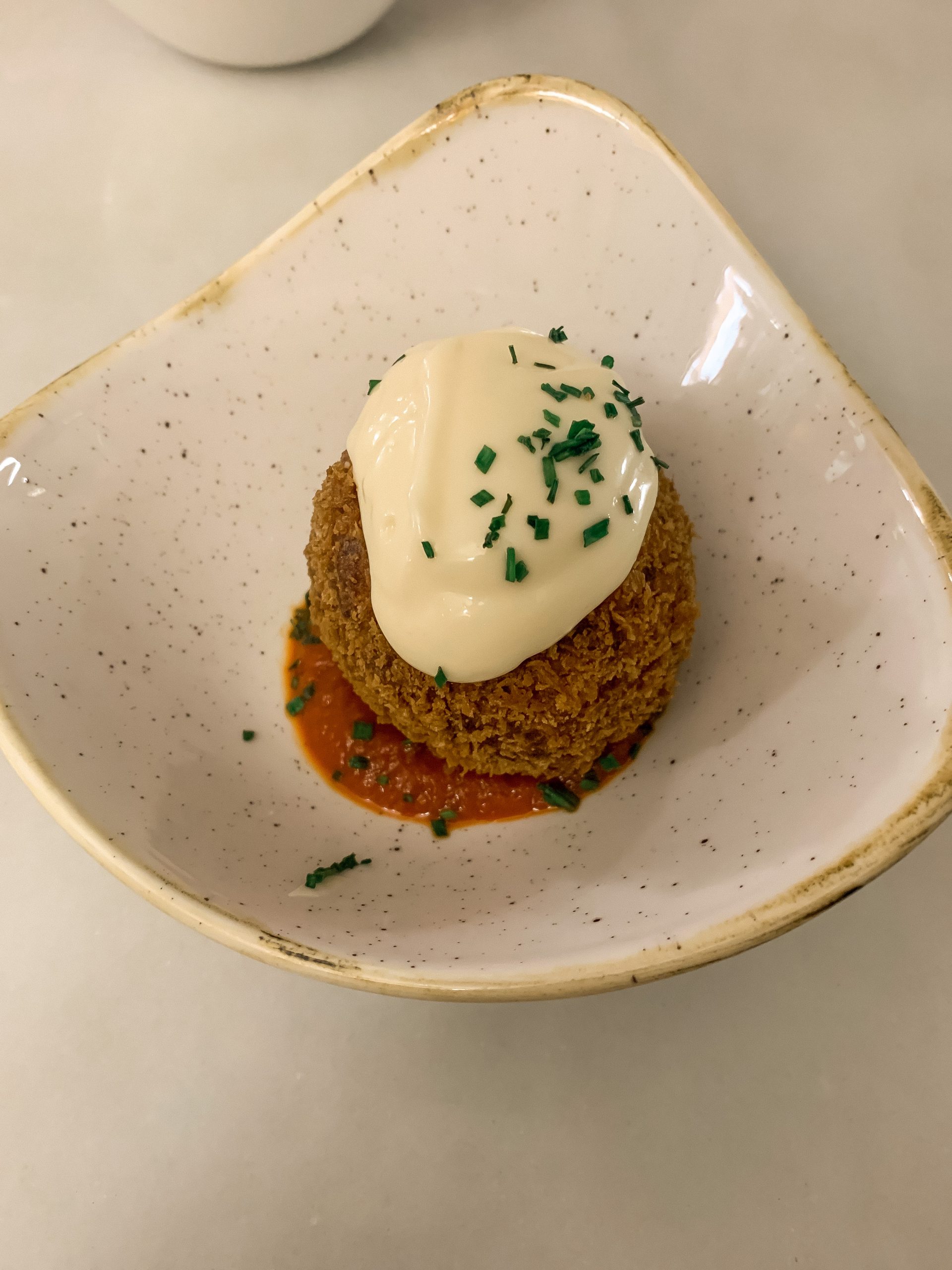 9. Try some world-class Spanish ham: Jamón ibérico
Of course, how can you visit Spain without trying its amazing ham? If you are a fan of cured meat, you will love it! This is Spain's version of Italy's prosciutto, but slightly thicker. It is cut from the leg of black Iberian pigs. And only those black Iberian pigs receive the denomination "ibérico". 
You can find jamón Ibérico in many shops and markets all over Barcelona. Of course, the la Boquería market is a great place to go if you want to try it at a local market. Close by is the shop "Reserva Ibérica" where you can find amazing ham as well. By the way, jamón ibérico makes the perfect souvenir for your loved ones back home!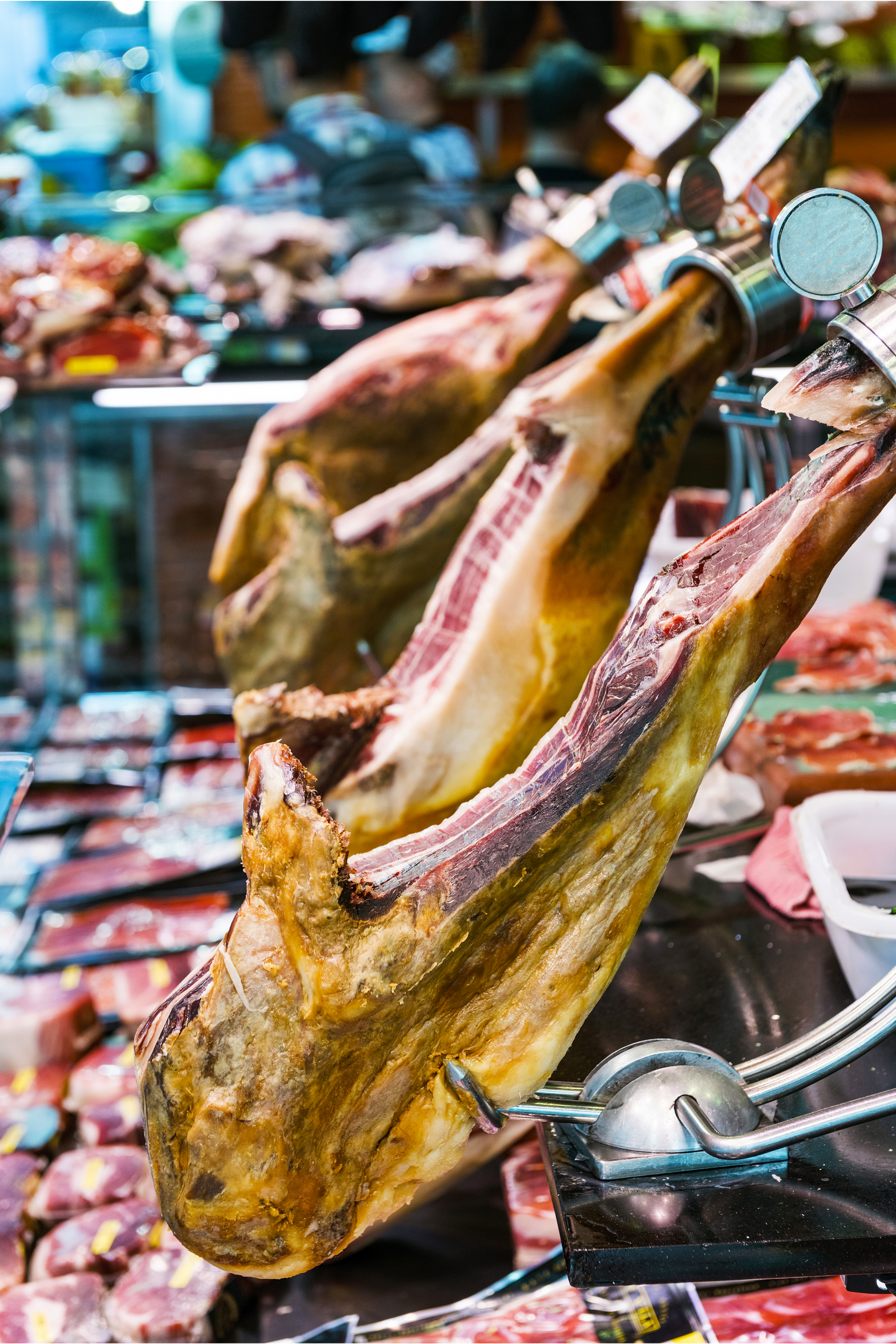 10. Get ready for 'hora de vermut' (=vermouth hour)
Vermouth is a very popular drink everywhere in Spain. Honestly, it is more a lifestyle than just a drink. There is the famous "hora de vermut" (in English: vermouth hour), which is usually around 1 pm, right before lunch. Vermouth is a bittersweet fortified wine infused with herbs, which gives it its unique taste. 
Where to get amazing vermouth in Barcelona?
In my opinion, Bar La Plata. They create their own vermouth which is delicious. And you can even buy a whole bottle for only 9€. The perfect souvenir from Barcelona! Another authentic place for amazing vermouth is La Peninsula in the neighborhood of la Barceloneta.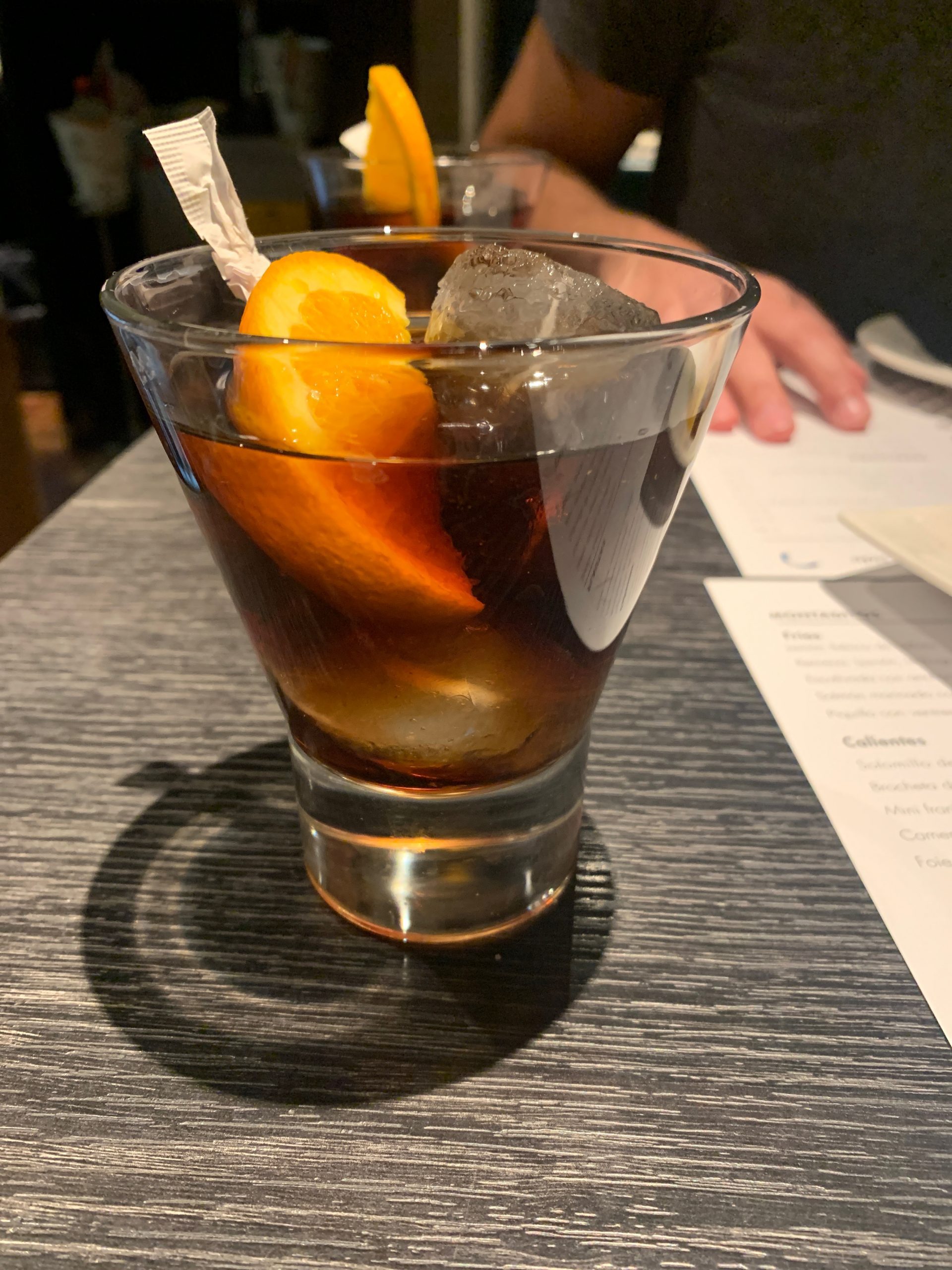 11. Crema Catalana: Spanish-Style Creme Brûlée
One of my favorite Spanish desserts: crema catalana. If I had to describe it I would say that it is a Spanish-style creme brûlée. Or, as many locals would say, creme brûlée is a French crema catalana. But that's a debate for another time. During my research, I did find out that both desserts are actually very similar. The only difference is that crema catalana is usually prepared with milk, not with cream. And its ingredients also include lemon peel and cinnamon. Sounds tasty?? Yes, it absolutely is!
Pretty much all restaurants will offer you a crema catalana for dessert. But if you want to go to a special place you should visit els Quatre Gats, Barcelona's iconic bar. And order a crema catalana in a bar where famous artists used to hang out, such as Pablo Picasso. 
12. Mató, a Spanish cheese you need to try in Barcelona!
Did you think manchego cheese was the only cheese you could try in Spain? Nope, there is much more than that! Mató is a very high-quality cheese that is very similar to Ricotta. The taste is sweet and the consistency is quite creamy, similar to cream cheese. You can find it with desserts, where it is served with dried fruits and honey.
Here, I really have to mention my favorite fine dining restaurant in Barcelona "somodó". It is a restaurant that perfected a fusion between traditional Catalan and Japanese food. One of their popular desserts includes mató cheese, together with ice cream, fruits, and nuts. So so tasty! Make sure to try this place for a lunch menu.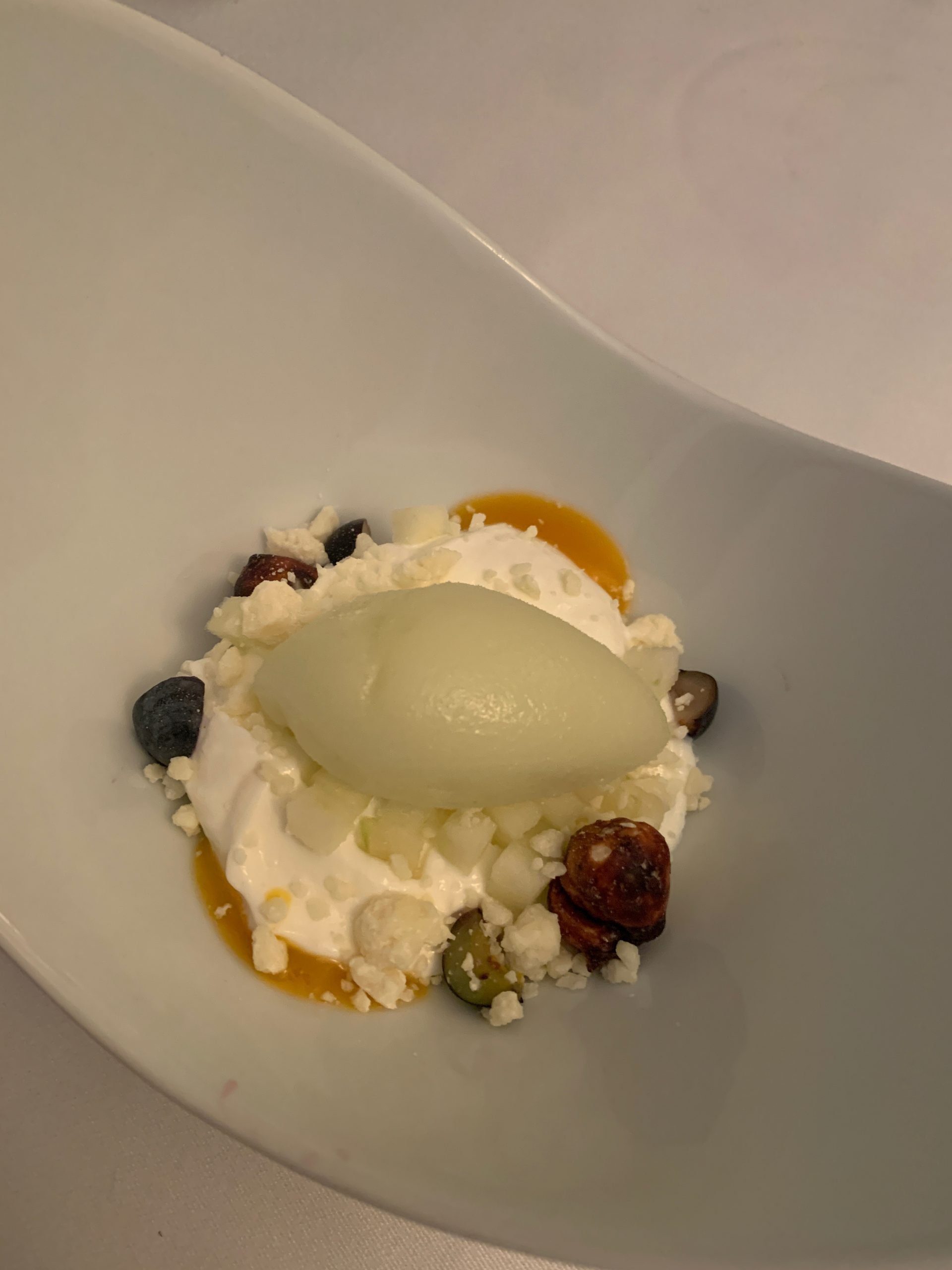 13. The perfect afternoon snack: Churros con Chocolate
Last but not least, churros con chocolate! Churros are a very popular snack all over Spain and you should absolutely try them. Churros are long pastries that are fried and sprinkled over with sugar. And to make it even better, you eat them by dunking them into a cup of hot chocolate. Amazing, right? Contrary to popular belief, churros are not a Spanish dessert. People usually eat them for breakfast or as an afternoon snack. 
You can find churros in so-called "churrerías". One of the most popular ones is "Petritxol Xocoa". And if you are not a churros fan, you can try their cakes and pastries!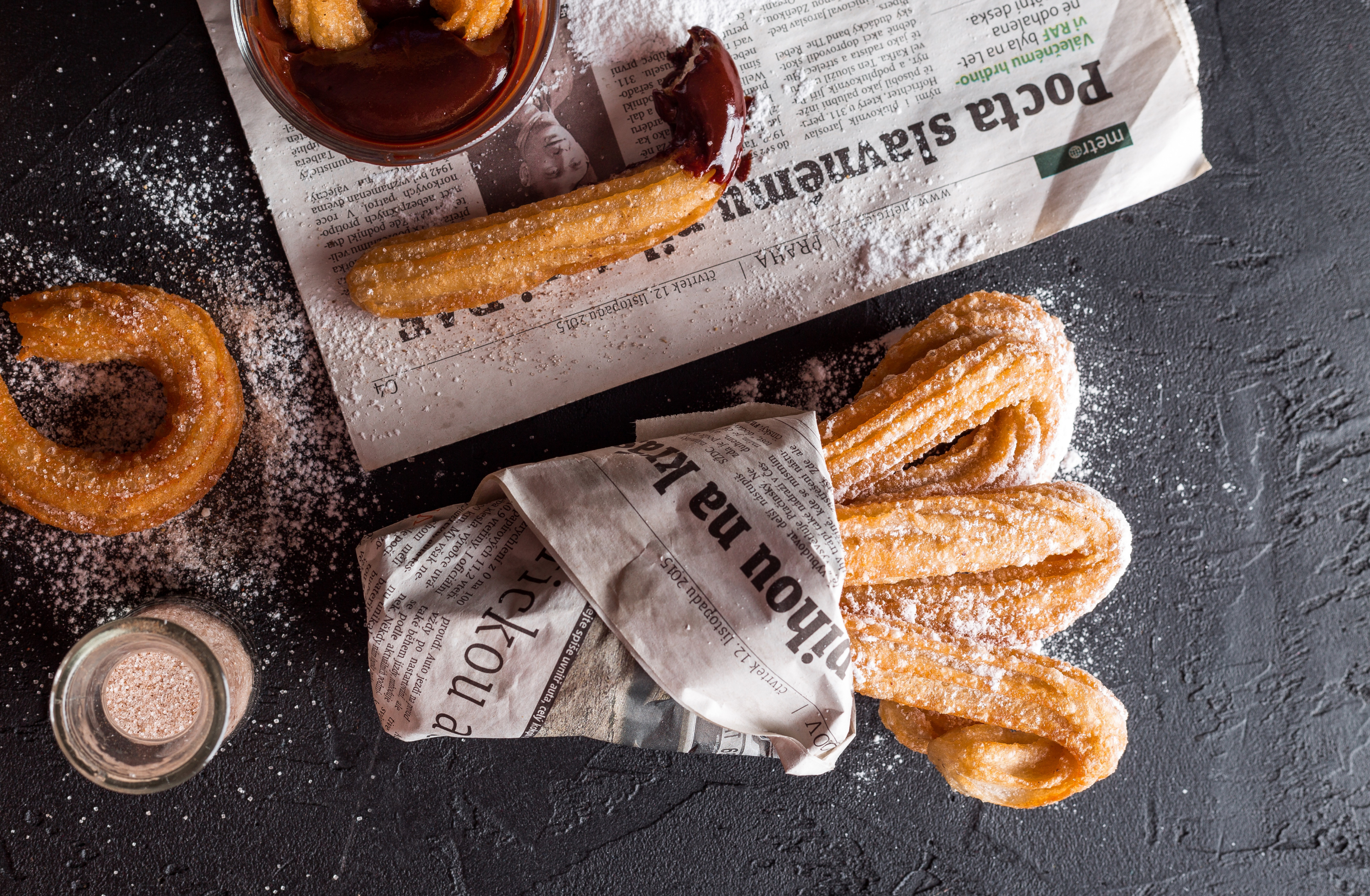 ---
And that was my "Barcelona foodie guide"! 🙂 I really think that Barcelona is an amazing destination for food lovers. By the end of your trip, I am sure you will want to stay longer and keep exploring Barcelona's cuisine. What was your favorite dish in this blog post? Let me know in the comments below.