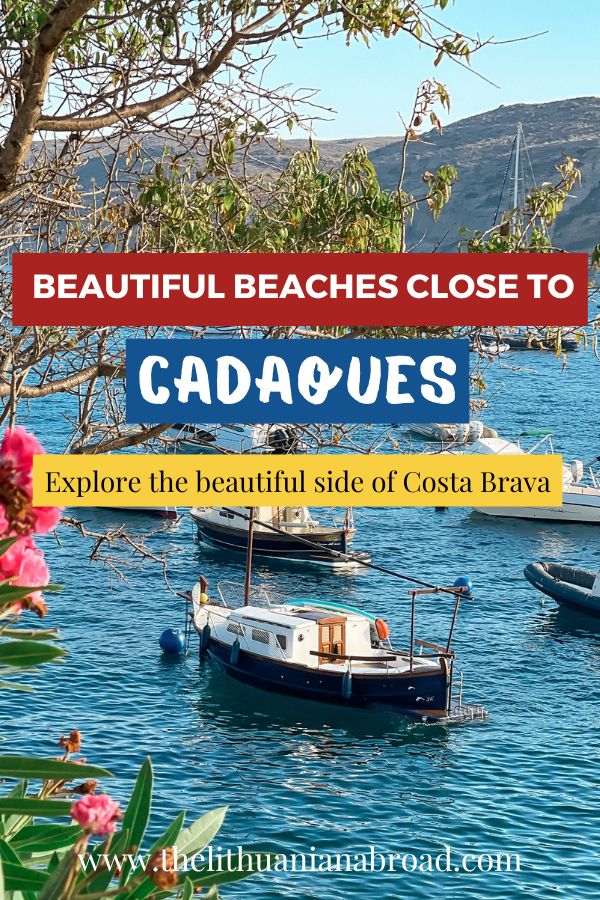 My boyfriend and I agree that Cadaques and the Cadaques beaches are one of our favorite places we ever visited in Spain. Cadaques is located in the heart of the Costa Brava and is one of Spain's best-kept secrets.
Cadaques is a small fishermen's town that attracted many famous people in the past, from Salvador Dalí who had a house there, to Pablo Picasso and other artists. 
One of the best things about Cadaques is the gorgeous Cadaques beaches surrounding the city with crystal clear water. The views of Cadaques are just absolutely out of this world! 
The beautiful white houses stand in contrast to the turquoise blue water and will truly feel like paradise. This blog post is dedicated to the Cadaques beaches: We will talk about the beaches in Cadaques, activities you can do there, and how to get there. Then, we will also have a look at beaches that are a bit further away but are still worth visiting on your Cadaques trip. Let's jump into it!
Other blog posts you have to check out: 
Things to do in Cadaqués on a weekend: I wrote this blog post when we visited Cadaques for one day and really wanted to see as much as possible of it. Make sure to check it out!
The best towns in Costa Brava you have to visit: This summer my boyfriend and I spent one week at the Costa Brava and had an amazing time. This blog post includes the best places we visited (and more!)
13 City trips in Spain for your bucket list: This blog post contains 13 amazing city trip destinations in Spain you should add to your bucket list. Get ready for that Spain road trip!
Barcelona bucket list, things to do while visiting Barcelona: This blog post includes more than 20 incredible activities you can do while visiting Barcelona. Make sure to check it out!
Make sure to rent a car when visiting Cadaqués:
Cadaques is one of the most beautiful places to visit in Costa Brava, but a little tricky to get to. The one recommendation I can give you when visiting Cadaques is to rent a car. We tried researching a way of visiting Cadaques with public transport but did not find a suitable way. Apart from that, you will be so much more flexible when going by car. Most people that visit the area arrive by car, park it in one of the public car parks, and enjoy their day. 
When we rented a car during our Costa Brava trip, we booked it on rentalcars.com. What we liked about it is that we were able to find incredibly cheap offers and were even able to pick it up at the train station in Barcelona, instead of going to the airport (both options are possible!). We went for the option to have complete insurance, that way we did not have to worry about anything during our trip!
You can check out rentalcars.com to find a car for your next Cadaques trip. 
Experience Cadaques beaches on a boat tour: 
The highlight of your trip will truly be all the Cadaques beaches. But some of them are hidden bays that you can only visit by boat. You can find many boat tours offered in Cadaques that take you around the surrounding area where you can stop to go swimming or snorkeling. 
You can check out this tour that starts in Roses and takes you to Cap Norfeu, the Easternmost point of the Iberian peninsula. My boyfriend and I went there by car and these views were absolutely magical. Now imagine going there on a boat tour! I was so sad the schedule of the boat did not match our Cadaques itinerary. But if you want to check out the beaches surrounding Cadaques, you should really check it out!
You can find more information about the boat trips in Cadaques here.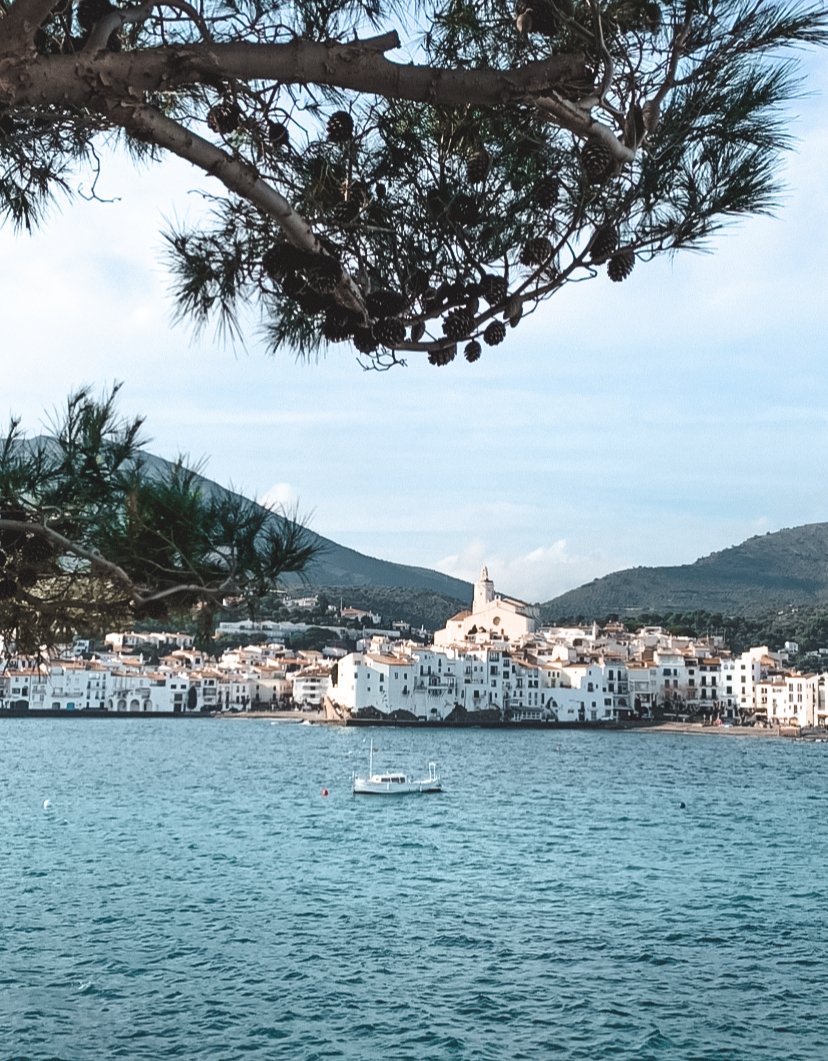 Let's start: The beaches in Cadaques in the city center you have to know about!
Cadaques main beach: Platja Gran 
Platja Gran is the main beach of Cadaques that you will find when you walk down the beach promenade of the city. This area is very popular with many bars and restaurants right at the beach promenade. This pebble beach is very wide and gives you spectacular views of the clear blue water and the white-painted houses in Cadaques. This is probably the most popular one from the Cadaques beaches as you will find many locals spending the day here. 
The highlight of this beach will be a special statue that you will find there: the statue of Salvador Dalí himself, who lived in Cadaques and painted this fairytale town on many occasions. 
A restaurant that I can recommend there is "Pizzeria Plaza Cadaques". My boyfriend and I had a very nice dinner there during our stay.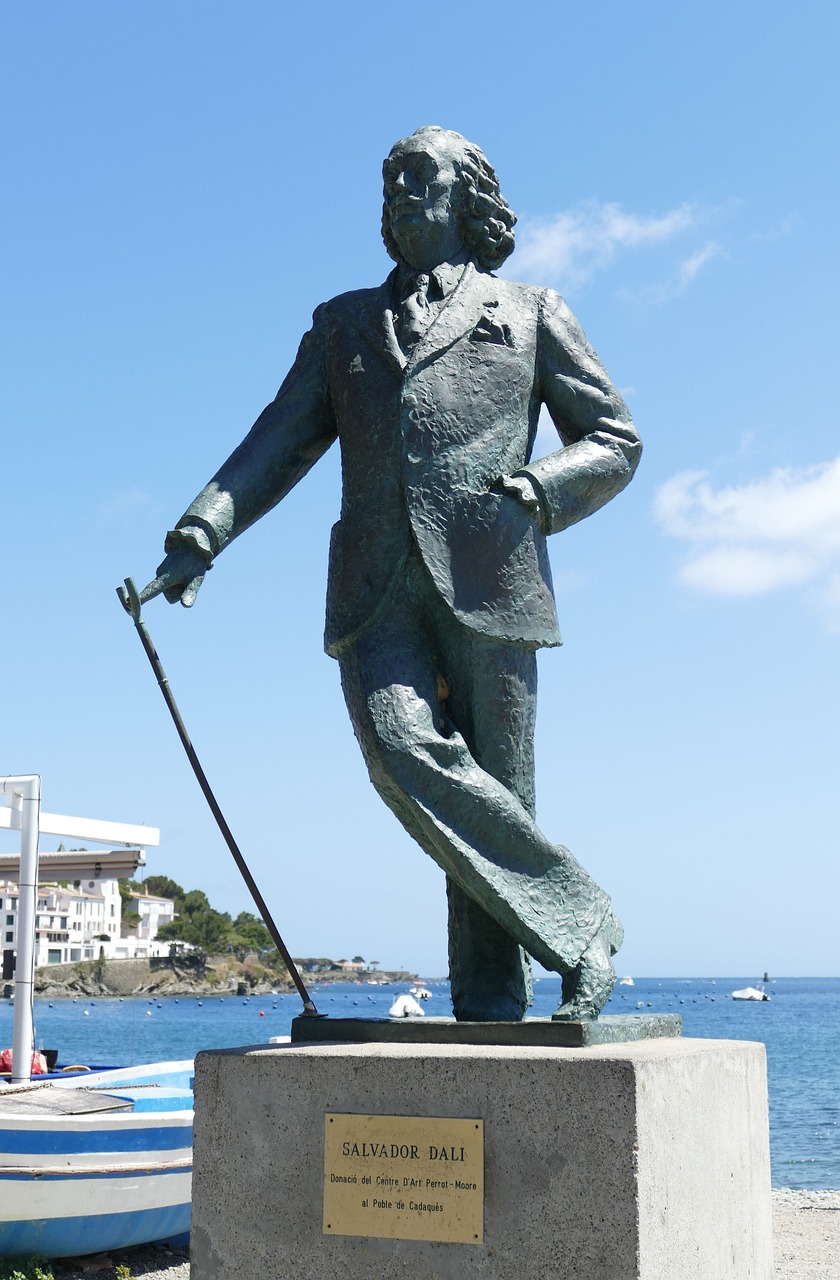 Platja des Poal 
Platja des Poal is a smaller beach in Cadaques that you can reach when you keep walking the beach promenade. This pebble beach is usually frequently visited by people and you will most likely find many small boats close to it as well. Make sure to check out the incredible view of Cadaques' white houses with the emerging church from here. It looks spectacular!
Platja Port d'Alguer
Platja Port d'Alguert is a beach that you will find when you walk to the other side of the beach promenade of Cadaques. This Cadaques beach is relatively small and surrounded by many bars and restaurants. What I liked about his beach most very the various souvenirs and local clothes shops from Cadaques. You could find jewelry there, bags, and other accessories. It's definitely something you should check out.
I really like a shop called "mo cadaques". This shop sells incredibly beautiful clothes
Platja des Llane Gran & Llane Petit
Keep walking down the beach promenade and you will find two more beaches. Platja de Llane Gran is a larger beach in Cadaques followed by Platja Llane Petit, a smaller pebble beach. This is a calmer area of Cadaques where you can escape the masses from the main beach. 
Platja des Llane Gran also features a sculpture of Federico Garcia Lorca, one of Spain's most famous poets, who lived here at the beginning of the 20th century.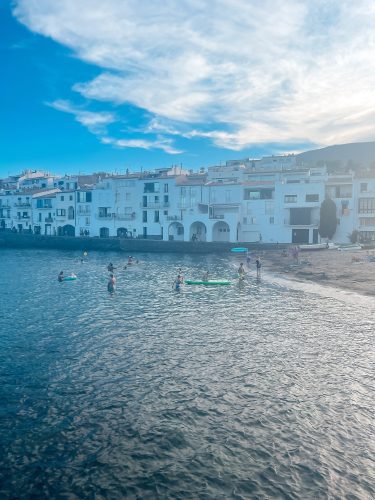 Ses Oliveres
If you keep walking the beach promenade of Cadaques you will soon find another beach: Ses Oliveres. This pebble beach is slightly larger than the previous ones but is mostly used for boat rentals. It looks rather steep and you can find larger stones here that do not exactly make it inviting to go swimming here. We did not see any people swimming at this beach when we visited Cadaques.
But if you want to e.g. rent kayaks, then this is the beach you should check out. Another place you can visit is the restaurant "Ses Oliveres", that is right at the beach.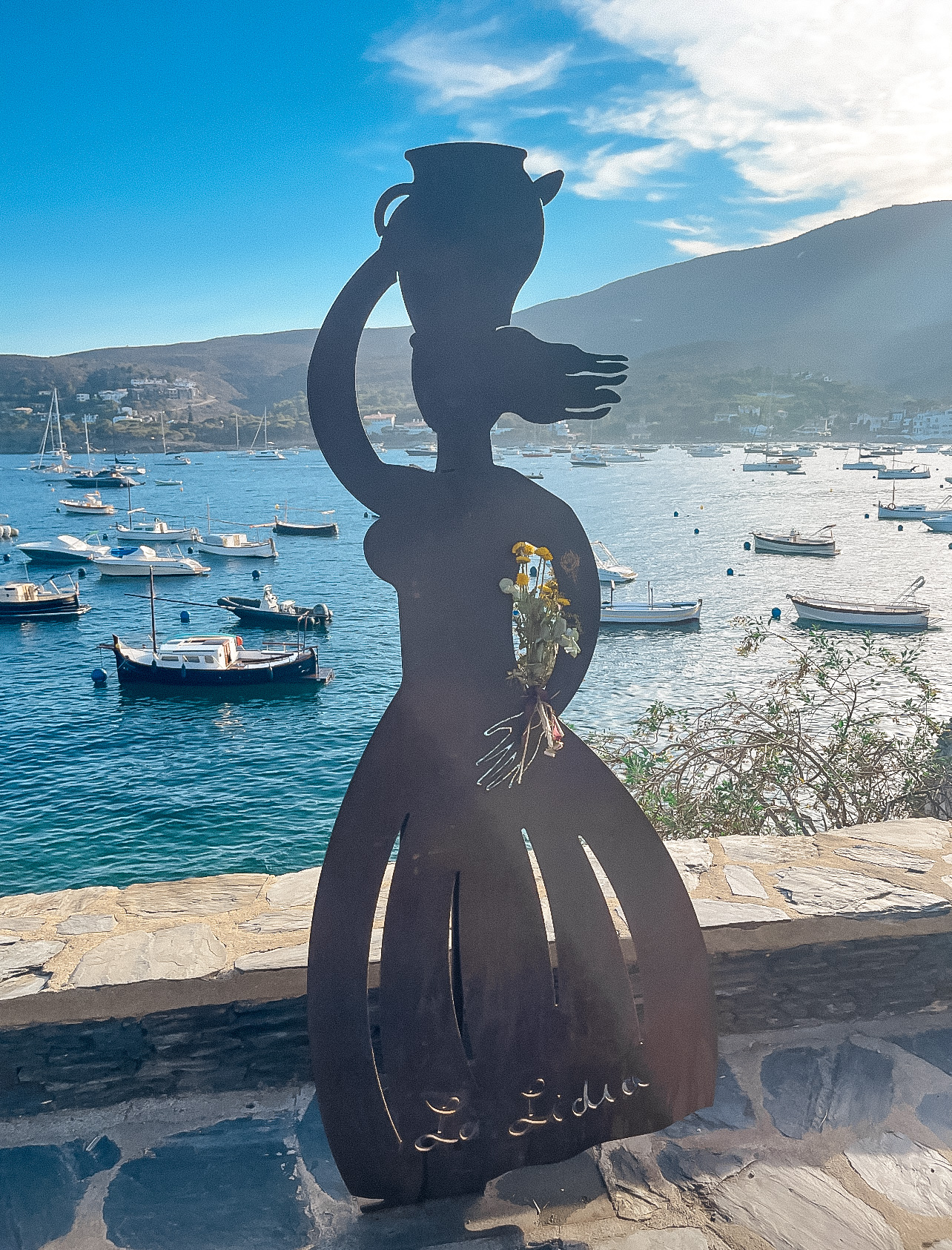 ---
Cadaques beaches, which are a bit further away:
Visit Roses, for beautiful beaches close to Cadaqués
If you are looking for beaches close to Cadaques you should check out Roses. Roses is a town close to Cadaques that is slightly bigger and offers more beach activities and places to visit. You can start with Roses' main beach called "Platja Nova" or explore the more hidden beaches close to it!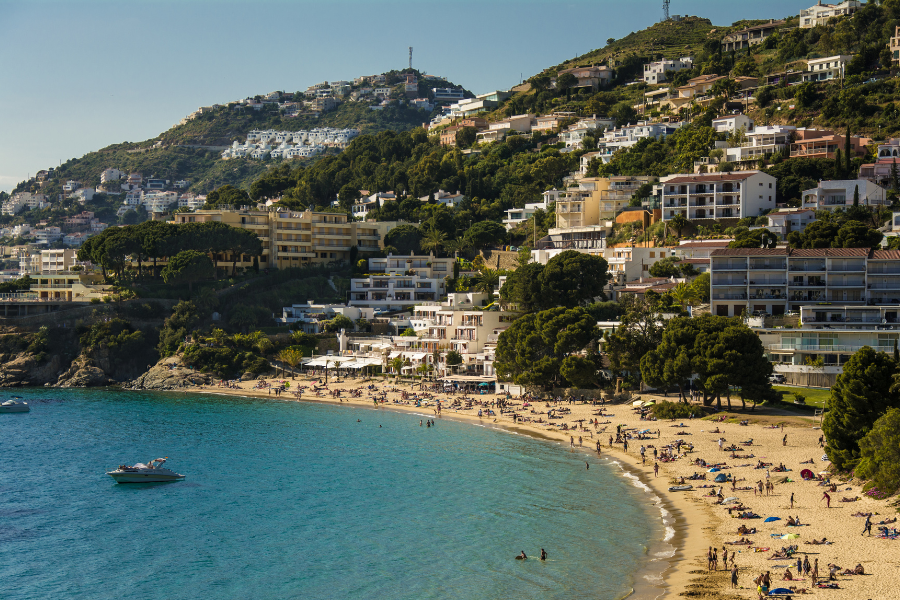 Rent a boat in Roses and explore Cadaques beaches and bays
The highlight of our Costa Brava trip was renting out a boat and having a fun boat trip along the coastline. And the best part: No, you don't need a license for it! My boyfriend and I did this activity in Blanes, but you can also do that in Roses, which is a city close to Cadaques. You can rent out a small motorboat and explore the bays and beaches surrounding Roses and Cadaques. You can stop wherever you like to go swimming and snorkeling and can be completely by yourself. You can do this activity as a couple but the boat actually fits up to six people. Such a fun activity to do with friends!
I found this get your guide trip where you can rent a boat (without a license) for 4 hours. You can find more information here.
Playa Caials, one of the best Cadaqués beaches for divers
Playa Caials is a pebble beach that is located close to Cadaques. Many people know this because it is especially popular amongst divers in Cadaques. Not only does this beach have very clear water and gorgeous views. If you go snorkeling you will find a beautiful cave and the ruins of English boat Llanishen, which sank in 1917.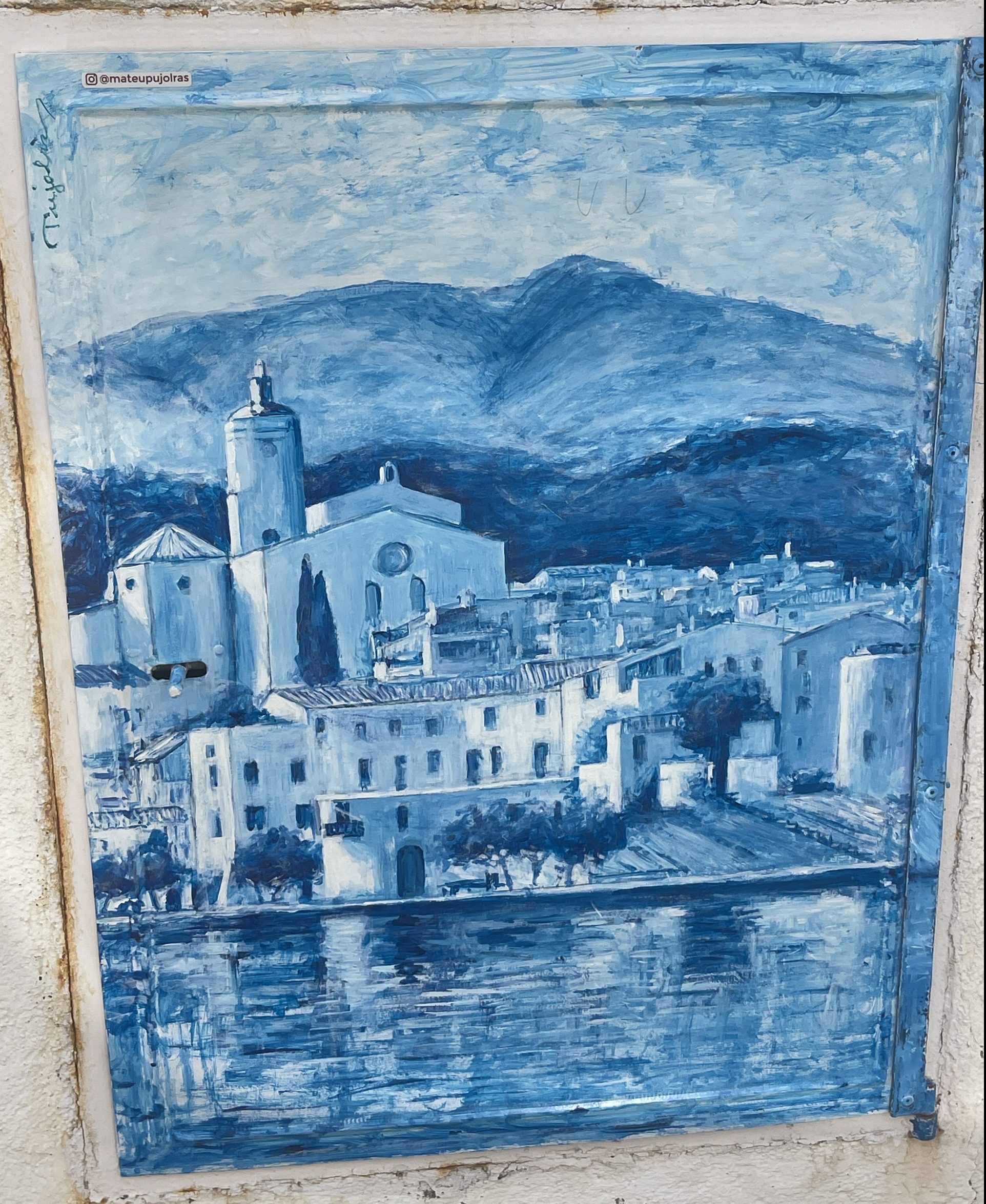 Cala Sa Cebolla
Now let's move to the Cadaques beaches with beautiful sand! Cala Sa Cebolla is a beach that is only a couple of kilometers away from the city center of Cadaques. You can easily reach it by car following Google Maps. But once you park your car you have to walk for about 20min to get to the beach but once you arrive you will find yourself surrounded by nature and turquoise water. 
Cala Jugadora 
Cala Jugadora is probably one of the best-kept secrets of Cap de Creus. Cap de Creus is a natural park close to Cadaques, that has a limited number of visitors allowed to go there every day. The water there is crystal clear and since not many people are allowed to go there you will have this beach almost just for yourself. Another sand beach close to Cadaques, forget about the pebbles in the city!
If you decide to visit this gorgeous Cadaques beach, you can leave your car in Parking 4 in Cadaques (Aparcament Port-Lligat) and take the bus from there.
Or you can go towards the lighthouse in Cap de Creus, around 600m before you reach it you will see a road "Cala Jugadora". There, you will see a parking lot where you can leave your car. From there, you can walk to Cala Jugadora.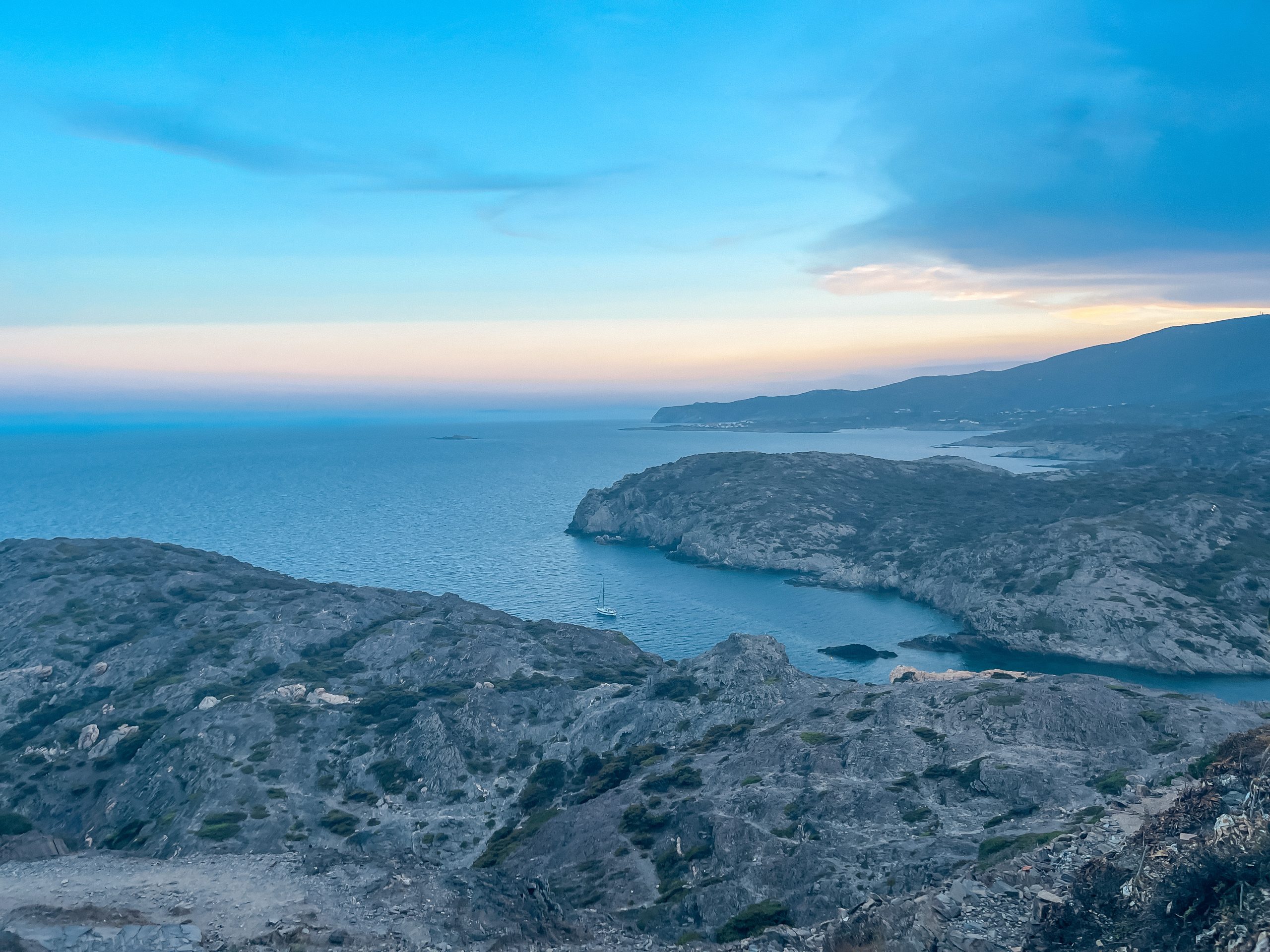 What to keep in mind when going to the beach in Cadaques
Cadaques beaches are rocky!
The beaches we visited in Cadaques seemed to be mostly rock beaches, not the white sand beaches you might have seen on other Spanish beaches. Personally, I actually liked these type of beaches because it makes the water appear very clear. But many people wore water shoes so they would not have to walk on the uncomfortable stones. This could be something to look into. We also bought water shoes during our Costa Brava trip in Decathlon (They cost less than 10€ there)
Protect yourself from the sun at the beaches in Cadaques
We visited the Cadaques beaches in August and wow, the heat was insane! We spent the whole afternoon eating ice cream and sitting inside restaurants. The sun was very strong! I do recommend bringing sunscreen and reapplying thoroughly. While Cadaques beaches are so worth visiting, you do not want to have a bad sunburn at the end of the day!