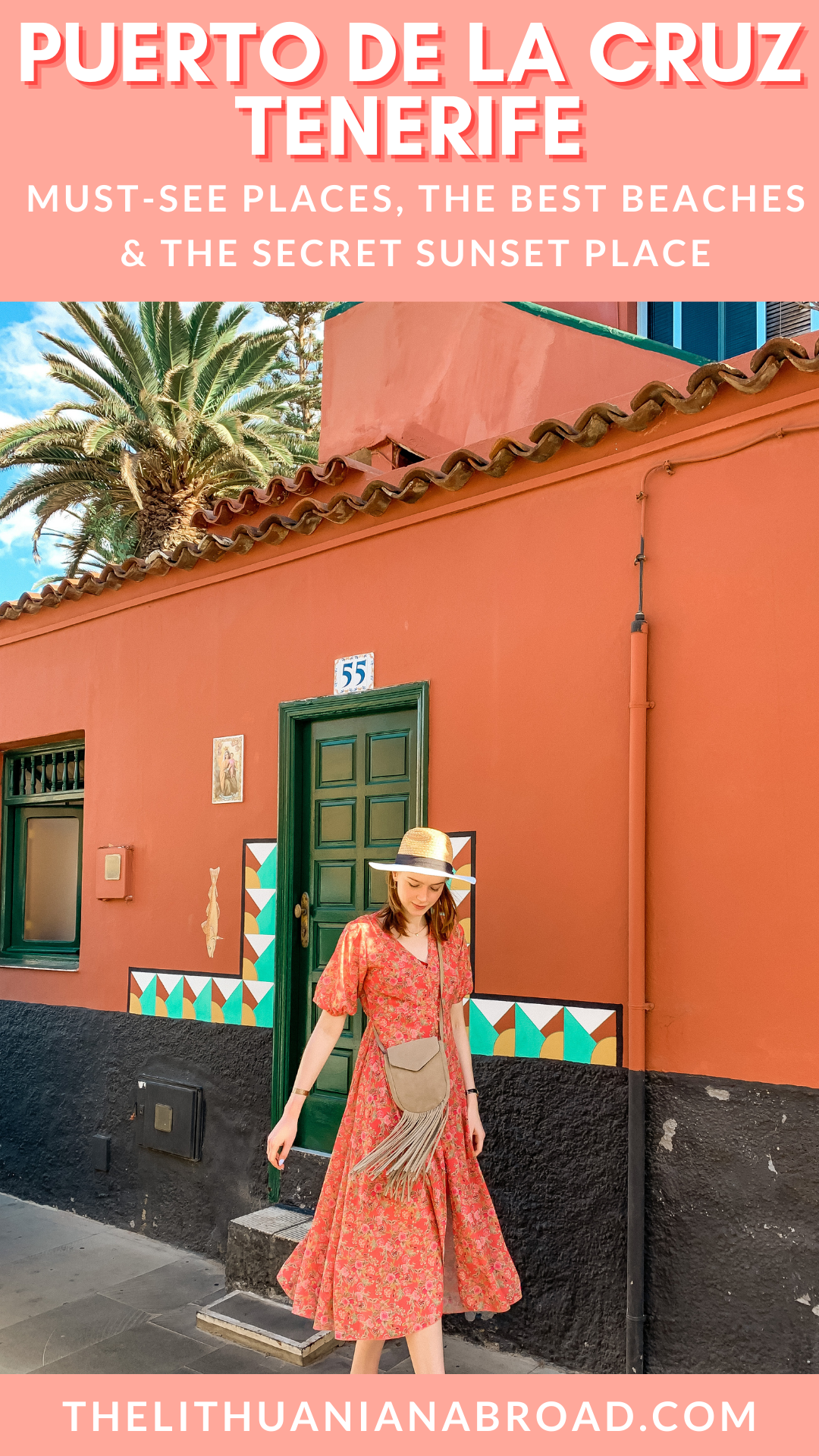 I am writing this post just one day after we left Puerto de la Cruz. I knew right from the beginning that I wanted to write about it. Puerto de la Cruz is a small town in the north of Tenerife, a 30-minute bus ride away from the airport of the North of Tenerife. And let me tell you, Puerto de la Cruz has everything Tenerife is famous for: Amazing cuisine, great weather, and stunning black sand beaches! In this Puerto de la Cruz guide I will show you the best attractions and I will even show you our favorite sunset spot! You cannot miss this while being in Puerto! So let's jump into it: What to do in Puerto de la Cruz, one of the most beautiful cities in Tenerife!
Other blogposts about Tenerife that could be interesting for you:
Where should I stay in Puerto de la Cruz?
€: Stay in a former dance venue in Hotel Monopol
This affordable place is not only family-run but also a true gem. This building from the 19th century used to be the city's dance hall and has so much charm. And you will be staying in the heart of Puerto de la Cruz!
€€: Stay right next to the beach at Hotel Vallemar
The location of this hotel is unbeatable. It is located right next to the beach in the center of Puerto de la Cruz and gives you amazing views of the sea. It is an adult-only hotel – perfect if you are looking for a quiet vacation with your loved one.
If you are coming to Tenerife to relax and enjoy the tropical surroundings this is your place to go. Booking a room includes unlimited Spa access, which honestly, sounds like the dream. And apart from that, it's all-inclusive! Nothing you will have to worry about during your trip.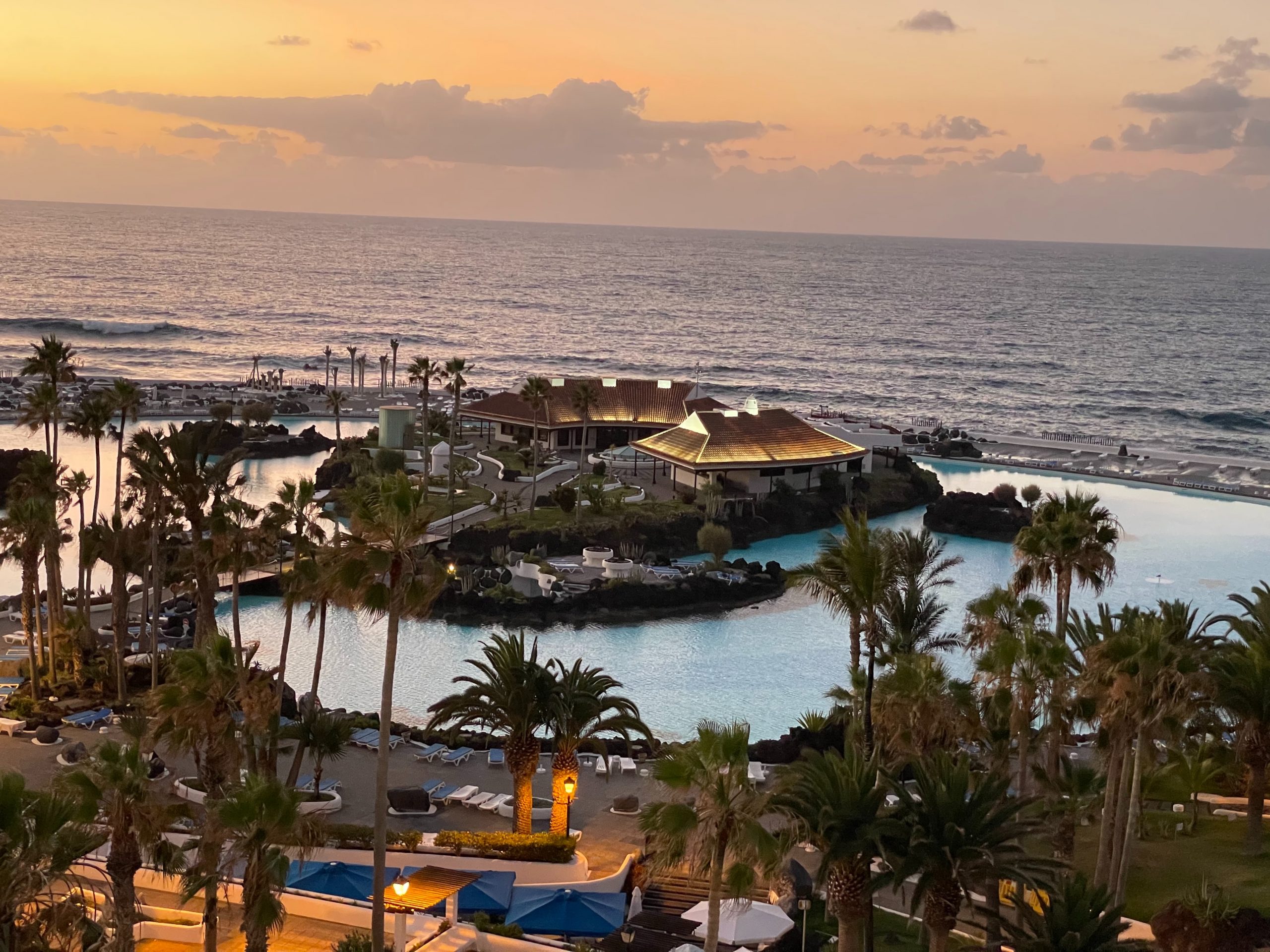 How to get to Puerto de la Cruz?
I am not of these people that really dislike (ok, I actually hate it!) figuring out public transport in places I don't know. And in this case, it was going from one side of the island to the other one. But let me tell you: The public transport in Tenerife is amazing.
In order to get to Puerto Cruz from the airport in the North of the island you just have to take bus 30. Locals call the buses "Guagua". So do not get confused if someone tells you to get a Guagua. The trip is only about 35-40 min long and costs around 4,50Euro.
In case you are going to Puerto de la Cruz from another part of the island I can also suggest taking the bus. I found google maps quite reliable and the buses are very affordable.
What is Puerto de la Cruz famous for?
Puerto de la Cruz used to be called "Port of the Cross", but now it is only called by its Spanish name. It used to be a small fishers village but grew bigger as trade increased. It is famous for its black beaches and its old town. But at the same time, it has a vast boulevard full of hotels. In other words, there are so many things to do and places to explore in Puerto de la Cruz, that you will not get tired!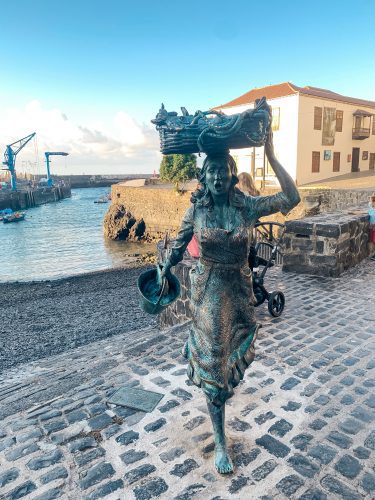 What to see in Puerto de la Cruz:
Plaza de Charco
As I said before, Puerto de la Cruz used to be a small fisher village. And there are parts of the city that look like it. The old town is full of colonial small houses and tiny streets. Plaza del Charco is a small square by the old harbor. It is full of palm trees, restaurants and shops. We enjoyed a glass of wine here. There is even a statue of a woman carrying fish. She has her mouth wide open so it looks like she is shouting around the harbor trying to sell it.
El Peñón del Fraile
El Peñón del Fraile is a beautiful white construction that mostly serves as an observation deck. While it does not give you a particularly interesting view I still enjoyed going up there. Because you walk through the old part of Puerto de la Cruz, which I really beautiful in itself.
Paseo San Amaro. The stairs for Agatha Christie
Okay, let's be honest. Many people only visit this place because it serves great for Instagram photos. But these colorful stairs actually have a deeper meaning. During my research, I found out that Agatha Christie visited Puerto de la Cruz in 1927 and wrote her book "The Mystery of the Blue Train" during her stay. Up to this day, the inhabitants of Tenerife are very proud that she visited the island. There is even the Agatha Christie Festival in Tenerife once a year.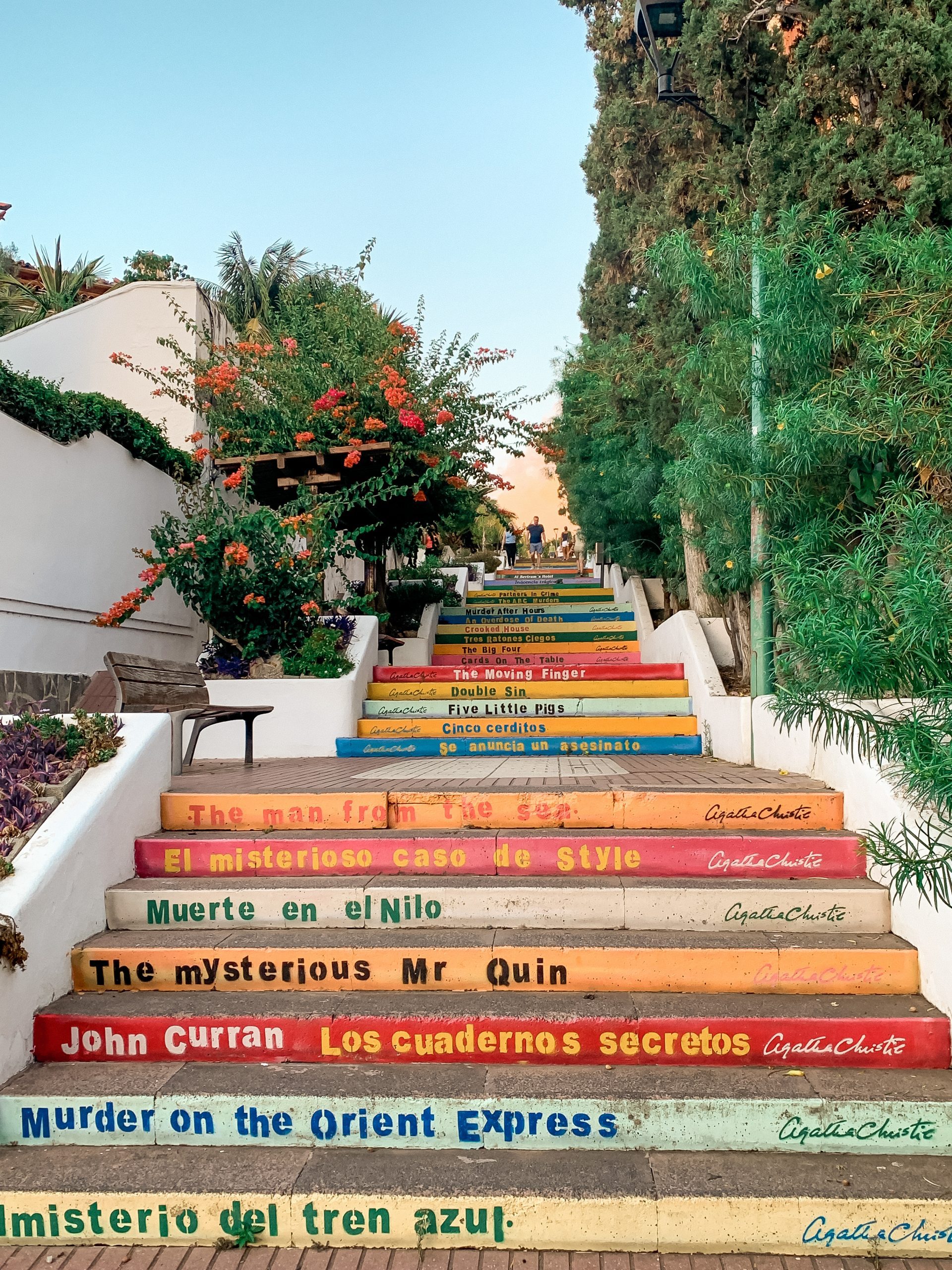 So back to the stairs: The stairs connect the lower beach area with the higher parts of town. Every single step of these stairs features a book title by Agatha Christie. Now you know more about this spot, apart from it looking great in photos!
Lago Martiánez
This is an artificial pool complex with seawater. Perfect, if you are feeling uncomfortable going to swim in those crazy waves! Some beaches in Tenerife are really scary because the waves are huge and the currents are strong. So that seems like a great alternative. We were planning on going there but ran out of time. I would have considered it if we stayed longer. The entrance is 6 Euros.
The Botanical Garden of Puerto de la Cruz
I always go to Botanical Gardens when I am traveling. If you are like me, then you will really like this one. It seems very tropical and has many plans from all over the world. From Eucalyptus from Australia to Jackfruit from Malaysia. And since Tenerife is home to bananas, there are many different banana plants as well. The entry is only 3 Euros. Perfect for plant lovers!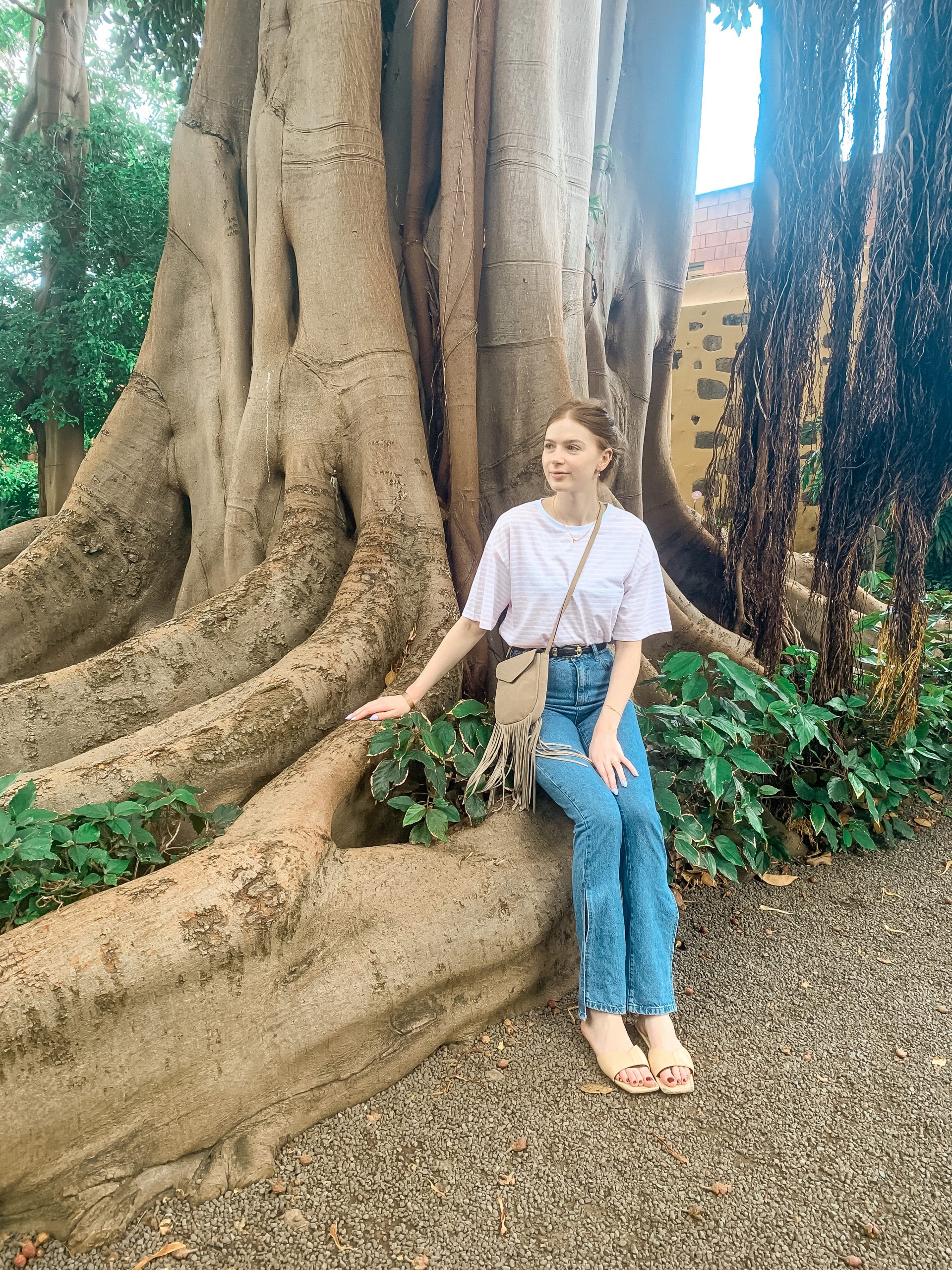 Great Pastry Shops you need to try
My friend loves pastries and I like everything that is sweet and unhealthy, so we are always on the lookout for a good pastry.
Now, having said that, you need to try a "barraquito" when you come to Tenerife. This is a local coffee variation with liquor 43 and condensed milk. This will probably be the sweetest coffee drink you ever had, but it is so good. By the way, I wrote a blog post about the local slang used in Tenerife. Check out this post to learn 9 very common expressions.
For Pastries, I can really recommend "Relieve Boutique Puerto de la Cruz" and "El Aderno". They had an amazing offer of pastries. The prices are very affordable. Especially for someone like me, who is used to Madrid prices. If you have a sweet tooth, this is something for you!
Barraquito is a local coffee variation that you cannot miss during your visit in Tenerife!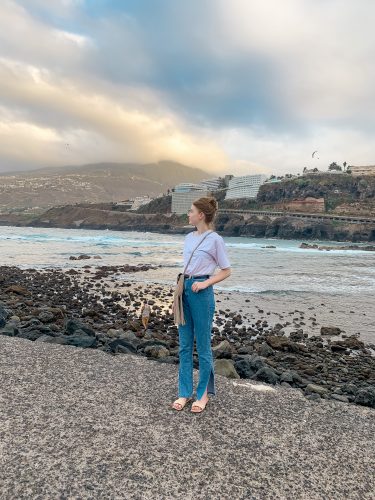 What to do in Puerto de la Cruz? Explore the beaches
As mentioned before, Tenerife is famous for its beautiful black sand beaches. And there are so many natural pools as well! Here, I am going to mention beaches close to Puerto de la Cruz that you have to check out:
Playa de Martiánez
This beach is literally in the city center of Puerto de la Cruz, but you are usually not allowed to swim there. The waves are huge and there are huge rocks in the water. But it offers you an amazing view of the close mountains and the famous "Panza de burro". This is what locals call low-hanging clouds. This beach is amazing for an evening walk. It is very close to restaurants and the Lago Martiánez mentioned above. Be careful! Because there are people paragliding who use this beach for coming down to earth.
Playa de Bollullo
Playa de Bollullo is a good 45-minute walk away from the city center of Puerto de la Cruz. But, it is definitely worth it. There are even some small restaurants where you can get food and drinks. So it is perfect if you are planning to spend the day there. I think this beach is perfect because you can still reach it by walking.
Playa de Castro
Now, this is the right option, if you want to go for a hike. But it is so much worth it! First of all, you have to take the bus (guagua) to Puerto Franco. If you are going from Puerto de la Cruz you have to take bus 363. Then, it will be a good 45-minute walk to the beach. Keep in mind that you have to go uphill on your way back so that takes longer.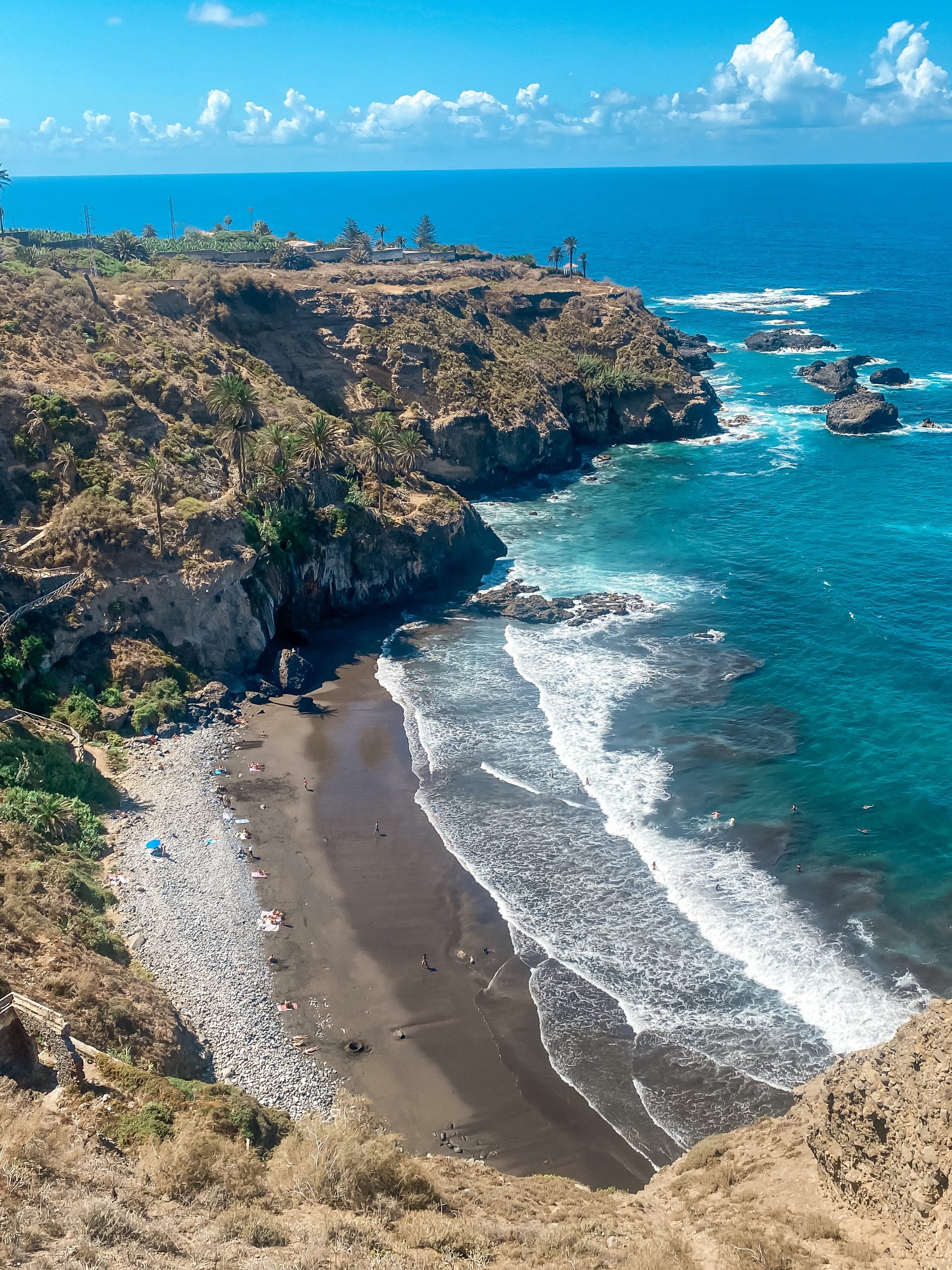 And bring a lot of water and sunscreen. There is very little shade on the hike. And there are no bars or restaurants to buy drinks or food.
But wow, this beach is absolutely beautiful and it even has a small waterfall at the beach! But be careful with the waves. They are beyond strong. I really enjoyed staying at this beach. And looking back, I think it was one of the most beautiful beaches I have been to in a long time!
Tenerife is famous for its black sand beaches! I especially love the beach "Playa de Castro" 🙂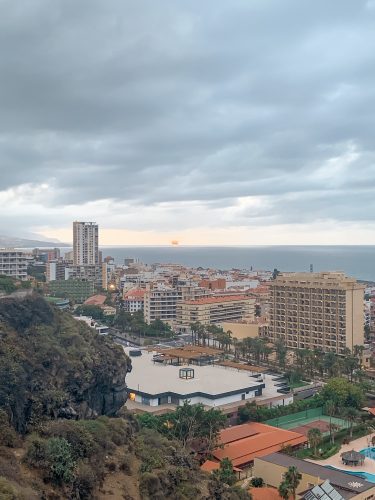 Mirador La Paz: The best sunset place at Puerto de la Cruz
I am not kidding when I call it the best sunset place. It is called "Mirador la Paz". I think we went there three nights in a row. The view is spectacular. As the viewpoint is quite high up on a mountain it gives you the view of the whole city, the beach, people paragliding and well, the sun! There is usually a saxophone player during the evenings. It gives the place such a romantic atmosphere. I really recommend going there if you have time.
Mirador la Paz is one of the most beautiful sunset spots in Puerto de la Cruz.
And that was my 'what to do in Puerto de la Cruz'- Guide! I hope you will enjoy your time in Puerto de la Cruz just as much as I did. I was so surprised about how beautiful it is and how many places there are to explore.