Tenerife is a paradise of black sand beaches, amazing weather the whole year round, gorgeous nature and absolutely stunning beaches. Honestly, you will not believe that the Canary Islands could be so beautiful and have such a variety of landscapes. All while being only three hours away by plane from the Spanish mainland. And the beaches come in all different colours and shapes as well. As you might already know, Tenerife is famous for its beautiful black sand beaches that have their colour due to the volcanic rocks all around the island. But did you know that not all beaches in Tenerife have that typical black sand? There is one really famous beach, in particular, that has white sand. I will tell you in the blog post below which beach I am talking about 🙂 So, let's jump right into it. Here are the six most beautiful beaches in Tenerife:
Other blogpost that could interest you:
1. Playa de las Teresitas
Let's start with this beautiful beach on the Northern part of the island of Tenerife. Playa de las Teresitas is right next to Santa Cruz, the capital of Tenerife, and definitely belongs to one of the most beautiful beaches of Tenerife. Like I said before, it is one of the few beaches of Tenerife that has white sand.
How come? More than a hundred years ago, Playa de las Teresitas also had black sand and tiny rocks. But in the 1950s several beaches in Tenerife kept disappearing as locals would use the sand for construction work. So the city of Santa Cruz decided to build an artificial beach instead. Since black sand was too expensive due to its scarcity on the island the Spanish government bought Sand from Western Sahara. White sand also has the advantage that it's more appealing to tourists who were not used to the typical black sand in Tenerife.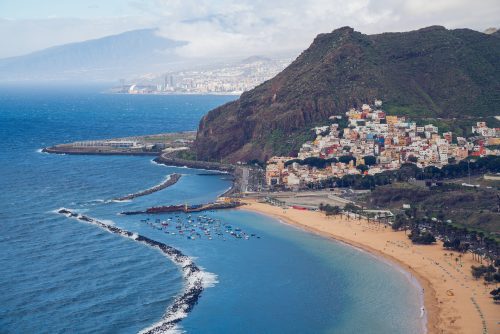 Why do I think that you should visit Playa de las Teresitas in Tenerife? First of all, it is very family-friendly. The beaches in Tenerife are usually very wild and the current is strong. And most of the time it will be quite a struggle to get there as climbing rocks is involved. But Playa de las Teresitas is just outside of Santa Cruz and it is easy to reach it by public transport, too. Just take bus (guagua) 910 from Intercambiador Laguna to Las Teresitas.
By the way, if you plan on taking the bus in Tenerife (quite reliable and affordable) you can find timetables here.
2. Check out the "Piscinas Naturales" in Tenerife
Piscinas Naturales are "Natural Pools" and are very common all over the Canary Islands. Locals refer call areas at the beach "Natural Pools" that are protected by rocks or any other kind of barrier from the open ocean, but the water is still able to reach this separate area. So they are kind of pools in the ocean. The water you are swimming in is still ocean water. The special thing is that you will be able to swim there without being scared of waves, currents or wind. That is the reason why these pools are very family-friendly.
You can usually find them all over the island, typically closer to a village or city. They are definitely worth a visit.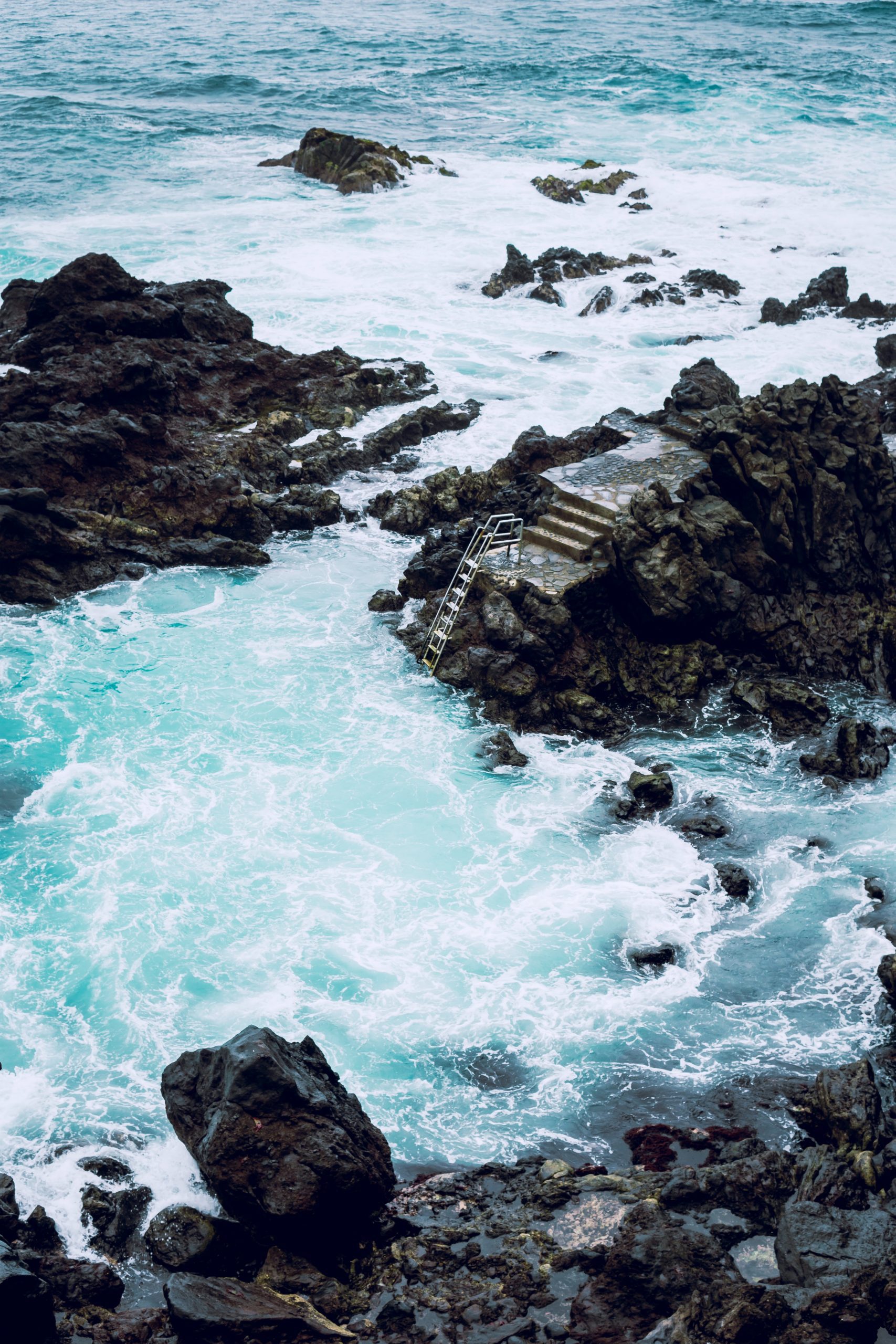 3. Playa del Benijo
In my opinion, Playa del Benijo is probably the most beautiful beach in Tenerife. I had this beach on my 'Tenerife Bucket List' for ages, and I was so happy when I finally got to visit it! Playa del Benijo is a beach in the very north of the island. But here comes the downside: Getting there is SO annoying! If you are going by car, it will take you at least one hour from Santa Cruz and you will probably get carsick. The roads are so curvy it's crazy! You can also reach Playa del Benijo by public transport. Even though I would really recommend going by car. You just have to take bus 946 from Intercambiador Santa Cruz. It will take you to the closest town of Almáciga. Then you just have to walk around 15 minutes to the beach.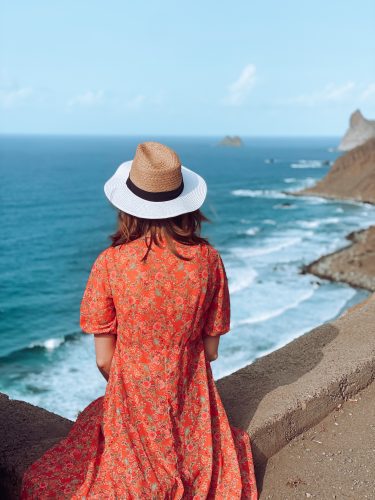 Be aware! Playa del Benijo is a little bit hard to reach as you have to go down many stairs in order to reach the beach. And the closest supermarkets/restaurants are in Benijo (There are some restaurants next to the entrance of the beach, but they were ALL closed when I was there). So do not forget to bring water and snacks when you go there. But believe me, it is worth the hassle. Playa del Benijo is a beach that has pitch black sand, rock formations in the water and an absolutely stunning view of the ocean!
4. Playa de Castro & Playa de Gordejuela
Playa de Castro and Playa de Gordejuela are the perfect destinations for a one day trip from Puerto de la Cruz. We decided to go to Playa del Castro, which has a small waterfall running down the cliffs to the beach. The water is falling from the cliffs to a rock at the beach and it is absolutely beautiful to look at. So, if you want to see a waterfall in Tenerife, then this is the beach to go!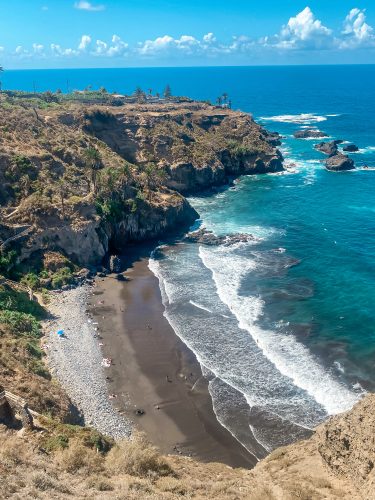 I may not have mentioned it before, but the public transport in Tenerife is great. So you can reach these beaches easily by public transport. If you decide to go by bus, you can get there by taking bus 363 to Puerto Franco. And then ladies and gentlemen, you have to hike quite a bit. Please, make sure to take water with you. It gets very hot during the day and the hike is a mixture of uphill and downhill sections. But during the hike, we were already able to see absolutely beautiful viewpoints, so it looked very promising.
To be honest, we did not expect a lot when we decided to go there. But now I have to say that this was one of the most beautiful beaches in Tenerife I got to see. I loved how private this beach was, the water was absolutely clear and the view was just breathtaking. Make sure to put this place on your 'Tenerife Bucket List' and if you end up going there, let me know if you liked it.
5. Playa Bollullo
If you are not able to rent a car during your stay, don't worry. That is why I included this beach on my list as well. Playa Bollullo is a very beautiful beach in Tenerife, not too far from Puerto de la Cruz. It has beautiful banana plantations surrounding it and is the perfect destination if you want to escape the city for a while. And the best part: You can go there simply by walking from the city centre.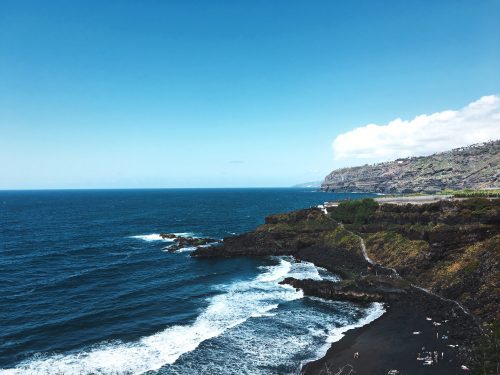 The first thing you should know is that you need to take proper shoes if you want to go there. The last part on your way to the beach is going to be a little hike, so come prepared. Buuuut, the great thing about Playa Bollullo is that there are beach bars around it where you can buy water and snacks. So you do not need to bring huge amounts of water when going there.
Pssst… I've heard that this is THE beach to go-to for the best sunsets in Tenerife.
6. Playa de los Gigantes
Playa de los Gigantes is such a breathtaking place. While I was going my research I found many sources stating that this is the most beautiful beach in Tenerife. I mean, imagine sunbathing at a beach that is surrounding cliffs and mountains that are more than 700m high. Sounds incredible, right? Well, then Playa de los Gigantes is your place to go.
Playa de los Gigantes is a black sand beach in the South of Tenerife. And it is famous for its unique scenery and locations. "Los Gigantes" are the huge cliffs and mountains you will be able to see from this beach, which is how this beach got its name. I wasn't able to go during my stay in Tenerife, but if I ever go back, this beach is on my bucket list.
Pssst… you can book a whale-watching tour that starts at Playa Los Gigantes here. One of the best experiences in Tenerife you will have.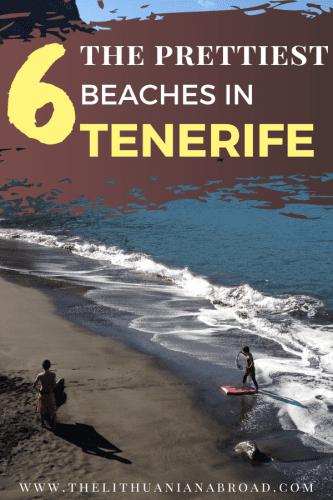 And that's it! I hope I was able to give you some ideas of where the most beautiful beaches in Tenerife are. Of course, there are many more. If you ever end up going let me know if you like the ones I mention here. And if you went to a beach in Tenerife you liked a lot, make sure to tell me in the comments 🙂