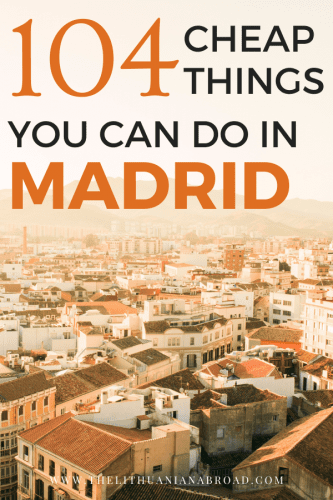 Let me tell you a secret: Madrid is not another boring capital city. And it should not be your second choice after Barcelona. I have been living in Madrid for more than four years, so believe me, there's a ton of free things to do in Madrid. But I understand that it is hard to find all the hidden gems and secret places of a city you do not know. So one day I was taking the train to Barcelona and I decided to challenge myself: I wanted to write as many cheap or free things in Madrid as I could, and the outcome is the following blogpost. I found 104 cheap or free things you can do in Madrid. This list includes the best attractions in Madrid, the most beautiful parks, the best food spots, hidden gems, and other secret places. I even tell you when you can go to the best museums in Madrid for free! To be fair, some of the items on the list might not be completely free. But I intended to include the cheapest things I could find. I promise you, this is the ultimate low-budget guide for Madrid.
I am keeping this intro short because I know this post will be crazy long. So let's jump right into it. Here are 104 cheap things to do in Madrid:
Interactive Map with all free attractions mentioned in this blogpost:
This blog post is part of my 'Madrid Bucket List' series. Here are the remaining posts of the series:
Let's begin: Madrid's famous attractions you can visit for free:
1. Take a photo at Plaza Mayor
Plaza Mayor is the Main Square of Madrid. And you guessed right, it is free to go there! Every Spanish city has a main square that usually hosts seasonal markets or other events. Madrid's Plaza Mayor was built in 1619 and absolutely stunning. Apart from taking a photo there, I would not recommend eating at the restaurants on Plaza Mayor, way too overpriced for my liking. But there's nothing wrong with a nice memory photo, right?
2. Catch a street performance at Puerta del Sol
'Puerta del Sol' translated means 'Gate of Sun' and is probably the most important square of Madrid. It is shaped in a semicircle and has the major streets of the city. What fun things can you do at Puerta del Sol? So firstly, you have to take the mandatory picture with the bear statue "El Oso y el Madroño". Then, at most times you have street musicians all around the square and they are usually very great performers! Visiting Puerta del Sol is mandatory in Madrid, and again, like all items on this list, it is free of charge.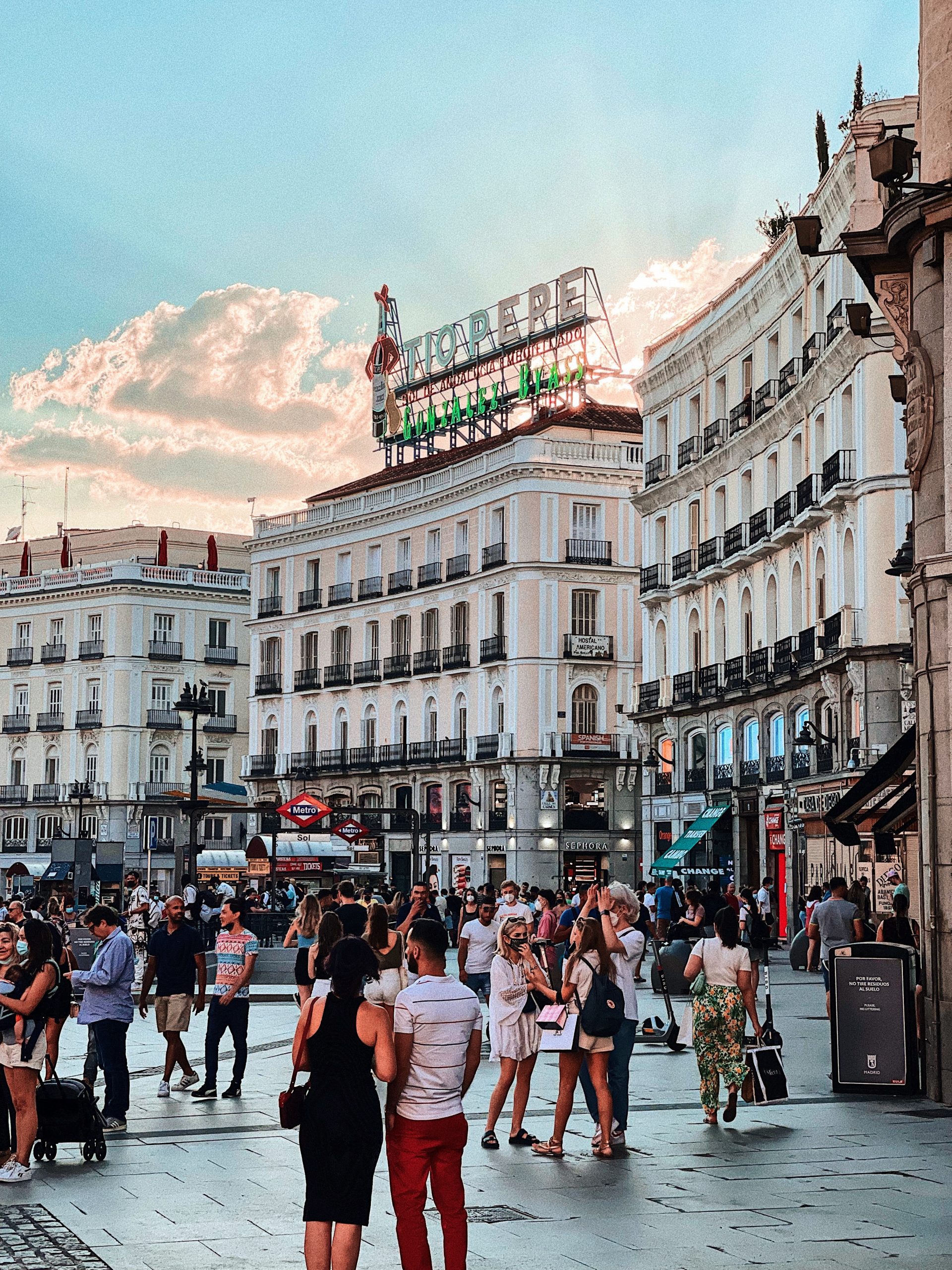 Just please, take care of your belongings when you are there. Puerta del Sol is known for pickpockets going around because it can get very crowded!
3. Walk through Gran Vía
Gran Vía is a big shopping street only minutes away from Puerta del Sol that is connecting 'Plaza de España' with Cibeles, another big square of the city. Up to the 60s it used to be the main shopping street of Madrid, filled with boutiques and other local shops. And even today you can go shopping here. Apart from that, you need to look up when you can walk through Gran Vía. The buildings are massive and look incredible! 
4. Take a photo in front of Puerta de Alcalá
Now I am giving you the PERFECT background for your next Instagram photo from your visit to Madrid. Puerta de Alcalá is a neoclassical gate on the square between Gran Vía and the street of Alcalá. It is probably reminding you of the Arc de Triomphe in Paris, right? So, when you cross the street towards Retiro Park, there is a tiny spot where you can take pictures having a beautiful background.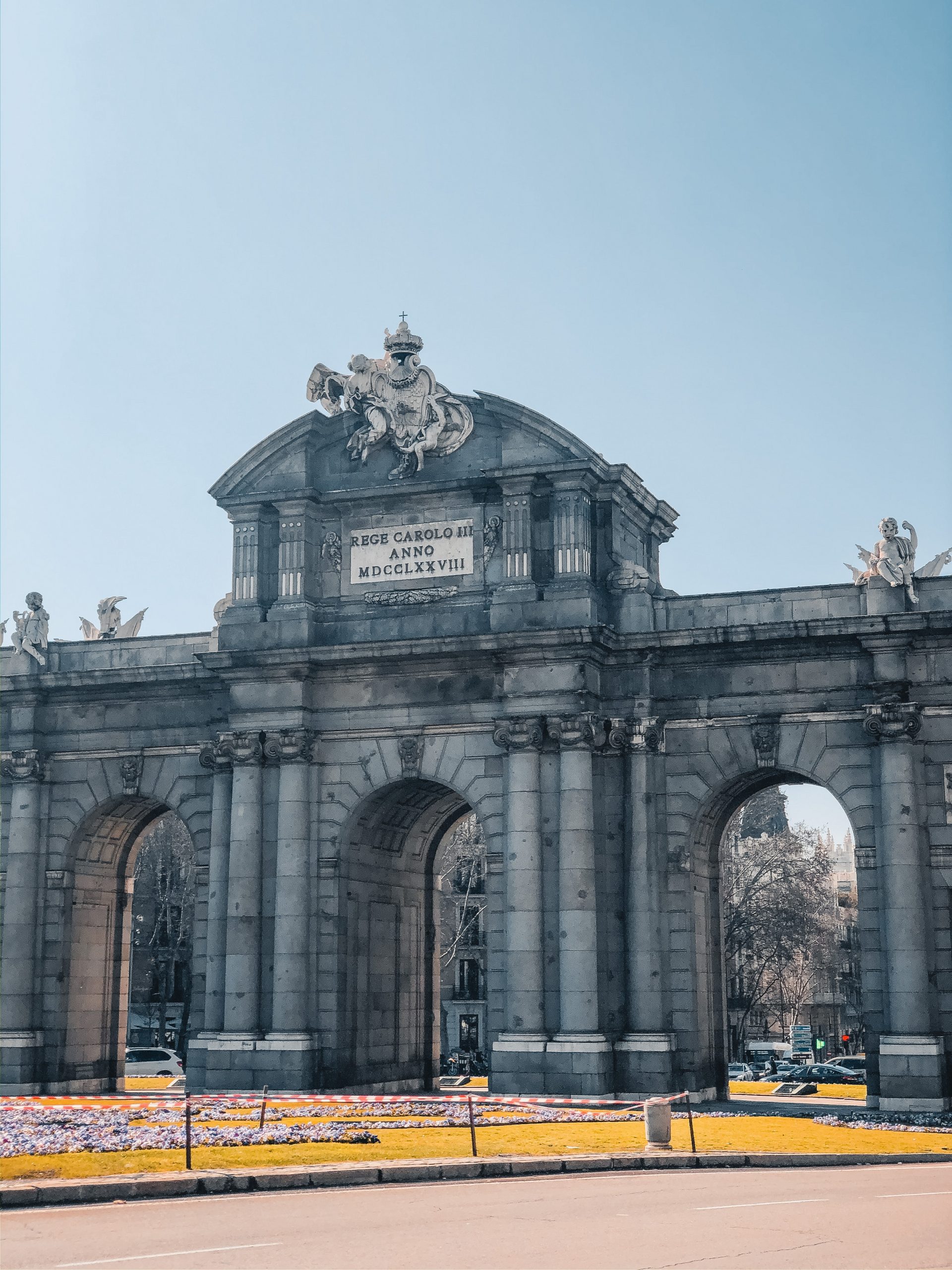 5. Relax at Plaza de España
I wish I could tell you more about Plaza de España (Spain Square) but it has been under construction for AGES! But usually, it is a popular tourist destination and a nice place to hang out during the day if you want to escape the busy city for a while. It features the monument to Miguel de Cervantes Saavedra and is also famous for the skyscrapers surrounding the plaza. A great place for a little break on your Madrid trip. 
6. Watch the sunset at Templo de Debod
Templo de Debod is a temple that was a gift from Egypt to the Spanish for helping the Egyptians with the construction of the Aswan High Dam. If you have a bit of patience to stand in the queue you can even go inside the Temple, completely free of charge.
Pro Tip: It is an absolutely gorgeous place for sunsets because you have a beautiful view of the lit-up Palace!
7. Explore La Latina, the oldest neighbourhood of Madrid
La Latina is one of the oldest neighborhoods of Madrid. Most of its buildings were built in the 19th century, on top of ancient collapsed buildings and houses. There are countless narrow streets and plazas full of bars and restaurants. La Latina really is the historic epicenter of Madrid. Definitely worth a visit! You will really see the contrast to the new parts of Madrid.
8. Walk around the Retiro Park
The Retiro is a beautiful park in the heart of Madrid. Some people call it the ¨green lung¨ of Madrid and you will see why: It has more than 15.000 species of plants and even offers sports facilities, several museums and a big pond where you can rent out small boats. So romantic! Put this high up your bucket list when you visit Madrid. (And yes, this beautiful park is free of charge!)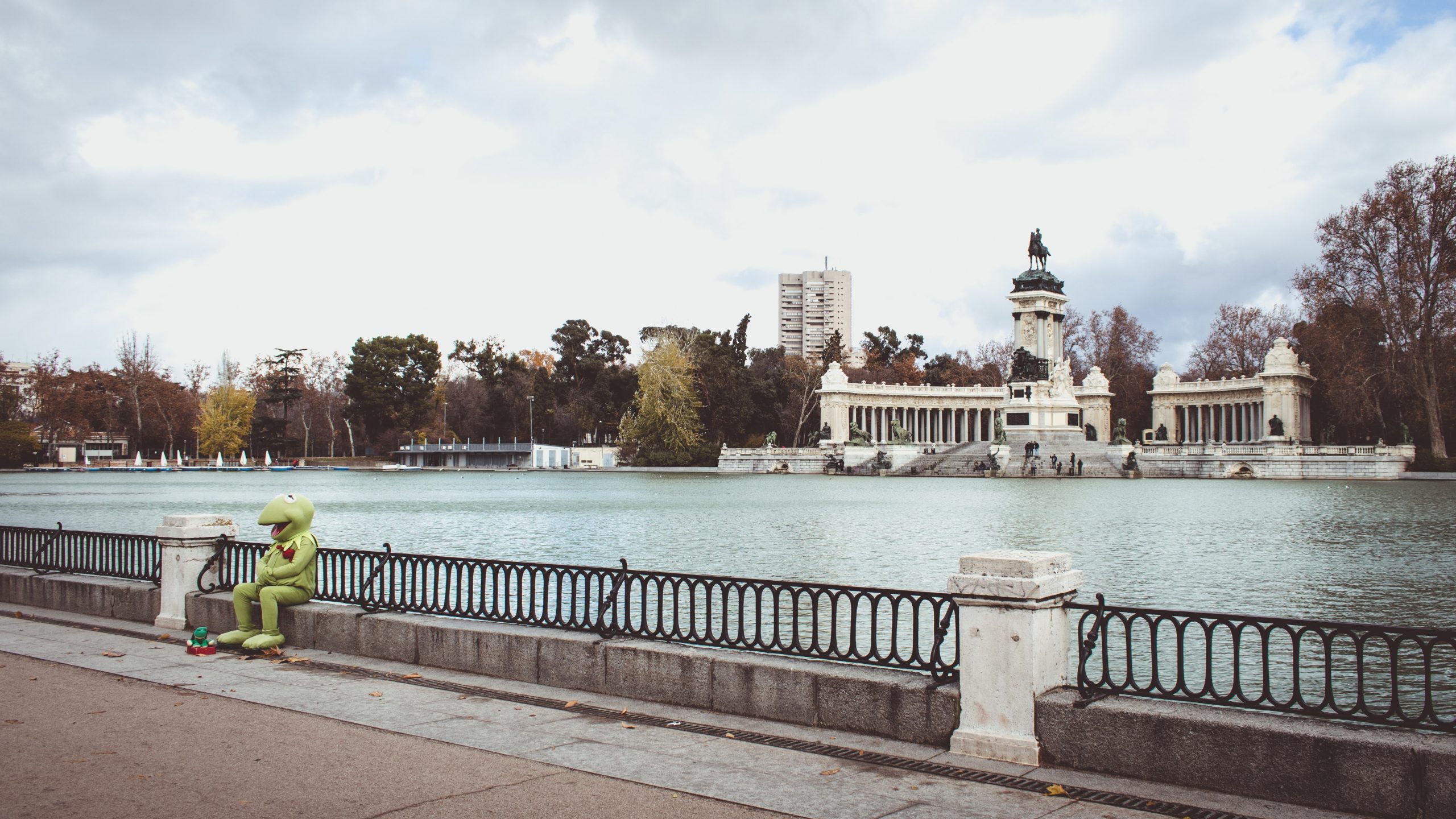 Free Attractions in the Retiro Park in Madrid:
9. Check out the current exhibition at Palacio de Cristal
Palacio de Cristal is a conservatory right in the center of the Retiro Park. It belongs to the Reina Sofia museum and is used nowadays for art exhibitions. Currently, the Palacio de Cristal features an exhibition on Colonialism. It is definitely worth checking it out.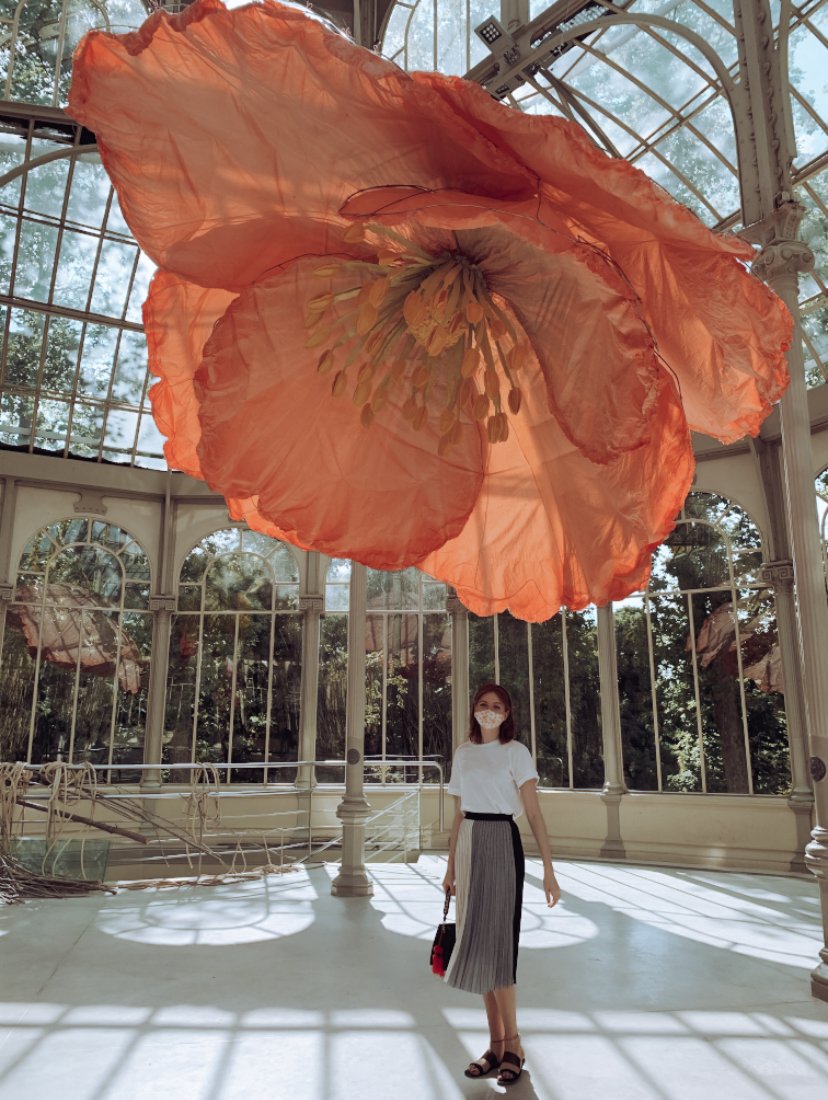 10. Admire modern art at Palacio de Velázquez
Palacio de Velázquez is a modern art museum with seasonal exhibitions. The great thing is that the entrance is always free. And you will end up seeing interesting, sometimes very bizarre, exhibitions.
11. Go on the little boats on the lake in Retiro
You can go on the little boats on the lake in Retiro Park, and it's a lot of fun. Four people can go in one boat. And then you have 45 minutes of time to row over the little lake in the park. Very beautiful!
Boat rental: You can book 45 min time slots from Monday – Sunday 10:00 am – 1:00 pm and 3:30 pm – 5:30/8:30 pm (depending on the time of year) (until 5:15 in December)
Price per boat: Mon-Fri: 6 euros / Sat-Sun and Public Holidays: 8 euros
12. Have a rest at Monument Alfonso XII
That is THE place you have to visit when you go to Retiro Park. It is the big monument at the shore of the small lake in the park. You can see the beautiful landmark on the other side of the lake.
By the way, the sunsets there are absolutely beautiful. And sometimes you even have live music there.
13. Admire the roses of ¨La Rosaleda¨ in the Retiro Park
If you happen to be in Madrid in summer you HAVE to see 'La Rosaleda' in Retiro Park. It is an elegant garden that features more than 4000 roses in all shapes and sizes. A very romantic place and perfect for taking photos.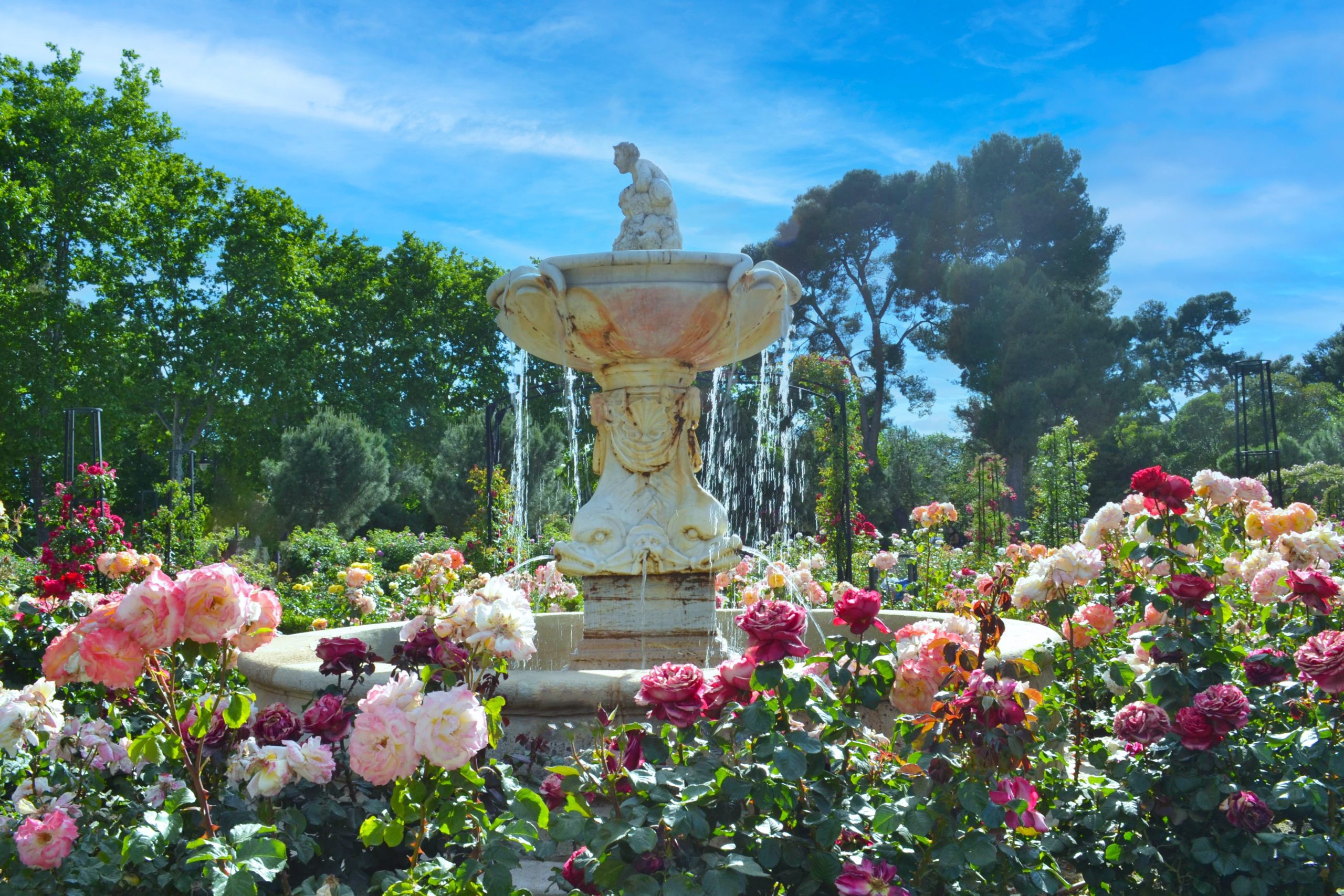 14. Spot the peacocks in the Jardines de Cecilio Rodriguez
The gardens of Cecilio Rodriguez are a perfect place to relax in Retiro Park. The architecture of this park is stunning. And there are many benches to sit down and just enjoy the moment. That is also the place where you will see peacocks walking around. Absolutely beautiful!
15. Explore Madrid with the hop-on bus!
Madrid is a big city, so I understand that maybe you will not have the time and the energy to explore a whole city on foot. That's why hop-on hop-off buses are a great alternative. The principle is simple: There are many buses driving around the city center of Madrid, covering more than 30 bus stops. You can simply hop on one of these buses and leave the bus once it arrives at your desired destination. If you want to take another bus again, you just have to wait for a new bus to come, which is usually less than 10 min away.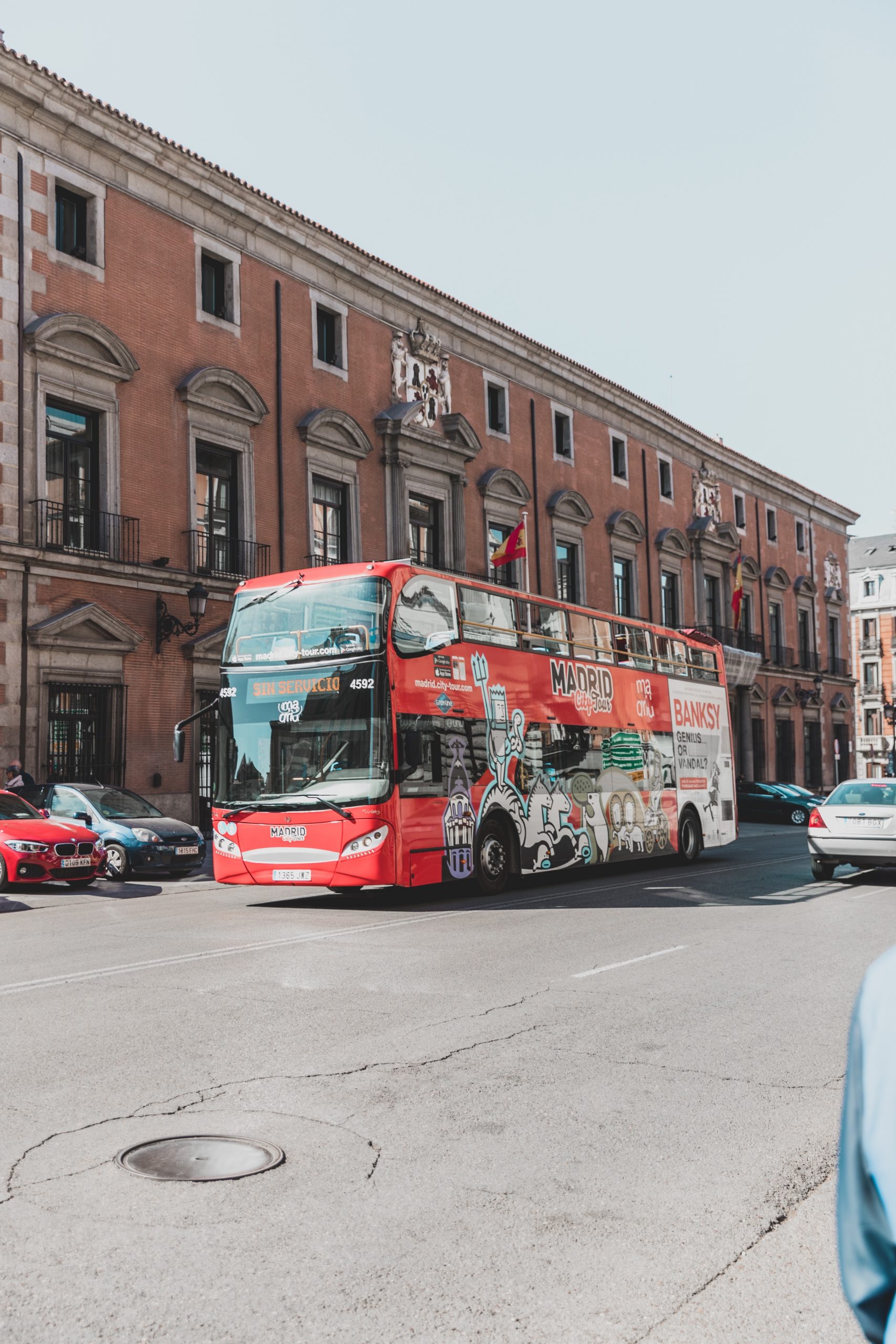 This is perfect if you plan on visiting Madrid with older travelers, that may not be able to walk so much. My mom went on one of these buses to explore Madrid, and absolutely loved it! It is definitely easier to see many attractions of Madrid in one day. Apart from that, it is very affordable. A ticket for one day costs 23€. If you want to select a ticket for two days, it's only 27€. By the way, an audio guide in 14 languages is included! 🙂
If you are unsure about booking a ticket: You can cancel up to 24 hours before the date starting date of your ticket and receive a full refund. You can find more information here 🙂
Madrid's greatest museums you can visit for free:
Madrid has world-class art museums! And something that most people do not know: There are timeslots where you can go and visit the museums for free. Even though you don't really speak Spanish you can still visit them since most of them offer English translations.
By the way, I wrote a blog post featuring a complete list of all museums in Madrid you can visit for free. You can find it here.
Here is a list of museums in Madrid that you can visit for free:
15. Learn about European art at Museo del Prado
The Prado Museum is one of the most important museums in Spain. It is known for having a fine art collection of European art. The museum itself is huge. If you really want to see everything one day probably won't even be enough. But if you wanna see the most important things, I recommend you to go during the last two opening hours, which is free as well. 
Monday- Saturday 6-8 pm
Sundays & Public Holidays 3-5 pm
If you cannot make it during the free-entrance hours, book your ticket in advance here.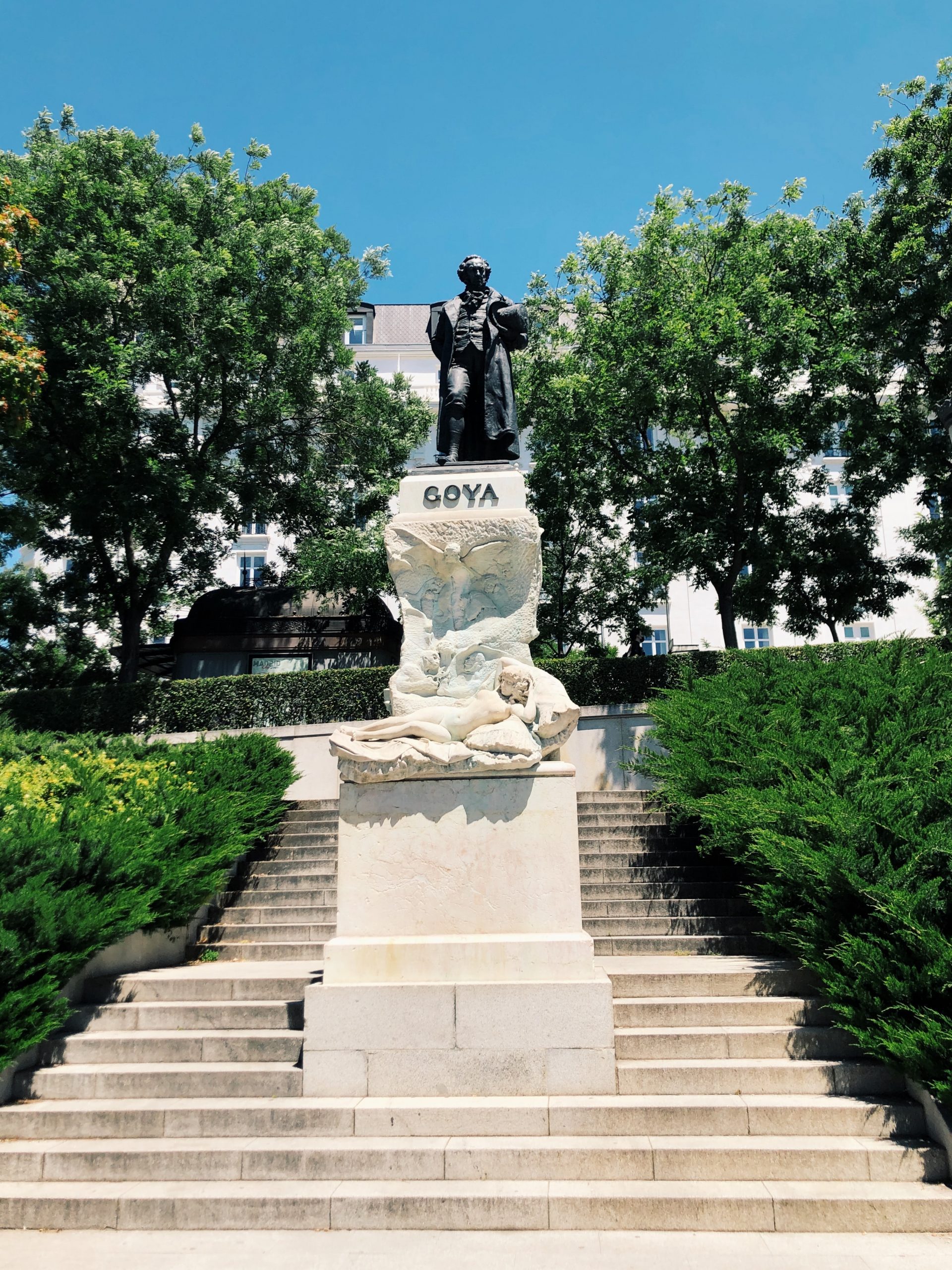 16. Check out Picasso's Guernica painting at the Museo Reina Sofia
The Reina Sofia is one of the most visited art museums worldwide. It offers a wide range of mostly Spanish Art. The collection includes paintings from Pablo Picasso and Salvador Dalí. You probably have learned about "Guernica" in school. And this painting is much bigger than you'd expect. Be smart, don't spend money on the entrance. Instead just go there during the last two opening hours, when the entrance is free:
Monday, Wednesday-Saturday: 19.00-21.00 (It's closed on Tuesdays!)
Book your ticket if you can't make it to the free-entrance hours here.
17. Visit the Thyssen-Bornemisza Museum
The last museum of the "Golden Triangle of Art", together with the Prado and Reina Sofia museum. With more than 1600 paintings it was once the second-biggest private art collection worldwide. It is one of the most important art museums in Madrid. And I have had many people telling me it was their favorite art museum in Madrid.
The permanent collection is free to visit on: Mondays, 12 PM – 4 PM.
Book your ticket if you can't make it to free-entrance hours: Here.
18. Admire the interior of the Joaquín Sorolla Museum
Joaquín Sorolla was a famous painter in Spain. After his death, the widow gifted all his paintings to the Spanish government who later decided to open a museum in the villa he used to live in. Apart from his own paintings, you will also see some of his personal belongings.
Entrance is free on Saturdays from 2 PM and Sundays.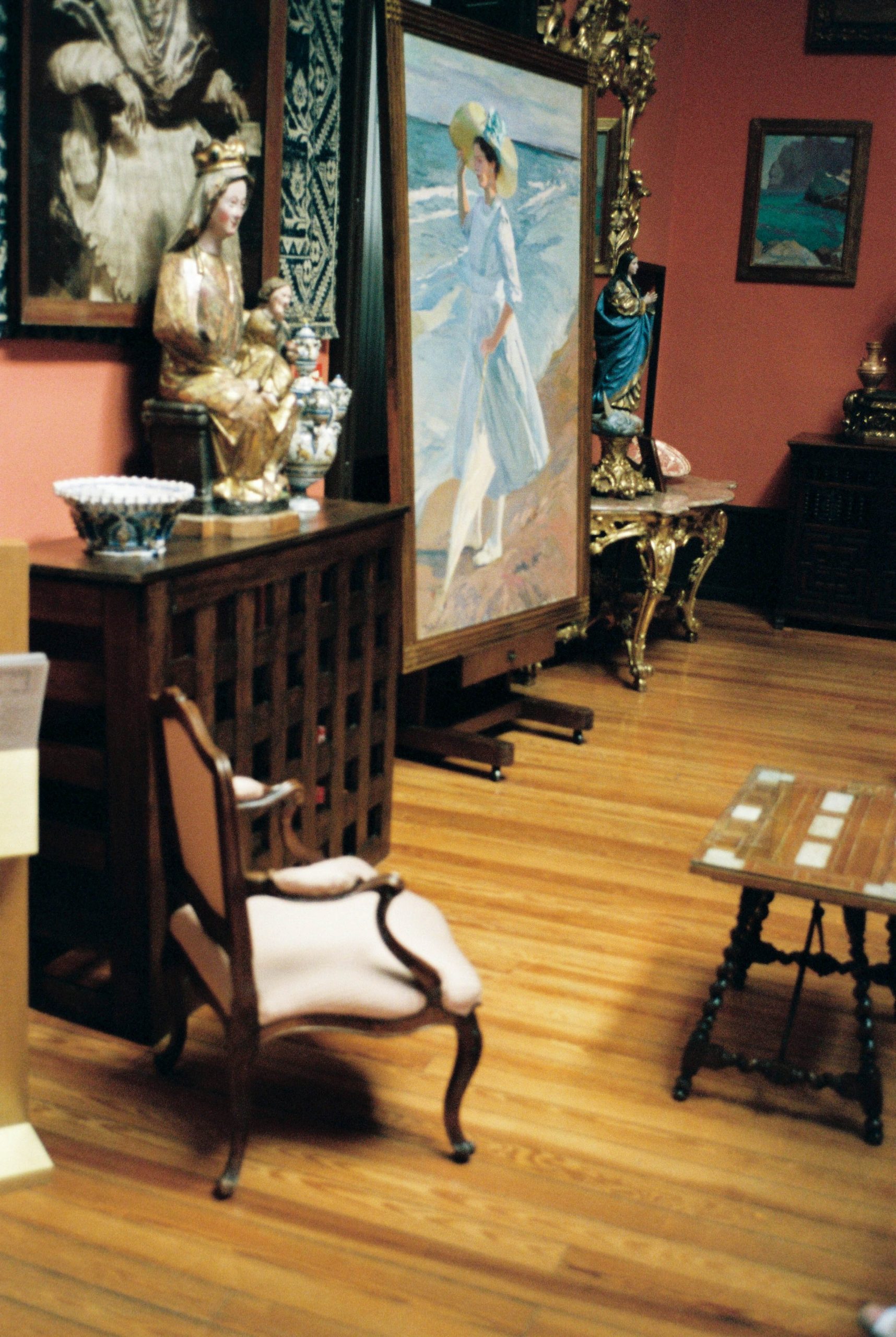 19. Learn about the Spanish Navy at Museo Naval
The Museo Naval shows the history of the Spanish Navy from the time of the catholic monarchs. It gives a lot of insights into Spain's colonies and past rulers. Apart from that, models of old ships!
Entrance is free, but you are asked for a donation of 3 Euros.
20. A lesson about Madrid's history at the History of Madrid museum
This museum is dedicated to the history of Madrid and is located on Calle Fuencarral in the city center. Fun Fact: It previously was a hospice, before it opened as a museum in 1929.
Entrance is free.
21. Espacio Telefonica, a children-friendly museum
This place was founded by Telefonica's (Spanish telecommunication company) foundation and is hosting the coolest modern exhibitions. Those exhibitions focus on innovations, technology, artificial intelligence and so much more. It is located right next to Gran Vía, so very easy to reach. One of the best free attractions in Madrid.
You can check the current exhibitions and book your entrances here.
22. Museum of Contemporary Art for Modern Art Fans!
The Museum of Contemporary Art is located in the neighborhood of Malasaña. If you are a fan of modern art, this is THE place to go. Two rooms show the modern art collection of the Madrid City Council. This collection mostly includes paintings and graphic works, as well as some sculptures and drawings.
Entrance is free.
23. Learn about Colonialism at Museum of the Americas
The Museum of the Américas shows pre-Columbian and colonial pieces. It is perfect if you are interested in Spanish history from the Colonial Times and would like to know more about Indigenous culture. There are so many free things you can do in Madrid that are educational, and I especially like this one!
Entrance is free on Thursdays from 2-7 pm.
24. Go through a journey through prehistoric times at the National Archeological Museum
This museum takes you on a journey through Spain's culture and people from prehistoric times to the 19th century. Apart from that it also has Greek and Egyptian pieces that are related to Spain. The museum is famous for its coin and medallion collection.
Entrance is free on Saturdays from 2-8 pm and on Sunday mornings.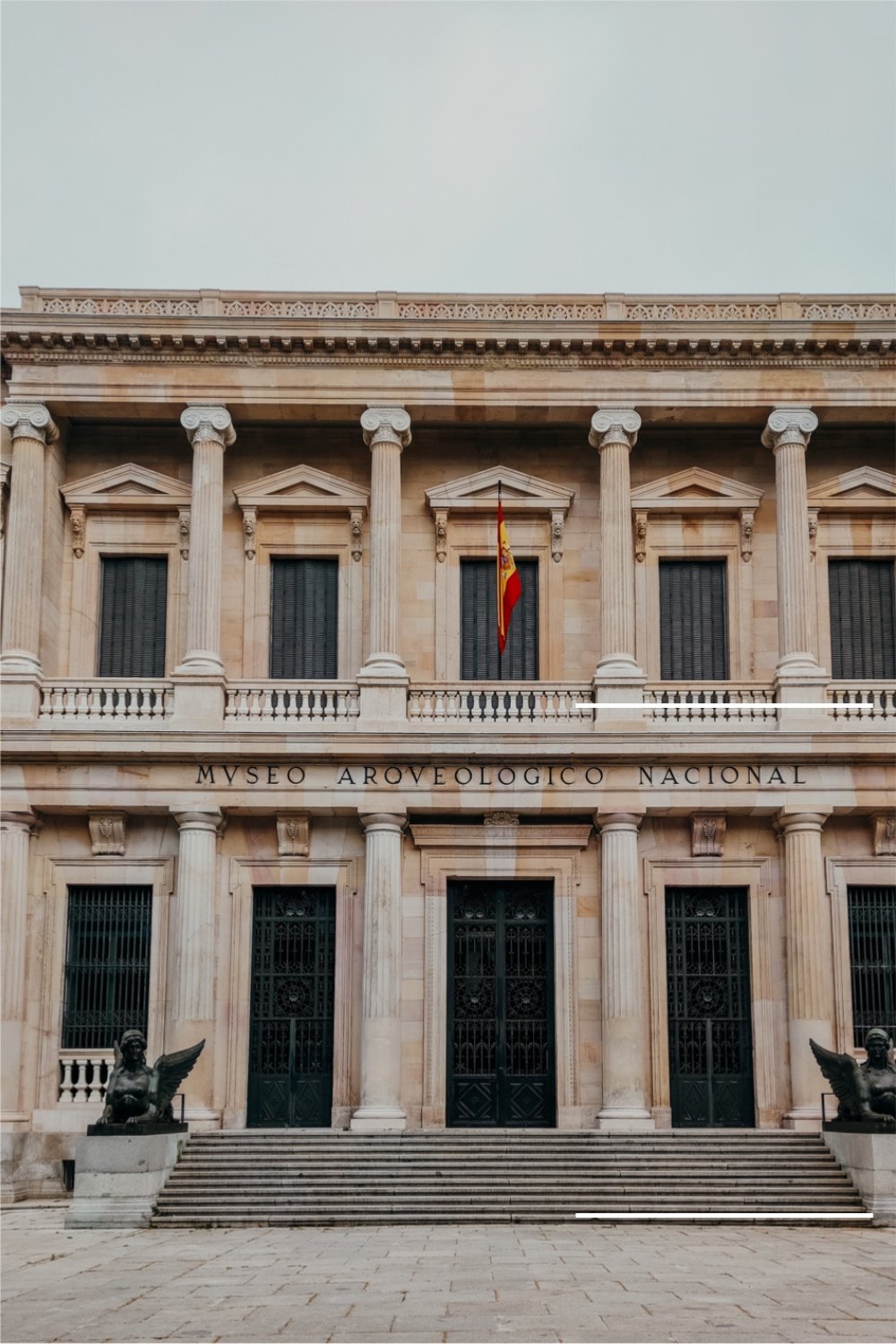 25. Admire the beautiful interior from the 19th century at the Cerralbo Museum
The Cerralbo Museum is a special place in Madrid because the interior is just so unique and stunning. This museum features the collection of former Spanish archaeologist Enrique de Aguilera y Gamboa. The building of the museum was built in the 19th century and features luxurious furniture, beautiful paintings, and expensive chandeliers. Do you want to have a look into an expensive villa from the late 19th century? Then this is your place to go.
Entrance is free on Saturday from 2 pm, Thursday from 5-8 pm, and on Sunday
26. Feel like a princess in Liria's Palace
Liria's Palace is definitely a hidden gem in Madrid because many people do not know anything about it. This seems crazy because it has one of the biggest private art collections worldwide. It belongs to the "Alba" family, which is one of the oldest noble families of Spain.
There are two timeslots on Mondays where you can visit the museum for free. You have to make a reservation one week in advance here. (Every Monday at 12:00 noon the next Monday become available.)
27. National Museum of Romanticism
The National Museum of Romanticism has a collection of paintings, furniture, and other objects from the Romantic area. You will find paintings by famous Spanish artists like Goya. It will really beam you back into the 19th century. It focuses on problems and challenges back then like hygiene, life expectation, and technological improvements.
Entrance is free on Saturday afternoon.
28. Find your favourite gems at Museo Geominero
One of my absolute favorite museums in Madrid. The Geomineral Museum features all kinds of minerals, rocks, precious stones, and fossils from Spain and all over the world. The building itself looks like a palace from the inside. Very recommended!
The Entrance to the Geomineral Museum is always free of charge.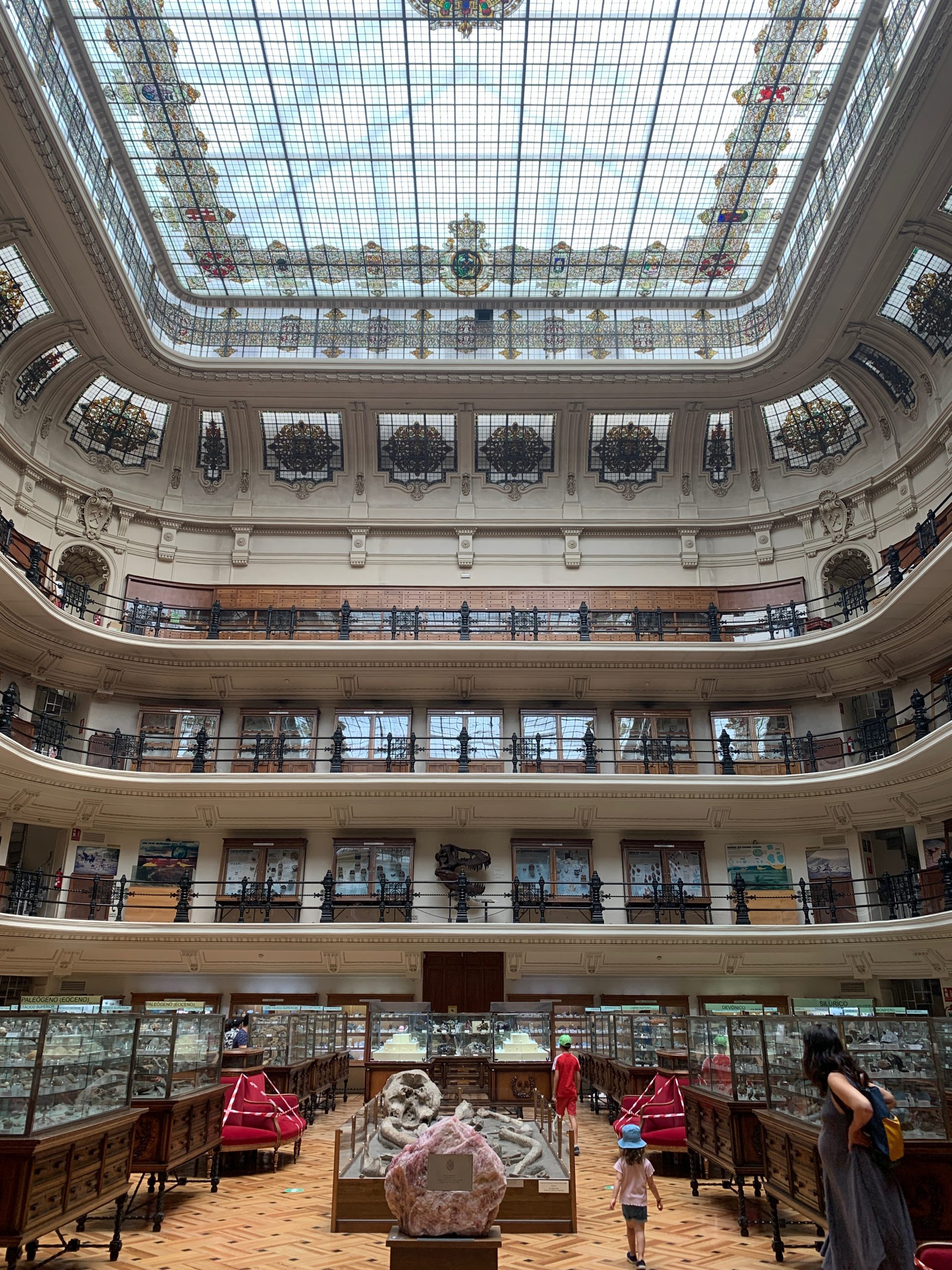 29. Find the replica of a dinosaur at the Museum of Natural Sciences
Madrid's Museum of Natural Sciences is definitely not one of the boring kind. In case you were rolling your eyes when you just saw it on my list. This museum specializes in showing the natural diversity our planet has. The most interesting pieces it has are the replica of a Diplodocus and the Stone Garden.
Entrance is free on Sundays from 5 pm.
30. National Anthropology Museum
If you have seen enough museums focusing on Spain's history, the National Anthropology museum could be the next choice for you: Its collections own pieces from Europe, Africa, the Americas, and even Oceania. The goal is to highlight the main similarities of the cultures and push toward tolerance for everybody.
Free Entrance on Saturday evening and on Sunday.
31. See how the royals of Madrid used to live in the Royal Palace in Madrid
Visiting the Royal Palace is a MUST-DO during your stay in Madrid! Did you know it is almost twice as big as Buckingham Palace? Let me tell you a secret. You can visit the Palacio Real in Madrid for free if you come during the last two opening hours: 
October-March: Monday-Thursday 6 pm-8 pm April-September: Monday – Thursday 5 pm-7 pm 
If you cannot make it during the free-entrance hours you can book your entry ticket here. You really cannot miss seeing the Royal Palace in Madrid!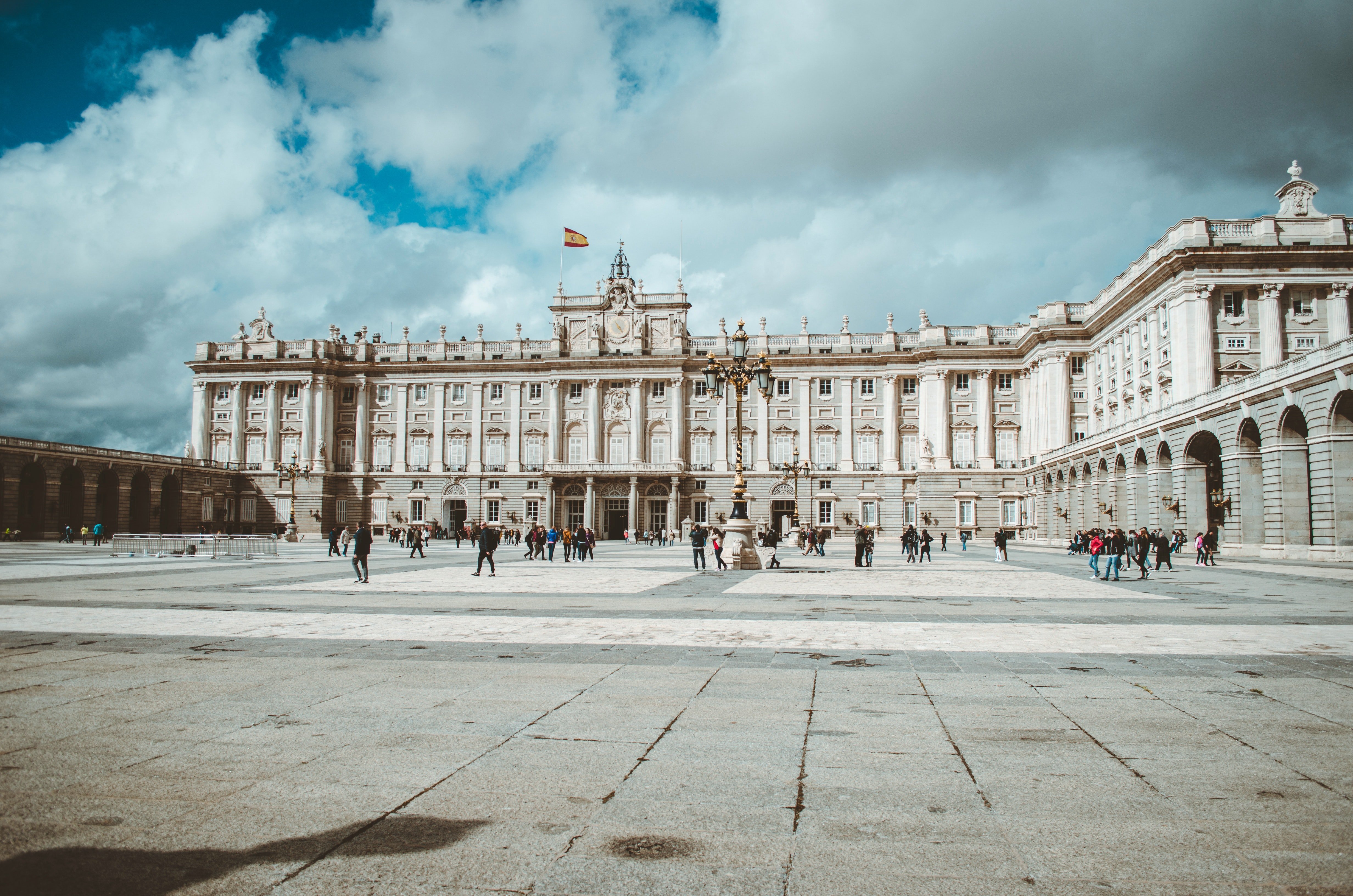 32. San Fernando Royal Academy of Fine Arts
This museum in Madrid owns an unbelievable collection of artwork: More than 1400 paintings, 15000 drawings, and 600 sculptures. And apart from that, you can also have a look at old silverware and porcelain.
Free Entrance on Wednesdays.
This museum was one of the first museums in Spain dedicated to purely decoration. The museum shows more than 15.000 pieces distributed in more than 60 rooms. The mostly Spanish pieces are mainly from the 15th-19th century. The highlight of the exhibition is ceramics from Toledo. Apart from that it also shows jewels, metalwork, and furniture.
Free Entrance on Thursday afternoon, Saturday from 2-3 pm, Sundays. Entrance is also free on the 18th of April, 18th of May, 12th October & 6th of December 
34. Check out Spanish paintings at the Lazaro Galdiano Museum
This museum is one more of Madrid's greatest art museums. It is the house of former painter Lazaro Galdiano. Apart from his own paintings, you will be able to find artworks from Spanish painters like Goya and Velazquéz.
Entrance is free from Tuesday-Sunday from 2-3 pm.
35. Catch a temporary exhibition at El Matadero
El Matadero is a very special place in Madrid. It used to be a slaughterhouse before it got converted to a place dedicated to contemporary art and culture. And it hosts all kinds of different events: Christmas markets in December, open-air cinema in summer. I would also recommend visiting their art exhibitions. They are very unique and not of the boring kind. And the best thing about the exhibitions in El Matador in Madrid: The entrance is completely free of charge.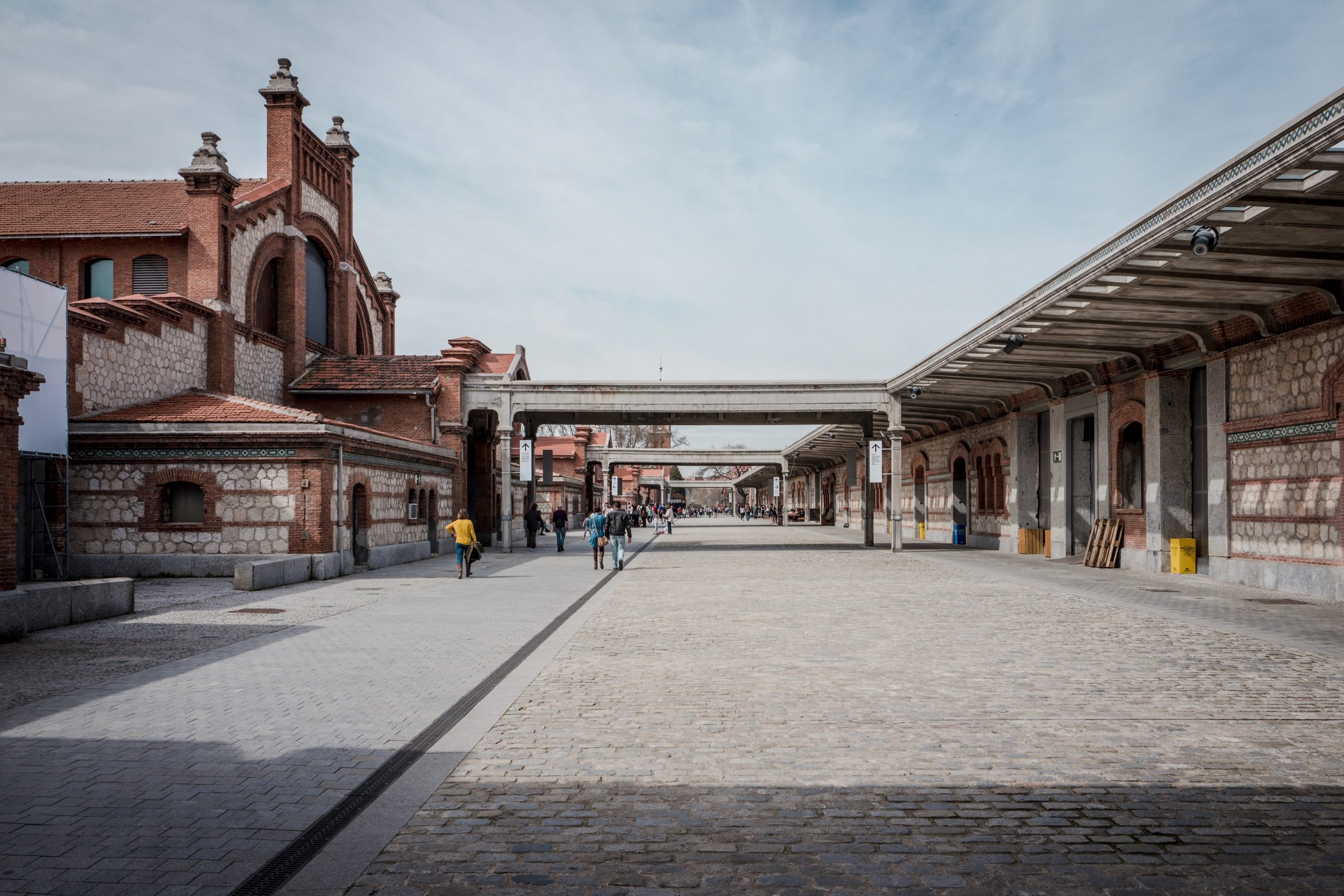 36. Learn about the cultural diversity in Madrid in La Casa Enscendida
There are two reasons why you should visit La Casa Enscendida in Madrid: First, it is a socio-cultural center of Madrid. That means you will find a lot of information about local cultures and the diversity of Madrid. But it also has a lot of educational content on climate change, poverty, and nutrition.
The second reason is that there is a coffee shop on the first floor: Pum Pum Café. It is a very popular coffee shop, and you probably have heard about this coffee shop in Lavapiés where they had their first location (Calle del Tribulete). I can guarantee you, it is ALWAYS crowded. But in case you really want to try it you can go to La Casa Enscendida. You might miss the hipster atmosphere. But the coffee is still great 😉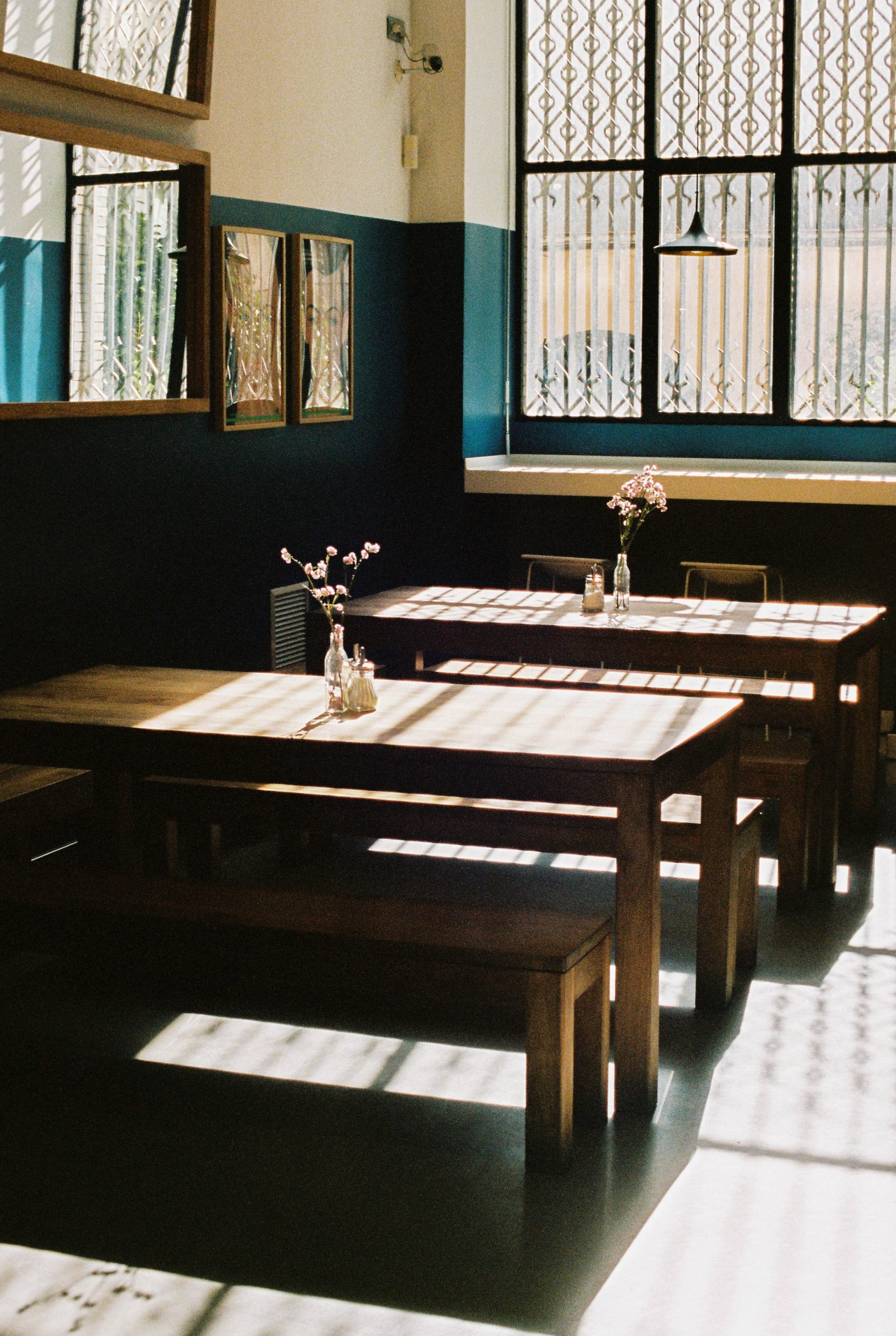 37. Explore plants from all over the world at El Jardín Botanico
The Botanical Garden is right next to the Retiro Park and offers a variety of different plants from all over the world. The entry is only 6 Euros, so it is the perfect plan for a lazy afternoon.
Opening Hours: Every day from 10 am to 6.30 pm
Entrance: 6 Euros
38. Check out luxury rugs from the 18th century at Real Fábrica de Tápices
The Real Fábrica de Tápices is a textile factory that was inaugurated in 1721. It is famous for producing all kinds of luxury rugs, carpets, and other textiles. Nowadays they focus mainly on education offering workshops and tours through the factory.
Entrance: 5 Euros
39. Learn about Madrid´s history from a local on a free walking tour
Do you love free walking tours as much as I do? Free Walking tours are done by locals that show you the city from a local and traditional point of view. And they do not have a price. At the end of the tour, you just pay your tour guide whatever you see fit. Or whatever you can afford to pay with your budget.
You can book a free walking tour here or here.
40. Explore Madrid on a Segway!
If you do not feel like walking so much or want to have a bit more action during your walking tour in Madrid: How about doing a Segway tour in Madrid? Another advantage is that you will be able to see more things during the tour. And to be honest, it is not as exhausting.
You can book a Segway Tour here. A Segway tour through the Retiro costs 20 Euro and takes around 1 hour.
41. Get a Birdseye view of the the Estadio Santiago Bernabeu
Madrid is a great destination for Football fans! The stadium Santiago Bernabeu might not be a secret to you anymore. But do you know that they offer tours to go inside the stadium? The entrance costs 12 euros and includes a visit to the Real Madrid museum. Apart from that, you will also have a panorama view of the interior of the stadium.
You can book your ticket here.
Let's move to free markets you can visit in Madrid
42. Buy a souvenir at El Rastro
El Rastro might be the most famous flea market in Madrid, and it is free of charge as well. When I have visitors I always take them to El Rastro to explore some vintage findings, second-hand clothes, books, or other things. The (outdoor!) market is in the neighborhood called "La Latina" and you can access it via the metro stops "La Latina" or "Embajadores". 
Opening hours: Sundays and public holidays from 9 am-3 pm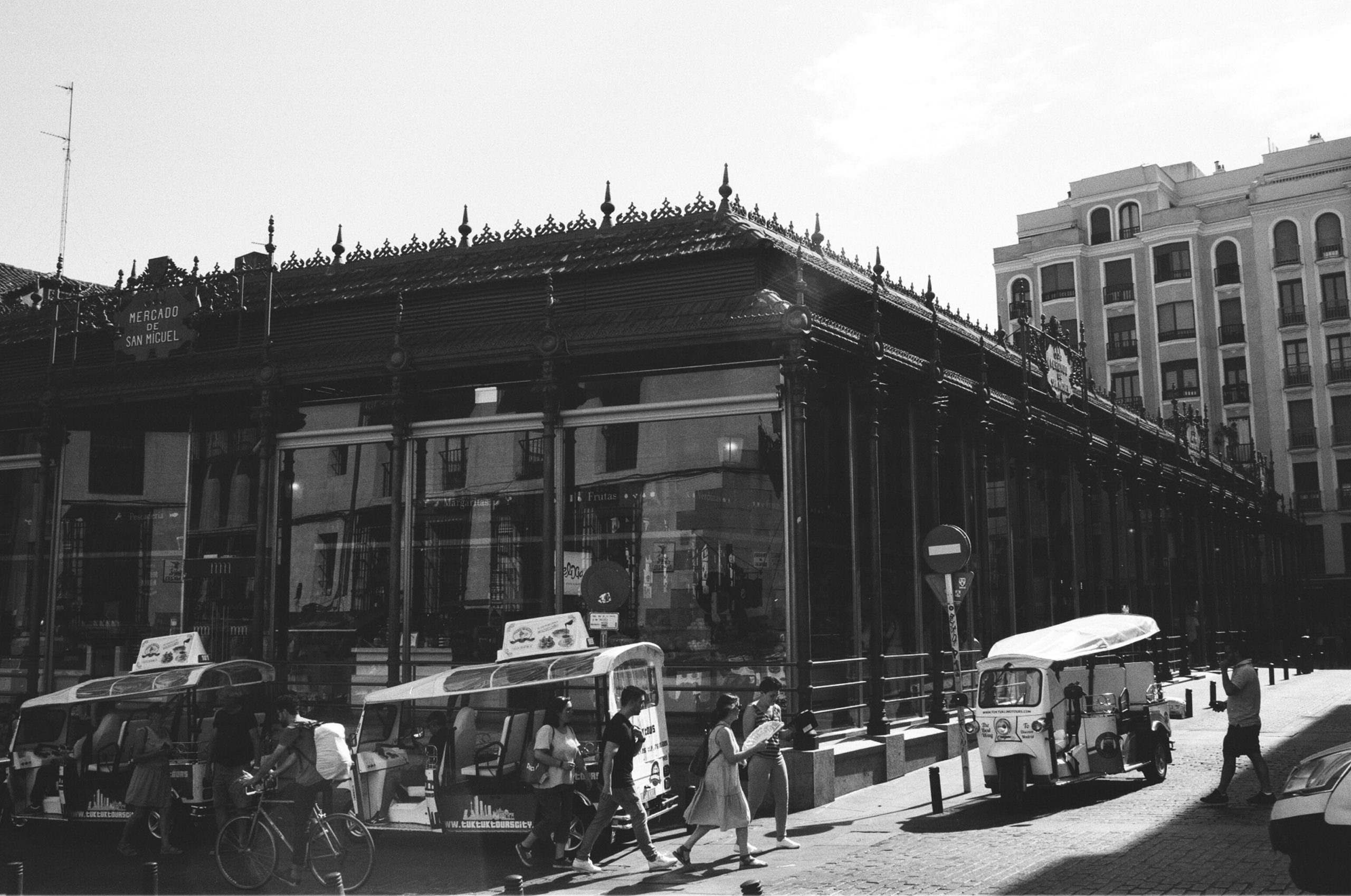 43. Have a glass of wine at Mercado de San Miguel
Mercado de San Miguel is the most famous food market in Madrid and is more than 100 years old! It is dedicated to the diversity of Spanish cuisine. You will find everything from traditional Spanish ham to seafood from the north of Spain. And of course, you can choose from the best Spanish wines. A very popular place in Madrid. You definitely should have a look inside if you get the chance.
44. Try international food at Mercado de San Ildefonso
Mercado de San Ildefonso is the first street food market of Madrid! The market itself is three floors big and has twenty international food stands and three cocktail bars. It is located in the neighborhood of Malasaña which is worth visiting by itself. So, if you are in the area and happen to get hungry, this is a place you can check out. I especially recommend the Korean food court.
45. Try Spain's best hamburger at Mercado de Chamberí
The market in Chamberí is a very local market which is the reason why I included it on the list. This market features all kinds of regional products from Spain: wine, cheese, fruits, fish, and meat. Tip from a Local: You need to try "Juanchos Hamburger" place. It won the best hamburger in Spain in 2019. Absolutely delicious!
46. Learn about the history of Spanish trains at Mercado de Motores
Mercado de Motores might be one of my favorite free markets in Madrid. It is a small local market next to the metro stop "Delicias". The location is the old train museum. You will find many local businesses selling jewelry, new and used clothes, or old furniture. Apart from that, there are also stands of local food, wine, honey, etc.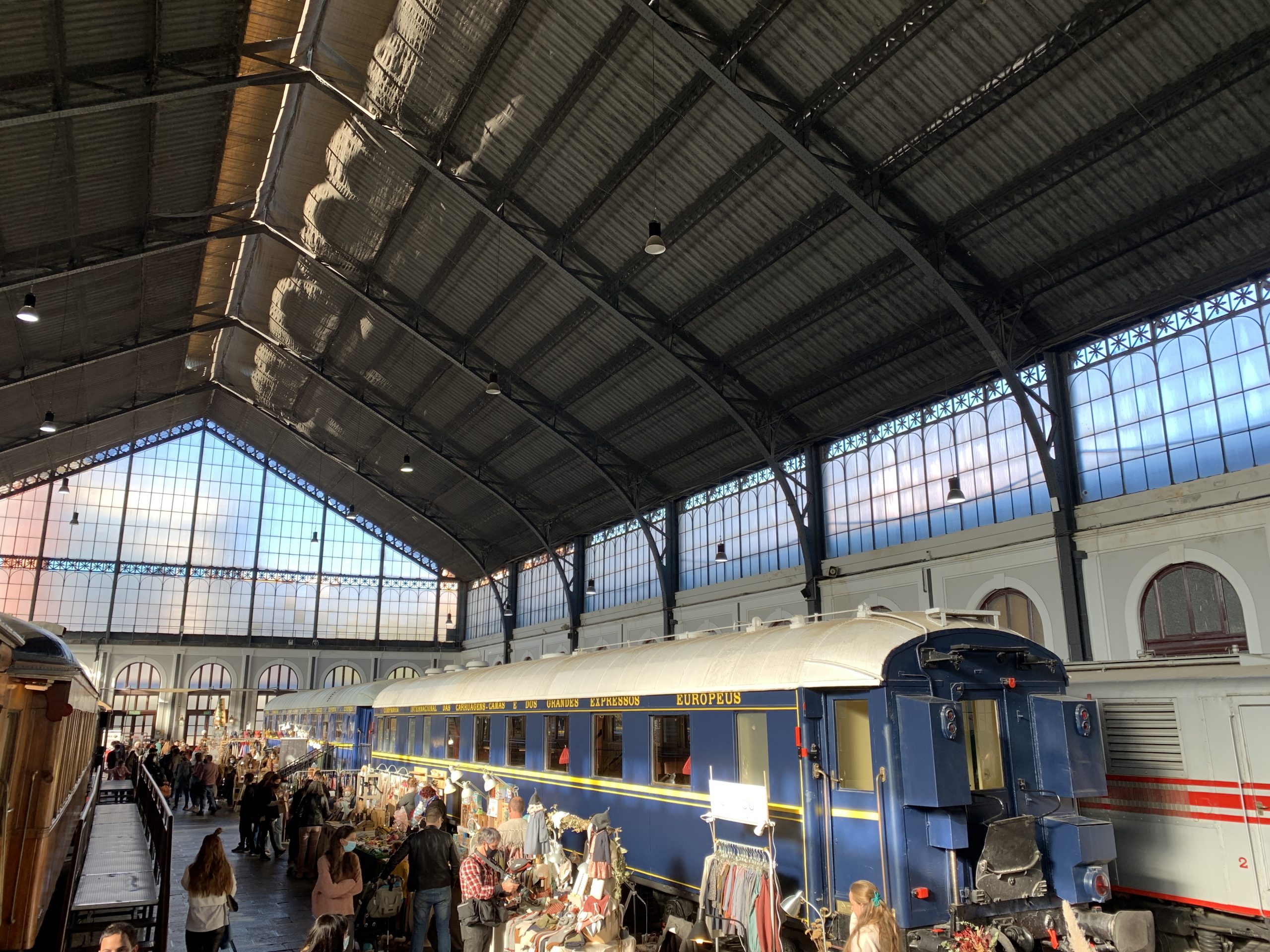 And why you are walking around and looking at all these local products you can just as well peak into the interior of old trains that were used in Spain almost 100 years ago. A true treasure! Once you have seen everything at the market you can go outside and have a glass of wine at one of the food trucks. Sometimes there is even live music. The perfect plan for a Saturday afternoon!
The Mercado de Motores takes place every second weekend of the month.
47. Take in the view at Mirador de la Cornisa del Palacio Real
I am really giving you the very best things you can do in Madrid for free because this one just has recently opened! The viewpoint is right next to the church of Almudena, and absolutely stunning! You will have a great view of the other side of Madrid! How about going to the Church of Almudena first, then to the Royal Palace of Madrid, and then checking out this viewpoint?
We are halfway through the list of free things to do in Madrid. Are you ready for 50 more?
48. Check out the sunset at Parque de las Siete Tetas
In case you are confused, yes, 'Parque de las Siete Tetas' means 'park of the seven boobs' in Spanish. To me, this is one of the best places to check out the sunset in Madrid while enjoying a picnic with friends. It is a bit further away from the city center, but totally worth it!
49. Have a stroll through Parque Capricho
Parque Capricho is a true hidden gem of Madrid. This dreamy park is not too far from the airport in Madrid, but you can reach it easily by metro. And it is really worth getting there: This park really looks like it could come from a fairytale. It has many English influences, like its 18th-century sculptures and water features.
It is only open on Saturday & Sunday from 9 am-6.30 pm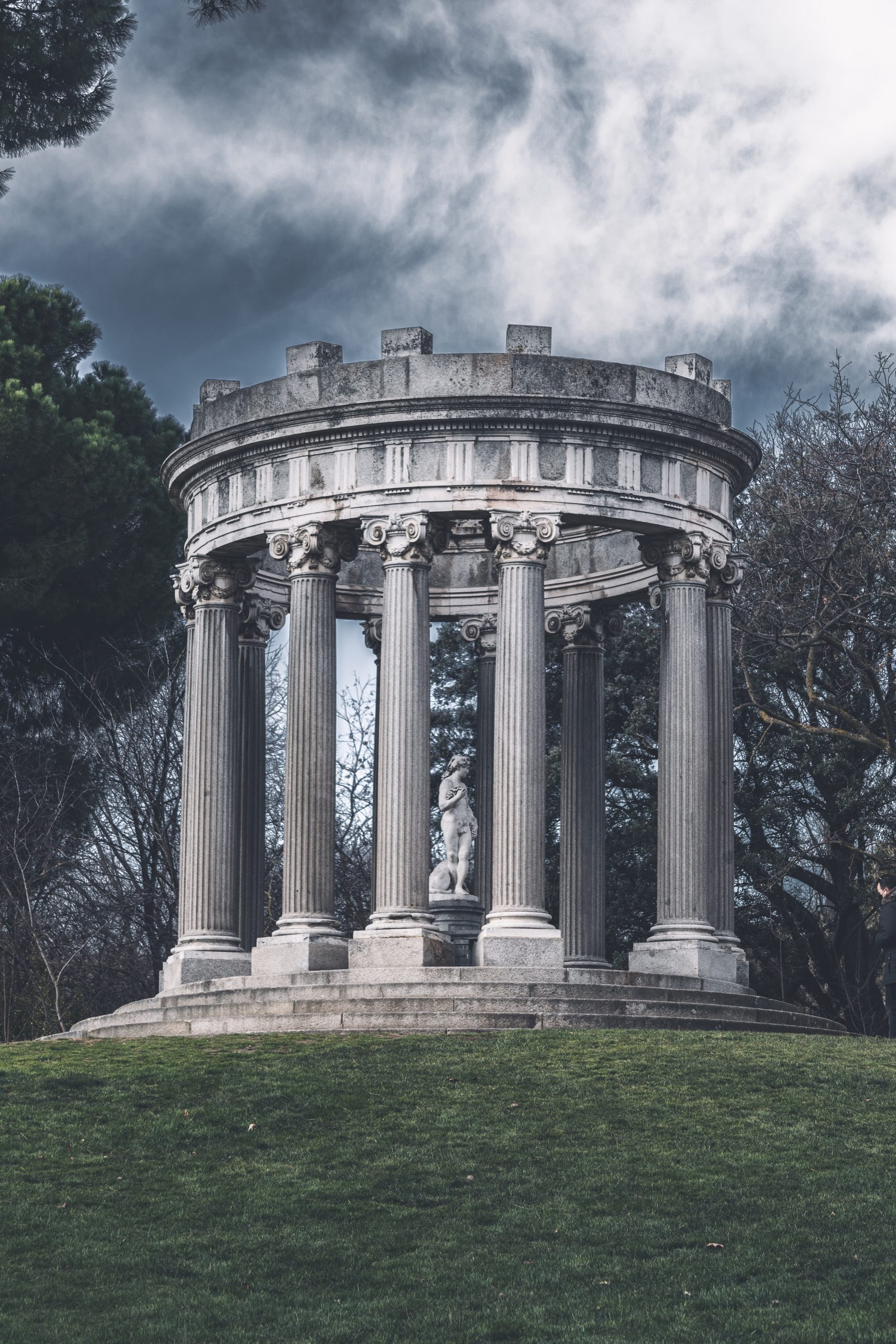 50. Have a picnic at Parque Oeste
Parque Oeste (Western Park) is a beautiful park on the western side of Madrid right next to Moncloa. It is a great place to relax and just have a nice walk in the afternoon. It also has its own Rose Garden. And it is not far from the Temple de Debod and the Téleferico of Madrid.
51. Go for a walk at the Madrid Río Park
Madrid Río is an urban park in the South of Madrid. It is perfect for running, skateboarding or just for going on a walk towards the river. The park is the outcome of the Madrid City Council trying to redevelop the area in order to make it more friendly for citizens and pedestrians. And wow, they did a good job!
52. Check out the countless sculptures at Parque Juan Carlos I
Parque Juan Carlos I is a public park in the North of Madrid. It is dedicated to King Juan Carlos I, who owns an auditorium, a lake, and COUNTLESS of abstract sculptures. When I say abstract, I mean it. You will need a lot of imagination to see what the artists intended them to be!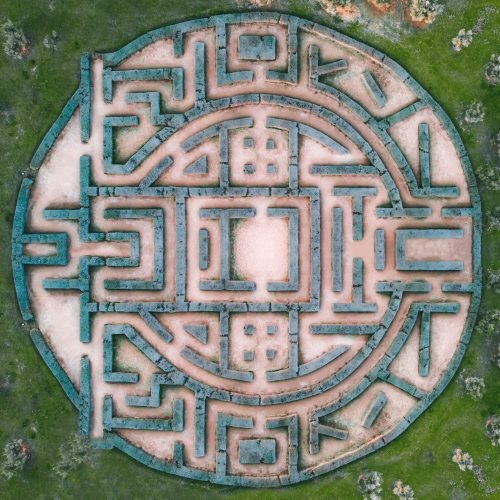 53. Find a little bit of Berlin in Madrid at Parque de Berlín
A little bit of Berlin in Madrid! Parque de Berlín is a park in the North of Madrid, right next to the metro stop "Concha Espina". It offers many green spaces, water fountains, and who would have thought: A piece of the wall of Berlin!
54. Check out the Palacio de Cibeles from inside!
Palacio de Cibeles is the place where the Madrid City Council is. You have probably seen this building before when you were researching Madrid. And good news! You can go inside for free. They have free temporary exhibitions and a beautiful glass facade. There is a rooftop that is currently closed.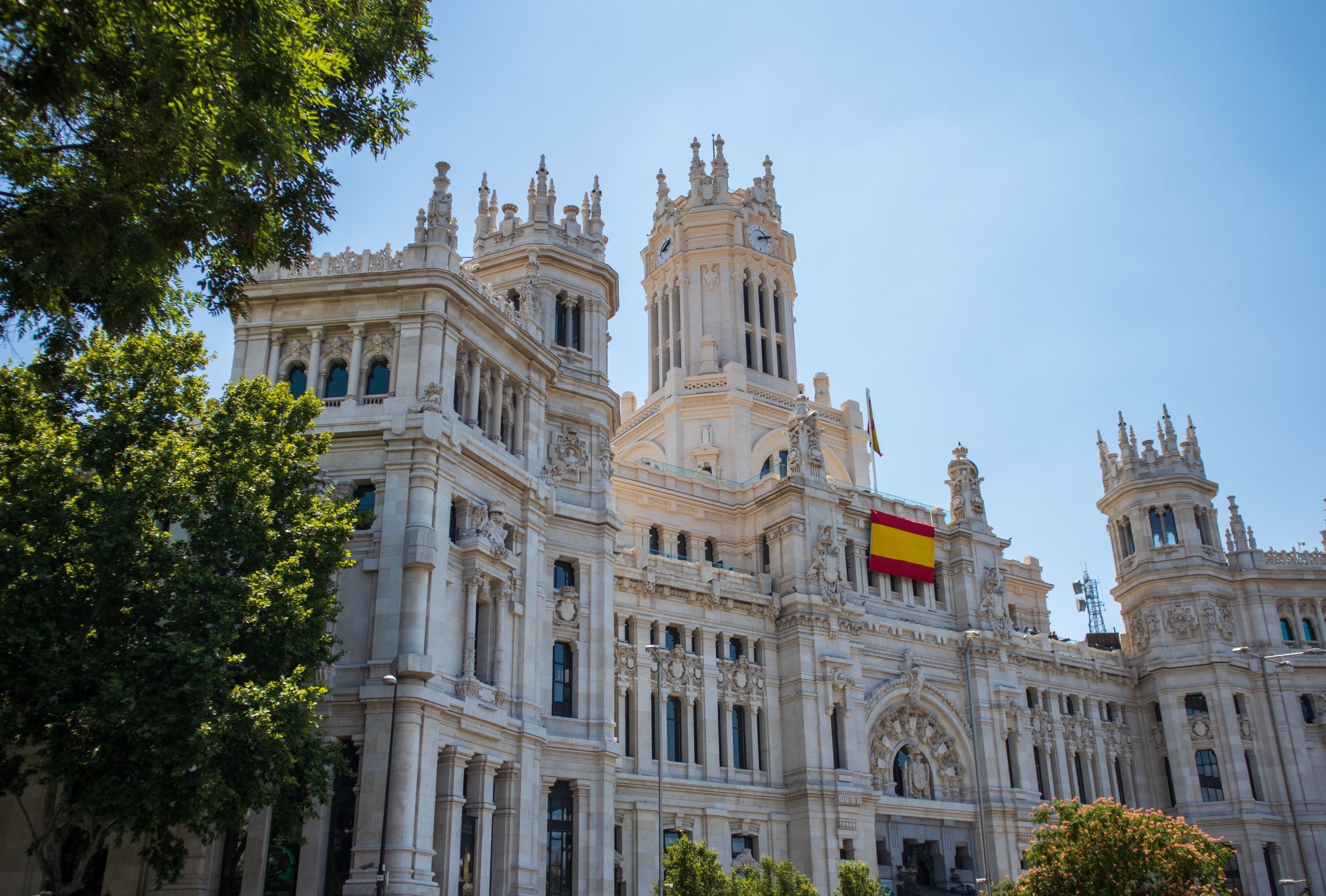 Free entrance from Tuesday-Sunday from 10 am-6 pm.
55. Relax at the Tropical Garden in the Atocha Railway Station
Did you know the train station of Atocha had a tropical garden you can access for free? The garden contains more than 7000 plants from Cuba, Brazil, and Africa. It is like a little hidden jungle inside the train station. It is perfect if you need to kill time before your train leaves or if you want to sit down and enjoy a book. You will not even realize you are in Madrid's train station.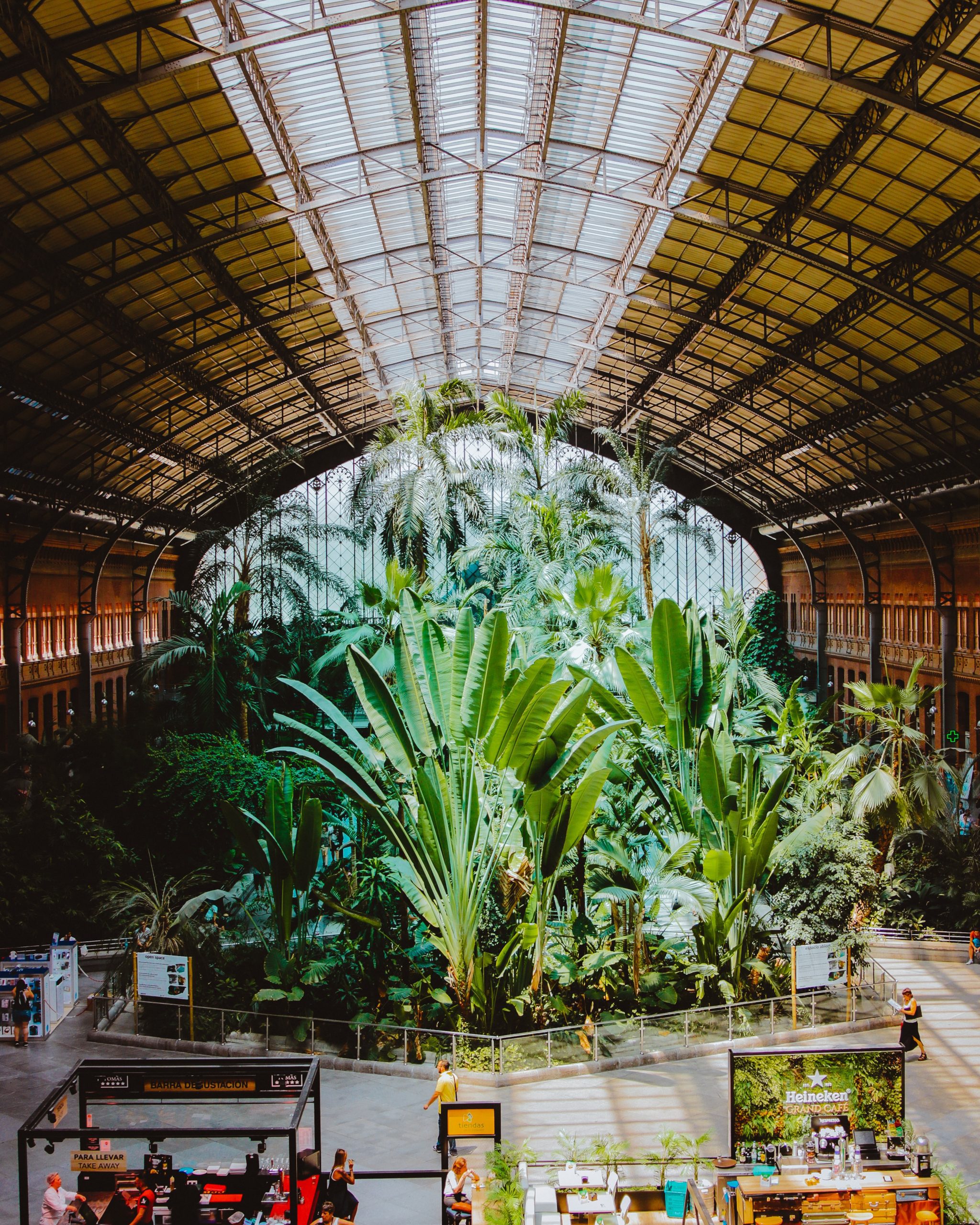 56. Check out the Almond Trees blossoming at Parque Quinta de Molinos
Parque Quinta de Molinos is a true hidden gem of Madrid. But if you happen to visit it in February or March you should pay it a visit. It is popular for its almond trees, which are blossoming during this time. A great place for a picnic and to just spend the day there.
57. Jardines del Campo del Moro
Jardines del Campo del Moro is a garden that is right next to the Royal Palace. It was constructed in the 19th century and has a very strong English influence. So pretty! If you are already visiting the Royal Palace make sure to check out this garden as well. Entrance is free 😉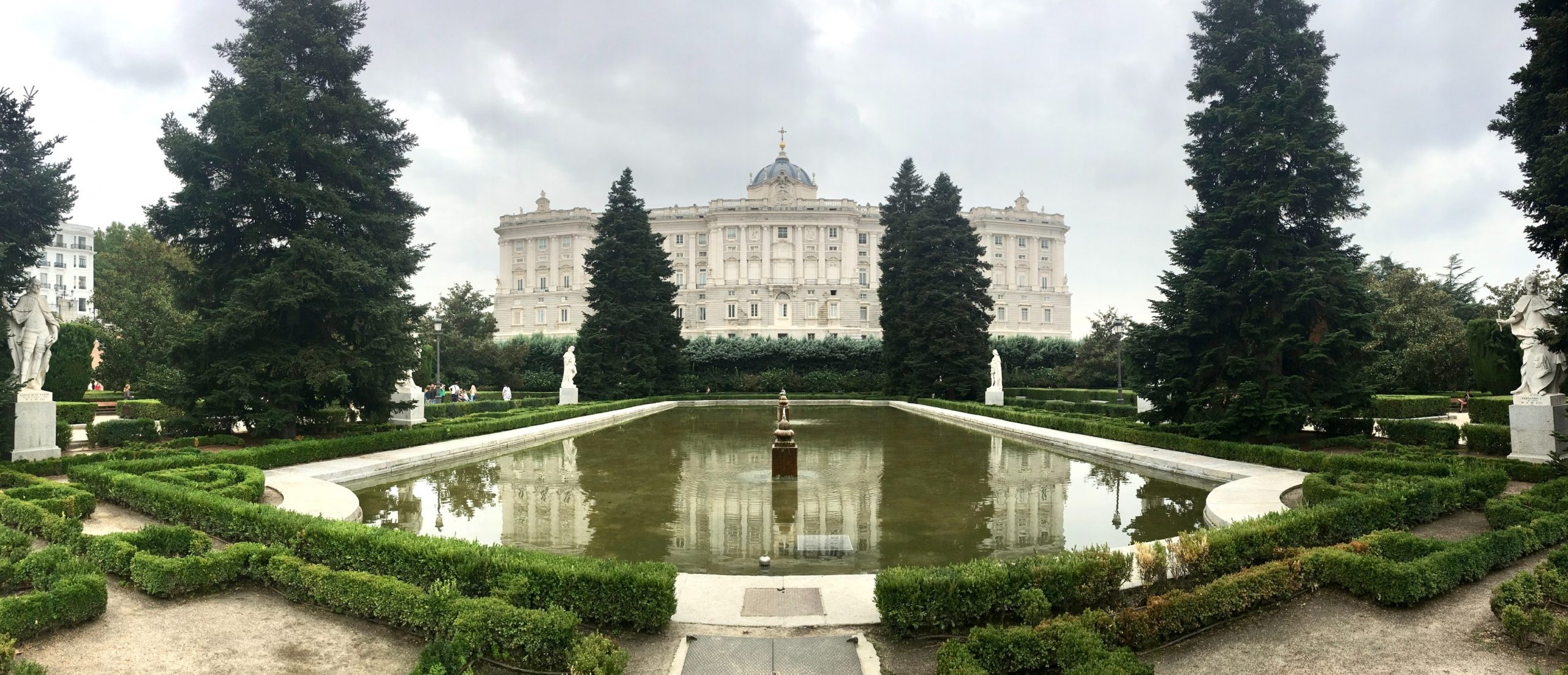 58. Explore an abandoned metro stop at the Chamberí Ghost Station
A hidden gem in Madrid! The Chamberí Ghost Station is a metro stop in Madrid that was active from 1919-1966. It offers a lot of Madrid's history from its inauguration to the Spanish Civil War. The trains and the rails were never removed. And in 2008 it was open to the public.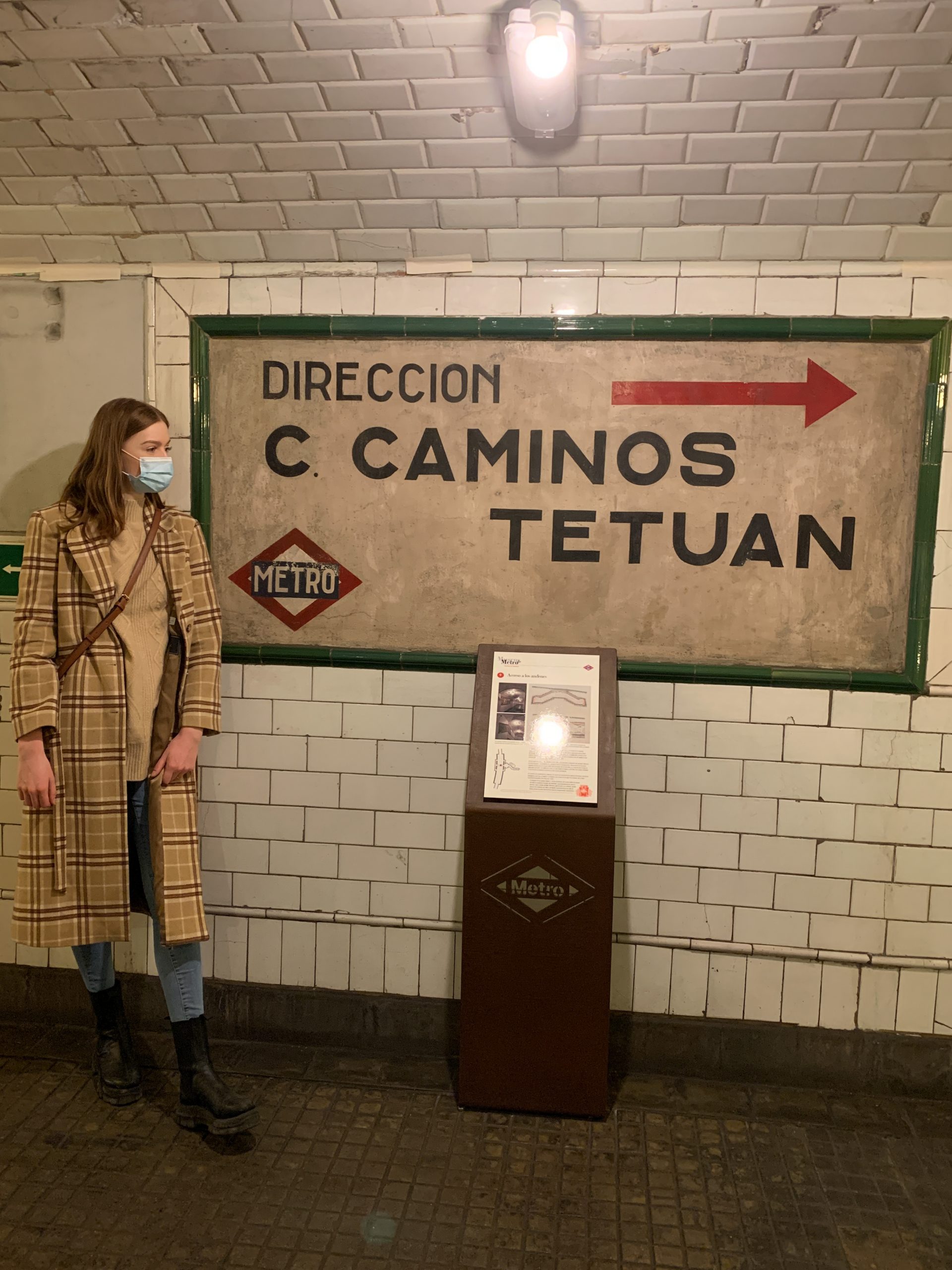 Visiting the Chamberí Ghost Station is free. But you need to book tickets in advance because only a few people can enter at the same time. You can book your tickets here.
59. See Madrid from above with the Teleférico de Madrid
Did you know Madrid had a cable car that is more than 2 km long? It connects the Parque del Oeste with Casa de Campo. You can enjoy the amazing views from the Gondola over Casa de Campo and see the beautiful skyline of Madrid.
A one-way ticket costs 4.50 Euros, a both-way ticket costs 6 Euros. You can buy your tickets on-site.
60. Go To The Cinema for less than 5 Euros at Yelmo Cines!
Cinemas in Madrid often show the original version of movies in English. Don't worry. I got you! And going to the Cinema on Wednesdays is even cheaper. Some cinemas have special offers for Wednesdays when tickets for movies only cost 4.90 Euros. Just make sure you book the "VOSE" version. It will be in the original language, which is most likely to be English, with Spanish subtitles.
You can book your tickets here.
61. Watch a breathtaking theatre performance at Teatro Español
Teatro Español is a theatre that offers very affordable plays and theatre shows… I went to one where tickets cost only 9 Euros. They are usually in Spanish but it is still a great experience. The place itself is very beautiful and vintage from the inside. A great deal!
You can check the upcoming shows and book your tickets here.
62. Watch a word-class Flamenco Show in Madrid
If you visit Spain you HAVE to watch a Flamenco Performance. I am aware Flamenco is not from Madrid, but from the South of Spain. But I took my mom to see a Flamenco performance in Madrid, and she still talk about it. And I was very impressed as well! I have to admit, this is by far the priciest item on the list. But after comparing prices I am leaving you the two cheapest options that I found.
You can buy tickets here and here.
63. Buy Postcards and Books at Madrid's oldest book market in Cuesta de Moyano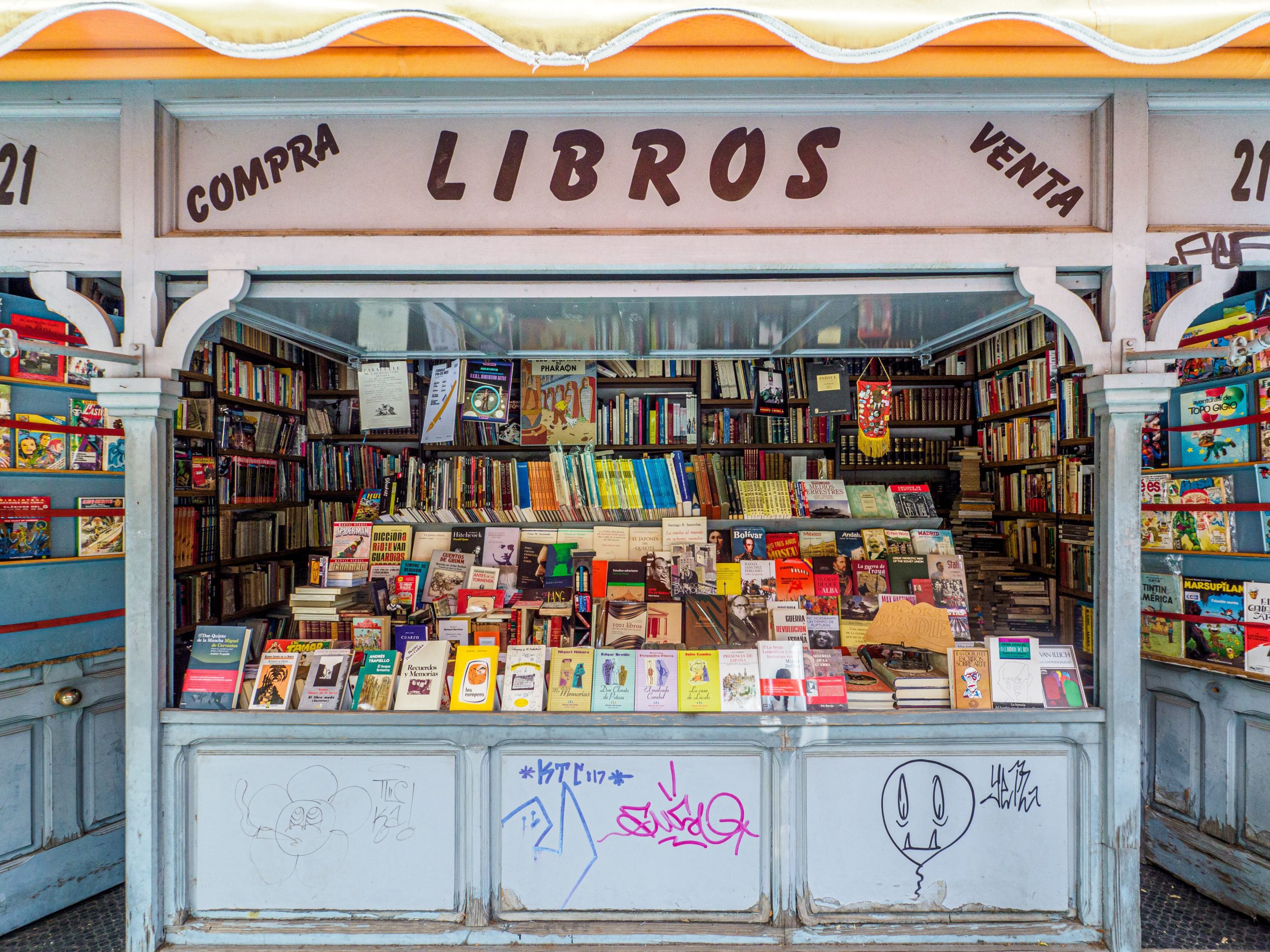 The book market in Cuesta de Moyano opened first in 1925, meaning it is almost 100 years old! It is located between the botanical garden and Retiro Park. You will find new and second-hand books for a very affordable price. They usually also sell very unique old postcards from Madrid. If you are looking for a souvenir, how about trying to find something there?
Opening Hours: Monday to Sunday from 9.30 am-1.30 pm and 4.30 pm-7 pm
Let's talk about Low-Cost Food places in Madrid
64. Try 1 Euro tacos at Taquería Tiki Taco
Cheap, but amazing Tacos. In my opinion, one of the best taco places in Madrid. They have several locations all over the city. And their tacos start from only 1 Euro. You really cannot do anything wrong with that!
65. Get a food coma at El Tigre
The concept of El Tigre is simple: You order a drink and get A LOT of tapas with it. Sounds unbelievable, but it's true. A good place to take someone when they come to Madrid for the first time. They will be mind blown.
66. Order Sandwiches for 1Euro at 100 Montaditos
Let me tell you a secret: When I was doing my internship in Madrid I went to 100 Montaditos every Wednesday and Sunday. Because those days all of their sandwiches cost only 1 Euro! The ultimate low-budget food place in Madrid
67. Try La Pequeña Grana' for authentic tapas from the South of Spain
What I love about this place: You order a drink and can choose one of their amazing tapas to have with your drink. For Free! It is a bit further away from the city center but totally worth going to!
68. Have a Bocadillo de Calamares at Bar La Campana
This item is a must-do during your stay in Madrid! Plaza Mayor has been famous for its Calamari sandwiches for decades. All thanks to the Andalusian influence in Madrid. They usually only cost around 4 Euro. One of the most famous places is "Bar La Campana". And do not forget to order a 'Mahou' beer with it!
69. Try the best cheesecake in Madrid: La Bientirada
This is seriously one of the best cheesecakes I have ever had in my life! Cheesecake in Spain is a little bit different when you compare it to cheesecake from other countries. This one here is more "runny" and "liquid". But I have heard from several sources that it's one of the best in Madrid!
70. Have the best churros in the famous Chocolatería San Gines
How can you leave Madrid without having some churros de chocolate, right?! This place is right next to Plaza del Sol and is famous for being open since 1894. By the way, it is open for 24 hours so you can enjoy your churros at any time of the day.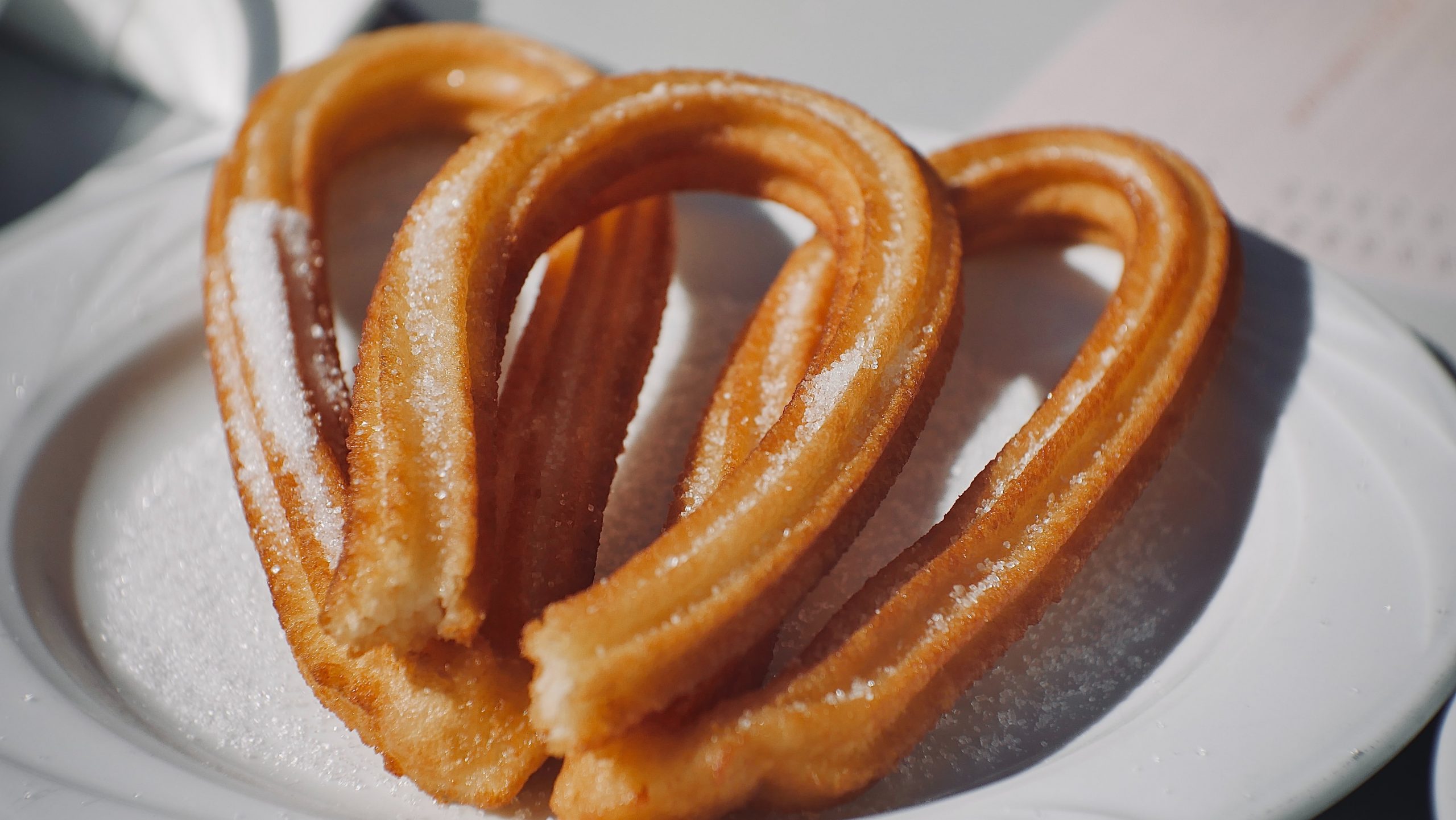 71. Try x-rated waffles at La Pollería and La Coñería
This item is for the brave ones! Both places are located in Chueca and they sell waffles in the weirdest shapes possible: Penises and Vaginas. Go to La Pollería for the male version and to La Coñería for the ladies. . A very popular spot!
72. Try to special ice cream flavour at Mama Elba Heladería
Mama Elba is one of the best ice cream spots in the city. If you happen to be in Madrid during summer and love ice cream just as much as I do, this is your place to go! I invite you to try one of the special flavors, like Crema Catalana or Dulce de Leche. By the way, they have vegan options as well!
73. Surprise your friends with pastry from Manolo Bakes
If you are into sweet things you HAVE to try Manolo Bakes during your stay in Madrid. Or as the locals call it: Manolitos. They are little soft croissants with different types of toppings. Believe me, they are crazy addictive. There are several locations in Madrid.
74. Order a HUGE tortilla with a filling at La Buha
Trying a good tortilla is obligatory during your stay in Madrid. But where?! La Buha serves huge tortillas with a filling of your choice. Three people can easily share one, which makes it very affordable for everyone involved. My favorite is the one with goat cheese and caramelized onion. So tasty!
75. Try the best croquetas in Madrid at Casa Julio
Casa Julio is a place in Malasaña that is famous for having the best croquetas in Madrid. You should definitely go there to try some traditional tapas. It is a very traditional Spanish place.
76. Relax with an Italian Aperito on Wednesdays
After spending a lot of time you might get tired of all the Spanish food, but I have the solution. Mercato Italiano is offering Aperitivo Sessions every Wednesday. They serve big plates of ham, cheese, and pasta. Two Aperol Spritz are included in the menu, which costs 15 Euros. So affordable! You should try to make a reservation one week in advance. It is very popular!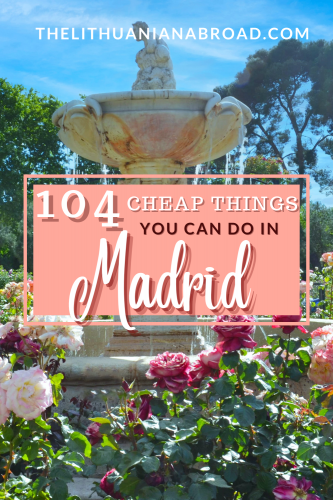 Make sure to make a reservation before by phone!
77. Try a Spanish Menú del Día
Trying a 'Menú del Día' (Lunch Menu) is obligatory during your stay in Madrid. And you will be surprised how cheap they are. Usually, a Menu del día consists of a first and main dish. Then, you can decide if you want a coffee or a dessert. Bread and a soft drink is usually included. Those menus cost around 11-14 Euros.
One of my favorite menu del dia is in Sra. Smith in the neighborhood of Chueca. It only costs 12.95 Euros.
78. Buy Local turrón as souvenir at the Turron Shop "Torrons Vicens"
My local tip for getting the best souvenirs from Madrid. Torrons Vicens is a 'turron' shop, which is a typical Spanish candy. The best thing about the shop is that you can try different flavors. And they have so many of them! Gin Tonic Turron? Strawberry Turron? I am 100% certain you will find something that your friends back home will like!
What are the best cheap places for a drink in Madrid?
79. Try one of the crazy shots at Espit Chupitos
Did you come to Madrid to party? Then Espit Chupitos is a place you should try. They offer a variety of more than 100 different shots that cost from 1-5 Euros. Many of them are very fun and come with included entertainment. Shots with fire where you will have to burn a marshmallow, shots where you have to put on Harry Potter glasses and cast a spell…
80. Get beamed back to the 20th century in Spain at La Venencia
La Venencia is a very classy old-style wine place. It is not your typical wine bar. They only offer four different kinds of cherry in an absolutely beautiful atmosphere. The decoration includes posters from events in Spain from the 20th century. A great place to have a calm night with a cherry.
81. Have a Drink in the afternoon at Plaza Olavide
Plaza Olavide is my favorite plaza in Madrid. It is located in the neighborhood of "Almagro" and has just a very local vibe. The whole square is filled with different bars which makes it an amazing place for an afternoon drink.
Ojalá is a very hip place in Malasaña. From the outside, it looks like a typical bar, but you should see the downstairs area. It has a "beach" downstairs, the whole area is full of sand. By the way, they also have amazing cakes!
83. Try the famous "Yayo" Vermouth at Casa Camacho
"Yayo" is a special drink they make in Malasaña. So I challenge you to try it in Casa Camacho. Apart from vermouth, it also contains gin and tonic. It is the specialty of the place, and it only costs 2 Euros!
84. Have a drink in the evening at Plaza Dos De Mayo
Plaza Dos De Mayo is in the heart of Malasaña, a very multicultural and arty neighborhood of Madrid. This plaza is also full of bars. During the day you will find little markets of Locals. And during the evening it is a popular spot for young people to hang out.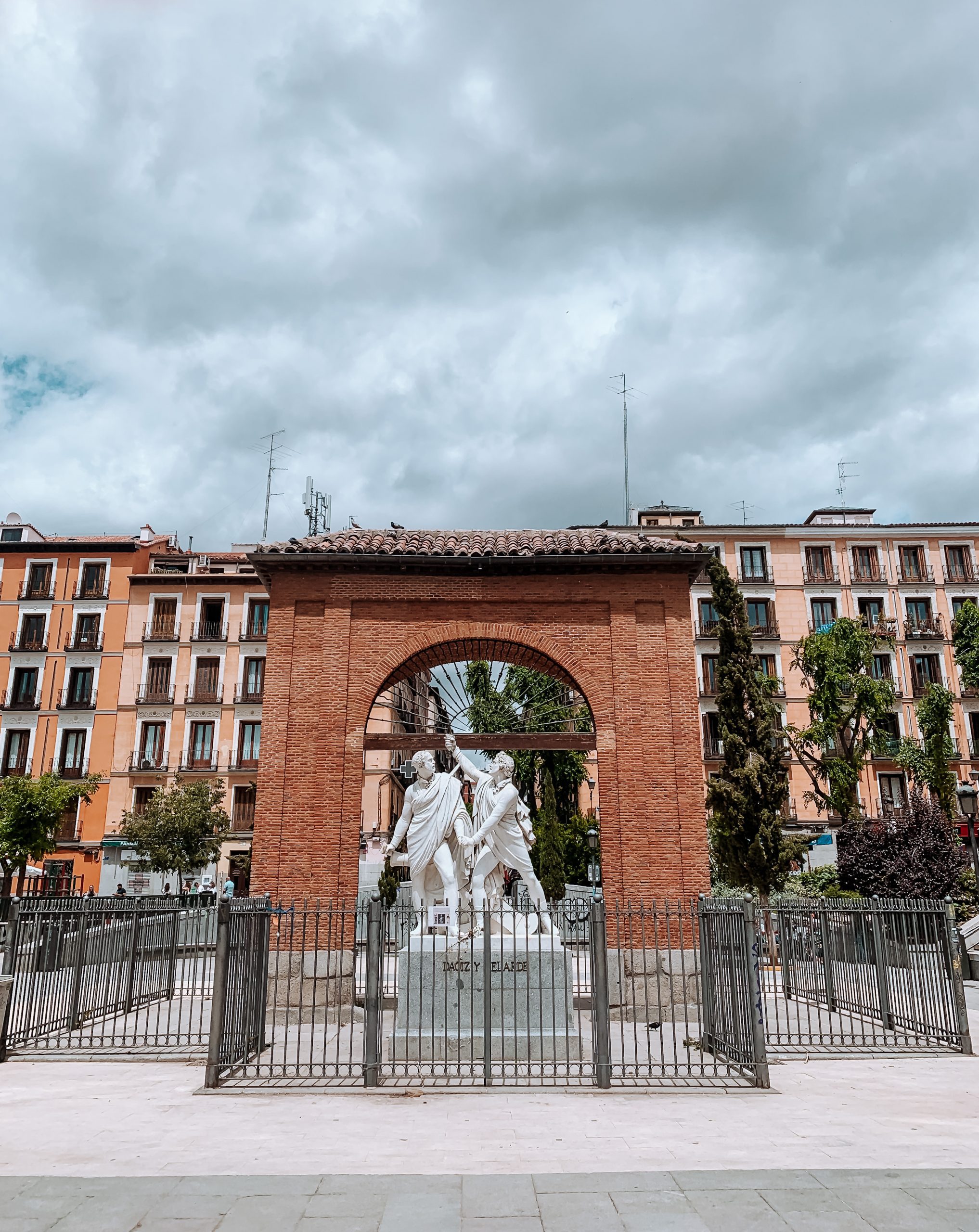 85. Try a special gin creation at Macera
The perfect place for Gin Lovers in Madrid. This bar infuses its own gin and serves ah-mazing Gin and Tonics. Have you ever heard of Cardamom Gin? Or spicy Gin and Tonic? And the best part: All drinks cost around 9 Euros. So affordable!
86. Let the bartender surprise you with a cocktail at El Especial Taller Bar
I just recently found this place and it immediately became one of my favorite bars in Madrid. It does not have a menu of drinks. Christian, the bartender, will ask you what you are in the mood for today. And then he will just create a cocktail with whatever it is you told him!
87. Have a drink in Calle Ponzano, the street in Madrid that never sleeps
Calle Ponzano is known to be the street in Madrid that is FULL of bars, and especially on the weekend, there are so many people going there. Are you in Madrid on a Sunday evening and do not know what to do? Calle Ponzano will be full of people. And most of the bars are open on Sunday as well.
Rooftop Bars in Madrid you can go to for (almost) free!
Going to a rooftop bar in Madrid is a must! You have to see the views of the city center and Gran Vía. I promise they are spectacular. The only thing I dislike about rooftop bars in Madrid is how expensive some of them are. But they do not have to be. Because there are several that do not charge any entry! I will share my favorite free rooftop bars in Madrid with you:
88. Get a Birdseye view of Gran Vía at Picalagartos Sky Bar
Picalagartos is one of the few rooftops on Gran Vía that does not charge an entry. The views are absolutely beautiful! Unfortunately, it is not a hidden gem anymore so it is always crowded. I would recommend going during the week.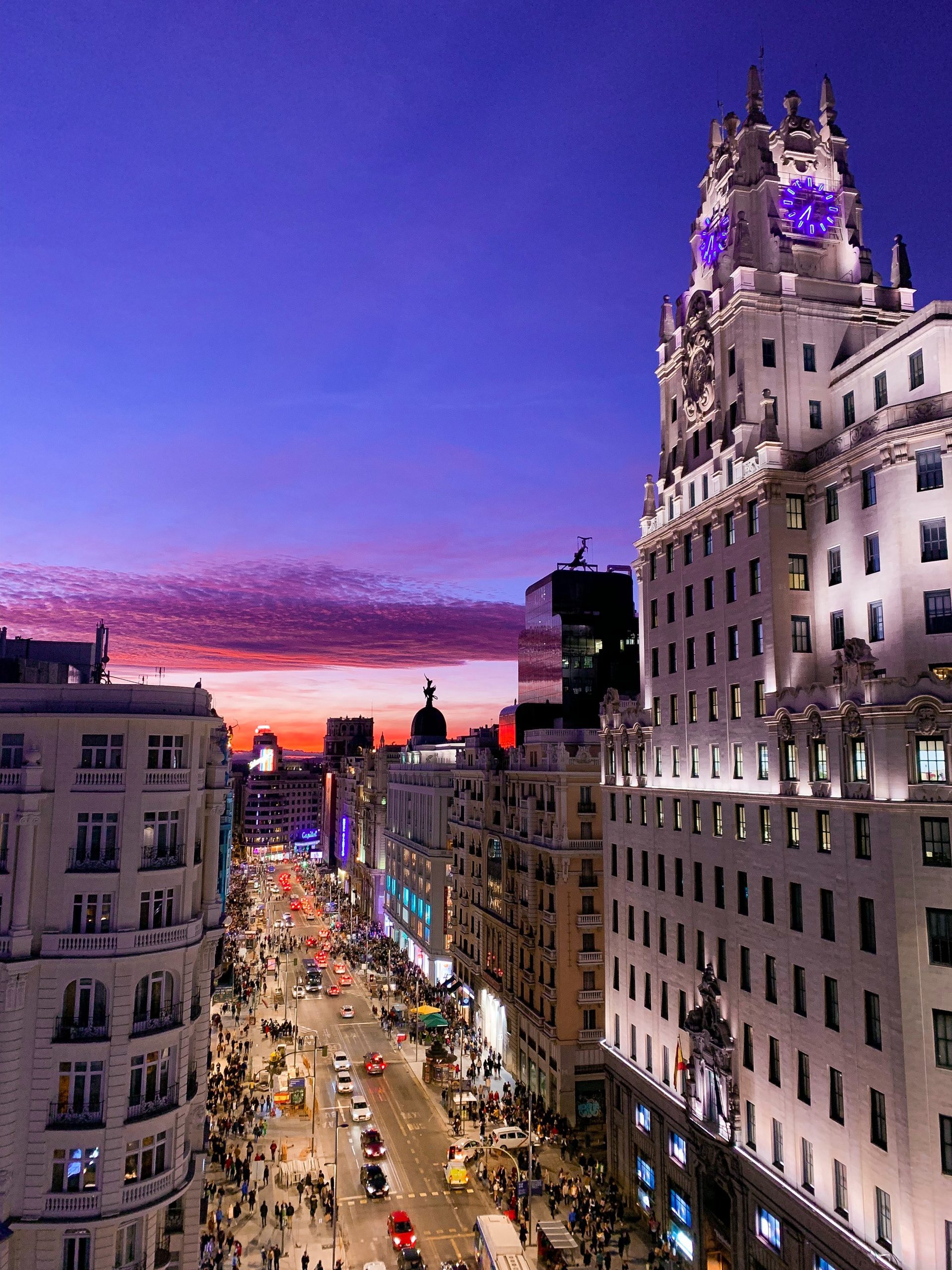 89. Enjoy Madrid from above at Le Tavernier
Le Tavernier is a rooftop bar in Gran Vía that does not charge for entry. The views are really beautiful and the atmosphere is great as well. It started becoming very popular so I would advise going during the week as well.
90. Watch the people on Santo Domingo square from the Santo Domingo Hotel Rooftop
Another rooftop in Madrid that does not charge you any entrance. The rooftop at the Santo Domingo hotels offers great views of the Santo Domingo Plaza.
91. Have the best view of the Palacio Real from the Terraza del Sabatini
One of the most beautiful rooftops in Madrid! It has views right to the Royal Palace. Especially beautiful during the evening. A very beautiful rooftop if you are looking for one further away from noisy Gran Vía.
92. Check out El Viajero for fancy afternoon drinks
El Viajero is a very hip place in the neighborhood of La Latina. A great place to have a drink with friends during the weekend. Apart from that, they also offer traditional tapas and brunch.
93. Check out the best view of Madrid at Circulo de Bellas Artes
Circulo de Bellas Artes is a very popular place. I would even say the most popular rooftop in Madrid. The entrance is 4 Euros and you will get the most amazing views of Madrid. Once you are upstairs, you can walk around the rooftop and take pictures. A great place to go! Again, I would recommend going during the week.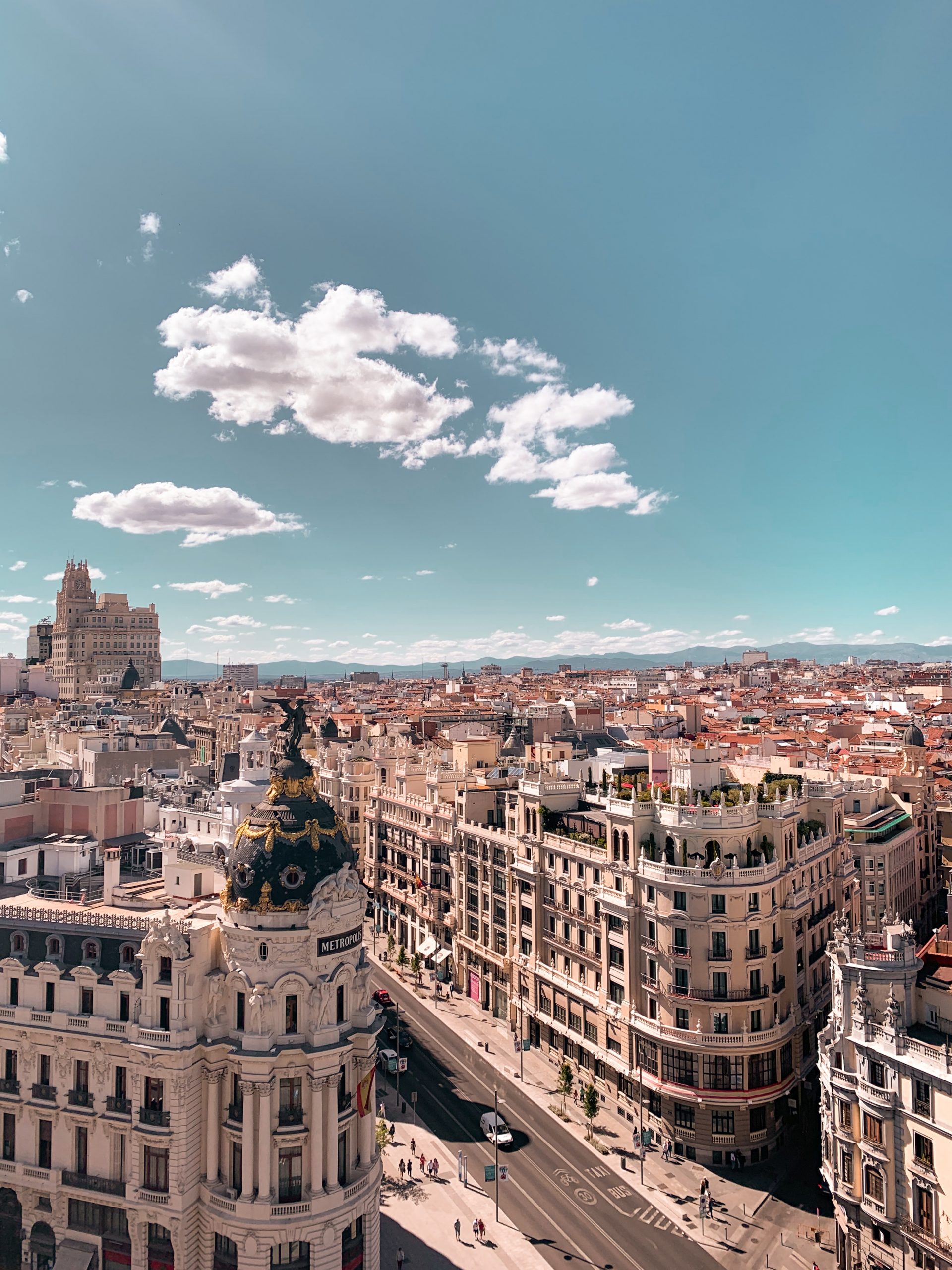 94. An affordable place to stay and have drinks: The Hat Madrid
I really wanted to include The Hat Hostel in Madrid on this list. It is a very popular hostel, especially amongst young and solo travelers. But apart from that, it also has a rooftop that you can visit even though you do not stay at the hostel. Very recommended!
Where to go (Window) Shopping in Madrid?
95. Find rare vintage pieces in Malasaña
Calle Velarde is THE destination for vintage and second-hand shopping in Madrid. This street is full of all kinds of second-hand shops. You can find very unique pieces, both from expensive brands and not. A great place if you are looking for affordable and unique clothes.
96. Go shopping and explore the food courts at Plaza Rio II
I included this shopping center for several reasons: It is wayyyy less crowded than the city center. It has a rooftop where you can order food while enjoying really beautiful views. And it's close to Madrid Rio, the Matadero and the river Manzanares.
97. Go Window Shopping in Salamanca
Salamanca is the fanciest neighborhood in Madrid. And that is also where you will find the most expensive stores in Madrid. Since this is a "Cheap Things To Do in Madrid" Guide, you do not need to buy anything there. But you can walk around the area and peek inside the fancy shops.
98. Visit the biggest Spanish Shopping Mall: El Corte Ingles
El Corte Ingles is the most important Spanish department store. It really offers everything from food to clothes, even furniture or appliances. Especially the food section is great for checking out local food or buying a local souvenir from Spain. Who would not love receiving a gift of Spanish Ham? El Corte Inglés is your place to go.
99. Explore the Shops in Calle de Preciados and Gran Vía
What about a little Shopping Spree during your Stay in Madrid. Of course, you do not need to buy anything. But there are so many amazing shops in Calle Preciados and Gran Vía. Perfect for an afternoon of shopping or just checking the shops out. The most famous ones will be Zara, Stradivarius, and Primark (one of the biggest ones in Europe!).
Let's move to the best One-Day Trips you can do from Madrid
100. Explore the City of Three Cultures: Toledo
Toledo is a small town that is about one hour away from Madrid that, at the same time, is a UNESCO World Heritage site for its cultural heritage. It is famous for being the "City of Three Cultures". It has many cultural influences from Christians, Jews, and Muslims. The city itself is quite small and perfect for a one-day trip.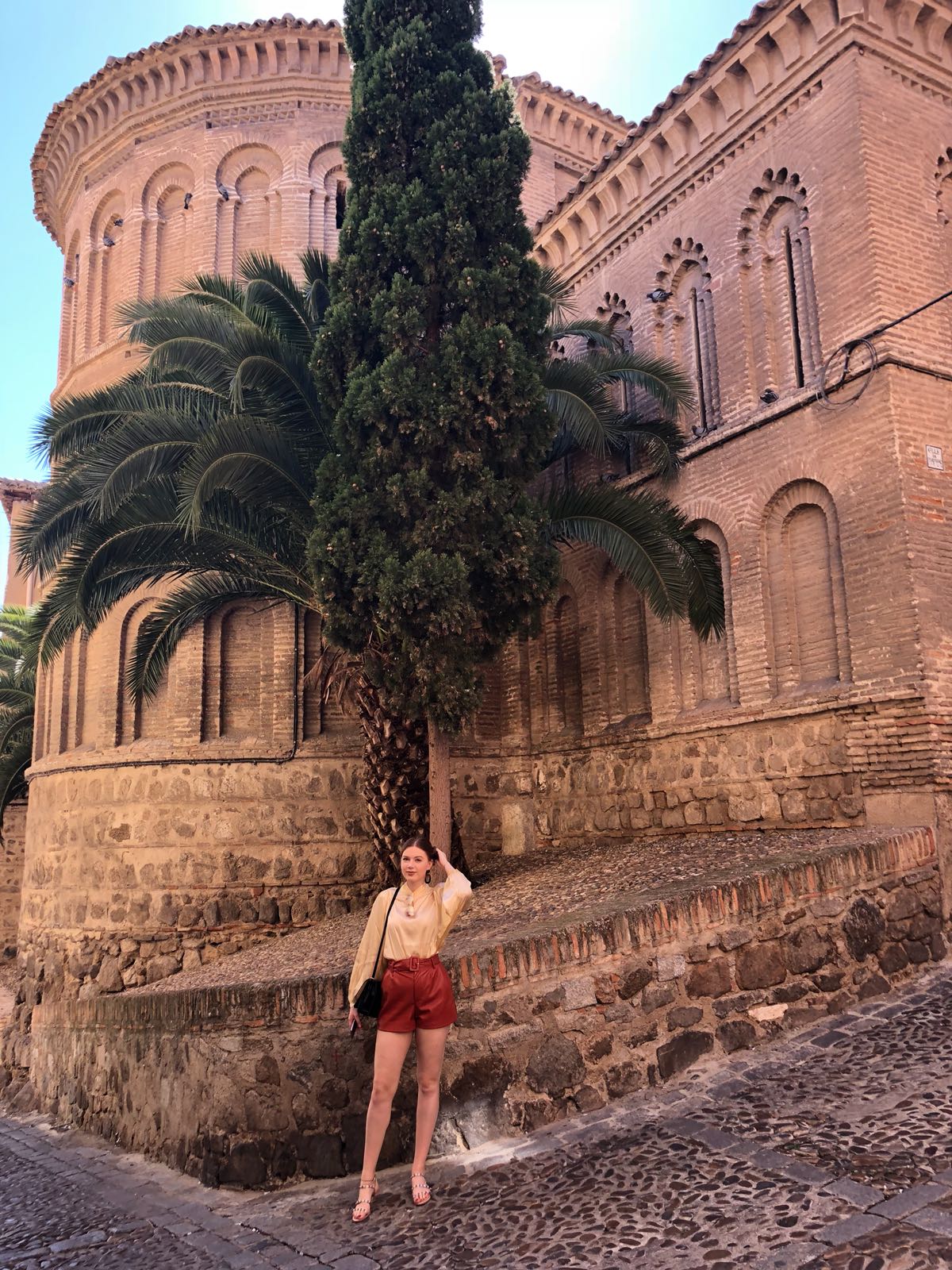 You can get there by taking the bus from Plaza Eliptica. A round trip only costs 10 Euro!
In Toledo, you should definitely do a walking tour. You will learn so much about its history, I definitely recommend it. You can book your Toledo Walking Tour here. As a huge walking tour fan, this is a walking tour I definitely recommend to you! As previously said, Toledo is a city of three cultures. And you get to explore the city and look for hints from these cultures in the old city of Toledo. Toledo was declared a world heritage site for a reason! 🙂
101. Explore the place where the Spanish Royals would go during summer: Aranjuez
Aranjuez is a small town around 50km away from Madrid. It is famous for its beautiful old town and for the Palacio de Aranjuez (The Palace of Aranjuez). This is the place where the royal family would spend their summers.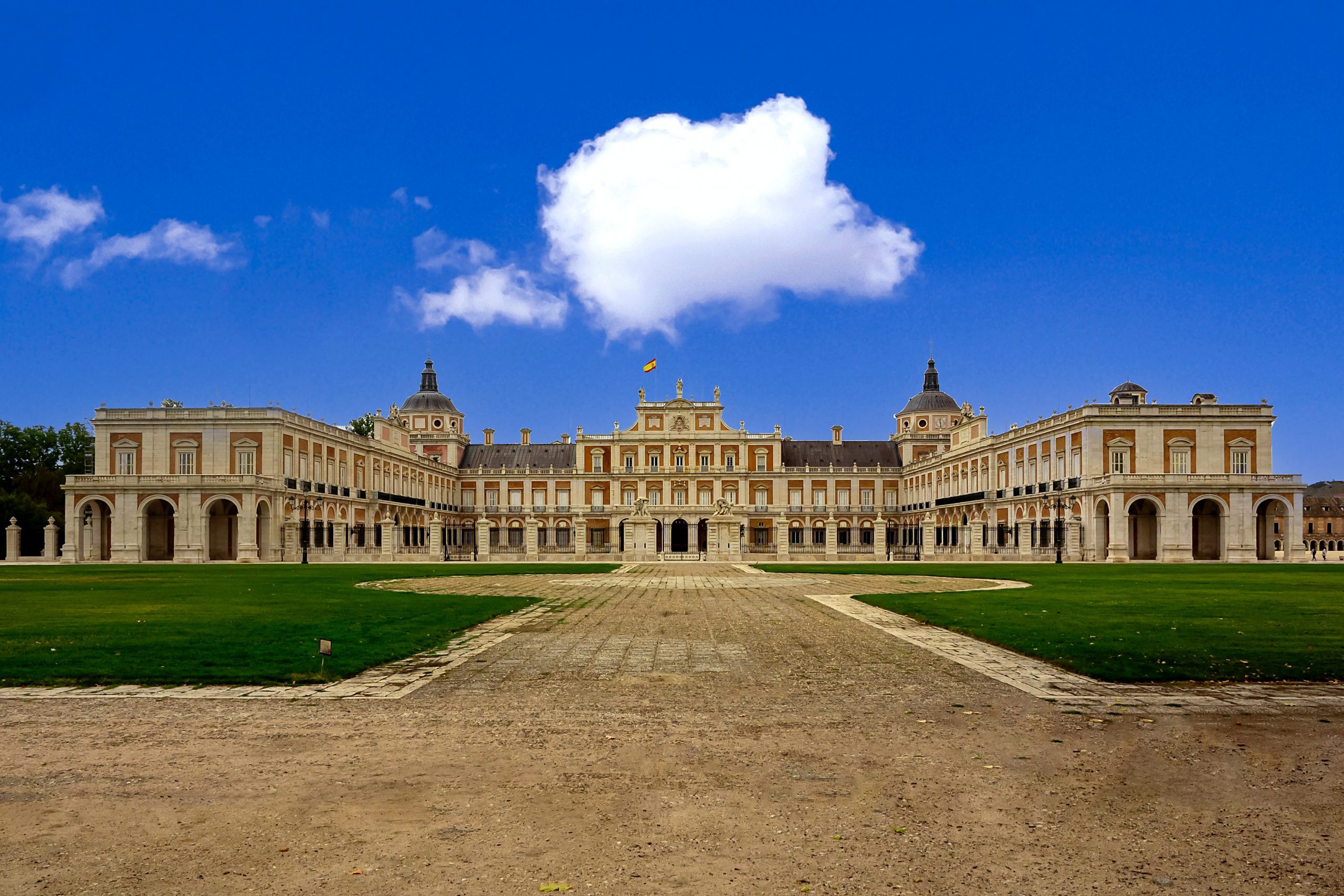 You can get to Aranjuez by taking the train from the Atocha train station. A one-way ticket costs 4.05 Euros and will bring you there in 45min.
102. Check out the inspiration for Disney's Cinderella castle in Segovía
Segovía is another hidden gem not too far away from Madrid. It is famous for its Roman aqueduct that you will not be able to miss when you visit it. Apart from that Segovía has a beautiful cathedral and a castle. Did you know this castle served as inspiration for Disney's Cinderella castle?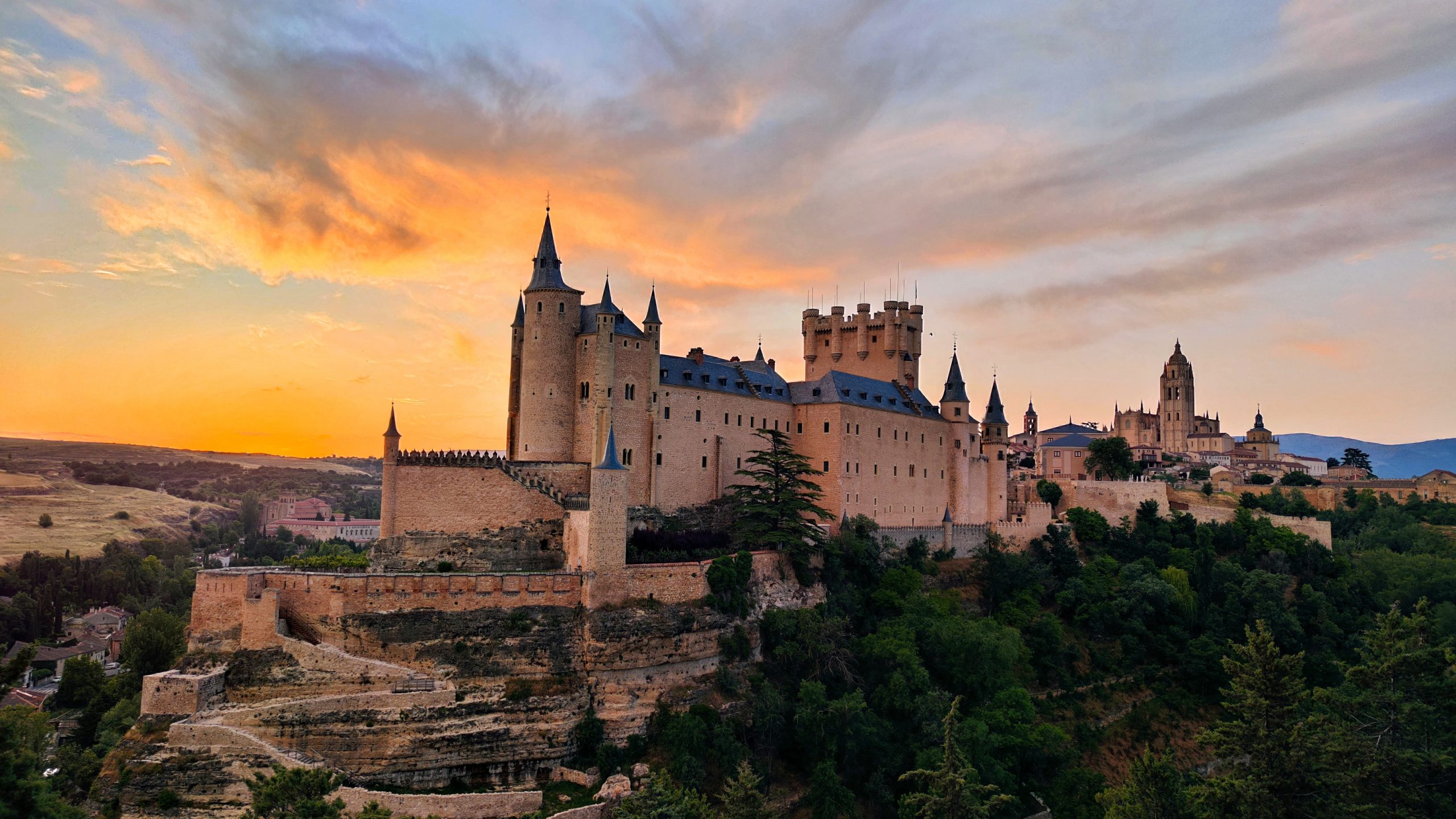 You can get there by taking a bus from the Moncloa Metro Stop. The ride takes around 90 min and a one-way ticket costs 4 Euros.
103. Explore the historical centre of Alcalá de Henares
Alcalá de Henares is a very important city in Spain because its historical center is declared UNESCO world heritage site. It is famous for its beautiful cathedral and old university. Apart from that, you will find many other historical buildings, statues, and landmarks.
You get there by taking bus 223 from Avenida de America, which costs around 5 Euros one-way.
104. Admire the largest Renaissance building in the world: El Escorial
El Escorial is a fortress that was once the historical residence of the King of Spain. It is the largest Renaissance building in the world and was also declared a UNESCO world heritage site. It is very popular amongst travelers and the perfect destination for a one-day trip from Madrid.
You can get to El Escorial by taking Cercanías C3 or C8 from the Atocha station. A one-way ticket costs around 4 Euros.
Wow, that was it! Those were all the 104 cheap things you can do in Madrid. I hope you enjoyed reading this blog post as I enjoyed writing it. Now, please let me know what your favorite cheap attractions in Madrid are! Or is there any that I should add to this list? I am always curious to try new places. Let's make this list even longer!