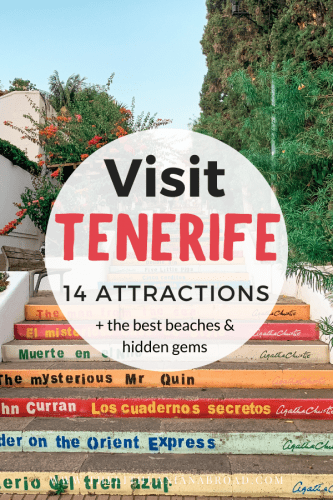 Tenerife is the biggest island of the Canary Islands and has so many amazing attractions to offer! I went to Tenerife for 10 days in September and absolutely fell in love with it. What you will find in Tenerife is a paradise of black sand beaches, good weather all year round and amazing Canarian food. And the whole island is full of little villages and beautiful beaches ready for you to explore. We had so much fun renting a car and exploring the best attractions and hidden gems on the island. And the best part: Visiting Tenerife was much more affordable than we expected! And if that does not convince you, then I hope the following list will make you book your ticket to Tenerife soon. Here comes my Tenerife Bucket List with 14 Attractions to make your stay unforgettable!
This Post is part of my Tenerife Series, just like the following posts:
Interactive Map with all attractions I mention during this blogpost:
Participate in a free walking tour in Tenerife!
Free walking tours are one of my favourite activities to do when I am travelling. It is the perfect way of getting to know a new city from the eyes of a local. And I already checked out their website: In Tenerife, there are free walking tours in San Cristóbal (So much history! Very recommended!), Garachico, Santa Cruz de Tenerife and La Orotava.
How do free walking tours work? Free walking tours do not come at a specific price, which is why they are free. The local guides always do an amazing job showing you the best parts of the city. You get to ask them questions and get recommendations for food places or museums from a person that actually lives there. At the end of the tour, you have the chance to leave your guide a tip. And it's completely up to you how much you would like to tip them. It usually depends on your own budget and how much you liked the tour.
Look for all free walking tours in Tenerife here!
1. The Number One Attraction in Tenerife: National Park Teide
Going to the National Park of Teide must be at the very top of your Tenerife Bucket List when you visit Tenerife. Tenerife is known for its volcano and visiting it is absolutely worth going to the National Park surrounding it. There is a bus that takes you to the National Park of Teide but one of my friends that used to live in Tenerife really recommended me to go there by car.
The reason is that there are countless viewpoints on the way up to the National Park. Do not forget that the drive takes you from sea level to a height of almost 3000m. There are so many places to stop, walk around, explore, read the signs and take photos. So if you decide to go by car you can stop at every single one of them. In case you decide to go by bus, I am not able to tell you how many times they stop on the way to the top. That's why I think it is better to go to the Teide National Park by car. You are more flexible and you will have more opportunities to take photos!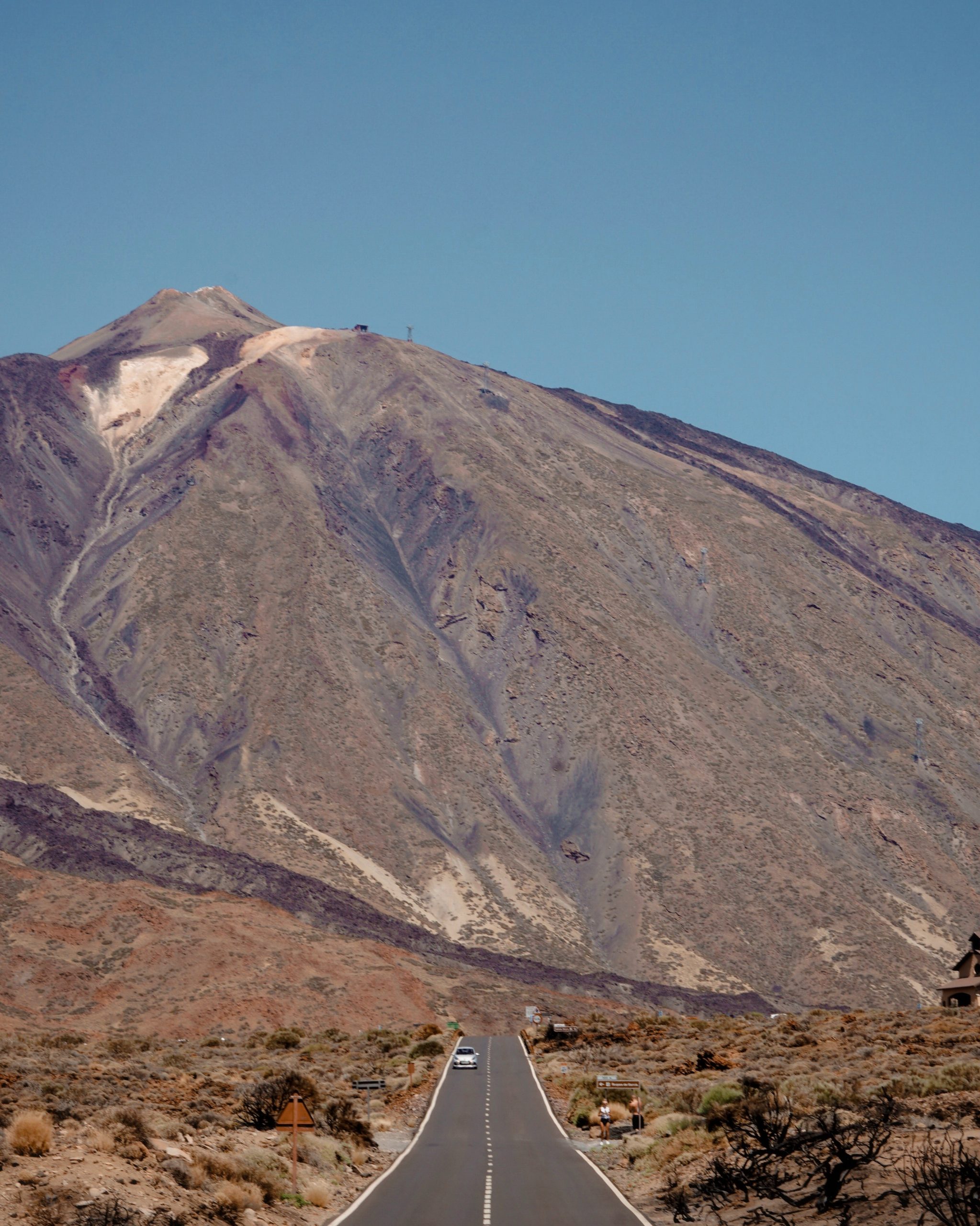 There is a cable car at the end of the streets that go up the Teide National Park. You can park your car for free and enjoy the surroundings or go up the cable car. When I went there it was very cloudy so we decided not do it. Sadly, the clouds were blocking the whole view around the volcano. I was very disappointed because I have heard amazing things about it. The cable car costs 21 Euros per person and you can buy your tickets in advance here.
Make sure to buy your tickets for the cable car in advance. You can find more information here.
2. Rent a Car to Explore the island!
I have to admit that public transport in Tenerife is very great. I found that it ran pretty much according to the data in google maps. And every bus station has a QR code you can scan in order to find out when the next bus (locals call the buses "Guagua") is arriving. Apart from that, taking the bus in Tenerife is very affordable.
But, of course, if you want to be more flexible you should rent a car. Especially, if you want to explore remote attractions on the island, a car will be a better choice. I must say that I would recommend reserving a car a couple of days in advance. We were trying to get a car for the same day but no place had any care available! Regarding the price, you should calculate around 23-50 Euros per day, which is a very fair deal.
I found the places at the airport to be quite expensive. I would recommend checking prices and availabilities on Rentalcars.com
3. Try Local Canarian Food in a Guachinche
Did you think Tenerife as a small island would not have any good cuisine? You were wrong! You should definitely try some typical Canarian dishes in a Guachinche, that is what local Canarian restaurants are called. If you see a place called "Guachinche" it means it will be a traditional and affordable place. And there are so many things that you can try! The Canary Islands are famous for Papas Arrugadas con mojo. Those are potatoes with a salty crust with a sauce made out of herbs. Believe me when I say this is heaven. Make sure to put Canarian Food on high priority on your Tenerife bucket list. It is worth trying!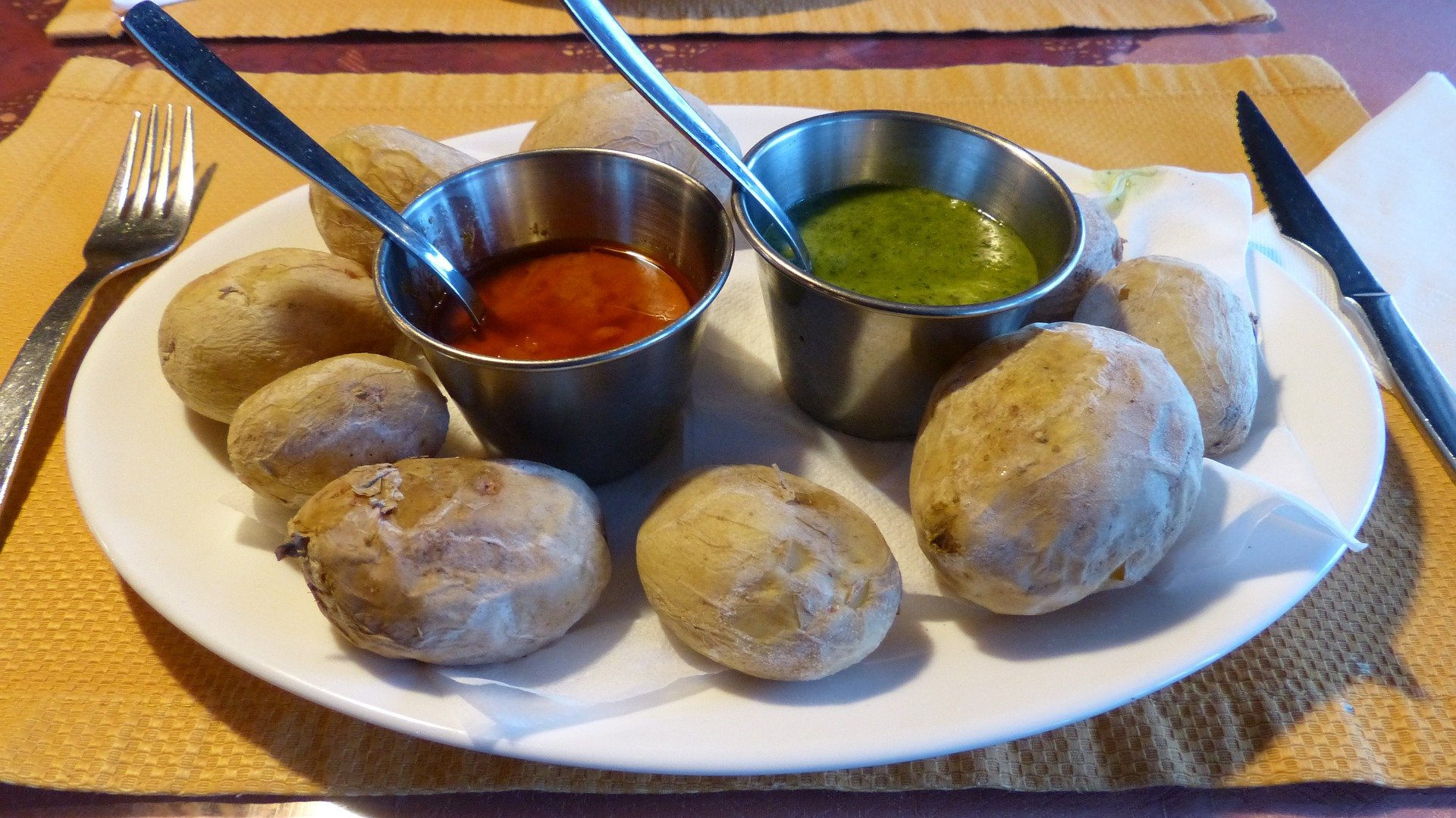 By the way, if you want to find out more about typical Canarian Food and Canarian Slang, you should check out this blogpost.
4. Stay in an old town house, villa or even farmhouse!
There are some really beautiful gems when it comes to accommodation in Tenerife. Of course, you can just stay in a modern All-inclusive resort and enjoy your time on this tropical island. But I encourage you to be a little bit adventurous. You do not even need to go to the remote areas of Tenerife to find magical places to stay. Here, I will show you a couple of my favourites. I found colonial townhouses, villas, cottages and even monasteries!
€€: Stay in an old townhouse at Hotel Marquesa in Puerto de la Cruz
This beautiful hotel in Puerto de la Cruz is located in a beautiful house from the 18th century – a true gem! Look at this beautiful interior patio full of plants. This is the perfect hotel if you are looking for a unique place to stay in Puerto de la Cruz.
San Cristóbal de la Laguna was one of my favorite places in Tenerife. This little town is so historic and there are so many things to see. This hotel is a villa from the 16th century and looks so authentic: from the colourful windows to the walls of the building. Very authentic.
€€: Stay in a former farmhouse surrounded by nature at Hotel Rural el Patio
This former farmhouse is completely surrounded by nature and only a short walk away from the beach. The rooms are decorated in such a detailed way that fits perfectly into the vibe of this hotel. And it includes a really great breakfast. What else could you ask for?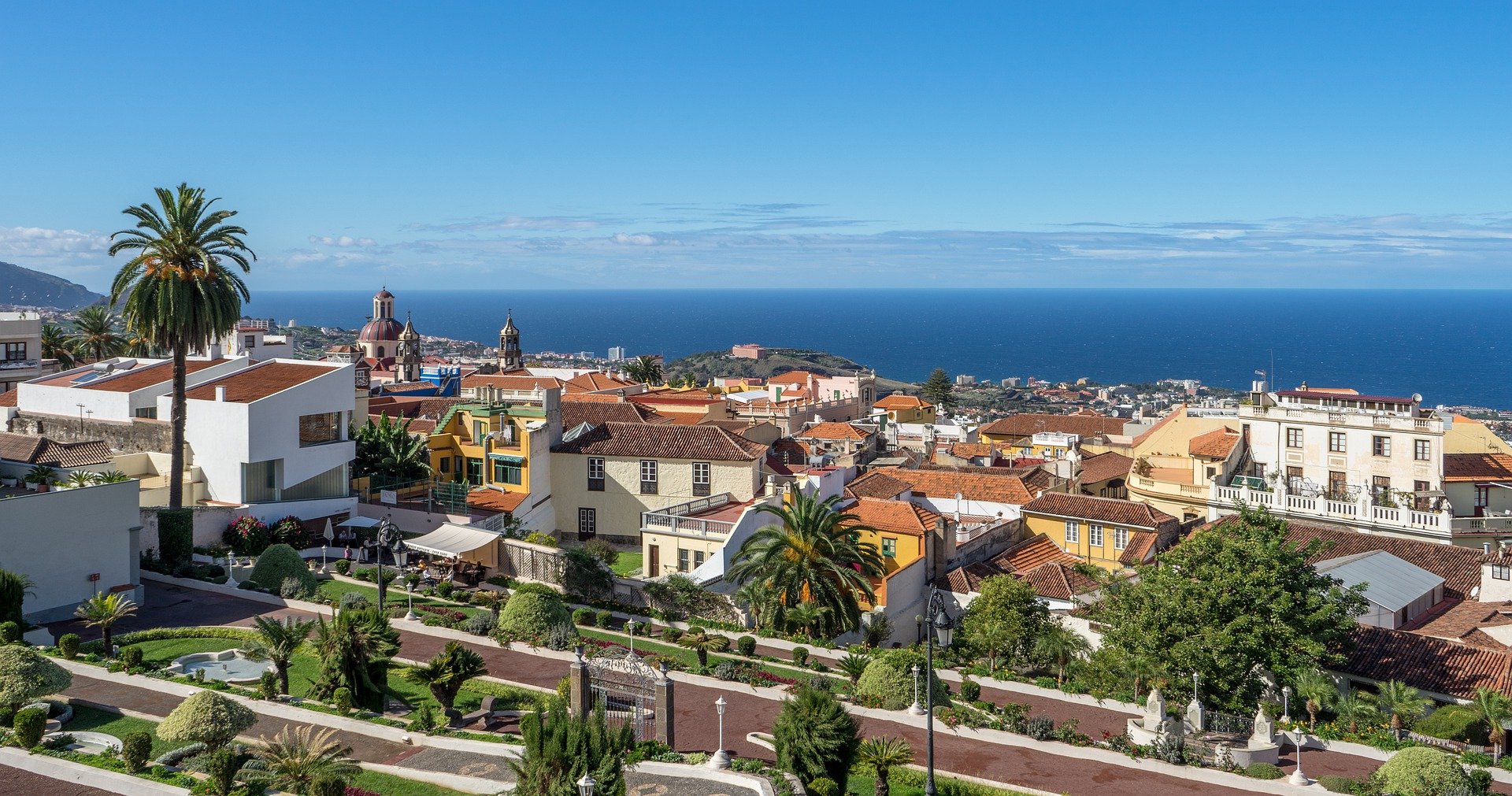 5. Go to Playa las Teresitas, the famous beach with white sand
Tenerife is famous for its black sand beaches. But not all beaches in Tenerife have black sand. Playa las Teresitas, for example, is a beach on the North East side of the island and is a loooong beach with white sand. It is right next to the city of San Andres and is only 9km away from Santa Cruz.
An interesting fact about Playa de las Teresitas is that the original beach used to be of tiny rocks and black sand. But in the 1950s several beaches in Tenerife kept disappearing as locals would use the sand for construction work. So the city of Santa Cruz decided to build an artificial beach instead. Since black sand was too expensive due to its scarcity on the island the Spanish government bought Sand from Western Sahara. White sand also has the advantage that it's more appealing to tourists who were not used to the typical black sand in Tenerife.
If you are looking for more beautiful beaches, I wrote a blog post about the best beaches in Tenerife, that you can find here.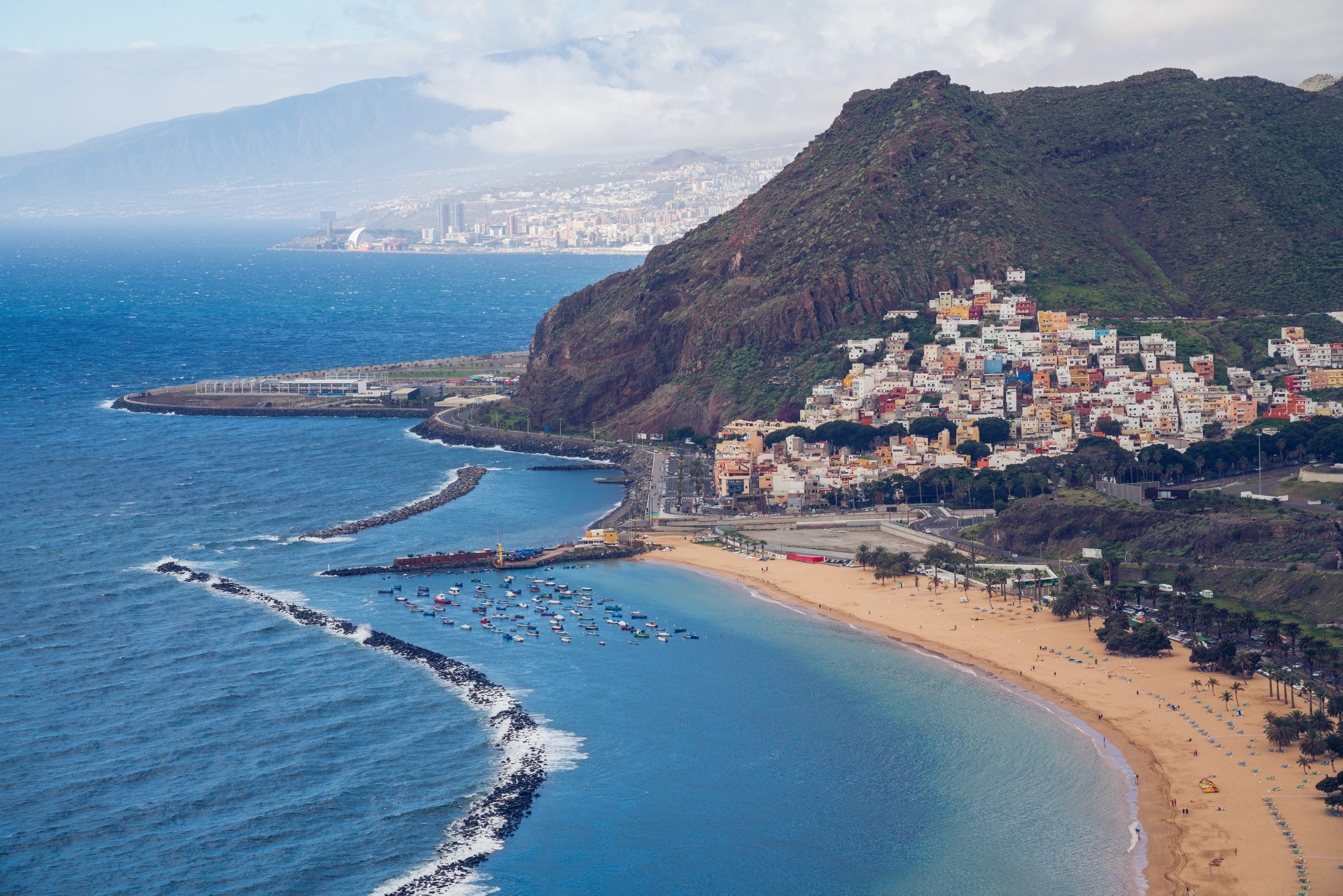 This beach is also very popular amongst tourists as there are not many waves which makes it very family-friendly. Apart from that, it is very easy to get there as you do not need to climb any rocks. Other beaches in Tenerife tend to be very wild with strong waves. Make sure to visit this top attraction in Tenerife for a beautiful beach day!
6. Visit San Christobal de la Laguna and admire the colonial architecture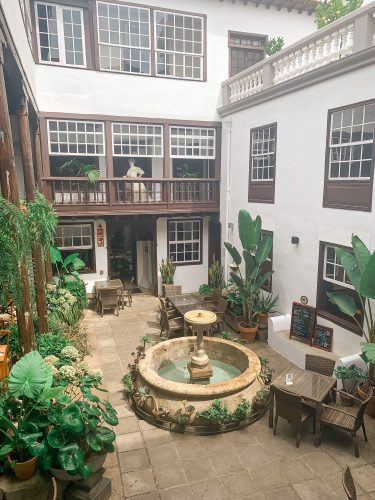 San Christóbal de la Laguna is a very important city as it is the first one to receive UNESCO World Heritage status in Tenerife. It was built in the 15th century and is famous for its colonial architecture and its old, beautiful (and pedestrian-friendly!) streets. But not only that! La Laguna also has a university so many young people live there as well. But at the same time, La Laguna is also full of churches and other religious buildings and museums. A city full of contrasts with some very interesting museums!
Casa Museo Cayetano Gómez Felipe must have been my favourite little spot in San Cristóbal de la Laguna. It is located in a typical Canarian house from the 18th century which is absolutely beautiful and has a stunning interior patio. It owns a very big collection of art pieces and things related to the Canary Islands from the 18th century. Apart from that, there is a very cute cafe inside, so you can relax in the Interior Patio for some time. There are tours through the inside of the house, but I would definitely recommend making a reservation beforehand.
What about joining a free walking tour in San Cristóbal? To me, it is one of the best ways to explore a new city and to find out more about its history.
7. Explore the most beautiful beach of Tenerife: Playa Benijo
Playa Benijo has been on my Tenerife Bucket List for years! As you probably already know, Tenerife is famous for its black sand beaches. And Playa de Benijo is one of the most beautiful and remote ones. I was so happy I got to go there during my trip. It is not very easy to get there, which is why I would recommend going by car. But I know there is a bus that brings you to the closest village called "Tanagana", and then you can walk to Playa Benijo in about 15 minutes.
Then, you have to walk downstairs which leads you to the beach. And voila, you reached paradise! We went right before sunset and the lighting was absolutely gorgeous. The water is so clear and sets a strong contrast to the black sand. When we went, the waves were very strong, so the lifeguards did not allow us to go too much out into the water. But still, I was so glad we decided to come here.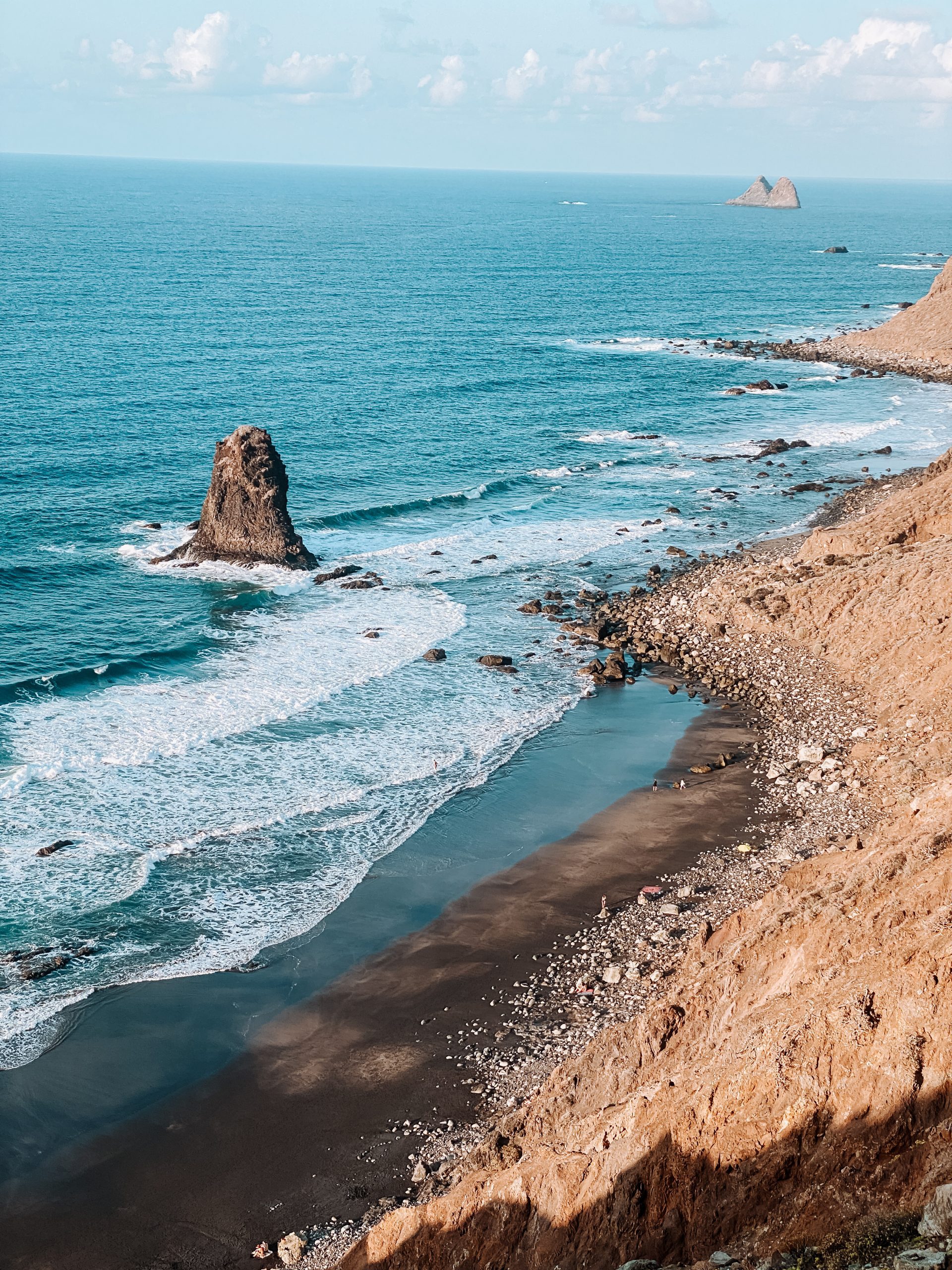 Once you are at the beach, unfortunately, there is no way of buying water of snacks. Keep that in mind when you go there. Apart from that, Playa Benijo was the highlight of my Tenerife trip!
8. Go down the countless water slides in Siam Park
Okay, who does not like water parks? And do you know where the biggest water park of Europe is? You guessed right. It's in Teneriffe! The Siam Water Park is one of the most famous attractions in Tenerife and can be an amazing one-day trip for the whole family!
The Siam Park in Tenerife is so big that you definitely need to plan to stay your whole day there. It is located in the South of Tenerife so keep that in mind if you are planning to go there. The Entry costs 38 Euros for adults and 26 Euros for children.
You can buy your tickets for the Siam Park  here.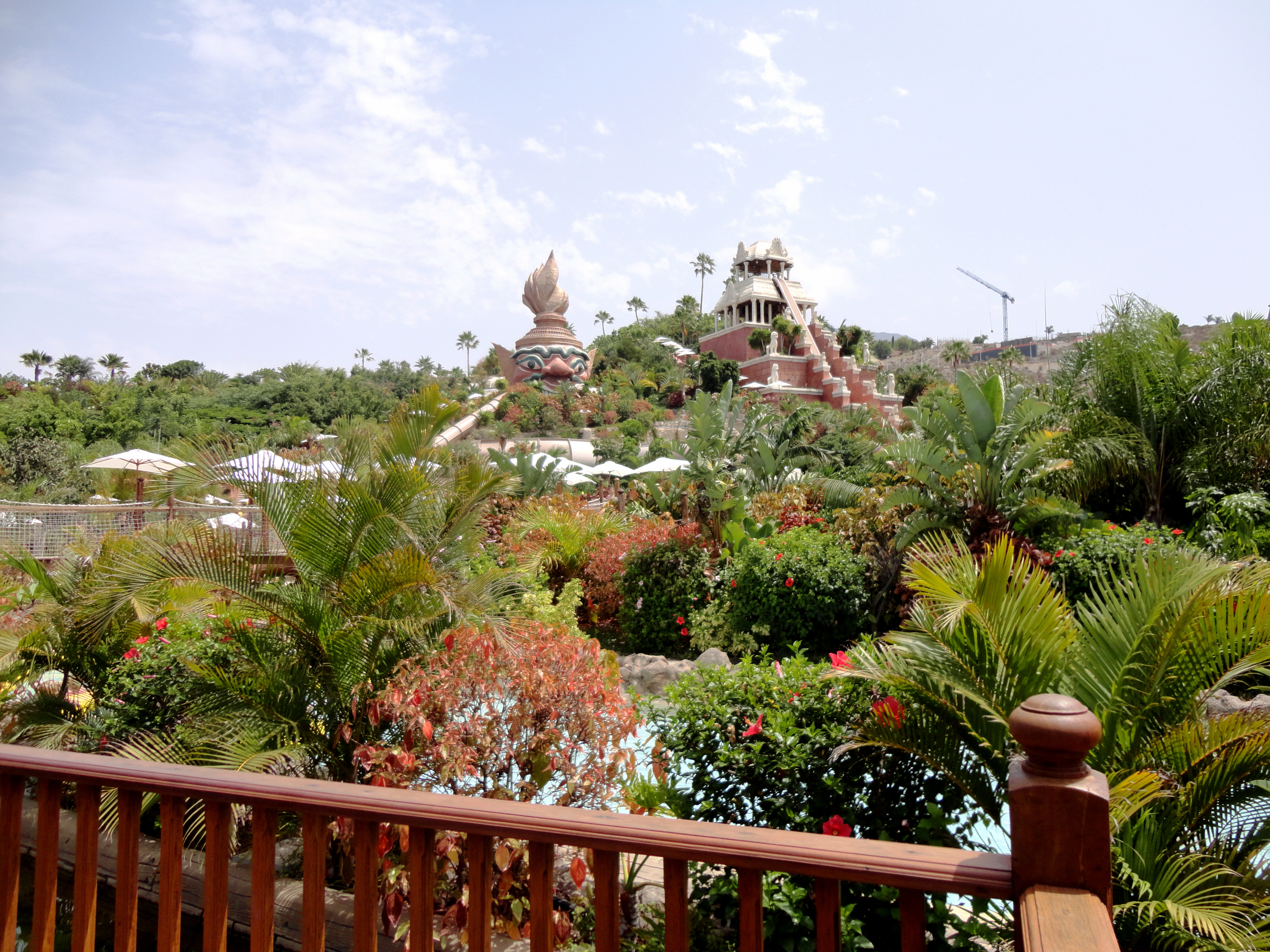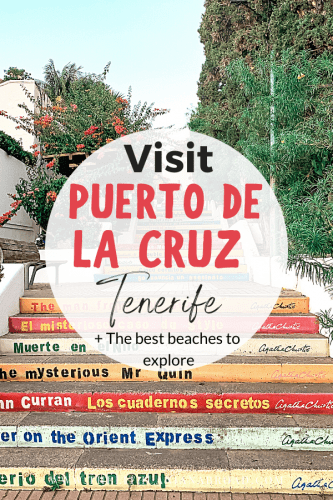 9. Visit Puerto De la Cruz and explore the historical town!
Puerto de la Cruz used to be a small fishermen's village in the North of the island that due to increasing trade is now one of the island's biggest cities. Nowadays, it has many big hotels and resorts. But if you want to have it a little bit quieter you can go to the old part of the city, which consists of beautiful colourful houses and narrow streets. You will be surprised by the contrast between the old town and the hotel resorts by the beach. I am sure you have seen the colourful 'Agatha Christie' stairs if you have researched Puerto de la Cruz before. It is a tribute to the writer who visited the island in the 1920s and fell in love with it.
---
I wrote a complete blog post about what you can do in Puerto de la Cruz that you can find here. (I even tell you what our favourite sunset place is!)
10. Go swimming in a Piscina Natural (Natural Pool)
A Piscina Natural (A Natural Pool) should be very high up on your Tenerife bucket list! Often, the beaches in Tenerife have very high waves and the current is strong. So you have to be careful when you go swimming. But that is why those so-called Piscinas Naturales are the solution! They basically are an artificial pool filled with seawater. Or they can also be an area at the beach that is protected by rocks, kind of like a little lake in the water. Perfectly hidden from the crazy waves of the ocean! Piscinas Naturales are very swimming friendly and are usually accessible by ladders.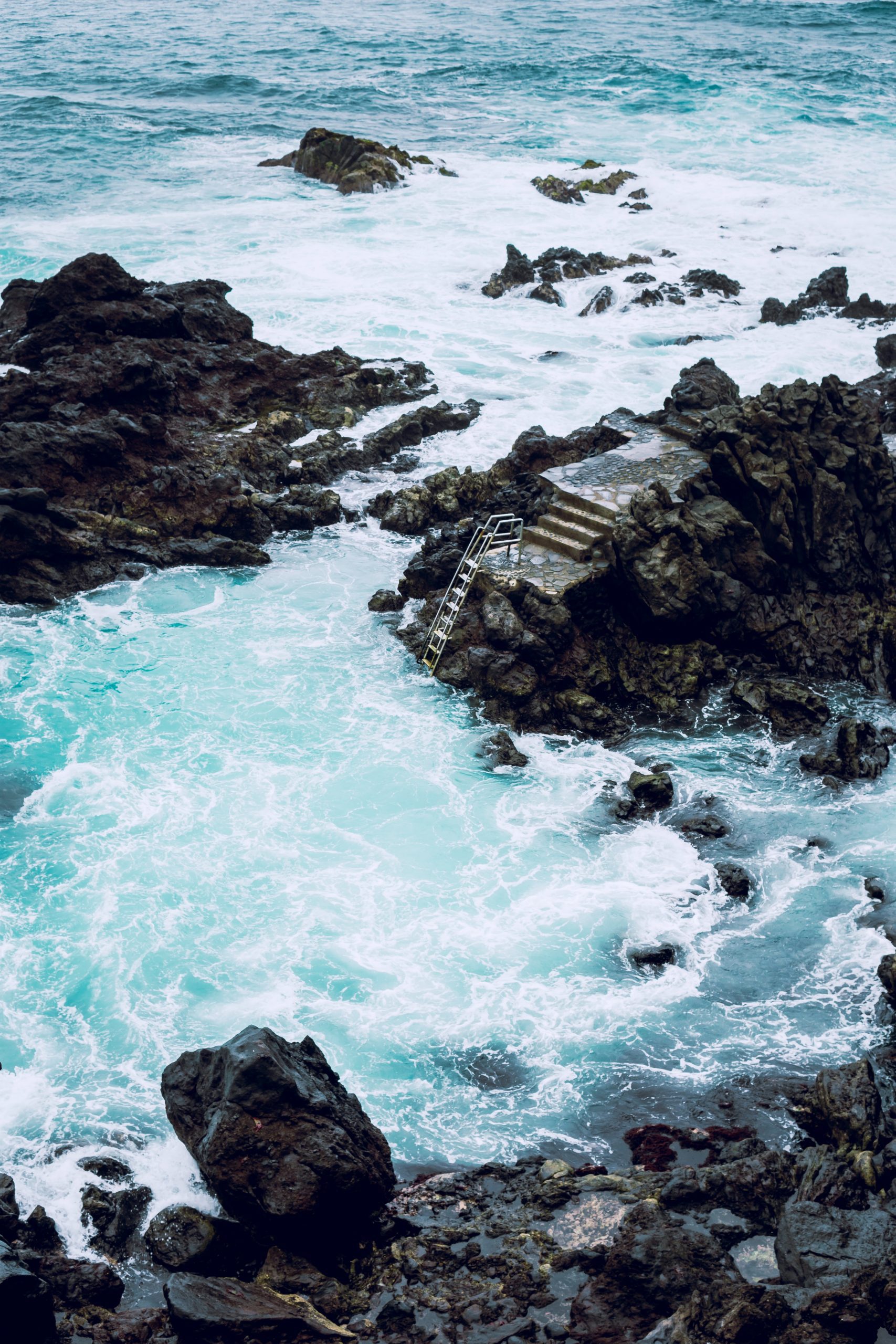 I went to the Piscina Natural in Bajamar, Tenerife. This one actually looked like a separate pool. But the close waves could still reach the water in the pool area. It was an amazing experience. There are many piscinas naturales all over the island. I definitely recommend you to try out this attraction during your stay in Tenerife!
11. Go hiking to Playa del Castro or the Elevador de Gordejuela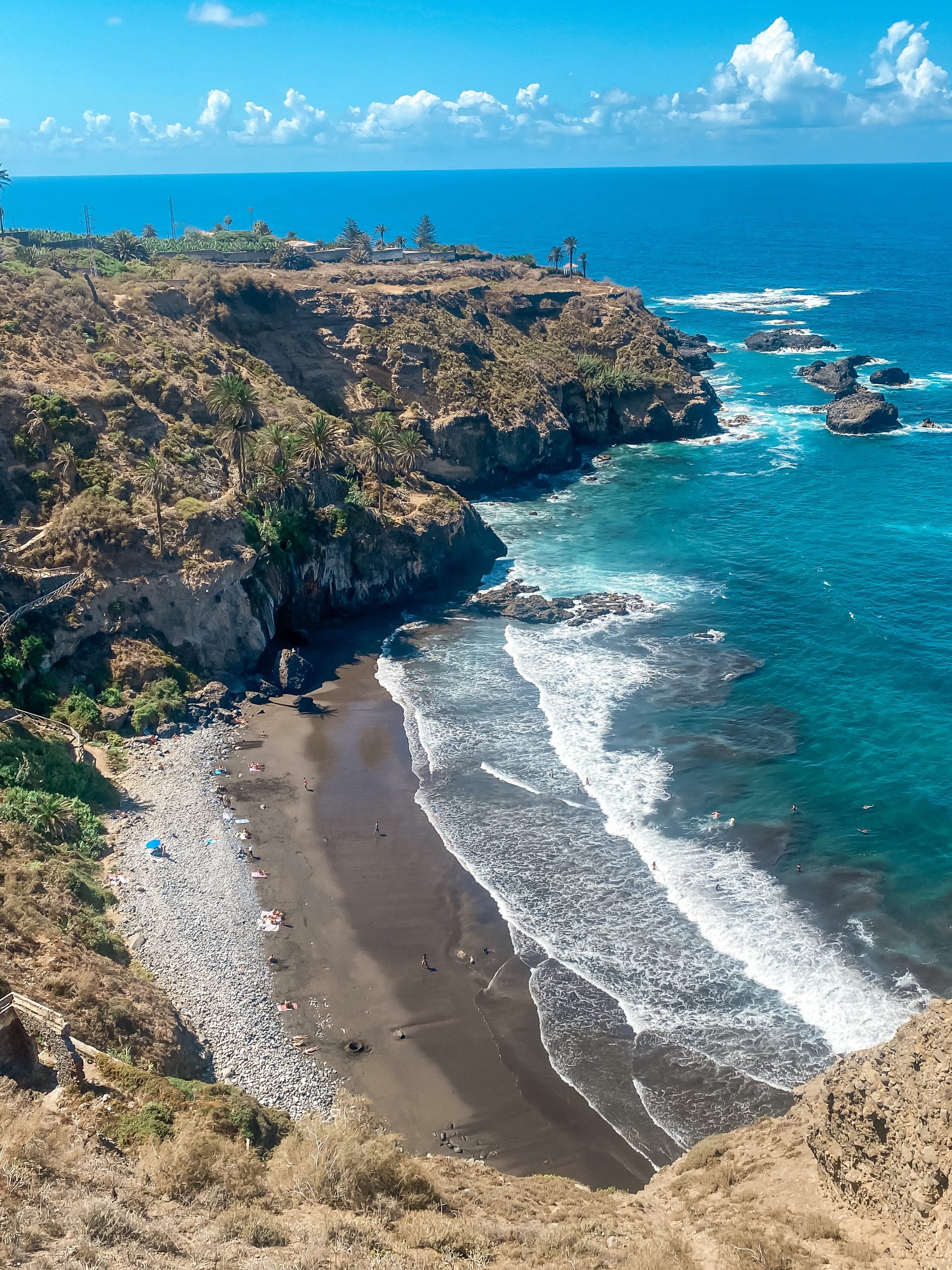 Playa del Castro is the perfect one day trip from Puerto de la Cruz. Why did we choose this destination for a one day trip? So, there are two beaches next to each other: Playa del Castro and Playa de Gordejuela. Playa del Castro has a small waterfall running down the cliffs to the beach. It is absolutely beautiful to look at and very refreshing since you are able to stand underneath it. And honestly, there cannot ever be too many beaches on your Tenerife Bucket List.
Playa de Gordejuela is very unique since on the top of the cliffs is the "Elevador de aqua de Gordejuela". It is basically a bridge connecting two different points of the cliffs. Apart from that, there are ruins of a mansion on the cliffs. It almost looks spooky how these ruins stand so firmly on the dangerous cliffs over the sea. If you are to go there, you really should go to the Elevador to have a look at those beautiful ruins.
12. Explore the famous Parque Rural de Anaga and Casa Santiago
The rural park of Anaga is a mountain landscape in the north-eastern side of Tenerife. It is famous for its variety and beautiful viewpoints. The higher areas of Anaga are like the rainforest of Tenerife. It rains a lot and it's very humid overall. Other parts of the park are quite dry and very sunny. The Parque Rural de Anaga is perfect for hiking and exploring the unique nature of Tenerife. It is home to over 120 different plant species, some of them endangered.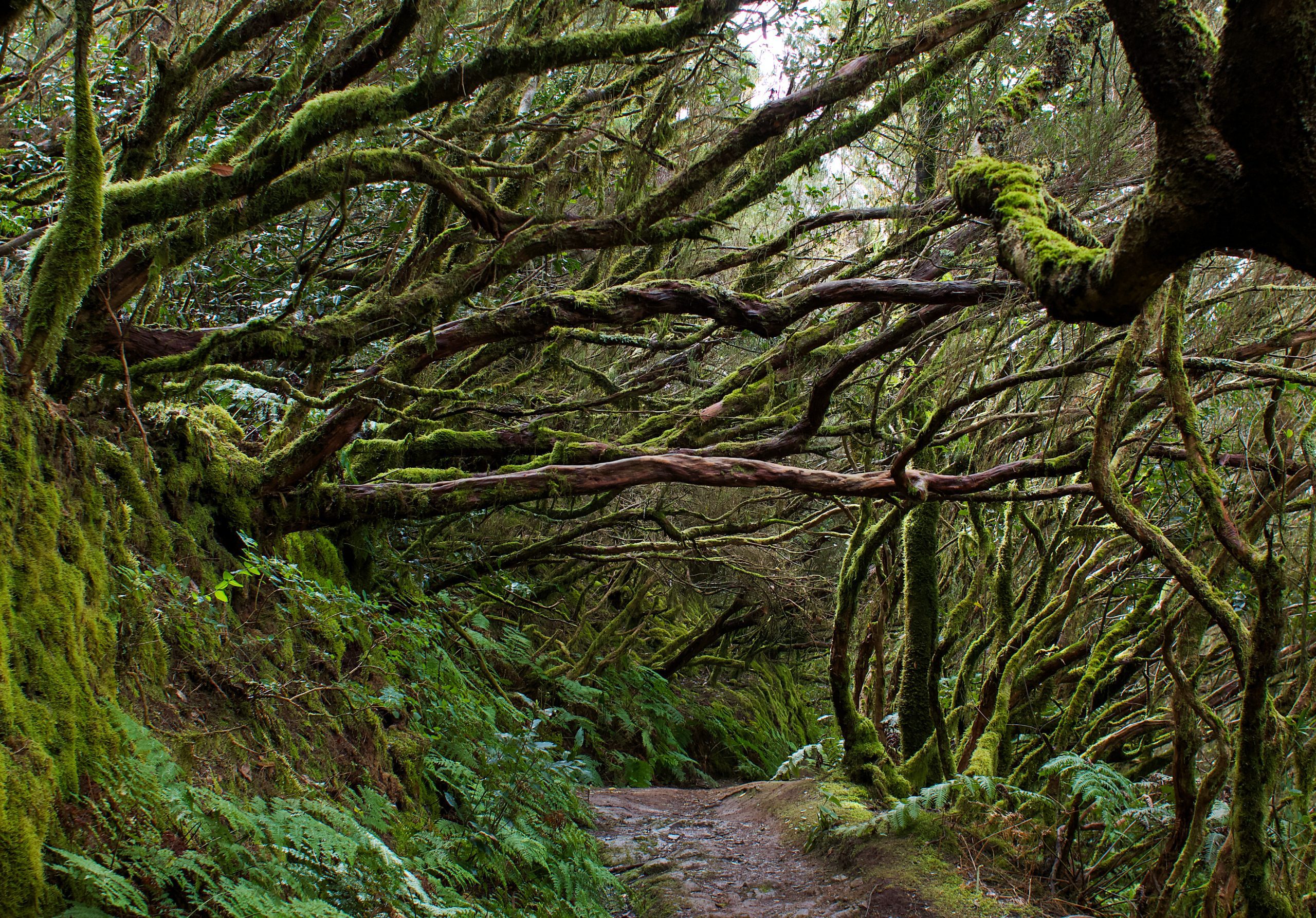 A very special point of the Anaga park is the viewpoint "Mirador la Jardina". Make sure to visit this special viewpoint during your trip. By the way, if you are a fan of hiking you will find amazing hiking places in Tenerife. You can book a hike with a local guide here.
When you get hungry, I would definitely recommend "Casa Santiago" for homemade Canarian Food. This will be a lifesaver after a long hike!
13. Visit Garachico, a town that used to be controlled by pirates
Garachico is a small town on the North West side of the island. If you are doing a road trip through Tenerife you should do a stop in Garachico to your Bucket List. It is famous for its White Castle at the harbour that was initially used for defence when Tenerife was attacked by pirates! Yes, Pirates used to control the area between Tenerife and the Spanish mainland during the 17th, 18th and 19th centuries. Crazy, right?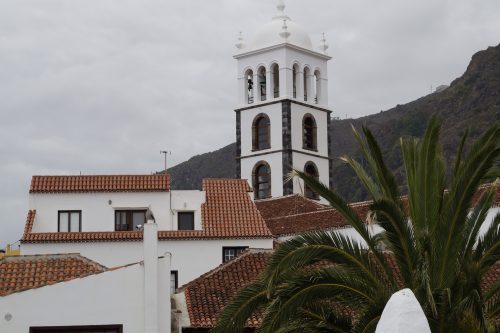 Apart from that you can spend the time swimming in the natural pools of Garachico. This one looks much prettier than the other ones on the island! I think the natural pools were one of my favourite attractions in Tenerife. Make sure to always check them out if you see one close!
14. Take in the views at Punta de Teno and admire the light house
Punta de Teno is the far western point of the island of Tenerife and has a lot to offer. The mountains and cliffs are pitch black as they were formed by lava from the volcano millions of years ago. The best part about Punta de Teno is that it's quite far in the South of the island so you will have amazing weather and sunshine the whole year-round. And if you are lucky, you might see La Palma from there as well!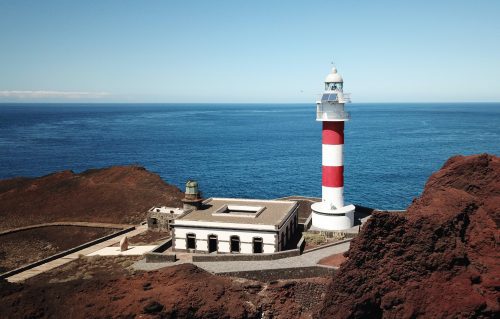 Punta de Teno is famous for its beautiful lighthouse. Seriously, it looks like it could be from a children's book. The lighthouse was built in 1897 and fun fact: The stones used came from the close island of La Gomera. It was easier to get them transported from there than getting them from Tenerife. This place is just very remote and that is why it's a very famous attraction amongst travellers.
By the way, you can reach Punta de Teno by bus 369 (or la guagua)
15. Visit the famous Casa de los Balcones in La Orotava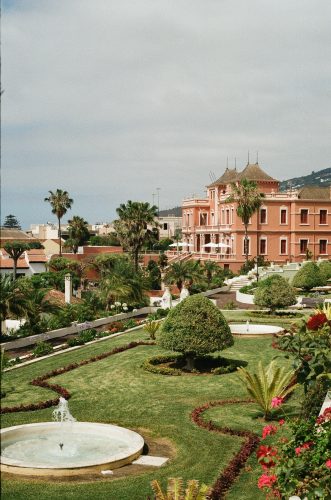 Some people call La Orotava the most beautiful town of Tenerife. La Orotava is known for its beautiful architecture and many historical buildings. The most important is "Casa de los balcones" (House of balconies) from 1632. This building, as well as the museum inside, is probably the most popular attraction of La Orotava. The inside of the house, which is the actual museum, shows typical Canarian furniture and decoration from Colonial times. A must-see attraction in Tenerife!
Apart from that, you should visit the historical town hall, the botanical garden or one of the many churches in La Orotava. Everything is so colourful and well preserved. If you are interested in the history of Tenerife this is definitely the place you must visit.
What about you? I really hope you enjoyed this Tenerife Bucket List! What were the highlights of your Tenerife trip? Let me know in the comments below 🙂