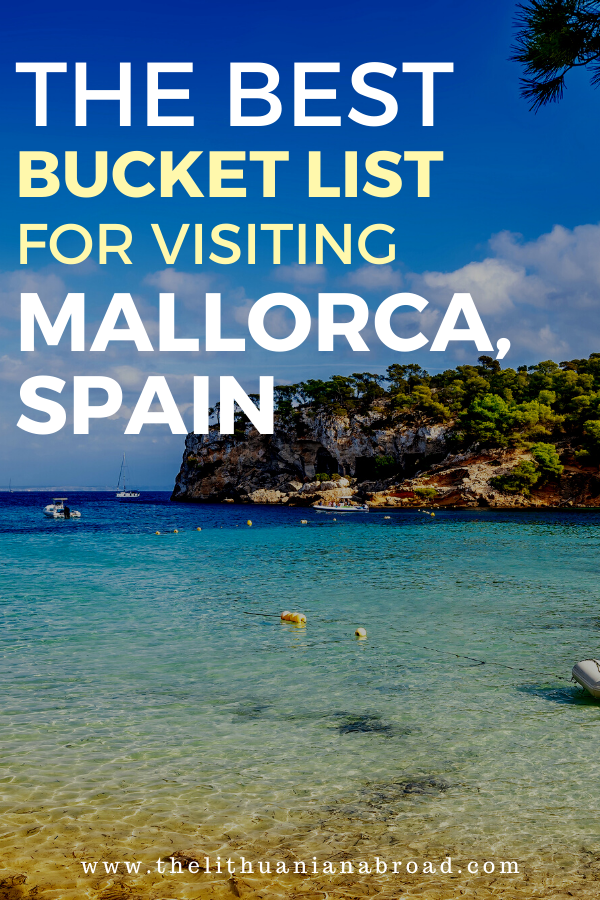 Hands up if you were unsure about visiting Mallorca first as well. I know I have because I was sure it was a party island. I thought it was the typical place where teenagers go to celebrate their high school graduation. And I was sure the only thing I could see there were people drinking sangría out of buckets, loud tourists, and overpriced restaurants. Boy, was I wrong?! It is incredible how much Mallorca has to offer. And there are so many places that you have to see! Mallorca is a small island that is around one hour by plane away from the Spanish mainland. Not only does it have absolutely gorgeous beaches with white sand and blue water, but one could think it is actually Greece. But Mallorca also has a lot of history, idyllic tracking routes and so many places to visit. The top places I went to during the three times I went there you can find in the following bucket list 🙂
---
Affiliate links may be sprinkled throughout the free content of this blog post. If you purchase from one of the links I may receive a small commission while the price for you stays the same. This helps me cover the costs of The Lithuanian Abroad. Gracias!
Other blog posts about Mallorca you cannot miss:
10 top tips for visiting Mallorca: This post includes everything you need to know when visiting Mallorca for the first time. I wish someone would have told me these things before I went to Mallorca.
7-day itinerary for a Mallorca road trip: This blog post includes an amazing itinerary for spending a week in Mallorca. I tell you about the best places to visit, must-do activities, restaurants and more!
The best areas for staying in Mallorca with hotel recommendations: This travel guide tells you the best area for staying in Mallorca depending on what you want to do on the island. Do you want to party or have a relaxing beach holiday? + Amazing hotel recommendations
Things to do in Alcudia, the North of Mallorca: I enjoyed my stay in Alcudia so much that I decided to make a complete blog post about it. Check it out to find out about an amazing boat trip to visit Mallorca's bays!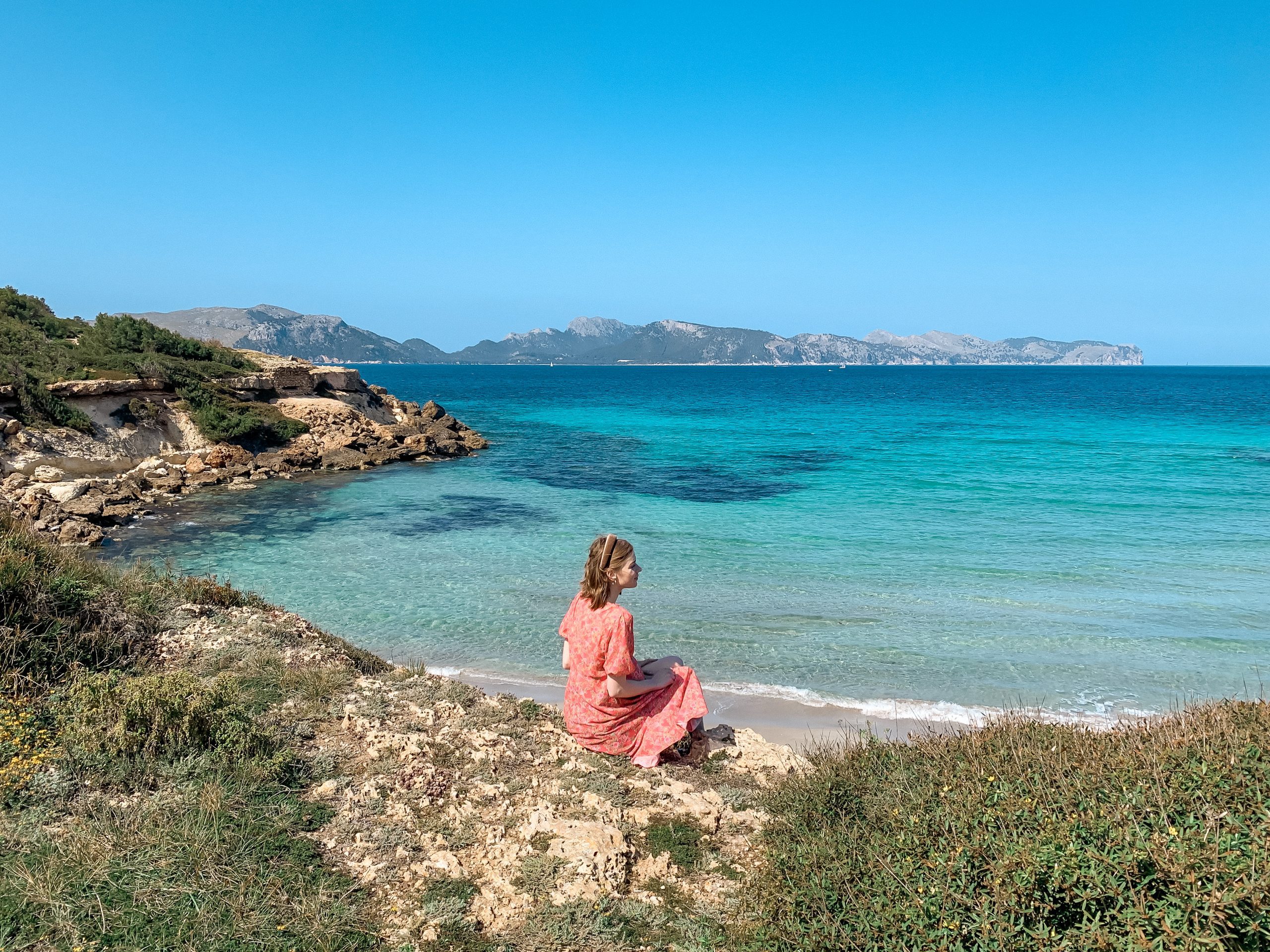 What are the best places to stay in Mallorca?
This place looks like an absolute dream to me! This hotel is located in an old monastery and you can tell that it has a lot of history! Apart from that, it is completely surrounded by nature. The perfect destination in the north of Mallorca if you would like to go for a hike or enjoy the quiet surroundings.
My mom and I stayed in this hotel during our Mallorca trip and we had the best time! The interior is designed with such detail you feel like in a fairytale. I do recommend getting a room with a sea view. It is so worth it. Their breakfast was amazing as well. It is probably my favorite place I ever stayed in Mallorca.
This is the place where you go for complete privacy and a relaxing stay in Mallorca. Finca Serena is surrounded by vineyards where you can enjoy complete privacy. The hotel is known for not accepting many guests so you will have it almost just for yourself. I have to admit, I have never stayed there but this place was recommended to me by fellow travellers.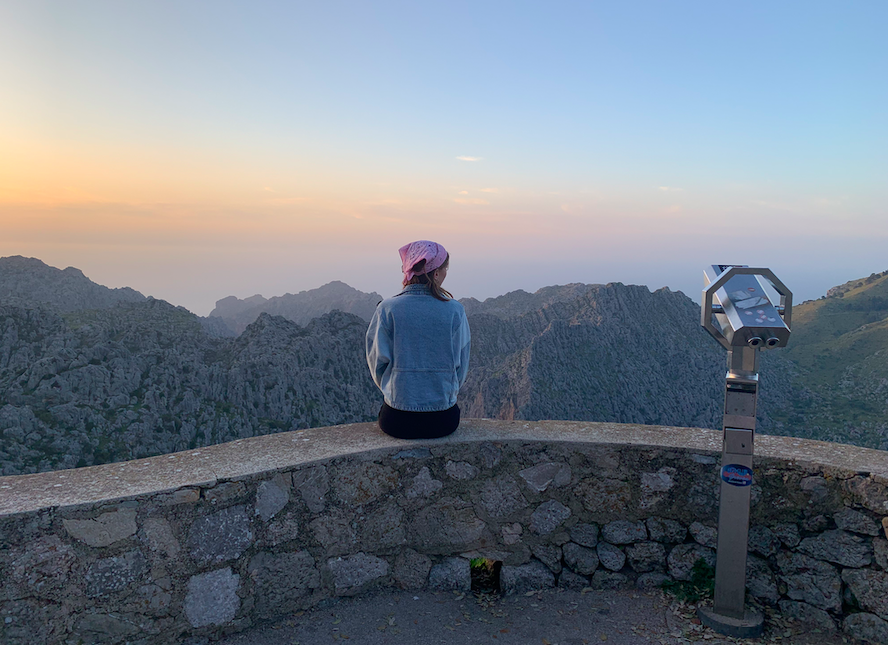 1. Rent a car when you visit Mallorca
Going by car is definitely the most comfortable option to travel the island. Of course, there are public buses going around. But thanks to Covid, they do not go as often as they used to go before. So you will need to rent a car if you want to be mobile and check out some hidden gems in Mallorca. I also feel like it is the best way of leaving Palma in order to explore some smaller towns like Deía or Pollença. I do recommend renting a car from the airport in Palma, as it will be the cheapest option.
Here, I would like to recommend offugo.es. They are present in several cities in Spain, such as in Palma de Mallorca. What I love about them is that they are 100% transparent. Their bookings include unlimited kilometers and complete insurance for your rental. That way you will never have to deal with any surprises when returning your car. You can find more information about them and rent a car here.
And the best thing: I have a 10% discount for my readers! Use the code "GABI10" when checking out and enjoy an exclusive discount! I wish you lots of fun on your Mallorca road trip 🙂
Get a 10% discount on your car rental on offugo.es with my code "GABI10"!
2. Check out the Cathedral in Palma, one of Spain's most beautiful cathedrals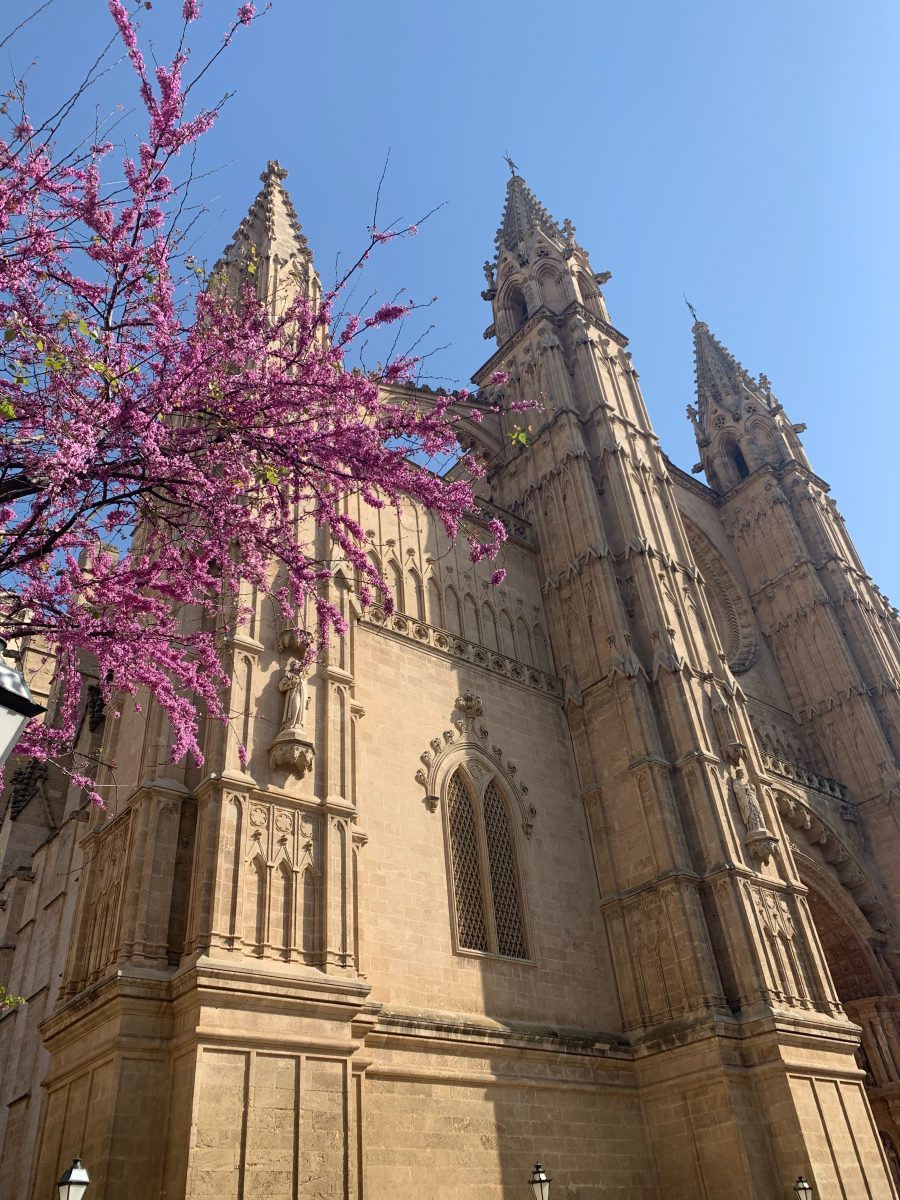 Chances are high your trip will start in Palma. In case you decide to stay in Palma for a couple of nights, there are a few places you should definitely see. The cathedral in Palma is one of them, and it is quite impossible to miss it. It is a really big catholic cathedral that you can see almost everywhere from Palma. Did you know that the Cathedral was actually a mosque that later was transformed into a church? As mentioned before, Mallorca is also full of interesting historical buildings. And this is one of them.
You can book your entry ticket for the cathedral here. Antoni Gaudí made some changes to this cathedral in the 20th century. So you will see architecture by the most famous Spanish architect!
3. Explore Palma with a free walking tour!
What about doing a walking tour in Palma? Walking tours are my favorite thing to do in an unknown city. I feel like you learn so much about a new place by getting a tour from a local. And the best part: These tours do not have a fixed price. At the end of the tour, you just pay your guide what you feel is appropriate. I became friends with a couple of tour guides on tours I participated in and am still in touch with them. Very recommended 🙂
You can book your free walking tour for Palma here!
4. Save time in Palma with the hop-on hop-off bus!
Hop-on Hop-off buses are an amazing opportunity to see as much as possible during a short city trip. And you do not have to walk so much or have to try to figure out how public transport works. All in all, if you want to make the most out of your time in Palma, I would recommend going on these buses. How does it work?
The hop-on and hop-off bus in Palma stops at 20 stops close to the most important attractions of the city. You simply catch one of these buses and get off once you have arrived at your desired destination. When you want to go on the bus again you just have to find the closest stop and the bus is usually only a couple of minutes away.
And the tickets are incredibly affordable as well! The ticket for one day costs 18€, two days cost 23.25€. You can book your ticket online here. And don't worry. If your plans change, you can cancel up to 24hours before the starting date of your ticket and still get a full refund 🙂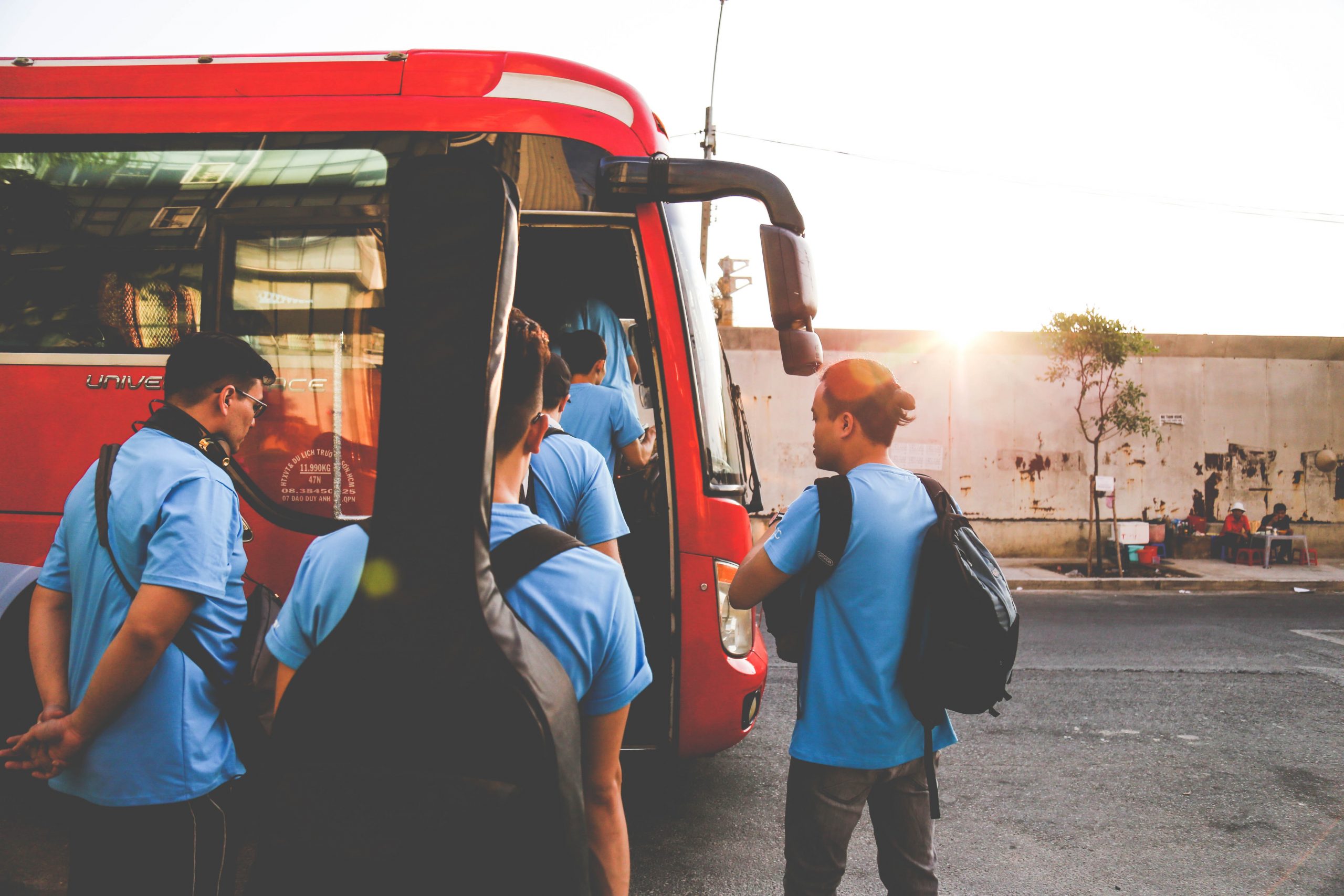 5. Go to the local market in Palma "Mercat de l'Olicar"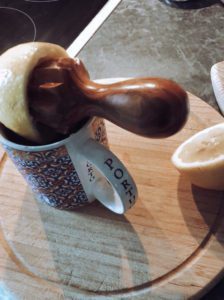 I have to admit that I did not go to this one. But the reason why is because my mom loves waking up early, so one morning she decided to go to this market at seven in the morning. I decided to sleep longer instead. But she was really happy about it and told me she really enjoyed it. You can find many different options of local fruits, meat, seafood, souvenirs, wine and so much more! My mom brought this thing (seriously, what do you call that?) to get fresh juice from your oranges and lemons.
6. Visit the Baños Arabes in Palma
Please check whether the Baños Arabes are open before going there. I saw absolutely beautiful photos online, but unfortunately, it was closed due to Covid. The Baños Arabes are baths from the 10th century. And the still existing ruins can still be visited today. On their website, they claim those are the only still existing ruins of the Arab city of Medina Mayurqa. Apart from that it also has a really beautiful garden. The walk to the Baños Arabes is also really beautiful and takes you through the really small and old streets of Palma. It is really worth it!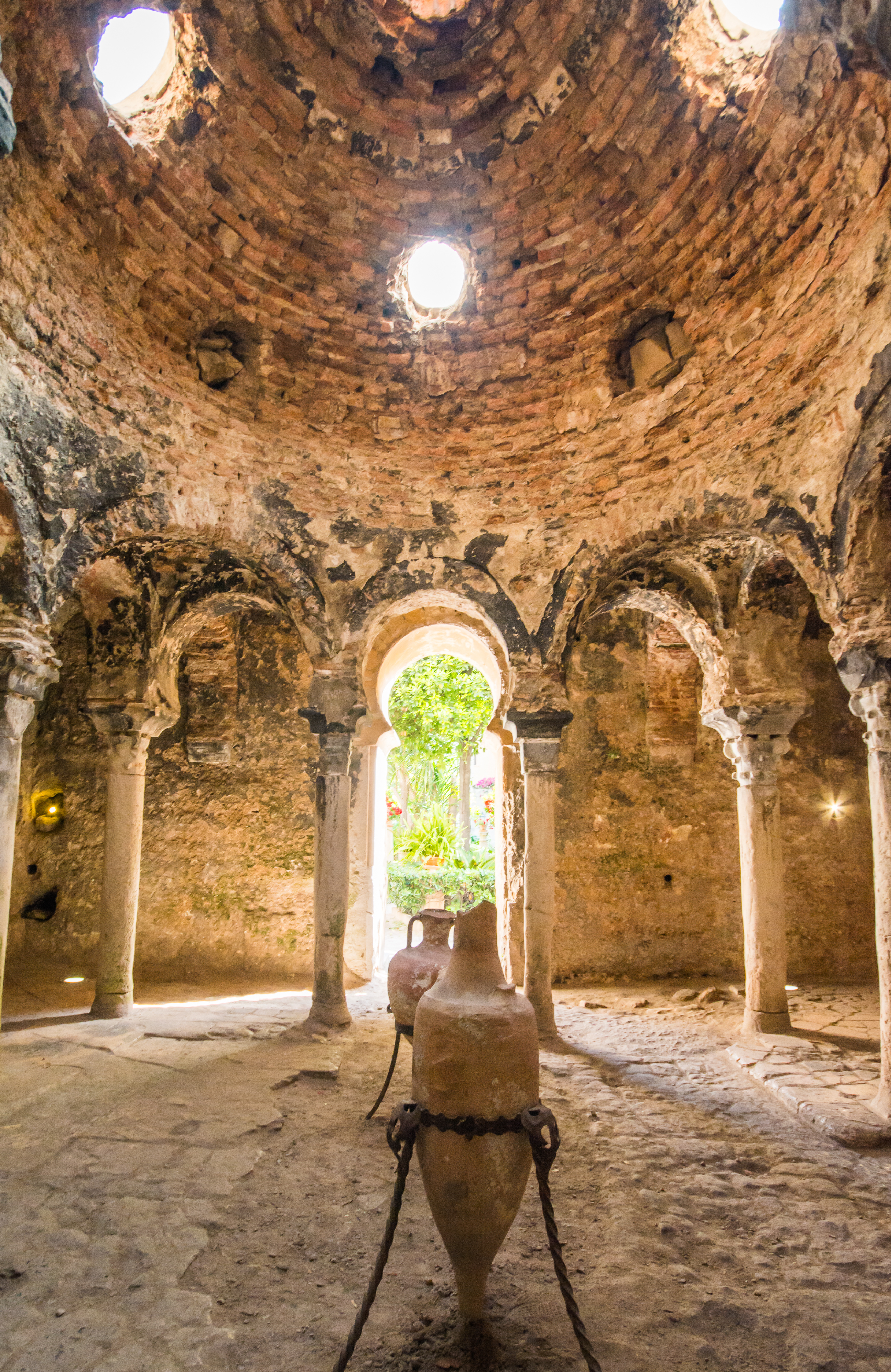 7. Try the best ice cream in Palma
If you are an ice cream lover like I am, this will be a good idea for you: Rivareno Heladería, which they say is the best ice cream place in Palma. And that is not only my opinion, but Tripadvisors says it as well.  It is in the center of Palma, not too far away from the cathedral. And believe me, all flavors are delicious!
I was not able to do this tour as they were not offering it due to Covid, but it is one thing that I really want to do when I am back in Mallorca. Going on a catamaran and going to remote places by boat and swimming in Mallorca's clear water sounds like the absolute dream to me! And the best part: Now these tours are available again!
Starting from Palma: This tour starts at the Port of Palma and takes you to the gorgeous bays of the south of the island. You will be able to see the beautiful boats of the rich and famous of Mallorca. Then, you will have time to swim in the beautiful water. After having lunch on board, you will get to explore some beautiful hidden caves. You can even decide whether you want to go in the morning or in the evening!
This tour is only offered a couple of times per week during the warmer months so make sure to book your ticket in advance before it's booked out!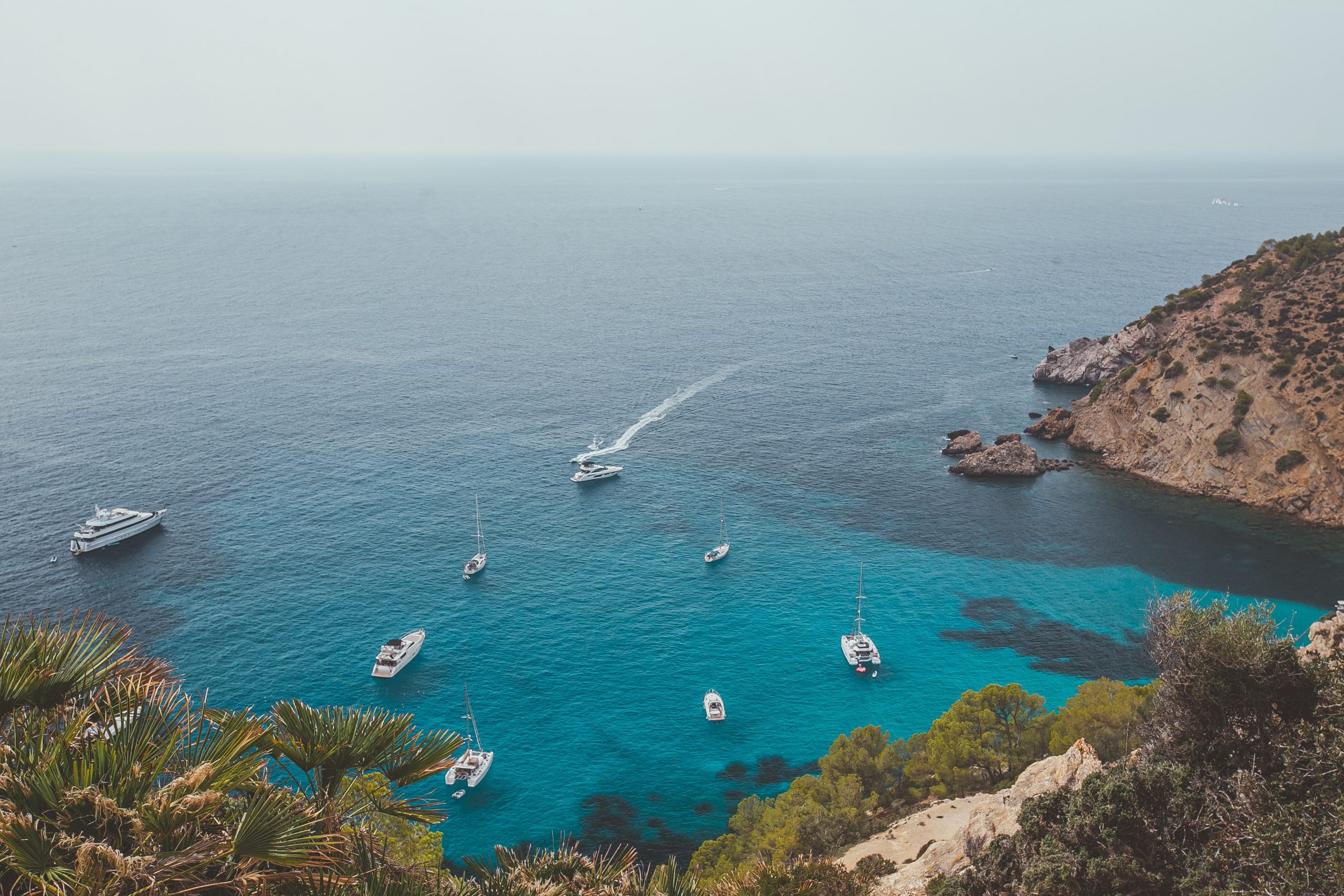 Starting from Port d'Alcudia: As an alternative, I found this 5-hour tour with a catamaran at the north coast of Mallorca. You will be picked up from Port d'Alcudia and then brought to several beautiful bays and even two hidden caves. In this tour, A barbecue lunch with drinks and fresh fruit is included as well. For the price of only 58€/person, this seems like a very fair deal.
To me, the beach of D'Alcudia was one of the most beautiful ones as the water was insanely clear. This tour is offered several times per week during the warmer months. Make sure to get your ticket in advance so they do not get booked out!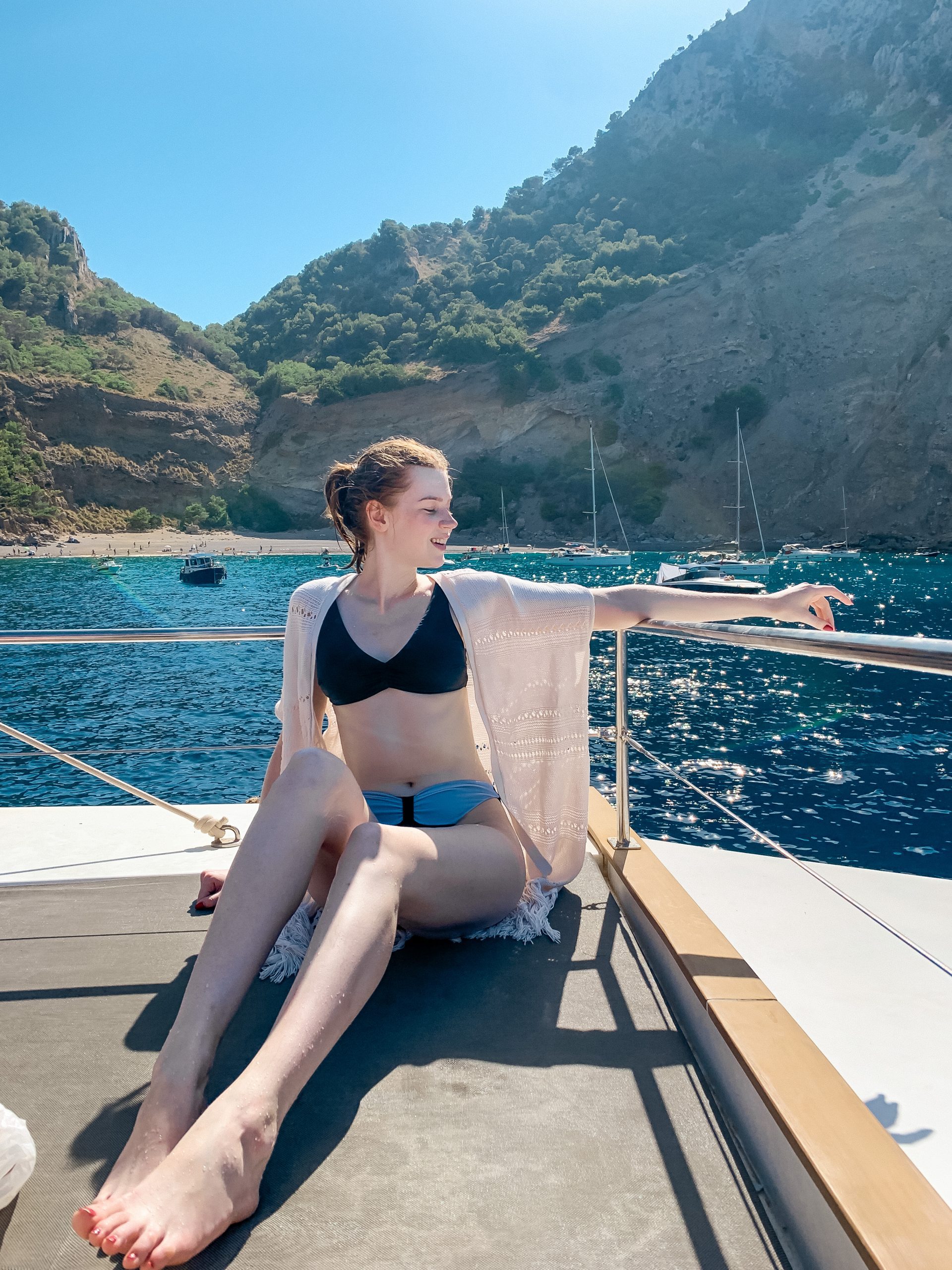 9. Visit the Coves del Drac: Underground Caves and Lake
I was so sad that we could not go there as it was temporally closed due to Covid 🙁 But update: This cave is currently open again to the public!
The Coves del Drac is an underground cave system located in the municipality of Manacor. There are four great caves and a lake underneath the ground that are all connected. You can book a tour by boat where you will be guided through caves that were formed millions of years ago, but were only found in 1905. According to local legends, pirates and thieves used to hide their treasures in the caves which were guarded by a dragon. The tour ends with a classical concert played by four musicians on a boat. Seriously, how exciting is this?
I would advise booking your entry tickets beforehand because the cave is only open during the mornings (11 am-2.30 pm) during the weekend. So I imagine that they can sell out quickly. You can book entry tickets here.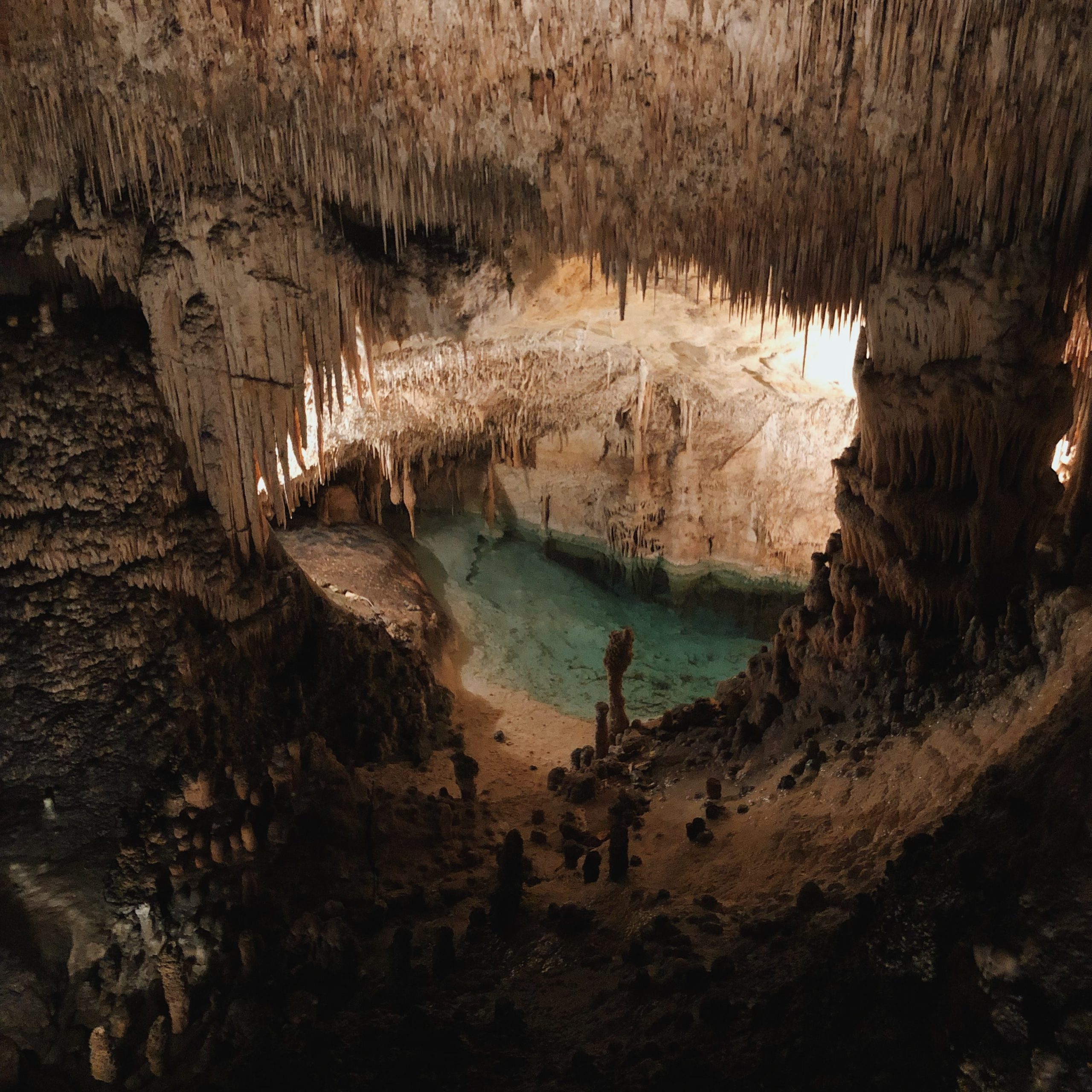 10. Stay in an authentic Mallorquian Finca!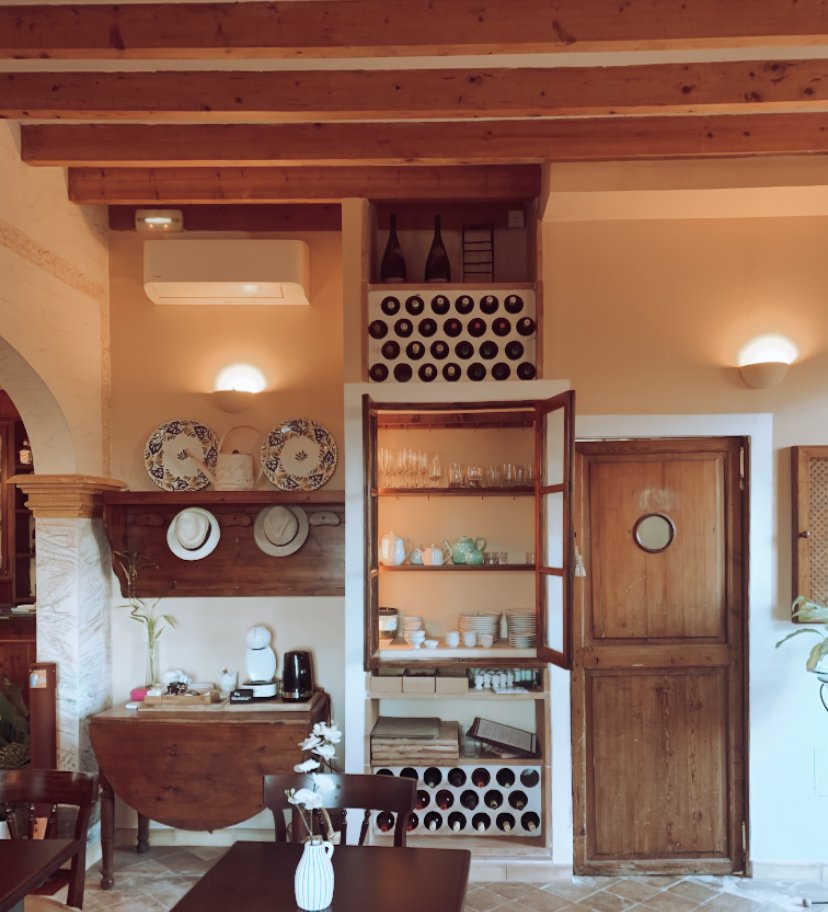 There are tons of beautiful hotels and all-inclusive resorts in Mallorca. But if you want to have the real Mallorca experience I would recommend staying in a typical Mallorquin Finca during your visit. Those are usually old villas, townhouses, or even monasteries that were transformed into hotels. I promise they give you the best traditional experience. So, how can you spot one of those during your search?
Those types of buildings are usually very old and vintage-looking, typically from the 17th or 18th century. The following photo is from the hotel Ca Mado Paula where we stayed in Banyalbufar. It is such a sweet hotel. It is decorated in such a detailed way. And the best part: You get to see the Sea from your room. That was my favorite place to stay in Mallorca. And outside of the hotel is a garden with an old dwell where you can sit down and enjoy a drink.
Ca Mado Paula was my favorite hotel we stayed at during our trip. An authentic Mallorquian finca!
11. Visit Deía, the fairytale town of Mallorca 
Deía is a small village in Mallorca that is known to be really "artsy" and dreamy. It lies on a hill and is not far away from the beach. That is the reason why almost all buildings have a terrace from which you can have an amazing view of the beach! Apparently, a lot of artists like Pablo Picasso have lived in this village which is why it is known to be an artsy part of Palma. We had lunch at Café Sa Font Fresca (Menu del día for only 12,50€) where you can have a beautiful view all over Deía and you can even see the ocean!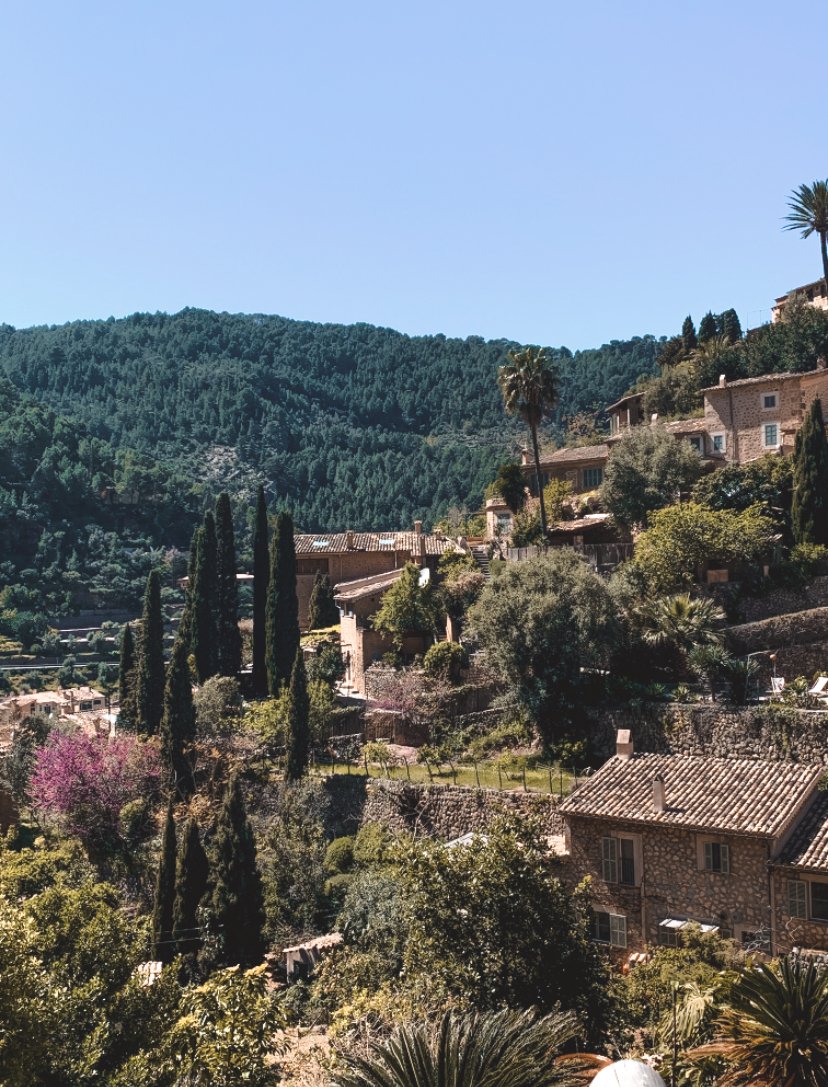 12. Watch the Sunset at the Mirador Na Foradada
This was one of my favorite spots during our trip. At the mirador Na Foradada you can see beautiful rock formations of the sea, that are all surrounded by beautiful blue water. There is an easy hiking trail where you can hike to the end of the rocks which approximately takes two hours in total. The view is incredible!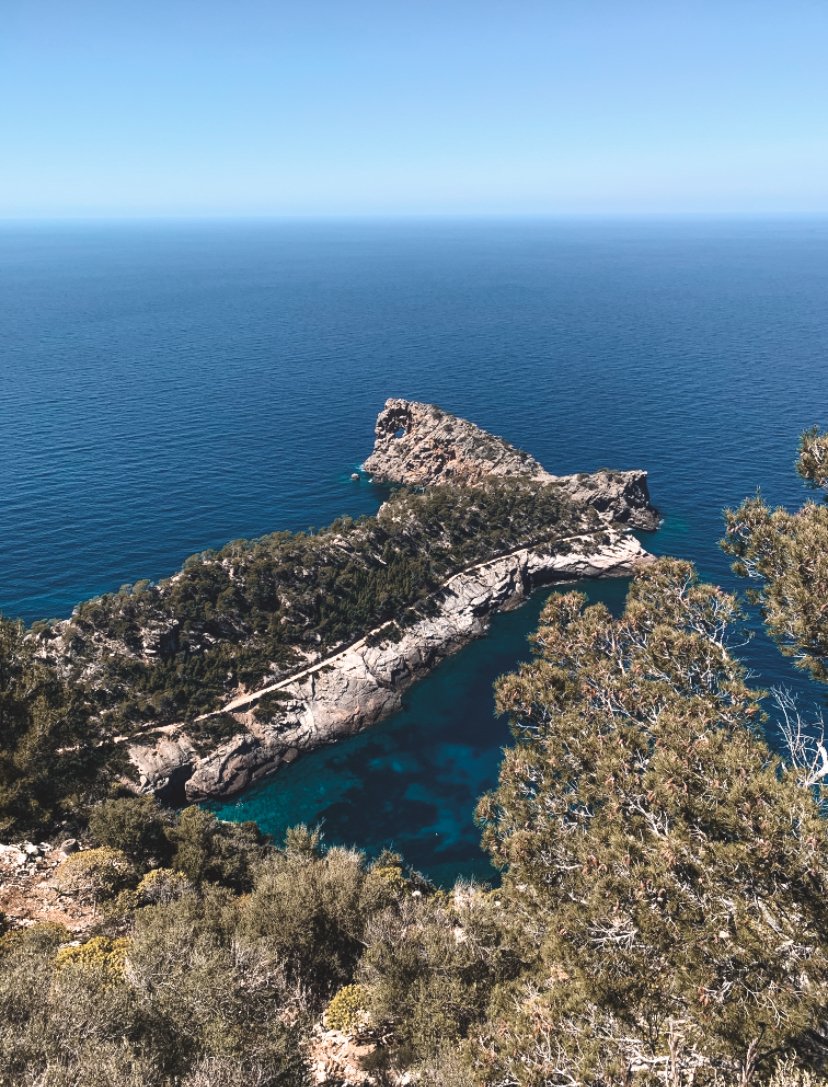 We went to the mirador during the day to have a coffee. But the waiter recommended to me to come back during the evening to watch the sunset. This is the spot in Mallorca where you can see THE perfect sunset. And he was right. The sunset was absolutely gorgeous and if you are lucky and there are no clouds, it is stunning! Tip: It's better to go during the week since it gets really crowded during the weekend.
Mirador Na Foradada was one of my favorite sunset spots in Mallorca!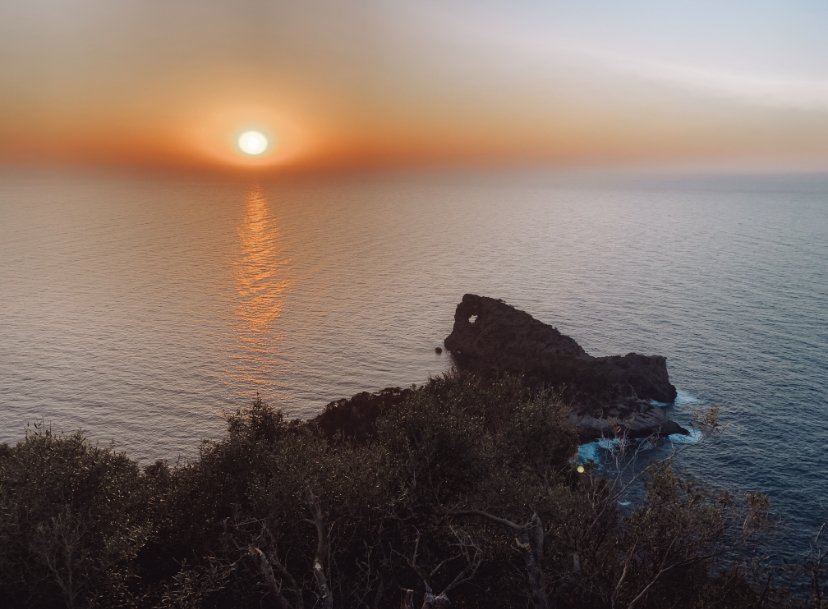 13. Go to Son Marroig
Another place right next to the mirador Na Foradada is Son Marroig, a mansion that was built in the 13th century. In the 19th century, it was acquired by Ludwig Salvadore, an Archduke of Austria. Today it is a museum, where you can see his (now vintage) furniture, paintings, and even books. Ludwig Salvadore liked Mallorca so much that he wrote a volume set of 9 books about the Balearic islands! He also built the famous neo-classic white marble temple from which you have amazing views all over the sea!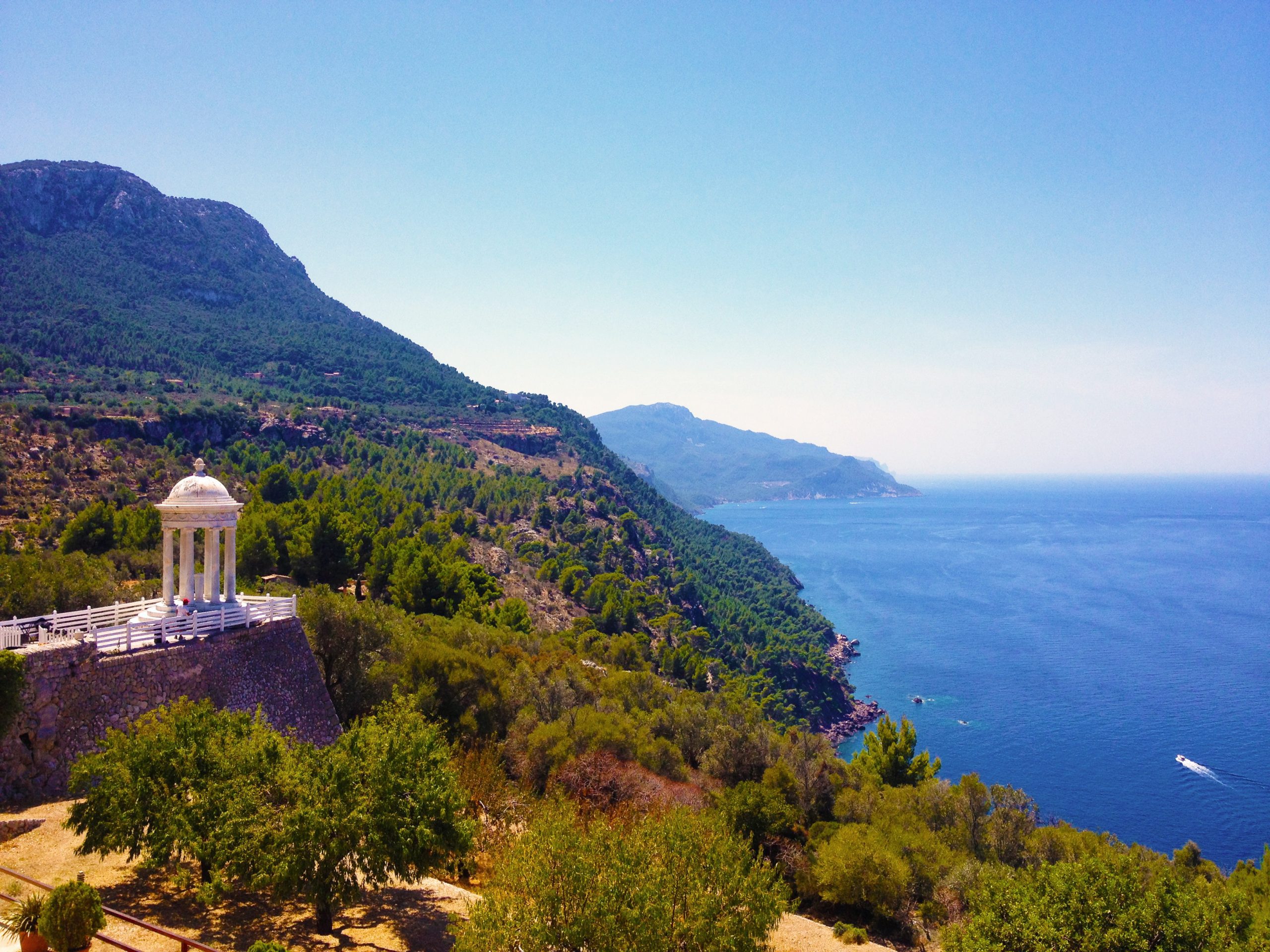 14. Take the train to Soller
Soller is a beautiful beach town on the Western Side of the island. What makes it special is that you can go visit it by train! The train has been connecting Soller and Palma since 1912 and is well-known by travelers and backpackers for the amazing scenery you can see when you take it. The train takes around one hour and takes you through 13 tunnels! You can find the timetables here and make sure, you double-check them before going. Thanks to Covid public transport is not going as often as it used to go!
By the way, I found this amazing tour around Mallorca that includes the train ride to Soller and a boats tour. It's the perfect one-day trip. There a several pick-up spots from the south of Mallorca you can chose! Especially, if you do not like to rent a car. Find more information here.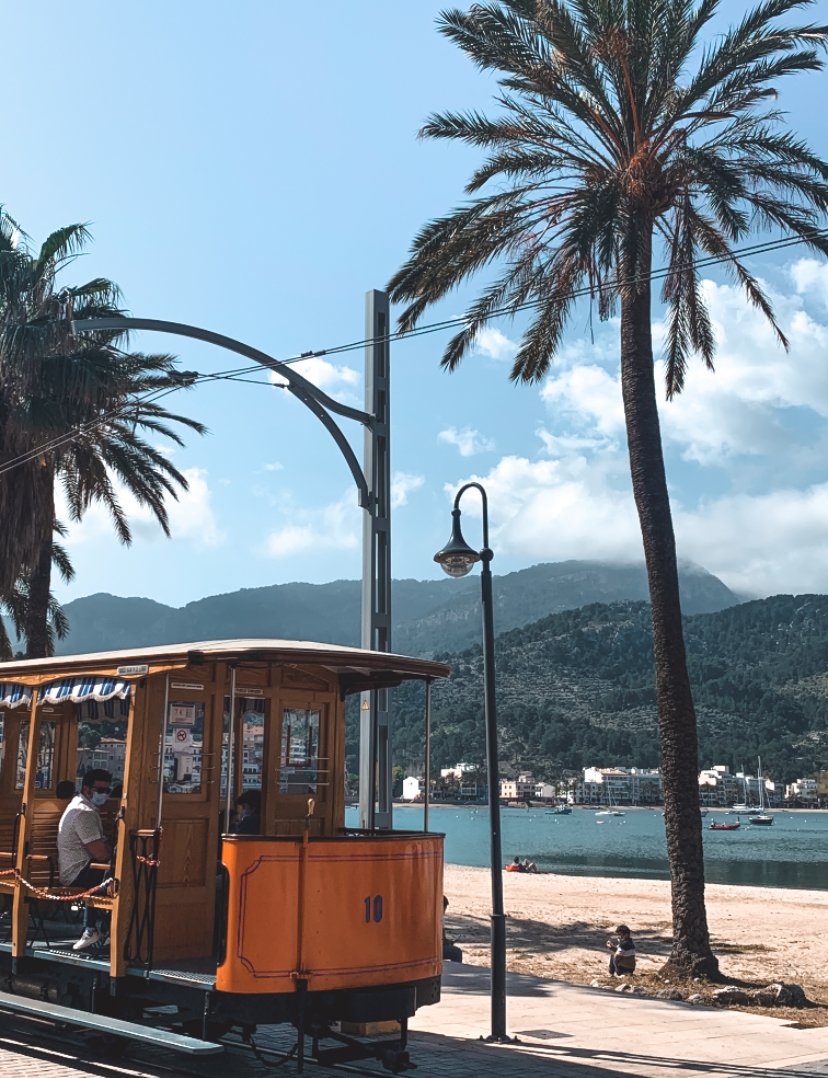 15. Go up all the 365 stairs in Pollença
Pollença is a small town situated in the northern part of the island, not far away from Cap de Formentor. They built the town further away from the beach to avoid attacks by pirates. The city was founded by the Catalans and most houses were built in the 17th and 18th centuries which gives the town a medieval vibe. There are many small and narrow streets which look absolutely beautiful. A big tourist attraction is the 365 stairs going up north from the Plaça Mayor. How about a little workout in-between all the wine drinking?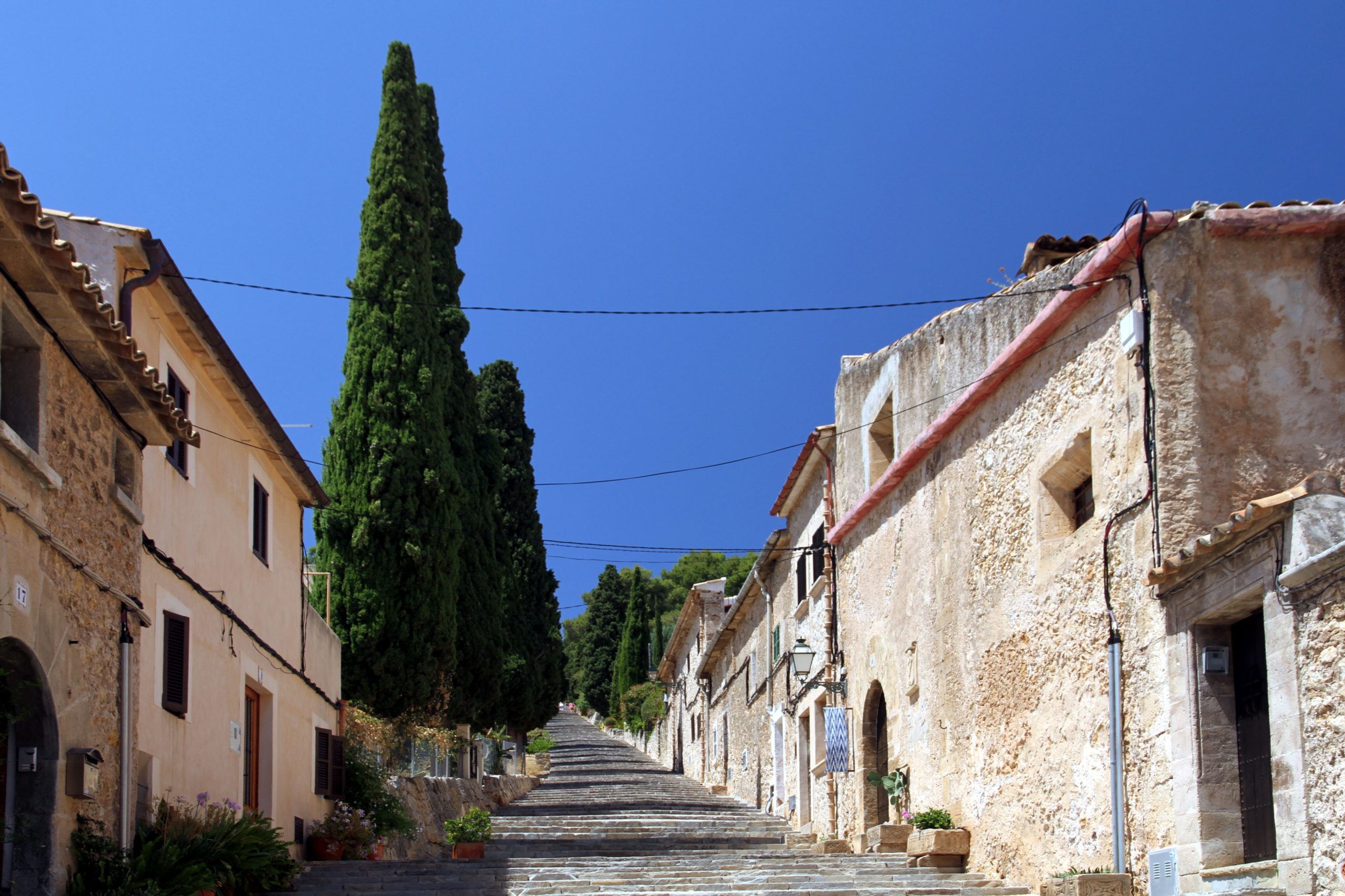 16. Go to the Beach at Port D'Alcudía
I have the feeling that many people will disagree with me because Alcudía seems quite touristy. When I went there the beach was basically empty and the water was so clear it was insane. Obviously, this only happens during Covid-19 times and usually, it must be crowded. But if you get the chance to go to this beach you definitely should. Maybe it could be just a small pit stop going to Pallença. The beach at Port D'Alcudá is so long and the sand is beautifully white. The water also seems quite shallow, making it perfect for just stepping into it without worrying about waves or rocks. If you are not a big fan of rocky and hard-accessible beaches, this must be a place you should go to! Just by looking at the photos I really want to go back already!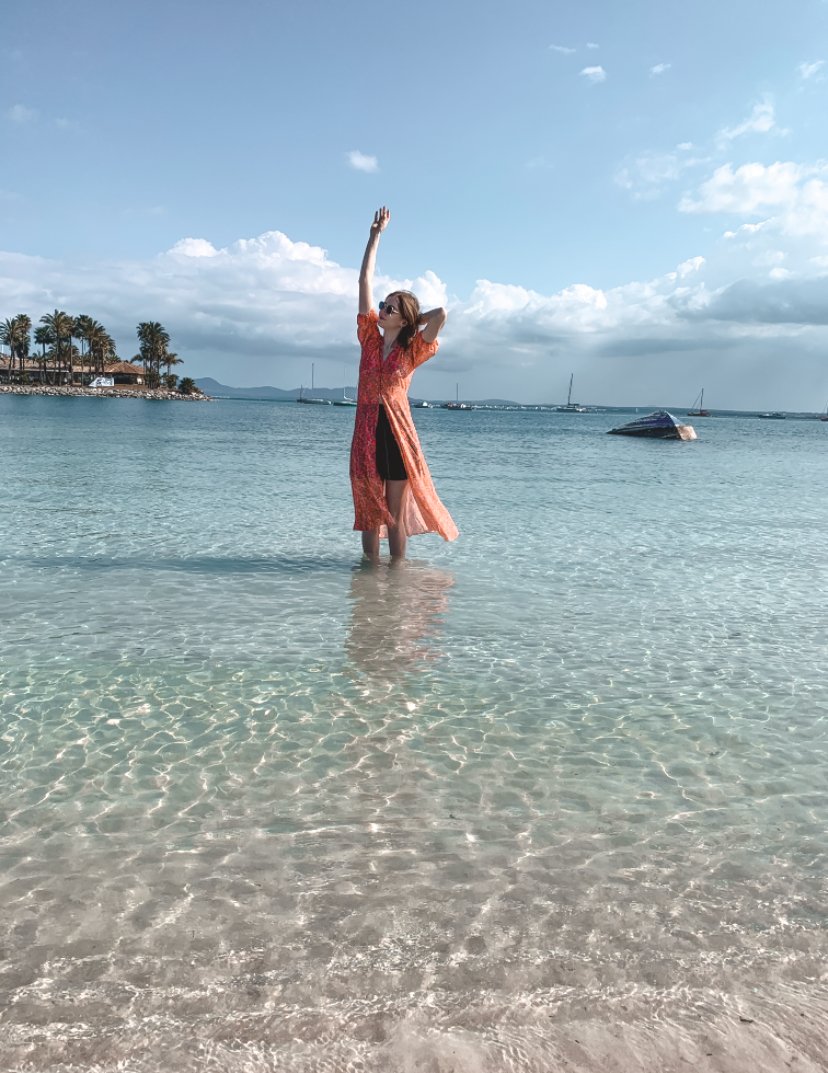 17. Enjoy the view from Mirador Es Colomer
I find the North of Mallorca especially beautiful and worth visiting! Once you go there you will find absolutely stunning beaches and nature. And of course: viewpoints! Mirador Es Colomer is a viewpoint that you can only access by car (as far as I know). You can make a quick stop while going to Cala Figuera (next point). Just look at how beautiful it is!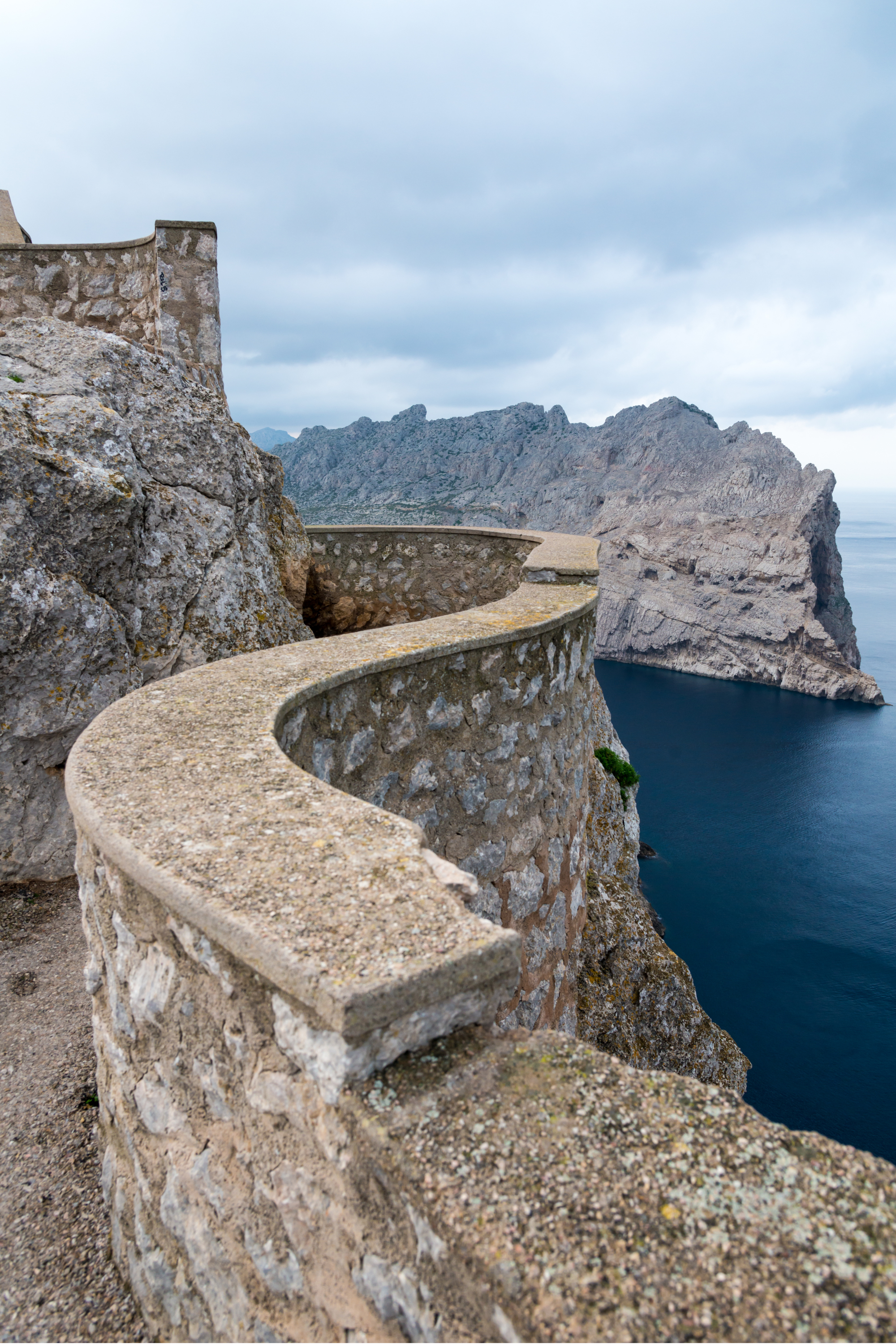 18. Take a detour by car: Take the Ma-10 instead of Ma-13
The Ma-13 is the highway that connects Palma to the North of the island. Needless to say, it is faster to take the highway if you want to go from e.g. Alcúdia to the South. But my mom and I decided to take a detour and take the Ma-10 from Pollenca to Soller instead of taking the highway, which was also the fastest option, according to Google Maps. So we did a detour, but we are absolutely glad we did! There are so many incredible viewpoints where you can leave your car and have an incredible view over the mountains. One of them is Mirador de s'Entreforc. There are many more, but a lot of these places are not even marked on google maps. We also had to stop so many times because of goats crossing the street, so be careful with that. I think the pictures do speak for themselves. If you have time, try leaving the highway and exploring the smaller streets of Mallorca!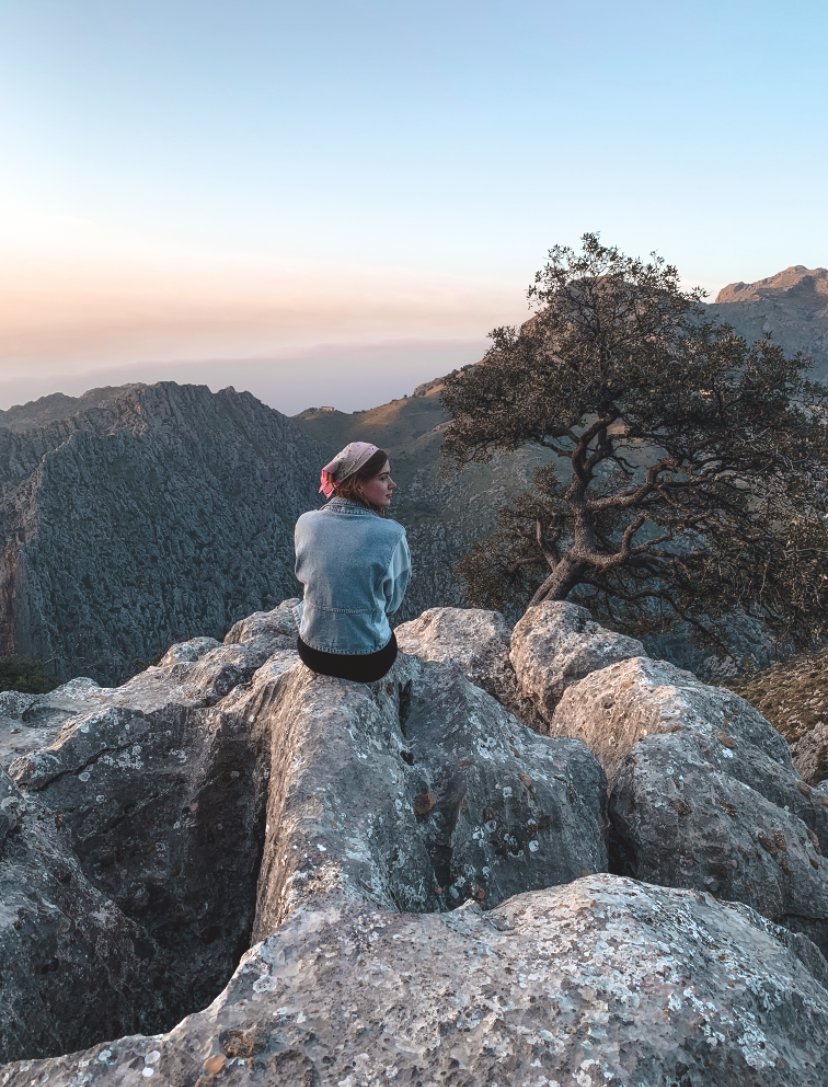 19. Hike to Cala Figuiera
Cala Figuiera is a beach in the north of the island, not far away from Pollenca, and is known to be the hidden gem of Mallorca. The reason behind it is that it is further away from the touristy spots and not that easy to get to! In order to get there, you definitely need a car. Once you arrive at the parking lot you still have to walk almost 2km to the beach, or you can take a bus. And then you still have to access the beach by walking down a rather complicated road. But once you are there you will see it is definitely worth it. The water is crystal clear and you are completely surrounded by nature! Sometimes goats come really close to the water and they do not seem scared of the tourists at all. A really great experience that you cannot miss!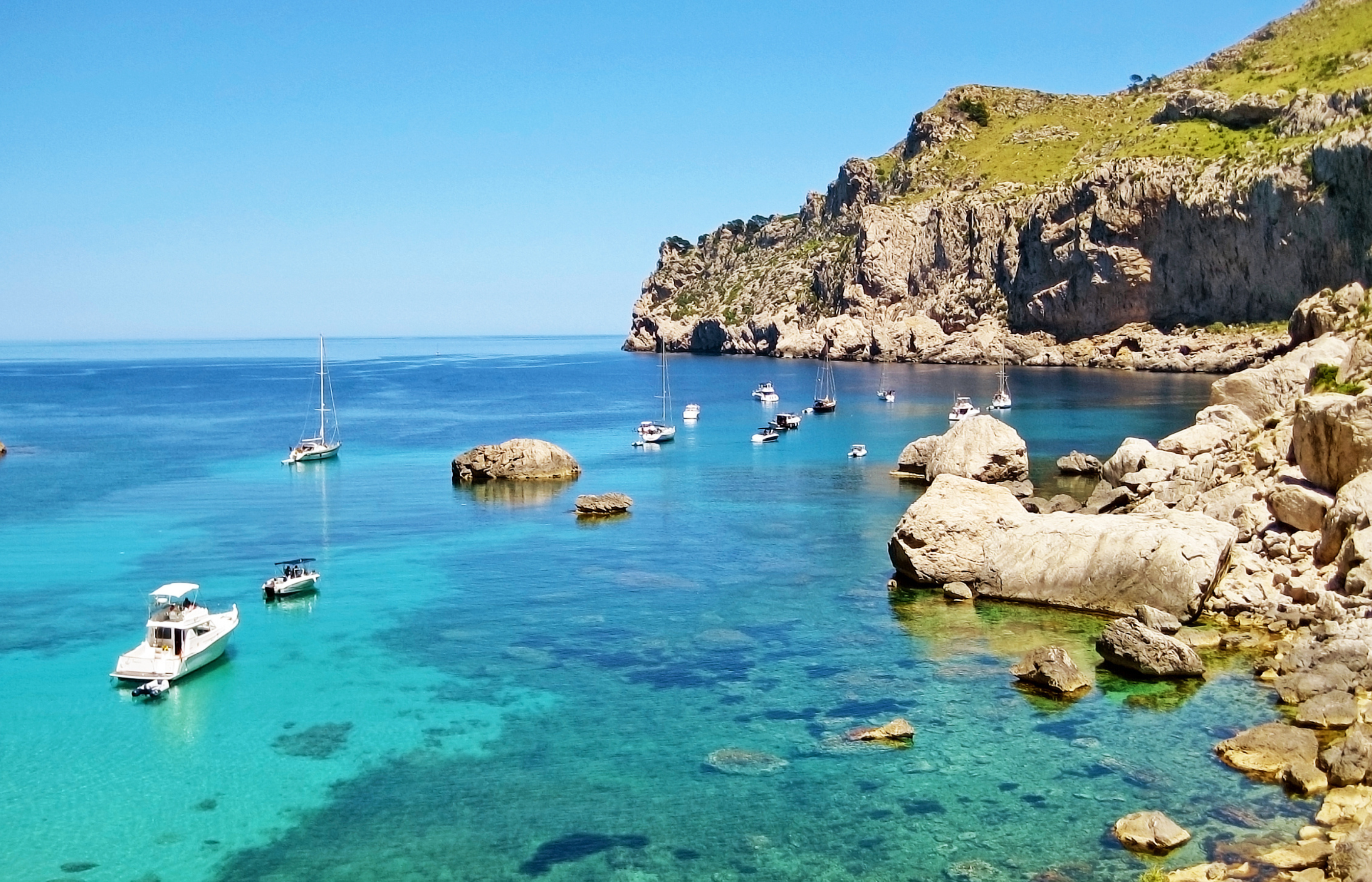 20. Try Local "Mallorquin" Food
To me, food is a big part of my travel experience! I love going to places I have never been before and trying the local food. Since Mallorca is an island you can expect fantastic Seafood! Calamares a la Romana, Paella con Mariscos, Lubina and Merluza are typical dishes you will find on a menu in a restaurant! If you ever get the chance to go to Banyalbufar, there is an amazing restaurant called "San Tomás". They have amazing paella with seafood.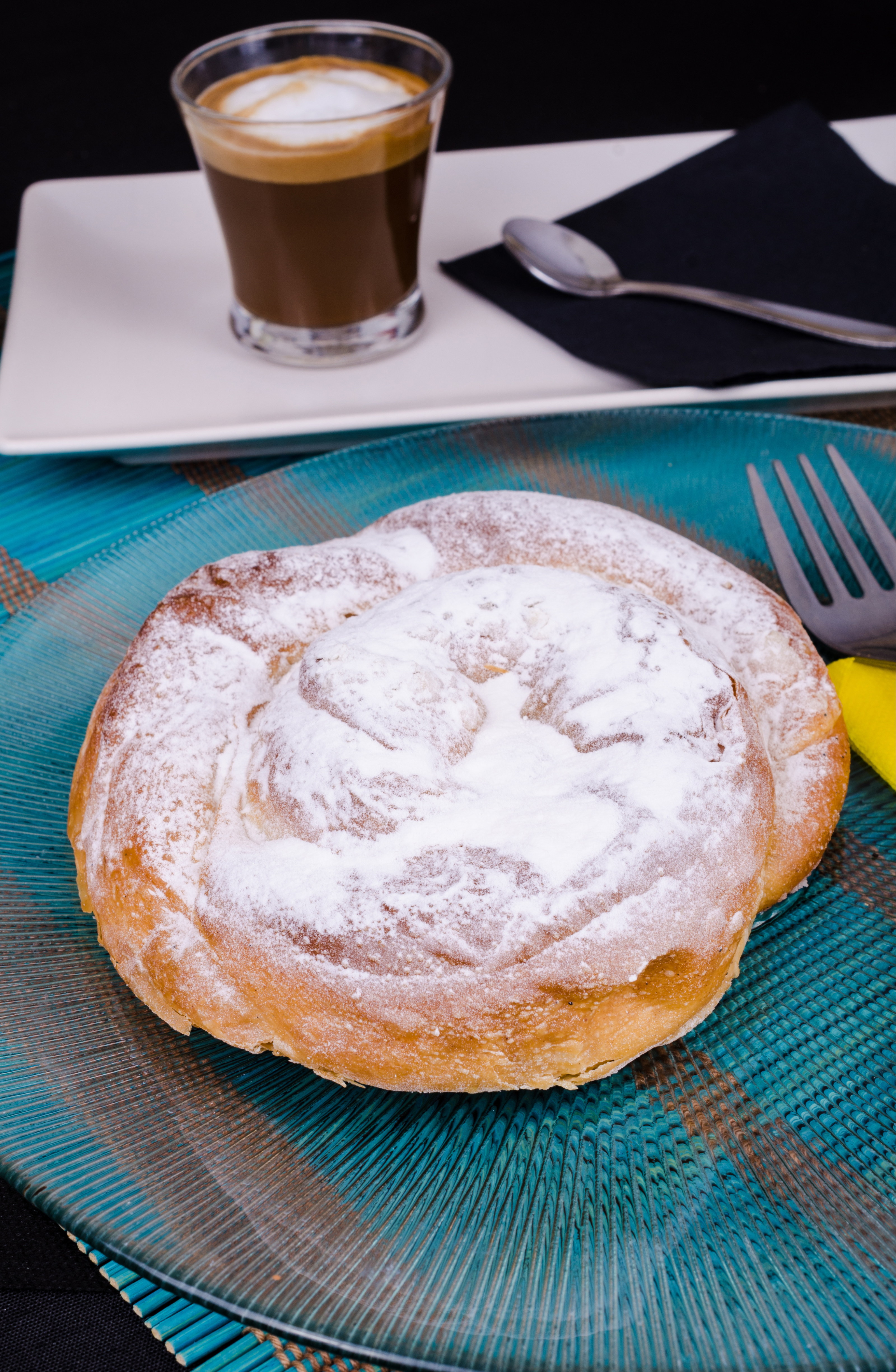 Apart from that, I love having Orange Juice in the morning. That sounds quite simple but once you have tried orange juice during the right season in Spain you will not be happy with the (weird) orange juice back in your home country. Fresh orange juice in Spain just tastes better. Fight me! Another thing you should try is the Ensaïmada in Mallorca. It is a typical pastry they have in Mallorca. They are really proud of it and you can find it in any pastry or bodega in Mallorca. Something you should definitely try!