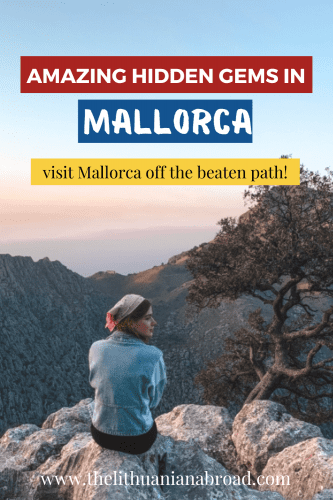 "Mallorca is just another party destination…" How many times have you heard people say that? Believe me, they are so wrong. And I cannot blame them! I grew up in Germany and when somebody mentioned Mallorca in the past all I could think off were tourists drinking Sangría out of buckets. But once I stopped being so stubborn and actually visited Mallorca I was left mindblown! I enjoyed Mallorca so much, that I ended up visiting it multiple times during the last couple of years. It never fails to surprise me with its natural beauty. Mallorca is rich in history, beautiful beaches and incredible landscapes. Did you know that the mountain range Sierra de Tramuntana is Mallorca's UNESCO world heritage site due to its cultural significance?
But the thing is: The island of Mallorca itself is not a hidden gem anymore. There are areas of the island that are known to be popular destinations for German and British (party) tourists. But where are the hidden gems in Mallorca? Keep reading, and you will find out. 
---
Affiliate links may be sprinkled throughout the free content of this blog post. If you purchase from one of the links I may receive a small commission while the price for you stays the same. This helps me cover the costs of The Lithuanian Abroad. Gracias!
Other blog posts about Mallorca you have to check out:
Mallorca bucket list with 17 amazing activities: This post includes a bucket list full of ideas and fun things to do in Mallorca. I tried to include the best beaches, beautiful towns to visit and other things you cannot miss!
Things to do in Alcúdia, the North of Mallorca: Alcúdia is one of the most beautiful towns in Mallorca. So I had to dedicate a whole blog post to it. It includes the best places to stay, activities and one-day trips you can do from there.
The ultimate 7-day itinerary for Mallorca: This post includes a complete itinerary of staying a week in Mallorca. I will give you tips for renting a car, the best places to see  and amazing must-do activities
Things to do in Mallorca during winter: I recommend visiting Mallorca in the off-season if you want to have a relaxed time on the island. And this blog post tells you the best things you can do while visiting Mallorca in winter.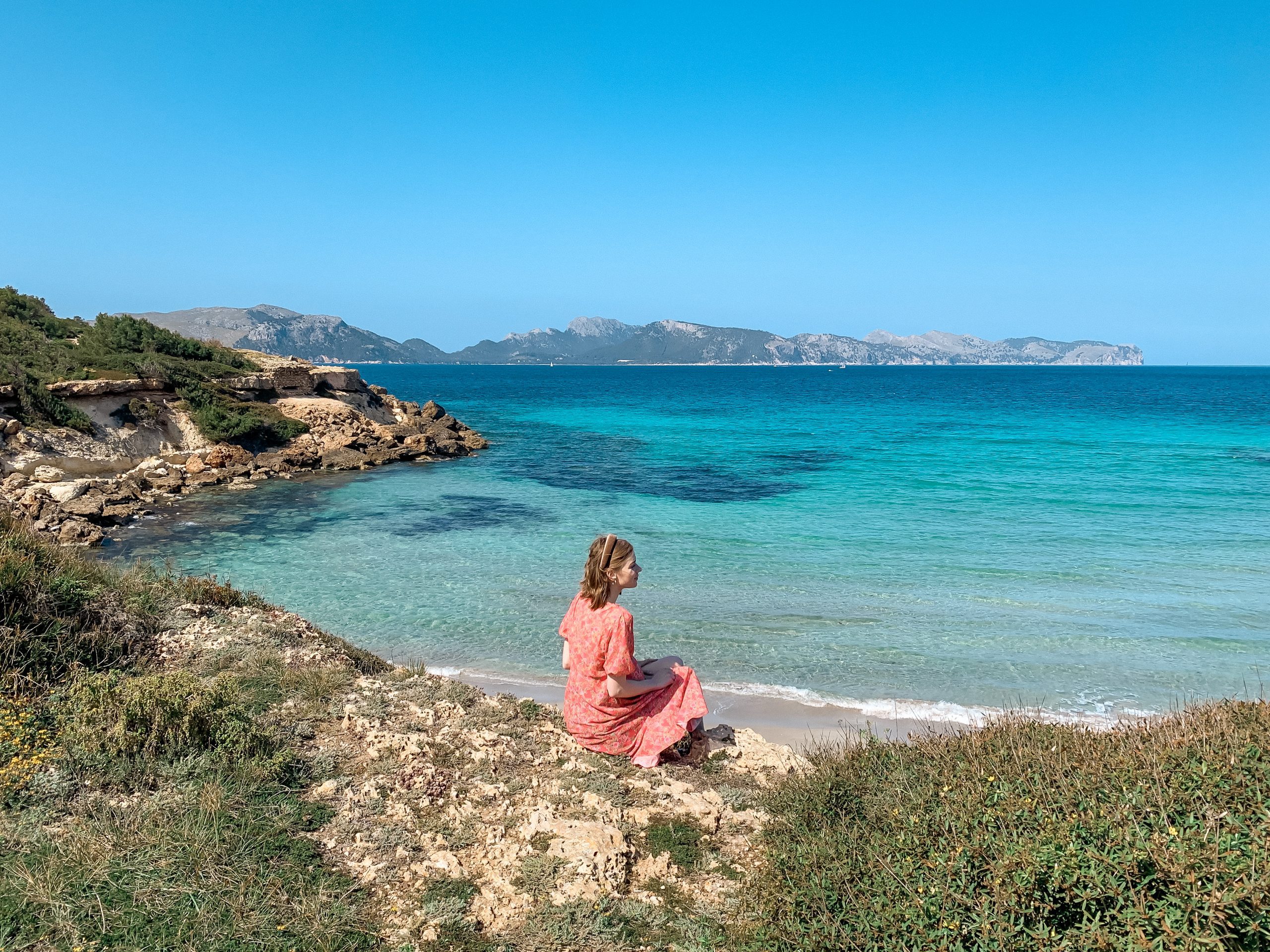 Rent a car when exploring Mallorca's hidden gems (keep reading for a discount code!)
This is your sign for renting a car when visiting Mallorca. Having a car is going to make your Mallorca trip so much better as you will be able to visit even the most remote places on this list. Every time I have been to Mallorca we have rented a car, and I am so glad we did!
If you are looking for a reliable rental car website, you should check out offugo.es. With offugo.es the whole process of renting a car, from the pick-up to the return, is done online. At no point will you ever have to wait in a queue to pick up your car. We tried them the last time we visited Mallorca and I can recommend this company 100%.
How does it work? The whole booking process is done online on offugo.es. You get to upload all your documents on their website. A couple of days before your booking you will receive instructions about where to find your car at the airport in Mallorca. The car park is right at the airport and thanks to the numbers on the floor you will find your car in no time. You can unlock your car with the link in your e-mail and you will find the keys inside. Your Mallorca road trip can begin! And the best thing: Complete insurance is included! 
Save 10% on your booking with offugo.es with code GABI10!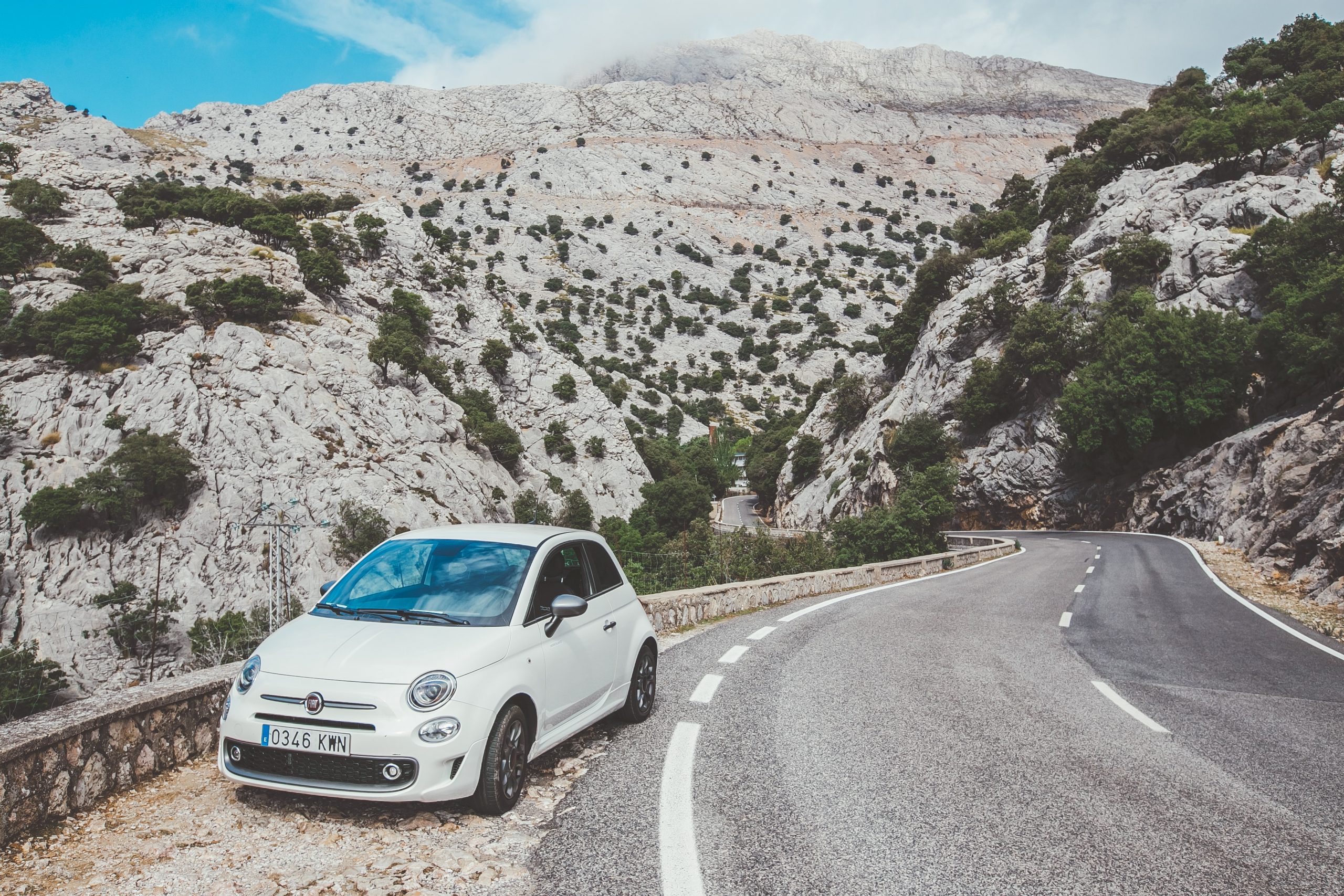 1. A hidden gem in Palma de Mallorca: The Arab baths
For our first hidden gem in Mallorca, we don't even need to go far. The Arab baths in Mallorca are located right in the city centre of Palma and are probably the easiest location to reach on this list. In order to get to the Arab baths walking you will pass by the most beautiful small streets in the centre of Palma. Just because of that it is already worth going there.
What are the Arab baths? This is a small garden area with ruins of baths from the 10th century. It seems that these baths are the only existing ruins from the ancient Arab town Medina Mayurqa. For being this old, these ruins are incredibly well-preserved. Enjoy your time walking around the garden admiring the old ruins. They will really take you back in time! The Arab baths are such a special place in Mallorca that I just had to add them to this list.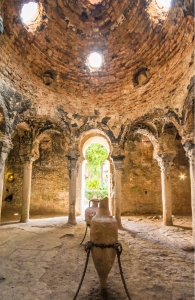 2. Let's continue: Alfabia gardens in Bunyola
Our next hidden gem in Mallorca is located in Bunyola, going North from Palma. I would recommend visiting this place by car, but believe me, it is absolutely worth it. We didn't get to go there during our last Mallorca visit and I am still upset about it. But I really hope you find the time to go there.
The Alfabia gardens are a house and garden complex that was established during the Moorish rule of Mallorca in the 13th century. Mindblowing, right?! Nowadays, the Alfabia gardens are a hidden oasis with several fountains and impressive waterworks. The garden includes avenues with palm trees, beautiful water ponds, and a variety of local animals. Oh, and make sure to find the donkey who lives on this property as well!
Apart from the garden area, you are also able to enter the house. While the house has Andalusian roots, you can find many different influences in the interior. The decoration ranges from English and Arab to Gothic and Renaissance. The whole house is beautifully furnished with unique pieces that make it look like a fairytale. 
For more information about prices and opening hours, make sure to visit the official website of the Alfabia gardens.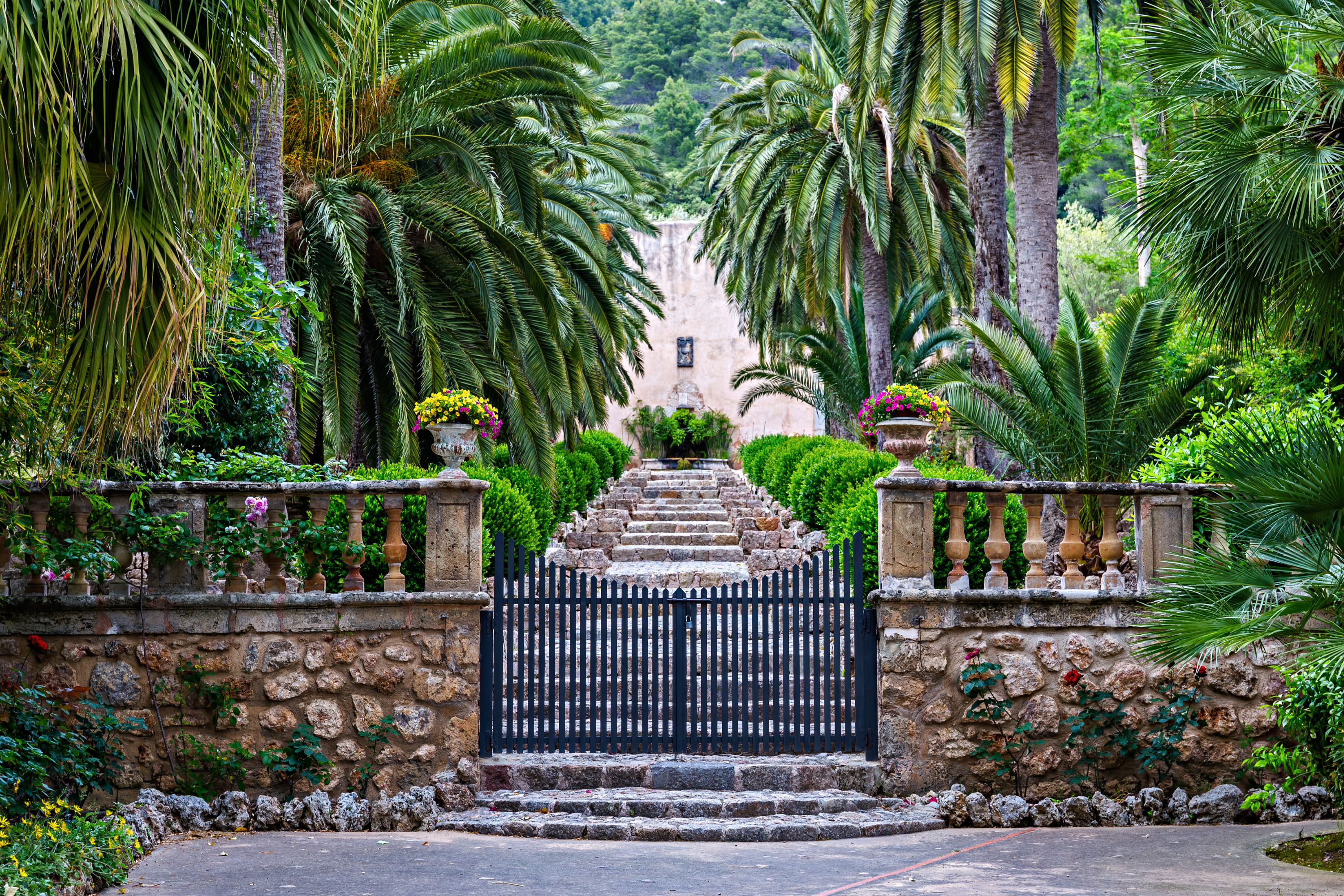 3. A top hidden gem in Mallorca: Dolphin watching at sunrise
I have the feeling that many people don't know about this activity you can do in Mallorca which is why I decided to add it here. Mallorca is a great destination to go dolphin-watching. Of course, if you know where you can find them. Especially the North of Mallorca is famous for dolphins coming relatively close to the shore. That is why I really want to encourage you to visit the North of the island as well. I can guarantee that you will not regret it. 
When it comes to dolphin watching, I found this incredible tour on GetYourGuide. The reason why I recommend this one is because fellow travellers have told me that dolphin watching on a small boat is a hundred times better. Big boats just mean more tourists fighting for the best photo spots. And you cannot get very close to the dolphins on a big boat anyway. This experience will also be so much more intimate on a small boat. And a bonus point, you get to watch the sunrise in Mallorca as well. Such a romantic experience!
You can find more information about this tour here.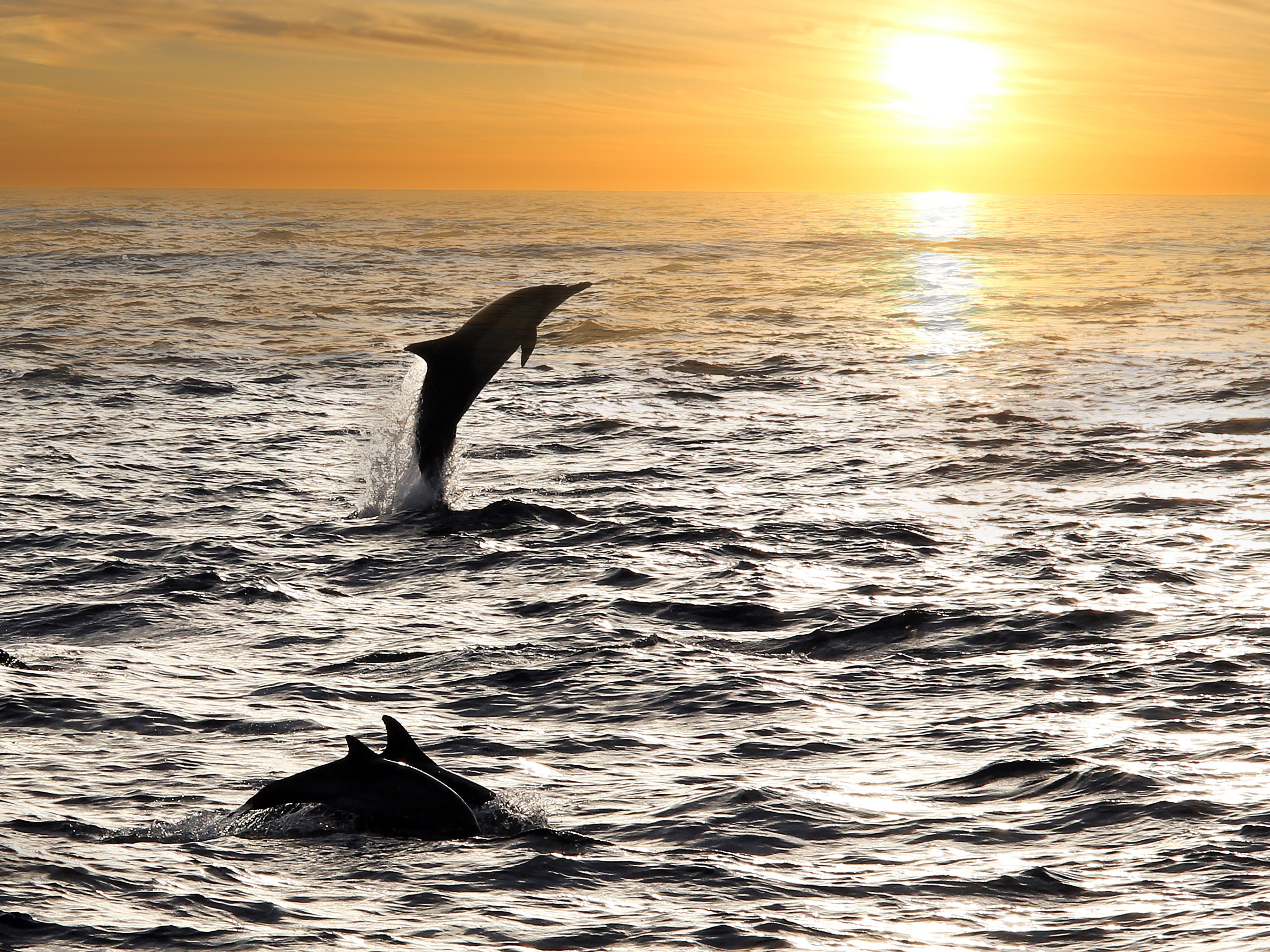 4. Visit Alcudia's old town and explore the ancient old city walls
I was absolutely surprised by how beautiful Alcudia is when I visited it for the first time! And I was wondering why no one talks about Alcudia when visiting Mallorca. This has been one of the best areas I have visited in Mallorca so far. What especially struck me in Alcudia were the city murals, that go around the whole old town. And they are incredibly well preserved! The great thing about them walk on the city walls. Alcudia looks just stunning from up there. While we were walking on these city walls only one other couple crossed us. We basically had the whole city walls just for ourselves.
We enjoyed the views from up there so much, that I decided to add the city walls of Alcudia as a hidden gem in Mallorca. So, if you end up staying close to Alcudia, you definitely should check them out.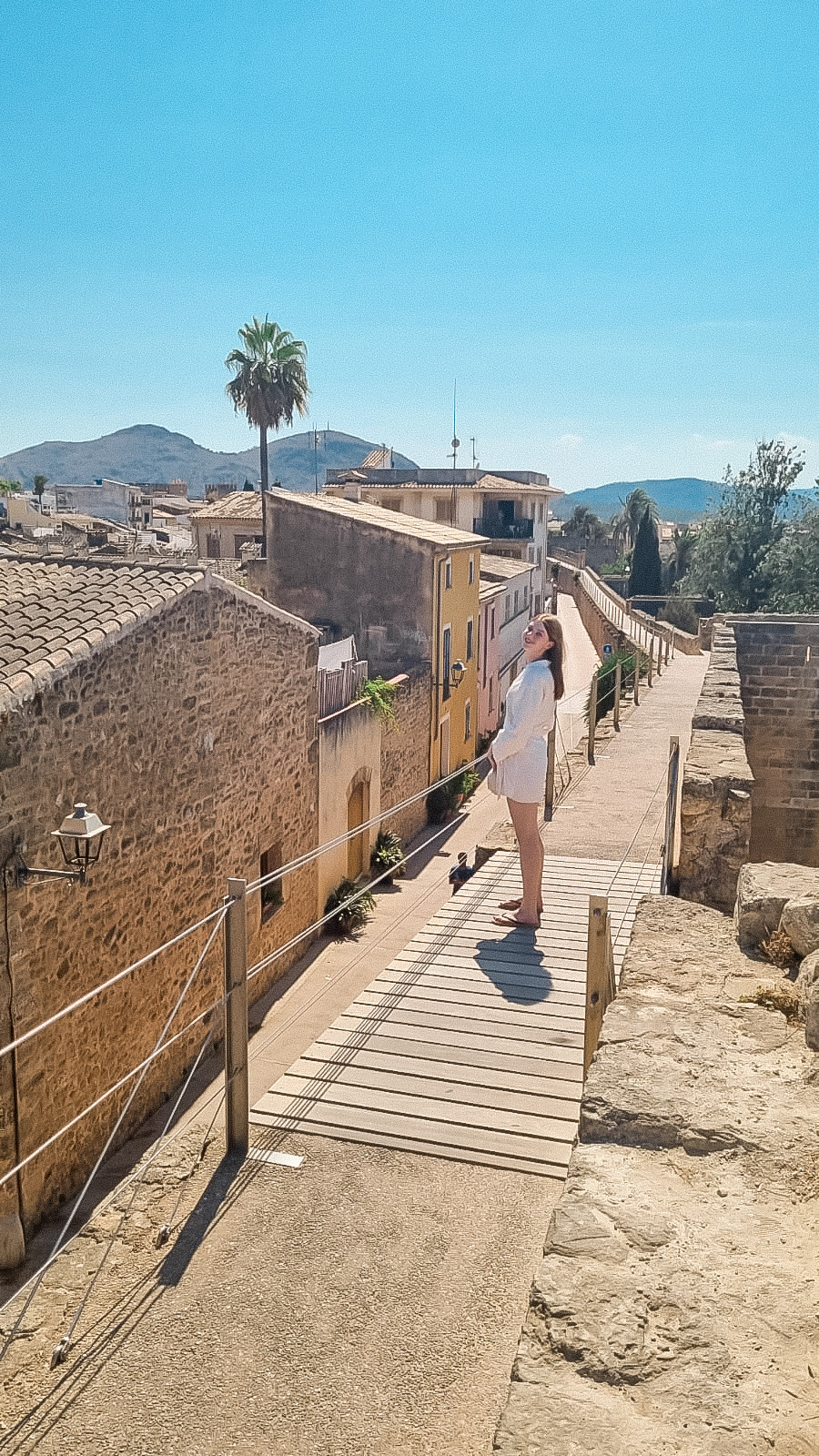 Another hidden gem in Alcudia are the murals of the ancient town of Pollentia. They are right outside of Alcudia and easily reachable by foot. These are murals from a town in Mallorca from more than 2000 years ago. That is absolutely incredible!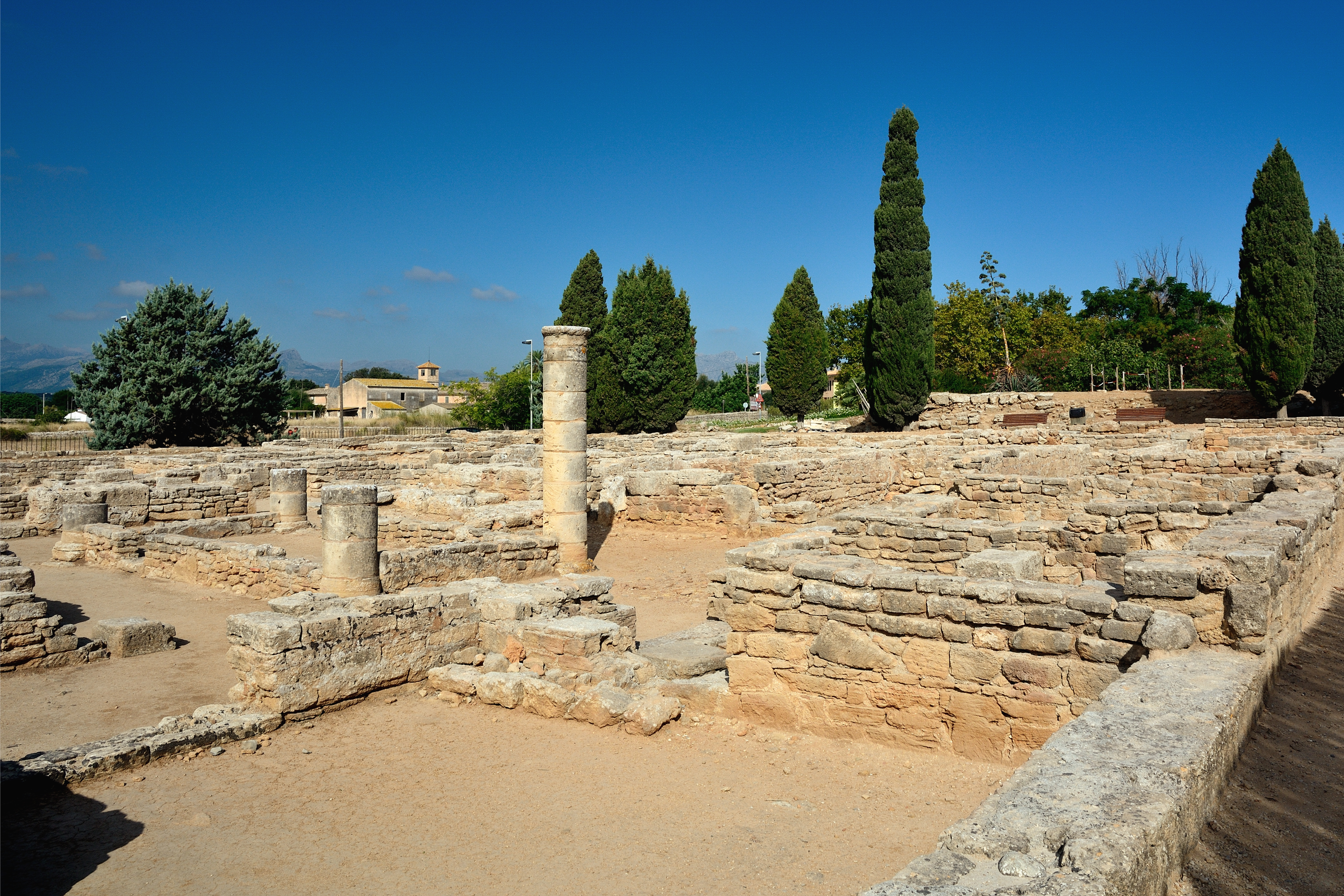 5. 365 steps in Pollenca to a secret viewpoint overseeing the island
Pollenca is another gorgeous town in the North of Mallorca. The city centre of Pollenca is very small and cosy, but still a great place you can check out. We went inside several souvenir shops and I was able to buy stunning ceramic plates. This is a great gift from Mallorca for your loved ones. 
I decided to add it as a hidden gem of Mallorca, because of one special activity you have to do here. Pollenca is famous for the 365 steps you have to go up in order to reach a chapel and a viewpoint. To be fair, you can also reach this viewpoint by car, but that would not make it as interesting, right?! If you want to find this place, simply search "stairs to the chapel" in Google Maps. 
By the way, if you want to enjoy some delicious paella after you went up these crazy steps, I recommend the restaurant La Font del Gall. Delicious Spanish food that you have to try!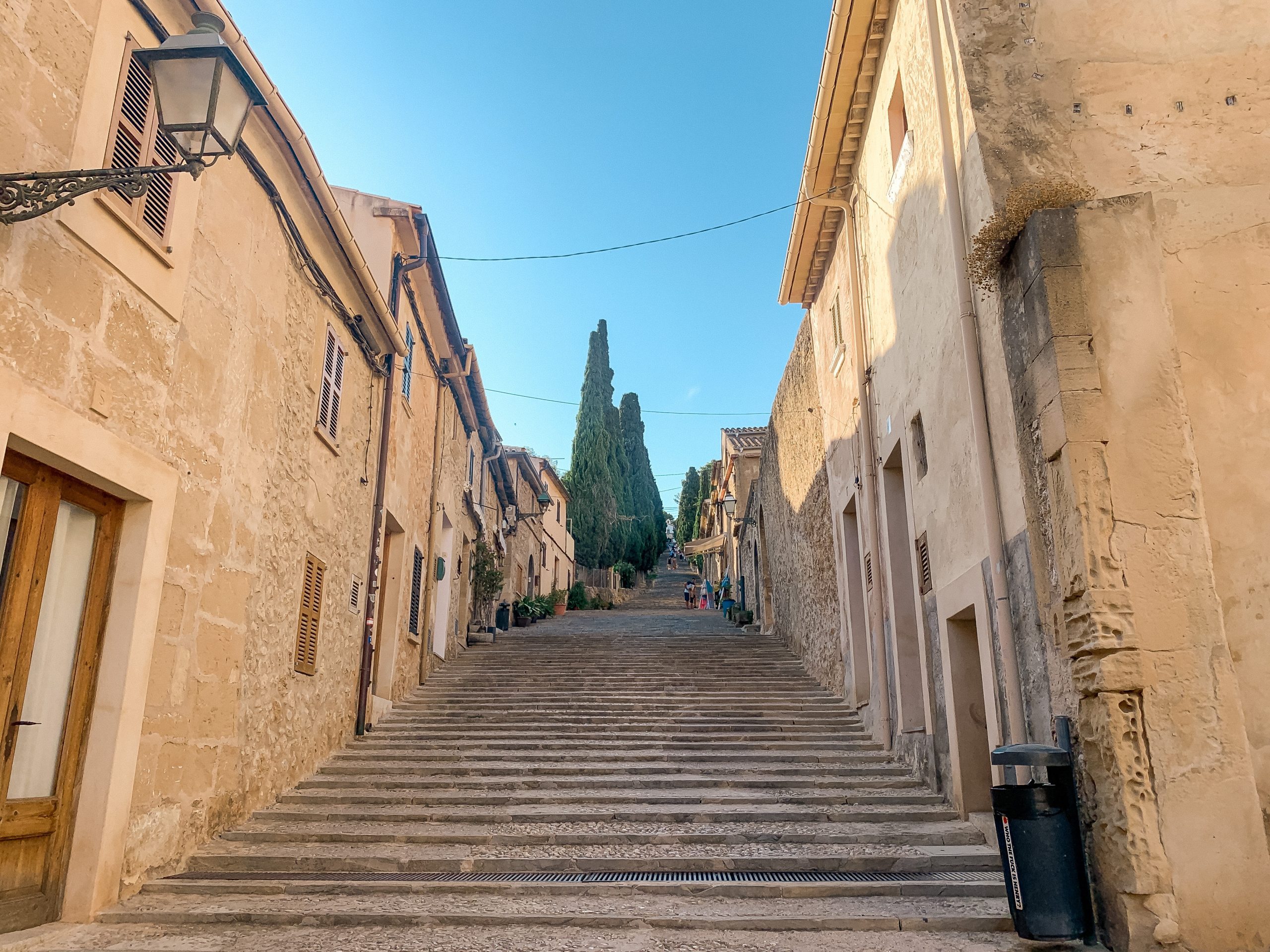 6. Avoid the tourists and go wine tasting in Banyalbufar
When my mom and I were visiting Mallorca together, this one was one of our favourite destinations on the island. My friend from Mallorca recommended this area to me because of its beautiful landscapes and the beach. Banyalbufar is a small village on the west side of Mallorca, that still feels very local and untouched. The area is famous for its vineyards and local wine. This is the perfect area for wine tasting in Mallorca. If this is something that interests you, you have to check out Bodega Son Vives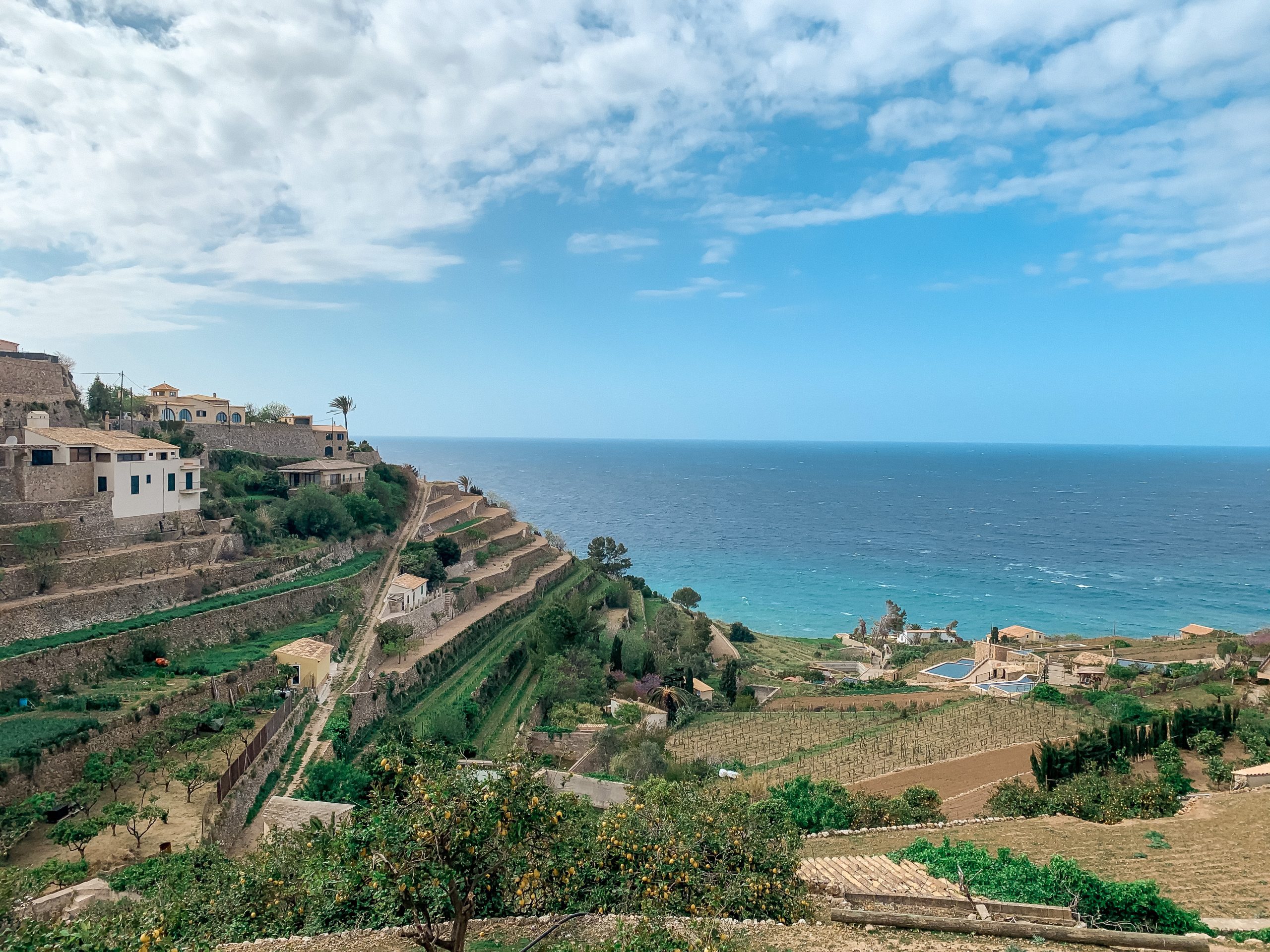 Once you walk around Banyalbufar you will see the interesting watering system that goes back to the Moorish settlement during the 10th century. Since Banyalbufar is located in the Sierra de Tramuntana, the Moorish invented an intelligent system to water their fields. There are many basins filled with water and dry walls, that the Moorish constructed to hold the downcoming water.
Then, I just have to mention Cala Banyalbufar. This beach is very close to the main town and accessible by stairs, which are quite steep. But it's totally worth it because you will see a beach with clear blue water. Time to jump in!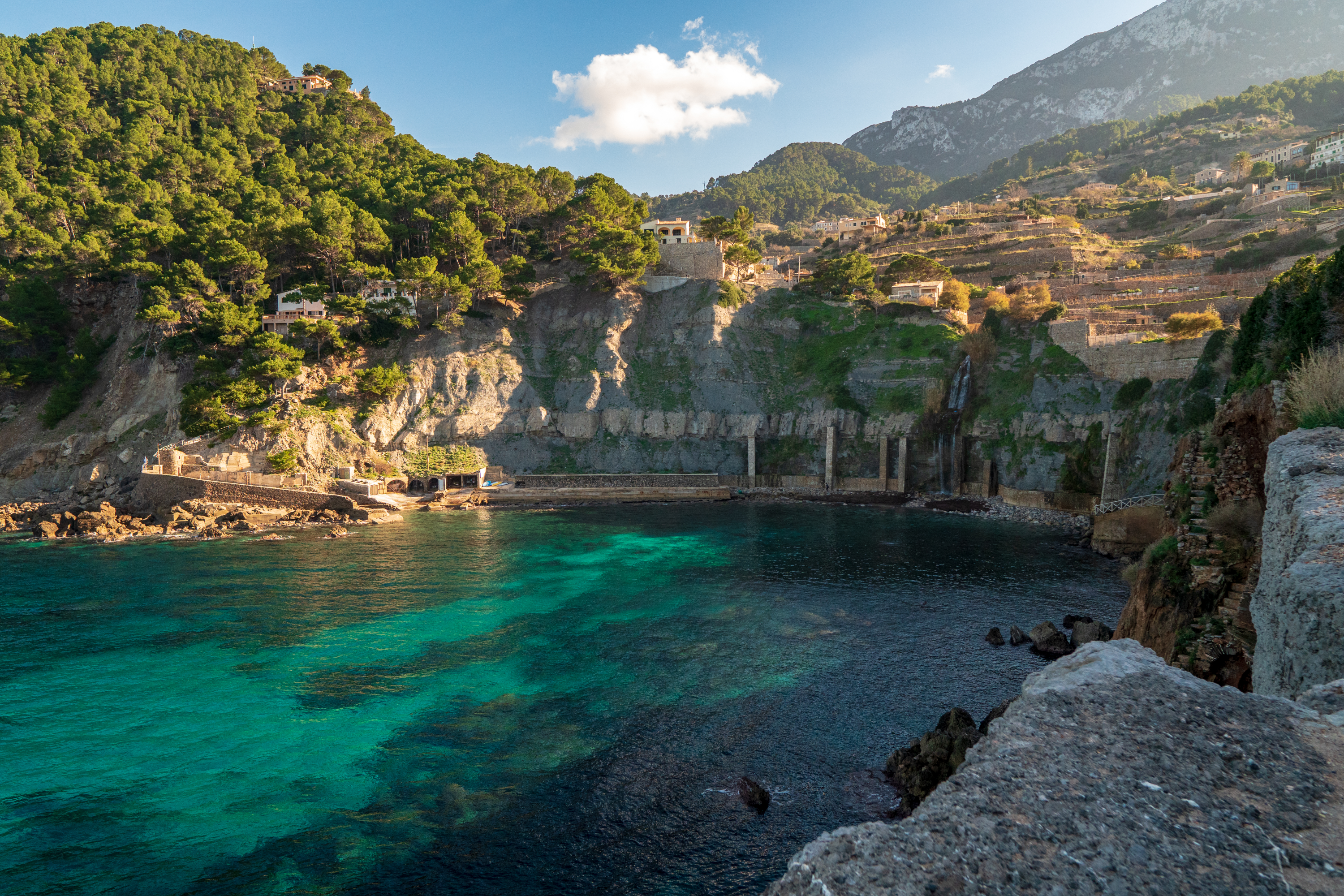 By the way, we stayed in Hotel Ca Mado Paula, which I can highly recommend. It is located in a beautiful townhouse from the 19th century. The owners decorated this place with so much detail! The interior of the place will make you feel like in a fairytale. And the breakfast is incredible as well. My top tip for staying in Mallorca!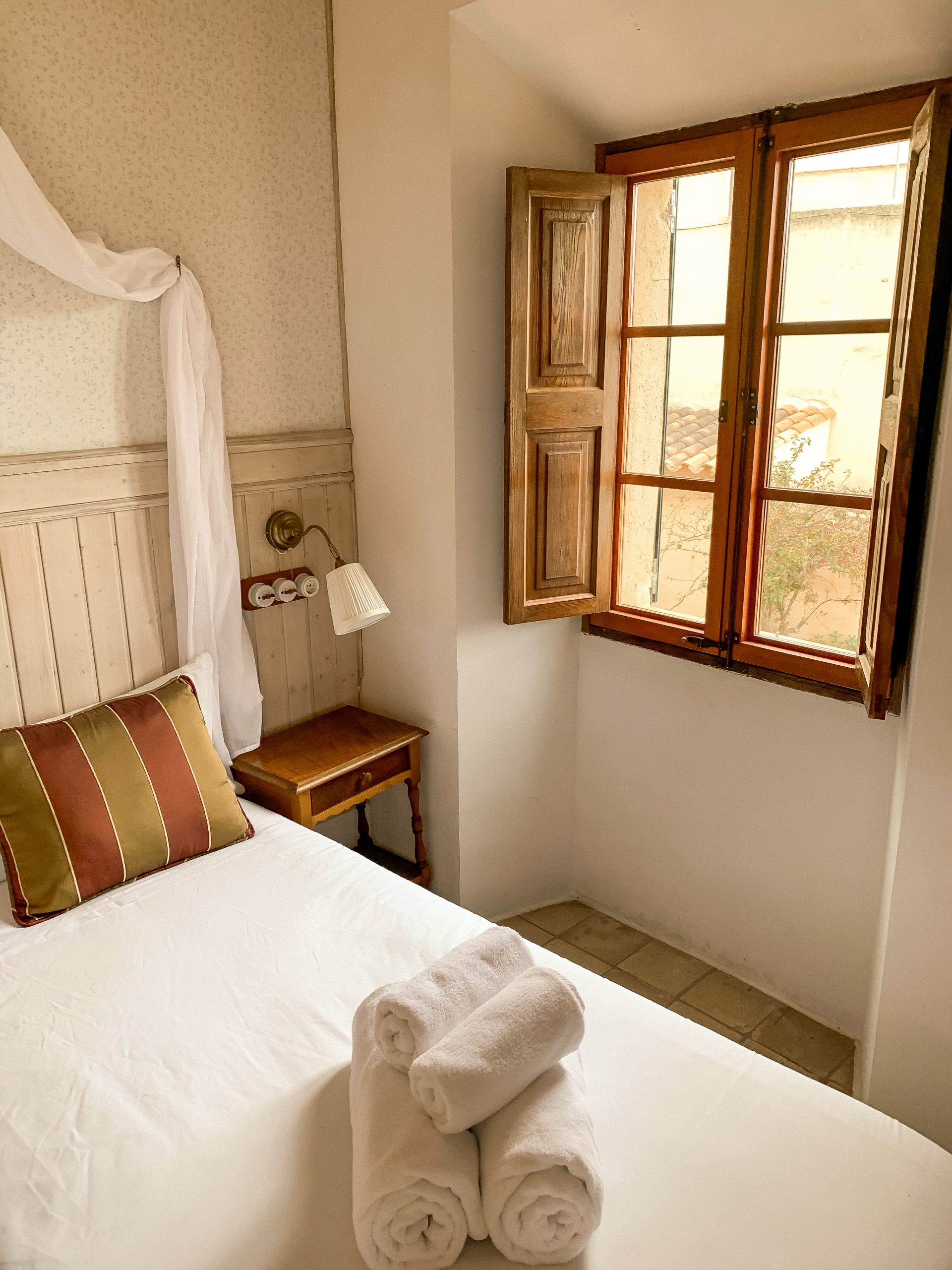 7. Road trip by car?! Take the Ma-10 instead of Ma-13
This is the ultimate hidden gem in Mallorca if you are travelling Mallorca by car! The Ma-13 is the highway connecting Palma with the North of Mallorca. When my mom and I were travelling from Pollenca to Soller, my phone sent us to the Ma-10 instead, passing the mountains and countless small villages. And we were so glad it did!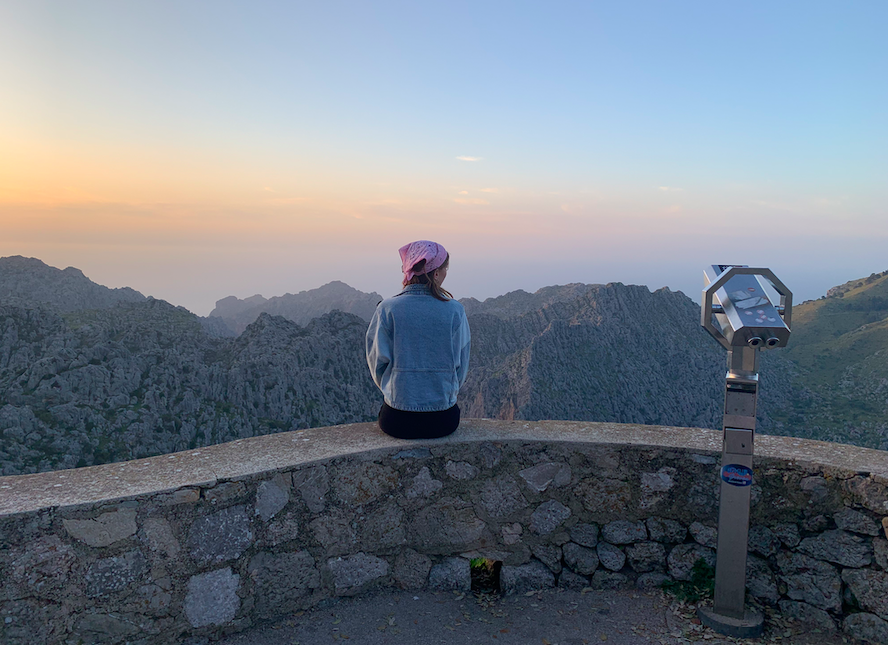 This route will take you through incredible views of the Serra Tramuntana with several places where you can stop and take a photo. One amazing view point there is Mirador de s'Entreforc. There were many more, but not all are marked on Google Maps. We even had to stop a couple of times because there were goats crossing a street. So, a word of caution! You might find animals on the streets because you are literally driving through nature. If you have time, I encourage you to leave the highway and explore the hidden areas of Mallorca on the Ma-10. Check out the photos below!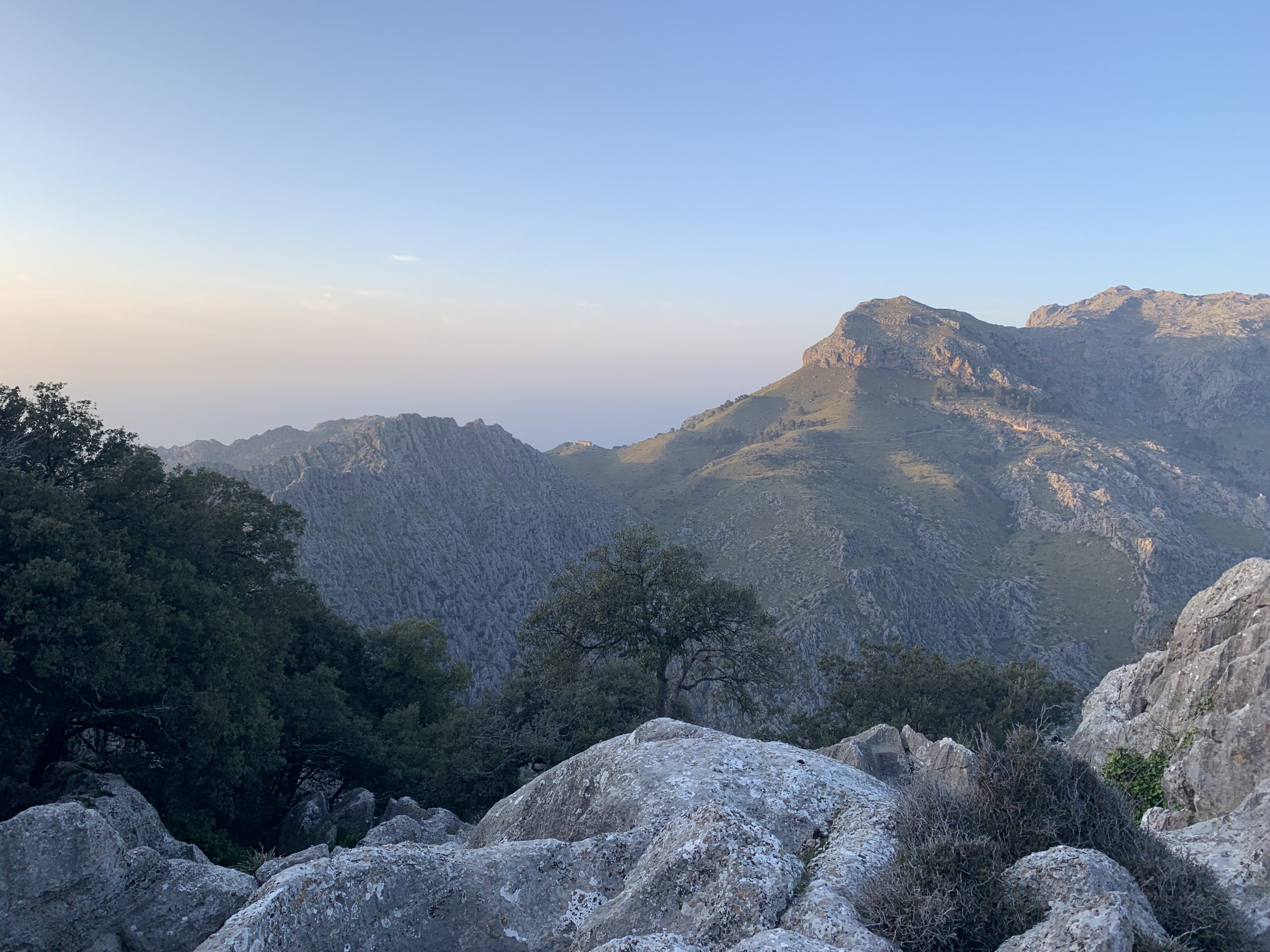 8. Mallorca's hidden viewpoint: Sa Foradada
You will thank me later for telling you this hidden viewpoint in Mallorca: Sa Foradada. My mom and I enjoyed this place so much that we ended up coming back several days in a row. And most of the time, there were not too many people present and we could take incredible photos of this place.
This viewpoint in Mallorca is located in the South of Deiá and I really recommend it for a visit. From there, you have spectacular views of unique rock formations in the sea. The great thing is that there is a bar where you can get a coffee or a wine if you come here during the evening. This is also a great place to watch the sunset. I have to admit, if you come to watch the sunset here you might find fellow travellers here.
If you want to find this place, simply google "Chillout Sa Foradada".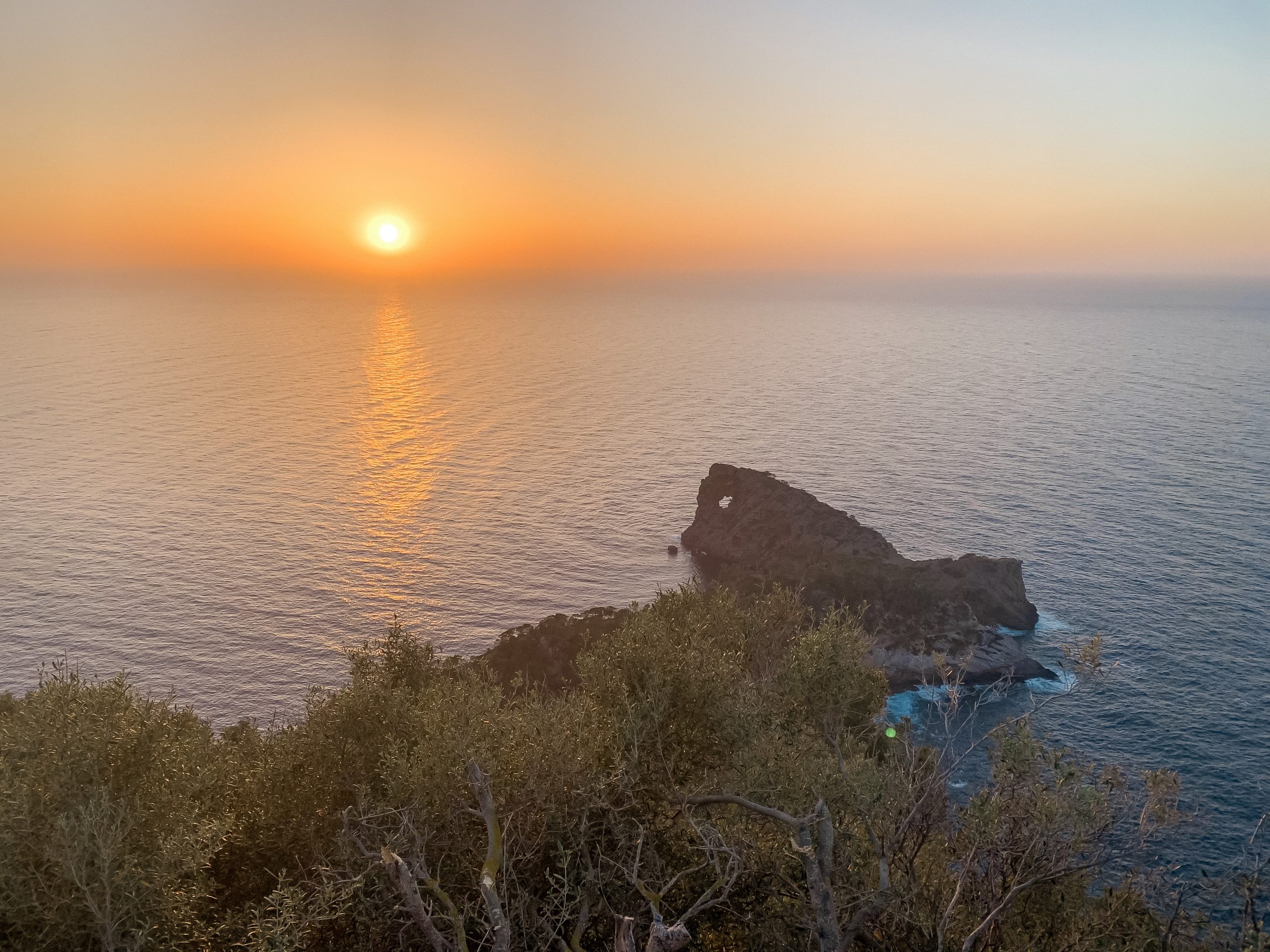 Close to this amazing viewpoint is another gem of Mallorca: Son Marroig. This is the townhouse of an archduke that used to live in Mallorca. For a small fee, you can enter the house which today is a museum. From there, you have absolutely spectacular views of the ocean. We were not able to go due to the restrictions during the pandemic. But I have heard that this is a great place to visit in Mallorca!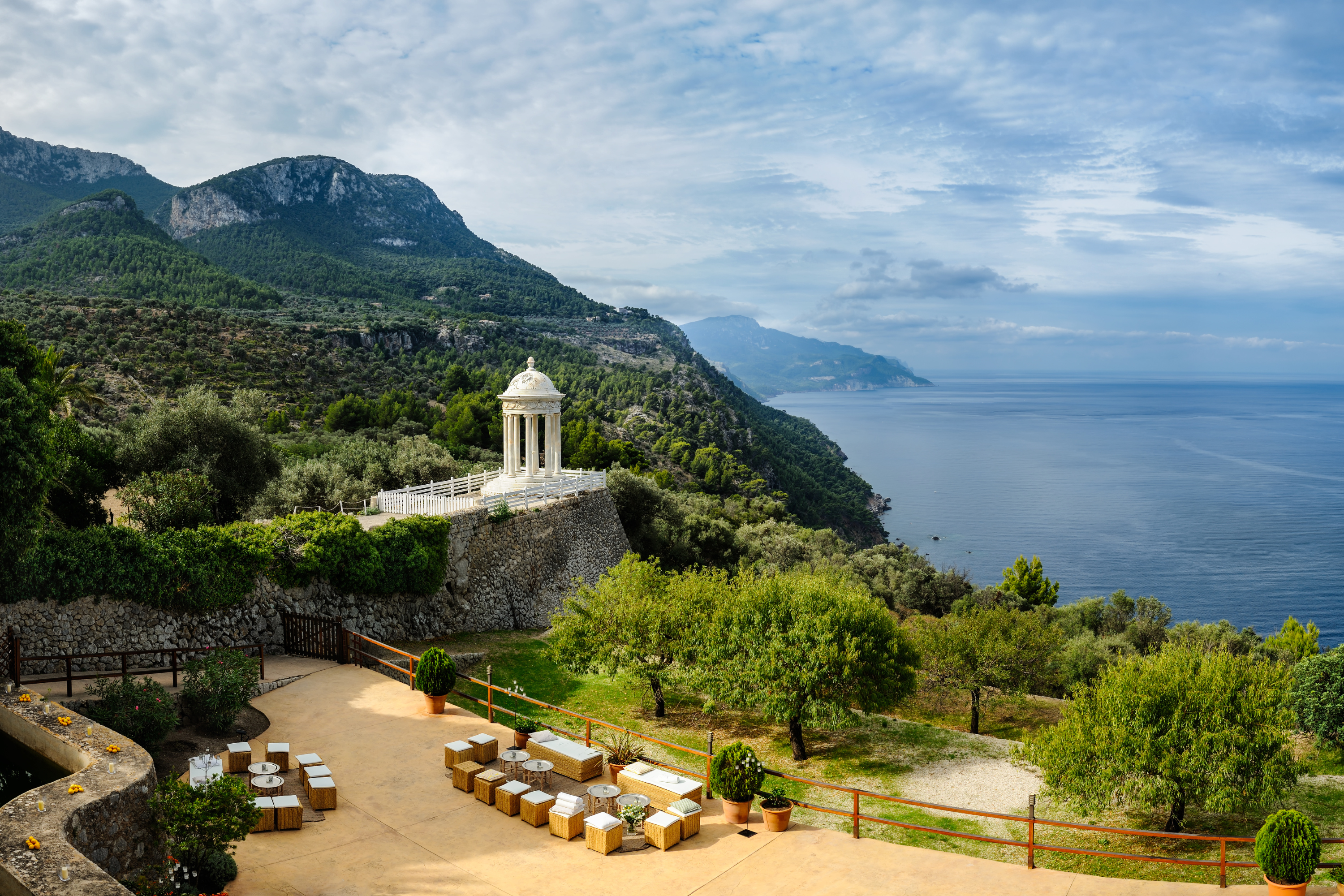 9. Visit Betlem and spend a day at the beach at Cala Na Clara
The city of Betlem is known to be one of the very few places on the island where mostly only locals go. This is not a place for nightlife and clubs. This area of Mallorca is for tourists who want to spend a couple of relaxing days on the island. You will find yourself in a paradise of idyllic nature and insanely clear water. 
A great place in this area you can visit is the Ermita de Betlem, a monastery that is more than 200 years old. If you have time, you should definitely enter it. The inside is painted beautifully and the place will literally take you back in time.  There are many bicycle and hiking routes that you can explore as well. 
When it comes to beaches close to Betlem I have a Mallorca insider tip for you: When I asked my friend from Mallorca what her favourite beach was, she told me Cala Na Clara. This beach in Mallorca got its name due to the crystal clear water in that area. The perfect destination for a swim!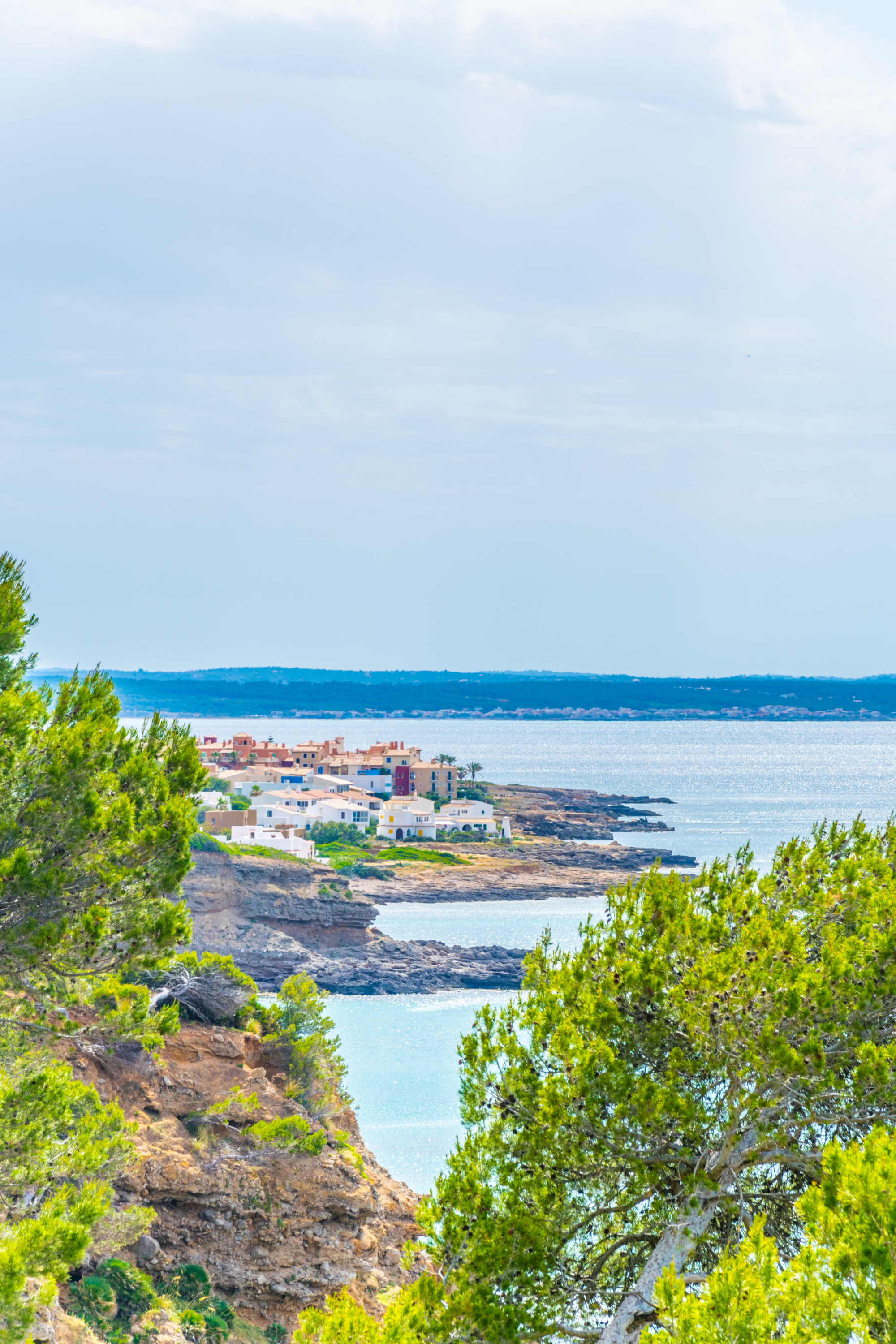 And that was it! Those were 9 hidden gems in Mallorca that I think you should visit. But if you read carefully you probably realised that there were more than just 9 there. I really tried to put as much information as possible so you can really enjoy your Mallorca trip to the fullest. Mallorca is such an underrated travel destination. I really hope you will give it a try.