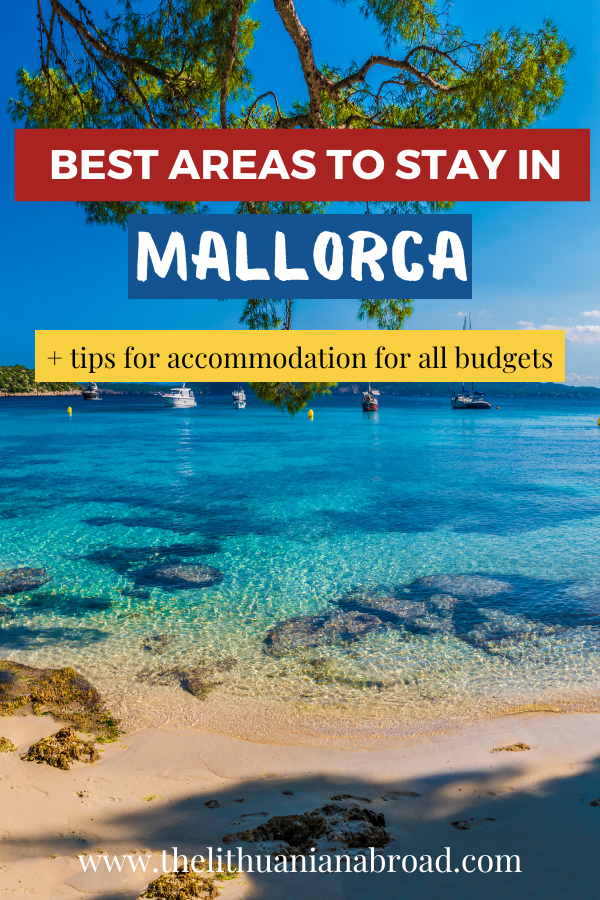 I have to admit, the first time I visited Mallorca I really tried not to like it. Why? Growing up in Germany I always associated Mallorca with drunk tourists and people drinking Sangría out of buckets. Who would ever like to spend their holidays there?! I have to admit, I was wrong. Now that I have been to Mallorca several times and have seen many areas around the island I can confidently say that Mallorca has so much to offer for all kinds of travelers. And we are going to talk about the best areas to stay in Mallorca in this blog post.
If you would like to go hiking, the Tramuntana mountains offer perfect hiking routes with breathtaking views over the sea. Or, if you would like to go for a swim, you can choose one of Mallorca's incredible beaches. And forget about life for a moment. Once you get hungry, Mediterranean cuisine invites you to some delicious food. Oh, and seafood, as you can imagine Mallorca really offers the best of it. It does not really matter what kind of traveler you are, there is the perfect area in Mallorca for you.
So let's start: Here are 14 amazing areas to stay in Mallorca. Including hotel recommendations. And keep reading for a rental car discount code!
Affiliate links may be sprinkled throughout the free content of this blog post. If you purchase from one of the links I may receive a small commission while the price for you stays the same. This helps me cover the costs of The Lithuanian Abroad. Gracias!
---
More blog posts about Mallorca that you cannot miss: 
10 Top tips for visiting Mallorca that will make your stay unforgettable! This post includes my top tips for visiting Mallorca. Everything I wish someone had told me before I visited Mallorca for the first time. The best activities, destinations, hidden gems, and more!
The best Mallorca bucket list with tons of fun activities: This blog post includes a complete bucket list with fun activities you have to do in Mallorca. This includes a boat tour, the best beaches, the food you have to try, and more!
15 Things you must do in Alcudia, Mallorca: This post is a complete guide for visiting Alcudia in Mallorca. It includes everything you need to know from hotels to beaches, and close towns to visit. One of my favorite areas in Mallorca that I really think you have to visit at least once!
7-day itinerary for traveling Mallorca in Spain: I wrote a very detailed blog post with a one-week itinerary for traveling Mallorca. This itinerary includes Palma, the North of Mallorca, and the most beautiful towns you have to visit. Mallorca's best destinations in one blog post.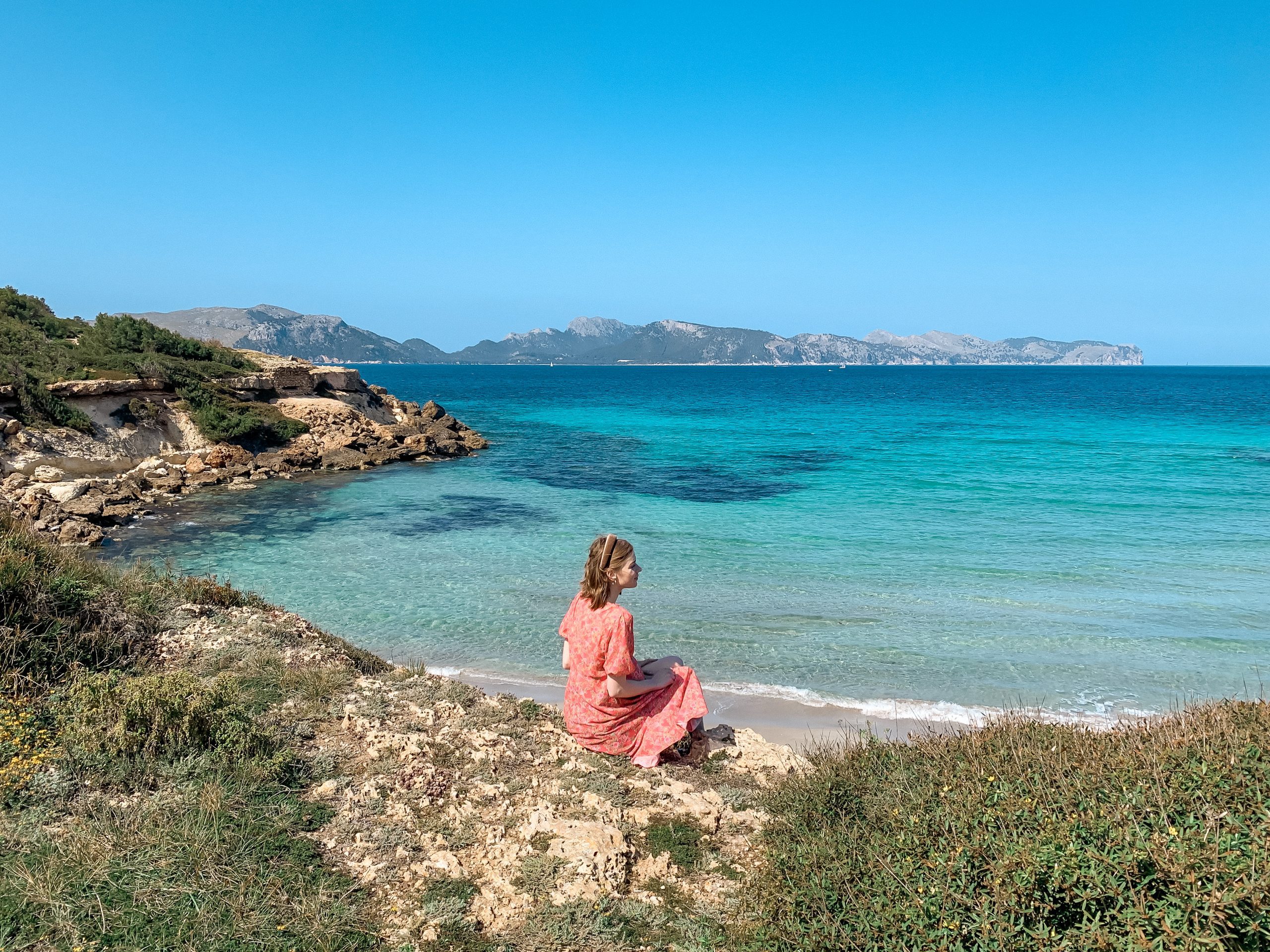 Rent a car for the ultimate Mallorca road trip (keep reading for a discount code!) 
Renting a car is a MUST for traveling to Mallorca! Having a car will make your whole trip so much easier and you will be much more flexible. If you want to visit remote beaches and check out several areas of the island, you should rent a car. 
And the best thing: I promise there is nothing easier than renting a car with offugo.es! This is the only car rental company I know that manages the whole process of renting a car online. No more queuing and wasting so much time when picking up and returning your car. How does it work? Visit offugo.es and book your rental car for Mallorca. You upload your documents on the website and in a couple of days, you will receive instructions on where to pick up your car.
The best thing is: Complete insurance is included and you do not have to pay a deposit. I rented a car with offugo.es in Mallorca and it absolutely convinced me. Use discount code GABI10 on the checkout for a 10% discount 🙂
Save 10% on your booking with offugo.es with the code GABI10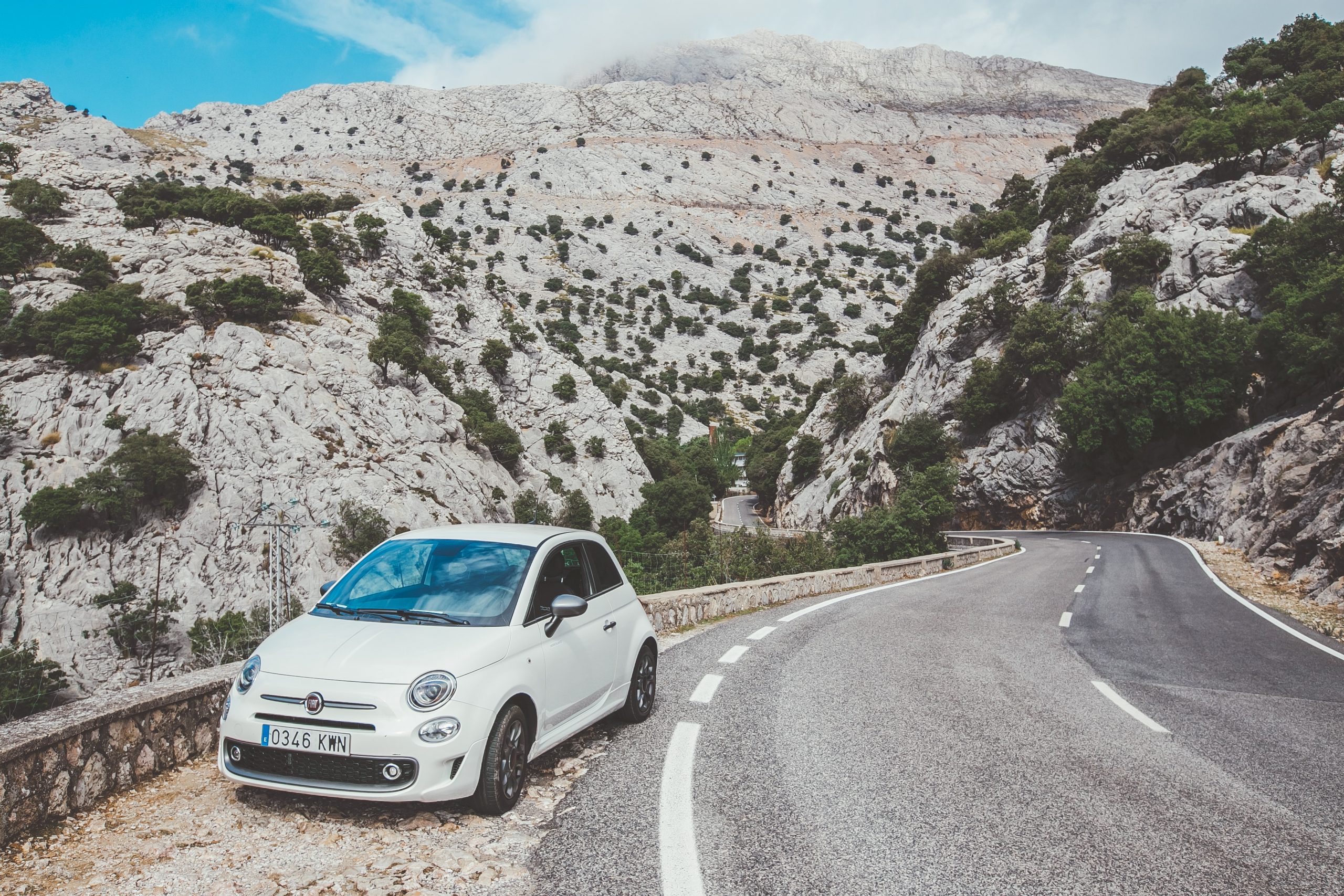 Let's start: The 14 best areas to stay in Mallorca!
Where to stay in Palma de Mallorca, Mallorca's biggest city
Palma is Mallorca's capital and largest city on the island. Your Mallorca trip is probably going to start here, at the airport of Palma. Once you arrive in Palma, I would recommend staying here for at least one night before leaving for other areas of the island. The old town and Cathedral of Palma are gorgeous and definitely worth visiting. Apart from that, Palma is the perfect shopping destination and offers many international and small boutiques you should check out.
I would recommend doing a free walking tour in Palma to see the city's most important monuments and learn about its history. Mallorca is very rich in history and you will learn a lot about it on a free walking tour. 
Close to Palma is the famous Playa Major. This is the place where to Spanish Royal Family likes to go to spend their holidays.
€€€: Fil Suites, a hotel located in an authentic building from the 19th century. A true gem!

€€: Hotel Bosch Boutique, a very central boutique hotel for an amazing price. My mom and I really enjoyed our stay here

€: Y Hostal, an affordable hostal where I met so many fellow travellers! A great place ot meet people
Where to stay in Magaluf, the beating heart of Mallorca's nightlife 
Whether you love or hate Magaluf, there is something you have to admit. This is probably one of Mallorca's most famous areas full of bars and crazy nightlife. Magaluf is only 15km away from Palma's airport. During the last decades, it became especially popular amongst young British and German travelers. You will be surprised by the number of pubs and German restaurants in Magaluf. 
The beach promenade in Magaluf offers more than 50 bars. After you have tried the bar scene in Magaluf you can choose from various clubs where you would like to continue your night. Nikki Beach Club is one of the most popular ones that you have to visit during your stay. 
Apart from its nightlife, Magaluf offers a beautiful white-sand beach. To sum it all up, spend your day at the beach and go out at night!
€€: Meliá South Beach This is a great hotel chain in Spain. This hotel is located in the center of Magaluf. And look at this outdoor swimming pool!

€: Sol House the Studio An affordable option from the same hotel chain. This hotel has anything you could ask for during your stay in Mallorca!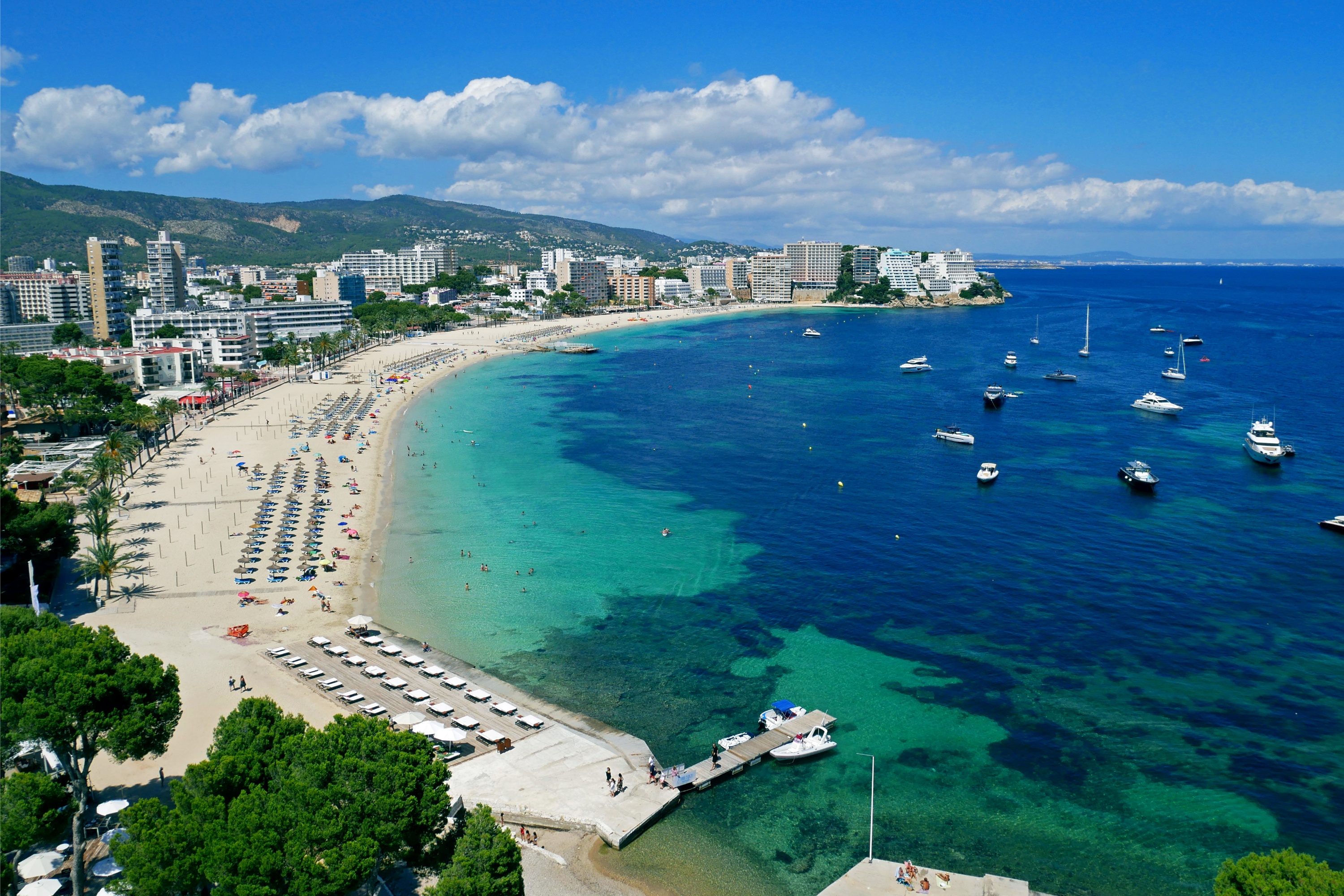 Accommodation in El Arenal, Magaluf's little and affordable brother
The best way to describe El Arenal is by calling it Magaluf's little brother. While Magaluf is a popular destination for British tourists, I feel like Arenal is more popular amongst younger German travelers. You will find many German restaurants and German translations everywhere. That surprised me a lot when I was in Arenal!
Since the 1950s El Arenal turned from a small fishing village to the vibrant town in Mallorca we can experience today. One of the reasons why El Arenal became so popular is the never-ending beach promenade full of golden sand and clear blue water. You will see many young people spending their day here or practicing water sports. 
Close to El Arenal is also the famous water park Aqualand. If you are a fan of water slides, you really have to check it out. 
€€: Hotel Gracia, an elegant hotel with rooms with ocean view. A great choice for your stay in El Arenal

€: Hostal Villa Maruja, an affordable hostal right in the center of El Arenal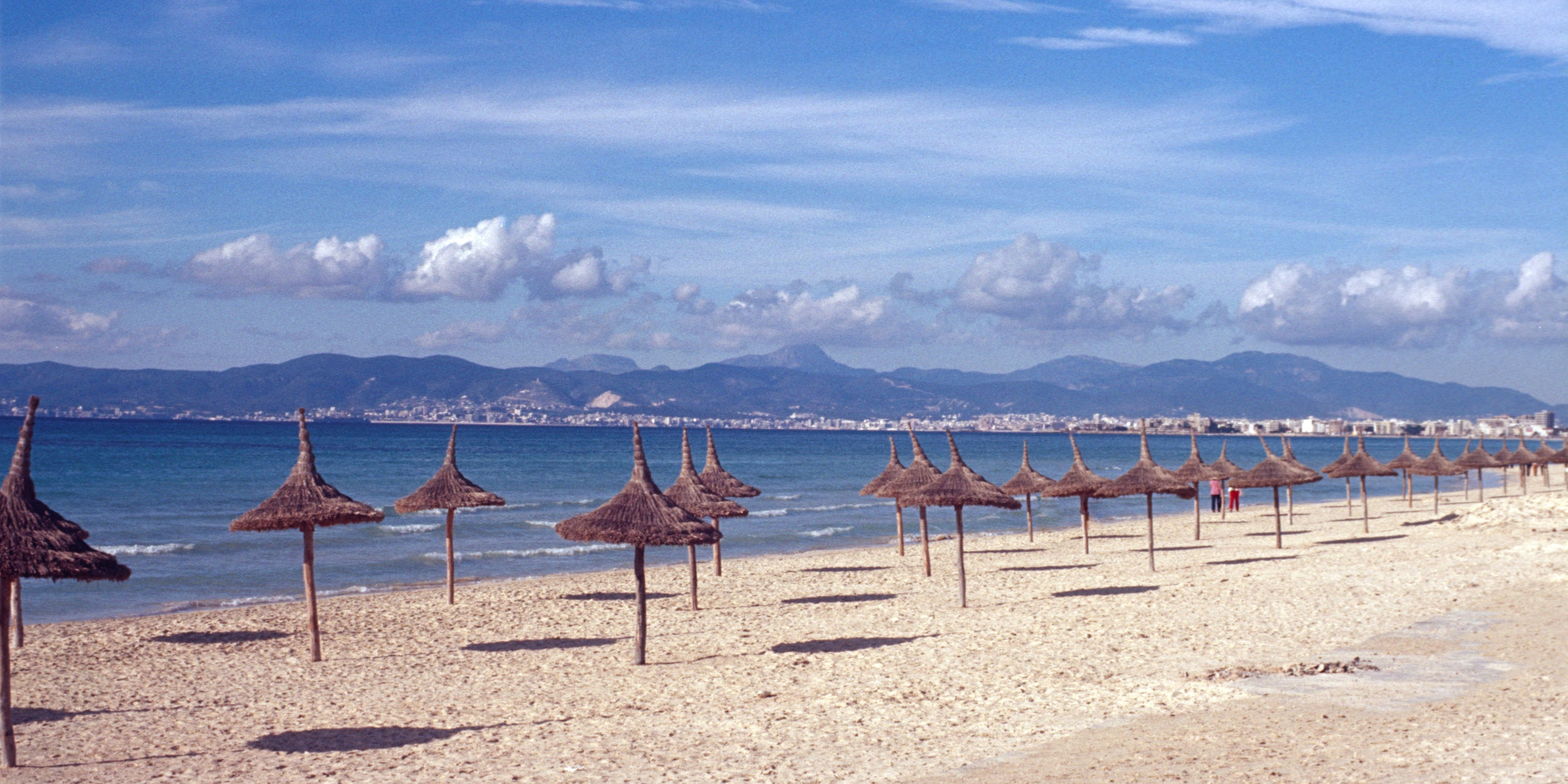 Where to stay in Port d'Alcudia, Mallorca's family-friendly area
Port d'Alcudia is an absolute paradise in the North of Mallorca that offers a gorgeous white-sand beach with shallow water. That is the reason why many families chose Alcudia as their holiday destination. It is THE perfect place to go to with children or to practice any kind of water sports in Mallorca or would like to stay in a family-friendly resort. 
What I especially loved about Port d'Alcudia is that it is so close to other beautiful destinations on the island. You absolutely have to visit Alcudia, the town close to the Port. People say that it is one of Mallorca's most beautiful places, and once you are there you will understand why. Alcudia is surrounded by ancient city walls that you can walk on and see the beautiful town from above.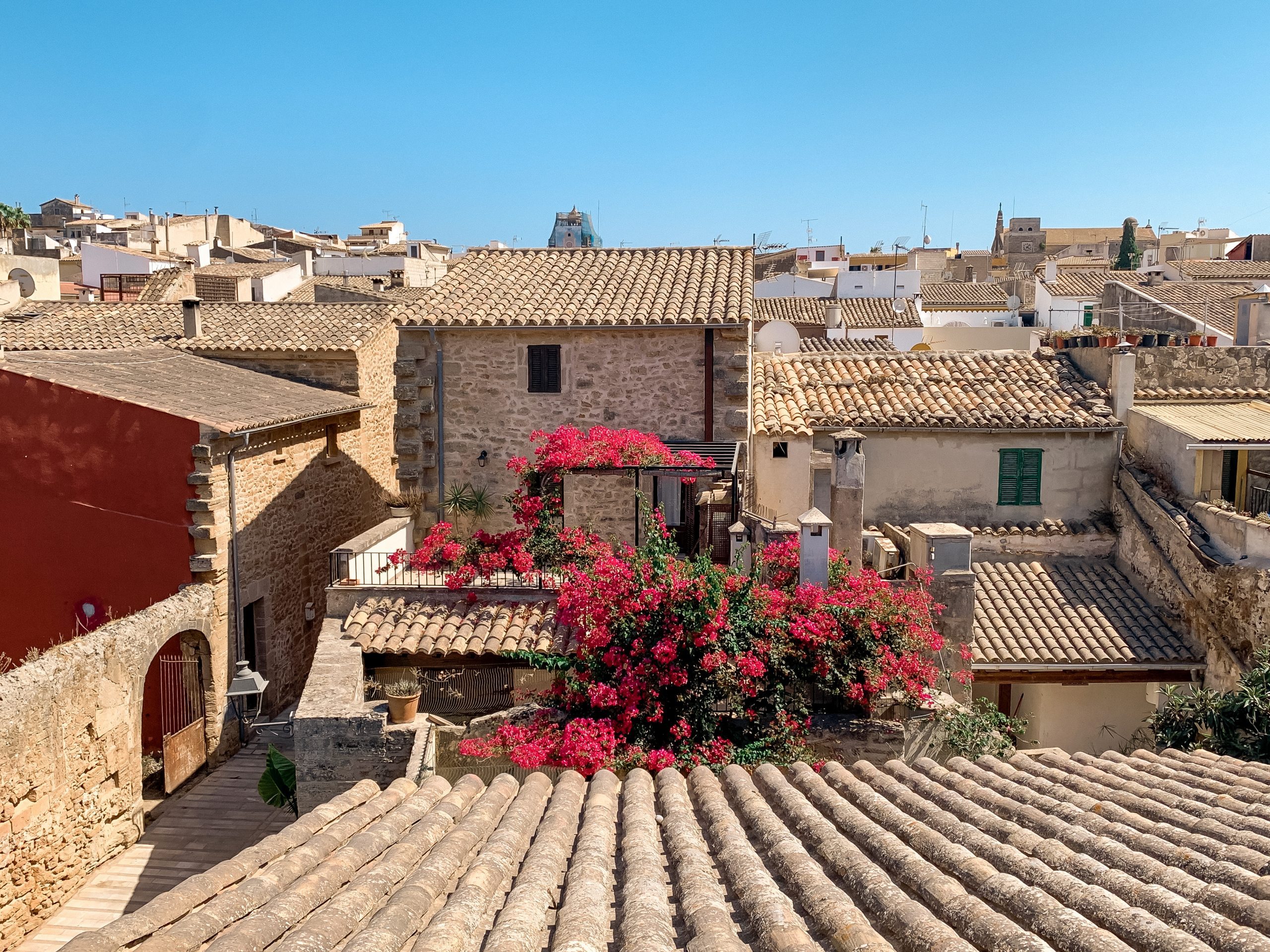 I wrote a detailed blog post about things to do in Alcudia, that you can find here.
Another reason why Alcudia is one of Mallorca's best areas is that it is close to other amazing places, like the town Pollenca, Cap de Formentor and Cala Figuera. If you want to get to know the North of Mallorca, Alcudia is the perfect place to do so. 
€€€: Hotel Can Mostatxins, a beautiful boutique hotel in two buildings from the 15th and 18th century. Gorgous interior!

€€: Iberostar Ciudad Blanca, looking for a great all-inclusive hotel at the beach?! Check this one out!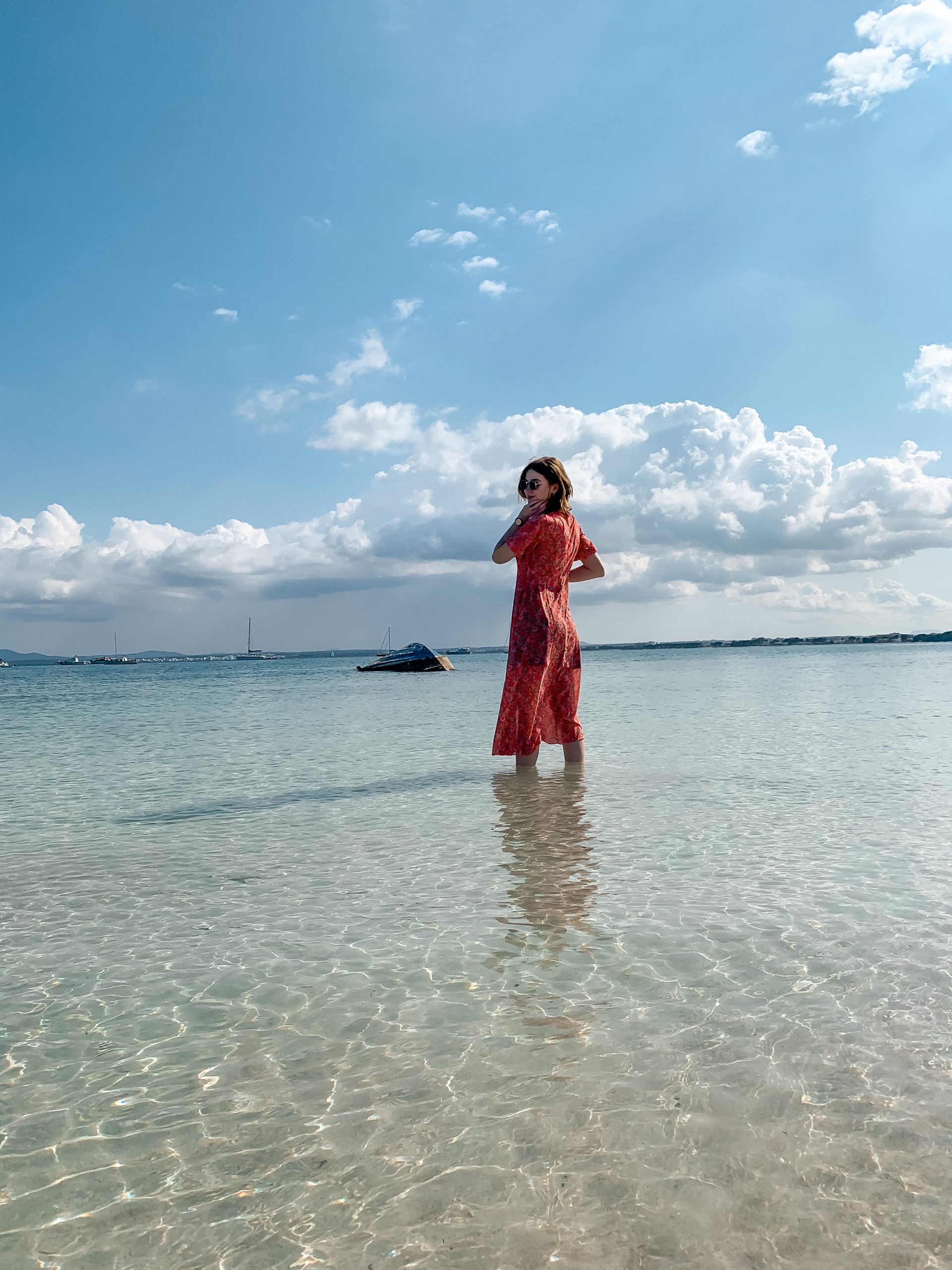 Where to stay in Playa de Muro, one of Mallorca's most beautiful beaches
When I made an Instagram Poll and asked my followers what the best areas to stay in Mallorca are so many people answered "Playa de Muro" in the Northeast of Mallorca. No surprise, considering it is THE longest beach in Mallorca. So if you hate beaches that are crowded with people this could be your place to go.
This popular area of Mallorca attracts many locals and tourists. Especially families will have a great time at Playa de Muro because the water is shallow and there are many areas for children, restaurants, and playgrounds. Apart from that, there are all kinds of water sports you can do at Playa de Muro like stand-up paddling, kitesurfing, and windsurfing. On the other side, if you want to enjoy a relaxing day and escape the crowds, make sure to check out the area "Es Comu" in Playa de Muro. Another area you need to check out is Mondrago Natural Park for a day in nature.
There are many hotels close to Playa de Muro and here I want to show you the ones I can recommend:
€€: Grupotel Parc Natural & SPA, a family-friendly hotel right at the beach in Playa de Muro

€: Universal Aparthotel Elisa, incredible priced accommodation right at the beach. And the reviews are great!
Pollenca & Puerto Pollenca, one of Mallorca's oldest areas
Pollenca is another amazing place to stay in the North of Mallorca. Historical monuments, culture and even beautiful architecture made this small town a popular tourist destination over the last decades. My personal highlight in Pollenca are the "stairs to the chapel". Those are 365 stairs that take you up to a chapel and a viewpoint. Would you accept the challenge and go up? Pollenca also has several great restaurants you have to try. I can recommend "La Font del Gall" for amazing paella!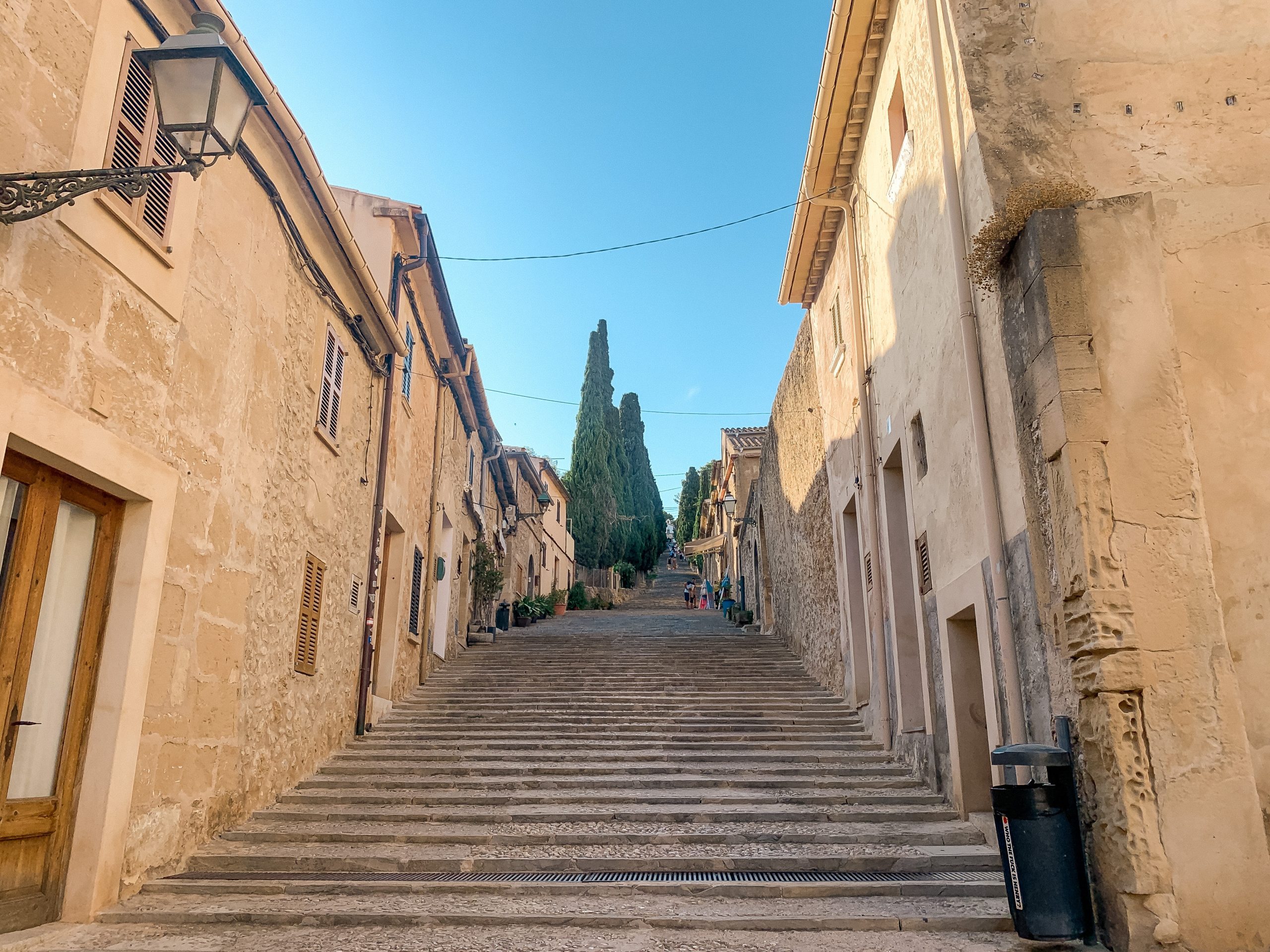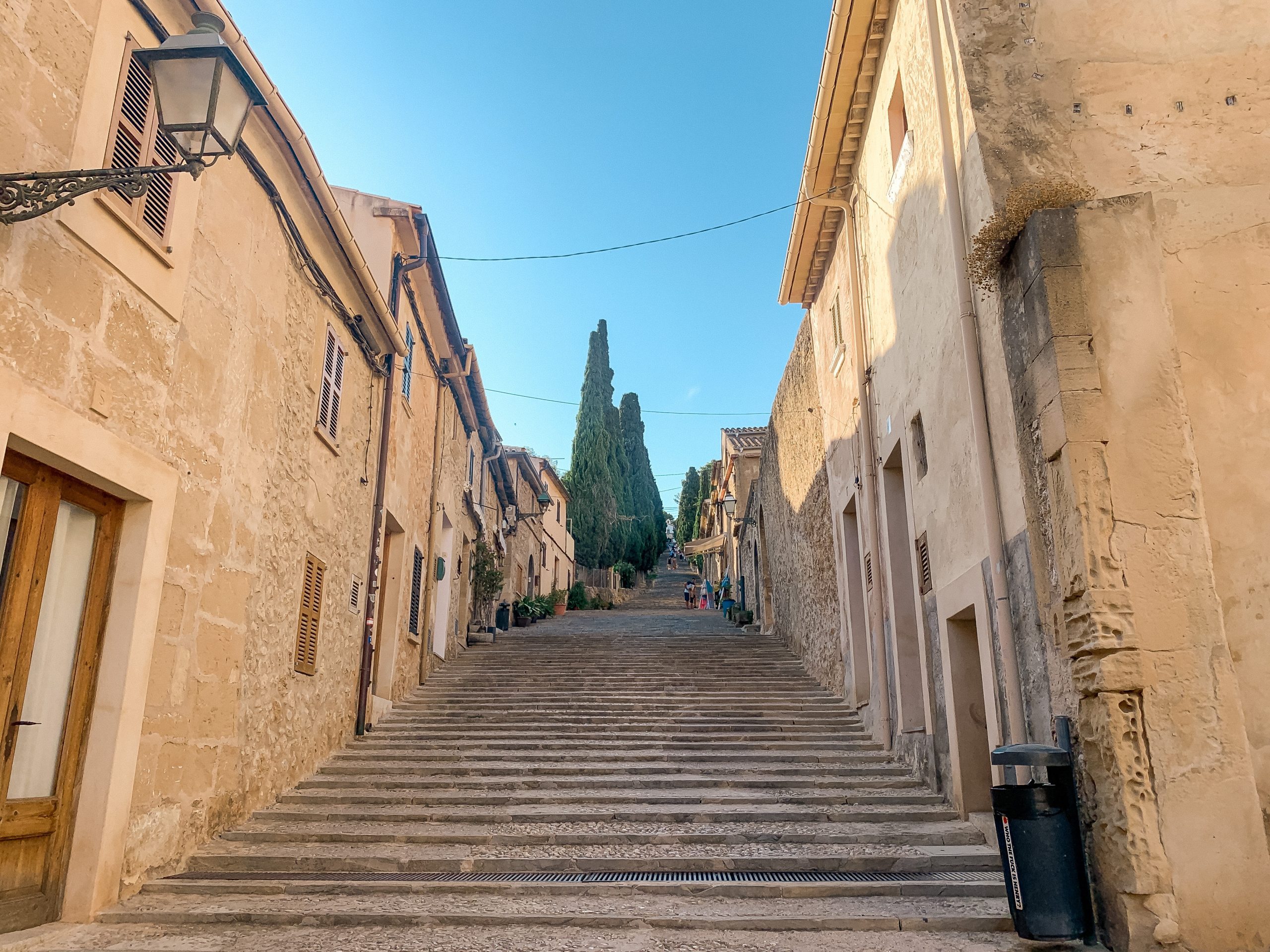 Close to Pollenca is the Port of Pollenca, full of shops, restaurants, and bars. If you are looking for a beautiful beach close to Pollenca I would recommend Playa Sant Vicens. You will find yourself surrounded by clear blue water on a beautiful beach. The perfect place for snorkeling as well. 
€€€: Can Aulí Luxury Retreat, a fairytale hotel with such an idyllic flair. The breakfast looks insane!

€€: Mon Boutique Hotel, an enchanting hotel with modern facilities. So beautiful!

€: Cabot Romantic, a hotel at the beach of Pollenca right next to the port!
Stay close to Cala D'or, one of the best areas in Mallorca
Cala D'or is the "golden bay" of Mallorca and has so much to offer: incredible beaches, nature, nightlife and more. This is one of the most popular areas in the east of Mallorca and rightfully so! 
There are so many dreamy beaches in this area that it is going to be hard to pick where you would like to spend your day today: Cala Esmeralda, Cala Serena, Cala Petita. And one more beautiful than the next one!
If you want to go beach-hopping, this might be one of the best areas in Mallorca for you. This area is full of stunning hotels and I am sure that there is the perfect one for you as well. Let me mention that this is a very luxurious area of Mallorca. If you want to spoil yourself during your Mallorca trip, this is the perfect time to do so!
€€€: Sentido Fido Tucan, an all-inclusive hotel right at the beach that has everything you could ever ask for!

€€: Hotel Cala D'or, a beautiful beach hotel in a quiet area

€: Hostal de la Caravel-la, low-budget but cozy. And so close to the beach!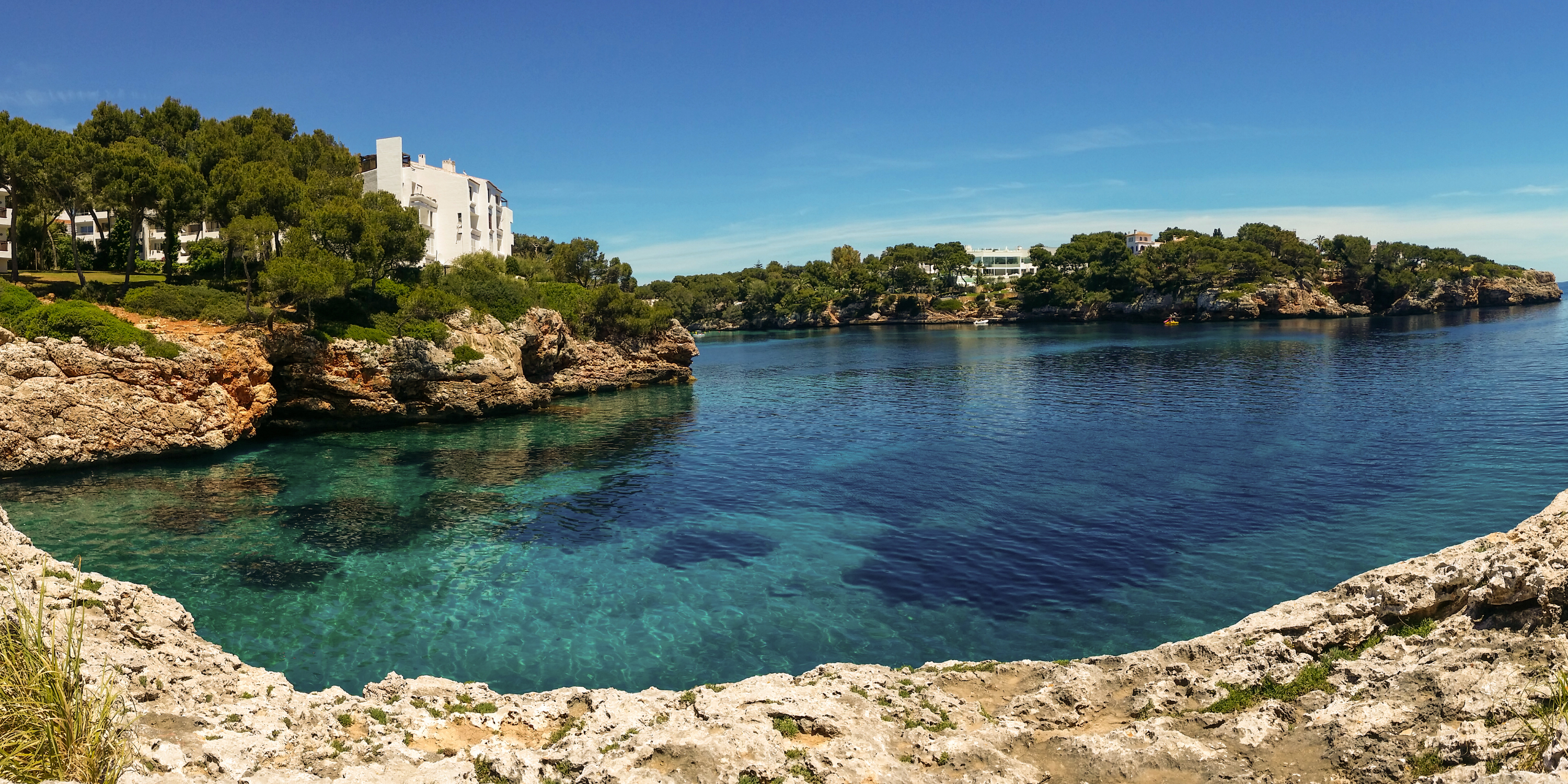 Where to stay in Port de Soller, Mallorca's idyllic beach town
Port de Soller, and the main town of Soller, used to be a traditional village that was famous for its olive and orange trade centuries ago. At the beginning of the 21st century, the roads connecting Soller to Palma were improved, which lead to a huge tourist boom in the area! Nowadays, Soller is one of Mallorca's greatest tourist destinations. 
You really have to visit the city center of Soller, which offers gorgeous small streets full of local shops and restaurants. When in Soller you will see the old tram, that connects Soller to Palma since 1912. You can even go and take a ride on it yourself!
Soller is also popular for its location on the mountain range Serra Tramuntana. The Serra Tramuntana is a mountain range that covers the whole western area of Mallorca. Many hiking trails start from Soller and take you to other close cities like Deia. If you are into hiking, this is the area you need to visit! 
During my research, I found out that Michelle Obama visited Soller during her summer holidays in 2017 and 2018! If the first lady is a fan, then it means it must be good, right?!
€€€: Hotel Jumeirah Port de Soller, one of Mallorca's most famous luxury hotels

€€: Casa Bougainvillea, stay surrounded by nature with views of the Tramuntana Mountains

€: Hostal Nadal, amazing value for money. This place proofs that staying in Mallorca does not have to be expensive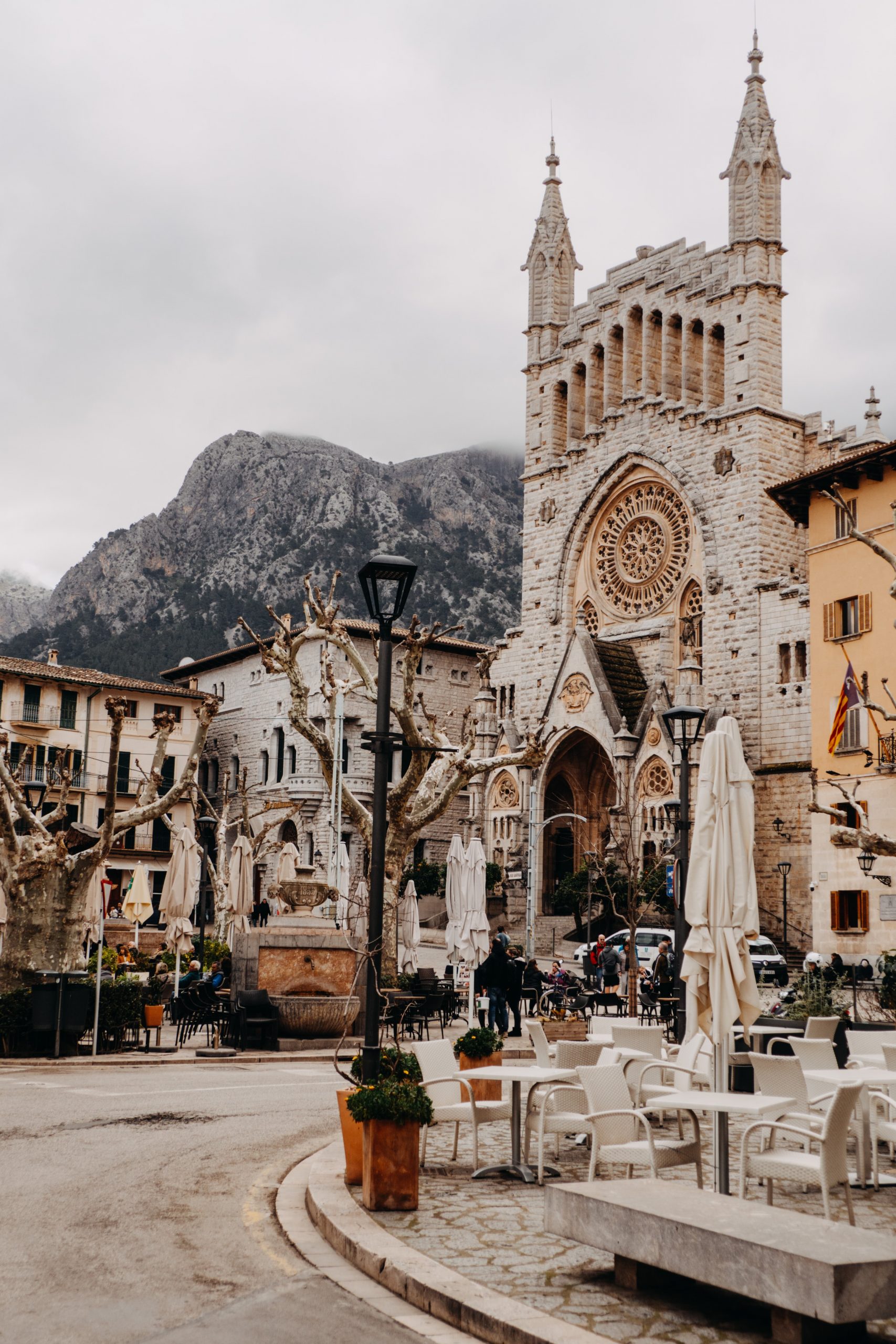 Stay in a boutique hotel in Artá close to the famous beach Cala Mesquida 
Artá is the perfect place to stay in Mallorca if you want to spoil yourself with a relaxing boutique hotel and be surrounded by nature. The Northeast part of Mallorca is famous for its peaceful nature and beautiful beaches. The most impressive beaches you have to visit here are Cala Mesquida and Cala Na Clara. My friend from Mallorca has called the latter one of her favorite beaches in Mallorca. So it must be good!
Even though Artá is a small town, you will definitely not get bored here. The sanctuary "Santuari de Sant Salvador" offers incredible views of the surrounding areas. By the way, the "Coves de Artá" is an incredible underground cave system that you can visit. If you are interested in doing a tour, you can find more information here.
If boutique hotels are not really your thing, don't start scrolling just now. The surrounding areas of Artá are popular for hotels in nature. No neighbors, no noise, just nature and the silence of Mallorca. Is that something that you are looking for?
€€€: Hotel & Restaurant Jardi D'Artá, a hotel located in a beautiful garden

€€: Hotel Can Moragues, perfectly located hotel in Artá for a good price

€: My Rooms Artá Adults, the perfect low-budget accommodation in Artá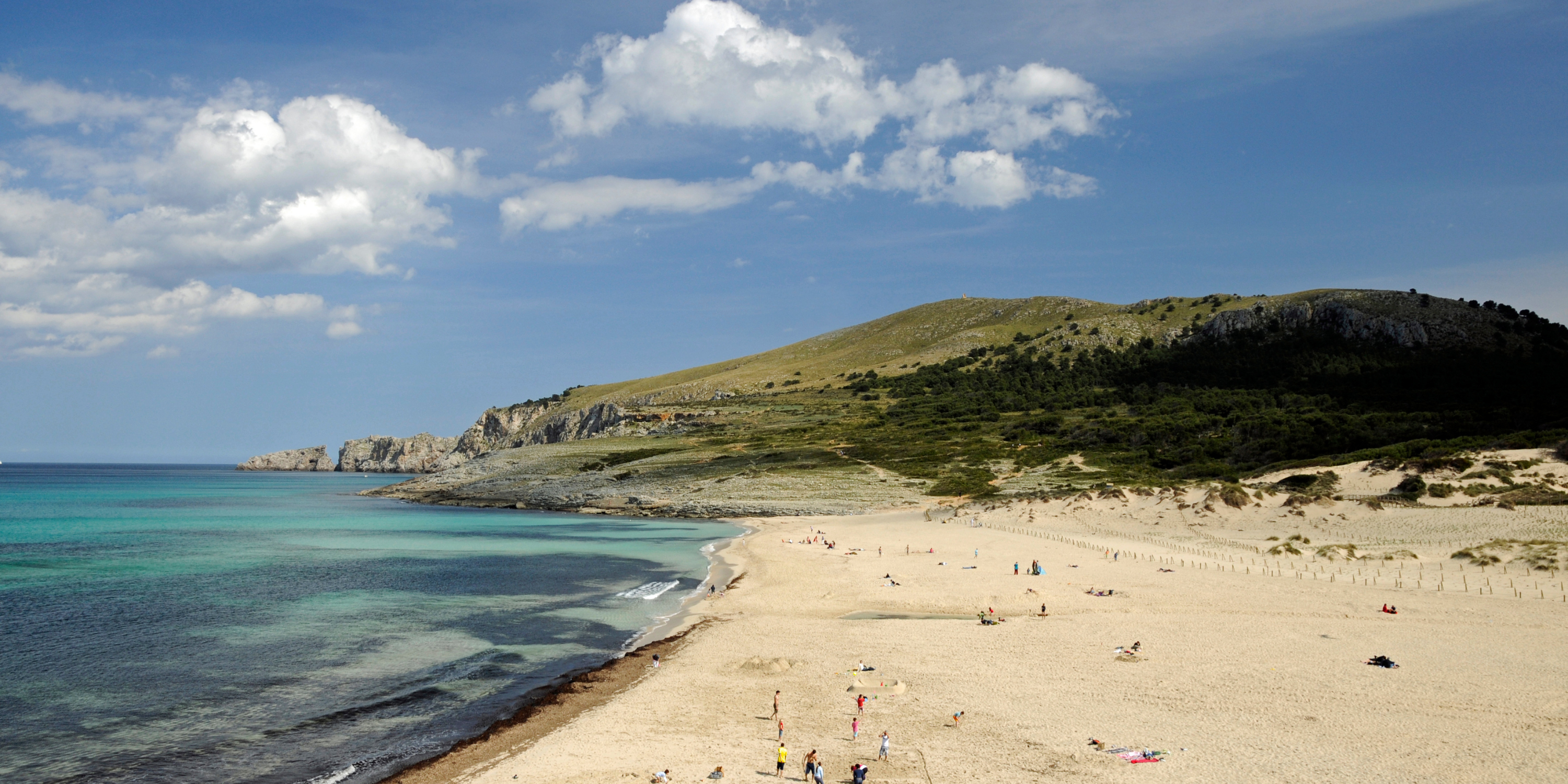 Where to stay in Cala Millor to enjoy the dreamy white sand beaches
Cala Millor is another family-friendly area of Mallorca. This area of Mallorca is famous for its wide and long beach of two kilometers with shallow waters. This area is also full of family-friendly resorts and all-inclusive hotels. Apart from that, it offers you will find many restaurants, shops, and clubs here. Close to the beach, we have several hiking trails that lead us to viewpoints in the South of the beach. 
This is one of Mallorca's oldest tourism areas that has been welcoming hotel guests since the 1930s. Nowadays, it is a true tourist magnet and has everything visitors could ask for during their stay in Mallorca. Even when it comes to nightlife you will not get bored in Cala Millor. During the day, there are different boat tours you can do that start from Playa Millor and take you to the nearest beaches and bays. The perfect area in Mallorca for a beach holiday!
€€: Hipotels Hipocampo Palace & Spa, a luxurious 5-star hotel for such an amazing price!

€€: Senator Cala Millor, a small and modern hotel right next to the beach. Check out these views!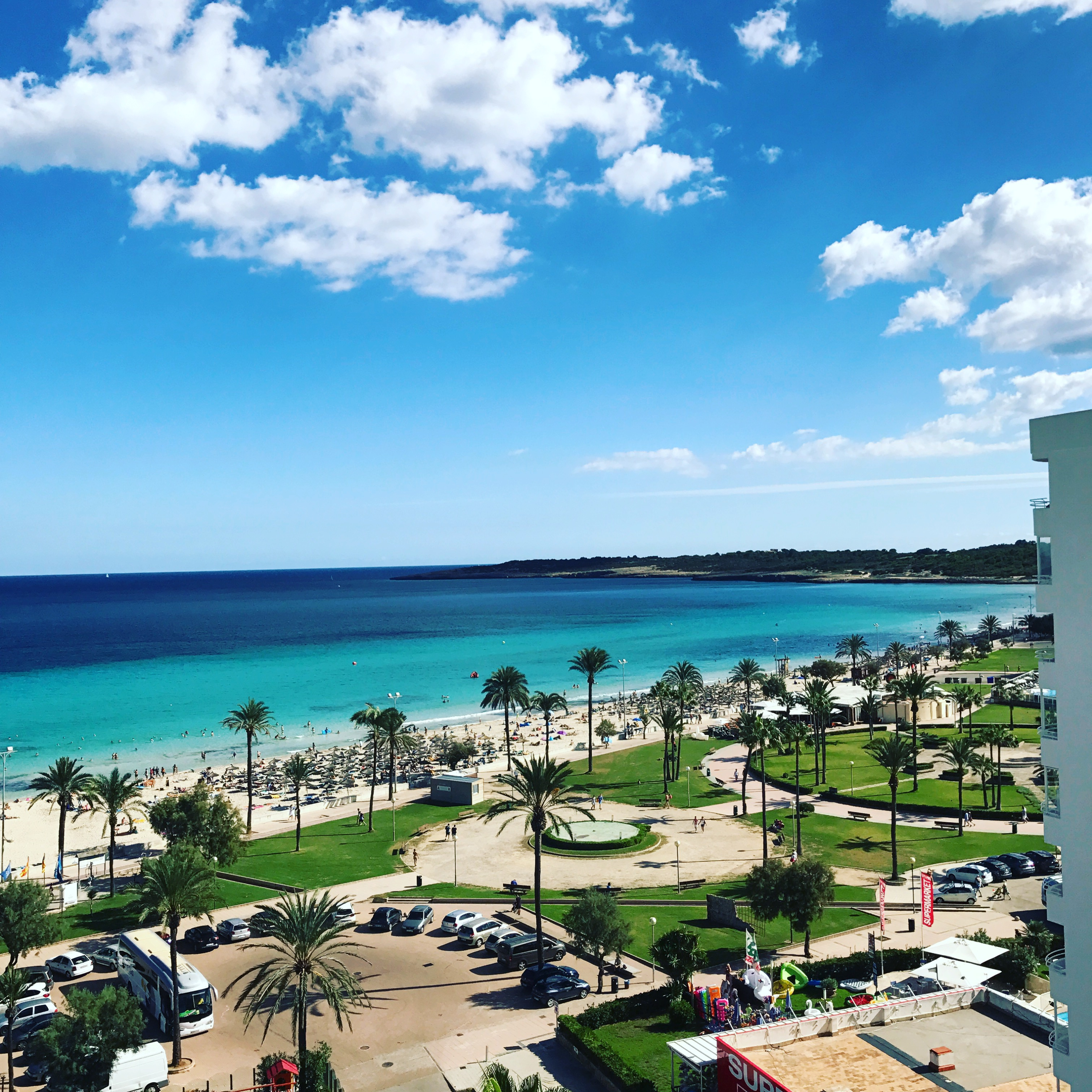 Accommodation in Colonia Sant Jordí in the South of Mallorca
Colonia Sant Jordí is still on my Mallorca bucket list because it is probably one of the best areas to stay in Mallorca. The South of Mallorca offers so many idyllic beaches and if you want to stay close to one of the best beaches in Mallorca, keep reading. Colonia Sant Jordí is a popular area in Mallorca due to its proximity to three turquoise beaches: Es Trenc, Es Carbó, Ses Roquetes, and Estanys. 
What used to be a traditional fishing village turned into one of Mallorca's most popular areas. Wherever you go in Colonia Sant Jordí you will always end up at golden sand beaches that do not seem to end. Compared to other areas of Mallorca, this is a rather calm area of Mallorca. You will find travelers from all age groups relaxing and enjoying their time at one of the beaches here. When it comes to accommodation in Colonia Sant Jordí, you will find something for every budget. If you want to spoil yourself at a world-class hotel, now is the time to do so!
€€€€: Spoil yourself at Fontsanta Hotel Thermal & Spa, a world-class hotel in Mallorca

€€€: Hotel Villa Chiquita, probably the most beautiful views you will find in Mallorca

€€: Mallorca's most instagrammable hotel: Villa Piccola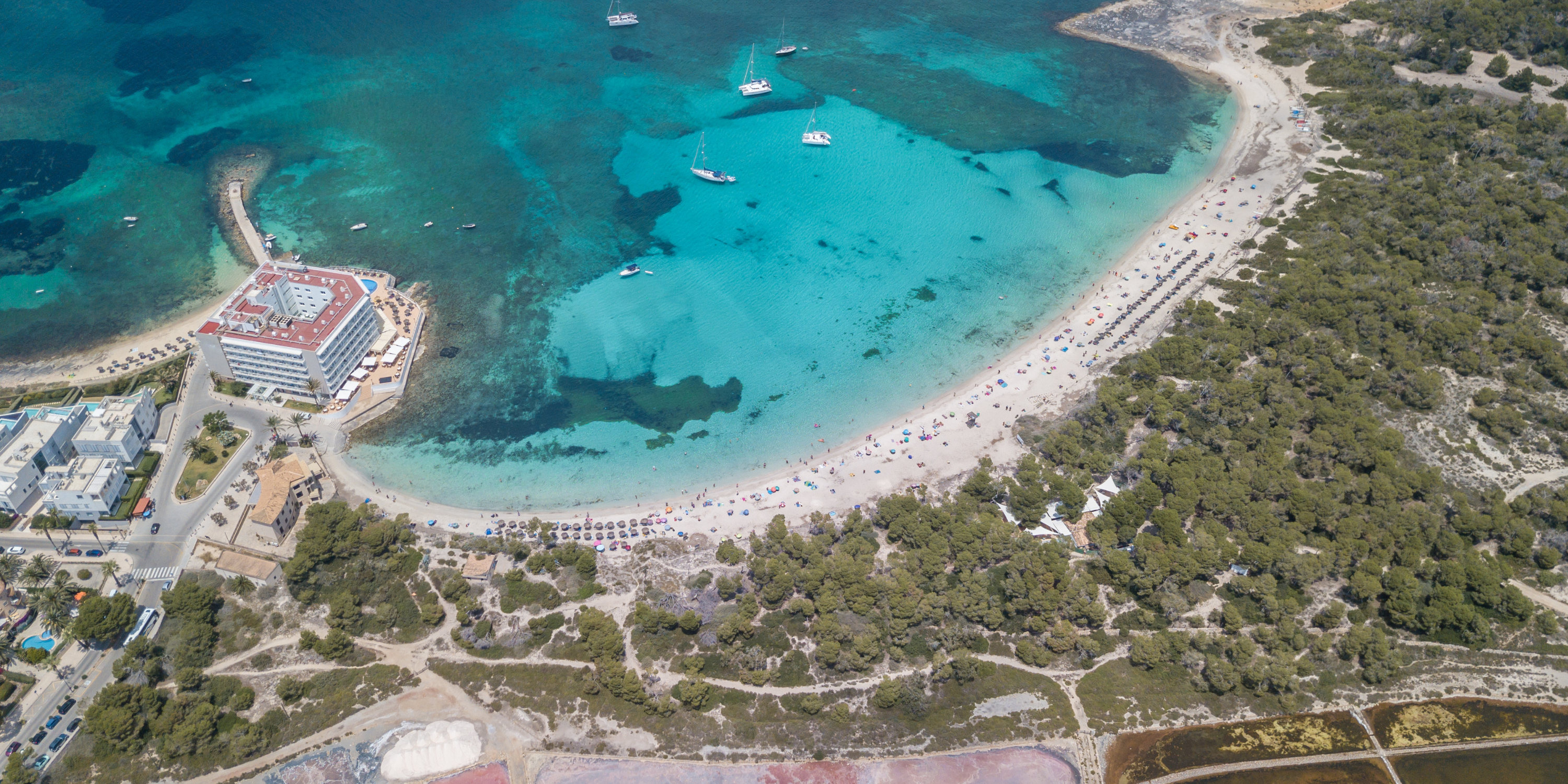 Best places to stay in Deiá, Mallorca's hidden gem 
Deiá is a fairytale town in the Western part of the island. This city is the perfect destination if you are looking for a quiet relaxing place close to nature. Deiá itself is very small but close to so many different places you can visit from here. 
If you are into hiking Deiá is the perfect place to stay in Mallorca. Many hiking trails start in Deiá and will show you the most beautiful nature that Mallorca has to offer. Cala Deiá is also very close which is great if you would like to stay close to a beach as well. Mirador Sa foradada, one of Mallorca's most beautiful sunset spots, is not that far from Deiá either. Make sure to check it out during the afternoon! As you can tell, even though Deiá is small it has so much to offer.
By the way, Deiá has attracted various artists and painters in the past. Once you will be here you will understand why: This city is one of the most dreamy areas of Mallorca. I promise you will not want to leave!
€€€: La Residencia in Deiá, located in a mansion from the 16. Century. Looks like from a fairytale!

€€: Hoposa Costa D'or, full privacy surrounded by Mallorca's nature. A dream hotel!

€: Hostal Villa Verde, the perfect location in the center of Deiá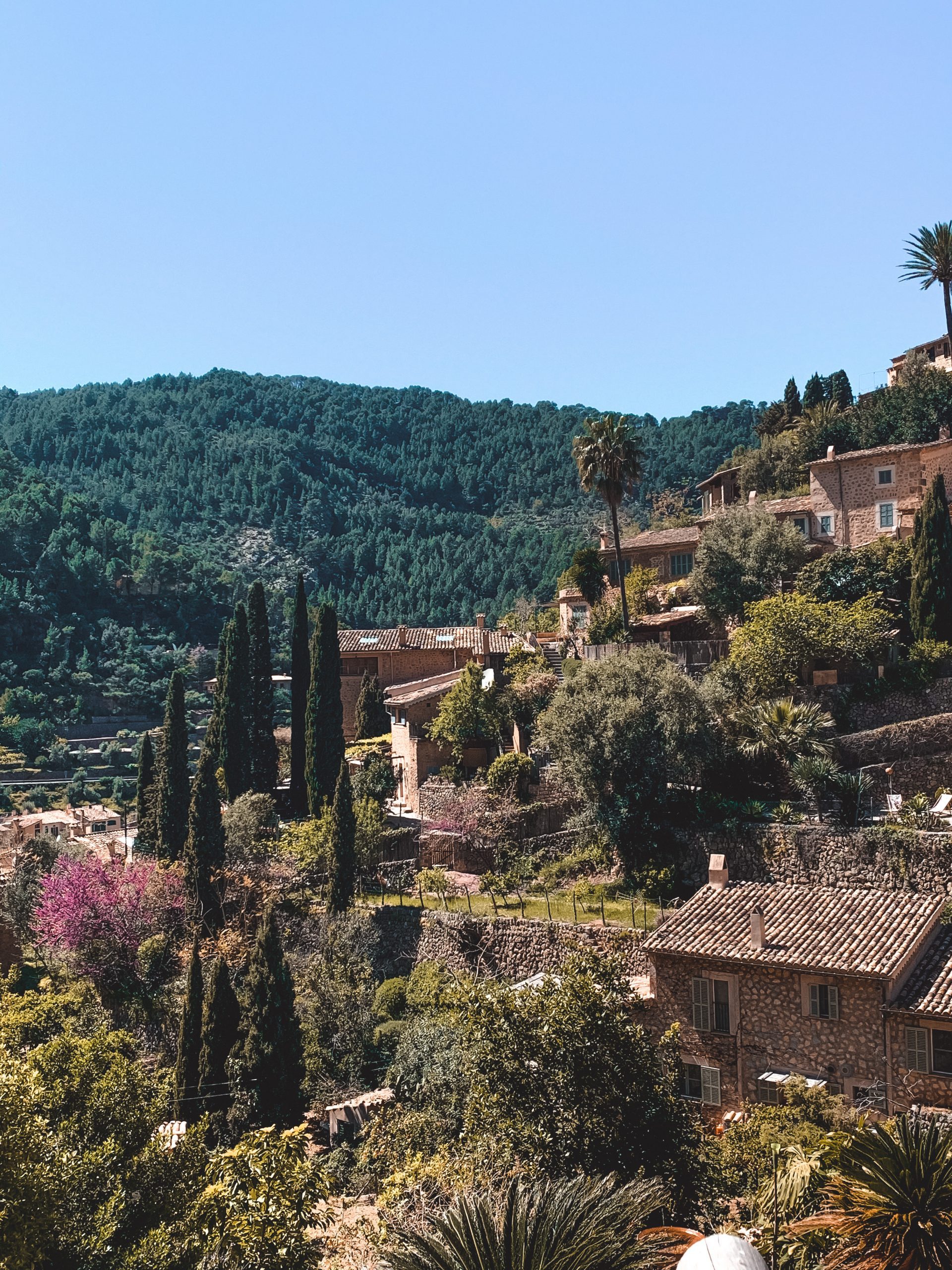 Best places to stay in Valldemossa, Mallorca's most beautiful town 
Valldemossa deserves its own paragraph in this blog post because so many sources name it as Mallorca's most beautiful town. And rightfully so! Valldemossa reminds me of a small fairytale town with romantic streets and colorful flowers everywhere. 
Valldemossa became famous after composer Federic Chopin spent his winter here in 1838/39. Chopin stayed in the Charthouse of Valldemossa which today is a very popular tourist attraction that you cannot miss. This area of Mallorca is not a hidden gem anymore! Nowadays, more than one million people visit Valldemossa every year. 
Apart from that, there are many outdoor activities you can do in Valldemossa, such as horseback riding or golfing. Since it is located close to the Tramuntana mountains, Valldemossa is also the perfect destination for a hike. This is definitely one of the best areas to stay in Mallorca, put it on your list!
€€€: Mirabó de Valldemossa, everything about this hotel is a dream: The interior, the historical building, the nature surrounding it!

€€: Enjoy complete privacy in Hotel Sa Vall, surrounded by nothing but mountains and nature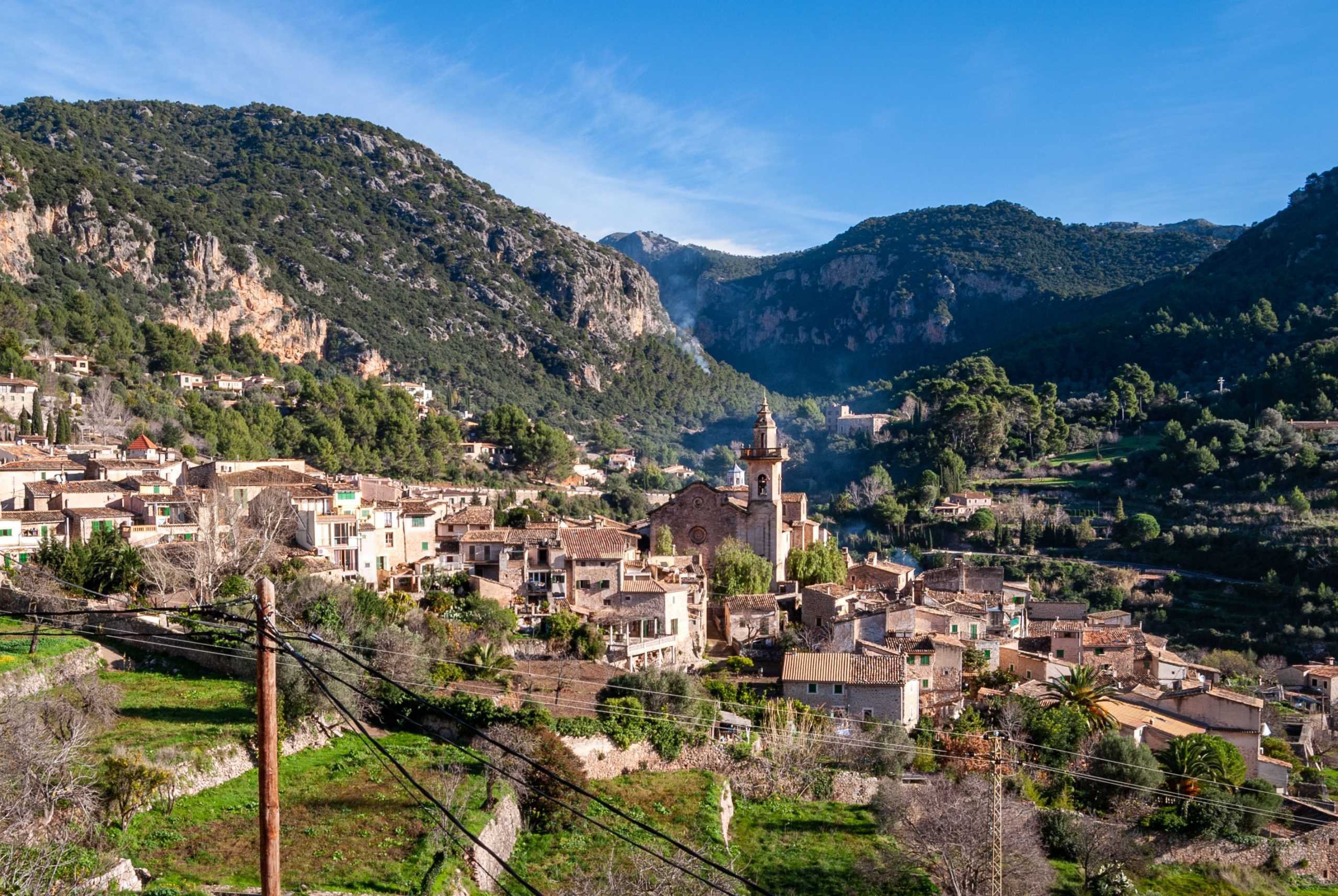 Relax in Banyalbufar, Mallorca's hidden gem
In case you have not heard about Banyalbufar yet, don't worry. Banyalbufar is a small village on the west coast of Mallorca surrounded by the Tramuntana Mountains that still feels very local as it has not gotten too much attention from tourists yet . That makes it the perfect hidden gem to add to your Mallorca bucket list. 
My friend from Mallorca told me that, in her opinion, this is the best area to stay in Mallorca. You have to visit Cala Banyalbufar, which is one of the most impressive beaches on the island. When it comes to restaurants, I really want to recommend Sant Tómas. The best paella we have had in Mallorca so far!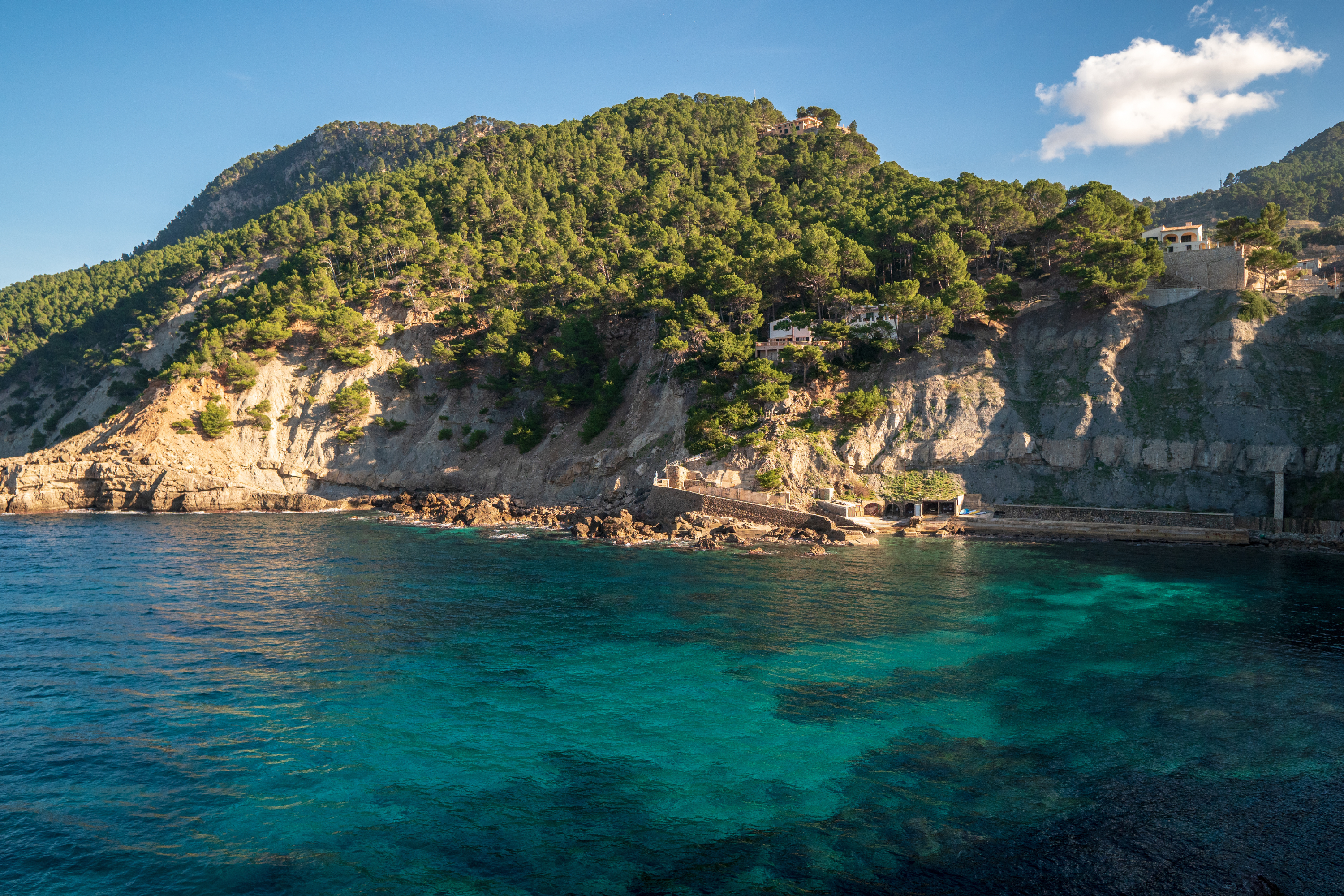 Once you reach Banyalbufar you will see something very unique that this area of Mallorca is famous for: the incredible wine terraces around Banyalbufar. Centuries ago a watering system was installed to keep these terraces alive which is still working to today. This area of Mallorca is famous for its Malvasia wine. If you have time, you should try out the local wines in a winery. And quite honestly, to me, it seems like such a unique place in Mallorca!
€€: Hotel San Coma, a small private hotel with views over the ocean and the Tramuntana mountains.

€€: Hotel D'Interior Ca Mado Paula. My mom's and my favorite hotel in Mallorca. The interior is so dreamy. Incredible breakfast as well!