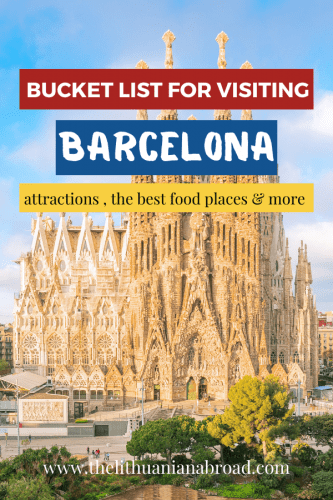 The first time I visited Barcelona, I was quite overwhelmed with the city. I felt like there were so many attractions, countless food places to choose from, so many museums, interesting tours and so much more! It seemed like it is so easy to fall into a tourist trap or end up at an overpriced restaurant, that turns out not to be authentic at all. Since my boyfriend lives here I regularly come to visit him. But after visiting Barcelona a couple of times, I think I finally got the hang of it. Now I can share my favorite places and the best attractions with you. This 'Barcelona bucket list' includes the most important spots I think you should visit during your stay in Barcelona. These are also the places I like to take friends to when they are visiting. Because, you know, I want to create a wow-effect when I show them around. So let's start! 20 Things you have to do in Barcelona:
This post is part of my Barcelona series. More posts that could interest you:
A self-guided walking tour itinerary for Barcelona: This blog post includes an itinerary for a walking tour around Barcelona. It includes Barcelona's most famous monuments and places you have to see. And it comes with an interactive map you can download & display on your phone.
14 famous buildings in Barcelona you should know about: This post includes 14 world-famous buildings in Barcelona. We will talk about Barcelona's famous Gaudí buildings and other monuments.
10 hidden gems in Barcelona: This guide includes places in Barcelona most tourists miss. Check this guide out if you want to explore Barcelona off the beaten path and avoid the touristy destinations.
12 Things to do in Barcelona at night that aren't just partying: Check this guide out for activities you can do in Barcelona in the evening. From Flamenco Shows, Cocktail bars to night tours. Barcelona is a city that never sleeps!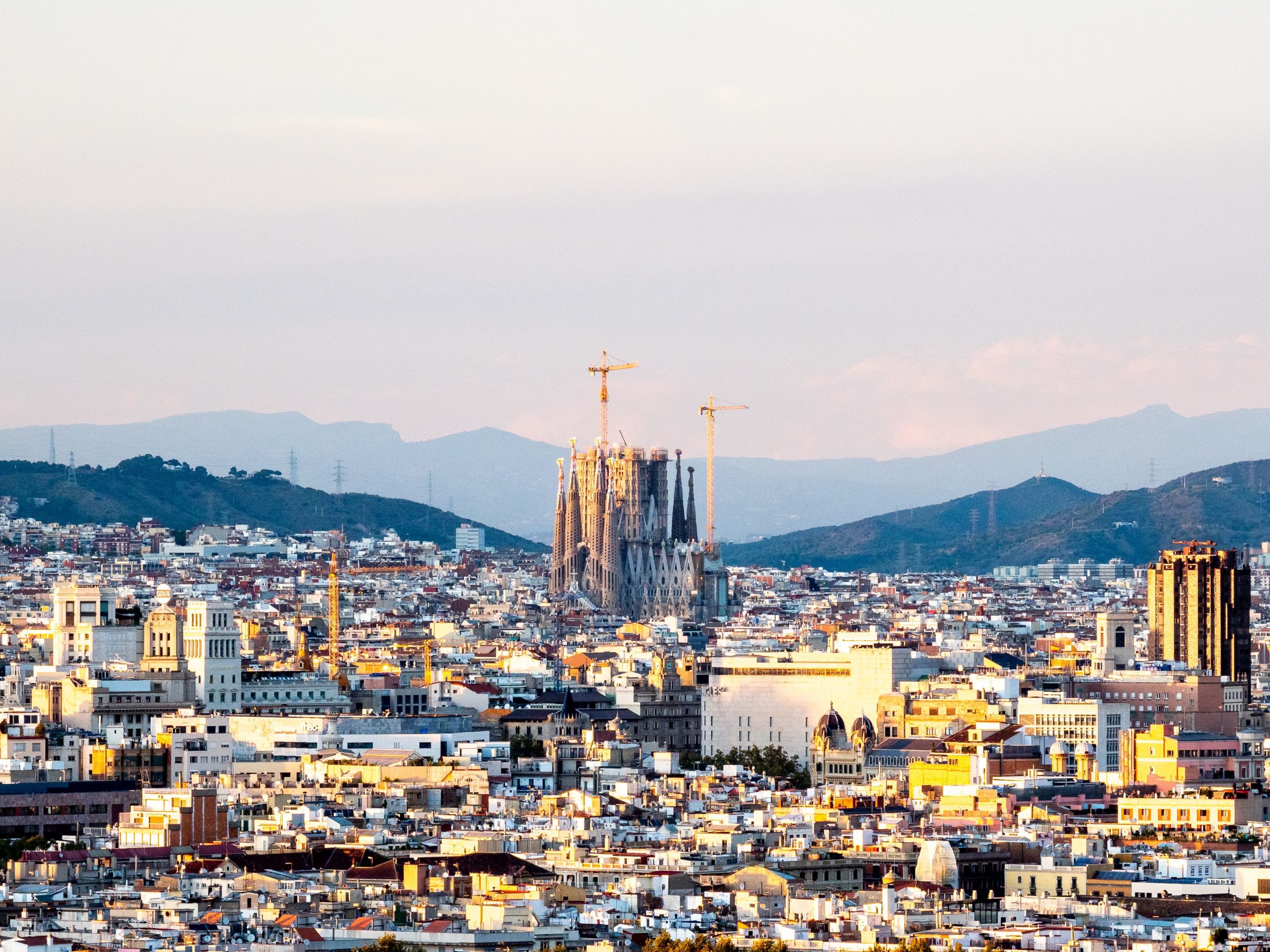 What are the best places to stay in Barcelona for all budgets?
Here, I leave you a couple of recommendations for where to stay in Barcelona. For all budgets, of course:
This is one of the best lower-price options that I could find. The location is incredible! You will be in the heart of the city and will not have to worry about public transport or cabs. And if you like, you can just rent a bike at the hostel. For that price, this place is unbeatable!
An affordable hotel with a terrace with views of La Sagrada Familia? Yes, that is what this place is. The interior looks very modern and clean. And wow. Check out the terrace. It has a rooftop pool with a bar and incredible views.
This hotel just wins when it comes to location, interior design, and terrace. Basically everything. It is close to La Barceloneta and offers anything you could wish for in a hotel in Barcelona. The perfect option if you would like to spoil yourself during your Barcelona trip. (Check out that bathtub inside the hotel bedroom!)
Make sure to go on a free walking tour in Barcelona:
Free walking tours are the best activity to get to know a city you are visiting for the first time. These tours are super helpful to learn more about Barcelona's culture and history in only one afternoon. The best part of free walking tours is the local guides who do an amazing job showing you the city through the eyes of a person who lives there.
How do free walking tours work? Free walking tours do not come with a fixed price, so they are free. You will spend a couple of hours walking around Barcelona with your local guide. You will learn a lot about Barcelona and you get the chance to ask your guide for recommendations or other things to do during your stay. At the end of the tour, you have the chance to give your local guide a tip. And how much you would like to tip them is totally up to you! Usually, it depends on your budget and on how much you actually liked the tour.
You can find all free walking tours in Barcelona here.
Want to see all the monuments in Barcelona but you don't have much time?
I always tell everyone about the hop-on-hop-off buses in Barcelona. They are perfect when you want to see all the important places in the city, but do not have time to walk everywhere. How do these buses work?
These red buses drive around the city in a circle where they stop at designated bus stops. With your ticket, you can just get on the bus and leave the bus once you arrive at your desired destination. Those stops are usually right next to the most important attractions of a city, in this case, Barcelona.
Hop-on hop-off buses are also perfect when you travel with people who do not want to walk so much. My mom loves taking these buses every time she travels. And she always tells great stories about it. By the way, they have audio guides in various languages so you still learn about the city, even when you do not speak the local language.
You can get your ticket online here.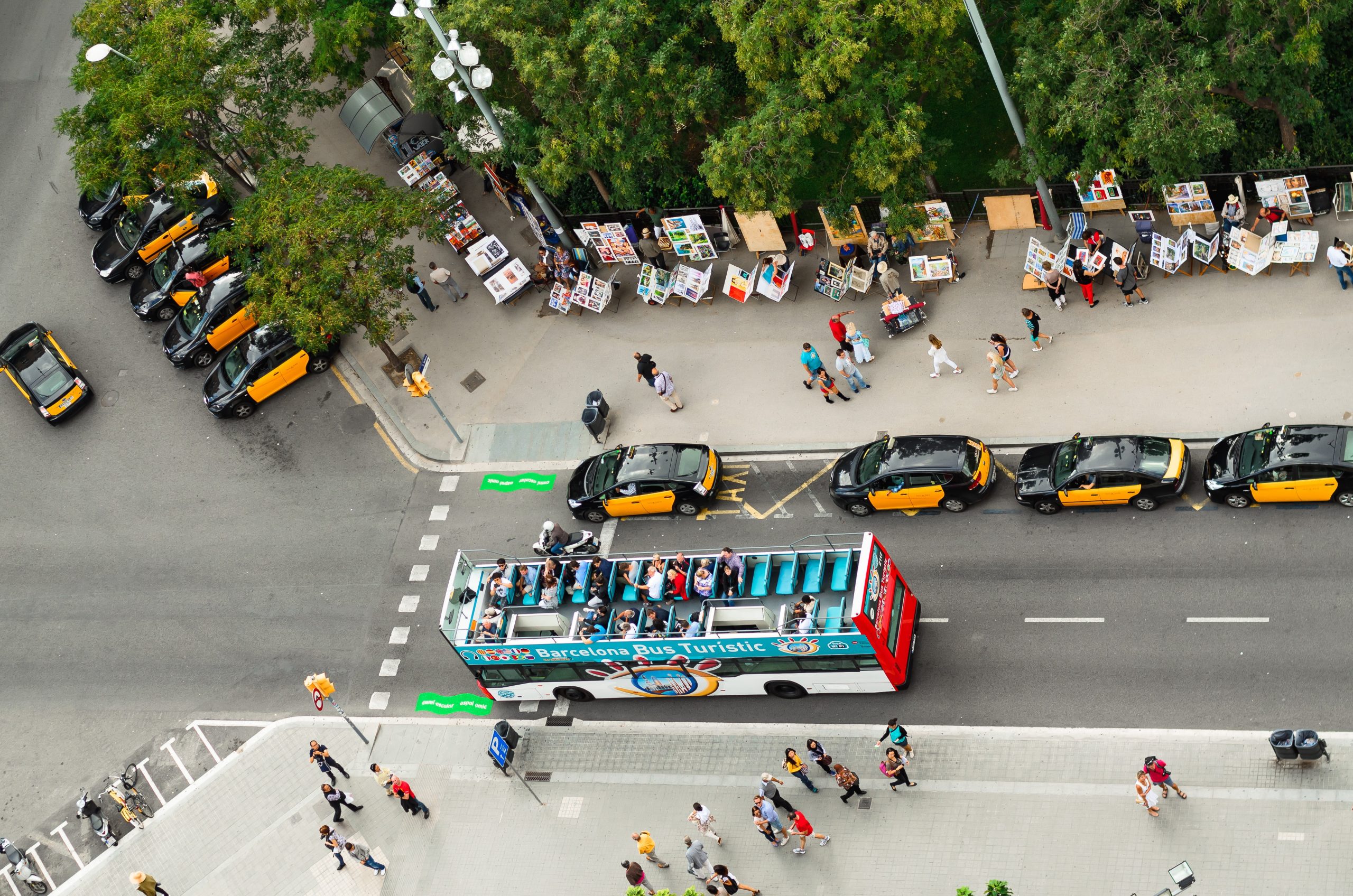 Enough bla bla: Your Barcelona bucket list with the best attractions and monuments to visit
1. Let's start with the obvious: Admire 'La Sagrada Familia'
No surprises here! Of course, you HAVE to visit the Sagrada Familia (full name: Basílica i Temple Expiatori de la Sagrada Família) during your stay in Barcelona. This majestic building will just leave you speechless, I promise! As you might already know, the construction of the Sagrada Familia began in 1882, but until now, Barcelona's most famous landmark still remains unfinished. Previously, it was planned to finish construction in 2026, which would be the centenary of Gaudí's death. But due to the, the end date is postponed again.
I would highly recommend seeing the Sagrada Familia from the inside. I understand if you do not want to spend a lot of money on many attractions in Barcelona, but this is the one you should not miss. Book your tickets online, so you can skip the line and admire Spain's most famous monument from the inside!
By the way, I will tell you my favorite place to have a view at the Sagrada Familia: The rooftop terrace of Hotel Ayre Rossellón. You have to make a reservation in advance here. The entrance is free, but you have to order a drink/food.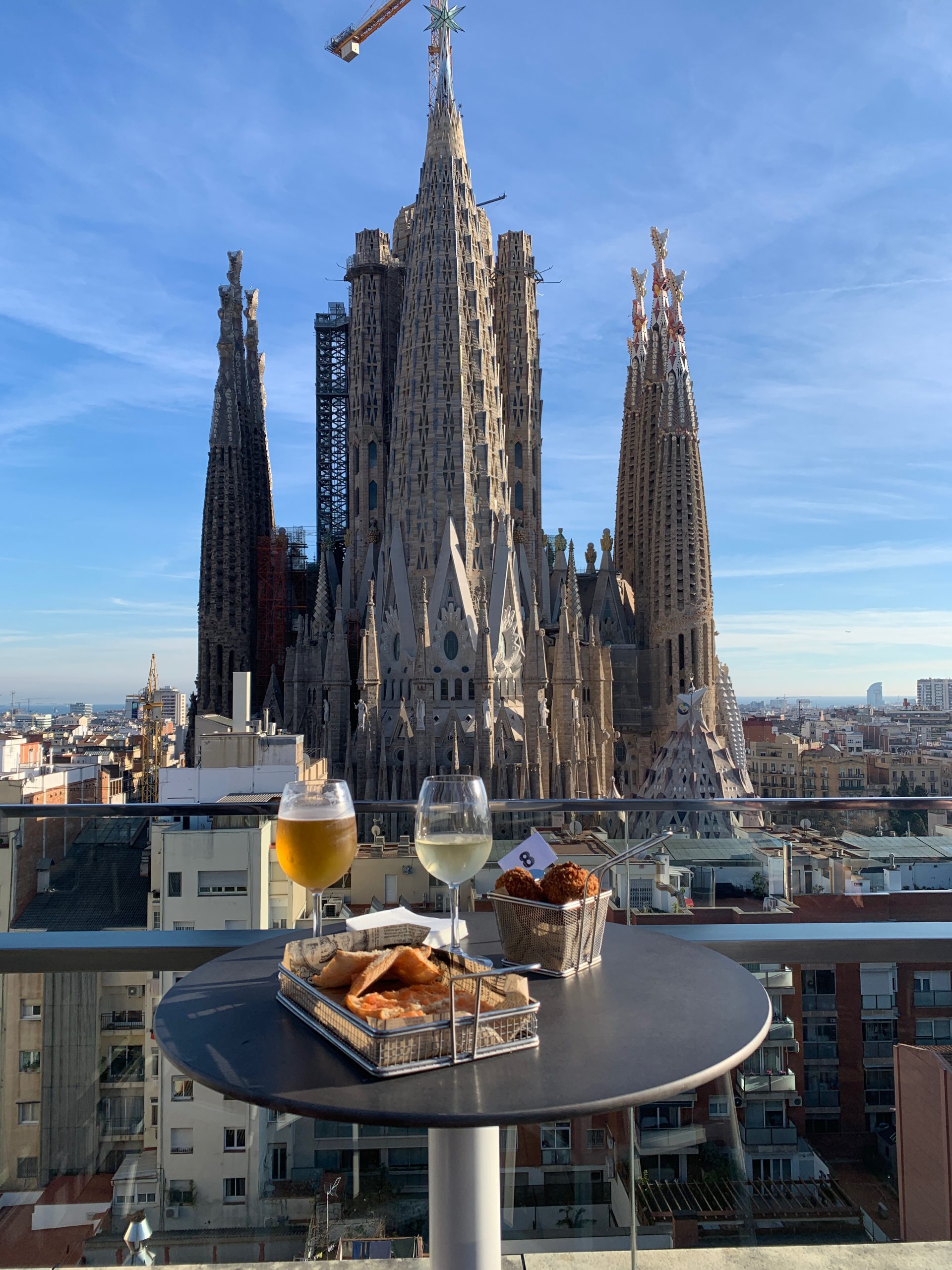 2. See more Gaudí buildings: Casa Milá and Casa Batlló
If you have already gone on a walk around Barcelona you probably have seen Casa Milá and Casa Batlló. Those are two more buildings designed by the one and only Antoní Gaudí at the beginning of the 20th century. Both of these buildings have a very unique design. But it does not stop there!
You can go inside and see how Gaudí designed the interior of the buildings. Unfortunately, the entrance for both buildings is quite expensive. If you still want to see one of them I will help you decide: Casa Mila is famous for its beautiful rooftop and the entrance costs 25€. You can book your fast-access ticket here. If you would like to see the interior of the buildings, Casa Batlló might be the better choice. There, they let you see almost all parts of the building. Book your ticket with an audio guide here.
Now, you have seen two more of Barcelona's UNESCO world heritage sites. Did you know Barcelona has 9 in total?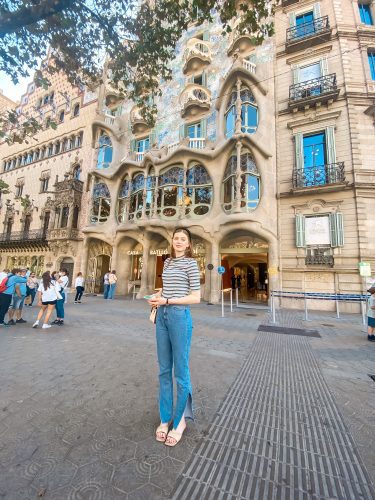 3. Explore Park Güell, Barcelona's most beautiful park
Park Güell is probably one of the most beautiful places in Barcelona. And another one of Gaudí's masterpieces to cross from your Barcelona Bucket List. The park is located a bit further away from the city but it is definitely worth going there.
Not only can you escape the loud city for a bit, but you can also admire Gaudí's mosaic work that is famous in this park. Then, you get to see the beautiful buildings that are full of mosaic tiles and walk around the beautiful nature. Park Güell is also home to the Gaudí House Museum. Book your entry ticket here.
By the way, if you want to do a self-guided walking tour of Barcelona, I got you! You can find my Barcelona walking tour here, which includes the city's most famous attractions and monuments.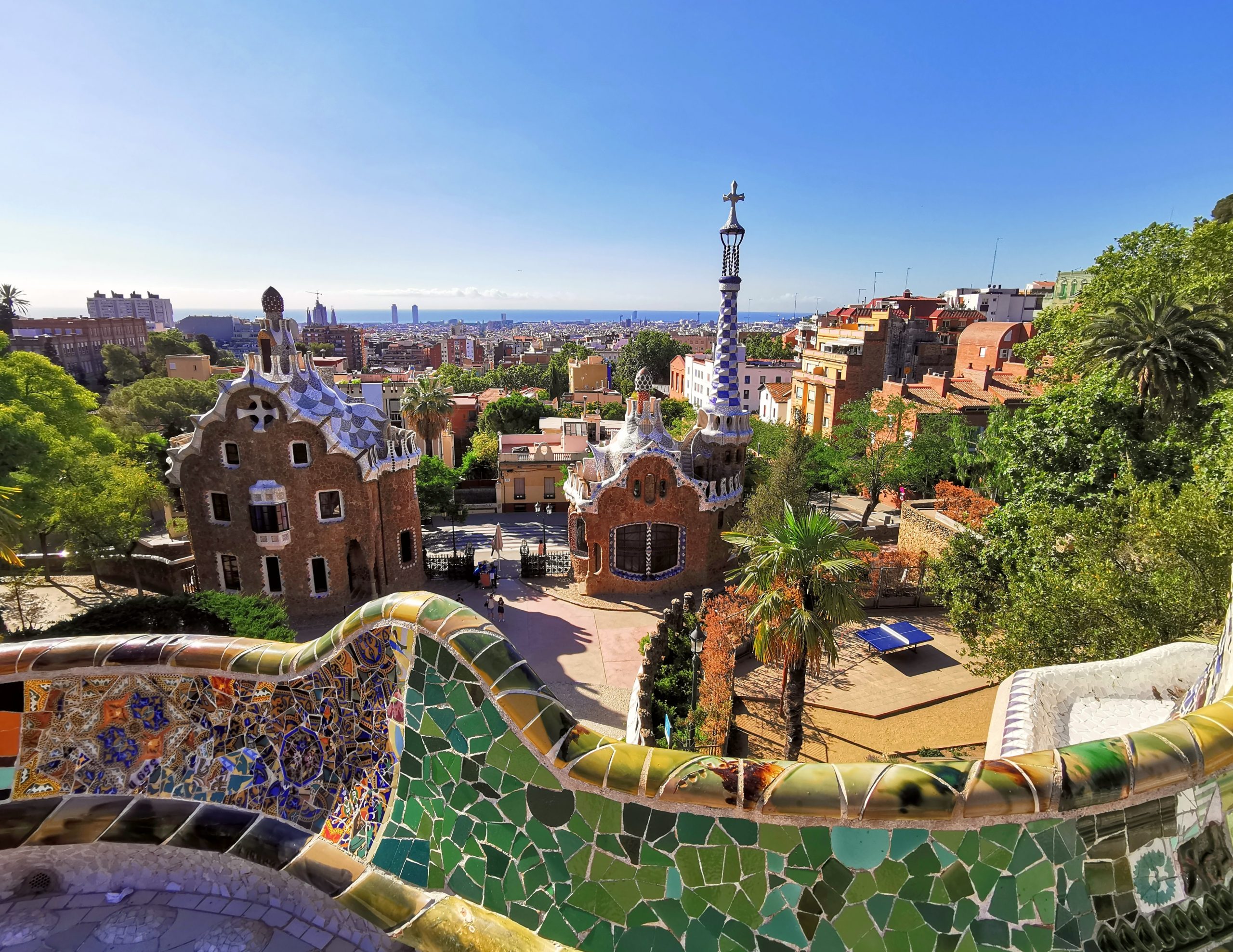 4. Go on a Tapas tour and try delicious food in Barcelona
Of course, you will get the chance to eat incredible Spanish food during your stay in Barcelona. Food will be a huge part of your trip, which is why I want to recommend going on a tapas tour in Barcelona. I have been the biggest fan of tapas tours and always recommend visitors to go on one! I have been to tapas tours in Madrid, Granada, Bilbao, and Barcelona and I have always had an amazing time.
During these tours, a local guide takes you to several local bars in Barcelona so you get to try different tapas, wine, and vermouth. Your local guide will explain everything you need to know about Spanish food and show you Barcelona's hidden gems when it comes to gastronomy. That way, you already know the best places to eat in town and can come back at a later time if you wish. Every time I have done these tours before, they were always the highlight of my trip!
Make sure to not eat before these tours! There will be so much food. You can find more information about these tapas tours here. The ticket price usually includes food and drinks at four different bars/restaurants.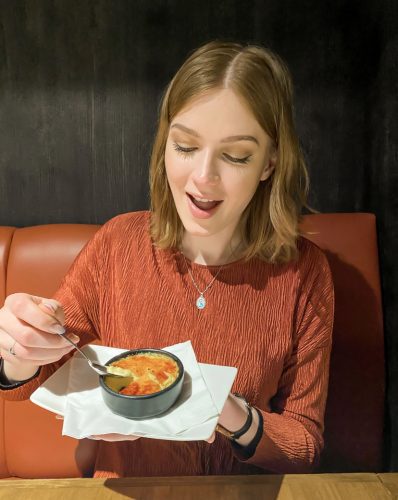 4. Walk around Passeig Maritim and enjoy the sea breeze
Passeig Maritim is the perfect destination for a nice afternoon walk. It is a beautiful promenade right by the beach of Barcelona that starts right at the port and goes right to Poblenou. I feel like it is not too long so you can walk to the end and back without any problems.
This walk is amazing because, first of all, you get to walk along the beach the whole time. Then, you will pass by people playing Volleyball (Maybe you would like to join?), skateboarding, or playing spike ball. I would recommend going to the beach for a workout, for a picnic, or just having a little snack at one of the beach bars. There are so many areas to just sit down and enjoy the breeze and take in the beach views. I am sure you will love this place!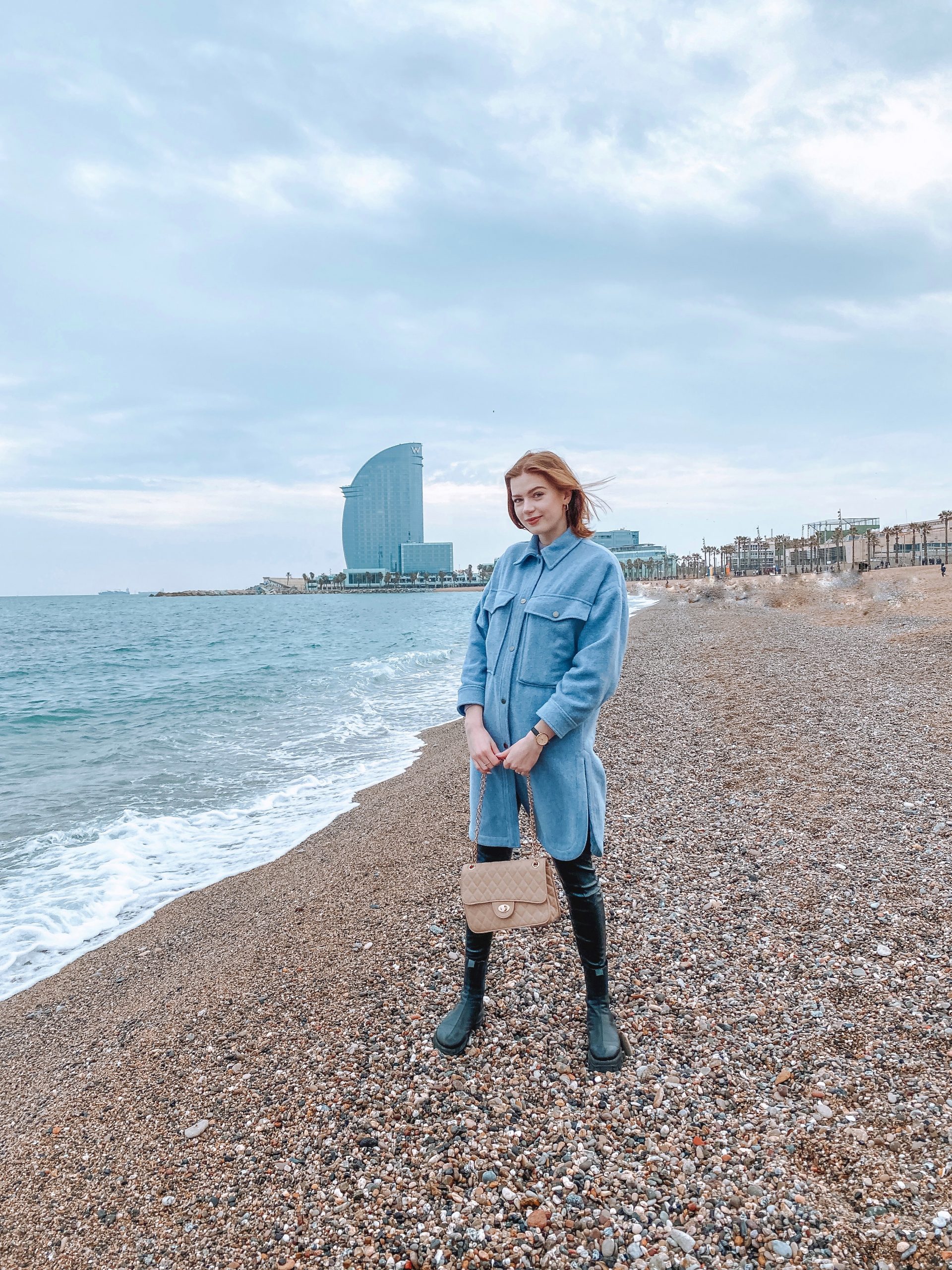 5. Do a boat tour by the beach of Barcelona!
I feel like doing a boat tour is going to give your Barcelona trip a special touch. Of course, walking down la Barceloneta is already super fun. But, how about improving this experience with a short boat tour? I found this boat tour on 'Get your Guide' that currently is still on my Barcelona to-do list. And before you scroll down because you think it's crazy expensive: A catamaran tour of one hour only costs 12€!
Yes, you heard right! This tour starts right next to the Christopher Colombus monument in Barcelona. The boat departs at Port Vell and takes you along the coastline. That way you can see the beautiful skyline of Barcelona from the water and admire the huge yachts at the port. The boat even has a bar where you can purchase drinks. Having a glass of wine while looking at Barcelona from the water sounds like the ultimate experience to me.
6. Go on the rowing boats in Parc de la Ciutadella
Parc de la Ciutadella is a very beautiful park close to the neighborhood of El Born. It is one of Barcelona's biggest parks and a very popular meeting spot for locals and tourists. A great opportunity to relax outdoors in Barcelona!
The highlight of this park is the "Cascada del Parc de la Ciutadella", a beautiful monument from the 19th century with golden decorations and a waterfall. I will tell you something that many people do not know: You can rent little rowing boats at the lake of Parc de la Ciutadella. I feel like this is the perfect idea for a romantic afternoon or just for having fun with your friends!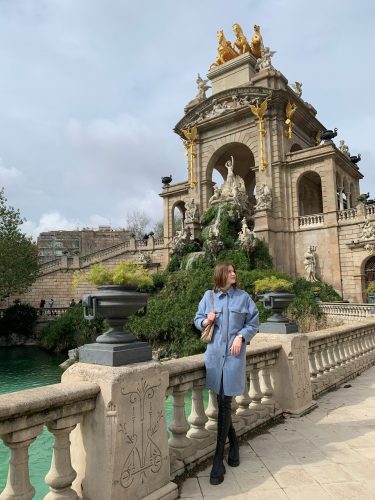 7. Walk through the "Arc de Triomf"
This majestic monument is right next to the Parc de la Ciutadella. It was built as the main access gate for the Barcelona World Fair in 1888 and connects the promenade of Passeig de Lluís Companys with the Parc de la Ciutadella. This promenade is a really lovely walk and you will find many street performers there.
Once you come close to the arch take a look at the detailed design of the monument. The upper part of the arch shows the coats of arms of Barcelona and all Spanish provinces. Can you see it?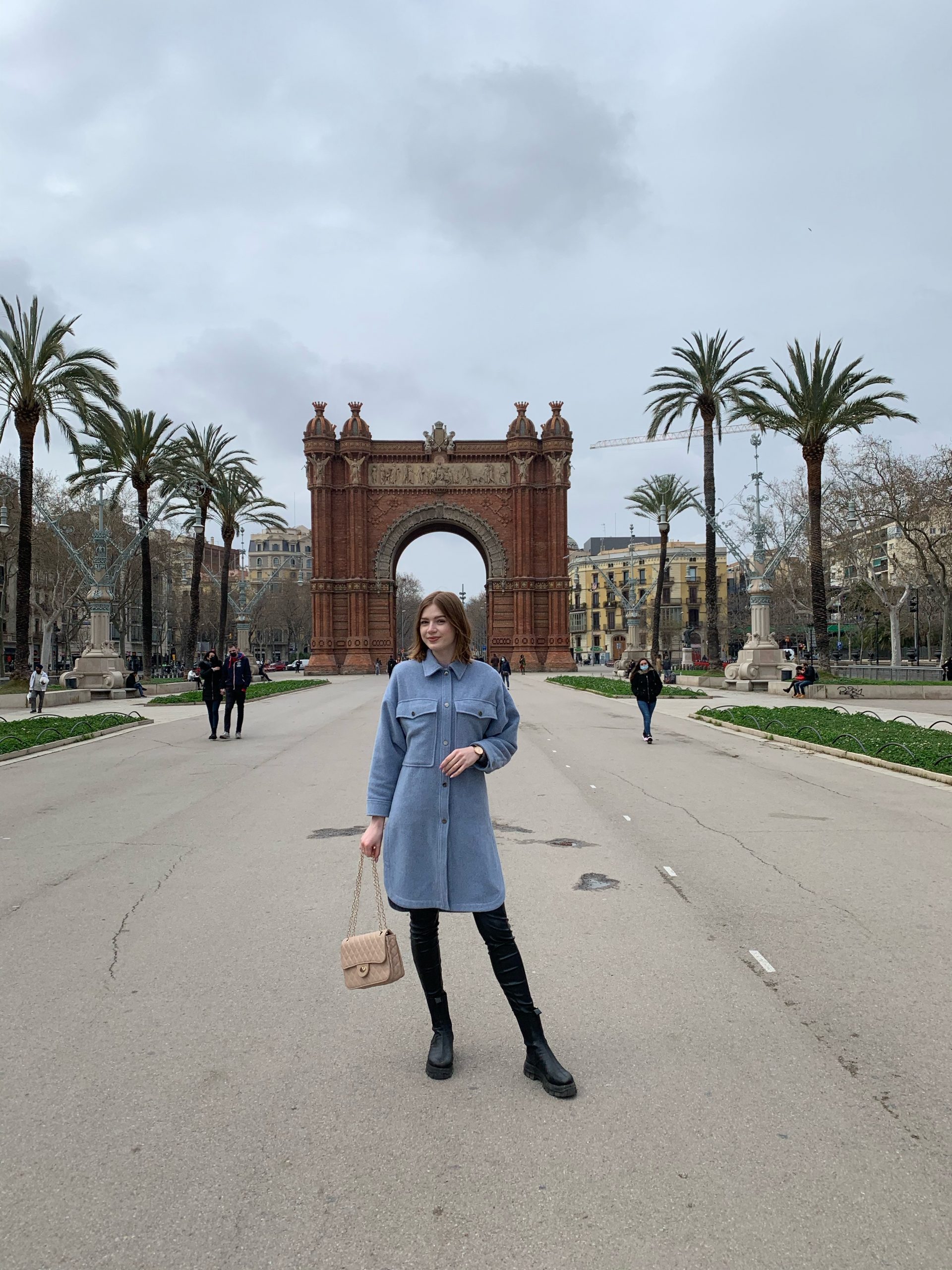 8. Check out the magical water fountains at Montjuïc
Montjuïc is a hill in the southwest of Barcelona. The name "Montjuïc" means "Jewish Mountain" in Catalan and it used to be the home of the Jewish community of Barcelona. Nowadays, it is one of the most popular areas of the city. And when you come here, you have to check out the following things:
Wait for the sunset: Montjuïc is a very beautiful sunset place. If you get to be there during the evening make sure to check the beautiful views from the top of the hill.
National Museum of Catalán Art: This museum shows a timeline of Catalan Art. You will find paintings, sculptures and engravings by artists like Picasso, Gaudí or Ramon Casas
Magic Fountain: Hundreds of people gather during the evening in summer to see the beautiful musical performance of the Magic Fountain. Here you can check when the next performances take place (completely for free!)
Poble Espanyol: 'Poble Espanyol' means 'Spanish Village' in Catalan and is a beautiful recreation of an Iberian village using the traditional architecture of Spain. Very recommended!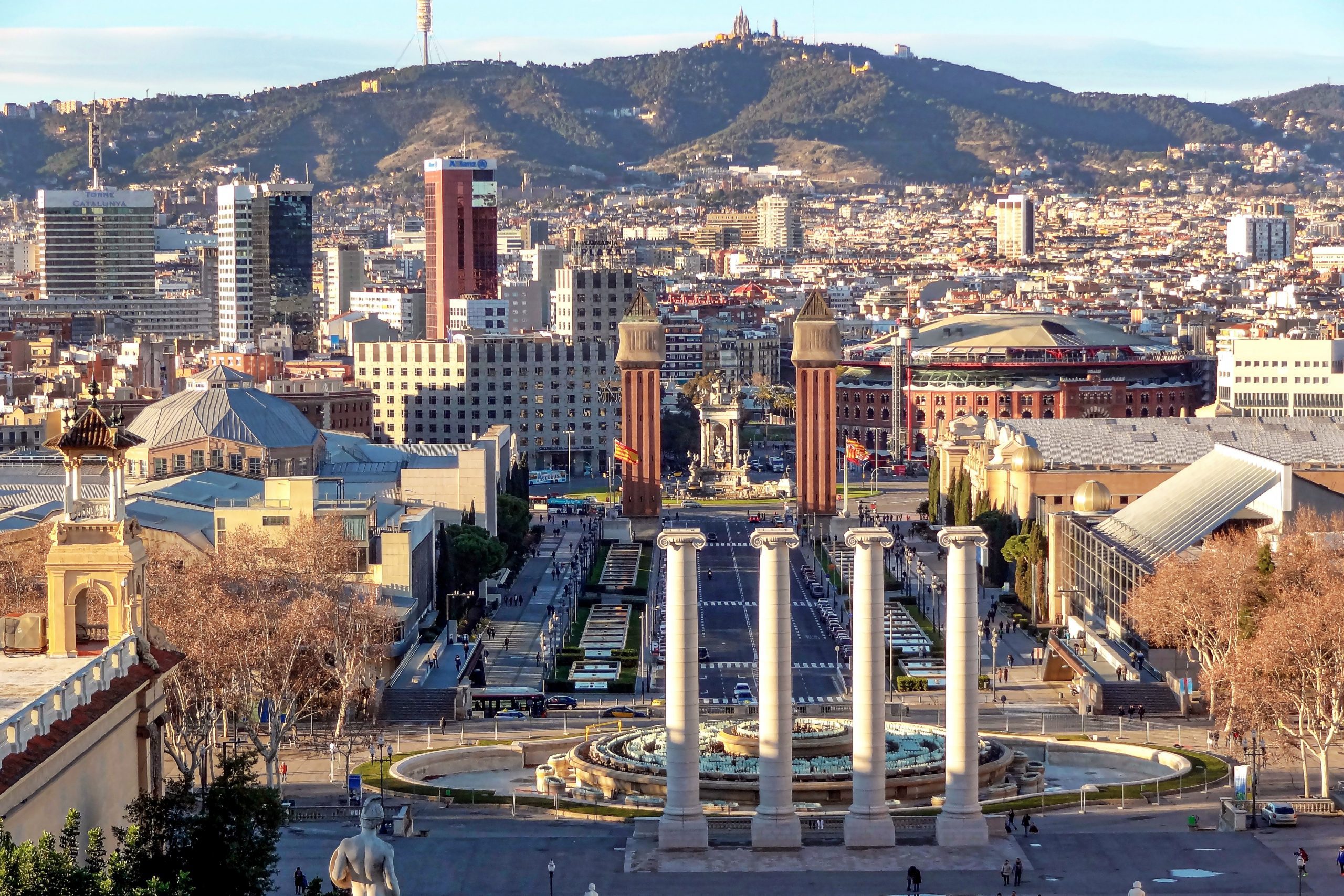 9. Try Spanish Tapas at Ciutat Comtal
Ciutat Comtal is one of my favorite tapas places in Barcelona. Their menu changes quite often depending on the ingredients they currently have available. It is very popular and gets crowded fast. So I would advise going during the week. Their whole menu consists of small-medium-sized tapas. Perfect, if you want to try different Spanish dishes and eat your way through their menu!
I absolutely love their patatas bravas and ALL of their desserts. Make sure to try their "torrija" and "crema catalana." So tasty!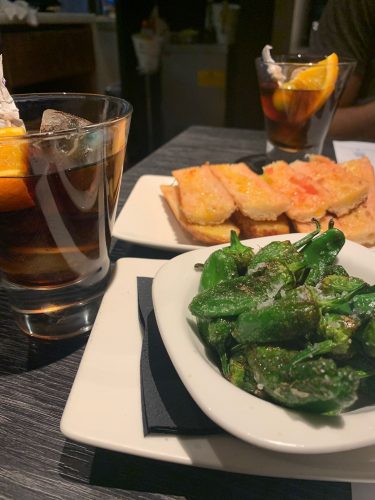 10. Check out El Nacional, Barcelona's famous food hall
El Nacional is another item on your Barcelona bucket list that you cannot miss. It is a huge food hall that includes several restaurants. When I went there in December the whole place was decorated with Christmas ornaments and thousands of Christmas lights. It looked absolutely magical. El Nacional is full of history and has seen a lot since it was built in 1889. Initially, it was constructed to be a café-theatre, later to be converted to a fabric-dye factory. At some point, it was a car dealer's shop and even a garage!
Today, it is one of the most iconic places in Barcelona. If you feel like having a quiet night with a glass of wine and amazing Iberian tapas, this is your place to go.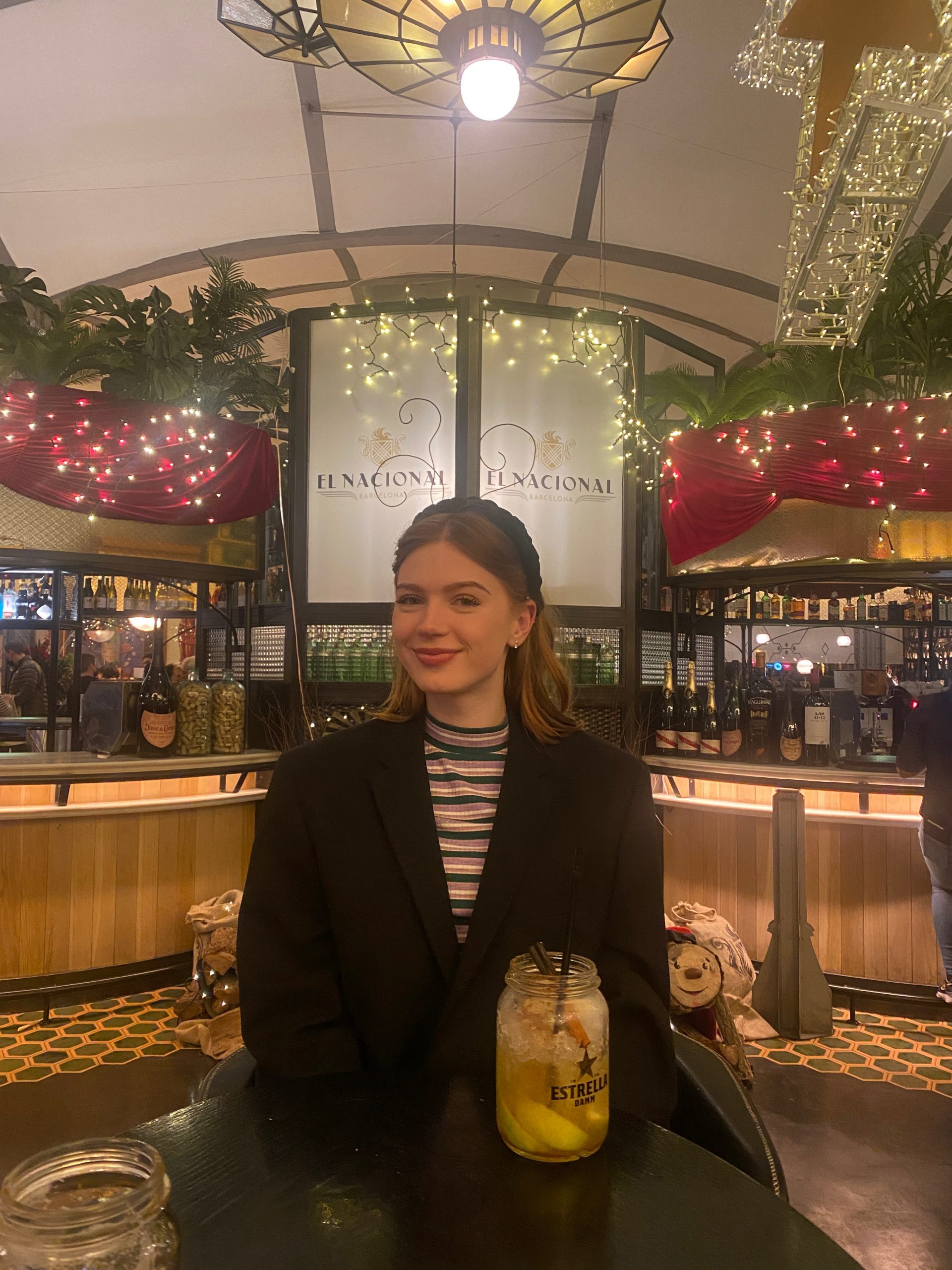 11. Admire Catalonian Art in the Museo de Arte Nacional de Cataluña
I hope you enjoy going to museums just as much as I do! Yes? In that case, Barcelona is a perfect choice. There are countless interesting museums all over the city. But here is one I really recommend going to the National Art Museum of Catalonia.
It is located in the Palau Nacional on Mount Montjuïc. So the perfect opportunity to have a look at it while you are already in Montjuïc. Now about the museum: It offers very detailed art collections of Romanesque, Gothic, Renaissance, and Modern Art. You will find art pieces by known Spanish artists like El Greco or Tiziano.
And if you are not an art fan, but would like to see the Palau Nacional from the inside, you can access it without paying anything.
12. Go to La Plata, one of Barcelona's oldest tapas bars
We recently found this gem in the streets of El Born. This tapas bar is so beautiful and authentic, that I think it is a MUST to visit it during your stay in Barcelona. La Plata is one of Barcelona's oldest tapas bars and has been open to the public since 1945. The special thing is that they still serve the very same tapas they had in 1945: Olives, fried fish, salad, pan con tomate, and anchovies. The interior is decorated in a very authentic way. I am sure you will love it. And you have to try their vermouth, it tastes incredible!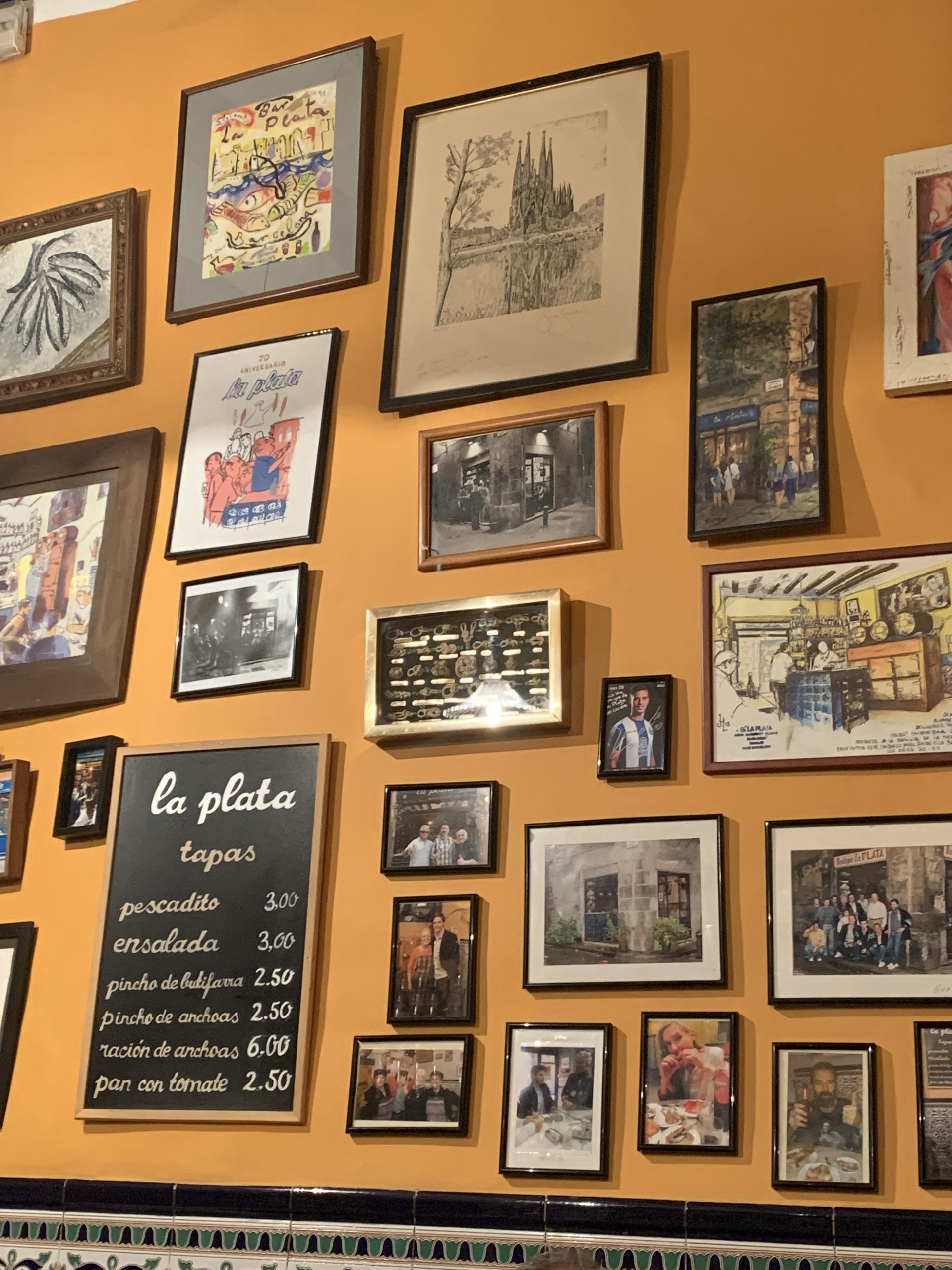 13. See the biggest art collection by Picasso at the Museo de Pablo Picasso
You probably already know that Barcelona is a great destination for art lovers. We already know Barcelona is famous for Gaudí, but it does not stop there. If you are interested in modern art I would also suggest you check out the Pablo Picasso museum in Barcelona.
It shows more than 4.000 pieces of art by Picasso, especially from his younger years. If you buy your ticket online, you will not only be able to skip the line, but it also includes a guided tour.
14. Enjoy World-Class Cocktails in "Dr. Stravisky"
Barcelona offers a huge variety of world-class bars, and here I really would like to recommend you "Dr. Stravisky". Simply, because it is a different experience than just going to any other cocktail bar. Their interior was decorated in such detail to make it look like a dark, old chemistry lab which gives it a very unique vibe. When it comes to drinks, they do not offer you just any basic cocktail, but only serve their own creations.
Check out their menu, which describes each cocktail in a very detailed way. Our favorite cocktail was "Camp Nou". And make sure to look at the waiters while they are preparing the drinks. It's a whole art!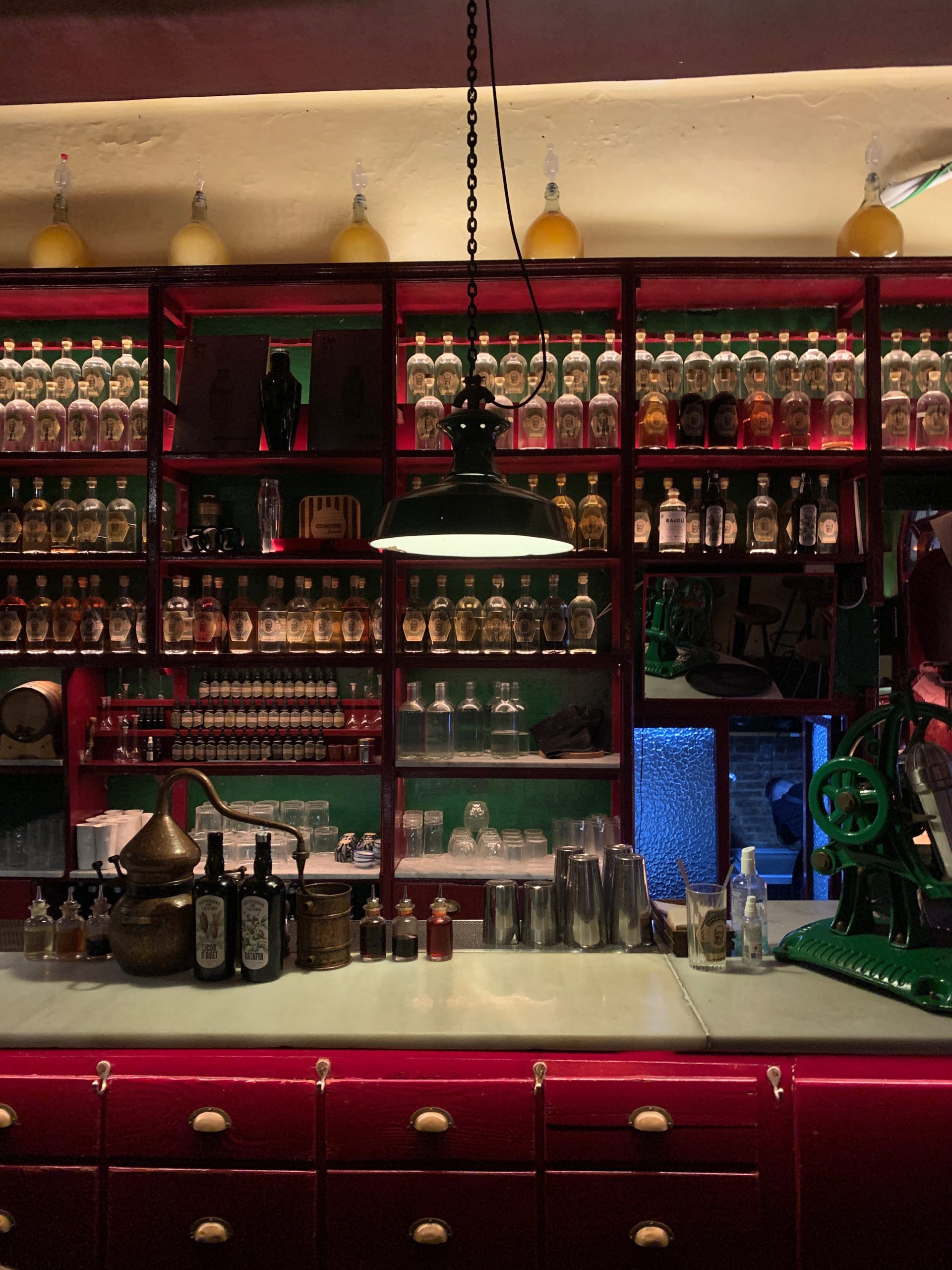 15. Get lost in Barcelona's Medieval neighborhood El Born
El Born must be one of the most iconic neighborhoods of Barcelona. It is known for its medieval architecture, narrow streets, and countless coffee shops, bars, and restaurants. I would recommend walking around and having a look at the countless unique little shops. Maybe you can find your perfect Barcelona souvenir there?
Another place I recommend visiting is the "El Born Centre de Cultura i Memoria". It is a former market that shows excavated city ruins from the 18th century. You will learn a lot about Barcelona's history!
When it comes to food, Plaça del Fossar de les Moreres is a great destination. There are several tapas restaurants next to each other. In my opinion, all of them are great and worth trying. For drinks, I recommend the cocktail bar Dr. Stravinsky (see the previous point).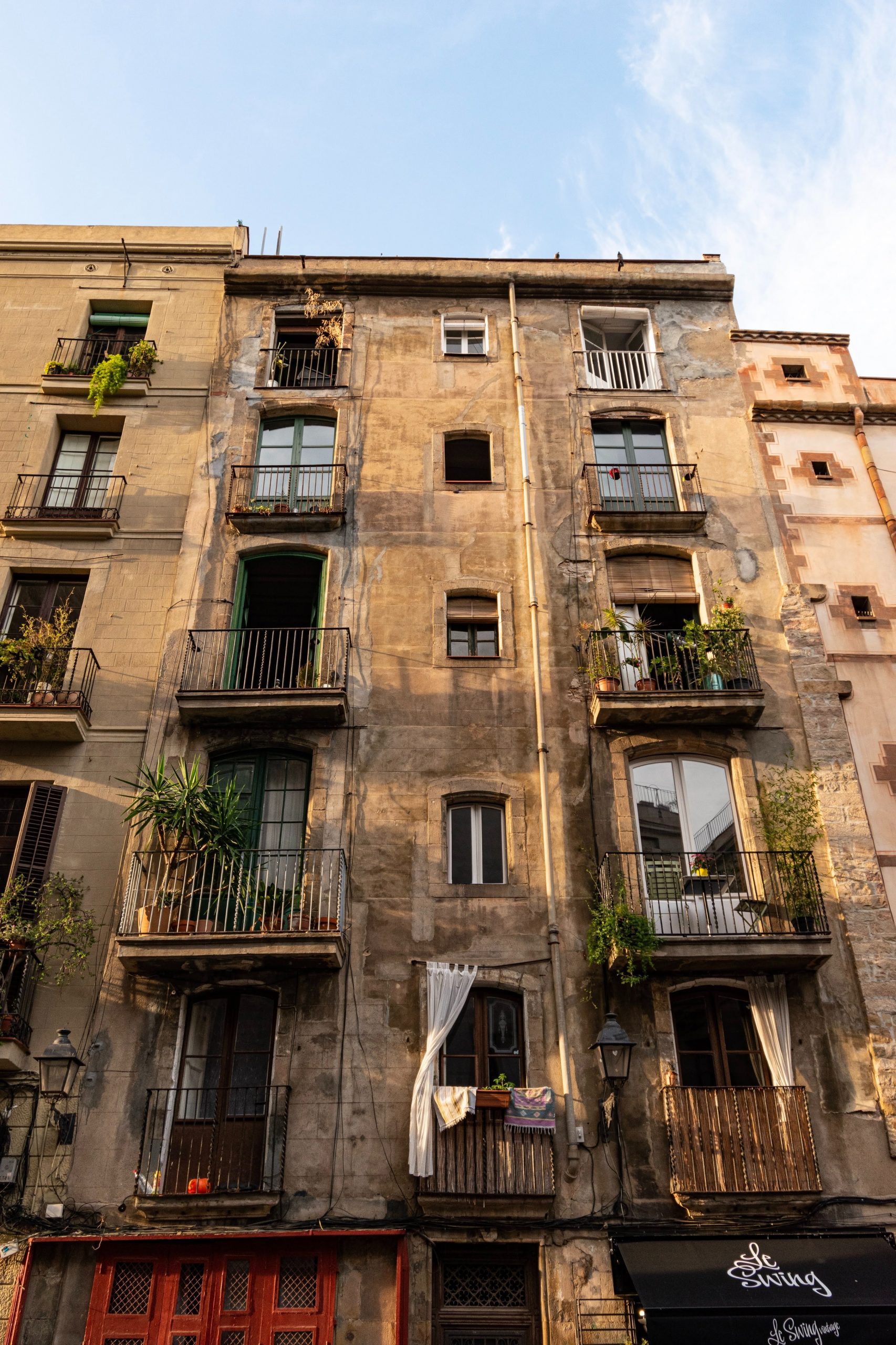 16. Do a one-day trip and explore Barcelona's surroundings
There are so many amazing one-day trip destinations close to Barcelona! If you happen to stay a couple of days in Barcelona, you should not miss checking out places outside of the city.
Here is a list of my favorite places to visit outside of Barcelona for a one-day trip. Or maybe you would like to stay there longer? 🙂
Visit Mount Tibidabo, Europe's oldest amusement park with an impressive viewpoint: You probably have seen Mount Tibidabo while walking around Barcelona. It is a church at one of the highest mountains peaks in Barcelona. It is already worth visiting Tibidabo for the amazing views of Barcelona you have from there. I wrote a complete guide about visiting Tibidabo and how to get there, which you can find here.
Visit Cadaqués, the most beautiful village of Costa Brava: Cadaqués is a gorgoues town at the Costa Brava. To me, it is one of the most beautiful towns in the whole of Spain. It is famous for famous artists and writers living there. I wrote a complete post about visiting Cadaqués that you can find here.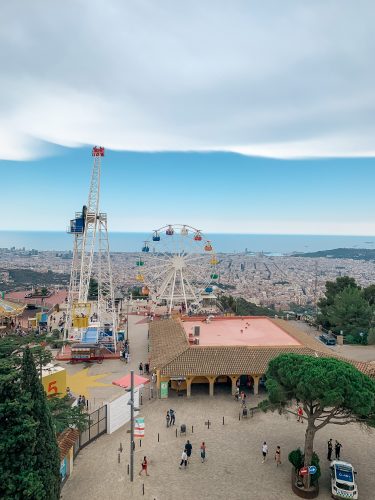 17. Watch the Sunset at Bunkers del Carmel
Bunkers del Carmel is one of the places in Barcelona that give you breathtaking views of the city. It is located a little bit outside of the city center but, believe me, going there is so worth it. It is one of the most popular places to enjoy the sunset. And not only that! The bunkers also have an interesting story behind them:
During the Spanish Civil War, there was an antiaircraft operation there. Even though they are called 'bunkers' there were no actual bunkers on that hill, only the facilities of the antiaircraft operation mentioned.
Nowadays, it is a very popular meeting spot for young people. You will find many groups of friends having out there, enjoying the views and listening to music until late in the night. Take a look at the street art and graffiti around here. A very special place in Barcelona!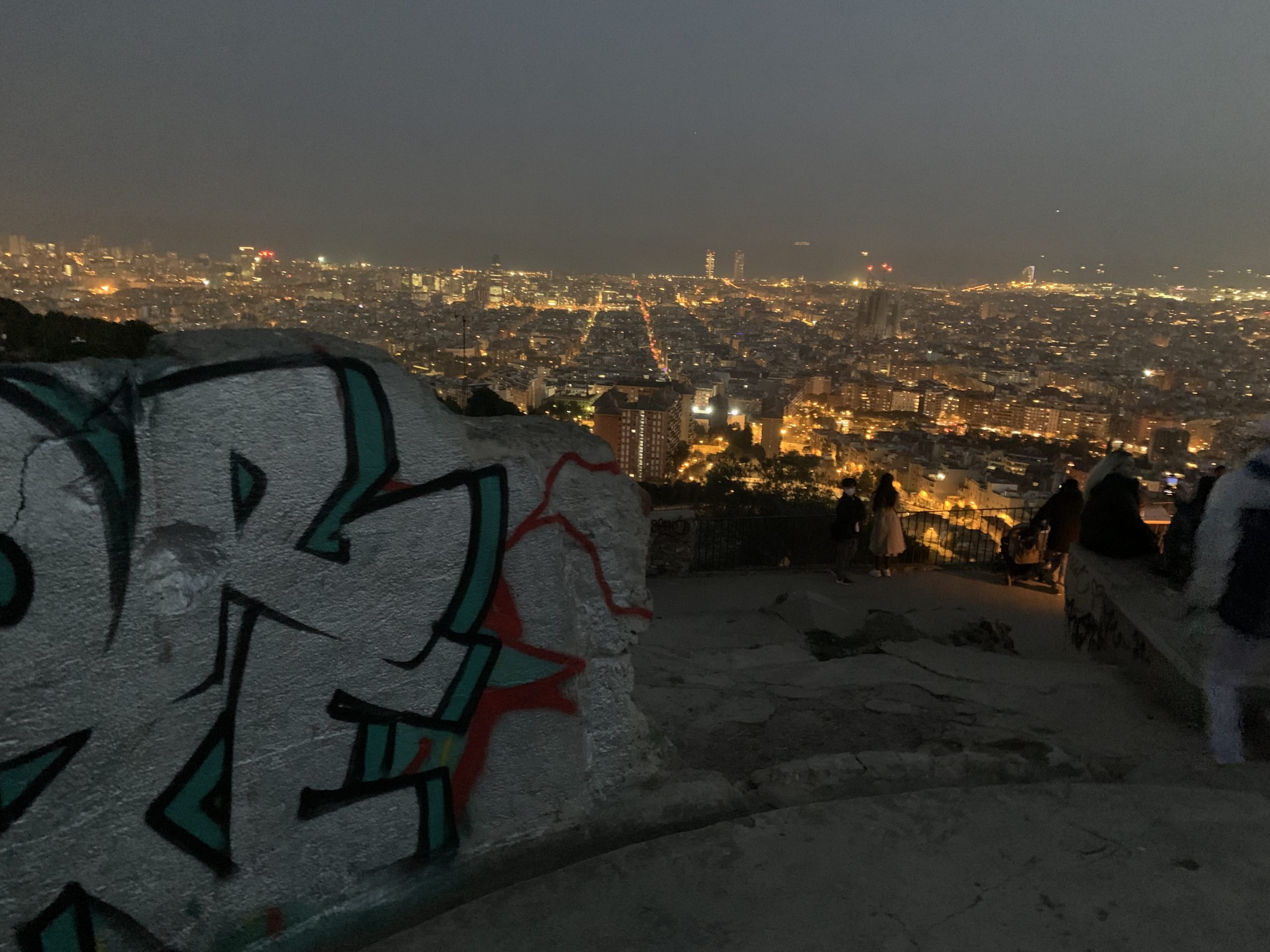 18. Watch a world-class Flamenco Performance
I know what you think now: Flamenco is not from Barcelona, and you are correct. I just think that, if you are already in Spain you should take the chance and watch a world-class Flamenco performance. To be fair, yes, the best ones will be in the south of Spain in Andalusia. But there are also great places you can check out in Barcelona. And trust me, it will be an experience you will never forget. I took my mom to a Flamenco performance last year, and she still talks about it.
In Barcelona, you can watch amazing Flamenco performances at the City Hall Theater. An amazing location, because it is a theatre from the 19th century. A ticket for a one-hour performance only costs 18€, which is very affordable. You can book your tickets online here.

Another really beautiful place is Tablao Flamenco Cordobes. It is an authentic Flamenco place right at La Rambla. It was founded in 1970 and is owned by a family of artists. Check it out!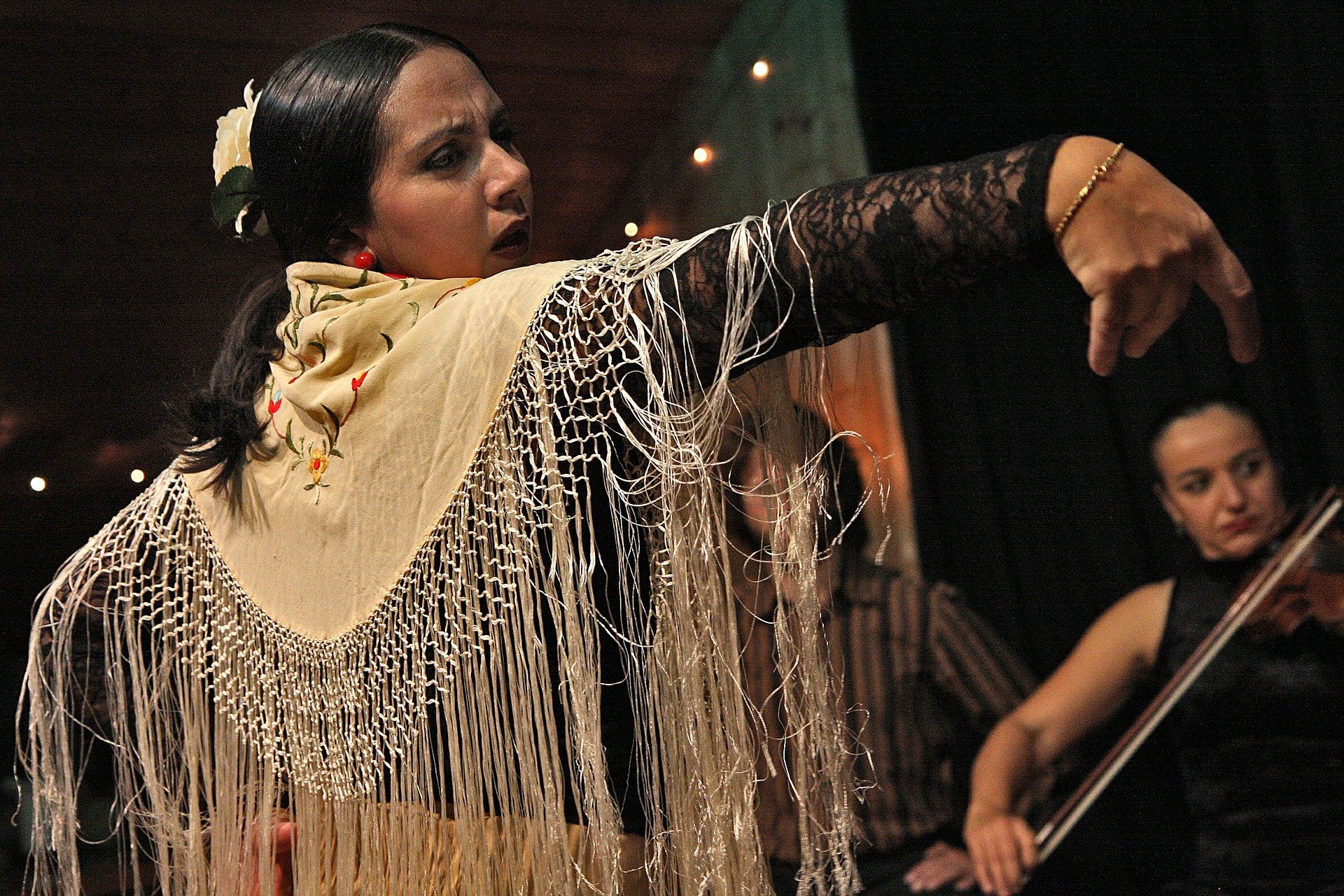 19. Visit Palau de la Música, one of Barcelona's UNESCO World Heritage sites
This building is one of the most impressive architectural masterworks in Barcelona. It was built between 1905 and 1908 by the famous architect Lluís Domènech i Montaner as a home for the Orfeó Català. The Palau de la Música is a concert venue that was given UNESCO World Heritage status in 1997. By the way, it is the only concert venue like that worldwide, that was ever given the UNESCO World Heritage status. Crazy, right?
There are guided tours of the concert venue where you will be guided through the different rooms of the building, which will all leave you speechless. You can book your tickets in advance here.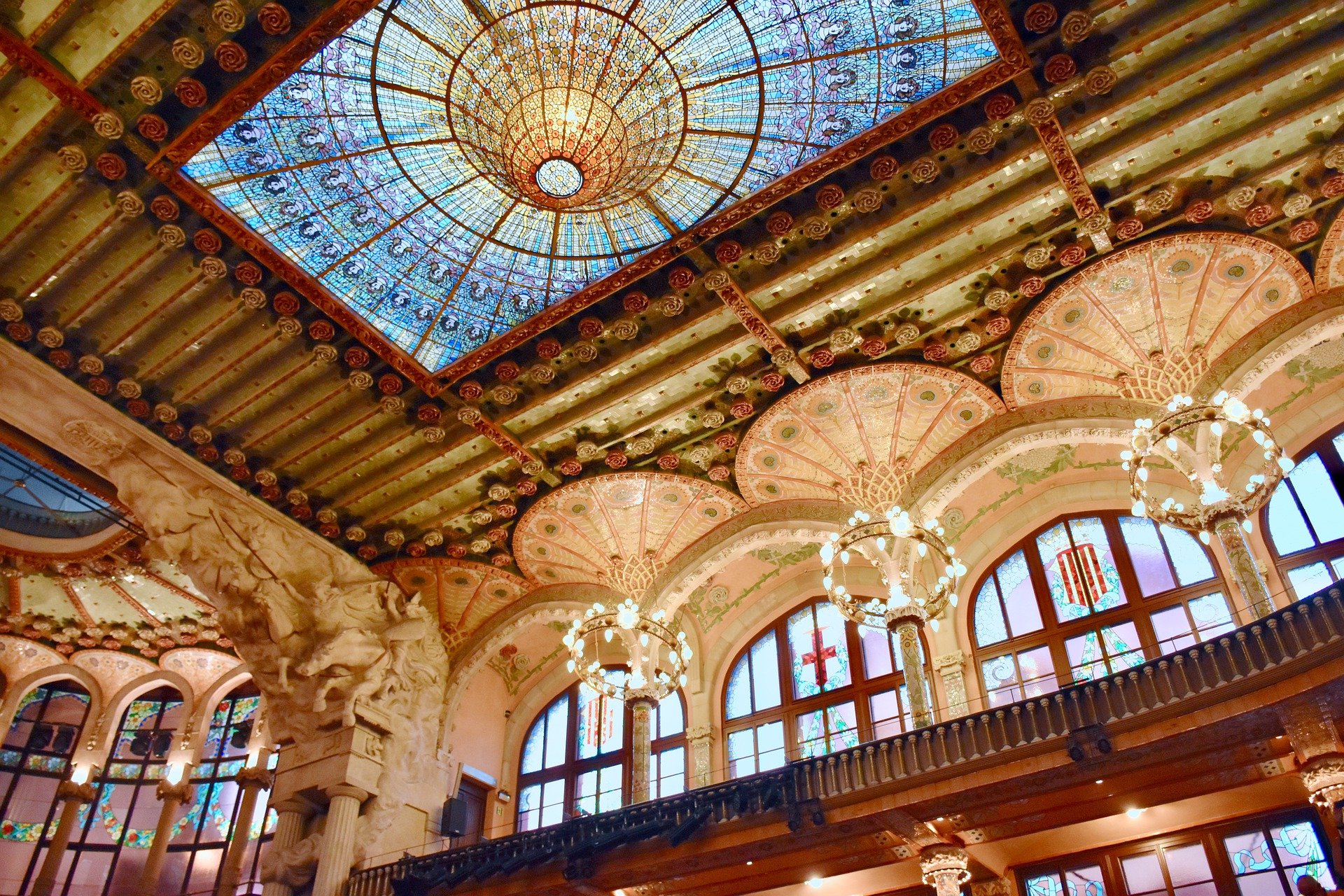 20. Check out Barcelona's Cathedral: La Catedral de la Santa Creu i Santa Eulàlia 
The last item on this 'Barcelona Bucket List' is a very beautiful monument: The Cathedral of Barcelona (La Catedral de la Santa Creu i Santa Eulàlia). Barcelona is full of beautiful buildings and this one is just as remarkable as the other ones.
Once you are there, make sure to admire its stunning gothic architecture from the outside. If you decide to go inside (entry costs 9€), you will be able to see the gorgeous golden furnishing and ornaments inside. By the way, you can go up to the top of the Cathedral for amazing views all over Barcelona!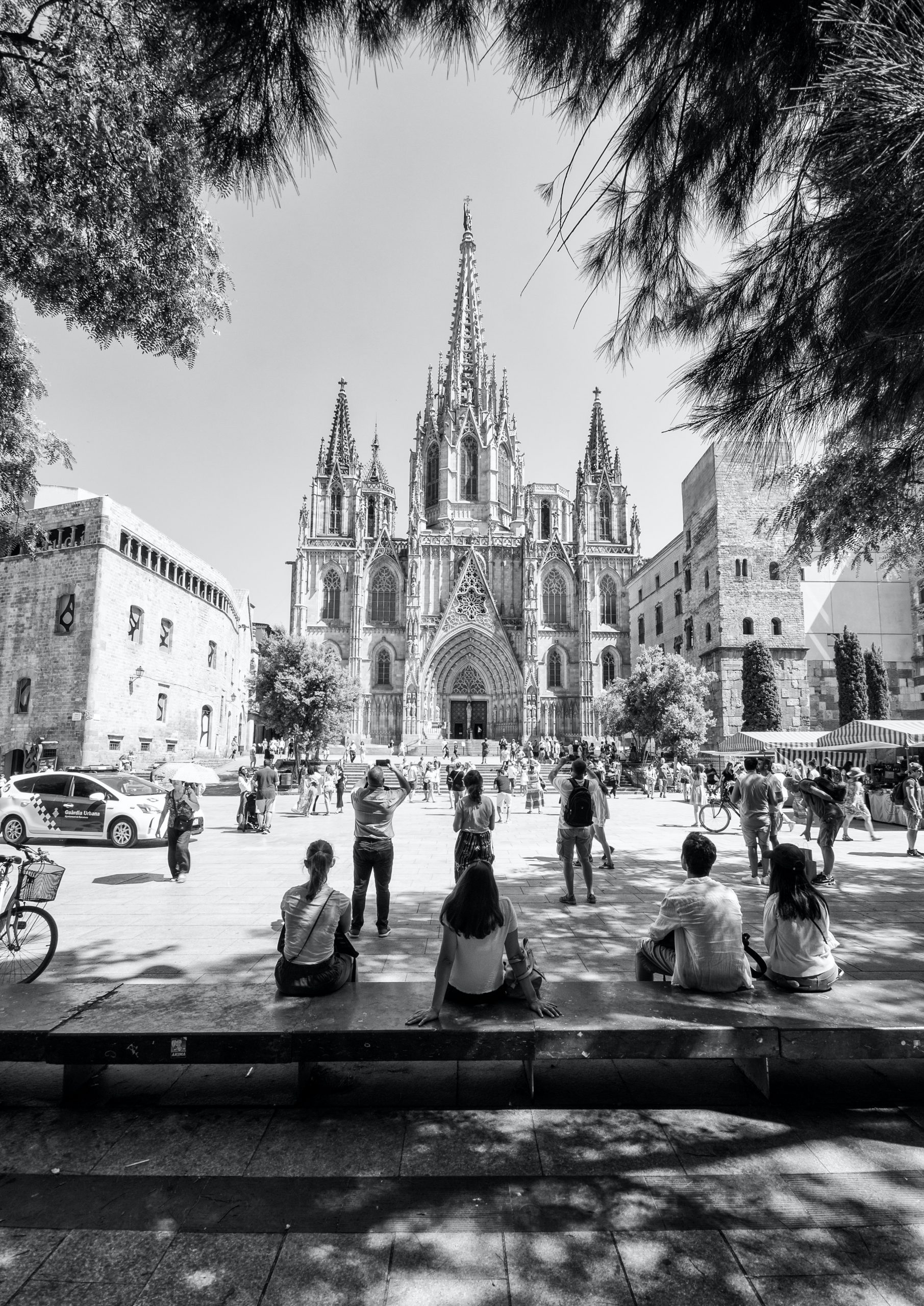 + Other places in Barcelona you can check out:
Camp Nou, Barcelona's famous football stadium
Of course, Barcelona is a great destination for football fans. Camp Nou is the largest football stadium in Europe. And once you are there, you can also visit the FC Barcelona museum. Book your tickets here.
Learn how to make Paella at a Paella cooking class!
This plan sounds super fun: First, you go buy ingredients at La Boqueria. Then, a chef shows you how to prepare an amazing seafood paella. You prepare some tapas and sangría. And, then you all have dinner together. Find out more about this experience here.
See Barcelona's skyline from the Teleféric de Montjuïc
Imagine seeing the incredible skyline of Barcelona from a cable car! This cable car goes 750m from the mountain of Montjuïc. You will see the Sagrada Familia, Camp Nou and the Magic Fountain of Montjuïc. How beautiful! Find more information here.
---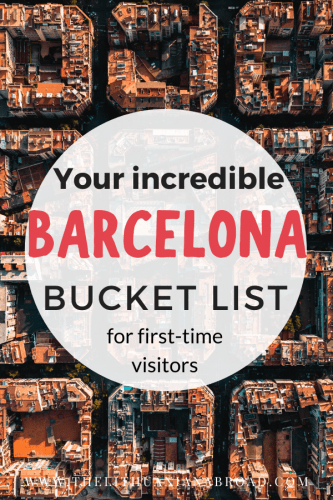 And that was it! This was our Barcelona bucket list with 20 amazing items to cross off. Let me know which one was your favorite one? And let me be honest, the first time I came to Barcelona I did not even like it that much. It seemed so touristy that I could not seem to enjoy it. But now, I feel like I got to know it better and I enjoy spending time here. By the way, I really do recommend Dr. Stravinsky. It is one of my favorite places in Barcelona so make sure to check it out 🙂