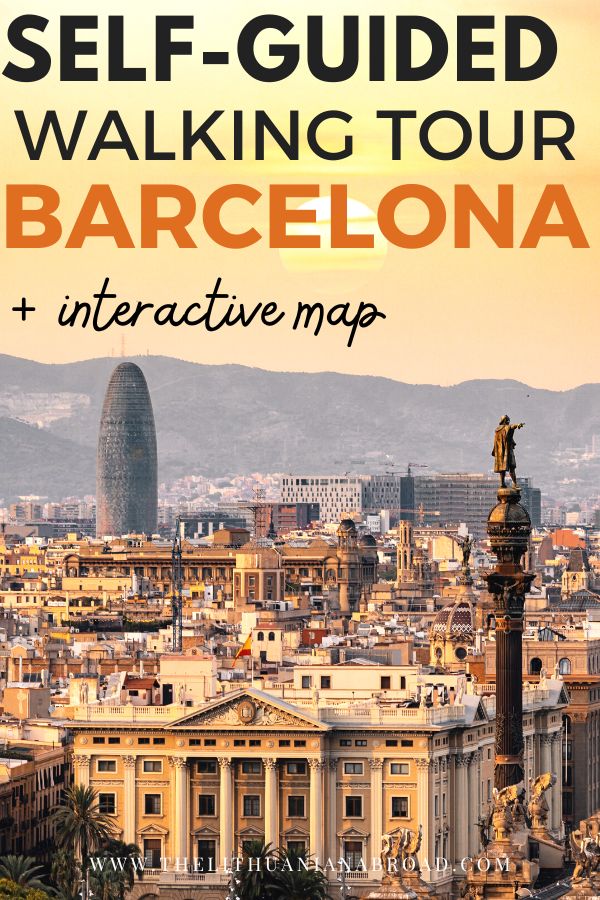 I absolutely love doing walking tours whenever I visit a city for the first time. It is such a fun way to get to know the city better and really dive into the different areas and neighborhoods. And the good thing about doing a self-guided walking tour of Barcelona is that this is the city with probably one of the most impressive architecture you will ever see in your life. Of course, we have to thank Antoní Gaudí for that. Of the 9 UNESCO world heritage sites in Barcelona, 7 were designed by this iconic architect. So you understand, walking around Barcelona is mainly admiring beautiful buildings and impressive architectural creations.
I decided to write this self-guided walking tour of Barcelona so you can reaaaaaally get the most out of Barcelona in half a day. This walking tour of Barcelona takes you to the city's most impressive monuments, attractions, and, of course, several of Gaudí's buildings. I made sure to include all the information you need before starting your walk. And do not forget to download the interactive map below. That way you will always have the complete itinerary on your phone! 🙂
Other posts about Barcelona that could interest you:
Visit Mount Tibidabo, Barcelona's best viewpoint: Mount Tibidabo should be on your Barcelona Bucket List if you are planning to stay in the city for a couple of days. Apart from that, it is one of the best viewpoints to see the port of Barcelona and the city from above.
14 famous buildings in Barcelona you have to know about: This post includes 14 famous buildings in Barcelona you should know about. Barcelona offers world-class architecture with one monument more beautiful than the next one. And of course, we talk about Gaudí buildings as well.
Things to do at night in Barcelona: You won't run out of ideas about what to do in Barcelona at night with this blog post. It includes the best cocktail bars, night tours, sunset spots, and many things more. Check it out!
More than 25 free activities you can do in Barcelona: Contrary to popular belief, visiting Barcelona does not have to be expensive! This post includes A TON of free activities you can do in Barcelona. I mention free museums, free parks, viewpoints, and more!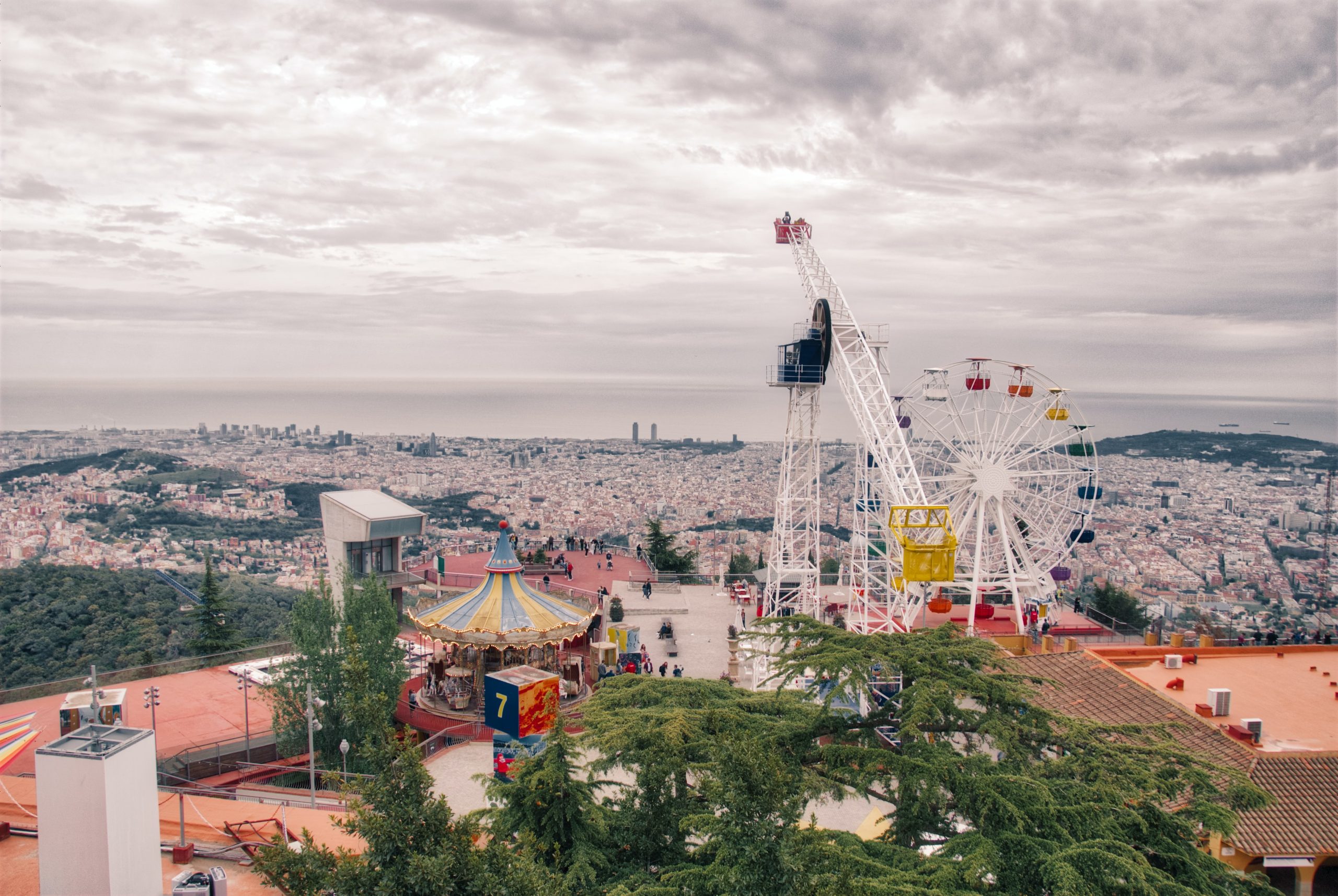 Have you heard about free walking tours in Barcelona?
Self-guided walking tours are perfect for exploring the city in a fun way by yourself. But I am also a huge fan of doing free walking tours in a city. And that is why I would like to mention them here. If you rather do a walking tour together with a local guide you should check them out:
Free walking tours are the perfect way to see a city through the eyes of a local. Your local guide will show you the most important places in Barcelona. And you will learn A LOT about Barcelona's history. What I especially like about these tours is that you get to ask your guide questions and get recommendations for what you can do after the walking tour. That way you can find out what places your guide considers worth visiting or not.
How do free walking tours work? These walking tours do not come with a price tag, which is why they are free. You do not even need to pay to reserve your spot, it's free! You will walk around Barcelona with your local guide to see the most important places of Barcelona. After the tour, you have the chance to tip your guide. And it really is up to you how you want to tip them! It really depends on your budget and how much you actually liked the tour.
You can book your free walking tour in Barcelona here.
Back to our Barcelona walking tour: What Gaudí buildings are we going to see?
Barcelona is full of beautiful Gaudí buildings ready to be explored by you! 🙂 In this blog post, I included three famous landmarks designed by Antoni Gaudí: The Sagrada Familia (Duh!), Casa Milá and Casa Battló. Depending on how you feel at the end of this walking tour, you can also go to Park Güell, which would mark the fourth place on your Gaudí-Bucket List.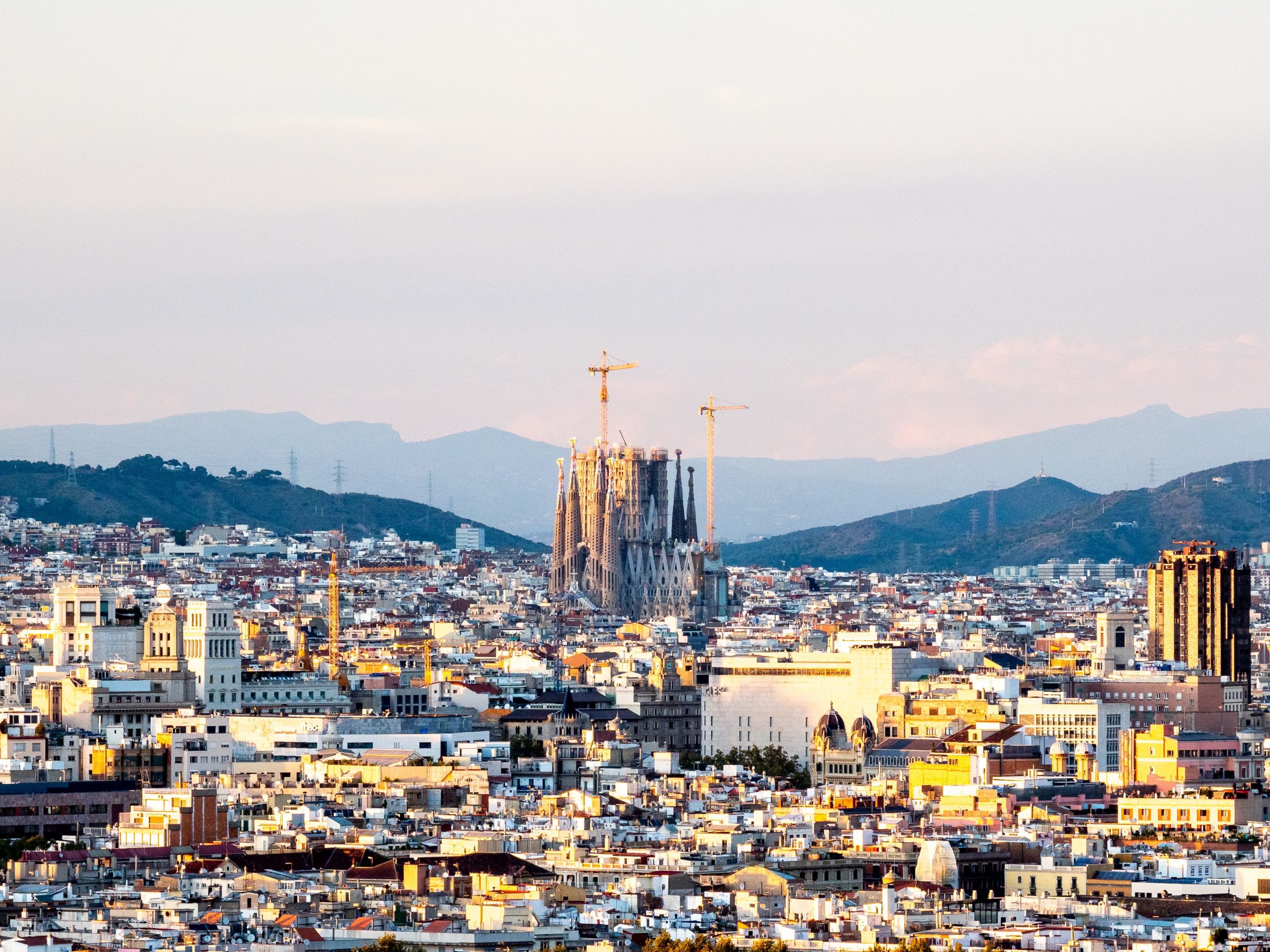 What to expect from this self-guided walking tour of Barcelona:
This walking tour includes Barcelona's most important monuments and attractions. I wanted to create a tour that helps you explore the city in a half a day and see Barcelona's beautiful buildings, parks, and sights. Apart from that: I tried to include my favorite places for coffee and snacks in Barcelona. That way you can do a couple of small stops on your tour.
To sum it up: This walking tour takes 2 hours if you do not make any stops during your walk. I would recommend blocking half a day for our walking tour if you do not want to be in a rush. Of course, we want to enjoy our time while walking around Barcelona without rushing from one place to another! 🙂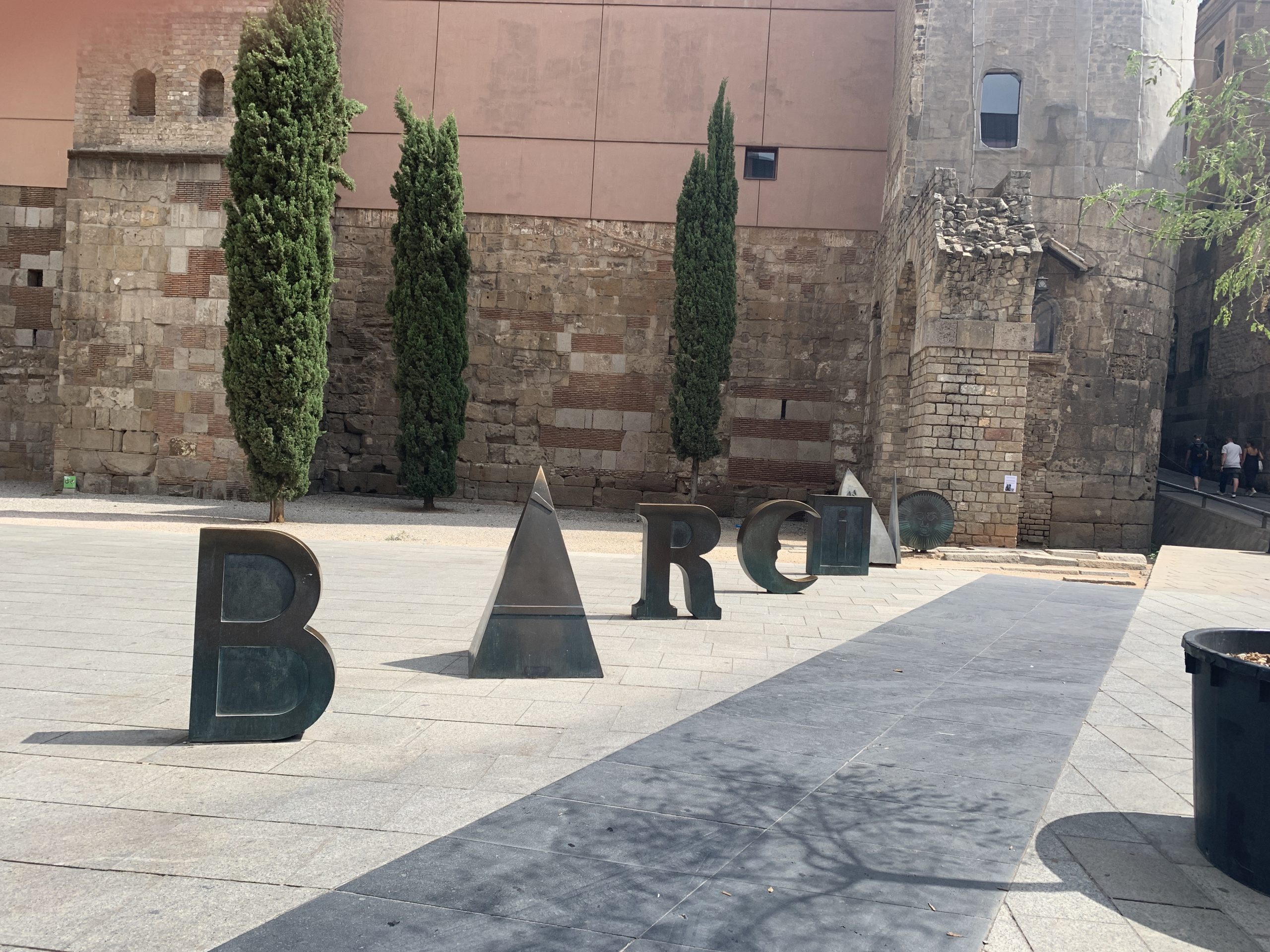 What you should know before starting our Barcelona walking tour:
Comfortable shoes. I know you want to take photos for the gram but you will need shoes you will feel comfortable walking in for a couple of hours.
Water or Drinks. Stay hydrated! Barcelona is a very humid city, which means you will sweat a lot. Take a bottle of water if you can!
Download the interactive map embedded on this blog post below. That way you can always check the itinerary on your phone!
Take care of your belongings! Unfortunately, there are many pickpockets going around Barcelona. We do not want any of that ruining your perfect Barcelona trip!
Save this interactive map with this itinerary for guidance:
Our self-guided walking tour of Barcelona starts at Plaça de Catalunya, takes us to La Rambla and Plaça Reial before we dive into the neighborhood of El Born. After we explored El Born, we walk to the Parc de la Ciutadella, look at the Arc de Triomf and then walk to the Sagrada Familia. From there, we walk to Casa Milá and Casa Battló to see more of Gaudí's work in Barcelona. Our tour ends at Plaça de Catalunya, exactly where it started.
An alternative if you don't like to walk that much: Hop-on Hop-off bus in Barcelona
Before we start with our walking tour I want to show you a great alternative if you do not spend a lot of time in Barcelona but still want to see as much as possible.
A good alternative is taking the hop-on-hop-off bus in Barcelona. How does it work? Those typically red buses are driving around Barcelona in a circle and stop at around 40 designated bus stops. Those stops are usually close to one of Barcelona's iconic landmarks, famous attractions or important places. You can just go on the bus to one of the stops and leave at the bus stop you want to go to. Once you want to continue with your tour you just have to walk to one of the buses stops again. The next bus is only a couple of minutes away.
If this is something that interests you, I would recommend booking your ticket in advance here. And don't worry! If your plans change, you can still cancel up to 24hours before your starting date and receive a full refund 🙂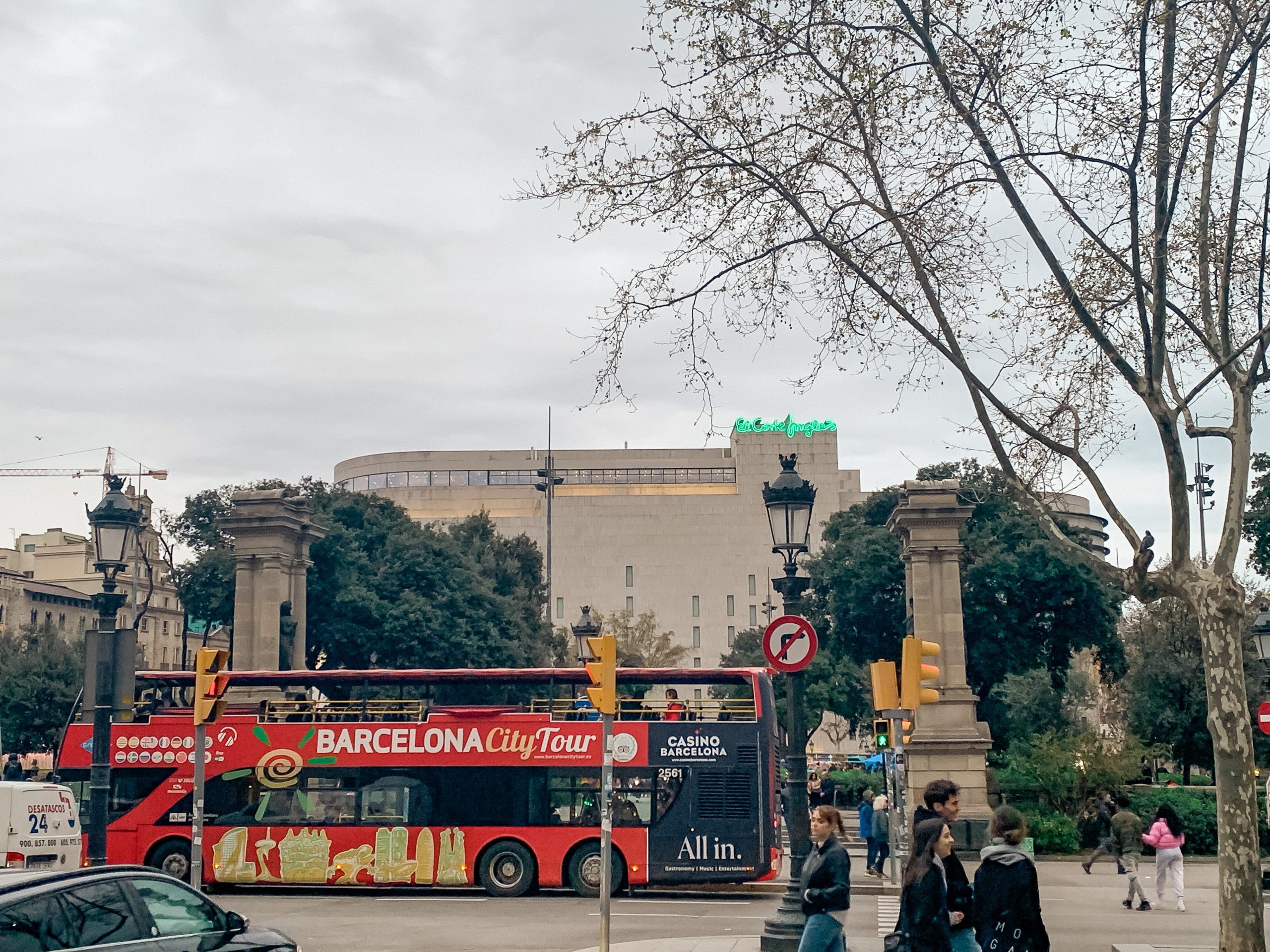 1. Start the walking tour at Plaça de Catalunya, Barcelona's central square
Our walking tour starts in Plaça de Catalunya, the most central square of Barcelona. Why? Because chances are you are staying close anyway. So it should not be a long walk to get there. And it is very easily accessible by public transport.
Plaça de Catalunya is the heart of Barcelona and as you will be able to tell right away, it can get very crowded. It is a popular meeting spot for locals and tourists. On the plaza, you can find famous clothes chains and fast-food restaurants. When it comes to history, there are several neo-classical sculptures all over the plaza from famous Spanish artists like Josep Llimona.
Plaça de Catalunya connects the neighborhood of Grácia with the old town of Barcelona, which will be the next stop on this walking tour.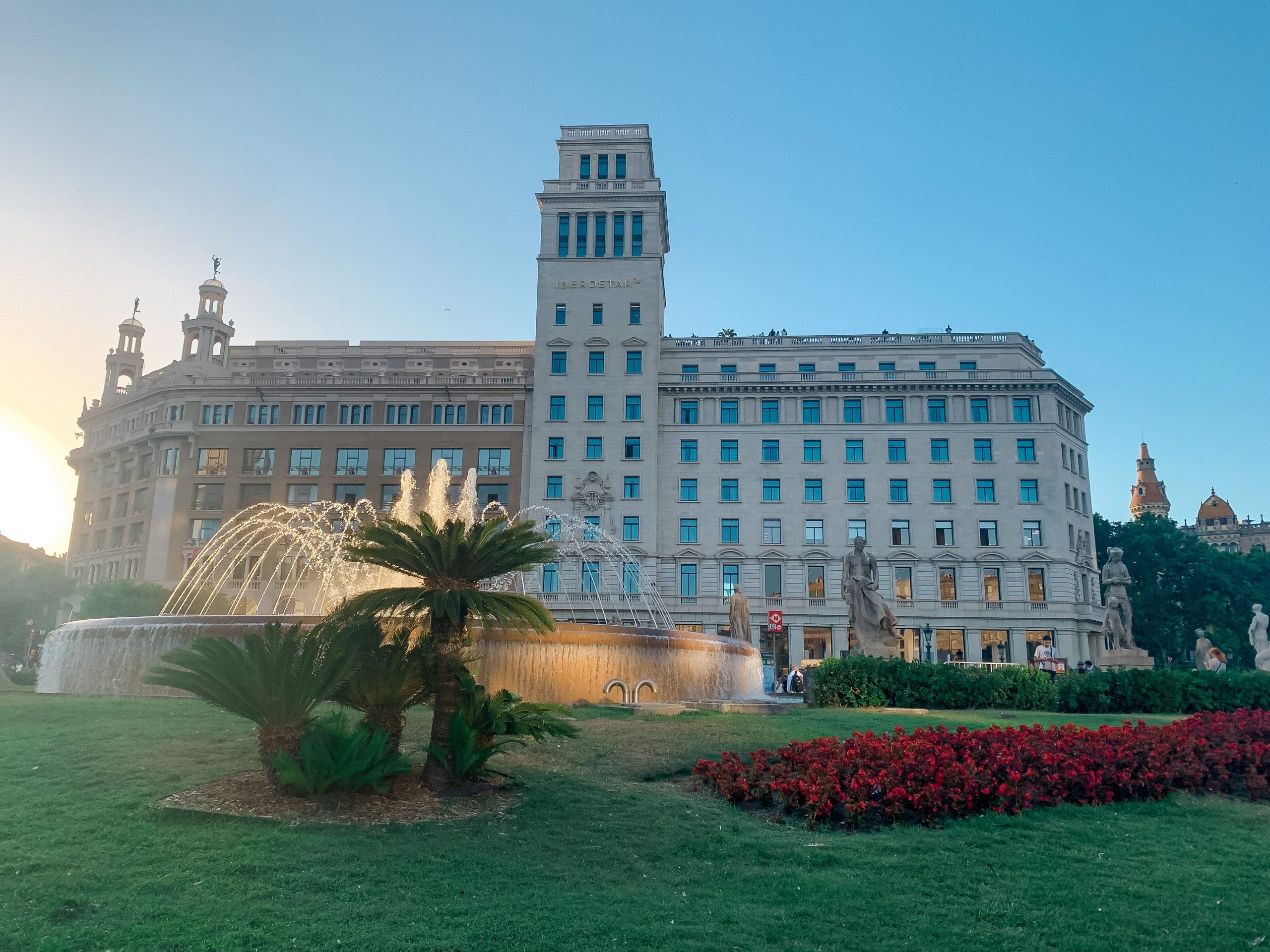 2. Walk down the promenade of La Rambla!
Right next to Plaça de Catalunya
Spanish poet Federico García Lorca once said: "La Rambla is the one street in the world I wish would never end." Now you get to make up your mind and see whether you agree! La Rambla is a tree-lined pedestrian street in central Barcelona that connects Plaça de Catalunya with the Christopher Colombus Monument at Port Vell.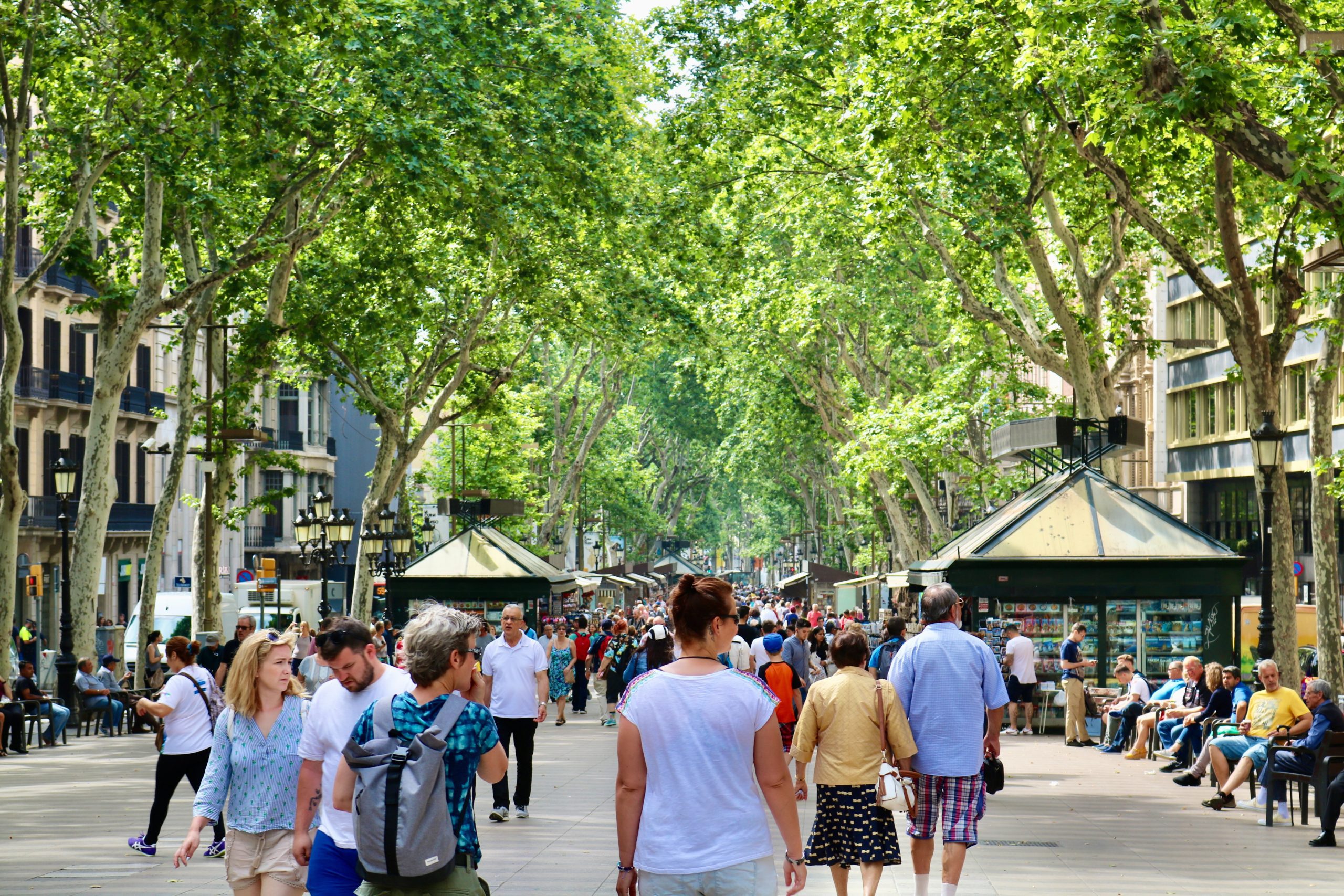 La Rambla is famous for being quite crowded during the day until late at night Along the promenade, you will find different kiosks selling newspapers, souvenirs, and flowers. The perfect place to buy a souvenir during this walking tour. If you feel like grabbing a coffee, you can get one at the several coffee shops you will encounter during your walk. Also, look out for Joan Miró's famous mosaic on La Rambla.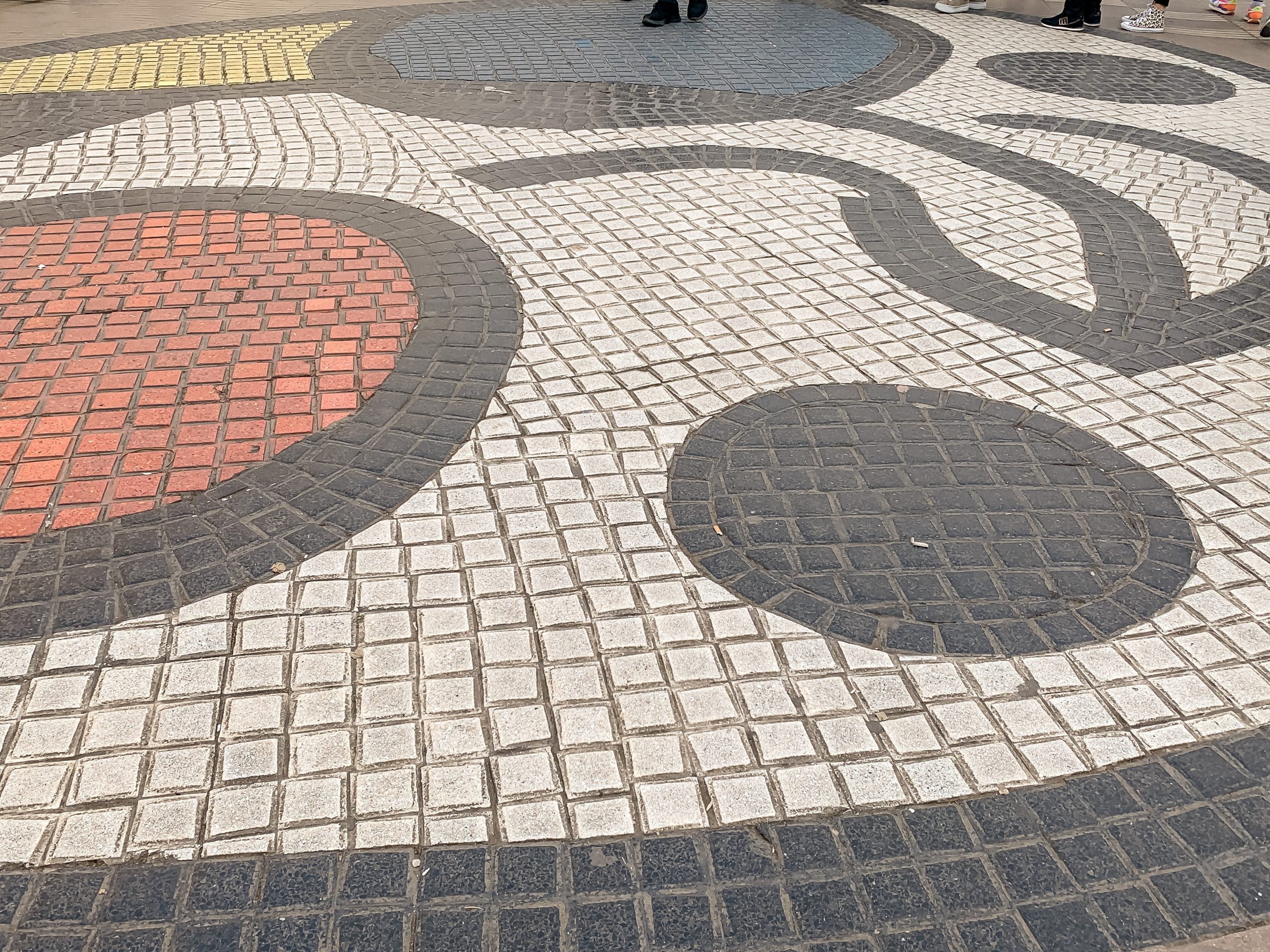 Short note on the side: Please make sure to take care of your belongings! La Rambla is known to be a popular place for pickpockets!
3. Try some tapas at Barcelona's famous market "La Boquería"
7 min after walking down La Rambla
La Boquería is the most famous food market in Barcelona. It was built in the 19th century and has many different food stands with a variety of food. You will be able to find seafood, cheese, and wine just as well as international food. The perfect time for a little wine and cheese break 😉
Or, you can just walk around the market to take a look at the variety of food they offer. You do not need to buy anything here, as it can be a bit expensive. And of course, we still have a long walk ahead of us!
4. Find Gaudí's architecture in the historical Plaça Reial
5 min walking from La Boquería
Plaça Reial is known to be one of the most beautiful plazas in Barcelona. It is a plaza full of palm trees, restaurants, and some of Barcelona's most famous nightclubs. The iconic speakeasy Nou Pipa Club can also be found on this plaza.
Make sure to look at the lampposts on Plaça Reial. They were designed by the one and only Antoni Gaudí. And yes! The lanterns are wearing helmets!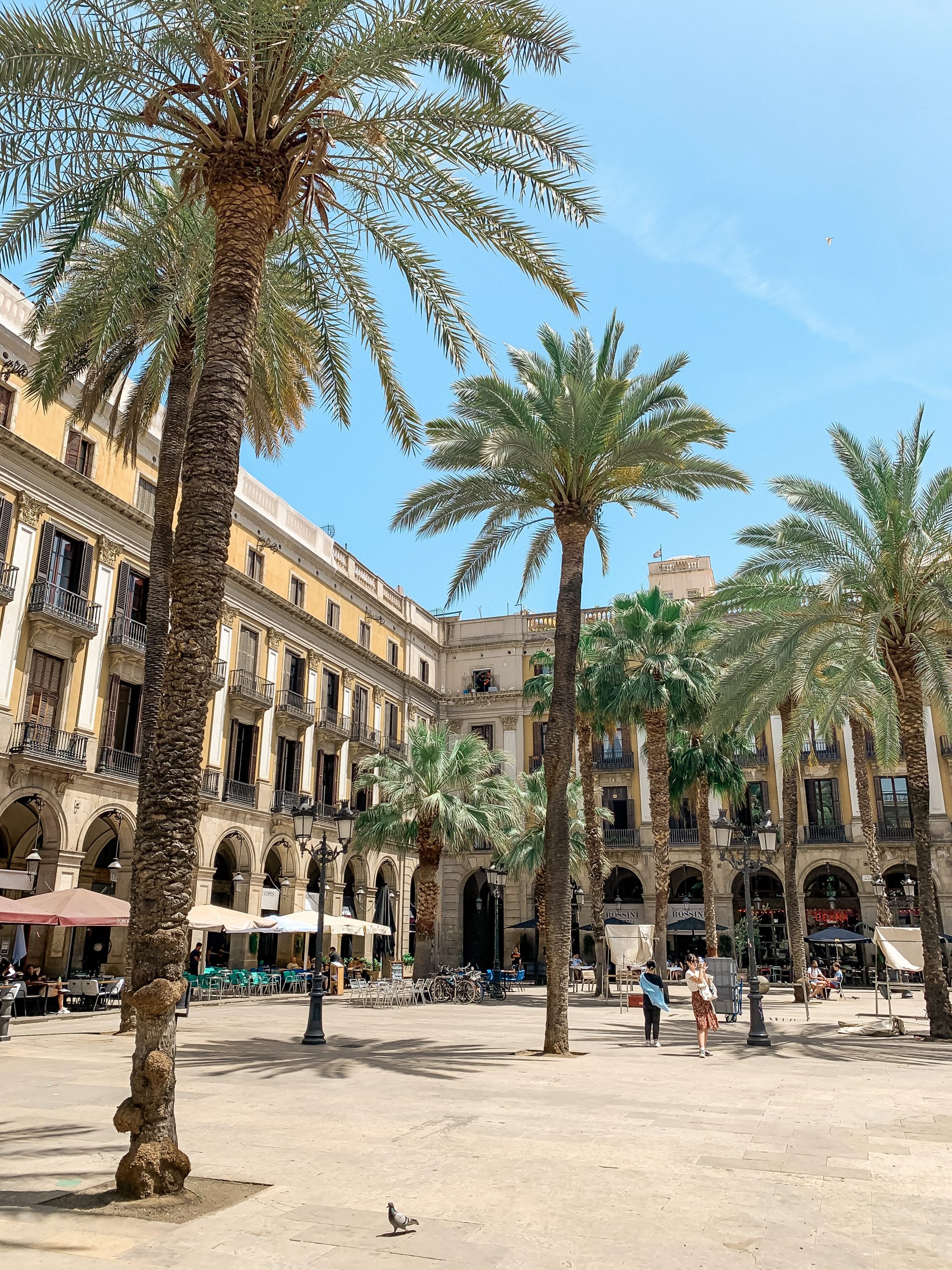 4. Check out the medieval neighborhood El Born and have a coffee there!
around 10 min walking from Plaça Reial
El Born is one of my favorite neighborhoods in Barcelona which is why I made sure to include it on our self-guided walking tour. El Born is known for its medieval architecture, narrow streets, and countless coffee shops, bars, and restaurants.
Check out the Cathedral Santa María del Mar and admire its gothic architecture. Apart from that, the Picasso museum is not far away, as well. If you are interested in Pablo Picasso or modern art in general, this is your place to go.
When it comes to food and drinks, there are several places I can recommend in El Born: Dr. Strawinsky is one of my favorite cocktail bars in Barcelona. Their cocktails and the interior are so unique, this will be a place you won't forget! A great place for coffee and pastries (like cinnamon buns hmmm!) is Demasié. One of the best cinnamon rolls I had in a long time.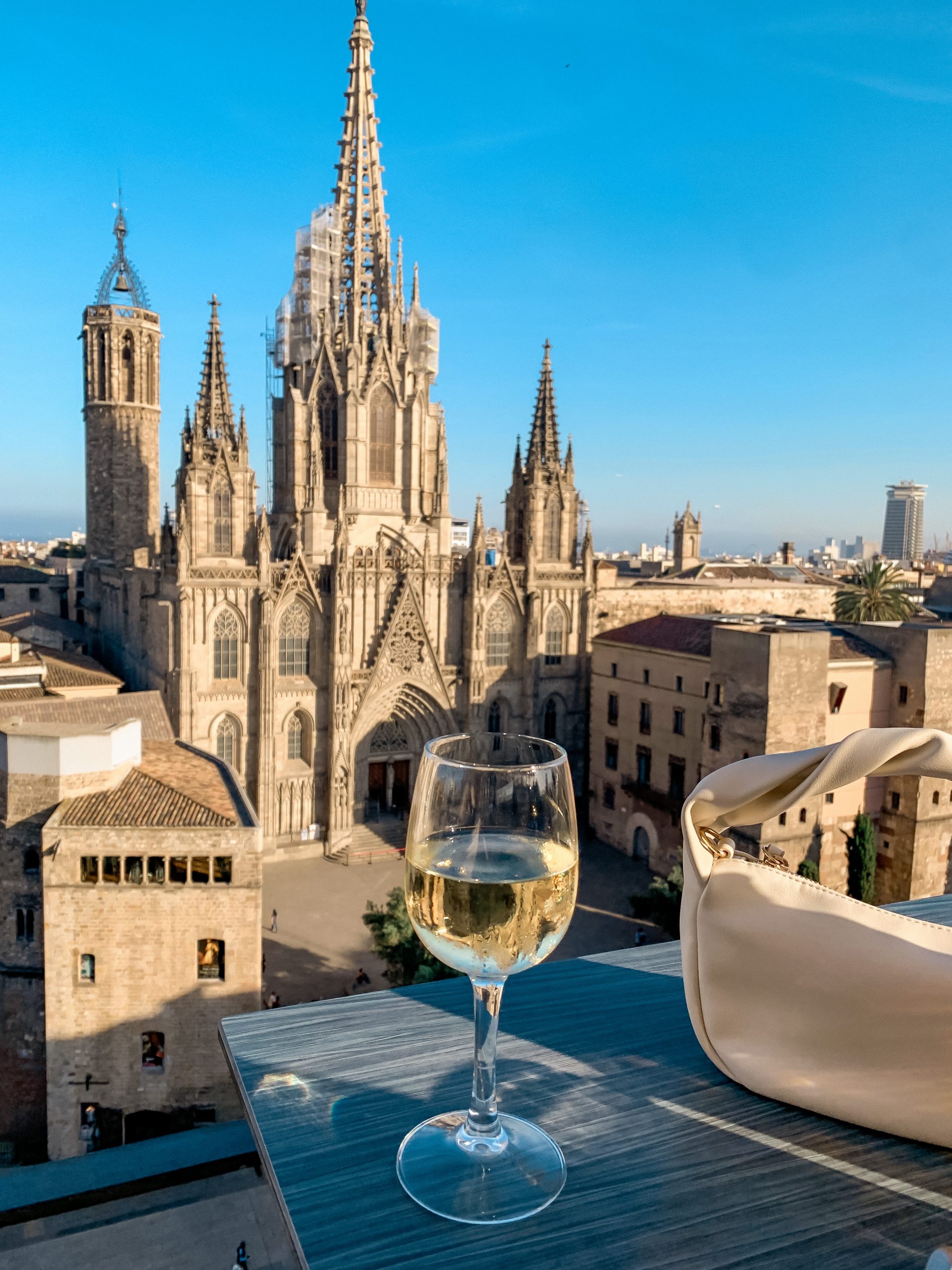 5. Admire the waterfall at Parc de la Ciutadella
5 min walking from El Born
Parc de la Ciutadella is only a short walk away if you are already in El Born. It is the biggest park in downtown Barcelona and a popular meeting spot for locals. Take the time to relax for a while and just enjoy the great weather of Barcelona.
The highlight of this park is the "Cascada del Parc de la Ciutadella", a beautiful monument from the 19th century with golden decorations and a waterfall.
If you feel like it, you can go rent one of the rowing boats at the lake in the park. Very recommended!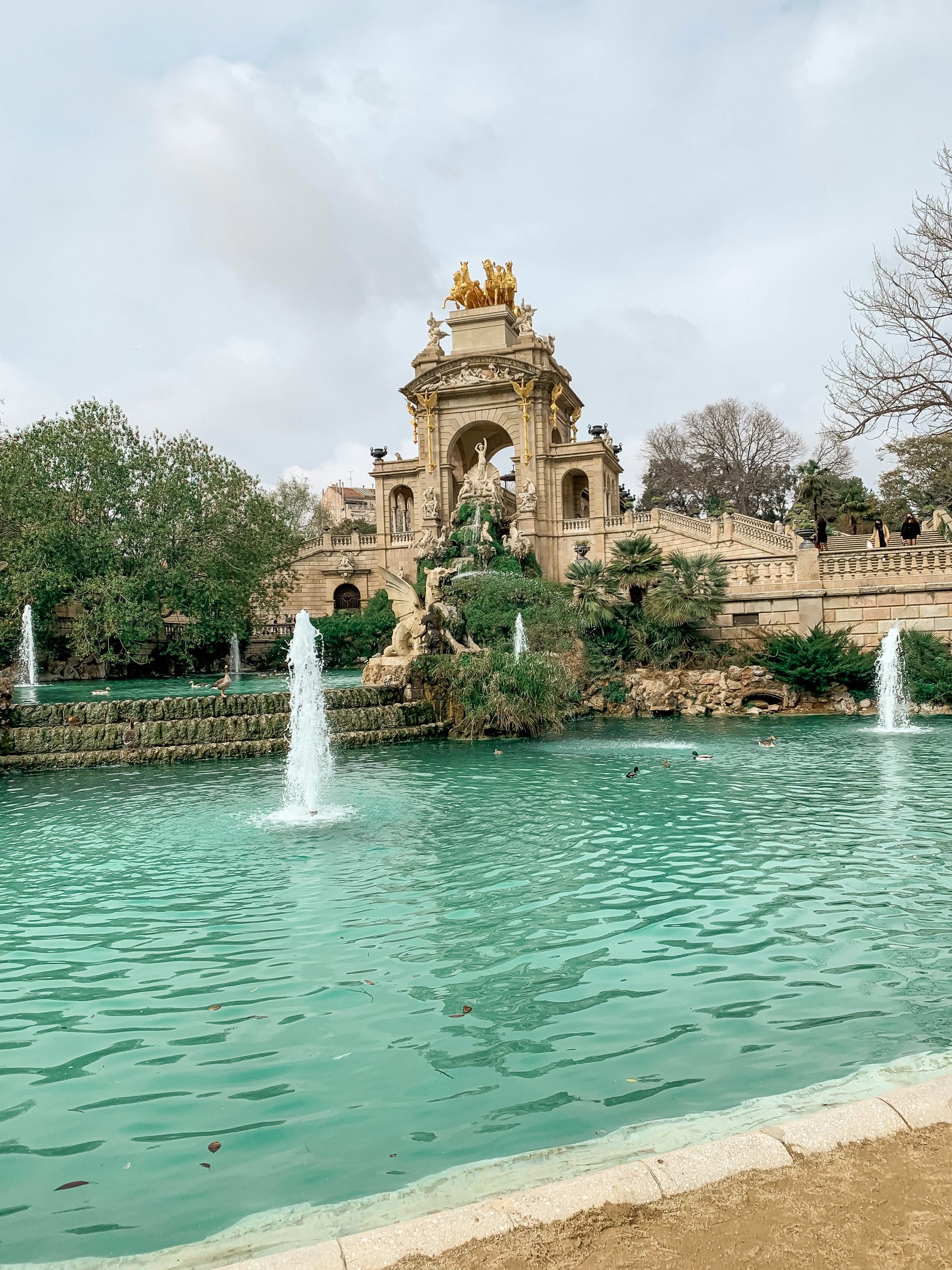 6. Walk through the Arc de Triomf of Barcelona
8 min walking from the waterfall
This majestic monument was built as the main access gate for the Barcelona World Fair in 1888. It connects the promenade of Passeig de Lluís Companys with the Parc de la Ciutadella. This promenade is a really nice walk and you will find many street performers there.
Once you come close to the arch make sure to check out the detailed design it has. The upper part of the arch shows the coats of arms of Barcelona and all Spanish provinces. Can you see it?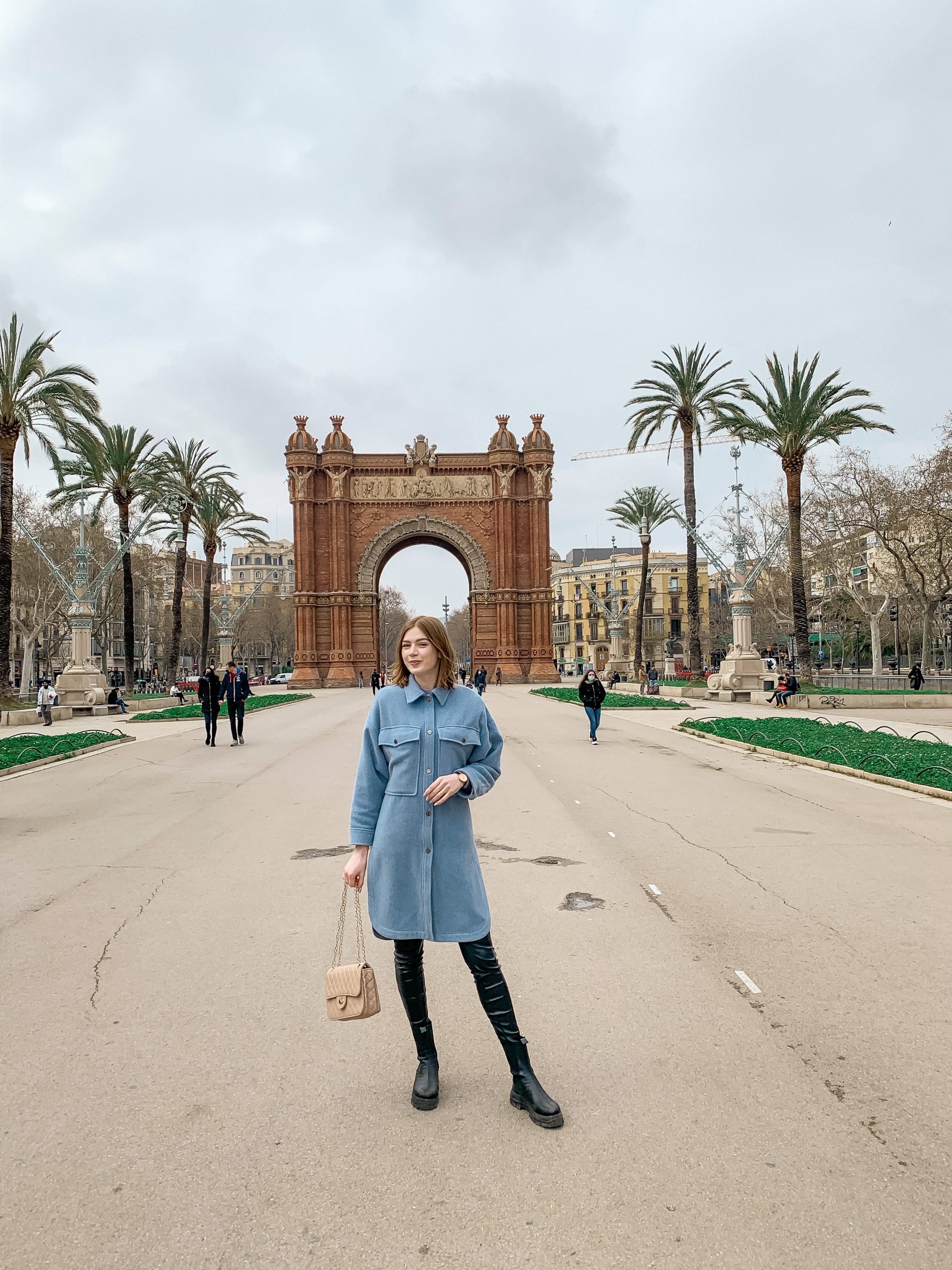 7. Go to Barcelona's highlight: La Sagrada Familia
25 min walking from Arc de Triomf
Of course, you cannot leave Barcelona without seeing the Sagrada Familia first. I would recommend visiting during the morning when there are fewer people and the area is less crowded in general. If you want to go inside the Sagrada Familia, you really should get your book your entry tickets online. That way, you can skip the line and do not have to wait for so long. I feel like this is a MUST during your stay in Barcelona. Maybe you do not want to spend a lot of money on many attractions, but this is the one absolutely worth the price. But if you are not, looking at the Sagrada Familia from the outside is also very impressive!
About the one and only Sagrada Familia: Did you know that Antoni Gaudí, the initial architect, that was hit by a tram in 1926 and died, is buried there? This iconic landmark of Barcelona is still unfinished. And you just have to see the detail in the architecture. I promise it is nothing like you have ever seen before.
By the way, if you want to have a snack close to the Sagrada Familia but do not feel like going to the fast-food chains, check out Ca La Roseta. They have amazing coffee, savory snacks, and pastries!
Great news for you: If you are planning on going to the Sagrada Familia after seeing this post, you will see that a giant illuminated star was recently added to the second-highest tower of the building. Make sure to pay attention to this eye-catching new addition to the landmark.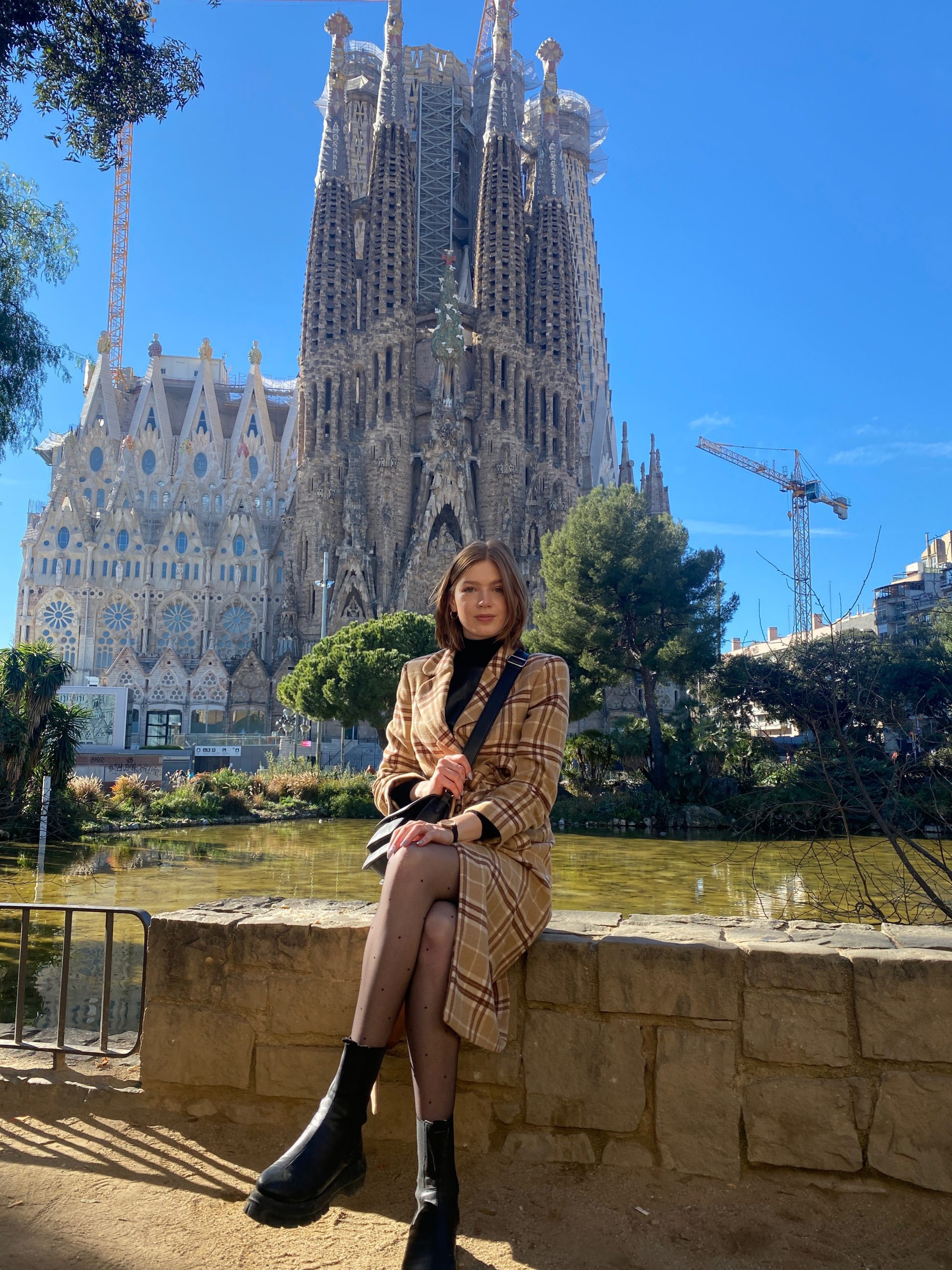 8. Walk to see two more of Gaudí's creations: Casa Milá & Casa Battló
18 min walking from the Sagrada Familia
Both, Casa Milá & Casa Battló, were designed at the beginning of the 20th century by Antoní Gaudí. They are both located on the fancy shopping street Passeig de Grácia and will immediately catch your attention once you see them. The architecture of both of these buildings is very typical for Gaudí. And don't think this only applies to the outside facade of the buildings!
You can go inside and see how Gaudí designed the inside of the buildings. Unfortunately, the entrance for both buildings is quite expensive. If you still want to see one of them I will help you decide: Casa Mila is famous for its beautiful rooftop and the entrance costs 25€. You can book your fast-access ticket here. If you would like to see the interior of the buildings, Casa Batlló might be the better choice. There, they let you see almost all parts of the building. Book your ticket with an audio guide here.
Now, you have seen two more of Barcelona's UNESCO world heritage sites. Did you know Barcelona has 9 in total? Such a show-off!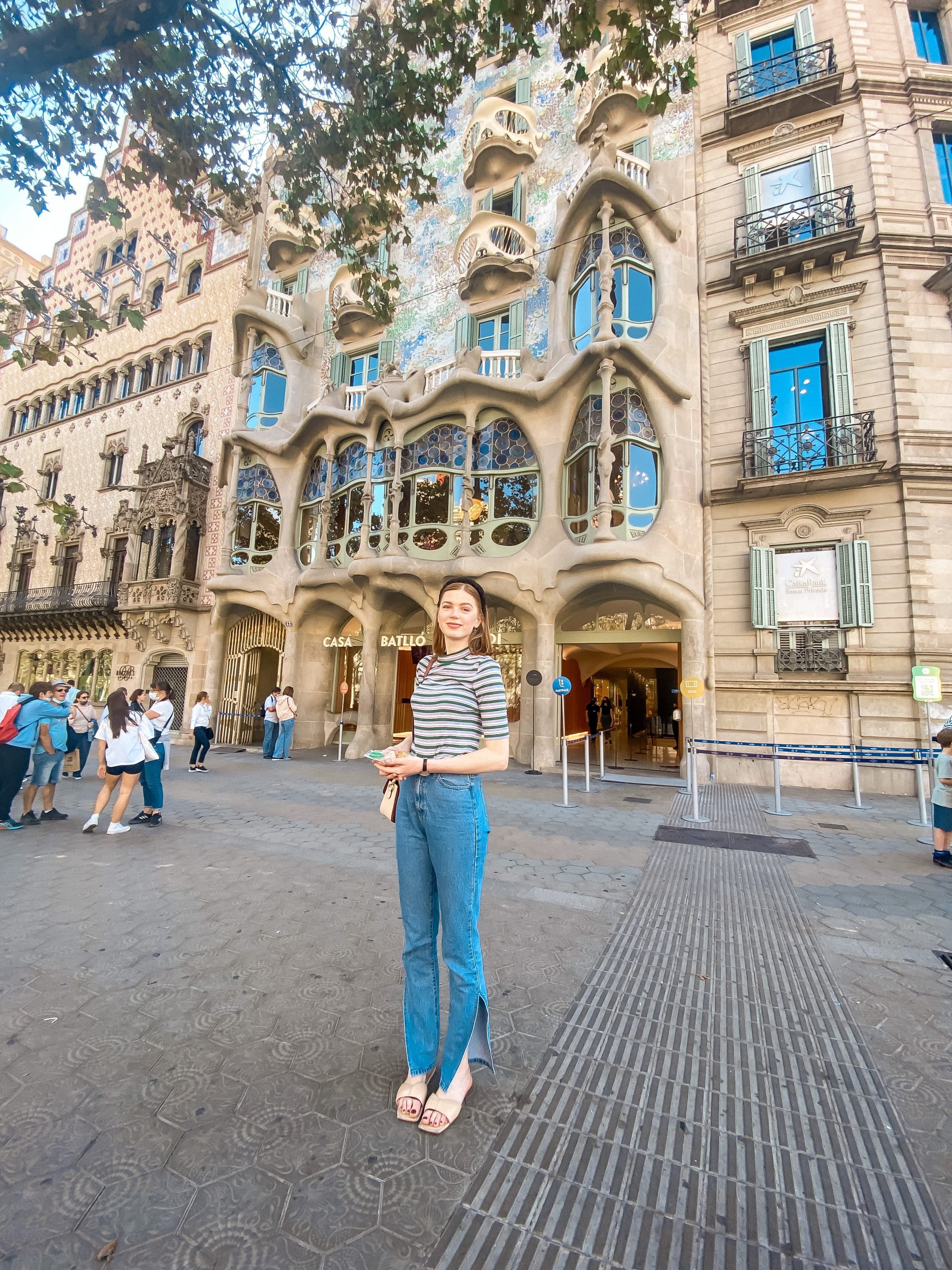 9. The end of our self-guided walking tour of Barcelona: Walk back to Plaça de Catalunya
10 min walking from Casa Battló
Our walking tour of Barcelona ends at Plaça de Catalunya, which is exactly where it started. I think it's a great spot to end the tour because it is very central. And if you need to take public transport or grab a cab you can easily do that from here.
By the way, if you are hungry I would recommend Ciutat Comtal for tapas. To me, it is one of the best places in Barcelona to try different kinds of Spanish food. Their whole menu is just Spanish tapas so you can easily eat your way through the menu and try other things out.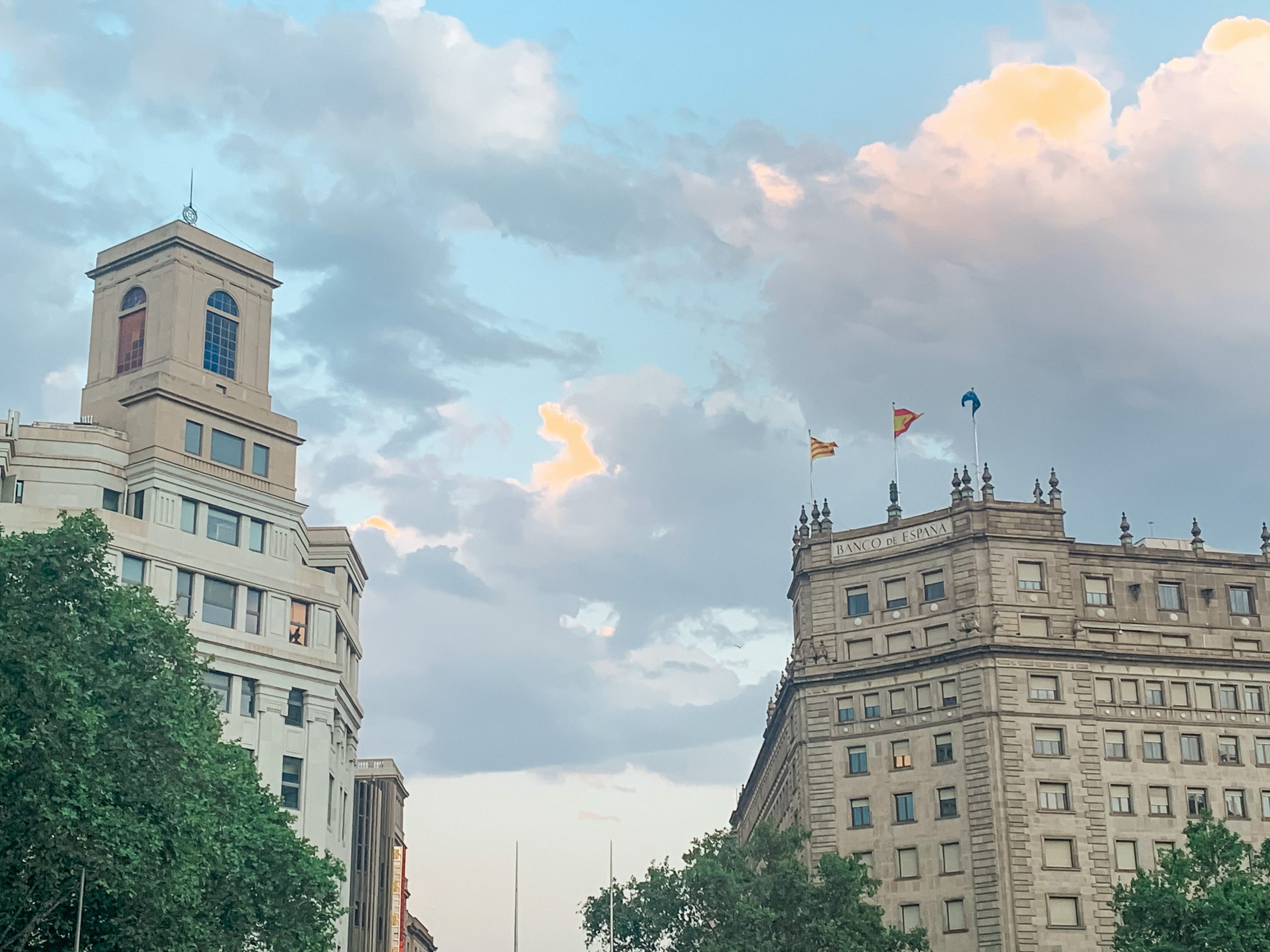 If you still have energy and want to see more of Barcelona, here are some recommendations of what you could do after we finished our tour:
In case you want to extend your self-guided walking tour of Barcelona:
Walk up to Park Güell: I did not include Park Güell in this walking tour because it is quite a walk away from the city center. But, it is soooo worth it visiting that I still decided to mention it here. Park Güell is a park that was designed by Antoní Gaudí and is one of the most iconic places of Barcelona.
Do a boat tour: This one is still on my list of things to do in Barcelona. I found this catamaran boat tour that you can do from the port of Barcelona. You will have a fantastic view of the city from the boat and will A ticket only costs 10€ which I think is really affordable. That way, you can also explore the port and the beach of Barcelona.
Check out Passeig Maritim: And while you are already considering the mentioned boat tour, how about a beautiful walk around the beach of Barcelona? I promise you will fall in love with the views and the little breeze you have there. By the way, how about a glass of wine at one of the beach bars while you are already there?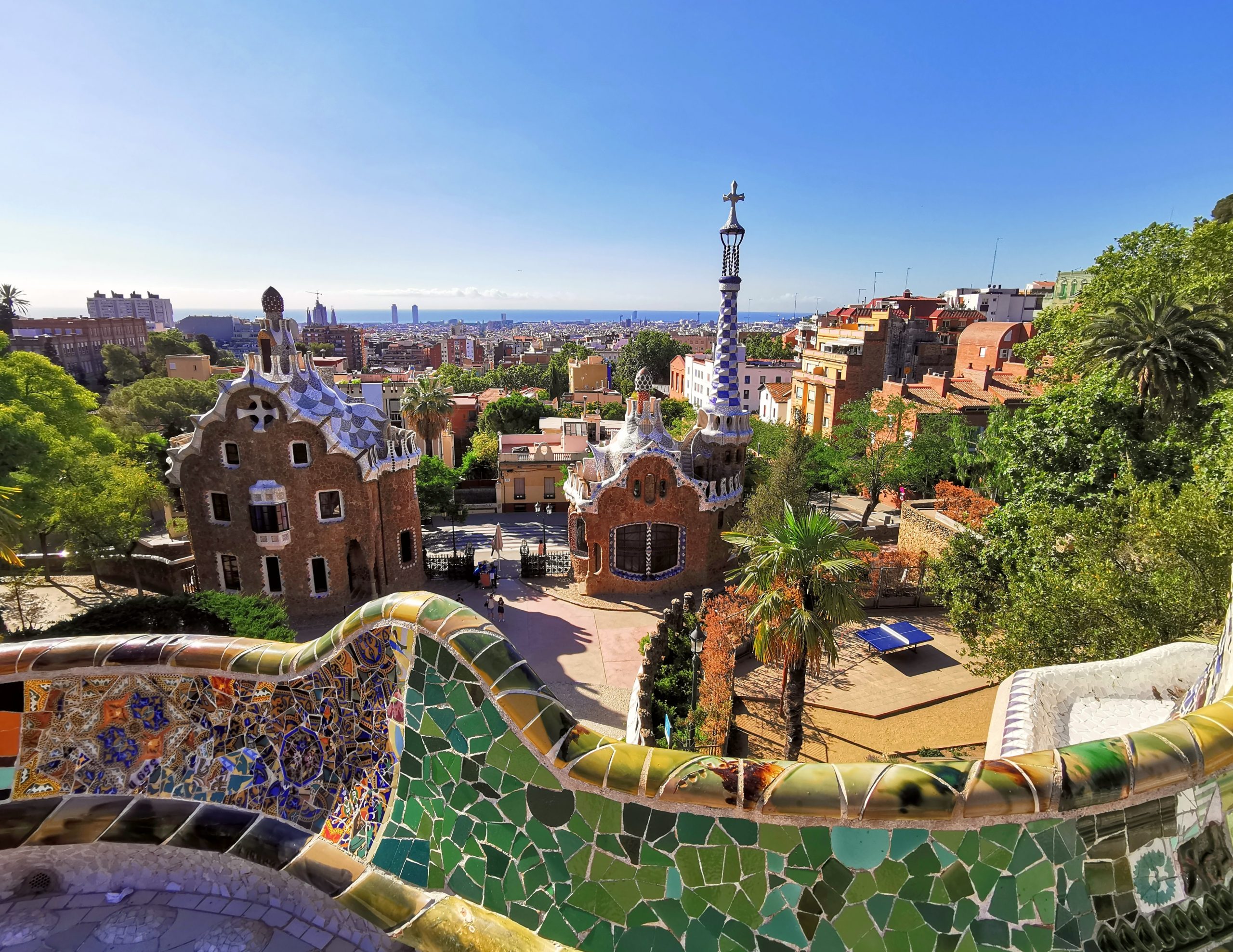 ---
And that was our self-guided walking tour of Barcelona! Did you enjoy it? I hope your feet do not hurt too much from all the walking. But in the end, I think that is the best way of getting to know a city. Do not forget to download the interactive map in this blog post. It will really help you to get along in Barcelona and to always know what your next destination is!