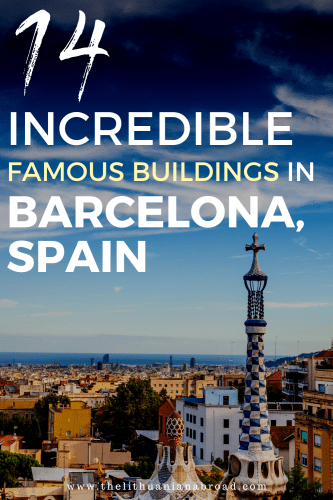 Every time I visit my boyfriend in Barcelona he tells me: When walking around Barcelona, instead of looking down, you actually have to look up. Why? Because one building looks more beautiful and unique than the next one. Barcelona has so much to offer for lovers of architecture and history. There are so many beautiful buildings to admire and interesting monuments to see. But in this blog post, we will focus on 14 famous buildings in Barcelona. Yes, we will talk about Antoni Gaudí and the famous buildings in Barcelona he designed. But not only that, a couple of the buildings in this list made it to the UNESCO World Heritage list.
I am pretty sure that you might already know some of the famous buildings on this list. But I bet there are a couple of ones you did not know about yet! So let's jump into it: Here are 14 famous buildings in Barcelona and what you should know before visiting them.
---
Affiliate links may be sprinkled throughout the free content of this blog post. If you purchase from one of the links I may receive a small commission while the price for you stays the same. This helps me cover the costs of The Lithuanian Abroad. Gracias!
Other blog posts about Barcelona that could interest you!
Let's do a self-guided walking tour around Barcelona: This post includes a complete itinerary for a self-guided walking tour in Barcelona. I made sure to include the city's most important monuments and places to see. + An interactive map you can download!
Barcelona Bucket List with more than 20 activities: This post is a bucket list for visiting Barcelona so that you will never run out of ideas about what to do during your trip. It features the most important Gaudí buildings, museums, monuments, sunset spots and more!
25 free things to do in Barcelona, a budget-friendly guide: And you thought visiting Barcelona has to be expensive?! This guide includes more than 25 things you can do in Barcelona for free. Which even includes one Gaudí building, the best museums, parks and more.
What to do in Barcelona during the evening and at night: This post includes the best ideas about what to do in Barcelona at night. Here, I show you Barcelona's best cocktails bars, sunset spots, and other amazing activities you can do in the evening. Check it out 🙂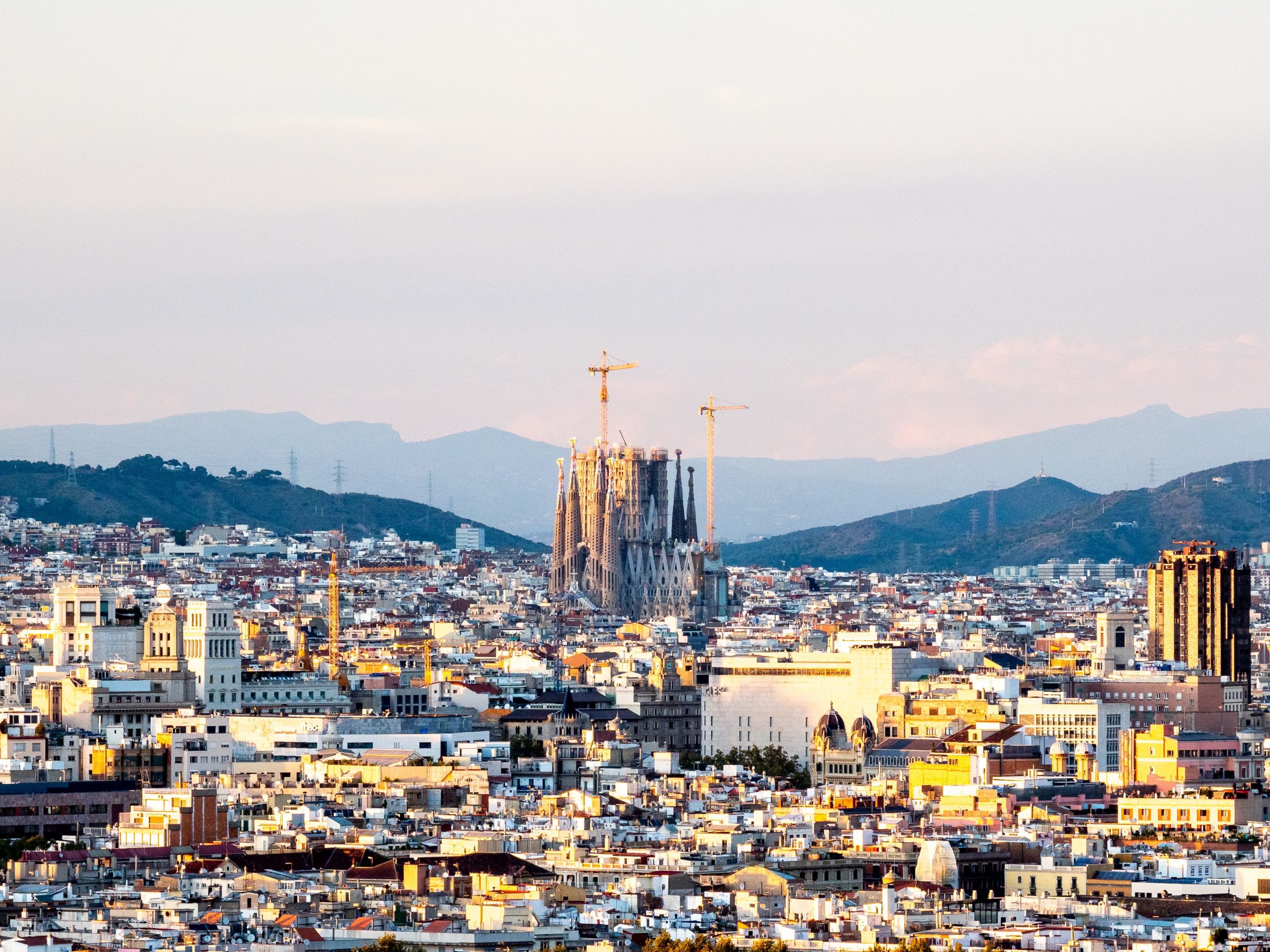 Make sure to do a free walking tour in Barcelona
Free walking tours are one of my favorite things to do when I go on a city trip. It's a great way to see the most important parts of the city and learn a lot about its history. The local guides always do an amazing job showing you not only the tourist spots but also the secret places only locals know about.
How do free walking tours work? Free walking tours do not come with an exact price tag, which is why they are free. You will spend some hours walking around Barcelona with your local guide, and I promise you, you will learn a lot about the city. At the end of the tour, you will have the chance to leave your local guide a tip. And it's really up to you how much you would like to tip him. It really depends on how much you liked the tour and what's in your budget.
You can find more information about free walking tours and book your free walking tour in Barcelona here.
Take the hop-on hop-off bus in Barcelona
The hop-on hop-off bus will be a lifesaver if you are not planning to stay in Barcelona for long, but still want to see as much as possible of the city. Even though Barcelona is very walkable, which is one of the reasons I love visiting it, you cannot always walk to the monuments that are further away from the city center. So how do hop-on hop-off buses work?
These red buses are driving around Barcelona in a circle, attending more than 30 stops. These stops are usually close to the most important monuments in the city. With your ticket, you can get on the bus at your closest stop. Once you reach your desired destination, get off the bus and explore the surroundings. When you want to continue your trip, you just have to walk to the closest stop. The next bus is usually only a couple of minutes away.
The tickets start at 30€/day. You can find more information here.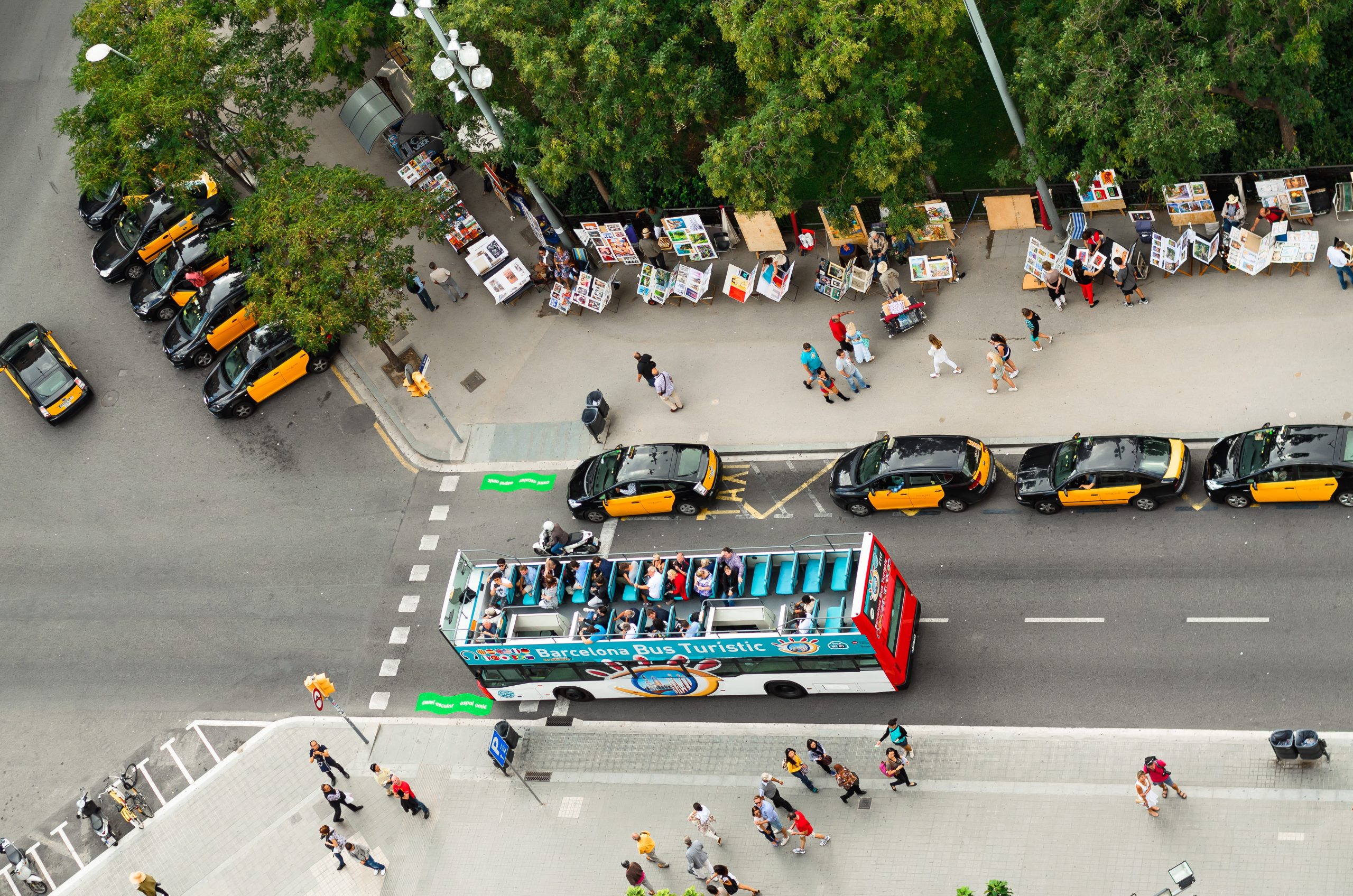 Let's start: 14 famous buildings in Barcelona you should know about:
1. Barcelona's most iconic building: La Sagrada Familia
Okay, number one is not going to surprise anyone: You have to visit the Sagrada Familia when coming to Barcelona (Duh!). It is probably Spain's most iconic landmark, which up to this day remains unfinished. The construction of the Sagrada Familia already began in 1882 and currently is planned to be finished in 2026. This would make the centenary of the death of Antoní Gaudí, the famous architect behind this majestic building. 
Like many other sources you probably already have checked out, I do recommend seeing the Sagrada Familia from the inside. If you are planning to visit the Sagrada Familia you really should book your tickets in advance. That way you can skip the queue at the entrance, which will save you loads of time! You can book your tickets here.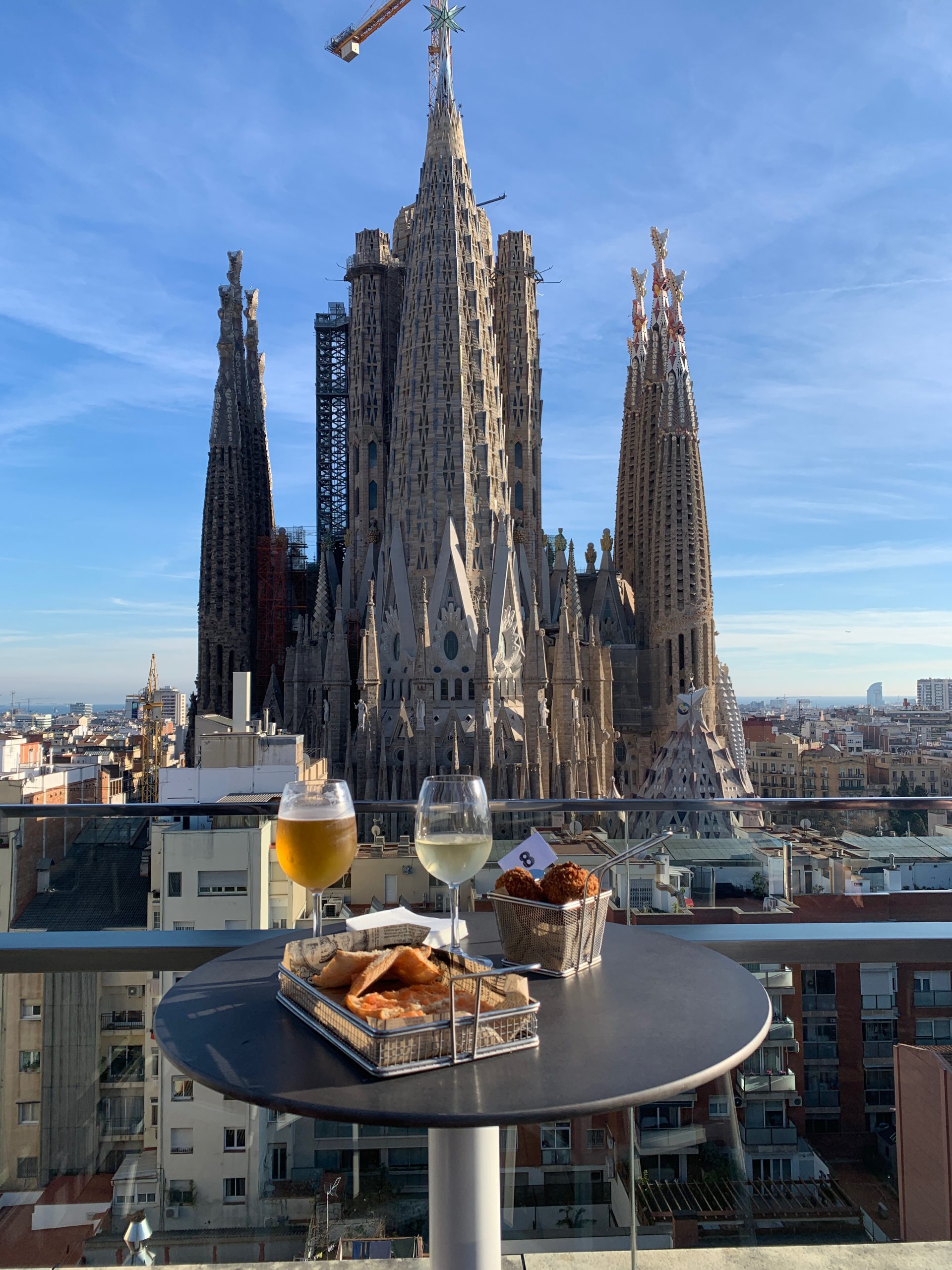 By the way, if you want to have a unique view of the Sagrada Familia, the rooftop terrace from Hotel Ayre Rosselón is the place to go! From there, you will have the best view of the Sagrada Familia. You will feel like in a movie. The reservation is free, but you have to order food/drinks when you are there.
You can book your reservation at Hotel Ayre Rosselón here
2. Another famous Gaudí building to admire: Casa Batlló
Casa Batlló is another gorgeous building you cannot miss during your Barcelona trip. Again, we have to thank the one and only Antoni Gaudí for it, who designed a couple of buildings on this list. Casa Batlló is a beautiful building located on the central street of Passeig de Gràcia in Barcelona.  In 1903, it was acquired by Josep Batlló who did not like its design and therefore hired Gaudí to redesign the building in 1904. Right after Sagrada Familia, this will be another UNESCO World Heritage site in Barcelona you can cross off your bucket list. 
Nowadays, you can go inside Casa Batlló and admire the beautiful interior design of the building. Believe me, there is a reason why people say it's one of Gaudí's best works. It's completely out of this world!
You can find more information about Casa Batlló and book your tickets here.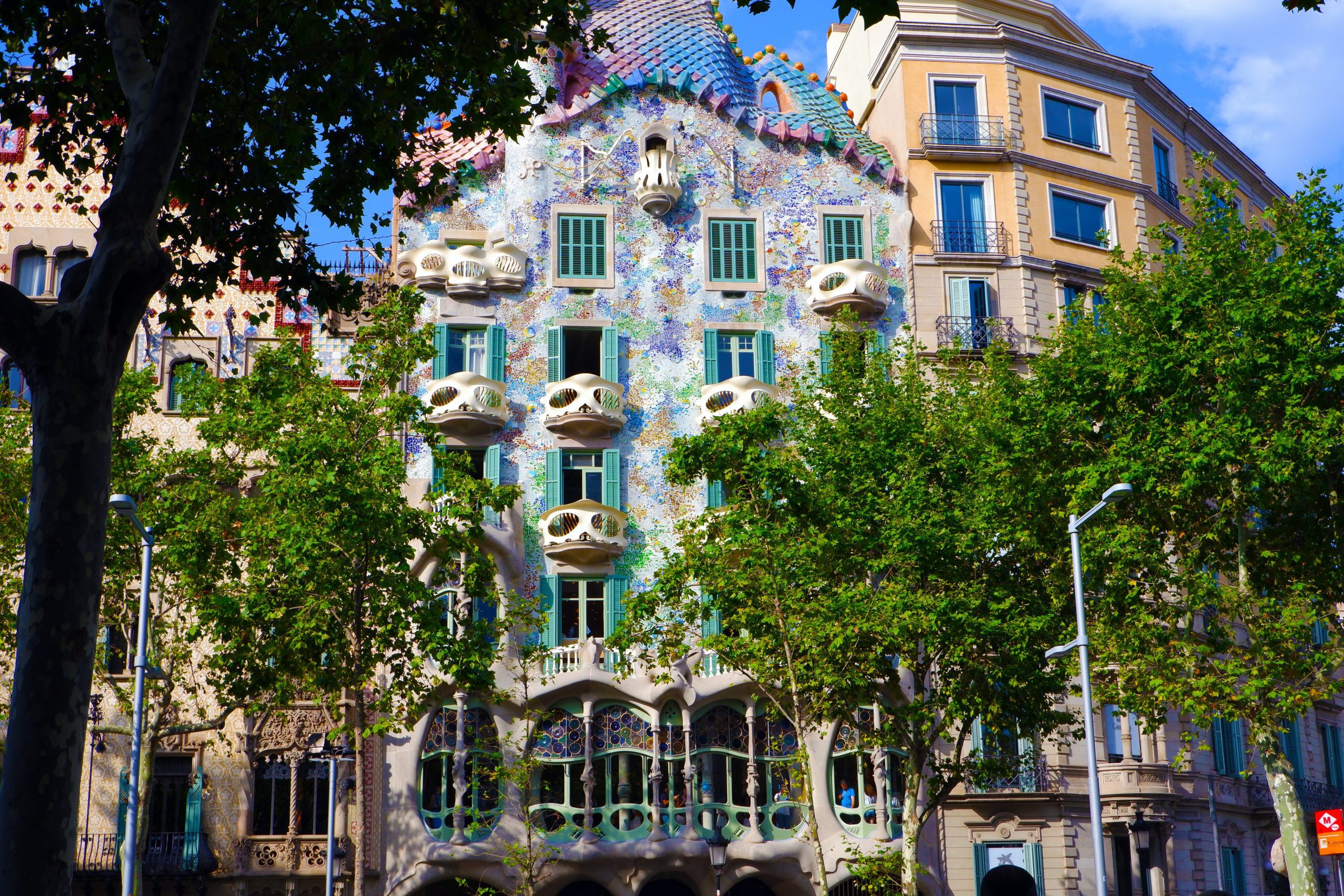 3. A famous building in Barcelona locals used to hate: La Pedrera
Casa Milá, also known as La Pedrera, has a very interesting history. This building was built between 1906 and 1912 and it was designed by guess who? Right, Antoni Gaudí. But here comes the interesting part: 
Because of its unusual design, many locals did not like the building and started calling it La Pedrera (in Spanish: Stone quarry). Some homeowners in the area were even scared that this 'ugly building' would decrease the prices of other buildings in the area. Can you believe that? I honestly doubt anyone would dare to call this building ugly now! 
Something that you should know is that La Pedrera has a spectacular terrace! And not only that, there are light shows during the evening on the rooftop that you can attend. Sounds like this could be the highlight of your Barcelona trip.
La Pedrera offers incredible night shows. You can book your tickets here.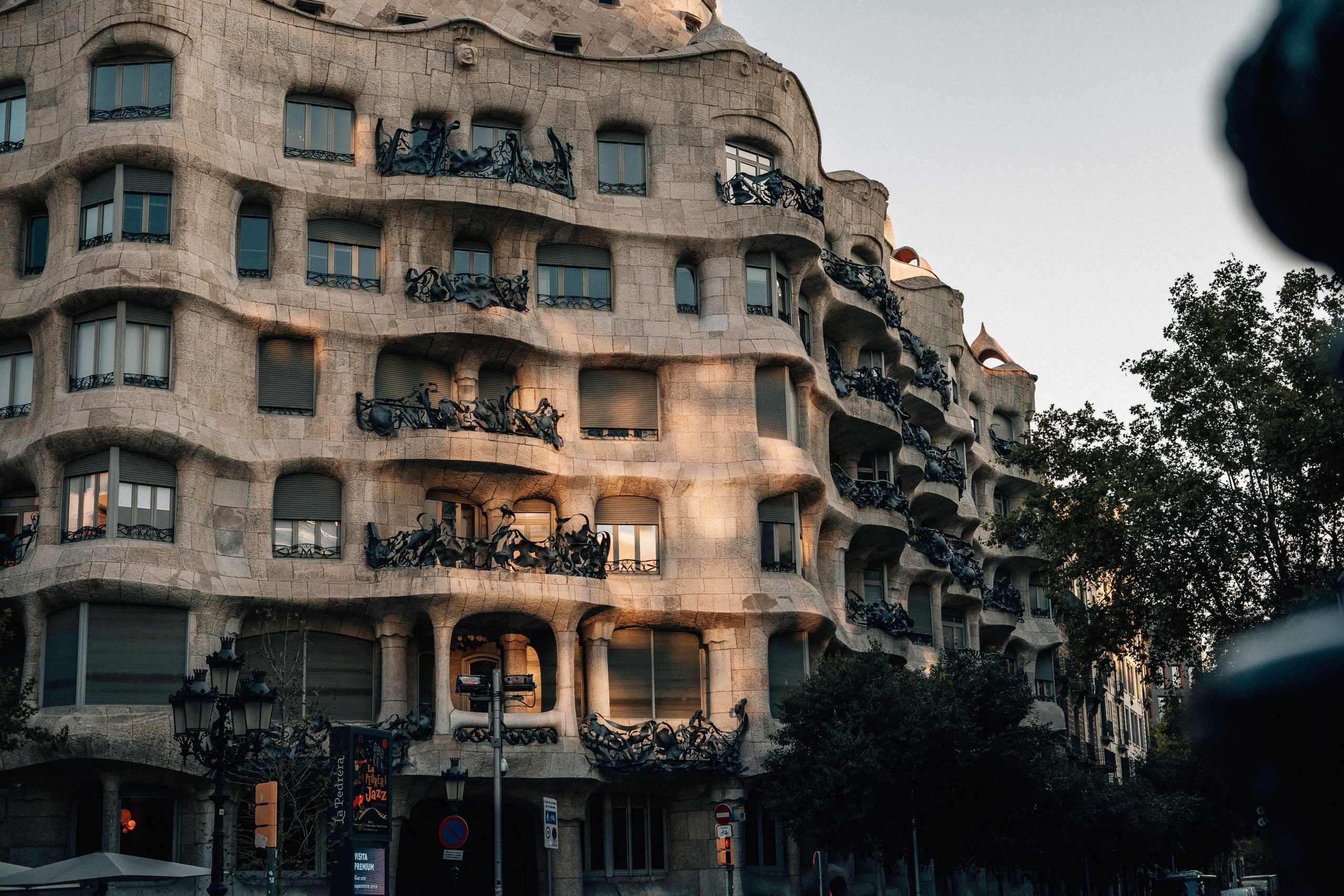 4. Casa Amattler, a beautiful building most people miss!
Casa Amattler is a beautiful building that is located right next to Casa Batlló. Since most people admire the beautiful and more known Casa Batlló sometimes Casa Amattler does not get the attention it deserves. But here is what you should know about it: 
This building was designed by the famous Catalan architect Josep Puig i Cadafalch. It was built in 1875, but later redesigned by the lover of archeology and chocolatier Antoni Amatller. It was owned by the Amatller family for almost a whole decade which is the reason why the inside is incredibly well preserved. Currently, it serves as a house museum and café.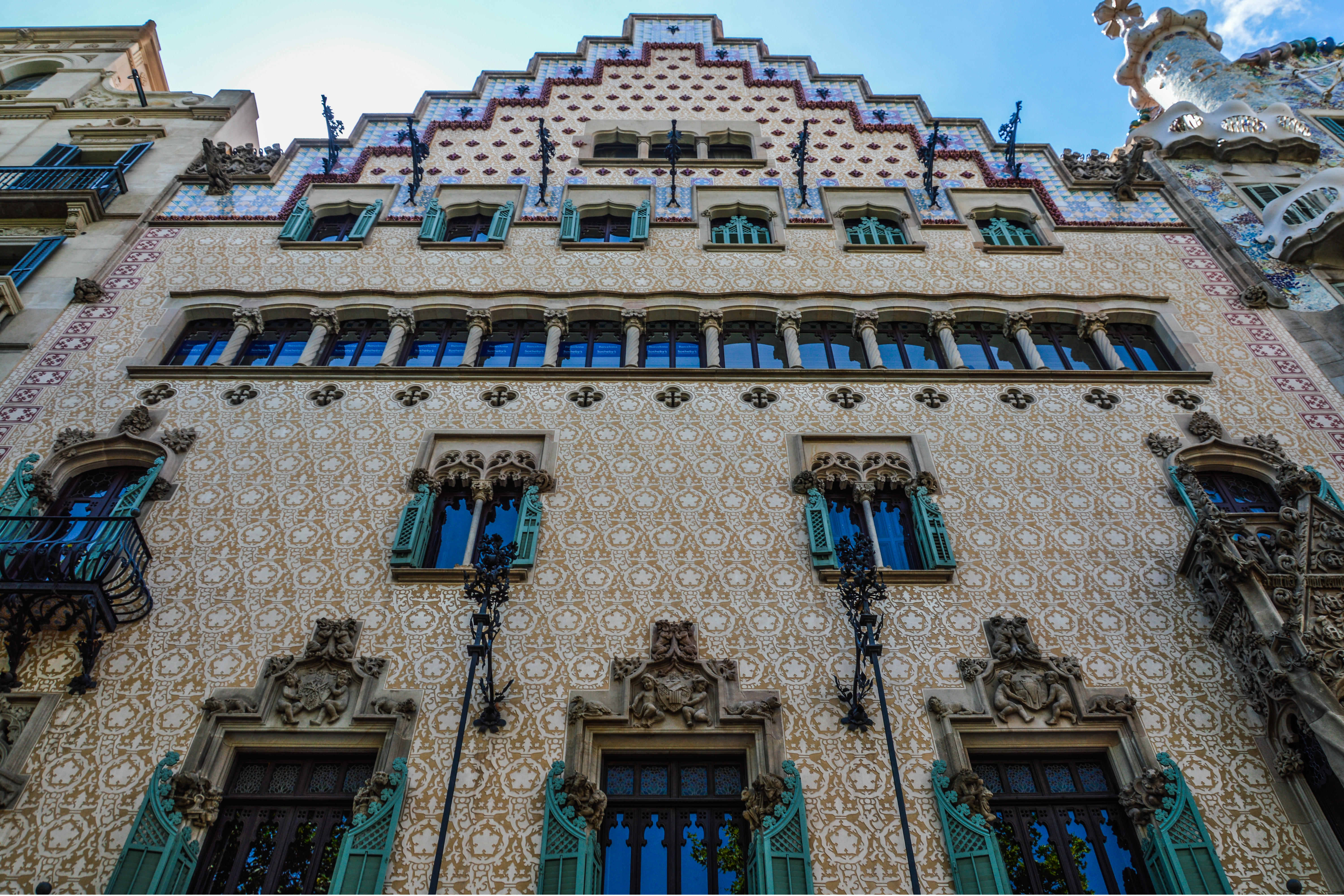 5. Palau de la Música Catalana, a jewel of Barcelona
Palau de la Música Catalana is a very unique concert venue in Barcelona. So exceptional, that it is the only concert venue as such in the world that ever received UNESCO world heritage status.
Palau de la Música Catalana is the perfect example of a building in the style of Catalan modernism and was inaugurated in 1908. It was THE place for concerts, orchestras, or any other events with instrumental music. 
Nowadays, you can do self-guided tours in the concert hall and see its beautiful interior. You will even get to see the concert hall and see the beautiful decorations of each room. You can book your tickets and find more information here.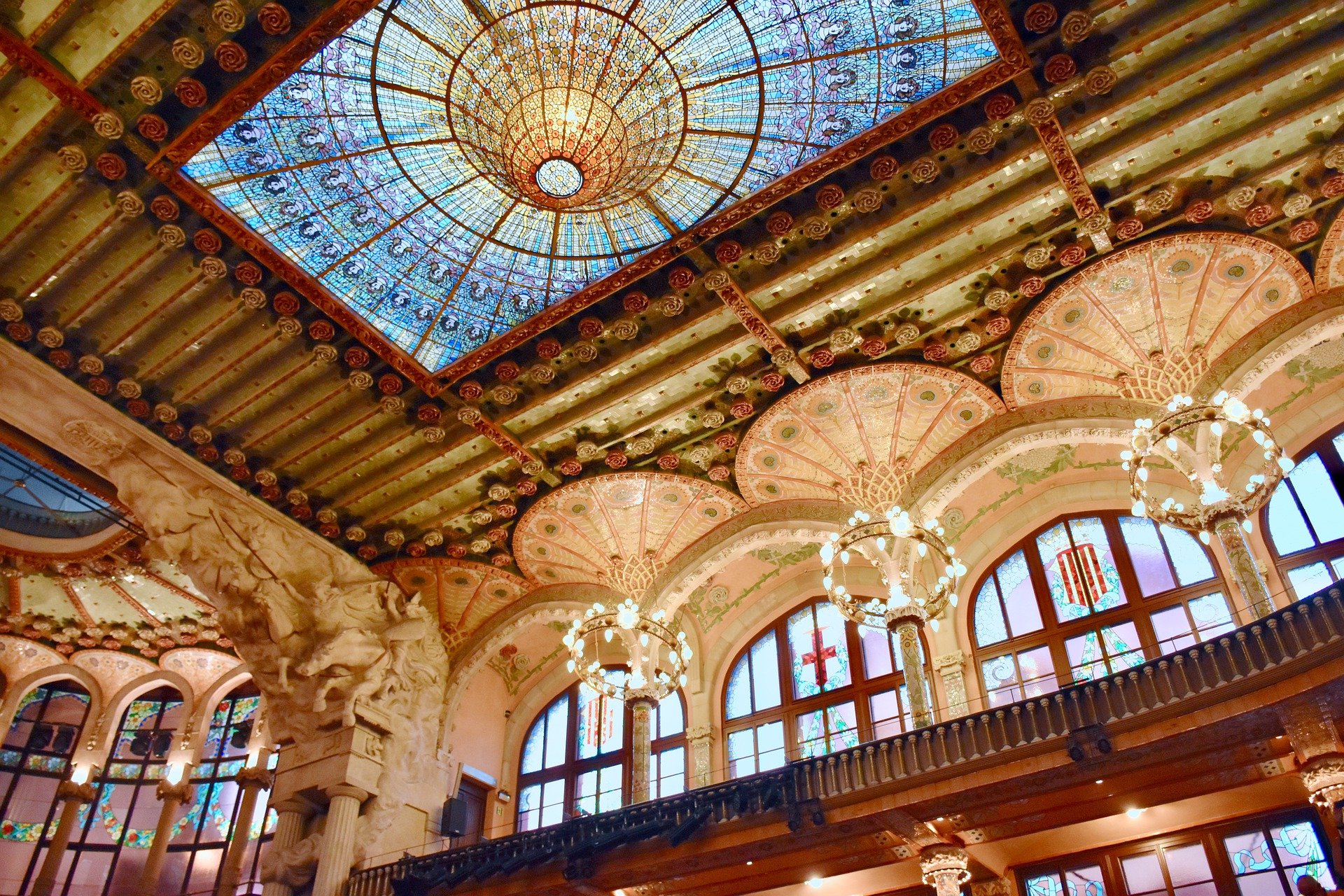 6. Look out for Palau Güell, a beautiful building right on La Rambla
When you walk down La Rambla you might not even realize that you are walking past another one of Gaudí's artworks: Palau Güell. Many people do not know about it, but this building is just as impressive as other famous buildings in Barcelona on this list.
This building was built between 1886-1890 and let's see if you knew the following: Eusebi Güell was a wealthy business man and wanted to build a mansion close to where his parents lived. By the way, La Rambla was not a great neighborhood of Barcelona back then. It was infamous for its nightlife, full of strip clubs and gambling halls. Building a house like that in that location? Seems crazy! You have to check out this mansion from the inside to make yourself a picture. It primarily served Güell for receiving and entertaining guests. Make sure to check out the roof. It is so unique and beautiful!
And because I am all about saving money, I am leaving you a tip about how to visit Palau Guell for free: There is free entrance on the first Sunday of each month. You have to book your free ticket before going.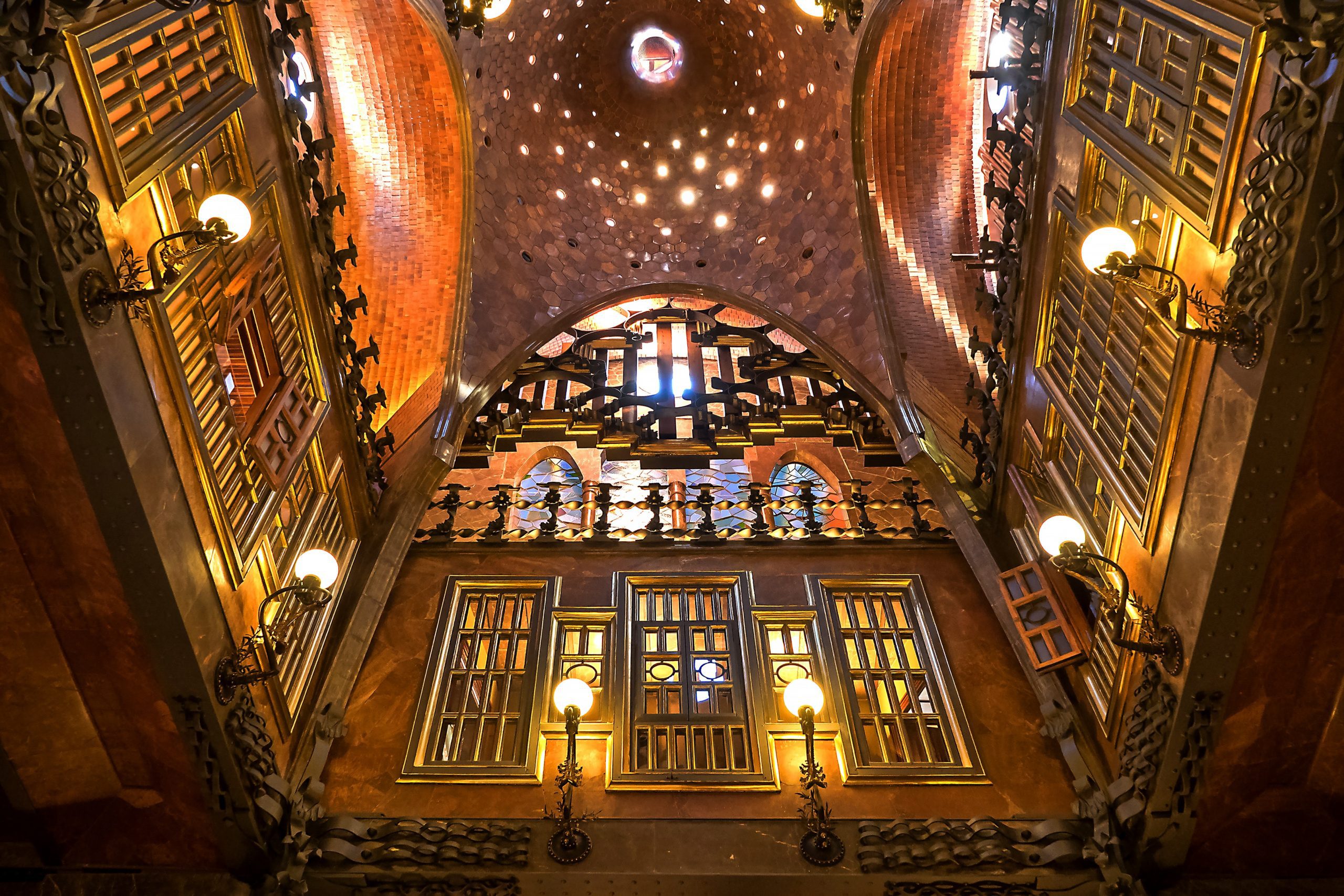 7. Admire Barcelona's beautiful Cathedral
The Cathedral of Barcelona was named after the patron saint of Barcelona "Santa Eulàlia", hence the complete name is "Catedral de la Santa Creu i Santa Eulàlia", which means "Cathedral of the Holy Cross and Saint Eulalia". 
This gorgeous building is from the 15th century and is a perfect example of Catalan gothic architecture. But the actual construction took way longer: The construction of the Romanesque church started in 1058. The construction of the actual cathedral started 200 years later. The last part of the cathedral, the neo-Gothic facade was only added in the 20th century.  After the Sagrada Familia, this is the second most important church in Barcelona. 
By the way, the perfect place to admire it is the "Colón" hotel right across of it. The views from the rooftop terrace to the cathedral are incredible!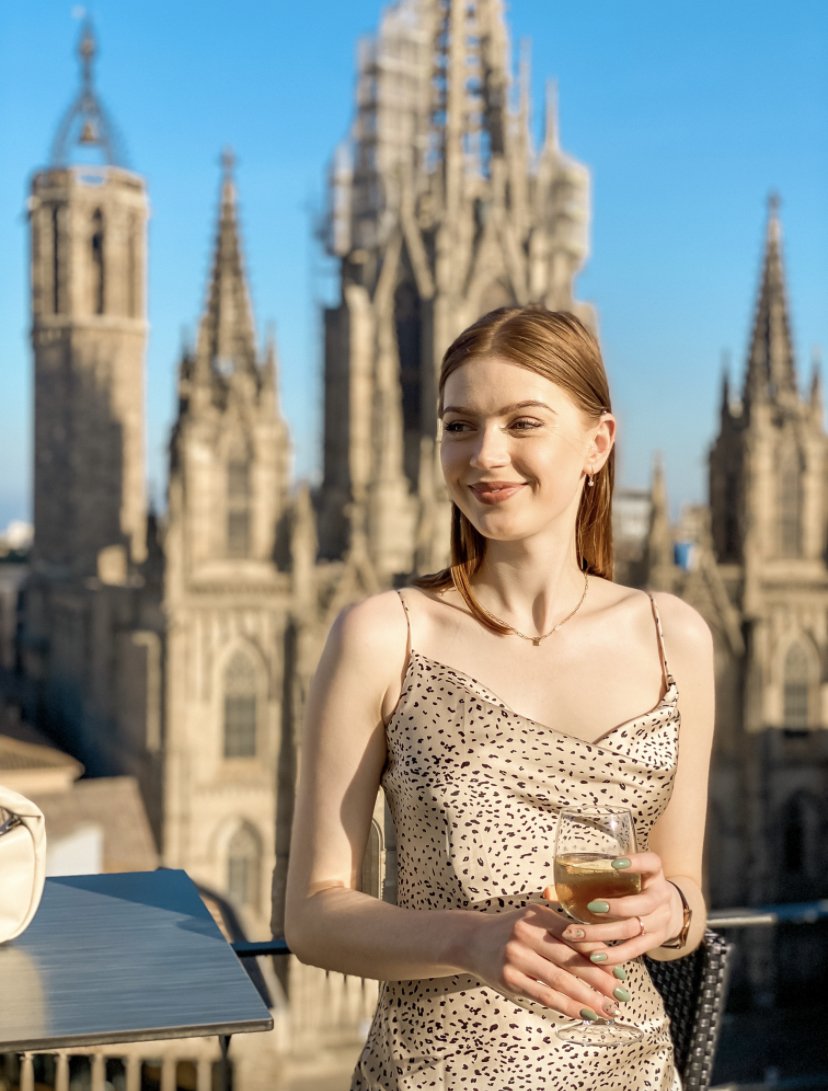 8. A beautiful monastery from the 14th century: Monasterio de Pedralbes
Monasterio de Pedralbes is a very beautiful place in Barcelona that you should not miss. It's a beautiful monastery from the 14th century that is incredibly well-preserved. 
The monastery houses its own exhibition, which has many pieces of furniture and other artifacts. But it also shows temporary exhibitions from time to time. Just look at the beautiful cloister of three floors and the quiet garden with orange trees and a fountain. This is one of the places that, in my opinion, is definitely worth visiting in Barcelona!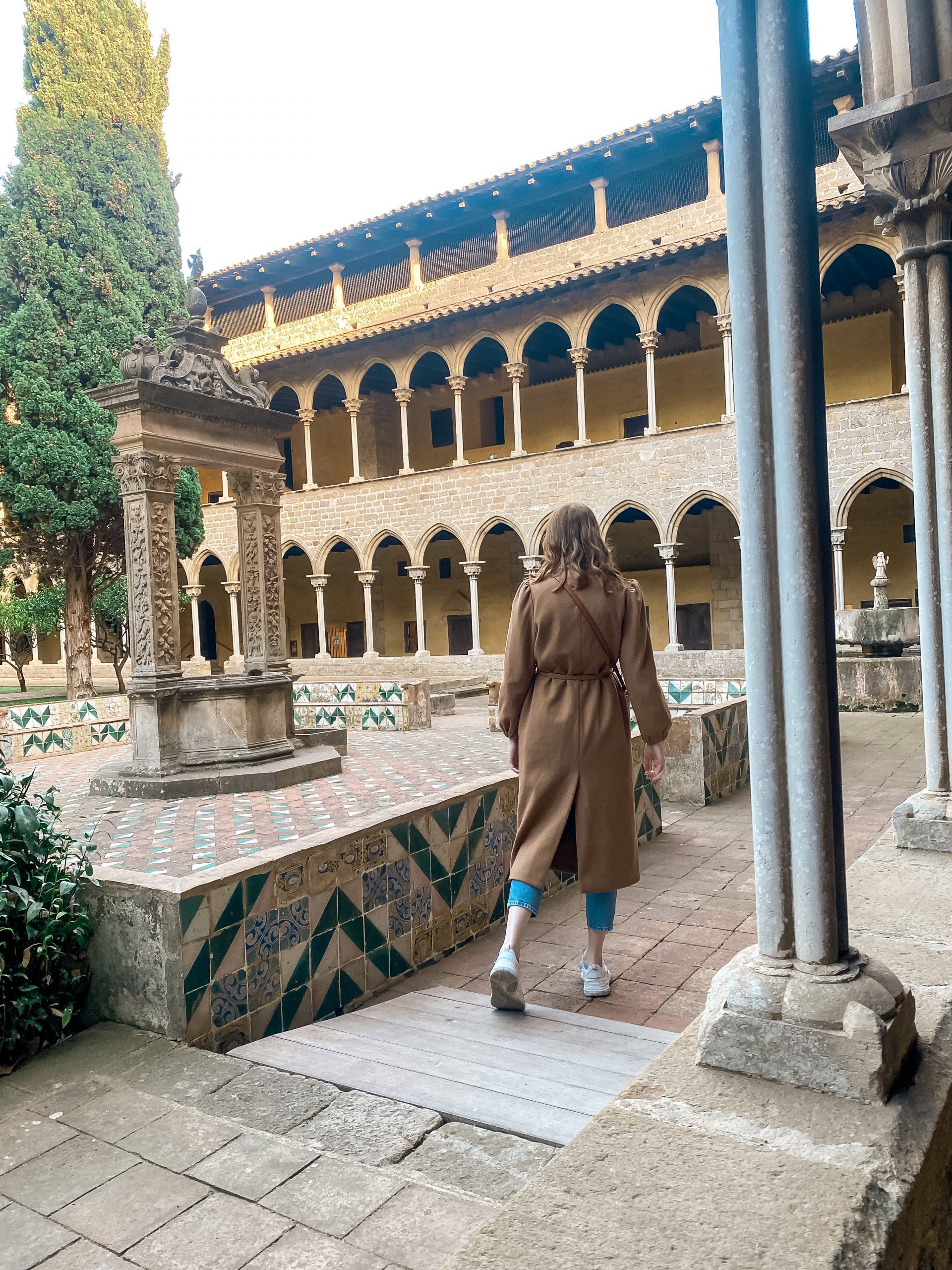 9. Palau Nacional of Montjuïc, one of Barcelona's most glorious buildings

Montjuïc is one of the places you cannot miss during your Barcelona trip, especially during sunset! The name "Montjuïc" means "Jewish Mountain" in Catalan and refers to the area of Barcelona where the Jewish community used to live. Nowadays, it is one of the most popular areas to visit for tourists and locals. The views you have from up there are just incredible! 
Since we are talking about famous buildings in Barcelona in this blog post, I wanted to mention the Palau Nacional in Montjuïc. It was the main location of the famous 1929 International Exhibition. Nowadays it is home to the National Art Museum of Catalonia.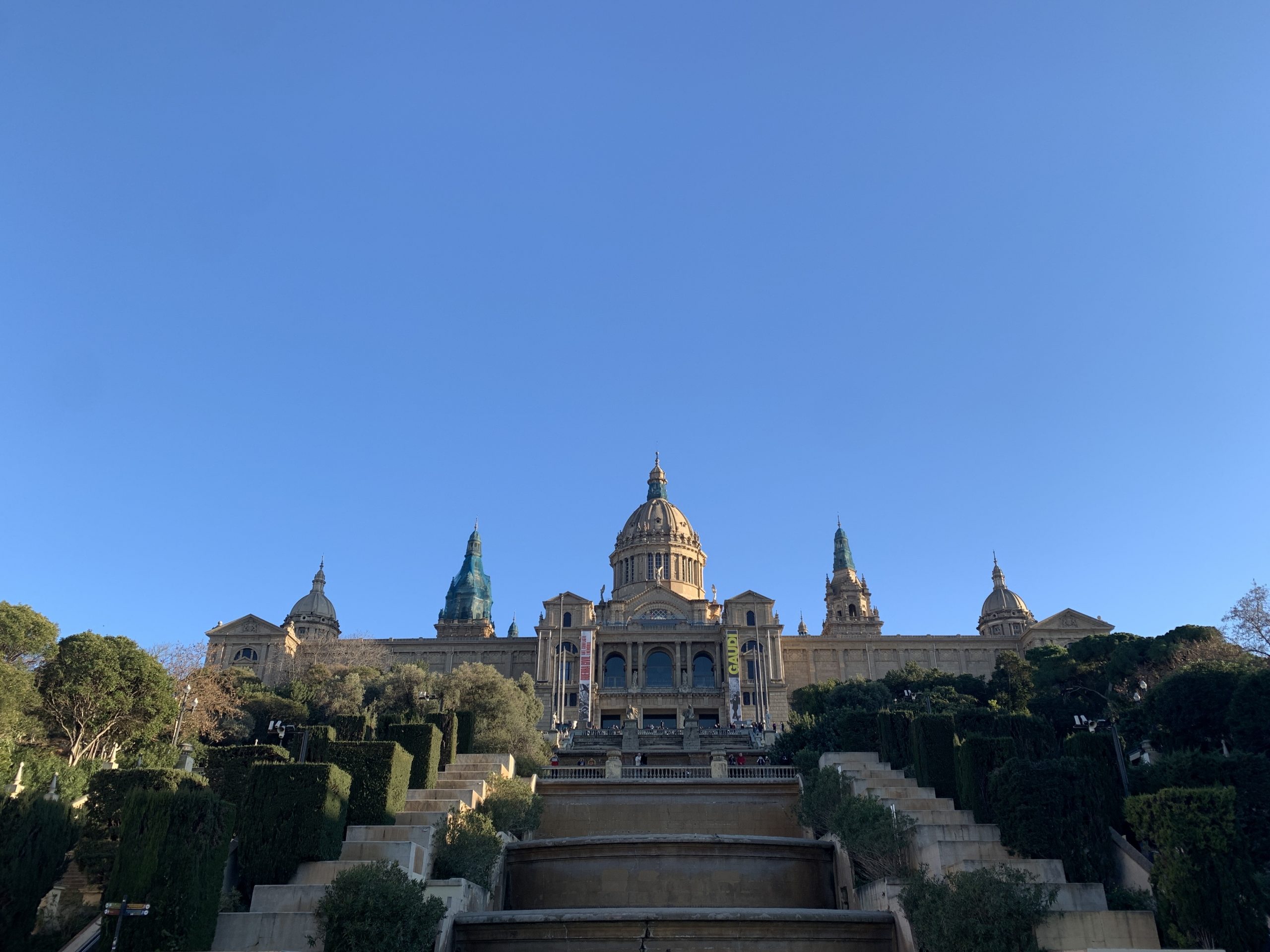 10. Casa Vicens, Gaudí's first building in Barcelona
Casa Vicens was the first important job Antoni Gaudí ever received in 1883. Wealthy businessman Manel Vicens i Montaner decided to trust Gaudí with the design of a summerhouse in the beautiful neighborhood of Grácia. During that time, Grácia was a suburb of Barcelona where many wealthy families had a holiday house. 
You absolutely have to see Casa Vicens from the inside. It's such a colorful building that is absolutely unique. Stylistically, it belongs to Gaudí's oriental phase. And you will be able to find many elements to prove that. The highlight will definitely be the "smoking room". The colors are from out of this world!
You can buy your tickets for visiting Casa Vicens here.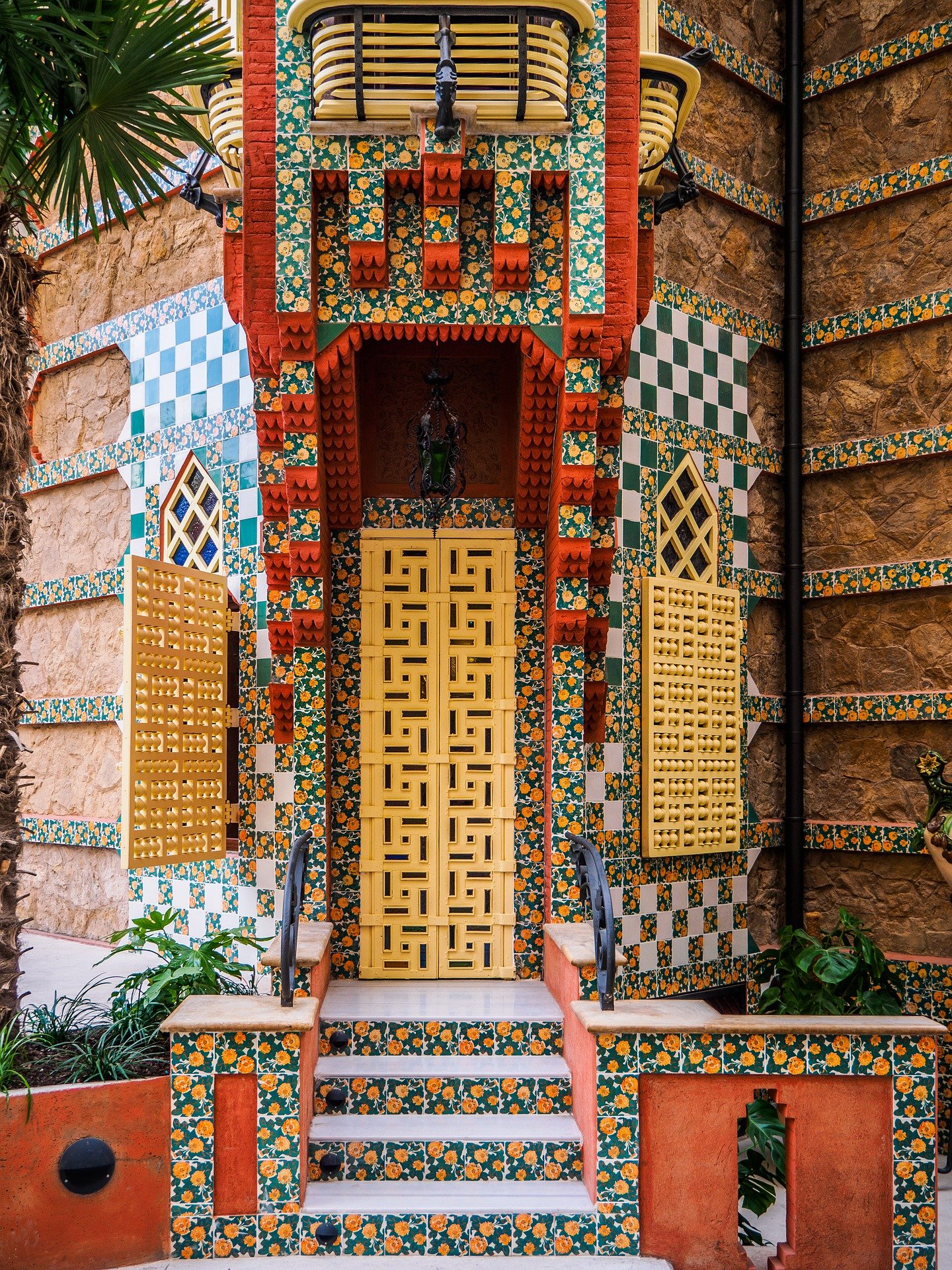 11. Torre Glòries, a famous building in Barcelona's skyline
Okay, you probably thought about it and I am gonna say it: Yes, locals do compare this building to a huge penis in Barcelona's beautiful skyline. But according to French architect Jean Nouvel, Torre Glòries was designed to have the shape of a geyser rising into the air. So stop it with the dirty mind!
But there is more to know about this building than just this anecdote: 
Torre Glòries has a total of 34 floors and is 144m high, which makes it the tallest building in Catalonia! It looks especially beautiful lit up in the evening. Have a look at it in your Barcelona skyline photos in the evening!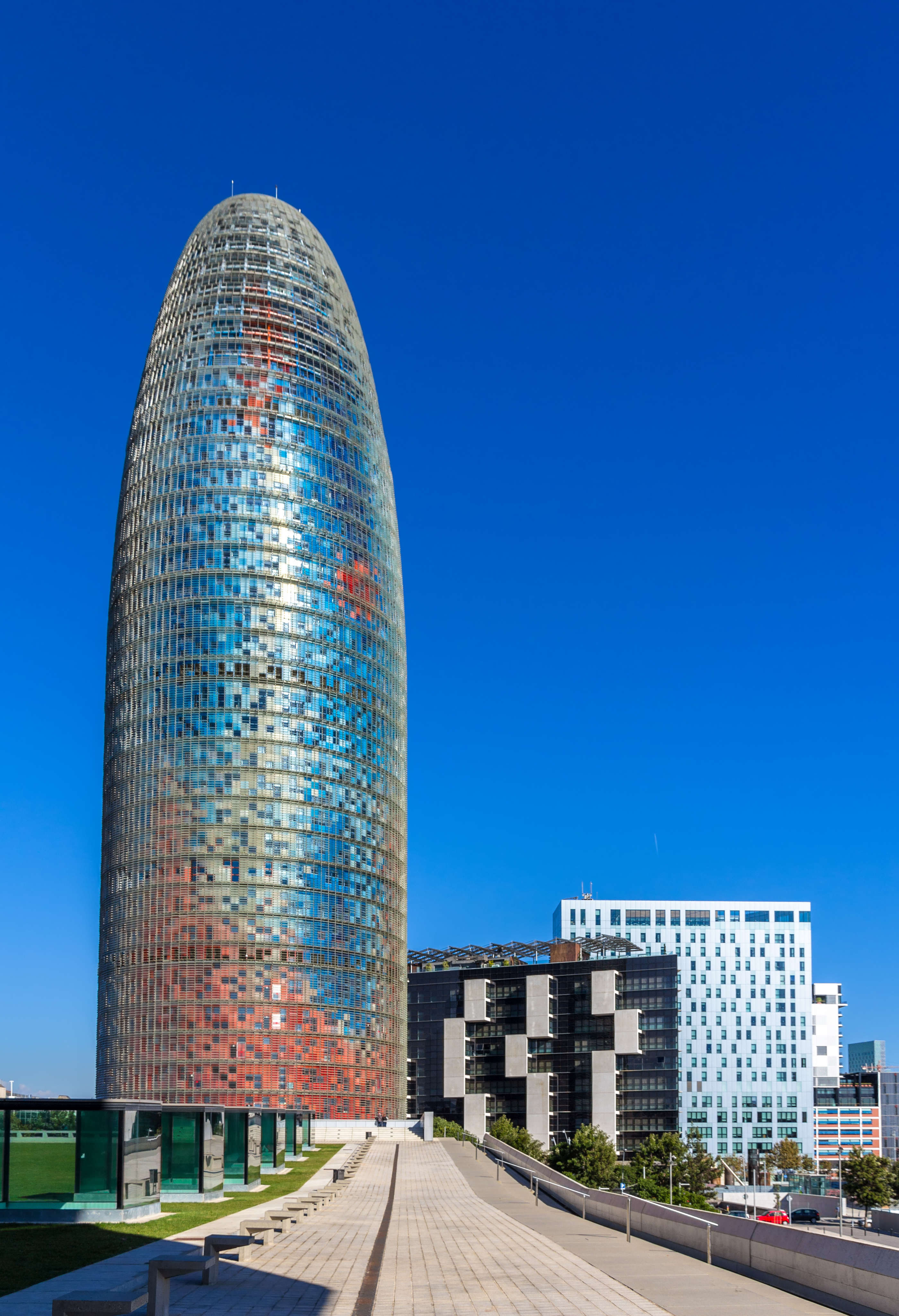 12. Barcelona's most famous hotel: W Barcelona Hotel 
The W Hotel, also known as Hotel Vela, is a famous hotel right at the beach in Barcelona right next to the port. It is a luxury 5-star hotel that belongs to Marriott International and operates under the brand W Hotels.
This hotel owns 473 rooms, 67 suites, a rooftop, a gym, several pools, and everything you could even ask for in a 5-star hotel. Their restaurant is operated by the famous Spanish Michelin-starred chef Carles Abellán. If you are interested in staying there, you can find more information about availabilities and prices here. 
Here, I also want to mention some controversies about this building: Many locals complain that the building does not comply with Spanish coastal laws which prohibit the construction of a building closer than 100m to the shore. You can tell that this building was built right at the beach. So can anyone tell us what exactly happened there?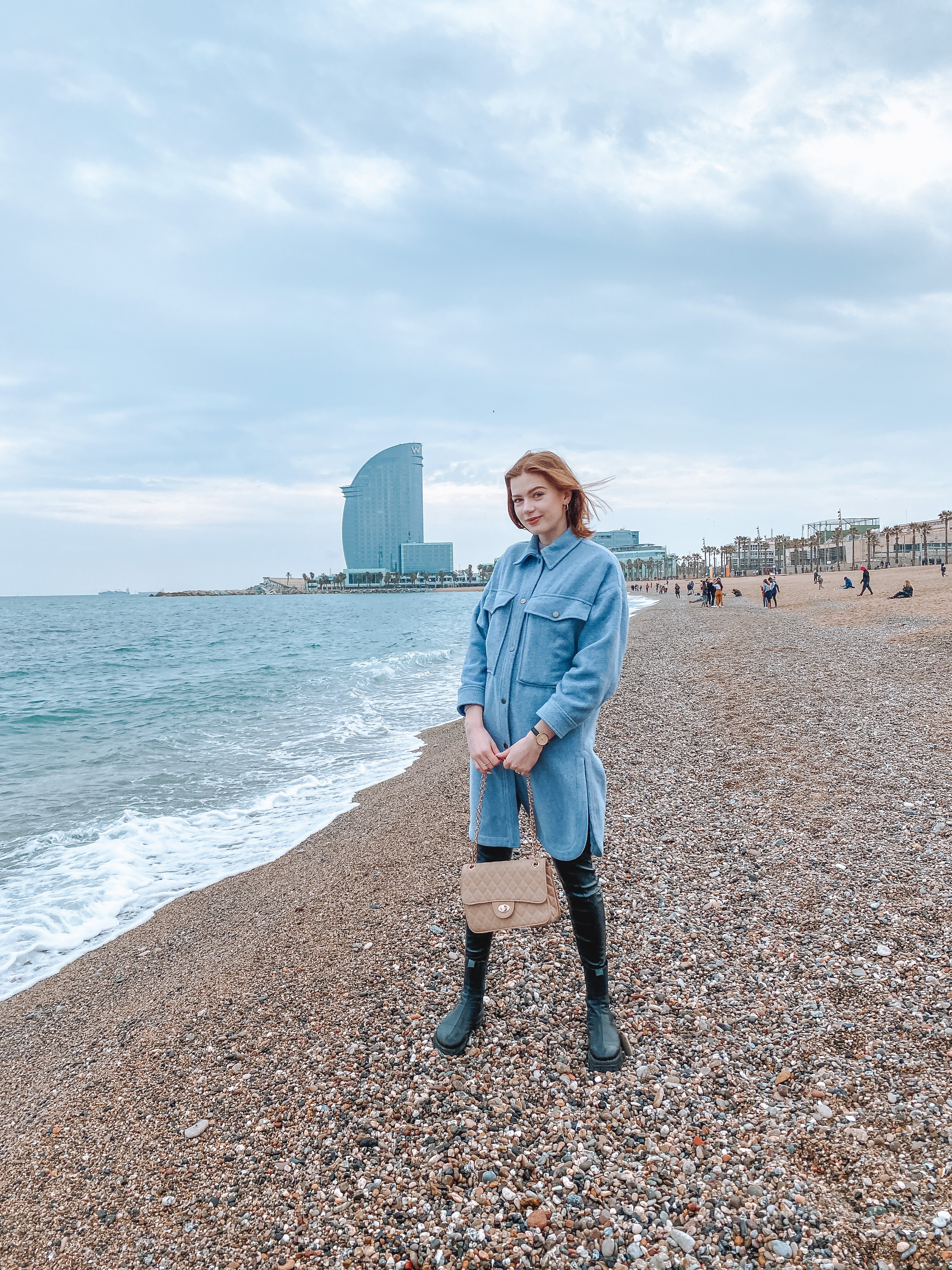 13. Temple of the Sacred Heart of Jesus in Tibidabo
When walking around Barcelona you probably already have seen a hill in the distance with a building and a big statue overlooking Barcelona. That is Mount Tibidabo, the highest mountain in the Serra de Collserola mountain range surrounding Barcelona.
The church at the top of the mountain is called Templo Expiatorio del Sagrado Corazón de Jesús and features a big statue of Jesus. The views you have from Mount Tibidabo of Barcelona and its coastline will blow your mind!
By the way, visiting Mount Tibidabo in Barcelona is the perfect one-day trip. I wrote a detailed guide about visiting Tibidabo, which you can find here.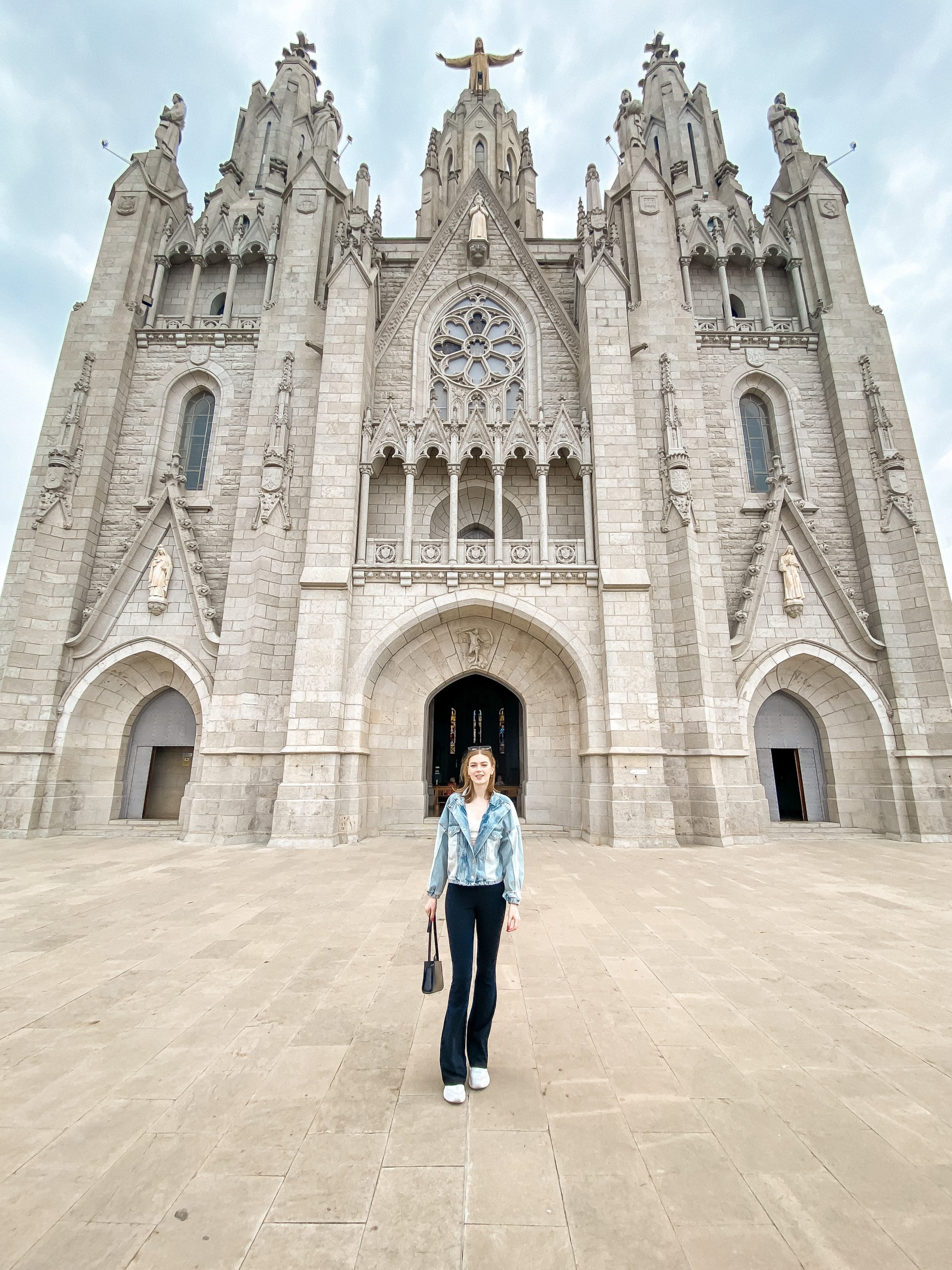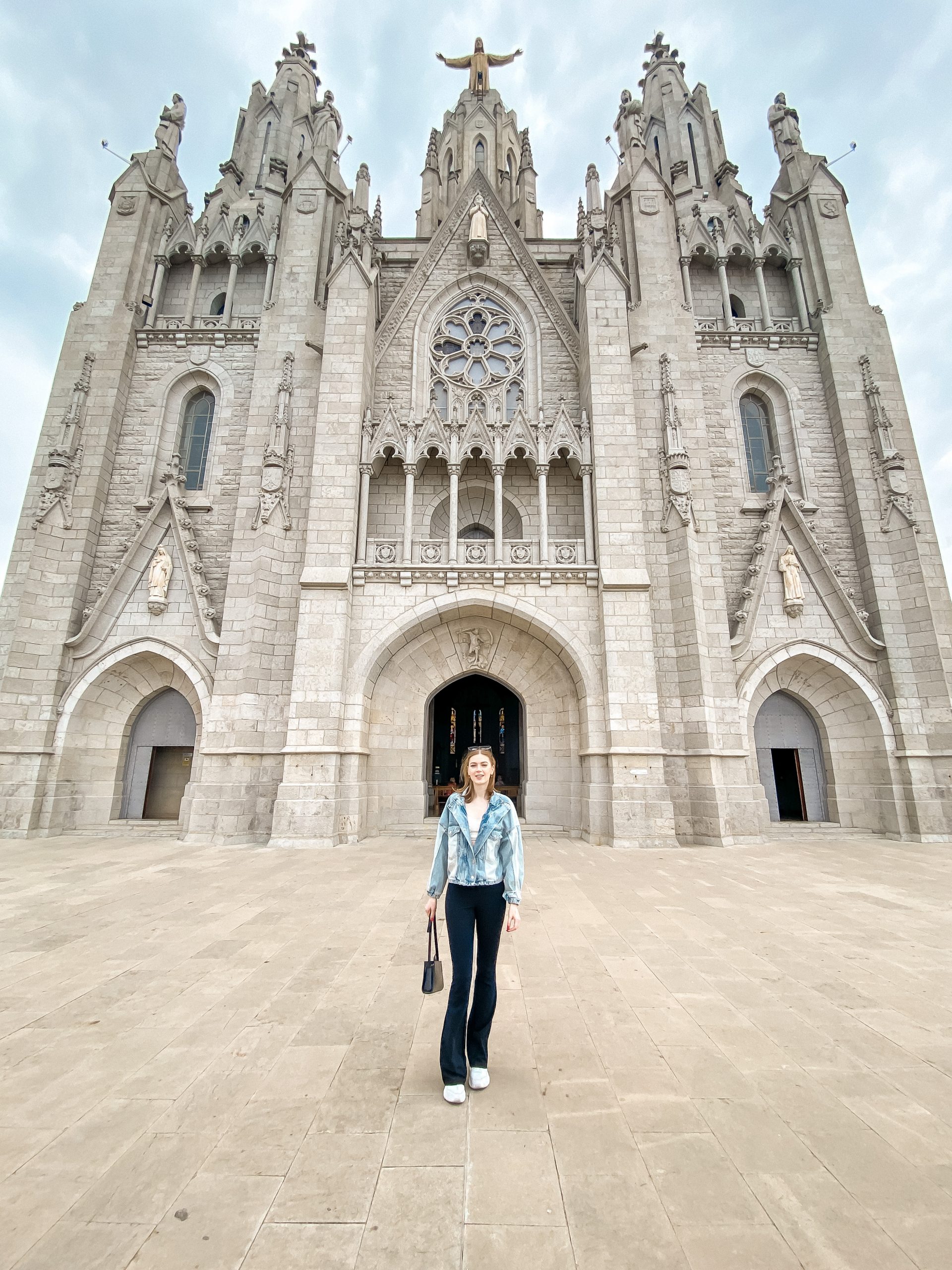 14. Camp Nou, the biggest football stadium in Europe
I thought we also have to mention the iconic Camp Nou stadium here, which is the biggest football stadium in Europe. If you are a football fan, this is a place you have to check out. Apart from the stadium, you can visit the FC Barcelona museum. It shows the history of the team and you get to see trophies the team has won in its history. There are guided tours that show you the stadium, too.
I feel like it's interesting to mention the following fact: In March 2022 it was publicly announced that Spotify made a deal with FC Barcelona and acquired the naming rights of the Stadium. In July 2022, the stadium will be renamed Spotify Camp Nou.
You can get your tickets for the stadium tour and museum here.