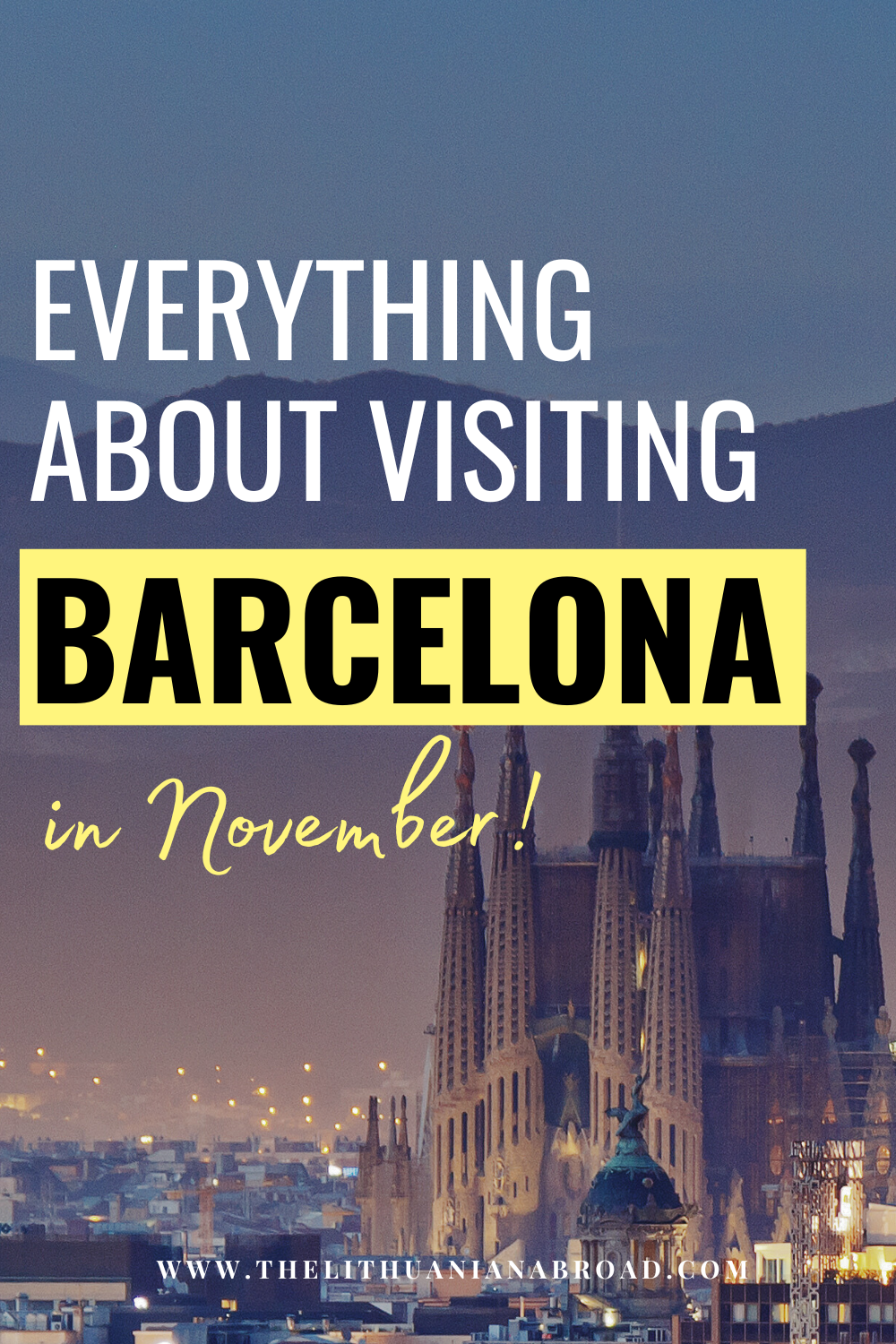 Are you currently debating whether Barcelona in November is worth visiting? Then you came to the right place. My boyfriend lives in Barcelona which is why I spend a lot of time here, exploring its beautiful corners and diving into its food scene. And honestly, I think November is a great time for coming to Barcelona. The weather is usually very mild and the city is not as crowded as when you come here in December. 
That is why I decided to write a blog post with everything you need to know about coming to Barcelona in November. We will talk about the weather in Barcelona in November, events, places to visit and so much more. And of course, we will talk about the festive season, which you might get to experience if you happen to visit at the end of the month. So keep on reading! Here is everything you need to know about visiting Barcelona in November.
---
Affiliate links may be sprinkled throughout the free content of this blog post. If you purchase from one of the links I may receive a small commission while the price for you stays the same. This helps me cover the costs of The Lithuanian Abroad. Gracias!
Other Barcelona blog posts you must check out: 
Barcelona in December, Everything you have to know! This blog post tells you everything you have to know about visiting Barcelona in December. Get ready for cozy Christmas vibes!
Barcelona bucket list with more than 20 activities: This blog post shows you the best must-do activities for Barcelona! From visiting the Sagrada Familia, Park Guell, to famous buildings, food spots, and more!
Barcelona off the beaten path! In this blog post, you can find all lesser-known places, hidden gems, and other off-the-beaten-path locations in Barcelona. Avoid all the tourists with this blog post!
A blog post about Barcelona's famous buildings: In this post, we talk about more than 14 famous buildings in Barcelona that you should know about! Find out everything about Gaudí buildings and other UNESCO World Heritage sites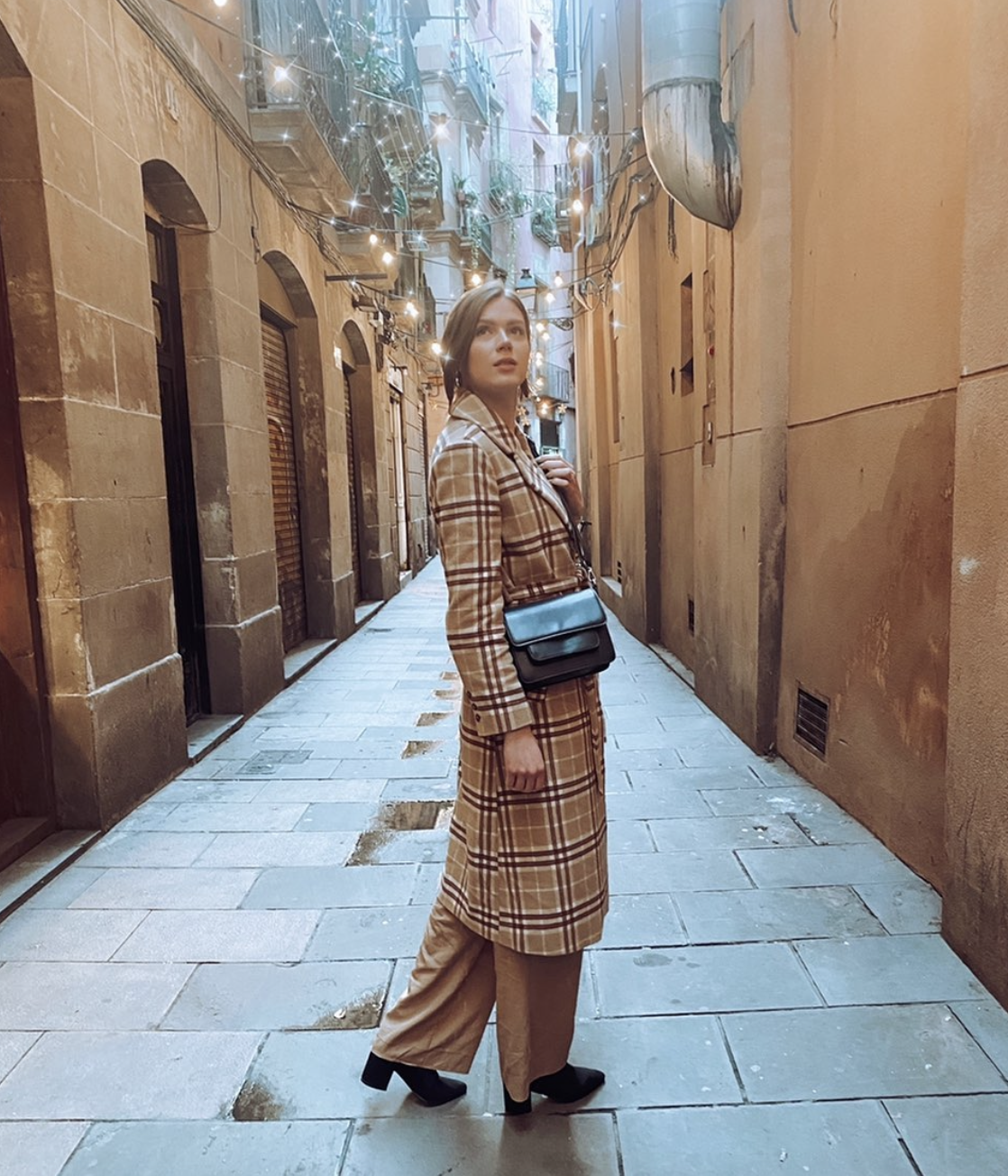 FAQ about visiting Barcelona in November
Weather in Barcelona in November
One of the best things about visiting Barcelona in November is the weather! If you are lucky, you can still catch up to 20 degrees on a warm day. And many hours of sunshine included. 
Generally, the warmest Barcelona can get during the day in November is around 20-23 degrees (68-73 °F). We could usually reach these types of temperatures at the beginning of the month. The coldest it could get to would be around 7 degrees (44 °F), typically at night or during the morning hours. I would expect the overall temperatures to drop toward the end of the month. 
To be honest, you might get a little bit of rain as well. But it usually does not rain for long in Barcelona. Just make sure to bring a light jacket in case it cools down during the evening.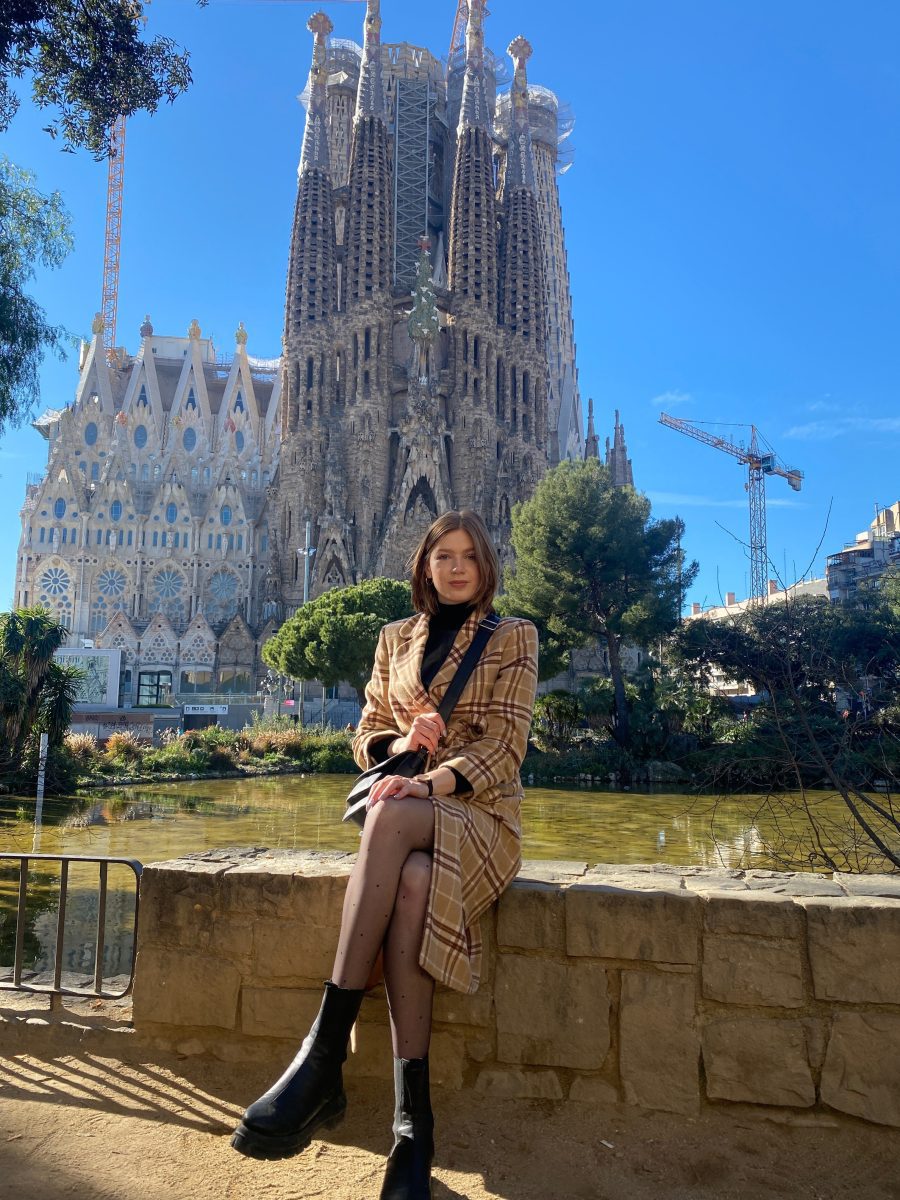 Is it a good time to visit Barcelona in November
Personally, I think November is the perfect time to visit Barcelona! The weather in November is usually mild with lots of hours of sunshine. That means you will still be able to enjoy your food or a glass of wine outside in one of Barcelona's many terraces.
Apart from that, Barcelona in November is usually not as crowded as during the festive season in December. Last year my mom came to visit us in Barcelona and we had an amazing time! By the way, if you happen to visit Barcelona in late November, you might get to see the Christmas lights in Barcelona, which are usually turned on around the 23th of November. 
The only downside could be that there is a slight chance of rain, but that really shouldn't stop you from visiting Barcelona in November. 
What should I pack for visiting Barcelona in November
Here are my tips when it comes to packing the right clothes for your trip to Barcelona in November. First of all, I would check the weather forecast to make sure that you bring appropriate clothing
I would make sure to bring a warmer jacket. It might be warm and sunny during the day but usually the temperatures drop once the sun goes down in the evening. Apart from that, make sure to bring comfortable shoes. Barcelona is a very walkable city and I am sure you will spend a lot of time outside. Flip-flops or sandals might not be the most comfortable option, in case it gets cold or starts raining. Comfortable sneakers should be your shoes of choice. 
Another thing that I recommend is to bring a bag or backpack that you can close well, preferably with a zipper. You should be comfortable wearing it in front of you. As you probably already know, Barcelona is the capital of pickpockets. Be careful every time you are in crowded areas, like La Rambla or Plaza Cataluña.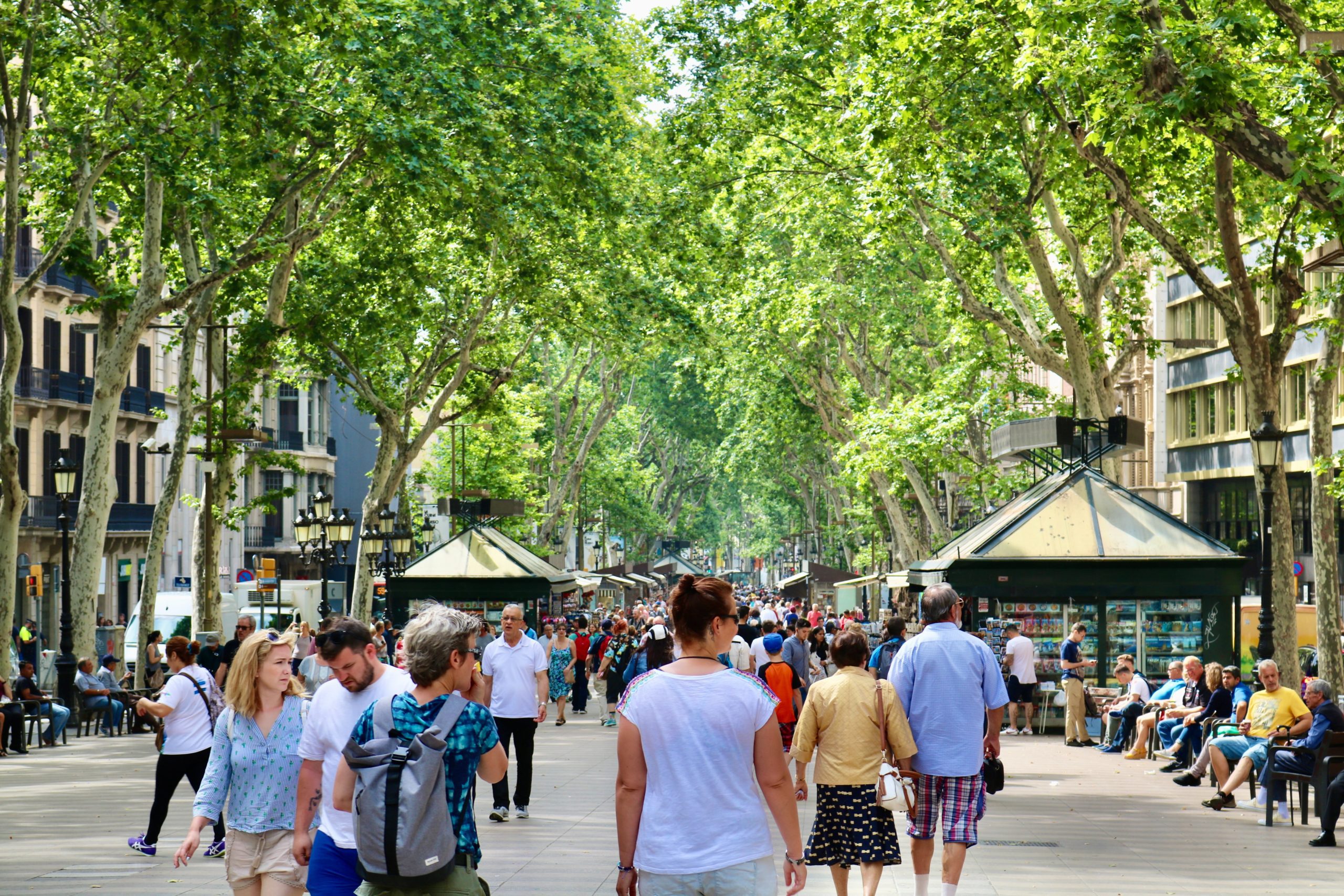 Make sure to do a free walking tour in Barcelona in November
One of my favorite things to do when visiting a city for the first time is a free walking tour. Free walking tours are a super fun way to explore the most important places of a city and learn about its culture and history. Whenever I travel with my boyfriend or family I always make sure to go on these tours. It's always so much! The best part about free walking tours are the local guides that will show you Barcelona from the eyes of a person who lives there.
So, how do free walking tours work? Free walking tours do not come with a set price, hence they are free. You will spend one afternoon walking around with your local guide exploring Barcelona. You will learn so much about Barcelona's culture and history. At the end of the tour, you can give your local guide a tip. And how much you want to tip them is completely up to you! It usually depends on your budget and on how much you liked the tour. 
You can find all free walking tours in Barcelona here.
Events you have to know about in Barcelona in November 
There are a couple of events and public holidays in November in Barcelona you should know about. First of all, the 1st of November is a public holiday to celebrate All Saint's Day (in Catalan "Tots Sants"). This is a national holiday to remember and honor the dead. You will find most shops to be closed that day.
When it comes to events, there are 2 big festivals in Barcelona in November you should know about: 
Voll Damm Jazz Festival (2nd November – 30th of December): Famous Jazz Festival that features International and Spanish Artists 
In-Edit Documentary Festival (27th October – 6th of November): Popular film festival in Barcelona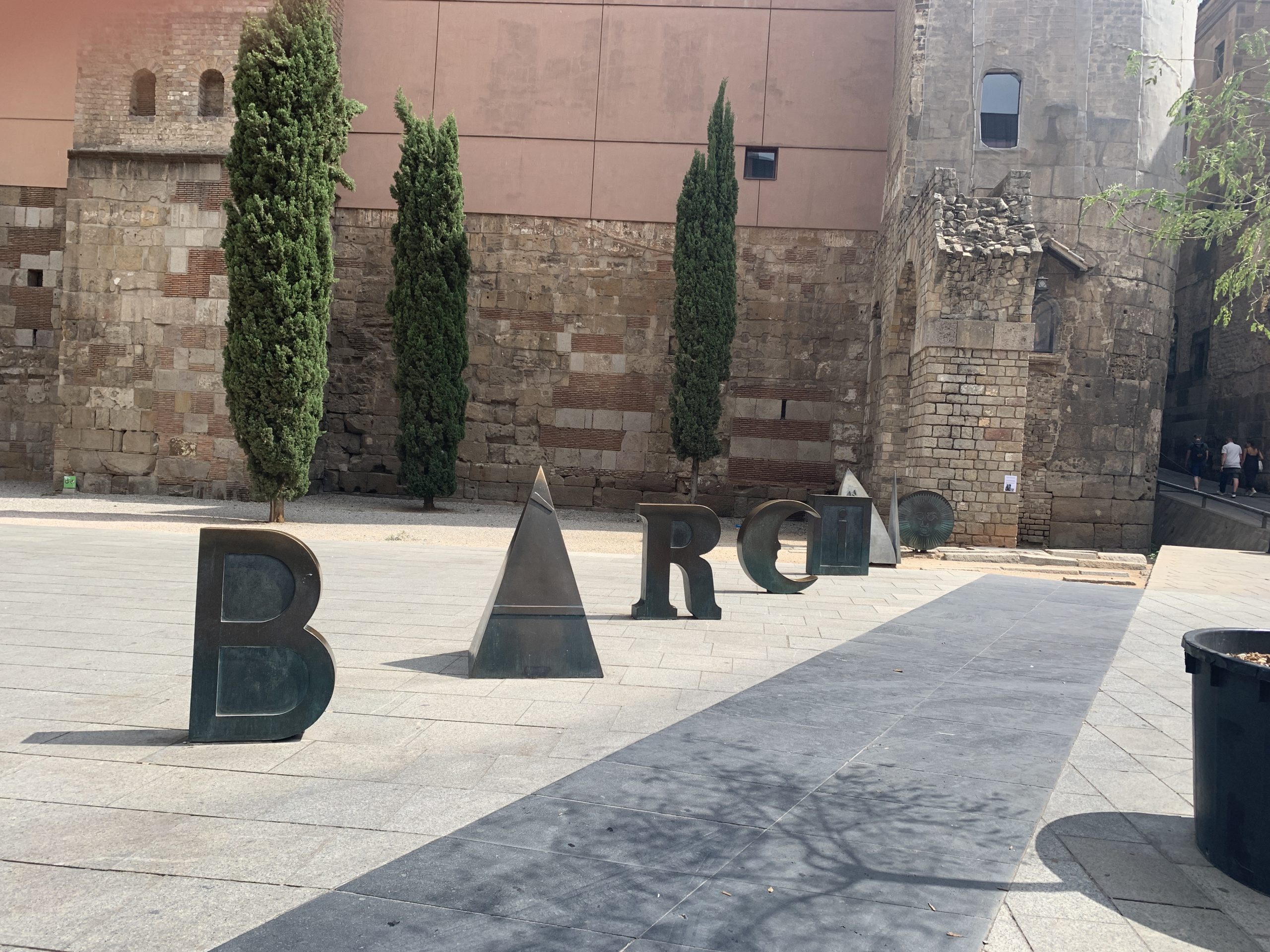 Make sure to see the sunsets in Montjuïc & enjoy a live music performance
My boyfriend and I love visiting Montjuïc, which is a mountain in the South of Barcelona. First of all, you can find the National Art Museum of Catalunia there (Museu Nacional d'Art de Catalunya). It was built for the International Exposition of Catalunia. It hosts different pieces of Gothic, Renaissance and Catalan Modernism art.
Apart from that, you have to make sure to visit Montjuic during sunset. From there, you have a breathtaking view of Barcelona where you can see the whole surrounding area of Barcelona, starting from the mountains all the way to the beach. These views are just spectacular!
The best part is that usually, you can find different kinds of live performances on Montjuïc during the evening. So, as you can imagine, it really will not get boring there. If you feel like exploring the area further, make sure to visit viewpoint "Mirador de Alcalde". This is my favorite viewpoint in the whole of Barcelona!
The Magic Fountain Montjuïc used to offer incredible live shows during the evening. It is currently turned off as a water-saving measure due to the drought that Spain is facing.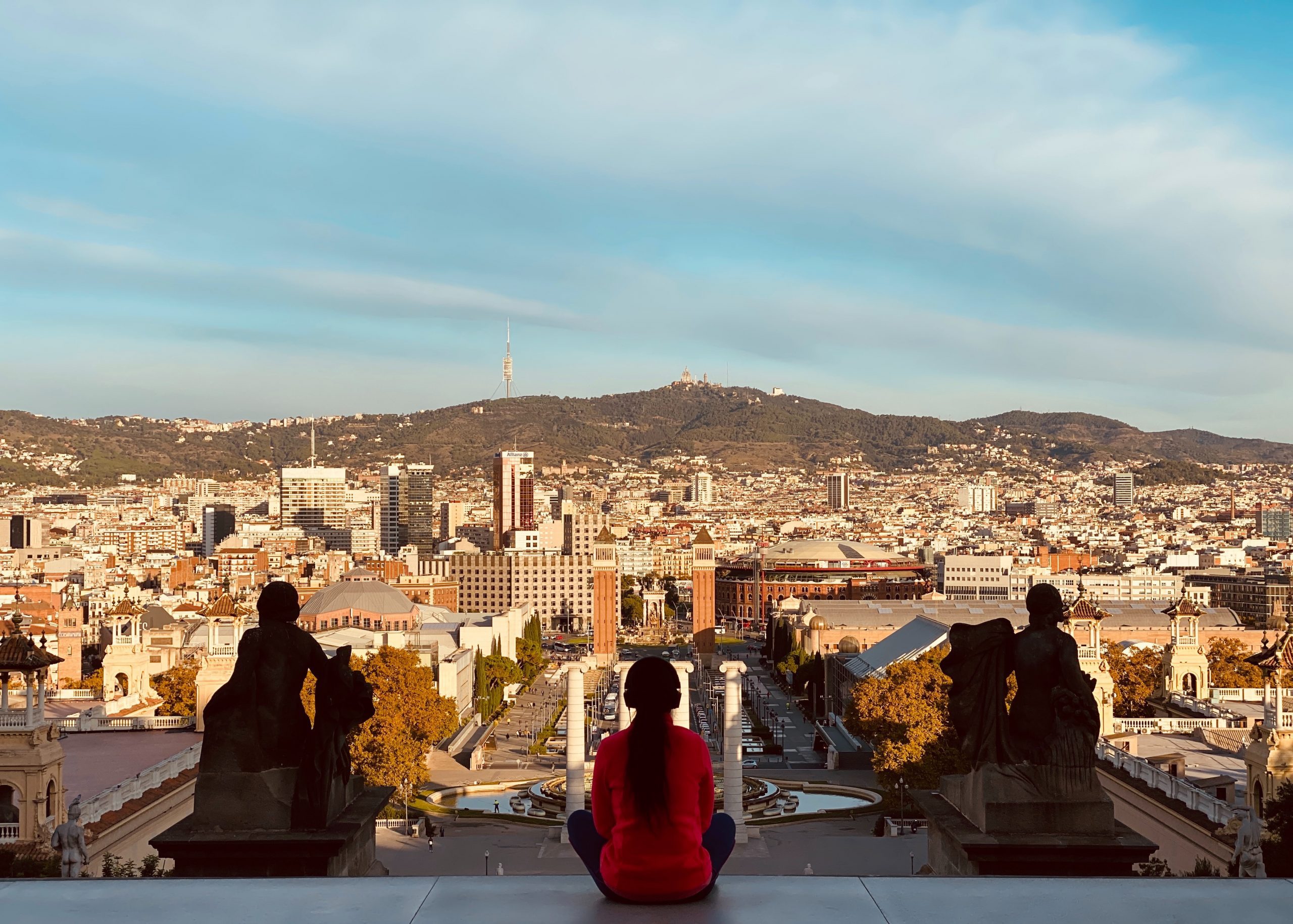 Experience the food scene in Barcelona in November
You will eat incredibly well during your stay in Barcelona. The food scene here is absolutely incredible and offers you incredible local food, but also international cuisine. I would invite you to try some local restaurants and Catalan food during your stay in Barcelona. 
Something that I truly believe you have to try are the "panellets". These small cookies are traditionally eaten on the 1st of November, which is All Saints Day. If you happen to visit in the beginning of November you should be able to find them in any bakery. These are small cookies that usually contain, almonds, coconut, or pine nuts. Delicious!
Another important tradition of All Saints Day is the "Castanyada". Those are roasted chestnuts that you can find in small pop-ups and street shops all over the city. They are traditionally eaten on All Saints Day, but you can find them in Barcelona the whole winter. These are so popular that many of these pop-ups have very long queues of people waiting to get their roasted chestnuts (in Catalan "castanyada"). You should try them out!
Then, make sure to dive into Barcelona's food scene and try some local food! My personal favorite for tapas is Ciudad Comtal, where you can try all kinds of different tapas. The earlier you go there the better, otherwise, you will have to queue for a while. But there are so many places you can visit for incredible Spanish and Catalan food. Other recommendations I can give you are "Cervesería Vaso de Oro" (the best Sirloin steak in town!) and "Bodega La Palma". 
A great activity you could do is sign up for a food walking tour in Barcelona. That way a local guide will show you the best tapas bars in town and you will be able to try the best tapas of Barcelona. You can sign up for a food walking tour here.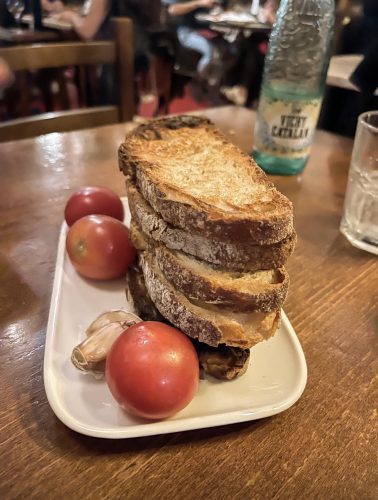 Christmas lights in Barcelona (from the last week of November)
One of my personal highlights are the Christmas lights in Barcelona which are usually turned on at the end of the month (23rd of November in 2023). The whole of Barcelona is covered in beautiful Christmas lights. You will not be able to avoid it!  Each street has different Christmas lights and honestly, you will find each street you find more beautiful than the previous one. 
If you happen to be in Barcelona at the end of November, you totally should take the time to walk around the streets to look at the Christmas lights! They look incredibly beautiful. Personally, I really like the Christmas lights on street "Passeig de Gràcia". 
Other activities you can do in Barcelona in November
Sagrada Familia
One of THE activities you cannot skip in Barcelona is visiting the iconic Sagrada Familia, regardless of what month you visit. Believe me, the Sagrada Familia will be one of the highlights of your Barcelona trip and should be at the top of your bucket list!
The famous Sagrada Familia Church is a UNESCO World Heritage site and Barcelona's most famous landmark, by far! That is THE one monument that you have to visit during your Barcelona trip as this is truly a once-in-a-lifetime experience. The Sagrada Familia was designed by the one and only Antoní Gaudí, Spain's most iconic architect. The construction of this piece of art began in 1926 and up to this day, it still remains unfinished. The inside is absolutely mindblowing and the interior will leave you speechless. Almost 10 thousand people visit this masterpiece every single day to admire Gaudí's incredible work.
If you want to see the Sagrada Familia from inside you have to make sure to get your tickets beforehand. There is a limited number of people that are allowed to visit it every day. If you arrive without having bought a ticket beforehand, there might not be any more left for the same day! You can pre-book your tickets here.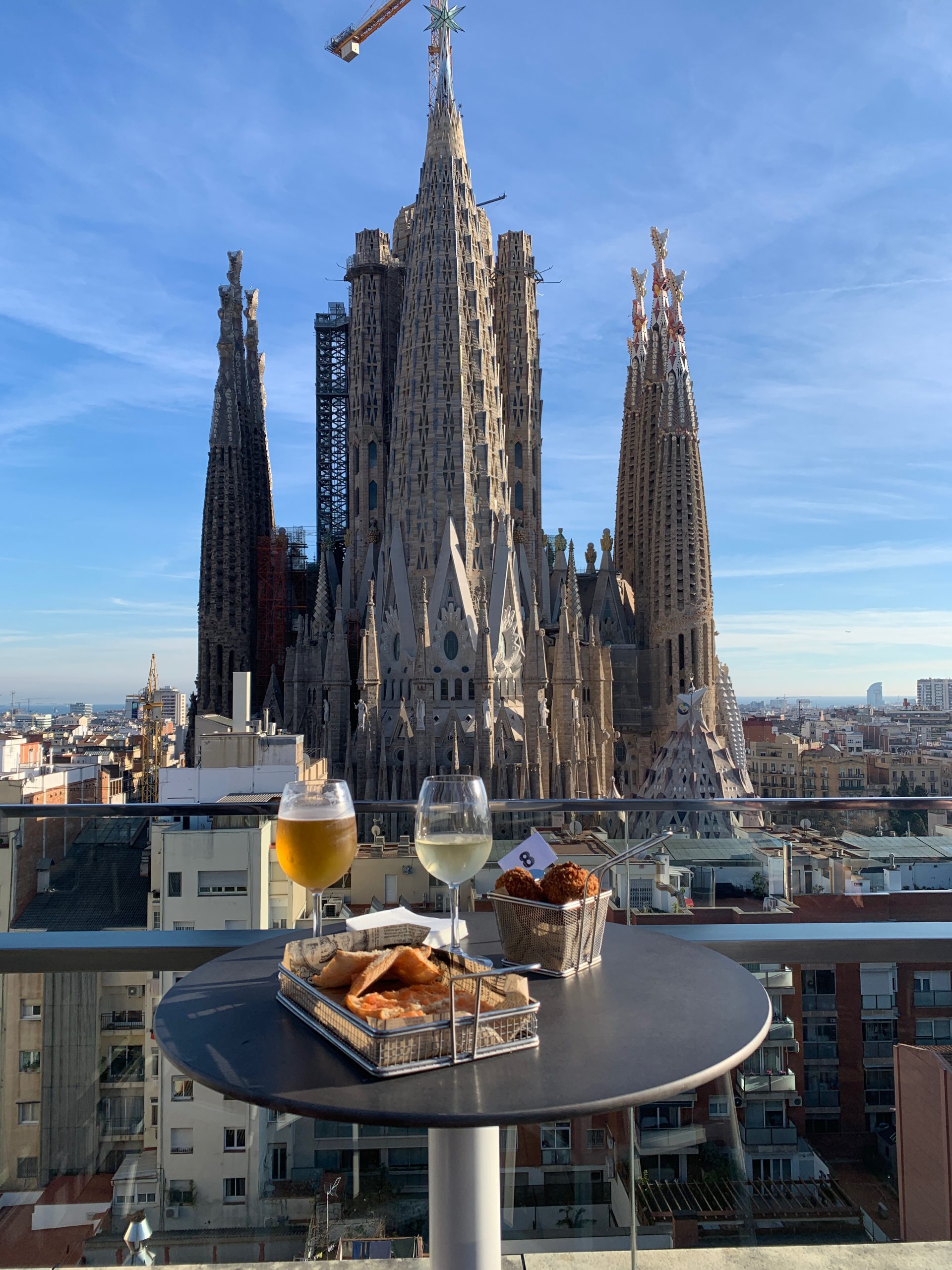 Visit the La Pedrera Night Show in November
You have probably seen Casa Milá (locals call it "La Pedrera") on postcards of Barcelona as it is one of the most famous buildings in town, next to the Sagrada Familia. Casa Milá is the striking building on Passeig de Gràcia that was also designed by the iconic Antoni Gaudí. But did you know that La Pedrera offers an amazing light show in the evening? 
This incredible experience includes an entry ticket for La Pedrera together with a semi-guided tour and an audiovisual show on the rooftop. You will have an incredible view of Barcelona from up there. In the end, you will be able to enjoy a glass of cava together with your fellow travelers. A magical experience! I personally have not been to this experience yet, but I bought my tickets for the end of November and I cannot wait to go.
Make sure to book your tickets beforehand as they tend to get booked out quickly! You can book your tickets and find more information about it here.
Walk down the beach on a warm November day!
The best thing about Barcelona in November is the amazing weather! If you are lucky you will still have up to 20 degrees on a warm day in November with many hours of sunshine. The perfect conditions for a nice beach walk down Barcelona's beach promenade. You can start at the W Hotel and walk down the promenade toward the neighborhood of Poble Nou. 
Walking down the beach promenade you will find many places to sit down and relax. You can have a drink at one of the many beach bars. Or bring a blanket and enjoy your evening at the beach. 
Another activity I can recommend is going on a Catamaran tour that will show you Barcelona from a very unique point of view. How amazing would it be to add a boat trip to your Barcelona itinerary? 
And it's so affordable! The one I found here is only 13€ per person. You can find more information and book it here.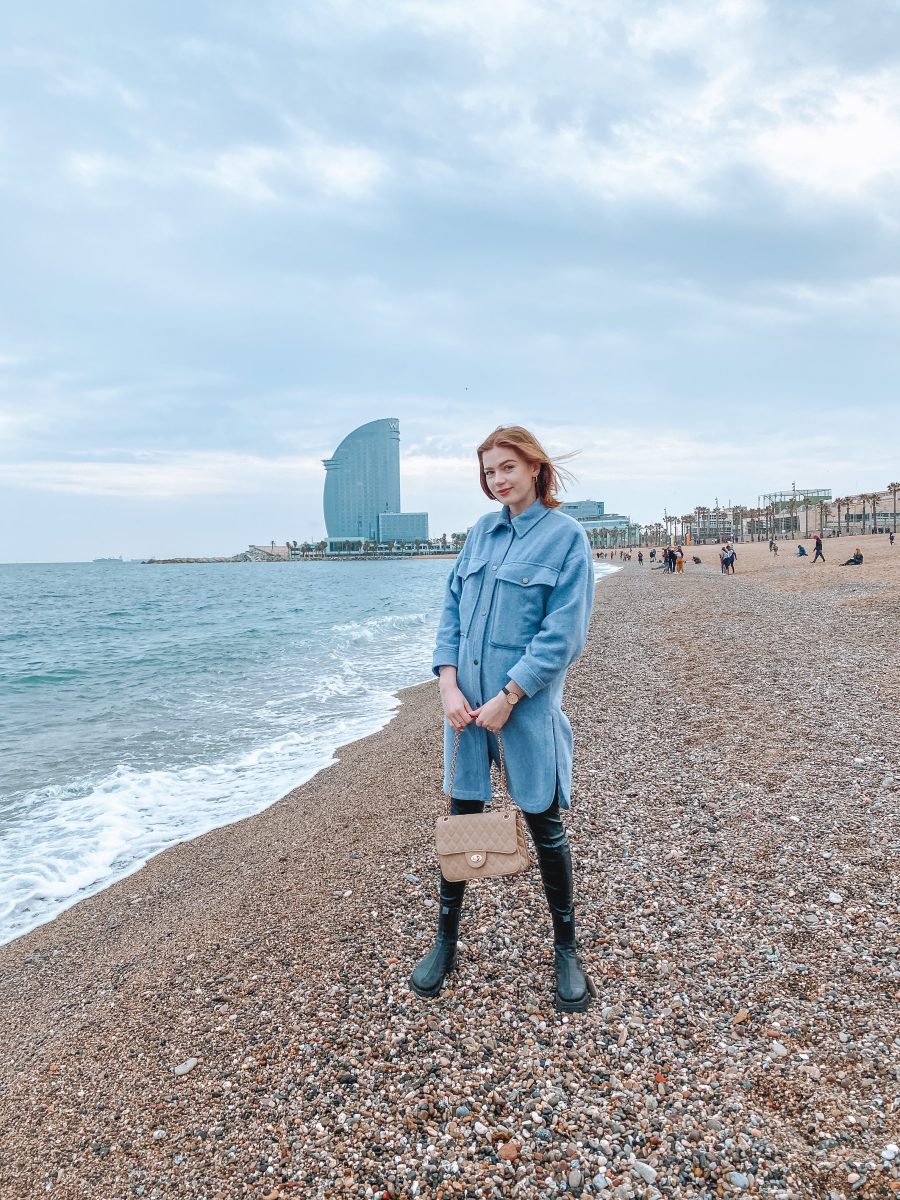 Go Shopping in Barcelona! The best places to go:
Barcelona is the perfect place to go on a shopping spree. Here, you will find something for all budgets and preferences. Barcelona is famous for its high-fashion boutiques, but also for its vintage shops and markets. I am sure you can find many unique pieces here. But if you come to Barcelona in November, I recommend going (window) shopping here: 
You can start your shopping route in Plaza Cataluña. There, you can find many famous clothing stores and chains, like Zara, Mango, or H&M. If you are a fan of the Inditex companies (Stradivarius, Zara, etc.) you can check them out here. They might be slightly cheaper than in your home country.
If you want to check out more expensive brands, like LOEWE, Versace, or Louis Vuitton, you can go to their boutiques on Passeig de Gràcia. That should be your place to go for all kinds of designer brands. 
When it comes to vintage shops, I recommend checking out the Vintage Humanas in Barcelona. If you are lucky, you can find incredible pieces there. Apart from that, my favorite vintage shop is called "Le Swing Vintage" and is located in the barrio gótico.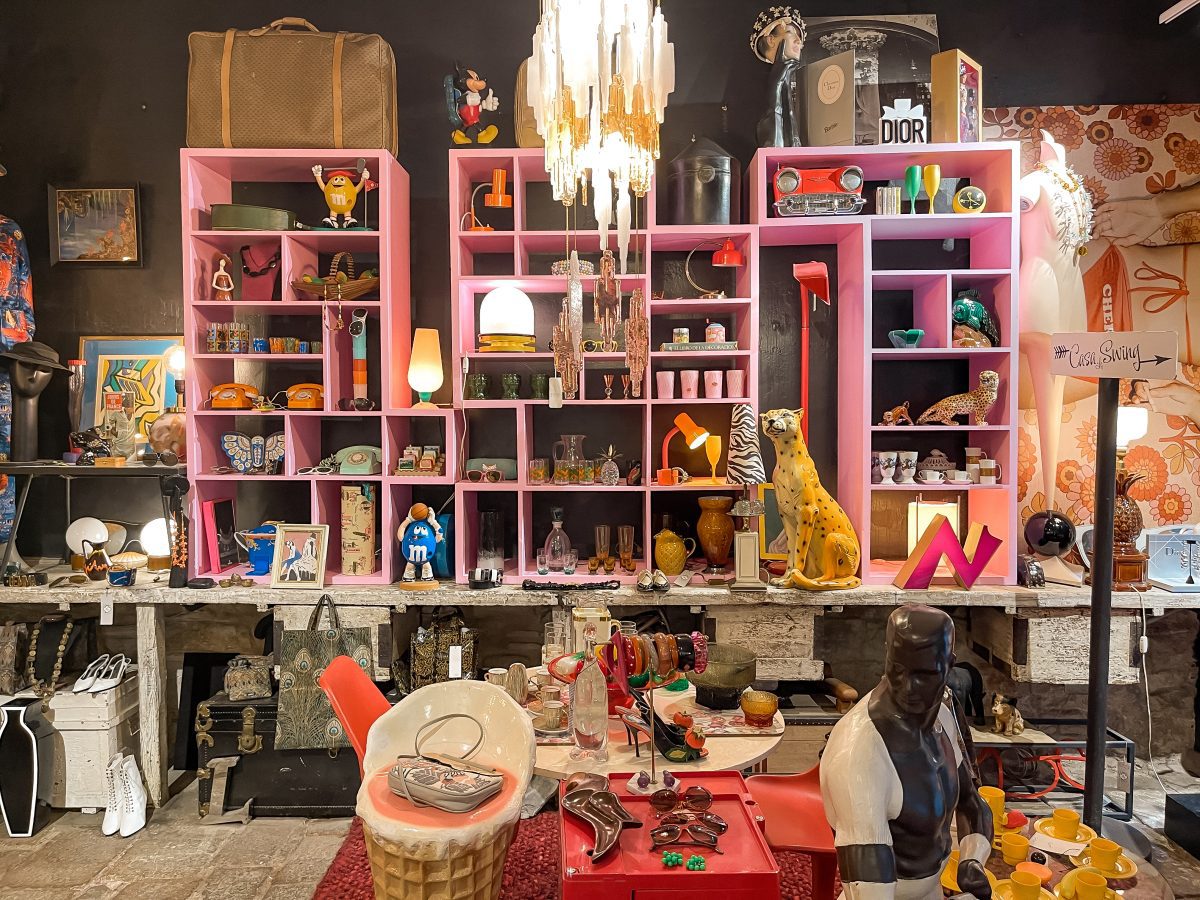 Visit one of Barcelona's famous museums
Barcelona is home to so many incredible museums! It would take me hours to mention all of them in detail. But if you happen to be in Barcelona in November, going to the museums would be a great thing to do on a rainy day. 
As you probably already know, Barcelona is a great place to visit for art lovers. When it comes to art museums specifically, those are the ones I can recommend: 
One of the greatest art museums in Barcelona is the Picasso Museum. It finishes many different artworks by Pablo Picasso, who went to an art school not far away from where this museum is. Another great place to visit is the MOCO museum which hosts contemporary art. There, would be able to see mindblowing pieces by Andy Warhol or Salvador Dalí. 
Another museum I can truly recommend is the Museo de Naval, Barcelona's ship and navy museum. This is a great place to visit for families as well. This is one of the more interactive museums and there is so many interesting things to see, from old ship to photographs and so much more! 
By the way, I wrote a list of all the museums in Barcelona you can visit for free, including the exact time slots when entrance is free. You can find it here.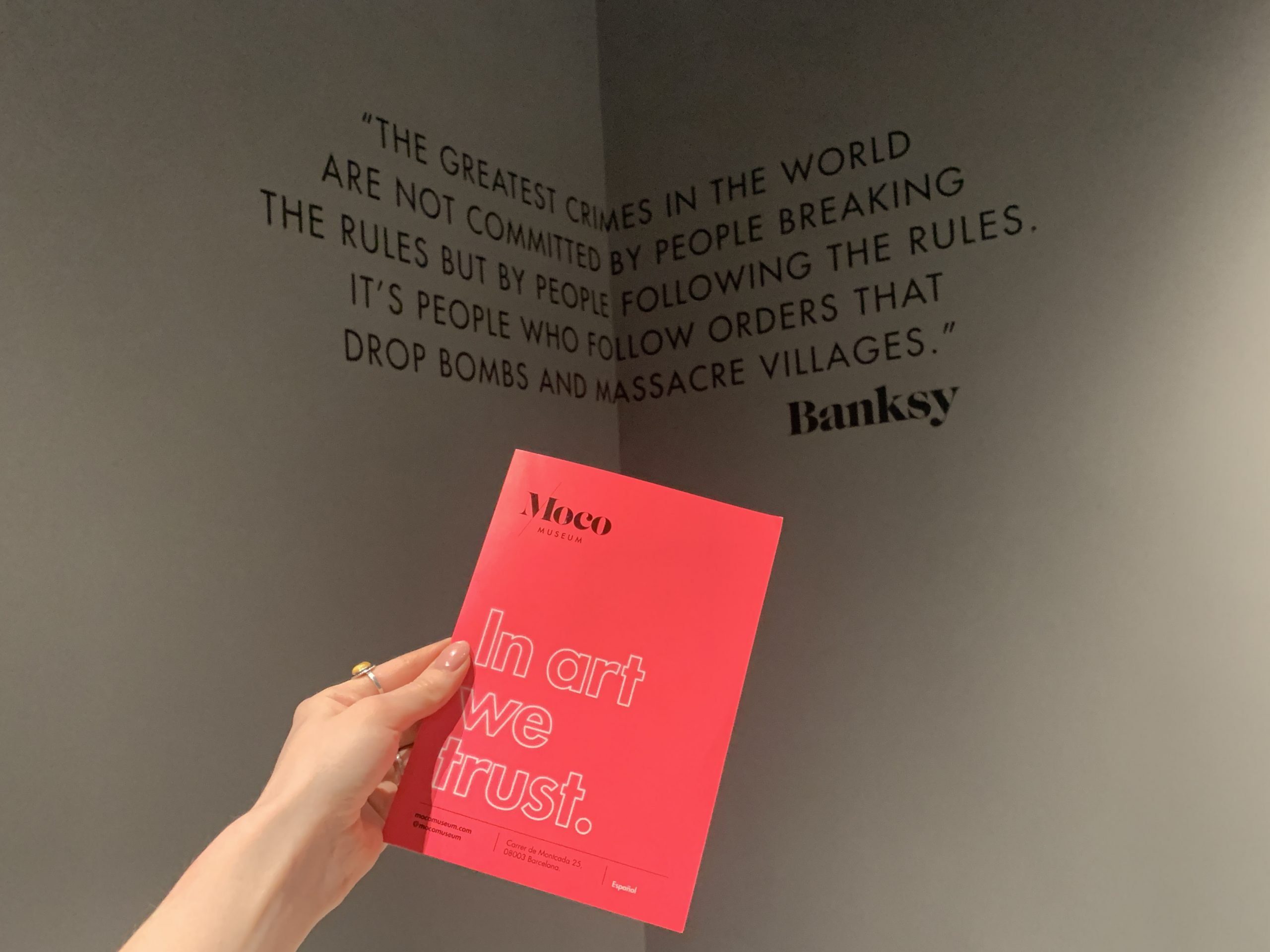 Watch a Flamenco Show in Barcelona in November!
Yes, I know. Flamenco is not from Barcelona. But I still believe that watching a Flamenco Show is an incredible experience and I always recommend it to everyone that comes to visit Barcelona. 
Flamenco is a traditional dance that originated in the South of Spain. It consists of men and women dressed in traditional gowns dancing and singing accompanied by an acoustic guitar. You will find the most authentic Flamenco Shows there. But, believe me, Flamenco Shows in Barcelona are great as well. I can guarantee that you will have goosebumps! Here, there is one specific Flamenco Show in Barcelona that I want to mention.
I personally recommend the Flamenco Show in the City Hall Theater. The theater is gorgous and the performance is so emotional and authentic. And the price of 25€/ticket is unbeatable!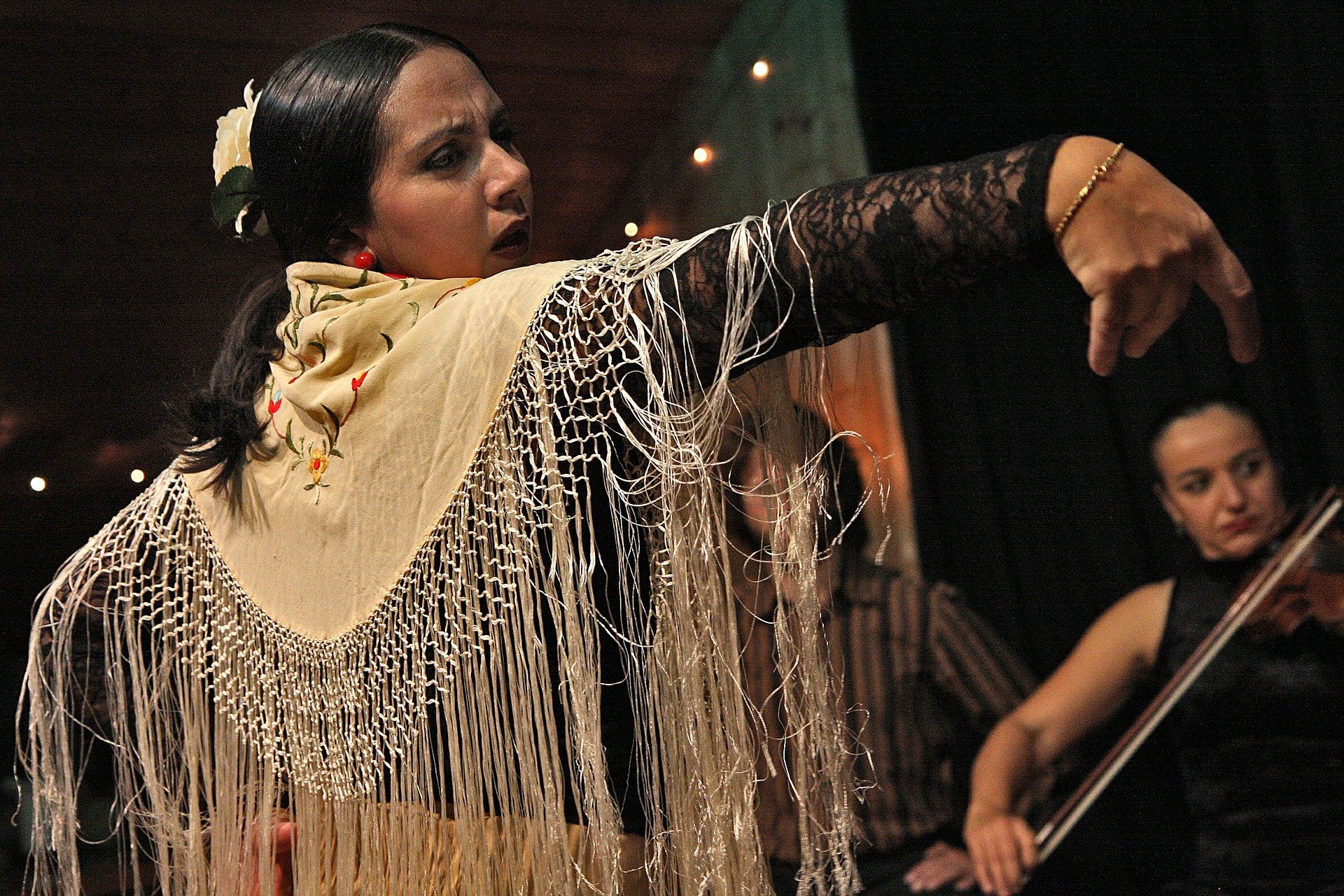 Visit La Boqueria market & La Nacional in November 
La Boquería is Barcelona's famous food market and another place that is worth visiting in November. There, you will find all kinds of Spanish, but also international food. During November, the Christmas decorations will also be ready at La Boqueria market so you can start getting into the Christmas mood. My boyfriend and I love sitting down at the bar "El Quim de la Boquería" and ordering a glass of wine with some tapas. 
Another market I can truly recommend visiting is "El Nacional". El Nacional is a food hall that hosts several different bars and restaurants all in one place. This place is full of life and an incredible atmosphere that you should check out! If you happen to visit Barcelona toward the end of November, you will see its beautiful Christmas decorations. Apart from that, it is the perfect place to have a glass of wine in the evening and order tapas. 
La Boquería and El Nacional are my favorite food markets to visit in Barcelona.