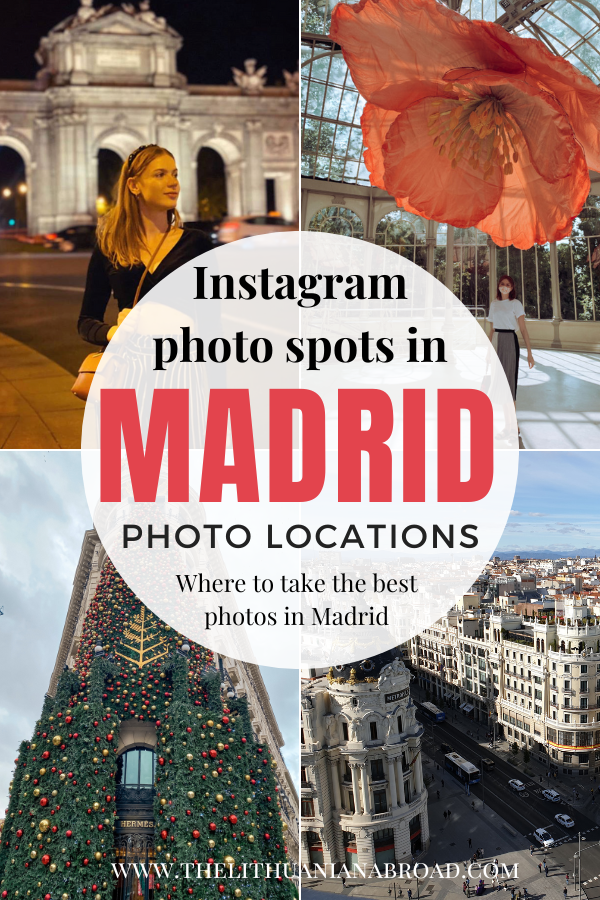 Madrid is a city full of beautiful places, instagrammable locations, and crazy photo spots. Six years ago I moved to Madrid and honestly, every day I fall in love with it all over again. In this blog post, we will talk about Madrid Instagram Spots and where to find them. That way you know where you have to go to get THAT incredible Instagram photo. In this post, I will show you viewpoints, parks, buildings and so much more. In total, I found 23 instagrammable places in Madrid. So keep reading to find out more about them! And please don't judge my photos. I am not the best at taking instagrammable pictures myself. But I still hope you find this blog post helpful and inspiring.
Disclaimer: I think it's totally fine and acceptable to look for beautiful photo spots around Madrid. I would just advise you to be respectful to your surroundings. I mean, don't do anything dangerous and please do not destroy anything that makes Madrid the gorgeous city that it is. Thank you!
---
Affiliate links may be sprinkled throughout the free content of this blog post. If you purchase from one of the links I may receive a small commission while the price for you stays the same. This helps me cover the costs of The Lithuanian Abroad. Gracias!
Other blog posts you have to check out:
37 things to do in Madrid, the ultimate bucket list: This post includes 37 must-do activities for Madrid! From incredible museums to Flamenco shows, food spots, and more. Perfect if you are in town for the first time.
25 museums in Madrid you can visit for free: This post includes all the museums in Madrid you can visit in Madrid for free. And yes, it includes the Prado museum as well. Some of them are also great photo spots in Madrid. 
16 Things to do in Madrid at night that aren't just partying: Thinking about what you could do in Madrid at night? Then check out this blog post for amazing ideas (that aren't just partying!)
26 brunch spots in Madrid you have to visit: This blog post includes 26 incredible brunch spots you should know about! Some of them are Madrid Instagram Spots as well.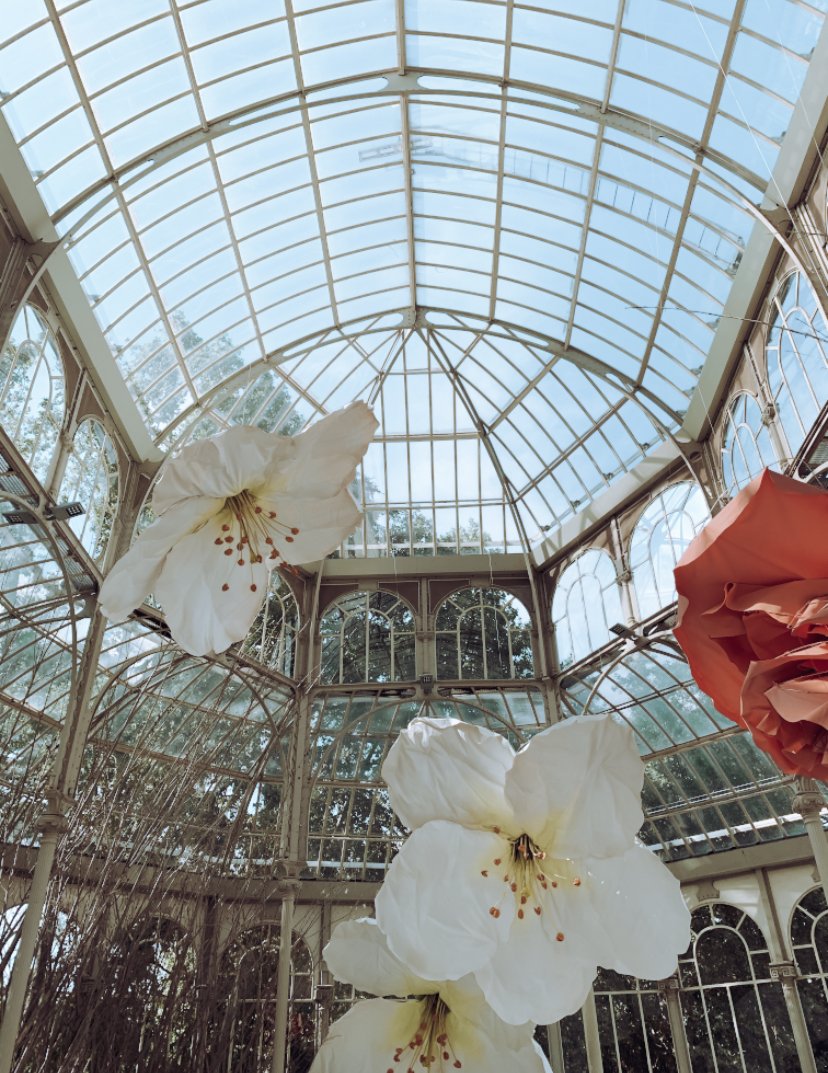 Make sure to do a free walking tour in Madrid 
Free walking tours are my favorite way of getting to know a city I visit for the first time. Whenever my boyfriend and I travel we try to go on a free walking tour on our first day to get a great first impression of the city. The best thing about these tours are the local guides. They do an amazing job at showing you the city from the eyes of a person that lives there.
How do free walking tours work? Free walking tours do not come with a set price, hence, they are free. You will spend one afternoon with your local guide walking around Madrid and exploring the best monuments in Madrid. You will learn so much about its history and culture! At the end of the tour, you have the chance to leave your local guide a tip. And how much you would like to tip them is completely up to you. It usually depends on your budget and on how much you actually liked the tour. And I am sure you will walk by a couple of great Instagram spots in Madrid
You can find all free walking tours in Madrid here.
Not exactly a Madrid Instagram spot but worth checking out: Watch a Flamenco Show in Madrid!
Before we just to our photo locations in Madrid, I really want to recommend a Flamenco Show here. Yes, you will take some incredible photos. But a Flamenco Show is a very incredible experience that you should not miss during your stay in Madrid. Flamenco is a dance that originates in the South of Spain. But even if you do not make it to the South, there are also incredible places in Madrid where you can watch a Flamenco Show.
Flamenco is usually performed by male and female dancers while accompanied by an acoustic guitar. Make sure to check out the traditional Flamenco gowns the dancers are wearing. This dance is so emotional and will be an unforgettable experience on your Madrid trip!
I can recommend this Flamenco Show in Madrid. You sit close to the dancers and the venue is smaller than many other ones. The perfect intimate experience!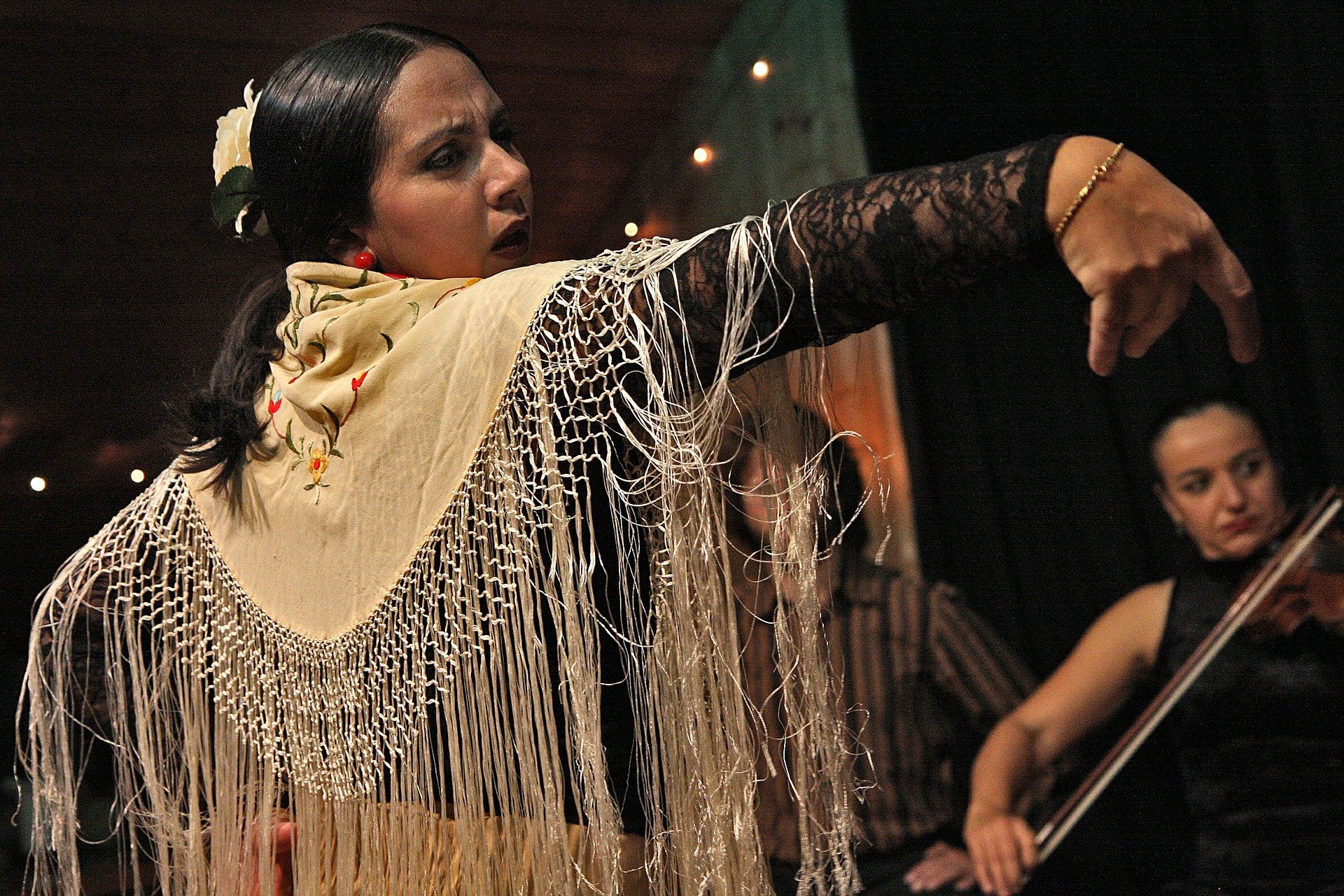 Let's start: 23 Madrid Instagram Spots you must visit during your Madrid trip!
Puerta del Sol, Madrid's instagrammable square!
Puerta del Sol is probably one of Madrid's most famous locations. You really can't avoid visiting it during your stay. Puerta de Sol is not just a simple touristy square. Many tours and activities start on this square. During the day and at night, you might catch different street performances here as well. Sol is also one of Madrid's most important metro stops. And last but not least, it's a great Instagram location in Madrid. 
Puerta del Sol is home to the iconic bear statue "El oso y el madroño". It is one of the monuments you can find on many postcards of Madrid. Apart from that, you can also take a photo of the famous "Tío Pío" letters on the top of one of the buildings at Puerta del Sol.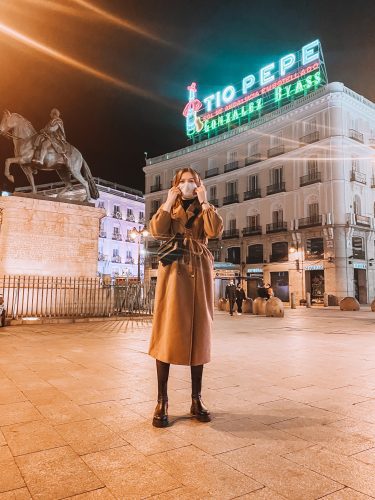 Let's check out Rooftops in Madrid: Incredible Madrid Instagram Spots with breathtaking views
There are so many rooftop hotels in Madrid you can visit! And you don't even have to be a guest at the hotel to be able to go to the rooftop. Every time I have visitors I love taking them to rooftop hotels to enjoy the incredible view and show them Madrid from above. Most of them are incredible photo spots and look very instagrammable. 
Not all rooftop bars in Madrid are free. But I made sure to add one that is free and surprise, it's actually one of my favorite ones. Get ready for one of the best Instagram spots in Madrid!
RIU Hotel Plaza España for panoramic views of Madrid
Let's start with one of the most popular rooftop hotels in Madrid: RIU Hotel Plaza España. This incredible hotel has a rooftop on its 27th floor. From there, you have a panoramic view of Gran Vía and Plaza España. One part of the rooftop even has a glass floor, and you will be able to look down from the 27th floor. It's insane! I really hope you are not afraid of heights. You can take incredible photos from up there. This is probably one of the most instagrammable locations in Madrid! 
Monday – Friday from 11am-5pm the entry costs 5€. In th evenings and during the weekend the entry is 10€.
I would recommend going there in the morning. In the afternoon there are usually many people trying to get up there, especially during sunset. My mom and I went there during midday. There were many people on the rooftop, but it was still fine.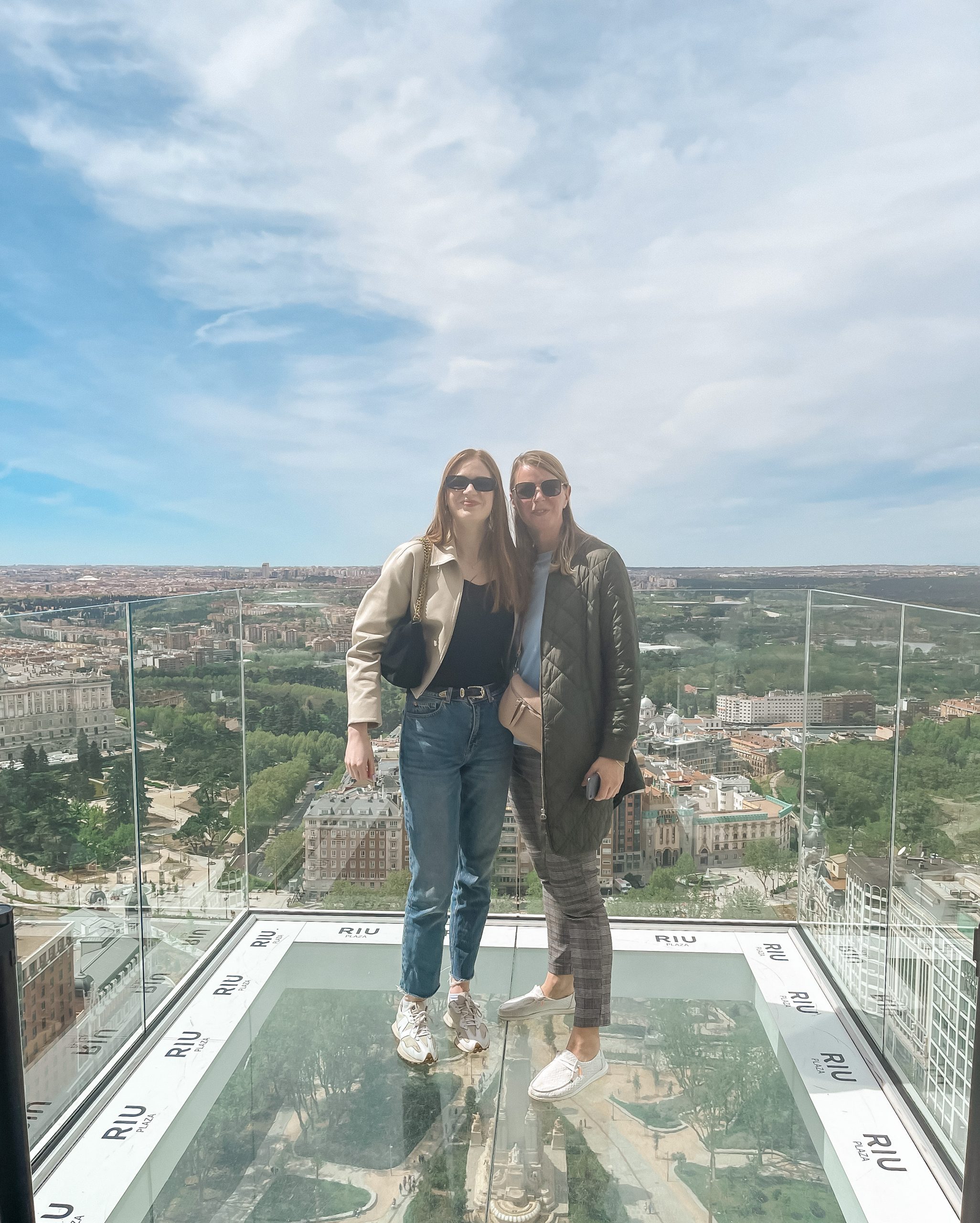 Circulo de Bellas Artes, a beautiful photo spot at sunset
Another Madrid Instagram spot is this rooftop bar that I love bringing visitors to: Circulo de Bellas Artes. This famous rooftop is located between Cibeles and Gran Vía and has incredible views over Madrid. From there, you can take incredible pictures, enjoy the views and sit down for a drink. The area is very spacious and there are many great spots for THE Madrid Instagram photo.
Entrance costs 5€. I would suggest going during the evening because usually many people queue in order to enter this rooftop.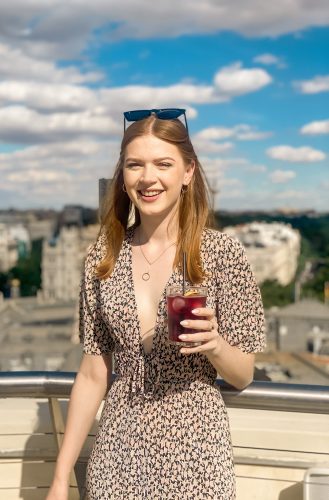 Jardines de Sabatini, the best Madrid Instagram Spot of the Royal Palace
Many people don't know about the Jardines de Sabatini rooftop, but it's gorgeous and therefore has to be on the list of Madrid Instagram spots. Unlike the other rooftops that give you views of Gran Vía, this rooftop bar has the best view of the Royal Palace of Madrid. If you have the chance, you really have to visit it. The views are amazing, the drinks are tasty, and the best part: The entrance is free. You will have to order something to drink or eat once you arrive, but in my opinion, it's so worth it. I honestly think this will be a great spot for instagrammable photos.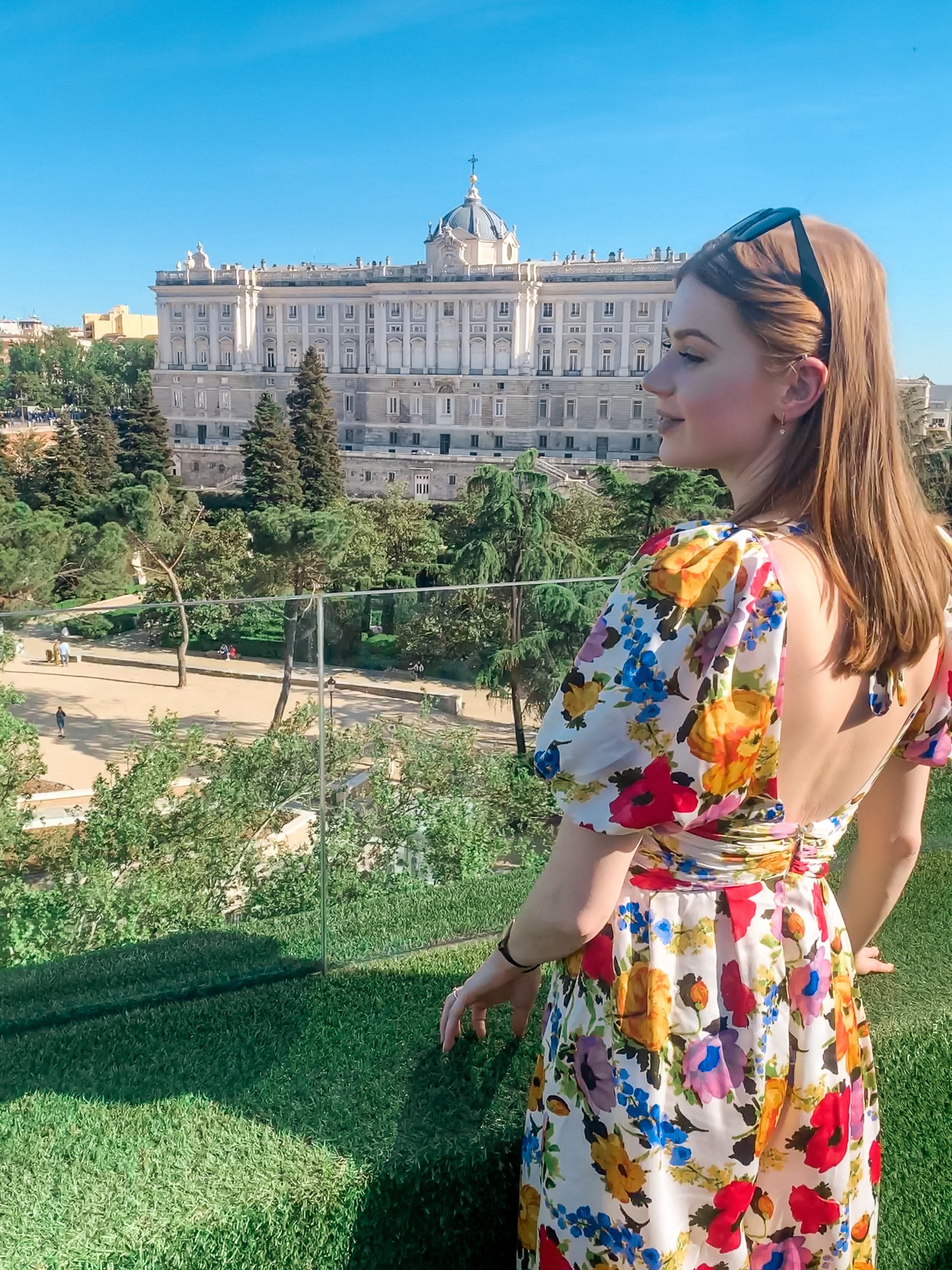 Gran Vía, Madrid's incredible photo location
The skyscrapers in Gran Vía really make you feel as if you are in New York, and not in Spain. It's not just a great place to go shopping in Madrid, as you can find Spanish brands like Mango, Zara or Stradivarius there. Gran Vía is also a great Instagram spot in Madrid and perfect for beautiful photos. If you really want to take incredible photos I would advise going there in the morning before all the crowds arrive. Down here you can find two example photos of mine. Maybe they will inspire your next Instagram photo.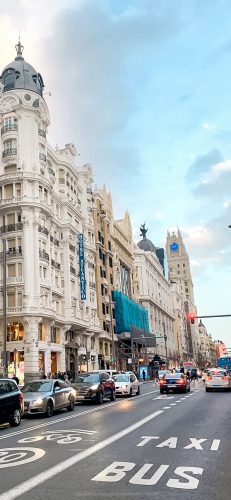 Madrid Instagram Spots in the Retiro Park
The Retiro Park is the biggest park in Madrid and probably one of the most instagrammable parks you will ever visit in your life. You could stay there the whole day and you still would not see everything it has to offer. You can call it the "Central Park of Madrid", full of impressive statues, beautiful buildings and plants. 
When it comes to nice photo locations, I can recommend the following ones: 
Palacio de Cristal, one of Madrid's most iconic buildings
Palacio de Cristal is an incredible 19th-century conservatory located in Retiro Park in Madrid. Nowadays, it is mostly used as an exhibition center for different kinds of modern art exhibitions. These exhibitions are usually very impressive and informative. But even if you happen to find the Palacio de Cristal empty, you can still take incredible photos here. Over time, I have been to different exhibitions there. You can check out the photos below to see what kind of photos you can take there: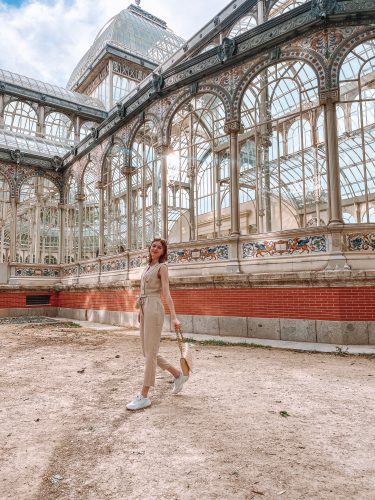 Alfonso XII, for incredible Instagram photos
The monument to Alfonso XII is located right at the shore of the Retiro Pond. It is THE spot people visit during sunset where you can often find live music. The monument itself is a gorgeous photo location. Something you can do as well is going on one of these rowing boats and take photos of the monument from the water. Here are a couple of photos I have taken of the monument throughout the years: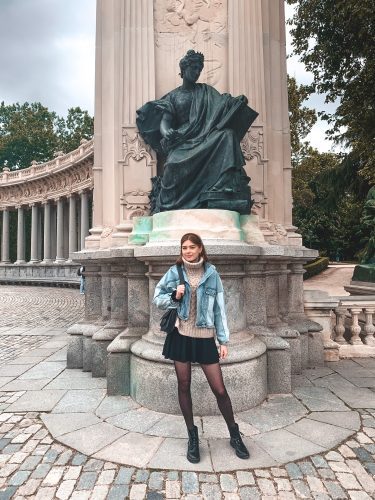 Rosaleda, the most romantic photo spot in the Retiro Park
Now we are coming to one of my favorite Madrid Instagram spots: The Rose Garden in Retiro Park. If you happen to visit Madrid during the warmer months you will find the Rosaleda with hundreds of different roses of different colors. The perfect photo location in Madrid! I would advise coming during the morning so you don't have too many people in the background of your photos.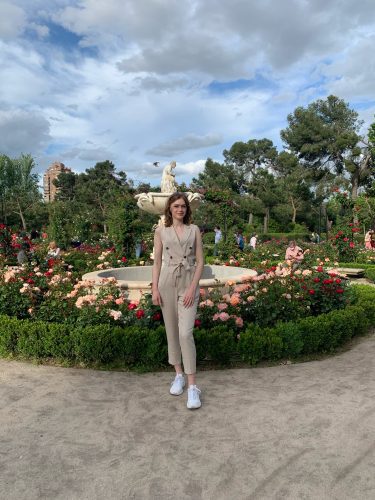 Palacio Velazquez, the perfect Madrid Instagram spot with modern art
Palacio Velázquez is located right behind the Palacio de Cristal and is a famous exhibition hall in Retiro Park. Nowadays, it hosts different kinds of temporary art exhibitions. These always feature different topics and are very interesting to look at. And since entrance is free it's the perfect place to check out for a beautiful and artsy background. Here are a couple of Instagram shots I took at Palacio Velázquez: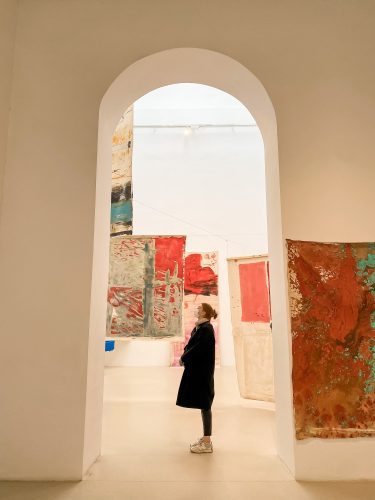 Other Instagrammable spots in the Retiro Park in Madrid
If you happen to visit Madrid in spring, you might catch the gorgeous almond trees blossoming! These blossoms look so dreamy and romantic. A very instagrammable set for your Madrid photos!
Gardens of Cecilio Rodriguez: These are the gardens where famous peacocks walk around. This area is incredibly romantic and perfectly set up for an instagrammable photo!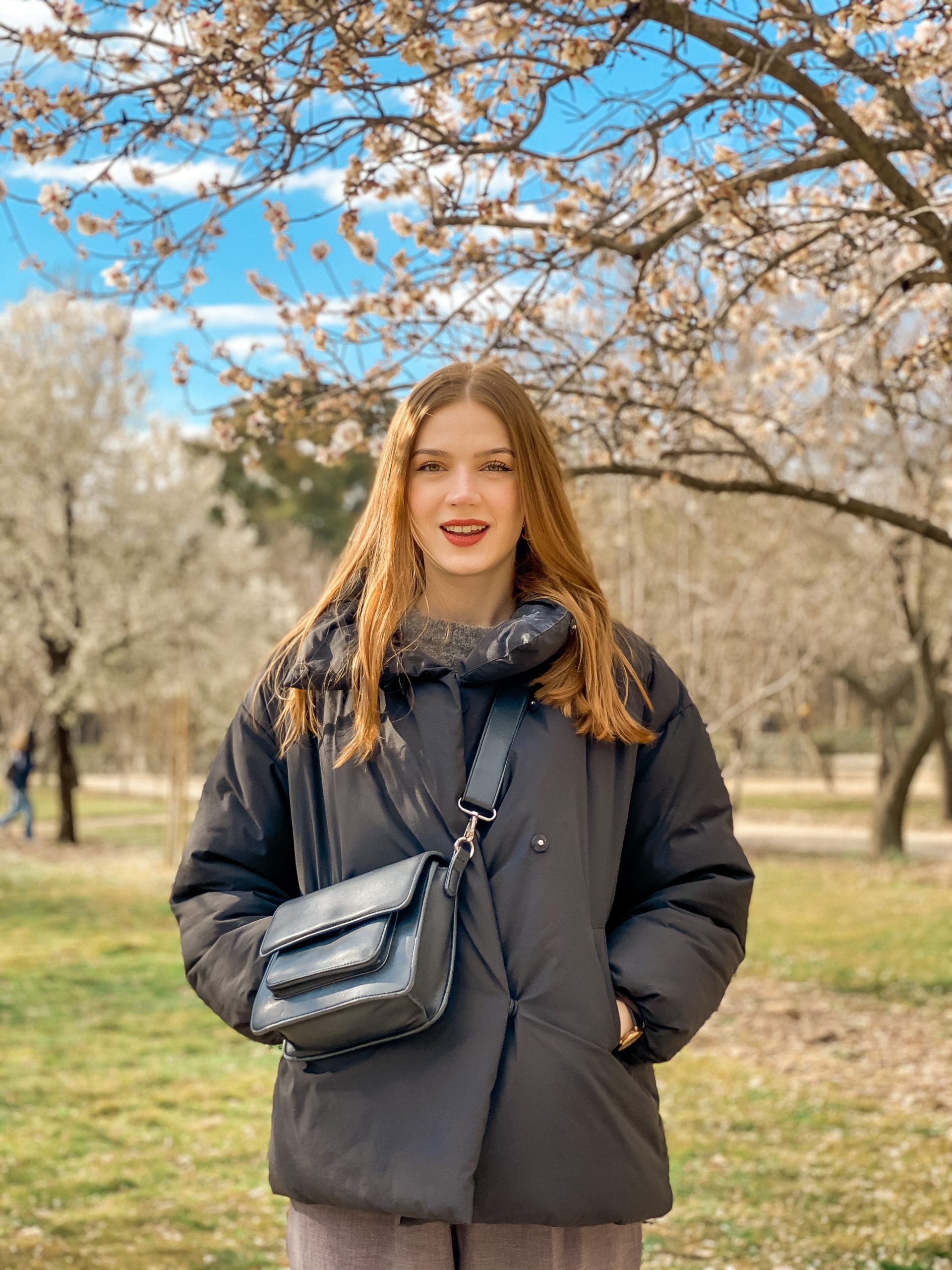 The Four Seasons Hotel, Madrid's iconic photo spot
Of course, the 4 Seasons Hotel is probably one of the most iconic buildings in Madrid. You can always find people taking photos of it that's how beautiful and dreamy it is. The fassade is so gorgeously decorated and the building itself is just so instagrammable. In front of the building is enough space to get that amazing Madrid Instagram photo.
If you are coming to Madrid in December, the Four Seasons Hotel is always decorated beautifully and looks like an enormous Christmas tree. That is THE opportunity to take a gorgeous photo of it. Check out below: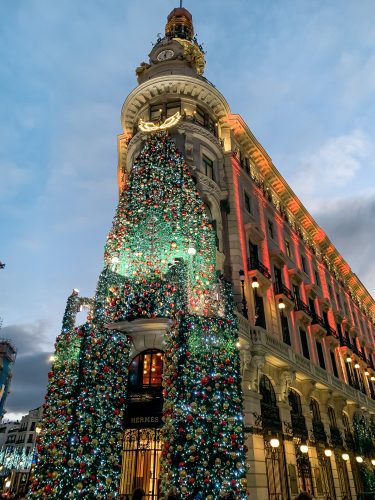 Next Madrid Instagram Spot: The Royal Palace!
Did you know that the Royal Palace of Madrid is almost twice the size of Buckingham Palace? And once you stand in front of it you will realize how HUGE it is! The perfect place to take instagrammable photos in Madrid. If you have time, you should totally check it out from the inside. You will truly feel like royalty and you will get to visit several of these rooms from the inside, royal furniture and fancy decorations included. 
Outside of the palace, there is a fairly new view point called "Mirador de la Cornisa del Palacio Real" where you can see the whole Western Area of Madrid. The views are so beautiful!
At the same square is Madrid's Cathedral "Catedral de la Almudena". This is the Cathedral of Madrid and one of the city's most important monuments. Check out my Instagram photos below: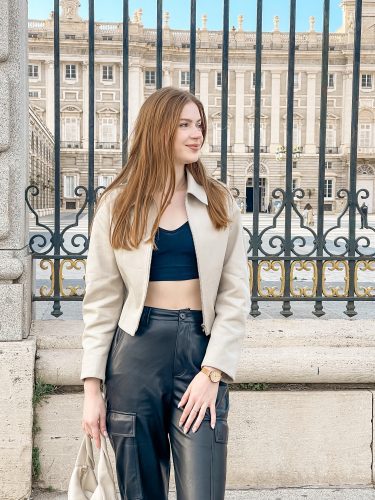 La Latina, one of Madrid's oldest neighborhoods 
La Latina is one of Madrid's oldest neighborhoods. This area is full of small streets and beautiful buildings which make the perfect background for a great photo! If you are looking for a specific spot you can just go to Calle de la cava baja. This street is famous for being full of old bars and tabernas. Many of them have beautiful tiles outside that you can take a photo of. The small streets of La Latina are also perfect for a photo.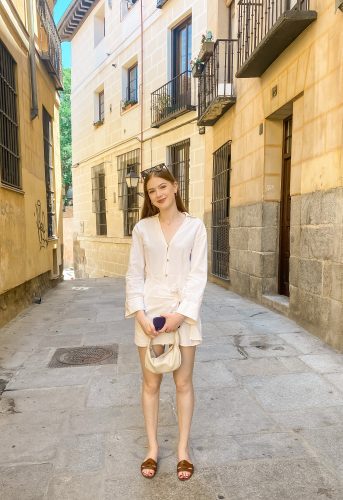 Madrid's Instagram Spot for a Sunset: Templo de Debod 
One of the things I love about Madrid the most is how diverse this city is. And Templo de Debod proofs it! Templo de Debod is an ancient Egyptian temple that was gifted to Spain in the 1960s. Over the years it become one of the most popular monuments in Spain. In my opinion, the temple is really worth visiting and one of the best Instagram spots in Madrid. Especially during sunset, many people come to see the beautiful view from the temple and to enjoy live music in the area. The whole area is absolutely gorgeous! Check out the photos I took there below: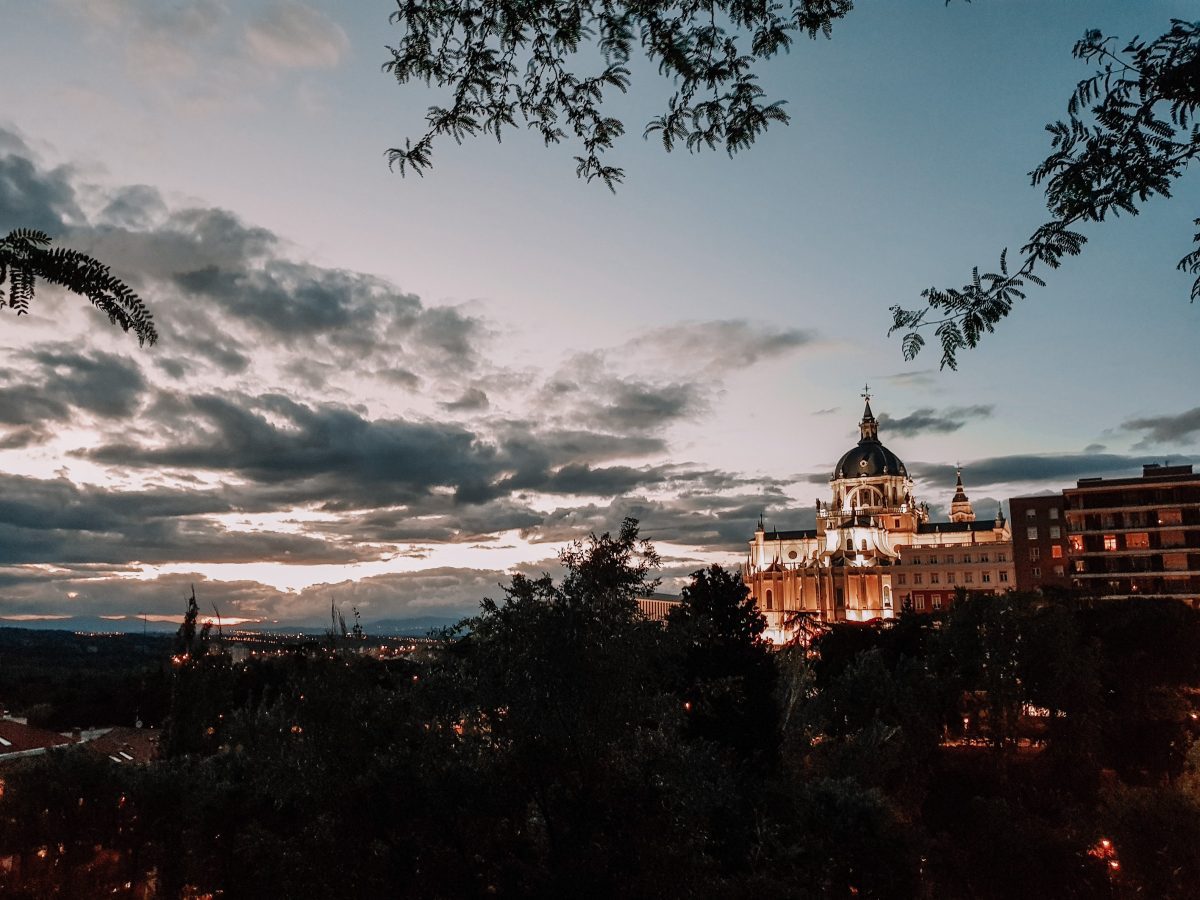 Madrid's most instagrammable restaurant: Belmondo 
Belmondo is probably the most instagrammable restaurant in Madrid. This Italian restaurant is famous for its colorful and elegant interior design. This restaurant has multiple areas and each is decorated in a different color scheme. It has become so popular that currently, you have to make a reservation several weeks in advance if you want to visit it. Definitely one of the most popular Madrid Instagram Spots!
(While I do think the place is great, I think the interior is better than the actual food you will get there.)
You can make a reservation for visiting Belmondo here.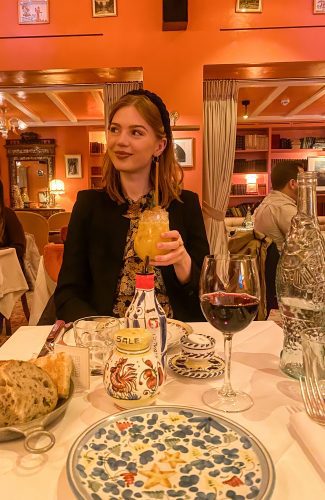 Where to have instagrammable brunch in Madrid? Jardín Secreto de Salvador Bachiller
Let's talk about an instagrammable brunch spot in Madrid many people don't know about: Jardín Secreto de Salvador Bachiller. This colorful brunch restaurant is located on the last floor of the "Salvador Bachiller" store in Calle Montera. From the outside, it looks like a normal store but many people don't know about the restaurant on the rooftop. And it's not just a simple restaurant. I don't know any other restaurant in Madrid that is so colorful and prepares the food in such a beautiful way. The whole place looks like a beautiful garden, full of different plants and colorful flowers. When my mom and I visited we were so lucky and got to sit on the swing. So cute!
All dishes are served on gorgeous plates, that you can buy on the lower floors, and they taste incredible! I took my mom here for an afternoon coffee and she loved it! The perfect Madrid Instagram spots for amazing food photos. Check it out below. 
This place became so popular that now you have to make a reservation if you want to visit it. Check it out below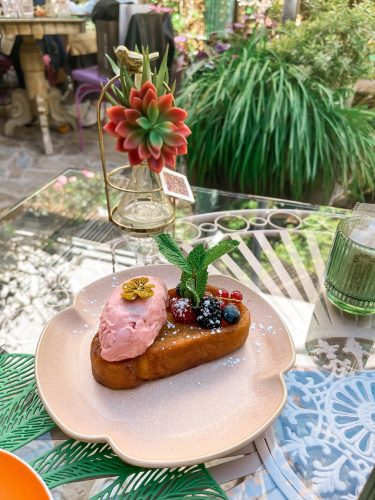 Visit Madrid's famous botanical garden for beautiful photos
If you like botanical gardens you will love the botanical garden in Madrid! This place is full of tropical plants and beautiful flowers in the middle of the city center. A true green oasis in Madrid, perfect to relax and learn about different plants and species. Another thing I really like is their temporary expositions, like the tulips that are shown there in spring. During the winter months, the botanical garden in Madrid turns into a huge light show. If you happen to visit Madrid in December, you really have to check it out. 
Long story short, if you want to take beautiful photos, this is THE place to go for instagrammable photos in Madrid. I love visiting botanical gardens, and this one is gorgeous.
You can find more information about opening times and the current expositions here.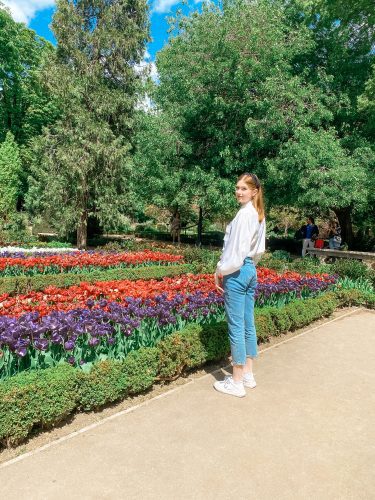 Take a photo in front of the Metropolis Building!
Oh, the Metropolis building in Madrid. It is one of Madrid's most well-known buildings and you will find it on many postcards. I am not exactly a fan of it, mostly because it does not have an exact purpose. And, it has been a construction site for ages! If you want to have a look at it now, it does not exactly look instagrammable as there are always changing ads on it. Well, I hope they finish the construction soon. Because the building itself is very beautiful and makes a beautiful photo for sure.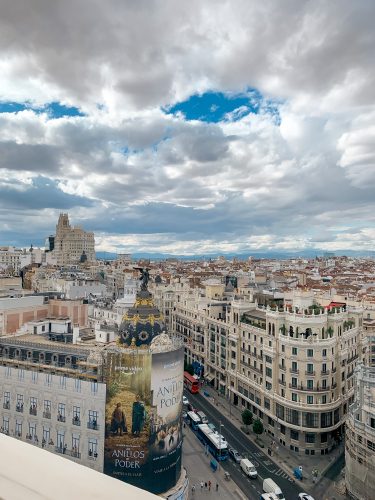 Instagrammable Location: Puerta de Alcalá
La Puerta de Alcalá is one of the best-known monuments in Madrid! This beautiful gate is the only piece left of Madrid's old city walls. In my opinion, it is one of the most beautiful monuments and is full of history. The square around it is full of bars and restaurants where you can sit down, enjoy the view, and take a photo. Another tip from my side: When you cross the street from Calle de Alcalá in order to go to the Retiro you will pass a small island on the street that is perfect for a photo!
Currently, Puerta de Alcalá is under construction. I hope they will finish soon because right now you cannot see much of it!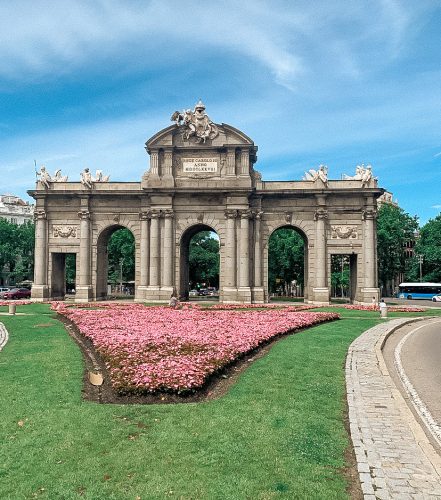 One of Madrid's most instagrammable buildings: Cibeles
Palacio Cibeles is a beautiful white building that you can find on many postcards from Madrid. But what is this building? Palacio Cibeles is the seat of the city council of Madrid. But not only that. This building also features very interesting expositions about history, art, and sustainability. And the best part: They are free! Why do I mention that? This building is definitely worth seeing from the inside. This place is just as instagrammable from the inside as it is from the outside. One of the top Madrid Instagram Spots for sure!
My Top Tip: Palacio Cibeles also has a rooftop bar that you can visit. The views from there are incredibly beautiful and you can see them in photo number 3 below. The entry is 10€ and comes with one drink.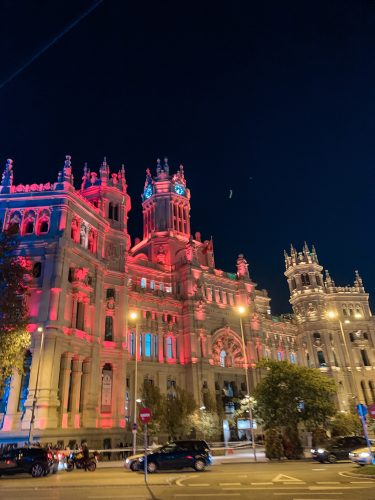 Malasaña, the hipster neighborhood & Madrid Instagram Spots
You can call Malasaña the hipster neighborhood of Madrid. This area is full of vintage shops, coffee shops, and many young people. This neighborhood has become incredibly international during the last few years. Many young people end up moving here because it is fairly close to the university and more or less affordable. When it comes to Instagram spots, this area has a lot to offer. You can find street paintings on many walls of buildings.
My photos below show Plaza Dos de Mayo, which is one of the main squares of the area you will find.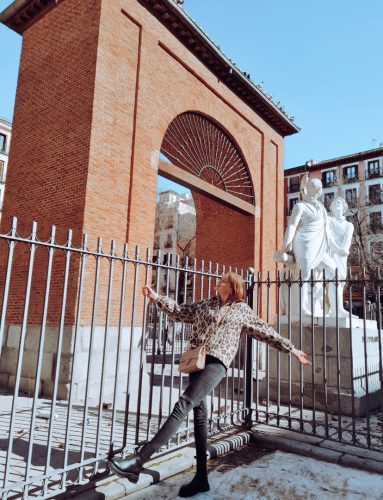 Plaza Olavide, Madrid's most photogenic plaza
Plaza Olavide is one of my favorite places in Madrid. It is the perfect place for an afternoon drink with friends. The whole square is full of bars where you can sit outside and enjoy the weather. Especially on warmer days, you will find many people gathering here with friends and family. To me, this square is also incredibly picturesque and dreamy. The buildings surrounding it are so unique and colorful. And in the center of the square is a beautiful fountain that is lit up beautifully during the evening. This place is definitely worth taking a picture of!