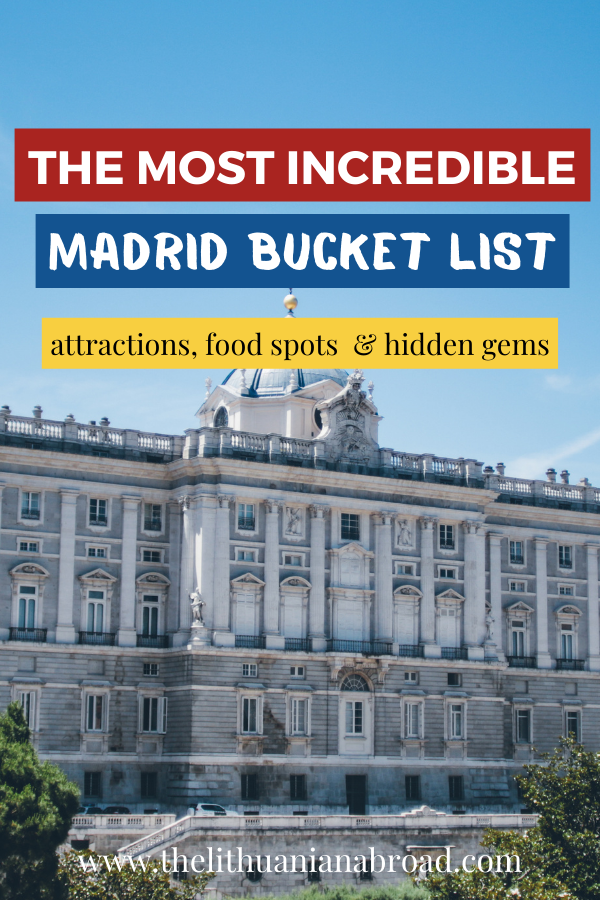 Madrid may not be the first choice when someone is visiting Spain for the first time. The first choice of many travellers would be Barcelona, Mallorca, or maybe even Seville. Some may think they can skip Madrid and just go to the beach cities or the South of Spain. But in my opinion, Madrid is not just another boring capital city. And it really should not be your second choice of holiday destination. I have been living here for more than five years and I am very much in love with it. And after such a long time I can give you a couple of tips and recommendations on how to have the best time while visiting Madrid. That is why I came up with this Madrid Bucket List Challenge: This list contains 37 things you have to do while visiting Madrid.
It does not matter if you are visiting Madrid for the first time or have been to Madrid before. This bucket list contains all kinds of activities to have an amazing time in Madrid. You will find the best museums in Madrid, the best attractions, and the best food spots. Let's jump right into it:
---
Affiliate links may be sprinkled throughout the free content of this blog post. If you purchase from one of the links I may receive a small commission while the price for you stays the same. This helps me cover the costs of The Lithuanian Abroad. Gracias!
Other blog posts that could be interesting for you:
Visit Madrid on a budget: 104 cheap or free things you can do in Madrid: This guide includes more than 100 cheap things you can do in Madrid. I really made sure to include all the activities you can do in Madrid that won't break the bank: Free museums, parks, sunset places and more!
Let's do a self-guided walking tour of Madrid: This blog post includes an itinerary for a self-guided walking tour in Madrid. That's why you can see Madrid's most important places in one afternoon. And I made sure to include amazing food spots as well 🙂
25 museums in Madrid you can visit for free: This blog post includes a list of ALL museums in Madrid you can visit for free. And I mention the exact time when the entrance is free of charge so you can plan your trip accordingly! And guess what, the Reina Sofia Museum and the Royal Palace are on this list as well!
16 things to do in Madrid at night, that aren't just partying: This guide gives you amazing ideas about what to do in Madrid during the evening or at night. And no, we don't just talk about partying! This blog post includes Flamenco Shows, night tours, and other fun activities. Check it out!!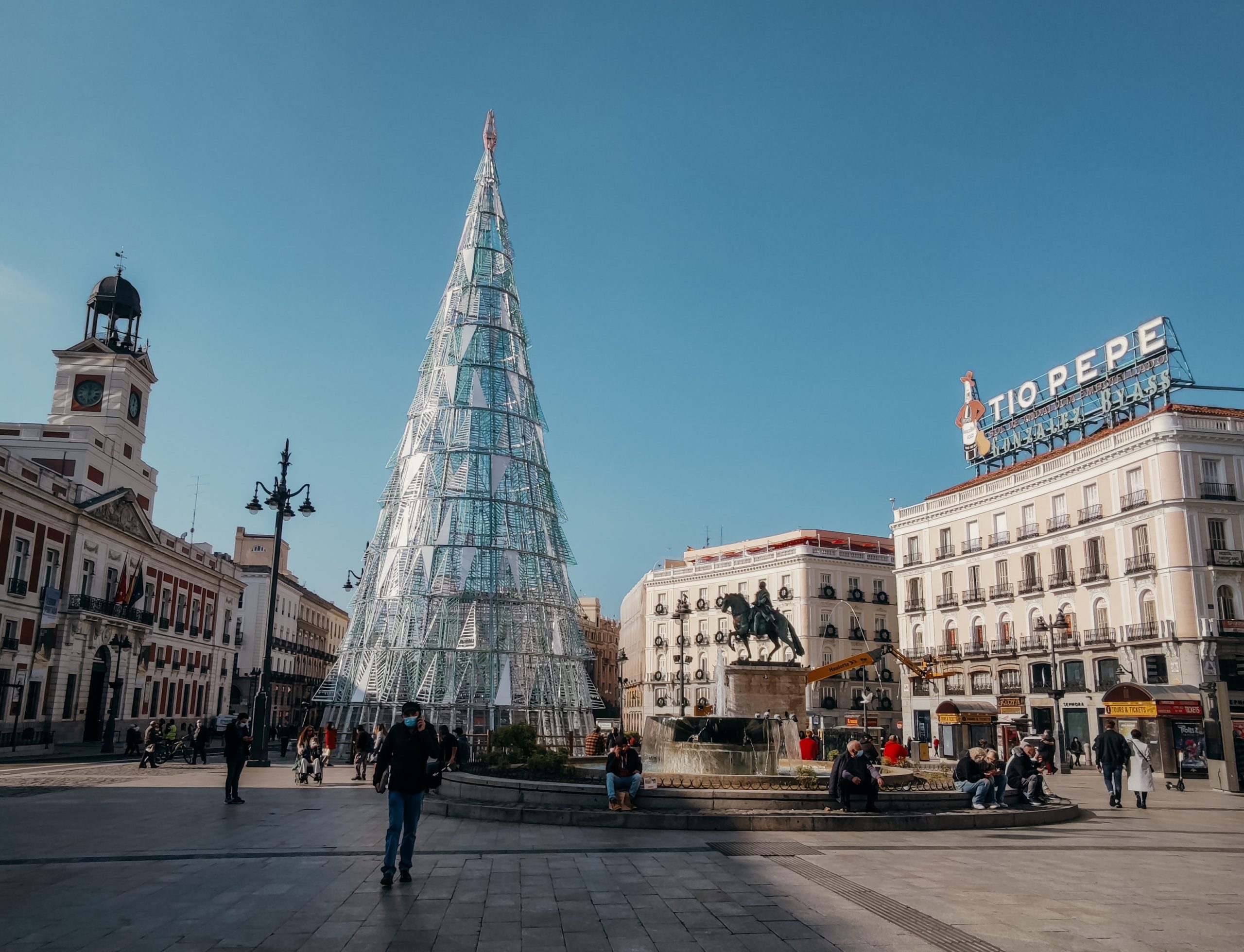 Start with a free walking tour in Madrid:
I love going on free walking tours whenever I visit a city for the first time. In only a couple of hours, you will see the most important areas of Madrid and you will learn a lot about its history. The past part of free walking tours are the local guides. They really do an amazing job at showing you Madrid from the eyes of a person who lives there. And you can ask them for recommendations or get some tips about what you can do after your tour.
How do free walking tours work? Free walking tours do not come with a fixed price, therefore they are free. But, at the end of the tour, you will have the chance to tip your local guide. And it is really up to you how much you want to give them. It usually depends on your budget and on how much you liked the tour. I have done so many free walking tours all over the world and the one in Madrid was one of my favorites. And so many people have told me the same. Believe me, this tour is so worth it!
Book your free walking tour in Madrid here
Interactive Map with all attractions from this Madrid Bucket List Challenge:
Let's start: Museums & other must-do activities in Madrid!
1. See the "Guernica" painting by Picasso at the Reina Sofía Museum
The Reina Sofia Museum is one of the most important art museums in Madrid. It holds many paintings from Spanish painters like Picasso or Goya, mostly from the 20th century. One of the most impressive paintings at the Reina Sofia museum is Picasso's "Guernica", an anti-war painting from the 1930s.
I would recommend getting a skip-the-line ticket before going to the museum. The lines in front of the Reina Sofia museum are quite long. You will save significant time by just buying your fast-access ticket online.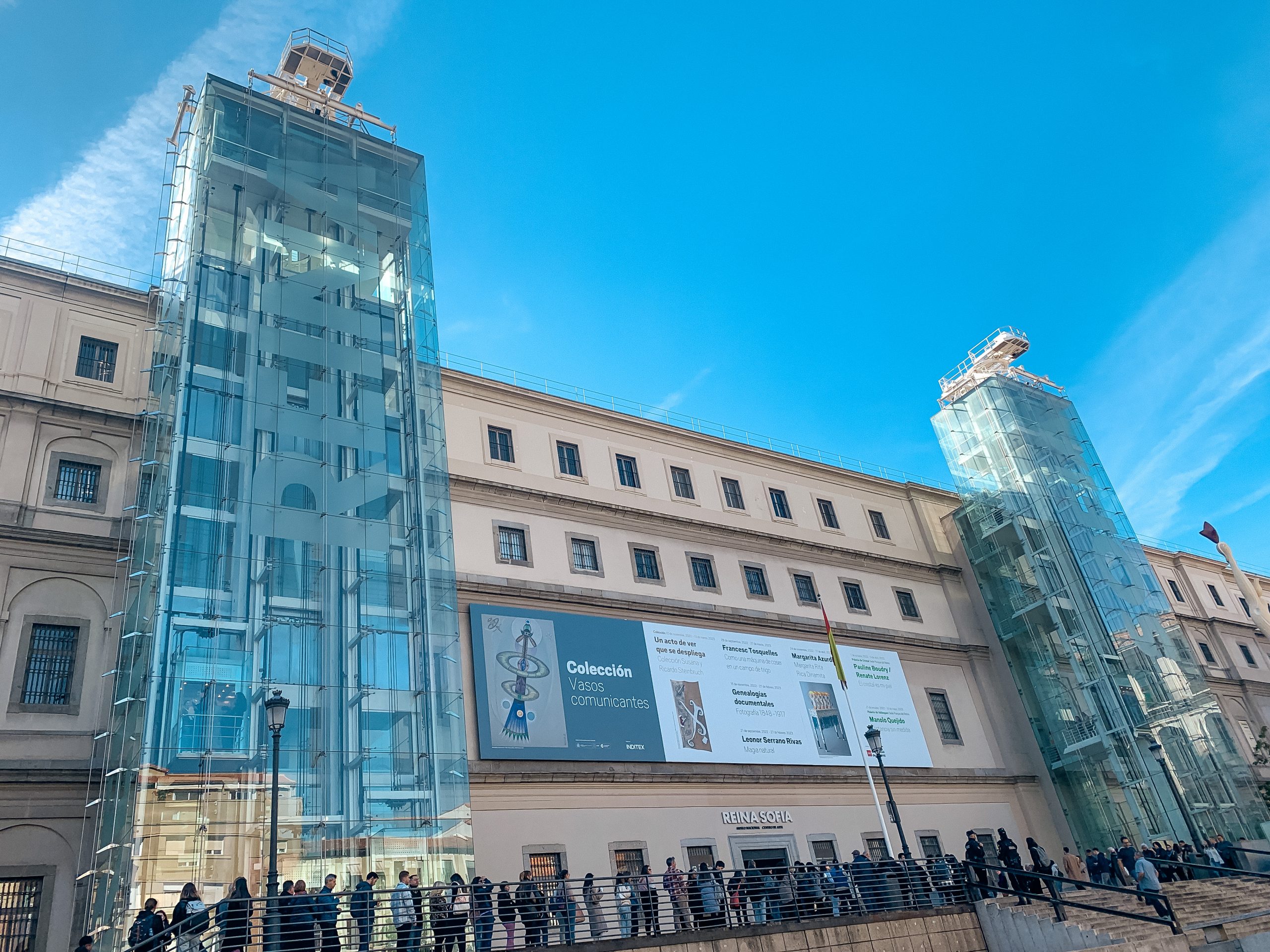 2. Admire international art at the Prado Museum
The Prado Museum is one of the largest and most important art museums worldwide. It offers not only a collection of the best Spanish painters but apart from that, you will also find artwork from international artists like Rembrandt or Albrecht Dürer. This museum covers a wide range of different art movements showing artworks from the 14th to the 19th century.
This museum is much bigger than you would expect. I do recommend buying your entry ticket online in order to be able to skip the line. It is a great idea to check out beforehand what exhibitions you would like to see. You could probably spend a whole day in the Prado Museum and you still would not get to see everything!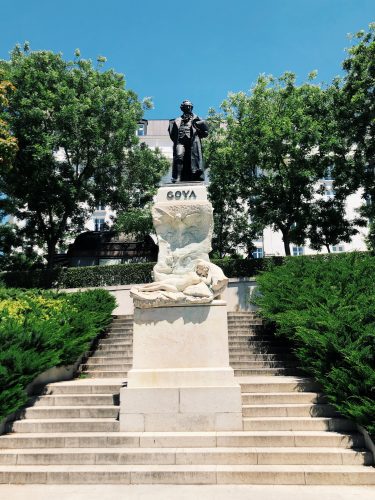 3. Go to the Thyssen-Bornemisza Museum
The Thyssen-Bornemisza Museum, the Prado Museum, and the Reina Sofia Museum are the three most important art museums in Madrid. This museum mostly shows paintings owned by Heinrich Thyssen and his son. It covers many different international art movements as well. You will find American Art, art from German painters, Russian art, and much more. And I have heard from many of my friends that this is their favorite museum in Madrid.
I advise booking your entry ticket beforehand in order to skip the line in front of the Museum. Apart from that, tickets sell out quickly since the museum still works with reduced capacity due to Covid.
Skip the line at Madrid's greatest museums: Madrid Art Walk Pass
The Reina Sofia, the Prado Museum, and the Thyssen Bornemisza together are Madrid's greatest art museums. That is why Madrid has a special ticket with which you can visit all three museums for a discounted price: The Madrid Art Walk Pass. If you get this ticket instead of buying the entrances separately, you save 20%.
And you do not need to worry about not being able to visit all three museums on the same day! Once you buy your ticket it is valid for a whole year. If you are an art fan, then this option is for you! You can get your Madrid Art Walk Pass Ticket here.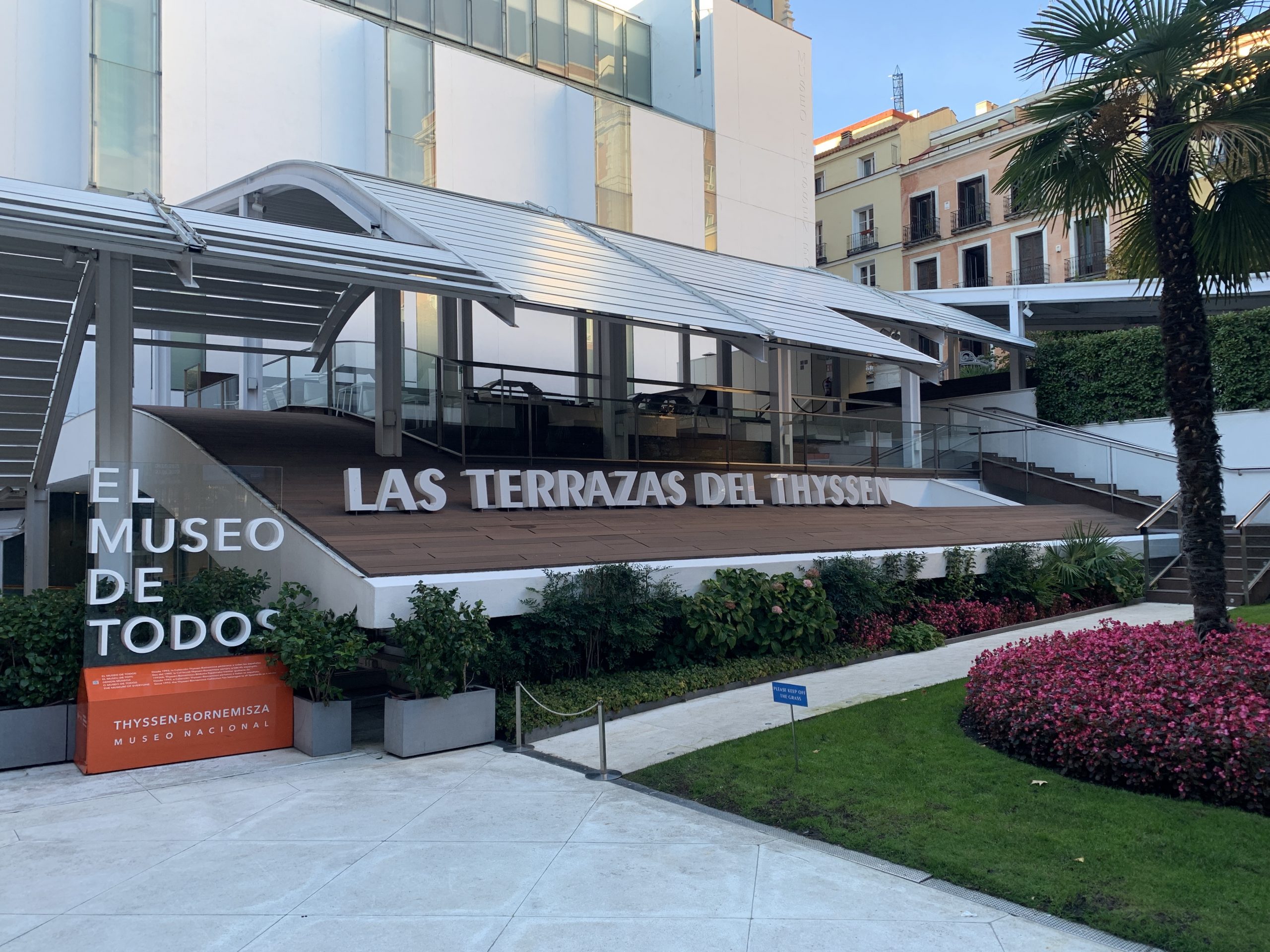 4. Enjoy the temporary exhibitions at the Matadero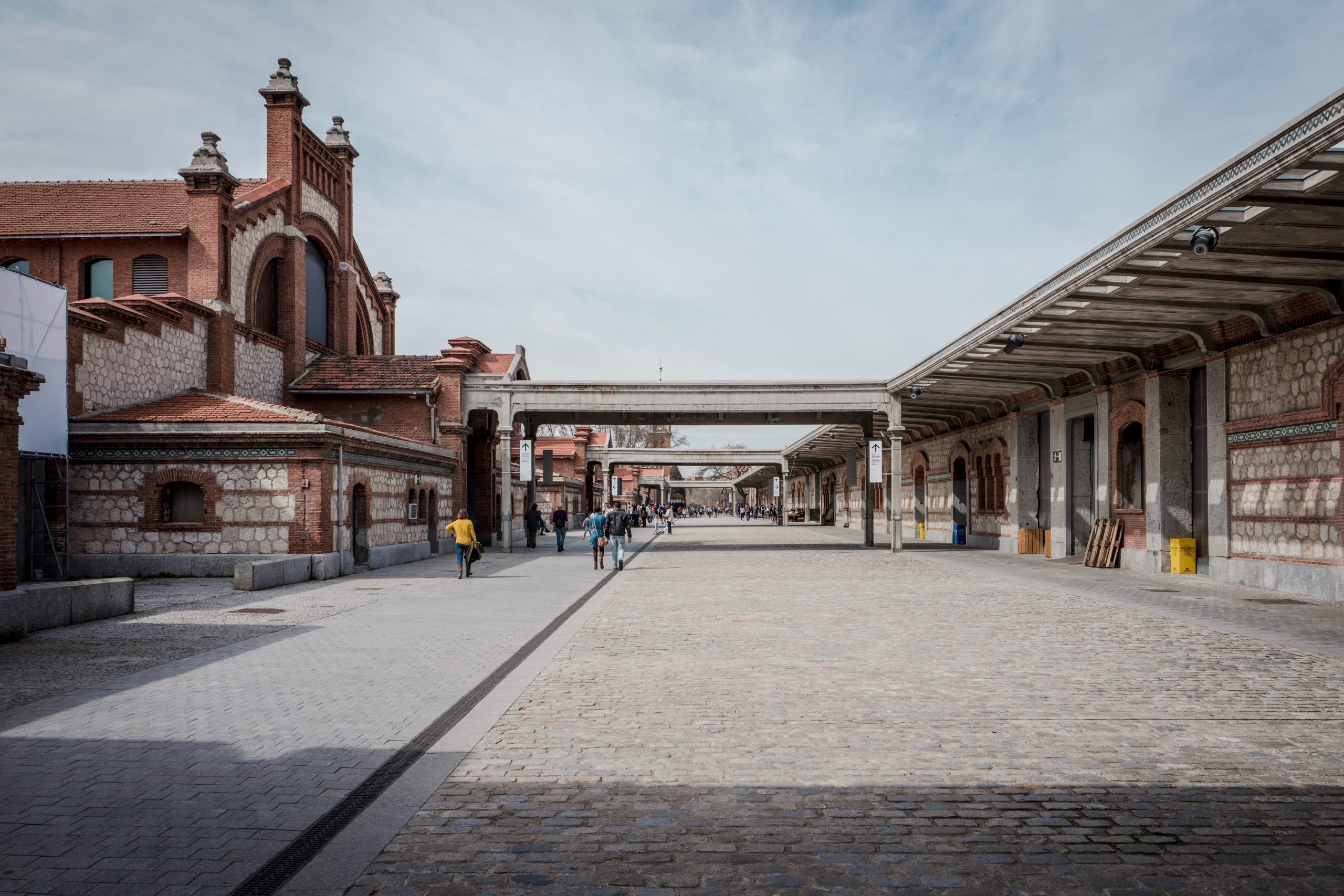 The Matadero used to be a slaughterhouse in the South of Madrid until it was reformed into the arts and culture center it is now. They host open-air cinemas, international Christmas markets, and temporary modern art exhibitions. And those exhibitions tend to be very interactive and bizarre. You should check them out!
5. Explore Madrid's gastronomy on a wine & tapas walking tour
Are you a fan of Spanish food? Then, you came to the right place. Madrid is famous for its international food culture and incredible gastronomy. You will have the chance to try a lot of different Spanish food during your stay and believe me, it will be delicious. What I can always recommend is doing a tapas walking tour with a local guide. These tours usually include several stops in different bars and restaurants in Madrid. There, you will get the chance to try local food. And your guide will teach you so much about Madrid's food culture. An incredible experience!
If you are interested in participating in these food tours, you can find more information here.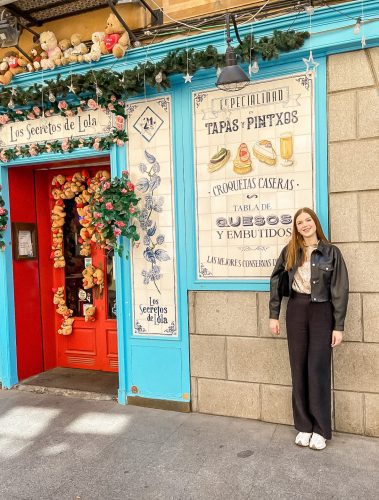 6. Check out the current exhibition at "Palacio de Cristal"
The "Palacio de Cristal" is a conservatory located in the center of the beautiful Retiro Park. It belongs to the Reina Sofia Museum and hosts very interesting art exhibitions. The current exhibition is about colonialism. One of the must-see places in Retiro Park.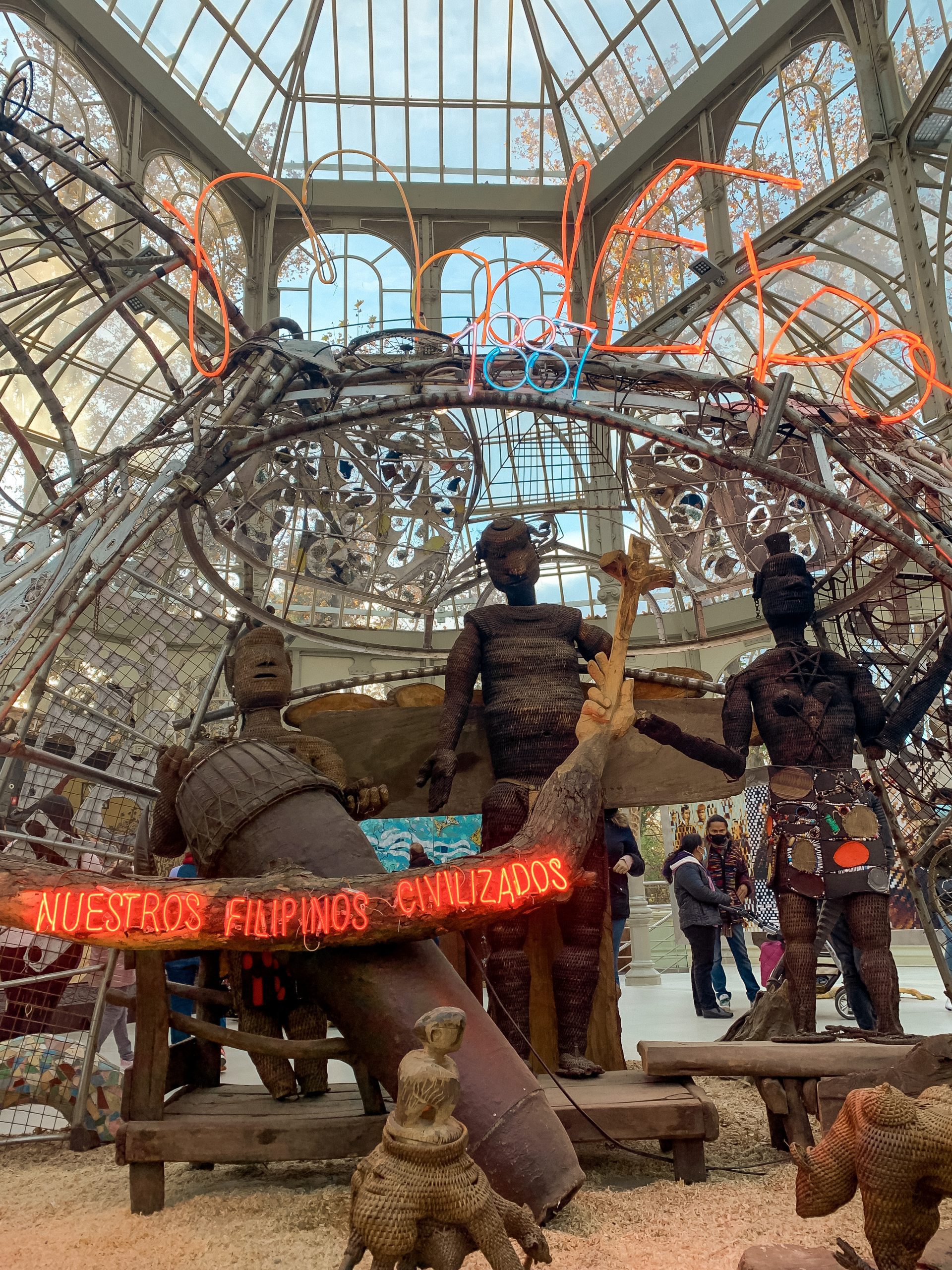 ---
7. Walk around the Botanical Garden of Madrid
The Botanical Garden in Madrid is one of the best attractions in Madrid. And if you happen to come during winter they usually have light shows with different themes that you can check out in the evening. A great place to go to in Madrid during any season
8. Admire the Royal Palace in Madrid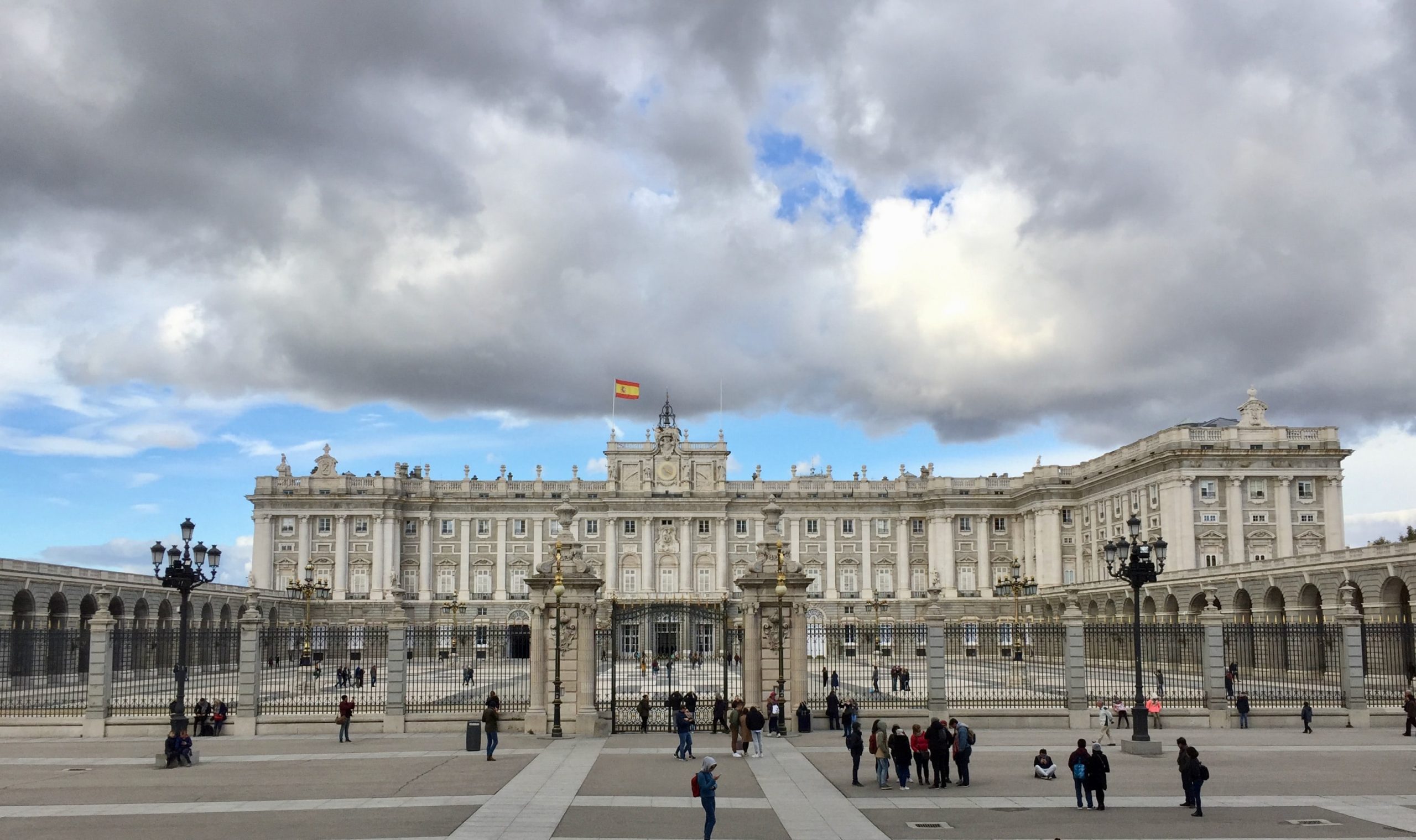 The Royal Palace is one of THE must-do attractions in Madrid. Of course, the Royal Family does not live there anymore, but you can still walk through the rooms and admire the interior how it was hundreds of years ago. Did you know it is almost twice as big as Buckingham Palace? There are soooo many rooms you can visit. I promise you will be very impressed. My favourite part of the Palace is the Porcelain room, and it's exactly what it sounds like: A room covered in beautiful porcelain from China:
Here comes the trick: If you plan to visit the Royal Palace I would recommend getting your tickets in advance. Every time I pass by the palace the lines of people waiting to get in are ridiculous. So, if you are in a rush and are only in Madrid for a short amount of time, I would recommend getting a fast-access ticket. That way you can skip the line and continue with your Madrid Bucket List on time 🙂
Attractions you have to put on your Madrid Bucket List:
9. Spend the Sunday at "El Rastro", Madrid's most famous outdoor market
El Rastro is Madrid's famous open-air flea market that is open on Sundays and public holidays. This market has everything from old furniture, jewelry, and second-hand clothes to video games or souvenirs. And you get to walk around the neighborhood of La Latina, which is very beautiful.
10. Visit the Santiago Bernabeu Stadium
It is not a secret anymore that Madrid is a great destination for football fans. If you have the time, watching a football match there will be an amazing experience. But did you know you can do a tour inside Santiago Bernabeu Stadium as well? The highlight of this tour is the Football museum of the stadium. And at the end, you can take a panoramic photo of the stadium.
Here again, I would recommend booking tickets in advance as it is one of Madrid's most popular attractions. You can book your tickets here
11. Watch an amazing Flamenco Show during your stay in Madrid!
Watching a Flamenco Show is a very unique experience. And there are several places in Madrid that offer great Flamenco performances. I am so glad I got to do that when I arrived in Madrid. Since then, I have always liked to go back with guests. I went to a Flamenco show with my mom a couple of months ago, and she still talks about how impressed she was.
Flamenco is a very emotional dance that actually originates in Andalusia. It is performed by men and women dressed in traditional Flamenco clothes. The performance is guided by a Spanish guitar. Very romantic! Apart from the music, the clothes the dancers wear are also very important. You have to see the female dancers with their long colorful dresses, in Spanish "traje de flamenco". Absolutely beautiful.
And the best part: It is very affordable! This Flamenco show costs only 25 Euros and is one of the best ones in Madrid. The interior looks very Andalusian and is full of South of Spain vibes. I would recommend booking one week in advance because these tickets sell out very fast!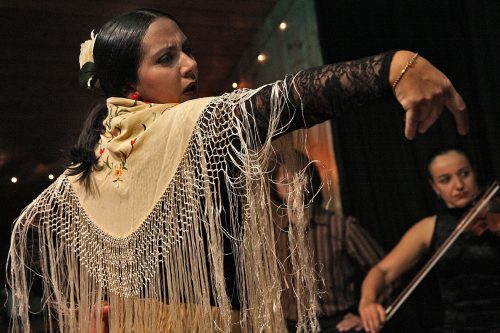 I also found other Flamenco Shows you can visit in Madrid:
12. Check out the Views from the Roof Top Bar "Circulo de Bellas Artes"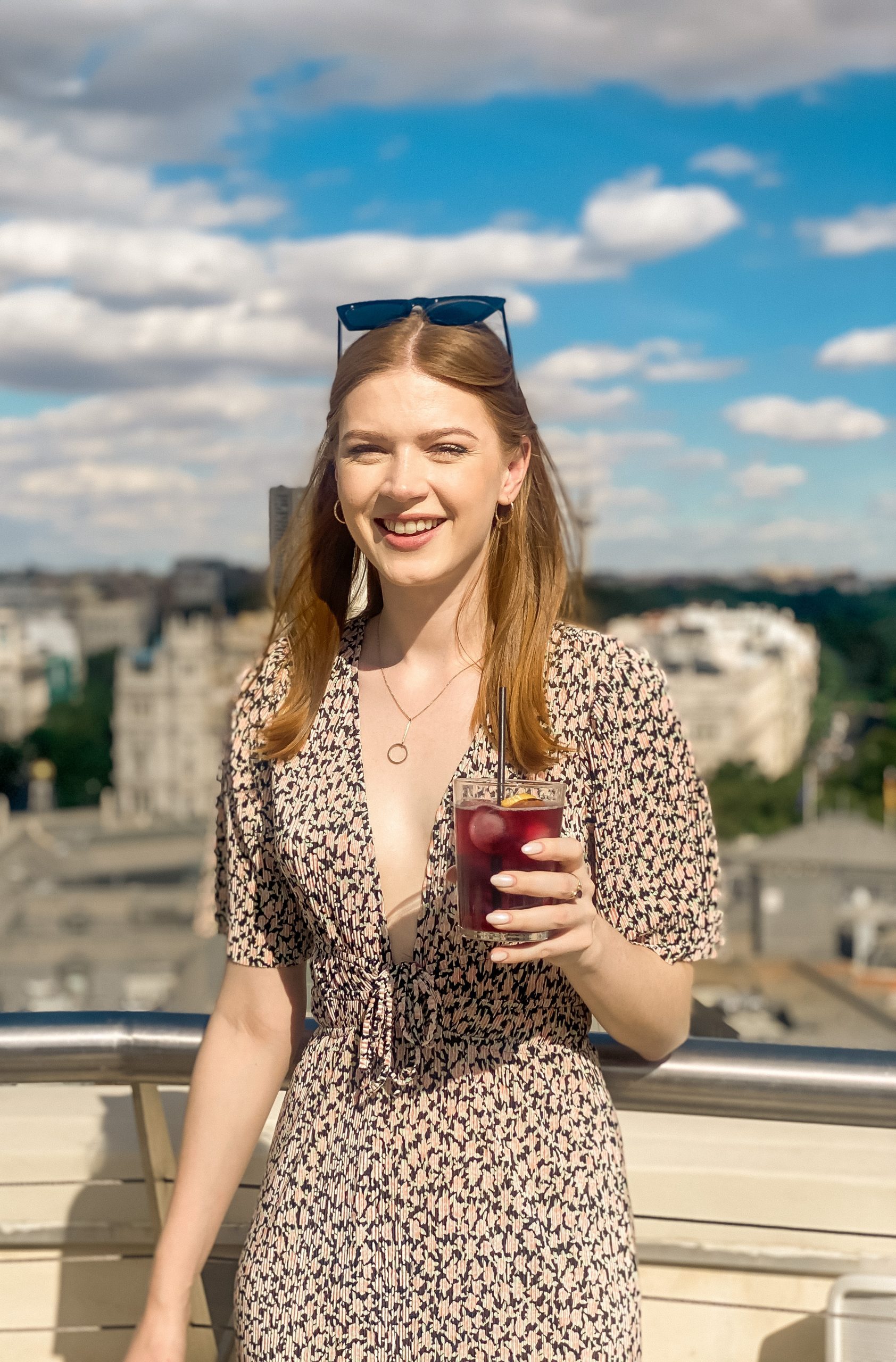 Circulo de Bellas Artes is a very popular Rooftop Bar in Madrid. Once you are there you will understand why: It offers amazing views of Gran Vía, the Metropolis Building, and even Palacio Cibeles. I would recommend going there during the week, as it gets very crowded during the week.
13. Take a photo in front of "Puerta de Alcalá"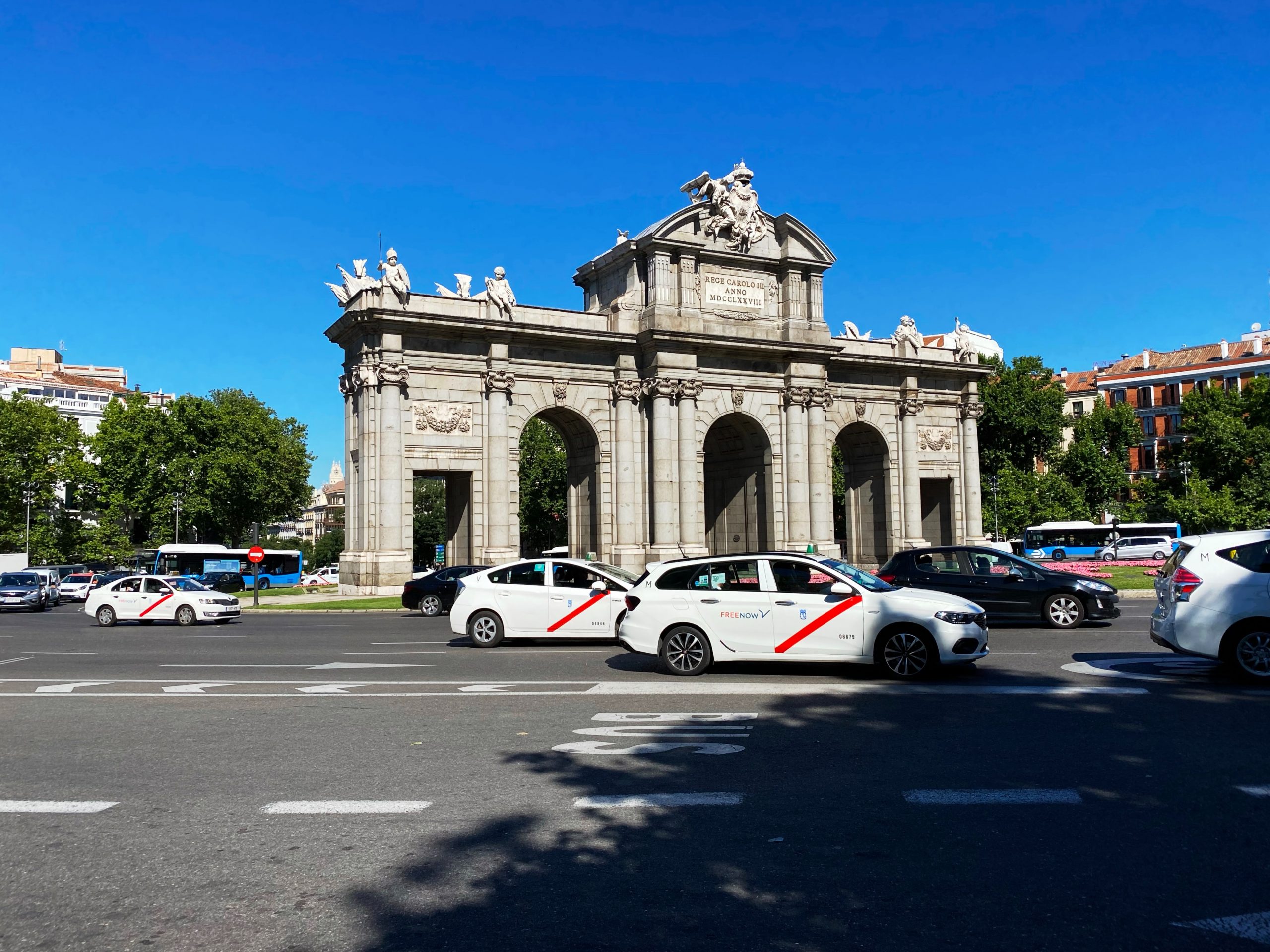 Puerta de Alcalá is a neoclassical gate located right in front of the entrance to Retiro Park. When you cross the street to head to the park, there is a small spot where you can take an amazing photo with the gate in the background. This will be a perfect memory photo.
14. Take a photo of "Kilometer 0" at Puerta del Sol
Kilómetro 0 is a small slab at Puerta del Sol that a lot of people do not know about. Tin front of the old post office "Correos" and marks the beginning of the six most important national streets of Spain.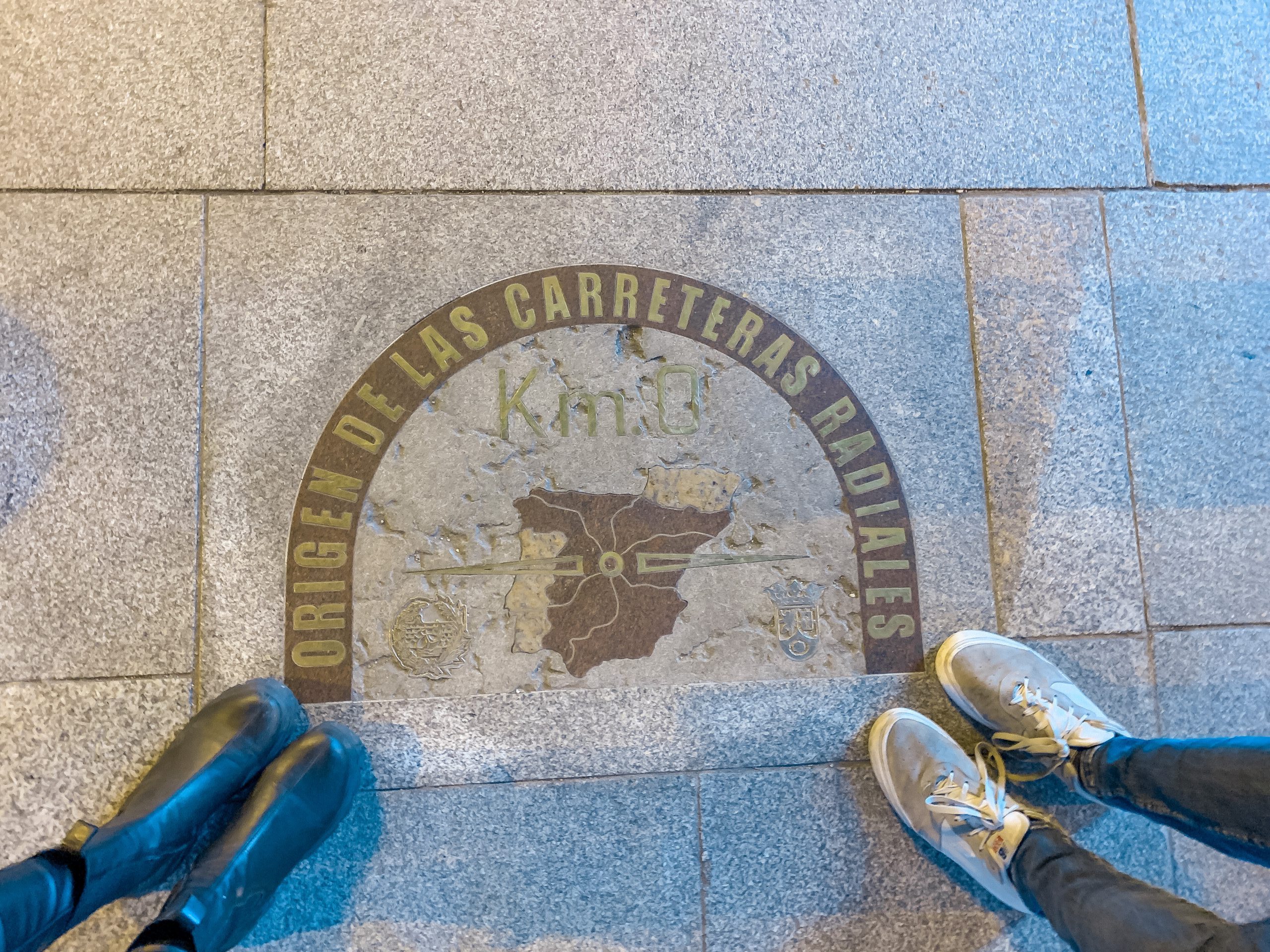 15. Visit Palacio Cibeles and have a drink on their rooftop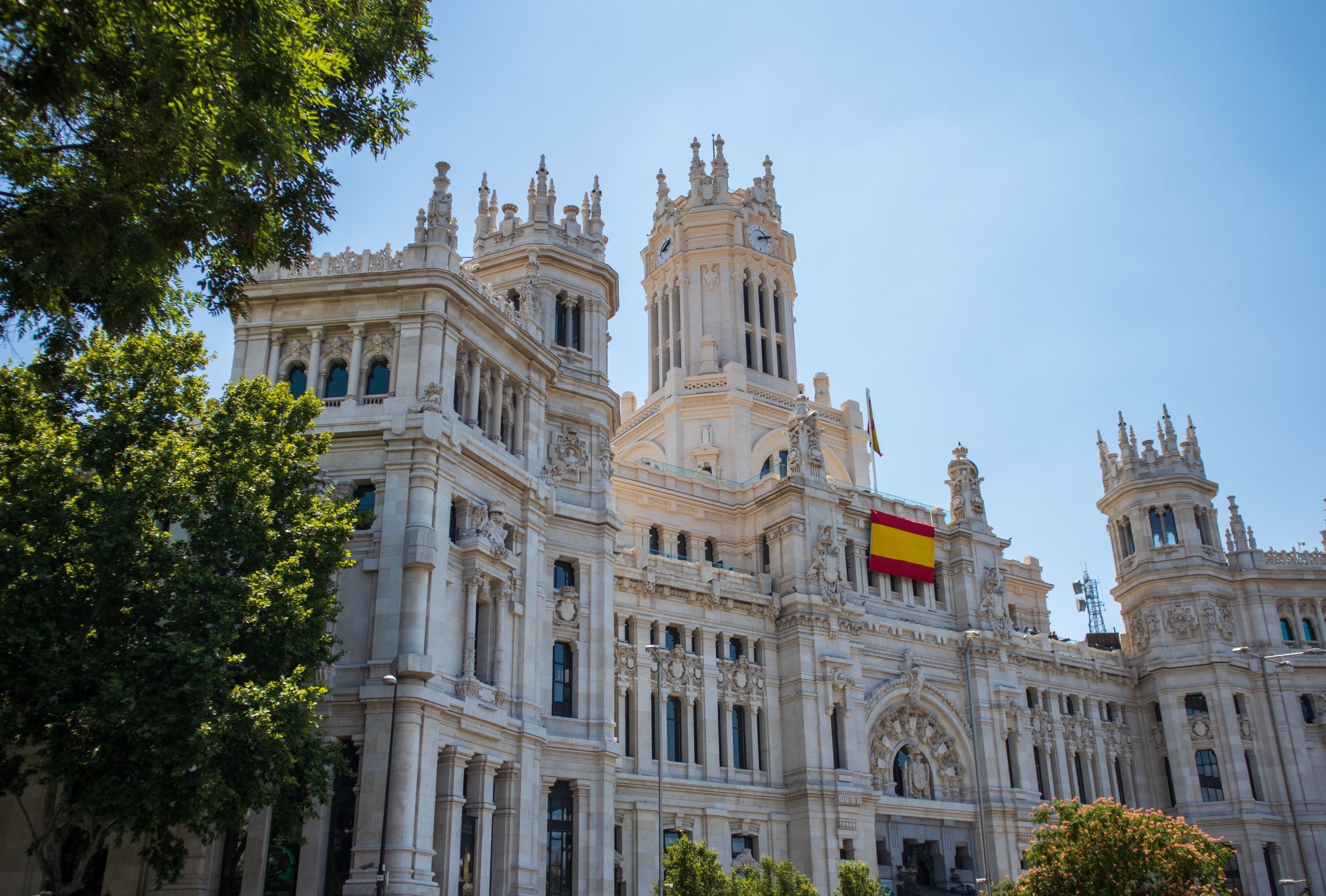 The Palacio Cibeles is the seat of the city council of Madrid. Apart from that, it offers great temporary exhibitions as well. Did you know it also has a rooftop bar overlooking Gran Vía? How about having a drink and enjoying the views from there?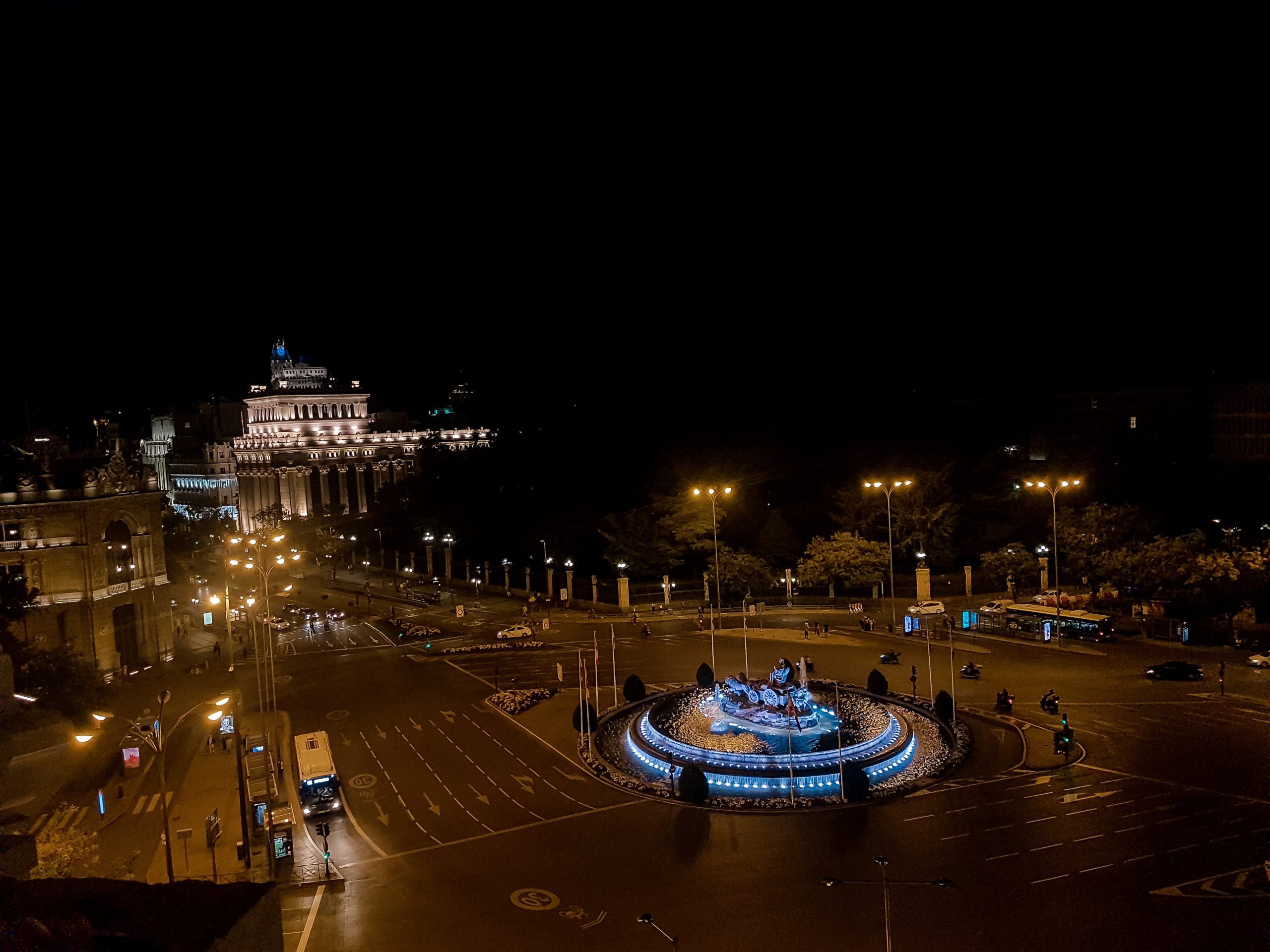 16. Ride the countless roller coasters at Parque de Atracciones
This is the perfect one-day trip idea from Madrid: Spend the day at the attraction park in Madrid and try to ride all the roller coasters. This idea is especially great if you are visiting Madrid with children.
You can get your tickets for the Parque de Atracciones here.
17. Go on the little boats on the lake in the Retiro Park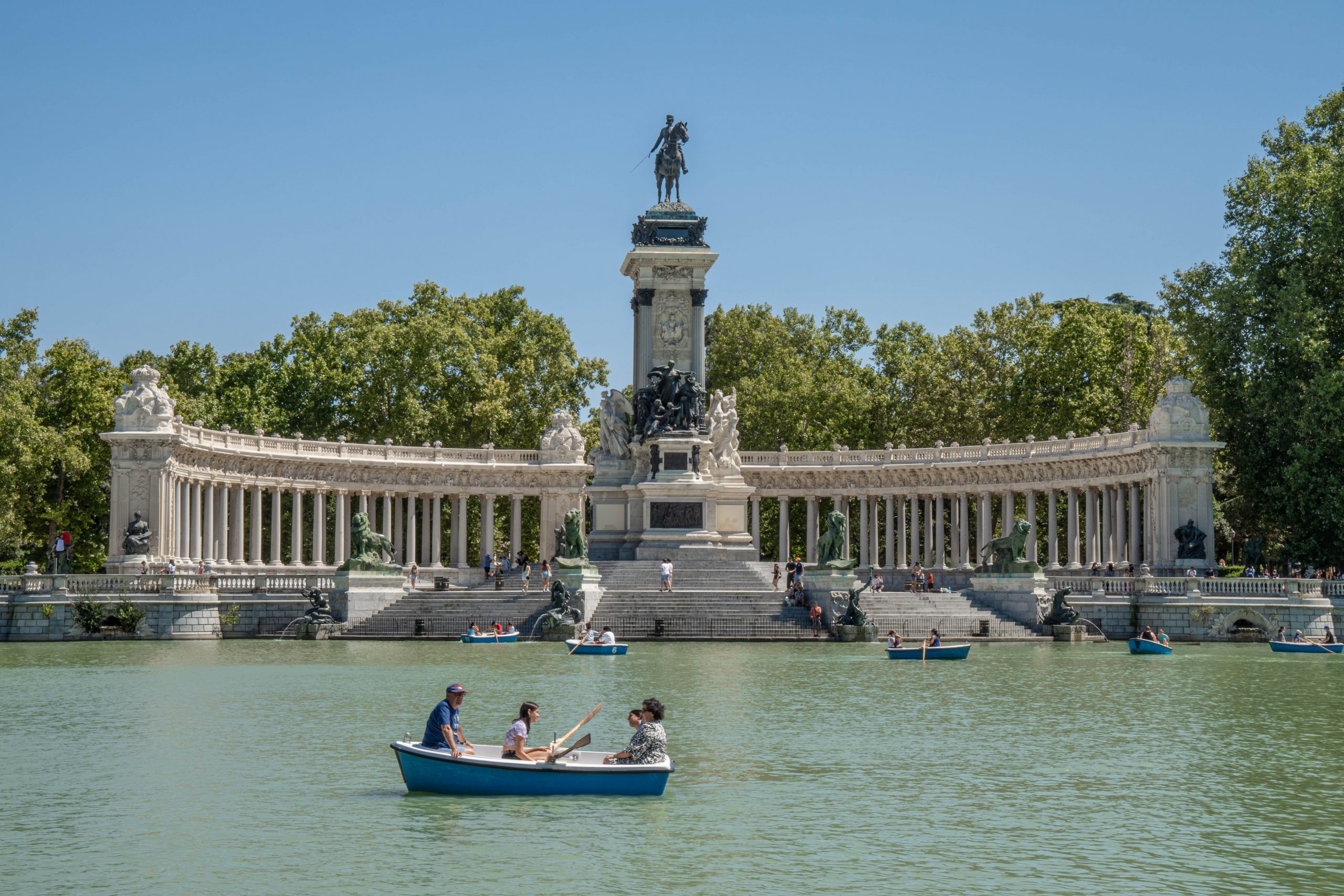 Retiro Park is one of my favorite attractions in Madrid. It is a huge park in the city center that has so much to offer! One of the highlights of the park is the lake, where you will always see little rowing boats with people on them. It is so much fun to go on these and I encourage you to try it out yourself!
Boat rental: You can book 45 min time slots from Monday – Sunday 10:00 am – 1:00 pm and 3:30 pm – 5:30/8:30 pm (depending on the time of year) (until 5:15 in December)
Price per boat: Mon-Fri: 6 euros / Sat-Sun and Public Holidays: 8 euros
18. Enjoy Madrid's famous Arab Baths at Hammam al Andaluz
Did you know you can enjoy Arabic baths in Madrid like they used to have in Andalucia? There is a SPA center Hammam al Ándaluz in the neighborhood of Las Letras that offers the full wellness experience: a beautiful pool with a stunning interior design, massages, and other treatments. You will feel like you are in Andalusia.
More information about the Arab Baths here.
19. Watch the sunset at Templo de Debod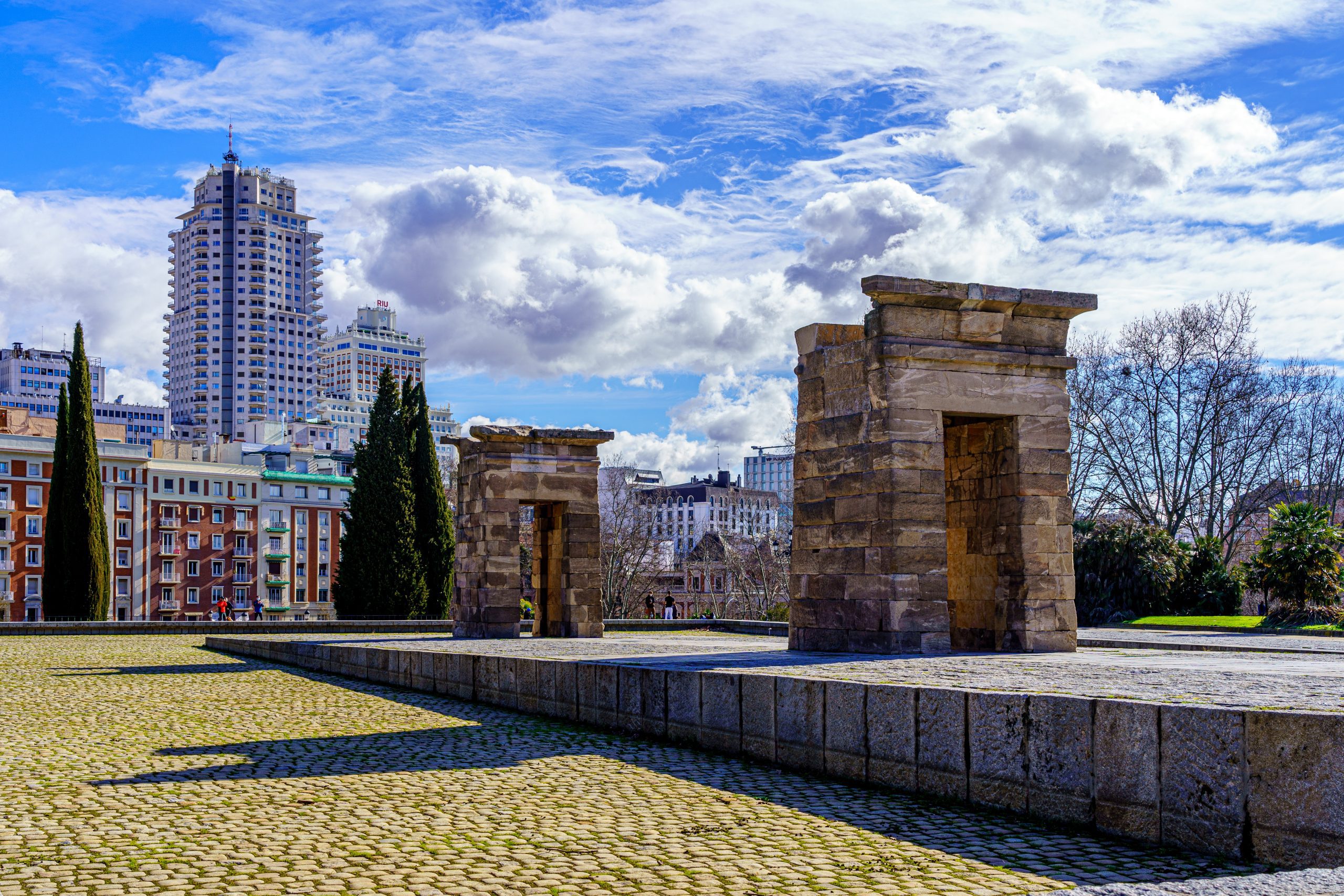 Templo de Debod is one of the best places in Madrid to watch the sunset. The temple was gifted to Spain by the Egyptian government and has been open to the public since 1972. Did you know that this marvelous temple arrived in single stones and they had to assemble it where it stands right now? If you have time to wait in line, you can even have a look at the inside of the temple.
20. Watch "The Lion King" at "Teatro Lope de Vega"
"The Lion King" must be one of the most popular musicals worldwide, and there is one theater in Madrid that is famous for showing this musical: Teatro Lope de Vega!
This musical is perfect if you want to have a special evening with your loved ones. And it is perfect for children, too. Keep in mind that the musical is in Spanish. But since I already had seen the musical before, that did not bother me.
You can get your tickets and find more information about the musical here.
21. Take the cable car "Teleférico" and enjoy Madrid's skyline from above
Did you know Madrid had a cable car? This cable car connects  Parque del Oeste with Casa de Campo. You will get the chance to see Madrid's incredible skyline from above and have a spectacular view over Casa de Campo.
The best places for food and drinks in Madrid:
22. Have a Calamari Sandwhich at "La Campana" at Plaza Mayor
Madrid is famous for its Bocadillo de Calamares (Calamari Sandwich). It is a tradition that origins in the coastal regions of Andalucia but it became a popular snack in Madrid during the last decades. There are many places that offer Calamari sandwiches around Plaza Mayor, but the one I recommend is La Campana.
23. Try "Churros con Chocolate" at La Mallorquina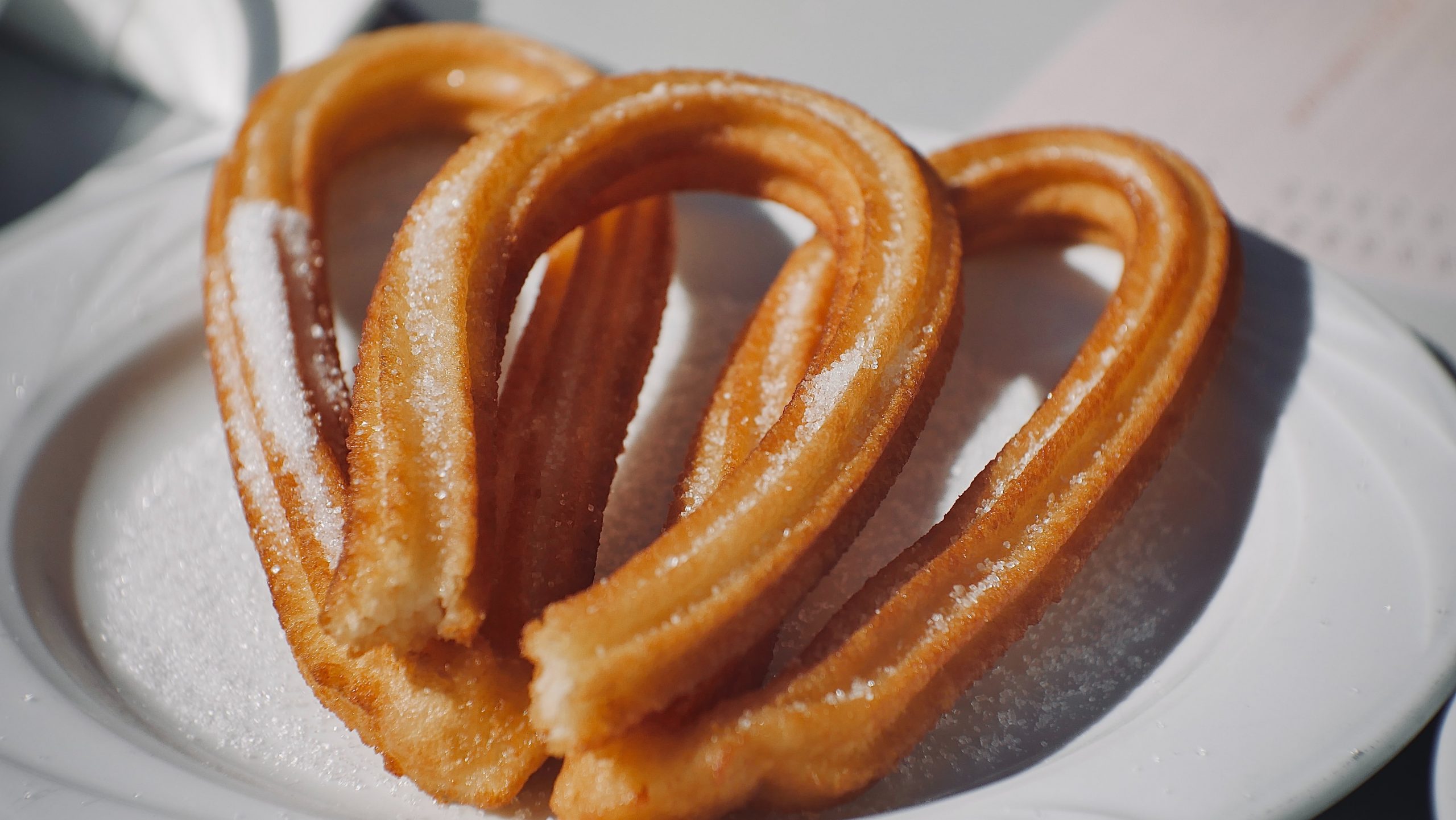 You have to try Churros con Chocolate during your visit to Spain. And La Mallorquina is the best place to do so! It was inaugurated in 1894 and since then La Mallorquina has been baking Spain's best pastries. After having so many years of experience, there is no doubt they must be good, right?
24. Try a traditional "pan con tomate" for breakfast
Pan con Tomate is probably my favorite breakfast to have in Spain. It is usually a piece of bread that is toasted and served with mashed tomatoes, olive oil, and salt. It sounds very basic but it's it is very tasty. It's a very typical breakfast in Madrid that you can find at all breakfast places or bakeries. The best way to start your day!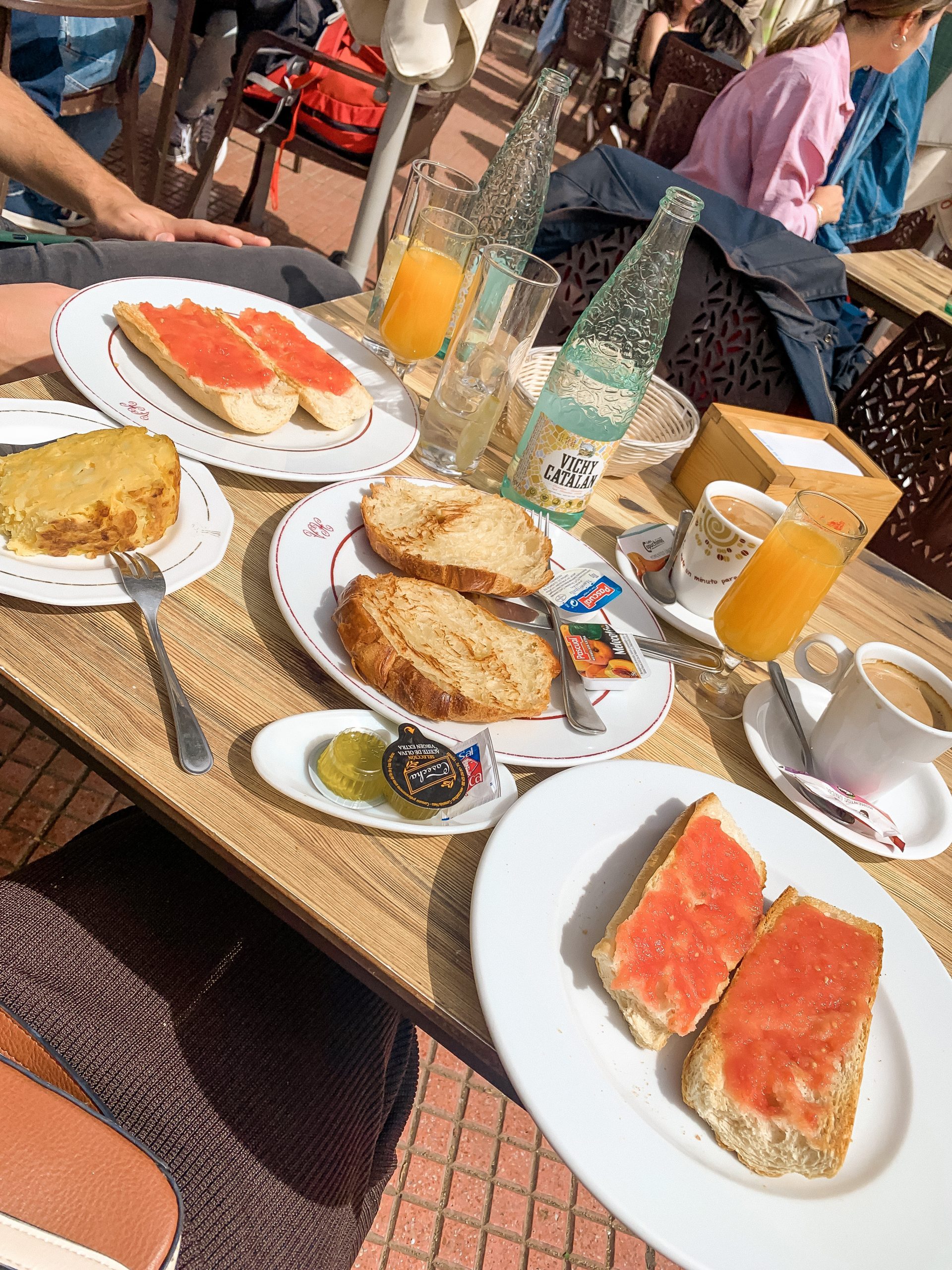 If you feel like it, you can even order tomato and ham!
25. Enjoy a Tinto de Verano at Plaza Olavide
I challenge you to try a Tinto de Verano during your stay in Spain. It is very similar to Sangría, but less sweet, which makes it very refreshing. One of my favorite drinks to have during the afternoon. Plaza Olavida is a very beautiful plaza that has A LOT of bars on it. And it is the perfect place for me to have a drink on one of the terraces on a Saturday afternoon.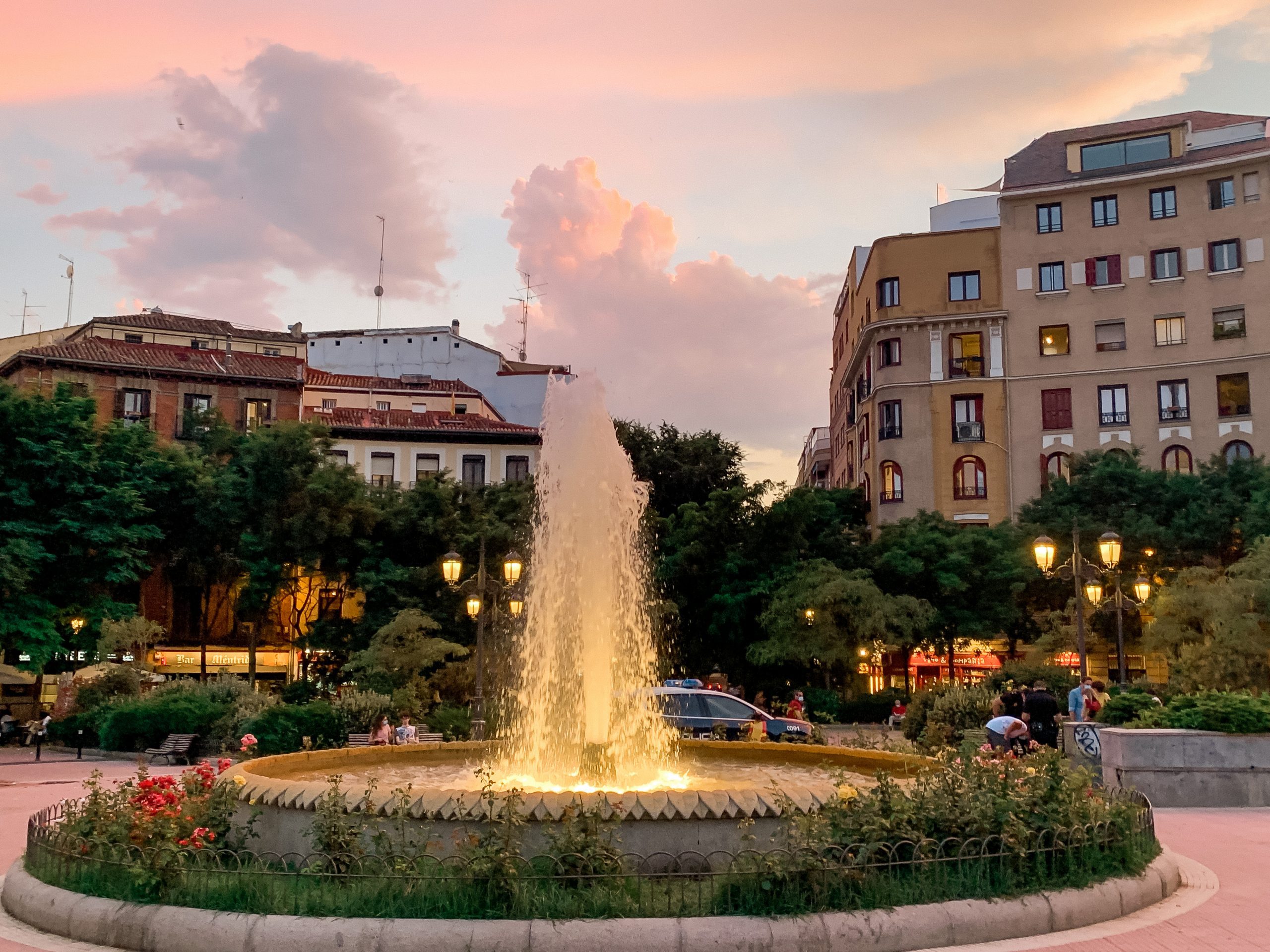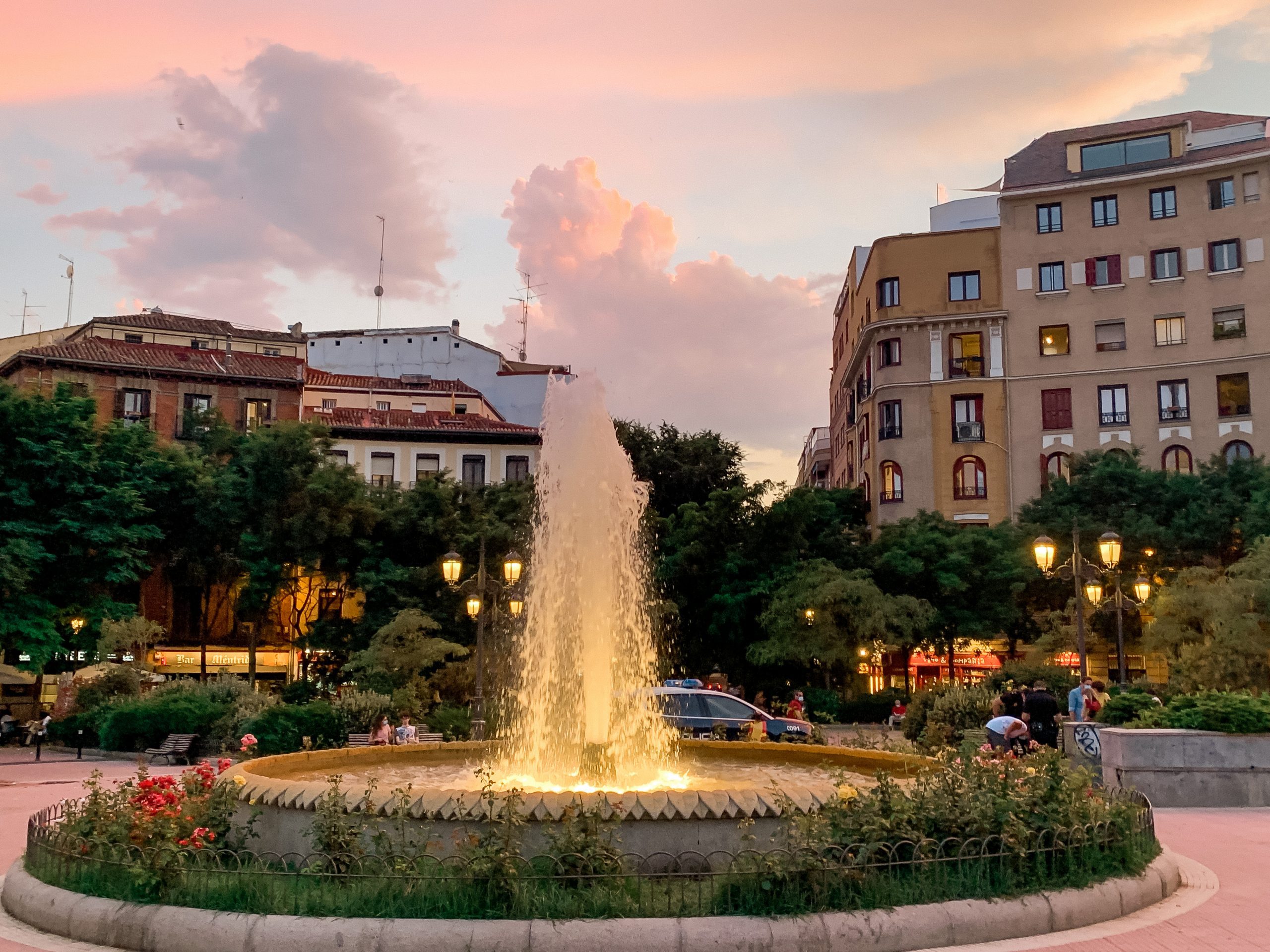 26. Enjoy an authentic Paella in Marina Ventura
Paella is not a typical dish from Madrid but I know that many people want to try Paella when visiting Spain. There are many places that offer low-quality paella so you have to watch out! Here are two places that I can recommend: Marina Ventura is a very popular place for Paella. And you can choose from many different ingredients.
You can book a table here.
The photo below shows a paella from Restaurante La Casa de Valencia. My mom absolutely adored this place when I took her there during her visit. The only disadvantage is that you have to make a reservation via phone.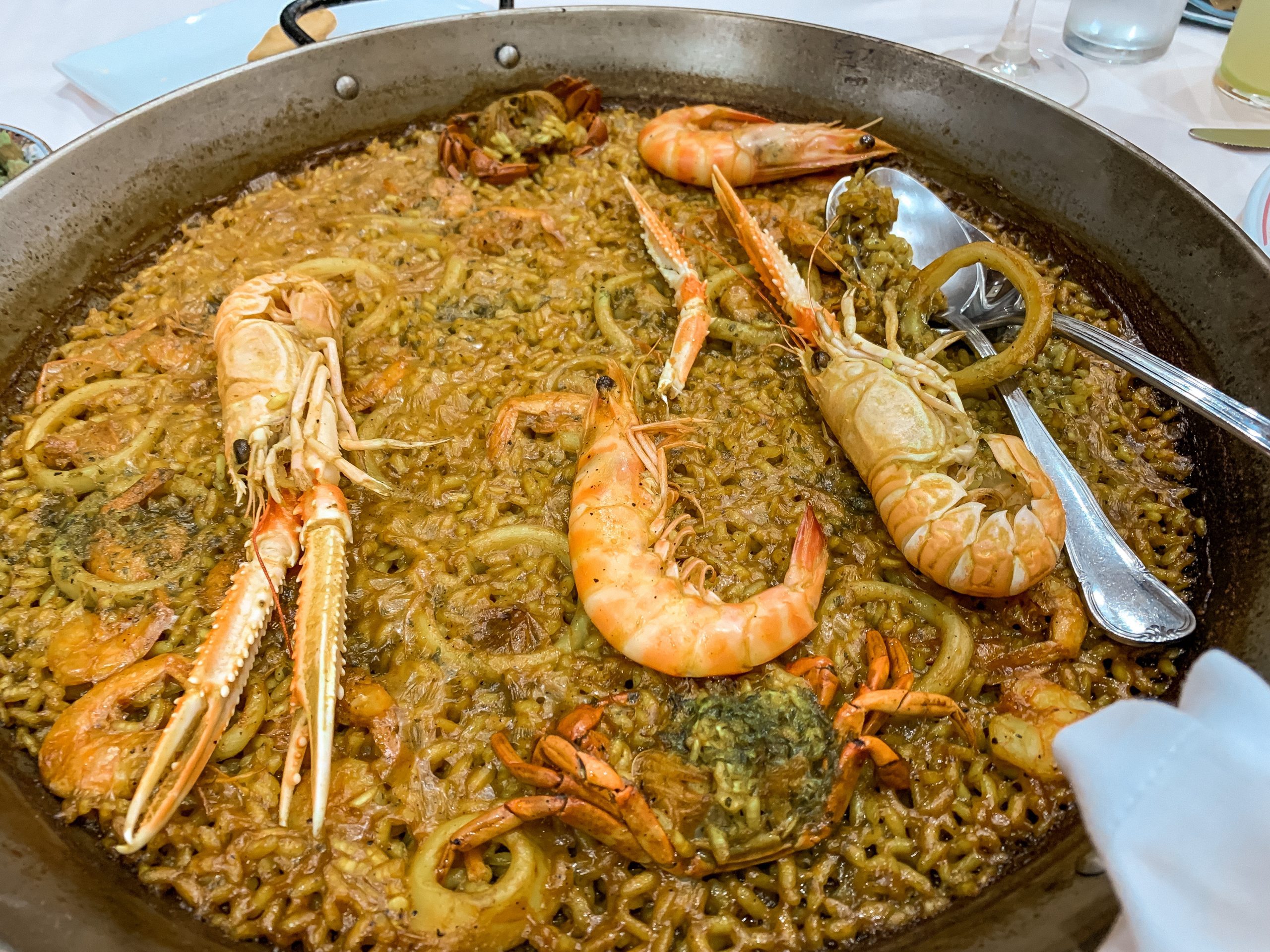 27. Try to get a table at "Bel Mondo"
Bel Mondo is one of the most popular Italian Restaurants in Madrid. Not only do they serve amazing Italian food, but the interior looks like you just walked into a fairytale. This is the perfect place for having a fancy dinner in Madrid. They are booked out weeks in advance. But if you are able to get a table you HAVE to go!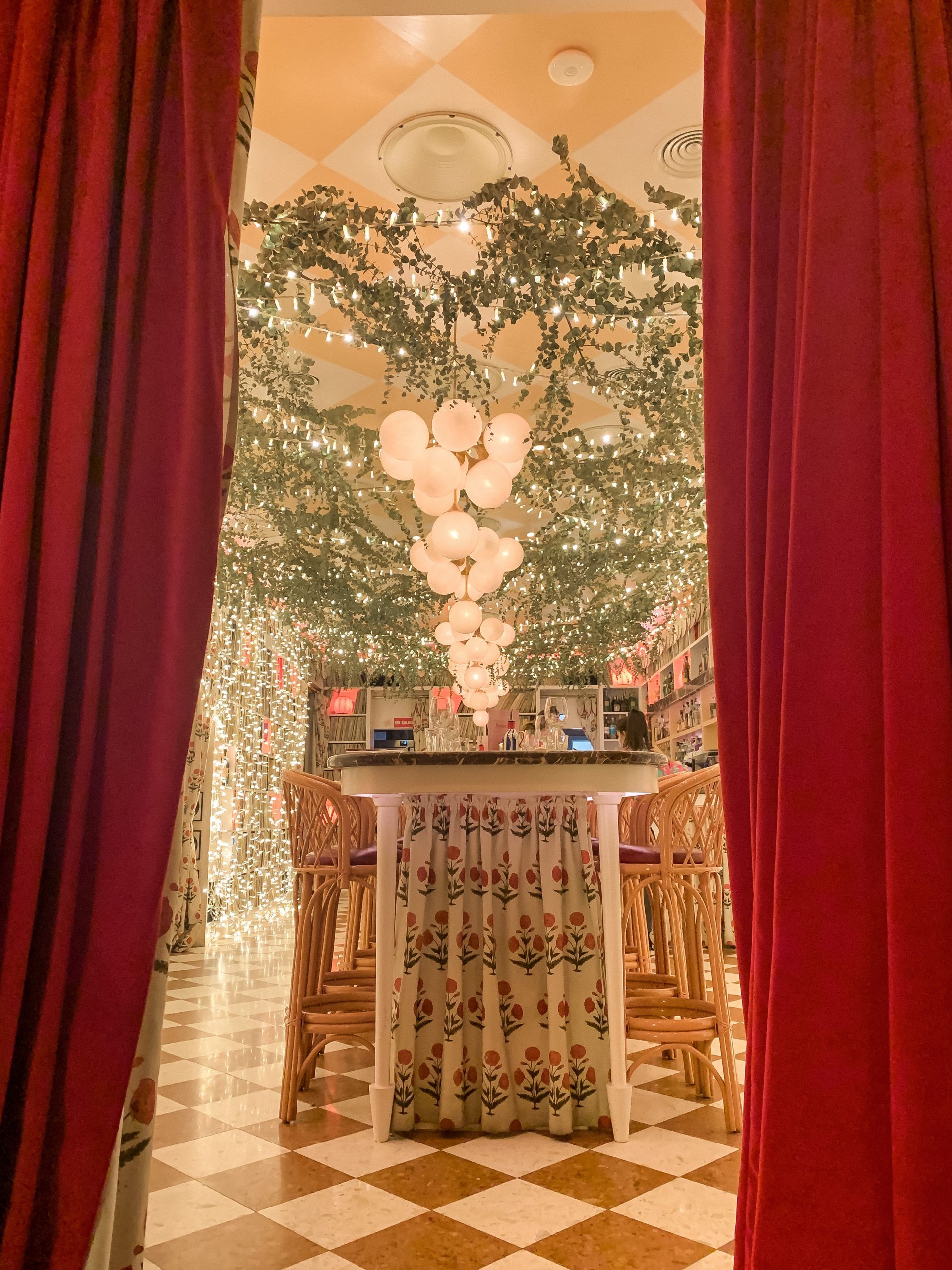 You can reserve a table here.
28. Order a fancy cocktail at "Ficus Bar"
If you are into cocktails, Madrid will not disappoint you. There are a lot of really nice cocktail places in the neighborhoods of Chueca and Malasaña, but I really want to recommend Ficus Bar. Their interior is absolutely stunning. And the cocktails are SO GOOD and look so beautiful. The perfect place for a fancy night out.
29. Have Spain's best hamburger at "Juancho's" at Mercado de Chamberí
Here, I am sharing one of the hidden gems in Madrid: "Juancho's" is a burger restaurant in the lovely Mercado de Chamberí. And the best part: It won the title of the best hamburger in Spain in 2019. Trust me, it is delicious.
30. Try different Spanish wines at "Casa Gonzalez"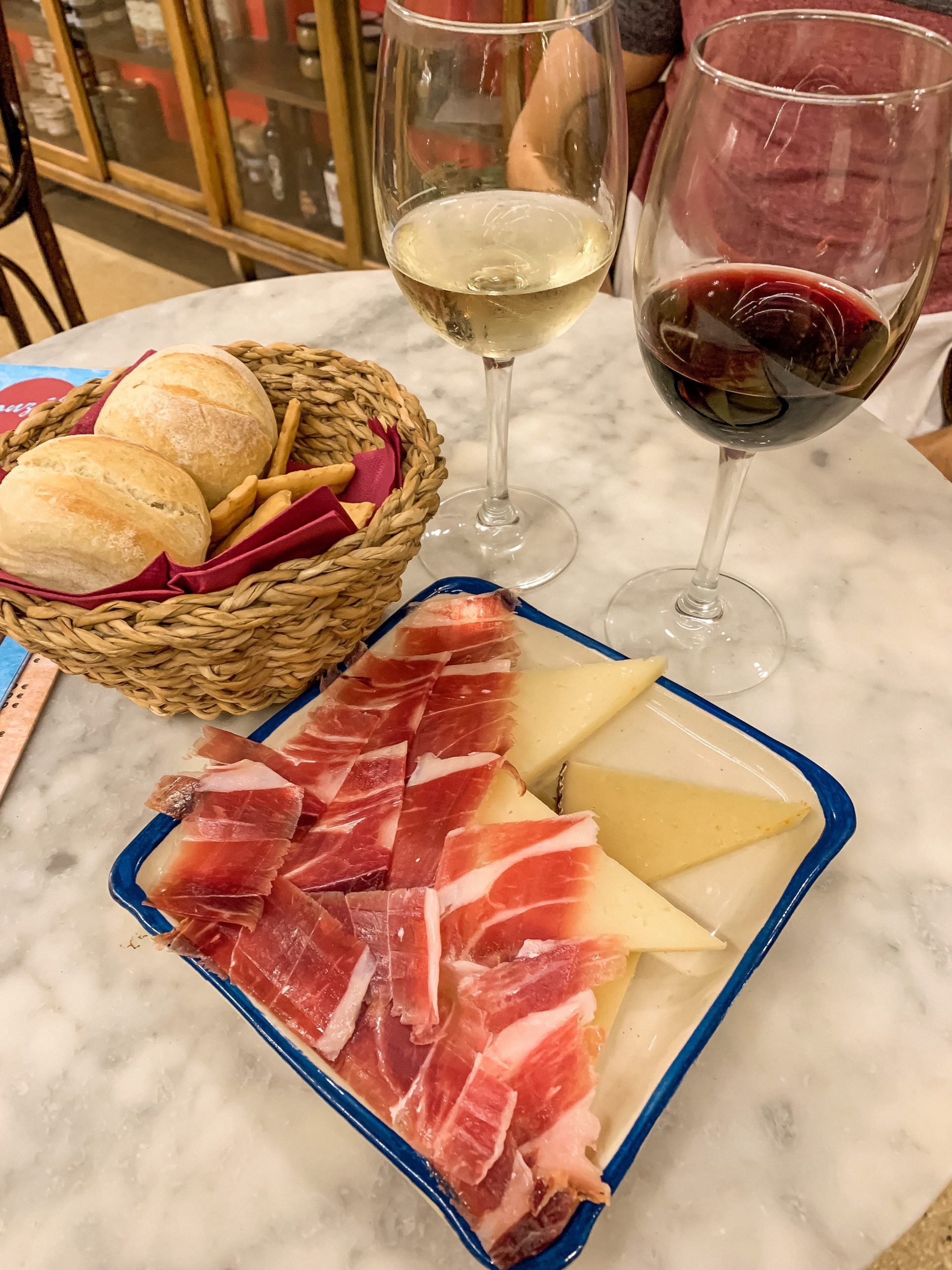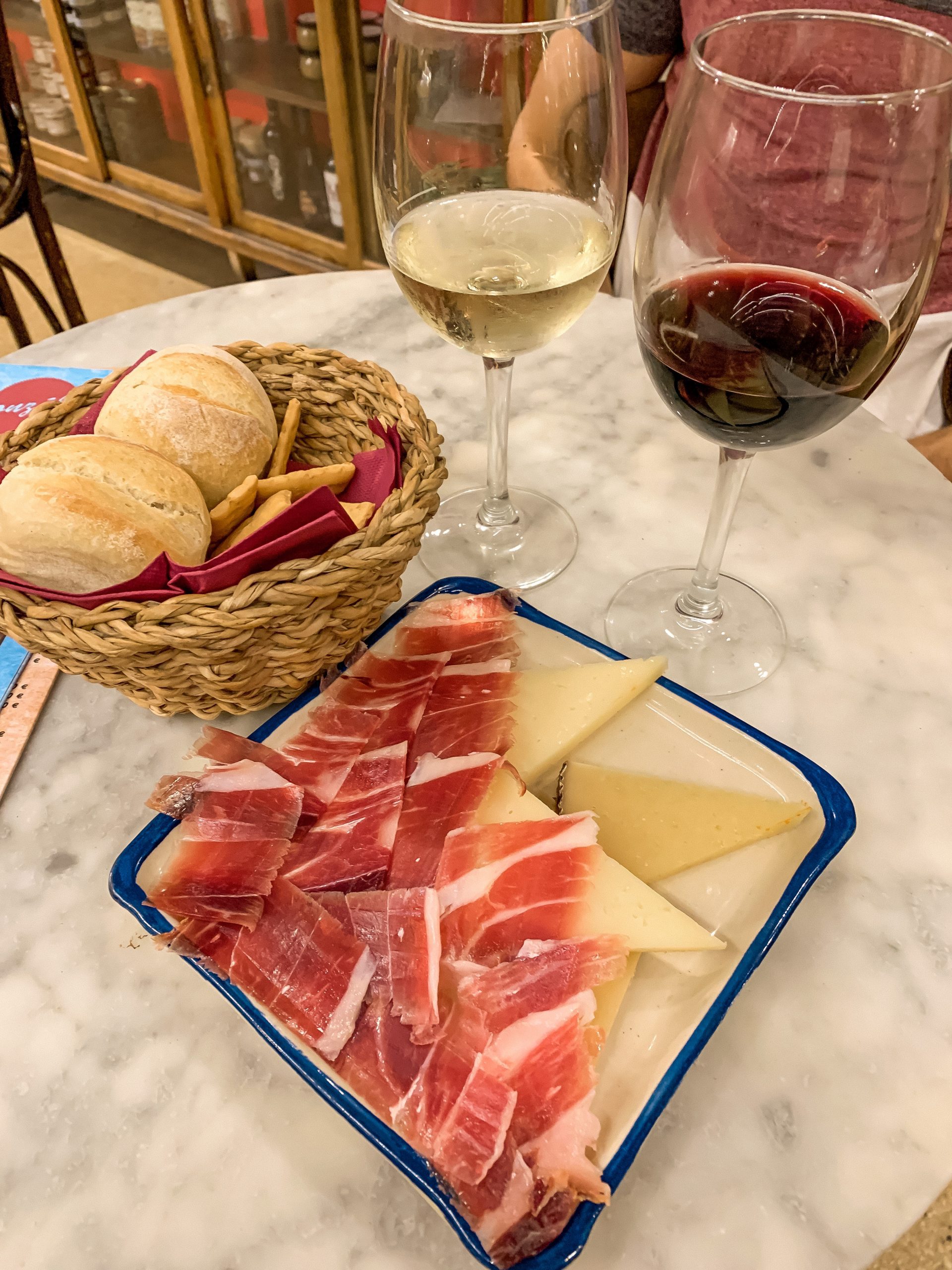 Casa Gonzalez is a Spanish Bodega in the neighbourhood of Las Letras. It offers a HUGE variety of Spanish wines. And you can order them with even better Spanish tapas. How many glasses of wine can you handle before leaving?
31. Spend the night in the bars in the street "Calle de la Cava Baja"
I have read that Spain is the country with the highest 'bars per capita' rate worldwide and Calle de la Cava Baja in Madrid is proof: You will find 50 bars in only 300 meters. Here, you have everything from Spanish Tabernas to pubs or cocktail places. A great plan for an evening out. What I love about this street is that all bars are beautifully decorated inside. Just look at the photos: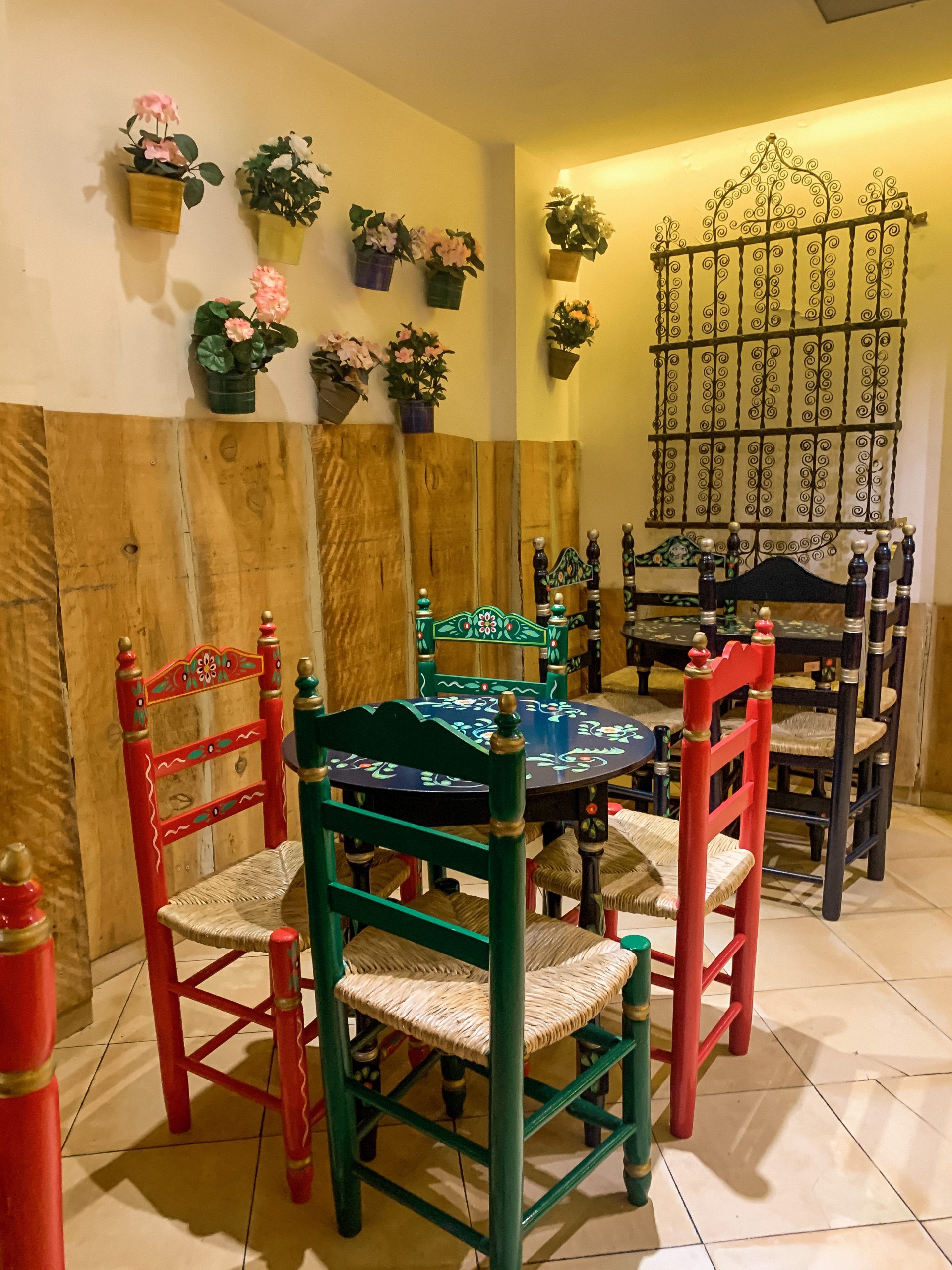 32. Visit Sobrino de Botín, the oldest restaurant in the whole world
Did you know that the oldest restaurant in the world is actually in Madrid?! Yes, Sobrino de Botín has been open since 1725 (YES, 1725!) and has been cooking delicious Spanish Food since. They even have a certificate from Guinness World Records. A very special restaurant to try in Madrid!
Book a table here.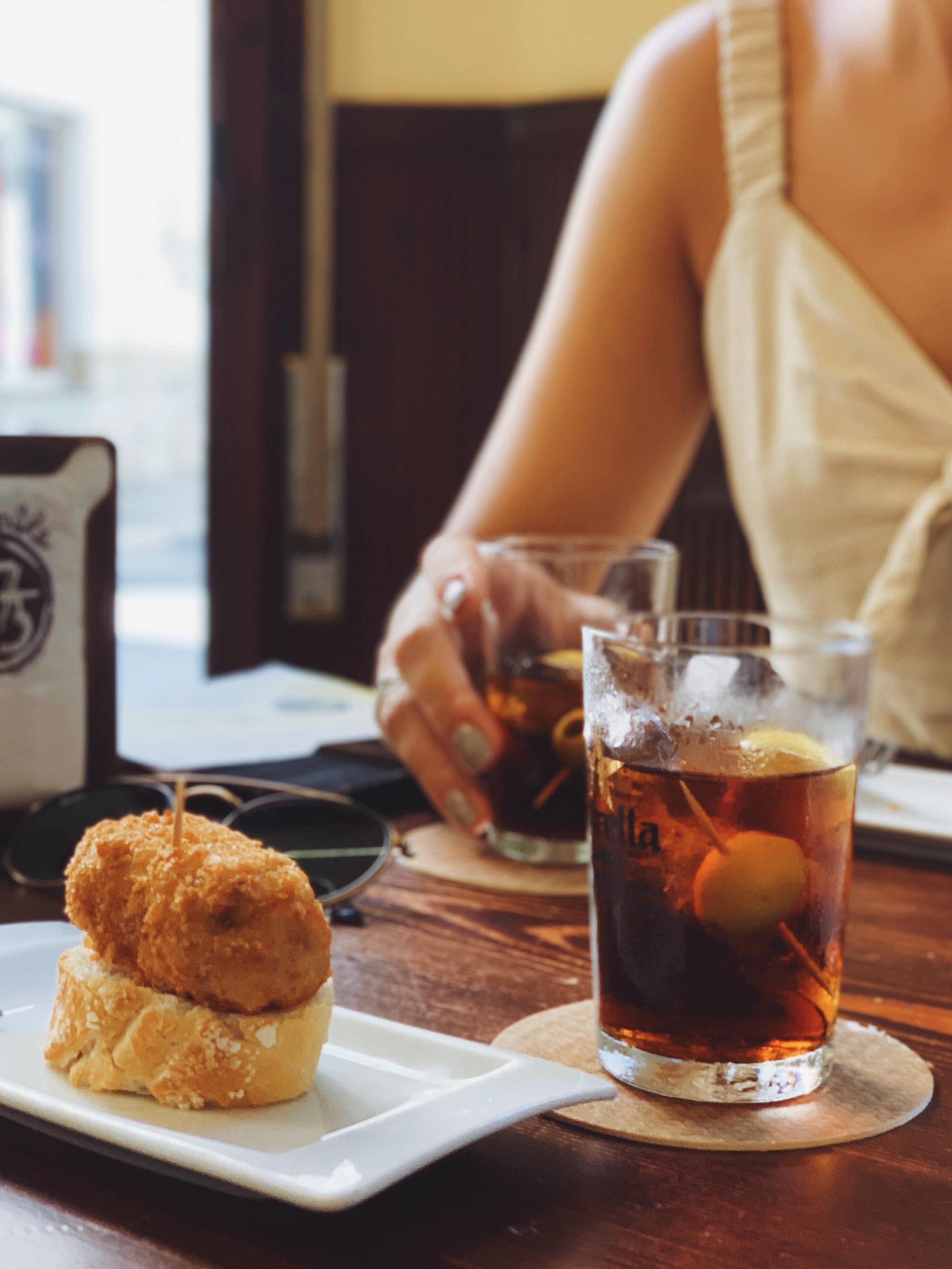 33. Enjoy the biggest filled tortilla you have ever seen at "La Buha"
Who does not love a good Spanish Tortilla?! And the tortillas at La Buha are so huge that several people can share one. My favourite one is the tortilla filled with goat cheese and caramelized onion. A great place if you are looking to try tortillas during your stay in Madrid.
34. Order a "Yayo" at "Casa Camacho", the famous drink in Malasaña
A Yayo is a famous drink from Madrid's neighbourhood of Malasaña. It contains Vermouth, Gin, and Soda. I know it might sound weird, but it is actually very tasty (and strong!). I would suggest trying it in Casa Camacho, a very traditional Spanish Taberna in Malasaña.
35. Sala Equis, a bar that used to be an X-rated cinema
Sala Equis is a beautiful bar in Lavapies. And there is something special about it: It was Madrid's last cinema for porn films until it got converted into the bar it is today. A very cool place to hang out in the afternoon to grab a beer and have some snacks with friends.
36. Find the hidden rooftop bar of Salvador Bachiller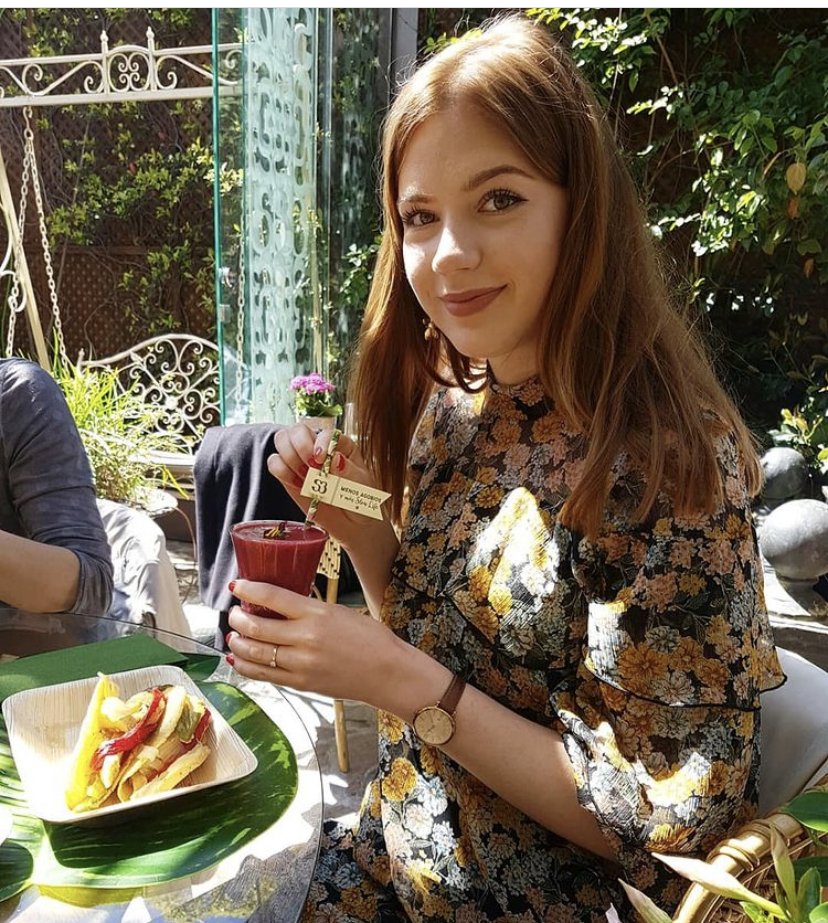 Salvador Bachiller is a very popular brand for bags, suitcases, and other accessories. But did you know they also own several restaurants in Madrid? One of the most impressive ones is located on the last floor of the Salvador Bachiller Shop in Calle Montera. A recommendation: This place is amazing for brunch, too! Make sure to reserve before going there.
Book a table here.
37. Try x-rated waffles at La Coñeria & La Pollería
In the amazing neighborhood of Chueca, there are two great waffle places you have to try. The interesting thing about them is: They make waffles of male and female… private parts? You can find the female version at La Coñeria and La Pollería is the place for the male version of waffles.
---
And that's it! How many items can you tick off of this Madrid Bucket List Challenge? I hope I could give you some ideas for your Madrid trip. Let me know if you were able to see some attractions from this bucket list. Or maybe you are thinking that some items were missing? Let me know in the comments below 🙂