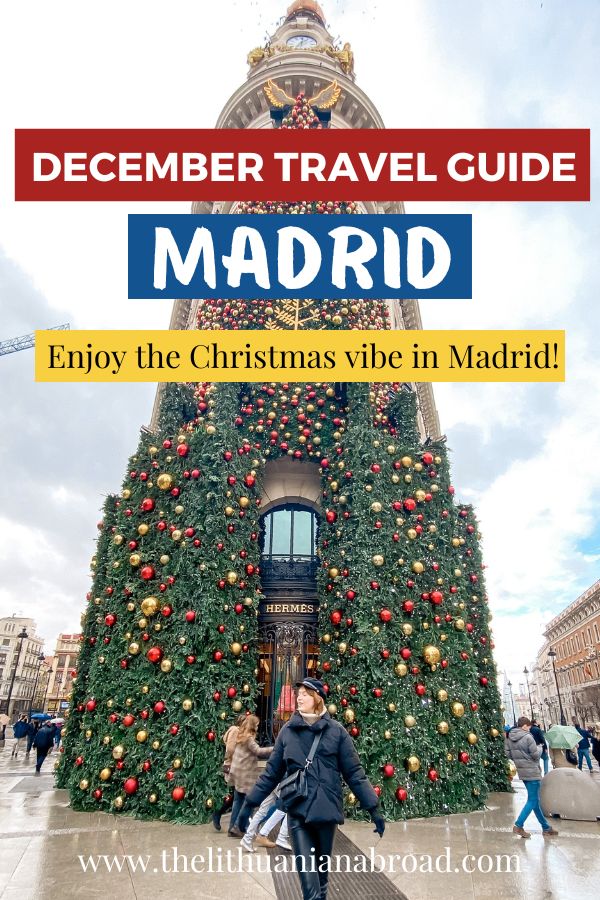 You will have the most amazing time visiting Madrid in December. If you ask me, December is probably the coziest month to come to Madrid. The whole city just sparkles thanks to the Christmas lights. And everywhere you go you will see Christmas lights and Christmas trees in different colors and shapes. In case you were thinking that Madrid would not have any Christmas spirit, you are wrong. For the whole month of December, Madrid becomes a winter wonderland, just without the snow.
There are so many amazing activities you can do in Madrid when you visit in December. If you want to find out more about them, and want to know why I recommend visiting Madrid in December after living here for more than 5 years, please keep reading: 
---
Affiliate links may be sprinkled throughout the free content of this blog post. If you purchase from one of the links I may receive a small commission while the price for you stays the same. This helps me cover the costs of The Lithuanian Abroad. Gracias!
Other blog posts about Madrid you have to check out: 
Madrid bucket list with 37 amazing activities: This blog post includes the most important attractions and activities you have to do in Madrid. Check it out!
4-day itinerary for Madrid: An itinerary for spending 4 days in Madrid. This guide includes the most important museums you have to visit, monuments, parks, and a one-day-trip destination
Things to do at night in Madrid that isn't just partying: Don't ever get bored during the evening in Madrid. This guide includes sunset spots, cocktail bars, tapas bars, museums, and more!
25 free museums in Madrid you have to visit: Visiting Madrid does not have to be expensive and this list of free museums proves it. And I tell you what the exact time slots are when you can visit museums for free. The Prado museum is on this list as well!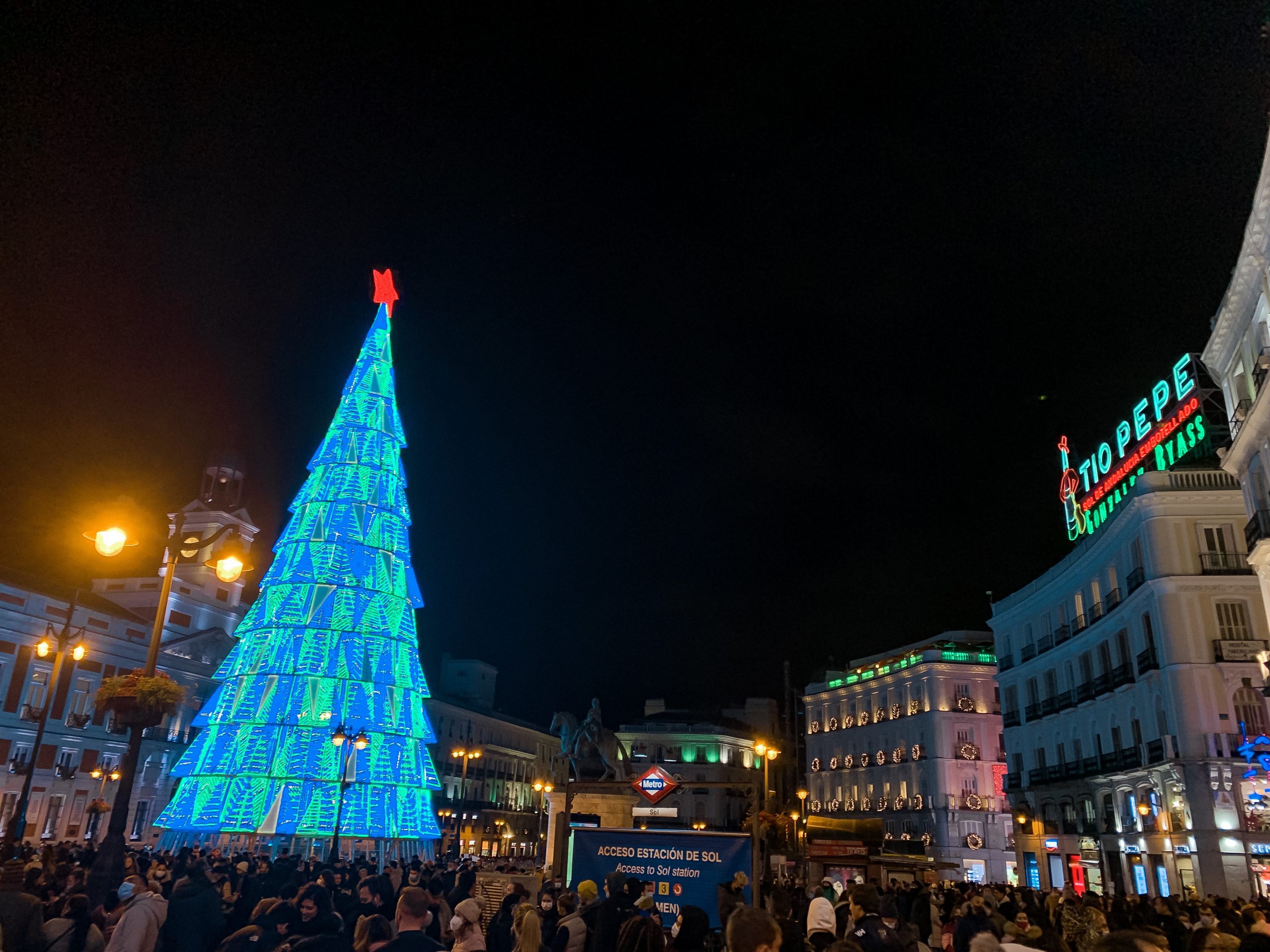 Make sure to do a free walking tour in Madrid!
Free walking tours are my favorite way of exploring a city! That's why I would like to mention them here. Even in winter, these tours are a great option to explore Madrid. Just make sure to bring a jacket.
How do free walking tours work? Free walking tours do not have a set price, hence, they are free. The best part about these tours are the local guides, that really do their best showing you Madrid from the eyes of a local that lives here. You will spend a couple of hours walking around Madrid learning so much about its history. At the end of the tour, you have the chance to leave your local guide a tip. And how much you would like to tip him is totally up to you. It usually depends on your budget and on how much you actually liked the tour. 
You can find all free walking tours in Madrid here.
Questions about visiting Madrid in December
Is December a good time to visit Madrid? 
You will have a great time visiting Madrid in December. The whole city is decorated with Christmas lights and has a very cozy atmosphere. There are tons of activities you can do in Madrid in December, such as visiting the Christmas markets, going ice skating and enjoying the Christmas lights in Madrid. Just keep in mind that the temperatures drop significantly during the evening. So make sure to bring a good jacket with you. 
How cold does it get in December in Madrid?
The temperatures in Madrid in December significantly drop and its much colder than in other areas in Spain. The days might get sunny and you might be able to enjoy temperatures of up to 15 degrees. But at night, temperatures drop to around 5 degrees. Winter is real in Madrid and you should come prepared! Make sure to pack your winter jacket, gloves, boots, and hats.
Does it snow in Madrid in December? 
It rarely snows in Madrid and when it does, the snow only stays for one day or two. Madrid is not exactly known to have a lot of snow. During the whole time I have lived in Madrid I have only seen snow in two or three occassions.
Where can I find the most beautiful Christmas lights in Madrid? 
The most beautiful Christmas lights in Madrid can be found at the following places:
4 seasons hotel 
Calle Preciados 
Gran Vía 
Cibeles 
Puerta del Sol
Calle Arenal
Plaza España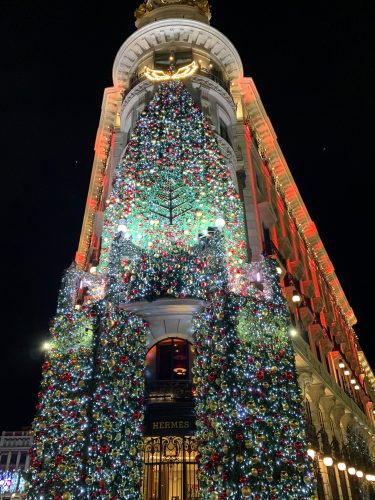 Why you should Madrid in December: 
You can walk around Madrid & enjoy the gorgeous Christmas lights
All the Madrileños are always so excited about the Christmas lights in December in Madrid! The preparations already started in November, when the street lights are getting installed in streets all over the city. During the last week in November, the city of Madrid turns the Christmas lights on which light up the city every day, until the first week of January. 
And let me tell you, Madrid did not spare any effort: These lights are installed with so much attention to detail. They literally make the whole city sparkle for a whole month. Every street in the city has another design and even though I have been living in Madrid for quite a while, I always seem to find a new one. So, I would like to invite you to walk around Madrid and look for the streets with the most beautiful Christmas lights in Madrid in December. 
You will find the most beautiful Christmas lights in the following streets in Madrid: Calle Preciados, Calle Montera, Calle Mayor, Calle Arenal. Then, make sure to visit the area around Cibeles, Gran Vía and Plaza España. The Four Seasons hotel always has the most beautiful Christmas tree installed at their building. Make sure to check it out as well!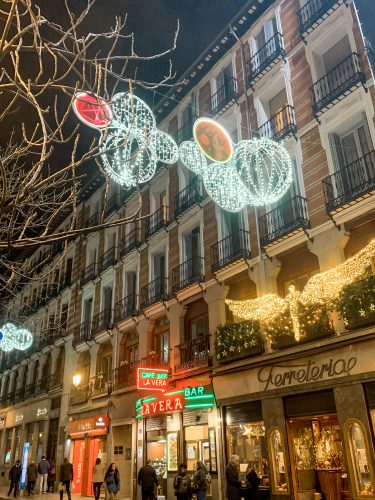 By the way, if you want to see as much of Christmas lights as possible you could also take the hop-on hop-off bus in Madrid. I always recommend this bus if you want to be mobile or are travelling with people who simply cannot walk that much. 
How do hop-on hop-off buses work? There are more than 50 stops in the city center of Madrid. With your ticket, you can simply hop on any of the red buses and leave the bus at any other stops. These stops are usually close to Madrid's most important monuments and sights. Once you are done there, you can simply take the next bus, which is usually only minutes away. Book your tickets here.
There is a bus that takes you around the most beautiful Christmas lights
From the 25th of November to the 6th of January, the city of Madrid offers special Christmas buses that drive passengers around the city along the most beautiful Christmas lights. As mentioned before, the Christmas lights in Madrid are absolutely magical. And this bus makes it possible for you to see as much of the city as possible!
The tour starts in Calle Serrano and takes you to Cibeles, Calle Princesa, Gran Vía, and many other stops. The bus drives in a big circle before the tour stops at Calle Serrano again. In total, this bus tour takes around 50min. You can book your tickets here (They are only 7€!!) 
There is a huge Christmas ornament on Gran Vía that plays Christmas music
In December, the whole city of Madrid is full of beautiful light shows. And there is one special one that I would like to mention here.
When walking down Gran Vía toward Cibeles, you will see the famous Metropolis building. Every year, a huge Christmas tree ornament is placed on the space in front of the building. Once it gets dark, a spectacular live music show with visual effects on this ornament is shown. You really cannot miss this! There are usually so many people watching it and the music can be heard from far away.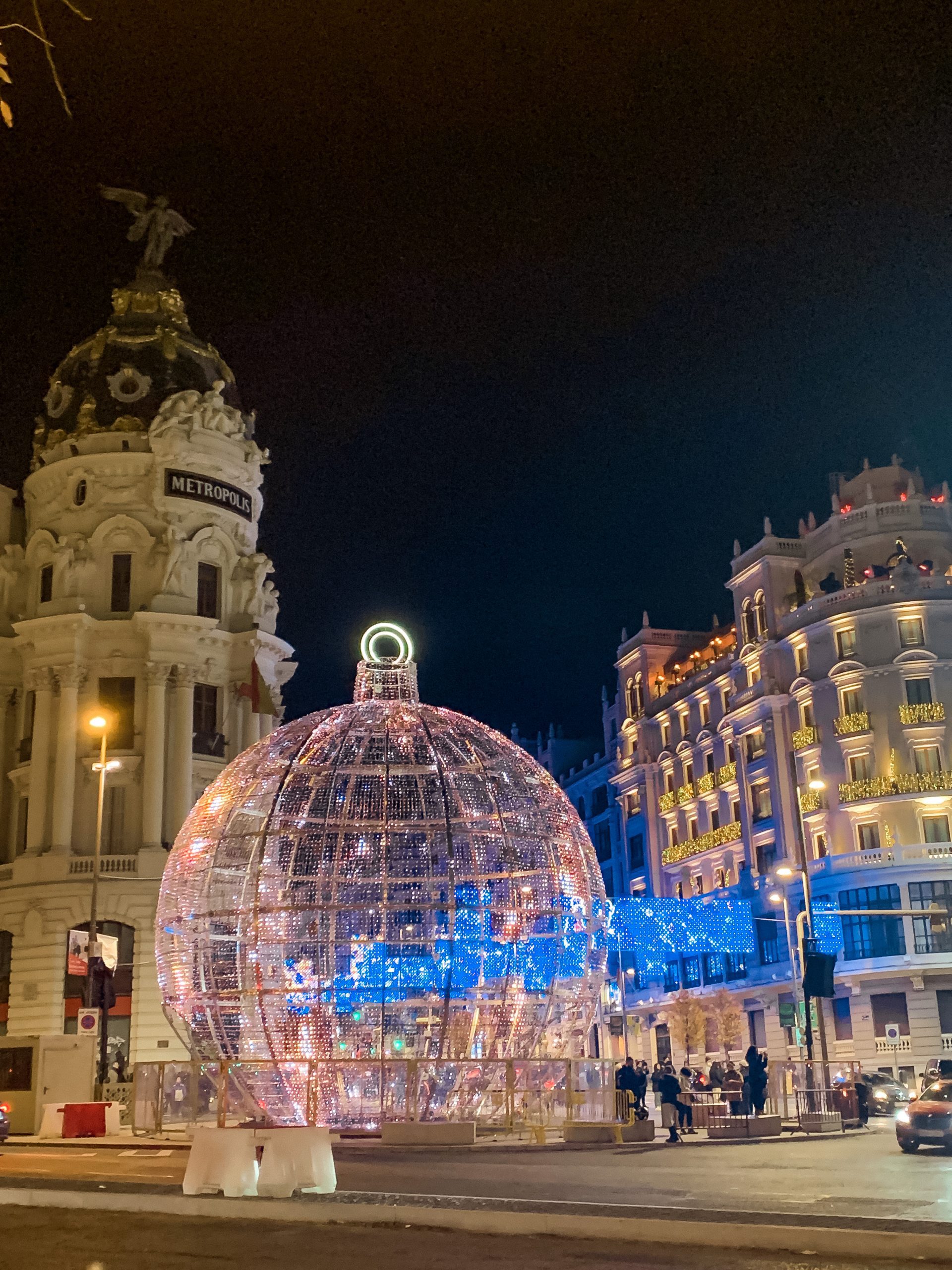 There are several Christmas trees in the city
As mentioned before, visiting Madrid in December means walking around sparkling streets and winter markets. Basically, the whole city just screams "CHRISTMAS TIME!". I have to admit, we do not have snow in Madrid, but when it comes to Christmas decorations, the Madrileños know what they are doing! Here, I want to dedicate a section to the beautifully decorated Christmas trees you can find in Madrid. Because Madrid does not only have one tree in their main square, no! You can find several Christmas trees all over Madrid. Here are four I found last year, in 2021: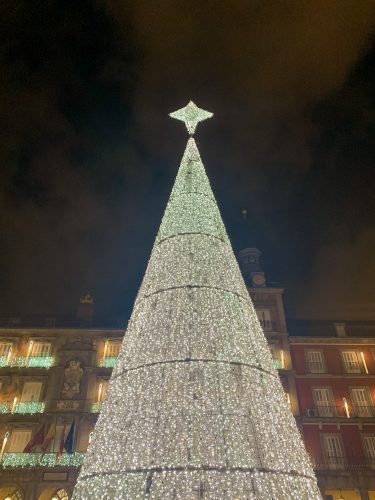 You can go to various Christmas markets in Madrid in December
Yes, there are also Christmas markets in Madrid. While they are not exactly the same as the ones I remember in Germany, they are still very nice and cozy. They are the perfect place to have a look at some local products and maybe look for a souvenir for your loved ones. These Christmas markets also sell nativity scenes, which are a very important part of Christmas in Spain.
If you are visiting Madrid in December, you really have to check out at least one of them. Here are a couple of markets I can recommend: 
Plaza Mayor: Being the main square, of course, there is always a Christmas market in Plaza Mayor. You will find all kinds of souvenirs, toys, nativity scenes, and other random items here. You can visit this market from November 25th to December 30th.
Paseo Recoletos: The long street of Paseo de Recoletors hosts a Christmas market every year, from the 1st to the 30th of December
Plaza de Isabel II: This Christmas market in Madrid is for everyone with a sweet tooth! This market is dedicated to all kinds of sweets: From marzipan to Spanish turrón, chocolate, and more. You can visit this market from November 30th to January 5th
You can enjoy a sunny winter day at the Retiro Park
The Retiro Park in Madrid is one of my favorite places to check out and bring visitors to. This park is the largest green space in the city of Madrid. Locals and tourists like to spend their afternoons here and enjoy nature. If you are lucky, you will catch of of the many sunny days in December, so make sure to visit Retiro Park. 
This is the perfect place in Madrid to escape the loud city for a while. Feel free to go on a walk and enjoy nature there. Here are a couple of places you have to see in Retiro Park: 
Palacio de Cristal: An exhibition hall that is currently used for all kinds of modern art exhibitions. The entrance is free!
Palacio de Velazquez: This is another art space with always-changing modern art exhibitions. The entrance is free as well!
The Great Pond: As you have probably seen, there is a big pond in Retiro Park. Feel free to walk around it or grab a drink at one of the close bars
Monument Alfonso XII: This gorgeous and majestic monument is built at the shore of the pond. During the evening, there is usually live music. Many people come to enjoy the sunset here.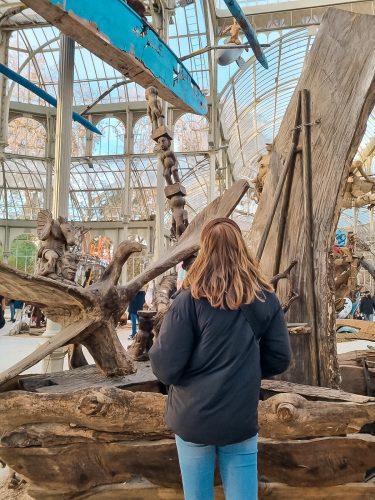 You can go to a light show at night at the botanical garden in Madrid
I have to admit, this is one of the activities to do in Madrid in December that you have to book in advance. But I have been there last year and absolutely loved it. Every year, the Botanical Garden in Madrid offers a spectacular light show during the evening. Imagine walking around the dark botanical garden while looking at gorgeous light decorations in all colors and shapes. Different sculptures are placed and lit all around the area. 
You will really feel like in a winter wonderland, but with gorgeous light plays instead of snow. Believe it's absolutely magical. But because it is such a unique experience, you have to make sure to book your tickets beforehand. Madrid offers this attraction only for December and January every year. Be quick to get yours!
Make sure to check if there are some tickets left here. This will be one of the experiences you absolutely cannot miss.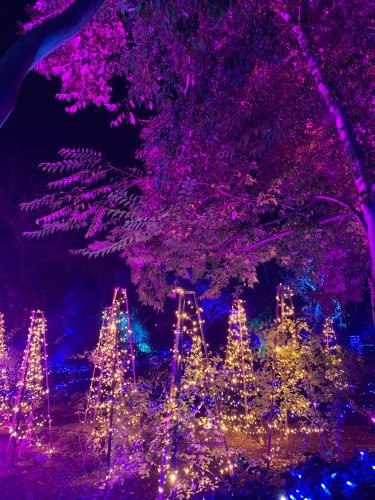 Madrid offers amazing Flamenco Shows all-year round!
I love taking visitors to a Flamenco show whenever someone visits me in Madrid. This could be the perfect plan when visiting Madrid in December to escape the cold weather outside. In case it's raining, this could also be a bad weather alternative. 
Of course, Flamenco traditionally originated in the South of Spain. It is a very emotional dance performed by men and women in traditional Flamenco clothes. Make sure to pay attention to the details of the clothes and the shoes. A Flamenco performance really will be the highlight of your trip. I took my mom to a Flamenco performance when she visited me in Madrid and she still talks about it. You can also find authentic Flamenco performances in Madrid, where I can recommend the following ones: 
Cafe Zyriab has a very beautiful Flamenco venue! You can book a show here.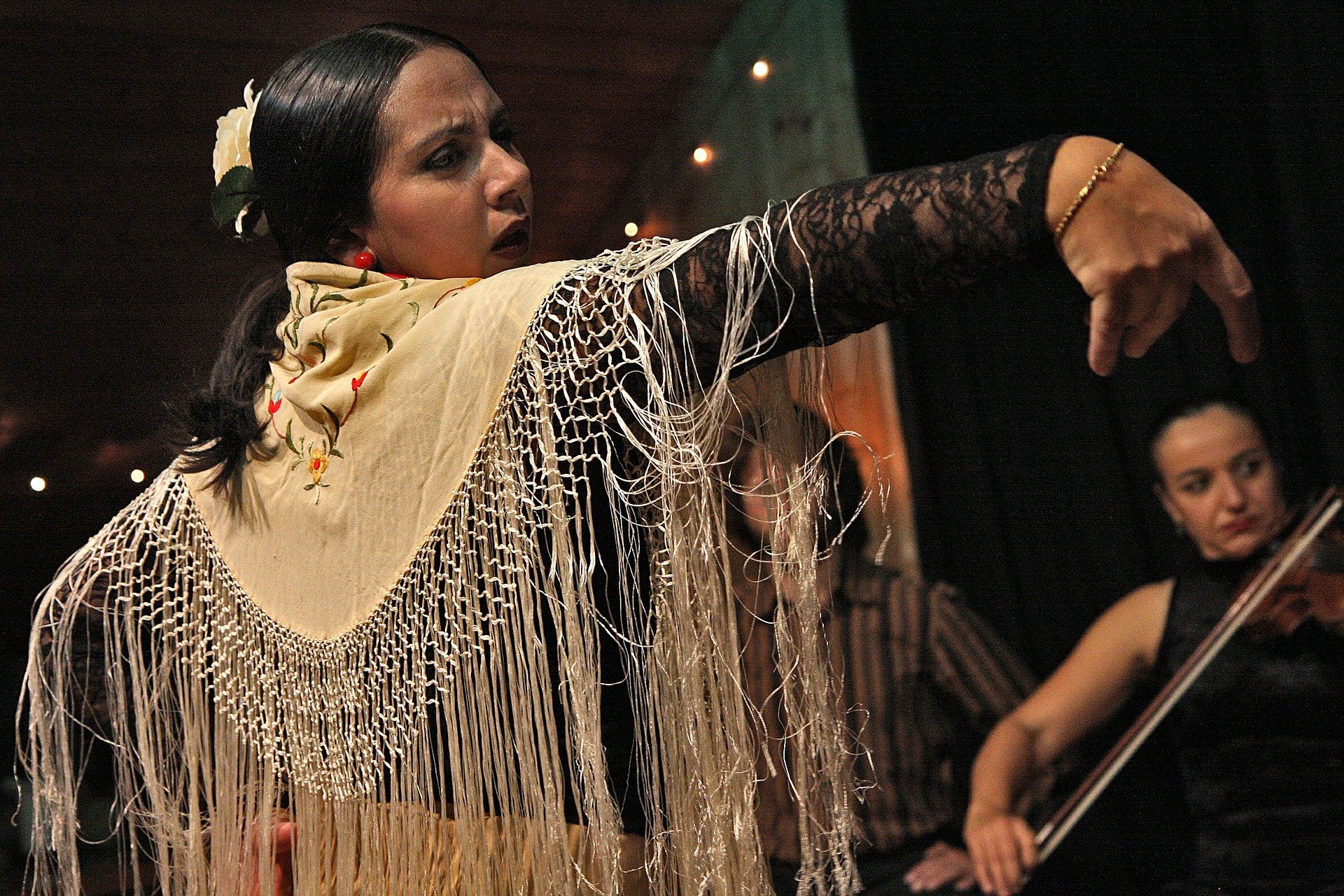 You can go ice skating in Madrid in December!
One of the amazing things you can do in Madrid in December is to go ice skating! That is the perfect option if you are visiting with children. Or maybe you just want to spend a nice afternoon ice skating?! There are several places in Madrid with an outside ice skating area:
Ice skating rink in Matadero: The Matadero is a huge cultural space in Madrid that used to be a slaughterhouse. There are always changing events happening in el Matadero. During December, you can even go ice skating there. You can book your ticket here.
Ice skating rink in Plaza España: Starting this year, Plaza España will be converted into a huge Christmas market. Apart from that, you can also go ice skating here. You can book your ticket here.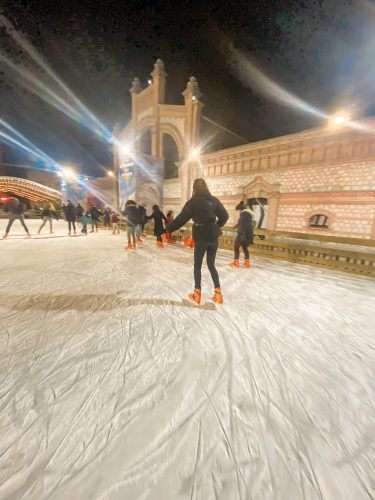 You can always warm up in one of the world-class art museums
Madrid has so much to offer for art fans! When you visit Madrid in December you can escape the cold for a while and warm up in one of the most spectacular art museums in town. Here are the three art museums in Madrid you cannot miss: 
The Reina Sofia museum: This incredible art museum is full of contemporary art by artists such as Picasso, Salvador Dalí, and Joan Miró. The highlight of your visit will be Picasso's painting "Guernica". I was so impressed by this painting because I learned in high school about it. But when I stood in front of it I could not believe how big it was! The details were honestly mindblowing!
You can buy your ticket for the Reina Sofia museum here.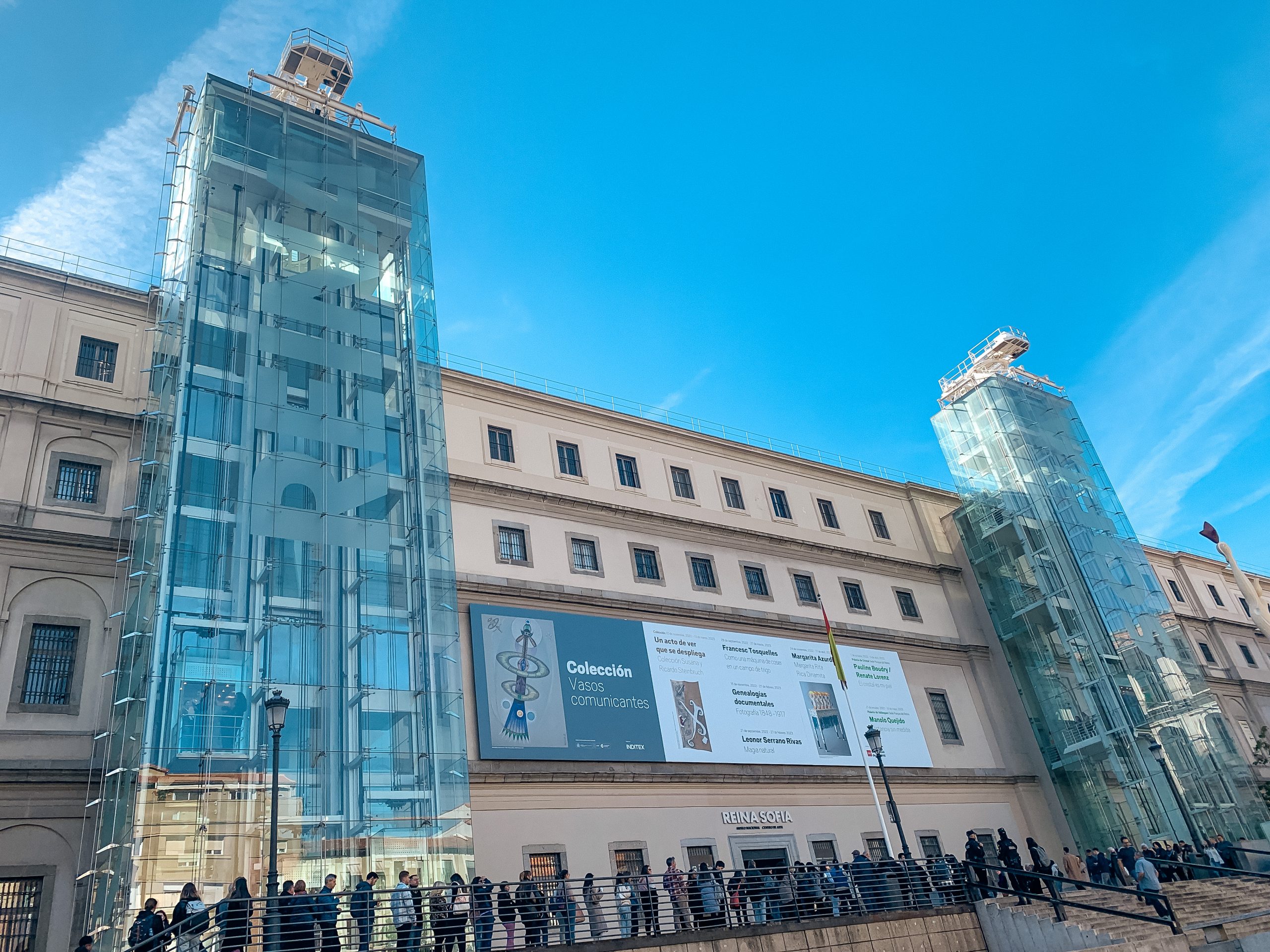 The Prado Museum: The Prado museum is known as one of the largest art museums in the world. The last time I was there, we spent three hours admiring the paintings, but honestly, I could have stayed so much longer. The Prado mostly has paintings from the 12th to the 20th century. The most famous artists include Goya, Velazquez, and hundreds more. This one if my personal favorite that I really recommend visiting. 
You can buy your tickets for the Prado museum here.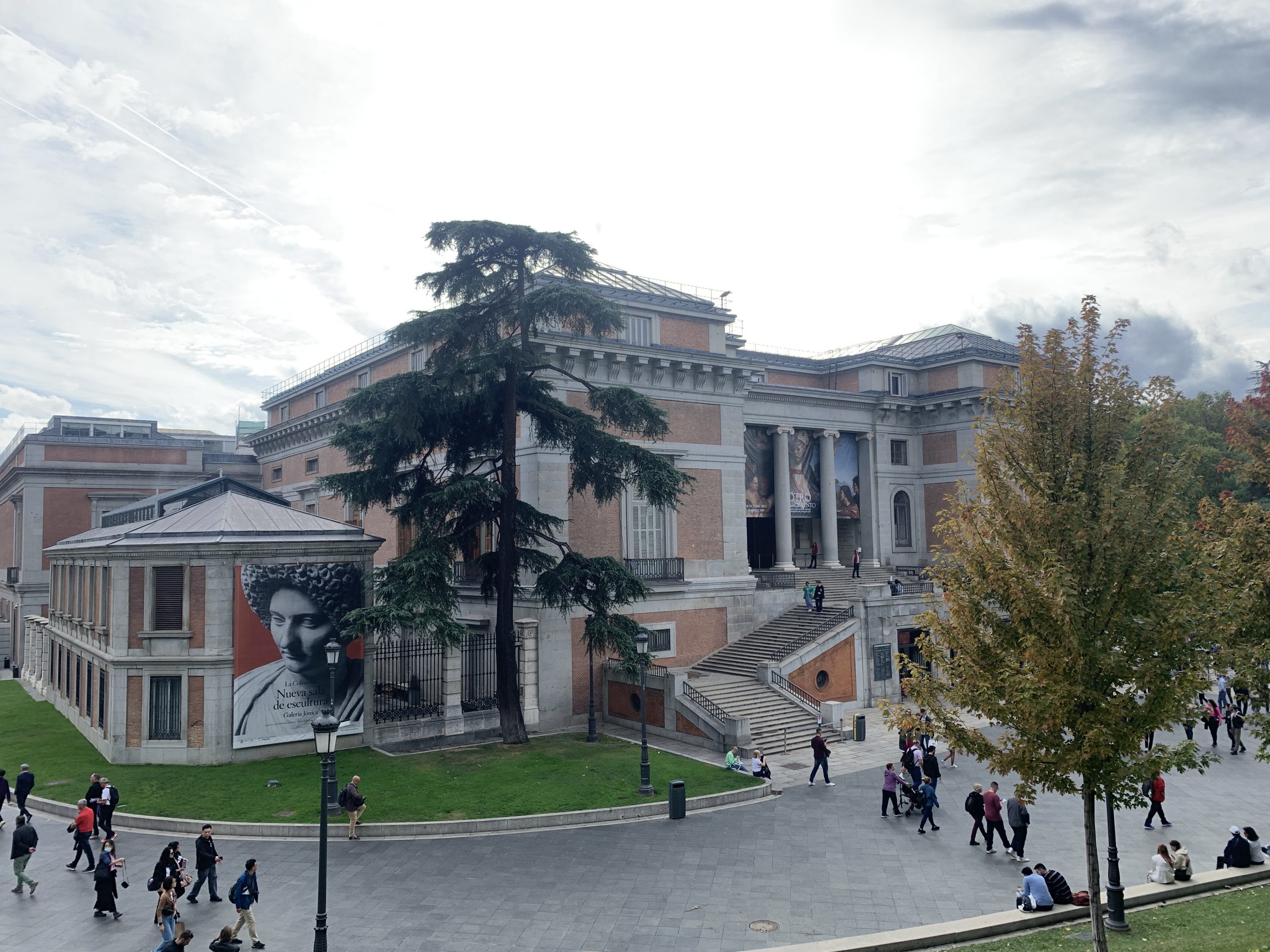 The Thyssen-Bornemisza Museum in Madrid:
This museum shows the private collection of the Thyssen family. With more than 1500 paintings, it used to be the second-biggest art collection worldwide. When it comes to paintings, it kind of has the best of both worlds: It has a very international collection with paintings from Italy, America, Russia, and even Germany from the 20th century to centuries earlier.
You can buy your ticket for the Thyssen Museum here (with a guided tour)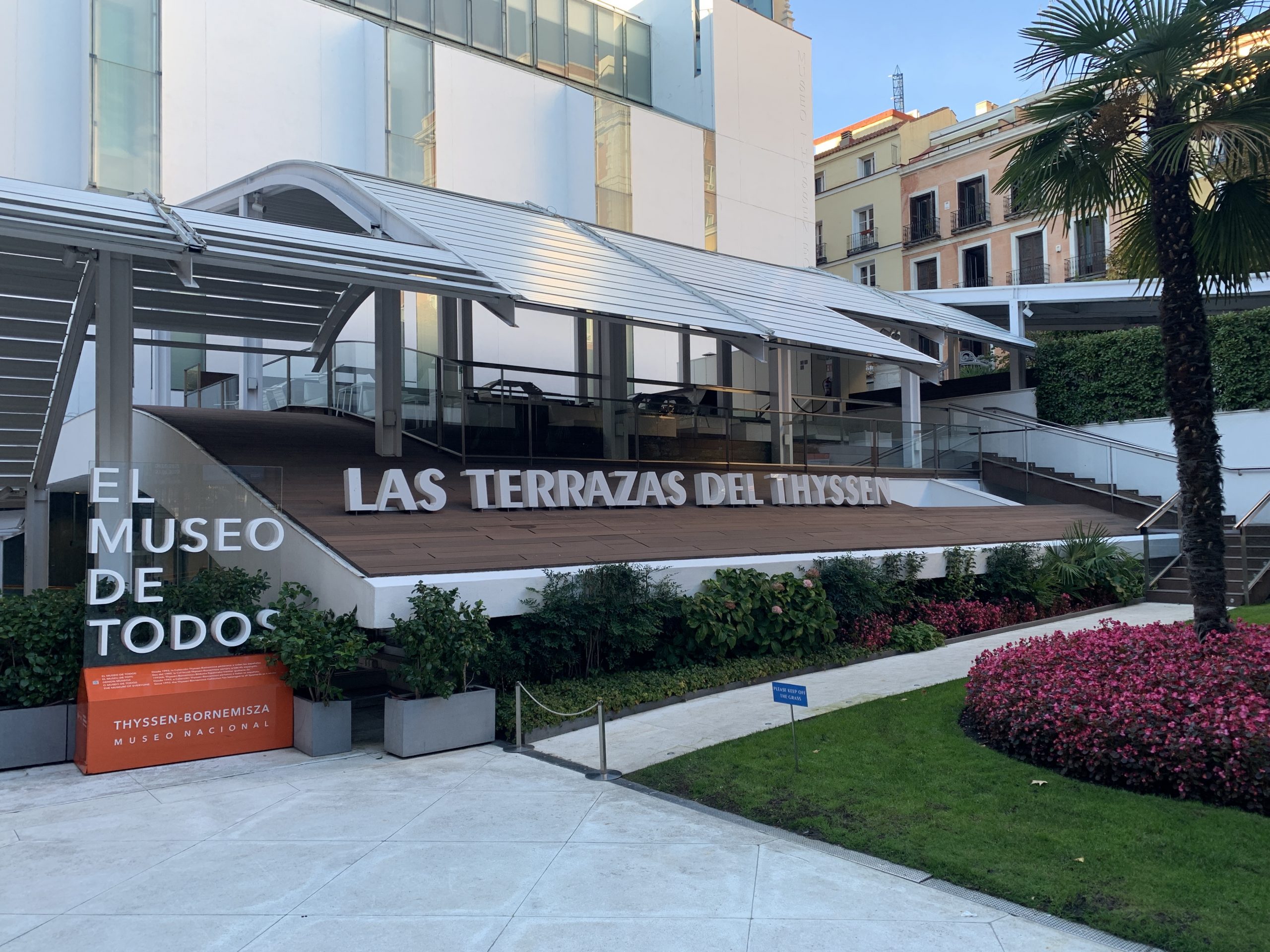 The previously mentioned museums in Madrid form the "triangle of art" in Madrid. They are located very close to each other. Together, these museums hold an incredible amount of Spanish history and culture. Even if you are not a big art fan, these museums are incredible and I recommend visiting them. 
Cortilandia, a special show for children at the Corte Inglés in Callao
This is a family-friendly activity that you can do in December in Madrid. Especially children are going to love this!  What is Cortylandia? Cortylandia is a name that comes from the Spanish Store chain "El Corte Inglés" that you can find in any bigger Spanish city, and of course, in Madrid. In the Corte Inglés Store in Callao every year in December a huge Wall with Christmas decorations gets installed. 
Every year, this wall has another theme but always features wooden figures in a very Christmas-sy atmosphere. This is not only really beautiful to look at. Check out the times below! This is when these Christmas figures do a little show where they sing Christmas songs and move to the music. This is something that families in Madrid are very excited about, because of the pandemic, Cortylandia was not installed during the last year. 
The exact location of Cortylandia is 

Callede Preciados, 3

Monday to Friday working days: mornings at 12:00, 13:00 and 14:00 and afternoons at 18:00, 19:00, 20:00 and 21:00.

Saturdays, Sundays and holidays. In the mornings at 12:00, 13:00, and 14:00 and in the afternoons at 17:00, 18:00, 19:00, 20:00 and 21:00.
You can always go to markets in Madrid and enjoy the best food
One of the reasons you came to Spain was because you wanted to enjoy incredible Spanish food, right? So let's talk about the markets in Madrid you can visit during your trip in December. Markets are a nice option so you can escape the cold weather for a while and spend some time inside. The markets in Madrid offer a variety of different food and drinks. So, I am sure you will find the right option for everyone you are traveling to Madrid with. 
Here are a couple of markets you should visit in Madrid in December: 
Mercado San Miguel: This is probably the most famous market in Madrid. It is located right next to Plaza Mayor and offers food, drinks and other products from well-known brands in Madrid. To be transparent here, this market is known to be a little bit overpriced. 
Mercado de Chamberi: This cozy market offers so many Spanish products. Something you should know is that this market offers amazing hamburgers from Juancho BBQ. These were voted to be the best hamburgers in Spain in 2019. 
Mercado de Anton Martin: This beautiful market offers a variety of different restaurants as well. Make sure to try out "Asian Army", a south-east Asian restaurant that will blow your mind! I have to say, this one is probably my favorite market in Madrid!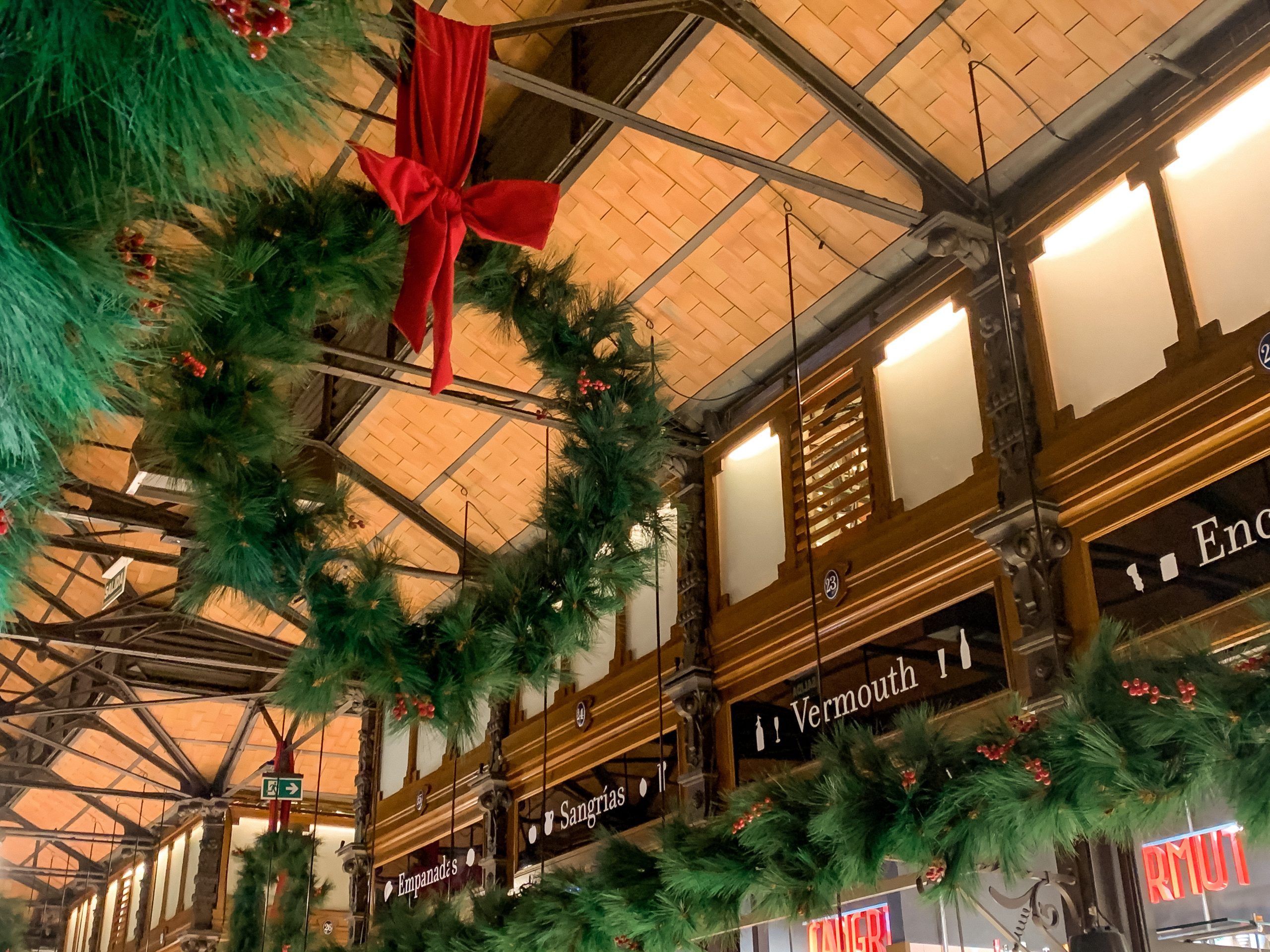 Madrid's sunset spots are unbeatable
Believe me, Madrid has some incredible sunset spots that you cannot miss during your trip. When you visit Madrid in December, make sure to wear warm clothes during the evening. But apart from that, nothing should stop you from watching an amazing sunset in the city.
Here, I really want to recommend visiting "Templo de Debod". This is an ancient temple that Egypt gifted to Spain in 1968. The temple is located in a park area of Madrid, from where you will have incredible views of the Royal Palace. But not only that, many people gather here each evening to watch the sunset. It is one of the most popular places in Madrid to watch the sunset from. 
On most nights, you will even find live music in the area. This place is truly magical. My boyfriend and I love coming here during the evening hours. This is one place you truly cannot miss during your winter Madrid trip.