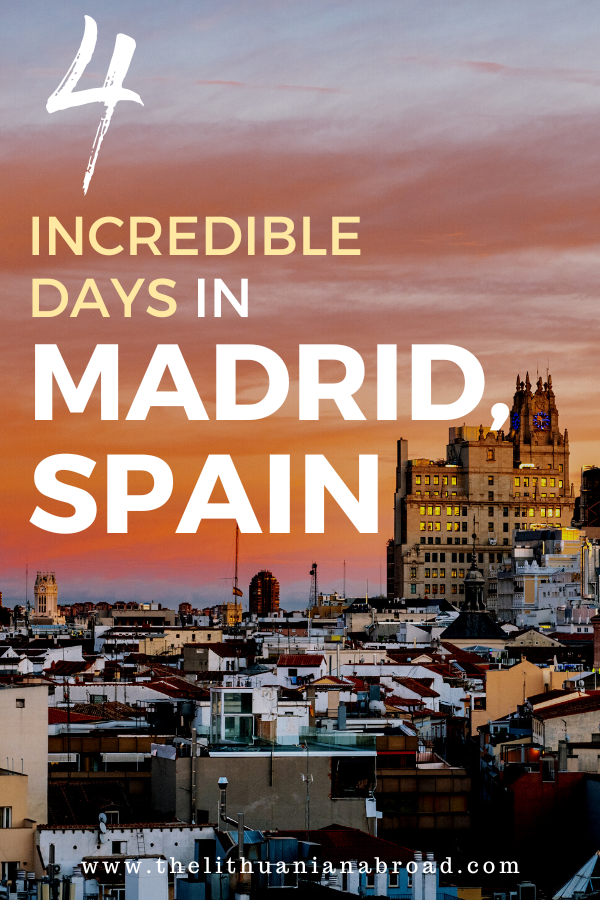 Hello and welcome to Madrid, Spain's capital and the best city in the whole wide world. Okay, I might be biased. I have been living in Madrid for years and cannot imagine a better place to live in. But believe me, Madrid is not just another boring capital city. When it comes to history, art, architecture, and gastronomy Madrid has so much to offer. In this blog post, I will give you recommendations and tell you everything you need to know when you plan to spend 4 days in Madrid. This guide includes tips and tricks for finding the right places to stay in Madrid, recommendations on what to do in Madrid at night, and much more. I made sure to add my personal highlights when it comes to attractions and food spots as well. As a local, believe me, I have been around Madrid a lot and cannot wait to share my top places with you!
So, let's jump into it: How to explore Madrid in 4 days?
Other blog posts you need to read before coming to Madrid:
More than 100 free or insanely cheap things to do in Madrid
Visiting capital cities is expensive? Sure, but not with this guide. This list includes more than 100 cheap things you can do in Madrid. It includes free museums, the best viewpoints in Madrid, parks, food spots, and more. Make sure to check it out if you are on a budget!
Madrid Bucket List for first-time visitors
This blog post is perfect for you if you are visiting Madrid for the first time. I made sure to include Madrid's best attractions, must-see places, museums to visit, and more! All the important attractions of Madrid together in one place.
A self-guided walking tour around Madrid
Explore Madrid on foot with this self-guided walking tour. Madrid is an incredibly walkable city that you can explore on foot without any problems. If you follow the instructions of this tour, you can explore Madrid in only one afternoon and see the best attractions, viewpoints, and sights in one afternoon.
The ultimate guide for solo traveling Madrid
Madrid is a great solo traveling destination. Not only is it a very safe capital, but it is also very international and incredibly social. This guide features everything you need to know when visiting Madrid, from the right accommodation for solo travelers to tips on what you can do in Madrid at night alone.
You can find ALL my blog posts about Madrid here. I wrote posts about free things to do in Madrid, free museums in Madrid, food spots and more!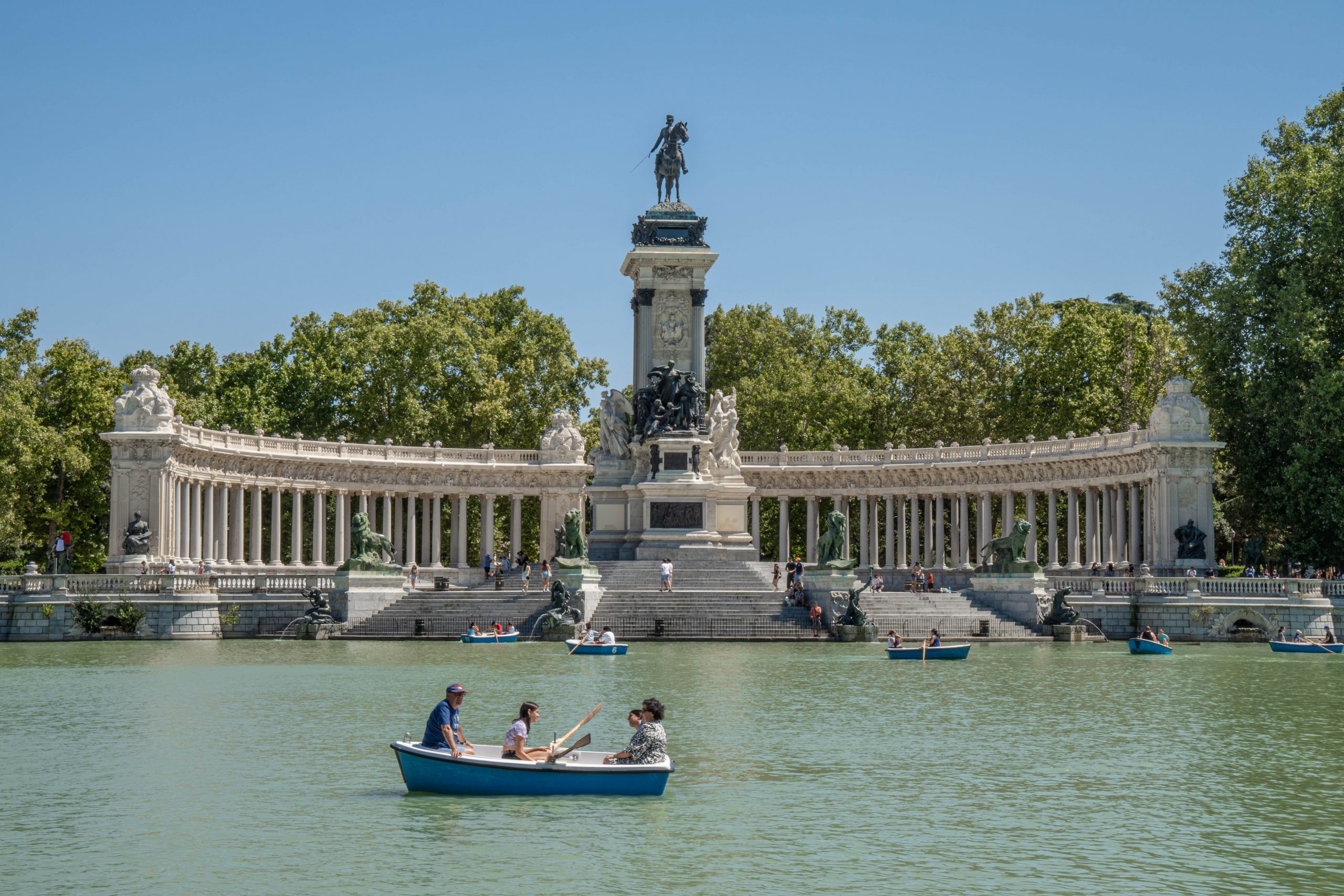 Coming to Madrid for 4 days? What you should know before:
Is 4 days enough in Madrid?
4 days is a good time to spend in Madrid if you want to see the most important monuments and attractions. It gives you time to learn about Madrid's history and visit Madrid's museums without being in a rush. You can even fit a one-day trip to one of the surrounding cities of Madrid, which I really recommend.
How much money do I need for four days in Madrid?
Madrid is one of the cheaper European capital cities. But if you are planning to go to restaurants every day, it can add up very fast. If you want to try the best food places and go to Madrid's art museums, I would budget around 60-80€ for a day. Of course, this changes depending on your habits.
What is the best way of getting around Madrid?
Madrid is a very walkable city. And if you are staying in the city center, (almost) all attractions are within walking distance. But, in case you do not feel like walking, you can take public transport around Madrid. Madrid's public transport is very reliable and affordable. You can also take cabs or order an Uber.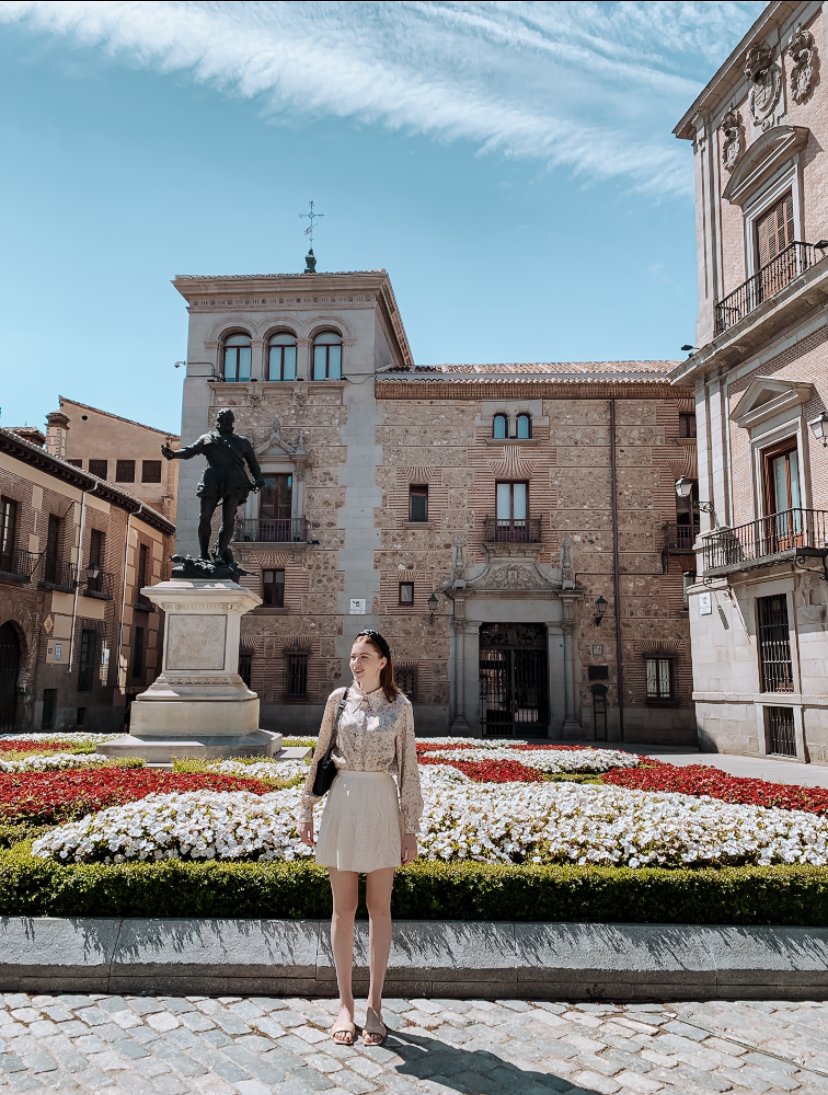 Accommodation for every type of traveller in Madrid
Good news! Madrid offers accommodation for every type of traveler: Solo travelers looking for company or couples looking for a private weekend getaway. Here are my favorite places to stay in Madrid:
The best place to stay if you are traveling on a budget. This hostel is located right next to Plaza Mayor and is incredibly social. They offer walking tours during the day and pub crawls during the night. In case you are traveling to Madrid by yourself, you will get in touch with fellow travelers in no time!
This is an absolutely beautiful hotel located right next to Gran Vía, so you're basically already in the heart of Madrid. The interior looks very beautifully decorated. In my opinion, the price for this location is incredible. Perfectly suitable for couples.
This must be the most beautiful and luxurious place to stay in Madrid. It is located in the wealthy neighborhood of Salamanca which is full of fancy restaurants and boutique shops. This is the right place to stay in Madrid if you want to spend some relaxing days away from the noisy city center and want to treat yourself to something special. Honestly, this hotel is goals.
Don't feel like walking? Take the Hop-on Hop-off bus in Madrid instead!
I completely understand if you do not feel like walking around Madrid for four days. Especially, if your itinerary is very crowded you can get tired very easily. A great alternative is taking the hop-on hop-off bus around Madrid on the day you plan to do your sightseeing. How do those buses work?
The hop-on hop-off buses in Madrid are driving around Madrid and stop at more than 40 stops. Those are close to the most important attractions in Madrid. You can leave the bus once it arrives at your desired destination. When you want to take the bus again to go to another place, you just have to wait for the next bus, which is usually only a couple of minutes away. This is a great choice if you want to visit places further away from the city center, like the stadium Santiago Bernabeu. Apart from that, those buses are great if you are coming to Madrid with elderly people that could have trouble walking a lot. My mom loves these red buses and always takes them whenever we do a city trip somewhere.
You can book your ticket online here. And don't worry! If your plans change you can still cancel up to 24h before the starting date of your ticket and get a full refund.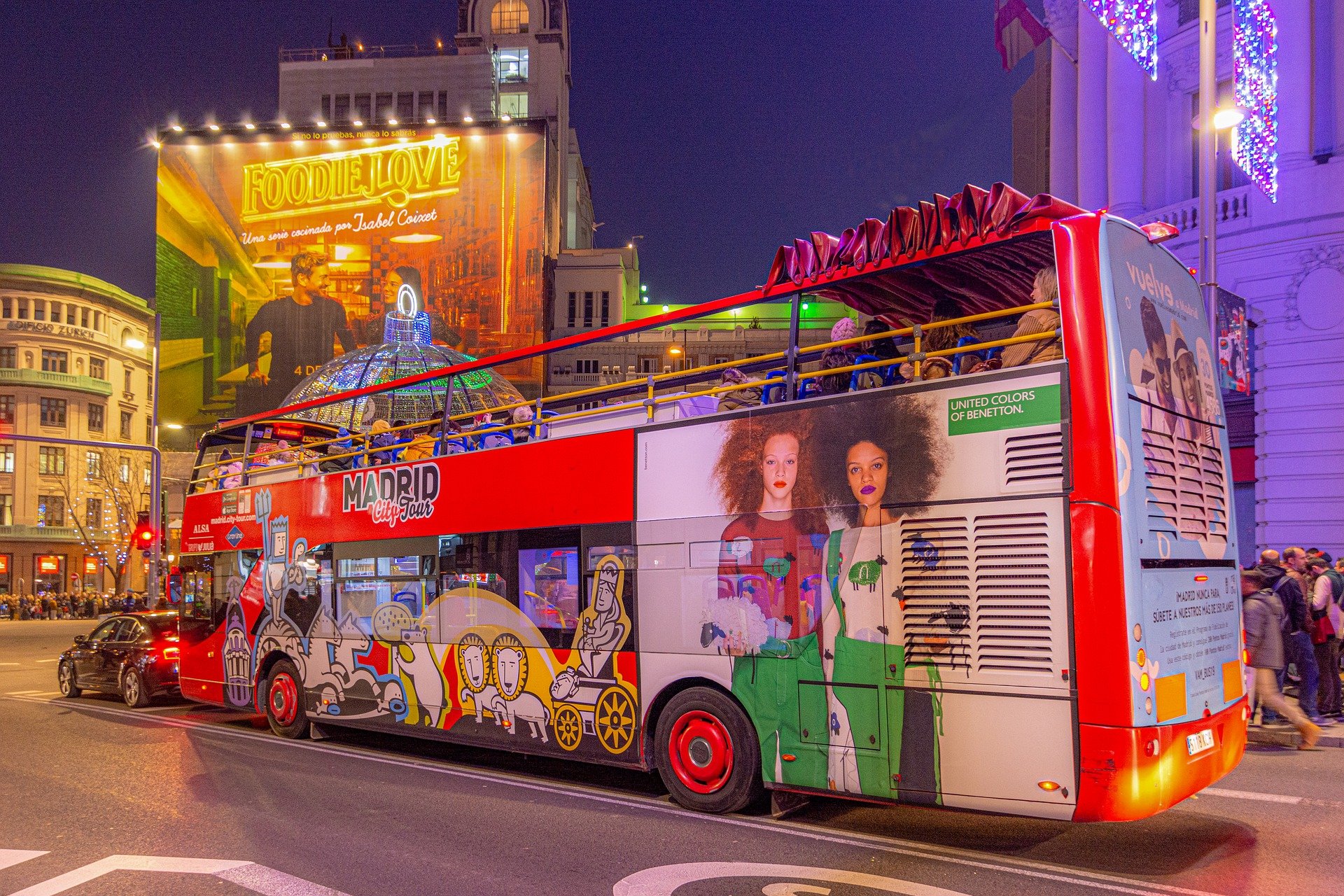 Save money visiting Madrid's greatest art museums with the Madrid Art Pass
If you are visiting Madrid for four days, visiting Madrid's famous art museums is a MUST! That is why I would recommend you get the Madrid Art Walk Pass: It includes a skip-the-line ticket for the three most popular art museums in Madrid: El Prado museum, Reina Sofia Museum, and the Thyssen-Bornemisza museum. Not only is it cheaper than buying all these tickets separately, but it will also save you so much time to be able to just skip the line. The queues in front of those museums tend to be ridiculously long.
The ticket, which is valid for one year, can be booked online here. Again, if your plans change, you can cancel up to 24h before the ticket date and still get a full refund.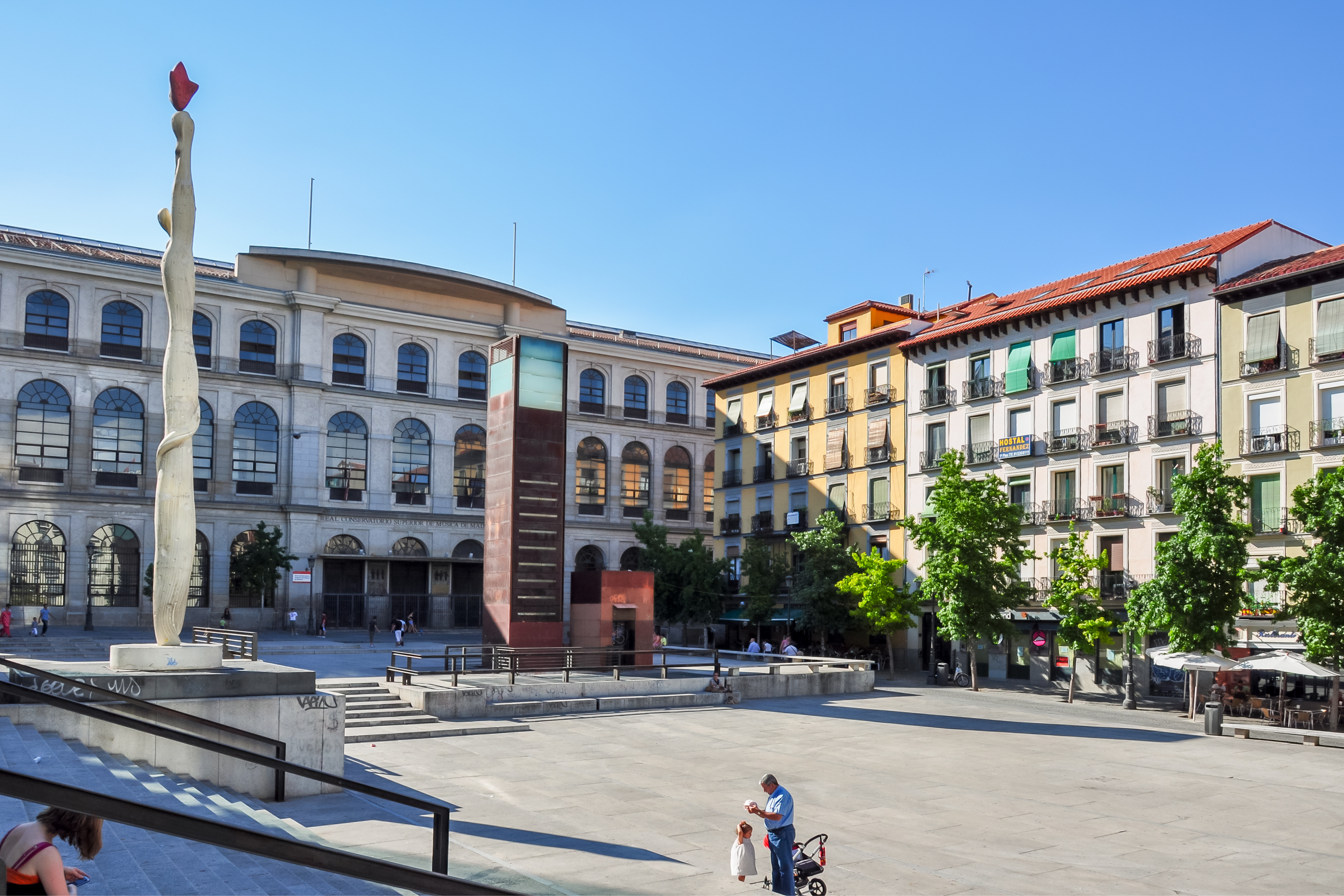 Vamos! Your '4 days in Madrid' itinerary!
Day 1: Explore the city of Madrid!
You just arrived in Madrid and you cannot wait to see the city, right? That is perfect because I really think that you should dedicate your first day to really exploring the city and getting to know your surroundings.
I would really recommend doing a walking tour in Madrid that is organized by locals. I have done one when I was in Madrid for the first time and it really helped me get a better understanding about the city. Apart from that, you will also learn a lot about Madrid's history and most important monuments.
If you would rather walk around Madrid alone: I wrote this self-guided walking tour of Madrid that will help you explore Madrid in one day. So, if you want to walk around Madrid by yourself, those are the most important destinations.
You can find all free walking tours in Madrid here.
Start your Madrid walking tour at Puerta del Sol!
Puerta del Sol is Madrid's most important square and the symbolic center of Madrid. The metro stop "Sol" is right here as well and takes you to almost all important places of the city. Now, there are several things you should do in this plaza, to start your incredible 4 days in Madrid:
Look for the "Oso y el Madroño statue": The statue of the bear and the strawberry tree is one of the main symbols of Madrid
Take a photo of the "Tio Pepe" sign: Tio Pepe is an Andalusian cherry brand. They have been advertising their wine on this plaza for decades so that it became one of the most important symbols of Madrid as well.
Look for the "kilometro 0" slab in front of the Post Office "Correos": This little slab marks the beginning of six important national streets of Spain.
Catch a street performance!: Puerta del Sol is always busy! Keep an eye out for performers showing off their skills. They are always pretty good! I have already seen Mariachis, hip-hop dancers and musicians performing here.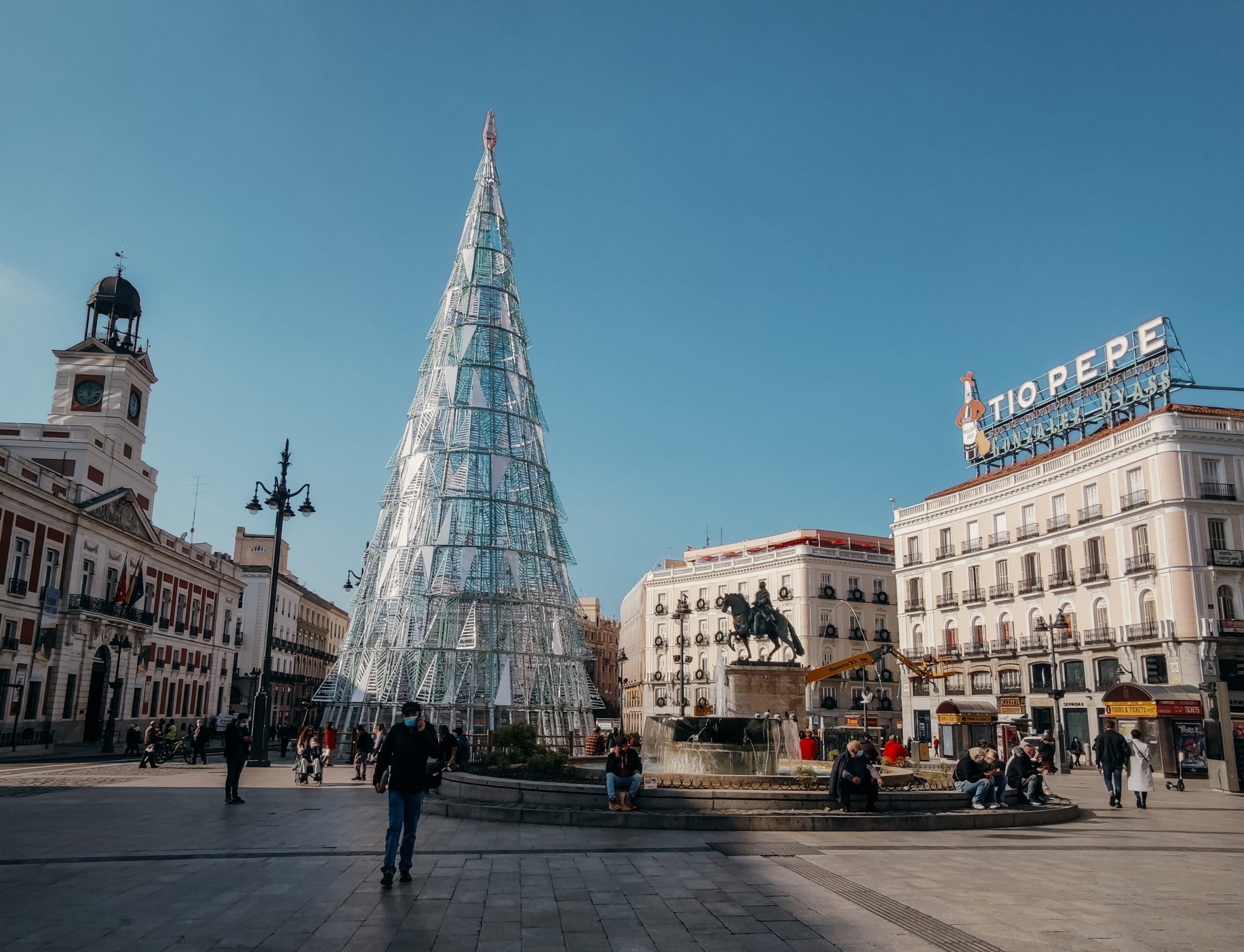 Admire the buildings when walking down Gran Vía!
Gran Vía is the main street of Madrid and used to be Madrid's most important shopping destination until the 1960s. What used to be boutique shops are now clothes shops and restaurant chains and fancy hotels. If you feel like going shopping, Gran Vía and Calle Preciados are the right places to go. You will find Spanish clothes brands like Zara, Mango, Sfera, and Stradivarius. There is also a Primark on Gran Vía that you can visit.
But there are also smaller souvenir shops, cheap food places, and theaters on Gran Vía. Maybe you can find a little souvenir from Madrid here. I would also advise making a small stop at Callao, a small plaza that people call "the time square of Madrid". Perfect for taking a photo!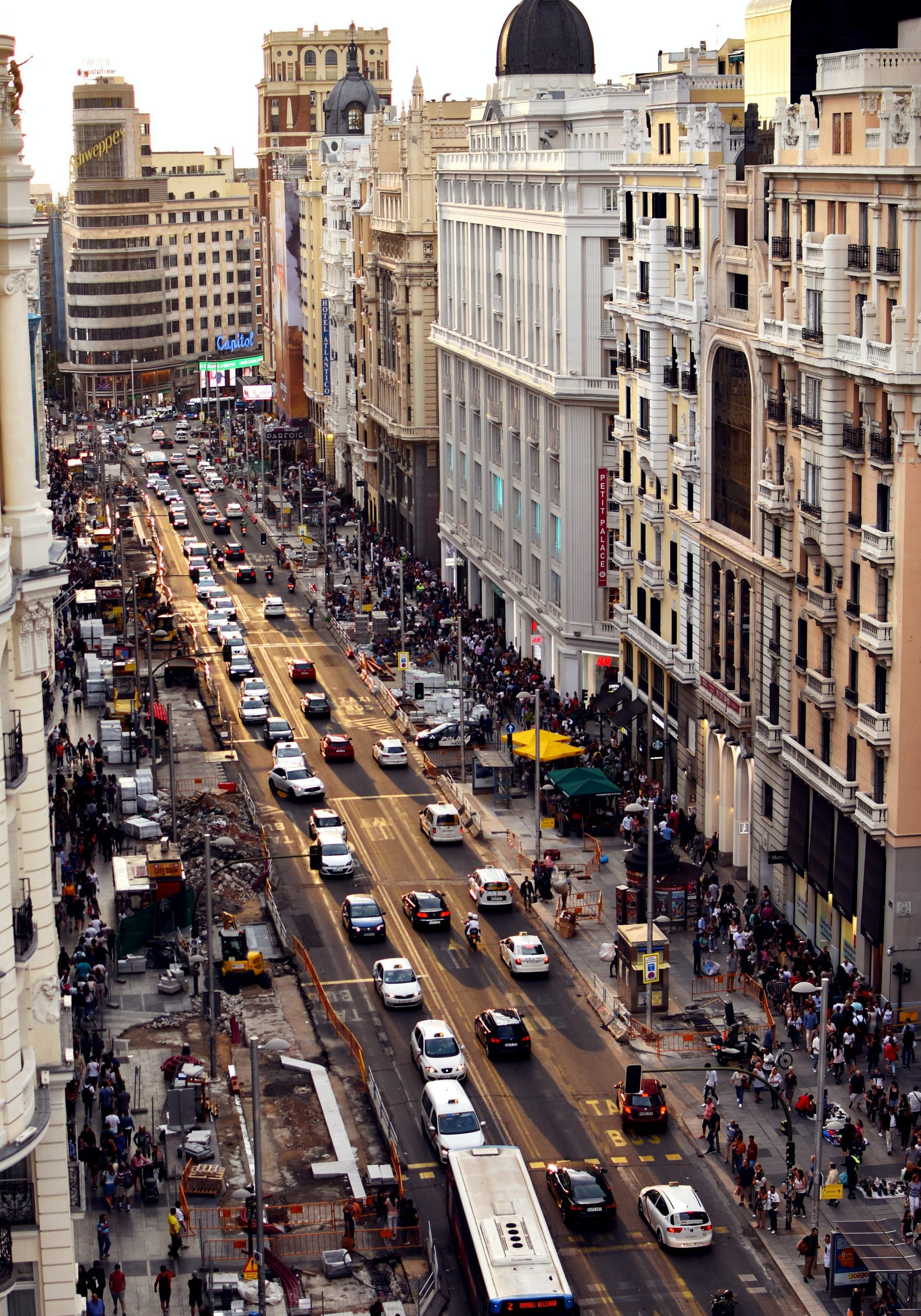 Coffee with a great view at Puerta de Alcalá?
After walking down Gran Vía you will find Plaza Cibeles. Maybe you have heard about it related to Madrid's football team's crazy tradition: This is the place where the Real Madrid Football team goes to celebrate after a successful match. Apart from that, you can see the beautiful "Palacio Cibeles", the city council of Madrid. They have a fantastic rooftop that you can visit for only 3€. The views from up there over the Plaza Cibeles and Gran Vía are incredible.
When we continue our walk we end up at Puerta de Alcalá, a neoclassical gate from the 18th century. This is the exact place where the city murals of Madrid were standing, and this gate was one of the few gates to leave and enter the city. There are many restaurants around the plaza where you can sit down and have a drink with a beautiful view.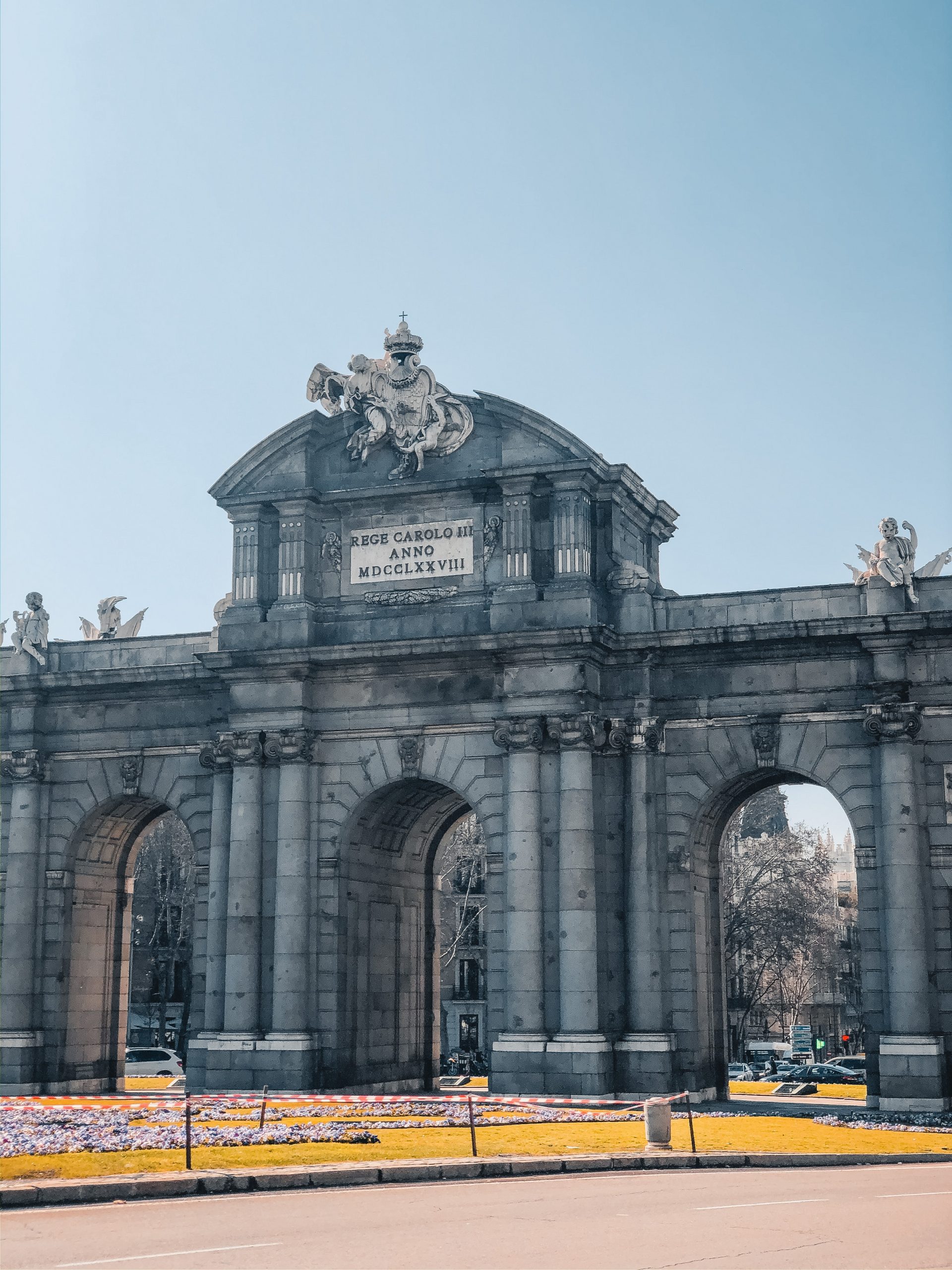 Hang out in Retiro Park and escape the busy city for a while!
The Retiro Park is a big park in the city center of Madrid, and definitely one of my favorite places to spend a Sunday. There are some hidden monuments and things you have to see in the park, including the following:
Palacio de Cristal: A conservatory located that belongs to the Reina Sofia Museum and hosts temporary art exhibitions. It currently shows an interesting art exhibition about Spanish colonialism in the Philippines. The entrance is free!
Monument Alfonso XII: A huge monument located right next to the big lake in Retiro Park. There is often live music during the evening. Very romantic!
La Rosaleda: A very beautiful rose garden inside Retiro Park. If you happen to be in Madrid during the warmer months you have to check it out.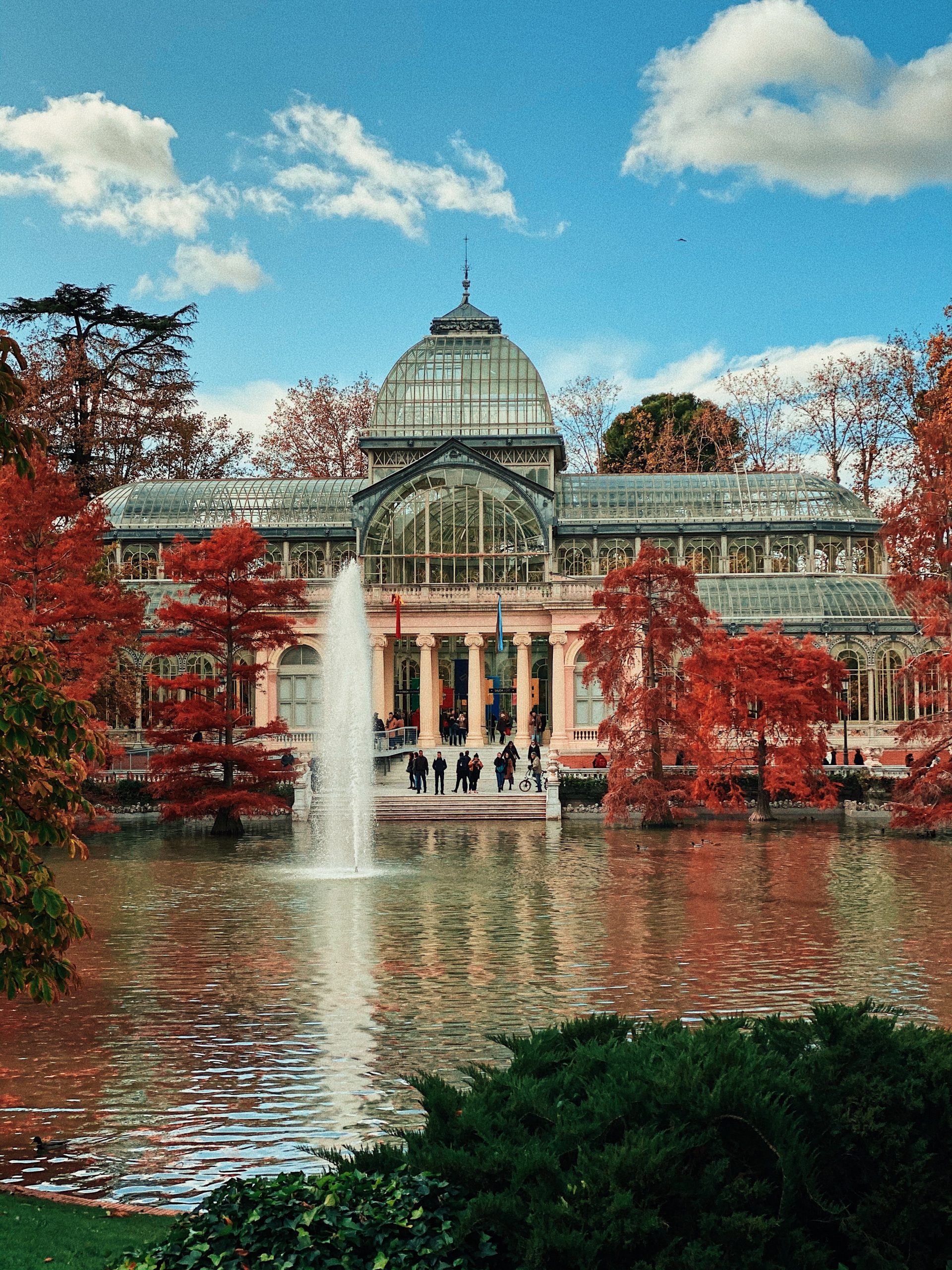 Check out Picasso's paintings at the Reina Sofia Museum!
As mentioned before, Madrid has some world-class art museums. If you wanted to visit every single one, four days would probably not be enough. I would advise you to visit at least one of the following art museums in Madrid. And if you are a huge fan, think about getting the Madrid Art Walk Pass I spoke about earlier.
I picked the Reina Sofia museum in this guide because it has a wonderful art collection of Spanish art from the 20th century. You will find stunning paintings from Picasso, Goya, and Velazquez. The highlight of the museum is Picasso's war painting "La Guernica". Believe me, it is already worth visiting the museum just to see this painting. I was so surprised by how big it was and I could not believe I was seeing a Picasso painting in real life!
I would recommend booking your entry ticket online because like that you can skip the line at the entry. You can book your ticket here.
Try different tapas in the evening in the neighborhood Huertas / Las Letras
Huertas / Las Letras is one of my favorite neighborhoods in Madrid! It is not far at all from the art museums I just mentioned before and is full of small bars and tapas restaurants. After you have been walking a lot during your first day, this is the best place to stay in the evening. What about having some Spanish tapas for dinner with a nice glass of wine?
Casa Gonzalez is one of my favorite places in the area. They offer a variety of Spanish wines and have a great selection of Spanish tapas. The service is really great as well. Make sure to come earlier to grab a seat!
If you are looking for cocktail places, you should try Viva Madrid or Salmon Guru. I can recommend both places for really tasty cocktails.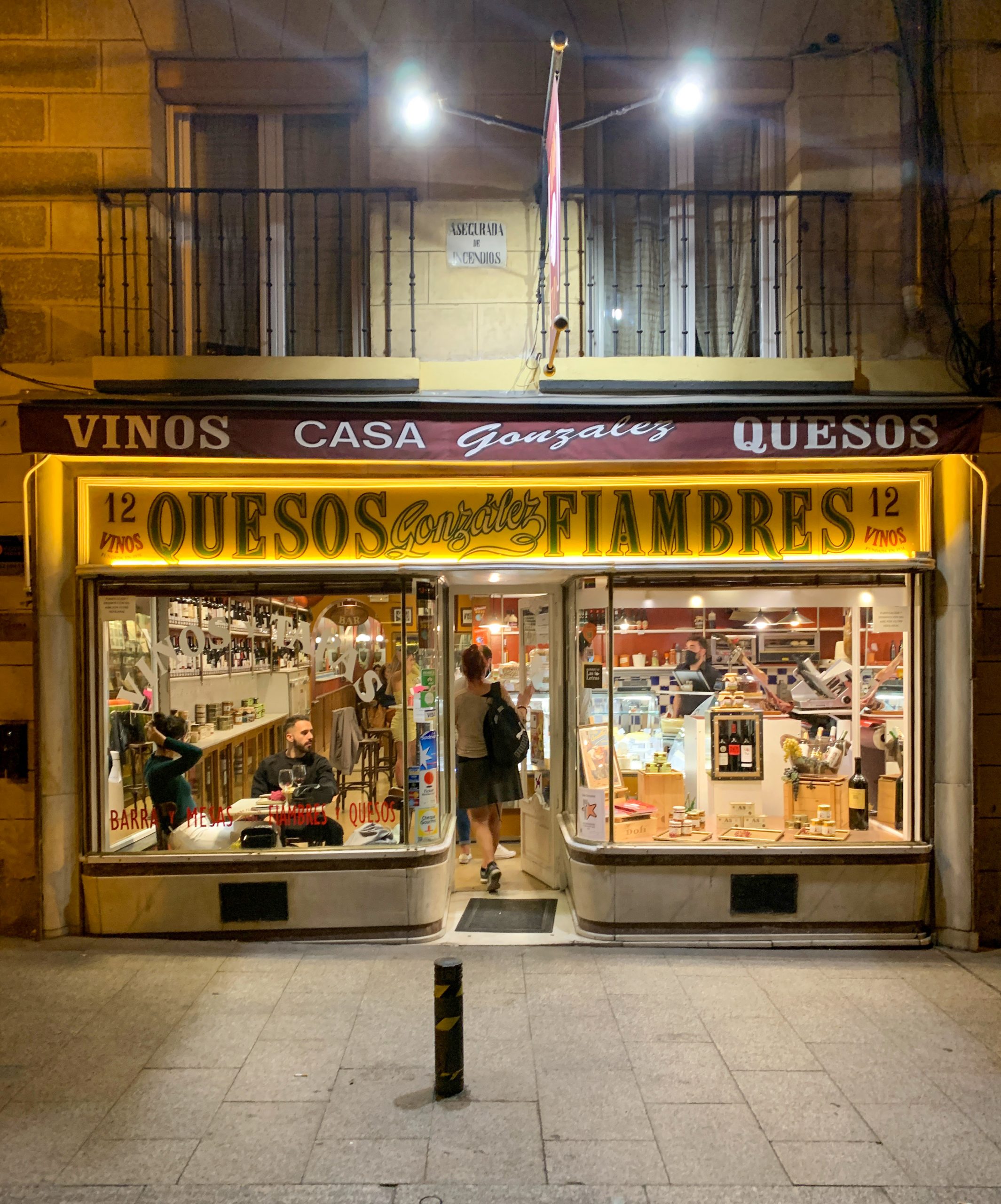 What should I eat during my stay in Madrid?
Try Madrid's famous churros con chocolate at the cafetería called San Gines. It has been open to the public since 1894. So you can be sure their recipe is perfect after being open for soooo long!
What about having a huge filled tortilla at La Buha? Their tortillas are not only insanely huge but also incredibly tasty! I would even say that 3-4 people can share one tortilla without any problems.
Of course, you cannot leave Madrid without trying some amazing Spanish tapas. One of my favorite places is. VINITUS next to Gran Vía. They offer a variety of tapas that you can order together with a glass of wine.
Day 2: Let's keep exploring Madrid!
We are still not done exploring the city center of Madrid! Today you will see many different monuments, a great sunset place and the Royal Palace of Madrid. So put on comfortable shoes and get ready for the second day of this Madrid itinerary:
Have breakfast in La Latina and check out Plaza Mayor!
La Latina is the oldest neighborhood of Madrid full of small streets and old buildings. One place I really like for their coffee and snacks is called Café del Art. The place is very cute and cozy and is perfect for starting the day with a nice breakfast.
Afterward, let's walk to Plaza Mayor, the main square of Madrid. Hundreds of years ago, there used to be public gatherings, but nowadays the square mostly serves as a tourist attraction. There sometimes are special markets like the Christmas market in December. By the way, if you are hungry again, I would recommend eating a Calamari sandwich at Bar "La Campana".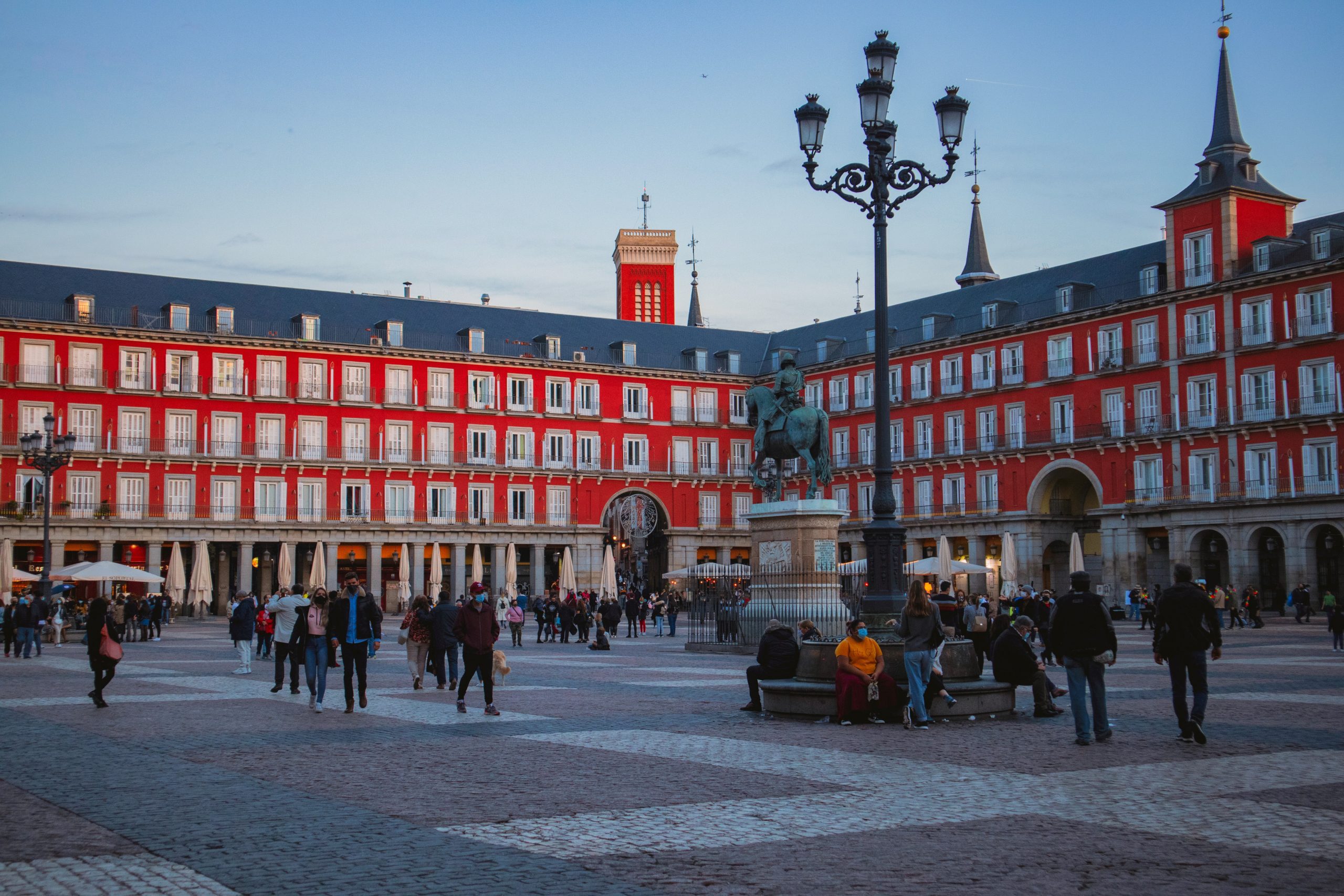 Walk to the Royal Palace and see how Spain's Royals used to live
Visiting the Royal Palace of Madrid is a MUST during your stay in Madrid. Of course, the royals do not live here anymore. But you still have access to the countless rooms, libraries, and the interior of the palace. And did you know that it is almost twice as big as Buckingham Palace? And there are so many rooms inside the royal palace that will leave you speechless. My favorite is the porcelain room, make sure to have a look yourself!
Insider tip! You can visit the Royal Palace for free during the last two opening hours:
October-March: Monday-Thursday 6 pm-8 pm April-September: Monday – Thursday 5 pm-7 pm 
If you cannot make it during the free-entrance hours I would advise booking your entry ticket here so that you can skip the huge line in front of the palace. We really do not want to lose time during your itinerary!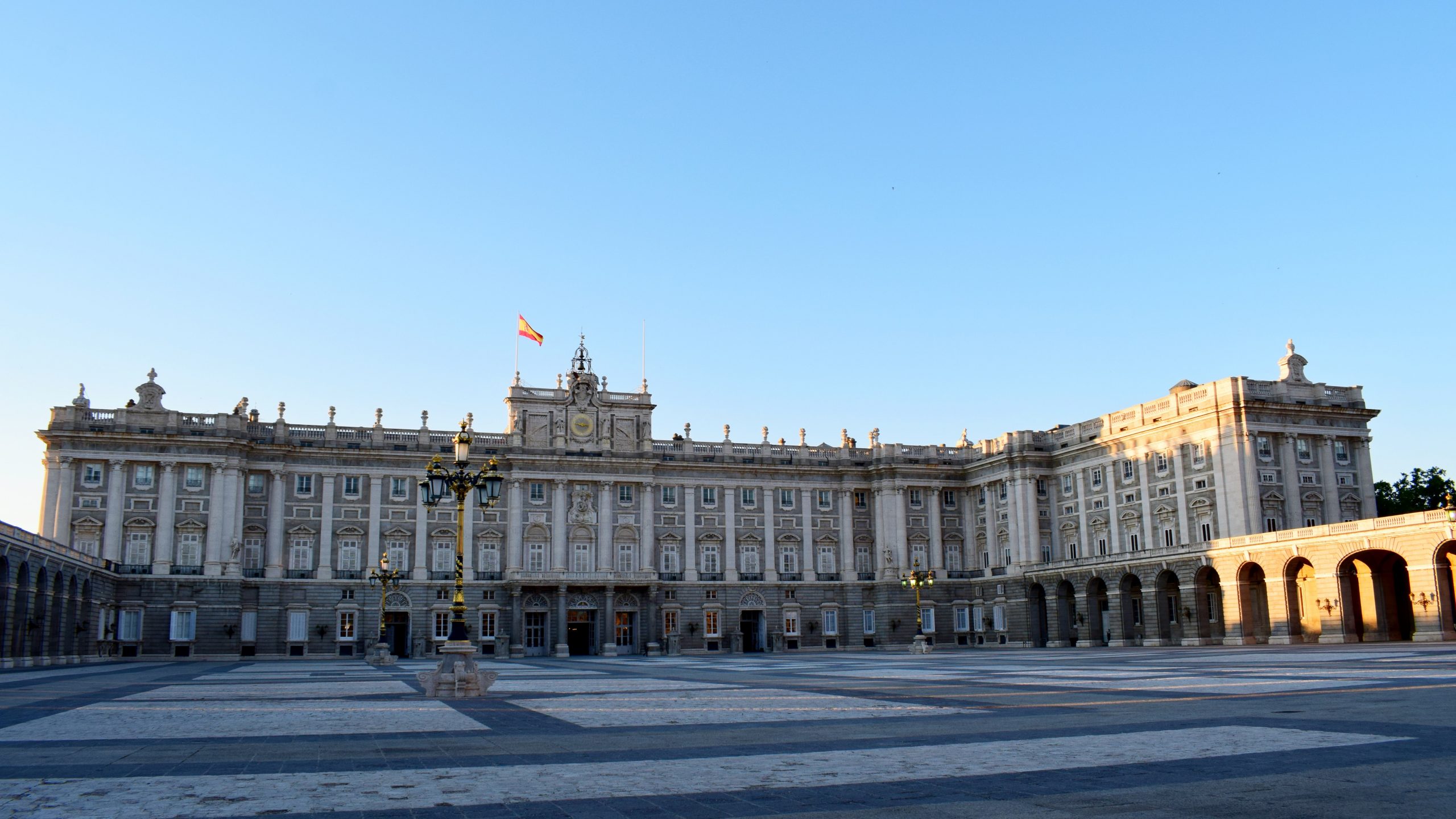 Check out Templo de Debod, Madrid's famous sunset place
Templo de Debod is one of my favorite places in Madrid and I love taking people there! Templo de Debod is an Egyptian Temple that was a gift to Spain from Egypt. And now it stands in the center of Madrid. It is surrounded by a little park that is popular among locals and a place people often meet to hang out.
Not only that. It is also one of the most popular sunset places in Madrid. From there, you have an amazing view of the lit-up royal palace and the Cathedral of Almudena. If you do not get to be there during the evening, you should try to plan to come back during sunset!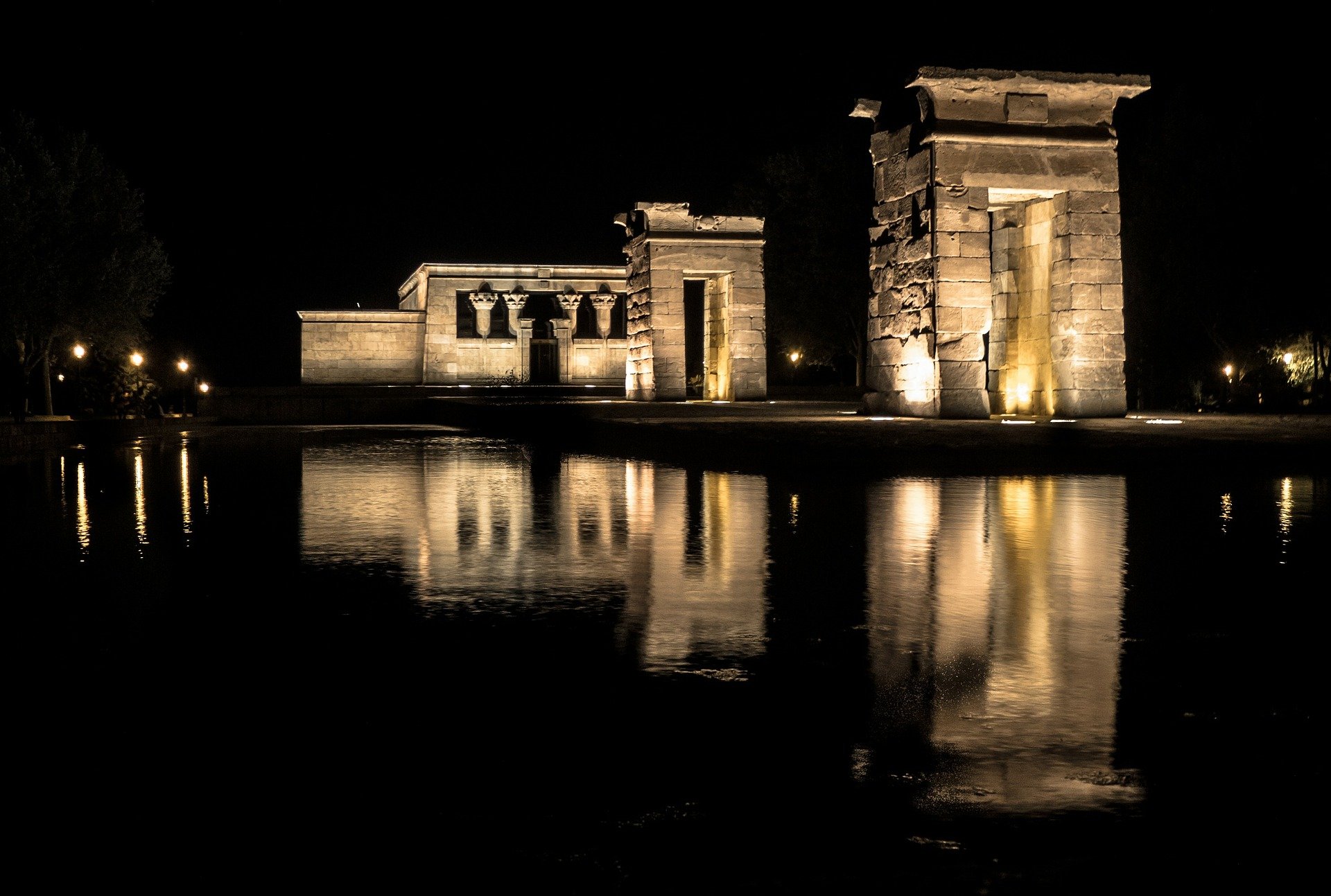 Dive into Madrid's famous neighborhood "Malasaña"
Malasaña is Madrid's hip neighborhood that is especially popular amongst young people and travelers. You can just walk around the streets and check out the unique shops and crazy restaurants in this neighborhood. This is also the more international part of Madrid, where you will run into people from all over the world.
There are a bunch of things you have to do in Malasaña, such as the following ones:
Go Vintage Shopping in Calle de Velarde: This street is full of little vintage shops and second-hand places. The perfect place for finding something unique that will always remind you of Madrid
Grab a drink at "Ojalá": A hip bar that has a very nice menu of drinks, brunch and even cakes. Make sure to check out the downstairs area, where you can find a "hidden beach"
Play board games in "La Manuela": La Manuela is a cool bar in the heart of Malasaña. And to make it even more fun to hang out there, they have sooooo many board games that you can play while you are having drinks with your friends.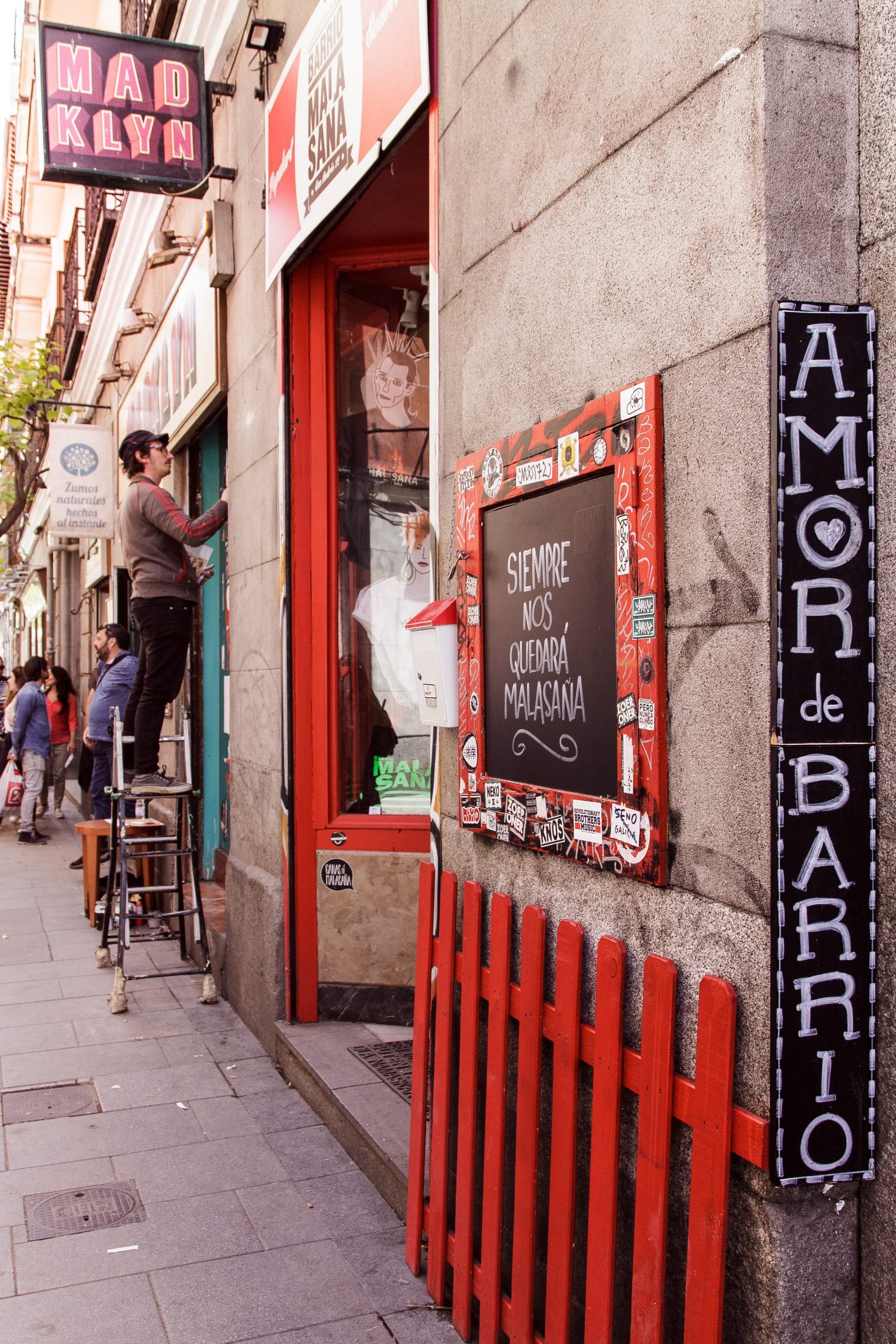 The highlight of your Madrid Trip: Watch a live Flamenco Performance
I guarantee you, watching a Flamenco performance will be the highlight of your Madrid stay. I took my mom to watch a Flamenco performance the last time she visited me in Madrid, and she still talks about it! Flamenco is a traditional dance, that originates from Andalusia. It is performed by men and women in traditional Flamenco clothes and accompanied by a Spanish guitar.
I could keep talking about it, but it's an experience that you have to see for yourself. I recommend going to Café Zyriab for a Flamenco performance. What I love about it is the beautifully decorated interior which will make you feel like you actually are in the South of Spain. The show only costs 24€/person, which I think is a really fair price. These tickets tend to get booked out very easily, so I would recommend booking your tickets in advance!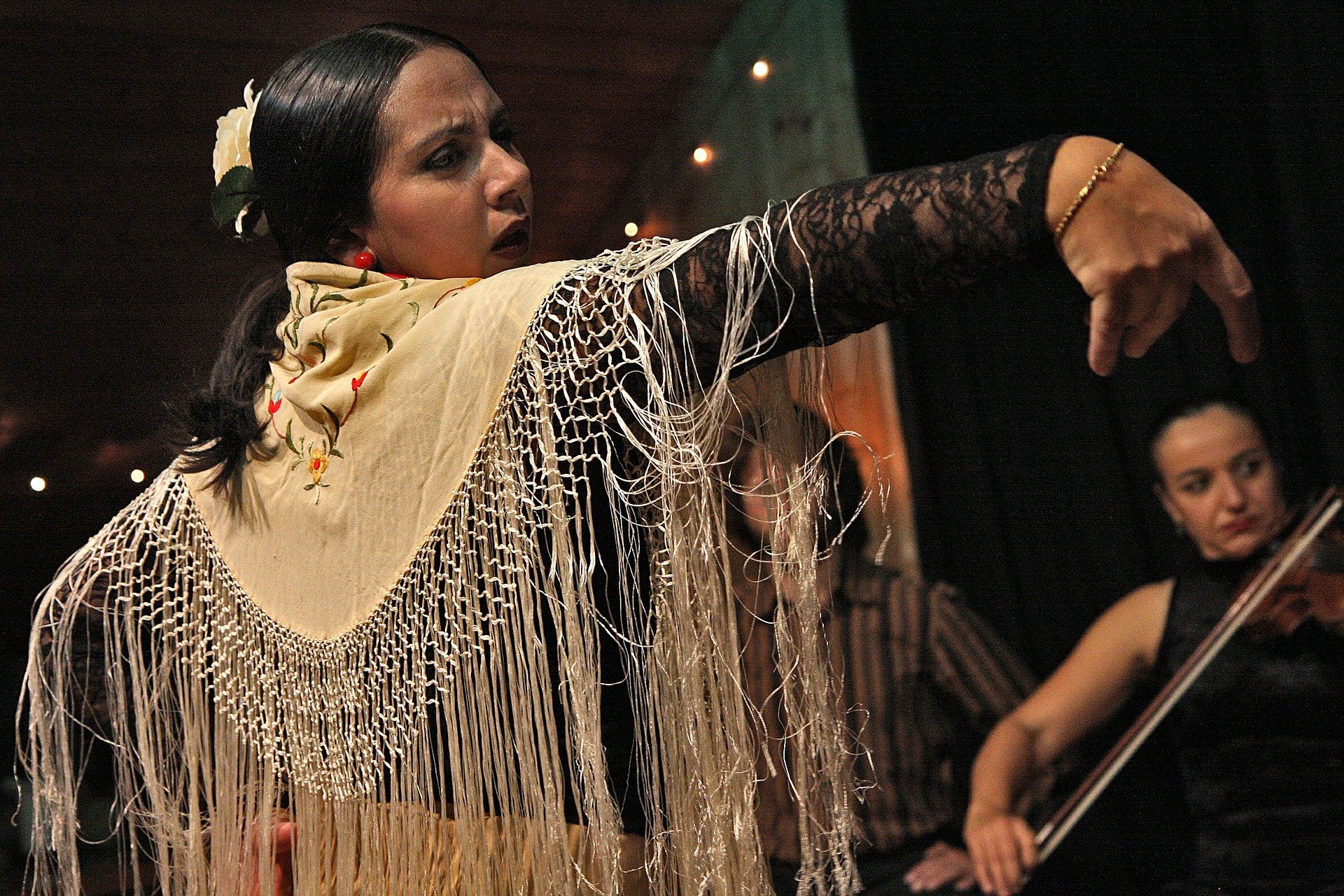 Day 3: Get ready for a one-day trip from Madrid!
4 days in Madrid are perfect to plan a one-day trip from Madrid. There are several destinations you can visit that are close to Madrid. Here, I will give you a summary of my favorite ones:
Visit Toledo, the city of three cultures: Toledo is only one hour away from Madrid and is the perfect one-day trip destination. It is a small medieval city that is so rich in culture that it received UNESCO World Heritage Status! The historic center is absolutely beautiful and there is so much to see! I wrote a complete guide about visiting Toledo, which you can find here.
See the aqueduct in Segovia: Another popular one-day trip destination from Madrid is the city of Segovia. The historical old town of Segovía is declared a UNESCO world heritage site as well. Did you know that the castle in Segovia served as inspiration for Disney's classic: Snow White and the seven dwarves?
Visit El Escorial: El Escorial is the historical residence of the King of Spain and the biggest renaissance building in the world! So, you can imagine that it offers so much to see: art galleries, libraries architectural museums, and more. It is also a popular hiking destination if you feel like spending more time outdoors.
Go for a hike near Madrid: You did not know Madrid is a great hiking destination? Yes! Madrid is surrounded by landscapes of beautiful nature, mountains and forest. I wrote a blog post about popular hiking destinations close to Madrid, that you can find here.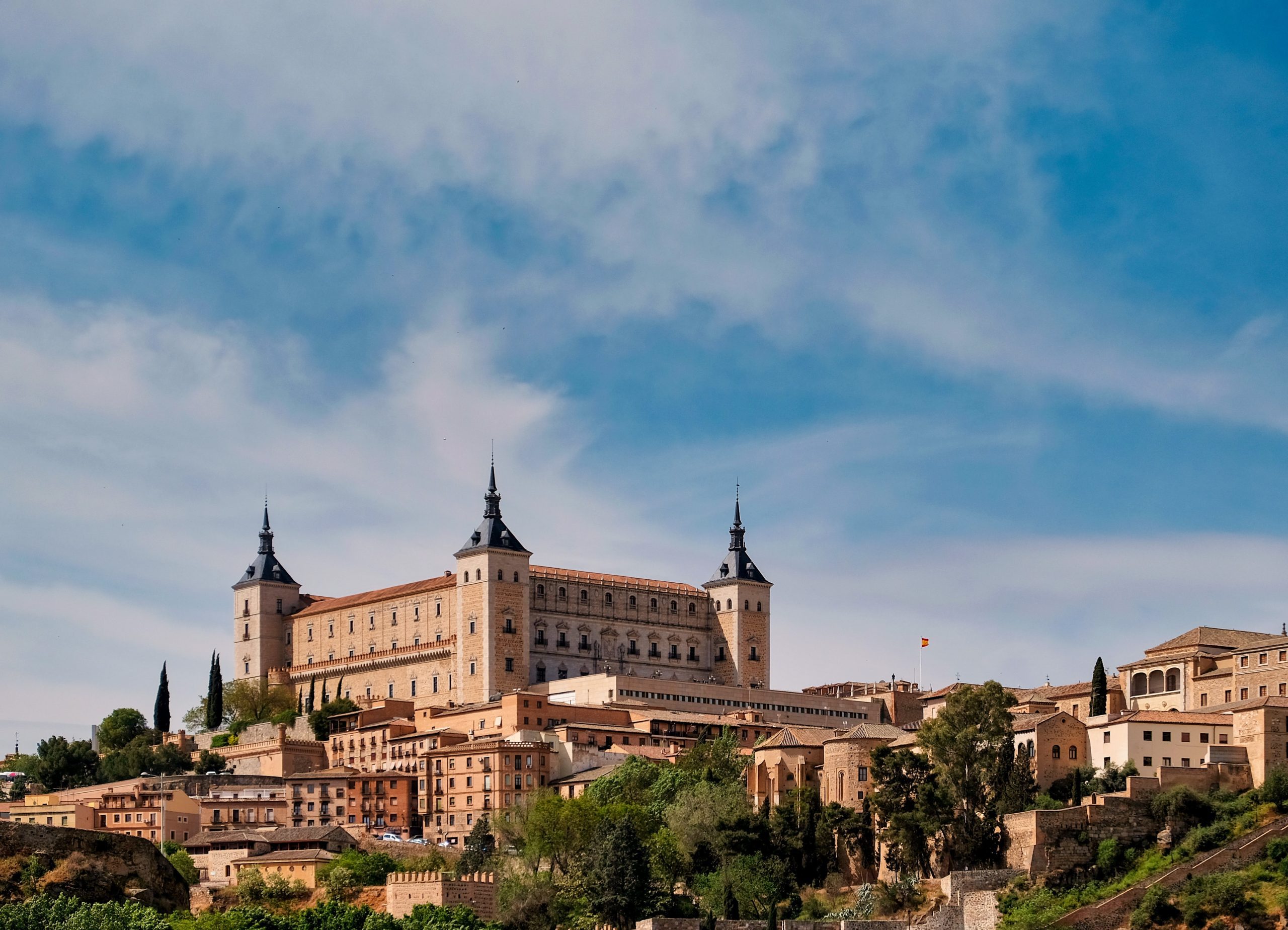 Day 4: Make your last day in Madrid a special one!
For this last day in Madrid, I feel like you should pick a place that interests you a lot. That is why I left you a couple of recommendations for what you can do during your last day in Madrid. So that we can be sure this last day will be a very special one!
For football fans: Visit the Santiago Bernabeu Stadium!
Madrid is a great destination for Football fans. You have probably heard about the Santiago Bernabeu Stadium but did you know that they offer tours inside it? Not only will you be shown around the empty stadium, but you also get access to the museum and get to have a panoramic view from the top of the building. Make sure to put this on this list if this interests you.
You can book your tickets online here.
Have lunch at the oldest restaurant in the world "Sobrino de Botín"
I am sure this caught you by surprise! "Sobrino de Botín" is the oldest restaurant in the whole world, and yes it is located in Madrid. It has been open since 1725 and during its history, the famous painter Goya even worked as a waiter there. Unbelievable, right? Make sure to try the cochinillo asado (roast suckling pig), the specialty of the restaurant.
As you can imagine, it's a very popular place so make your reservation in advance.
Have a drink on one of Madrid's Roof Top bars!
If you are like me and you cannot get enough of rooftop bars, Madrid will never disappoint you. Gran Vía, Callao and Plaza de España are full of rooftop bars you can visit. If you are looking for bars where you don't have to pay in order to access the terrace, I recommend Le Tavernier or Picalagartos Sky Bar.
A very popular rooftop bar in Madrid is the Sky bar from Hotel Riu. It has a rooftop bar on the 27th floor that gives you amazing views all over Plaza de España. And the highlight: There is a platform where the floor is made out of glass! Imagine walking over it while looking 27 floors down in Madrid!
Entrance fee: Mondays to Fridays from 11 am to 5 pm it's 5€ to access the terrace, After 5 pm it costs 10€. On Saturdays, Sundays and holidays it always costs 10€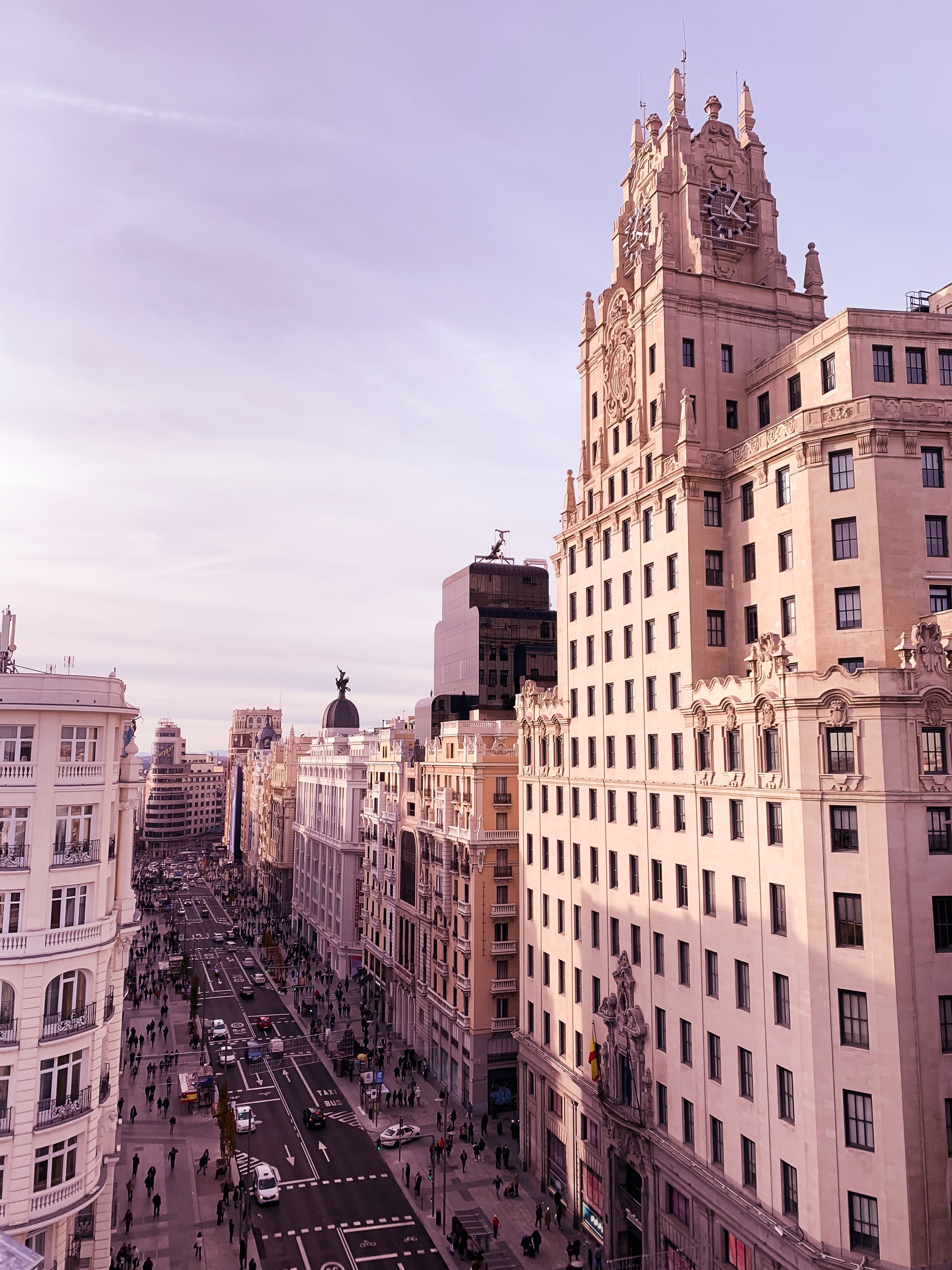 In case you could not get enough from the museums in Madrid: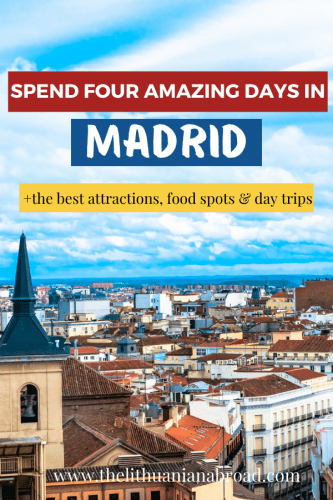 Like previously said, Madrid really offers some world-class museums that show paintings from known Spanish artists like Picasso, Goya or Velazquez. But that is not everything. Madrid has so many interesting and interactive museums you have to check out if you have time. Here, I am leaving you my top 3: