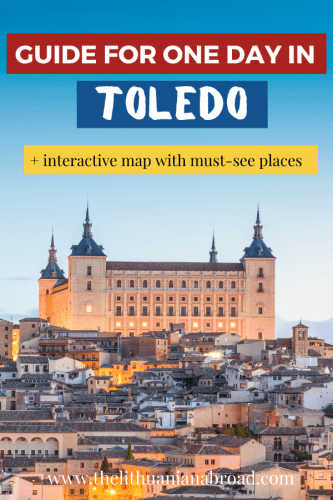 It is not a secret that Toledo is THE one-day trip destination from Madrid. Spending one day in Toledo should be on your bucket list if you are already visiting Spain's capital. It is very popular for its rich history and culture. And don't worry, it is not another boring old city that travel bloggers try to sell you as interesting. For its cultural and historical heritage, the old town of Toledo is a UNESCO world heritage site. I have been to Toledo a couple of times and I always enjoy taking visitors there. To me, it feels like walking in a small fairytale town close to Madrid. Minus the crowds and the noise of a Capital city. And good news, it is less than one hour by public transport away from Madrid. I really hope you choose to visit Toledo. Because I can promise you, it is worth it!
By the way, did you know it is called the city of three cultures? I will explain the reason for that below!
Other blog posts about Madrid that could interest you:
Self-guided walking tour of Madrid with an interactive map
I created this self-guided walking tour of Madrid so you can explore Madrid on foot at your own pace. This guide includes Madrid's most famous attractions, food spots, and viewpoints. Written by a local (aka me)!
A list with more than 100 things you can do in Madrid for free
Visiting Madrid does not have to be expensive. This guide includes more than 100 free or ridiculously cheap things you can do in Madrid. You will find everything from museums, hidden gems, historical landmarks to food spots and bars. Check it out if you are traveling on a budget.
25 museums in Madrid you can visit for free
This is a complete list of museums you can visit in Madrid for free. I even included museums that offer free entrance on specific days or specific timeslots. By the way, you can visit Madrid's Royal Palace and famous art museums for free. Check out this guide to find out how.
7 hiking routes near Madrid you should add to your bucket list
Did you know there are amazing hiking trails around the outskirts of Madrid? This blog post features 7 amazing hiking destinations close to Madrid. You will find hikes for beginners and advanced hikes for pros. By the way, you can reach almost all of them with public transport.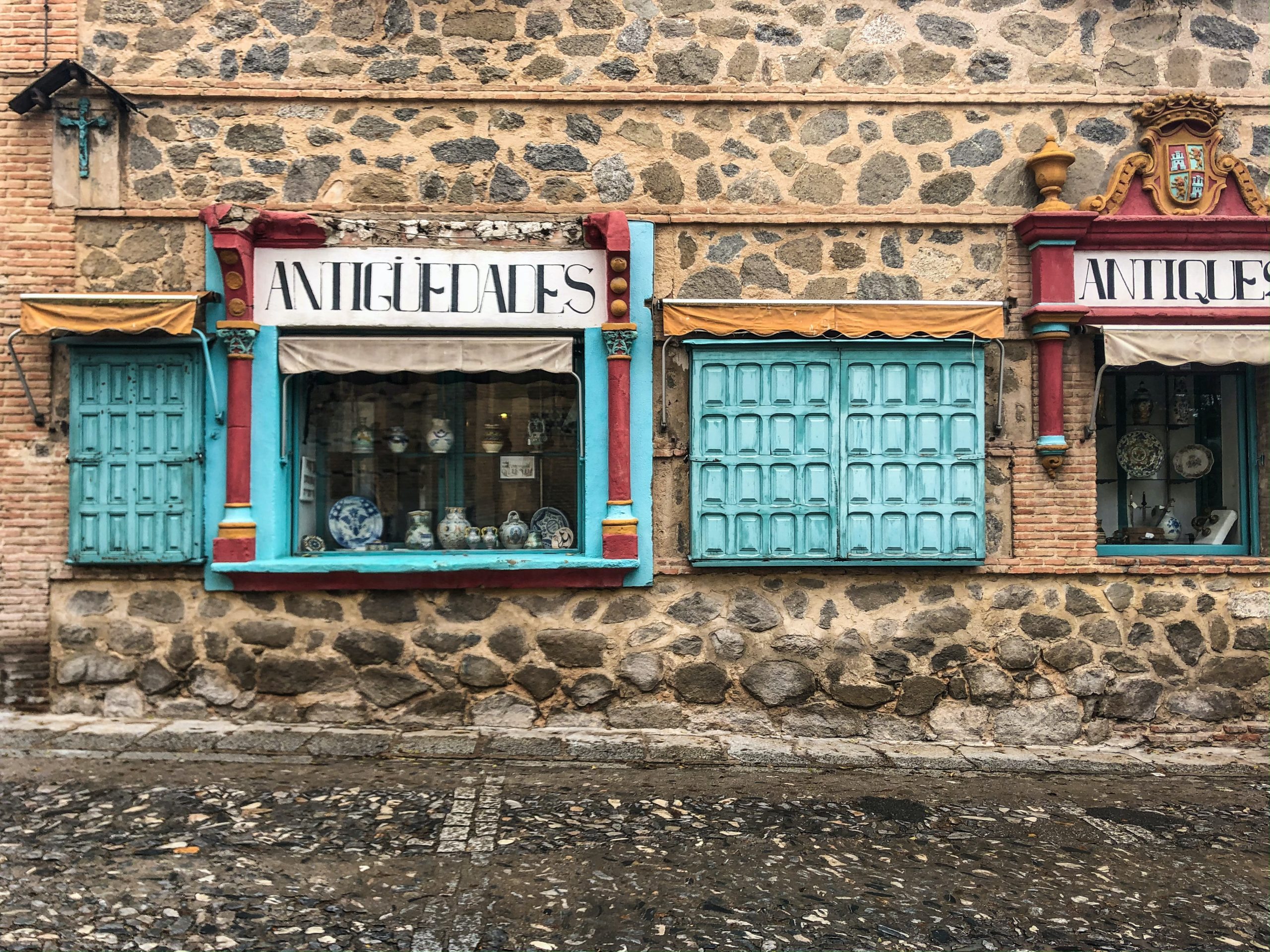 Learn about Toledo's history on a free walking tour
I love doing walking tours when I visit a city where I have not been before. And I did a walking tour in Toledo the first time I was there. The great thing about the walking tour is that you learn a lot about the history of Toledo. And it is all told from the point of view of a local.
As mentioned before, Toledo has a lot of Catholic, Muslim and Jewish influences in its architecture and streets. And I felt like it was explained very well during the walking tour. Also, Toledo is such a walkable city that doing this walking tour is a great choice because all attractions are not too far away from each other.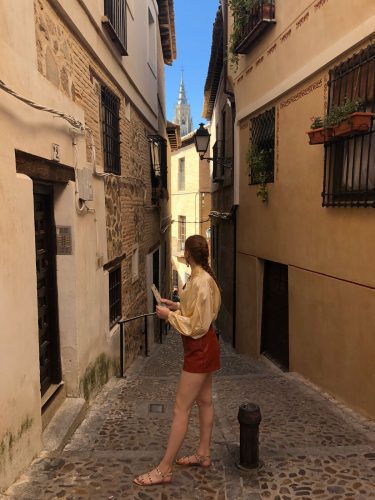 Get ready for your day in Toledo:
Wear comfortable shoes when going to Toledo
Toledo is a small town full of small streets with historic buildings and beautiful places to see. It is very walkable and once you are there you will probably explore the city on foot. Just a warning: You will walk a lot, especially if you want to see everything in Toledo. And it is much more hilly than you'd expect Come prepared and wear comfortable footwear.
Try to arrive to Toledo as early as possible
Toledo is not a hidden gem for Spain travelers anymore. It can get crowded, especially if you come during the weekend. If you want to make the most out of it, already come in the morning. There are many cute cafes and bars where you can have breakfast!
The history of Toledo: Why is it called the city of three cultures?
For centuries, Jews, Christians, and Muslims lived together peacefully within the city walls of Toledo. This is also the reason why you can find churches, synagogues, and mosques in Toledo. It was literally the "melting pot" of different cultures and the religious center of Spain. And not only that, Toledo is more than 2000 years old. But it survived the Moorish occupation and even the Spanish Civil War. Apart from that, Toledo's historical sites are incredibly well preserved.
By the way, you can find Catholic, Jewish and Muslim influences in the architecture, the monuments, and even along the streets of Toledo. This makes Toledo so unique that its old town was granted UNESCO world heritage status in 1986. Am I doing a good job of convincing you to visit it?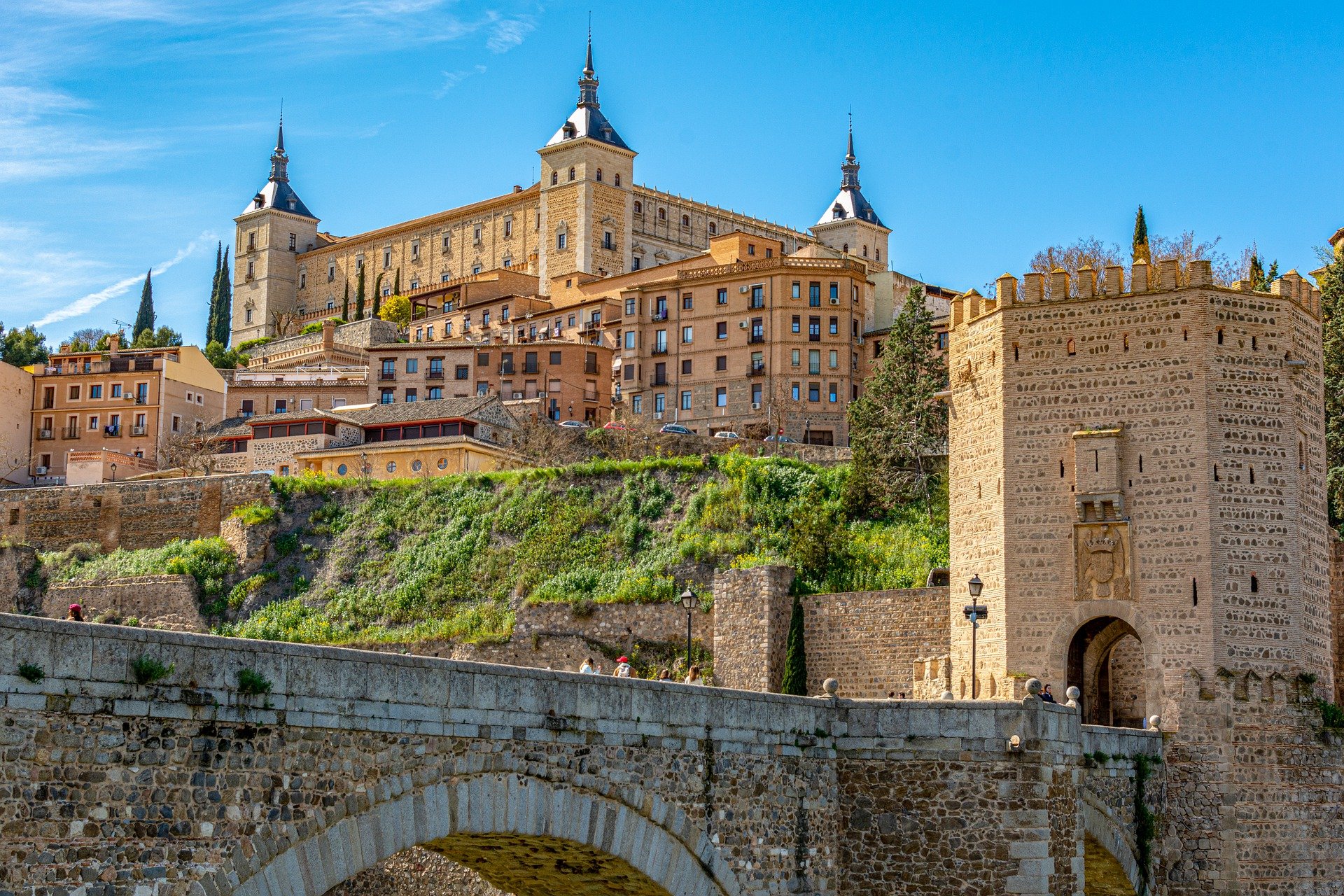 What is Toledo famous for?
Not only is Toledo famous for its incredible history, but it also has a couple of other industries you should know about:
Toledo has world-class Marzipan that you should try during your stay there. The first source mentions Marzipan in Toledo during the 12th century. If it exists for almost a thousand years right now it means it must be good. It is basically a mixture of almond powder, sugar, and egg white. And yes, it is as addictive as it sounds. If you have a sweet tooth, this will be your new favorite dessert.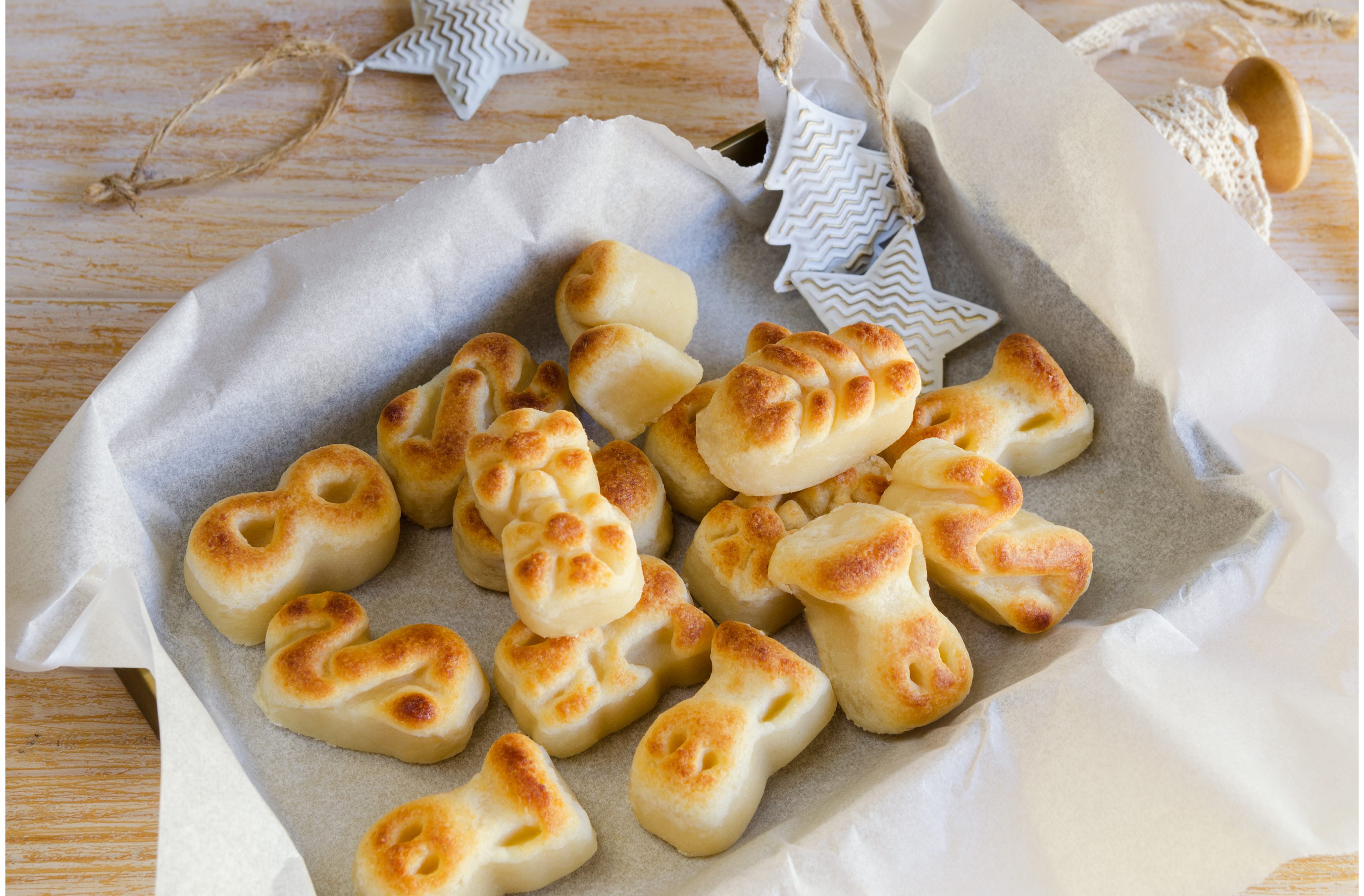 Apart from that, Toledo is famous for its steel and armor industry. Interesting fact: Toledo has been the center of traditional sword-making since 500 BC (!). It had become so famous that swords from Toledo were even used by Hannibal in the Punic Wars. Nowadays, you can still find local shops that sell traditional and modern swords and other objects made out of steel. Maybe you can find a beautiful souvenir there?
Explore Toledo with the Hop-on Hop-off bus!
Be aware, you will walk a lot in Toledo! If you do not really like walking or are traveling together with elderly people the hop-on hop-off bus might be a good alternative for you. Do you know how the hop-on hop-off bus works? It basically drives a circular route around Toledo while stopping at designated stops. You can get off at one of the stops, explore the surroundings and get back on the bus whenever you like.
The best part about this ticket is that it includes the entry ticket to El Alcázar and a walking tour. For only 20.50€, I think this is a fair price. You can book your ticket here.
Interactive map of all places you should visit during one day in Toledo
The most important places and monuments to visit in Toledo:
Start at Plaza de Zocodover
Our "One Day in Toledo" itinerary starts in Plaza de Zocodover. It is a very central place which makes it a great starting point for the itinerary.
During the history of Toledo, it served as the main square of the city. When Toledo was a Spanish-Muslim city, it served as a market for animals and local festivals. All in all, it was the place for socializing in the city center of Toledo.
Today, it is a popular meeting point for city tours and full of fast-food chains. As I said, a great place to start your Toledo itinerary. But let's not stay there too long.
Check out El Alcázar de Toledo, the former Roman palace
Close to Plaza de Zocodover is the Alcázar of Toledo, a fortress constructed on the highest point of the city. It was used as a Roman palace in the third century and was later reconstructed in the 16th century. The major part of the building was destroyed after the siege of the Alcázar during the Spanish Civil War. It was rebuilt between 1939 and 1957 to the building you can see today.
Currently, it hosts the Armee museum and the library of Castilla- La Mancha.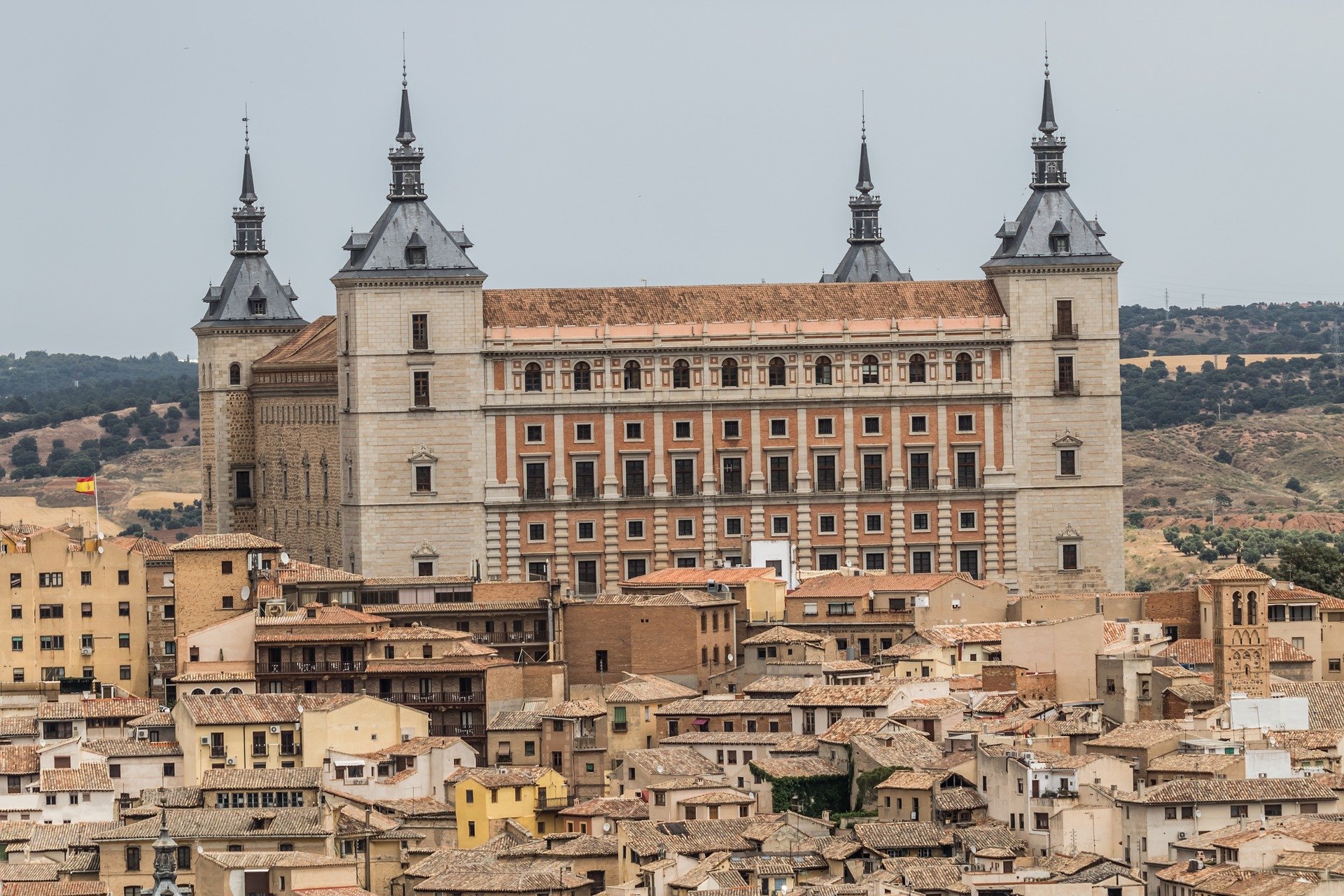 Check out Toledo's Cathedral 'Catedral Primada Santa María', built on the
The Cathedral of Toledo is a Roman Catholic church and is one of the few Gothic 13th-century churches in Spain. It is only a couple of walking minutes away from El Alcázar, but make sure to check out the surroundings while you are walking there.
The Cathedral of Toledo has a very special history. During the Muslim rule of Toledo, the city's main mosque stood at the exact spot where you can see the cathedral today. Later, it was converted into the cathedral that it is now. If you have time and your budget allows, I would recommend going inside. Apart from seeing the inside of such an incredibly old church, there are also paintings from famous Spanish artists like Velazquez, Goya, and El Greco.
It is open Monday through Saturday from 11 AM to 6 PM and on Sundays from 2 PM to 6 PM. The entrance costs 8€ per person.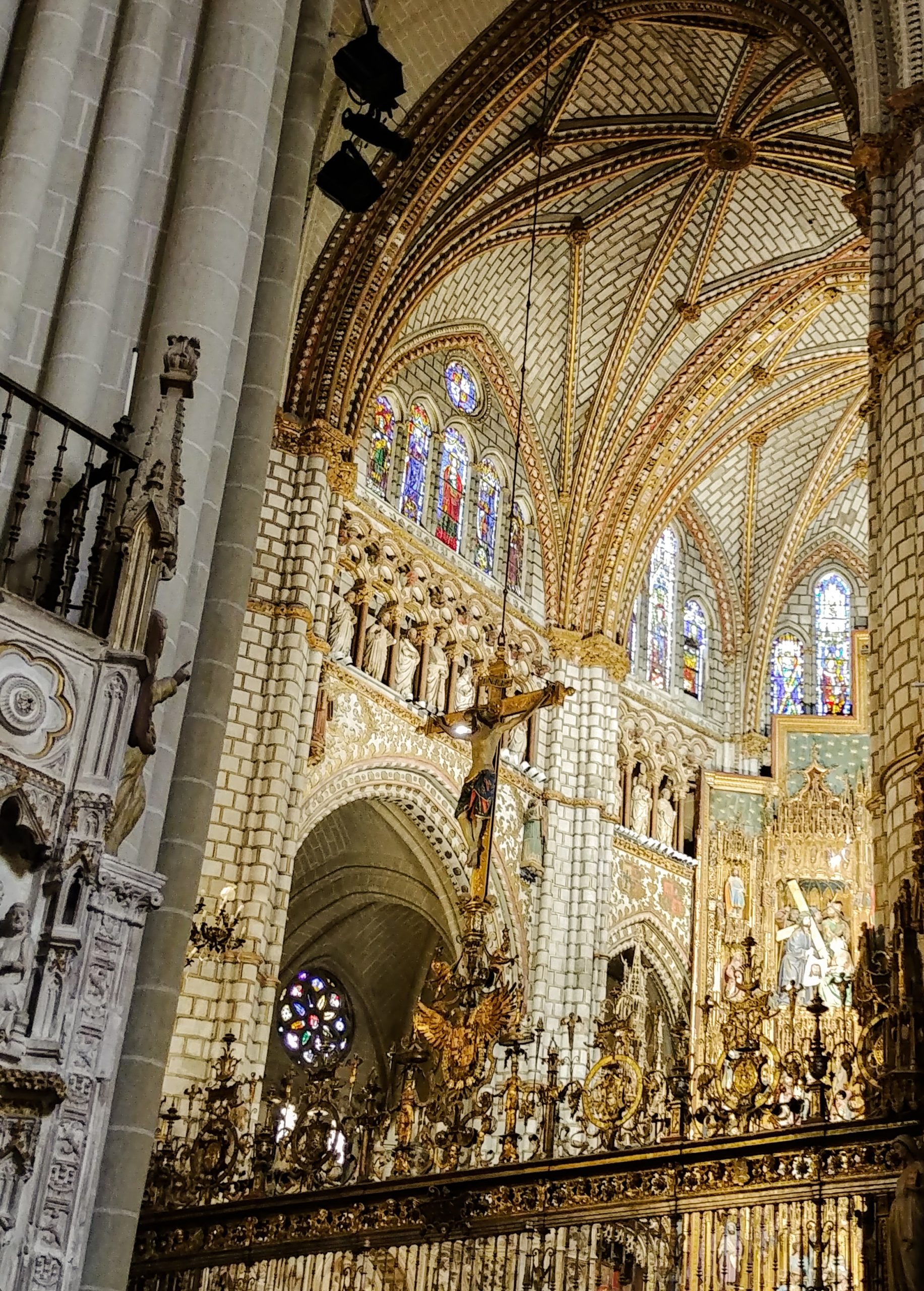 Visit Mosque 'Mezquita del Cristo de la Luz' in the former Muslim neighborhood Medina
During the Morish period, ten mosques existed in Toledo, and the Mezquita del Cristo de la Luz was one of them. It was built in 999 (Can you believe that?!) and converted into a church in 1085 when the Christians took over the city.
It is located in an area of Toledo that used to be called Medina, where the rich Muslims used to live.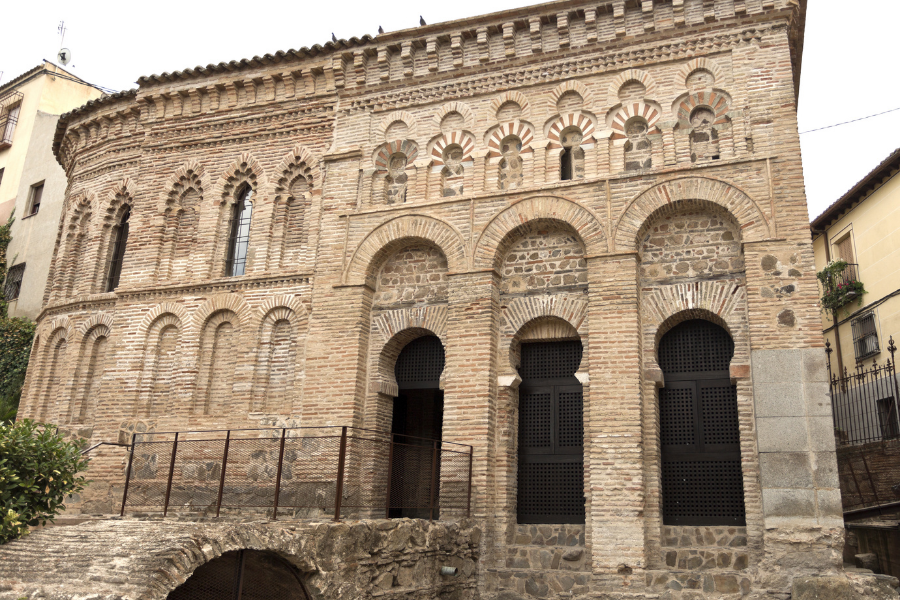 Synagogue of Santa María la Blanca, the oldest synagogue building in Europe
Let me introduce you to what was once the most important synagogue in Toledo. It is a strong symbol of the co-existence of the three religions in the city. Constructed in the 12th century, it is the oldest building of a synagogue that is still standing. In the 14th century, it was turned into a church.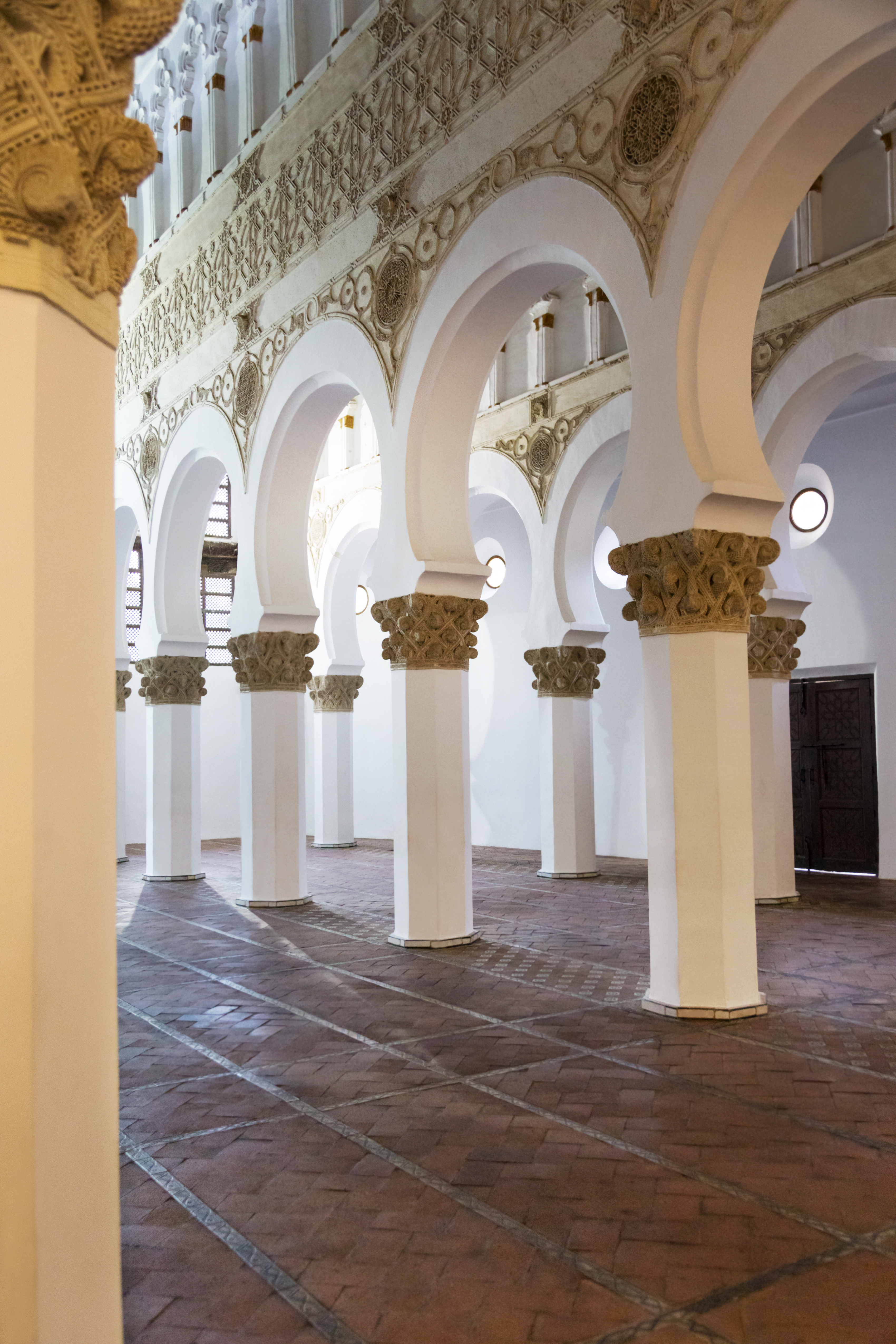 Walk through Puerta de Bisagra, the city gate of Toledo
Puerta de Bisagra is the old city gate of Toledo in the northern part of the city. It was constructed in the 10th century and is the only part of the Morish city walls that still exist. The perfect place for a memory photo from Toledo!
Look at Renaissance paintings at 'El Greco Museum'
El Greco is a famous Greek-born Renaissance painter, who lived almost all his adult life in Toledo. In the Jewish quarter of Toledo is the El Greco museum, where you can admire his paintings. The museum is located in an old house that recreates the former home of El Greco, which no longer exists. Toledo even offers something for art fans!
Walk around the old monastery 'Monasterio de San Juan de los Reyes' and check out the garden inside
This monastery is one of my favorite places in Toledo. It is a monastery built in the late 15th century by Catholic monarchs. In 1809, Napoleon's troops damaged the whole building badly which resulted in a long restoration that only finished in the 1960s.
You should definitely go inside to see the small garden in the cloister. It looks absolutely gorgeous and for a short second, you will forget that you are just one hour away from Madrid.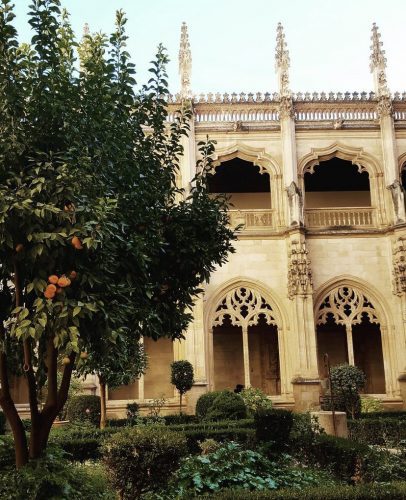 Visit Toledo's most famous viewpoint:
Mirador del Valle for a postcard view of Toledo
That is the time when your comfortable shoes come in handy. Mirador del Valle is a viewpoint outside of the city center where you can see the whole picture of Toledo. But not only Toledo, this view includes the city walls, the bridge Puente San Martin and the beautiful landscapes surrounding it! If you are not too tired I would recommend walking there. The views are worth it.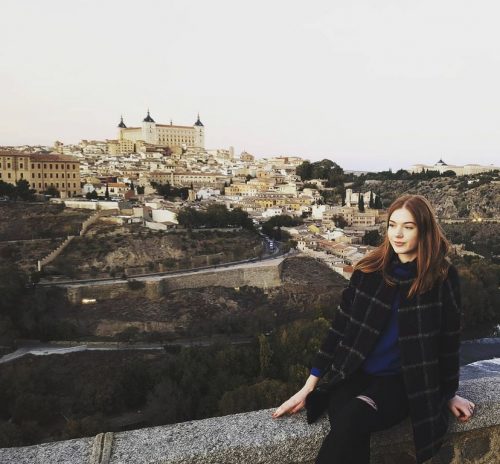 Mirador Plaza Virgen de Gracia for a birdseye view of Toledo
But you do not have to walk far to have a beautiful view of Toledo. Plaza Virgen de Gracia is inside the city walls and gives you a stunning view of Toledo and its buildings. A great place to watch the sunset in Toledo as well!
Other great tours to check out in Toledo:
Planning to spend one day in Toledo: How to get to Toledo?
By Train:
If you are already in Madrid going to Toledo by train is the easiest option. Trains leave every hour from the Atocha train station in Madrid and take you to the train station in Toledo in about 30 minutes. The train station is a 20min walk away from the city center.
A one-way ticket from Madrid costs 15€.
By Bus:
Another option to go to Toledo from Madrid is by bus. There are buses going to Toledo every hour from Madrid's bus stop in Plaza Eliptica. The bus takes around one hour and leaves you at the main bus station of Toledo, which is very close to the city center.
A one-way ticket costs 5-6€.
By Car:
Of course, the easiest way to visit Toledo is by car. The only thing you should check beforehand is parking. This parking place in the city center costs 21€ for 24 hours. Keep that in mind when planning your trip.
---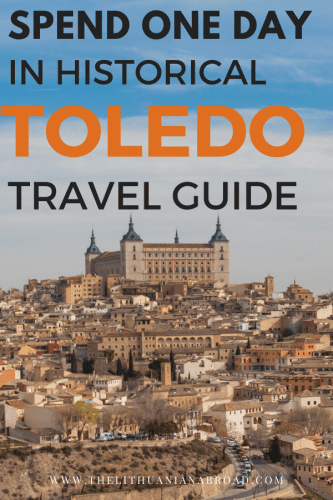 Let me know if you enjoyed this travel guide for one day in Toledo. I have visited the city several times and I always have enjoyed it. Plus, I am a big marzipan fan, so I always make sure to have a coffee with marzipan while I am there. So if you are in Madrid and are thinking about a one-day trip, this is your sign to choose Toledo 🙂