A free walking tour in Madrid you can just do by yourself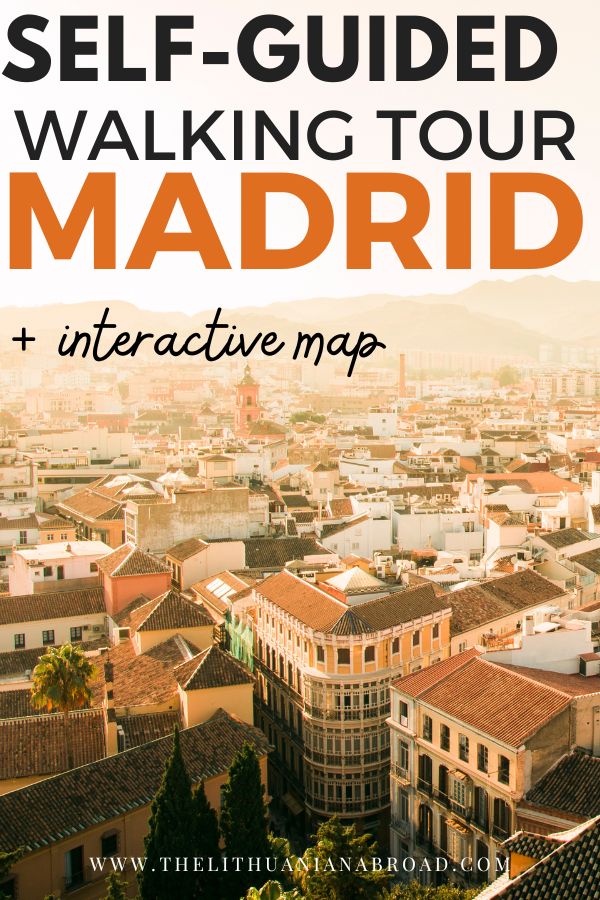 I have said it before and I will say it again: Madrid is not just another boring capital city. It offers so much history, cultural diversity, and beautiful architecture. As you can already tell, I am a huge Madrid fan. I have been living in Madrid for more than four years now, and yes, I am completely in love with this city. And I hope that after doing this self-guided walking tour of Madrid, you will feel the same. Okay, maybe not completely the same. But I hope to give you some insights into Madrid's history and culture. And I made sure you will learn some facts about Madrid you did not know before.
So, if you find yourself in Madrid and want to explore the city in one day, I have the perfect free self-guided walking tour for you. It is perfect if you want to be flexible and prefer exploring Madrid by yourself instead of going with a big group. This walking tour includes the most famous attractions in Madrid and everything you need to know about them. And, of course, I included some food and drink spots on the walking tour as well. Who does not like to enjoy some Spanish food on their Madrid trip, right?
Other blog posts from my Madrid series you need to check out:
104 Cheap activities you can do in Madrid: This is the only low-budget guide for Madrid you need. This post includes (almost) all free and affordable things to do in Madrid. Museums, parks, viewpoints… And so much more!
25 museums in Madrid you can visit for free: Madrid has such an amazing offer of art museums! In this post, I tell you which museums you can visit for free and when. Put these free museums on your bucket list!
Madrid bucket list for first-time visitors: This post is an extensive bucket list with things you have to do when visiting Madrid for the first time. These are the places and activities in Madrid you absolutely cannot miss.
4-day itinerary for Madrid: I wrote this itinerary for having the best 4 days in Madrid. This includes places to stay, things to do in the evening, and even a one-day trip to Toledo. You have to check it out.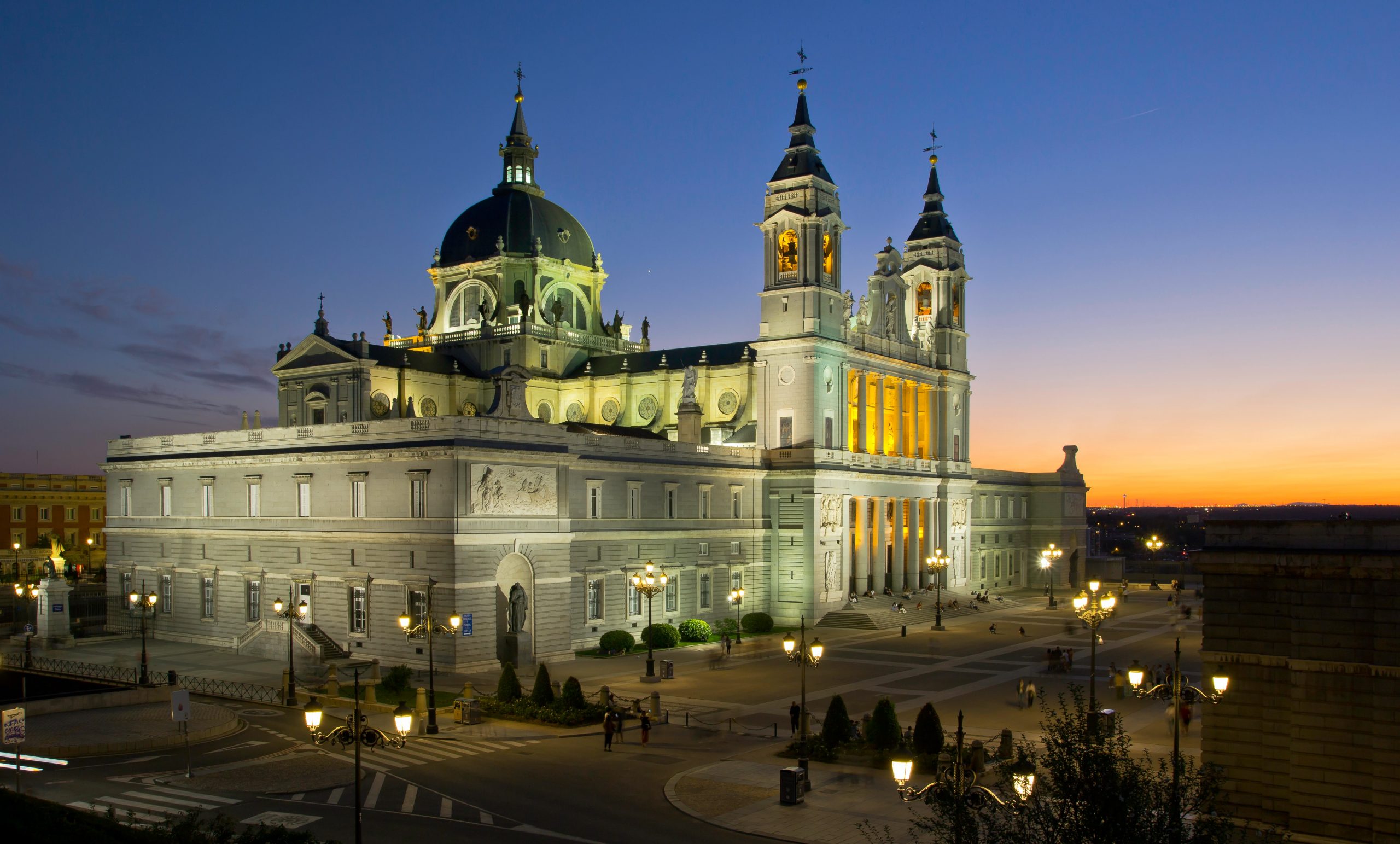 Interactive Map of our FREE Madrid Walking Tour
-> A tour map with today's walking tour you can download on your phone and use on google maps!
To sum it up, our self-guided Madrid walking tour starts at Puerta del Sol, then we head over to Plaza Mayor and walk to the Royal Palace of Madrid. After walking to Templo de Debod we walk the whole Gran Vía, which is the main street of Madrid, to Puerta de Alcalá. The walking tour ends at Retiro Park. There, you can stay longer if you like and keep exploring the park. It is one of my favorite spots in Madrid and definitely worth it.
By the way, if you want to leave your luggage somewhere during your walking tour, you can do this at Locker in the city.
About this free self-guided walking tour of Madrid:
How long is this walking tour going to take?
I organized this walking tour in a way you can see the most important attractions of Madrid. In total, the tour should take around 3-4 hours, depending on how many breaks you take. Of course, the advantage of doing a self-guided walking tour is that you can be flexible with your breaks. If you feel like sitting down and having a glass of wine you can do that. And then just continue with this tour when you are ready!
Can I just do a guided walking tour of Madrid instead?
Absolutely! I have participated in a couple of walking tours of Madrid and I loved them. But I understand that you do not always have the time to join guided tours. This self-guided walking tour is for people that want to be flexible, but still want to see Madrid's must-see places in a short amount of time. I also made sure to include some insider information at each of our stops as well. But if you rather have someone explain Madrid's history in detail and you would like to explore Madrid with a local, these walking tours might be a better fit for you:
You can find all free walking tours in Madrid here.
Is it safe to walk around Madrid alone?
Madrid is a very safe capital city. Like in any other big city you need to look out for pickpockets. Especially in crowded places like Puerta del Sol or Gran Vía I would recommend being extra careful with your belongings. Our walking tour does not lead us through any dark streets or other sketchy places.
1. Start the walking tour at "Puerta del Sol"
Why did I pick "Puerta del Sol" (locals just call it "Sol") as starting point of this Madrid walking tour? Puerta del Sol is the semi-circular main square of Madrid and that's why it is the perfect spot to start the walking tour. It is very easily accessible by metro as it is one of the biggest public transport hubs and in the very center of Madrid.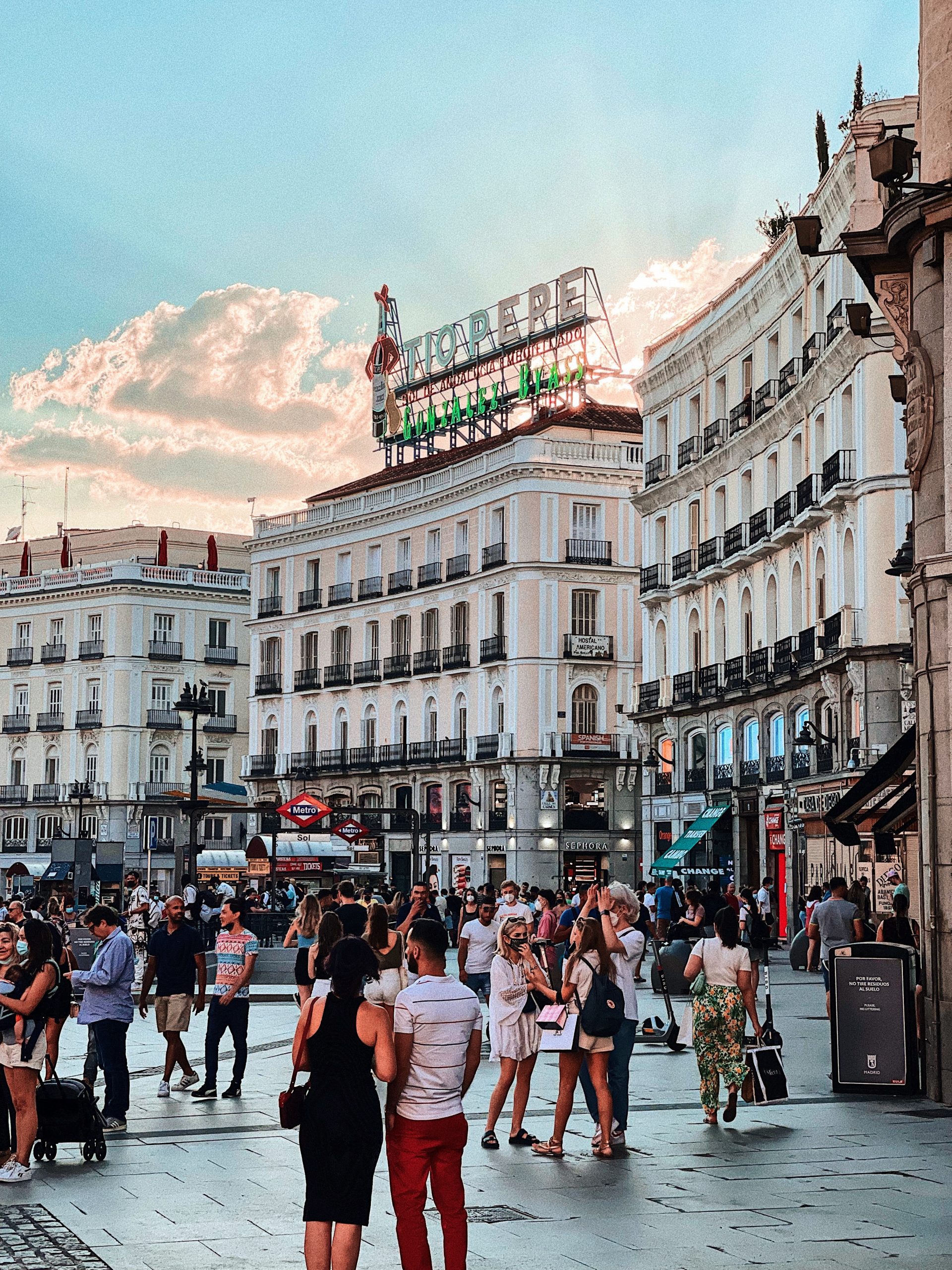 Sol is always busy and there are many things you can do in this big square. Street performers often show their skills, from Mexican Mariachis to breakdancers. Apart from that, here are the things you have to do at Puerta del Sol:
La Mallorquina
La Mallorquina is not a hidden gem of Madrid anymore, but it's still one of the places you really need to check out. This is an old pastry shop that opened in 1894 and since then has been baking one of the best Spanish pastries. If you end up coming here during the morning, try a sweet Spanish breakfast and order a "Napolitana con chocolate", which is similar to the French "pain au chocolat". So flaky, sweet, and delicious. La Mallorquina is also famous for its outstanding "churros con chocolate". I invite you to try Spanish pastries during your stay in Madrid. They are so good!
You can order your pastries to go to continue with our walking tour, sit down at the bar or go upstairs to enjoy your coffee.
Kilómetro 0
Kilómetro 0 is a small hidden gem of Puerta del Sol that a lot of people do not know about. The "monument" is a slab in the pavement located in front of the old post office "Correos" and marks the beginning of the six most important national streets of Spain. If you have trouble finding it, stand in front of the "Tío Pepe" sign and go back until you crossed the street and find yourself in front of the old post office. A great spot for your first photo of your walking tour!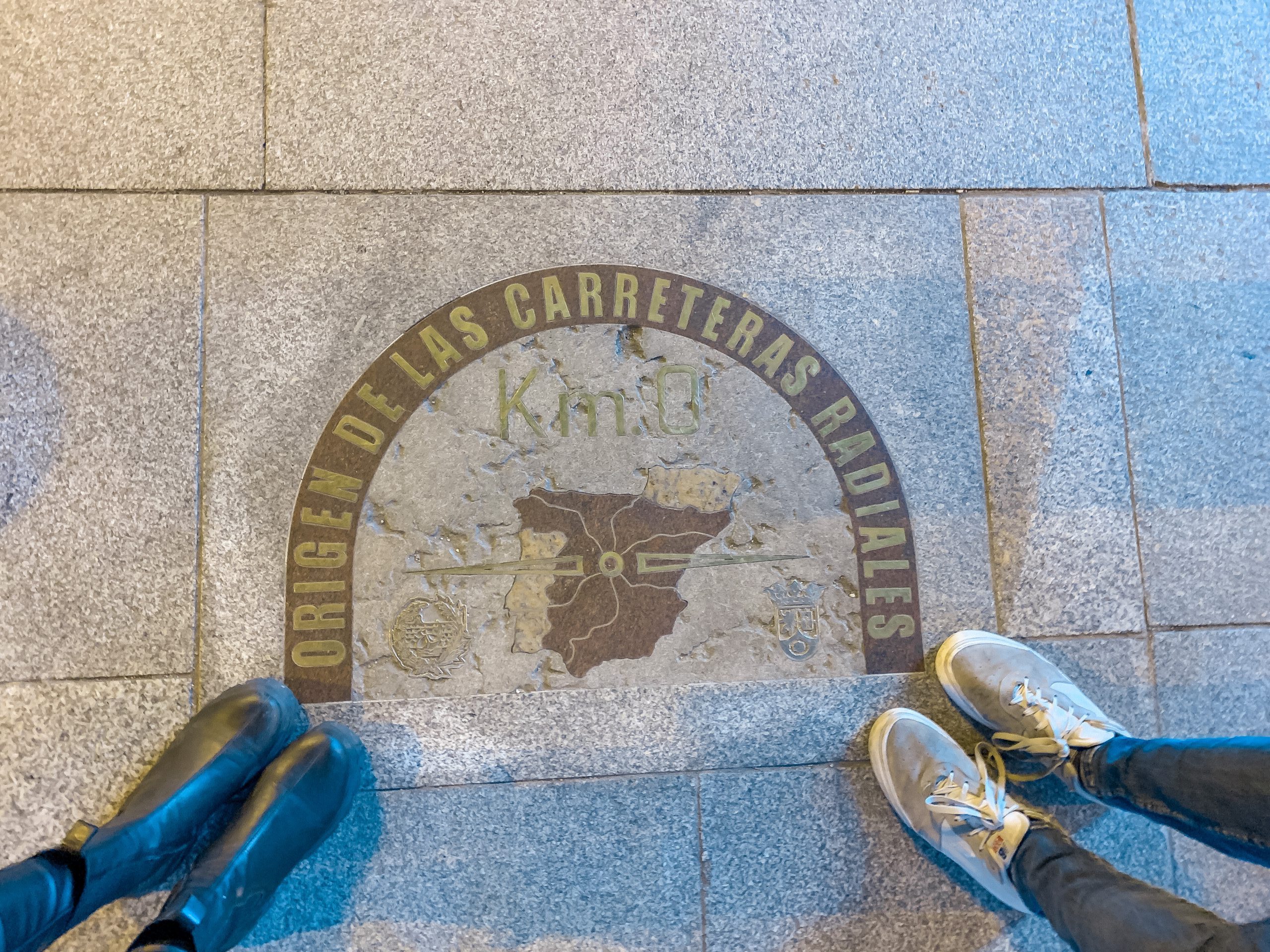 Look for the "El Oso y el Madroño" Statue
"The bear and the strawberry tree?" Yes, that is the correct translation of El Oso y el Madroño. It is one of the main symbols of Madrid and you can find it on many postcards of famous photographs. What about a cool photo standing in front of it?
Take a photo of the "Tío Pepe" sign!
Now, this is one of the most iconic signs of Madrid. And once you see it anywhere, you immediately know you are at Puerta del Sol. Maybe you have heard about it, Tío Pepe is a very famous brand of Andalusian Wine. An interesting fact about the Tio Pepe sign: The building used to belong to "Hotel Paris", which closed in 2006 and therefore, the sign was removed. Many people were upset about it, as the "Tio Pepe" sign is one of the most remarkable signs of Madrid. A petition was started and when 50.000 signatures were collected the city of Madrid put the sign back in its rightful place.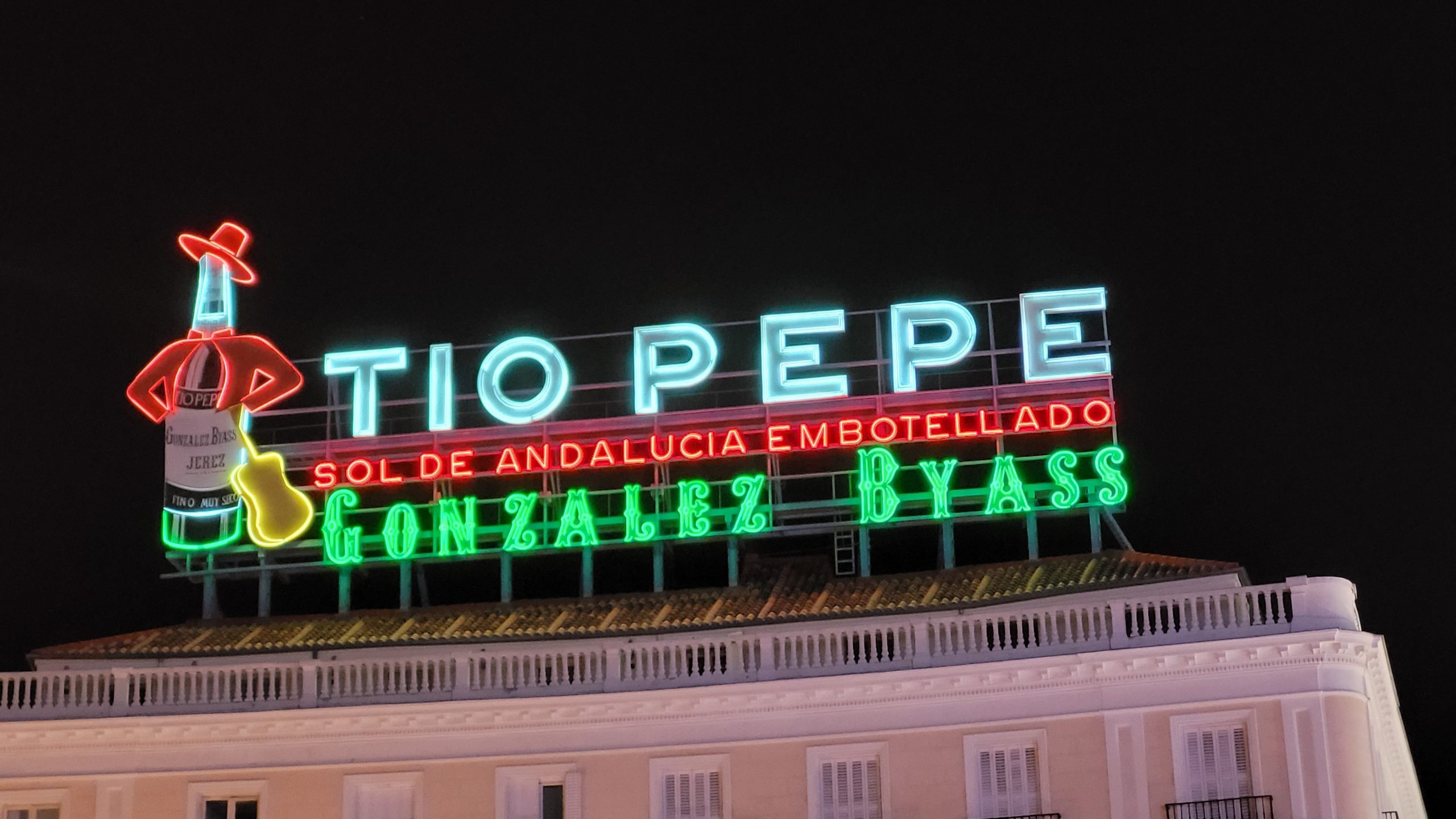 2. Walk to Plaza Mayor
3 minutes walking from Sol
Every Spanish city has a famous Plaza Mayor, which is a must-see place during your city trip. It is a pedestrian plaza that was inaugurated in 1619. Back then, thousands of people would gather in this plaza for trials or other public events. Today, it is mostly a tourist attraction. On special occasions, there are markets or other events, like the Christmas market in December. Notable places are the tourist information on Plaza Mayor, where you can get a city map, ask about day trips or opening hours of other attractions in Madrid. It is open every day from 9.30 am to 8.30 pm.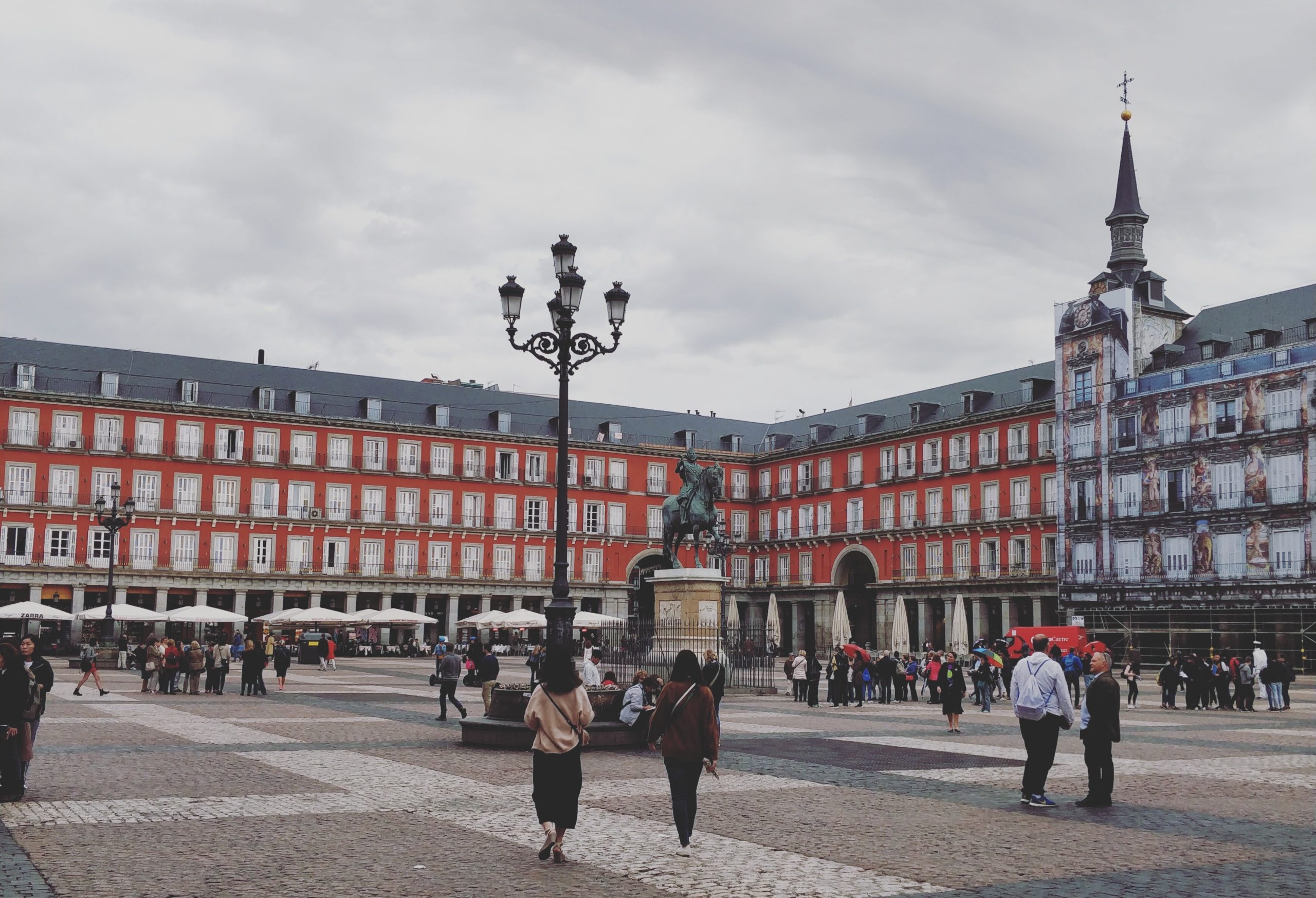 Insider Tip: I do not recommend eating at one of the restaurants at the plaza. They are usually very overpriced and not the best food you will eat during your Madrid trip. Try to skip them if you can.
Have a bocadillo de calamares at Bar "La Campana"
You really cannot leave Madrid without trying a bocadillo de Calamares (Calamari sandwich). This will serve you as a perfect snack during our walking tour. The calamari sandwich is originally from the Andalusian coast, but during the last decades, it become more and more popular in Madrid.
There are many places around Plaza Mayor, but Bar "La Campana" is famous for having one of the best ones. Make sure to stop there for a beer and a Calamari sandwich.
Check out Mercado de San Miguel!
Mercado de San Miguel is Madrid's most popular food market, which is located right next to Plaza Mayor. This market offers everything you could ask for from Iberian cuisine: The best cheeses, fresh seafood from Galicia, and, of course, the best Spanish wine. If you do not want to buy anything there, that is totally fine, too. But I really think you should have a look at it.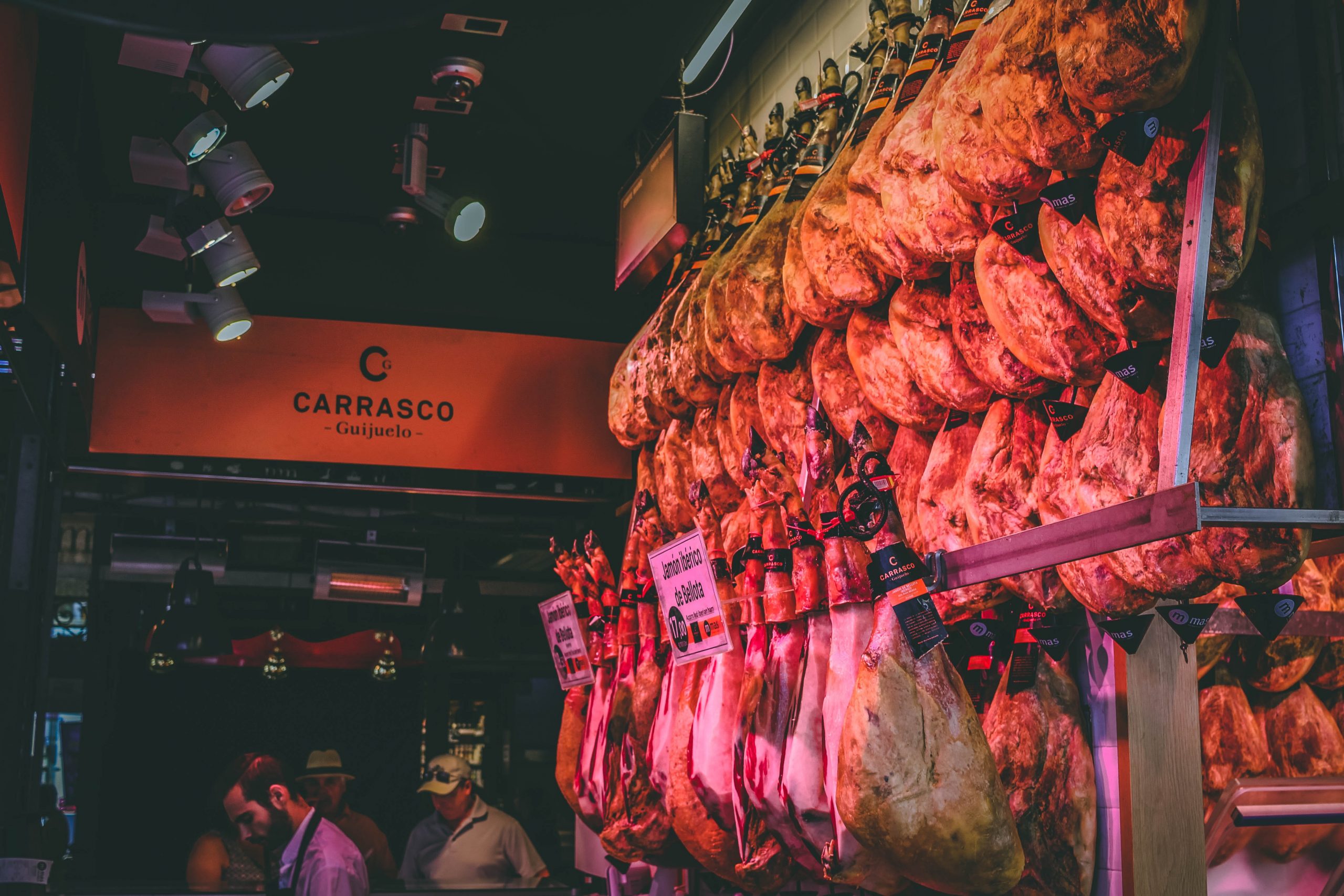 3. Our next stop: Pass by Opera and stop at Plaza Oriente
10 minutes walking from Plaza Mayor
Plaza Oriente is a beautiful square behind the big Opera building in Madrid. It consists of a small garden where you can walk around and admire the beautiful statues. The most important statue at Plaza Oriente stands right at the center and is from Kind Philip IX.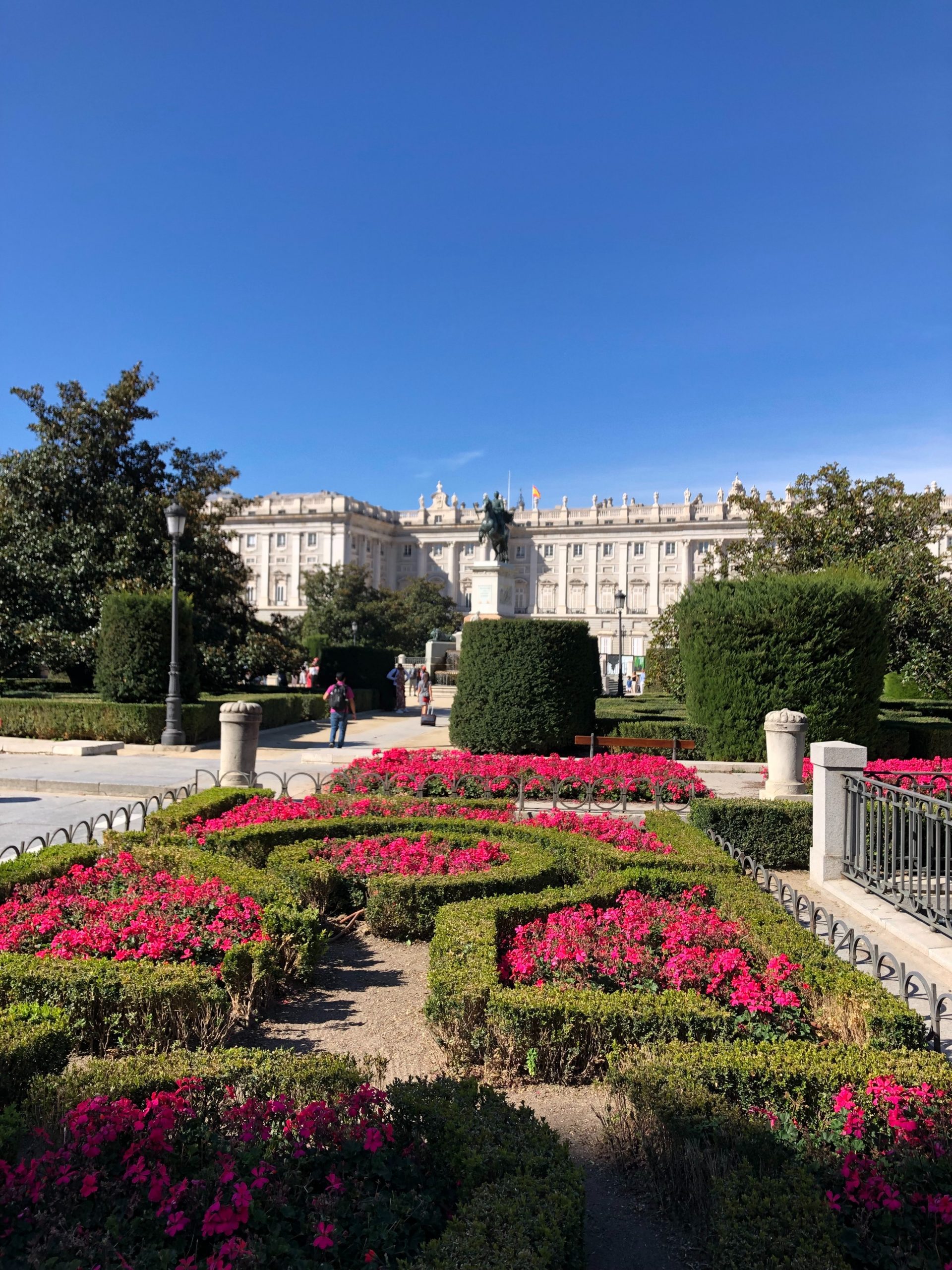 Interesting Fact: Did you know that a statue with a horse standing on its back legs was an innovation during that time, but King Philip IX insisted on it. So the sculptor in charge got help from Galileo Galilei himself.
Another reason why this plaza is a stop during the walking tour is the beautiful view it has of the Royal Palace. I would suggest sitting down at one of the restaurants for a refreshing tinto de verano. Another option would be to try the ice cream at Zúccary. One of my favorite ice cream spots in Madrid!
4. Head to Plaza de la Armería: The Royal Palace and the Cathedral of Almudena
5 minutes walking from Plaza Oriente
Our next stop will be Plaza de la Armería. Here, we are able to see two of the most important attractions in Madrid: The Royal Palace and the Almudena Cathedral.
The Royal Palace of Madrid, twice as big as Buckingham palace!
The Royal Palace of Madrid is one of the most important sights of Madrid. Of course, the Royals do not live there anymore. But you can still enter and see how the monarchs in Madrid used to live a couple of centuries ago. Do you also feel like it is bigger than you expected it to be? It is almost twice as big as Buckingham Palace!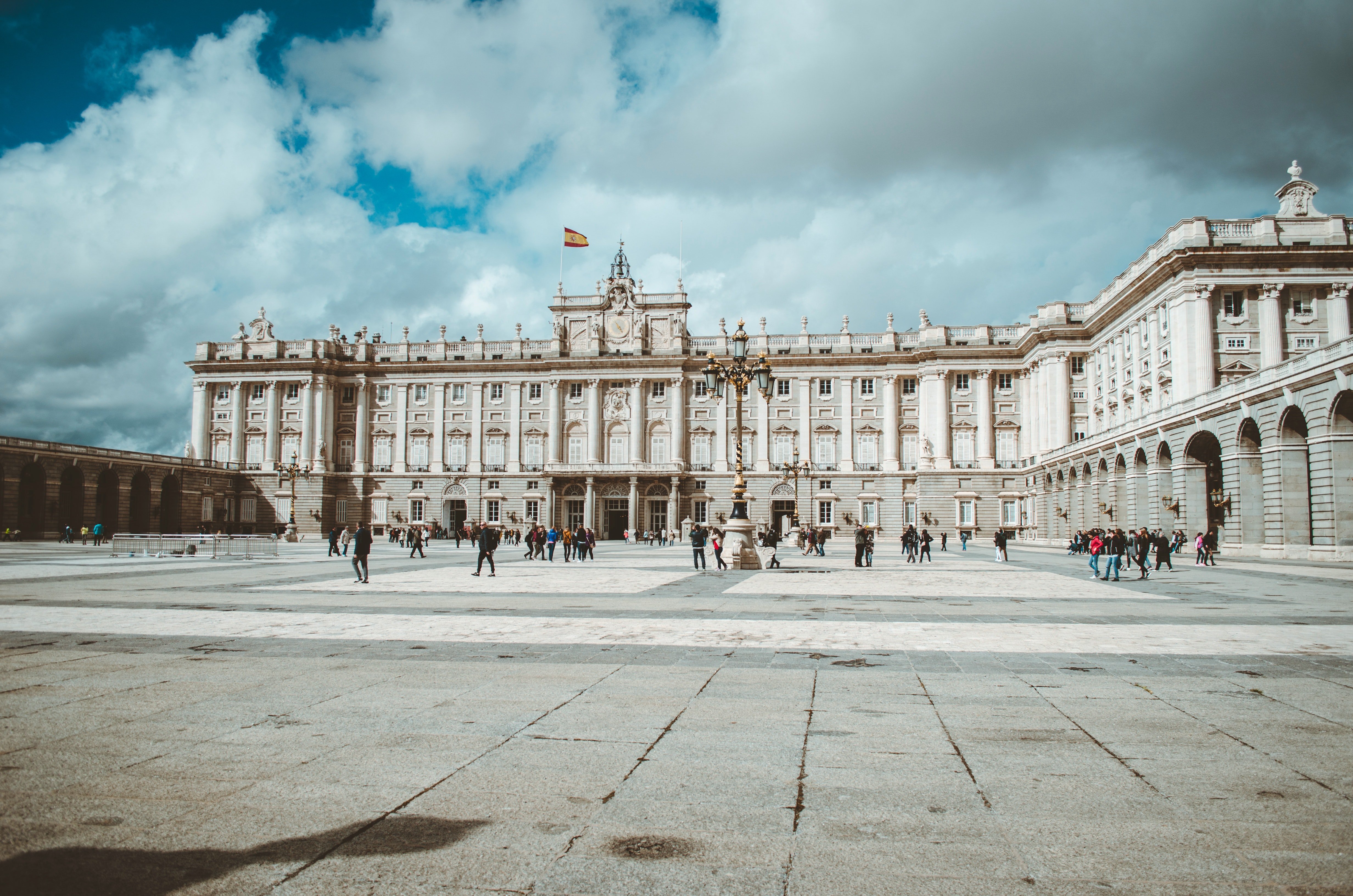 Insider Tip: You can visit the Royal Palace in Madrid for free if you come during the last two opening hours. 
October-March: Monday-Thursday 6 pm-8 pm April-September: Monday – Thursday 5 pm-7 pm 
Visit Madrid's cathedral: Catedral de la Almudena
The Cathedral of Almudena is right across from the Royal Palace on the Plaza de Armería. It is named after the Virgen of Almudena, who is the patron saint of Madrid. You can enter the cathedral for free, but you are asked to leave a small donation. I would invite you to sit down for a couple of minutes at the stairs of the cathedral to take in the beautiful view of the Royal Palace. Take a break and enjoy the street performers at this plaza.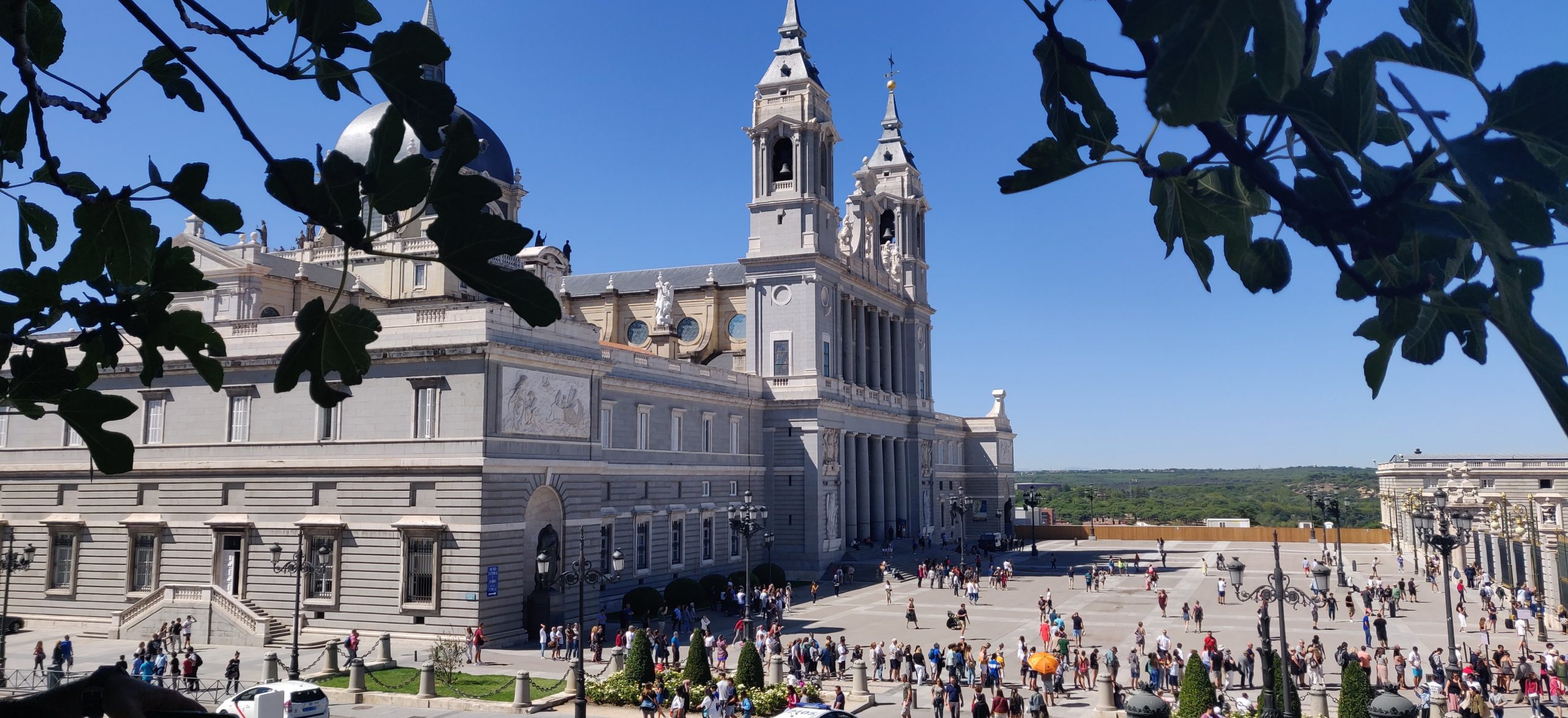 Check out the stunning views at Mirador de la Cornisa del Palacio Real
This is a very special place right between the cathedral and the Royal Palace! This viewpoint was closed for years until it was reopened at the beginning of 2021. You should definitely check it out for amazing views. The lighting during the evening is very beautiful!
5. Let's walk to Templo de Debod: An Egyptian Temple in the centre of Madrid
15 minutes walking from Plaza de la Armería
Templo de Debod has always been one of my favorite places in Madrid. And one insider tip: It is perfect for watching sunsets. It is a temple that was gifted to Spain by the Egyptian Government for Spain's help in building the Aswan High Dam. It has been open to the public since 1972. If you have the patience to wait in line, you can even look inside the temple.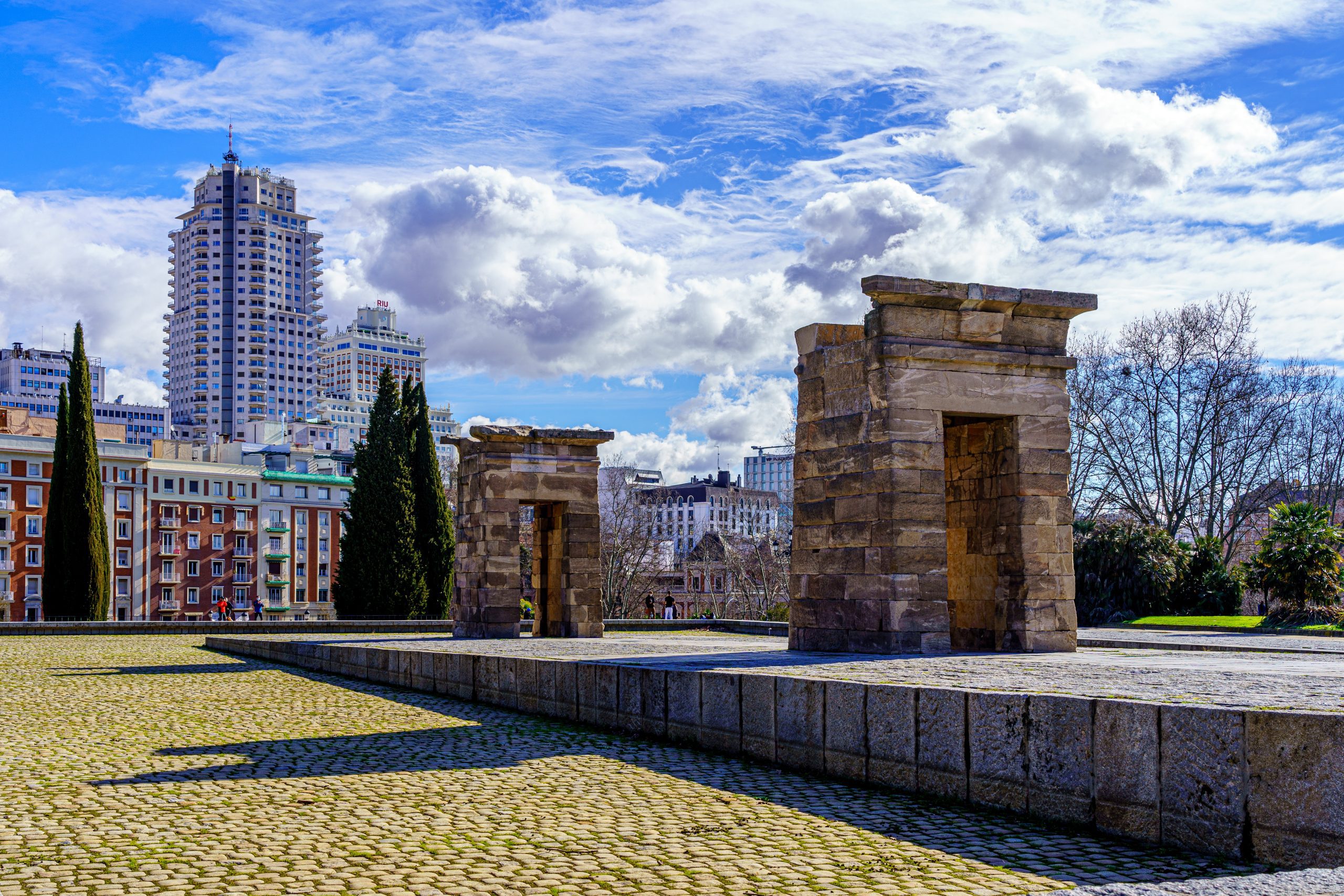 The area around Templo de Debod is perfect for having a little break and relaxing under the sun. The views of the Palace are very beautiful as well. Especially during sunset, many people gather around the temple to have one of the best sunset views of Madrid. And to be honest, it is the perfect Instagram spot as well.
6. Check out the NEW Plaza de España
6 minutes walking from Templo de Debod
You will probably be one of the first people that will see the NEW Plaza de España after its reopening in November 2021. I moved to Madrid four years ago and it has been a huge construction site almost all of the time. Why? They started works on the Plaza in 2017 that were only supposed to take 18 months. But the construction workers ended up finding an archaeological site, which forced the architects to change their initial plans.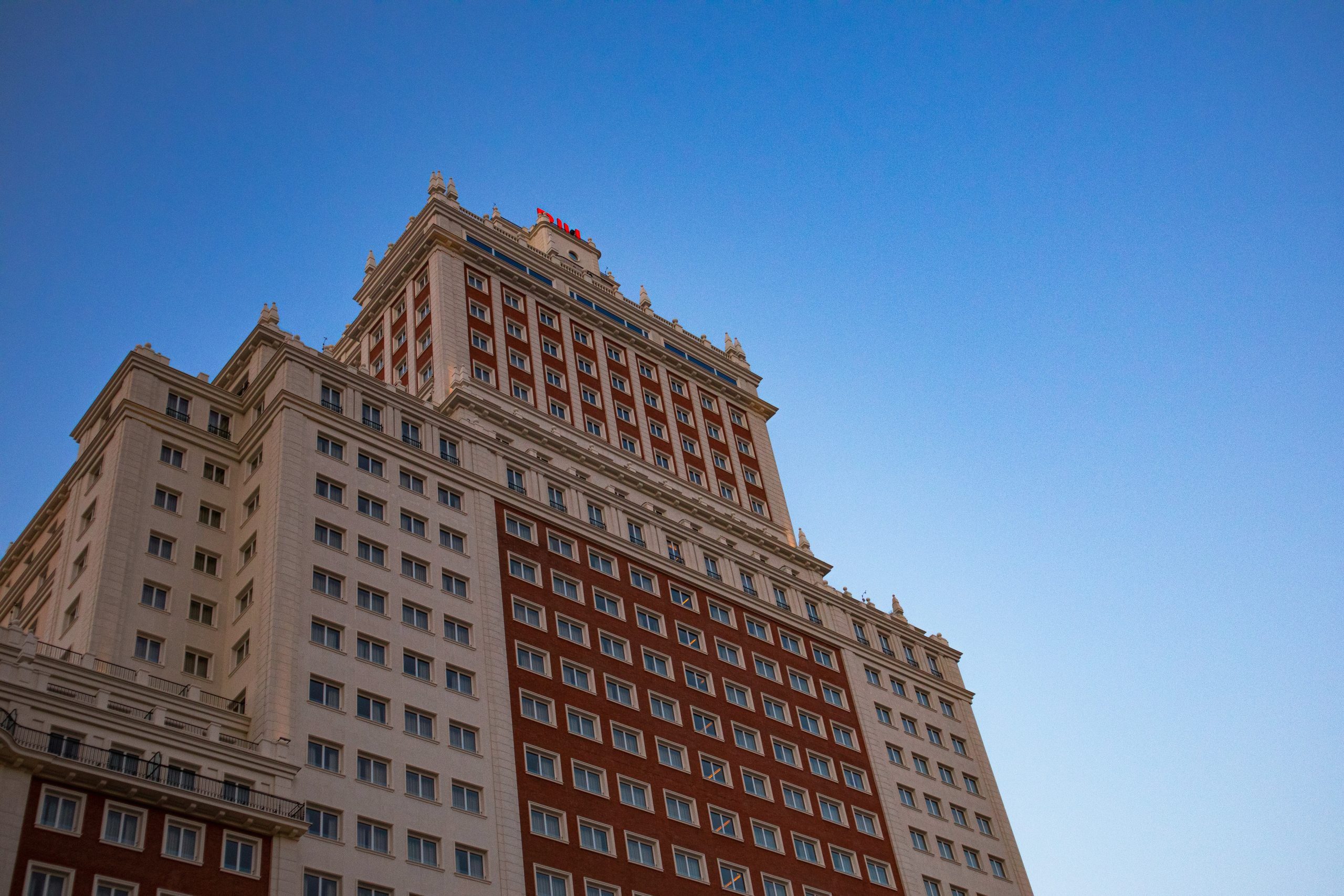 But now, in November 2021, the construction is finished and the Plaza de España in Madrid will be reopened for the public again. Plaza de España is a big square, that will serve as a new green place in the city center of Madrid. By the way, how great is it, that the plaza will only be accessible for pedestrians?!
7. Head over to Plaza de Callao, the Time Square of Madrid
10 minutes walking from Plaza de España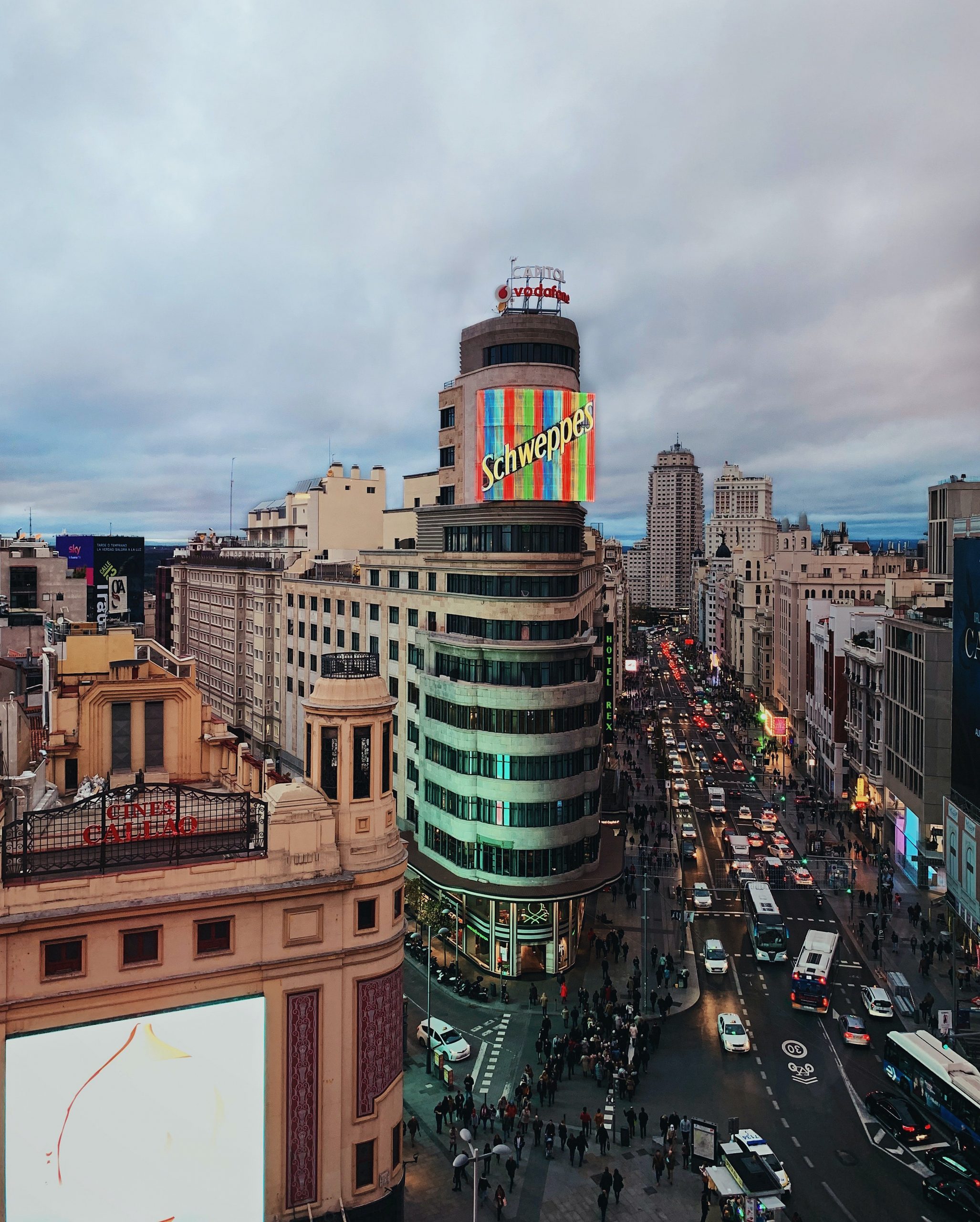 Before we walk to the main street of Madrid, Gran Vía, let's do a small stop at Plaza de Callao. Callao is a square right at Gran Vía, which is surrounded by many tall buildings. Check out the iconic "Edificio Capitol" (the building with the Schweppes letters), that you probably have seen on postcards before. If you feel like going shopping, you can check out the shops in Calle Preciados.
8. Walk through Gran Vía and admire Madrid's skyscrapers!
Right next to Callao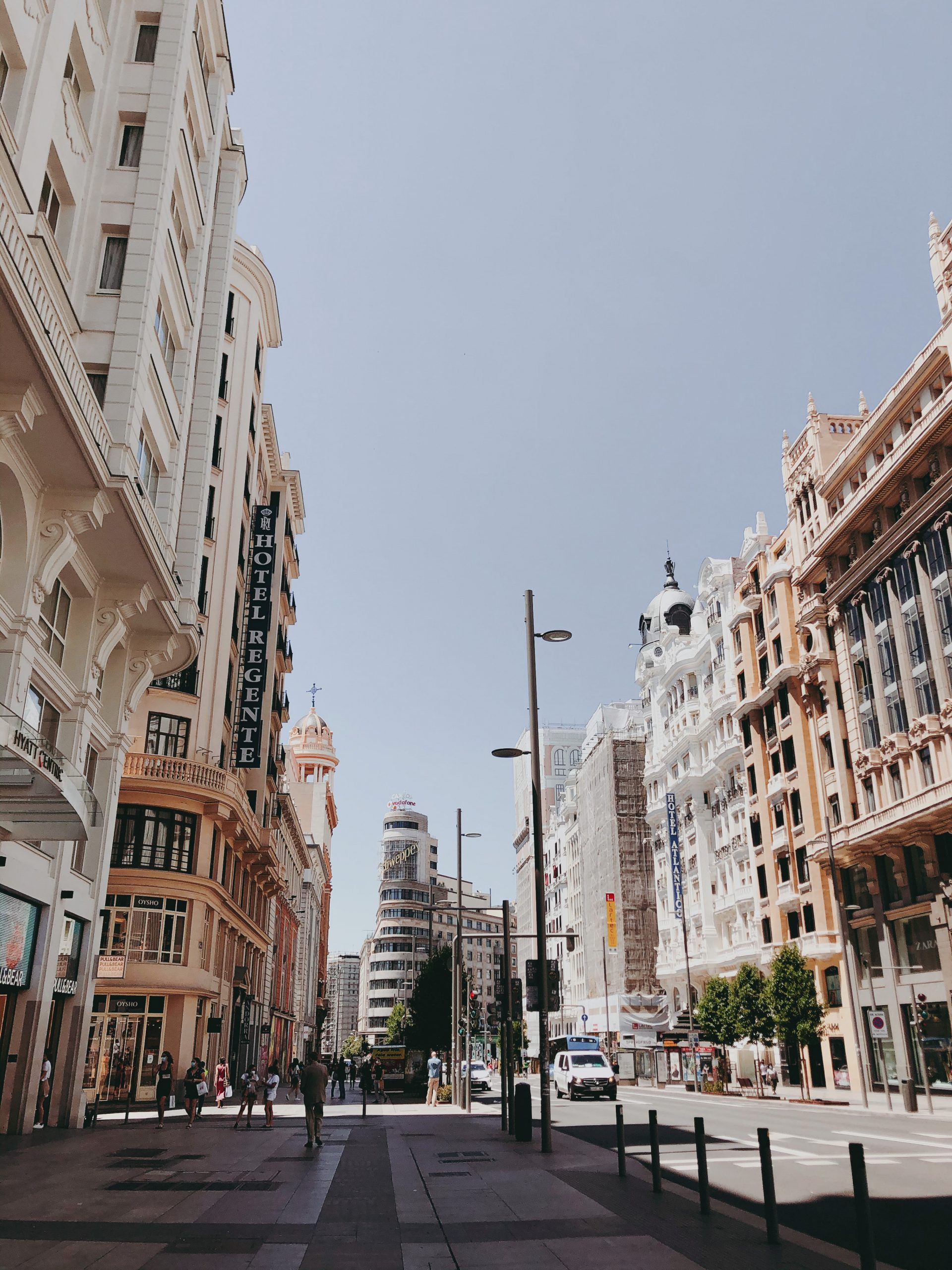 Now you get the chance to walk from Callao to Banco de España. This way takes us through Gran Vía, the main street of Madrid. You will find yourself walking between many skyscrapers, no wonder many people call this the "Broadway of Madrid". Up to the 60s, Gran Vía was the most important shopping street of Madrid as it was full of boutiques and other expensive shops. Today, you will find many clothes shops, cinemas, and souvenir shops on Gran Vía. And, of course, theaters!
At the end of Gran Vía is the famous "Metropolis Building". It is one of the most beautiful buildings of Gran Vía. A perfect place to take a memory photo of Madrid.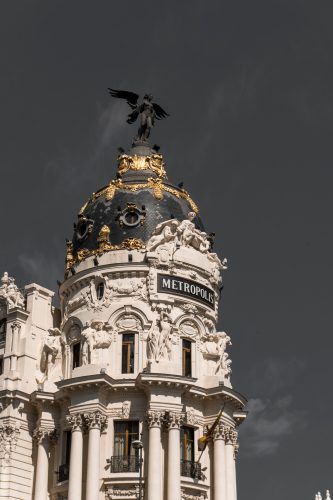 9. Make a short stop at 'Plaza Cibeles' and check out 'Palacio Cibeles'
12 minutes walking from Callao
Our next stop is "Plaza Cibeles", which is a complex of neoclassical figures and a fountain. Did you know this is where the Real Madrid football team celebrates their victories? The beautiful building you can see at this square is called "Palacio Cibeles" and is the seat of the city council of Madrid.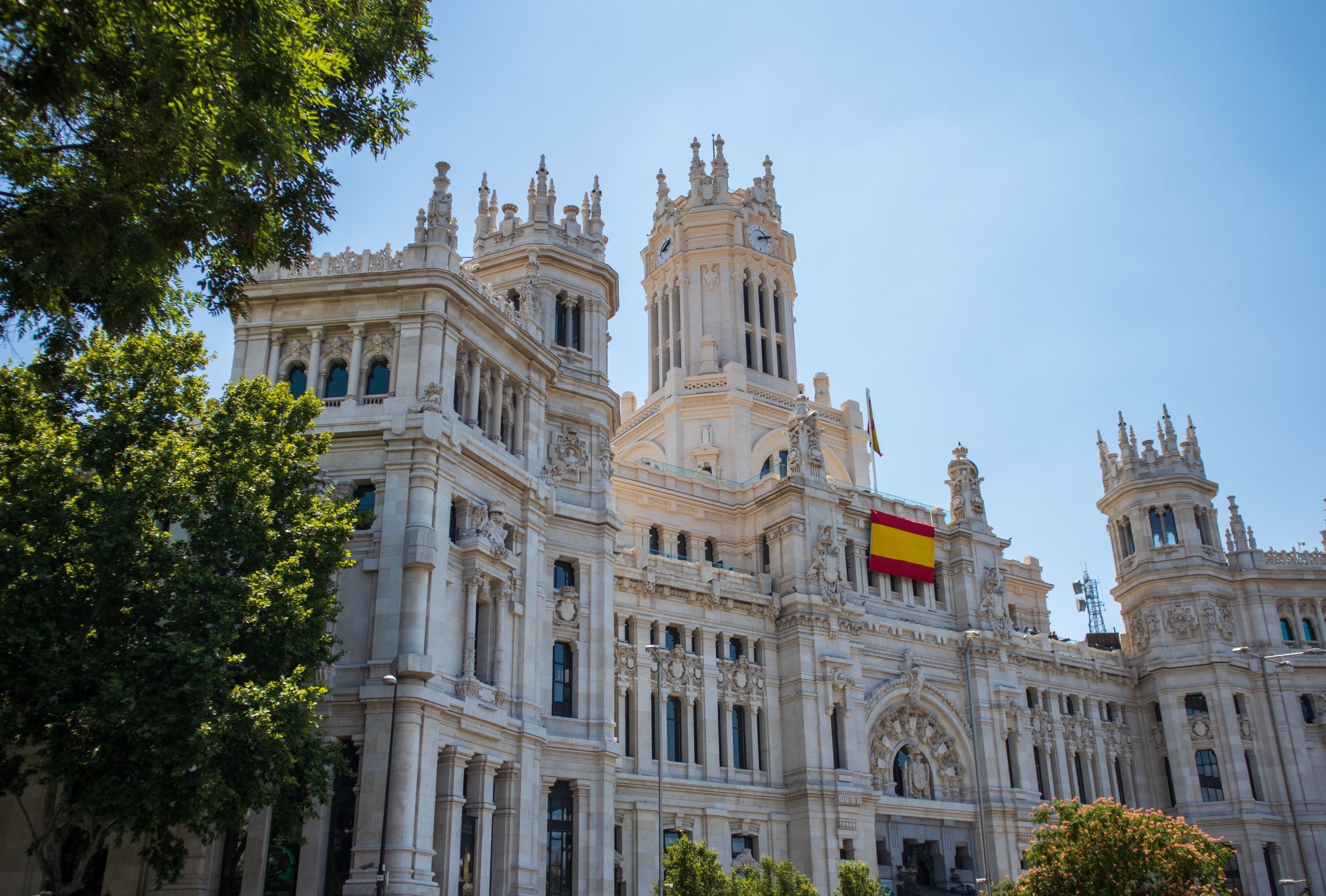 You can enter the palace for free and look at their temporary exhibitions. There is also a rooftop bar where you can have a drink and enjoy the views over Plaza Cibeles from above. One of the best viewpoints in Madrid! The entry costs 10€ and comes with one drink.
Another roof top bar that is really popular is Terraza de Círculo de Bellas Artes. The entry costs 4€ and the views are just as spectacular!
10. Go to Puerta de Alcalá for the ultimate Instagram Spot
7 minutes walking from Plaza Cibeles
Puerta de Alcalá is a monument of a neo-classical on the Plaza de Independencia. It stands right next to the entrance of Retiro Park, which will be the last stop of our self-guided walking tour of Madrid.
This 18th-century gate is one of the five gates that was used for entering and leaving Madrid when Madrid still had city walls. Today, it stands on a very busy intersection and is right next to the beautiful neighborhood of Salamanca. There are many restaurants at this plaza where you can sit down and have a coffee.
When you cross the street in order to go to the entrance of Retiro Park, there is a spot where you can take a photo with Puerta de Alcalá in the background.
11. The Retiro Park, the end of our self-guided Madrid walking tour!
1 minute walking from Puerta de Alcalá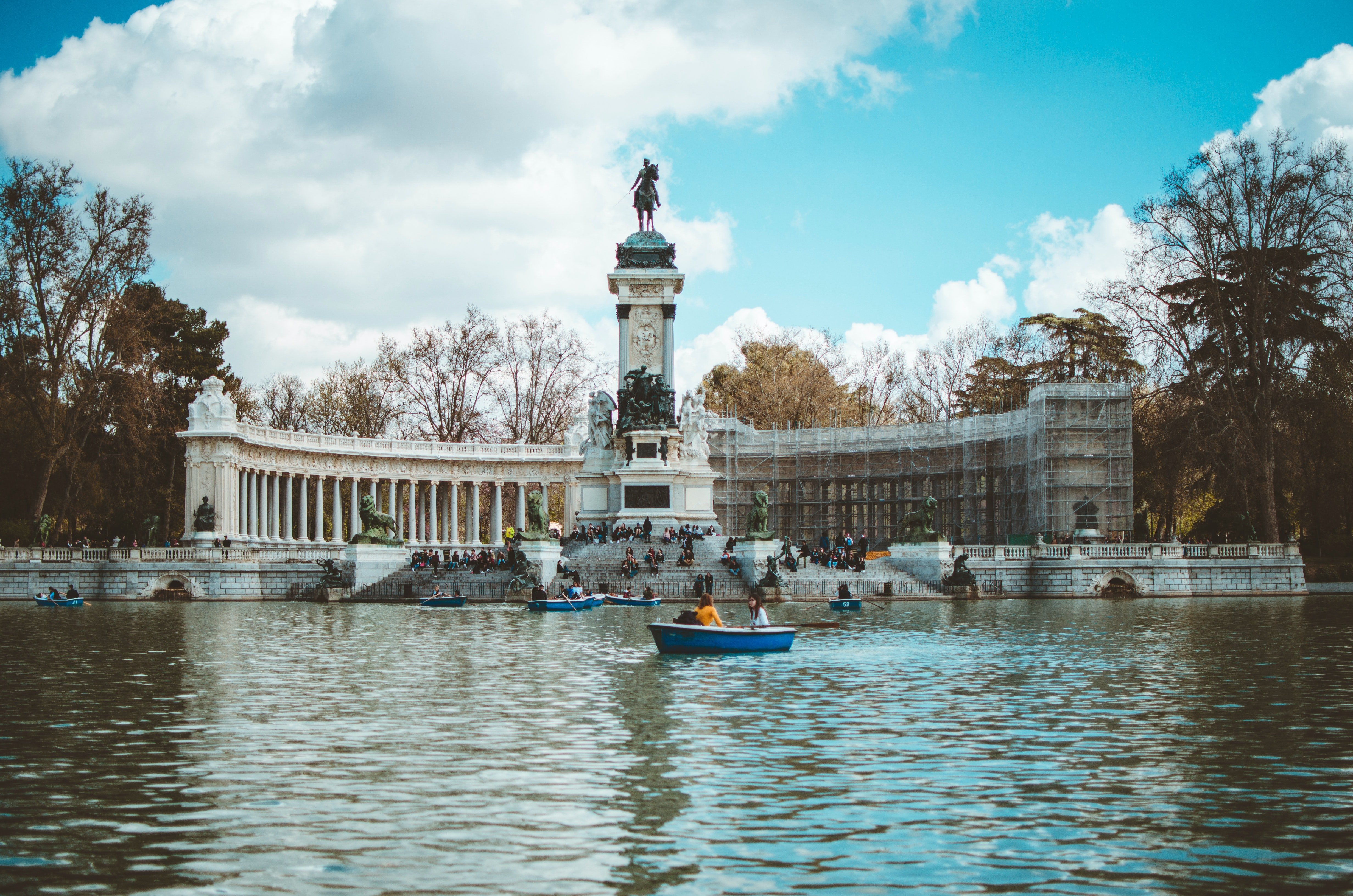 The Retiro Park is Madrid's most popular park, which used to belong to the Royal Family, but now is available to the public. It is one of my favorite spots in Madrid, and a place where you can escape the busy city for a while. There are several attractions in Retiro Park which you have to see:
La Rosaleda – The Rose Garden in the Retiro
The Retiro Park has its own rose garden with more than 4000 rose plants in all shapes and sizes. Especially, if you come to Madrid during the warmer months you need to check this place out. This romantic park is perfect for taking photos.
Palacio de Cristal
Palacio de Cristal is a conservatory in the center of Retiro Park that is currently used for temporary art exhibitions. It currently features an exhibition on Colonialism, that you need to check out.
Monumento de Alfonso XII
This is the perfect spot for sunsets in Retiro Park. It is a big monument at the shore of Retiro lake. In the evenings there is usually live music. I would recommend sitting down and watching the little boats on the lake for a little while.
If you want to extend your self-guided walking tour of Madrid:
How about going to some of Madrid's famous art museums? Once you are already in Retiro Park, the Reina Sofia Museum and the Prado Museum are only a short walk away!
---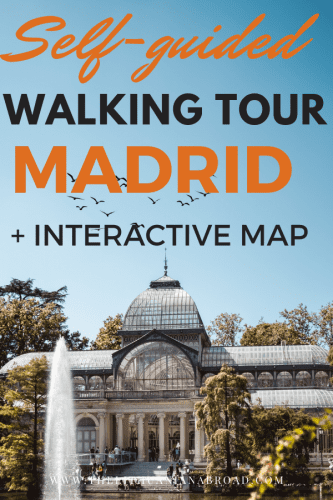 And this is where our self-guided walking tour of Madrid ends! I hope you enjoyed this little tour and I was able to give you a couple of insights about my favorite city on this planet. After you have been walking the whole day you absolutely deserve a nice glass of wine and some traditional Spanish tapas. Please, let me know if you liked this tour and what your favorite stop was. See you at my next post!