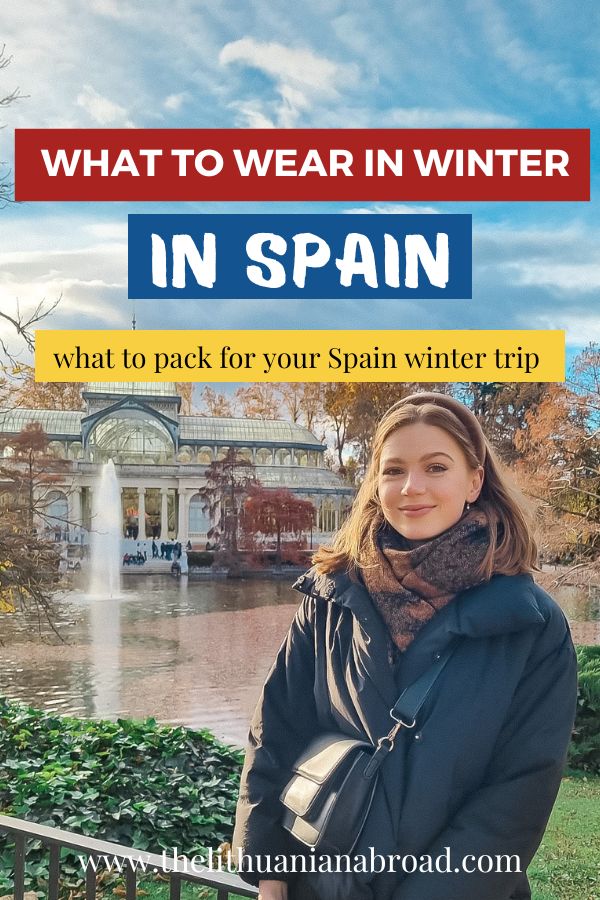 When I moved to the North of Spain I was mindblown when one morning I looked out of the window and I saw snow. SNOW? In Spain?! Yes, that's a thing. While snow in Spain is not that common, that was probably the day when my dream about Spain being this beautiful, sunny, beach destination shattered into a million pieces. Even though winter in Spain is by far not as hard compared to other countries in the north of Europe, you still should prepare yourself when visiting during the winter months. In this blog post, I will tell you what to wear in Spain in winter. And what do you have to pack if you don't want to catch a cold during your Spain trip.
I have been living in Spain for more than six years now. Which means I witnessed mild and not-so-mild winters in this country. But don't worry! We will talk about the different temperatures in the North and South of Spain. Let me tell you a secret: The weather differences depending on where you go can actually be very big!
So let's jump right into it: What should you wear in Spain in winter? 
---
Affiliate links may be sprinkled throughout the free content of this blog post. If you purchase from one of the links I may receive a small commission while the price for you stays the same. This helps me cover the costs of The Lithuanian Abroad. Gracias!
Other blog posts about traveling to Spain you should check out: 
Tipping in Spain, how to not embarrass yourself: This blog post talks about tipping customs in Spain. Here, we talk about when and how much people tip in Spain. And is tipping actually obligatory?
Barcelona bucket list with 20 incredible activities: This blog post includes a bucket list with 20 incredible activities you can do in Barcelona. This list includes Gaudí buildings, museums, and many more things. 
35 funny sayings in Spanish that will blow your mind: If you love languages just as much as I do you should check out this list of funny Spanish expressions. Perfect if you want to prepare for your Spain trip!
Gifts & Souvenirs from Madrid for your family and friends: This blog post is all about different souvenirs and gifts from Madrid you can bring to your family and friends back home. Check it out!
Make sure to sign up for a free walking tour during your Spain winter trip
Everyone knows I am a huge walking tours fan, so I would like to talk about them here. They are the perfect plan for your winter holidays if you want to explore Spanish cities and learn about their history. How do free walking tours work? Free walking tours do not come with a fixed price, that's why they are free.
The past part of free walking tours are the local guides. You will spend a couple of hours with your local guide exploring the city and learning about its history and hidden gems. At the end of each tour, you have the chance to leave your local guide a tip. And how much you would like to tip is totally up to you. It usually depends on how much you liked the tour and what your budget is. My top recommendation for everyone that wants to explore a city from the eyes of a local!
The home page of free walking tours. You can find many different cities there.
Let's start: What to wear in Spain in winter? 
First: Let's have a look at the temperatures
Good news! Winter in Spain is relatively mild, compared to other countries in Europe. But, as mentioned in my experience earlier, it really depends on where you go in Spain. The mainland of Spain has many mountain areas which lead to different climates in the country. If you are thinking about what to wear in Spain in winter, take the following table into account:
When looking at Spain, we can find five types of different climates: 
The Atlantic coast (e.g. Bilbao, Gijón): Cool, humid, and rainy. The humidity makes it feel much colder than it actually is
The central area of Spain's mainland (around Madrid): Very hot summers and cold winters
Mediterranean climate in the coastal areas of the South and East (Málaga, Barcelona, Valencia): mild and sunny winters 
The mountains of the Pyrenees and Sierras: cold climate, variations depending on the height
Andalusia, where we can find African climate: mild winters, that don't even feel like an actual winter
As you can tell, when we go e.g. from Madrid to the South of Spain, the climate might totally change. And of course, that's something you have to consider when packing your suitcase for your winter Spain trip. 
Madrid
Barcelona
Valencia
Málaga
Alicante
Bilbao
Temperatures in
Winter in Celcius
4 C – 12C
6 C -15 C
6 C – 16C
8C-18C
7C – 18C
6C -15C
Temperatures in
Winter in Fahrenheit
39F – 54F
43 F – 59F
43 F – 61 F
46 F – 64 F
45 F – 64 F
43 F – 59F
Average coldest and warmest temperatures during the winter months per city
What to keep in mind when packing for your Spain winter trip
Many apartments and places to stay do not have a dryer. Keep that in mind when packing for your trip! Take enough clothes with you as you have to wait for your clothes to dry.
Even though it is sunny during the day, the temperatures drop in the evening. Make sure to always take a jacket with you, even though the day looks like spring!
Visiting Spain is all about spending time outside, during winter as well. Dinners outside, tapas outside, breakfast outside. Most restaurants have heating lamps but prepare yourself on spending a lot of time outside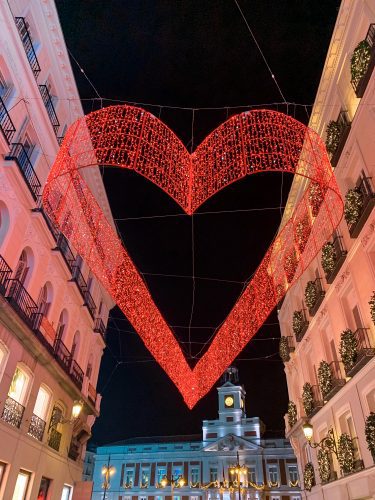 What to wear in Spain in winter: The Capital Madrid
I have been living in Madrid for more than five years and every year I am surprised by how cold it gets during winter. If you plan on visiting Madrid in winter, be prepared for fresh days and cold nights. 
When deciding what to wear in Madrid in winter, bring your winter jackets, coats, gloves, and hats! When it comes to shoes, I personally think it's too cold for sneakers, and would bring boots as well. 
Make sure to bring gloves you can still use your smartphone with! These gloves are great because you can still use your phone when you wear them. That will make it easier to navigate through Madrid and take pictures. 
While the weather might look nice during the day it really gets fresh during the evening, once the sun goes down! Make sure to take a jacket with you when you want to spend time outside. Even though the weather might look nice during the day. Don't forget, it's still winter!
But the temperatures are great if you want to grab food outside and enjoy a nice winter day in Madrid. Thankfully, many restaurants that serve food outside have heating lamps.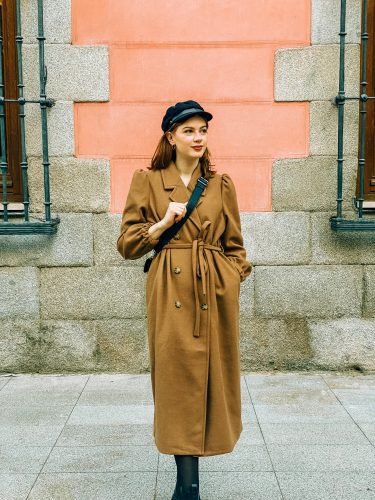 What to wear in Spain in winter: Barcelona
Let's change our Spain winter destination and talk about another city in Spain: Barcelona. Barcelona, being a beach city, has very mild winters. Forget about these crazy temperature changes in one day we have in Madrid. Winters in Barcelona are not too cold, making it the perfect destination for a Spain winter weekend trip. 
This is the perfect weather for beach walks and exploring the city of Barcelona. While it does not cool down too much, I would still recommend bringing a jacket, just in case. Another important tip from my side: Comfortable shoes! Barcelona is an incredibly walkable city. So appropriate footwear will be key!
When I go to Barcelona in winter, I usually take a trench coat and sneakers. My boyfriend likes to move around Barcelona on a motorcycle. There, I would advise having a scarf with you. The air can be a bit fresh, especially during the evening.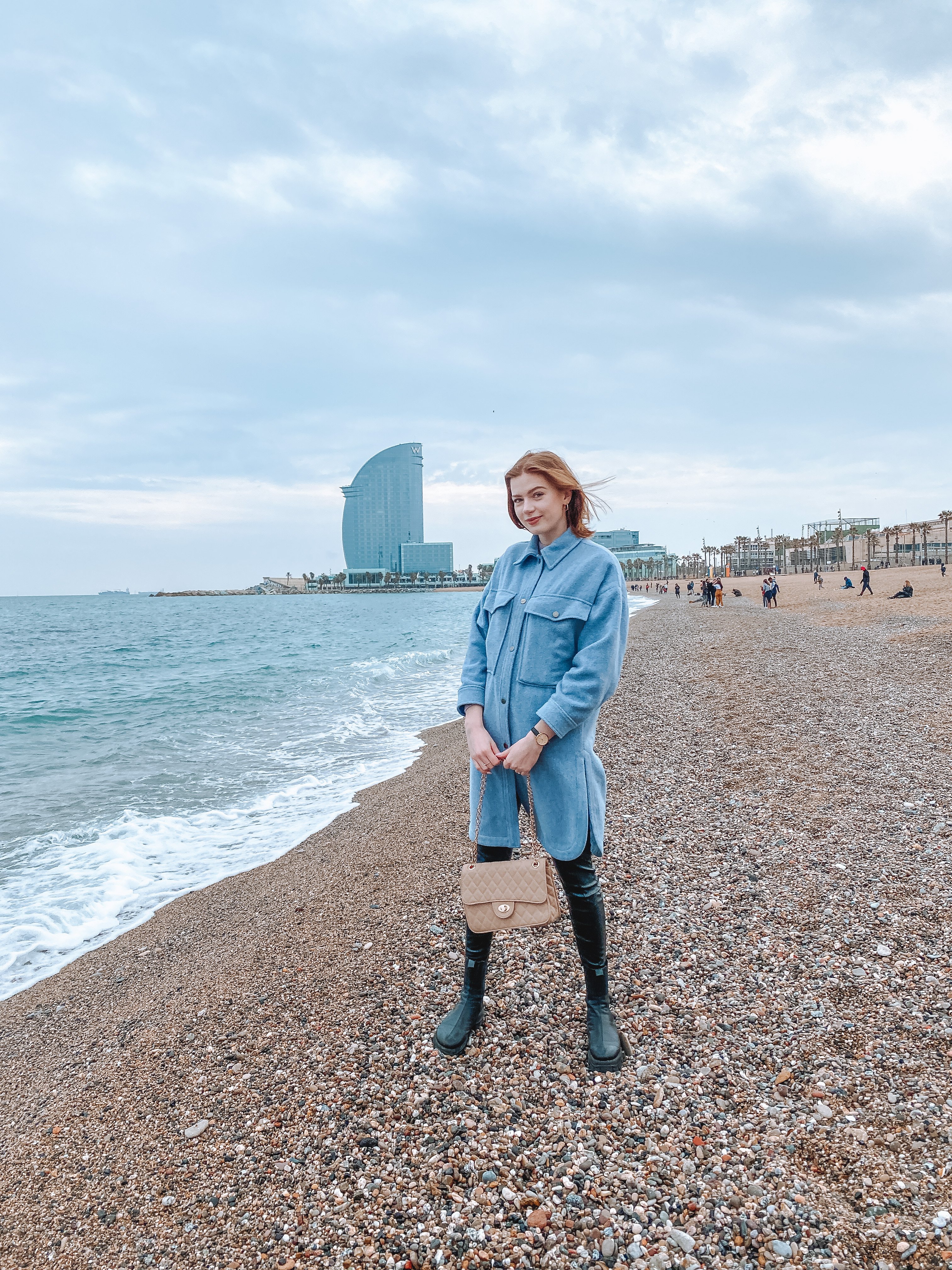 What to wear in Spain in winter: Santander, the North of Spain
My boyfriend and I visited Santander two years ago in February, and we had a fantastic time there.
Santander, being in the North of Spain at the Atlantic Ocean, gets very fresh temperatures. The wind and humid air make it feel colder than it actually is. Here, you absolutely should bring jumpers and windbreakers. You do get a lot of sun during the winter months, but it makes it a bit hard to enjoy it as the wind can be very harsh. I have to admit, I get cold very easily. But I had to leave our hotel every day wearing a huge scarf.
The North of Spain in winter is known to have plenty of rainfall. I do advise bringing a proper umbrella. I mean an umbrella, that is not going to break in the wind right away!
I wrote a detailed blog post about visiting Santander, which you can find here.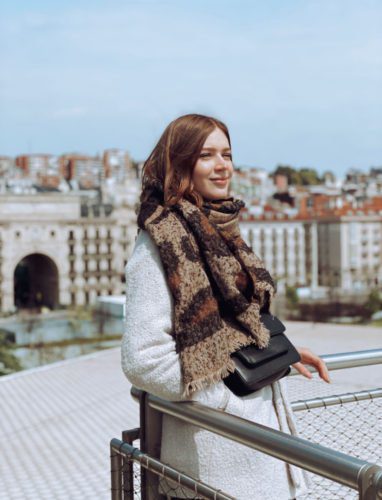 What to wear in Spain in winter: Canary Islands
Good news: The Canary Islands in Spain are the perfect winter destination. I have been to Tenerife in February a couple of years ago and enjoyed perfect weather, similar to spring in mainland Europe. 
During the day, I was walking around in short skirts and blouses. During the evening, I had to make sure to change into long pants and take my jeans jacket with me. But all in all, there are no big temperature changes throughout the day in the Canary Islands. 
(I would check when visiting areas of higher altitude like "Teide" in Tenerife. It does get colder once you reach higher altitudes)
I published a whole series about visiting Tenerife that you can find here. Full of useful information, itineraries and more!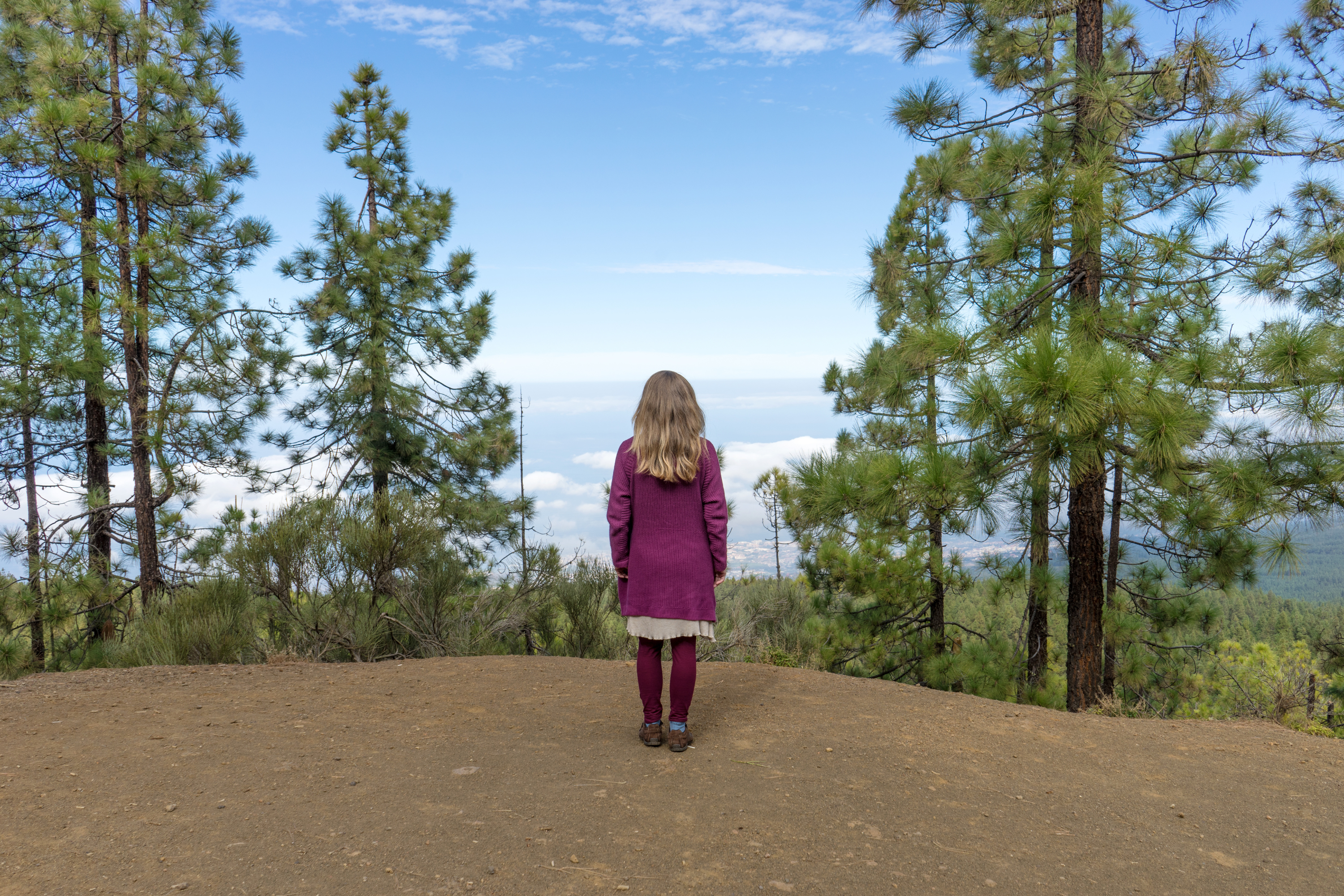 What to wear in Spain in winter: the Balearic Islands
The Balearic islands of Spain are perfect for a winter trip if you want to have a relaxed time and avoid the crowds of tourists in the high season. During the last few years, I have been to Mallorca in February and March and enjoyed the mild winter temperatures. 
The Balearic Islands have very hot summers, but mild winters. I do advise bringing a jacket and proper footwear here as well. During winter, I found the Balearic islands to be quite windy. I had to make sure to wear my short coat and scarf most of the time. 
Should you pack a bikini for the Balearic islands in winter? I have seen some brave tourists going for a swim. The locals were absolutely surprised and honestly, just by looking at them, I had shivers running down my spine. In my opinion, it is too cold to go swimming during the winter months…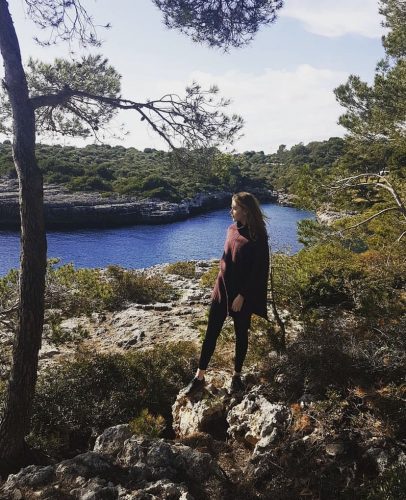 7 Top Things you have to pack for your Spain winter trip:
1. What to wear in Spain? A bag that is pickpockets-proof!
Let's start with the most important accessory for your Spain trip: A pickpocket-proof bag. Especially if you plan on visiting bigger cities, there are areas that are known for pickpockets being present. That's why I always recommend bags with a zipper that you can carry in front of your body. For that very reason, I am not a big fan of backpacks and prefer bags all the way. This one has the perfect size and even has a zipper!
2. A warm scarf will be a lifesaver during your winter holidays in Spain
Especially if you visit the colder regions of Spain, like Madrid or the North, a scarf will be a lifesaver. As mentioned before, winters in Spain are usually mild. But the temperatures significantly drop when the sun goes down! Whenever I leave the house and I know I will be out for a longer time, a scarf is a must. And this one is 100% wool!
3. Gloves, but the ones you can still use your phone with
Leather gloves (smartphone-proof!)
Gloves are a must if you are going to the colder regions of Spain. During the evening, the temperatures drop and some regions of Spain do get a lot of wind. I get cold very easily so I always make sure to have gloves with me during winter. When you are travelling Spain in winter, make sure to take gloves you can still use your smartphone with. This will make it easier to navigate through Google maps or to take photos. The gloves above are touchproof and look so cool!
4. Wool jacket to keep you warm
If you checked out the photos above you must have realized that I love wool jackets and coats. They keep you so warm and cozy even though it is freezing outside. The longer jackets are great because they keep your back warm as well. And if you ever have to sit down, your butt is protected from the cold as well. Plus point, they look so stylish!
5. Puffer jacket for the cold days
Puffer jackets are amazing if you go to areas in Spain in winter that are very windy. If your destination is somewhere in the North at the Atlantic Ocean, the weather can be very cold. And the humidity makes it seem colder than it actually is. Long story short, make sure to take a puffer jacket!
6. Comfortable shoes to explore Spain's walkable cities
I sometimes walk around Madrid in winter and every year I am shocked when I see tourists who walk around in summer shoes… In Madrid, temperatures drop to 0 during the night. Appropriate footwear is absolutely important! What you should take with you are sneakers and depending on the area, even winter boots.
7. Warm tights, these are fleeced and so cozy!
Warm tights are a necessity if you still want to wear beautiful dresses during the winter months. Personally, I prefer warm tights to jeans because I feel like they keep you warm longer and are much more stretchy. The ones that are here have fleece on the inside. Make sure to pack these on your winter holiday in Spain to feel warm and cozy all the time!