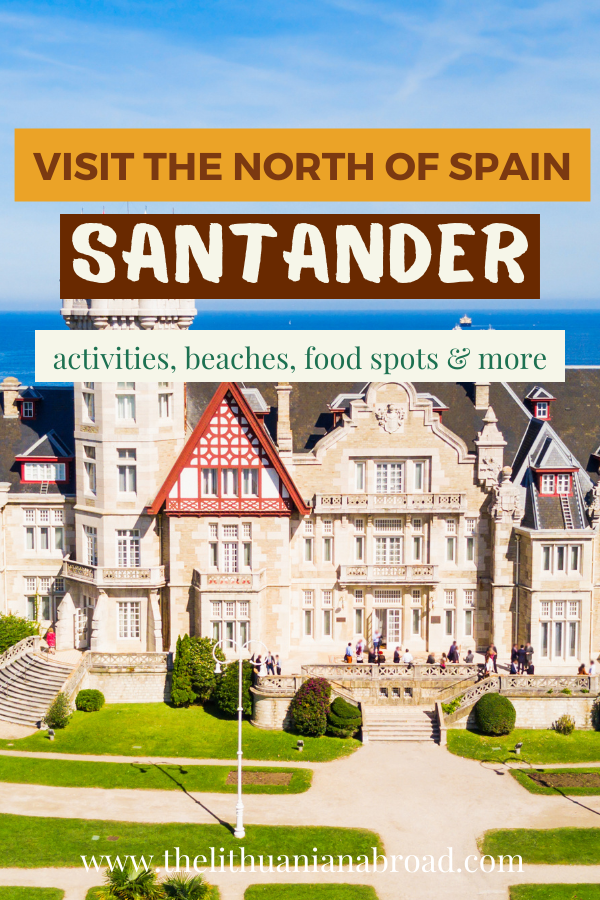 A couple of weeks ago I went for a weekend to Santander, a beautiful town in the north of Spain. If you are thinking now "Wait, there is a bank called Santander, right?" Yes, you are correct and it was founded there. Santander is the capital of the autonomous region of Cantabria in Spain. It is known for its beautiful beaches, beautiful nature, and its iconic royal palace. Already telling you from the beginning: 48 Hours will probably not be enough to see everything, but I will tell you what you can see there if you decide to spend a weekend in Santander.
Other blog posts that could be interesting for you:
How to get to Santander?
There are several options that you can take to visit Santander. The easiest one would be taking a flight to Santander. Unfortunately, there are no direct flights from all cities. So you might have to fly to Madrid first, and then take a flight to Santander. The airport is not too far away from the city center, so it gets to the city center by cab is not complicated.
If you are already in Spain, taking the train might be the most comfortable option, which is what we did. A round trip cost us about 80 Euros. The third option would be taking the bus, which is the cheapest option but it also is taking the longest.
Where can I stay in Santander?
As far as I can tell, you have two options when it comes to accommodations in Santander: You can stay in the City Center (close to the Port or the area Puertochico), but then you have to walk a little bit further to the beach. Or you can stay in the hotel area by the beach (El Piquío, El Sardinero), but then you will live a bit further from the city center. As you can guess, the first option is a bit cheaper. So we ended up staying in the city center. Our accommodation was so affordable and well-located, I can recommend it 100%. It is also one of the most beautifully decorated places I have ever stayed in. You can find it here.
Regarding the size of Santander, I think it is perfect for a weekend, or even a day trip. But I could even imagine spending more time there to enjoy all the beaches and the beautiful nature surrounding it.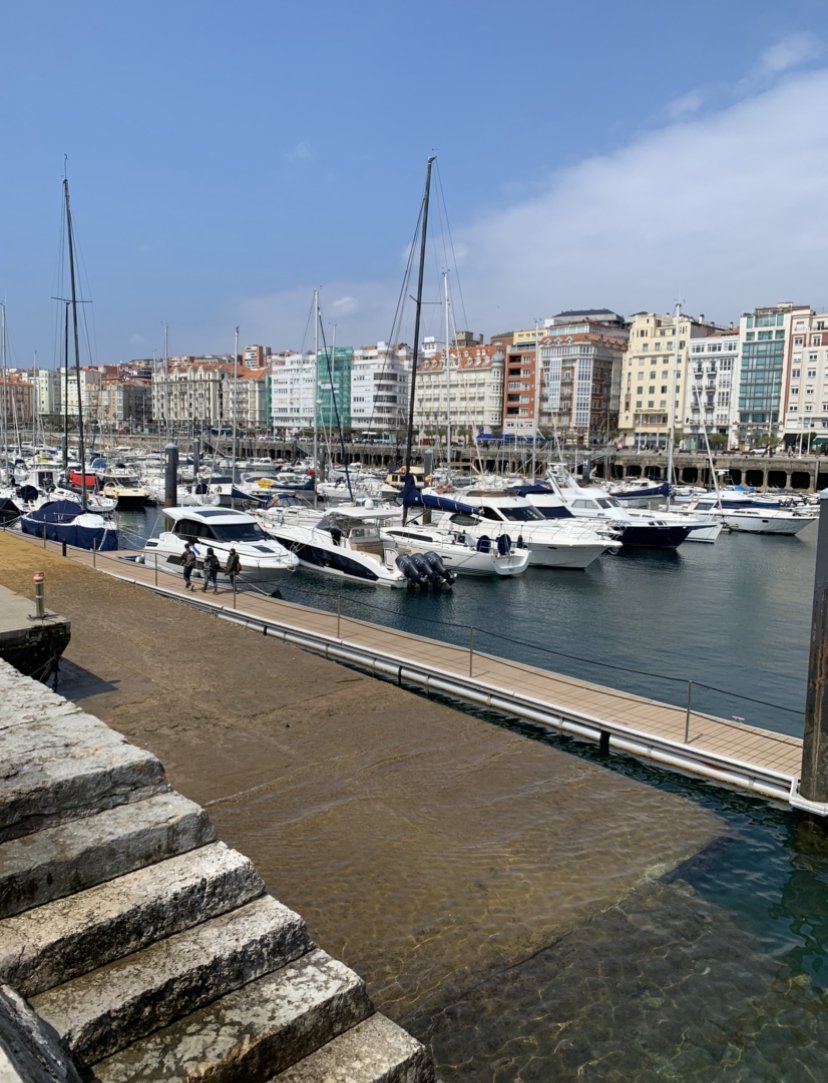 Make sure to do a free walking tour in Santander!
Free walking tours are the best way in order to see the most important places when you visit a city for the first time. I really want to highlight the local guides here. They always do an amazing job showing you the city from the point of view of a person that has been living there their whole life. Do you want to know where to have dinner or what the best museums in Santander are? Your local guide will know everything.
How do free walking tours work? These walking tours do not come with a fixed price. That is why your local guys depend on your tips. You will spend a couple of hours exploring the best areas with your local guide. After the tour you will have the chance to leave your guide a tip. How much you would like to give them is really up to you. It usually depends on what is within your budget and how much you enjoyed your walking tour 🙂 I have done walking tours in many places all over the world and always recommend them to everyone!
Book your free walking tour in Santander here.
Let's do a boat tour along Santander Bay?!
I am still so upset we could not do this tour as we went to Santander when many places were closed due to pandemic. But I really wanted to do this boat tour. I always love going on tours like these because let's be honest: How often do we visit cities where we can go on a boats tour? Exactly!
I found this boat tour along the coast of Santander that only costs 11€/person. The tour starts at the pier of Santander. During the boat tour you will pass by Puertochico, the Magdanela Palace, the Sardinero, Loredo, and El Puntal Beaches, until you reach the Botín Center. Sounds like the perfect plan to me.
You can find more information here.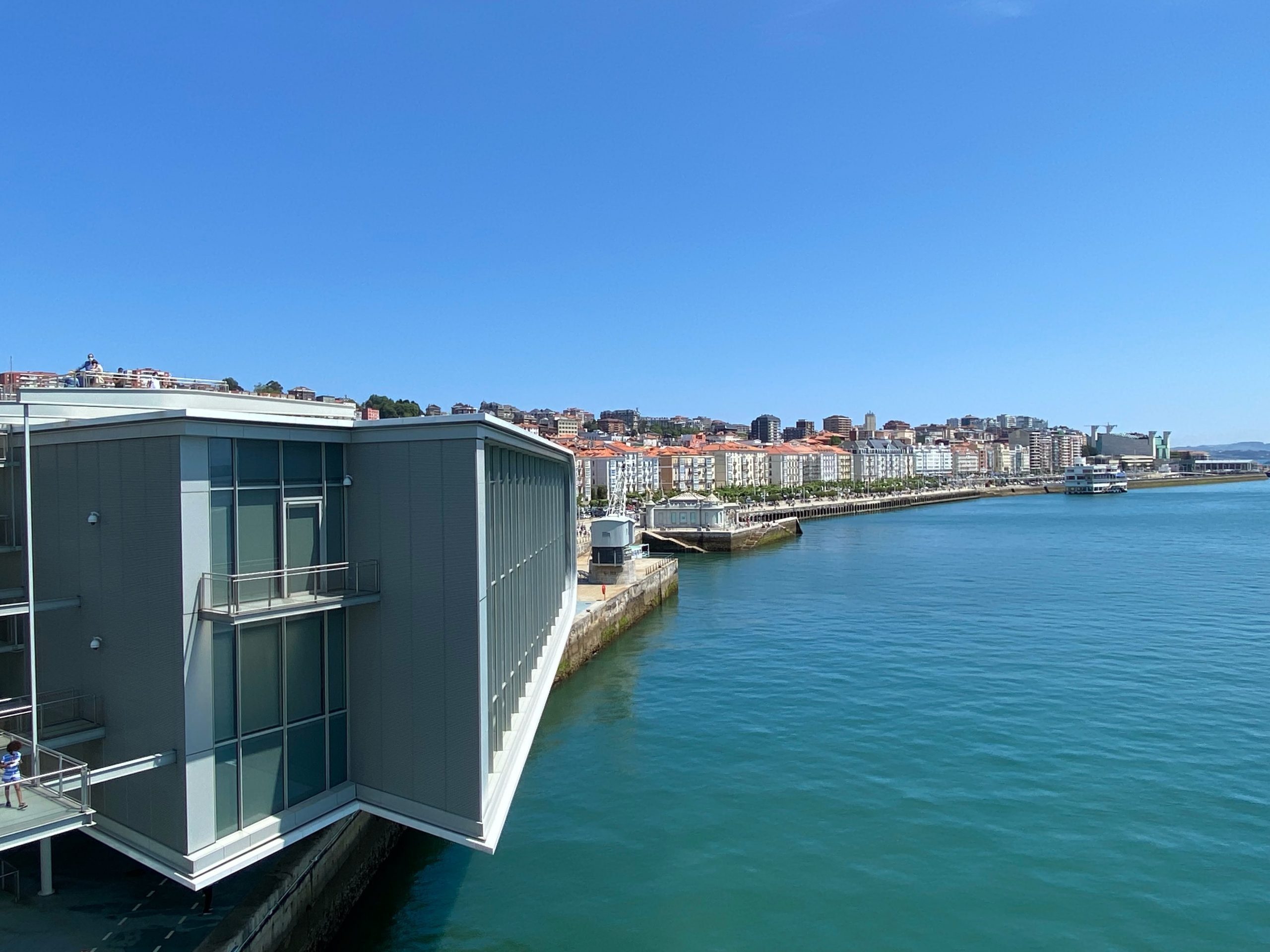 What about the food in Santander?
As you probably have thought before, the north of Spain has amazing cuisine. Especially, if you are into fresh seafood. When we were there, many restaurants were closed or had quite restricted working hours, so I feel like it's hard to recommend any, just because we did not really get the chance to try many of them. But those are the following dishes you have to try in Santander:
rabas (calamari slices)
tortilla, the one they have in Cantabria is stuffed with jamón and aioli (yummy!)
pinchos (different types of tapas)
cocido montañes (fish soup)
flan/natillas for dessert (pudding?)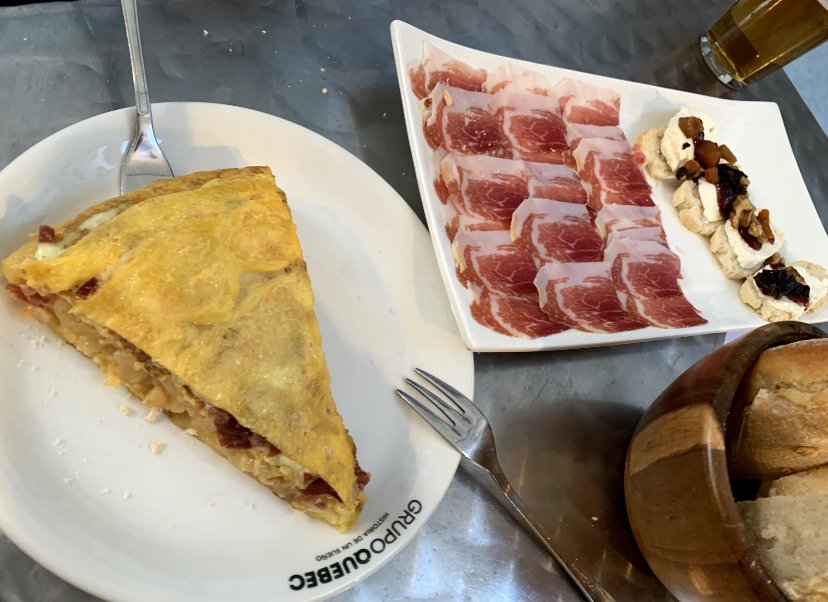 First things first: Head to the beach in Santander
The most obvious thing you can do in Santander is going to the beach. And other than in other big cities, the beach of Santander is absolutely enjoyable, super clean and not crowded! Sounds like an absolute dream come true if you are like me and cannot seem to enjoy the beach in Barcelona.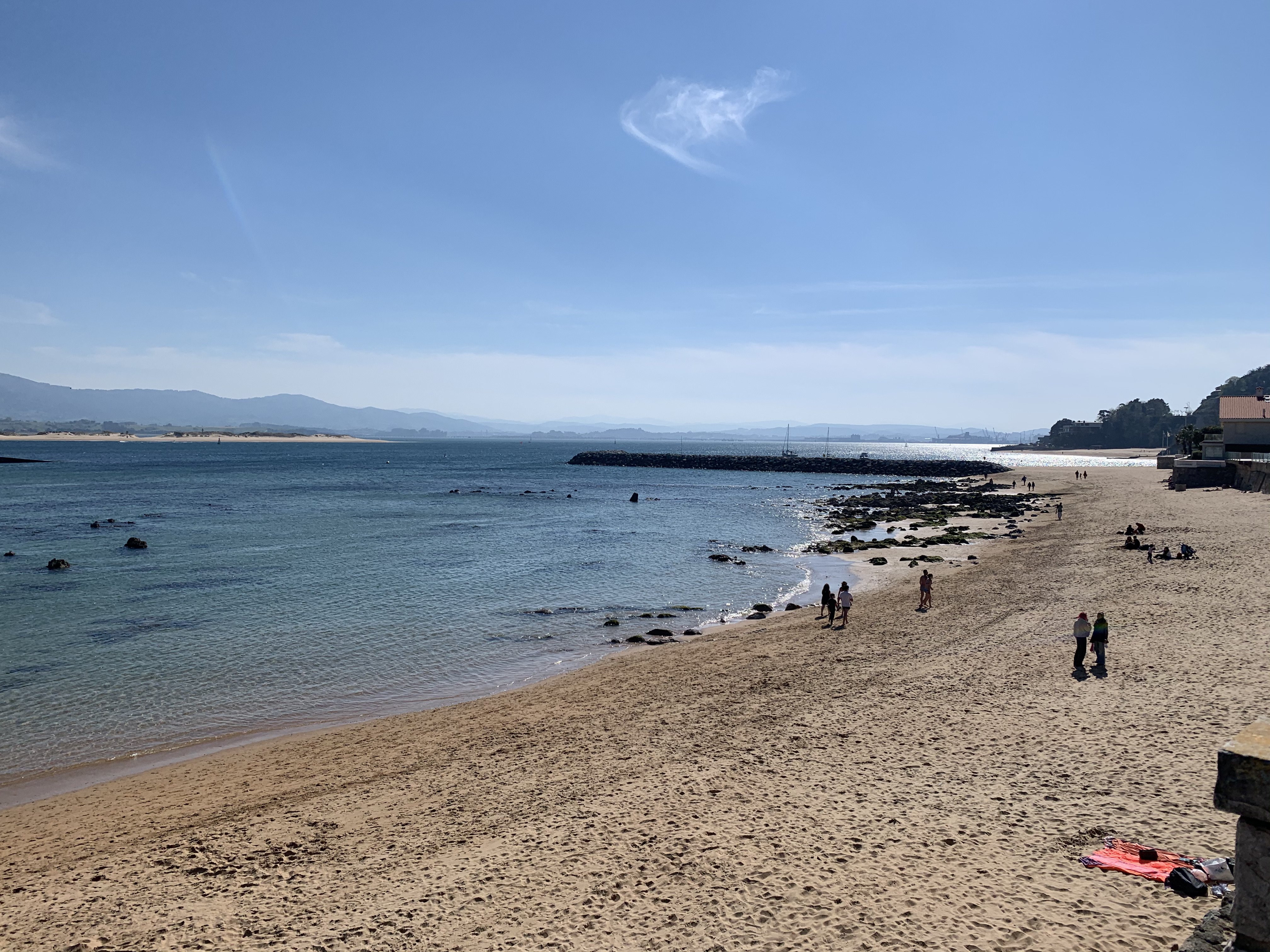 Even though it might seem a bit far, do not hesitate to go to the Sardinero Beach as it is absolutely worth it! It is a really popular beach in Santander and we were told it is one of the most beautiful ones in Spain. Other beaches worth visiting are Playa de los Peligros, Playa de la Magdalena and Playa de los Bikinis. Fun fact: This beach received this name due to foreign students in the 60s going to swim with their bikinis. And this is how the bikini was introduced to Spain. The benefit of those beaches is that they have minimal waves and are perfect for swimming.
You will see a lot of people practicing water sports as well. The best beach for that is Playa de Somo.
Walk to the Magdalena Palace
Now that you are already at the beach the Magdalena Palace is within walking distance. The walk up there is also absolutely beautiful and you will be able to enjoy some beautiful bird-eye views of the ocean and the city.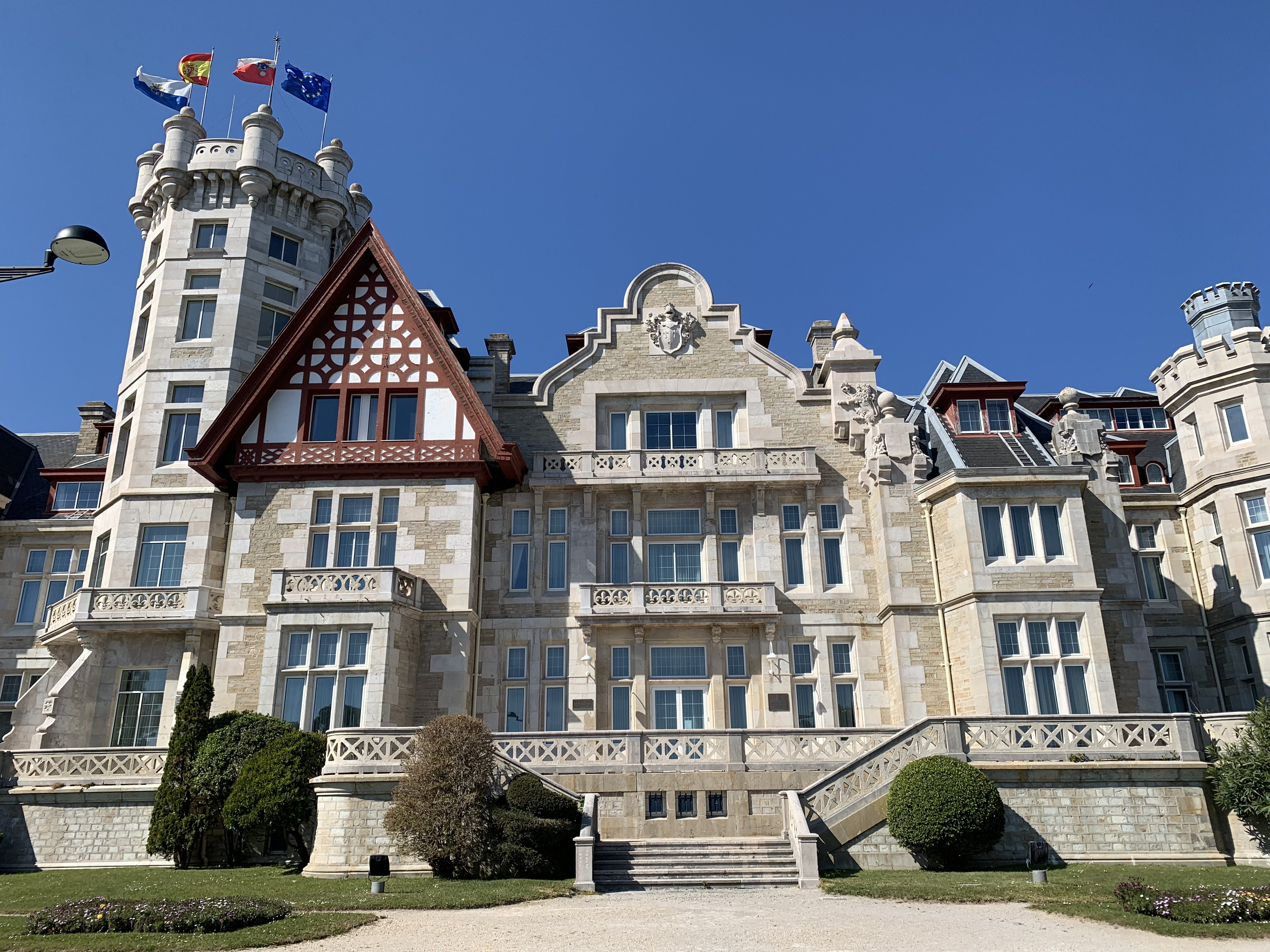 The Palace has had an interesting history since it was built in the early 1900s. Initially, it was a holiday house of the Spanish Royal family and during the Civil War part of the building was used as a prison. Nowadays it belongs to the city of Santander and is used for university students.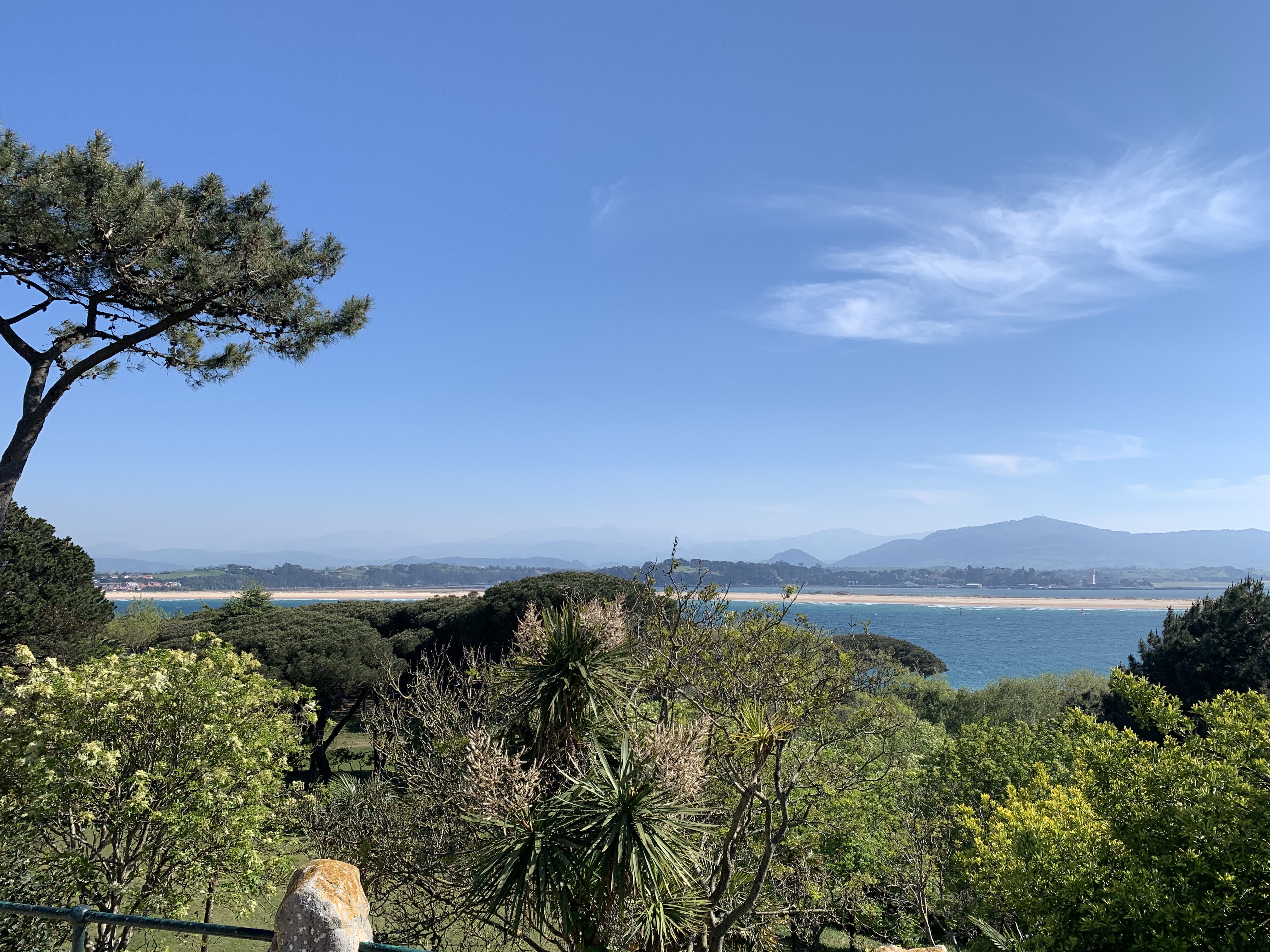 Are you a fan of water sports?
We went to Santander in April, and it was colder than expected! But there were so many people windsurfing, not being scared of the water at all! You can get equipment at small surf shops at almost every beach and join all the windsurfers in the water ( so so cold!)
Santander is also famous amongst surfers, like the north coast of Spain has amazing beaches if you want to learn or improve how to surf. Here as well, you can get a board and a wetsuit at Playa Magdalena. When we went there, we did not see a place that offers classes. But this can change during the summer.
Walk around the City Center of Santander
I especially enjoyed walking around the historic center of Santander. Here you have to see the Cathedral of Santander, Plaza Porticada and then head to the Port.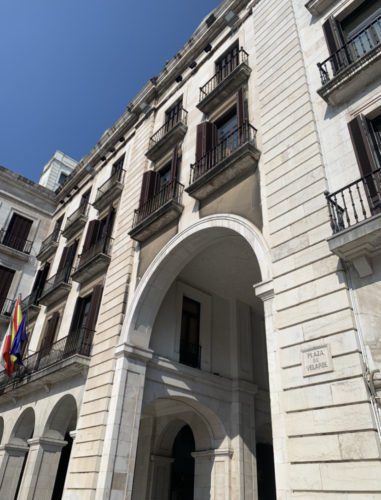 While walking around the Port you will be able to see many different boats and enjoy the beautiful view of the Atlantic Ocean. At some point, you will walk by the sculptures of the "Raqueros". They have an interesting back story: Raqueros were orphans or children from lower social classes that used to hand around the docks of Santander during the 19th and 20th centuries. They made a living with small theft and the coins that people and are members of ships thrown into the water so they could dive for them.
Must Do: Check out the View from Casa Botín
Casa Botín is an art museum in Santander and counts to one of the most famous modern museums of art worldwide! It was financed by the Botín Foundation whose owners are the same people that invented the Banco Santander. The aim of this foundation is to support different artists and to organize different cultural and art events.
When we went there it was closed, but the building also has an amazing rooftop terrace, where you can have breathtaking views of the city! Even though they advise you to take the stairs, you should take the elevator instead! A small music concert is waiting for you there 🙂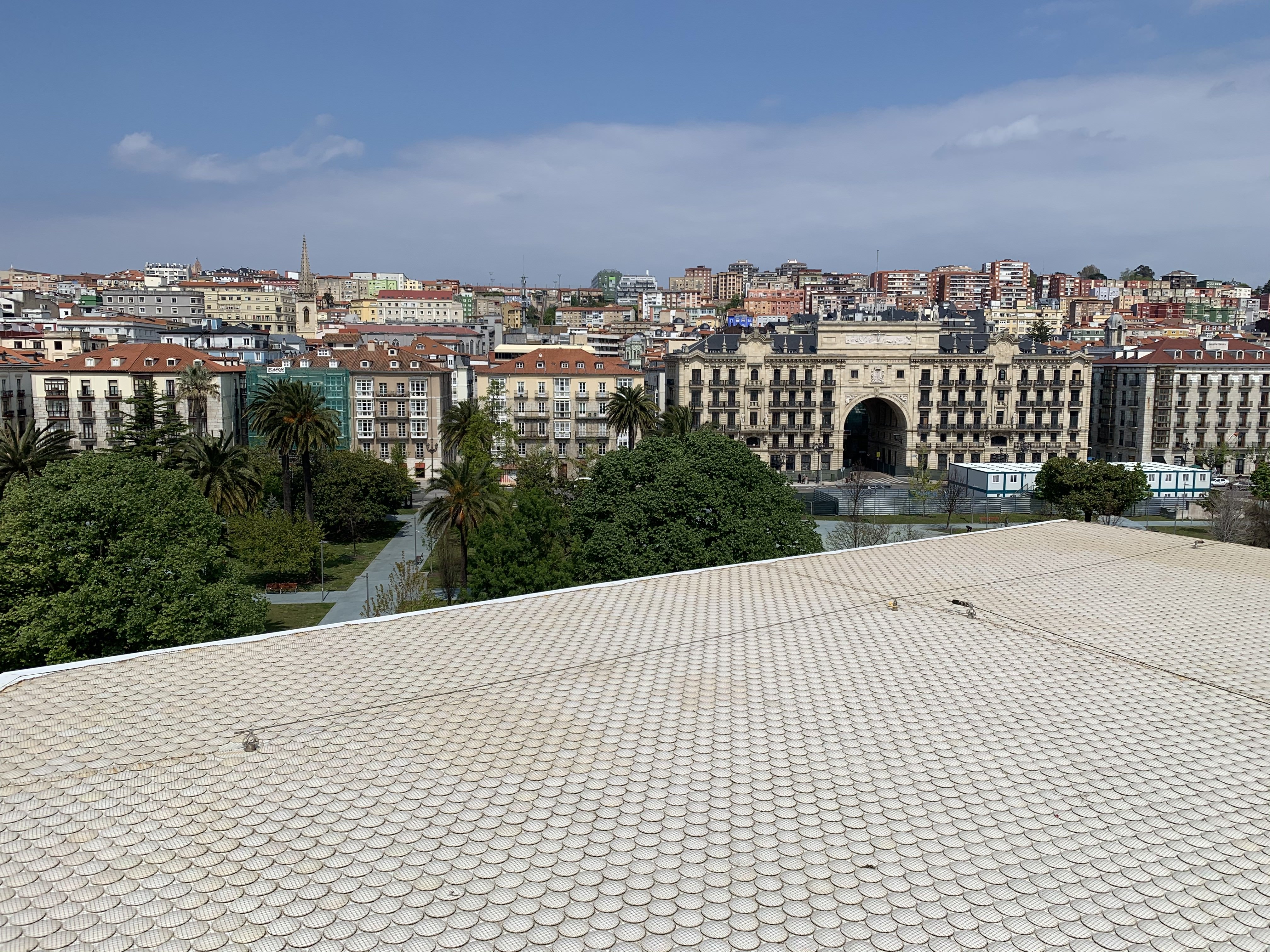 Relax and Take a Nap at the Explanada de Gamazo
The walk from the Port to the beach is really great, and in the middle of it, there is a park with wooden chairs to lay down, relax and just enjoy the beautiful ocean view. I took my cards with me because I thought we could play there, but no, it is way too windy! It is perfect for taking a sunbath or having a little nap.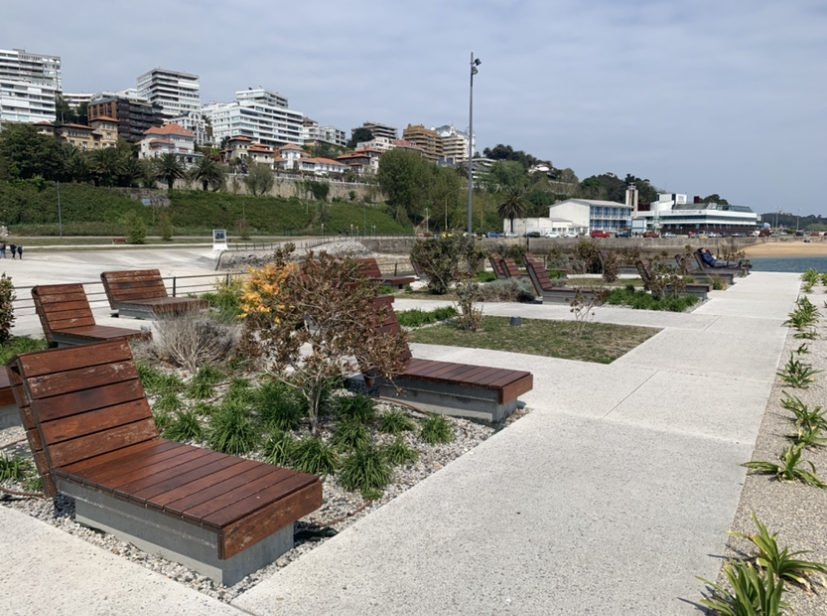 A fancy night out: The Casino in Santander
The Gran Casino Sardinero in Santander is one of the most famous Casinos in Spain. When we went there it was closed, unfortunately. But I really would have wanted to go there. It's not only interesting if you want to go to gamble, you can also have some fancy drinks at one of the two bars and three dining rooms. It is definitely on my list when I come back to Santander!
Walk to the Lighthouse El Faro de Cabo Mayor
The lighthouse El Faro de Cabo Mayor is the place that is the furthest away from the city center. You can walk there after you have been to the Palacio de Magdalena and passed Playa El Sardinero. It is easier to go there by car as far as I can tell.
The lighthouse was built in the 19th century and is a museum today. From there, you will have an amazing view of the Atlantic and all the rock formations surrounding it. In my opinion, going there is worth it just for the view.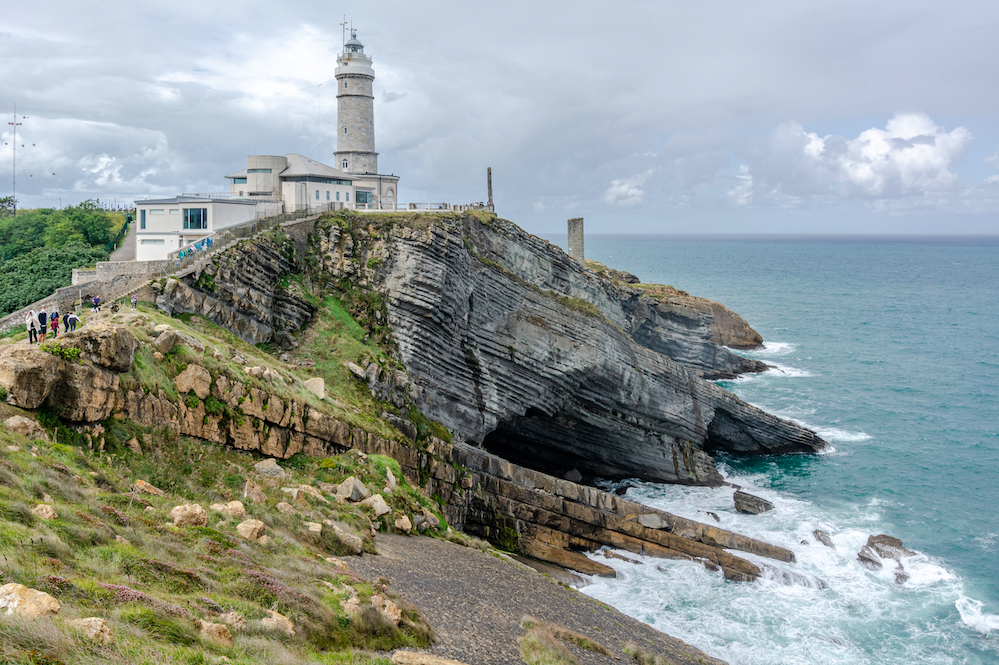 And that's about it! We had an amazing time in Santander and I cannot wait to go back there, once it is a bit warmer 🙂 Hope you enjoyed reading it just as much as I enjoyed writing this post. Have you ever been to Santander?