Barcelona is a great city to visit! It is probably the most multicultural and international city of Spain. But you might very easily just fall into a tourist trap when it comes to restaurants. There are uncountable nice restaurants in Barcelona. But at the same time there are so many touristy restaurants that you should avoid. So I made a list of 16 restaurants in Barcelona that I think are worth trying. This list includes breakfast & brunch places in Barcelona, just as well as lunch and dinner places. I tried to include many different cuisines in this list – from Catalan, to Galician and international cuisines. Because I understand that if you end up staying for a longer time you will need a little bit of variation. I feel like bars deserve a post for themselves, so I did not include them here.
By the way, if you feel like doing a trip from Barcelona to Cadaqués, I wrote a blog post about it. You can find it here.
How do you know a restaurant in Barcelona is good
Here are some things that give away whether a restaurant is good or if you should better skip it:
Do not enter a restaurant if there is a person outside trying to convince you to go in
Restaurants that have their menu translated into many languages tend to be very touristy and basic with food
If a place looks very small and crowded, that is usually a good sign!
If a restaurant only displaces their menu in Spanish/Catalán you won the jackpot! Those places are usually very authentic.
Interactive Map of the best restaurants in Barcelona
I added all the restaurants I am talking about in this post in the interactive map above so it is easier to navigate for you.
Carrer de la Ribera, 18, 08003 Barcelona
Let's start with the brunch & breakfast places in Barcelona: Alsur Café is THE brunch place you need to go to if you are a fan of instagrammable plates. They have everything from healthy options like bagels and smoothies, but once you see the cakes and waffles, you will understand why I added this place. It is perfect for a brunch with friends before exploring the city. The interior of Alsur Café is also very cozy. I am sure you will love this place. My tip: Try the Churronut!
Carrer d'Enric Granados, 19, 08007 Barcelona
Another amazing brunch place in Eixample! By the way, there is ALWAYS a line and you have to wait a little bit but it is totally worth it. This place looks very cute from the outside and the food is great as well. Their menu consists of puddings/starters, waffles & pancakes, bowls, eggs and what they call "classics". The pancakes look absolutely amazing and each plate just looks so unique!
I also have to add that they have a very detailed allergy list, which is not the case in all restaurants.
Carrer de Mallorca, 236, 08008 Barcelona
So let's move now to places where you can have nice lunch in Barcelona. Cervecería Catalana is a bit further away from the touristy streets and a great place to have lunch. What is special about it? Their menu changes every single day and consists all of little tapas. The perfect choice when you want to try Spanish food, but do not feel like ordering a huge portion of something you are not sure you will actually like. My favourite tapas were the calamaris and the cream catalana. Unfortunately, they do not take reservations. You might have to wait 10-30 minutes before you get a table.
4. Ciudad Condal
Rambla de Catalunya, 18, 08007 Barcelona
Cervecería Catalana, Ciudad Condal and Vinitus have the same owner and are quite similar. Some people say that Ciudad Condal is quite touristy but I would not say so. A lot of tourists go there, yes, but because it is very authentic. You really should try this restaurant for its tapas and Spanish dishes. My tip: The pan con tomato is delicious! They also do not take reservations, so be prepare to wait a little bit when you get there.
C. del Consell de Cent, 333, 08007
Vinitus is quite similar to the restaurants mentioned below. It might just be a little bit less crowded than Ciudad Condal. But it has the same concept: The menu is changing every single day. But Vinitus offers a bigger variety of local wine. I feel like you should try at least one of the three restaurants (Cervecería Catalana, Ciudad Condal or Vinitus) during your visit in Barcelona. They are famous for their local cuisine and good quality and I agree. The food is spectacular!
Carrer de Ros de Olano, 11, 08012 Barcelona
Okay everyone, this might be the best and my favourite restaurant in Barcelona: Somodó in Gracia. Listen to me when I tell you that I absolutely do not like fusion but this restaurant is on another level. Somodó is a fine dining restaurant that offers Mediterranean dishes with a touch of Japanese influence. They have an offer for lunch "menú del día" for 17 Euros. While this more on the expensive side for lunch menus, you will not regret it. They usually have two entry dishes, a main dish and a dessert. Wine, coffee and bread is included. I honestly could eat there every day. It is perfect if you feel like having a fancy lunch. I have brought several people to this place and they loved it! Make sure to make a reservation before you go. The place is quite small and therefore they are booked out quickly.
Carrer de Balmes, 139, 08008 Barcelona
Can Boneta is another Catalan restaurant that I really enjoy. I think I am generally a fan of local, small restaurants in Barcelona, and this is one of them. Their menu del día is very affordable and costs 14 Euros. Especially if you check what it consists of: 3 Tapas, one main dish and a dessert. A drink is included, too. The restaurant is very small so you should make a reservation before going. It is perfect if you are looking for an affordable menú del día in Eixample!
Passeig de Gràcia, 24 Bis, 08007 Barcelona
El Nacional is a market in Barcelona with four restaurants and four bars. It is famous for its local cuisine, Spanish Seafood, Tapas and Grilled Meats. They have an excellent selection of wine as well. What I really like about it is its interior design and the high ceilings. It gives the whole building a special atmosphere. Even if you do not want to order anything, it is worth to just walk around it a little bit and explore their options.
Carrer de Tuset, 19, 08006 Barcelona
If you are looking for a special experience in Barcelona, this could be your place to go! Gatsby Barcelona is an elegant restaurant in Barcelona. It is all decorated in a 20s theme and offers a variety of mediterreanian food. But that's not all: In the evening they have a show with life music. And I have heard that this place turns into a club later in the evening. All in all, I think it is a great experience. The prices are definitely on the higher side, but you get a show included, which I think is fair. Make sure to make a reservation before you go! And be aware that you have to dress elegantly when you go there.
Av. del Paral·lel, 164, 08015 Barcelona
I have never been able to go to this place but is very high up on my Barcelona places-to-go list. Imagine: You need to make a reservation 60 days in advance. That's how popular it is and that is how many people are waiting to go there. Tickets is a fine dining restaurant in Barcelona and they are famous for the unique and spectacular dishes. Compared to the other restaurants on this list it is by far the most expensive one. But if you are able to make a reservation in advance and want to splurge while you are in town, this is your choice!
Carrer d'en Quintana, 5, 08002
Did you ever what the oldest restaurant in Barcelona is? It's called Can Culleretes and was opened in 1786. Crazy, right? Going there is definitely an experience as it is decorated in a very beautiful and vintage way. The walls are covered in photos of famous people who were dining there. They offer different menus, from cheap (12,50Euros) to more expensive ones. So I feel like you can find something for all budgets. They are famous for their cannelloni. So make sure to try that 🙂
12. La Pachuca
Carrer d'en Carabassa, 19, 08002 Barcelona
My absolute favourite cuisine is Mexican, by far. So everywhere I go I always make sure to find a good Mexican restaurant. And this one might be one of the best Mexican restaurants in Barcelona: La Pachuca in the Gothic Quarter. A restaurant has to be good when they put a little chain at the entrance so that no more people come running into it, right? They offer amazing nachos and tacos. And when it comes to the drinks: Make sure to try the Margarita Reina!
Tapas Bar Bastaix is located in the Plaça del Fossar de les Moreres in Born. In my opinion, the plaza itself is really beautiful and perfect for relaxing with a nice glass of wine and some delicious tapas. And that is why I added Bastaix to this list. You have to wait a bit until you get a table and they do not take reservations but its totally worth it! Try their salchichas (sausages), they are amazing!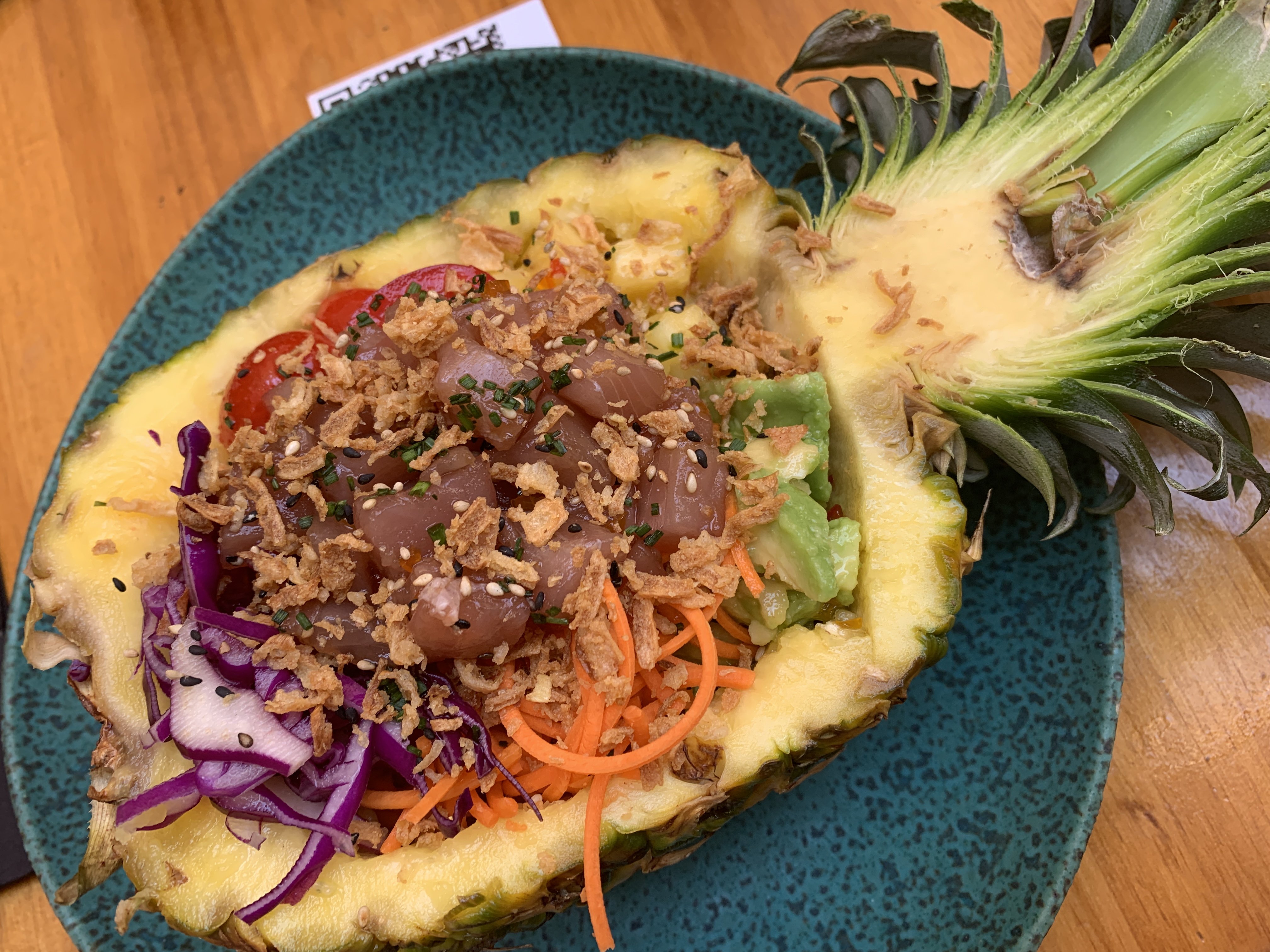 Carrer de la Boqueria, 23, 08002 Barcelona
After eating all this Spanish Food you might feel like eating something healthy in between: Then Señor Piña will be perfect for you. This restaurant has the best poke bowls of Barcelona. They have a small menu with several options of poke bowls, but you can just create your own version as well. They also have an option with Tofu. One of the poke bowls gets served in a pineapple. Very instagrammable. There is live music playing every Thursday. Check out their instagram if you want to have more information!
Placeta de Montcada, 1, 08003 Barcelona
Euskal Extea Taberna is a restaurant with cuisine from the Basque Country in Barcelona. It is famous for their pintxos that you typically have in the north (pintxos=tapas served on top of bread) together with Sidra (cider). Make sure you check out how they pour the cider! It seems like a really authentic place that offers great food with an amazing atmosphere. Check it out, if you happen to be in El Born!
Ctra. de Miramar, 38, 08038 Barcelona
When my mom visits me in Spain she always wants to have Paella. She does not care when I tell her that Paella is only a popular dish in certain parts of Spain. But if you feel like having paella while watching over the whole city of Barcelona, Martinez restaurant will be a good choice. Their rice dishes are fantastic! It is very close to Montjuïc. Perfect, if you feel like going there first and then having lunch while enjoying the views of the city!