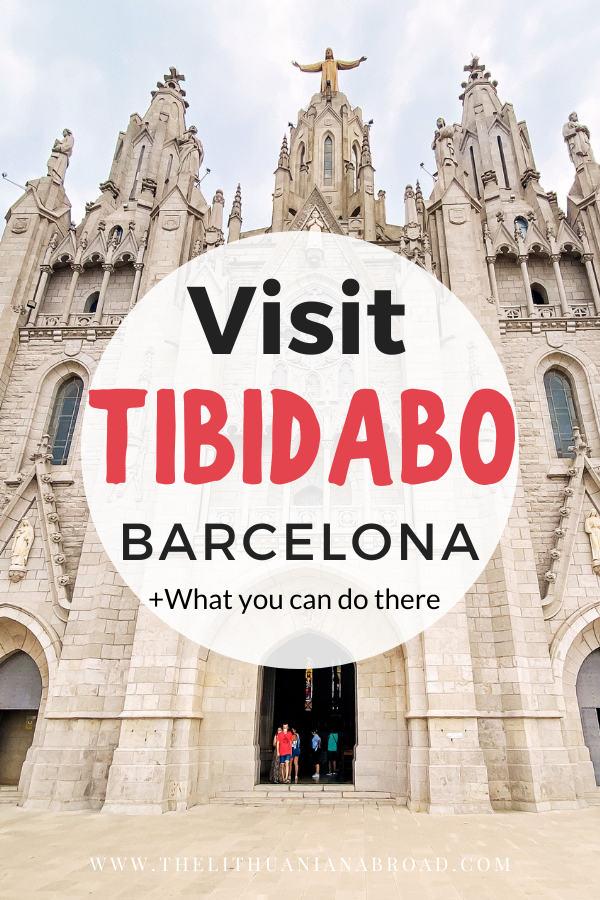 Barcelona is the perfect travel destination for lovers of architecture, history, Spanish cuisine, and beautiful beaches. But if you ever want to have a look at the city from a high viewpoint, then you have to go to Mount Tibidabo. The Mount Tibidabo viewpoint will give you the best views over Barcelona!
You probably already have seen Mount Tibidabo while walking around the streets of Barcelona. Being 512 m high, it is the highest mountain of the Serra de Collserola range. On its top stands a church that overlooks the whole city. What is noticeable about this church is the statue of Jesus on the top of the building with his arms wide open. And you can even see it from the streets of Barcelona.
---
Affiliate links may be sprinkled throughout the free content of this blog post. If you purchase from one of the links I may receive a small commission while the price for you stays the same. This helps me cover the costs of The Lithuanian Abroad. Gracias!
Other posts about Barcelona you have to check out:
Barcelona Bucket List with 20 fun activities: Never run out of ideas about what to do in Barcelona! This bucket list is full of interesting activities, food places, hidden gems and so much more.
10 Hidden Gems in Barcelona you HAVE TO visit! This post includes 10 hidden gems of Barcelona and is perfect if you want to see the non-touristy side of Barcelona. You have already seen the typical places in Barcelona? Then this post is for you!
Barcelona Neighborhood Map with the best places to stay. Do you still get confused with Barcelona's different neighborhoods and areas? This post has a Barcelona neighborhood map you can download. And I made sure to include my favorite places to stay in each area 🙂
25 completely free things you can do in Barcelona. Visiting Barcelona does not have to be expensive! This guide includes 25 amazing things you can do in Barcelona for free. This includes parks, monuments, museums, and markets you can visit during your stay!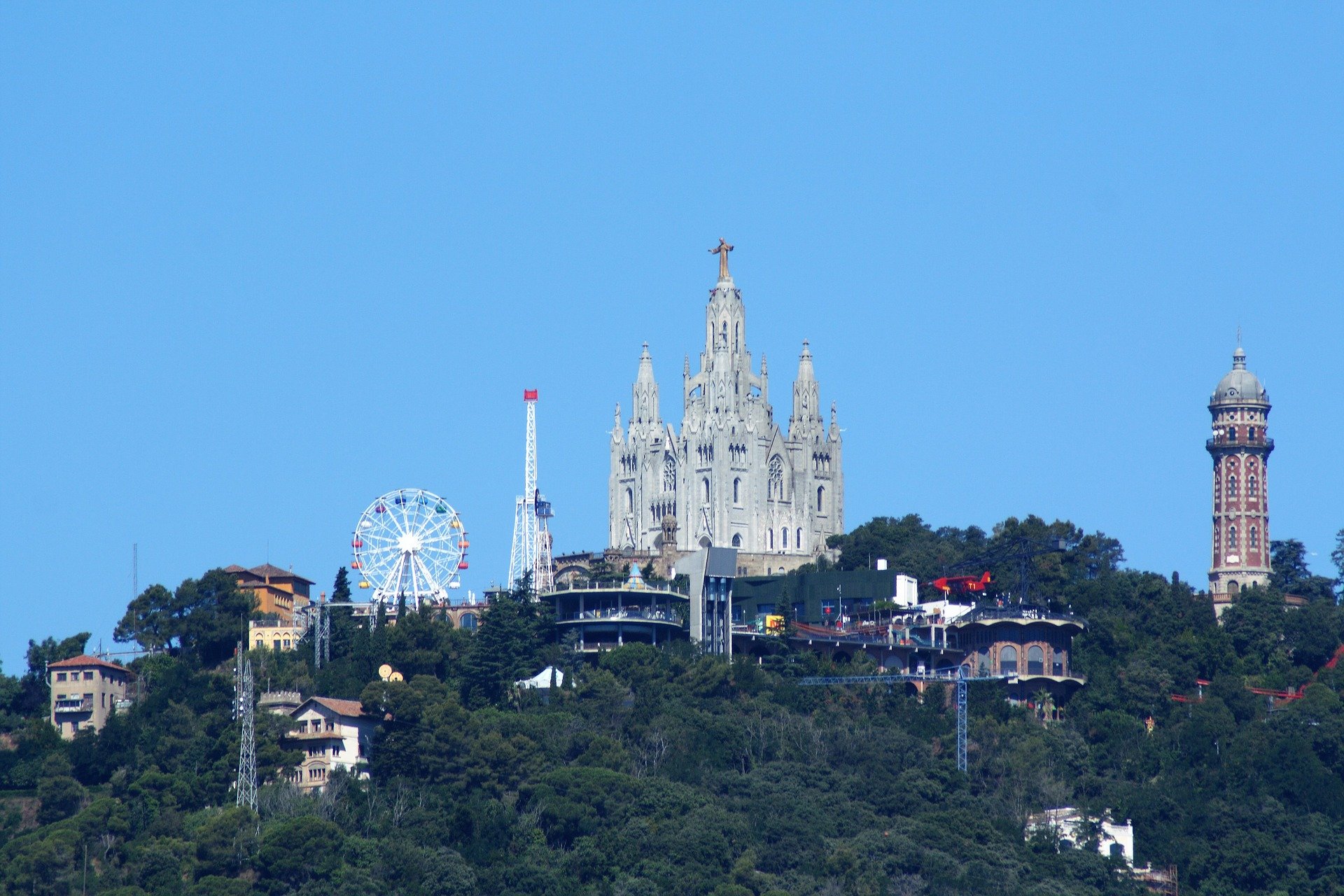 Have you ever done a free walking tour in Barcelona?
Free walking tours are my favorite way to explore a new city. And the best thing about them is that you get to explore a city in only one afternoon. The guides are always locals and show you the city through the eyes of a person that lives there. Isn't it amazing that you get the chance to ask a local about the best restaurants, secret places, and other things?
How do free walking tours work? These tours do not come with an official price tag. So the tour guides rely on your donations. Here, it is completely up to you what you would like to give them. Feel free to decide depending on how much you like the tour and what your budget is. Check out the tours below:
You can find more free walking tours in Barcelona here.
Let's move on to Mount Tibidabo:
Take the Hop-on Hop-off bus to Mount Tibidabo
Hop-on Hop-off buses are the perfect way to see the most of a city if you only have limited time. How do these buses work? The red hop-on-hop-off buses drive around Barcelona in a circle where they stop at more than 30 bus stops. These bus stops are close to Barcelona's most important monuments and attractions. With your ticket, you can simply get on one of these buses at the closest bus stop. Once you reach your destination you can get off the bus and explore the attraction you were wanting to see. When you are ready to leave, you just have to go back to the closest bus stop. And the next bus is usually only minutes away. My mom loves these buses and managed to see A LOT of Barcelona in only two days. Especially, if you are traveling with people who do not want to walk too much these buses are amazing! You can get your ticket here.
The best thing about those buses is that they do stop close to Tibidabo: The bus leaves you right at the stop "Tibidabo" Tramvía Blau. There, you take the tram to Plaza Doctor Andreu. At this plaza, you get to take the historical funicular train to the top of Tibidabo.
You can book your ticket for the hop-on-hop-off bus in Barcelona here.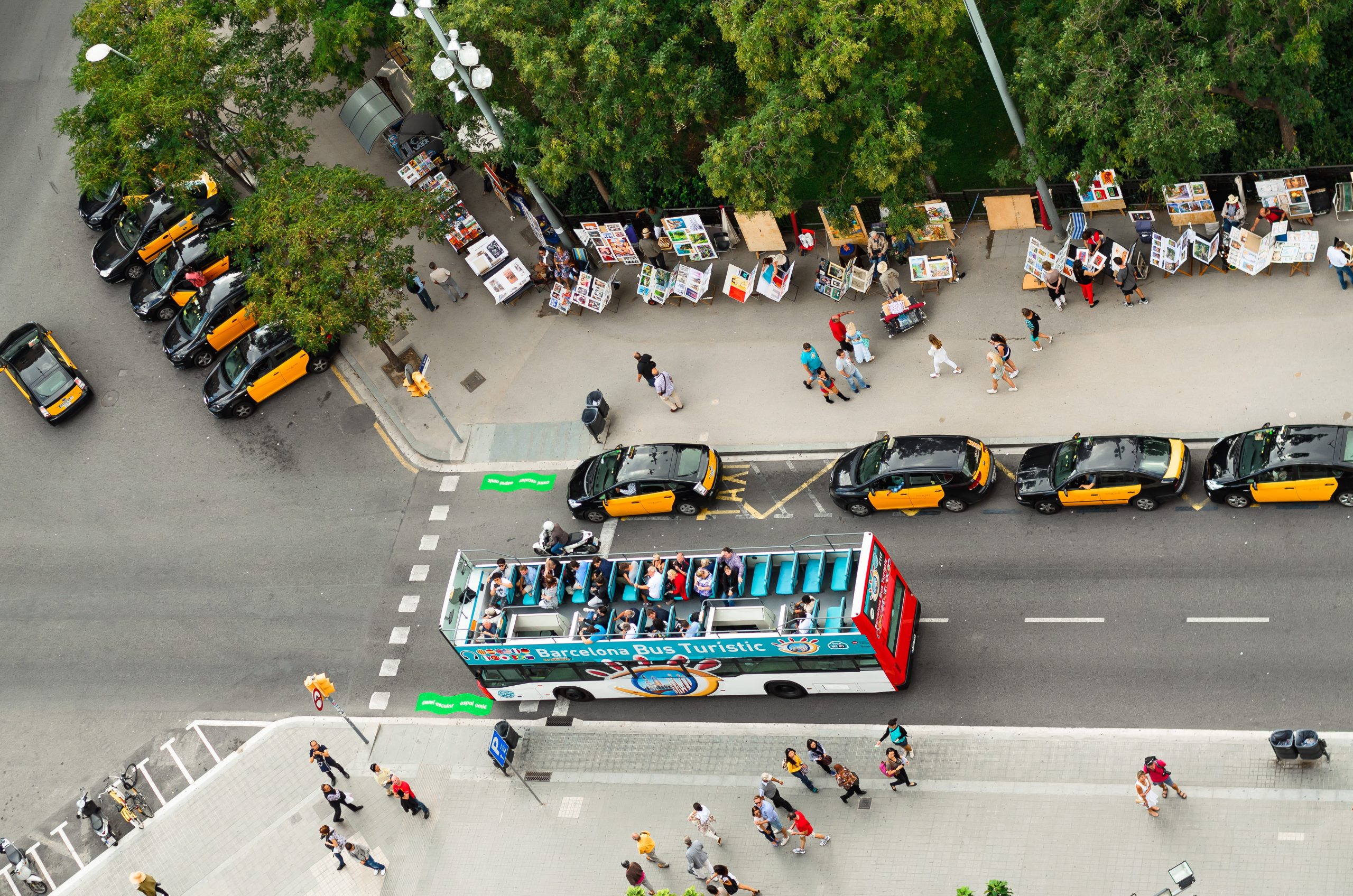 History of Mount Tibidabo
You might wonder where the name Tibidabo origins from. According to legend, it is most likely from the Bible verse Luke 4:6. In that scene, the devil and Jesus both stand on a high mountain overlooking the whole world. The devil himself said to Jesus:
"All this power will I give you, and the glory of them: for that is delivered to me; and to whomsoever, I will I give it."
And Tibidabo means " I will give it to you" in Latin. Naming the mountain Tibidabo implies that this scene actually happened there.
After visiting it I really feel like Tibidabo is a very underrated area of Barcelona where you usually do not see too many tourists going. But the views from there are spectacular! You can get a full 360 degrees view of Barcelona, the Mediterranean Sea, and even parts of Montserrat and Montseny. Since the Amusement Park falls right into the views it gives it a very unique vintage atmosphere. And it seems like the perfect place to visit with children!
The Tibidabo Amusement Park
The Tibidabo amusement park is the oldest amusement park in Spain and one of the oldest ones in Europe. During my research, I found out it was built in 1899. How crazy is that? It offers several different carousels, roller coasters, a Ferris wheel, and other different attractions. There are over 25 different rides you can go to! Apart from that it also has a restaurant and resorts (When I went there the hotels were closed due to Covid).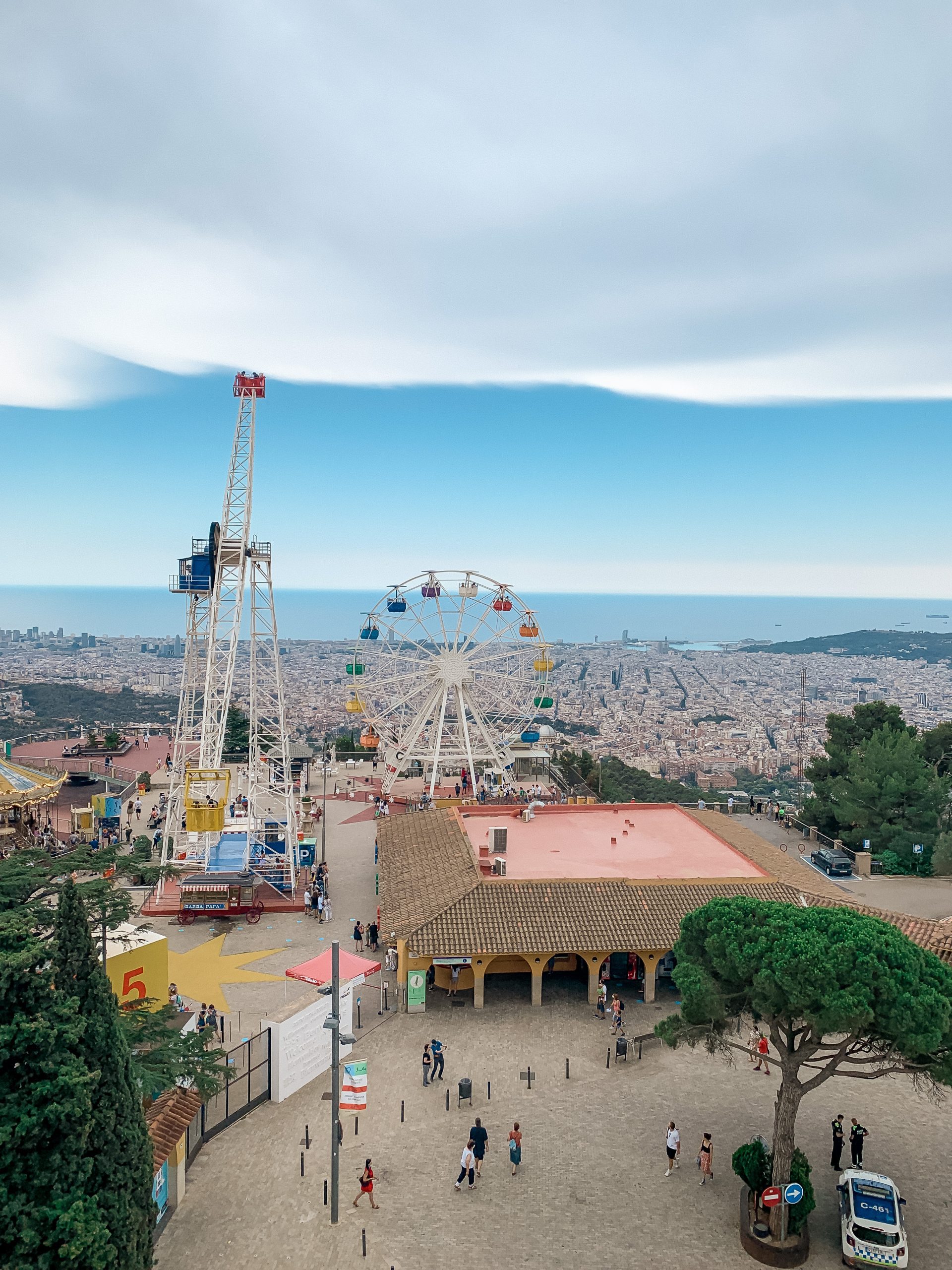 You will see many families with children coming here. But its retro atmosphere made me think of what a great place this could be for a date! There is even an area with tables which makes it perfect for a little picnic. And you can bring your own food!
By the way, Tibidabo also has four mascots named Ti, Bi, Da, and Bo. 
What can you do at Mount Tibidabo
I already mentioned some of the fun things in Mount Tibidabo but here is a list of the best things to do there: 
Talaia, The Big Lever: The highest point where you can be in Barcelona. It brings you high up in the air where it leaves you hanging a couple of seconds. The view from there must be incredible!
Colourful Carousel: A classic carousel with horses. It looks a bit vintage and is perfect for children.
Giradabo: The colourful ferris wheel that will be in almost all of your photos in Tibidabo. I really wanted to go on it, but there was a huge line when I went there.
Avió Tibidabo: Avió is an attraction at Tibidabo which is an airplane ride on a retro red airplane! The plane even circulates using its own propeller. It was opened almost 100 years ago (in 1928) and some original parts are still used in it! Avió is supposed to be a replicate of the first plane flight going from Barcelona to Madrid in 1927.
The Automaton Museum: The Automaton museum includes more than 40 pieces from the 20th and 19th century. The oldest and most famous model is the Mandolin Clown (Payaso Mandolinista) from 1880. A true treasure of the museum!
Mount Tibidabo viewpoint: The best views over Barcelona
You can walk around Tibidabo for free if you do not want to go on any of the rides at the Amusement park. This is absolutely worth it just for the breathtaking views you have. The price for the amusement park is 35 Euros per person. Check out their official webpage for prices and details.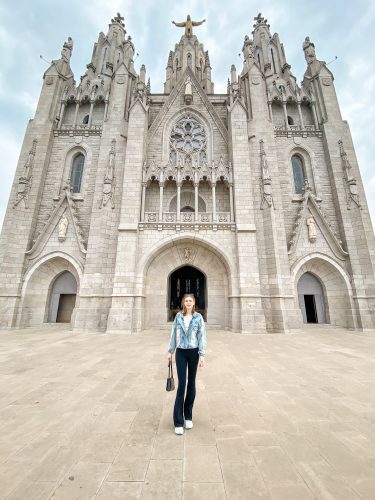 Templo Expiatorio del Sagrado Corazón
Of course, you cannot visit Tibidabo without going to its famous church! The Templo Expiatorio del Sagrado Corazon sits on the top of Mount Tibidabo and looks like it could be in a fairytale. It is actually a small basilica and translated means "sacred heart". The architectural work was done by Spanish architect Enric Sagnier and the construction lasted from 1902 to 1961.
The entrance to the Church is free. You can go up to the very highest viewpoint by elevator for 3 Euros.
How to Get to Mount Tibidabo
Getting to Tibidabo is already an experience by itself. Why? Because you will pass the Avinguda del Tibidabo which is where the biggest and most beautiful mansions of Barcelona are. So keep your eyes open and look around on your way there!
If you plan on going there by public transport, the easiest way is to take the bus from Placa Catalunya at the corner with Rambla Catalunya. The bus T2A leaves right in front of Desigual. A one-way ticket costs 3 Euro. The buses usually leave every 30 minutes.
Visit Tibidabo by car
The easiest way would be to go by car, of course, if you happen to have that option. There is plenty of space to park your car and the price for a whole day is 13 Euros. You can book your ticket here in advance.
When renting a car, make sure to check out rental cars. I have been using them for years and can tell you it's a car rental website with no hidden fees. The booking process is so simple. When we booked a car with them in Portugal, we even got an upgrade and even got a cabriolet! Renting a car in Barcelona is great if you want to check out the outskirts and are planning to do a one-day trip.
Take the Hop-on Hop-off bus to Tibidabo
As mentioned previously, you can take the hop-on-hop-off bus to reach Tibidabo. If you are already on one of the buses exploring Barcelona, get off at the stop "Tibidabo Tramvía Blau". There, you take the tram to Plaza Doctor Andreu. You will pass Barcelona's most beautiful villas and mansions. So make sure to look out of the windows. At Plaza Doctor Andreu, you take the historical funicular train to Mount Tibidabo which will leave you at the entrance of the amusement park. You can book your ticket here.
Go to Tibidabo by tram!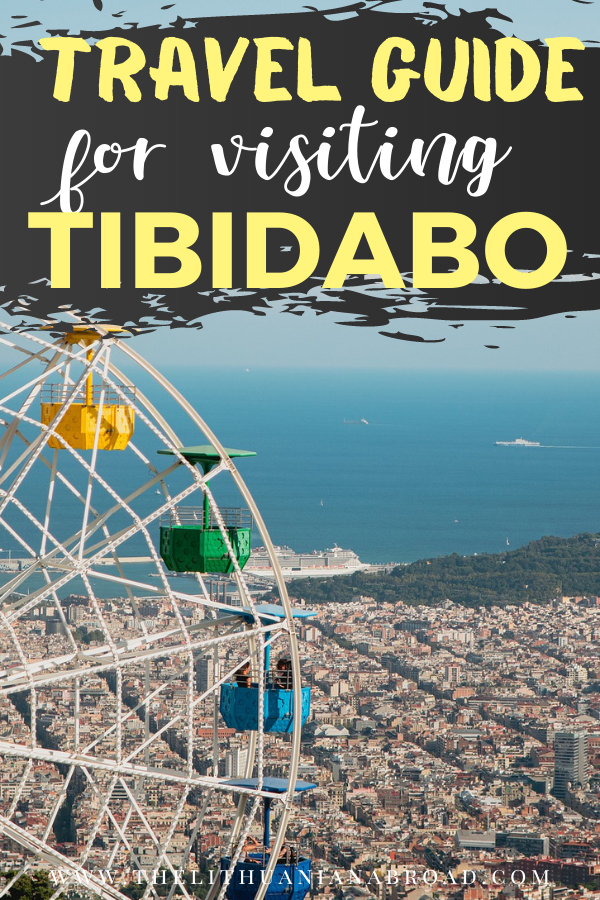 The second option would be taking line 7 from Placa Catalunya to Avinguda Tibidabo FGC (Ferrocarriles de la Generalitat). The metro in Barcelona is quite easy to navigate and has signs in Catalan and English. I would definitely recommend getting the TMB App! From Avinguda Tibidabo you can hop on Tramvia Blau. Here, you will pass Avenida de Tibidabo with the beautiful mansions I mentioned before.
The trams stop at Plaza Doctor Andreu where you can take the funicular train to the top of Tibidabo. It will leave you right at the entrance of the Amusement Park. The funicular train has been going there since 1901 so it is definitely an experience to take it!