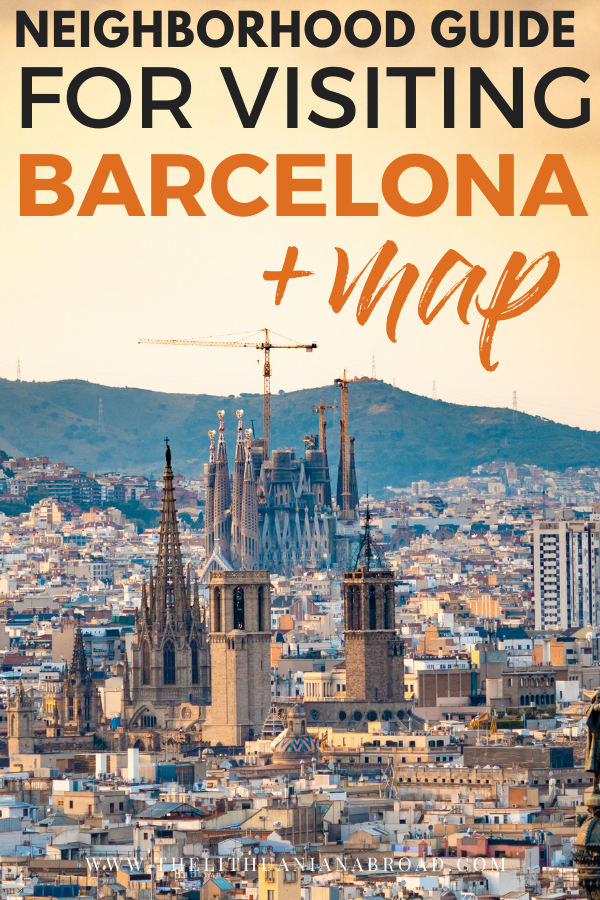 I am not gonna lie: It took me quite a while to understand the neighborhoods of Barcelona. I was always confusing the Gothic quarter with Born and was never really sure where Eixample started and where it ended. If you feel similar, I got you, don't worry! This blog post includes a Barcelona Neighborhood map that you can download and display on your phone. I made this map on google maps so you can easily send it to yourself. Apart from that, I added the most important monuments and attractions for each area. Another thing this post includes are recommendations for where to stay in each area of Barcelona. For all budgets, of course!
These are the neighborhoods mentioned in this blogpost:
Gràcia, Eixample, El Born, El Raval, Barri Gótic, Poble-sec, La Barceloneta, Poble-Nou
Other blog posts about Barcelona you might like:
Do you also like doing walking tours every time you visit a new city? This guide includes a walking tour around Barcelona you can do by yourself. I made sure to include detailed information about every monument and there is an interactive map with an itinerary you can download on your phone.
This Barcelona bucket list includes all the important attractions and places you have to visit when you come to Barcelona for the first time. How many of these items can you cross off during your stay?
Make the most out of your weekend in Barcelona. This is the perfect itinerary for spending a weekend in Barcelona. This guide includes recommendations on where to stay, and what monuments to see. And of course, we are visiting a couple of Gaudí masterpieces!
Mount Tibidabo is a true hidden gem and offers one of the best view spots in Barcelona. Apart from that, you get to visit the oldest amusement park in Europe! It is the perfect destination for a little day trip from Barcelona.
Make sure to go on a free walking tour in Barcelona:
Free walking tours are a MUST when visiting a city for the first time. In my opinion, it is the best way to explore a city from the eyes of a person that lives there. The guides are always local that are absolute experts about the history and the best places to see in the city. How do free walking tours work? These tours do not come with a price tag. That's why your local guide depends on your tip.
Free walking tours usually take 3-4 hours where you see the best parts of the city you visit. And you learn so much about history. You can ask your guide about the best places to eat or plans for the evening. After the tour, you have time to give your guide a tip. How much should you tip them? This really depends on your budget and how much you liked the tour. I have done free walking tours in many cities all over the world. And I do recommend them 100% 🙂
Book your free walking tour in Barcelona here
Must-do Activity: Boat tour along Barcelona's port:
A great activity you can do in Barcelona is doing a boat trip. Let's be honest: How many times do you get to do a boat trip in such an amazing beach city like Barcelona? It's a great chance to admire Barcelona's skyline and port from a completely different point of view. There is even the option to go during sunset.
And before you think that this is way too expensive and that you probably can't afford it, it only costs 12€!!! You can find more information here.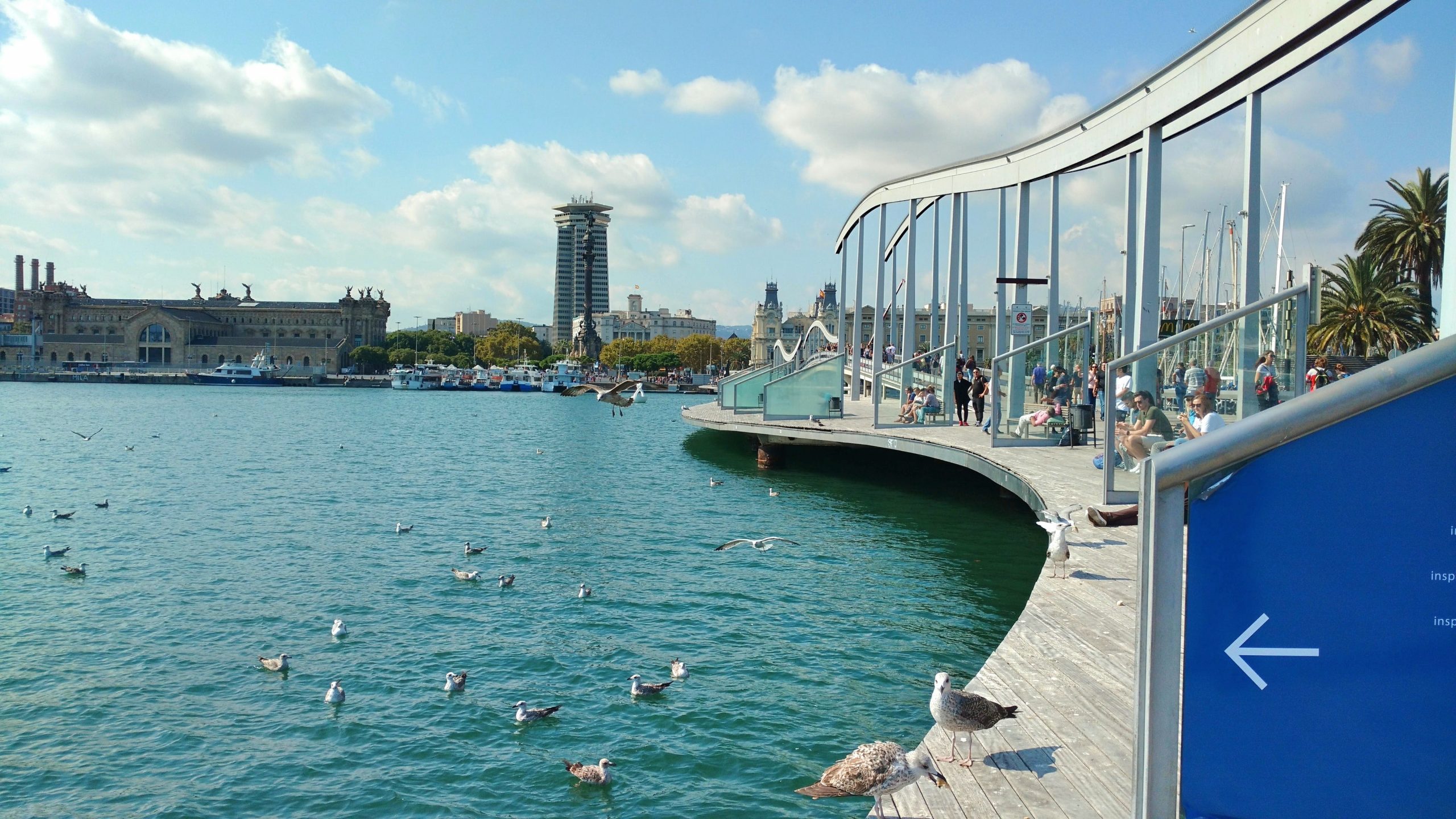 Barcelona Neighborhood Map you can download:
Download this Barcelona map by sending it to your e-mail!
In this blog post, we are going to talk about the largest and most important neighborhoods of Barcelona: Grácia, Eixample, El Raval, Poble-sec, Poble-nou, Barri Gòtic, El Born & La Barceloneta
Let's have a look at Barcelona's most popular neighborhoods:
1. Explore the hip neighborhood of Barcelona: Gràcia
I decided to start with the neighborhood of Grácia because it feels like a very local area of Barcelona. It is known for its narrow streets, which make it feel as if it was a small town. And actually, it was a small town independent from Barcelona, until it was kind of swallowed by the big city at the end of the 19th century.
The center of Gràcia is "Plaça del Sol", where you can find a wide range of bars. Restaurants in Grácia are usually very affordable. Don't forget, you are a bit further away from the busy street of La Rambla. There are not many tourists here and if you are looking for tourists buses, you will not find them.
Gràcia is also known for its offer of alternative shops and unique boutiques. Maybe you can find the perfect Barcelona souvenir here. And it won't be one that everybody has!
My tip: Try restaurant "sómodo" for their amazing lunch menu. I promise it will not disappoint!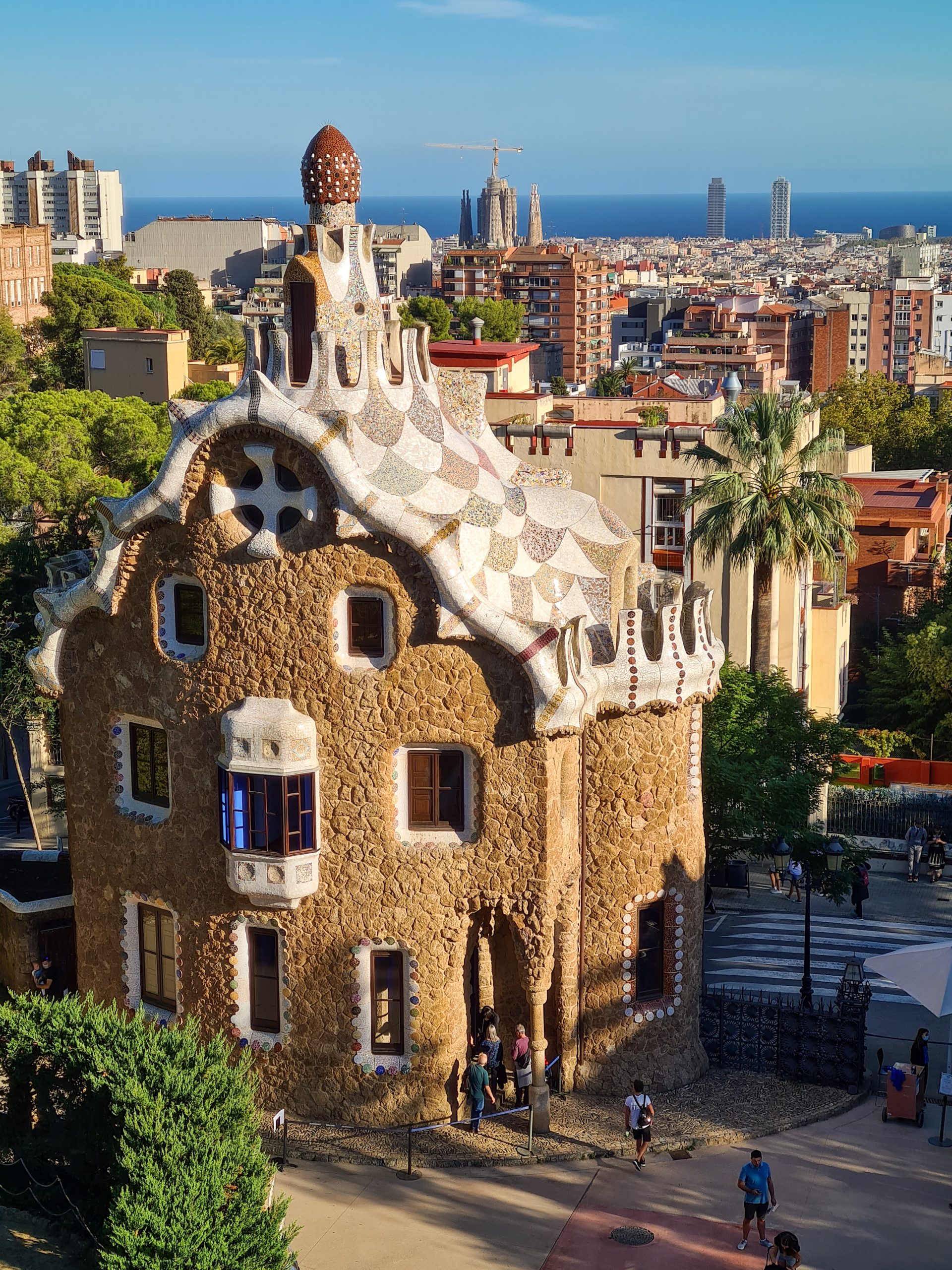 The best monuments you have to visit in Grácia
Walk around the most beautiful park in Barcelona: Park Güell
You should definitely plan to visit Park Güell during your stay in Barcelona. Park Güell is a beautiful park system in the neighborhood of Grácia. It is one of Barcelona's most popular tourist attractions, and rightfully so!
Eusebi Güell, the owner of the park, hired mastermind Antoni Gaudí to design the park. The beautiful architecture we can find in the park is the reason why it was declared a UNESCO World Heritage in 1984. One out of nine in Barcelona. You know, casual.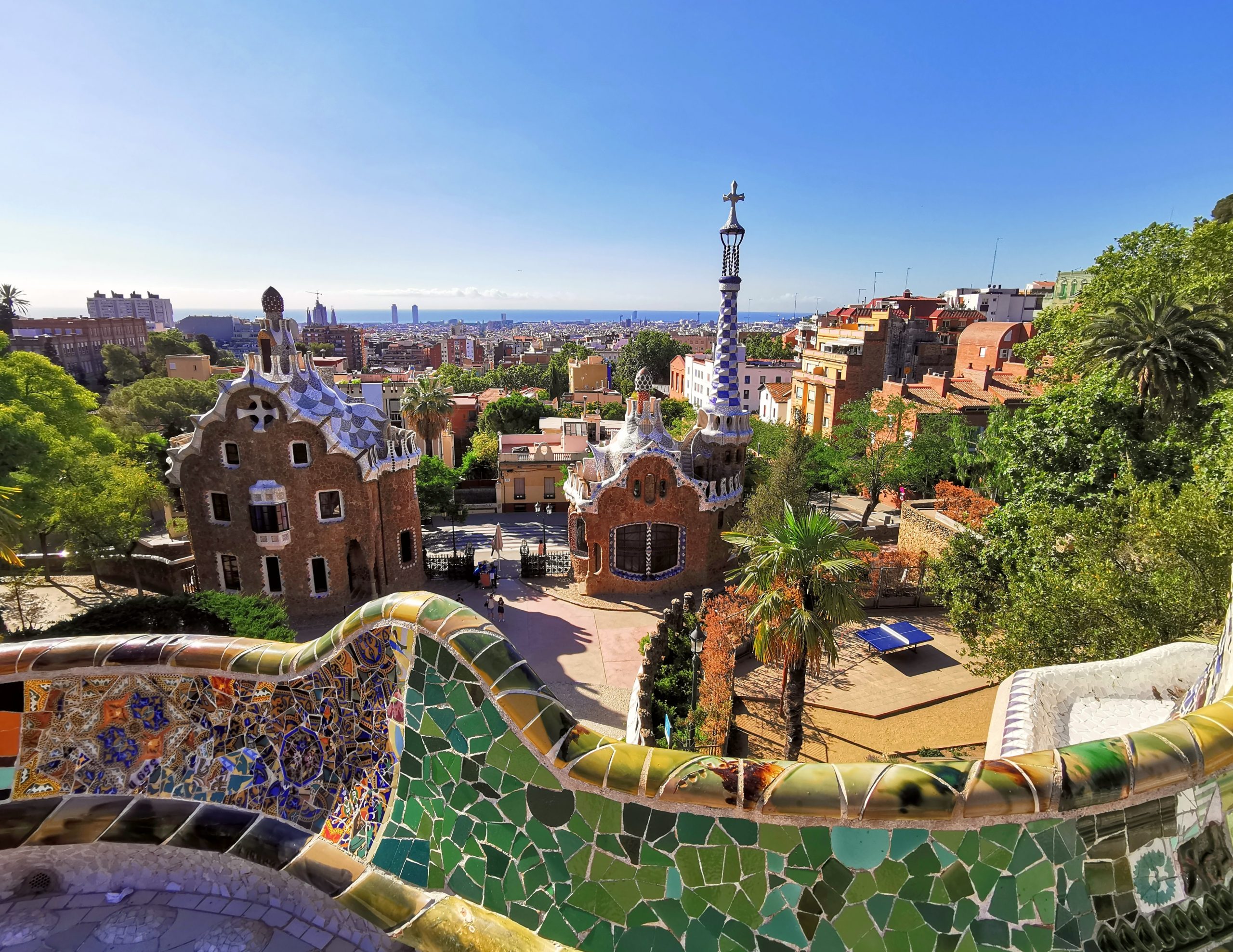 Admire Casa Vicens, another Gaudí masterpiece in Barcelona
Casa Vicens is a true hidden gem of Barcelona that many people do not know of! This building was designed by the one and only Antoni Gaudí. And if you happen to be in Gràcia you should definitely check it out. Casa Vicens was one of the first creations of Gaudí. As you might be able to tell while looking at the building he was inspired by Islamic, Indian, and Persian art. In 2005, Casa Vicenc received the UNESCO World Heritage title. Totally deserved, right?
Book your entry tickets here so you can skip the line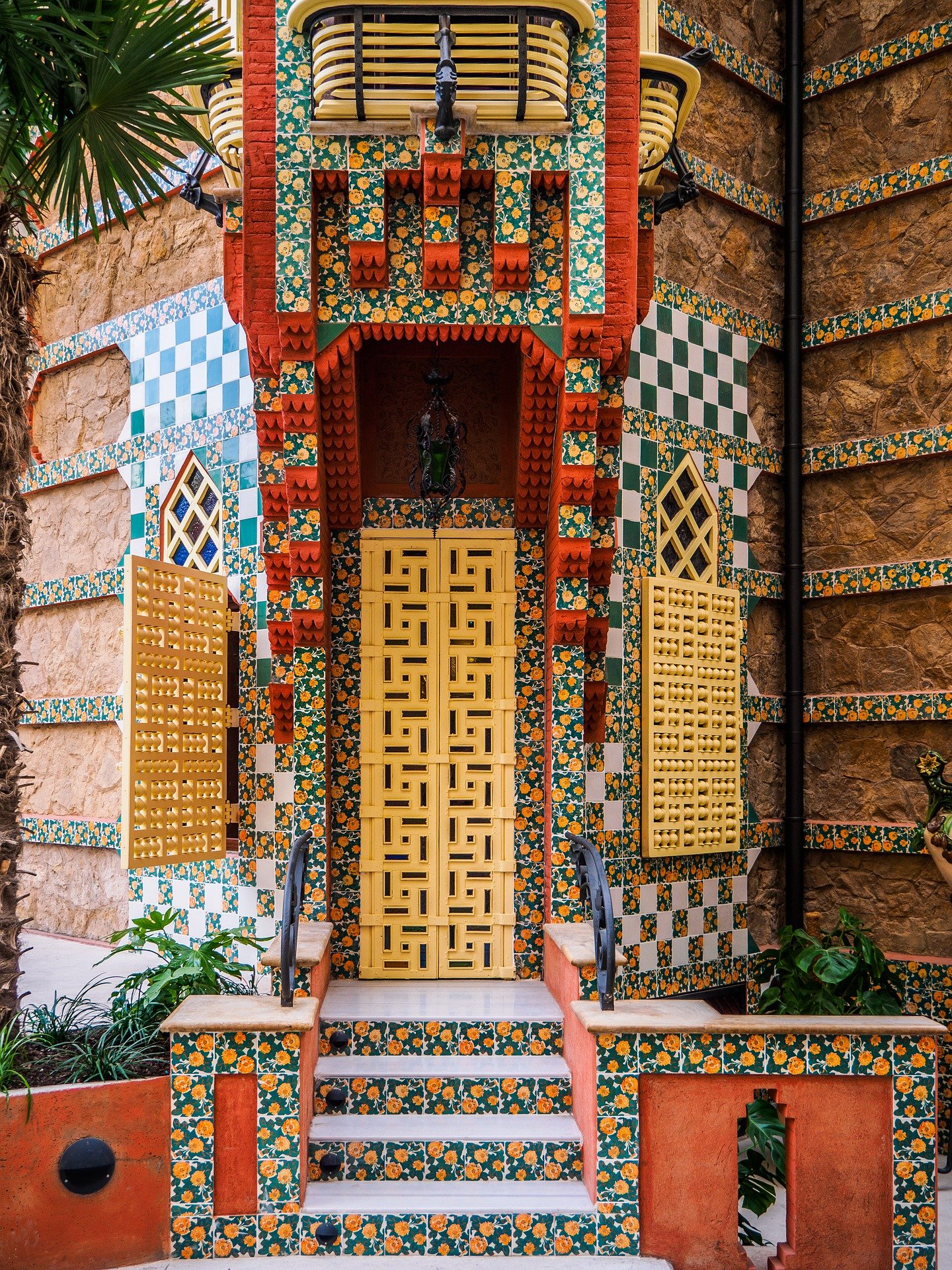 The best places to stay in Grácia:
€: Casa Grácia, the most modern hostel you will ever visit
I have met several people that stayed at Casa Gràcia and they all have been telling great things about it. It really is a modern and fancy place to stay in Grácia, but yes, it is still a hostel. You still have the opportunity to stay in a shared dorm, but it won't be the typical backpacking experience. You will feel like in an actual hotel, but for a much smaller price.
La Palecete is located in a quiet area in Grácia. You will be further away from the tourist areas of Barcelona which will give you the chance to see the real Barcelona. The hotel itself has a very unique and modern interior. And it just fits perfectly with the bohemian flair of Grácia.
---
2. See the fancy side of Barcelona: Eixample
We have to thank Eixample for Barcelona's famous grid pattern that I am sure you have already seen before. 'Eixample' means 'Extension' in Catalan and refers to Eixample being an extension of Barcelona's oldtown when the city's population skyrocketed in the 19th century. The grid pattern that is typical for Eixample is the idea urban planners had to accommodate many people but also make it easier to deal with sanitary issues.
Eixample offers many shopping opportunities, from affordable to high-class fashion. If you would like to check out these stores, then 'Passeig de Gràcia" is your place to go.
By the way, if you take the bus from Barcelona airport to the city center of Barcelona it will leave you at Plaça de Catalunya. This plaza connects the district of Eixample with the old town of Barcelona.
When it comes to restaurants, you should try 'El Nacional' which is a food hall with several restaurants. An amazing place to try Iberian tapas with a glass of wine. A brunch place I want to mention here is "Ugot". Probably one of the best brunch places in Barcelona.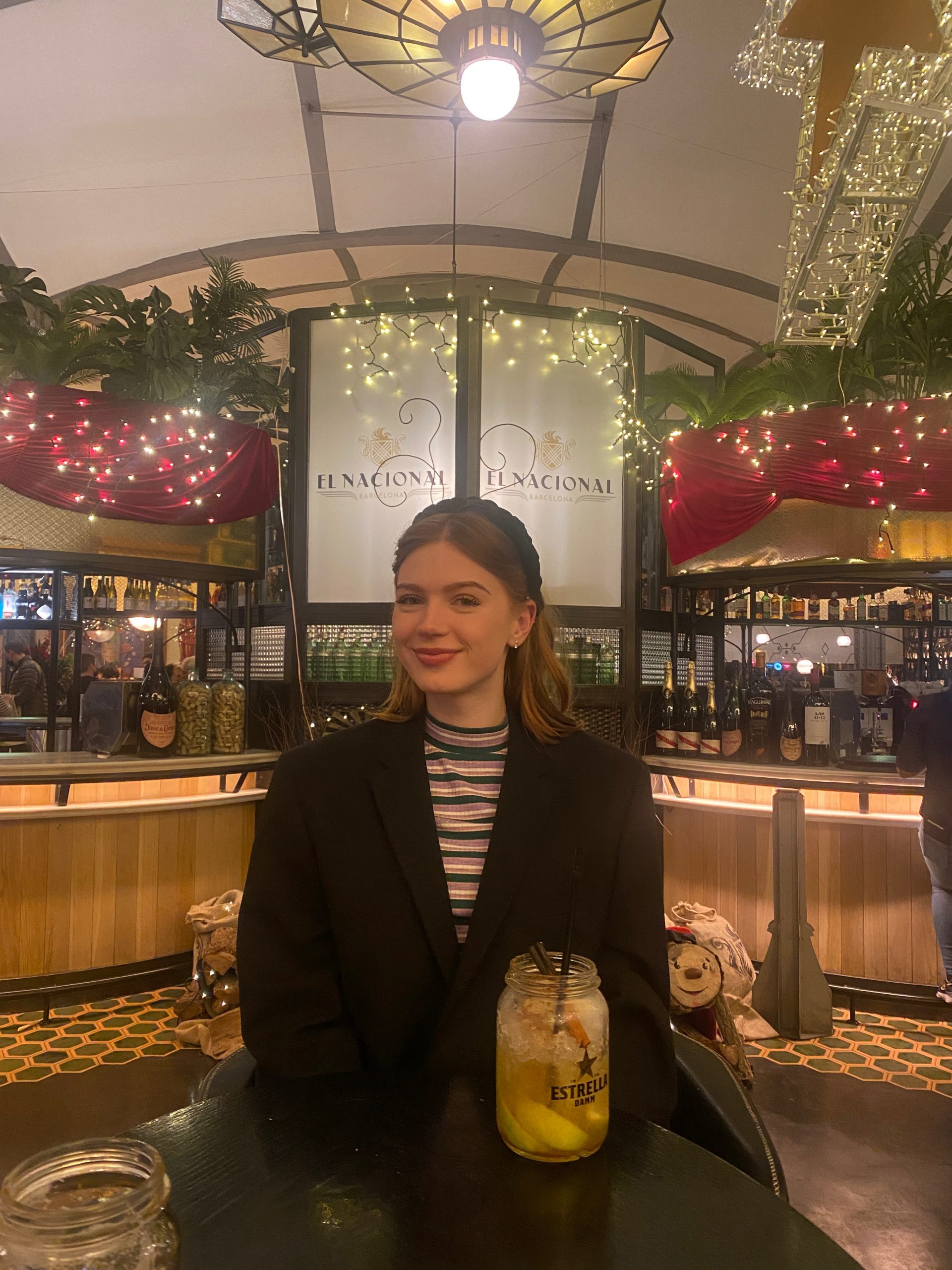 Places to see in Eixample:
Admire Spain's most iconic landmark: La Sagrada Familia (Duh!)
Of course, you cannot leave Barcelona without seeing the Sagrada Familia before. The Sagrada Familia is the most famous masterpiece of the one and only Antoni Gaudí. He died in 1926 before he was able to finish it. And up to today, Barcelona's most famous landmark remains unfinished! You just have to look at the detailed architecture. I promise it is something you have never seen before! I would highly recommend seeing the Sagrada Familia from inside if you have the time.
My tip: If you book your tickets online you can skip the line. As you can imagine the area gets quite crowded so you should avoid waiting in line.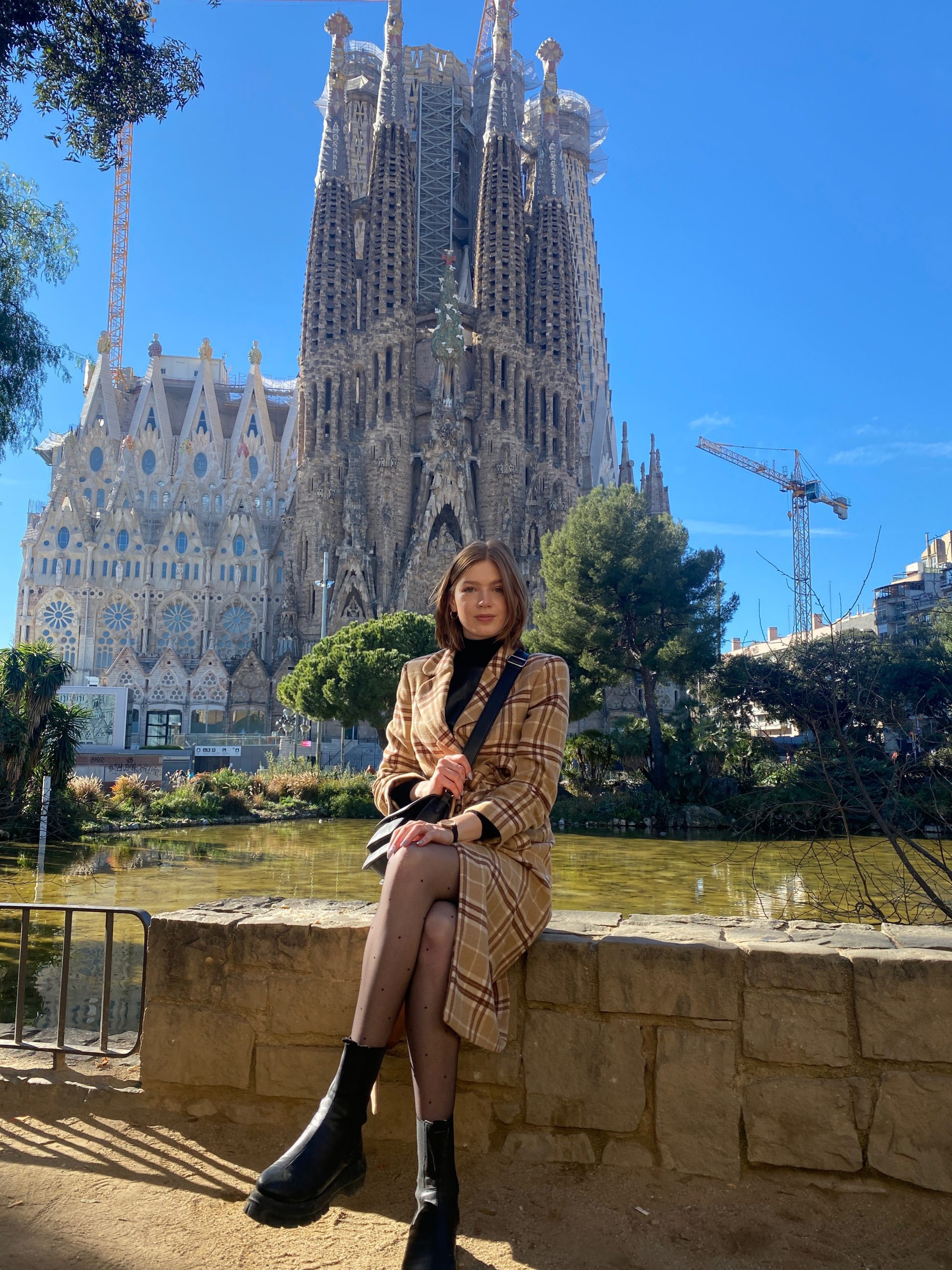 Accommodation in Eixample:
€€: Hotel Ayre Rosseló, the hotel with the best view of the Sagrada Familia
I absolutely adore this hotel for one reason: You have the best view of the Sagrada Familia on their rooftop. And many people do not know that, so it still is like a hidden gem of Barcelona. The hotel is very modern and has a beautiful interior. A great place with an outstanding location.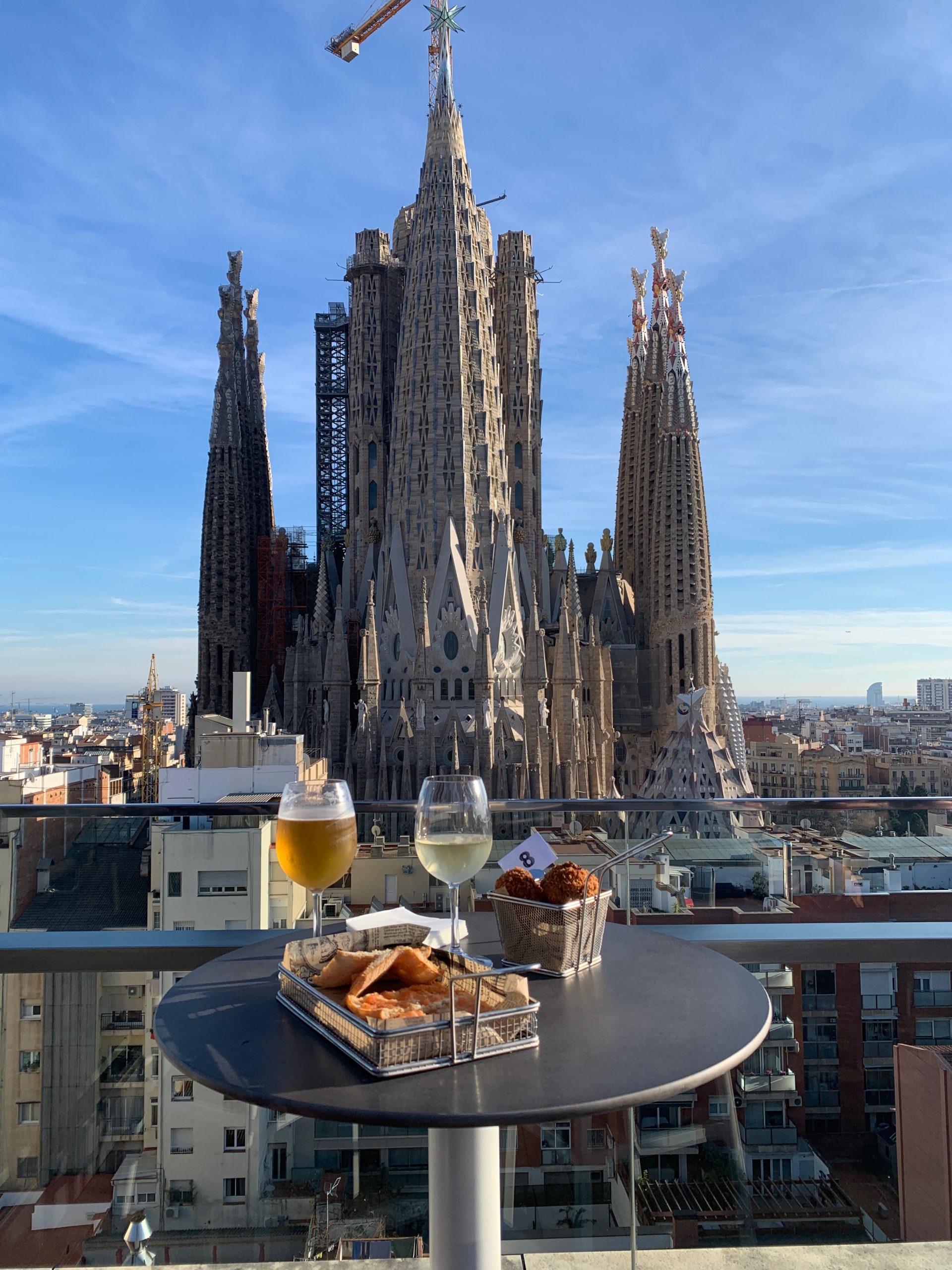 Wow! Wow! WOW! I am not exaggerating when I say this hotel looks like the biggest dream. The views from the rooftop (and rooftop pool!) are absolutely stunning. If you want to relax and treat yourself during your stay in Barcelona, check this place out!
---
3. El Born, the medieval neighborhood of Barcelona
El Born is probably one of the most popular and international neighborhoods of Barcelona. The center of Born is the street called "Passeig del Born", which has also become a popular nightlife destination for tourists and locals. Born is full of unique little shops selling everything from clothes, and jewelry to cute accessories. One of the oldest streets is called Carrer de Montcada, whose history goes back to the 12th century. Back then, wealthy traders started building their mansions on this street. Mostly all of them are in the beautiful gothic style that we can see there now.
Born is so diverse, that it has a lot to offer when it comes to food. Dr. Stravinski is one of the best cocktail bars in Barcelona, that you absolutely have to visit. Another popular destination for food is Mr. Robinson. A hip restaurant that plays music and serves great cocktails. Ok, it probably is a bar.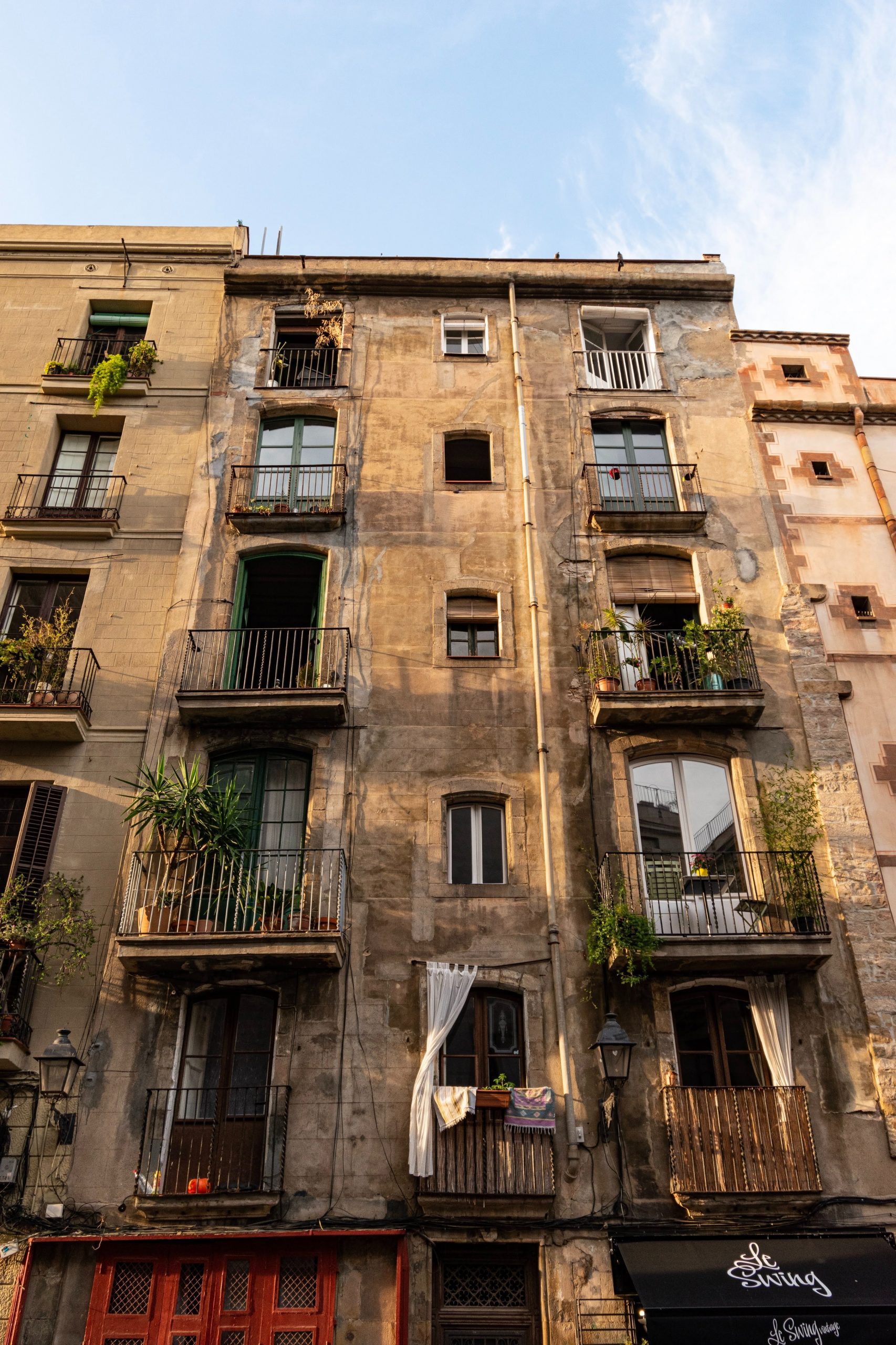 The main tourist attractions to see in Born
El Born Centre de Cultura i Memòria, the ruins underneath Born
Did you know that underneath the neighborhood of Born are ruins from an old city from the 18th century? This cultural space is located in the old market hall of Born, which, by the way, was supposed to be turned into a library in 2002. But once construction work started it ended abruptly once the ruins of a city from the 18th century were found. And since 2013 the whole area is open to the public.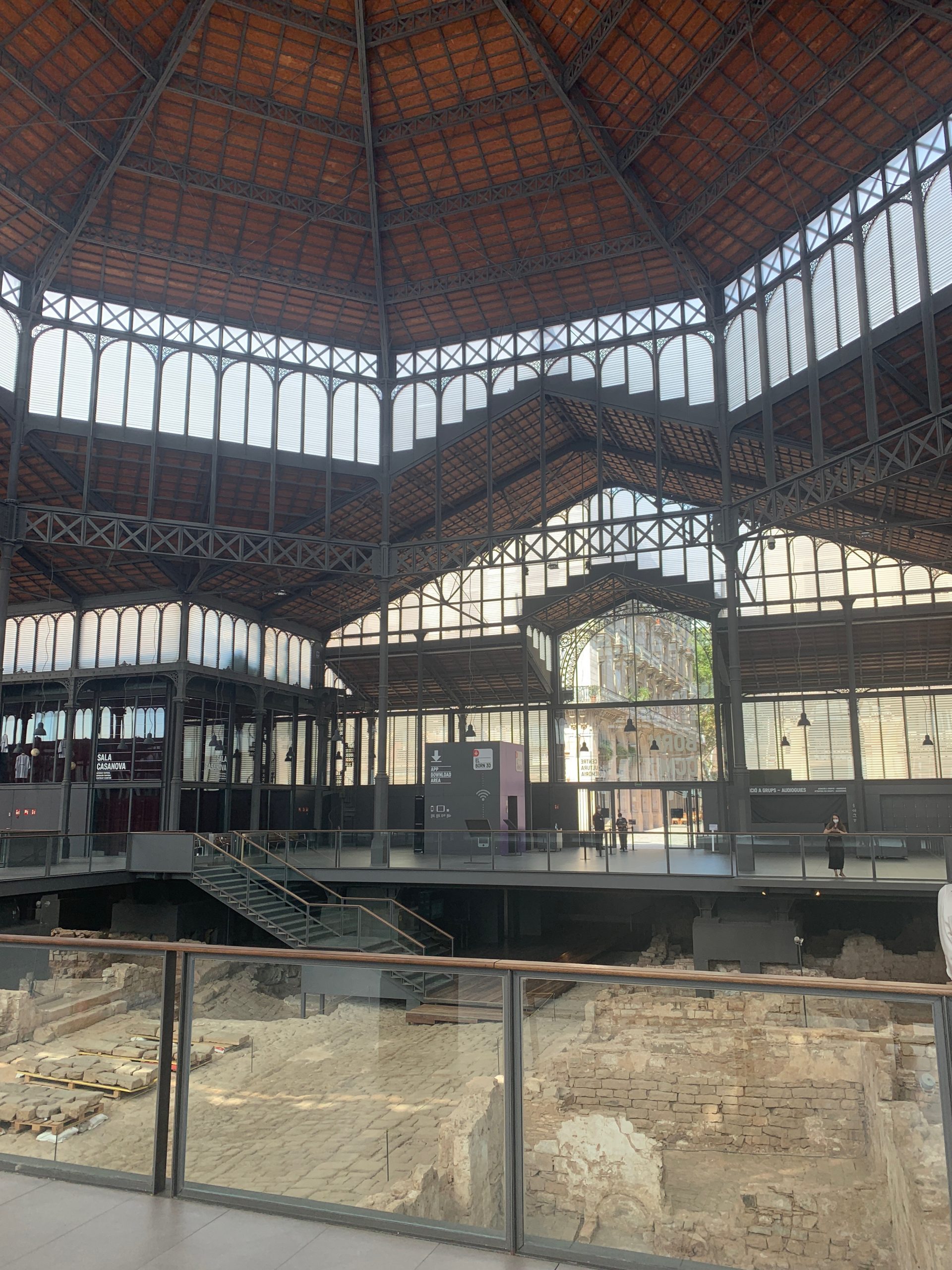 Visit the MOCO Museum to see impressive contemporary art!
I took my mom to see this museum and she was very impressed! You will find artworks by very famous artists like Banksy, Salvador Dalí or Andy Warhol. Apart from paintings, this museum also shows digital art and even NFTs. I really liked how interactive it was, and I found it very interesting to see the different rooms with different themes. This is the perfect place to go on a rainy day in Barcelona, that is what we did and enjoyed it a lot! You can find more information here.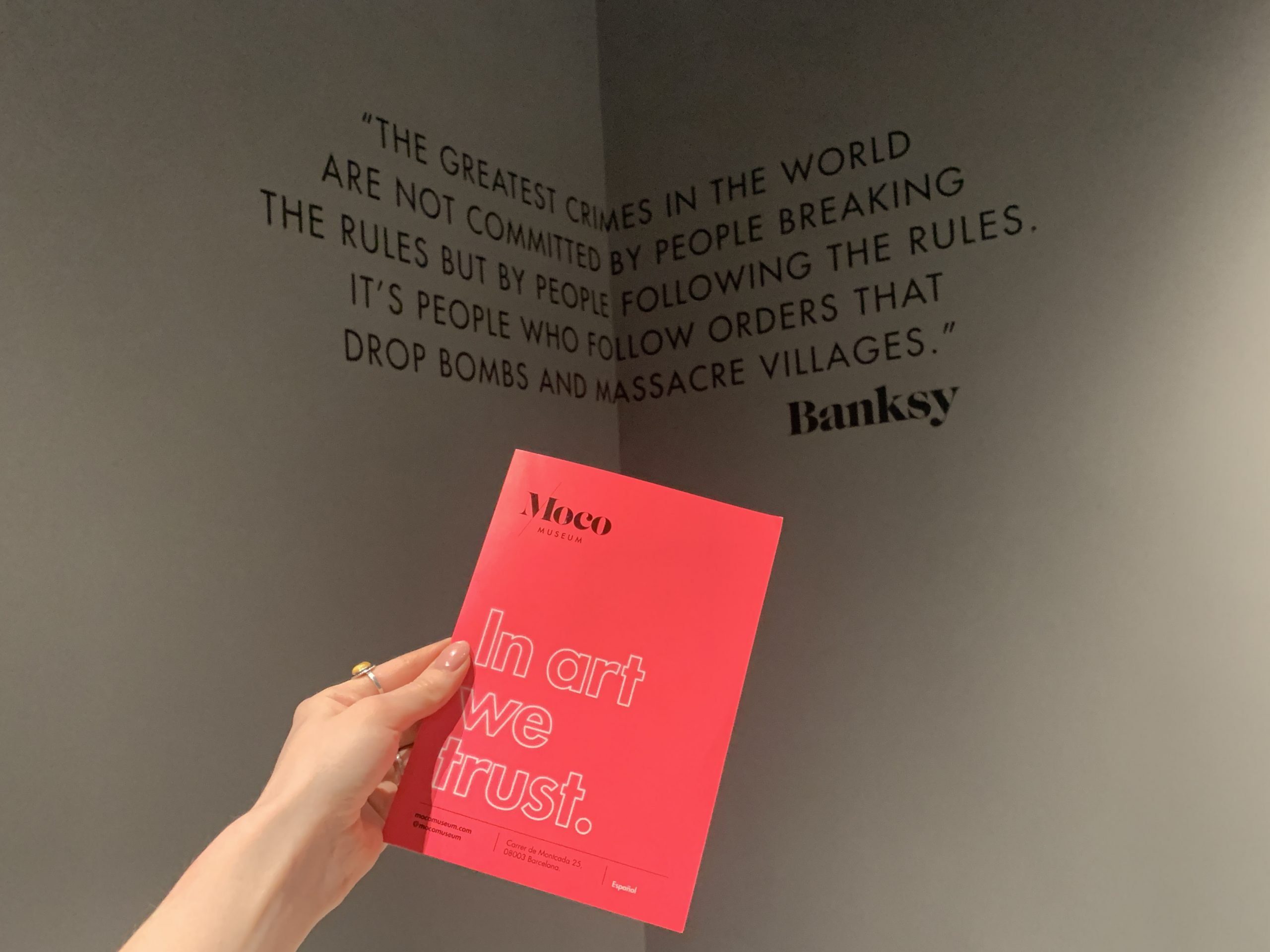 Accommodation in Born
€: Hotel Oasis, the affordable option for Born
This hotel has everything you could ask for: Modern rooms with a beautiful aesthetic, a beautiful rooftop bar, and even a pool. That is why I was very surprised when I saw the price of it. The perfect option if you are looking for an affordable place to stay in Born.
This is a very popular hotel in Born, and rightfully so. The location is amazing – it is located right across Parc de la Ciutadella. And the beach is just a short walk away as well. And just look at this amazing rooftop pool! Imagine having a drink there while watching all over Barcelona's skyline!
4. Check out Barcelona's multicultural neighborhood El Raval with its vibrant nightlife
El Raval is the area of Barcelona famous for its crazy nightlife and countless bars. The part of Raval that is closest to the old town of Barcelona used to be known as 'Barri Xinès', which translates to Chinese neighborhood, due to the increasing number of Asian immigrants settling there. The name Raval origins from the Arabic word rabad, which means suburb. It was given this name because Raval lies outside the city's first medieval walls.
While walking down La Rambla del Raval you will find a sculpture of a voluminous cat by the Colombian artist Botero. This cat arrived at Raval in 2003 and since then became the symbol of the whole neighborhood.
When it comes to food places Raval has a lot to offer: Try Tapas bar 'El Jardí' which is located in the garden of the old hospital Santa Creu. Another advantage of Raval is that you will be right between Barcelona's two most famous food markets: La Boqueria and Mercat Sant Antoní.
El Raval is the one area everyone warns you about pickpockets, so a word of warning from my side as well. As in all big cities, you should always take care of your belongings.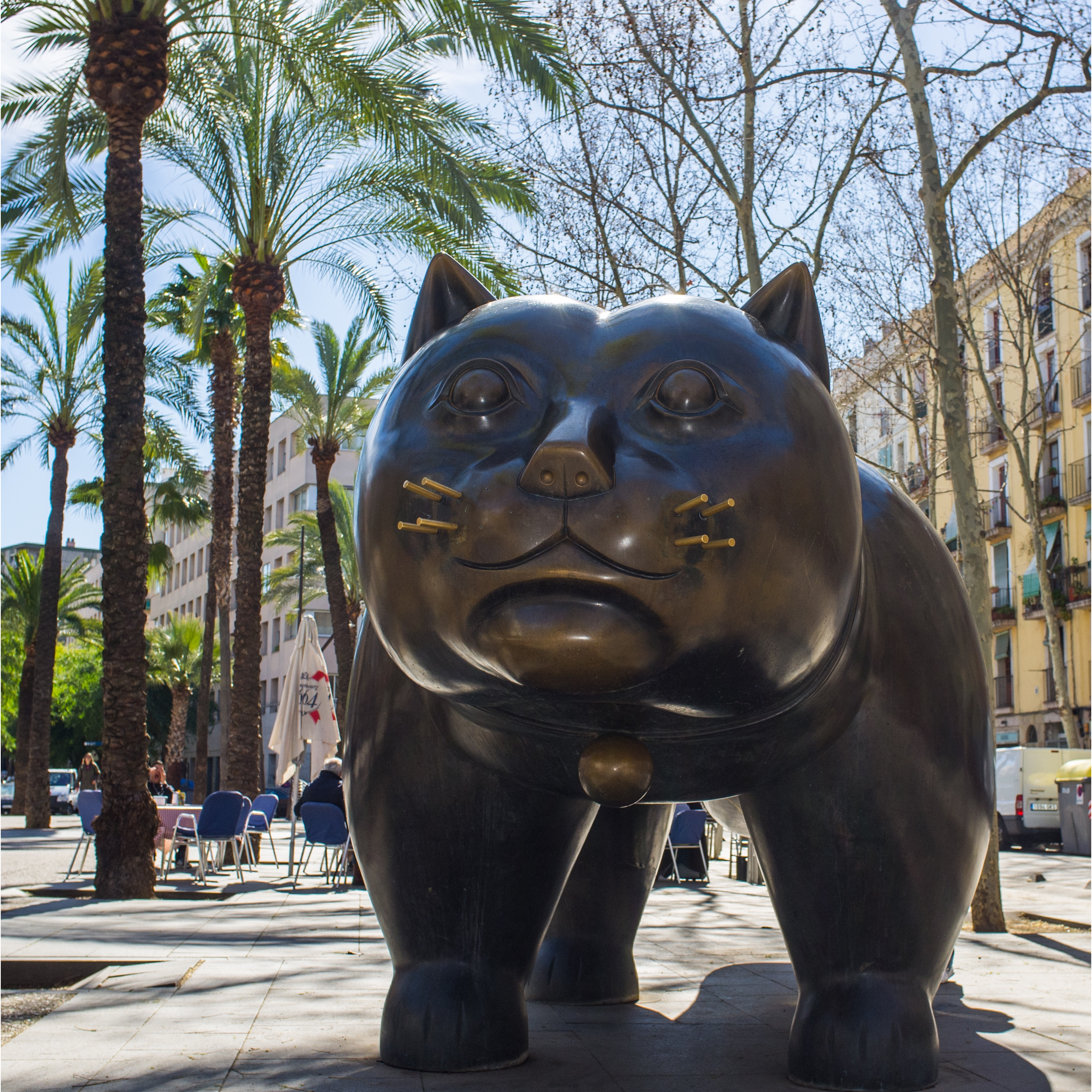 Monuments to visit in Raval:
Sant Pau del Camp, an impressive former monastery
The first time I saw this beautiful building I could not believe it was in the center of Barcelona. Sant Pau del Camp is a former monastery, that is now a church. It is famous for its elegant Moorish arches and for how well it is preserved. And it is one of the oldest churches in Barcelona!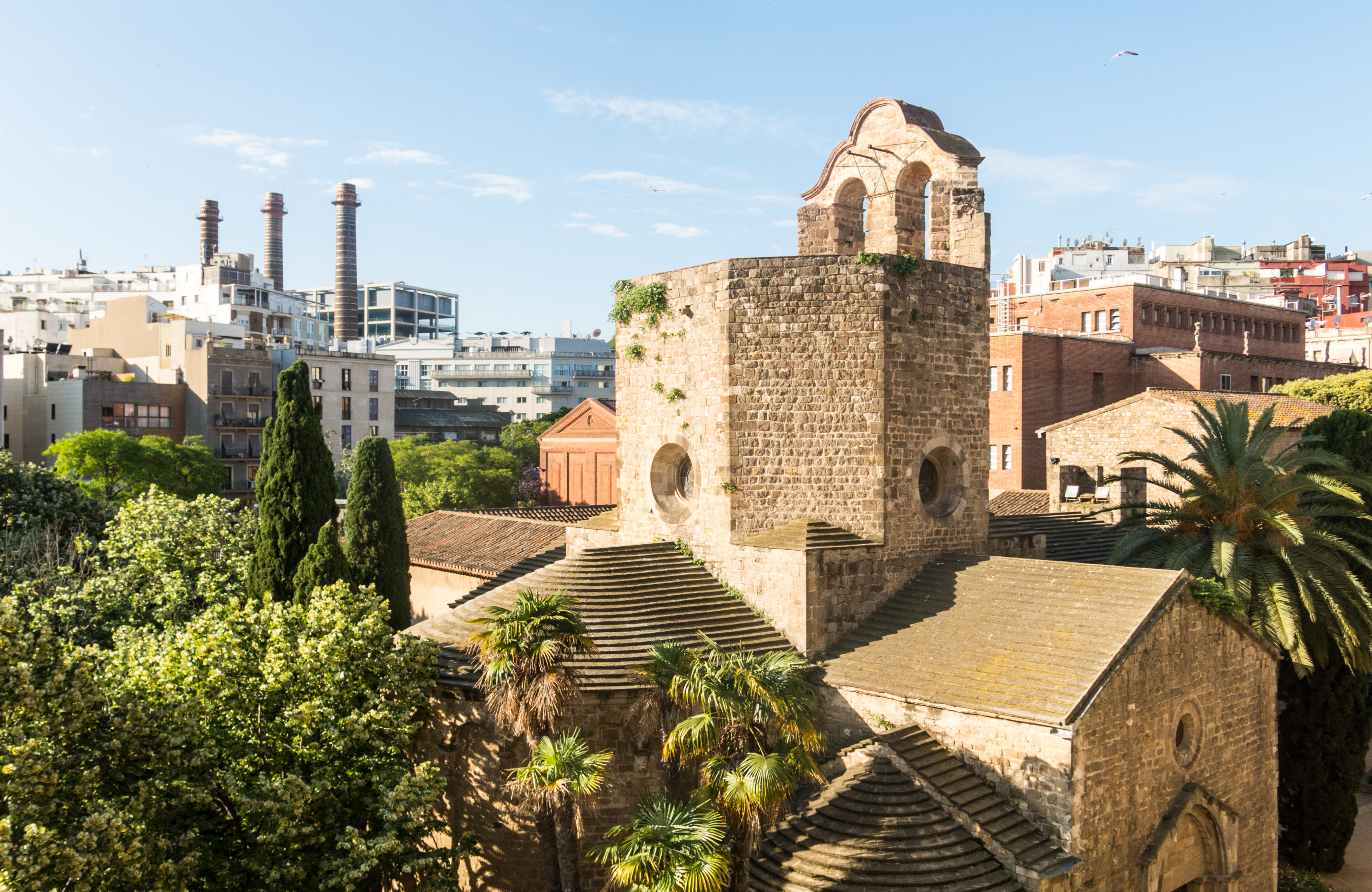 Admire Modern Art at the Museu d'Art Contemporani de Barcelona
This is THE place to go for modern Catalan art. I have to admit that I do not always like modern art museums, but this one really impressed me. The museum changes its exhibitions every 3-4 months, so check out the current exhibitions and see if this is something that could interest you!
Another interesting fact is that the area outside of the museum is known to be one of the most iconic skateboarding places in Barcelona.
The best places to stay in Raval:
€€: Stay in a hotel full of history at Hotel 1898
This hotel is perfect if you want to stay central and love authentic and historic hotels. Hotel 1898 got its name due to the year it was built. Over history, it was the headquarters of the General Philippines Tobacco company. A very beautiful place with character!
€€: Teleport yourself back to the 60s at Sixties Ramblas
I am adding this to the list because it might be fun to stay at an unconventional hotel. The interior of this hotel is designed to look like from the 60s. From the tiles in the bathroom to the cute Beatle in the lobby. Everything is vintage and unique. And the location is great, too!
---
5. Barrio Gótico, Barcelona's romatic neighbourhood
Welcome to one of the oldest neighborhoods of Barcelona – barri gótic (the gothic quarter). The Gothic quarter in Barcelona goes from the famous La Rambla to Vía Laietana and is part of the old city (Ciutat Vella). Many of the monuments in this area are from the 14th and 15th centuries. Very impressive!
There are so many small and curvy streets in the gothic quarter, you will feel like walking in a romantic labyrinth. But there are also many squares with bars and restaurants where you can sit down and enjoy a drink.
A gem in the Barrio Gótico you have to check out is El Quatre Gats, the bar where Pablo Picasso liked to hang out. Another place you have to check out is Plaça Reial, where you can see the famous lanterns wearing helmets, one of Gaudí's first designs from his earlier years.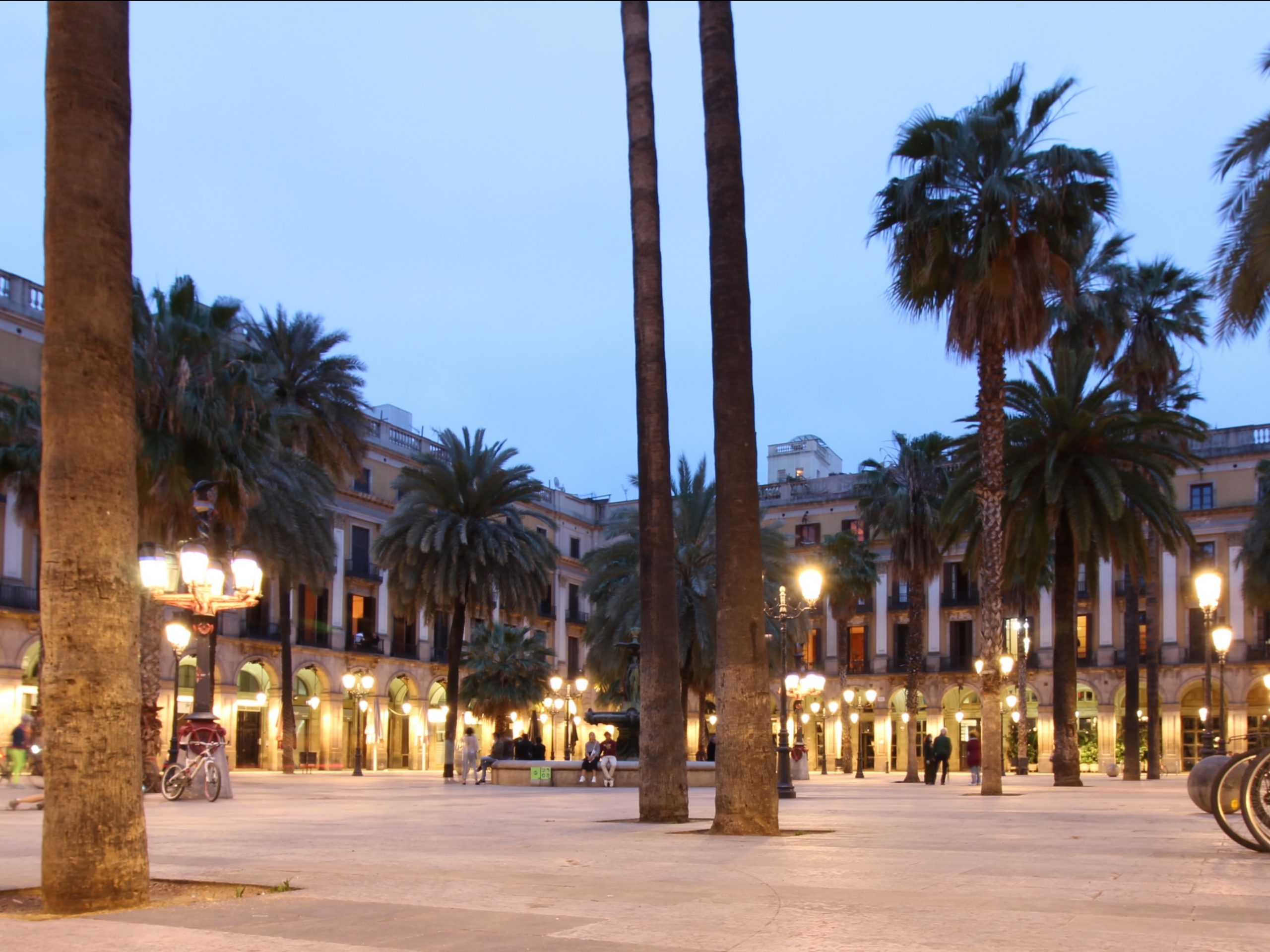 Monuments to see in the Barrio Gótico
Barcelona's Cathedral: Catedral de la Santa Creu i Santa Eulàlia
The Cathedral of Barcelona is probably the symbol of the gothic quarter and a beautiful eye-catcher. It is built in a beautiful gothic design and, as mentioned before, was built in the 15th century.
Once you are there, make sure to admire its stunning gothic architecture from the outside. If you decide to go inside (entry costs 9€), you will be able to see the gorgeous golden furnishing and ornaments inside. By the way, you can go up to the top of the Cathedral for amazing views all over Barcelona!
If you plan on going inside the cathedral: Make sure your clothes are covering your knees and shoulders, otherwise you might not be able to go inside.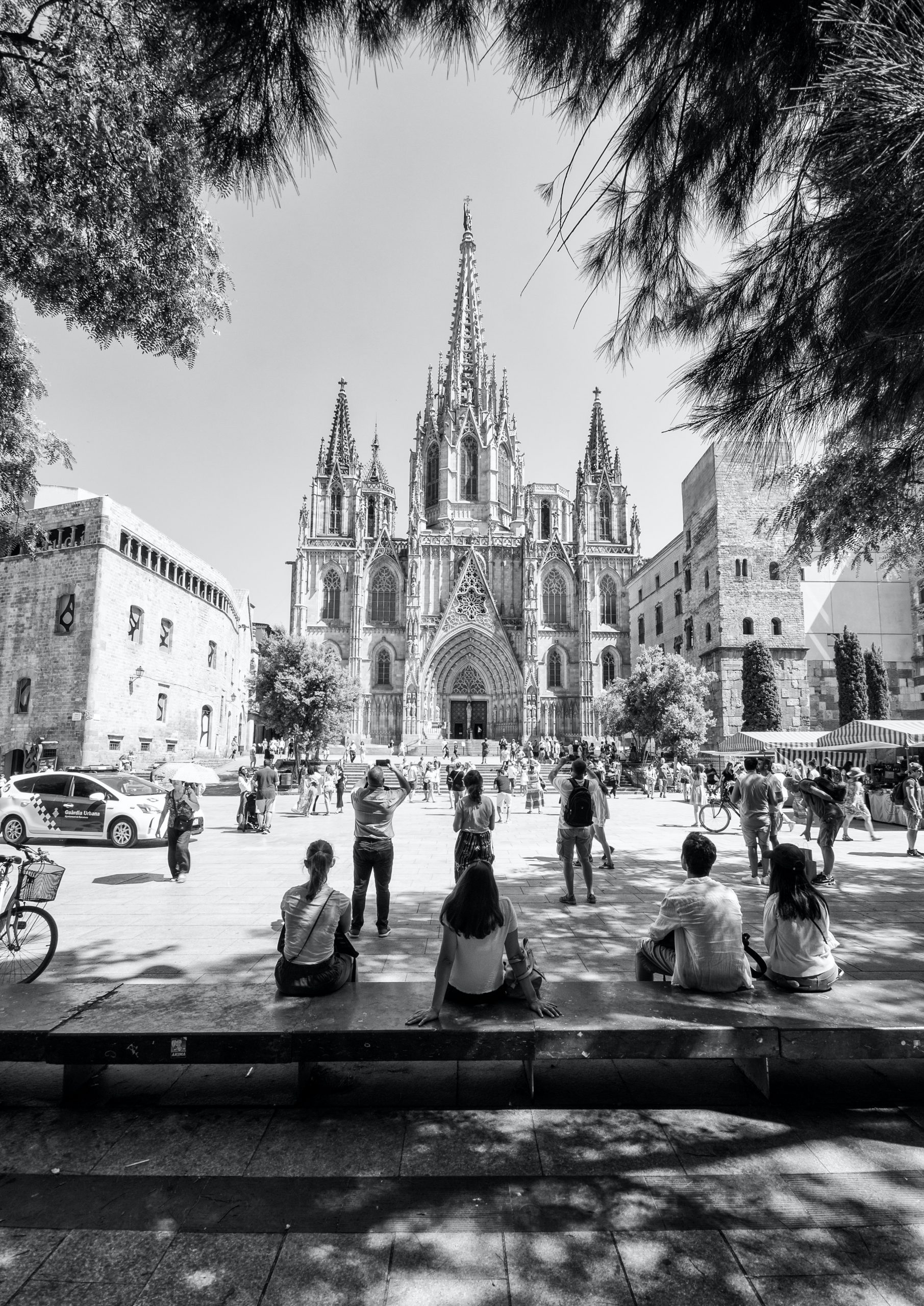 Learn about the tragic history of  Plaça Sant Felip Neri
I am adding this little square to this blog post because many people do not know about its sad history. Plaça Sant Felip Neri is a small square with a beautiful little fountain, right next to the Church Sant Felip Neri. This square, which almost seems idyllic, actually has a very sad story:
Fascists bombs hit this place in January 1938, killing 42 people, mainly children that sought refugee in the bunkers underneath the church. You can still see the damaged walls of the buildings on this plaza. It reminds us of the Spanish Civil War and the many lives it took. You can find a small sign placed on the square for the victims of this tragic night.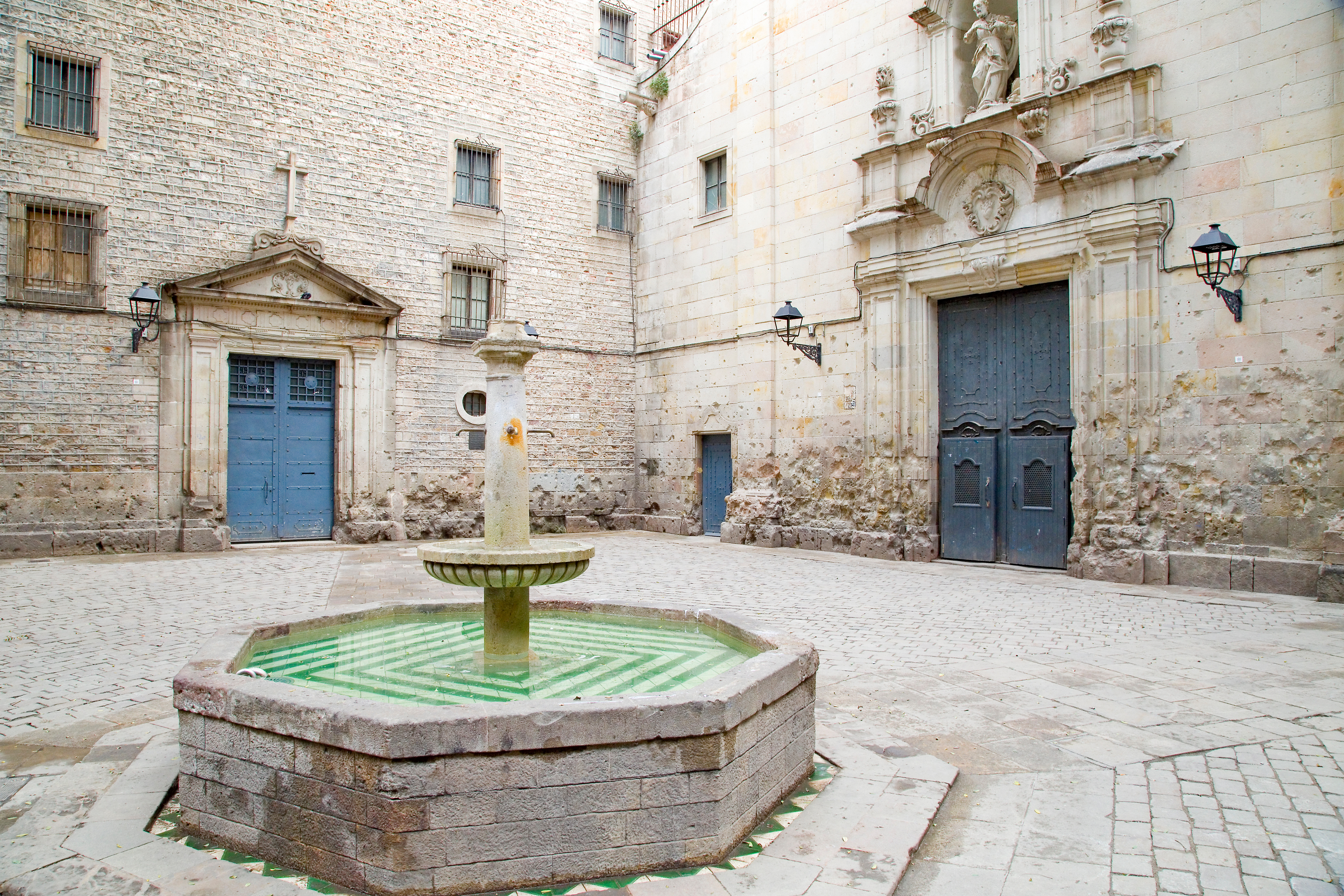 Where to stay in the Barrio Gótico?
I am very impressed by this hotel because you get really good value for money. And it has amazing reviews on bookiong.com. Just by looking at the interior, I think this hotel can compete with higher-class hotels. I love the design, especially the bathrooms are stunning. And you will be staying right next to Barcelona's cathedral.
€€€: Hotel Neri, one of the most exclusive hotels in Barcelona
This must be one of the most elegant hotels I have ever seen! The interior is so aesthetic and beautiful, I am sure you will have a relaxing time there. It is located in an 18th-century aristocratic house in the center of the Gothic quarter. The terrace looks so dreamy and silent!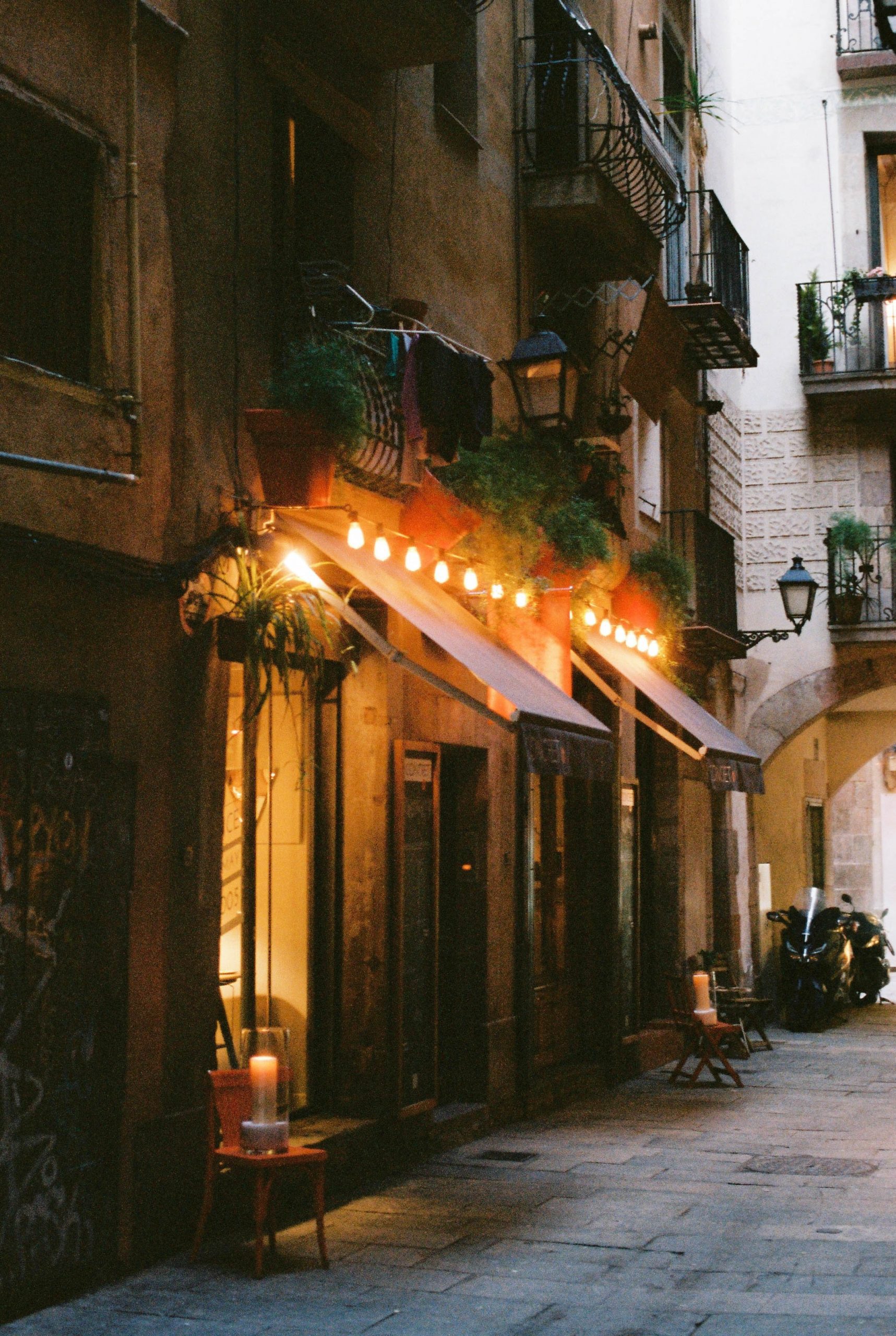 ---
6. Poble-Sec, the artsy area of Barcelona
Poble-sec means "dry village" in Catalan, and the explanation is quite interesting: This part of Barcelona had no access to water until a fountain was built in the 19th century. Barcelona was a city completely closed in city walls up to the late 19th century. During that time, Barcelona was quite overcrowded, the living conditions were horrible. And as you can imagine, the sanitary during that time was not any good either. One part of the city wall can still be seen at the end of Avinguda del Paraŀlel.
Nowadays, Poble-sec is a quiet residential area and many locals live here. But there are also many local bars and multicultural restaurants in this area. And we can always find amazing street art sprinkled all over the neighborhood.
When it comes to food, I would recommend trying Bar Celona (great wordplay!). It is a local bar that offers a simple, but amazing lunch menu you should try. It is very local and only serves Spanish meals. If you are looking for a nice place for dinner, try Martinez. It has views from all over the city. For bars, check out the street "Carrer de Blai". That is the place to go for drinks after dinner!
Monuments to see in Poble-sec
Montjuïc is a hill in the southwest of Barcelona. The name "Montjuïc" means "Jewish Mountain" in Catalan and it used to be the home of the Jewish community of Barcelona. Nowadays, it is one of the most popular areas of the city. And when you come here, you have to check out the following things: 
National Museum of Catalán Art: This museum shows a timeline of Catalan Art. You will find paintings, sculptures and engravings by artists like Picasso, Gaudí or Ramon Casas
Magic Fountain: Hundreds of people gather during the evening in summer to see the beautiful musical performance of the Magic Fountain. Here you can check when the next performances take place (completely for free!)
Poble Espanyol: 'Poble Espanyol' means 'Spanish Village' in Catalan and is a beautiful recreation of an Iberian village using the traditional architecture of Spain. Very recommended!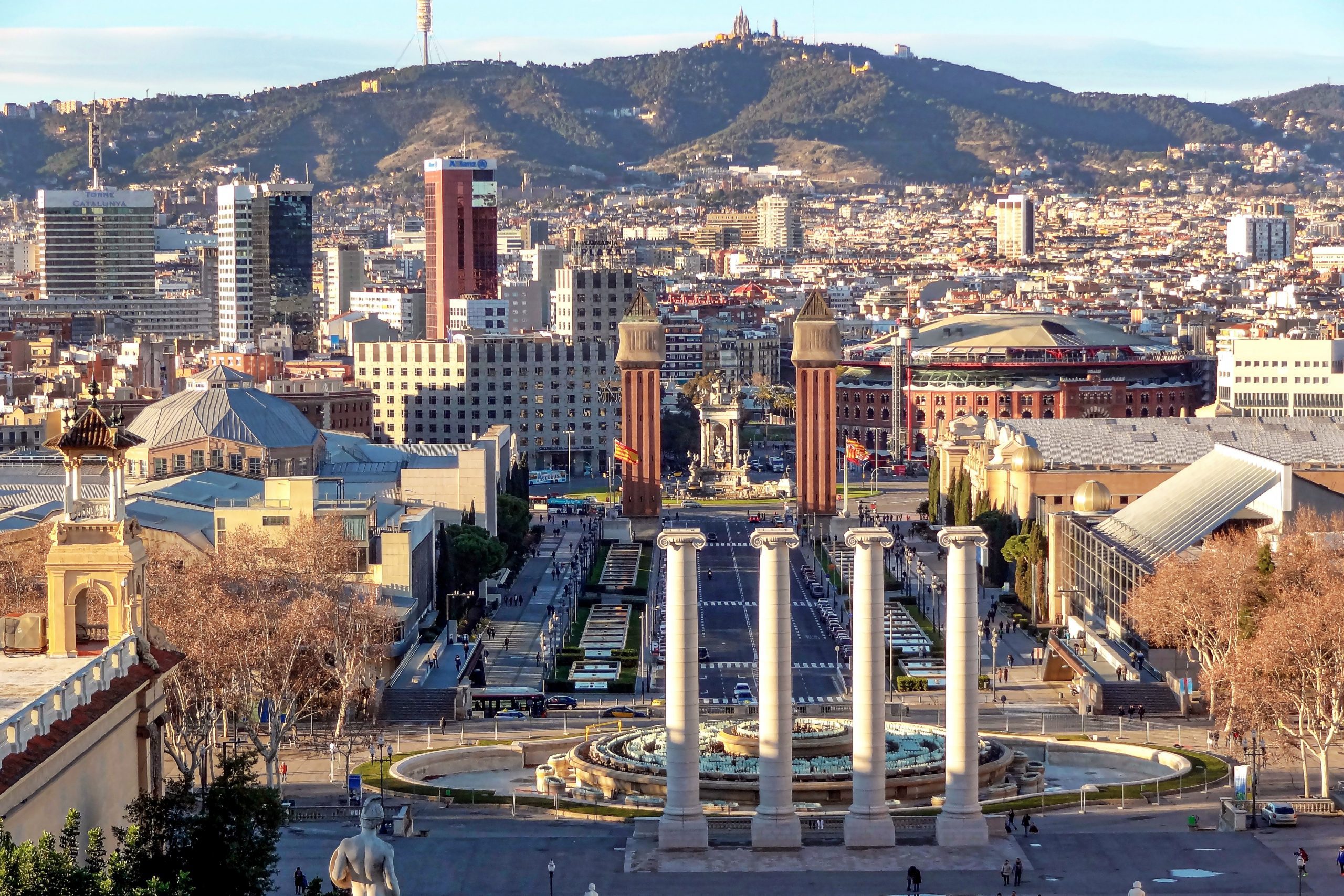 The best places to stay in Poble-sec:
€€: Hotel Brummel, the ultimate boutique hotel in Barcelona
Wow! This hotel is absolutely elegant and the interior looks stunning. It is very close to Montjuïc, so a great area to stay in Barcelona. The rooftop looks absolutely beautiful and look how much light all these rooms have!
€: Hostal Apolo, an affordable stay in Poble-Sec
This hostel is the perfect option if you are looking for an affordable stay. Let's be honest: You will probably not spend that much time in your room anyway. This place really has everything you could ask for and is super central. A great location in Poble-sec!
---
7. La Barceloneta, what used to be Barcelona's old fishermen village
Can you believe me if I tell you that this part of Barcelona used to be a small fisherman village in the 18th century? It only took a couple of centuries to convert this little village into one of Barcelona's most famous areas.
La Barceloneta is famous for its beach restaurants serving seafood and other Spanish meals. Of course, the port of Barcelona is also just a short walk away. Apart from that, it is also famous for its (rather expensive) nightlife, big clubs and fancy hotels by the beach.
When it comes to food and you would like to try authentic cuisine, I would recommend trying Can Solé. Another place I really like is Restaurante Brisa with awesome views of the whole port. Worth checking out!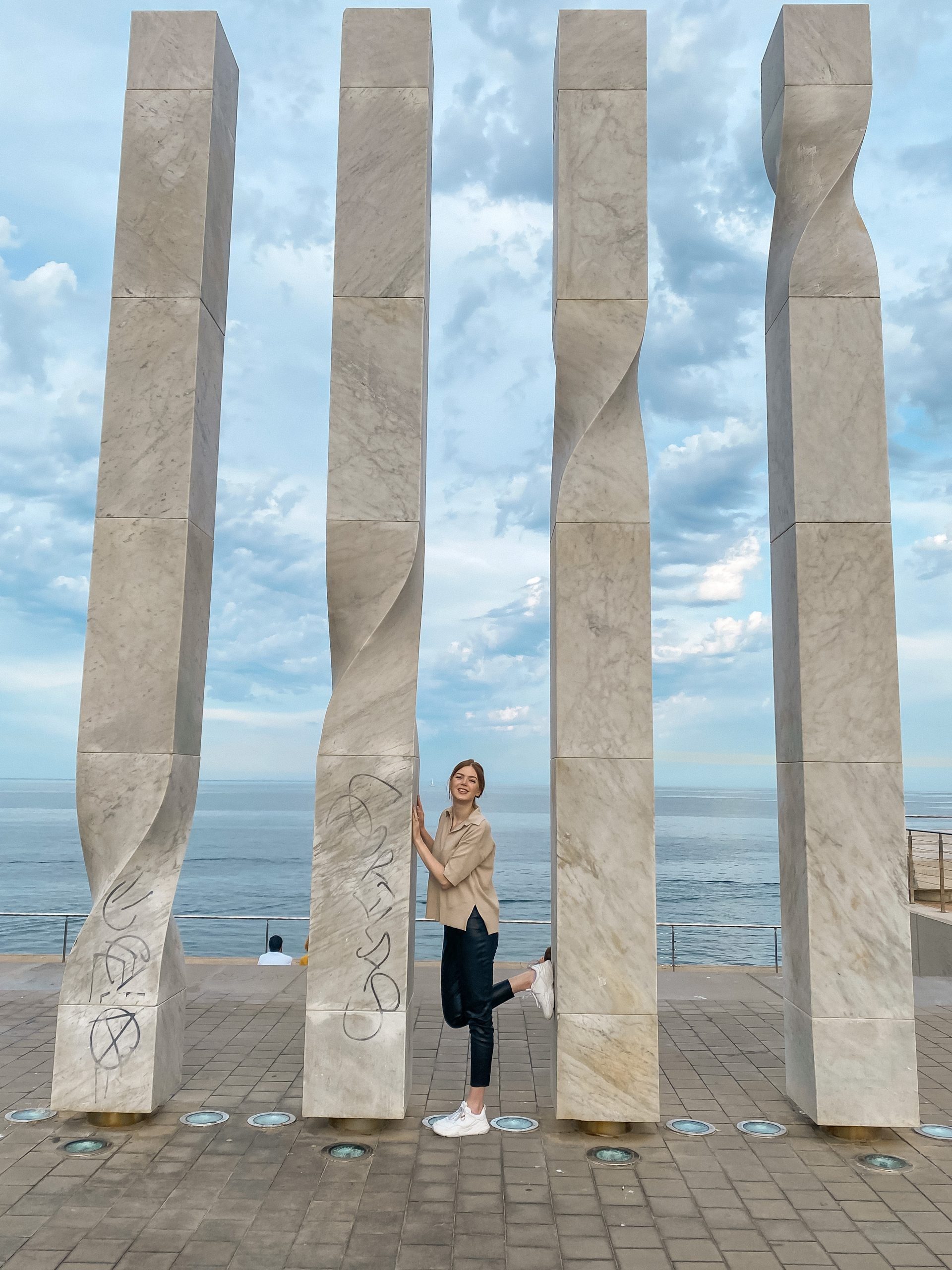 Monuments to see in La Barceloneta
Learn about Catalonia's history at Museu d'Història de Catalunya
This museum is already worth visiting because it is located in the beautiful Palau del Mar building from the 19th century. The museum will guide you through more than 2000 years of Catalan history. And afterward, you can have a drink at Restaurant Brisa, which is right next to it.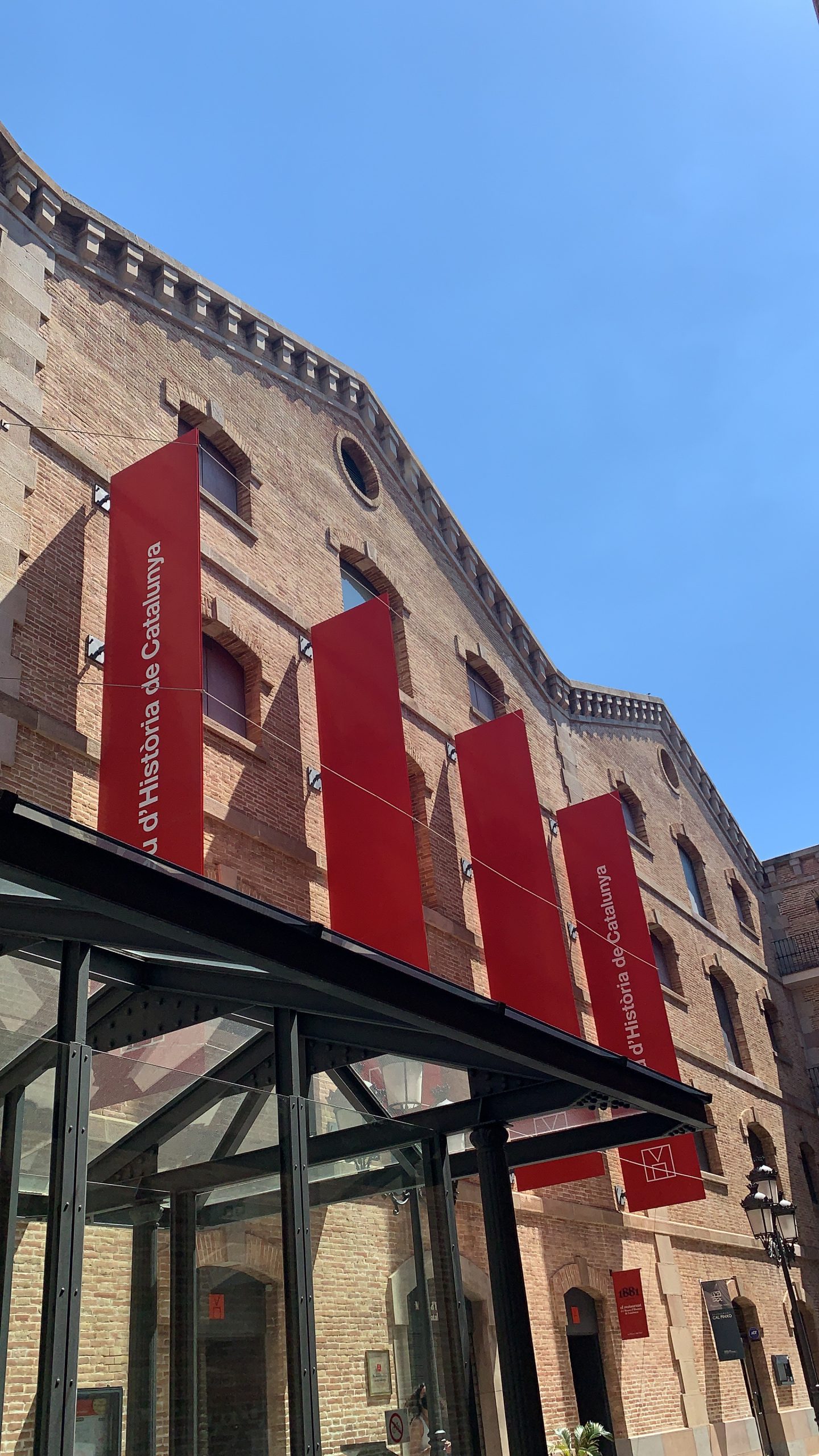 Where to stay in La Barceloneta:
This stylish design hotel is only 3 minutes away from the beach. I mean, how can you top that? The interior is very modern and clean. An amazing place to stay if you want to stay close to the beaches, but also not too far away from the old town!
€€€: Barcelona's most iconic hotel, W Hotel
This is, without doubt, the most famous hotel in Barcelona. It is located right at the beach in the neighborhood of La Barceloneta and is one of the fanciest hotels in town. The W hotel has a SPA, several restaurants, a rooftop bar, a pool, and soooo much more!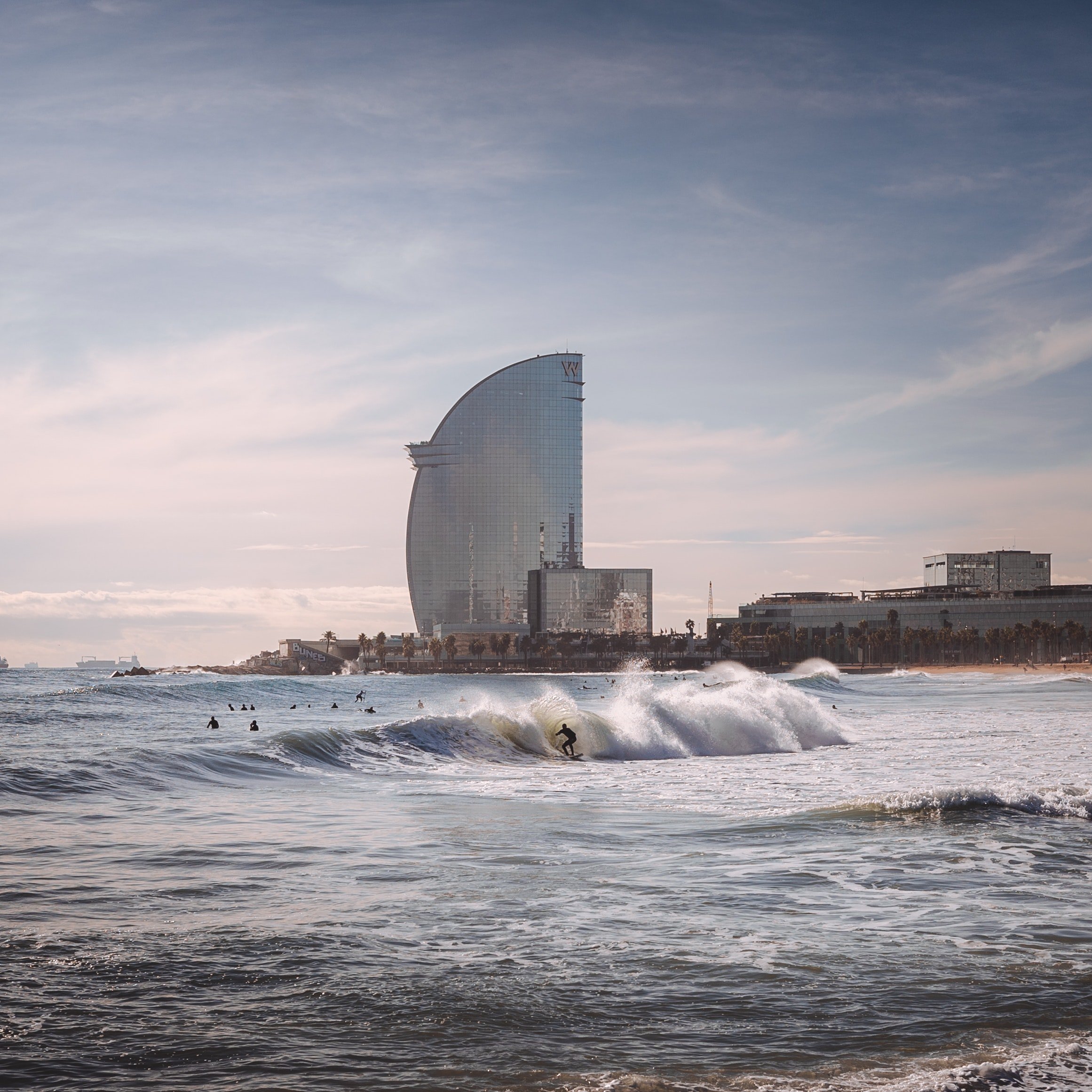 ---
8. Poble-Nou, Barcelona's former industrial neighborhood
Poble-Nou means "new village" in Catalan, and that is exactly what this part of Barcelona is about! This part of Barcelona is definitely more quiet and calm, but it does not mean you should skip it. When Barcelona was at the peak of industrialization between the 20th and 21st centuries, many factories, warehouses, and storage spaces. Nowadays, thanks to the de-industrialization of the area, Poble-Nou converted into a creative space for people. In Poble-Nou, you can find many offices, coffee places, and shops located in one of those old factories. So alternative and unique!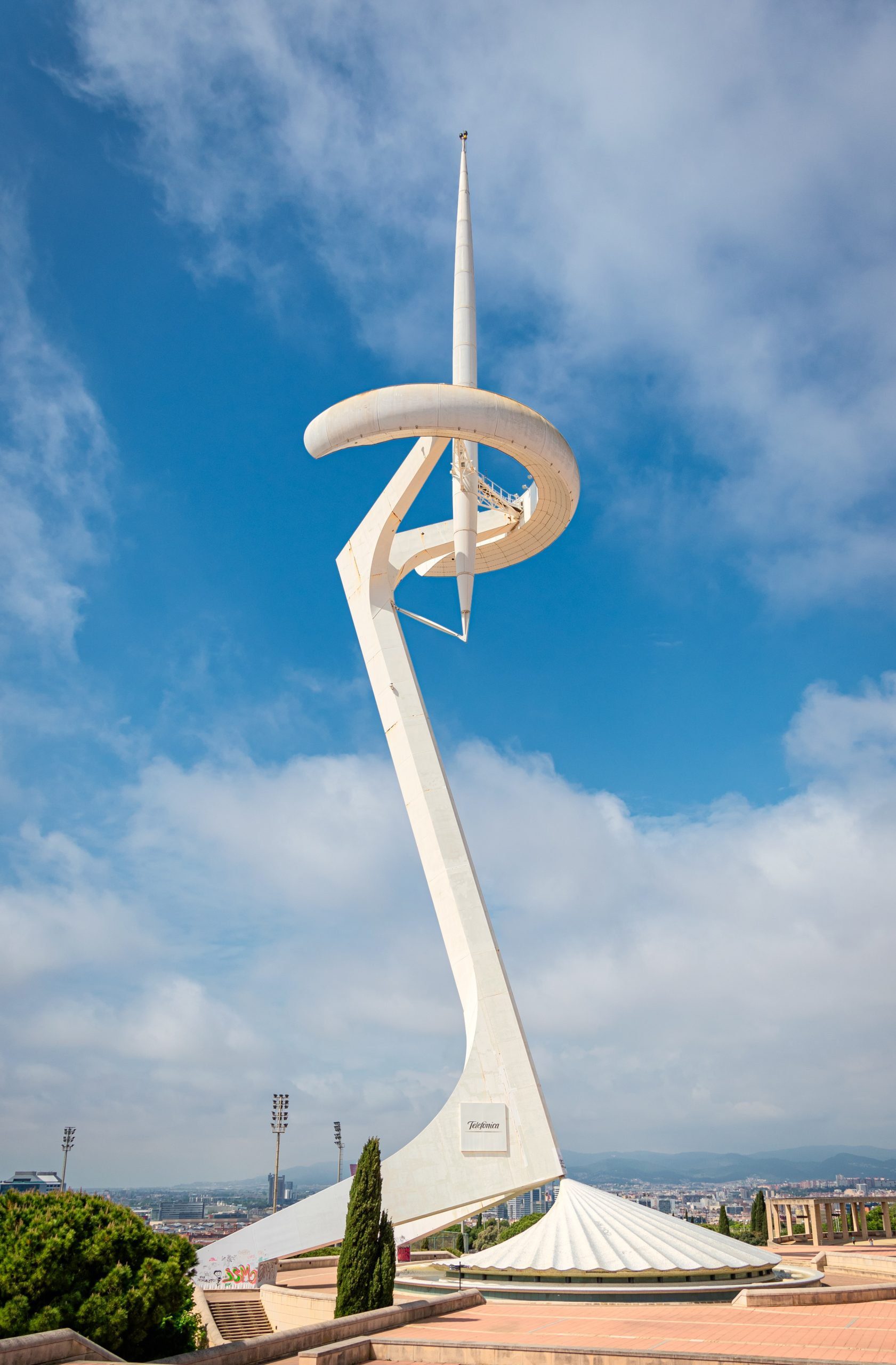 Monuments in Poble-Nou:
Visit an art exhibition in an old textile factory: Museo Can Framis
Museum Can Framis is located in an old textile factory from the 18th century and, nowadays, offers exhibitions of modern art. That textile factory used to belong to the Framis family, hence the name Museo Can Framis. The shown art is mainly from Catalan artists or artists that live in Catalonia.
Check out Barcelona's coolest market: Palo Alto
I am adding this market because I am sure that a neighborhood like Poble-Nou is going to have amazing markets! It is also housed in an old factory and the perfect place to buy vintage clothes or souvenirs. And after that, you can grab a snack at one of their food trucks. This market became so popular that you need to get entry tickets now in order to get in. Grab your tickets here.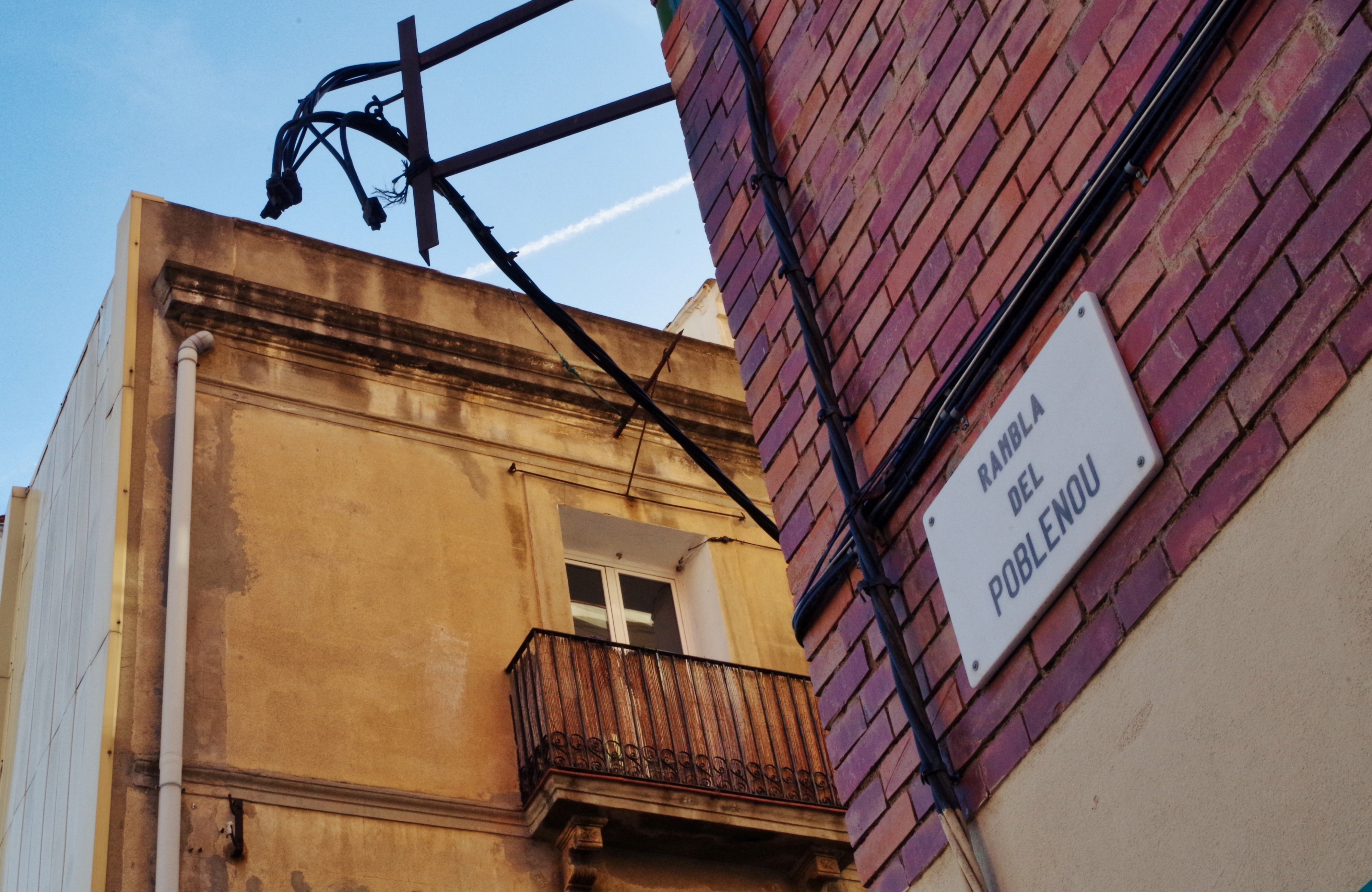 The best places to stay in Poble-Nou:
€: Twentytú Hostel, the place to stay for young travellers
I have walked by this hostel a couple of times and have always thought that it must be a great place to stay while traveling alone or with friends. This hostel offers shared and private rooms, with anything you could ask for during your stay in Barcelona. And you will be staying in the heart of Poble-Nou!
I feel like this hotel represents Poble-Nou very well. The building and the interior look very modern and artsy. Apart from that, it is located in a great area, not too far away from the Sagrada Familia. Of course, I love that rooftop pool!
---