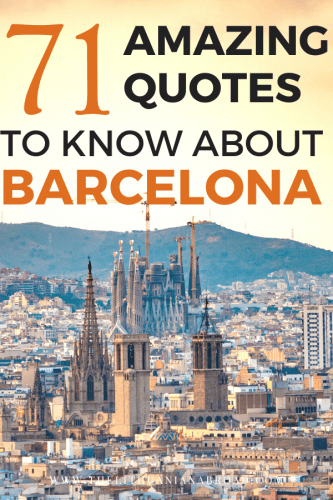 Oh, Barcelona. Barcelona must be Spain's most iconic city and the dream destination of so many people. But did you know what famous people have said about Barcelona in history? While writing this post I was so surprised by different quotes from Ernest Hemingway (Yes, THE Ernest Hemingway), Hans Christian Andersen, and other famous writers. Then, I also had to include famous quotes said by Anthoní Gaudí. As you can imagine, the architect of the Sagrada Familia had a lot to say about Barcelona and the artwork of his lifetime. And if you are just here because you are looking for a suitable Instagram caption, you will also find great quotes by musicians, like Ed Sheeran or Shakira.
So let's start, here are 71 quotes about Barcelona:
Other blog posts about Barcelona that might interest you:
Let's do a self-guided walking tour of Barcelona
Explore Barcelona on foot with this self-guided walking tour of Barcelona. This tour includes the most important monuments of Barcelona you cannot miss. I also included an interactive map you can download and display on your google maps. Check it out!
The ultimate guide for visiting Mount Tibidabo
Mount Tibidabo is the perfect one-day trip destination from Barcelona. Not only are the views from the mountain incredible. It is also home to the oldest amusement park in Europe. You can find all the necessary information in this guide.
Barcelona Bucket List: 20 Things to do in Barcelona
This Barcelona Bucket List includes 20 fun activities you should do in Barcelona. It includes all kinds of activities from visiting museums, amazing attractions and food places you must try. Check this guide out for cool things you can do during your Barcelona Trip.
Barcelona Neighborhood Map + the best places to stay
I created this Barcelona neighborhood map so that it's easier for you to understand where the single neighborhoods of Barcelona are. You can also find recommendations for places to stay in all of these areas, for all budgets of course!
Let's start: Here are 71 quotes about Barcelona!
---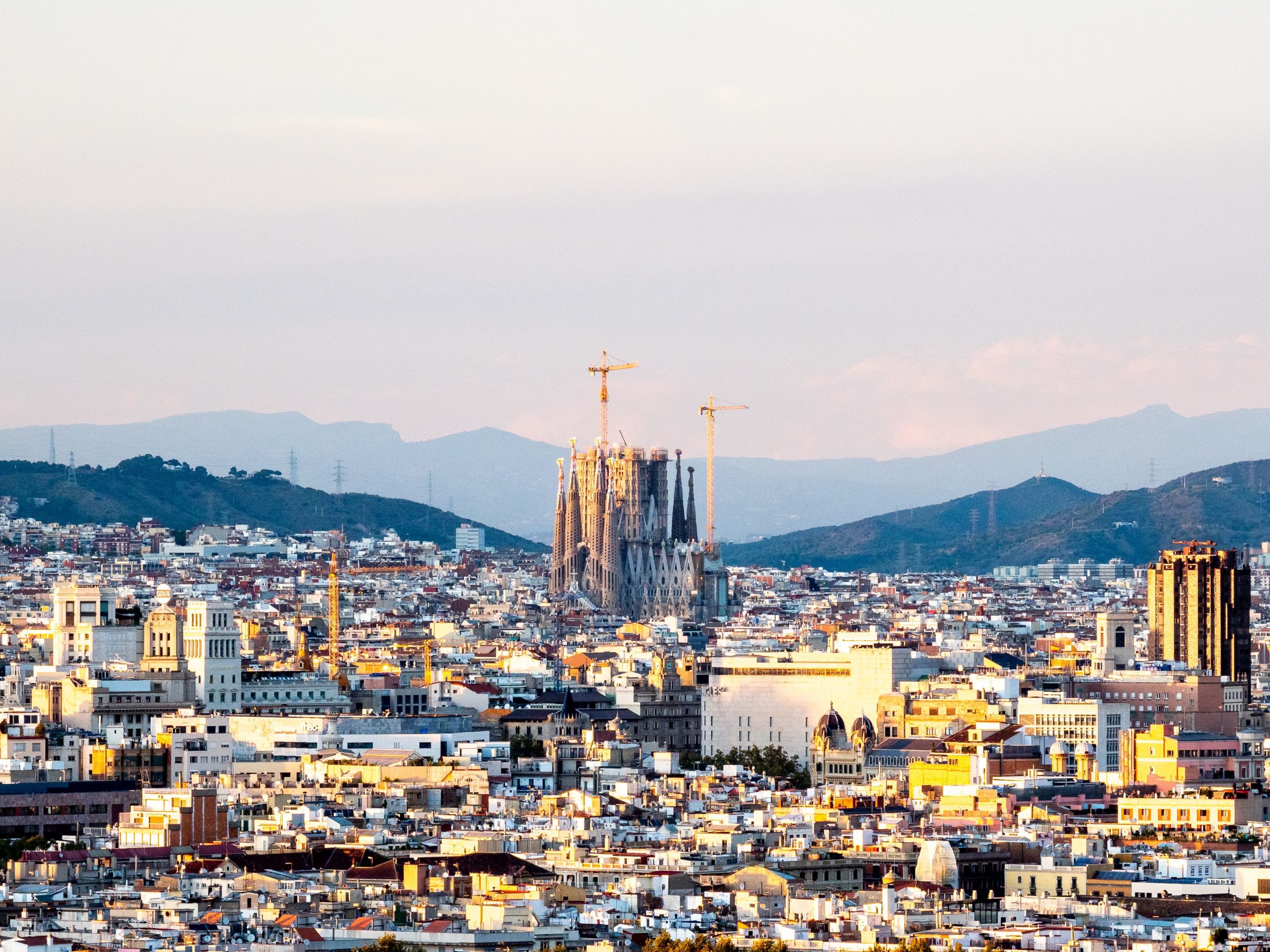 "Italy has great food and Barcelona has great energy."

Stefon Harris
"Barcelona is one of the best cities in the world. I love it there."

Meghan Markle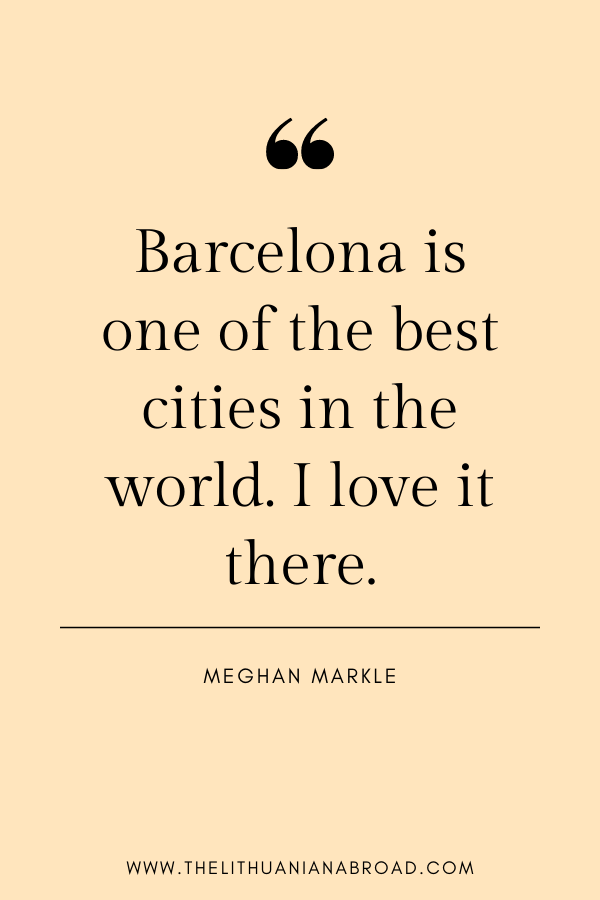 "You'd have a hard time finding anything better than Barcelona for food, as far as being a hub."

 Anthony Bourdain
"Even the moon was embarrassed by the beauty of Barcelona."

Andrew Barger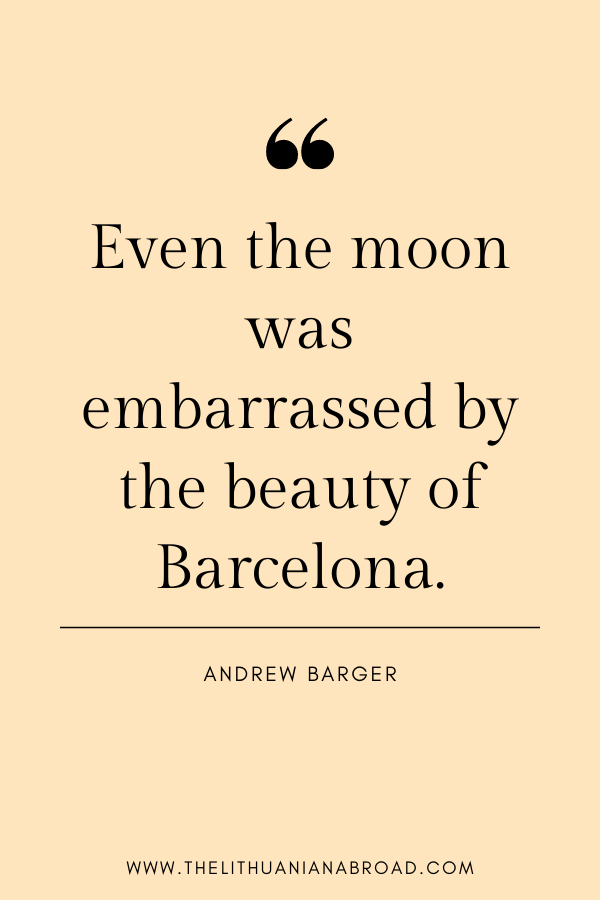 "The first time I saw her, fires were alight. It was a spicy night in Barcelona. The air was fragrant and free."

Roman Payne
"Barcelona is a very old city in which you can feel the weight of history; it is haunted by history. You cannot walk around it without perceiving it."

Carlos Ruiz Zafon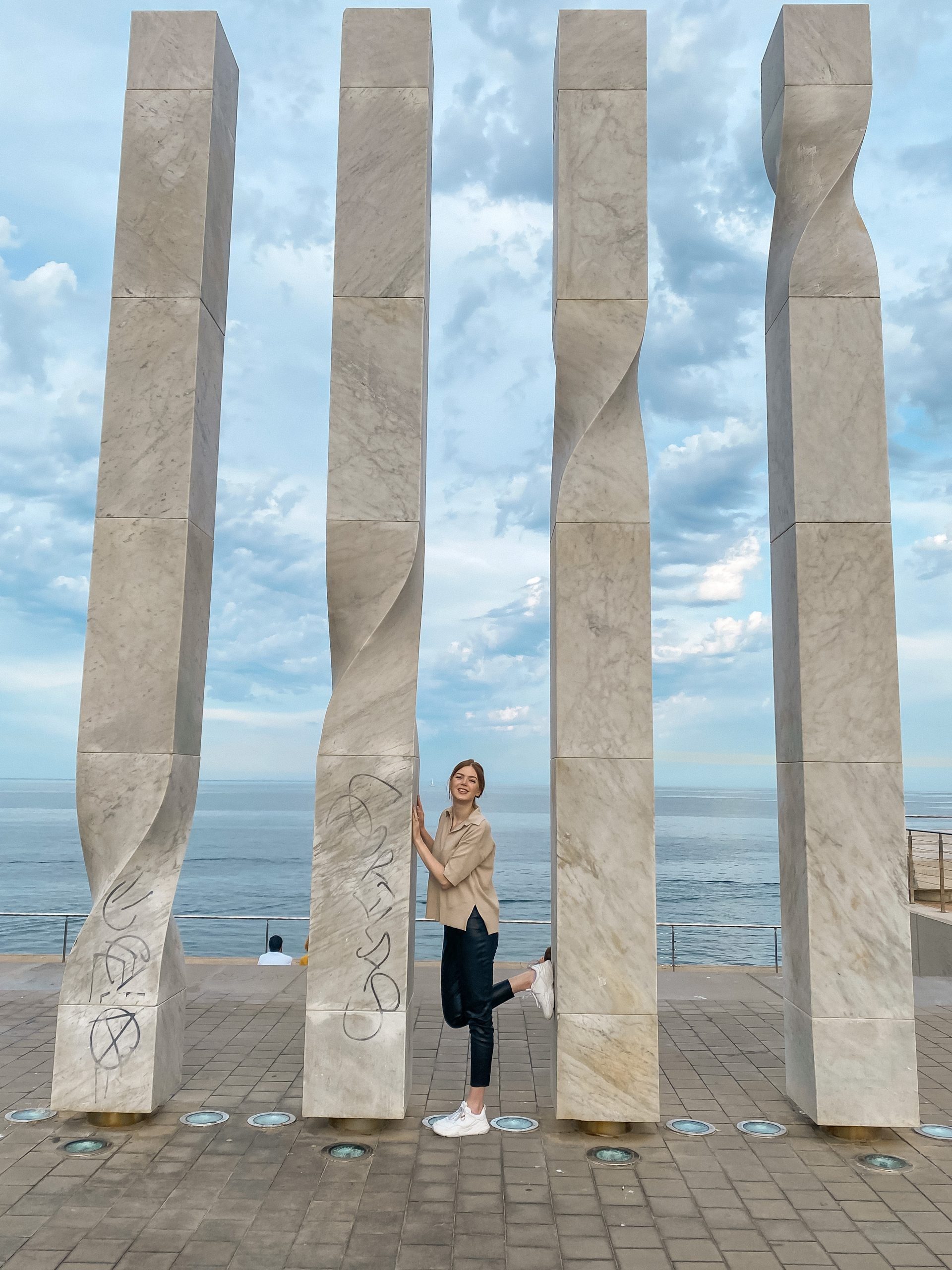 "In Barcelona, things seem so different. For example, I know that it's traditionally the least Spanish city, but you'd never know they had a monarchy, coming here as a tourist – as opposed to the U.K., where the Queen is probably the best-known animal, vegetable and/or mineral when it comes to overseas visitors."

Julie Burchill
"Here in Barcelona, it's the architects who built the buildings that made the city iconic who are objects of admiration – not a bunch of half-witted monarchs."

Julie Burchill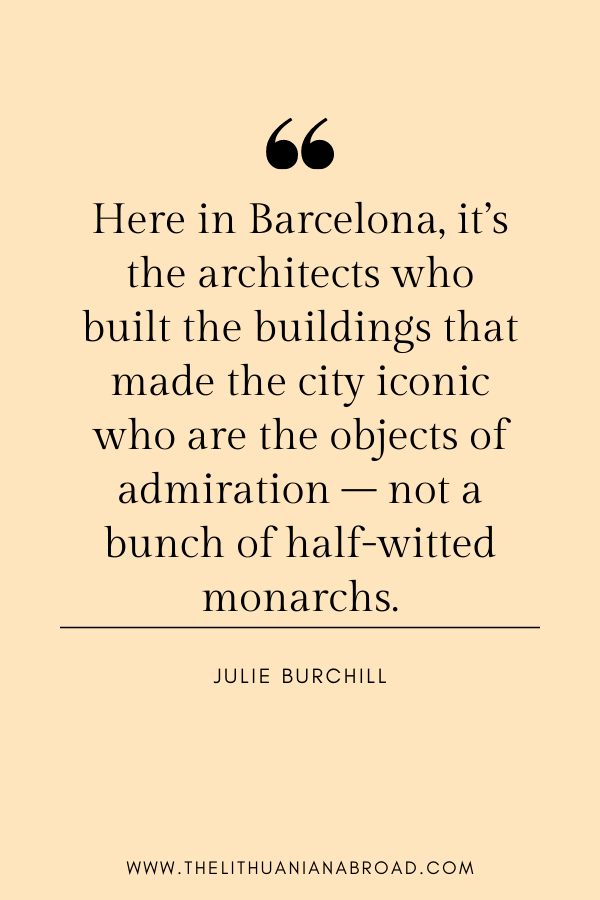 "We crossed spacious streets, with building resembling palaces, in La Rambla promenade; the shops were well illuminated and there was movement and life… I did not decide to go to sleep, even though I wished to, so I could rise early and contemplate, in daylight, this city, unknown to me: Barcelona, capital of Catalonia."

Hans Christian Andersen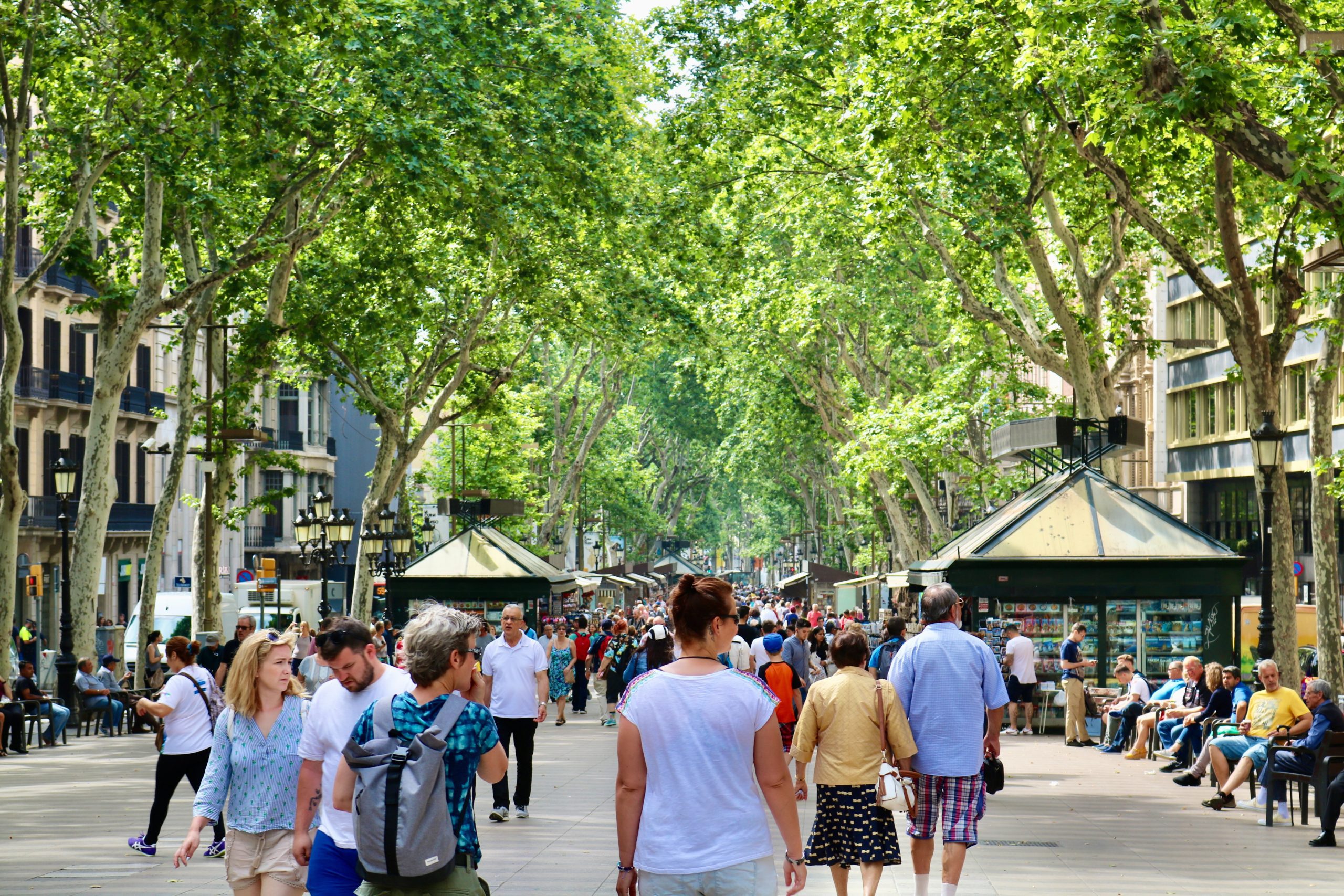 "Barcelona – the centre of the wise, model of purity, quarry of Kings."

Baltasar Gracian
"Allow me to state here how much I love Barcelona, an admirable city, a city full of life, intense, a port open to the past and future."

Le Corbusier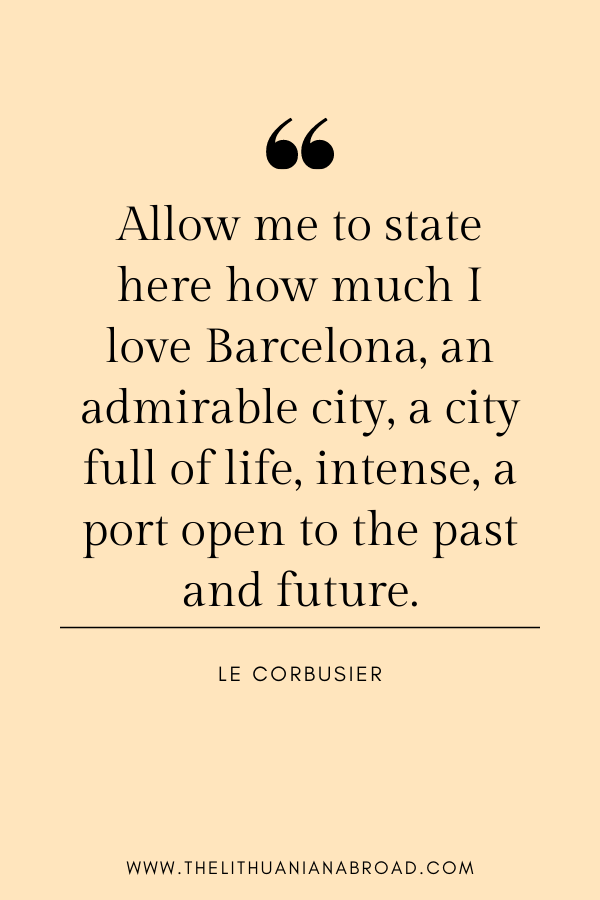 "After a while dawn tinged the sky with amber, and Barcelona woke up. We heard the distant bells from the basilica of Santa Maria del Mar, just emerging from the mist on the other side of the harbour."

Carlos Ruiz Zafón
"Barcelona, archives of courtesy, shelter of the foreigners, hospital of the poor, father-land of the brave, the vengeance of the offended and pleasant correspondence of firm friendship, and in the site, and in beauty, unique."

Miguel de Cervantes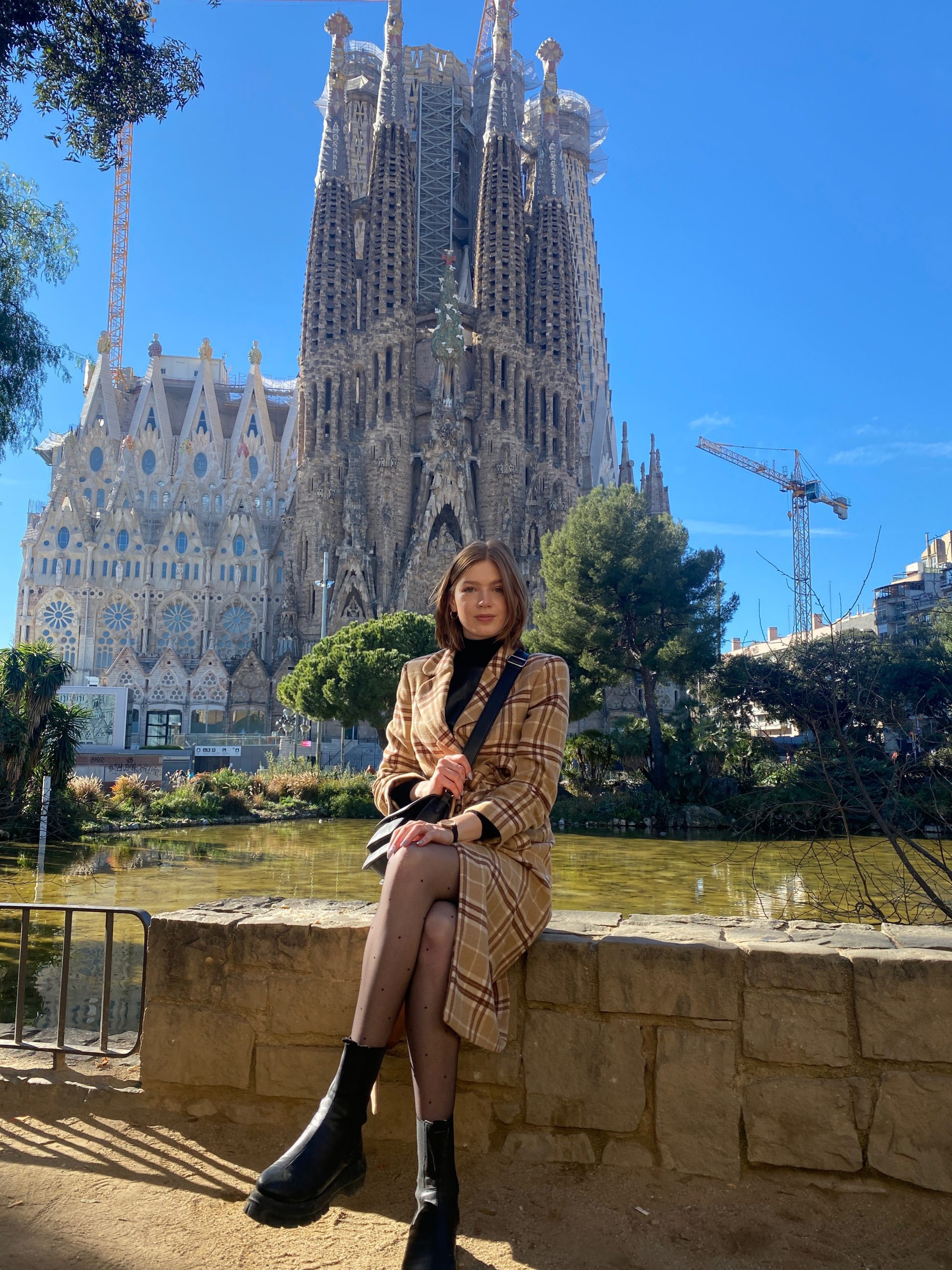 "And Barcelona. You should see Barcelona. It is all still comic opera. First, it was the paradise of the crackpots and the romantic revolutionists. Now it is the paradise of the fake soldier. The soldiers who like to wear uniforms, who like to strut and swagger and wear red-and-black scarves. Who like everything about war except to fight. Valencia makes you sick and Barcelona makes you laugh."

Ernest Hemingway
"By day the old area of Barcelona is bustling, full of shouting, hammering, drilling and shutters being pulled up and down. You listen out for sounds. If you want a replacement gas cylinder you wait for the sound of the delivery man hitting a cylinder with a piece of metal in the street."

Colm Tóibín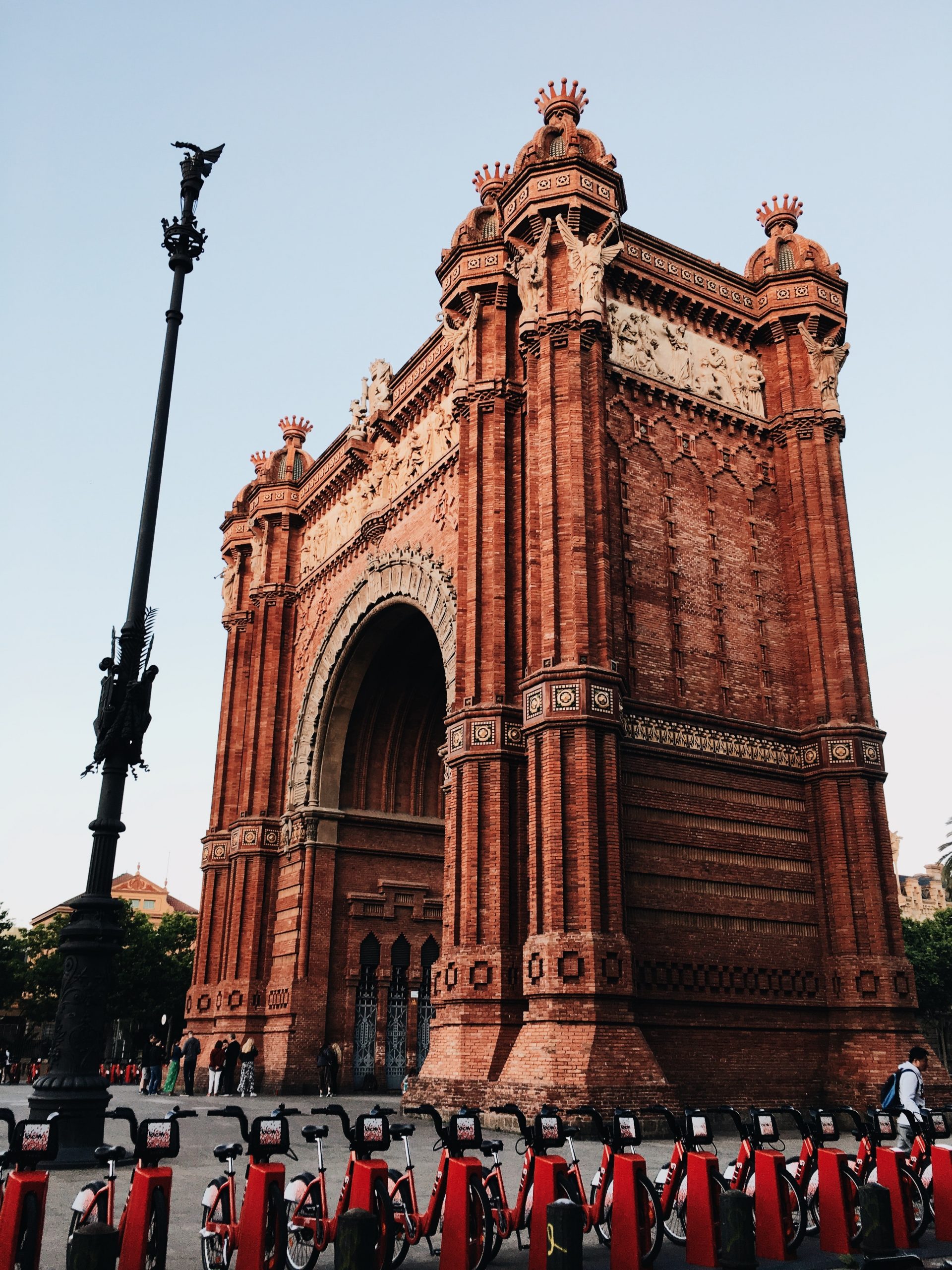 "We crossed spacious streets, with building resembling palaces, in La Rambla promenade; the shops were well illuminated and there were movement and life. I did not decide to go to sleep, even though I wished to, so I could rise early and contemplate, in daylight, this city, unknown to me: Barcelona, capital of Catalonia."

Hans Christian Andersen
"To travel across Spain and finally to reach Barcelona is like drinking a respectable red wine and finishing up with a bottle of champagne."

James A. Michener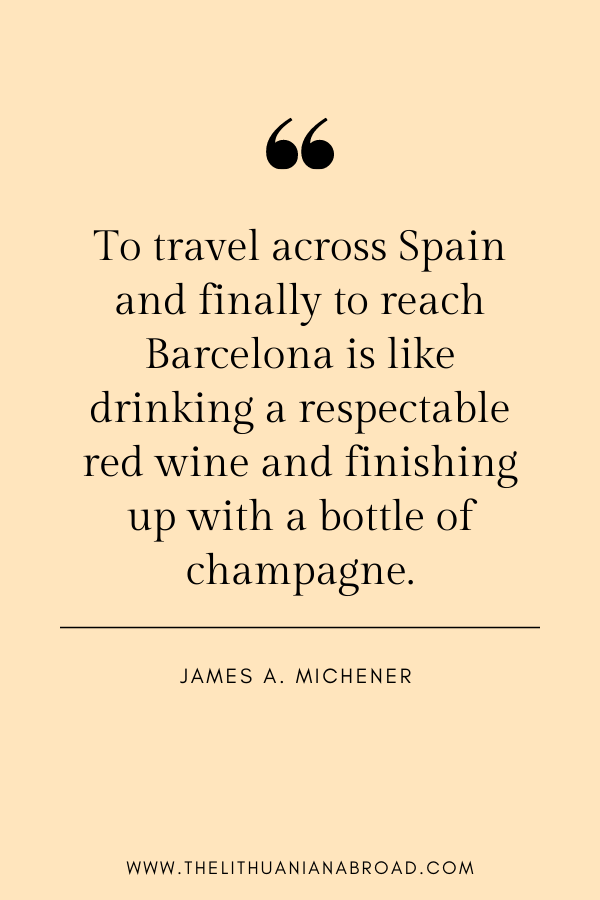 "The haunting of history is ever-present in Barcelona. I see cities as organisms, as living creatures. To me, Madrid is a man and Barcelona is a woman. And it's a woman who's extremely vain."

Carlos Ruiz Zafon
"It appeared that even in Barcelona there were hardly any bullfights nowadays; for some reason, all the best matadors were Fascists."

George Orwell
"Barcelona is one of my favourite cities in the world. The fashion and people are just so effortlessly cool."

 Leigh Lezark

"I like what Barcelona is doing. This city almost perfectly combines its natural advantages with cultural attractions, IT parks and first-rate educational opportunities. The same applies to Dublin, which manages to achieve a blend of complexity, tolerance and artistry and makes a point of not devoting every part of the city to the tourism industry. Sometimes creativity also means forgoing short-term profits and simply saying no."

Charles Landry
"I first went to Barcelona in 1975 after university, and I stayed for three years. I learnt Catalan because that's what everyone speaks in the mountains. They speak English to foreigners, but what people say to each other is much more important than what they say to you."

Colm Toibin
"The Cemetery of Forgotten Books is like the greatest, most fantastic library you could ever imagine. It's a labyrinth of books with tunnels, bridges, arches, secret sections – and it's hidden inside an old palace in the old city of Barcelona."

Carlos Ruiz Zafon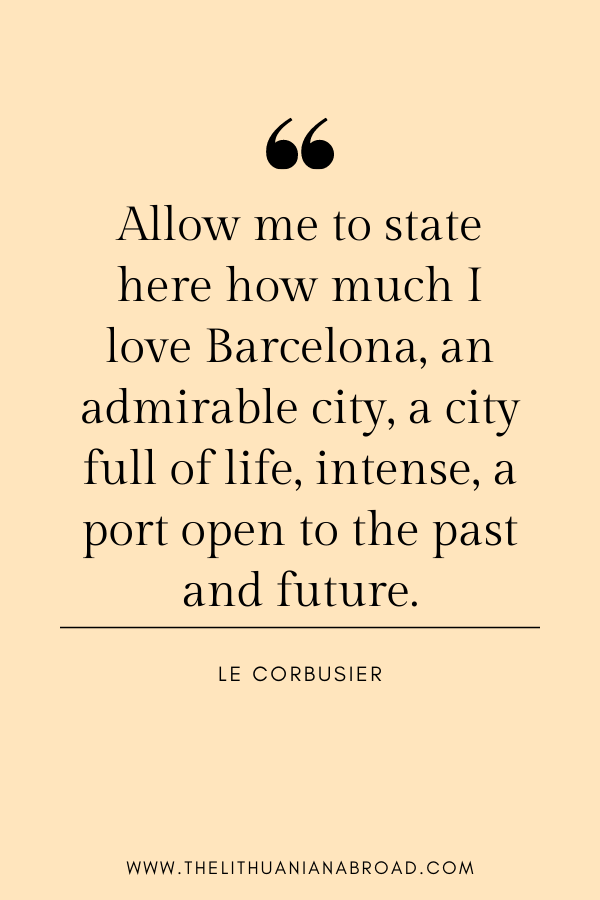 Marseilles, Barcelona, Trieste, Istanbul – each romance the Mediterranean in its own fashion, mostly by embracing the sea in sweeping C-shaped bays that date back to antiquity.

Andre Aciman
'But if there was no Barcelona why would you get out of bed in the morning?'

Ray Hudson
"Barcelona is a great city and Spain is a great country to live in."

Shakira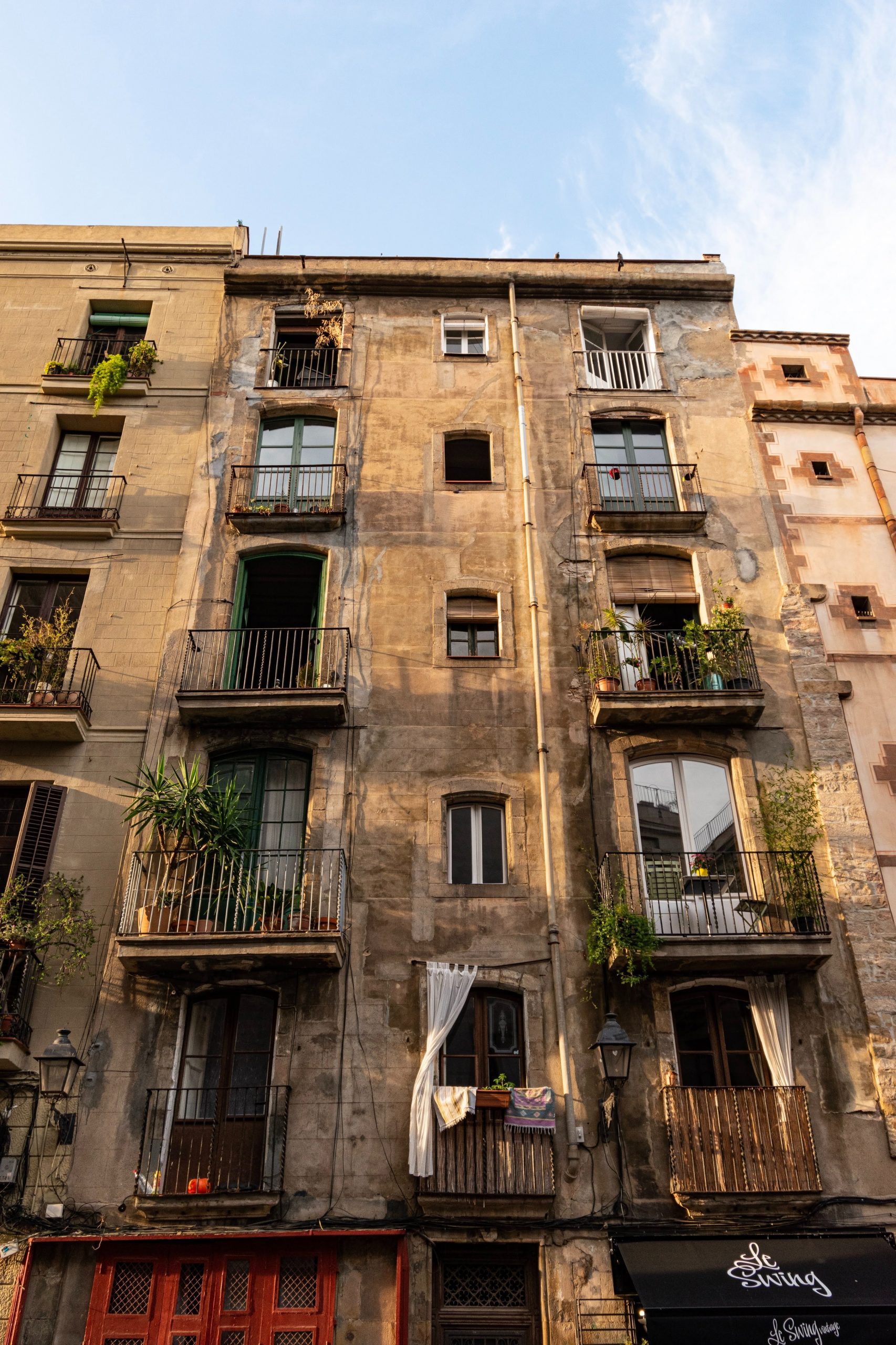 "It is a little and beautiful city, situated near the seashore. Traders with merchandises come to it from all over: from Greece, Pisa, Alexandria, Holy Land, Africa and all its surroundings."

Benjamin De Tudela
For the first time since I had been in Barcelona I went to have a look at the cathedral – a modern cathedral, and one of the most hideous buildings in the world.

George Orwell
"Life is full of problems, although life was wonderful in Barcelona in those days, and problems were called surprises."

Robert Bolaño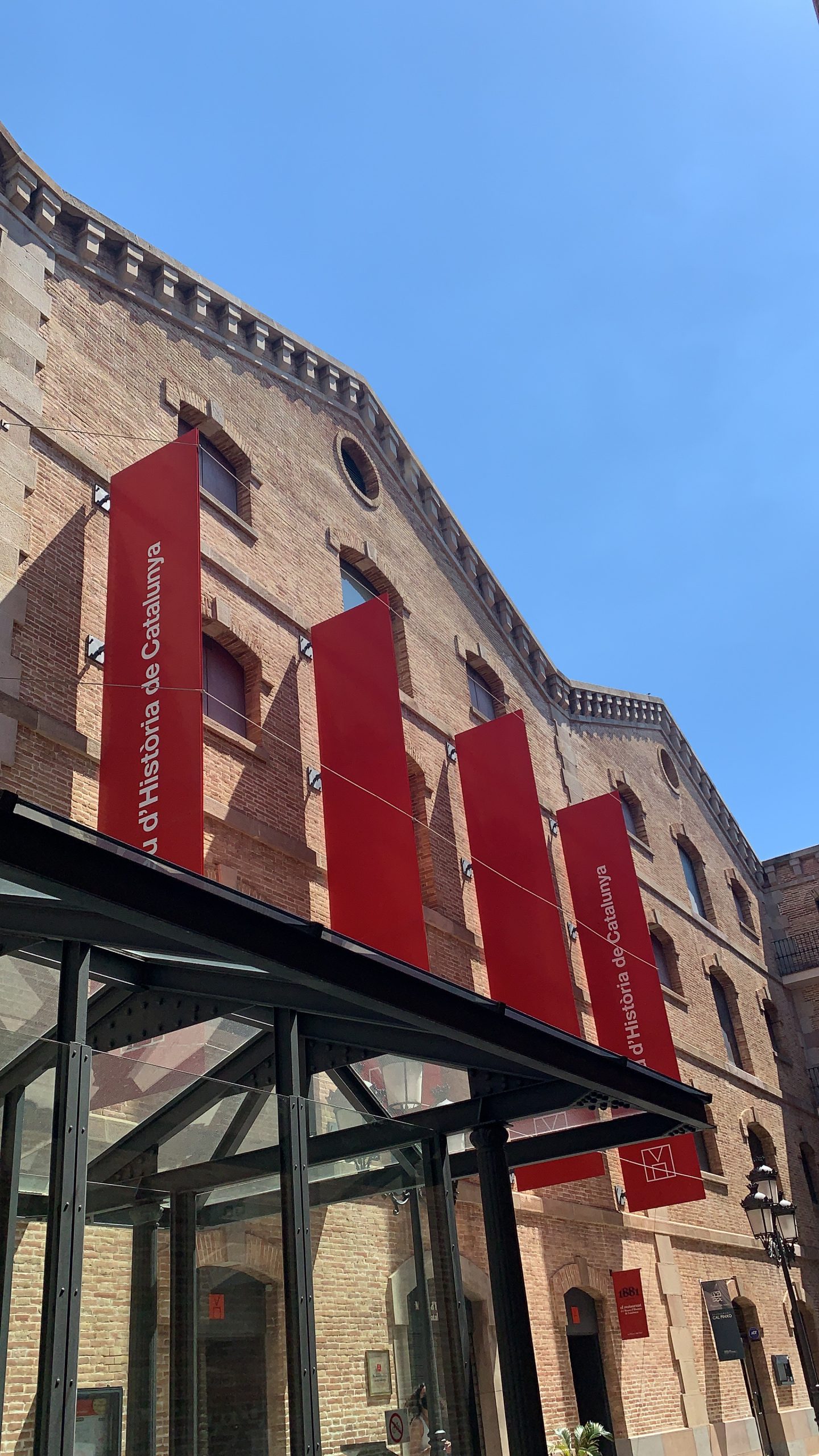 "Yet there are days when I feel that a certain brightness is tentatively returning to Barcelona as if between us all we'd driven it out but it had forgiven us in the end."

Carlos Ruiz Zafón
"My husband and I like cities. We like to go to other cities. Madrid, Barcelona, Paris, London. We're not big beach people. We're the type that gets those books out and go to every museum. We are those people."

Julie Halston
"I stopped because I went to Barcelona, where life was too exciting to write."

Colm Tóibín
"Gaudí's primordial soup, Langdon thought, again startled by how perfectly the city of Barcelona dovetailed with Edmond's curiosity about the beginnings of life."

Dan BROWN
"Living in Barcelona, I have my own little ghetto utopia. There are 3,000 ghost towns in Spain, and I've used the images of them a lot in my backdrops for my solo spoken-word stuff. The ghost towns could be from two buildings to 40 – things died out, or there were plagues, the roads don't lead there, whatever."

Lydia Lunch
"Barcelona is an open and multicultural city. It's brimming with a very special creative energy. If you pay attention, you may be easily inspired by the places and people living there."

Rosalia
"Barcelona is a beautiful city. I love the buildings and the architecture and always enjoy being close to that. It makes sense as an art person to work in places like that, it always feels nice and creative."

Kim Bodnia
"I love Barcelona. Barcelona is a very, very nice city."

Kristaps Porzingis
I don't understand people who travel purely gastronomically, who book a Michelin-starred restaurant three months in advance and suddenly find themselves in Copenhagen or Barcelona with a zeitgeist plate of snail porridge.

Sue perkins
"We come from Spain, from Barcelona. We could perform in many places around the world, and it's been amazing to bring our music to so many people in so many different places. That's been amazing."

Rosalia
"I always try to start my weekend by running on the beach, which is great fun here in Barcelona."

Daniel Brühl
"People travel north from Barcelona, not south."

Jose andres
"I'd love to be popular in Barcelona. That sounds like a fun job."

Bobby heenan
"Barcelona is Gaudí's"

Kamand Kojouri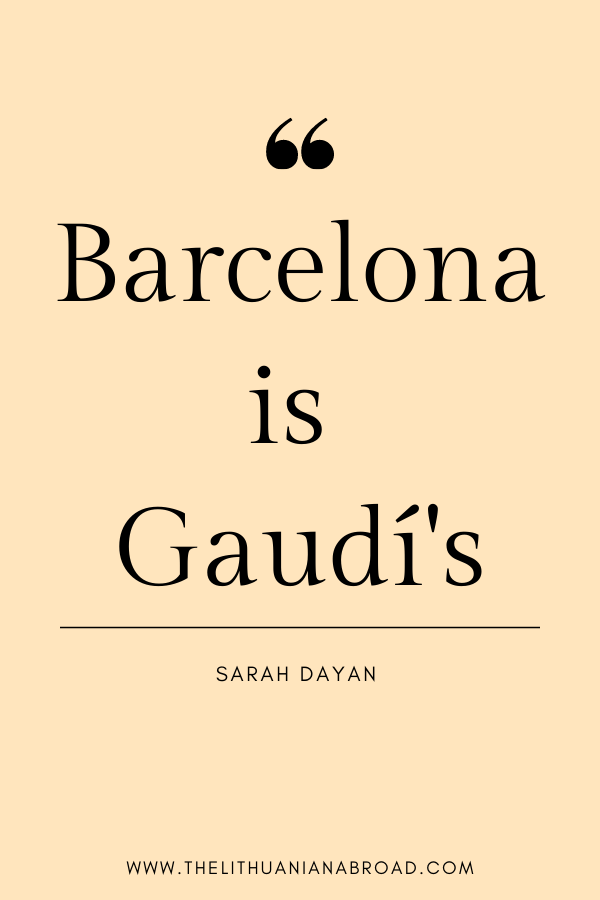 "The Christmas market at the Barcelona Cathedral sells all kinds of things for your Nativity scene. It will also give you a good idea of Catalan culture."

Jose andres
"I have big dreams, but if God would've told me that I had to sing in a local bar in Barcelona, and that that would be my life, that would be my life, I would've done it with the same passion."

Rosalia
Antoní Gaudí quotes about Barcelona:
"The Sagrada Familia is made by the people and is mirrored in them. It is a work that is in the hands of God and the will of the people."

Antoní Gaudí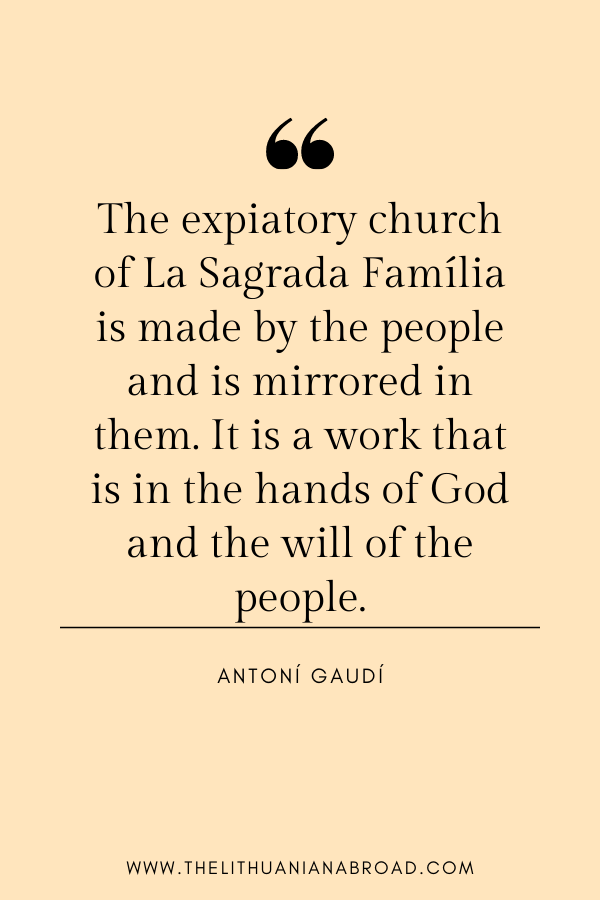 Human work cannot exceed the Divine, so the Sagrada Família will be 170 metres high, 3 metres less than the mountain of Montjuïc.

Antoní Gaudi
"In the Sagrada Familia, everything is providential."

Antoní Gaudi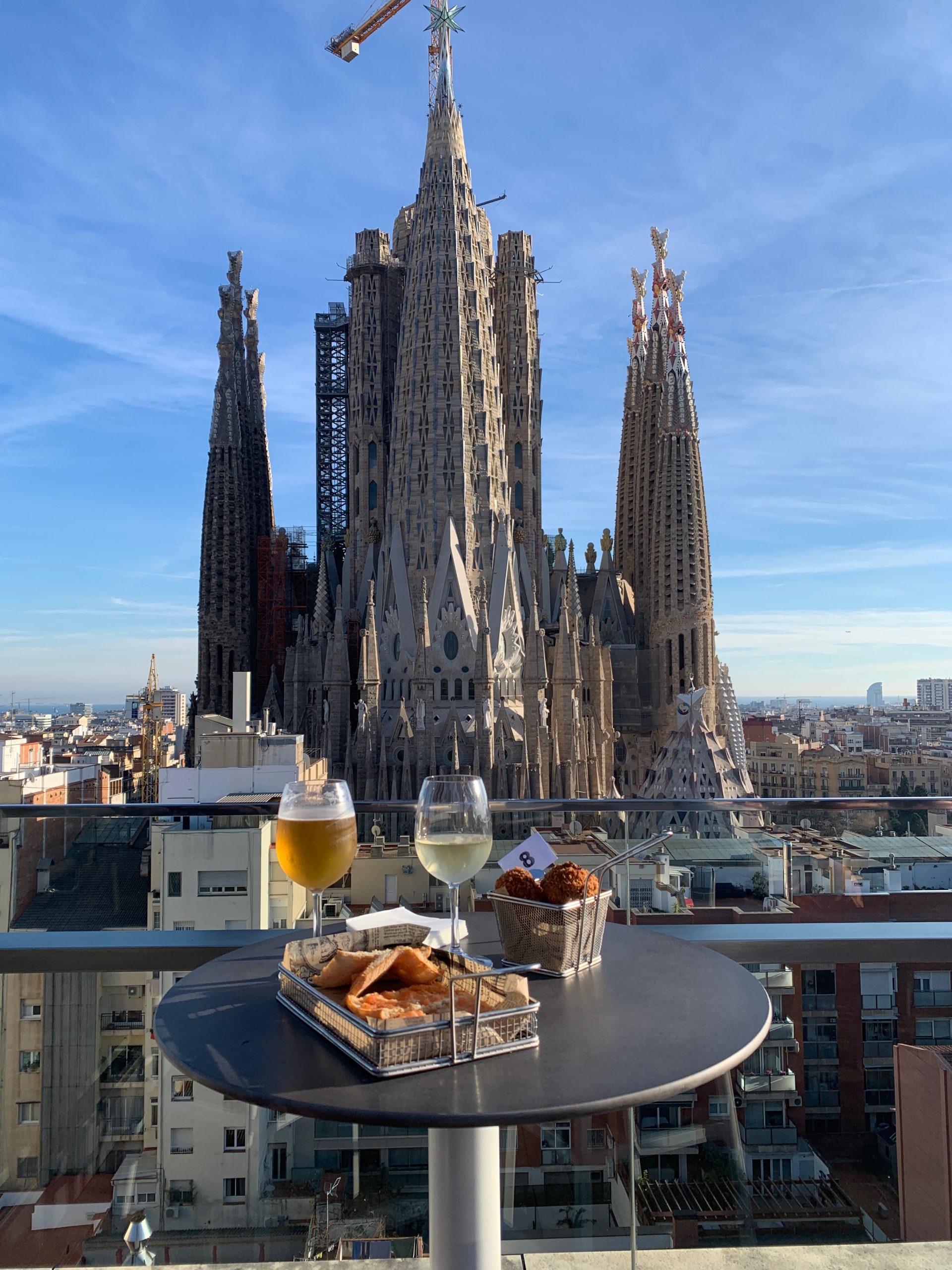 "Nothing is invented, for its written in nature first."

Antoní Gaudí
"Nothing is art if it does not come from nature."

Antoní Gaudí
"There is no reason to regret that I cannot finish the church. I will grow old but others will come after me. What must always be conserved is the spirit of the work, but it's existence has to depend on the generations it is handed down to and with whom it lives and is incarnated."

Antoní Gaudí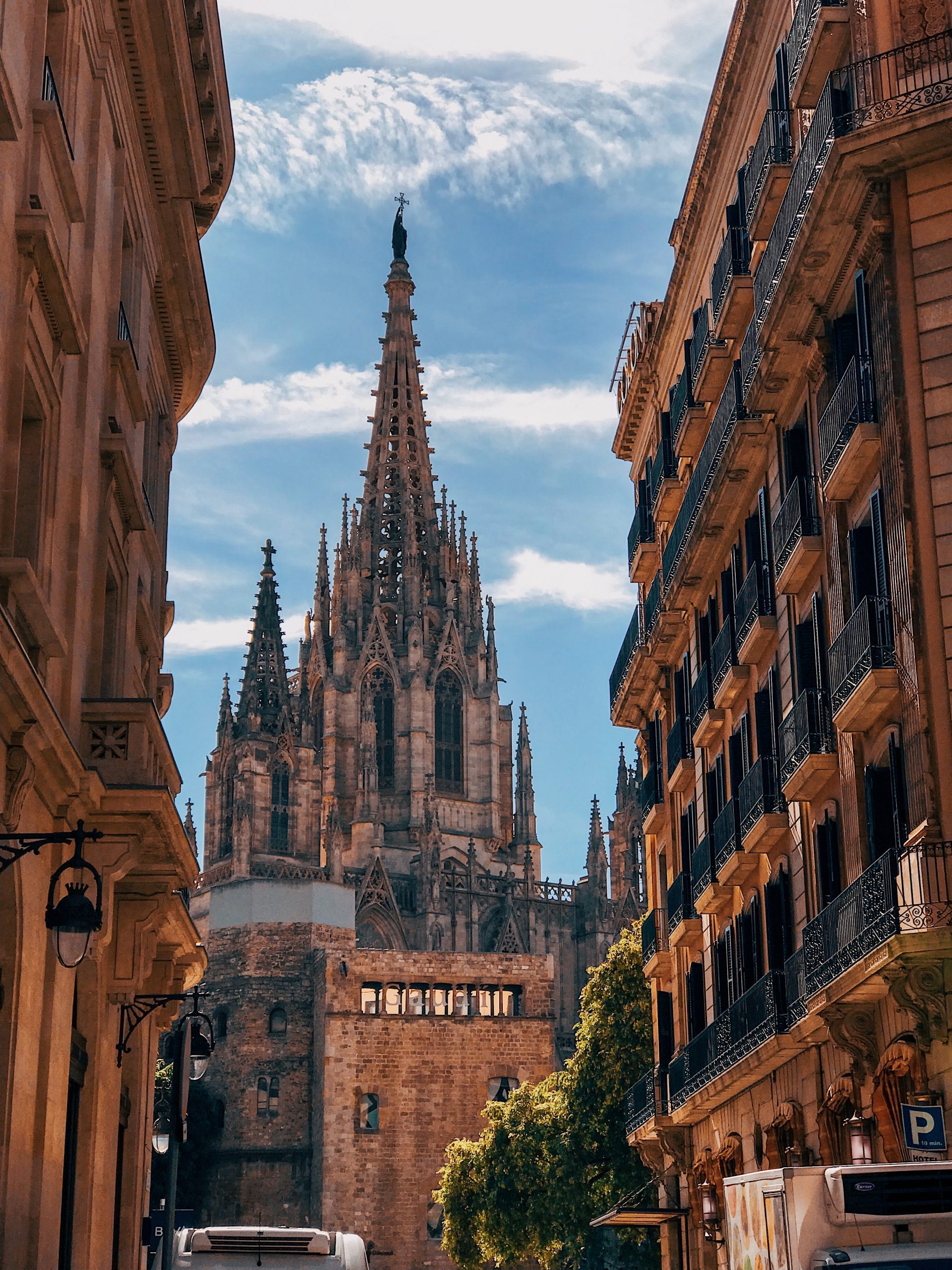 "Colour in certain places has the great value of making contours and structural planes appear more energetic."

Antoní Gaudí
"There are no straight lines or sharp corner in nature. Therefore, buildings must have no straight lines or sharp corners."

Antoní Gaudí
"Anything created by human beings is already in the Great Book of nature."

Antoní Gaudí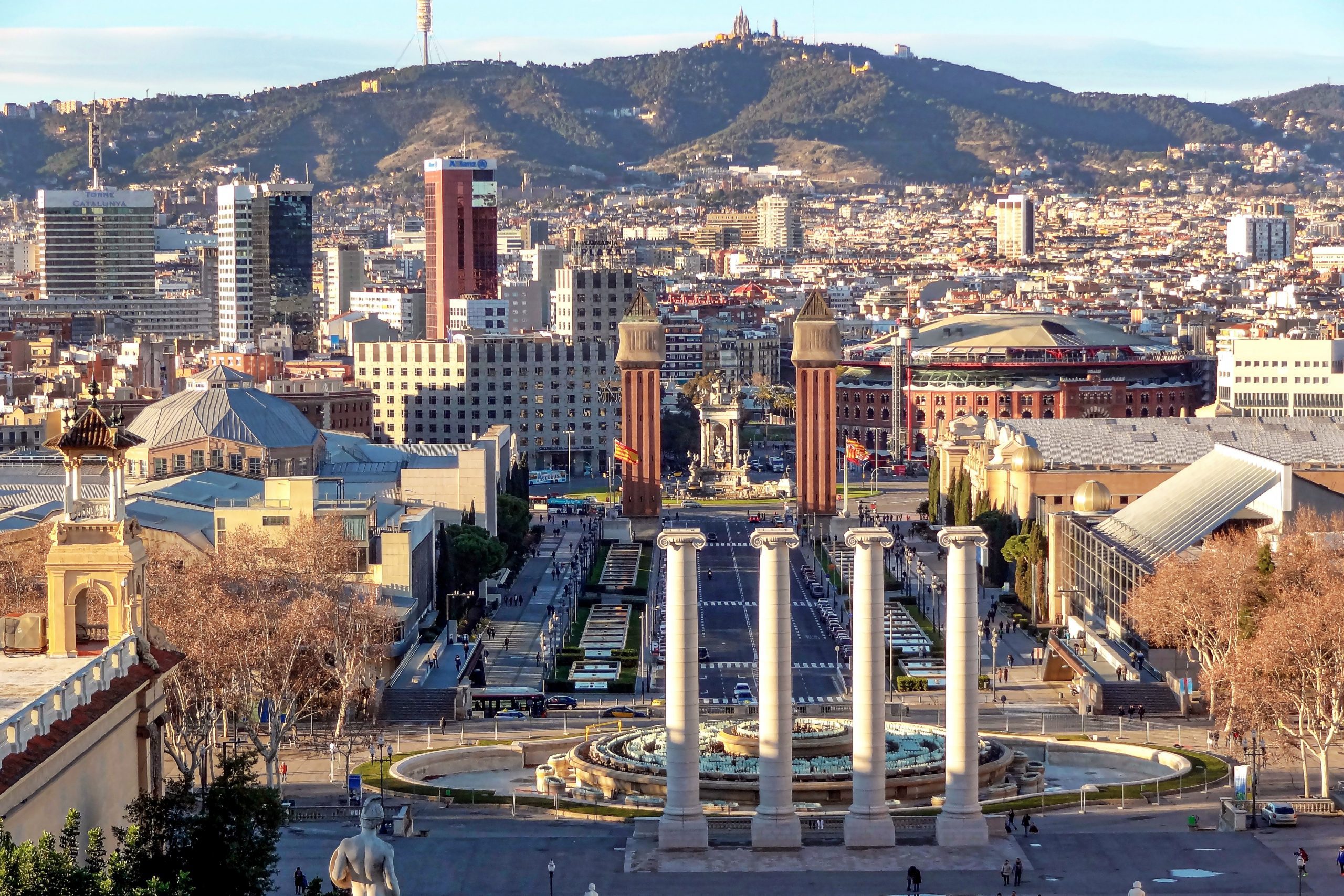 "Originality implies a return to the origins, original is returning to the simplicity of the first solutions."

Antoní Gaudí
"Creation continues unceasingly through man's means of communication. But man does not create… He discovers. Those who seek the laws of Nature as a support for their new works collaborate with the creator. Copyists do not collaborate. Because of this, originality consists in going back to the origin."

Antoní Gaudí
Lyrics and Quotes from Songs about Barcelona:
"Such a beautiful horizon, like a jewel in the sun , for you a will be a seagle of your beautiful ocean . The bells are ringing, open up your doors to the world."

Freddy mercury
Barcelona

It was the first time that we met

Barcelona

How can I forget

The moment that you stepped into the room

You took my breath away

Freddy mercury & Montserrat caballet
"Deep in the pavements kicking through the streets, to wonder like Picasso in the Barcelona heat. Passion is the fashion, and life is poetry."

The cheetah girls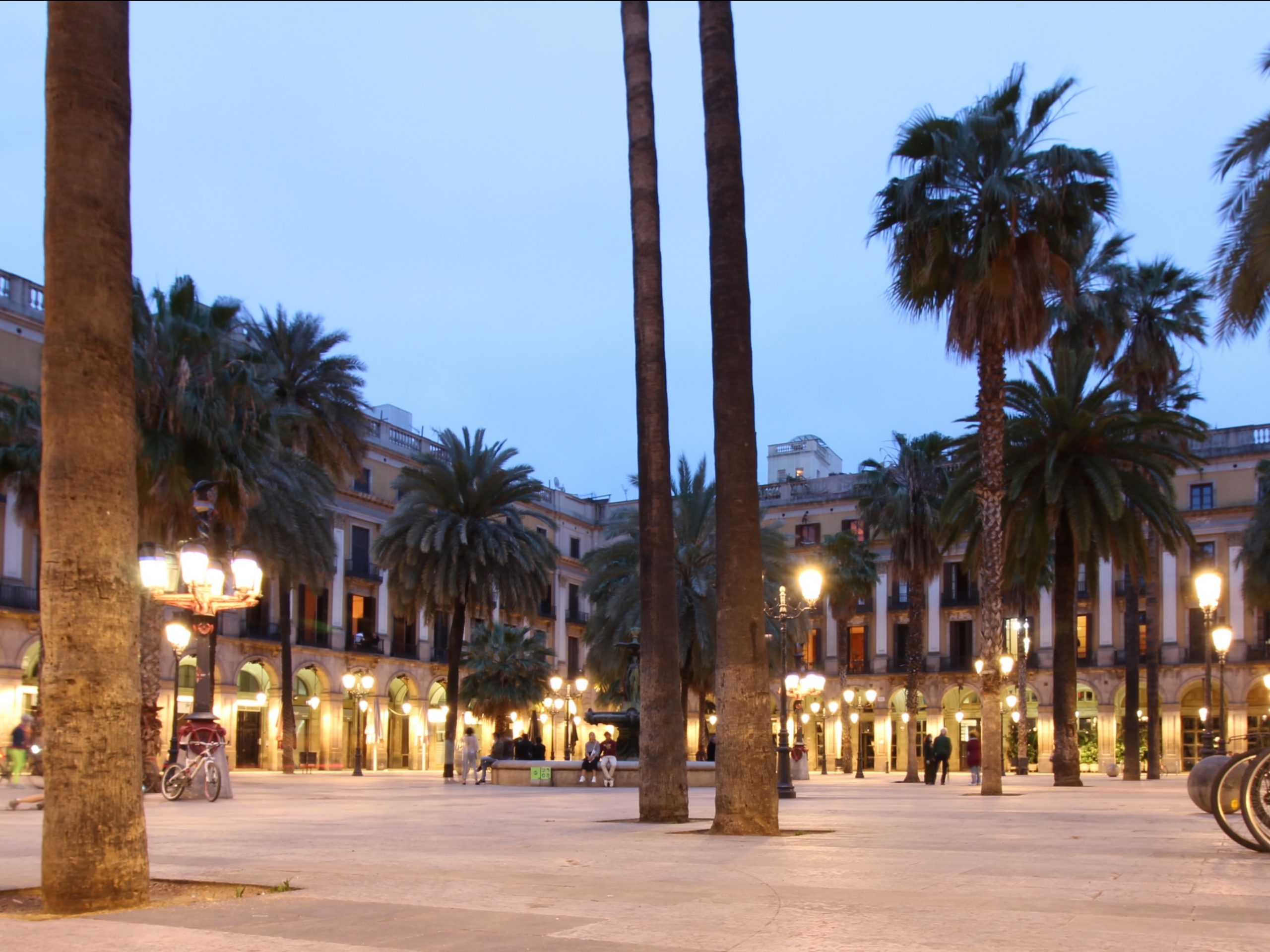 "Barcelona is a woman's town, women everywhere Barcelona is a woman's eyes, raven gipsy hair I got drunk in Barcelona and then she walked away from."

Tom RUSSELL BAND
"Every time you have to go, shut my eyes and you know, I'll be lying right by your side in Barcelona"

George Ezra "Barcelona"
"After visiting, I understand why there are so many songs about Barcelona".

The cheetah girls
"Just close your eyes and let's pretend we're dancing in the street in Barcelona."

ED SHEERAN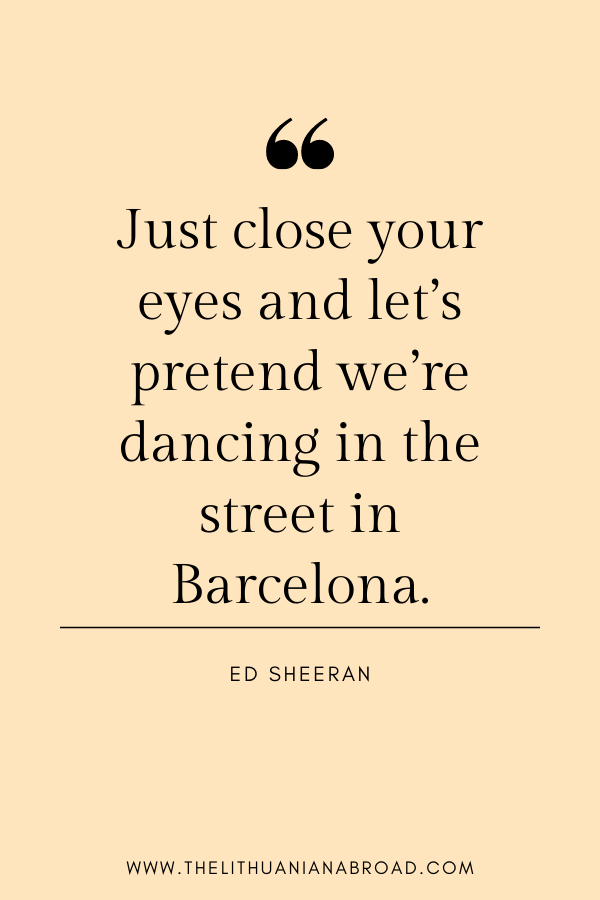 "Most of you have never been and never will go to Barcelona. So I have to tell you what I now know about Barcelona 'cause I met a woman there."

Will oldham
Football Quotes about Barcelona:
"Barcelona is my life, and I do not plan to leave."

Gerard Pique
"Above all, I want to be happy, and at Barcelona, I'm happy"

Neymar
"At Barcelona, I had the best players ever, and they helped me to be a successful manager."

Pep Guardiola
"Barcelona is a fantastic football club, and I don't think there are many players who would be able to say no to them."

Christian Eriksen
"Everyone's got unfinished business with Barcelona. They're the greatest team in the world."

Frank Lampard
"Great teams always have a Plan B. Look at Barcelona. Their Plan B is to stick to Plan A."

Johnny Giles
"Barcelona are not invincible."

Sergio ramos