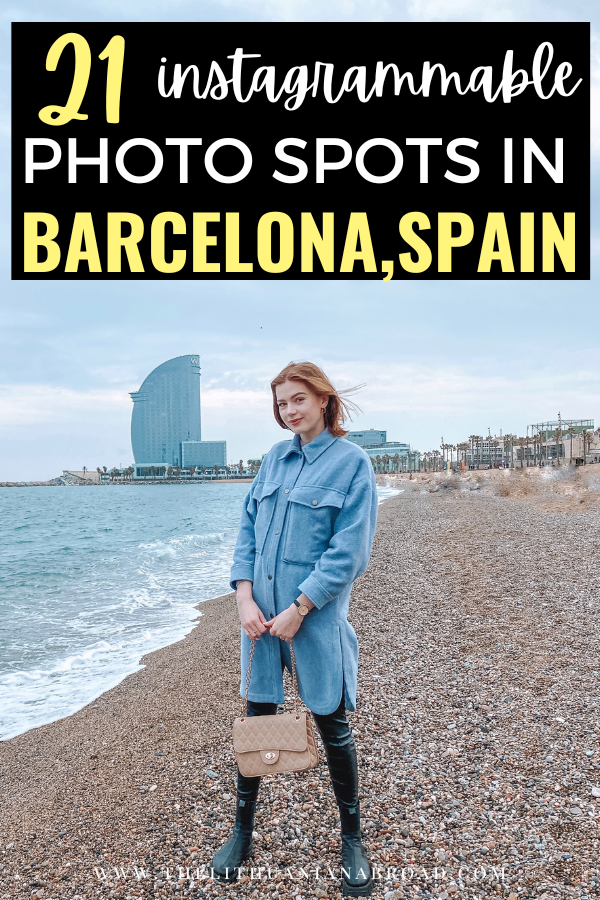 Barcelona is full of gorgeous photo spots and beautiful buildings. My boyfriend, who lives in Barcelona, always tells me "When walking around Barcelona you should always look up". Why? Because one building is more beautiful and eye-catching than the next one. And he is right! Barcelona is home to impressive architecture, interesting history, and many beautiful places to explore. Not only that. Barcelona is also famous for its Mediterranean climate and for having mild temperatures all year round. So it does not matter what season you are coming to, these Barcelona Instagram spots will be always waiting for you!
I know that when you are only spending a short amount of time in a city you do not know the best places to go and what areas are worth seeing. That is why I created this post with 20 amazing Instagram spots in Barcelona. So that you can get that one amazing photo when you are there. I made sure to include all information you need before visiting each spot. Let's jump right into it!
---
Affiliate links may be sprinkled throughout the free content of this blog post. If you purchase from one of the links I may receive a small commission while the price for you stays the same. This helps me cover the costs of The Lithuanian Abroad. Gracias!
Other blog posts about Barcelona you have to check out:
Barcelona Bucket List with 20 fun activities to do in Barcelona: This bucket list includes 20 must-do activities in Barcelona. The most important monuments, places to see, and, of course, Gaudí buildings. That way you will never run out of ideas about what to do during your trip!
Romantic places in Barcelona for a weekend with your loved one: This is a list of all the romantic places in Barcelona you can visit with your loved one or just go there to get your Instagram pic! Make sure to check out the beautiful sunset spots as well.
25 free activities that you can do in Barcelona: Did you think that visiting Barcelona has to be expensive?! Not with this blog post. It includes 25 unique activities you can do in Barcelona for free. And the best part: A famous Gaudí building is on this list as well.
An interactive neighborhood map of Barcelona you can download: If you are still confused about Barcelona's different neighborhoods and areas, this post is for you. I created an interactive neighborhood map of Barcelona that you can download and display on your phone. Check it out!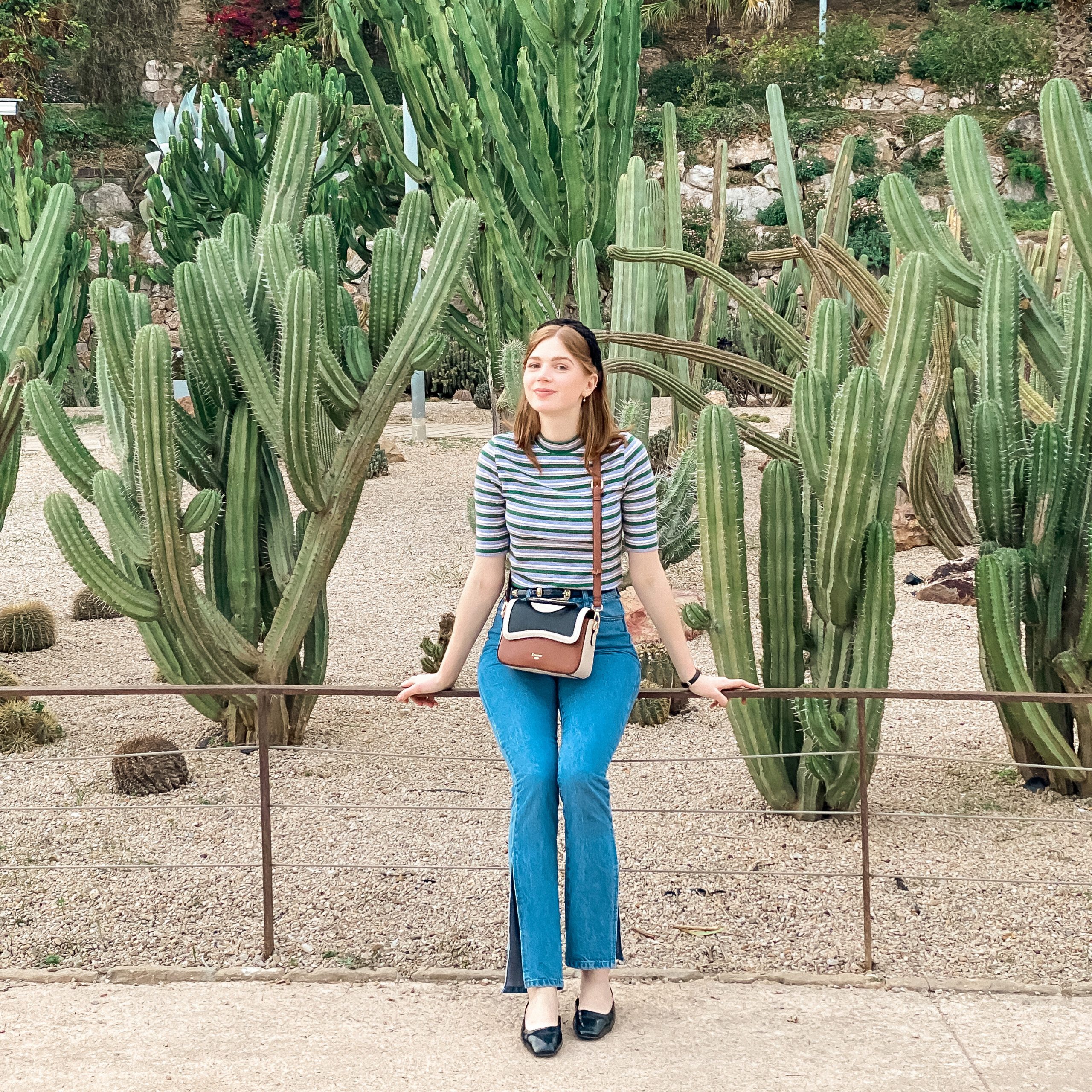 Have you ever done a free walking tour in Barcelona?
I am a big fan of free walking tours which is why I always make sure to mention them in my blog posts. Free walking tours are the perfect way to see the most important monuments and places of a city in a short amount of time. And the best part: Your guides are always locals that do an incredible job showing you the city from the eyes of a person that actually lives there.
So how do free walking tours work? These tours do not come with a specific price, therefore, they are free. You do not even need to pay to sign up. During the tour, you will see Barcelona's famous monuments and beautiful streets. And you will learn a ton about its history! After the tour, you have the chance to leave your guide a tip. How much you would like to tip them is completely up to you. It really depends on your budget and on how much you actually liked the tour.
Book your free walking tour in Barcelona here.
Let's start with the blog post: Here are 25 Barcelona Instagram Spots
1. Starting with the obvious photo spot in Barcelona: La Sagrada Familia
Ok, this is an obvious one. La Sagrada Familia is THE landmark in Barcelona you have to visit. It should be at the very top of your Barcelona bucket list and it is one of the places you cannot skip! This iconic building is one of 9 UNESCO world heritage sites in Barcelona (yes, 9!). And believe me when I tell you it's nothing like you have ever seen before. Even though the Sagrada Familia will not surprise you in the first place on my Barcelona Instagram spots list, here comes the interesting part: I will tell you where to exactly get the best shots of it!
I absolutely loved the rooftop terrace at Ayre Hotel Rosselón because it has such a unique view of the Sagrada Familia. It's the perfect location for a beautiful shot. Another great place is "Plaça de Gaudí", right behind the little pond. Above you can see the outturns of the photos that I took here:
If you want to go to the rooftop terrace at Ayre Hotel Rosselón you can book your spot here. Entrance is free but you have to order food/drinks.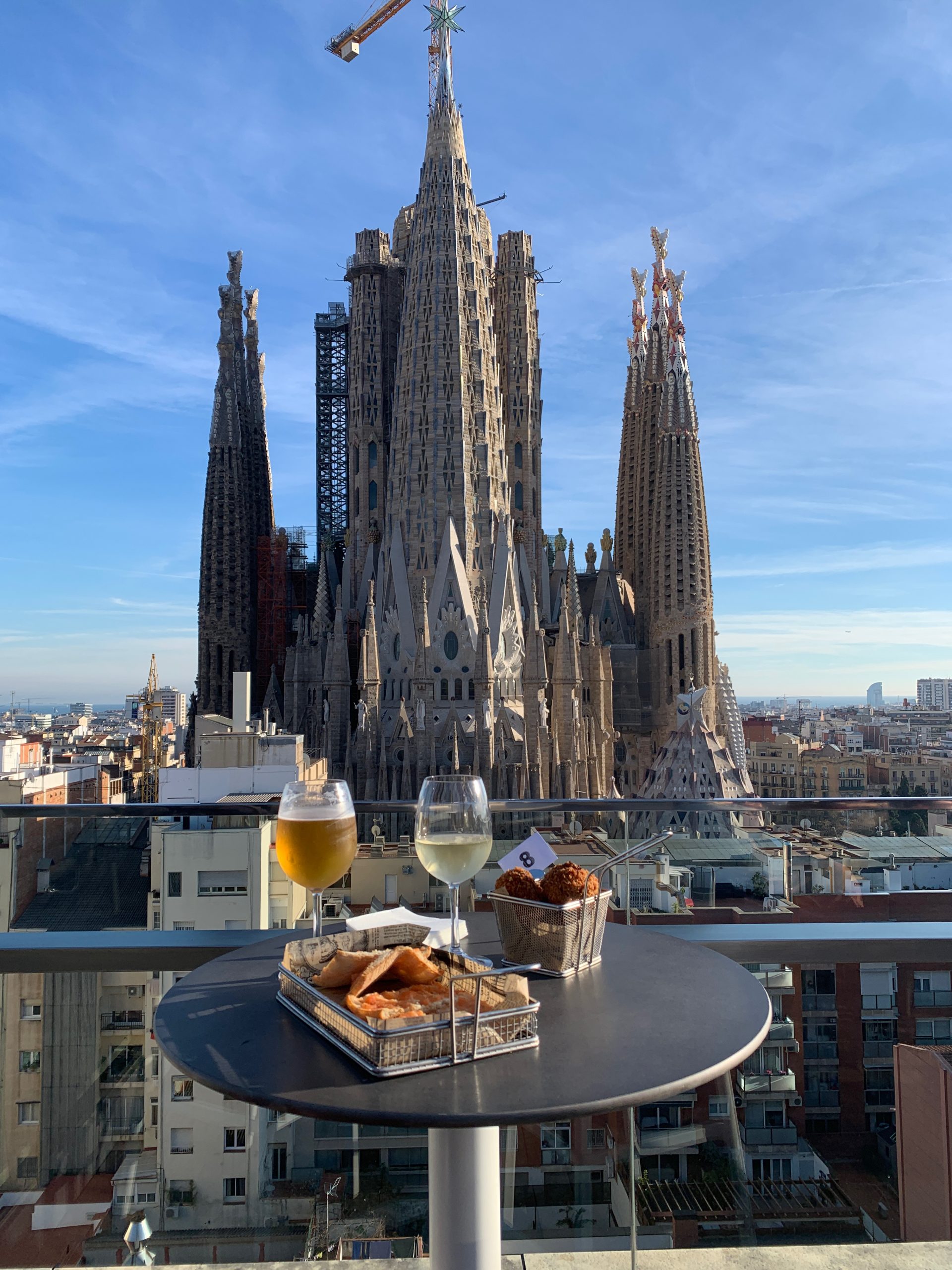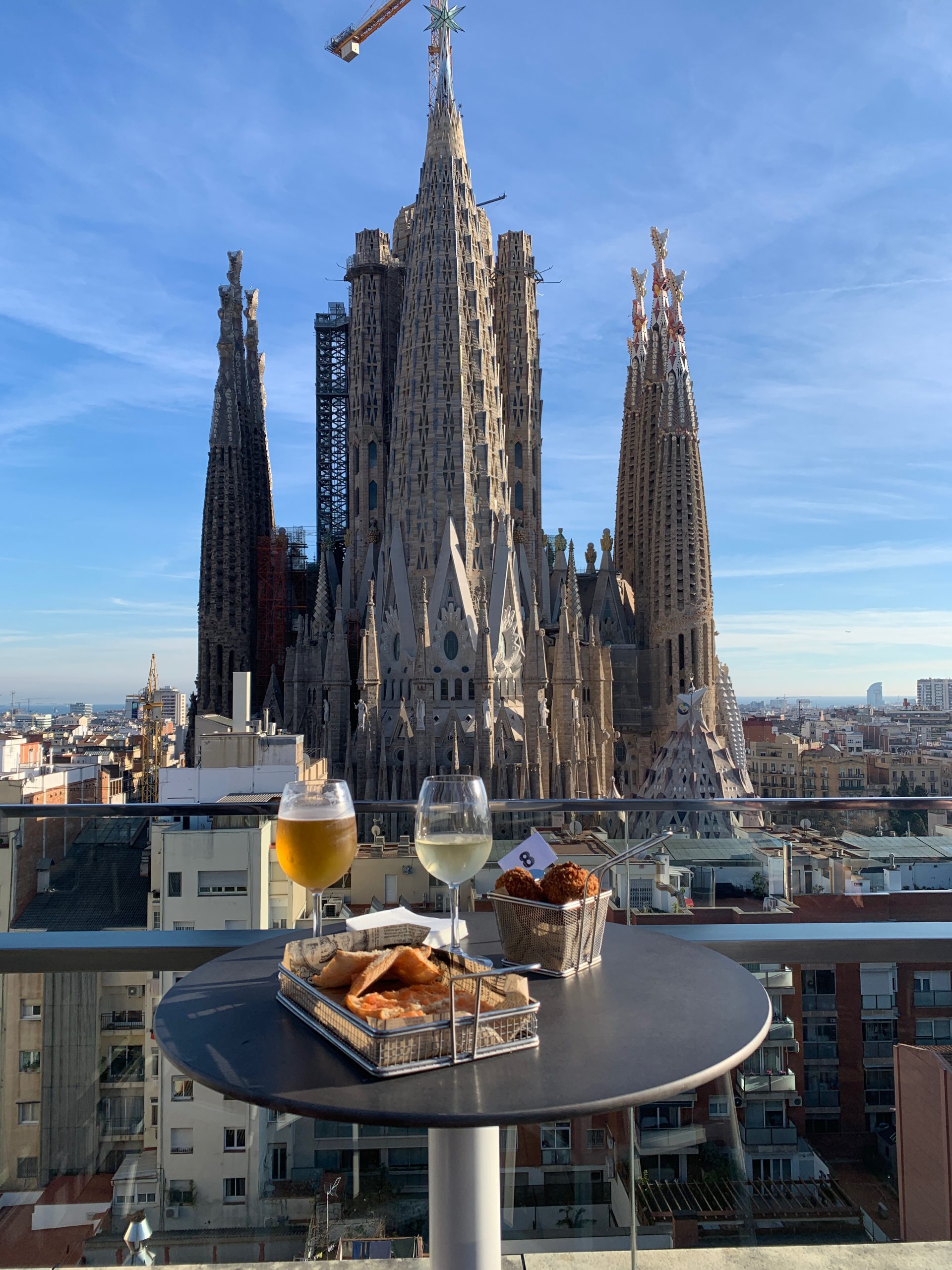 2. Find the beautiful monument in Parc de la Ciutadella
Parc de la Ciutadella is Barcelona's beautiful downtown park that is absolutely worth visiting. It's a great place to escape the noisy city for a moment and to relax in nature for a while. Now, let's talk about the photo spots in Parc de la Ciutadella:
First, make sure to find the fountain at the waterfall called "Cascada del Parc de la Ciutadella". This is a gorgeous monument beautifully decorated with golden ornaments. Make sure to catch the details in the architecture. These photos are going to turn out amazing!
Another place you can go to is the little boats in the park. I really like that area because it's full of plants and so green. I also invite you to take photos while you are on those rowing boats. My boyfriend and I had so much fun!
If you want to go on the rowing boats in Parc de la Ciutadella, it costs 6€ for 30min for two people. Look up "Barques del Parc de la Ciutadella" on google maps to find the spot!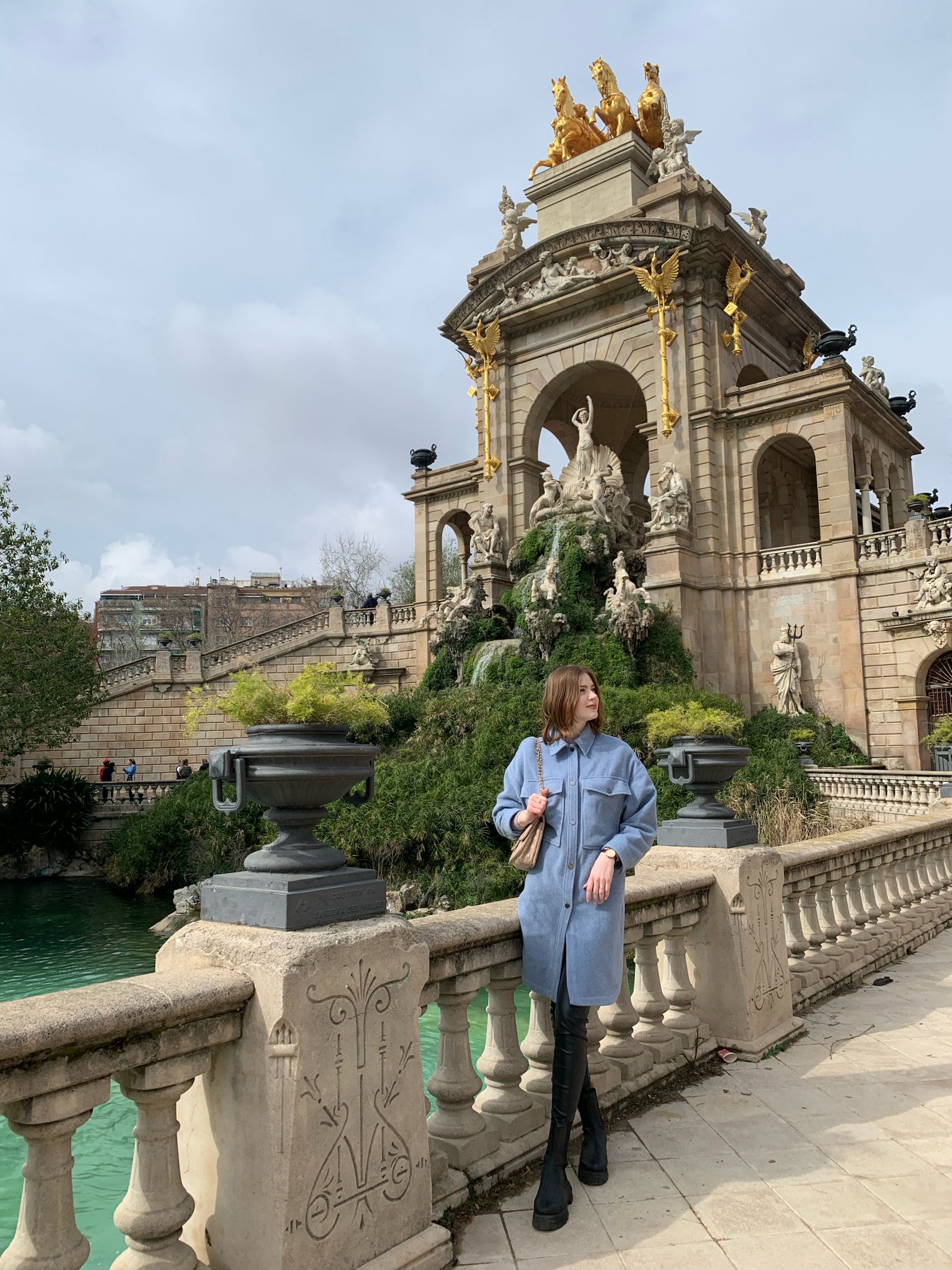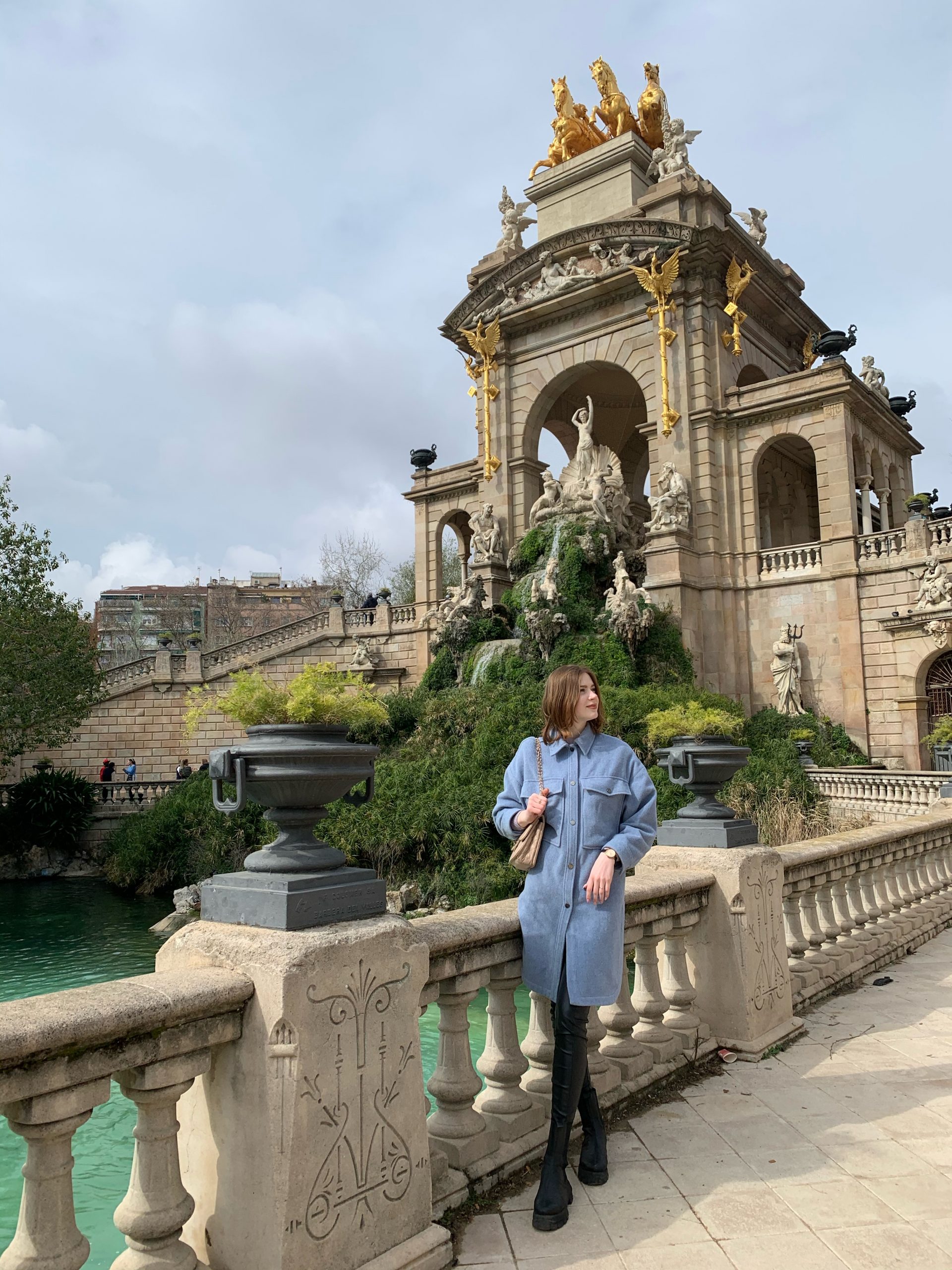 3. Take a photo of the majestic Arc de Triomf
Now that we are already in the Parc de la Ciutadella our next beautiful photo spot is Arc de Triomf, which is only a short walk away from the park. It was built for the Barcelona World Fair in 1888. And the name suits it well: It is enormous and definitely one of Barcelona's most famous monuments. When you walk through the Arc de Triomf make sure to see the beautiful details in the architecture.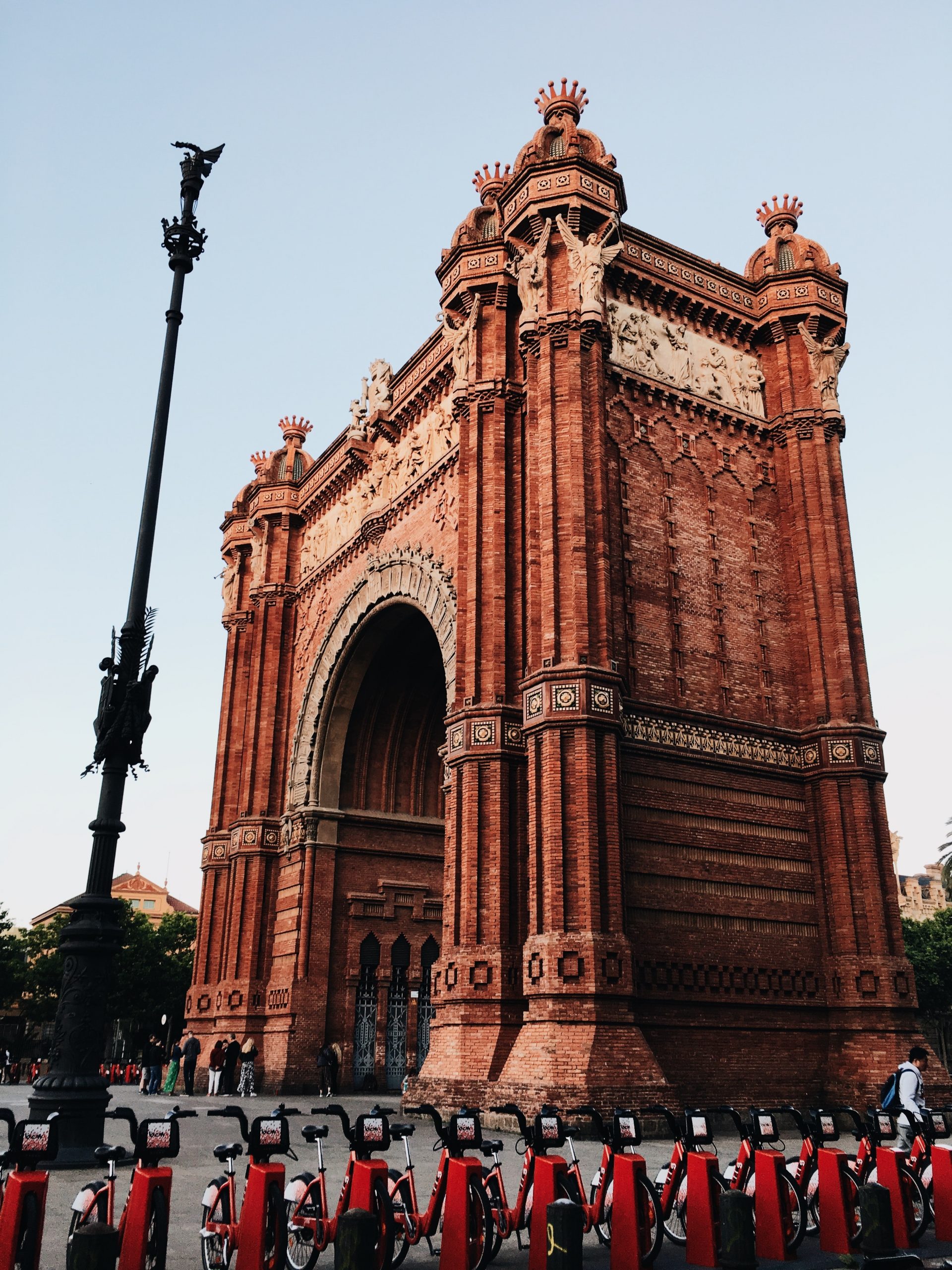 4. The ultimate sunset photo spot in Barcelona: Bunkers El Carmel
Bunkers El Carmel is the absolute best place in Barcelona to watch the sunset. It is not a hidden gem anymore which is why you will see many groups of young people gathering there in the evening to watch the sunset, listen to music, and enjoy the amazing views of the city and the beach of Barcelona from up there. Honestly, the photos that you will get there are spectacular!
This place tends to get crowded in the evening. So if you want to watch the sunset and get your Instagram photo be prepared to see many people there. If you decide to get during the day I am sure it won't be as busy.
How to get to Bunkers El Carmel with public transport?

Take bus 22 to the last stop! The bus starts at Plaça de Catalunya, which might be the most convenient option. Other stops you can join on the way are Passeig de Gracia, then Gran de Gracia, all the way to Lesseps.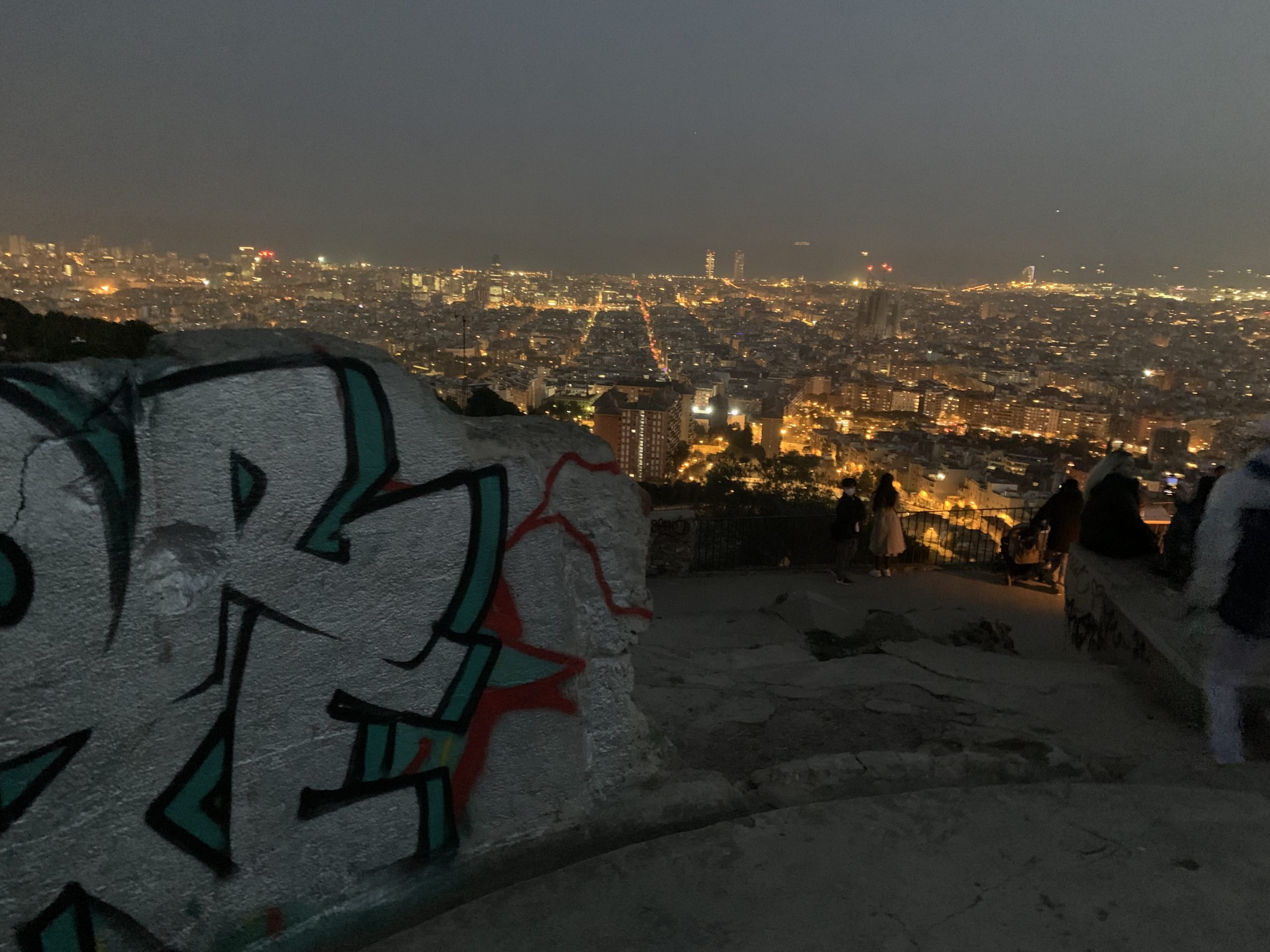 5. Take a photo of Casa Milá, a building that locals used to hate
Casa Milá is another one of Gaudí's creations and yet another UNESCO world heritage site in Barcelona. This building is located on the famous Passeig de Gràcia. It is one of Barcelona's most famous buildings and you just have to know its back story: 
Many locals disapproved of the building due to its unusual design and started calling it La Pedrera (in Spanish: Stone quarry) Can you believe that some people that owned buildings in that area were afraid that this 'ugly house' would decrease the price of the other buildings in that area? Nowadays, it is one of the city's most important attractions. And definitely worth a photograph. Even though Casa Milá is already worth photographing from the outside you should definitely have a look at it from the inside. It has a gorgeous interior patio and an incredible rooftop terrace. You can book your tickets for a tour inside Casa Milá here. 
Another thing that is still on my bucket list is going to a light show during the evening in Casa Milá. This is a special event during the evening where the rooftop is lit up in beautiful colors and you get to enjoy the view from Casa Milá while enjoying a glass of cava.
You can find more information about the light shows at Casa Milá here.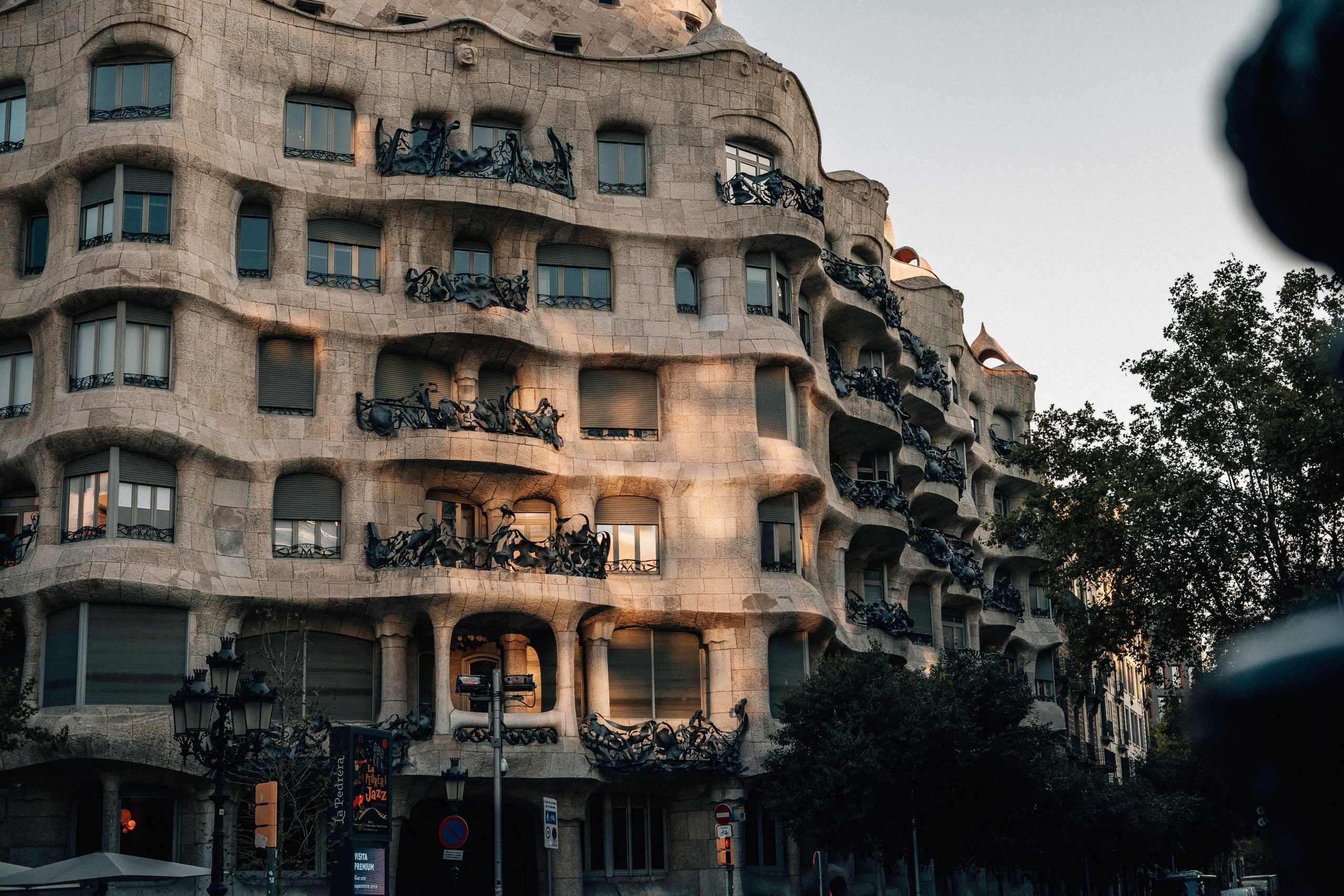 6. Get a picture of Casa Batlló, the most beautiful building in Barcelona
In my opinion, Casa Batlló is the most beautiful building in Barcelona. The colors of this building just completely stand out and make this building absolutely unique. And of course, it was the one and only Antoní Gaudí who redesigned this building in 1904. 
But Casa Batlló is not only beautiful from the outside. You can even go inside the building and have a look at the unique interior design. And that is probably one of Barcelona's biggest Instagram spots. Just look at the colors. I am sure this looks nothing like anything you have ever seen before. You can find more information and book your tickets here.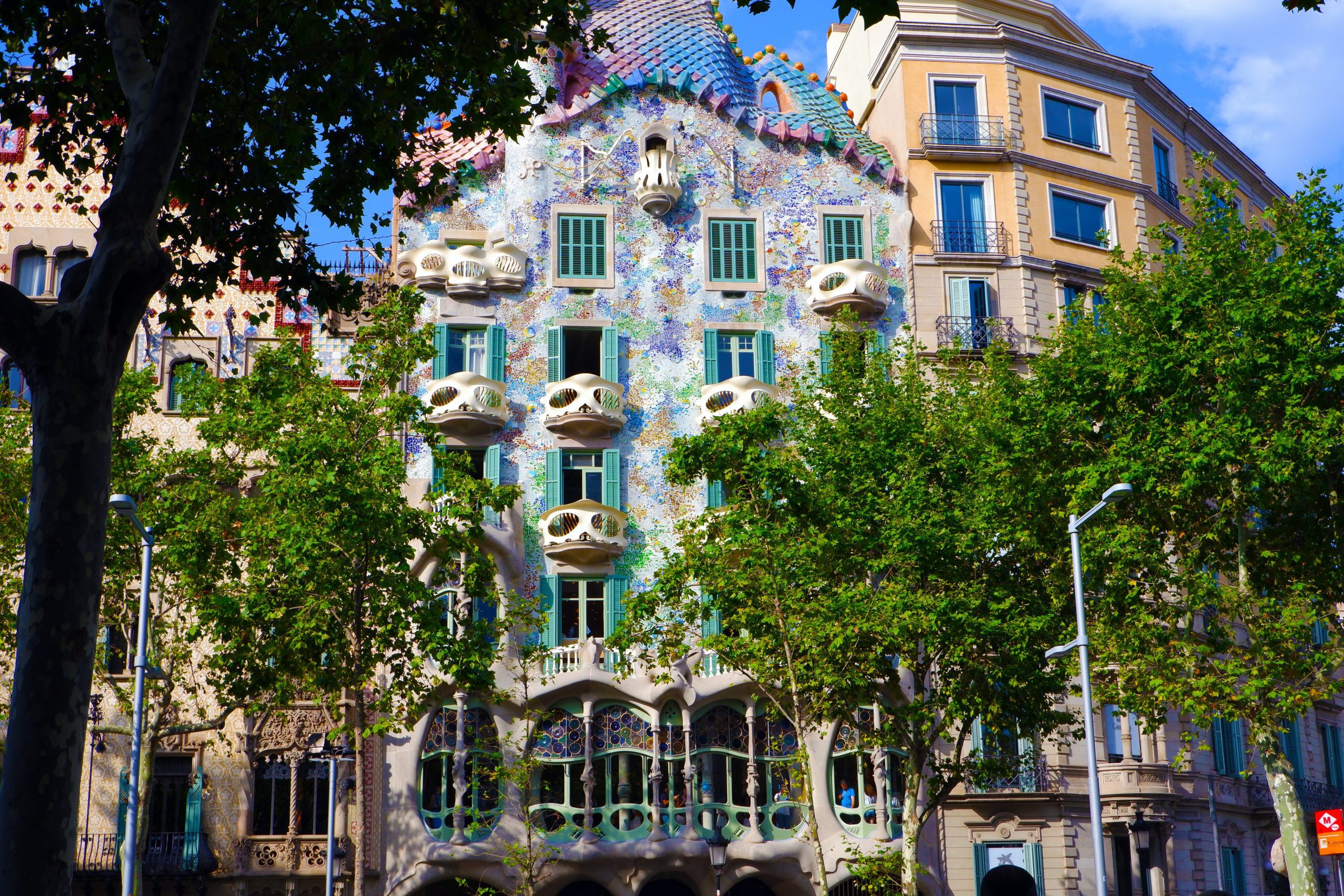 7. Barcelona's secret photo spot: The hidden kiss mural
Deep down in the Born neighborhood of Barcelona lies this beautiful hidden artwork. "The world begins with every kiss" is a mosaic of more than 6000 tiles. The story behind it is interesting as well: Spanish newspaper "El periódico" requested their readers to submit images that defined "freedom" for them. 
Then, the artist Joan Fontcuberta was hired to create this beautiful artwork out of the submissions of the readers. When you come closer to the monument you will see that it consists of thousands of tiny images. So beautiful! Many people skip this place because it is quite hidden and you can walk past it without even realizing it.
Look up "The world begins with every kiss" on google maps in order to find this Instagram Spot in Barcelona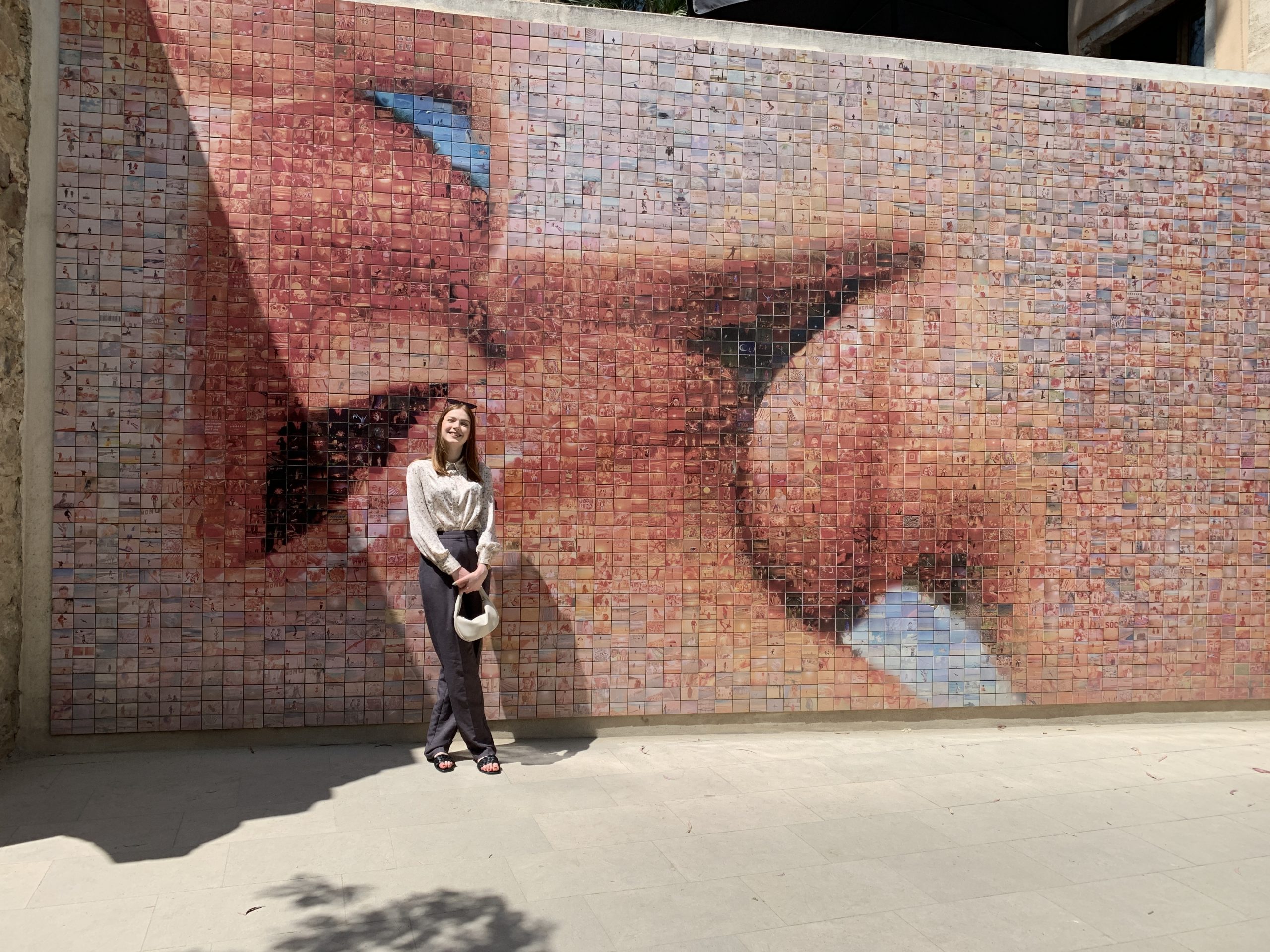 8. Take a beautiful photo of the views from Mount Tibidabo in Barcelona
If you have ever been to Barcelona you probably have seen a church with a Jesus statue on a mountain top on the outskirts of the city. That is Mount Tibidabo. Mount Tibidabo is a very popular destination for a one-day trip from Barcelona. It's very easy to get there and the place is very picturesque and so worth visiting: 
But Mount Tibidabo is not just another mountain with a church on it. What you can also find there is Europe's oldest amusement park. Yes! In Barcelona! When I went there, we decided not to go on any of the rides, because we found 19€/35€ (depending on the ticket) a bit too expensive. But you are able to walk around the area without acquiring a ticket. You will see that there are so many beautiful photo spots in Tibidabo. One of my favorites is the vintage carousel, and the views of Barcelona, of course!
By the way, I wrote a whole blogpost about visiting Tibidabo that you can find here. I really recommend going there as the views are incredible!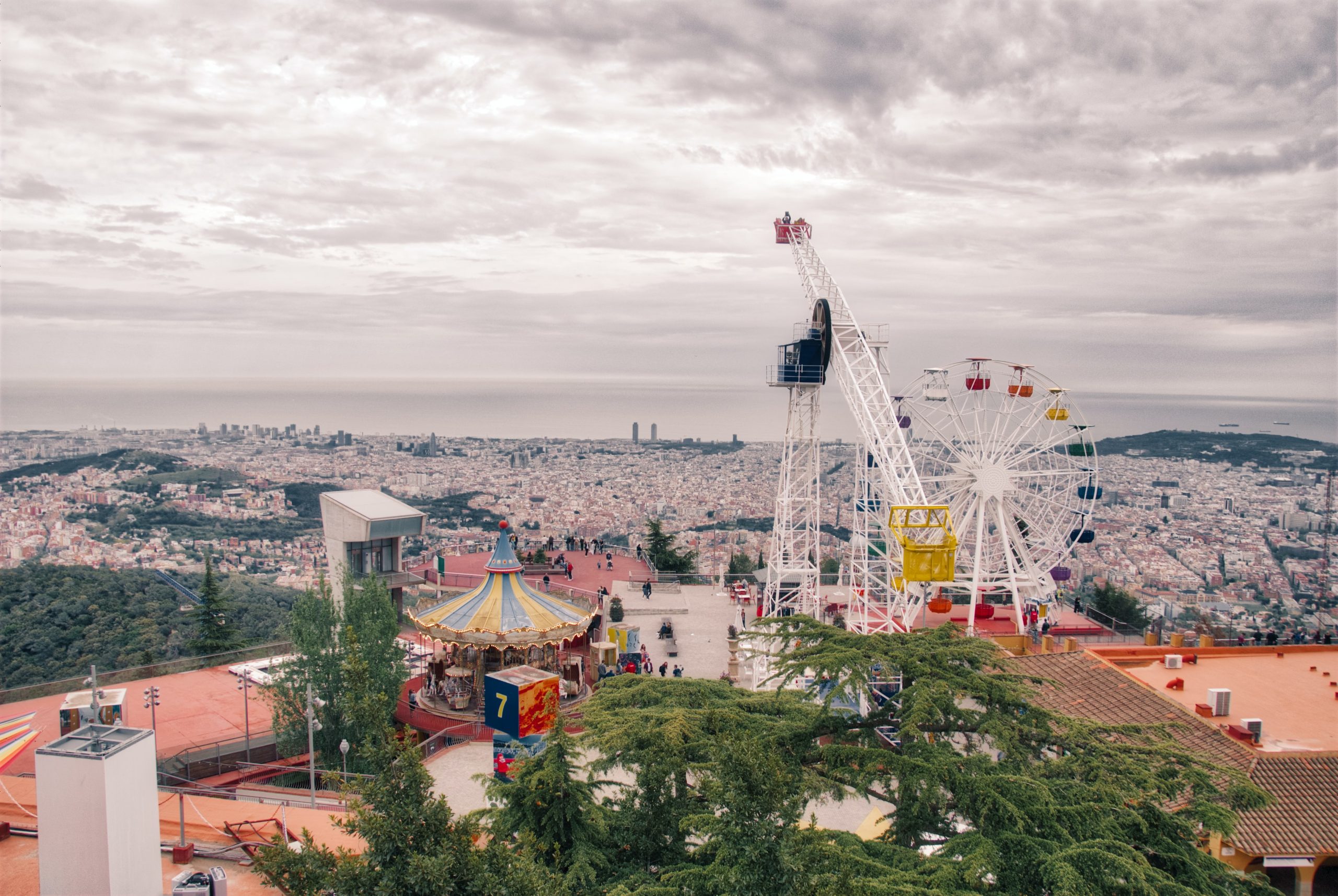 9. Take the perfect colorful photo at Casa Vicens in Barcelona
Have you ever heard of Casa Vicens? This beautiful building is one of the lesser-known Gaudí creations in Barcelona. Just look at how unique the building is! And you can even see the inside of the building, which is even more impressive. 
Casa Vicens clearly belongs to Gaudí's oriental phase. This building is so colorful and so beautifully decorated. Make sure to check out the "smoking room" inside the building. Many people say that this is by far the most interesting room in Casa Vicens. Believe me, you are going to take so many pretty colorful photos there.
You can book your tickets for visiting Casa Vicens here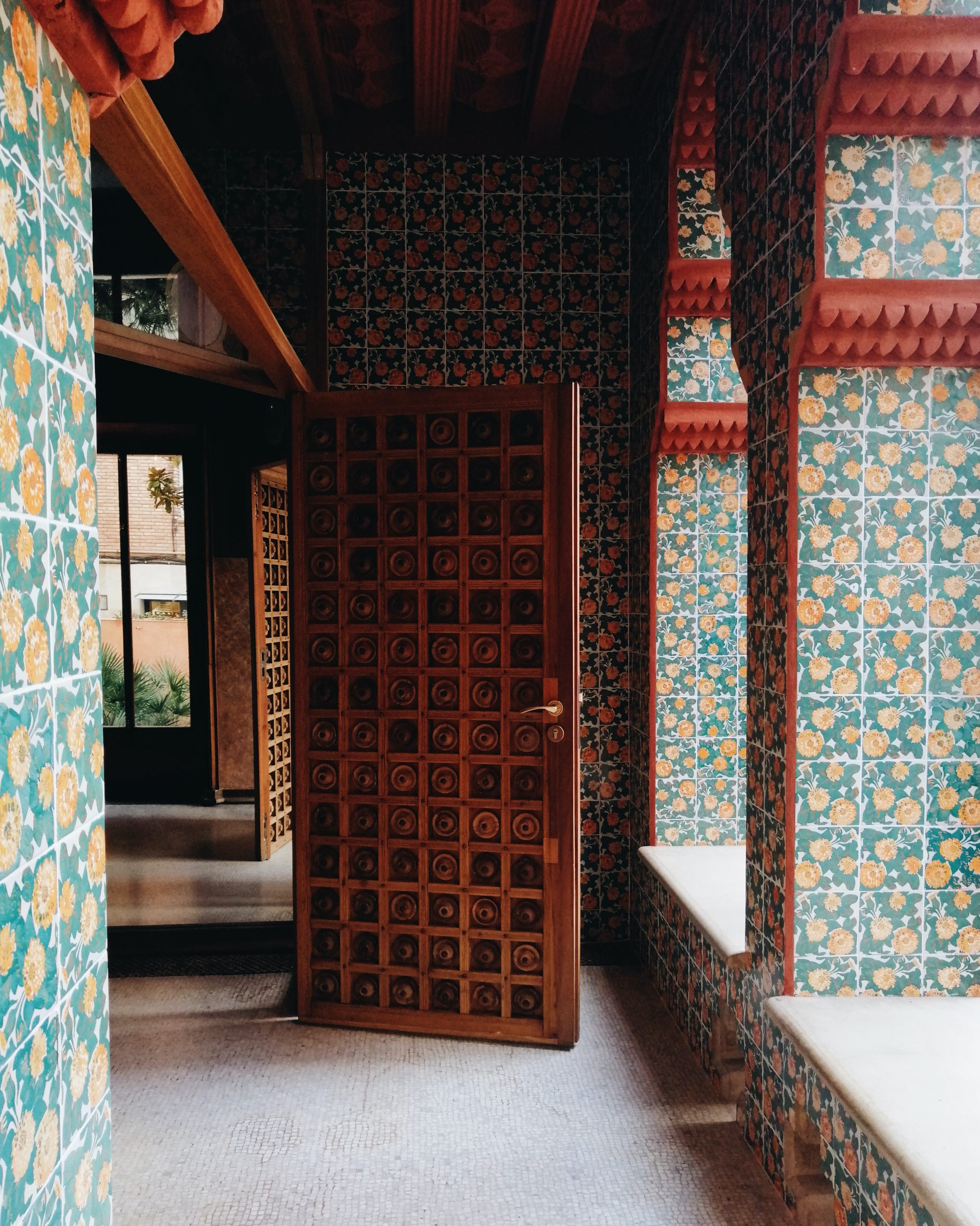 10. Park Güell: Take a photo of the beautiful mosaic in Barcelona's most beautiful park!
You cannot leave Barcelona without going to Park Güell first! This is, in my opinion, the most beautiful park in Barcelona and there are so many pretty places where you can get THAT amazing Barcelona photo. Park Güell is another impressive artwork created by Antoni Gaudi which gained UNESCO World Heritage status in 1984. 
What you should look out for in this park is the famous mosaic artwork that you can find in the buildings and decorations in the whole area. The two houses at the entrance of the park remind me of a fairytale. Going there is the perfect plan for a day with beautiful weather in Barcelona. Once you get to the terrace of the park you will have an awesome view of the area and the houses at the entrance: Take a photo of it!
By the way, you can book your entry tickets for Park Güell online here. That way you don't have to queue before entering it 🙂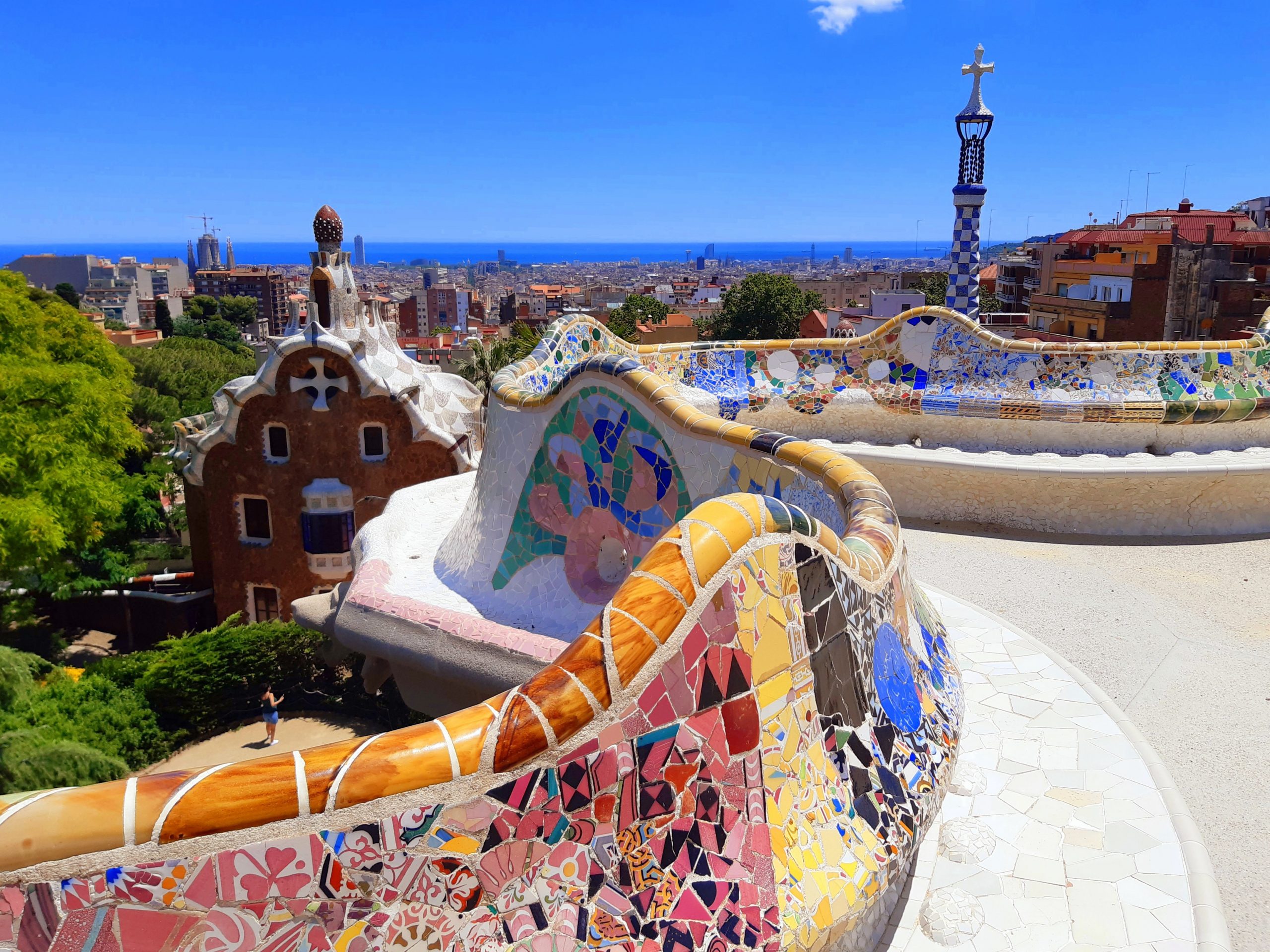 11. Palau de la Música Catalana: Visit this unique concert hall in Barcelona
The next item on this list is the Palau de la Música Catalana. And I have to be honest here: I have not been there yet, but it is at the top of my bucket list!
Palau de la Música Catalana is Barcelona's gorgeous concert venue. It is also unique since it is the only concert venue worldwide that ever received UNESCO world heritage status. If you feel like walking around this majestic building from the early 20th century you can get your tickets here. It includes a self-guided audio tour that you can listen to from your phone.
But if you are looking for a special experience, yes, there are live music shows offered at the Palau de la Música. There are so many different events, even for non-classical music fans. What about going to a Flamenco performance instead? You can find the different dates and buy your tickets here.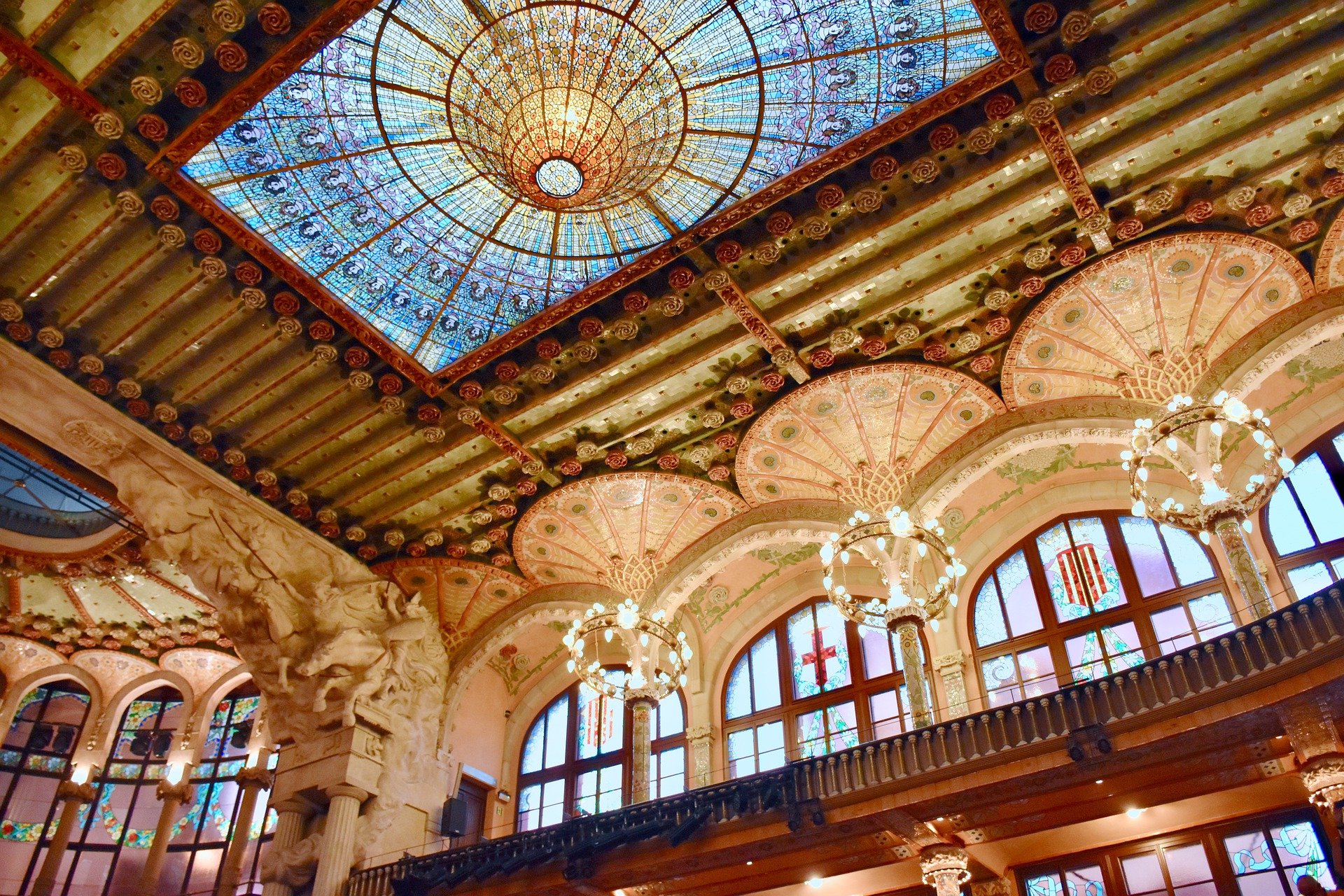 12. Take a photo of the impressive W-hotel at the beach in Barcelona
Some people love it, others hate it. You can think what you want about this building but it definitely became one of Barcelona's most iconic buildings: The W hotel. 
With more than 470 rooms, 67 suites, a rooftop, gym, and several pools it has everything you could ever wish for in a 5-star hotel. Maybe you have heard about Carles Abellán, the famous chef that is operating the Michelin-star restaurant in that hotel. By the way, if you would like to stay in this hotel you can find prices and availabilities here.
But let me be honest with you: This hotel also has its controversies: Locals have raised their complaints because the location of this building does not comply with Spanish coastal laws. According to those the construction of a building closer than 100m to the shore is not allowed. And you and I can both see that this building is, how should I describe it, RIGHT ON THE BEACH. Can someone tell us what happened here?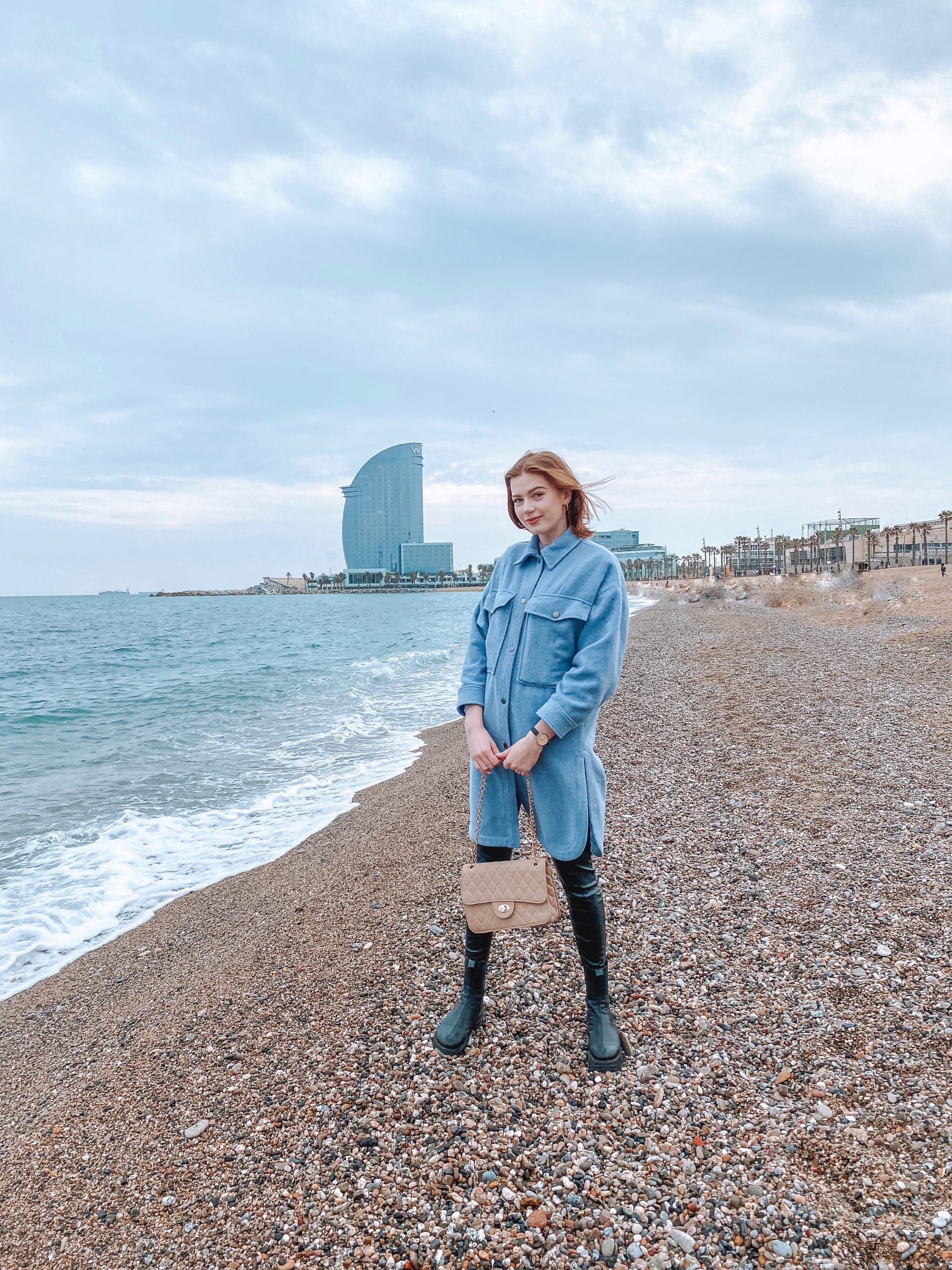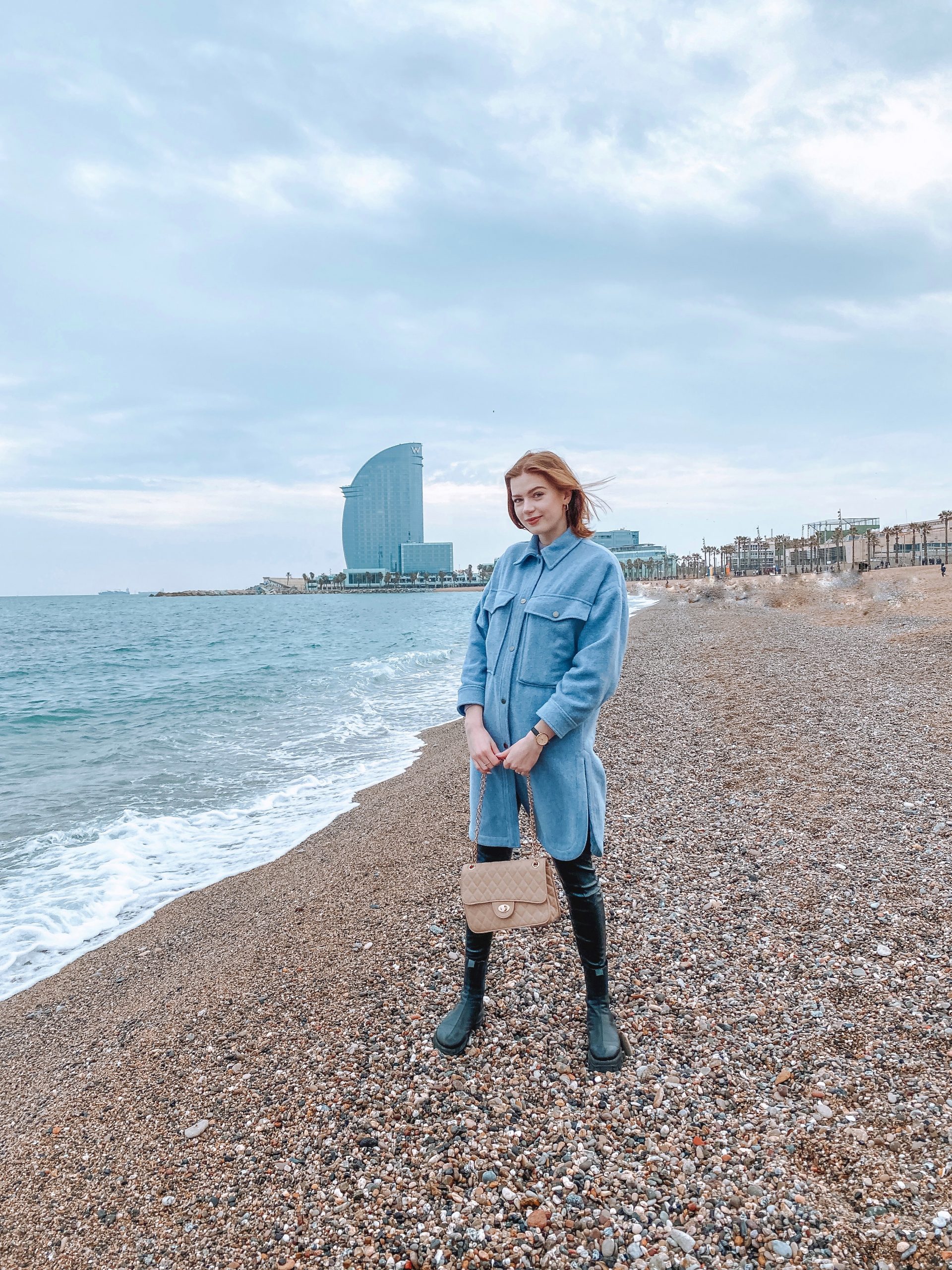 13. Take a photo of the maze in this amazing park: Parc del Laberint d'Horta 
Here, I really want to include this special park in Barcelona. Not only is it absolutely romantic and full of beautiful sculptures. This park has something absolutely unique that you have to check out: A labyrinth! Your challenge will be making it through the labyrinth, and believe me, it is not as easy as it seems! There are so many beautiful photo spots in this park: from the labyrinth to the sculptures to the beautiful pavilions around the maze. There is also a little pond behind the maze that looks very calm and romantic. Another amazing place to visit in Barcelona on a beautiful day.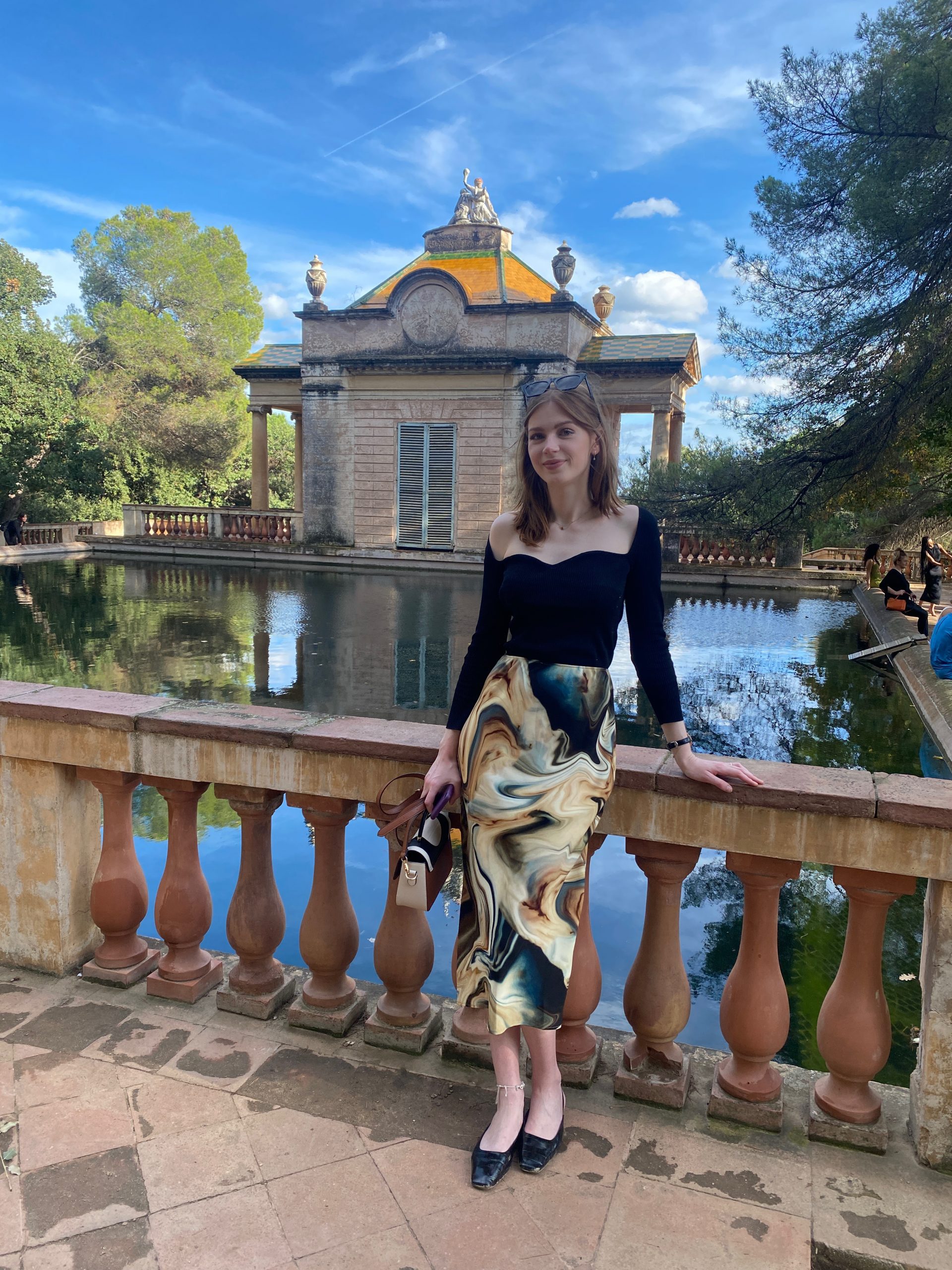 14. Find this unique photo spot in Barcelona: Casa Pàdua

Our next Barcelona Instagram spot takes us a little bit further away from the noisy city center to Carrer Pàdua. On number 75 we can find this majestic building in red and green colors, which locals call Casa Pàdua. When looking at it closer we can tell that it's covered in a romantic floral pattern. If you happen to be there when the shutters are open you can see the pretty glass windows of the house. 
There is not much known about this house, other than the fact that its architect was Jeroni Granell i Manresa, who also designed the gorgeous Palau de la Música Catalana.
While you are there, make sure to get a beautiful photo of Casa Pàdua. It's a spot that most people miss. And you get to shine with your unique Barcelona photo!
15. Take a photo of Barcelona's romantic monastery: Monasterio de Pedralbes
Monasterio de Pedralbes is one of my favorite hidden gems in Barcelona: It is a gorgeous well-preserved monastery from the 14th century. The architecture is incredibly beautiful and makes the whole atmosphere incredibly romantic.
Nowadays, the monastery is a museum. And the great thing is that you can walk around the whole area and even check out the different areas inside. Especially the cloister looks very beautiful and is great for taking pictures. If you end up going there, I hope you enjoy it as much as I did!
By the way! Entrance is free on Sundays from 3 pm & the first Sunday of the month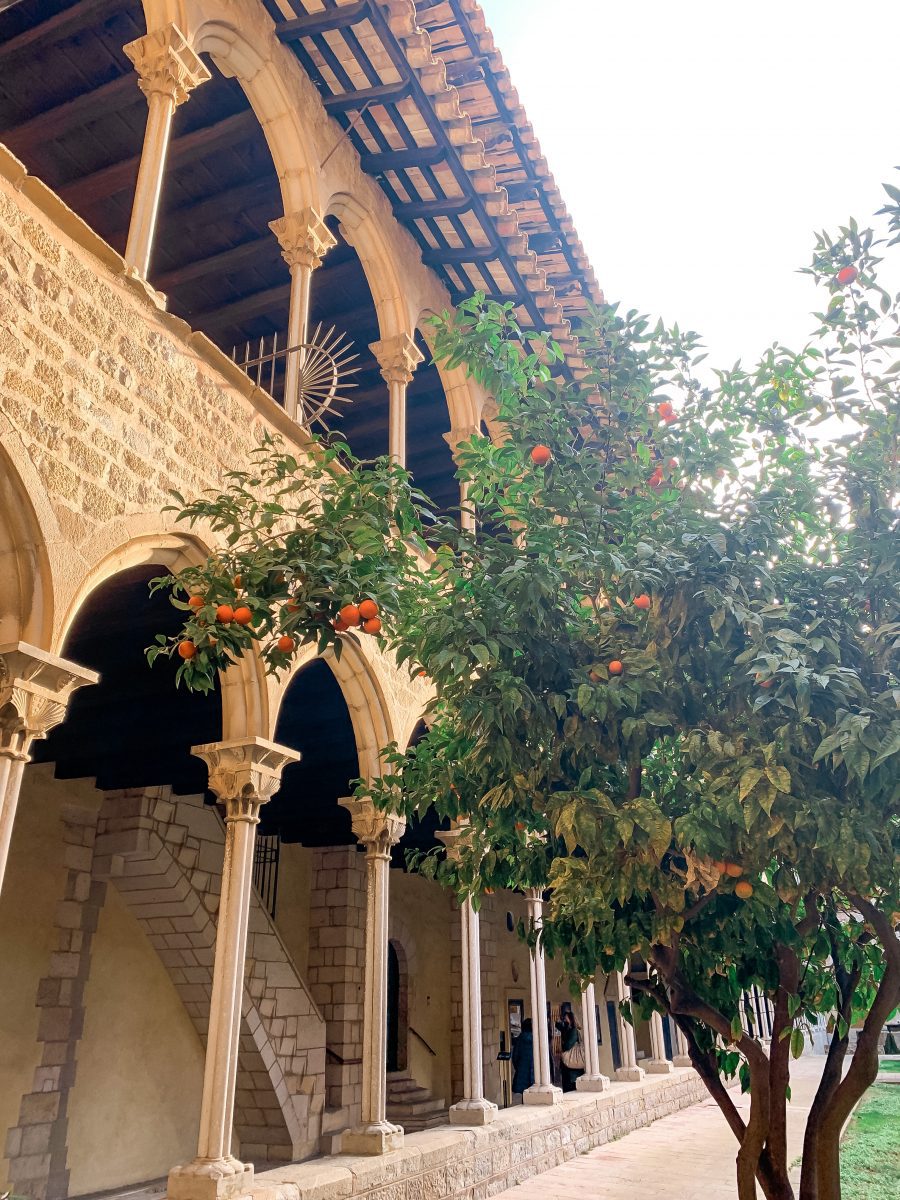 16. Take a photo of Barcelona's cactus park in Jardins de Mossèn Costa i Llobera
Another hidden gem that I had to put on this list because it's an incredible photo spot in Barcelona: Have you ever heard about Barcelona's cactus garden?
Jardins de Mossèn Costa i Llobera is a beautiful cacti park close to Montjuïc. This beautiful botanical garden not only has a huge cactus and succulent collection. From there, you can also enjoy amazing views over Barcelona's port. 
In 1987, the New York Times even added this park to the list of the 10 most beautiful gardens in the world.
The best part: The entrance to Jardins de Mossèn Costa i Llobera is always free of charge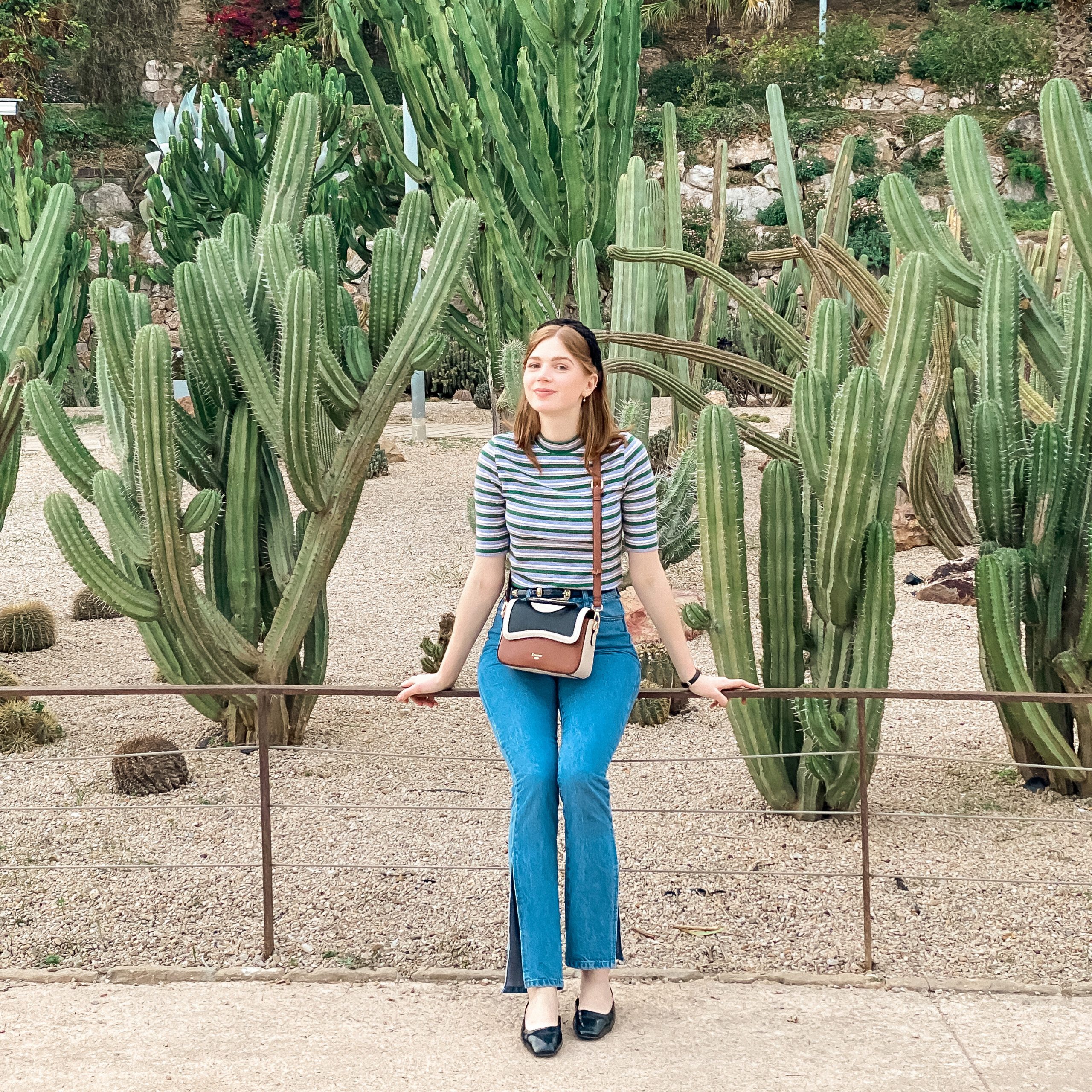 17. Hotel Colón, one of Barcelona's most beautiful rooftop terraces
Just a couple of weeks again I had to pleasure to check out the Rooftop at "Hotel Colón" and it's going straight to my list of Instagram spots in Barcelona!
Hotel Colón is located right across from the Cathedral of Barcelona. This means that you have an awesome view from the terrace straight to the cathedral. And at the same time, you can order a glass of wine and enjoy the evening with your loved one. This is an incredibly beautiful place, especially during sunset. 
By the way, you cannot make a reservation so you may have to wait in line for a while. Keep in mind that it does get crowded during the weekend.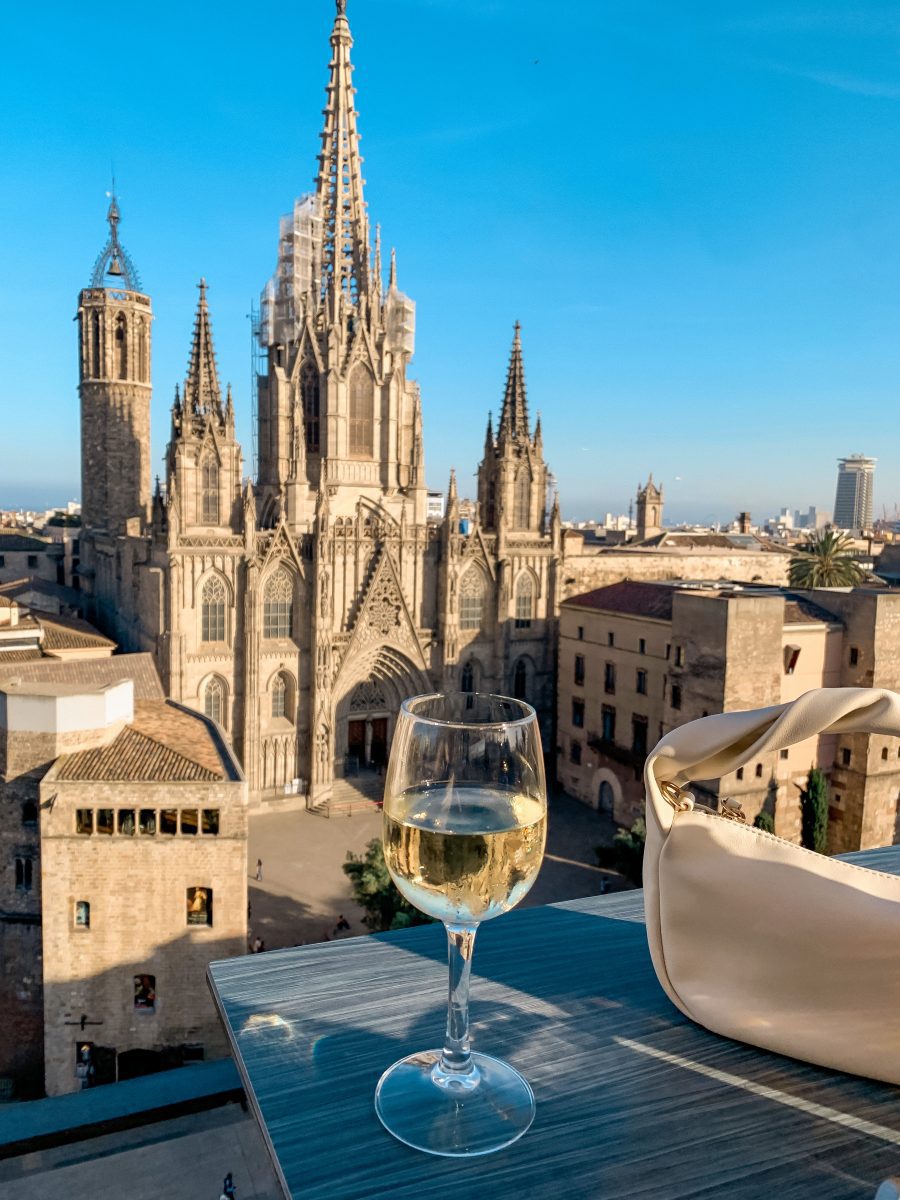 18. Go to Plaça Reial and take a photo of Gaudí's unique lampposts
Another beautiful place in Barcelona that I love to visit is Plaça Reial. This gorgeous historical square is located right next to La Rambla. When I look at it this plaza somehow reminds me of the Plaza Mayor in Madrid due to its incredible architecture. 
What you should definitely look at on this plaza are the unique lampposts. Did you know they were designed by Antoni Gaudí, the architect of the Sagrada Familia. These lampposts are famous for wearing helmets. A little detail that you definitely have to check out. And of course, take a photo of them and tell your friends that you found Gaudí's famous lamposts!
Look out for Gaudí's famous lampposts with helmets at Plaça Reial!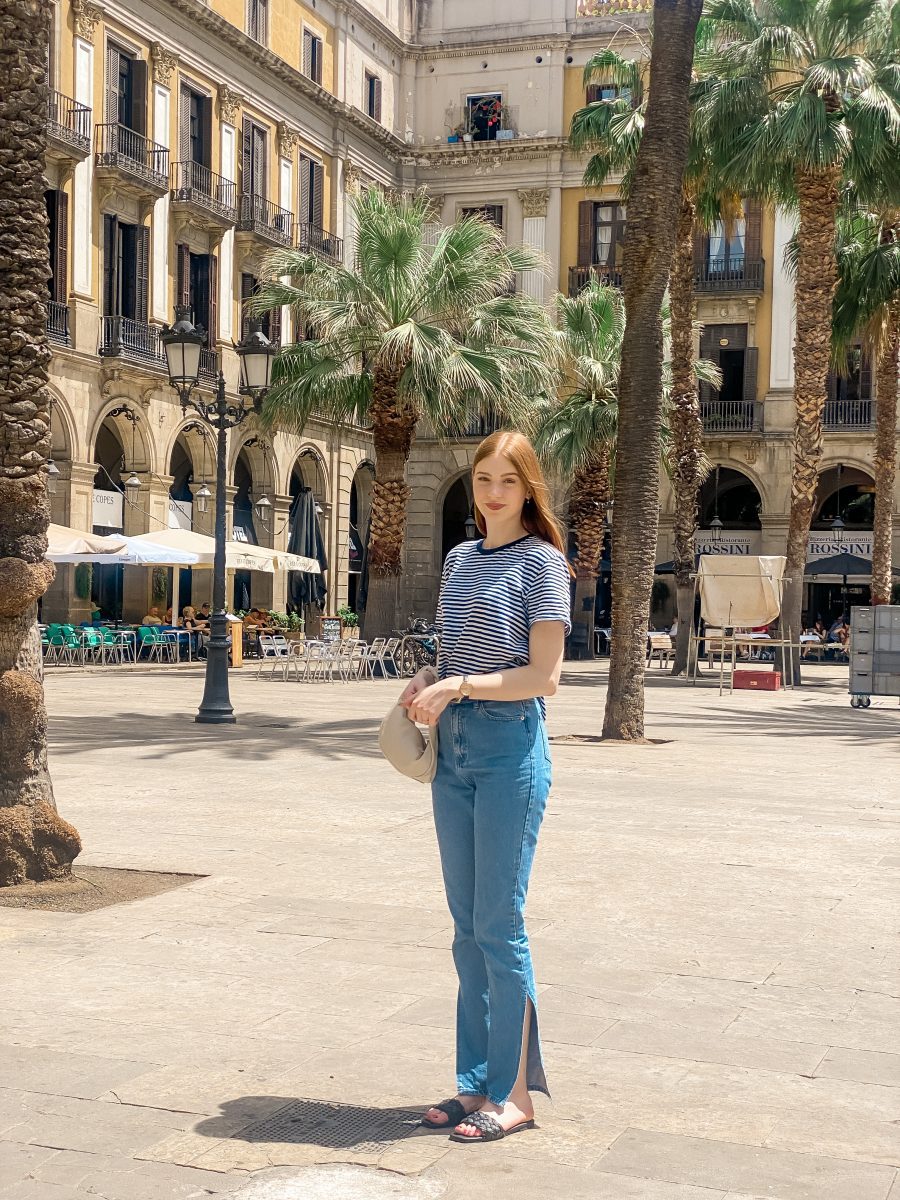 19. Barcelona's hidden Instagram spot: Street Allada Vermell
This beautiful little street is located in the artsy neighborhood of Born in Barcelona. What is so special about it? Well, Carrer d'Allada-Vermell, 12 has probably one of the most photographed facades in Barcelona. The owners of the building that live there, Lucky and Inés, started collecting plants and decorated the outside of the building with them. And the outcome is this romantic building that we can see in Carrer d'Allada-Vermell 12.
While you can take photos of it, I encourage you to please, be respectful. Don't forget the owners of this house actually live there. So if you take a photo or want to admire the beautiful building, don't forget that people live there. And they put a lot of work into it!
20. Visit Barcelona's unique Instagram spots: Plaça Milans
I bet you didn't know about Barcelona's most curious street before. Plaça Milans is located in the heart of the barrio gótico, whose streets always remind me of a labyrinth. But the truly unique thing about Plaça Milans is that it is an amazing photo spot. And no! I don't mean the plaza itself. You have to take a photo from the floor. Put your camera as close to the floor as you can and take a photo from the view above. The outcome you will have is the following photo. A circular shape of the sky with two small streets leading away from it. Make sure to put Plaça Milans on your list.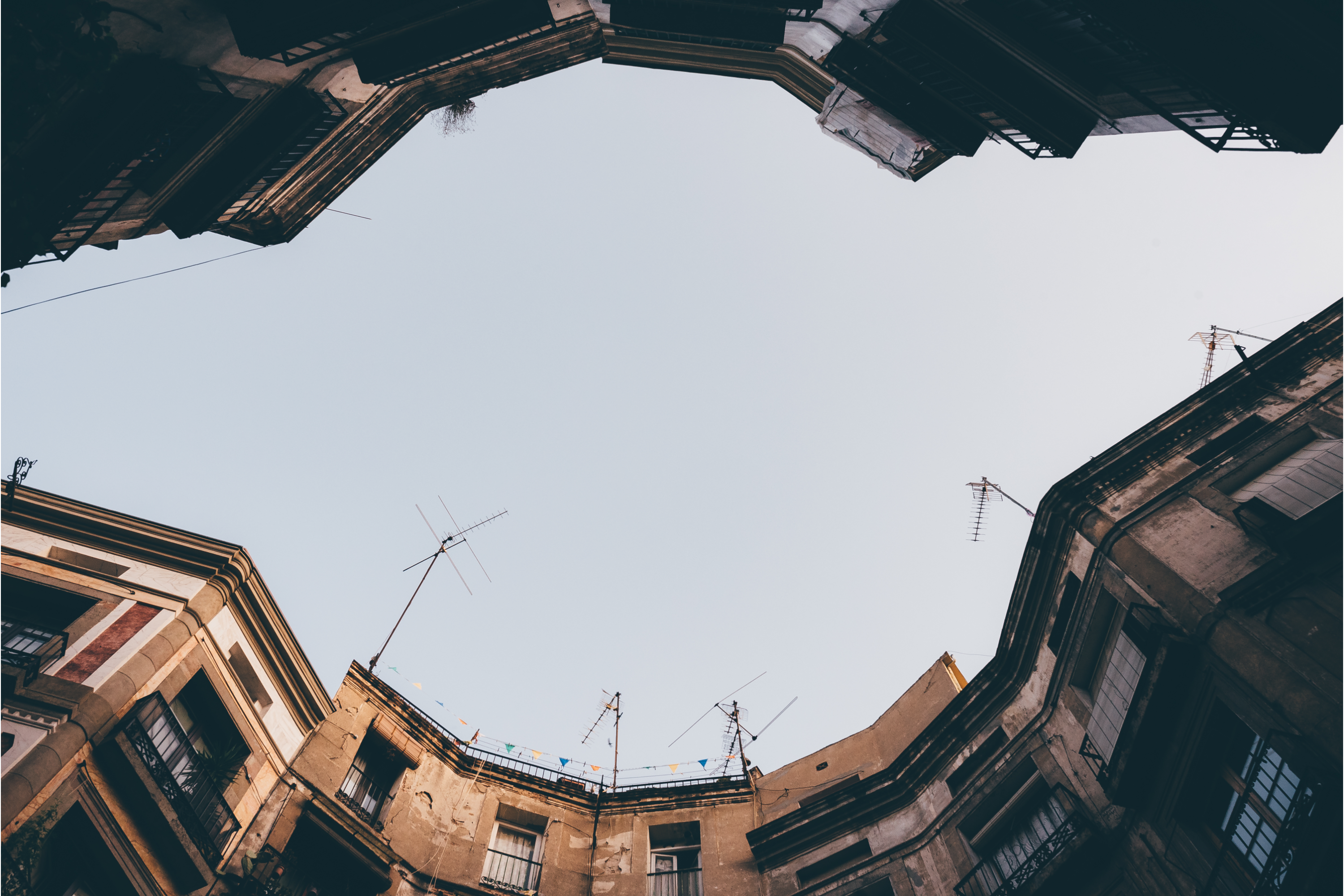 21. One of Barcelona's most beautiful Instagram spots: Pont del Bisbe
Barcelona's gothic quarter has countless beautiful photo spots. It is famous for its narrow streets that transport you back into Barcelona's medieval era. But one I really want to highlight here is Pont del Bisbe, in English Bisbe bridge.
This bridge unites the Casa dels Canonges and the Palau de la Generalitat, and its unique look made it one of Barcelona's most popular streets to take photos of. Walk under this beautiful bridge with the marble structure and make sure to take a memory photo of it!