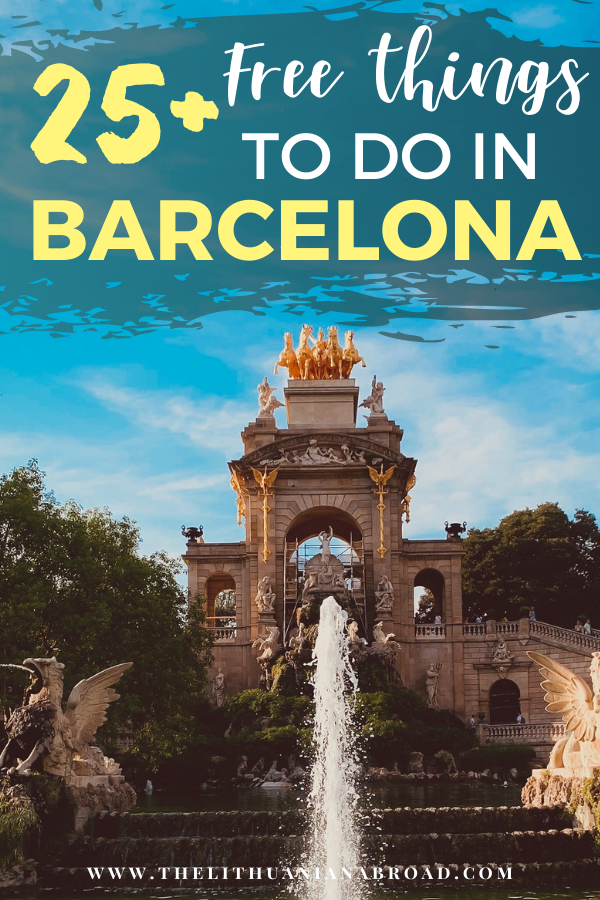 Let's start with the obvious: Visiting Barcelona can be quite expensive. Especially, if you are planning to see Barcelona's famous Gaudí buildings, museums, and other attractions. Don't get me wrong! I love visiting Barcelona and spending time there. But the truth is that my money is leaving my bank account faster than I would ever imagine. So what can we do? I started to do one thing every time I am going to Barcelona to visit my boyfriend who lives there: Research free attractions, viewpoints, and other beautiful places we can visit in Barcelona without having to pay.
And the outcome is the following blog post: More than 25 free things to do in Barcelona. Your bank account will thank me! Let's go.
---
Affiliate links may be sprinkled throughout the free content of this blog post. If you purchase from one of the links I may receive a small commission while the price for you stays the same. This helps me cover the costs of The Lithuanian Abroad. Gracias!
Other posts about Barcelona that could interest you:
Let's do a self-guided walking tour of Barcelona: Explore Barcelona in one afternoon with this walking tour you can do by yourself. Have a nice walk around the city center while you admire Barcelona's beautiful buildings, parks, and little streets. Comes with an interactive map you can download!
12 Things you can do at night in Barcelona that are not just partying: With this post, you will never run out of ideas about what to do in Barcelona at night. Find out where to watch THE perfect sunset, where to have the best cocktails, and what about a night tour?
Barcelona Neighbourhood Map with attractions & best places to stay: This post is for everyone who still gets confused about Barcelona's neighborhoods and different areas. And you get the best places to stay in each area. By the way, there is a neighborhood map you can download!
20 free museums you can visit in Barcelona! More 'Barcelona on a budget' content: This post includes 20 museums in Barcelona you can visit for free. Psst! The Pablo Picasso museum and one of the Gaudí buildings are on this list. Check it out!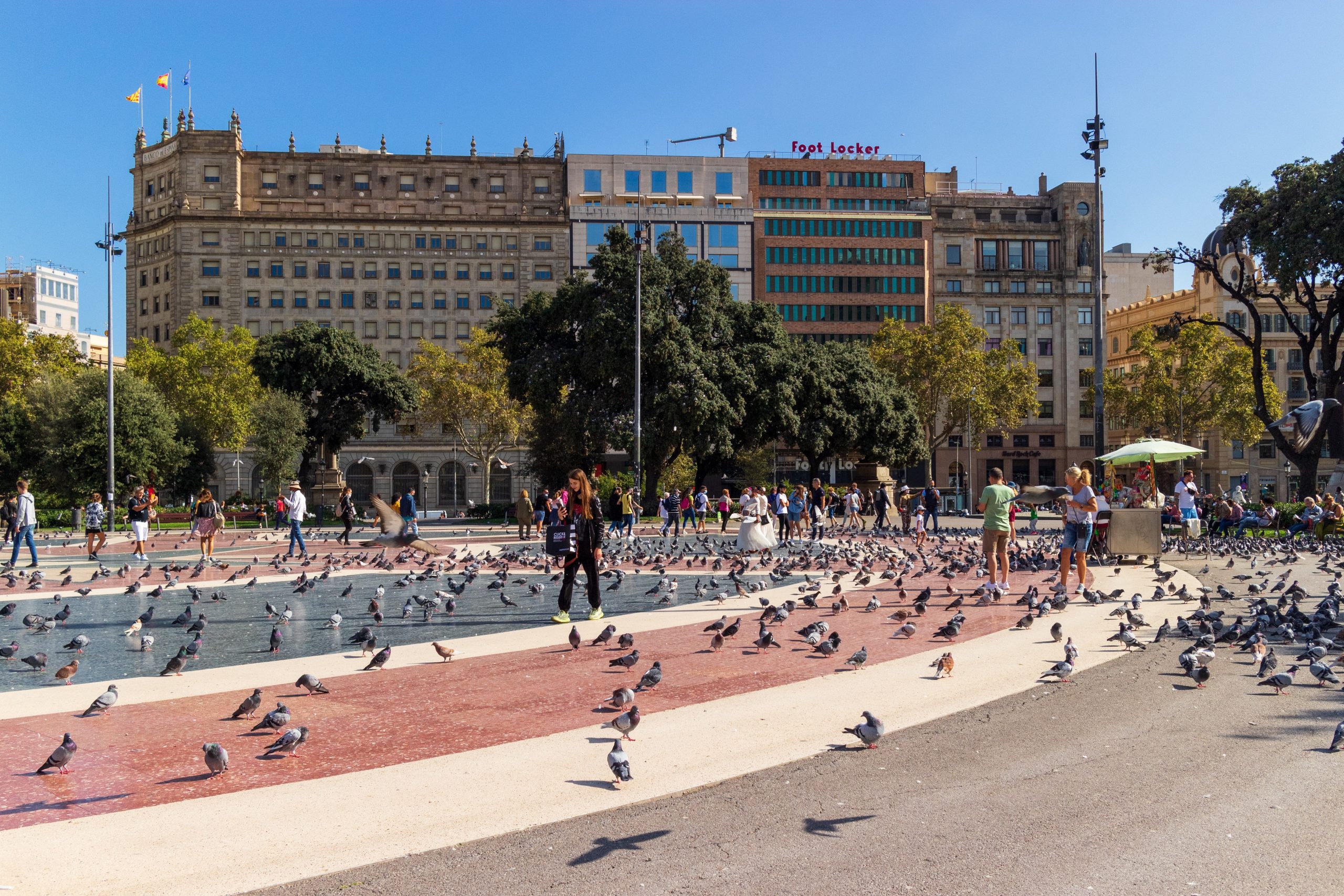 Low-budget activities in Barcelona you should know about
Catamaran Trip for only 17.50€ along Port Vell
Did you think that doing a boat trip in Barcelona does not fit your budget? Let me try to convince you: I found this tour on Get your Guide which is a one-hour boat tour with a catamaran along Port Vell. And it only costs 17.50€!!! What I love about this tour is that you get to see the coastline of Barcelona from a completely different perspective. And let's be honest: How many catamaran trips do you usually do while traveling?
You can find more information here.

Visit the Palau de la Música, Barcelona's famous concert venue
Another activity that is not as pricey as many other attractions in Barcelona is visiting Palau de la Música. The entry ticket costs 14€ which makes it one of the lower-priced attractions in Barcelona. But it is absolutely worth visiting it. This building looks so impressive. It was built between 1905 and 1908 by the famous architect Lluís Domènech i Montaner as a home for the Orfeó Català. The Palau de la Música is a concert venue that was given UNESCO World Heritage status in 1997.
There are guided tours of the concert venue where you will be guided through the different rooms of the building, which will all leave you speechless. You can book your tickets in advance here.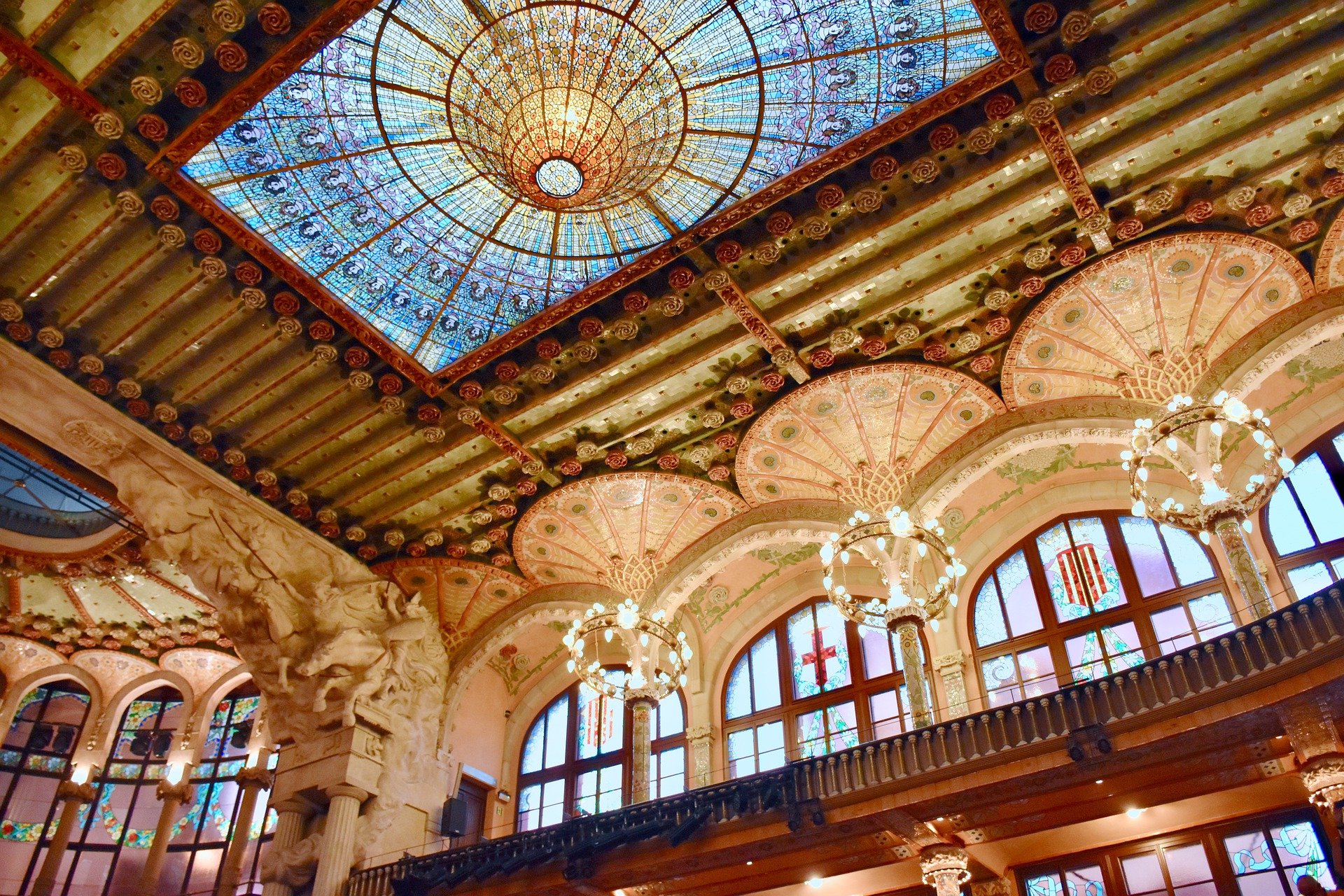 Let's go! Here are 25 free things to do in Barcelona:
Explore Barcelona with a free walking tour!
Doing a free walking tour is my favorite way to explore a new city! Those tours are done by locals and are THE perfect opportunity to see the most important parts of a city in only one afternoon. 
Barcelona is an extremely walkable city which makes it perfect for a walking tour. And since Barcelona is a city full of architecture, history, and culture there are currently many free walking tours offered. What I like about them is that the guides are always locals. And they can give you amazing recommendations about the city.
How do free walking tours work? These tours do not come with a price tag. So the tour guides rely on your donations. After the tour, you simply pay whatever you think is appropriate. Depending on your budget and how much you liked the tour 🙂
Have a look at the stunning Basilica "Santa Maria del Mar"
This beautiful basilica is located in the "Ribera" neighborhood of Barcelona and was built in the 14th century. The style of the basilica is described as Catalan-Gothic. It is a very impressive building if we keep in mind how old it is. Even if you usually do not go to churches (I do not either!) it is worth having a look at it from the inside. The colorful windows are gorgeous and the details in the architecture are one of a kind. Plus, the entrance is always free!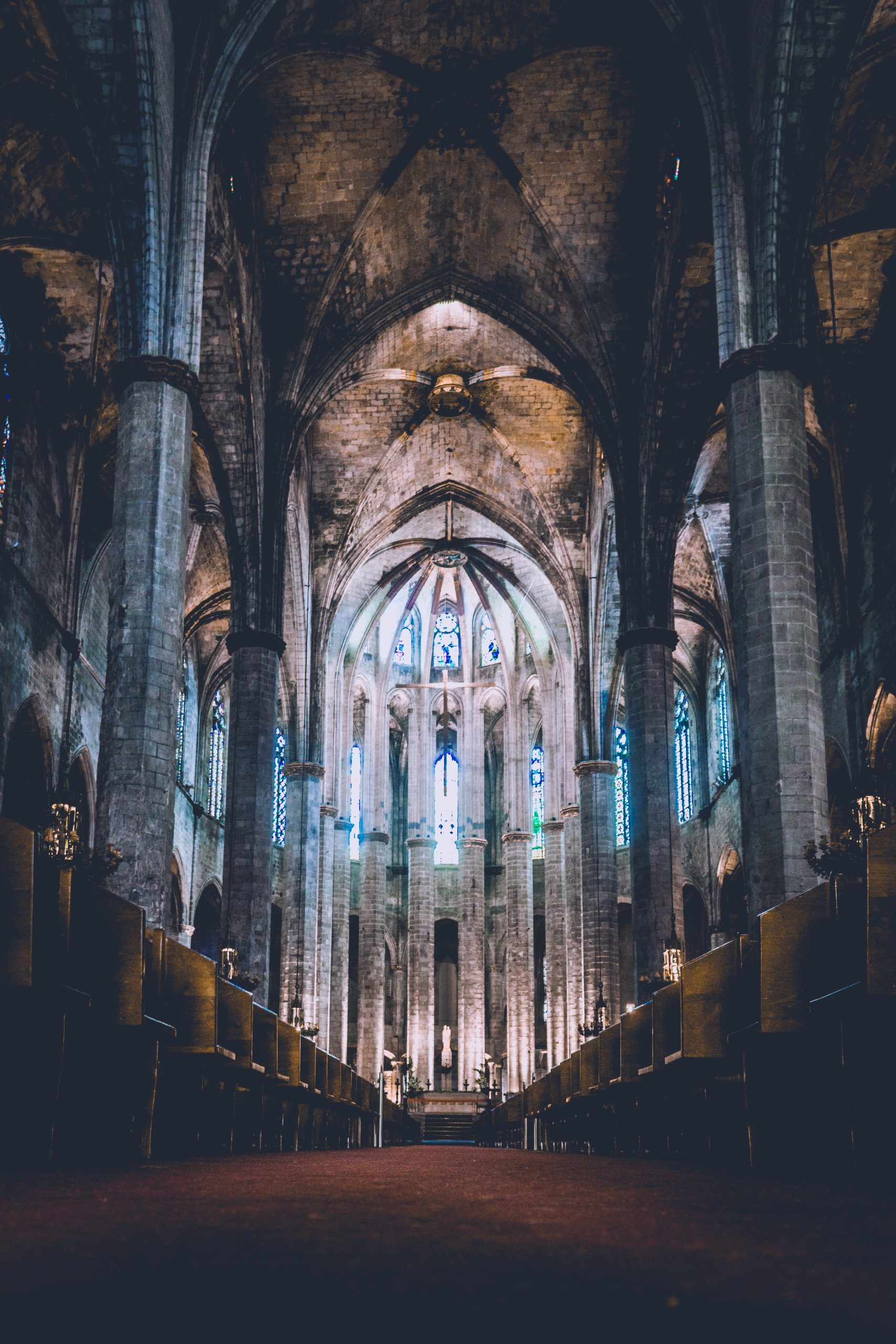 Watch the sunset at Bunkers del Carmel!
Bunkers del Carmel is THE sunset place in Barcelona, and I recommend going there 100%. This place is not a hidden gem anymore and is very popular amongst young people. During the evening you will see many people gathering here to watch the sunset, have a picnic, or have a couple of drinks.
The best thing about this viewpoint is that you have a 360-degree view of the whole of Barcelona. Despite its name 'Bunkers del Carmel' there were actually never any underground bunkers here. Instead, there was an antiaircraft warfare station during the Spanish Civil War.
This area is very exposed to the wind and it does get cold after sunset. So make sure to bring a jacket!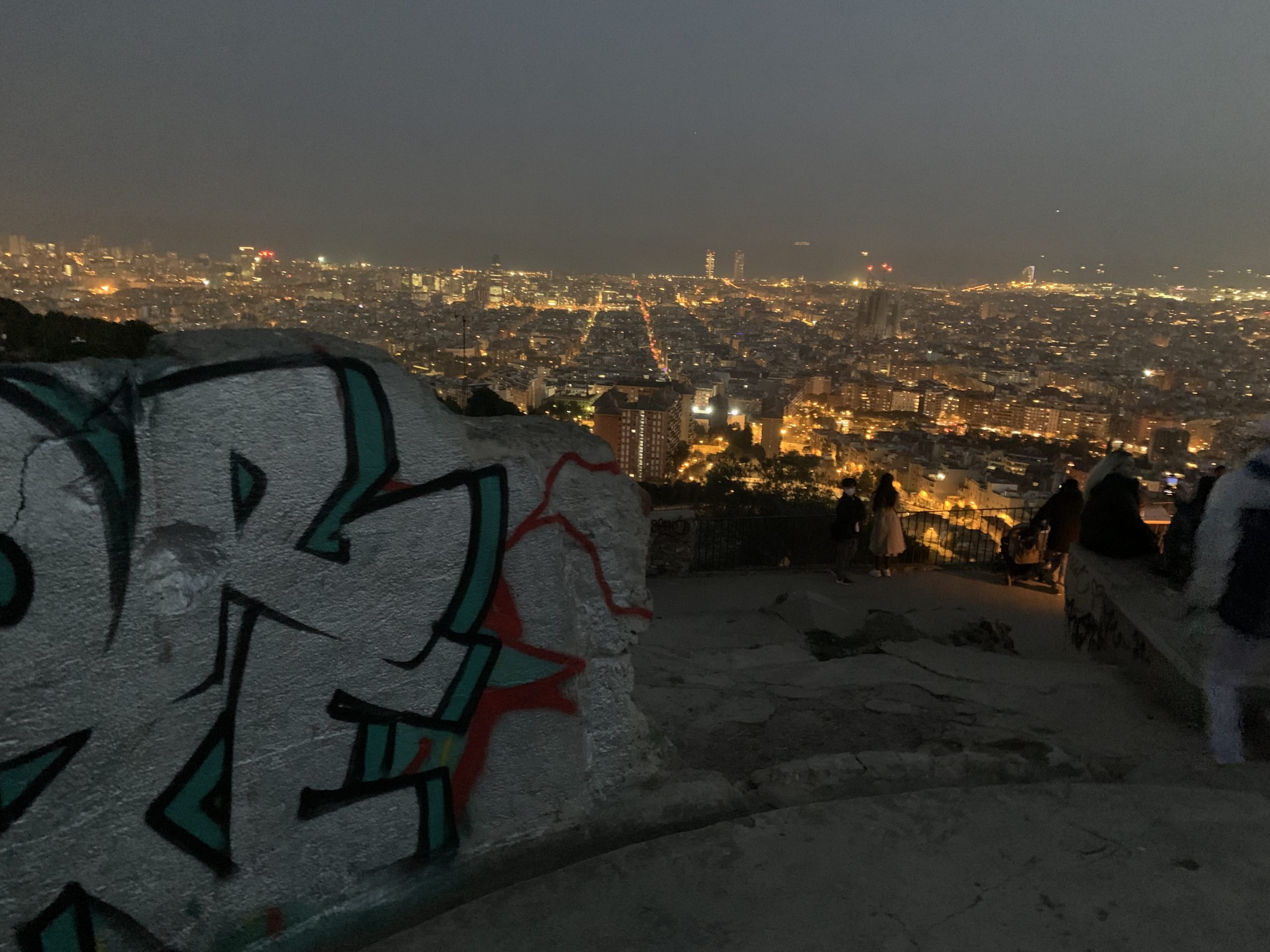 HOW TO GET TO BUNKERS dEL CARMEL?
Public Transport: Take bus 22  to the last stop, from there you only have to walk around 7 min to the viewpoint. Bus 22 starts at Plaça de Catalunya, which might be the most convenient option. Other stops you can join on the way are Passeig de Gràcia, then Gran de Gràcia, all the way to Lesseps. You can catch it from other subway stops such as Diagonal, Fontana, Lesseps, and Vallcarca.
Check out free museums in Barcelona!
Good news if you are traveling Barcelona on a budget: There are many museums you can visit for free in Barcelona. Here, I show you three museums that do not charge any entrance. 
By the way, there are many museums that offer free entrance on Sundays: This guide features a whole list of museums in Barcelona you can visit for free. And I even tell you the time slots when you can access the museums without paying entrance. Psst! The Picasso Museum and the Palau Güell are on this list as well.
The Santa Monica Arts Center
This is a beautiful art center that is located in an old monastery and is dedicated to contemporary art. Its exhibitions show all kinds of visual arts: from performing arts, music, science, literature to fashion! You can find their current exhibitions on their website.
The Santa Monica Arts Center is right at La Rambla. Make sure to have a look if you are close!
La Virreina Palace
The Virreina Palace is a beautiful building from the 18th century that is located right on La Rambla. It hosts amazing temporary art exhibitions. It currently hosts the Town Hall's Cultural Department and its Centre de la Imatge (Image center), where you can find art by local Catalan artists.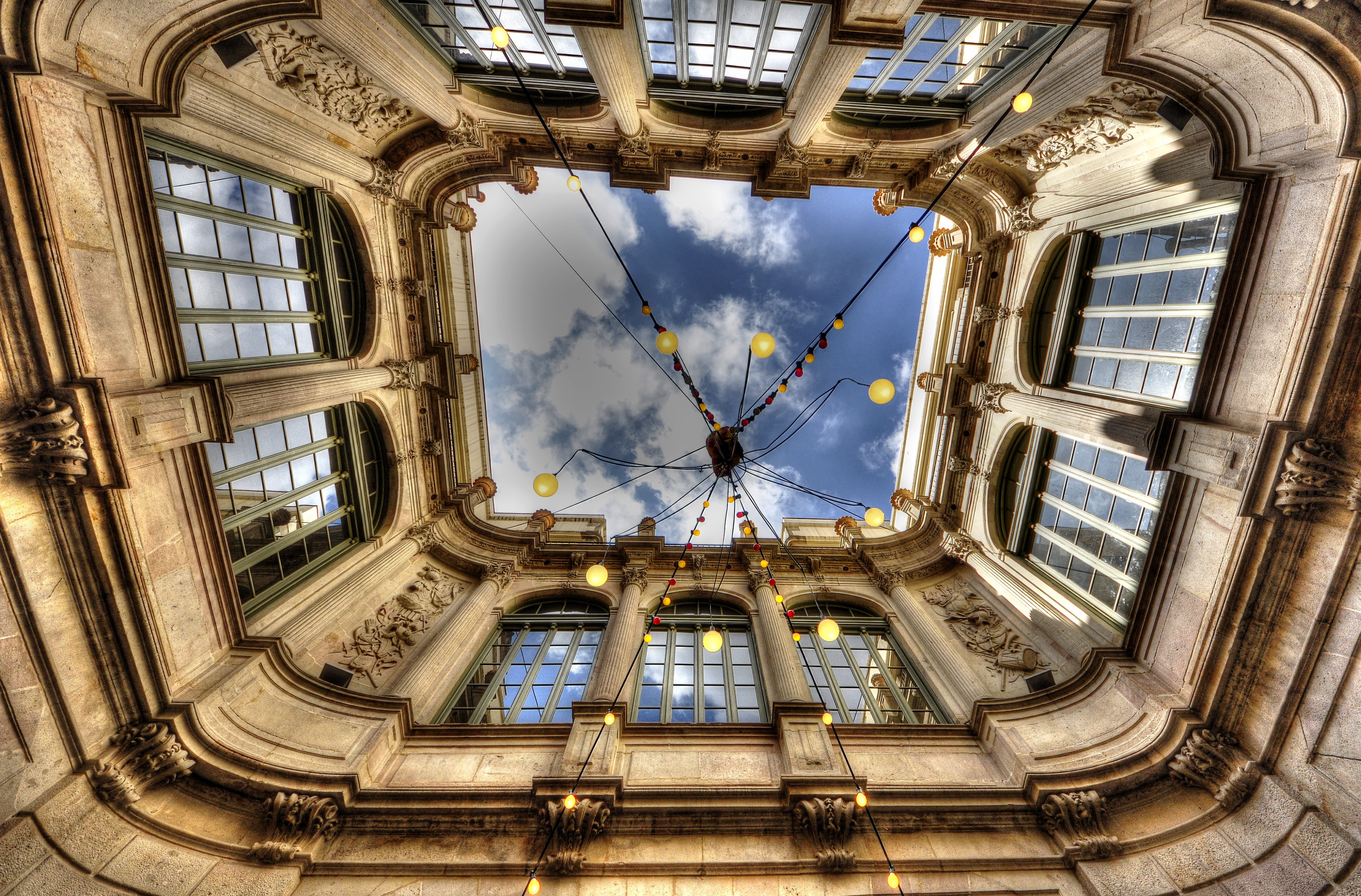 Museums you can visit for free in Barcelona during certain hours:
I will tell you a secret. Many museums in Barcelona have free entrance on Sundays. So while most of the shops are closed, it actually is the perfect time to spend the afternoon in museums. You can find my complete guide to Barcelona's museums here. Now, let me show you three amazing museums you can visit for free:
Admire Barcelona's old Shipyard: Maritime Museum
Barcelona's Maritim Museum is located in a beautiful building that used to be the Royal Shipyard of Barcelona. Nowadays, you can admire the impressive ship collection of the museum. The museum also hosts an impressive photography exhibition. Those photographs are all related to Barcelona's port and surrounding areas. It is one of my favorite museums I have ever been to in Barcelona. And even if you cannot make it during the free hours, so affordable.
And, what if I tell you that your tickets include the entry to the vessel 'Santa Eulália'?
Free Entrance: Every Sunday after 3 pm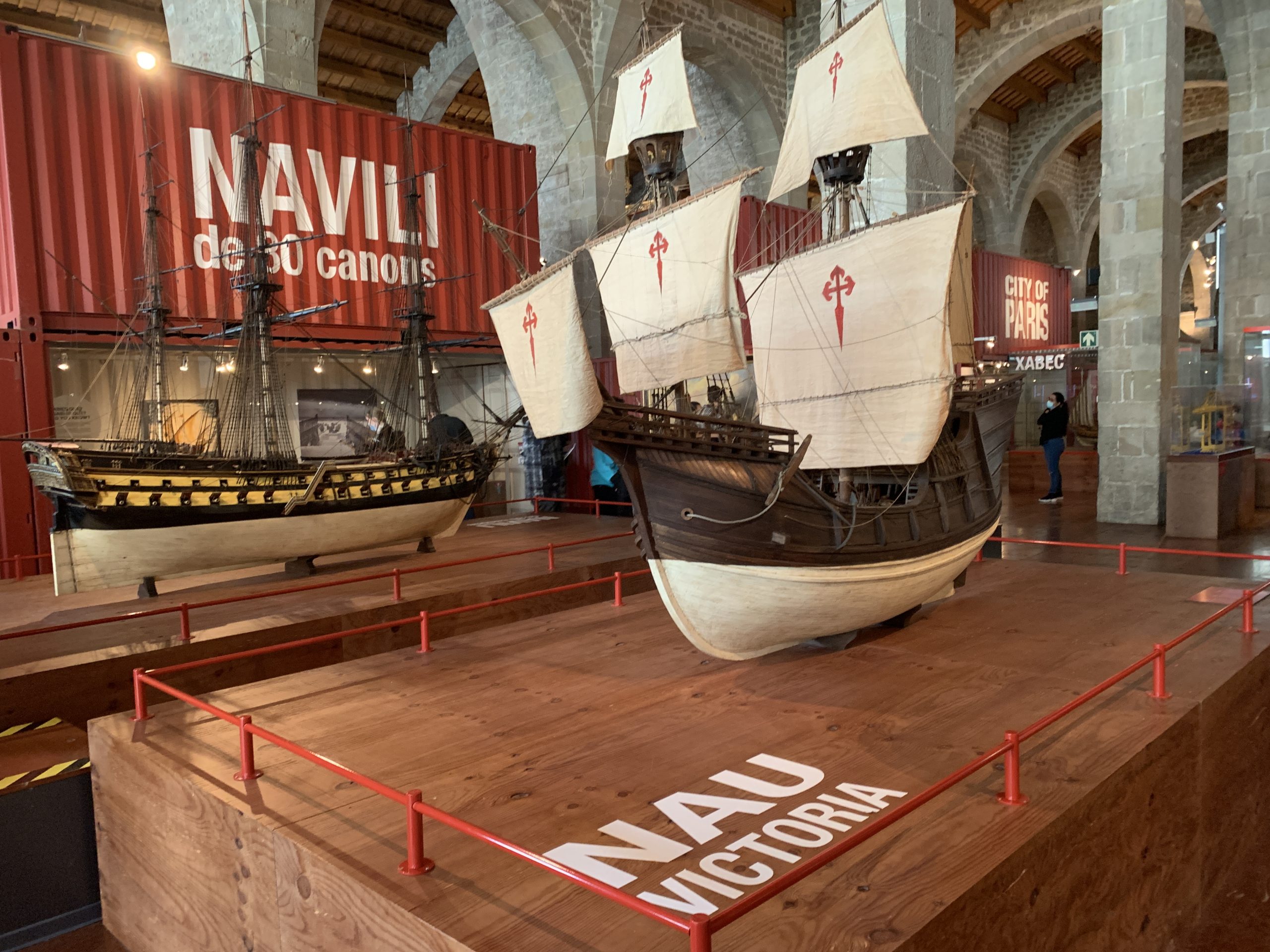 Visit Barcelona's gorgeous monastery: Monasterio de Pedralbes
Another beautiful gem in Barcelona you can visit for free: Monasterio de Pedralbes is a gorgeous monastery from the 14th century. What I especially like about it is that you can visit (almost) all areas of the building which are full of artifacts owned by the monastery. It houses its permanent exhibition but also has some temporary exhibitions every now and then. More information on their website. 
Free Entrance: Entrance is free on Sundays from 3 pm & the first Sunday of the month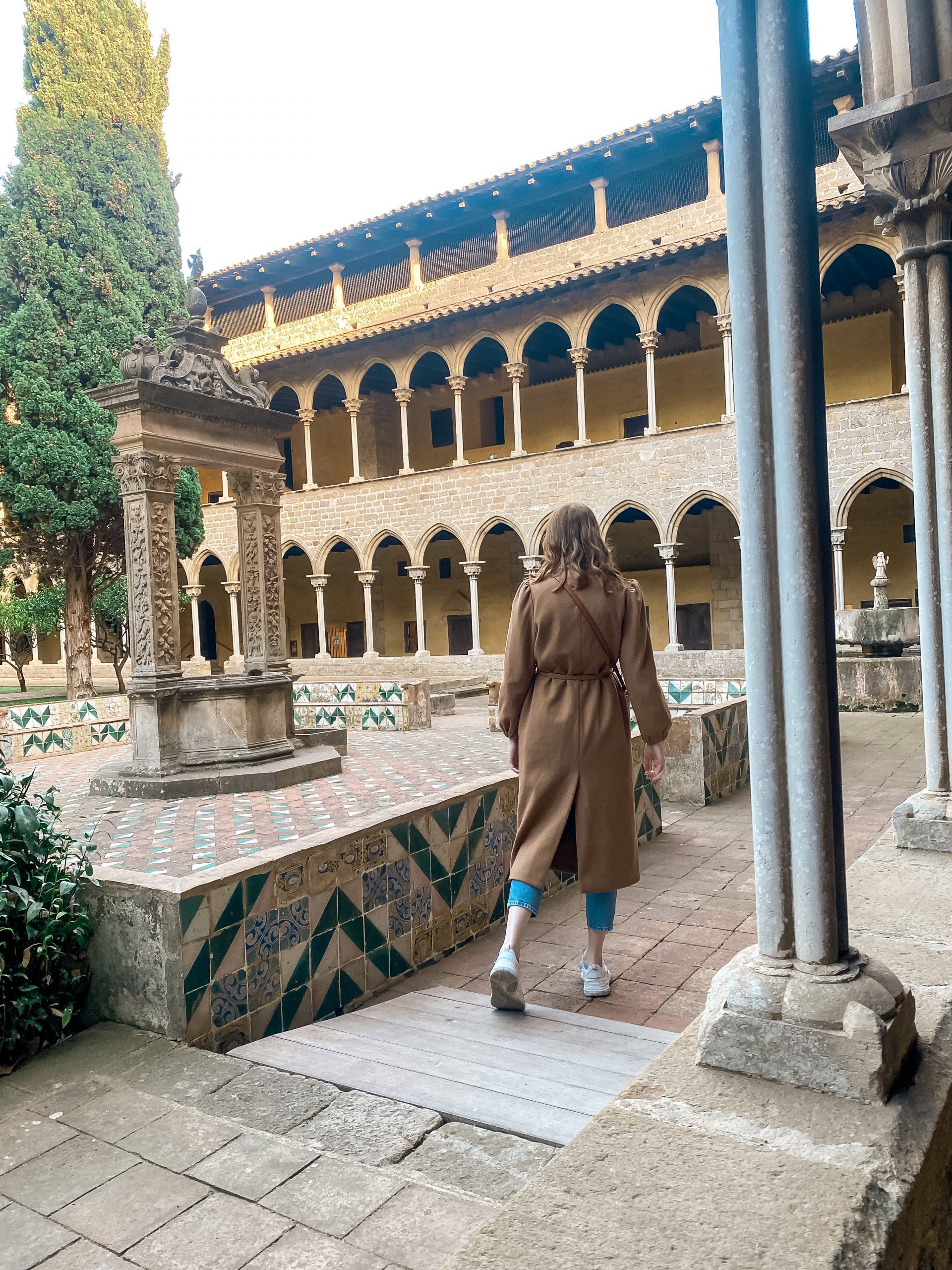 For Contemporary Art Fans: The Museum of Contemporary Art in Barcelona (MACBA)
The MACBA is Barcelona's famous contemporary art museum. It shows thousands of contemporary art masterpieces, mostly from Spanish and Catalan artists. The perfect place for fans of modern art. Check out their exhibitions here to see if there is something you fancy. You have to pre-book your free ticket in advance here.
Free Entrance: Saturdays from 4 pm to 8 pm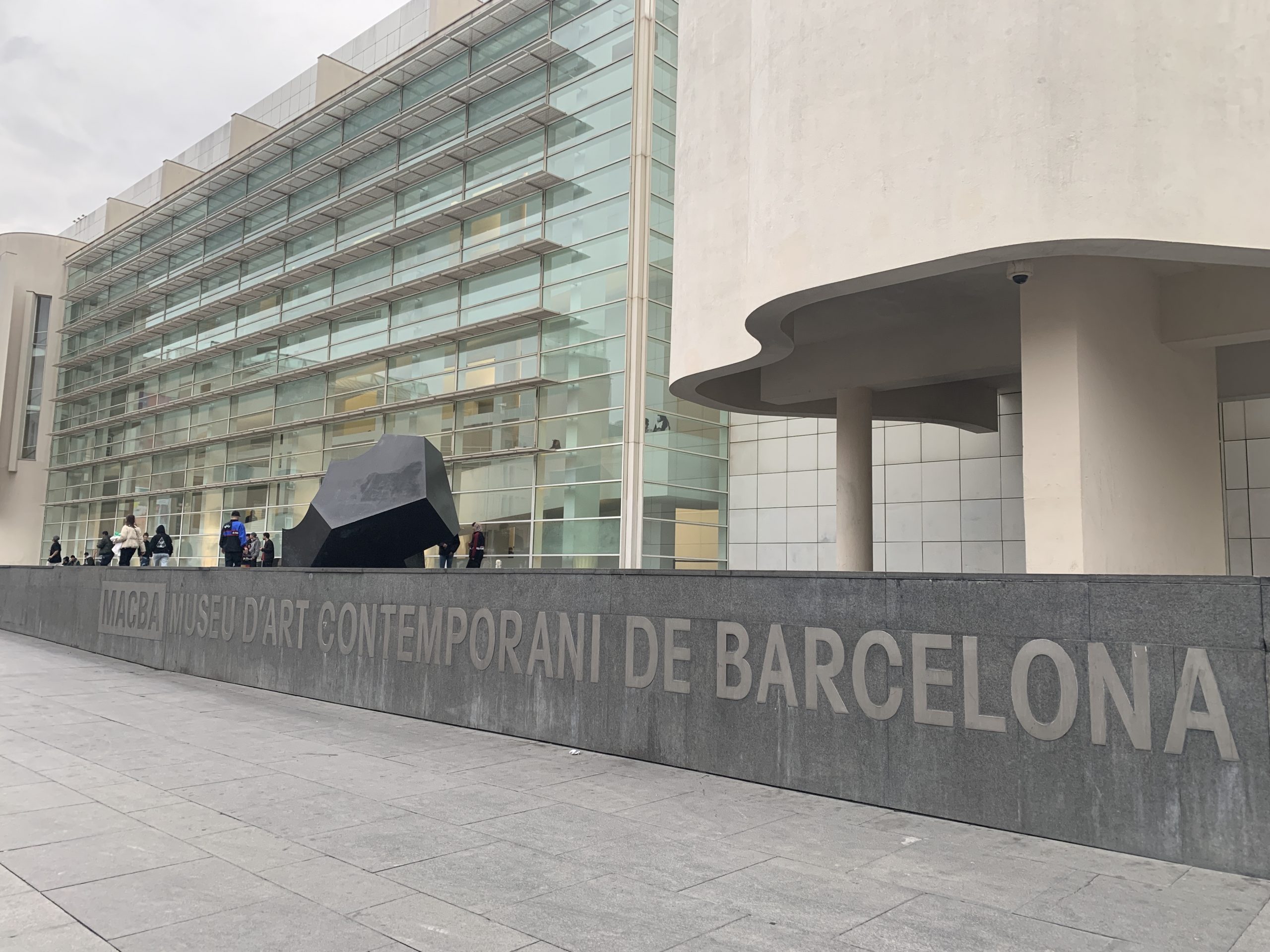 Find Barcelona's hidden street art!
If you are like me and you love long walks (We have to get those 10,000 steps in, right?) then you will absolutely love Barcelona. It is such a walkable city and there are so many small streets to explore. 
Barcelona is a very artsy city. So, at this place, we also have to mention Barcelona's incredible street art. Interesting places include the following:
The World begins with every kiss: Beautiful artwork in Plaça d'Isidre Nonell
Joan Miró Mosaic on Las Ramblas: Plaça Boqueria
Find street art in the small streets in Born: The streets of Born are full of street art and little graffitis. Get lost in these little streets. You might even end up at a cute bar.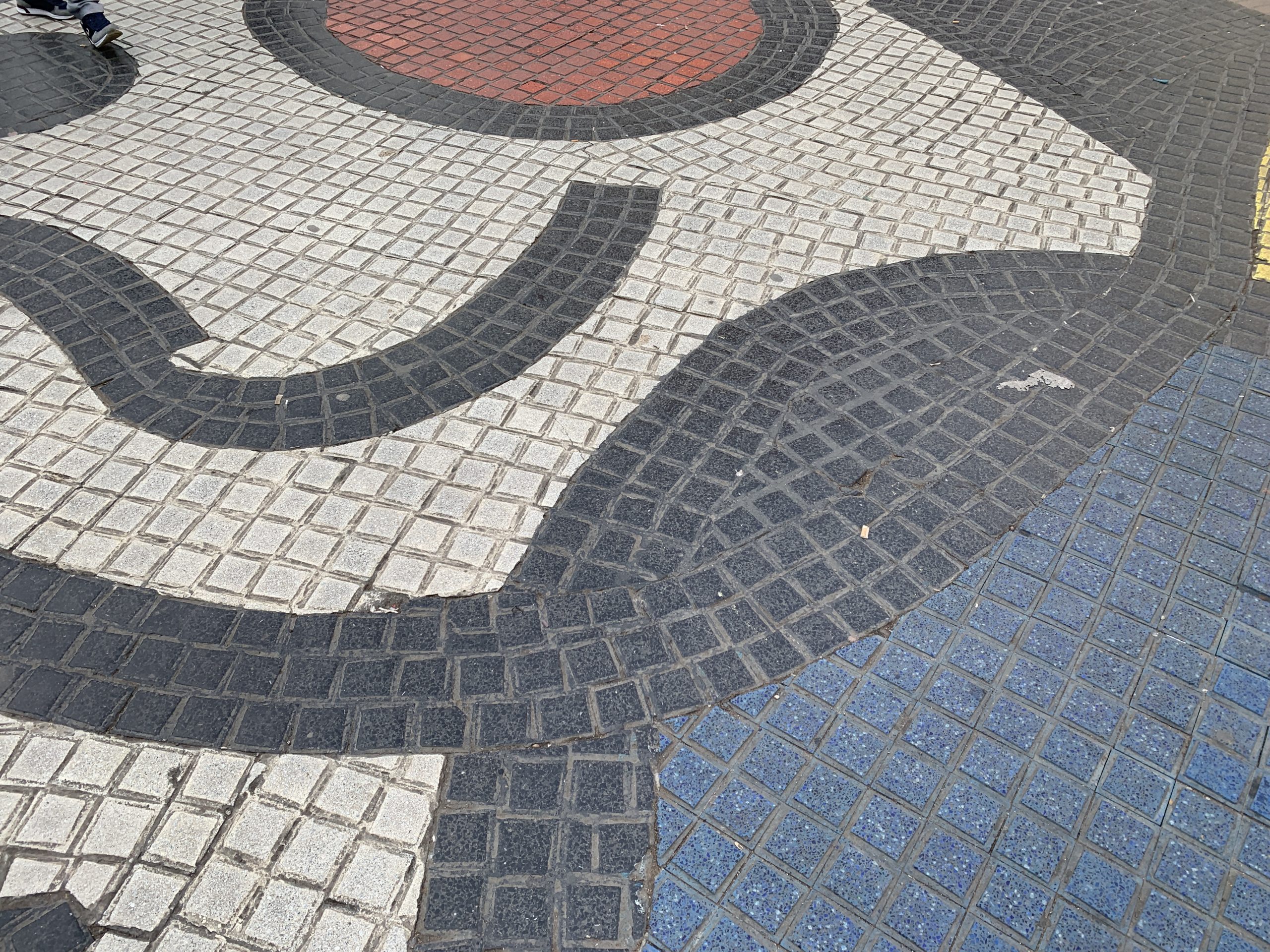 Free Activities you can do in Montjuïc, Barcelona
'Montjuïc' means "Jewish Mountain" in Catalan and refers to the area of the city that used to be home to the Jewish community. It also played a big role in defending the city of Barcelona. Due to its high altitude, it played a big role in the defense of the city. A big watchtower on the top of Montjuïc could inform the citizens about arrivals of boats to Barcelona. As you can already tell, this area of Barcelona is full of history. Today, it is a popular tourist destination because there are so many (free) things you can do in Montjuïc. Here is a summary of the most important ones:
Visit Catalonia's National Art Museum (MNAC)
This museum is located in the impressive National Palace of Montjuic in Barcelona which is already worth looking at by itself. If you have time, I would recommend checking out the museum. It has a mind-blowing collection of European Art from artists like Goya or Canaletto. Before you leave, do not forget to go up the rooftop terrace. There, you will have amazing views of all over Barcelona.
Free Entrance: Saturday after 3 pm, the first Sunday of every month from 10 am to 3 pm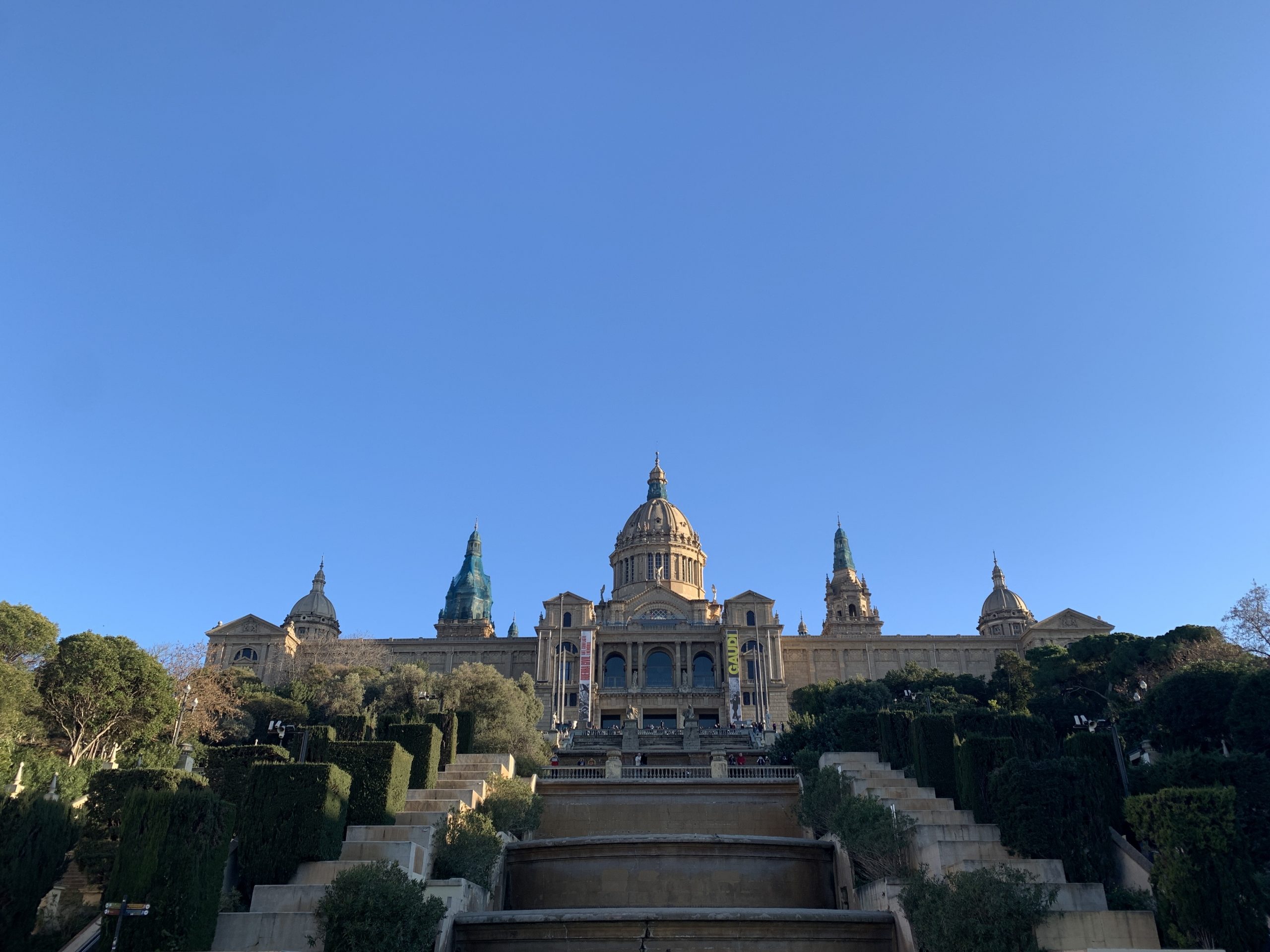 Check out the incredible views from 'Mirador del Alcalde'
The Mirador del Alcalde is my absolute favorite viewpoint in Barcelona. Not only does it have the best view over the coastline of Barcelona. But it is also surrounded by a nice little park with a small waterfall. It is such a beautiful place at sunset. Of course, you can visit it at any time of the day. During the day there is a small kiosk where you can buy some snacks and refreshments. 
The Teleférico (cable car) of Barcelona stops not too far away from it. So if you are thinking of getting off at the stop in Montjuic, the viewpoint is only a short walk away.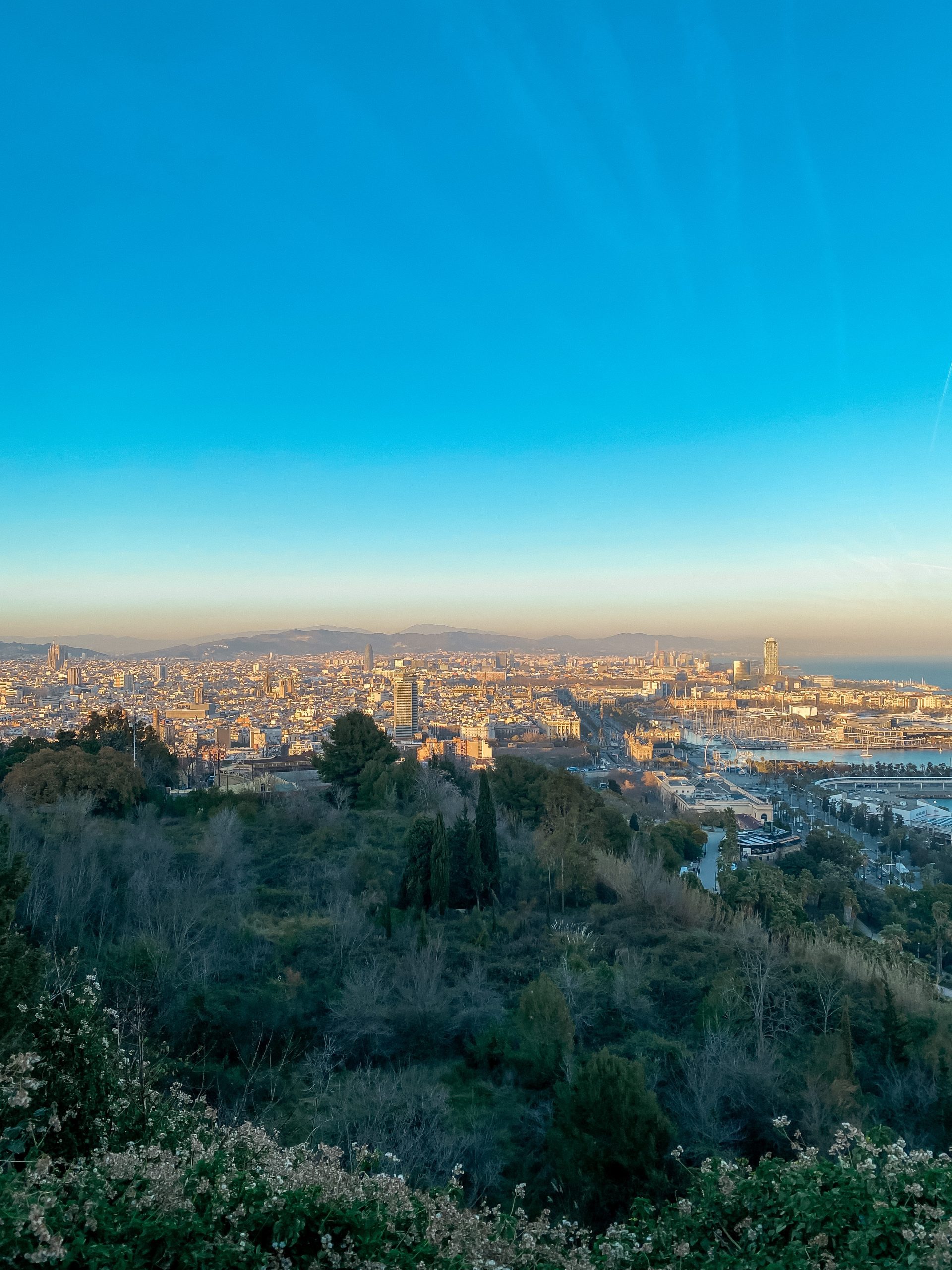 Visit the old Cemetary of Montjuïc and admire the collection of hearses
A very interesting place you can visit is the Cemetary of Montjuïc. No, I am not talking about a spooky night tour. This cemetery has stunning views of the port of Barcelona and is home to the only collection of hearses in Europe. A unique opportunity to visit an exhibition as such. 
But this cemetery also has a lot of historical value. It opened in the late 19th century and you can see the mausoleums of the wealthy families that resided in Eixample. Many famous people of Barcelona are buried here, like Joan Miró, Francesc Macià, and Isaac Albéniz. Of course, be respectful when visiting places as such.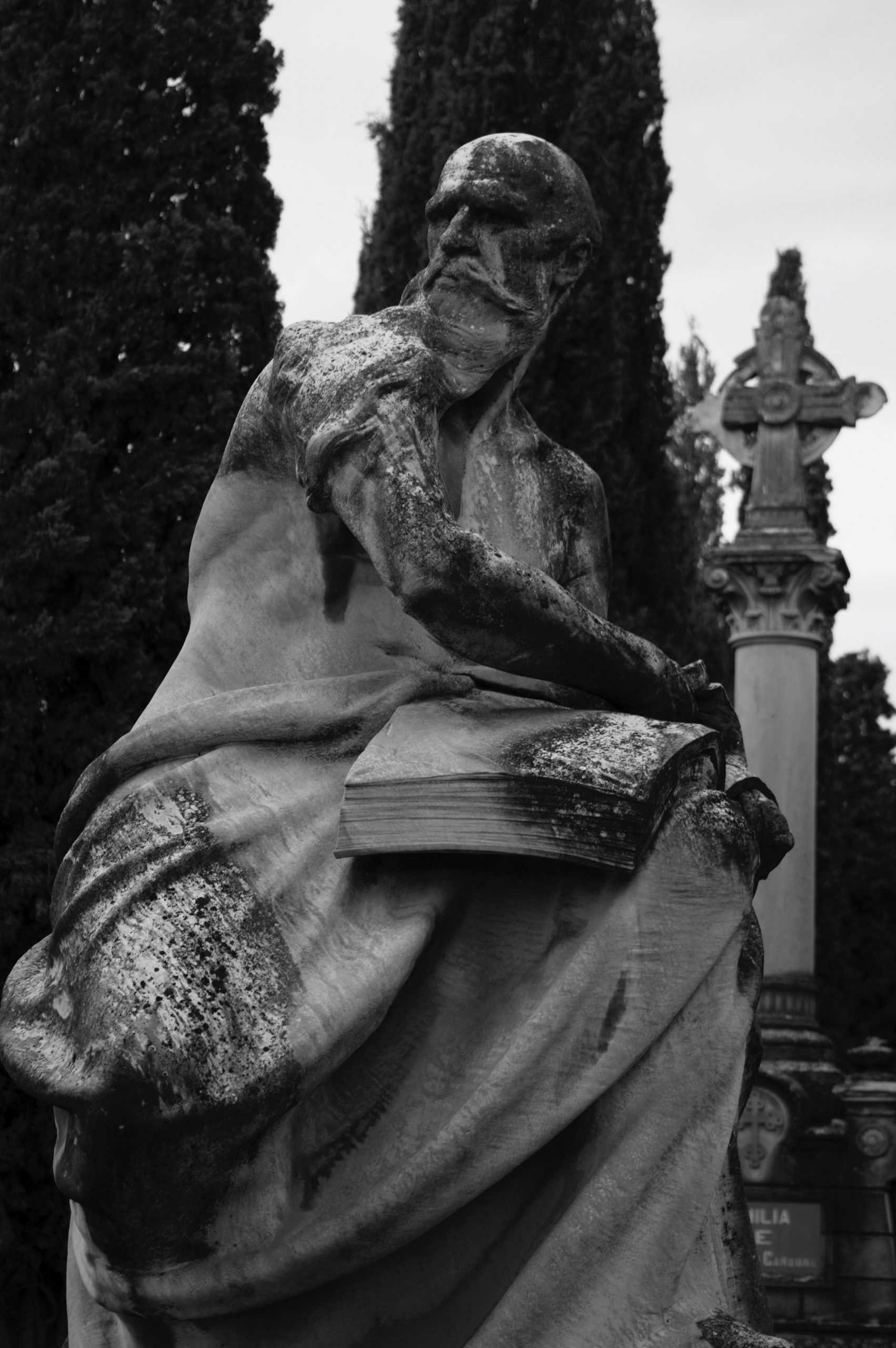 Explore Barcelona's Botanical Garden
Another beautiful place you can visit for free in Barcelona is the Botanical Garden. It is located in Montjuïc Park and is home to plants from five regions of the world with a Mediterranean climate, from Chile to Australia. And you have to see the highlight of the botanical garden: The bee house. 
Again, the views you have from Montjuïc are out of this world, from the Botanical garden as well.
Free Entrance: Entrance is free on Sundays from 3 pm & the first Sunday of the month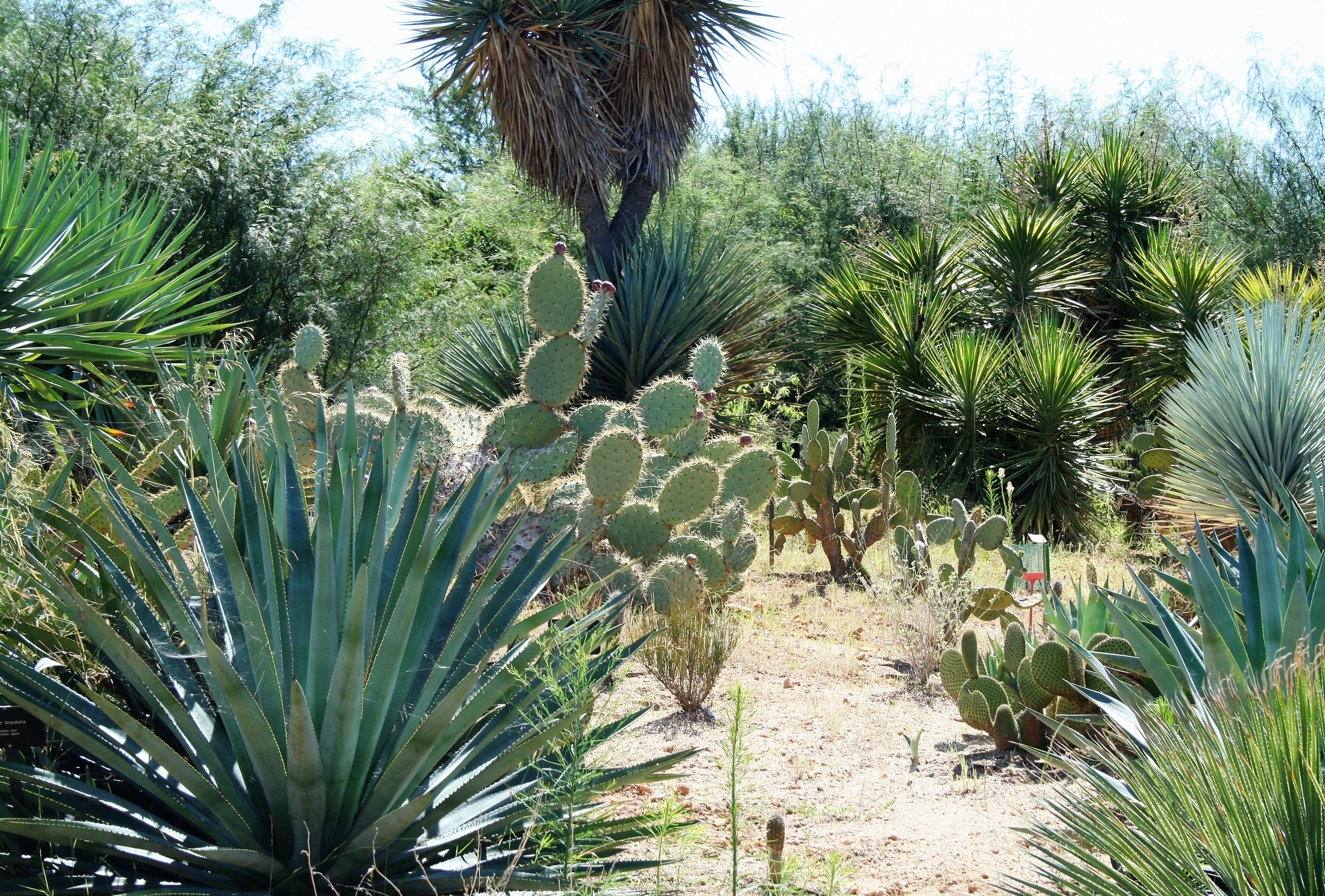 See the mindblowing Magical Fountain in the evening!
The Magical Fountain in Montjuïc was built for the International Expo in Barcelona in 1929. Thursday, Friday, and Saturday evenings the fountain offers a fantastic sound and light show to its visitors. This will be the highlight of your Barcelona visit. Attention: The latest information that I have (March 2022) is that the light show is currently on-hold! You can check for updates here.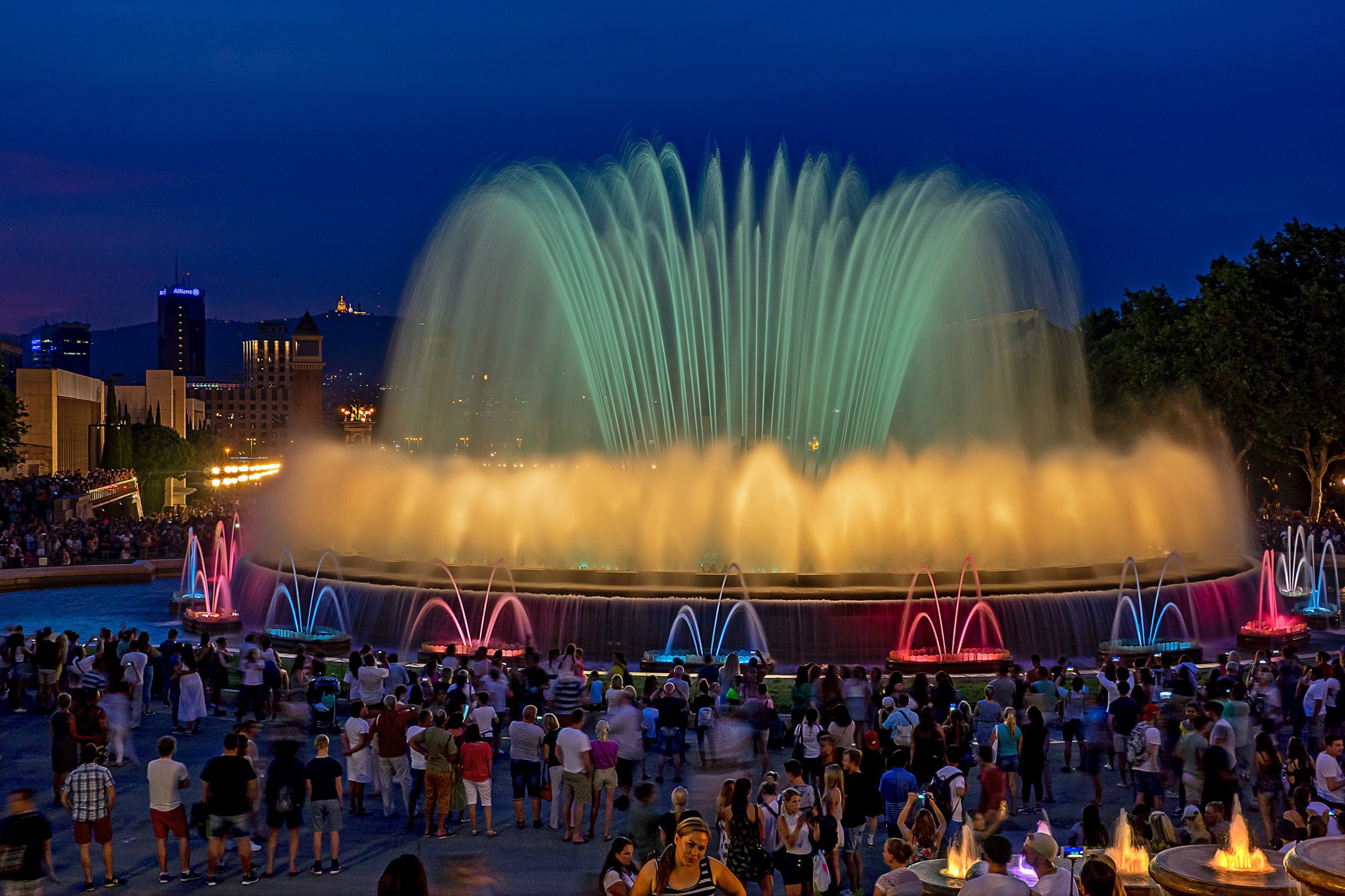 Walk through Barcelona's secret cactus garden: Jardines de Mossèn Costa i Llobera
Mindblowing Fact: The New York Times included this garden in a list of "The 10 most beautiful gardens in the world" in 1987. This garden is very close to Montjuïc and is famous for its outstanding collection of cacti and succulents. This area of Barcelona is home to a unique microclimate. Because it is so protected by the wind it is usually a couple of degrees warmer there than in other areas of Barcelona. That is why we can find plants there that usually would not survive in Barcelona's climate. By the way, the views of the coastline you have from there are stunning. And the best part: Entrance is always free!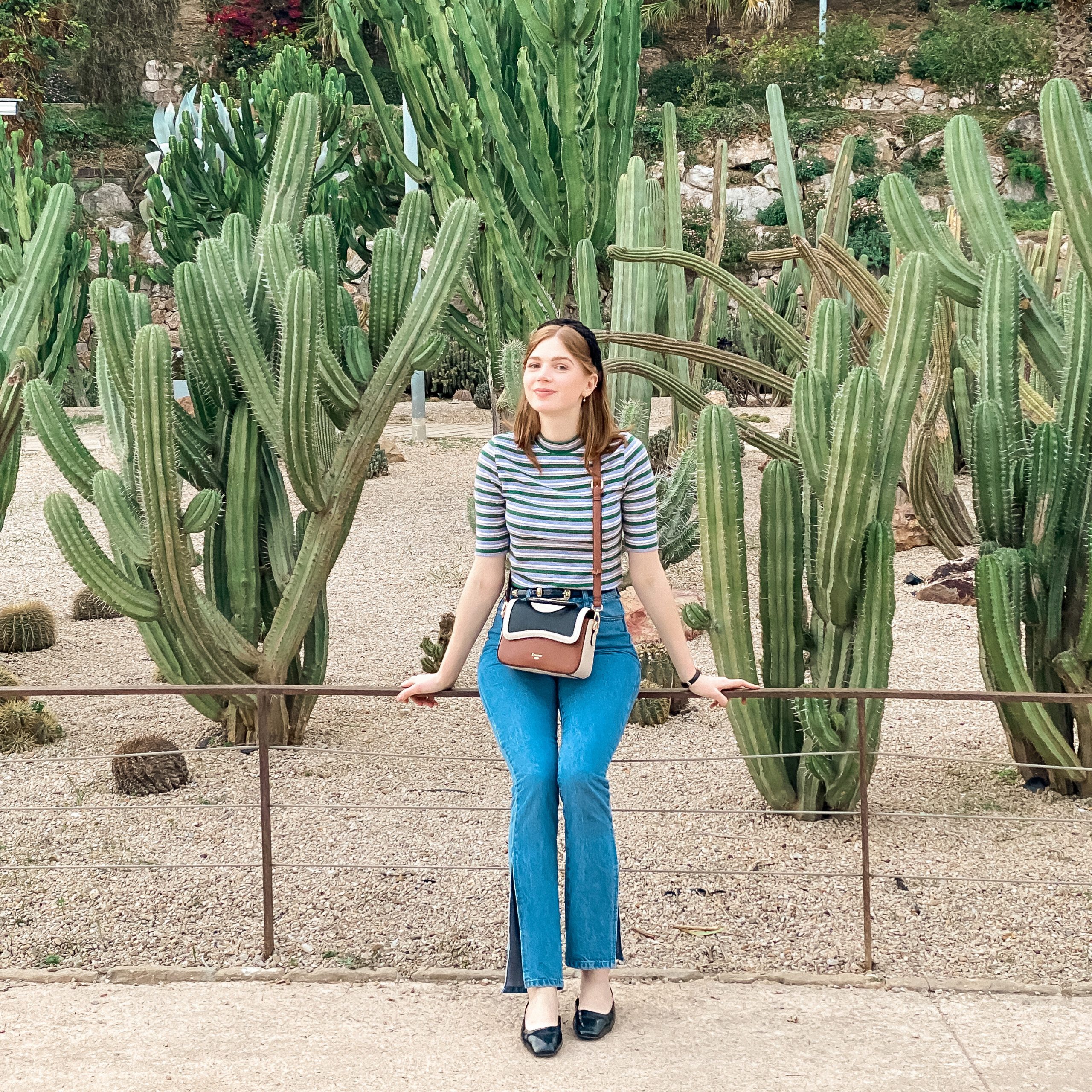 The best markets to visit for free in Barcelona:
La Boqueria, Barcelona's most famous food market
La Boqueria is Barcelona's most famous food market and was built in the 19th century. This market offers so many different food stands with different types of food: seafood, cheese, wine, ham, and, of course, international food. It is one of the more expensive options in Barcelona. So you do not have to buy anything there. Looking around this place is just as impressive.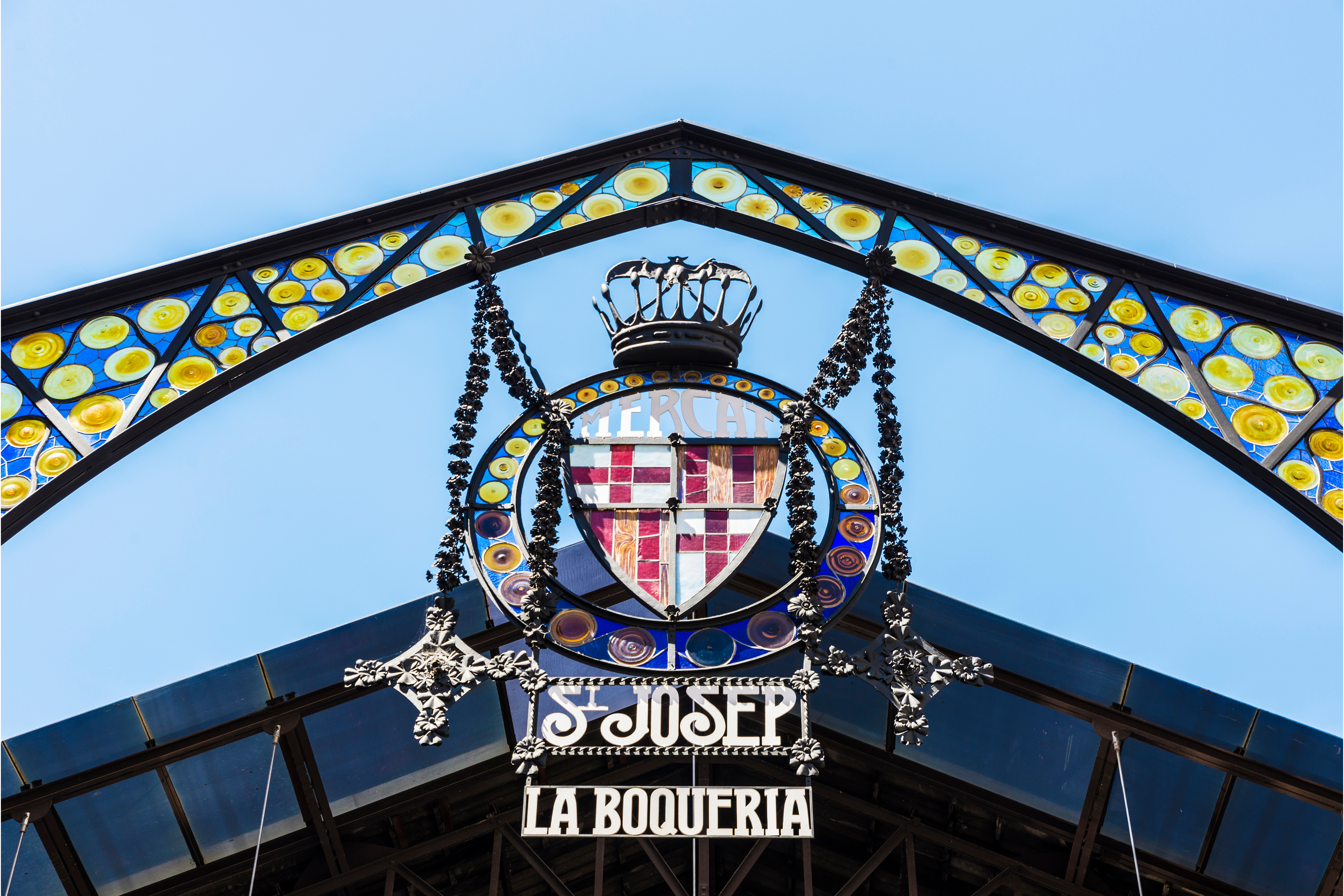 Have a look at El Nacional, a food hall with different restaurants
This market is full of history and a place you should not miss: El Nacional is a huge food hall with several restaurants. Perfect for an evening with wine and tapas. When I went there in December it was beautifully decorated with Christmas lights. Back in 1889, when it opened, it was a café-theater. And throughout the years, it was a fabric factory, a car dealer's shop, and even a garage!
Again, you do not have to buy anything there. But just have a look around all the restaurants and options. So beautiful!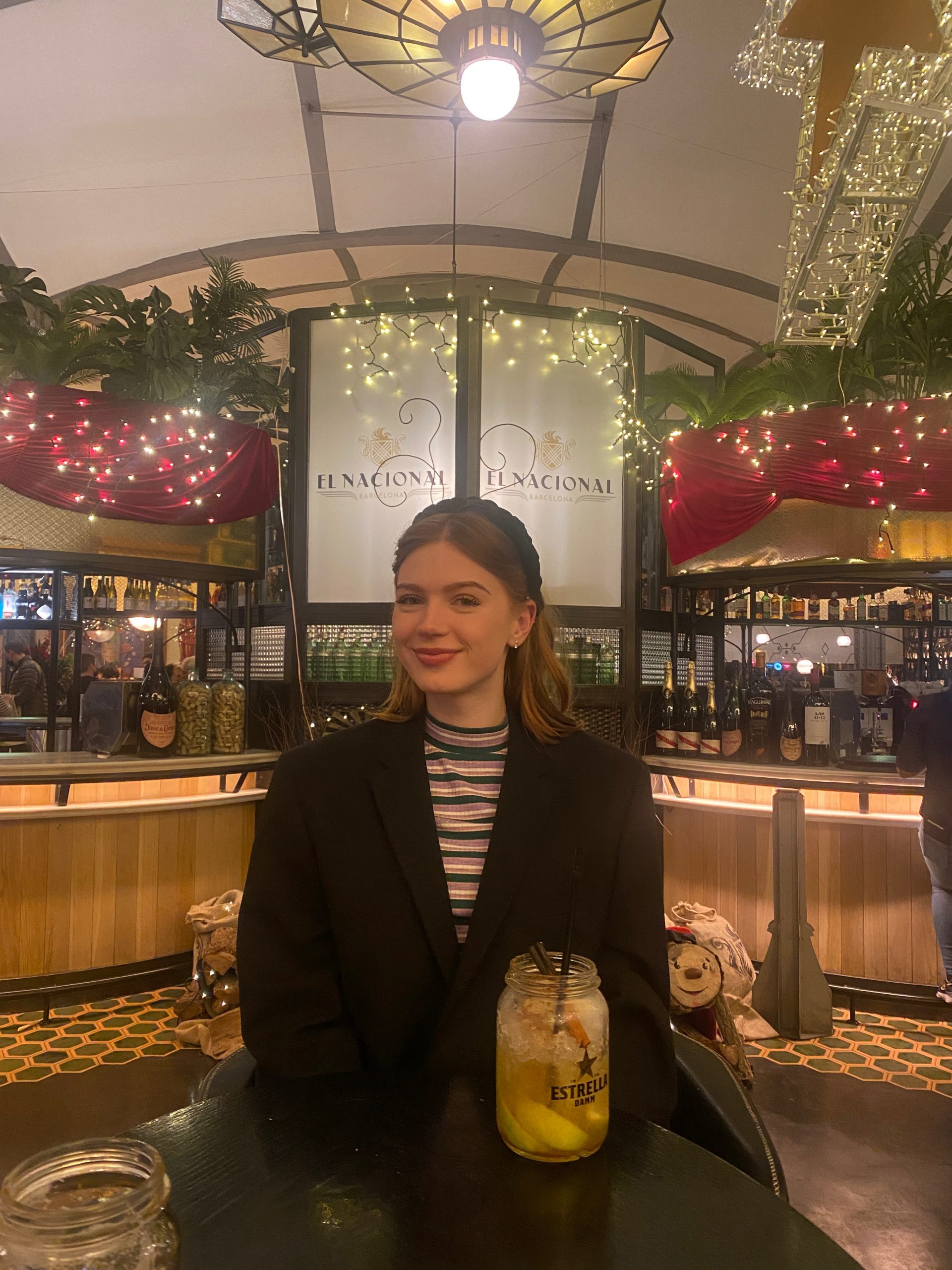 Barcelona's local food market: Santa Caterina 
Another fun market on this list is the Santa Caterina Market in the neighborhood of El Born. It was built in the 19th century to provide the wealthier population with food. You will recognize it right away thanks to its colorful roof. That market mostly has food stalls with local food. Make sure to check out the restaurants there, as well!
Opening Hours: Monday, Wednesday & Saturday, from 7.30 am to 3.30 pm. Tuesday, Thursday & Friday, from 7.30 am to 8.30 pm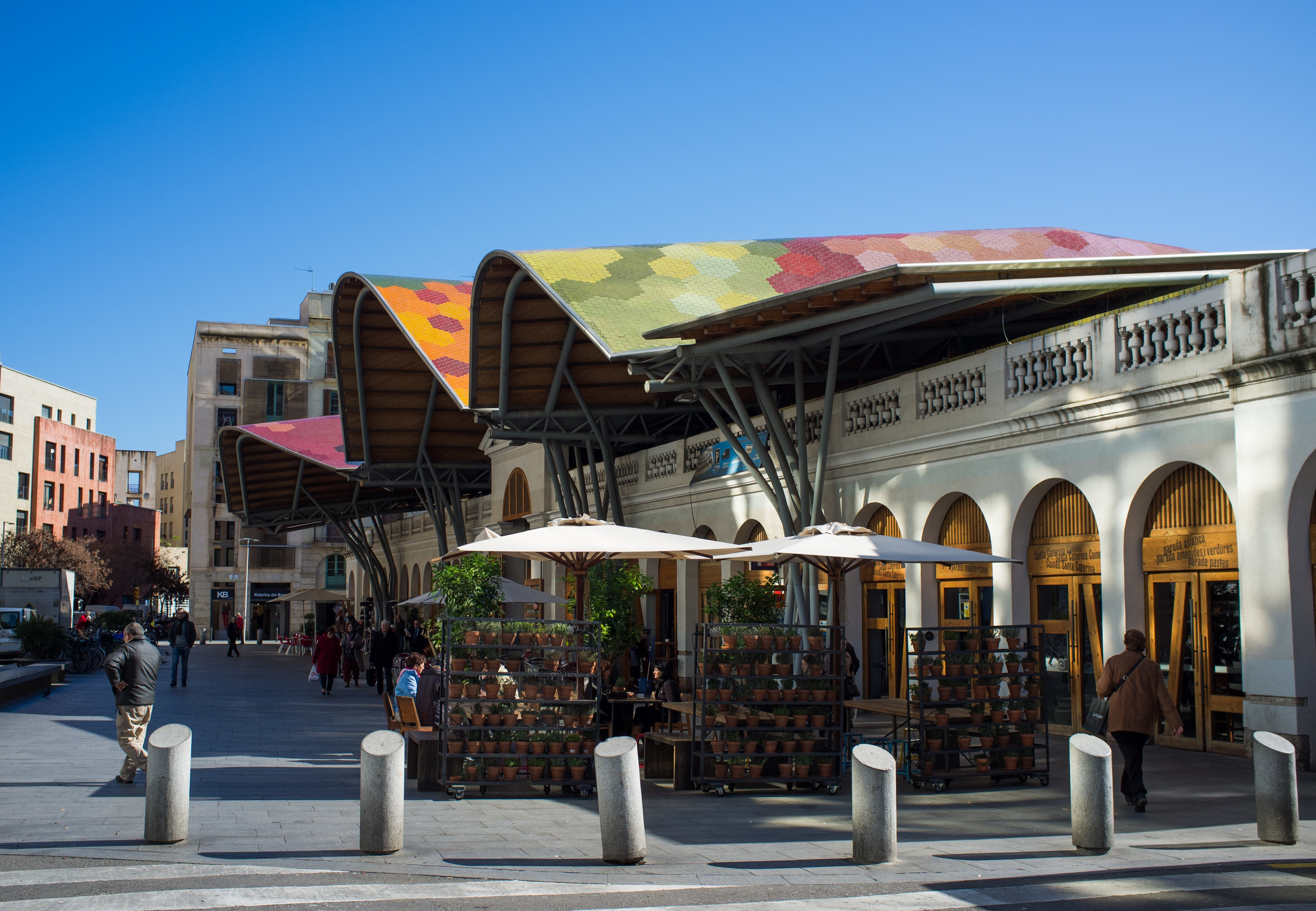 Go to Barcelona's famous flea market: Els Encants
This will be the perfect place to find a unique souvenir from Barcelona. Els Encants is probably Barcelona's most famous flea market located in Plaça de les Glòries , where you can find all sorts of used goods: from furniture, clothes, textiles, gadgets, and more! By the way, there are also auctions you can participate in. You can find more information here.
You can visit Els Encants on Mondays, Wednesdays, Fridays, and Saturdays from 9 am to 8 pm
Parks you can visit for free in Barcelona:
Explore Parc de la Ciutadella and look for the fountain
Parc de la Ciutadella is Barcelona's beautiful outdoor park located right next to the famous Arc de Triomf. It is a great place for an afternoon stroll, to just sit down on the grass and to take in the beautiful weather of Barcelona. Barcelona's zoo is also located in this park. The highlight of the Parc de la Ciutadella is the waterfall Cascada del Parc de la Ciutadella with a beautifully decorated fountain from the 19th century. Yes, the perfect place for taking photos!
If you want to enjoy your time here a little longer you can go on rowing boats on the lake in the park. It is not free, unfortunately, but very affordable: 6€ for 2 people for 30min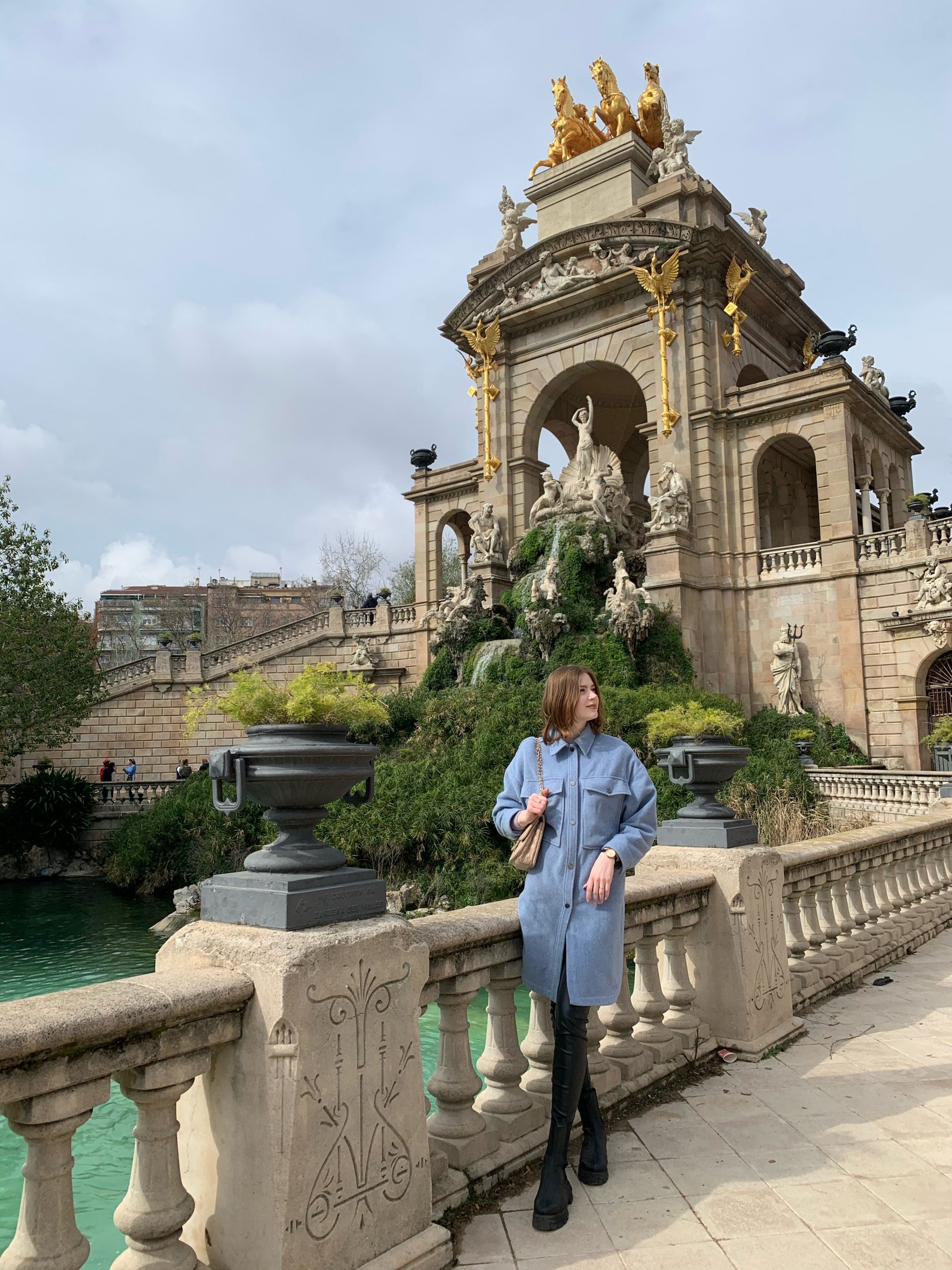 Find the way through the labyrinth at Parc del Laberint d'Horta
If you'd ask me what my favorite park in Barcelona is, it is probably this one. Parc del Laberint d'Horta is the oldest conserved park in Barcelona full of beautiful places to explore. 
The main attraction of the park is the maze made out of cypress hedges. And yes, you have to find your way through it! This is what makes this park an amazing destination to visit for children. And it is not as easy to find your way through it as you think it is. Once you make it to the center of the labyrinth you will see a statue of Diana the huntress waiting for you. When you make it through the maze you can keep exploring the surrounding park. Look for the beautiful neoclassical pavilion and the little pond.
Opening Hours: From April 1 to October 31: Every day from 10:00 a.m. to 8:00 p.m. // From November 1 to March 31: Every day from 10:00 a.m. to 6:00 p.m.Entrance is free of charge on Wednesdays and Sundays, which are also the days when it can get crowded. On the other days, it costs 2.23€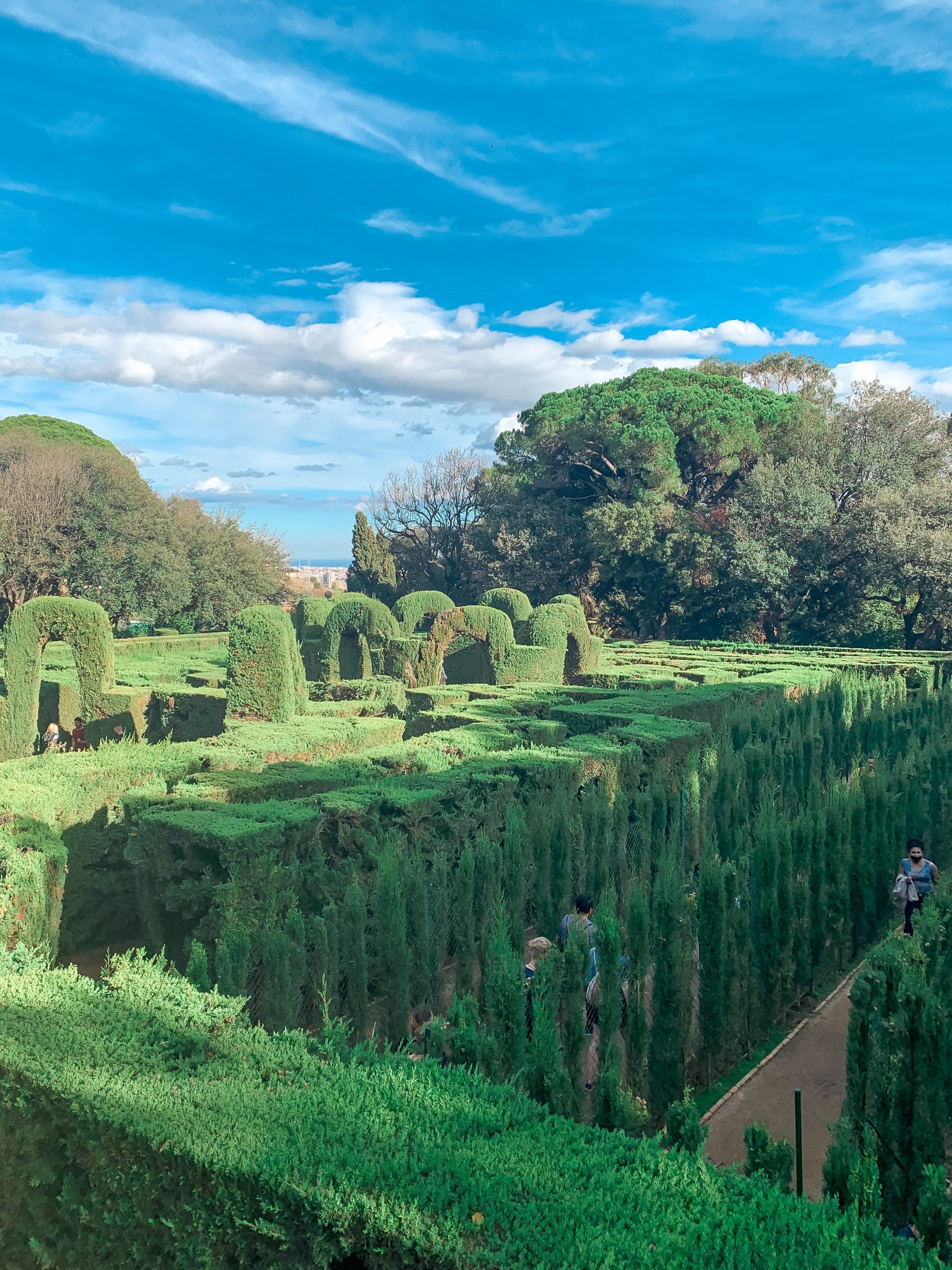 A Greek Theater in Barcelona? Teatre Grec and the surrounding garden
The teatre grec is a replica of a Greek theater that was built for the International Exposition in Barcelona in 1929. After being forgotten for decades, this theater regained popularity during the 1970s when the yearly Grec-Festival started to take place in Barcelona.
But you can visit this beautiful theater with the stunning park surrounding it the whole year-round. The views from up there are stunning and the park is perfect for having a quiet afternoon.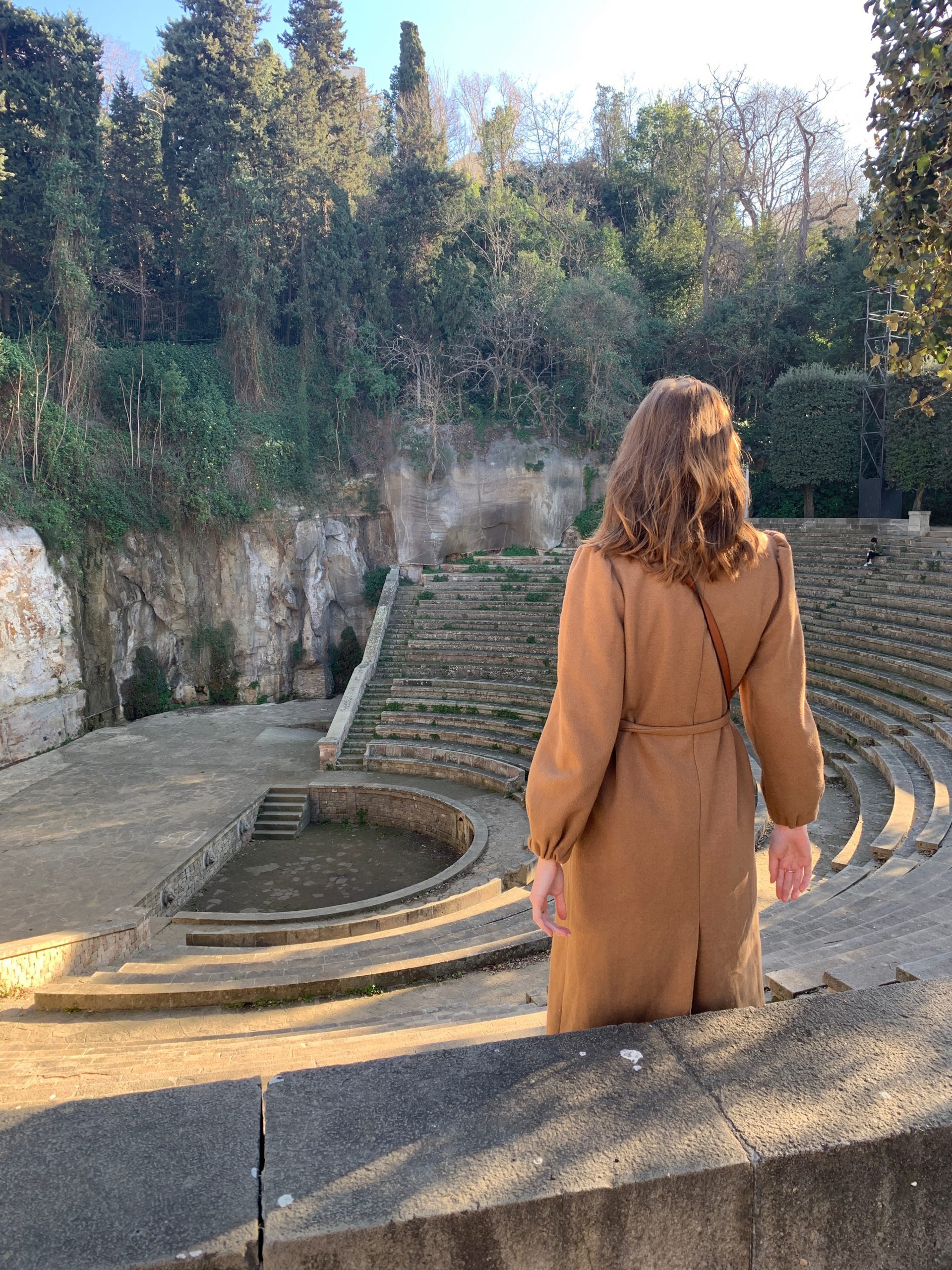 And those were 25 free things to do in Barcelona!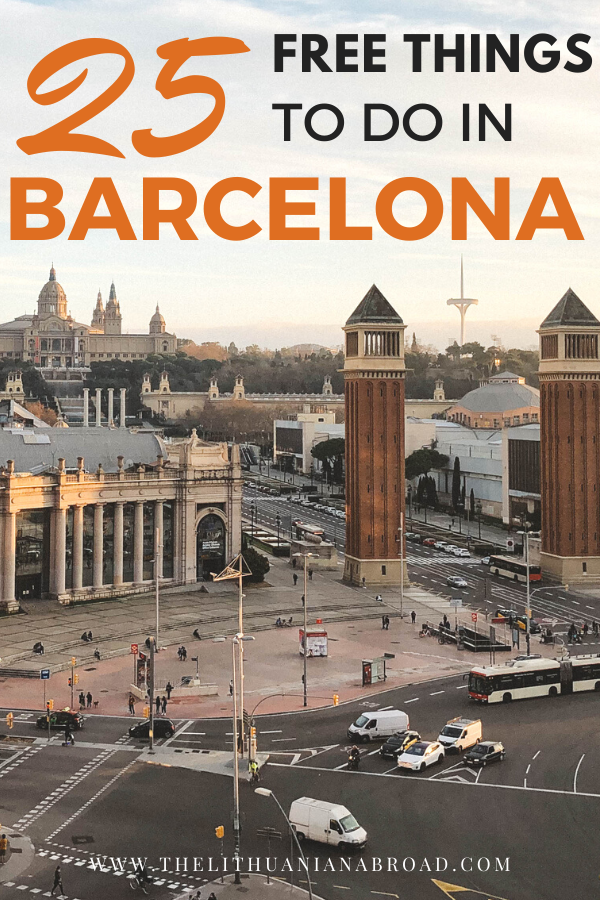 I hope these tips are helpful for you so that you do not spend as much money on your next Barcelona trip. My favorite of all of these is probably the Maritim museum. We visited it two weeks ago and it was so impressive. The perfect activity for a Sunday afternoon! Are there any more free activities that come into your mind?