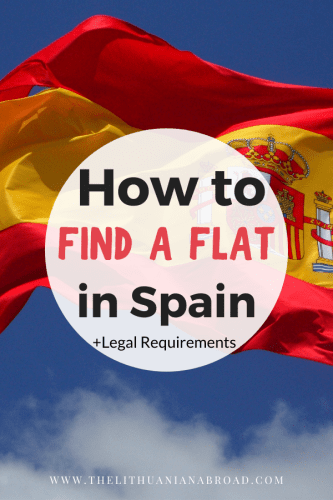 Once you actually decided to move abroad, finding a place to stay might be one of the hardest parts of Expat life. The procedure might be so different than it is in your home country, and can make you feel quite overwhelmed. Especially, when you have to deal with all of it in a foreign language in a foreign country! In this blog post, I will tell you how much rent usually for a flat in Spain is, whether flats come furnished or not, and what else you should keep in mind when trying to rent a place here. (I have written a guide about things you should know before moving to Spain that you can find here).
About me: I have been living in Spain for almost five years and have lived in about 6 flats, both shared and not. I put my tips and recommendations into the following Guide to Finding an Apartment in Spain.
First of All: Flats in Spain are usually furnished
Now, this is a huge advantage for everyone that ever moved to Spain. Not only are flats usually rented out furnished but they also have every single piece of furniture and extras you will need to move in right away.
This is a big difference to e.g. Germany where I know that flats are usually rented out empty (cry). And you even have to buy your own kitchen! But in Spain, the landlord usually provides all electrical gadgets, cutlery, bed sheets, and even towels. So you do not need to bring anything yourself. The kitchen also comes fully equipped so you can start cooking right away.
How much are Flats and Rooms in Spain?
As in any other European countries, it depends on where you are planning to live. Here, I do not only mean the city but also the area.
The most expensive cities to live in Spain are:
Madrid (rooms are around 400-600 euros / month , studio apartments start at around 650-700 euros / month)
Barcelona (rooms are around 400-600 euros / month, studio apartments start at around 650-700 euros / month)
Balearic Islands (rooms are around 300-500 euros / month, studio apartments start at around 600 euros/ month)
To give you a comparison, when I rented a room in León (small town in the North of Spain) I only paid 200 Euros per month. As you see, it really depends on where you live and how central you plan on living.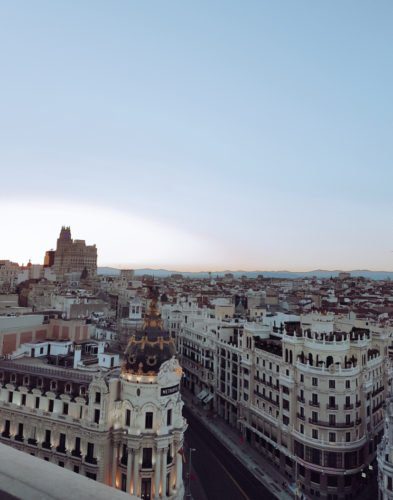 What Websites can I use to look for flats or rooms in Spain
In order to look for flats, I can recommend you the following websites and I will tell you in more detail how exactly they work below:
Spotahome : Spotahome is an online platform for renting flats in different cities all over Europe. Here, you can book flats or rooms without having to see them first, thanks to their detailed listings and the prior safety check done by them. Since the payments go through them you can be sure that everything goes smoothly. After moving in you have a certain time to let them know if there is anything in your accommodation that does not match your expectations. For my taste, I find them a bit too expensive since always have to pay a booking fee. But it is a great way of finding a place to stay before arriving at the city. Also, if you do not know the language very well and are only planning to stay a couple of months.
Idealista: Idealista is the most famous website for finding flats and rooms in Spain, no matter what city you are moving to. I feel like it is a bit more difficult to find a place to stay there if you do not speak Spanish. Simply because you have to text or call the landlord/agency first in order to get a viewing. I feel like Idealista makes sense for you if you are planning to stay in Spain long-term. And you should be able to have a conversation in Spanish with a landlord.
Badi: Badi is basically Tinder for rooms. As far as I know, badi is especially used by shared flats. In the case a room gets free and they are looking for a new roomie to join them. Other than in Spotahome, they actually want to meet you first and get to know you. So you will need to invest a little bit of time to create a profile and to "swipe" through the offers and like the ones that suit you. If you are lucky you will get a like back. And only then you will be able to directly text the other party to set up a viewing. Here as well, I feel like badi makes a bit more sense if you already speak a bit of Spanish. What I found it useful in the past were temporary stays for a couple of weeks/months.
Facebook Groups: One great way of finding flats is by joining expat groups on Facebook. There are always people leaving their flat and posting it on there. Especially if they gave got a good offer for their place 🙂 I would recommend searching groups like "Pisos en Madrid", "Internationals in Barcelona" etc.
Things to keep in mind when renting a flat in Spain
When I just moved to Spain I feel like landlords did not care as much about your credibility or whether you are able to pay the rent for your accommodation. But the last two times I moved my landlords always asked about bank statements, work contracts or how I was planning to pay the rent. For rooms it is usual that the landlord asks for a university document stating that you actually come to study here.
Make sure to ask whether the bills are included or not. The payment of bills of the flat may be different than it is in your home country. If your landlord tells you that bills are included, then you are lucky. Usually, the bills are paid on top of the rent, depending on how much you are spending. Here, you have to be prepared that you will have to pay more during the winter months (heating – Yes, it does get cold in Spain!). I think it makes sense to calculate 40-60 euros per room / month and more for a flat, depending on its size and how many people will live there.
August and September are very competitive months in Spain when it comes to rental. The reason is that many people Spain (especially Madrid and the South) take their vacations in August and therefore plan their moving at the beginning of September. So many flats get free around that time and many people are looking.
How long will it take me to find a flat in Spain?
When I lived in Germany you had to give a three months notice when you wanted to leave your flat. Renting in Spain is a little bit different. You usually have to give one month's notice. On the other side, it does not make sense to look for flats for months in advance. It is just not how the market works. I would start looking one month before my planned moving-in date. Of course, you can start looking earlier just to get a feeling of the prices on the market.
Let's talk about the deposit
I feel like the deposit is a delicate topic when it comes to renting an apartment in Spain. First, how much is the deposit for a flat or a room in Spain? If you ask me, anything between one and two months' rent is normal and the way to go. I would not consider a place where the landlord is asking for three months. Unless you are renting a crazy expensive place with designer furniture. But that is not the standard and it is a red flag to me when landlords ask for crazy amounts of rent.
Ask the landlord if he did "depositar la fianza"
This is only important to you if you are working in Spain and are planning on doing your tax return in Spain the following year, meaning you are planning to stay longer. I really wish someone would have told me that earlier as I had no idea why this would be important.
According to law, your landlord has to deposit the money you pay for the deposit at the corresponding governmental agency, depending on where the flat is located. This means, if they do that AND the contract of the flat is under your name, you will be able to expense the rent when you do your tax return. In the end, it means that you will most likely get a positive tax return, which means the government will pay you back your taxes (Exact data depending on where you plan to live can be found here).
Unfortunately, many landlords just do not do it. It is a good sign when your landlord has done it and can provide you with proof of the deposit. Again, this only applies if you are planning to do your tax return in Spain the following year, are planning to work while living there and are under the age of 32.
Be careful if one of the following things happen to you:
The flat seems too cheap. You think you have landed your life time deal. 500 Euros for a huge flat with a terrace in the center of Madrid. But then the landlord / agency is asking you for a huge deposit before you have even seen the flat. A couple of years ago there were many cases of scams in bigger cities like Madrid and Barcelona. What happened was that scammers published fake flats for ridiculously low prices and then ask you to pay the deposit upfront. If something like this happens to you: RUN!
You ask if you are able to register (empadronar / empadronamieto) in this flat and the landlord says no. If you ask me, there is no reason why you should not be able to get registered if you sign a contract for six months or more. You will need to register in your apartment to sign up for health care and social security. I would always advise you get registered in your apartment in Spain just to avoid problems at a later time.
The landlord persists on having keys to your flat and wants to come visit "every now and then" because he still has stuff in the flat or whatever other reason he is giving you. I do know a couple of people that have had those kind of deals with their landlords and it never ended well. A trustworthy landlord would not persist on being able to enter the flat whenever he wants.