Affiliate links may be sprinkled throughout the free content of my blog. If you purchase from one of the links below I may receive a small commission, but the price for you stays the same which helps me cover the costs of The Lithuanian Abroad.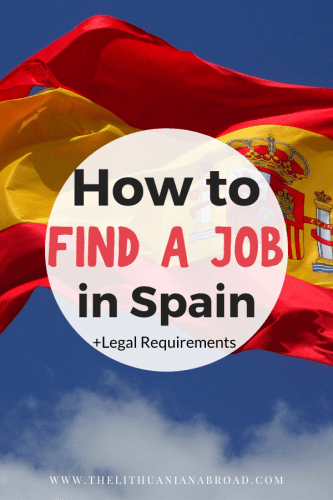 Okay, let's be honest. Finding a job abroad can be scary, especially when you do not speak the language properly and just arrived in the country. But I got you! When I moved to Spain I wish I have had someone to guide me a little bit through the Spanish Job market and the bureaucracy related to start working here. If you feel overwhelmed, do not worry! We all have been there, struggled, gotten frustrated and learned from it.
I have moved to Spain around five years ago and worked for different kinds of companies. During this time I was able to gain experience in the Spanish job market. And yes, especially last year (thanks to Covid), I have had my fair share of struggles trying to find a job during the pandemic. But looking back now, I feel like I have learned so much and I can tell you my experience and tips about finding a job in Spain, so you do not have to struggle the same way I did!
By the way, I wrote a blog post about finding a flat in Spain that you can find here.
What do I need before I can start working in Spain?
Once you decided to move to Spain and to apply for jobs there are some things you have to do before you can actually start working here. There are some requirements before you can start working in Spain and I will explain them here:
1. Get a Social Security Number!
This should not be surprising to you. It does not matter if you are a EU citizen or not, you need to sign up to Social Security in order to pay taxes in Spain. So how do you get a Social Security number (Número de Seguridad Social) in Spain? You need to fill out form TA.1 (only available in Spanish) and go to the closest office of General Social Security Treasury (Tesorería General de la Seguridad Social). If you are already in Spain you can get a social security number before you actually have a job.
2. Get a Spanish NIE: Número de Identidad de Extranjero
This is applicable to citizens of the EU: You need to get a NIE number, which is an identification number for foreigners living in Spain. It is one of the basic things to do before you start working here. You will need this number in order to open a bank account or to register at your local health center and so on. This number is really important and you will need it all the time while you live here. First, you have to book an appointment at your closest police station. Click here, pick the city where you live, go to "Policia", and then "Certificados UE". Those are the following documents you will need:
confirmation that you have an appointment
current ID and passport (take a couple of photo copies just in case)
 Form EX-18 filled out (original and a photocopy)
A copy of your work contract
Completed Form 790 authorising payment for the NIE (costs around 10.71 euro)
If you are overwhelmed you can ask your company to help you get the appointment and fill out the documents correctly. Since you need a working contract to get this number companies are usually quite helpful and already familiar with the procedure. Keep in mind, that it can take you up to a month to get an appointment.
3. Open a Spanish Bank Account
Spanish Companies will not pay you to a foreign bank account so you will need to open a bank account before you can start working here. In order to do that, you will need:
ID
work contract copy
Any kind of proof of address (Rental contract, letter of you paying bills…)
There are many different banks that offer bank accounts with good conditions. In my opinion, the best banks in Spain are BBVA and ING. But I also use N26 and I am really happy with it. (not sponsored, just my experience).
4. Sign up at your local health centre (centro de salud)
This might be different than in your home country: In Spain, only the doctor that is assigned to you can give you sick leave. Even though you might have a private health insurance, only a doctor at your local health centre would be able to give you a sick leave. This is why it is important to register at your closest health center. In order to do so, you just need to show them a valid NIE or ID.
Let's talk about Salaries in Spain
First of all, I really do not want to "complain" about Spanish Salaries. But during my time working here I have met so many people that were disappointed with their salaries and just ended up moving back to their home country a few months later. I think it is important to adapt your expectations and to check beforehand what kind of salaries you can expect in Spain. Yes, Spanish salaries might not be as high as in your home country.
Since June 2020, the minimum wage in Spain is at 1050 Euros. This should help you to compare Spanish salaries to the ones in your home country.
Of course, when we talk about salaries we have to consider the location as well. The highest salaries in Spain are in Pais Vasco (North of Spain), Barcelona and Madrid. Not everyone will agree with me, but I strongly believe that salaries are higher in Barcelona, than they are in Madrid. And if you end up moving to the South or to smaller cities in general, salaries will be lower, even up to 25%.
What is an average starting salary in Spain?
This question is not easy to answer, because it depends on your yearly base salary and age. Also, the percentage of income tax is varies depending on the state you live in. Another thing that is important for you to know is that some Spanish companies offer 14 annual salary payouts instead of 12. In that case, you will receive an additional payment in July and December. Keep in mind that in that case, your monthly payout will be lower, since there are two additional rates per year.
In the past, I have been using this online calculator to know your net salary in Spain. It asks you to fill in all necessary information to give you an accurate estimate.
Use your Native Language as a Benefit when Applying for Jobs in Spain
Knowing a second or third language in Spain is really beneficial. Many companies are looking for native speakers to cover different positions at their companies. Especially if you speak more than two languages you have a big advantage when applying for jobs!
Imagine you are a bilingual Customer Support Agent! That means that the company could cover two positions by employing one person! Or a Sales Manager that could cover multiple geographical areas doing their work. My language skills have always been quite helpful to me when looking for jobs. In my case, I was always looking for positions that required a native German Speaker. Believe me, there is a demand for native speakers of different languages!
What kind of Jobs can I apply for when I just moved to Spain?
Some people ask me if it is possible to find a job in Spain if you do not speak Spanish, and the answer is definitely yes! Neither you need to have years of experience on your CV. Of course, you can always apply for jobs that are related to the field that you have studied. I understand this is not always possible if your field of study is not related to the job that you want to get. But do not worry! I am certain you can find a job in Spain even if you do not have previous experience.
While I was on job search I feel like the following job roles were really popular on job boards:
Customer Support / Customer Service Agent
Copy Writers
Sales Managers (Business Development, Account Executives, Key Account Managers)
Language Teachers (I have never worked as a language teacher in Spain so I am not the right person to ask about teaching jobs)
What Job Boards are common in Spain?
Let me list the most common online job boards that are used in Spain:
My favorites and also the most international ones are Linked and Glassdoor. The other ones are useful, too, but are less international. This means that the majority of the listings will be in Spanish and the companies might not be that diverse. If your Spanish is not that good yet, you should stick to the first two.
Next Step: An awesome CV!
I do not need to tell you how important it is to have an outstanding CV when you apply for jobs. Here, a Standard CV should do the job. Before you spend money on an annoying "Build your CV" website I would just recommend Canva instead. They have so many CV templates for all kinds of jobs. I am sure you will find something there that suits you.
I have been told that it is still common to put photos on CVs in Spain, while in e.g. Germany this is totally outdated. From my experience, I have never put photos on my CV and have never had problems. So I do not think this is mandatory.
What else do I need to know before looking for jobs in Spain?
Something that always surprised me is how fast companies want you to start working when you have job interviews. Be prepared to get asked whether you can start working next week or if you can start working as soon as possible. For example, in Germany companies hire employees to start working in two or three months, while in Spain this is rarely the case.
And that's about it 🙂 I wish you the best of luck for finding a job in Spain. How was your experience here? Was it hard for you to find a job?