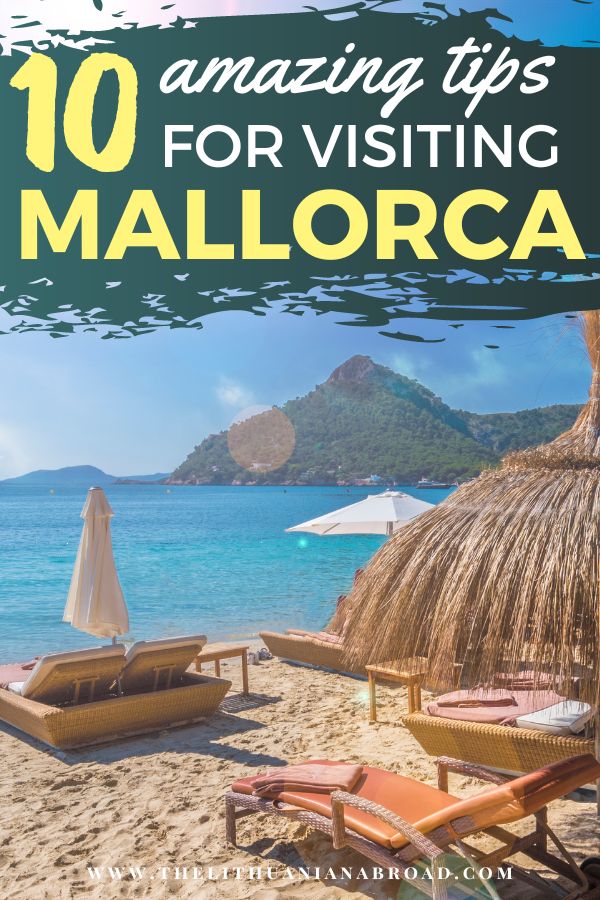 I have said it before and I will repeat it: Mallorca is so underrated. And please don't just stop reading here. I grew up in Germany and thought that Mallorca was a party island that you should avoid visiting. Believe me, I was so wrong. If you avoid the party areas of the island you will find yourself surrounded by breathtaking nature, idyllic beaches, medieval towns, and yes, even mountains!
This island has so much to offer. If you are currently planning your Mallorca trip, you came to the right place: I wrote this guide with 10 Mallorca tips for you that will make your trip and hundred times better. Over the last years, I have visited Mallorca several times and there are still places left that I have to go to. There is a lot to cover so let's go: Here come 10 tips for visiting Mallorca (Keep reading for a discount code for renting a car!)
---
Affiliate links may be sprinkled throughout the free content of this blog post. If you purchase from one of the links I may receive a small commission while the price for you stays the same. This helps me cover the costs of The Lithuanian Abroad. Gracias!
More travel guides with tips for exploring Mallorca:
The ultimate Mallorca bucket list with 17 must-do activities: This blog post contains a complete list of activities you can do in Mallorca. I made sure to write about exciting activities, beaches, and beautiful places on Spain's most beautiful island
Things to do in Alcúdia, a beautiful gem in the North of Mallorca: Alcúdia is one of the most beautiful towns in Mallorca. So I just had to write a blog post with everything you need to know before visiting it. Check it out!
A complete 7-day itinerary for Mallorca: This guide includes the best itinerary for spending a week in Mallorca. It includes information about renting a car, the best places to visit, hiking routes, and beaches. Everything you need for a perfect Mallorca road trip!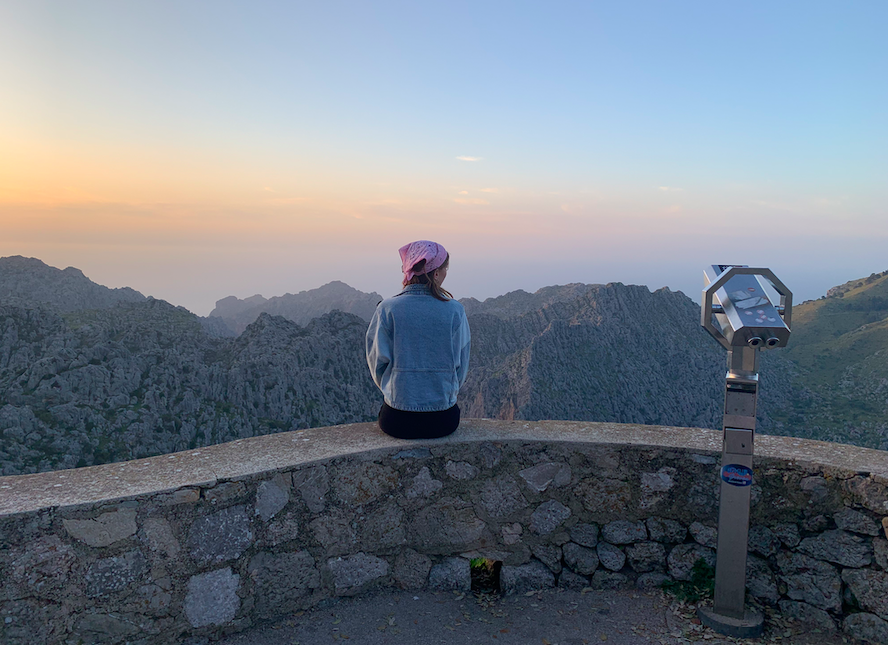 Let's start: 10 Mallorca tips I wish I had known before my first trip
1. Make sure to rent a car in Mallorca (keep reading for a discount code!)
The first time visiting Mallorca I thought I could get by without renting a car. But then I read so many recommendations of people saying that you absolutely need a car in Mallorca. We did end up renting a car, and I was so glad! Renting a car in Mallorca will be a true lifesaver. It will give you so much flexibility during your trip and you will be able to get to the most beautiful remote beaches. 
If you want to rent a car in Mallorca, I do recommend offugo.es. This is the first company I know of that handles the whole process of renting a car online. You do not have to queue for ages when picking up your car, and the return is just as easy. How does it work? A couple of days before your rental date you will receive an email where you can upload your documents and instructions on where to pick up your car. What I also love is that you don't have to pay a deposit while complete insurance is included in the price. No queues. No deposits. And no hidden fees. And the best part: My code GABI10 gives you a 10% discount.
Get a 10% on offugo.es with my code GABI10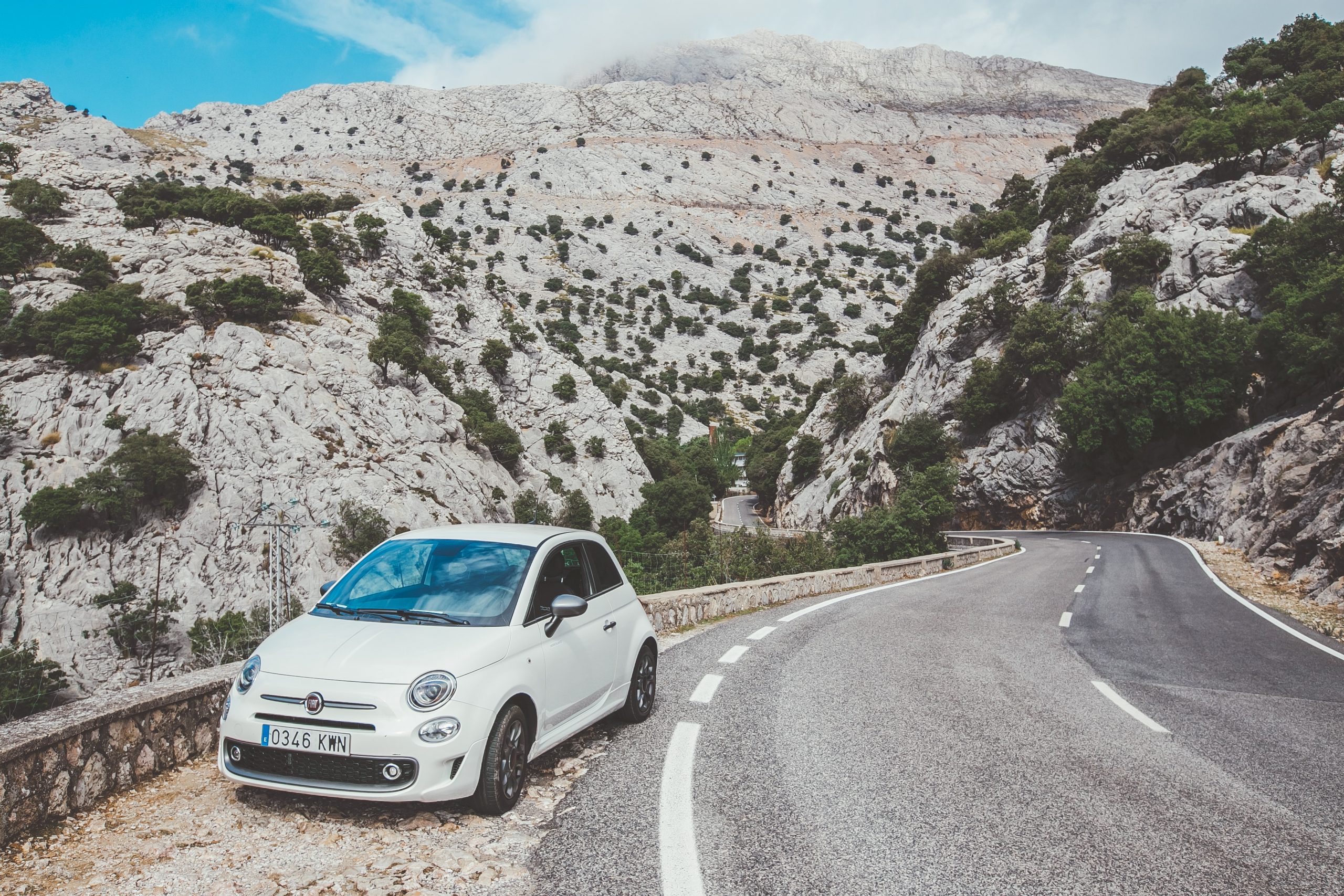 2. Don't skip Palma de Mallorca
Palma de Mallorca is the capital of the island and the biggest city in Mallorca. You will probably arrive at the airport in Palma which will make the city the first destination of your trip. But, don't just try to leave Palma as soon as you left the airport. It's such a beautiful city with so many things to see. Just like the following: 
The Cathedral of Palma de Mallorca: La Seu
You cannot leave Palma without admiring its beautiful cathedral. By the way, it has a very interesting past: It was built on top of a mosque, which again was built on top of a former Catholic church. At the beginning of the 20th century, it was the one and only Antoní Gaudí that was called to restore the beautiful building. I also recommend walking around the surroundings of the cathedral. The park S'Hort del Rei is a gorgeous place for some photos.
Get lost in the old town of Palma
The old town of Palma is like a labyrinth from a fairytale. You will find yourself in small streets full of local shops, cafes, and restaurants. The perfect place if you want to find a cute souvenir from Mallorca for your loved ones. If you have time you can sit in one of the cafes and enjoy an Ensaïmada. The best place for Ensaïmadas is Can Joan de s'Aigo. I swear they are so good!
Go back in time and visit the Arab Baths
The Arab Baths in Palma are one of the very few monuments from Mallorca's Moorish past. These baths go back to the 10-12th century and are located in a gorgeous garden area that is absolutely worth visiting. It's a small monument that does not take long to visit. But I am sure it will beam you back in time when Mallorca was called Medina Mayurca. The entrance costs 2,50€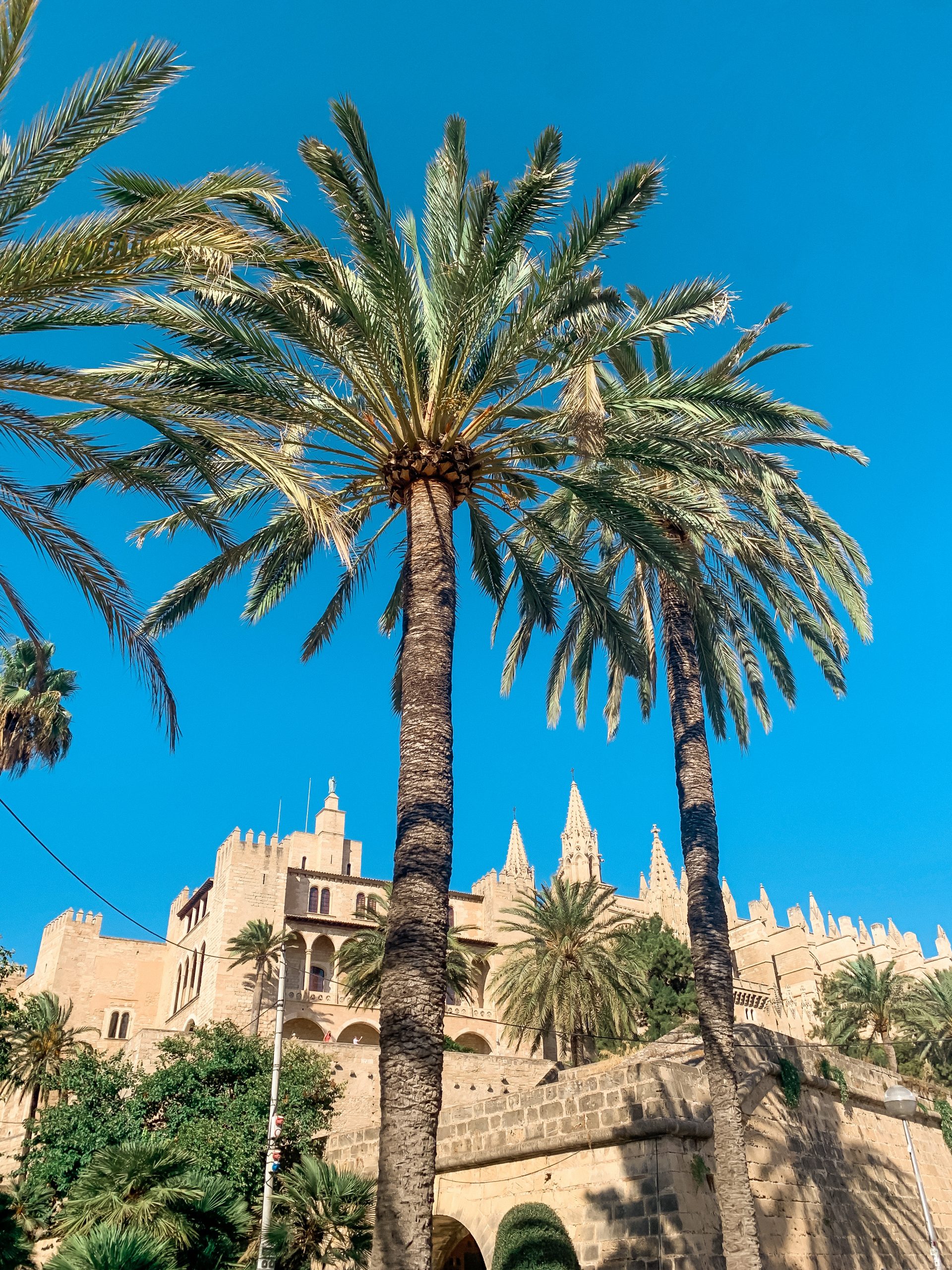 3. Go on a boat trip and explore Mallorca's hidden bays
The most important Mallorca tip I can give you is to go on a boat tour during your Mallorca trip. Taking a boat trip in Alcudia and visiting remote beaches by boat was the absolute highlight of my Mallorca trip, so keep reading. I would recommend going on a boat trip during your stay because there are beaches that you cannot access by car or walking. Or it is just way too complicated. That's why doing a trip by boat is the perfect alternative. Especially the north of Mallorca has so many beautiful beaches and bays to offer!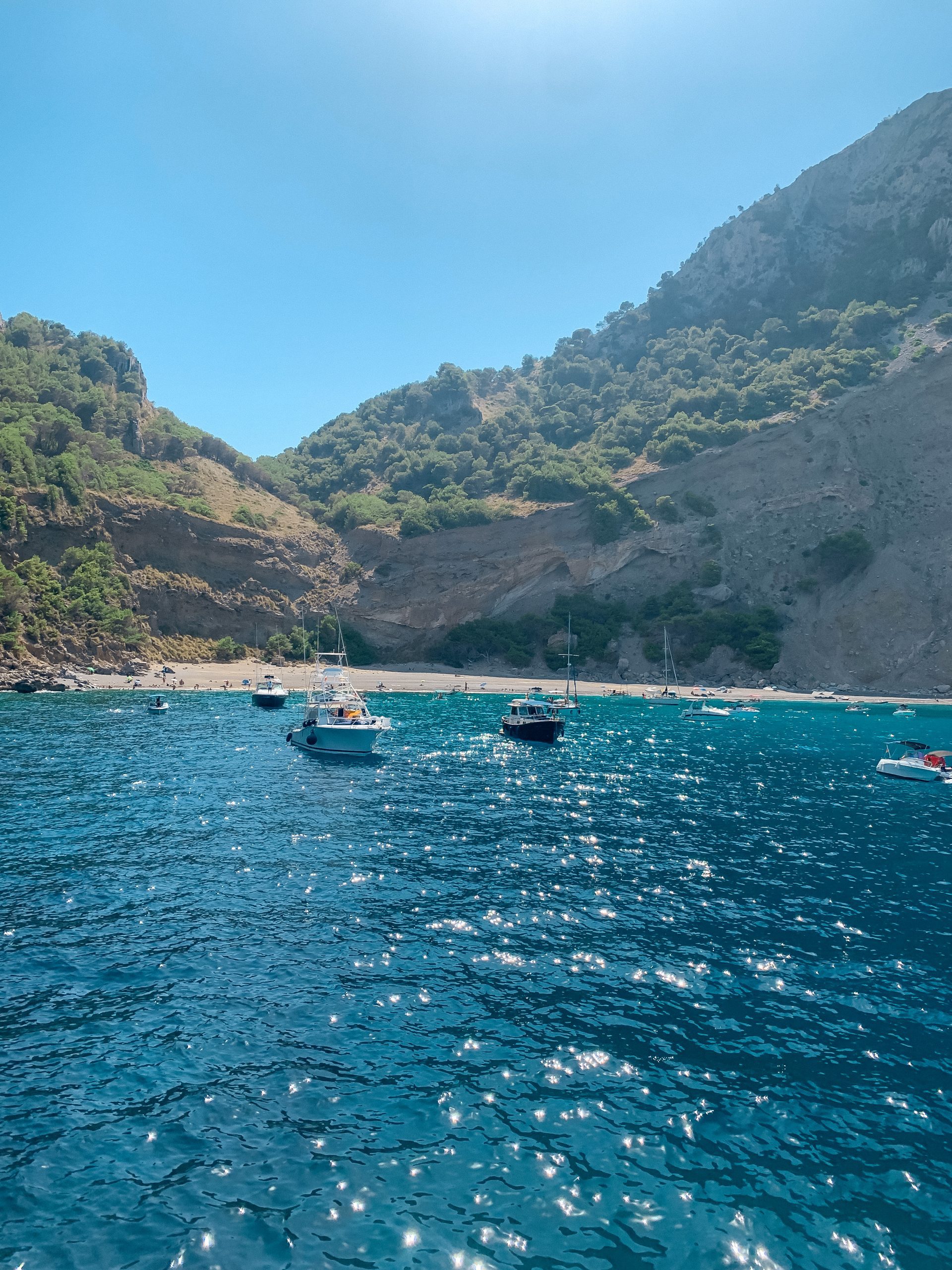 My friend and I did this boat trip in Alcudia and we really enjoyed it. The boat leaves right at the Port of Alcudia and the total trip takes around 4-5 hours. And believe me when I say it was an absolute dream! You will see turquoise water that is so clear that you can even see small fish swimming around. 
In total, we stopped at 3 places for a swim. It's also a great option if you are into snorkeling. One of the stops was Playa des Coll Baix, which is such an idyllic bay with clear water. So dreamy! Apart from that, you get to admire the rock formations close to the beach and enjoy an afternoon with precious views of Mallorca's gorgeous bays.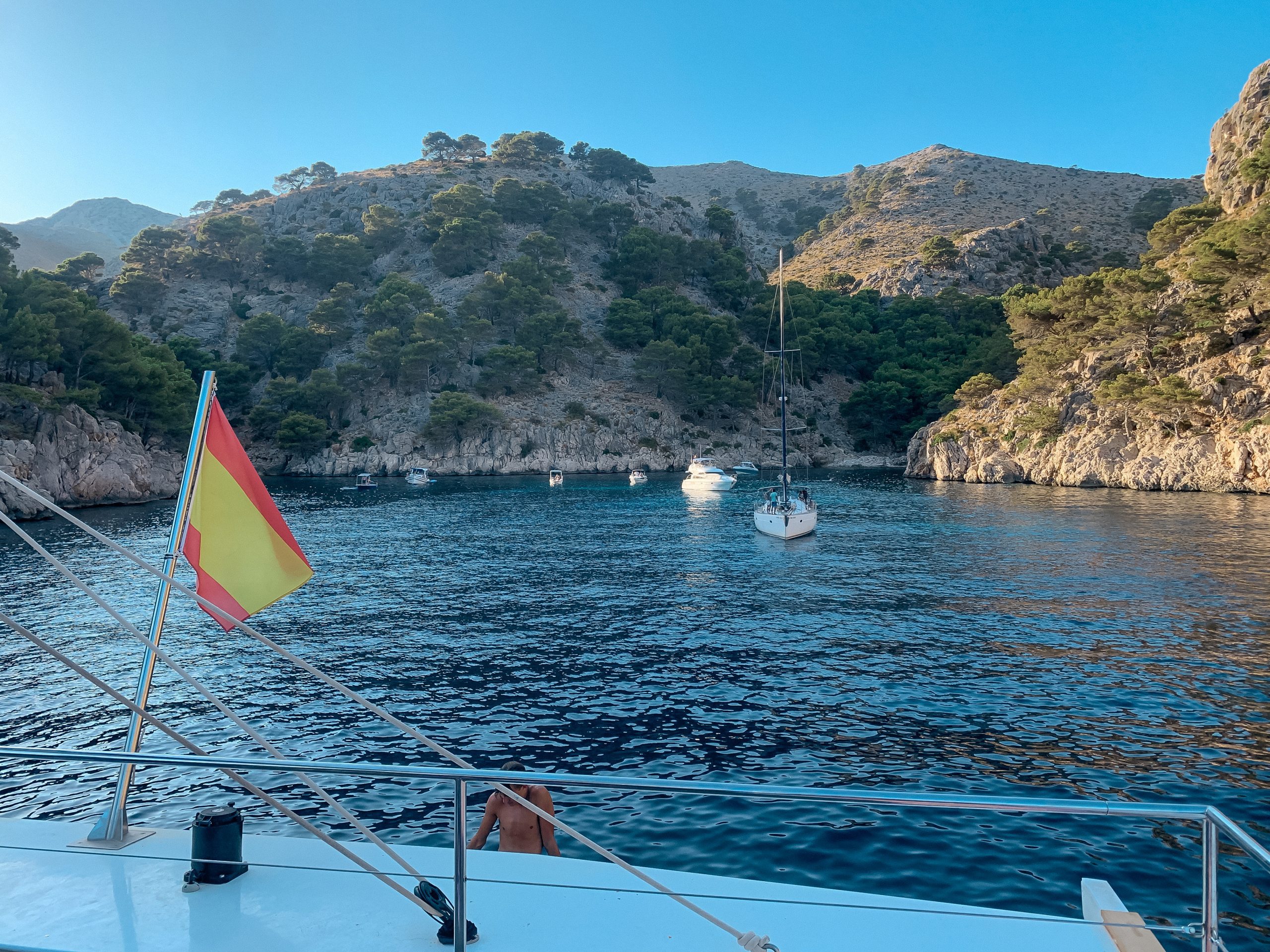 We were back right at sunset and got to see the sun going down. If you prefer, I found out that the same companies offer the exact tour in the morning. Whatever option you take, a meal during your trip is included. There were also many options to buy alcoholic or non-alcoholic drinks to refresh yourself. Because Mallorca can get very hot during the day!
Here is the link to the boat tour I booked. And make sure to take sunscreen with you!
4. Stay in an authentic Mallorquin hotel or Finca
There are so many different places where you can stay in Mallorca. If possible, I would recommend staying in an authentic Mallorquin Finca or townhouse. These are old buildings from centuries ago that still have that romantic flair and cozy vibe. Some of them even used to be monasteries or other important buildings that were transformed into a hotel later. Check them out: 
This was my favorite place during my stay in Mallorca. This finca is decorated in a gorgeous country house style with so much love for detail. You will be served breakfast every day in a little garden with a beautiful well with an ocean view. Plus, Banyaldufar has a beautiful beach you should check out. I recommend this place 100%. 
This place is perfect for nature lovers that want to relax in a quiet place surrounded by Mallorca's mindblowing nature. It's the perfect accommodation for a hike or for exploring the town of Felanitx. By the way, right next to the hotel is a very popular sunset spot. Check it out!
Look at this dreamy hotel in a Mallorquin townhouse Hotel Jardi d'Artá
This hotel is located in a former townhouse with an absolutely stunning garden area. This hotel looks so romantic and look how detailed the decoration is! From the beautiful tiles of the pool to the lights in the evening and the interiors of the room. The perfect place to have a relaxing time with your loved one.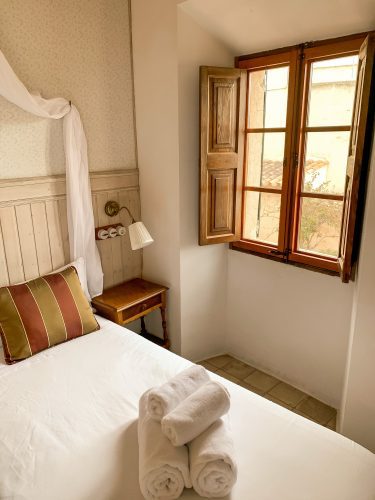 5. Visit Deiá and Valldemossa, Mallorca's gems
What is the most beautiful town in Mallorca?! I am sure there are hundreds of different opinions about this but here come my two candidates: Deiá and Valldemossa. My mom was absolutely mindblown when we visited Deiá. It is such a peaceful place surrounded by nature. I am sure you will not want to leave!
Deiá: The place where art fans like to go on vacation 
Deiá has inspired many writers and artists in their creative process, just like Helen Walsh and Robert Graves. And once you will be there you will understand why. Deiá's small streets look so artistry and romantic. The perfect place to spend some relaxing time in the mountains of Mallorca. Deiá is located in the Serra de Tramuntana, Mallorca's world heritage site that offers incredible views and landscapes. By the way, I really recommend the restaurant Café sa Fonda. It has incredible food and the views from the terrace are spectacular.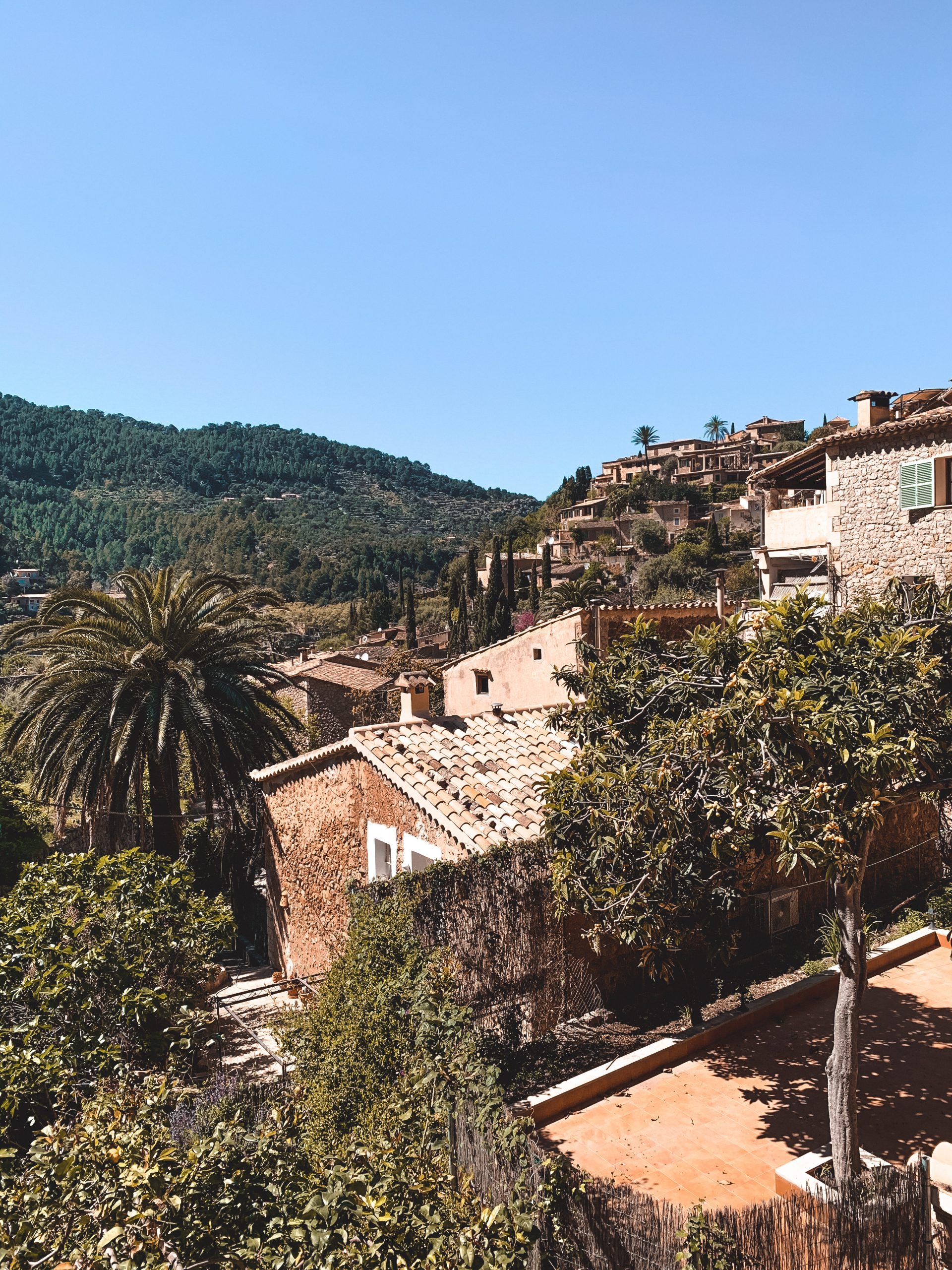 Valldemossa: one of Mallorca's most beautiful towns
Okay, this is probably not a secret anymore. Many people say that Valldemossa is the most beautiful town in Mallorca. And honestly, rightfully so! Most of the houses in Valldemossa are from the 16th and 17th centuries and still have a romantic charm that you can see when walking around the city center. Valldemossa is also the perfect destination if you want to go hiking in Mallorca. Many hiking trails start in the city and go through the close Serra de Tramuntana. Put this on your Mallorca bucket list!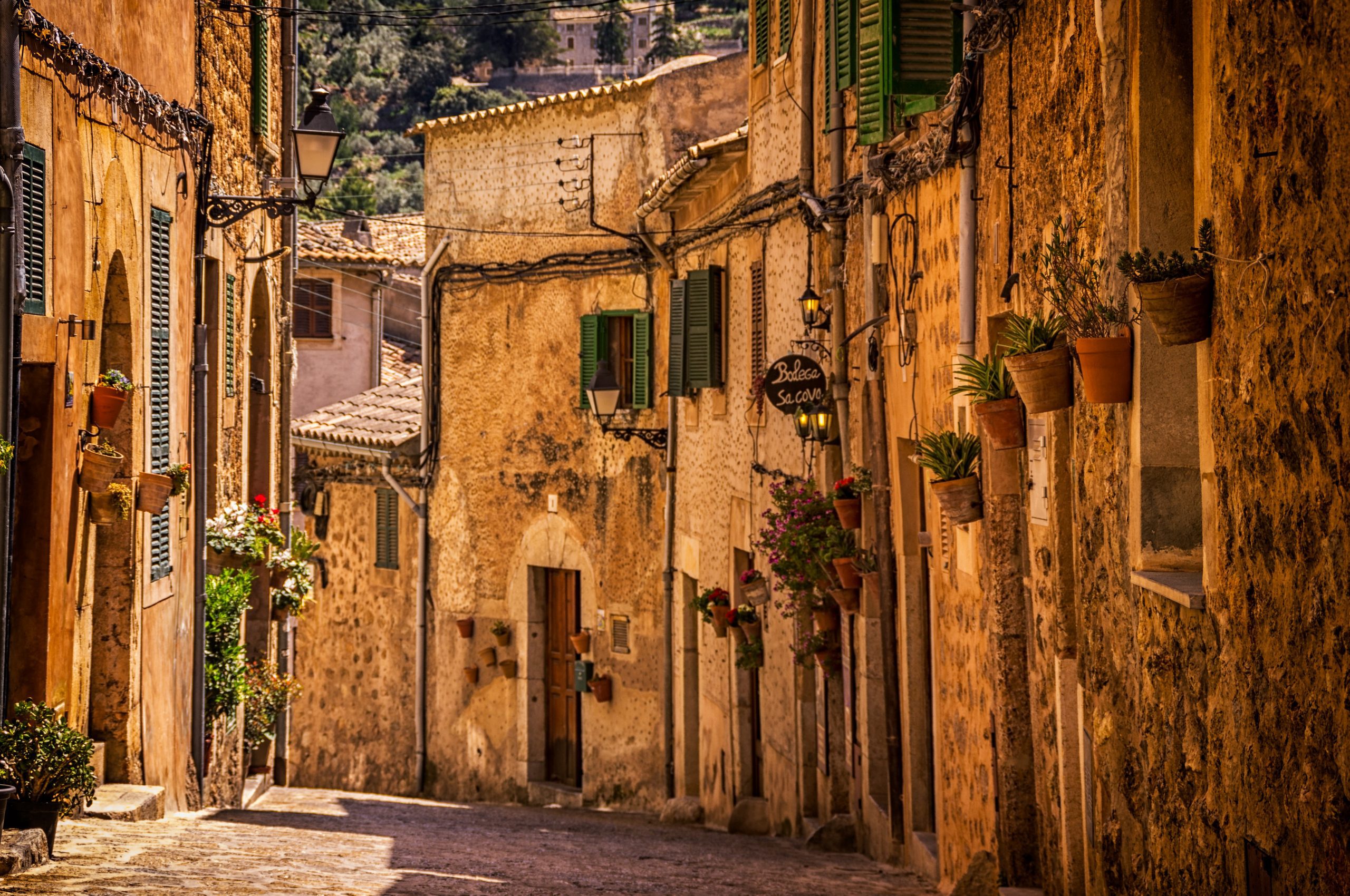 6. Explore the beautiful beaches in the North of Mallorca
Honestly, the North of Mallorca will always have my heart! I was so mindblown when I was there for the first time. The landscapes, the beaches, the nature… If you have the chance to drive to the North of the island, you should absolutely do it. 
A city that I can recommend is Alcúdia, a small town in the North of Mallorca. What I loved about it were the amazing city walls from centuries ago that were incredibly well preserved. You can walk on the city walls and admire the stunning views over Alcudia. The city is also close to the beach, but not only that! The beach in Alcudia is perfect for families and very child friendly as the water is very shallow. It is perfect for water sports and for spending the day at the beach.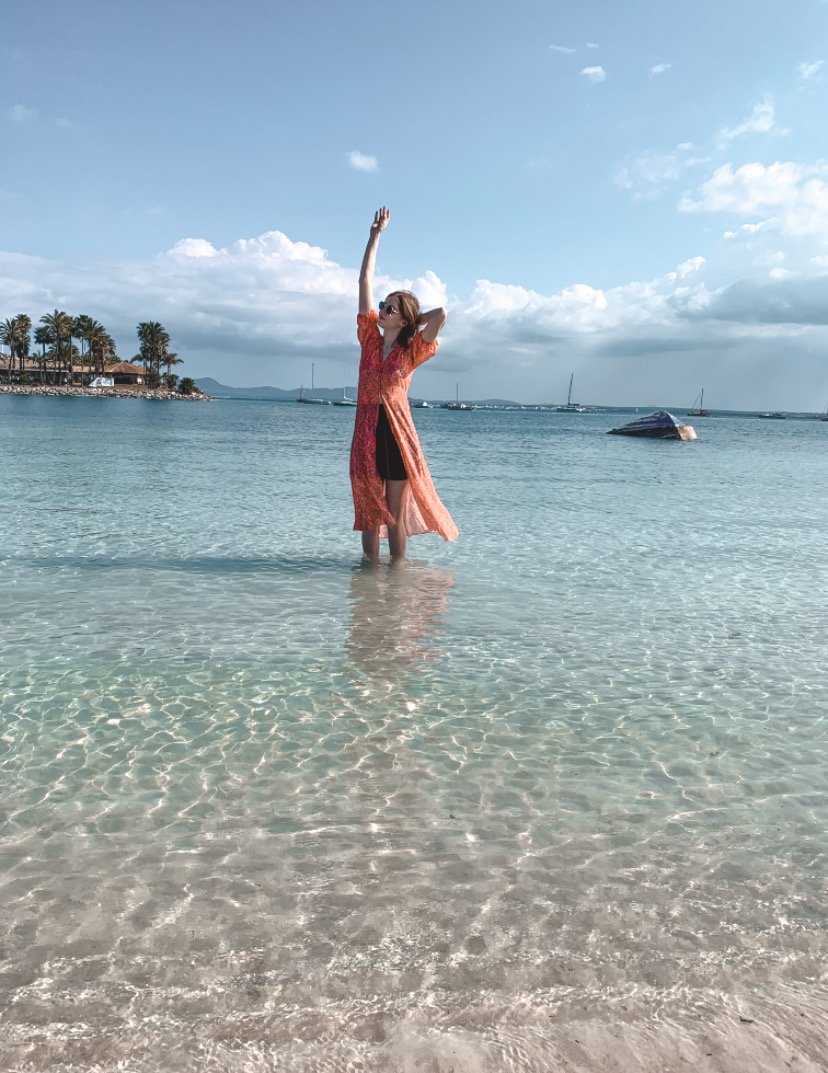 I wrote a detailed guide for visiting Alcúdia with everything you need to know before visiting. You can find it here.
Close to Alcúdia is another beautiful town called Pollenca. If you are up for a challenge you have to do the following thing. In the city center of Pollenca are 365 stairs that you can go up to an incredible viewpoint. Just look up in google maps: stairs to the chapel.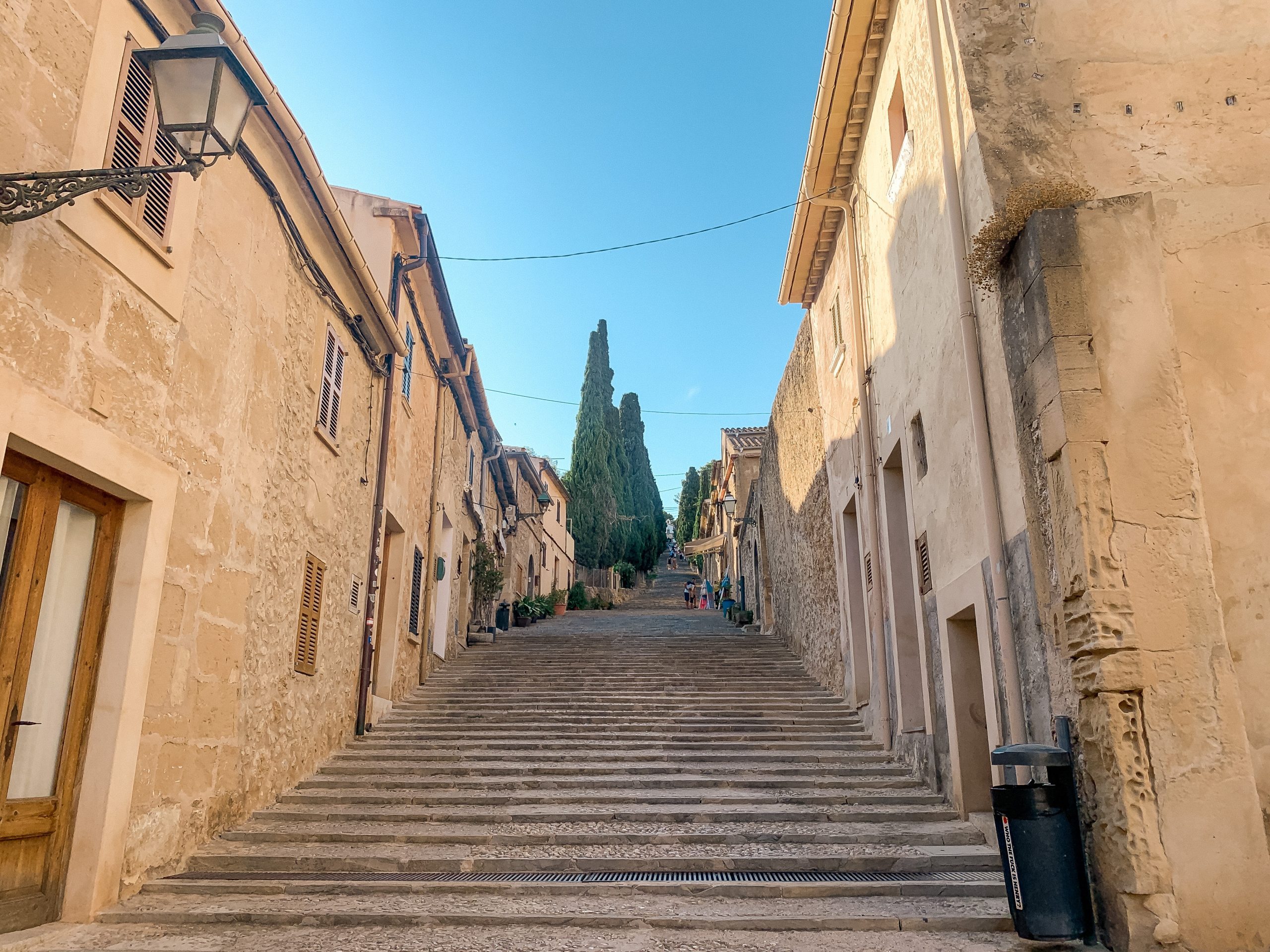 7. The ultimate Mallorca tip: Go dolphin watching!
Did you know that you can go dolphin watching in Mallorca? The Balearic island is a popular place to go dolphin watching, especially on the northern coasts of Mallorca. You just have to go with someone that knows where and when to spot the beautiful animals. 
I found this tour on GetYourGuide that I can recommend. I have heard that it is better to go with a small boat and only a few people because you can get closer to the dolphins in the water. On a big boat, you will see them from further away and will be surrounded by crowds of people and not see as much. So instead, go with a smaller boat and enjoy a relaxing trip surrounded by dolphins. This tour also takes you to the bays around beach Es Coll Baix, which is a wonderful area in the North of Mallorca you have to visit!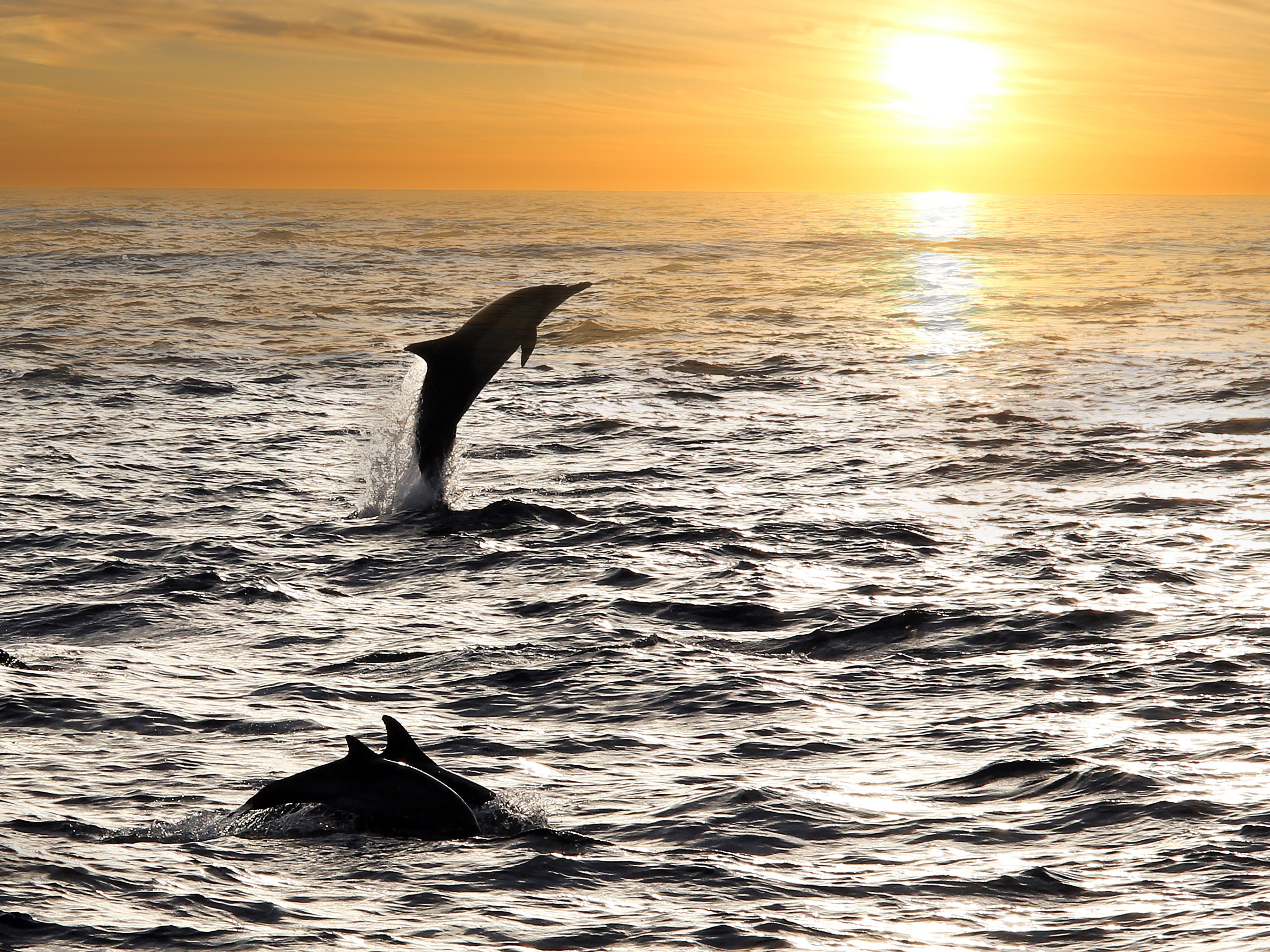 8. Explore the Serra Tramuntana hiking, cycling, or by car
Did you know that Mallorca is the perfect hiking destination? The island is full of nature, forests, and landscapes that are perfect for hiking. I have mentioned the Serra Tramuntana in this blog post before but I want to talk about it further at this point. The Serra Tramuntana is a mountain range that covers the whole northwest area of the island. In 2011 it was awarded a UNESCO world heritage site for its variety of landscapes.
A great destination in this part of Mallorca for hiking is Soller. There are many hiking paths starting in Soller that go into the Serra Tramuntana. The city itself is beautiful as well and should be on your list when visiting Mallorca. 
One thing I would like to mention is that there is a 9km hiking trail from Soller to Deiá, the city I already mentioned before. The amazing thing is that this hiking trail leads you through areas full of orange trees that are in season from December to early summer. What a nice day trip would it be to see both cities in one day. You can find more information about hiking the Serra Tramuntana here.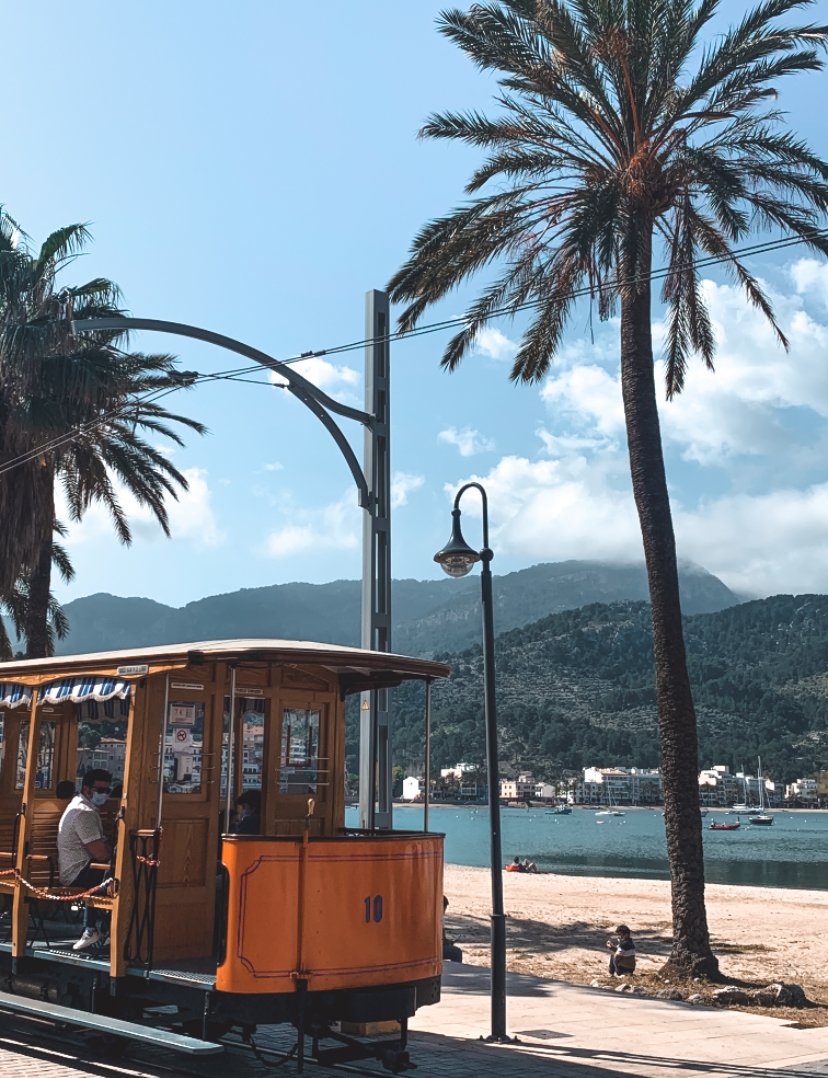 9. Enjoy the sunset at one of Mallorca's most beautiful viewpoints
One Mallorca tip I wish someone told me earlier is that you can watch spectacular sunsets in Mallorca. Mallorca has the perfect picturesque landscapes that will make any sunset look out of this world. When I was visiting Mallorca we could see the sky change to so many different colors during the evening – from yellow to orange to purple and blue. But where can you watch the best sunsets in Mallorca? Keep reading to find out my favorite location:
Cap de Formentor
Cap de Formentor is probably one of Mallorca's best-known places for beautiful sunsets. It is the northernmost point of Mallorca that consists of mindblowing rock formations that look spectacular during sunset. My tip is the following: You can watch the sunset from "Mirador Panoràmica cap al Cap Formentor" so you do not have to go to the very top of the island. I do recommend going to the actual Cap de Formentor for a one-day trip. But keep in mind that you can only reach the last part on foot.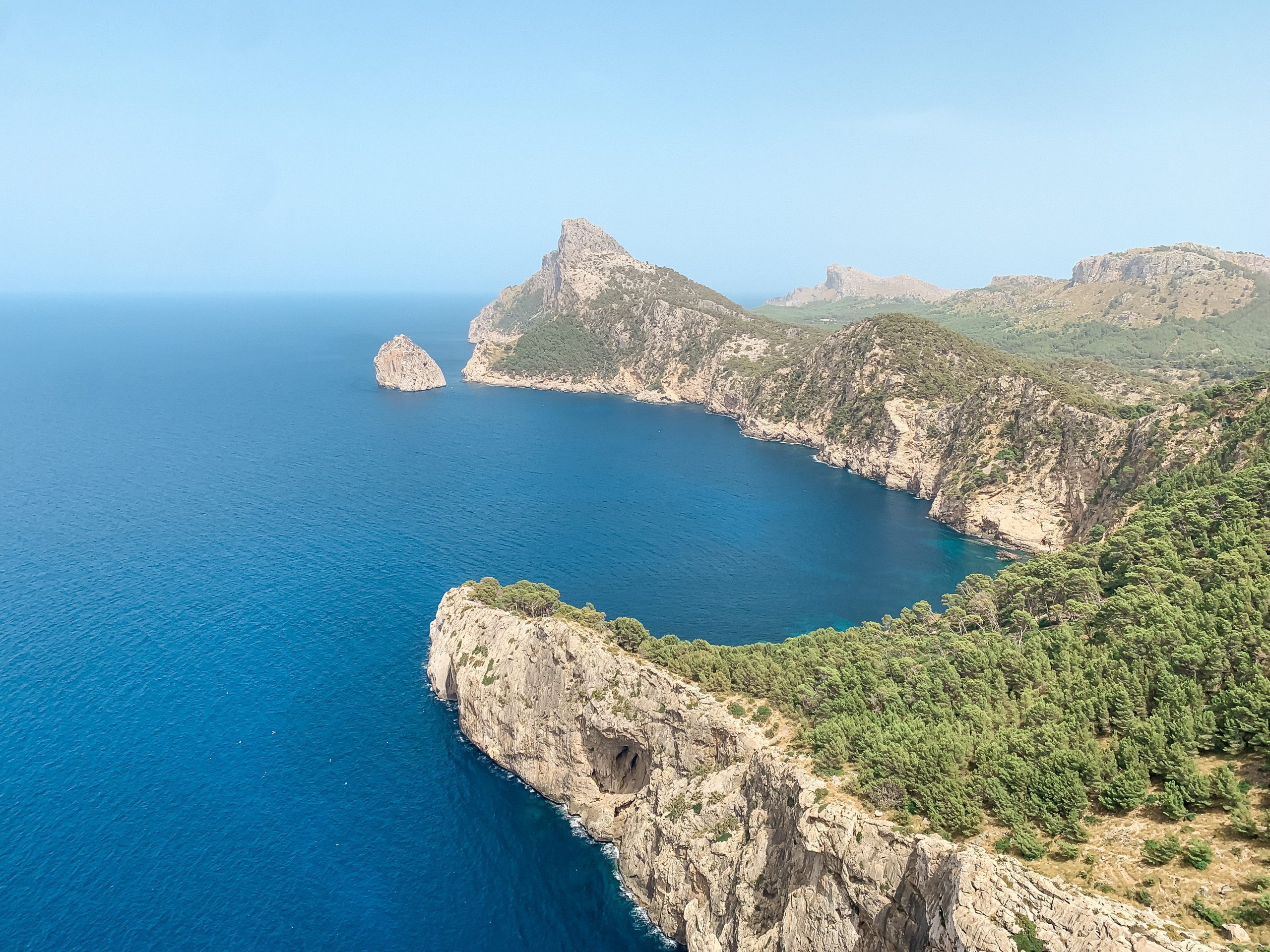 Mirador de Sa Foradada
When my mom and I visited Soller on the northwestern coast of Mallorca we fell in love with this sunset spot and ended up watching the sunset there on three consecutive days. 
You should arrive a bit earlier so you can find a parking spot and get one of the tables with a beautiful view of the rock formations. There is a small shop where you can buy a coffee and enjoy your afternoon. To me, it is one of the most remarkable viewpoints I have ever seen. By the way, this viewpoint is very close to Deiá, so maybe you can combine both destinations?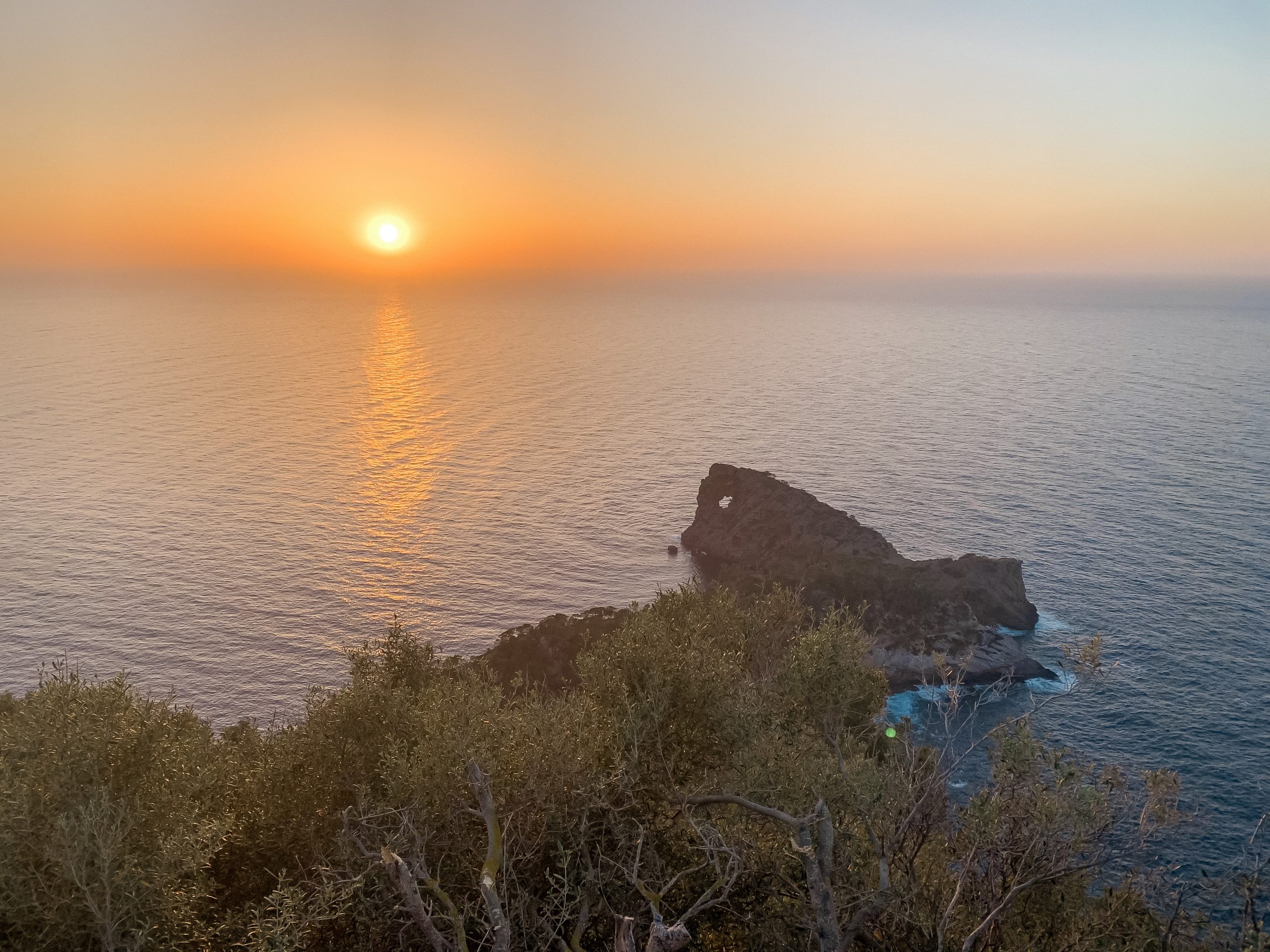 10. You cannot leave Mallorca without trying the Mallorquin cuisine
Ensaïmada (my biggest tip for Mallorca!)
Ensaïmadas are traditional pastries from Mallorca that are known for their snail-like shape. And they come in all sizes and flavors. The traditional ensaïmada is coated with sugar but you will also find variants with cream or chocolate. Regardless of what you prefer, you absolutely have to try this Mallorquin pastry! This pastry is so important to Mallorca that its name is: only Ensaïmada made in Mallorca are allowed to have the name.
Pa amb oli 
Whenever you go to a Spanish restaurant, you have to order bread with tomato and garlic as an entry. This is a very typical dish in Spain and depending on where you are in the country you will find different variations of it. The one shown in the photo below is made from fried bread with tomato and a pinch of garlic. It was delicious!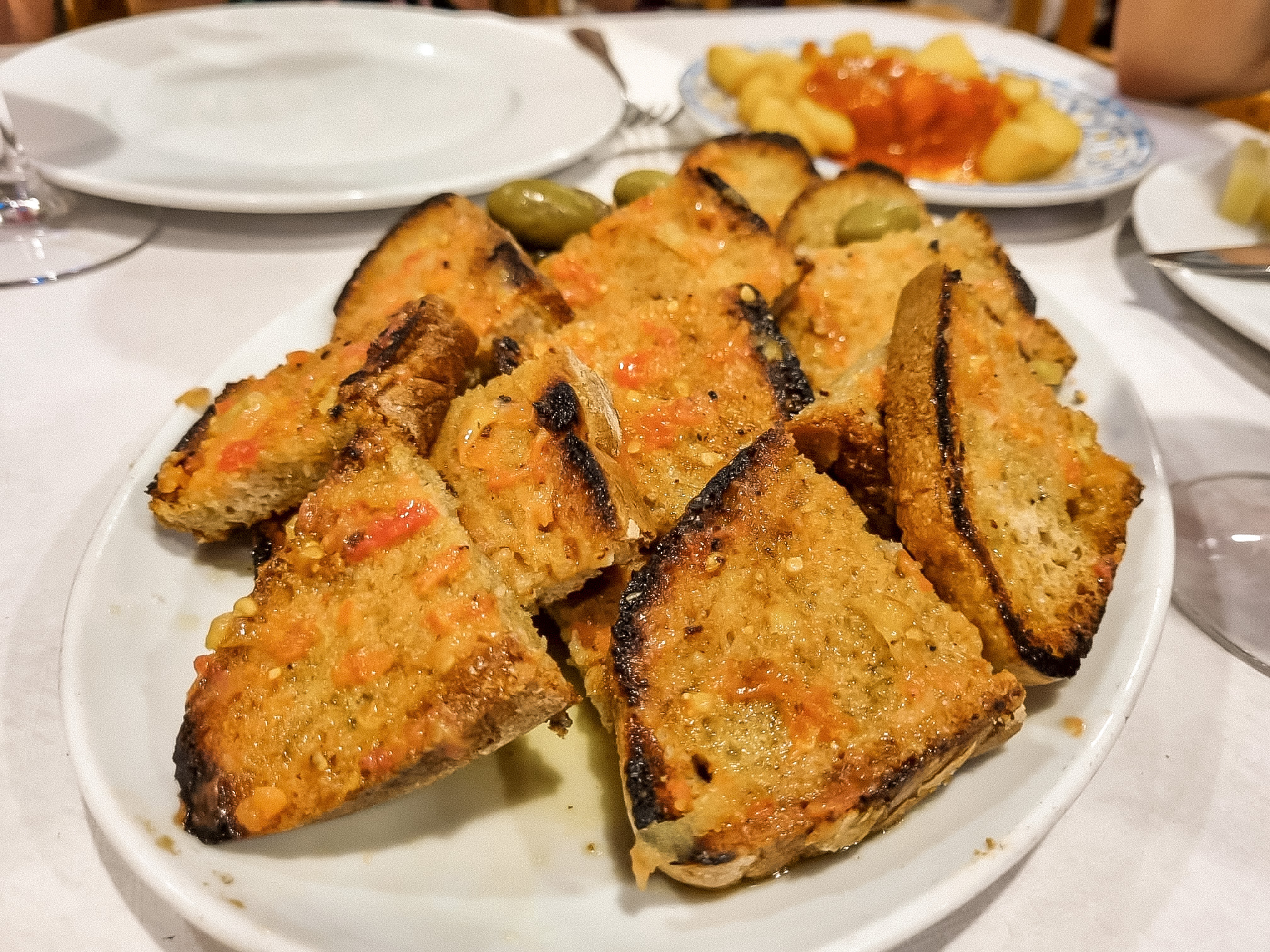 Paella
As you probably already know, Paella is actually from Valencia. But I know that many travelers love trying paella whenever they visit Spain. Especially, if you like paella with seafood you will love the ones in Mallorca. Because, obviously, the seafood will be incredibly fresh and full of taste. Paella is usually eaten for lunch since it can be slightly heavy for dinner. Take the chance and order an amazing seafood paella in Mallorca!