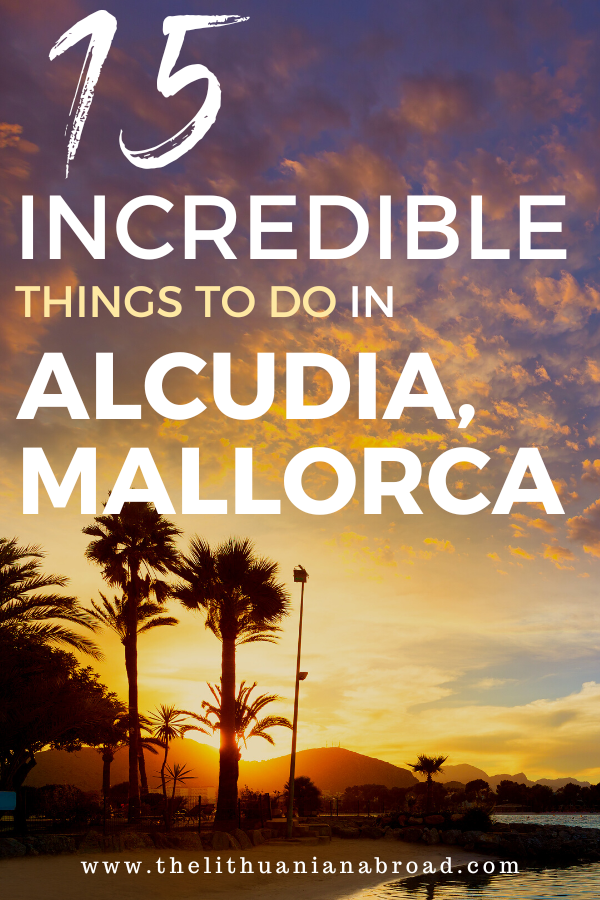 I have visited Mallorca before but I am always surprised by how beautiful and underrated it is. Growing up in Germany I always thought that Mallorca was a party island where you can find annoying tourists drinking sangría out of buckets. But if you leave Mallorca's party area you will find a fairytale island with blue water and white sand beaches, old towns, and incredible nature.
In my opinion, the Balearic islands are a very underrated holiday destination. One beautiful city that you have to visit in Mallorca is Alcudia. My friends and I randomly found cheap accommodation in the area. And we were mindblown by the city's beautiful buildings, the old town, and the beach. If you are looking for ideas and things to do in Alcudia, keep reading.
Here come my recommendations and the best things you can do in one of Mallorca's most beautiful towns: Alcudia. 
---
Affiliate links may be sprinkled throughout the free content of this blog post. If you purchase from one of the links I may receive a small commission while the price for you stays the same. This helps me cover the costs of The Lithuanian Abroad. Gracias!
More blog posts about Mallorca that you have to check out: 
The ultimate Mallorca bucket list with the best activities to do on the island: This Mallorca bucket list includes 17 things you can do in Mallorca: from beaches to boat trips, hidden towns to the best food places. Check it out before going on your Mallorca trip 🙂
7- day itinerary for visiting Mallorca: This post includes a complete itinerary for spending a week in Mallorca. It is full of useful tips for travelling Mallorca, the best places to see and activities you cannot miss.
Things to do in Mallorca during the off-season: Visiting Mallorca during the colder months is perfect if you want to enjoy a relaxing time on the island. This guide comes with great activities that you can do in Mallorca in winter.
9 incredible hidden gems in Mallorca: This is the ultimate Mallorca-off-the-beaten-path guide. These are the places in Mallorca that tourists don't know about. I included tips from my friends from Mallorca as well.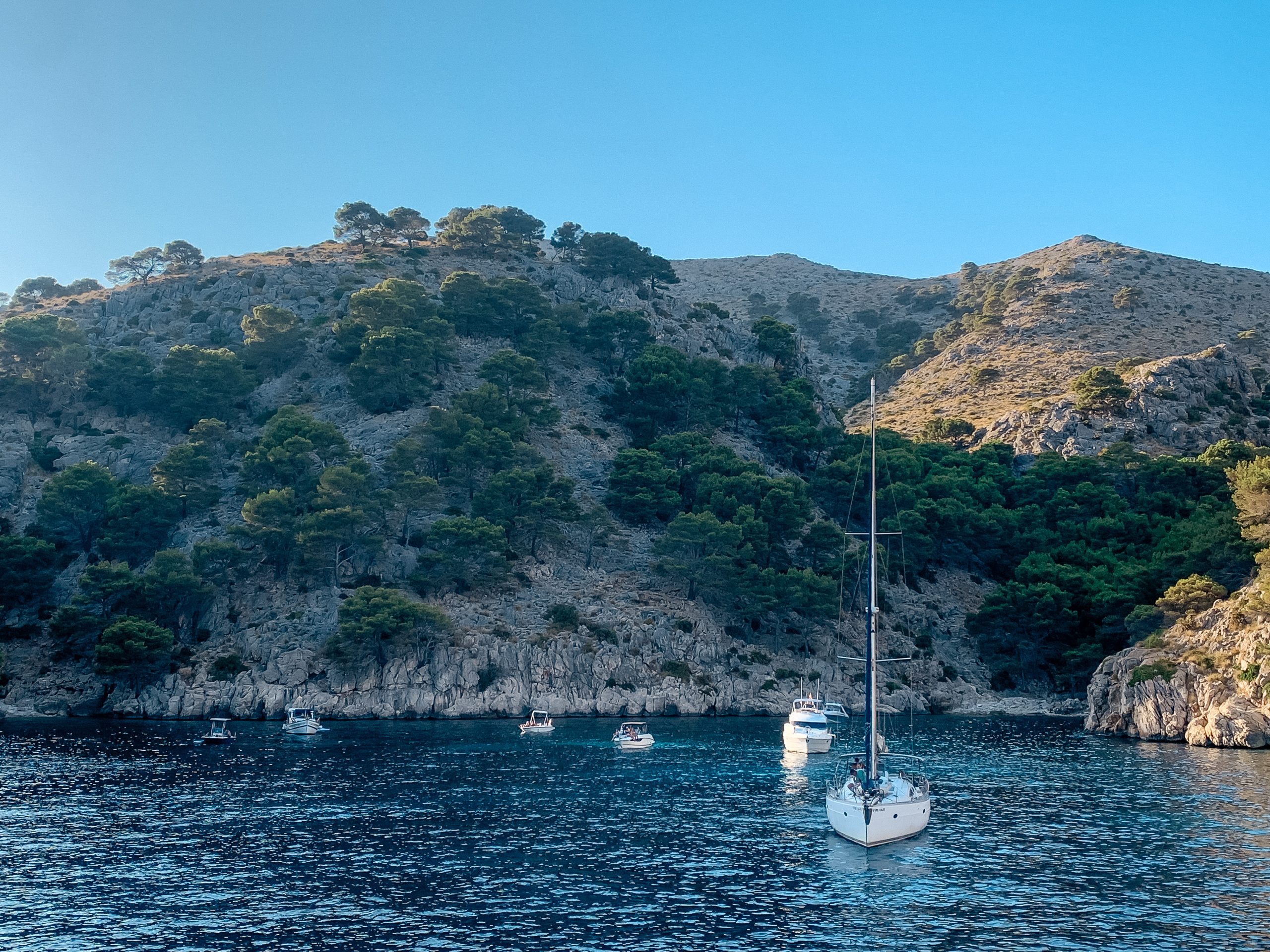 Make sure to rent a car in Mallorca (use my code for a discount!)
Before we jump to the amazing things you can do in Alcudia here is a tip from my side. You definitely should rent a car in Mallorca (keep reading for a discount code)! It will make your life so much easier and you will be able to visit remote places and hidden beaches.
When renting a car in Mallorca, I absolutely recommend using offugo.es! What is so special about them? The whole process from booking, picking up your car, and even returning it is done online. You don't need to queue at any point and can start your road trip right away without any delays. Apart from that, the total price includes complete insurance. That way you will not be surprised by any extra costs when you pick up your car. 
How does offugo work? You can book your car online easily. A few days before your pick-up date you will receive a message where you can upload your documents. It also comes with instructions on where to pick up your car. Enjoy your road trip, explore Mallorca by car, and have the best time. Everything is done online, with no queues, no deposits whatsoever!
And the best part: My code GABI10 gives you a 10% discount on your booking with offugo.es! Let the road trip begin 🙂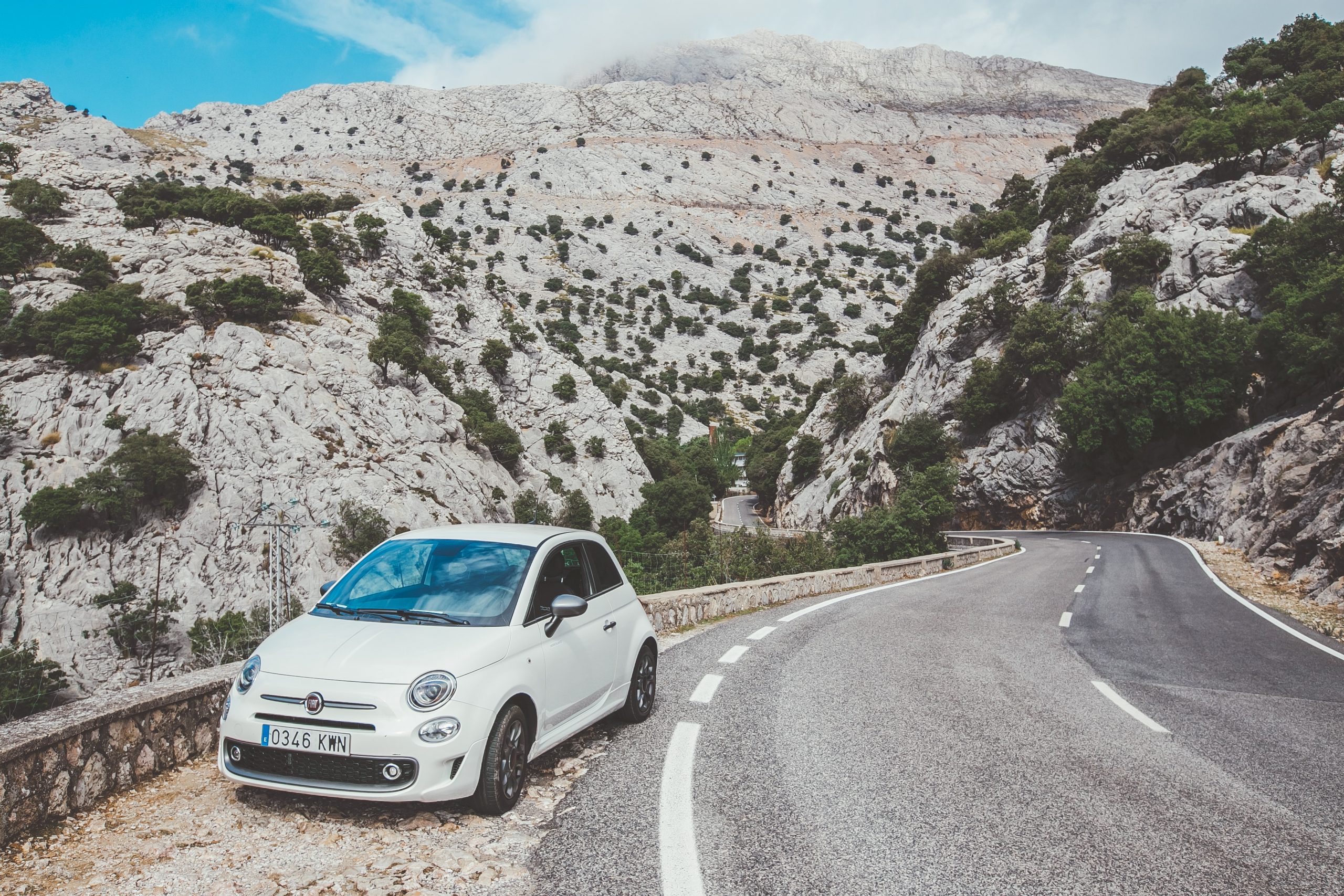 Stay in authentic and historical places in Alcudia: 
Stay in the heart of the historical center of Alcudia in Forum Boutique Hotel & Spa
This hotel is located in an ancient building in the historical center of Alcudia. It has everything you could ask to have an amazing stay in Mallorca. The interior looks like a dream. And look at the amazing terrace. Such a beautiful place to stay in Alcudia!
What about a hotel in an old Mallorquin house? Check out Can Simo
This beautiful hotel is located in an old Finca and looks absolutely luxurious. It is not too far away from the beach and has a very central location in the city of Alcudia. Look at this beautiful terrace with the rooftop pool! 
Stay in an old monastery surrounded by nature at Petit Hotel Hostatgeria
This place is perfect if you want to stay in a quiet area and enjoy nature while going on a hike. It is located in an old monastery with a unique historical flair. I love places with history and this hotel looks like a fairytale.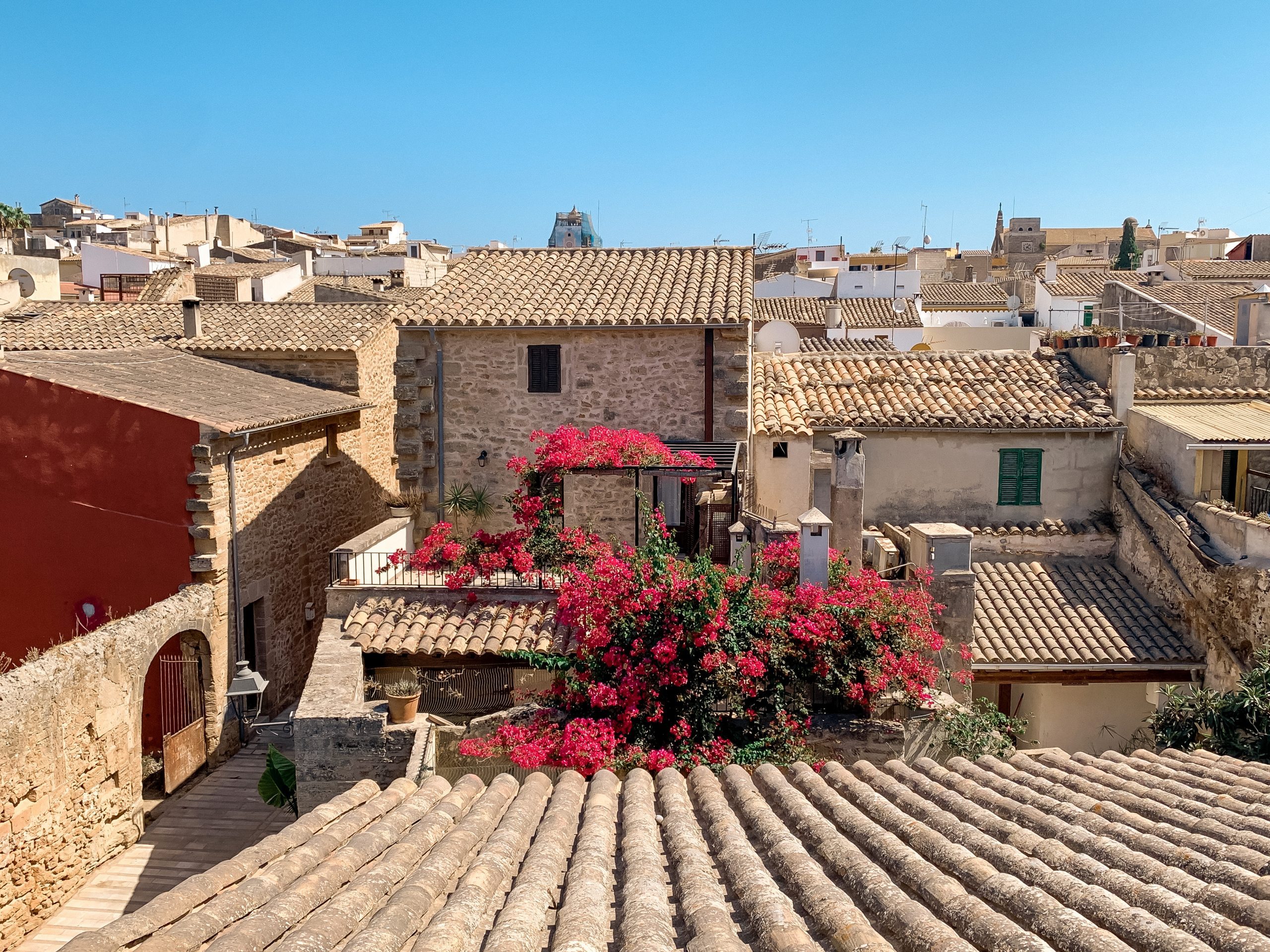 By the way, I have written a blog post with a bucket list for visiting Mallorca. If you are looking for other places to visit during your stay in Mallorca, check it out 🙂
Let's start: 15 Things to do in Alcudia for the perfect Mallorca holiday
Walk around the medieval city walls of Alcudia
Please don't think that just because Alcudia is a small city in Mallorca it would not have anything interesting to offer! When I arrived in Alcudia I was so impressed by the city´s architecture, small streets, and beautiful houses. And then boom, we arrived to see the medieval city wall that is incredibly well preserved!
The medieval town of Alcudia is also a UNESCO world heritage site and one of Mallorca's most popular attractions. Alcudia was founded more than 2000 years ago and something you definitely should check out are the city walls from the 13th century. You can even walk on them and see the beautiful roman houses from above. When we visited Alcudia in summer there were so many beautiful plants and flowers blooming in between the houses. The views were absolutely stunning! This was one of my favorite things to do in Alcudia 🙂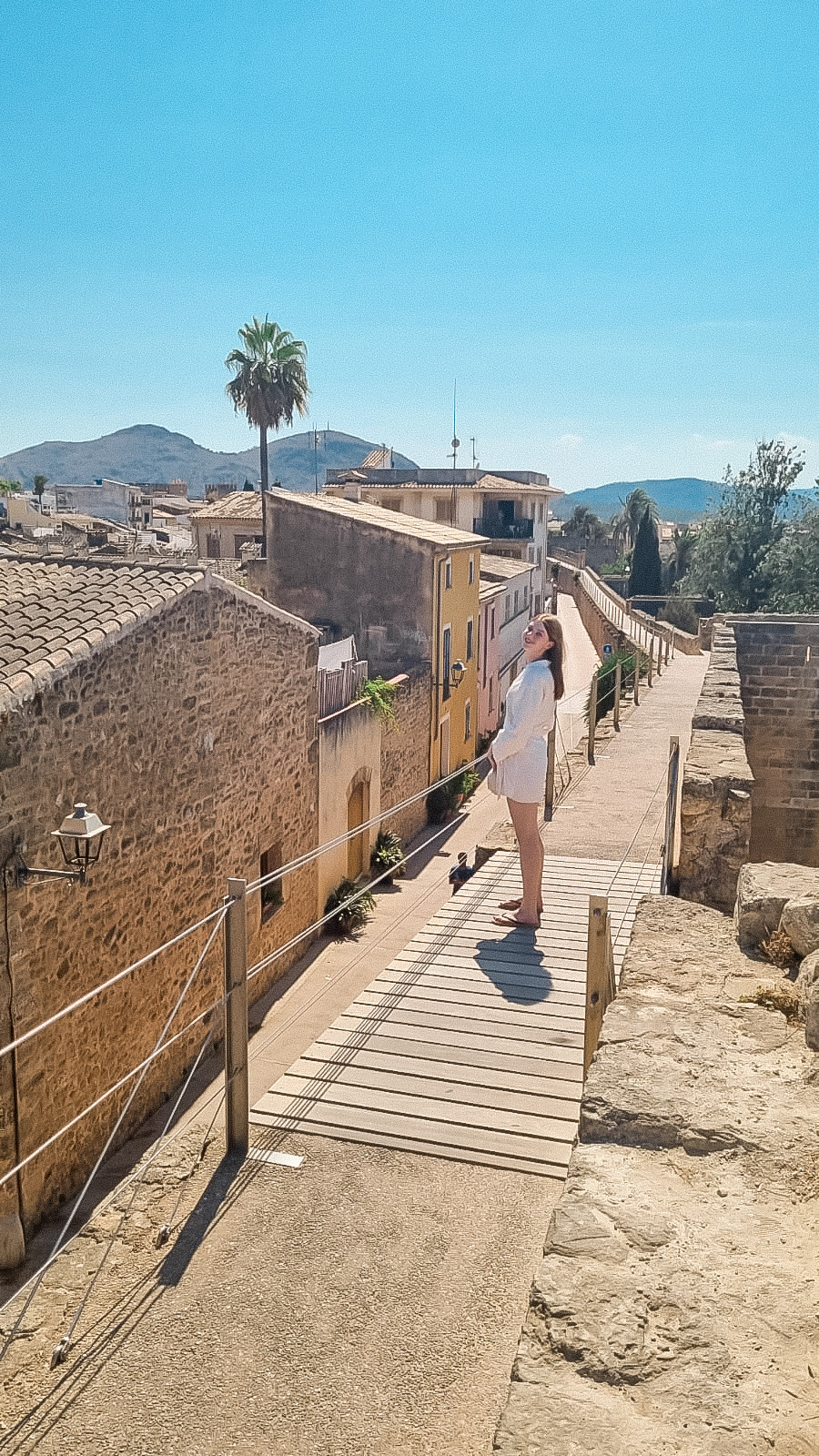 Visit the famous Alcudia market and get a souvenir
The market in Alcudia is one of the oldest and largest local markets in Mallorca and has so much to offer! Every Tuesday and Sunday from 8.30 am – 1.30 pm you can this market covering almost all the streets of the historic old town of Alcudia. The best thing about it is that it has so much to offer! You will find local food from Mallorca to clothes, accessories to souvenirs and handmade artefacts. 
Unfortunately, I did not have the chance to go to the market in Alcudia. But I have heard that it's worth going there because it's not as touristy as other markets on the island. So, if you are in town on a Tuesday or Sunday, make sure to check it out 🙂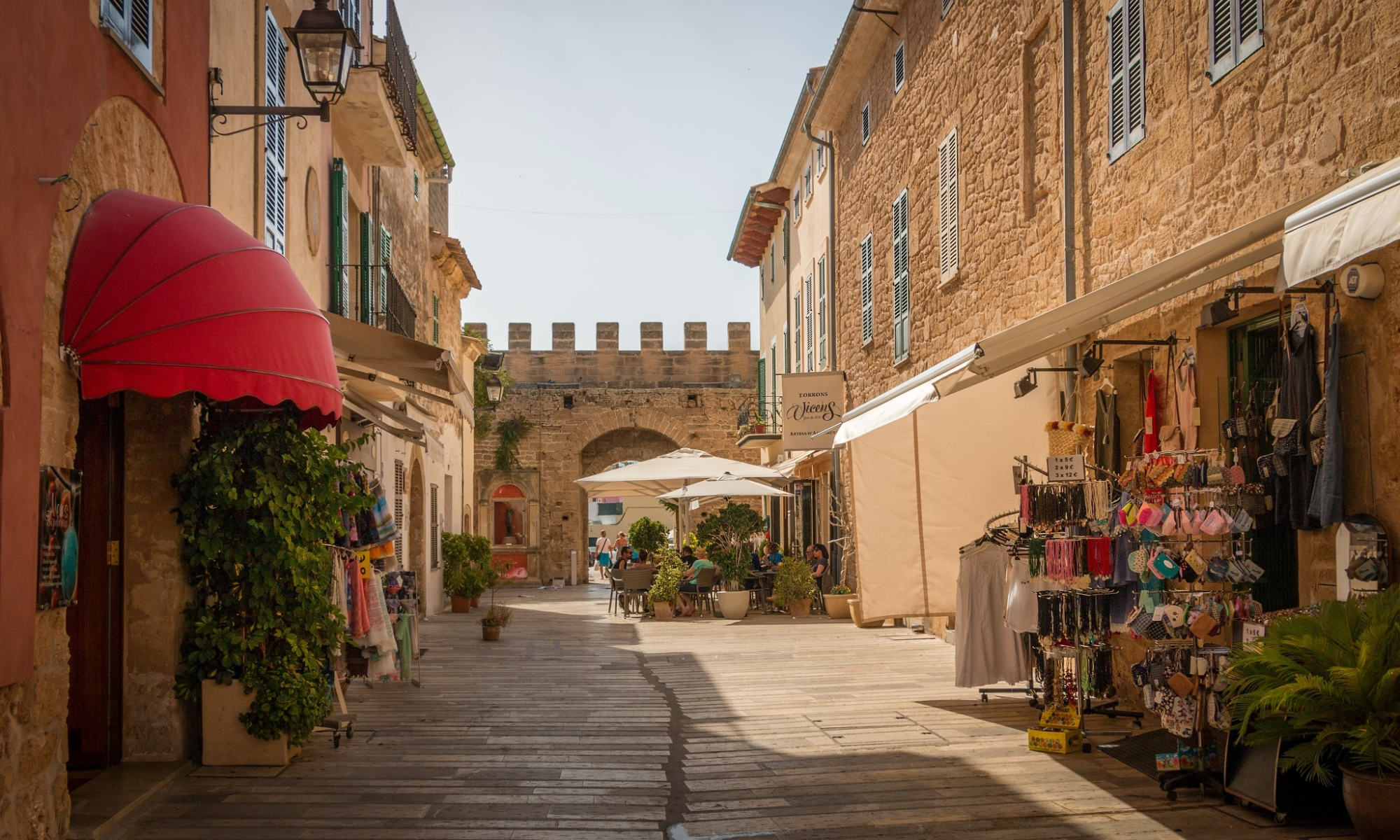 Admire the Roman ruins of Pollentia
One hidden attraction in Alcudia that you cannot miss is visiting the Roman ruins of the ancient city of Pollentia. They are located just right outside the city walls of Alcudia. When I saw them I was so impressed! Pollentia used to be a Roman city that was allegedly founded in 123 BC. These are ruins from a neighbourhood and even a theatre from 100 BC and for being that old they are very impressive. The excavation work is not finished yet. Who knows what parts of Pollentia we have not seen yet?
The best thing about these ruins is that you can visit them for free!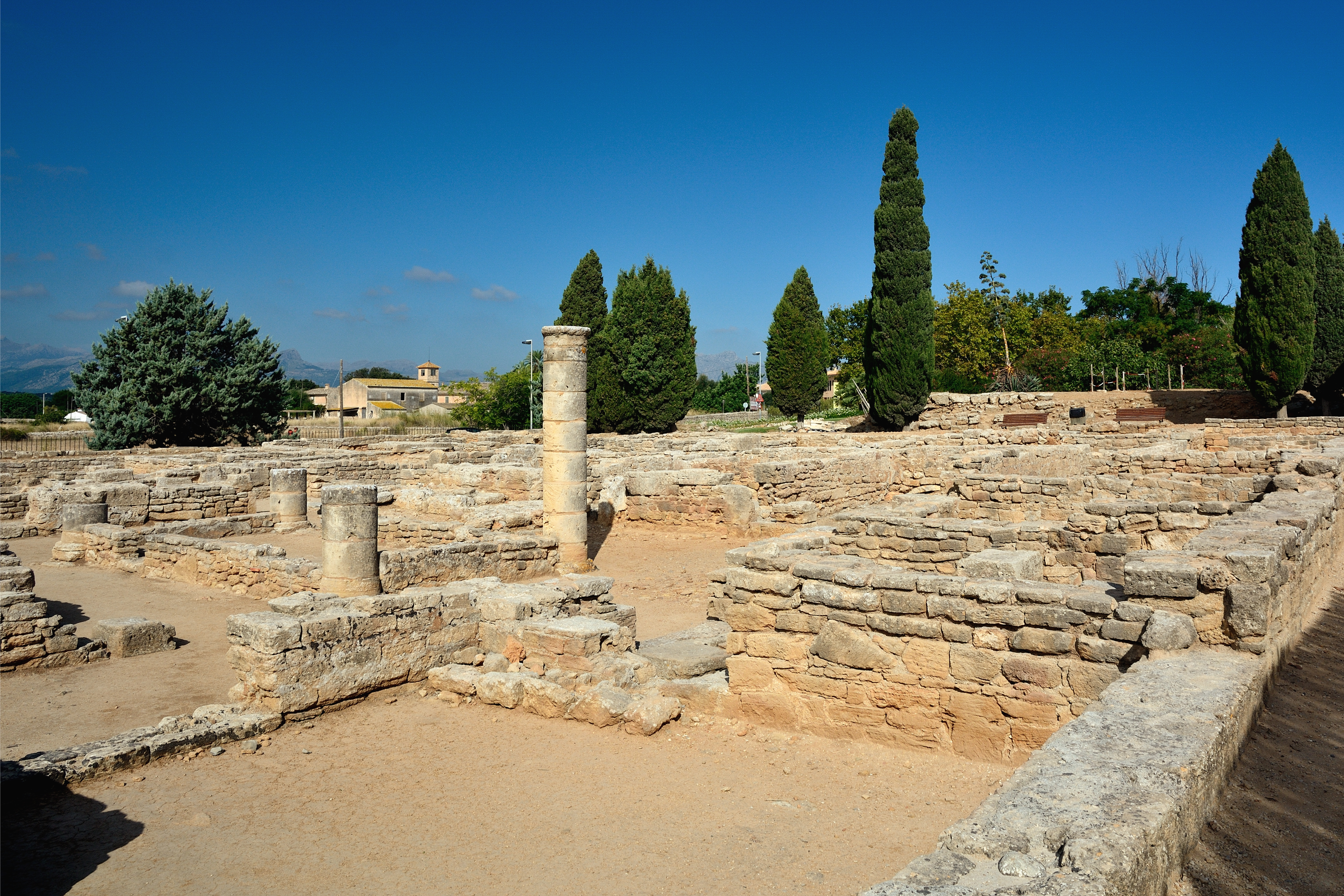 Enjoy the amazing Mallorquin cuisine at Ca'n Punyetes 
This is probably not a surprise for you, yes you can eat heavenly in Mallorca *chef kiss*. The Mallorquin cuisine is incredible and will welcome you with fresh ingredients and delicious meals. If you are looking for a great restaurant in Alcudia I would recommend going to Ca'n Punyetes which is very close to the port of Alcudia.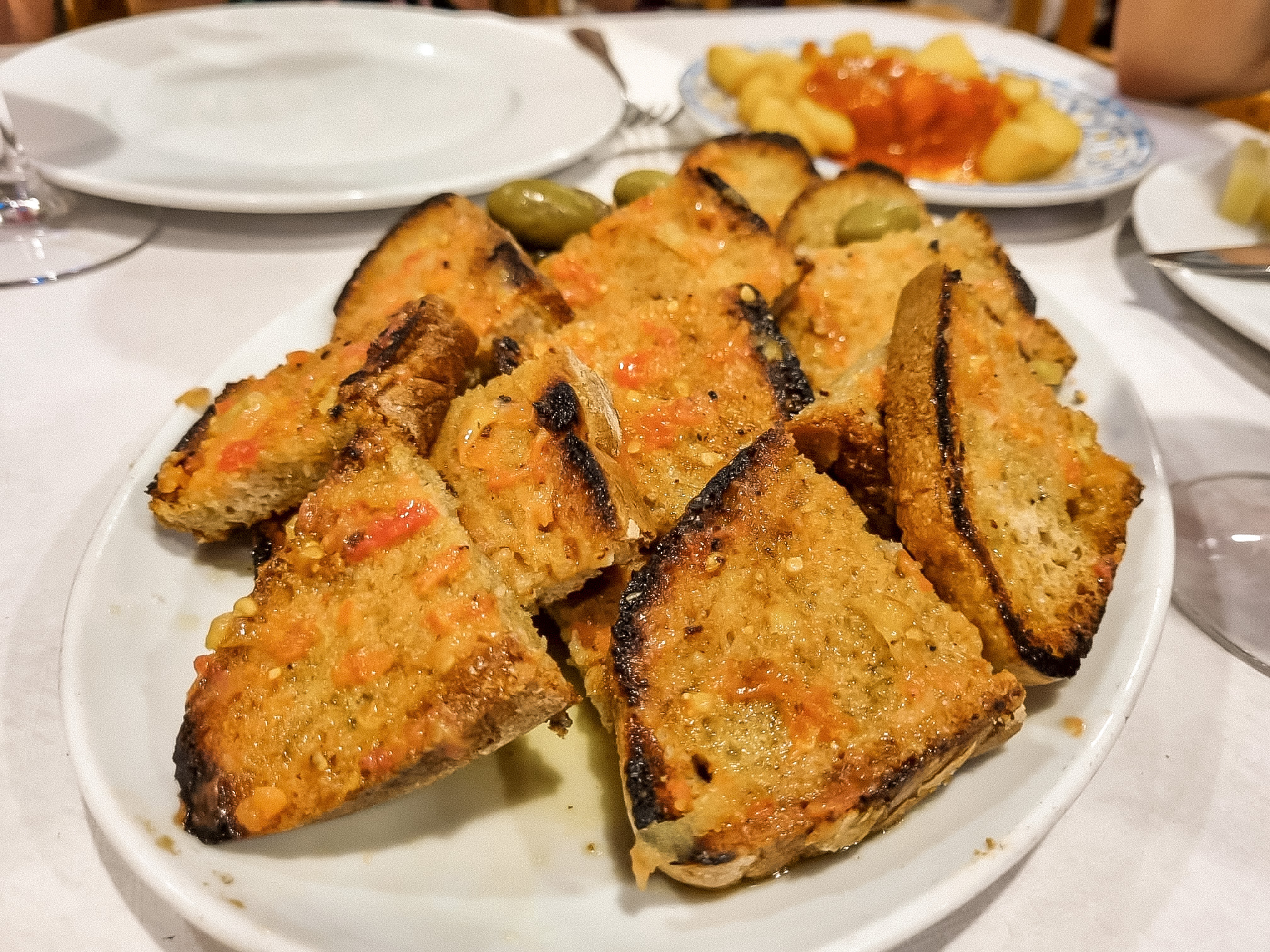 This restaurant serves very authentic Mallorquin food at a very good price point. And we were so surprised by how friendly and helpful the waiters were. What you absolutely have to try is the bread with tomato and olive oil ("Pa amb oli") as a starter. As a seafood fan, I can recommend the mussels and the octopus as well. They have a very complete menu of different tapas so I would suggest you just try a couple that catches your eye. To me, this has been the best restaurant in Alcudia we have been to!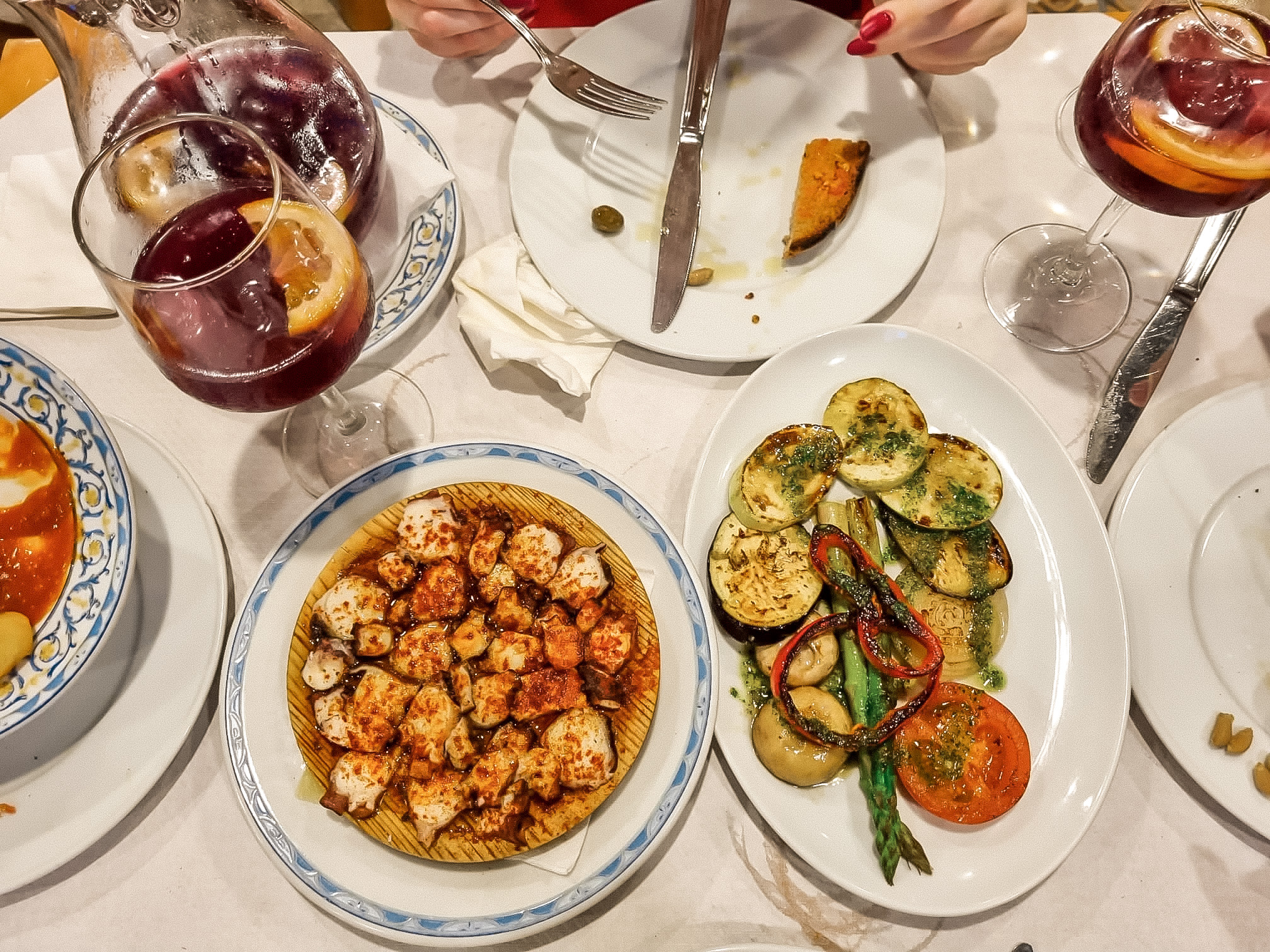 Just a word of caution, this is a very popular restaurant in Alcudia so make sure to reserve in advance or arrive at an earlier time when not so many people are having dinner yet.
Pay a visit to Alcudias historical church Església de Sant Jaume d'Alcúdia 
Església de Sant Jaume is a gorgous Roman Catholic church you can visit in Alcudia. An interesting fact about this church is that it is part of its city walls. The church we can see there today was built between 1882 and 1883 after the previous church collapsed due to its old age. It is rumoured that the first church was constructed in that place in the 13th century. 
An interesting myth I want to tell you about the church is the following: The chapel houses the famous crucifix of Christ of Alcudia. Legend says that during a drought during the 16th century, people saw it sweating blood and water. This sighting allegedly lead to the end of the drought and sent Alcudia the rain people were waiting for.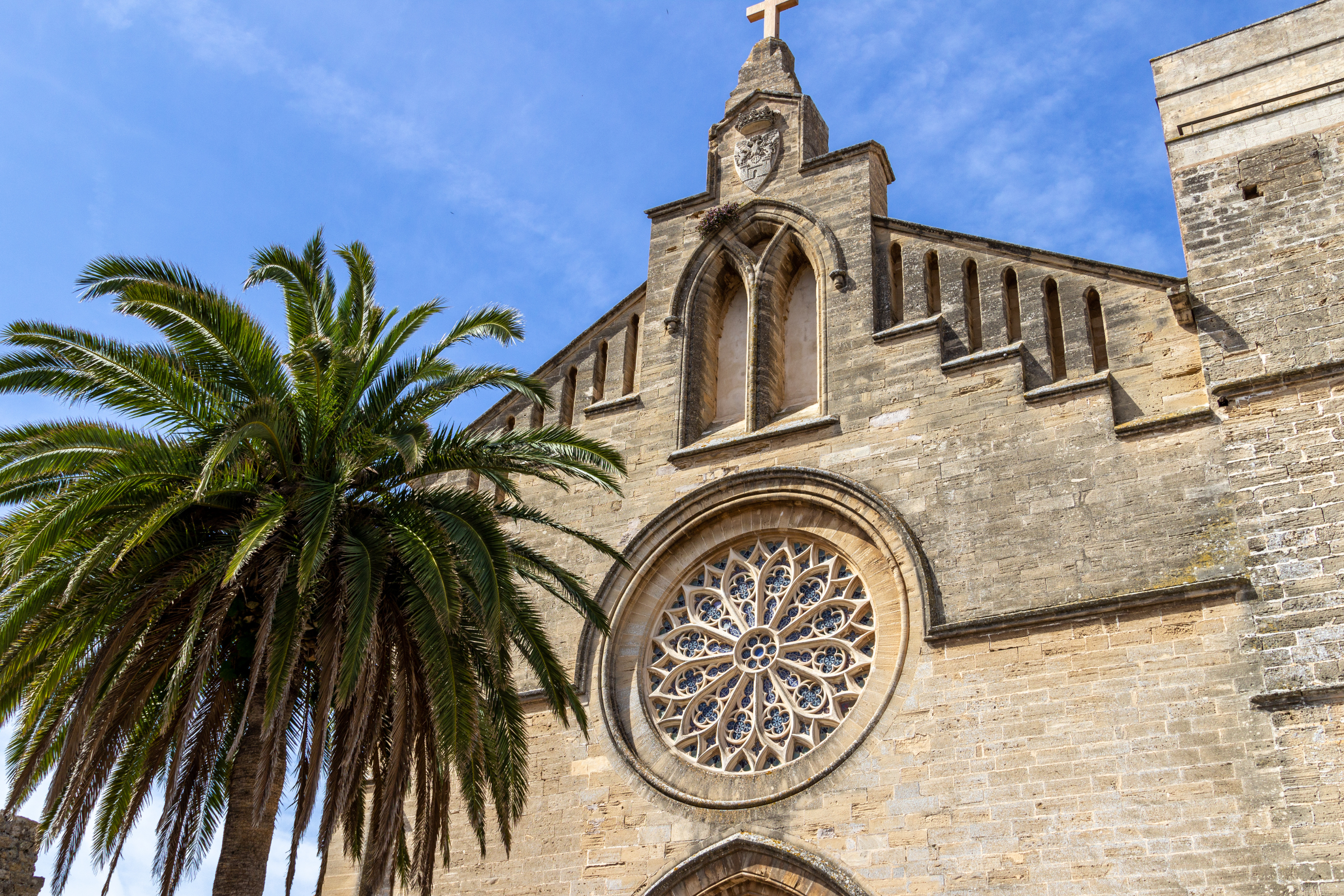 Go on a catamaran boat tour and explore the bays surrounding Alcudia
This was the highlight of my Mallorca trip and I really want to recommend the following boat trip for you: This is a catamaran boat trip that starts at the port of Alcudia and takes you around the beautiful bays. It was a great way of exploring beaches that are usually hard to reach by car and therefore, people go there by boat. We stopped at three places for a swim where you could go snorkeling and perform other water sports. One of the beaches we stopped at was Platja des Coll Baix.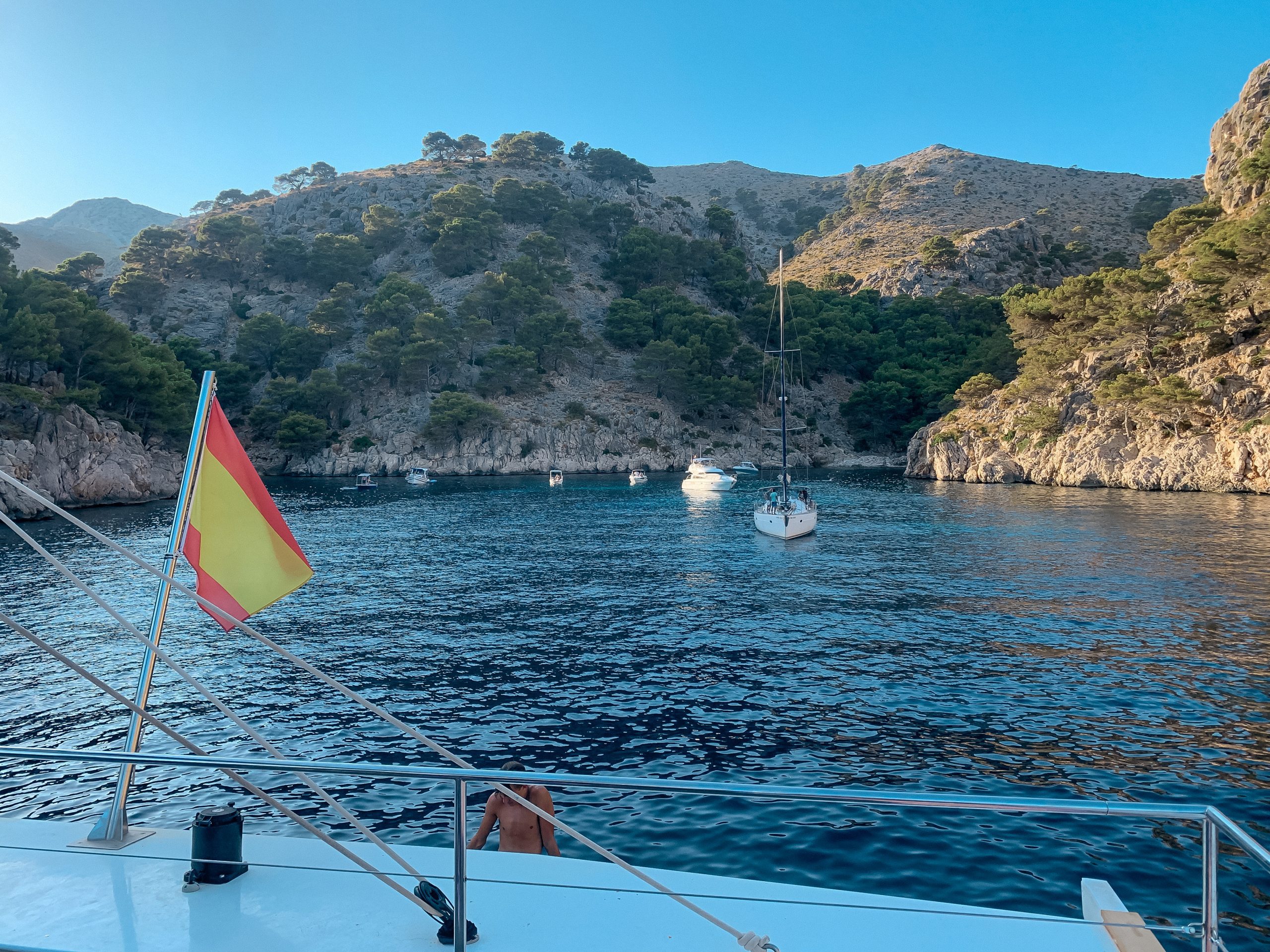 The views were absolutely incredible! The tour lasted for around 4-5 hours in total where you will find yourself surrounded by idyllic clear blue water and enormous rock formations. We had so much fun snorkelling as the water was insanely clear and we even saw a couple of fish during our trip.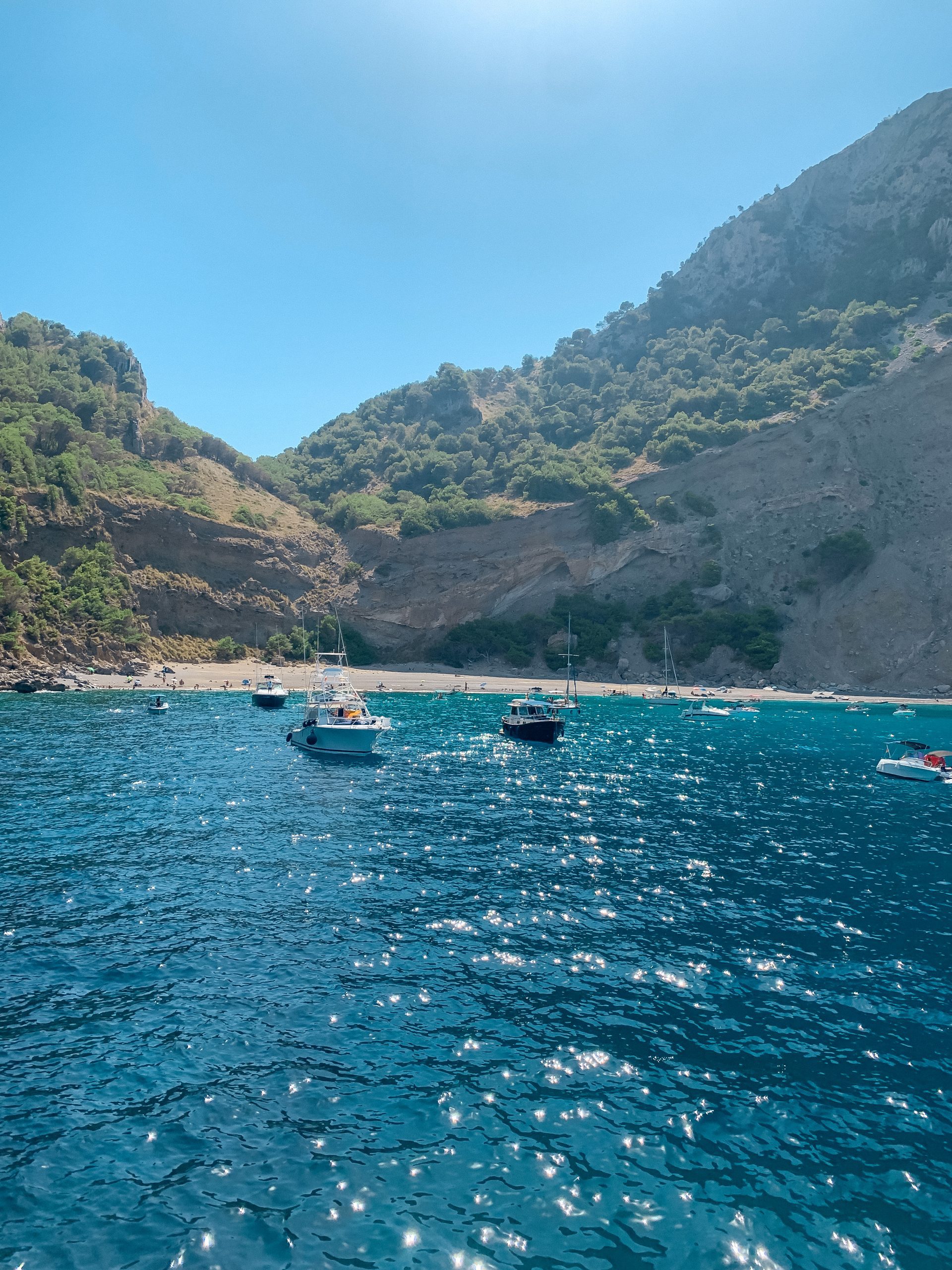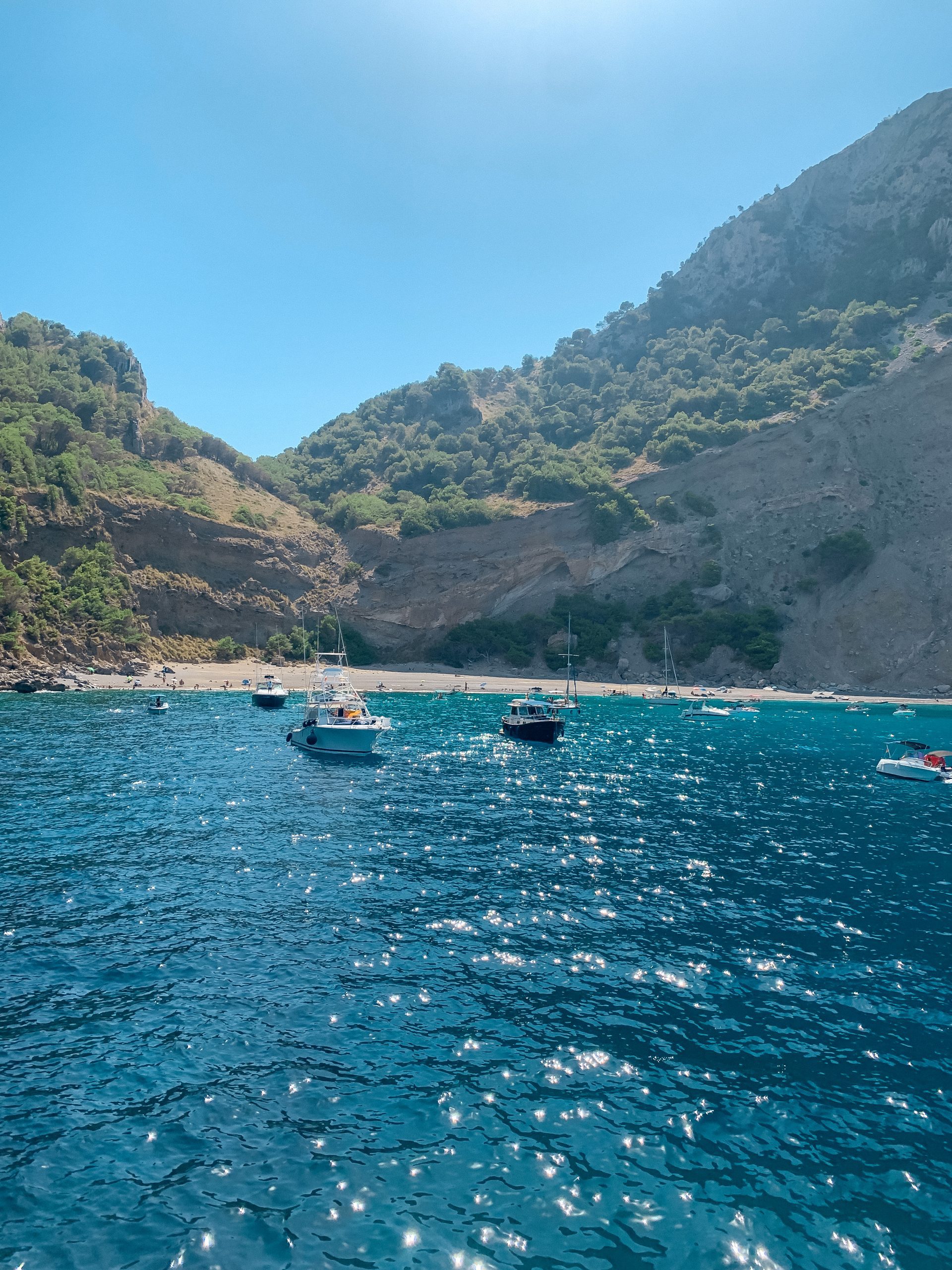 I was a little bit worried about getting seasick on the boat. But, thank god, I did not have any problems at all and I did not see any other passengers having trouble on the boat. It was actually very pleasant and when the boat was moving you could feel a refreshing breeze. The boat was also spacious enough for all people attending the trip. By the way, a very generous lunch is included for everyone as well 🙂
The only thing I want to mention here is that you should bring sunscreen on this trip. We did this tour on a very hot day and I was so glad we had enough sunscreen with us as the sun was very intense!
By the way, you can decide if you want to do this trip during the morning or during the afternoon. We did the trip during the afternoon and I can absolutely recommend doing so as well because the sun is not as intense during the later hours of the day. That was my highlight of our Mallorca trip and one of the best things to do in Alcudia!
Visit Pollença and go up the 365 stairs to a gorgeous viewpoint 
Pollença is a beautiful small town just a short drive away from Alcudia. But to be honest, the distance is also walkable. I definitely recommend going to Pollença for a specific attraction: The 365 stairs in front of the chapel (google maps: Escales El Calvari) Are you in for a challenge? Once you climbed all these stairs and reached the top you will find yourself at a gorgeous viewpoint with beautiful views of Mallorca's coastline. 
Another interesting attraction in Pollença you can check out is the Roman bridge (Pont Romá). This bridge up to today stands in its original architecture and has two beautiful arches to look at.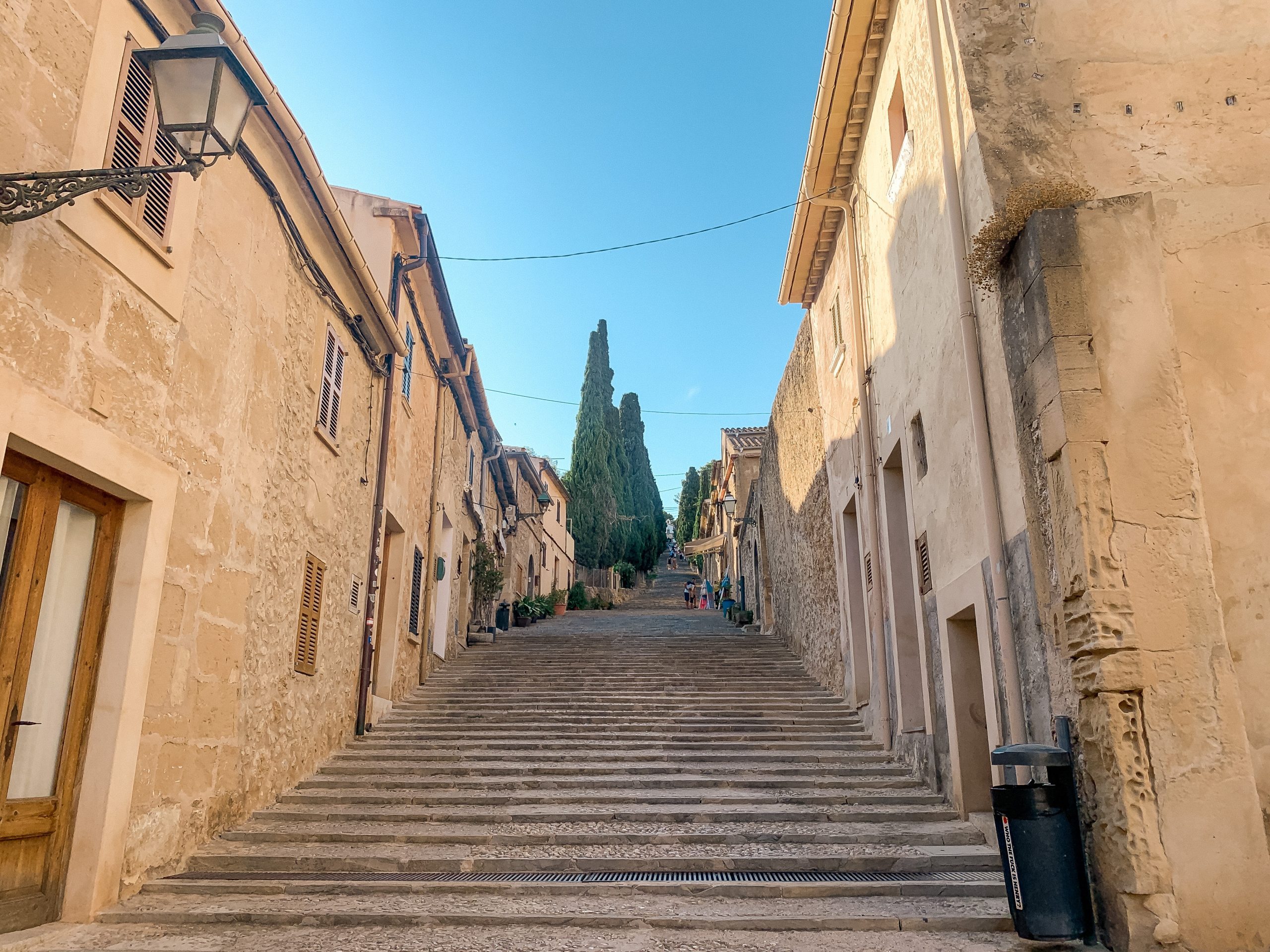 By the way, if you are looking for a great restaurant in Pollença, I can recommend "La Font del Gall". We had some delicious paella there!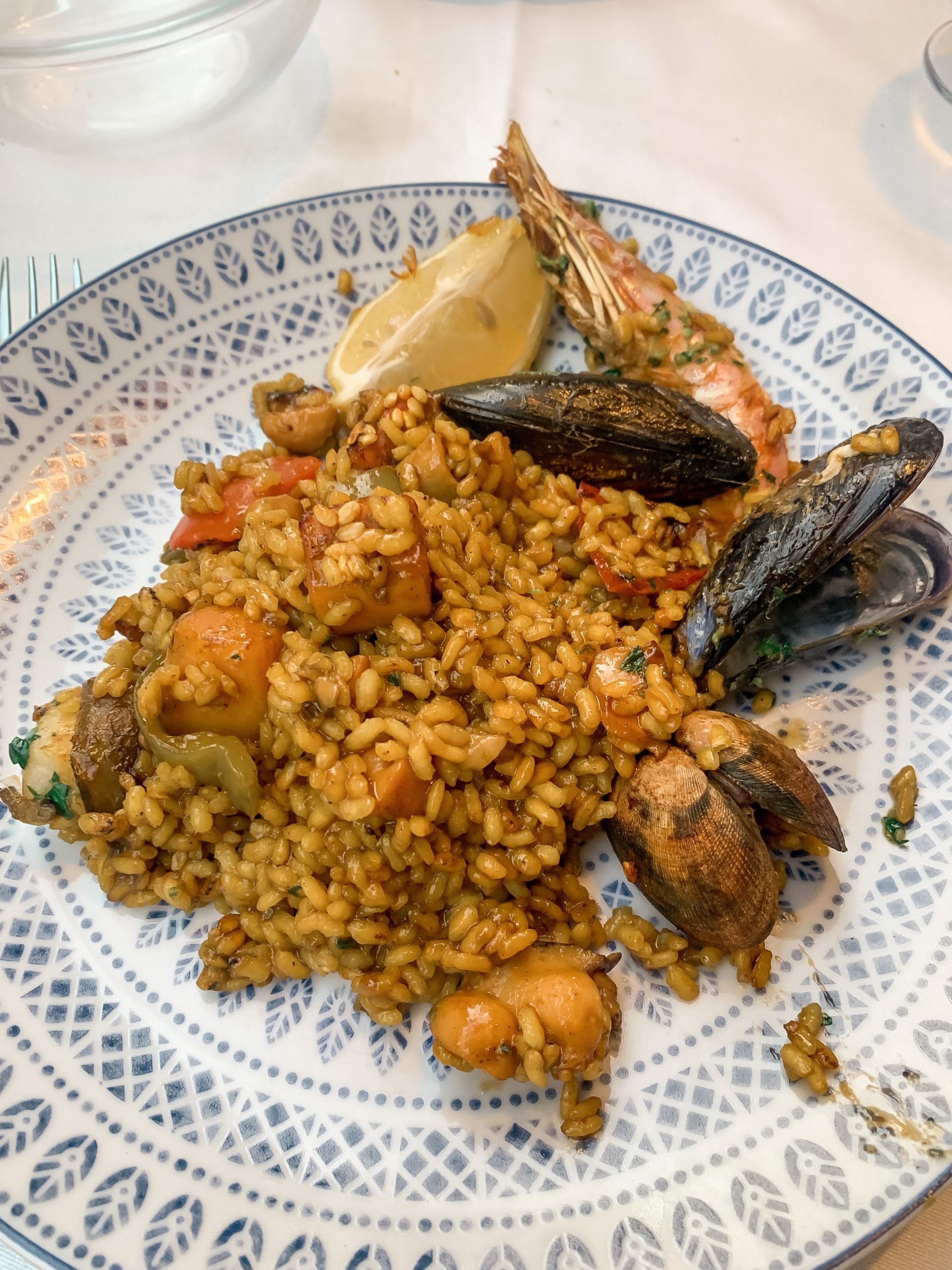 Spend a day at the beach in Alcudia
Good news! You picked a great location to stay in because the beach in Alcudia offers a fantastic beach with white sand and insanely clear blue water. Platja d'Alcudia stretches over several kilometers making it one of the largest beaches in Mallorca. 
The good thing about the beach in Alcúdia is the bay protecting it which makes it very quiet. The water is also not too deep which is the reason why this beach in Mallorca is very child-friendly. We saw many people stand up paddling or performing other water sports in Alcudia. 
Close to the beach you can find shops, restaurants or cafés in walking distance.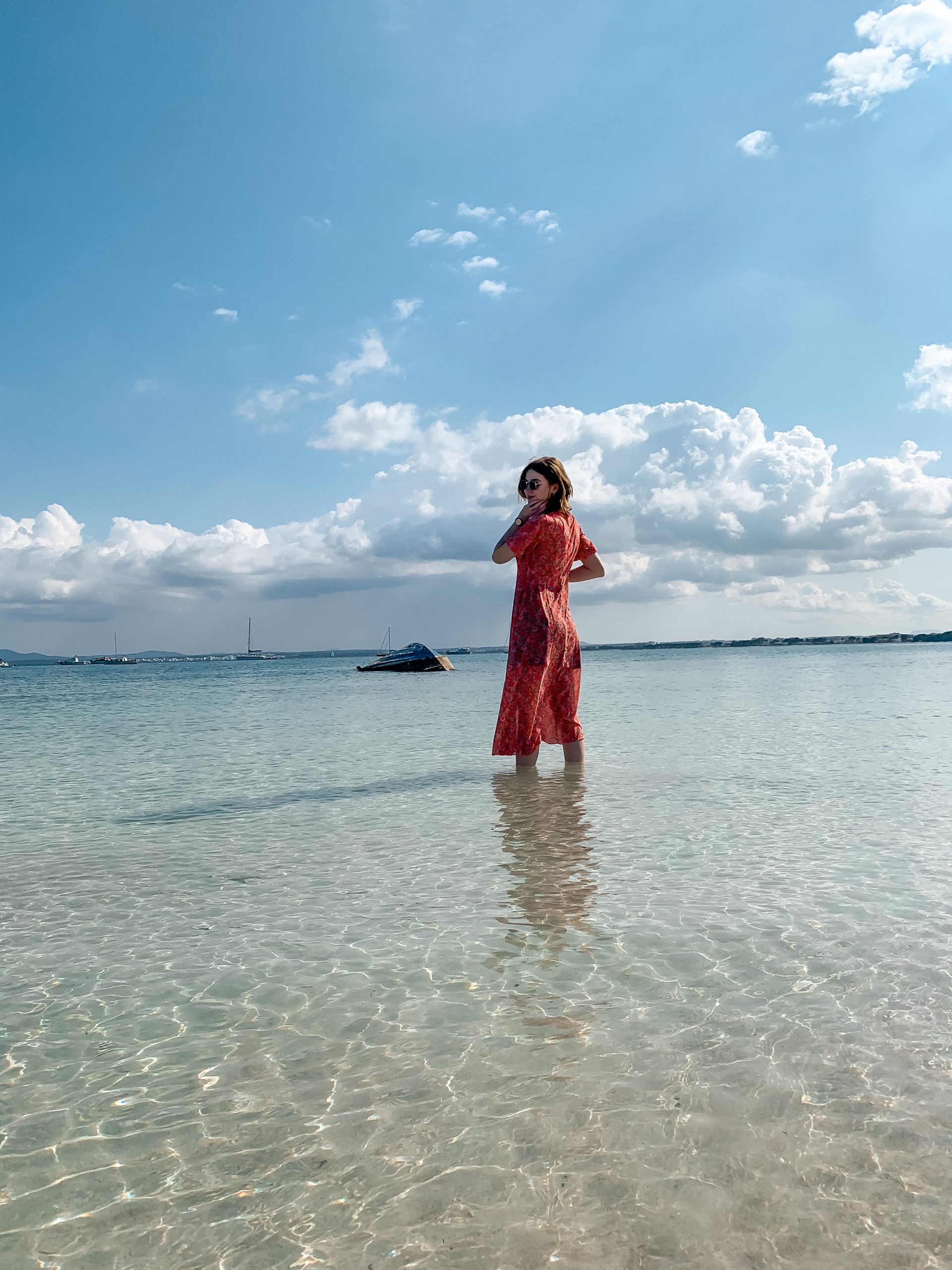 For the brave ones: Go parasailing and see Alcudia from a birds-eye view
An amazing activity to do in Alcudia for my brave readers: Alcudia is a great destination for parasailing. If you are an adrenaline junkie and love watersports this will be interesting for you: 
The bay of Alcudia is perfect for water sports like parasailing because you will be able to enjoy views that are out of this world. While being pulled by a boat you will see the port of Alcudia from a birds-eye view.
If you are brave enough, this is a super fun thing to do in Alcudia and will definitely be one of the highlights of your trip. Plus, you get the chance to tell your friends about it and make them jealous 😉
You can find more information and book your ticket here.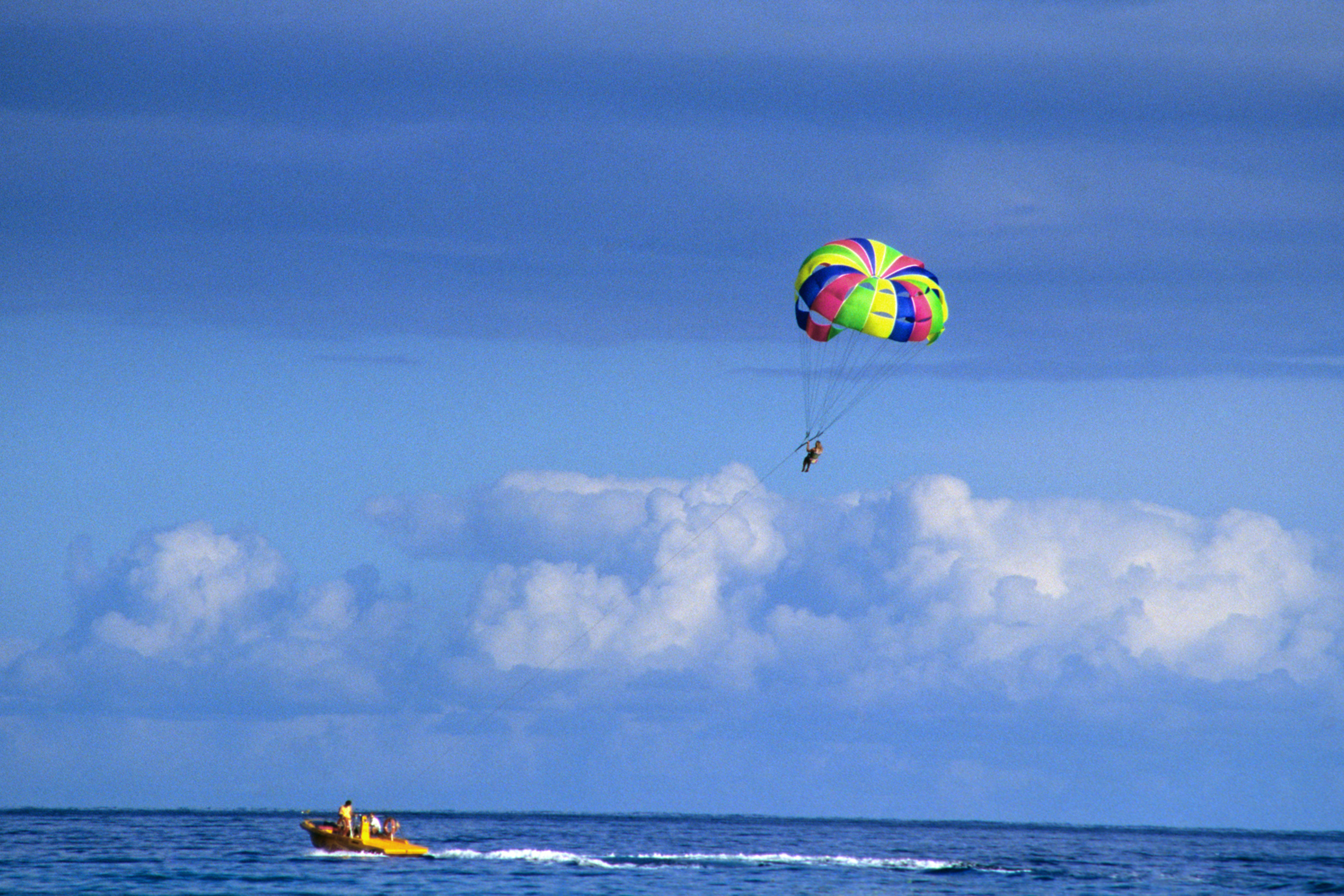 Enjoy a day at Hidropark and go down their countless water slides!
Another attraction in Alcudia for families: The Hidropark in Alcudia is a popular destination for families during the warmer summer months. It's the only water park you can find in the North of Mallorca with many water slides and several pools where you can spend your whole day. 
It is located in a spacious area covered by green grass where you can get a little break from hanging out in the water the whole time. You can also rent out a bed to lie on and store your belongings in the locker (You have to pay for that!) By the way, it also has a wave pool and many other different attractions you can visit. If you are staying in Alcudia, Pollença or Can Picafort, this water park is only a short drive away. 
You can buy your entry tickets to the Hidropark here.
Did you know you can go dolphin watching close to Alcudia? 
There is a very special thing you can do in Alcudia that you cannot do in many other places when you go traveling: Dolphin Watching. Cap Formentor and the surrounding areas are known to be a spot where you can find dolphins when you go with someone that knows the area and knows where you can usually find them. Most tours start in the morning around sunrise when the water is calm. And the benefit of that is that you can experience an amazing sunrise on your boat trip.
I found this amazing tour on Get Your Guide where you can go dolphin watching around Alcudia with a small group of people on a smaller-sized boat. I have been told by fellow travelers that went dolphin watching that you should go on a small boat as the bigger boats tend to get crowded and you may not see as much and therefore have to admire dolphins from the distance.
This tour also includes a short stop at the beach Es Coll Baix, which is a very idyllic beach in Alcudia with turquoise water, the perfect place for a swim. 
You can find more information about this tour and book your tickets here.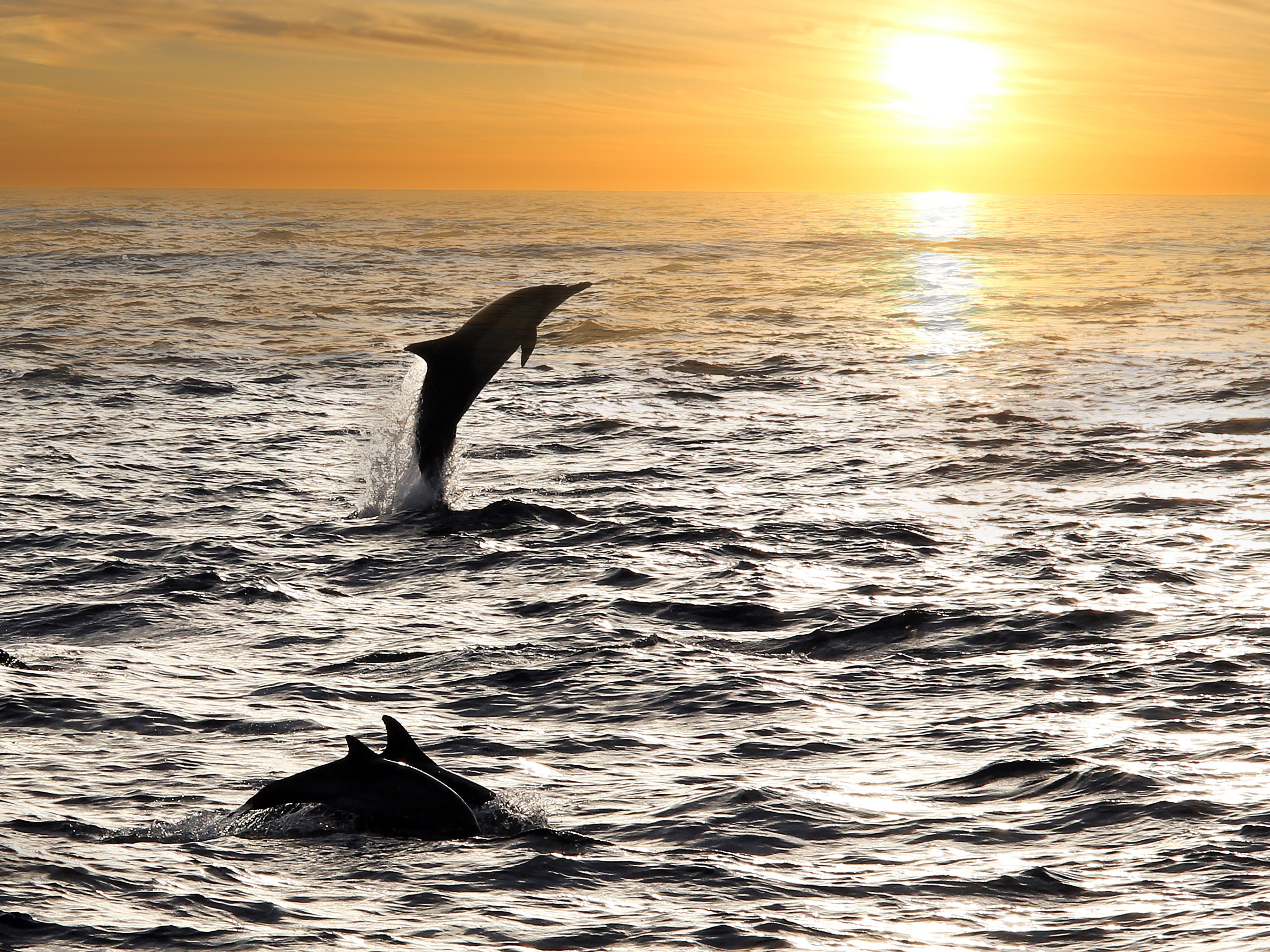 Bad weather or prefer to stay inside? Visit museum "Museo Sa Bassa Blanca"
I really wanted to add a bad-weather alternative for visiting Alcudia and here it comes: Museo Sa Bassa Blanca. It's a beautiful modern art museum that is only a short drive away from Alcudia. 
The museum has a wide outside area which includes a sculpture park and a rose garden. Especially, if you come to Mallorca in May or June you will find stunning roses of different species there. Apart from that, you get to admire paintings from contemporary artists like Miguel Barceló or Gerhard Merz. One of the most remarkable pieces is a fossil of a rhinoceros in front of a curtain made out of 10.000 crystals that were donated by the Swarowski family.
You can buy your entry tickets for the Museo Sa Bassa Blanca museum here.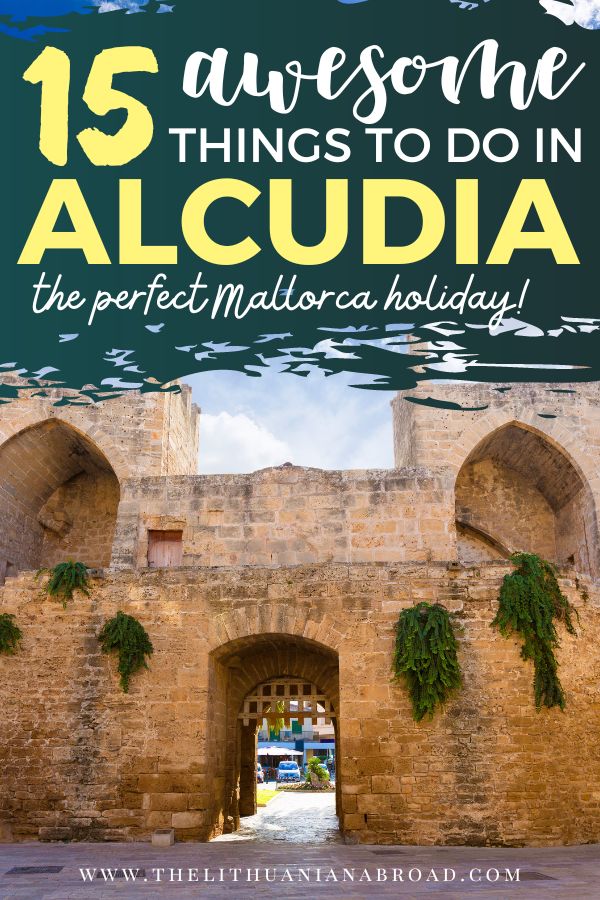 Hike to the viewpoint "Mirador Penyal del Migdia"
Did you know that Mallorca is the perfect hiking destination? There are so many places in Mallorca where you can go for a hike and have an amazing day trip if you feel like something else than staying at the beach for the whole day. A very popular hiking trail in Mallorca is the hiking trail to the viewpoint "Mirador Penyal del Migdia". 
First, you have to drive to the parking lot at Ermita de la Victoria, which is a small church in Alcudia. Make sure to already arrive in the morning as finding a parking place tends to get tricky in Mallorca during the day. The hike already starts from the parking lot where you just have to follow the blue marks on your route. So there is no way you can get lost!
I have not done this hike myself but from what I have seen, you really should wear comfortable shoes and be comfortable with heights as part of the hiking trail takes you over cliffs (it's not really dangerous, don't worry!)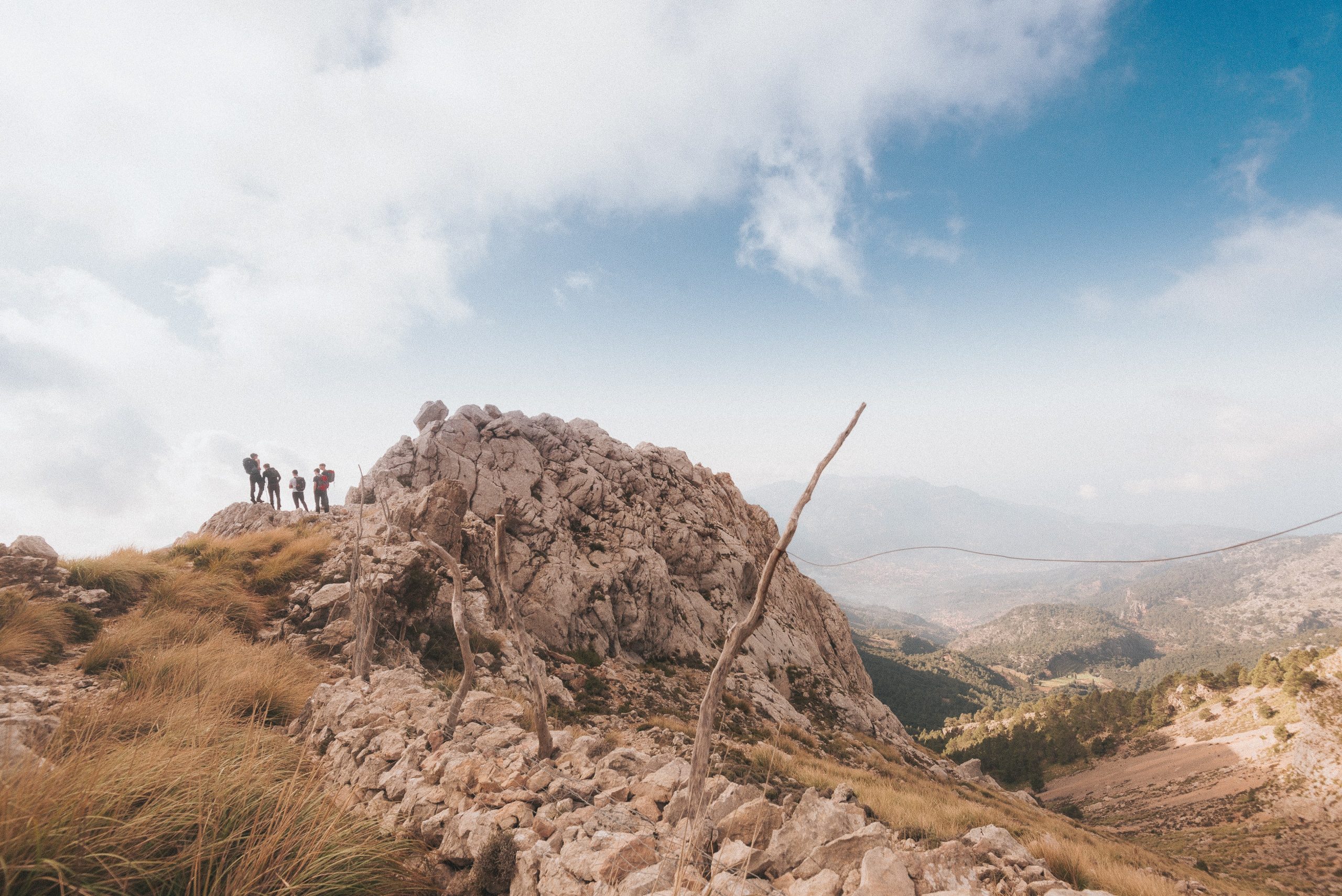 Do a one-day trip to Cap Formentor to see mindblowing views
Cap Formentor is the northernmost point of Mallorca which locals like to call "the meeting point of the winds". The tip of the island is a popular tourist attraction and there are many things that you can do there. 
Before you even get to Cap de Formentor there is a gorgeous viewpoint called "Mirador Es Colomer" where you can admire the beautiful rock formations right next to the sea. The views are incredible so make sure to stop there on the way.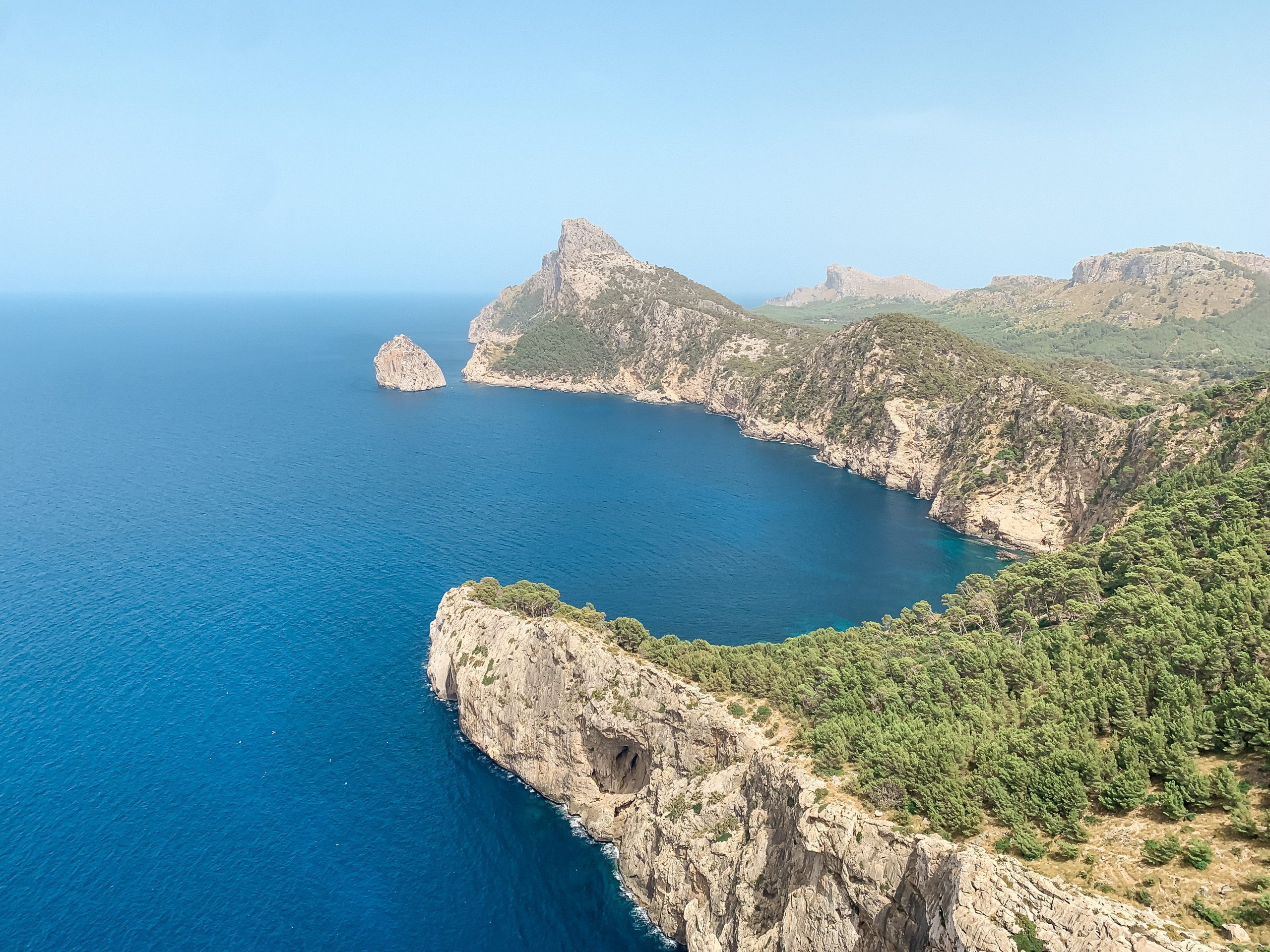 Close to Cap Formentor are a couple of beautiful beaches you can visit, the most popular ones being "Playa Formentor" and the bay "Cala Pi de la posada". The water is very clear there and the trees are giving you enough shade to spend a whole day there.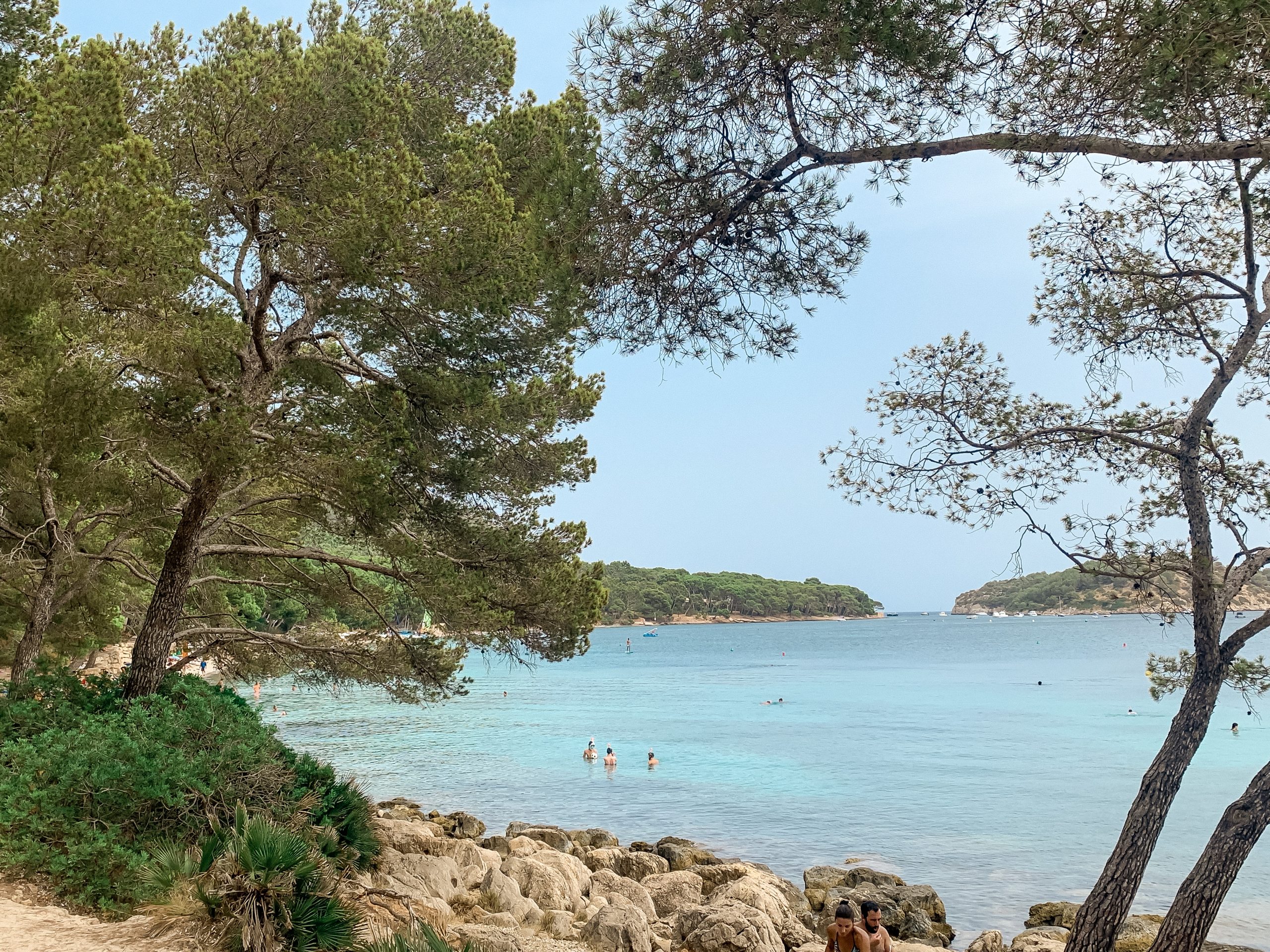 If you have more time on your hands, I would suggest going to Cala Figuera. There is a point where you will have to leave your car in a parking lot and from there, you have the option to take the bus or walk to Cala Figuera, which will take you around one hour. The beach is very beautiful and quiet since not many people go there. 
Have drinks at the bar Cocoa and spend the night at Banana Club!
Did you think that a small town in Mallorca like Alcudia would not have a party scene and you would have to spend your evenings in your hotel room? Nope, that's not the case. When I went to Alcudia with my friends we were surprised with how many bars we could find open in the evening. If you walk around the port, you will see many bars open where you can sit down and enjoy a drink. One bar I can recommend here is COCOA which offers delicious cocktails and any other drinks you like. Locals and tourists go there in the evening to enjoy a drink and hang out in the chill area of the bar. 
If you want to go out at night, you have to make sure to go to Banana Club which offers different theme parties and events every week. When we went there the club hosted a full moon party. And believe it or not, people do stay there dancing until sunrise!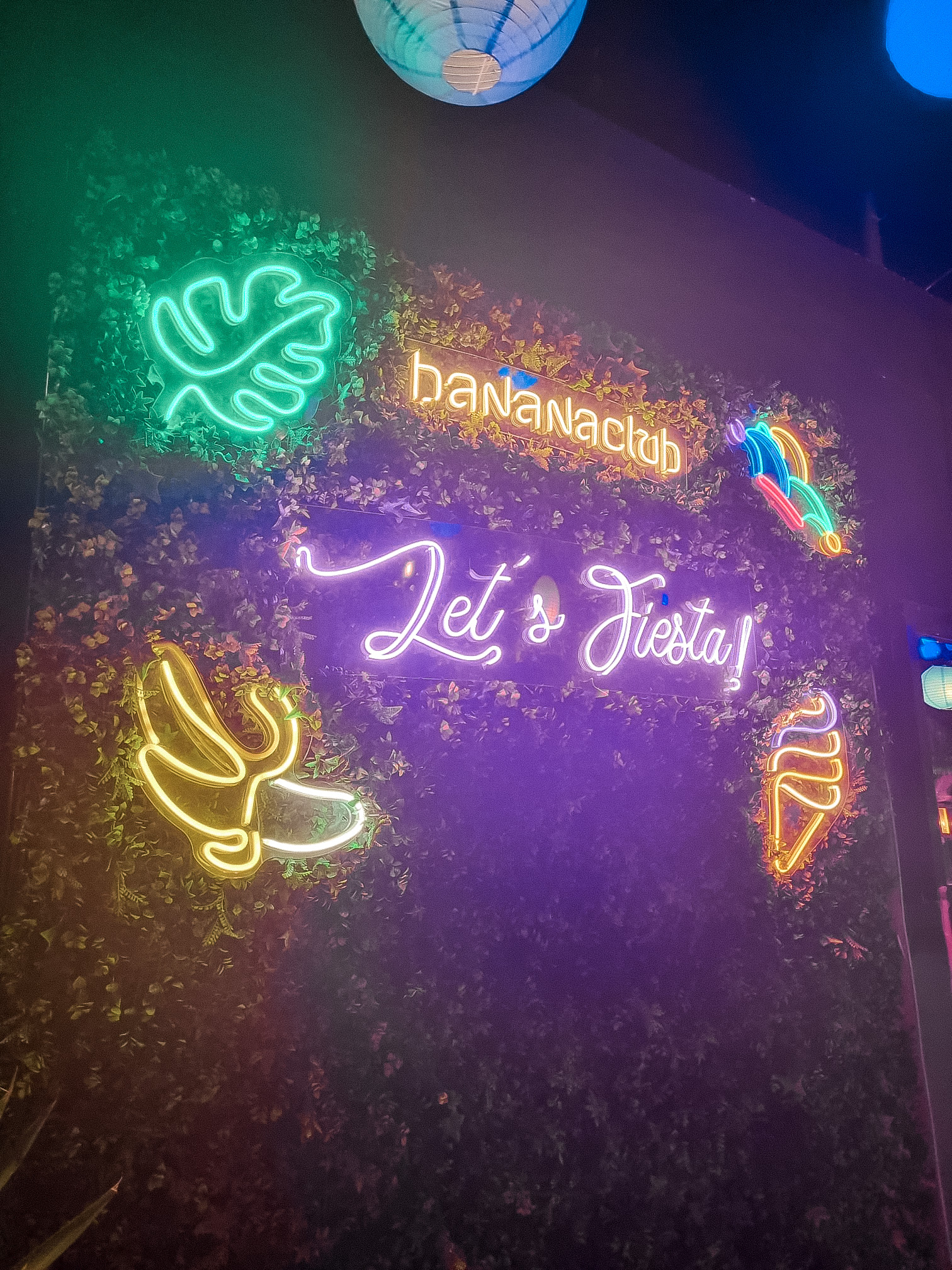 ---
I hope you enjoyed this blog post with 15 activities and things to do in Alcudia! I am very glad we decided to stay in this area of Mallorca because it had so much to offer. There are amazing beaches nearby, you can check out nature or go to another close town. We had so much fun during our stay in Alcudia. I really cannot wait to come back and explore more 🙂