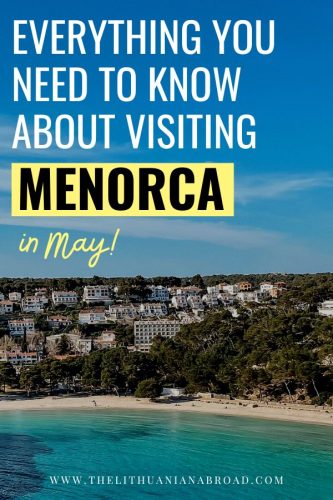 This May my boyfriend and I decided to go on a spontaneous trip to Menorca. Four days on one of Spain's most beautiful islands. A true dream! And yes, the weather in Menorca in May was incredible as well. 
This trip was very spontaneous for us because we actually planned to go somewhere else. But then we found a very good deal for a hotel in Menorca and found cheap flights as well. So Menorca it was! Personally, I already had been to Mallorca before, another Balearic island very close, and absolutely loved it. This means that my expectations for Mallorca were very high. If you are also planning on visiting Menorca in May, keep reading. We will talk about the weather in Menorca in May and whether this island is worth visiting! 
---
Affiliate links may be sprinkled throughout the free content of this blog post. If you purchase from one of the links I may receive a small commission while the price for you stays the same. This helps me cover the costs of The Lithuanian Abroad. Gracias!
Other blog posts you have to check out: 
The best bucket list for visiting Mallorca!: Another Balearic island you have to visit. This blog post features the best activities you can do in Mallorca, boat trips, beaches, and more!
13 incredible city breaks in Spain you should know about: In this blog post we talk about 13 awesome cities you have to visit in Spain. Check it out for inspiration for your Spain trip. 
A self-guided walking tour itinerary in Barcelona: This blog post includes a self-guided walking tour itinerary for Barcelona. Perfect for one day in Barcelona.
Things to do at night in Madrid that aren't just partying: This blog post features all kinds of activities you can do in Madrid at night. And no, it's not just partying! Check it out here.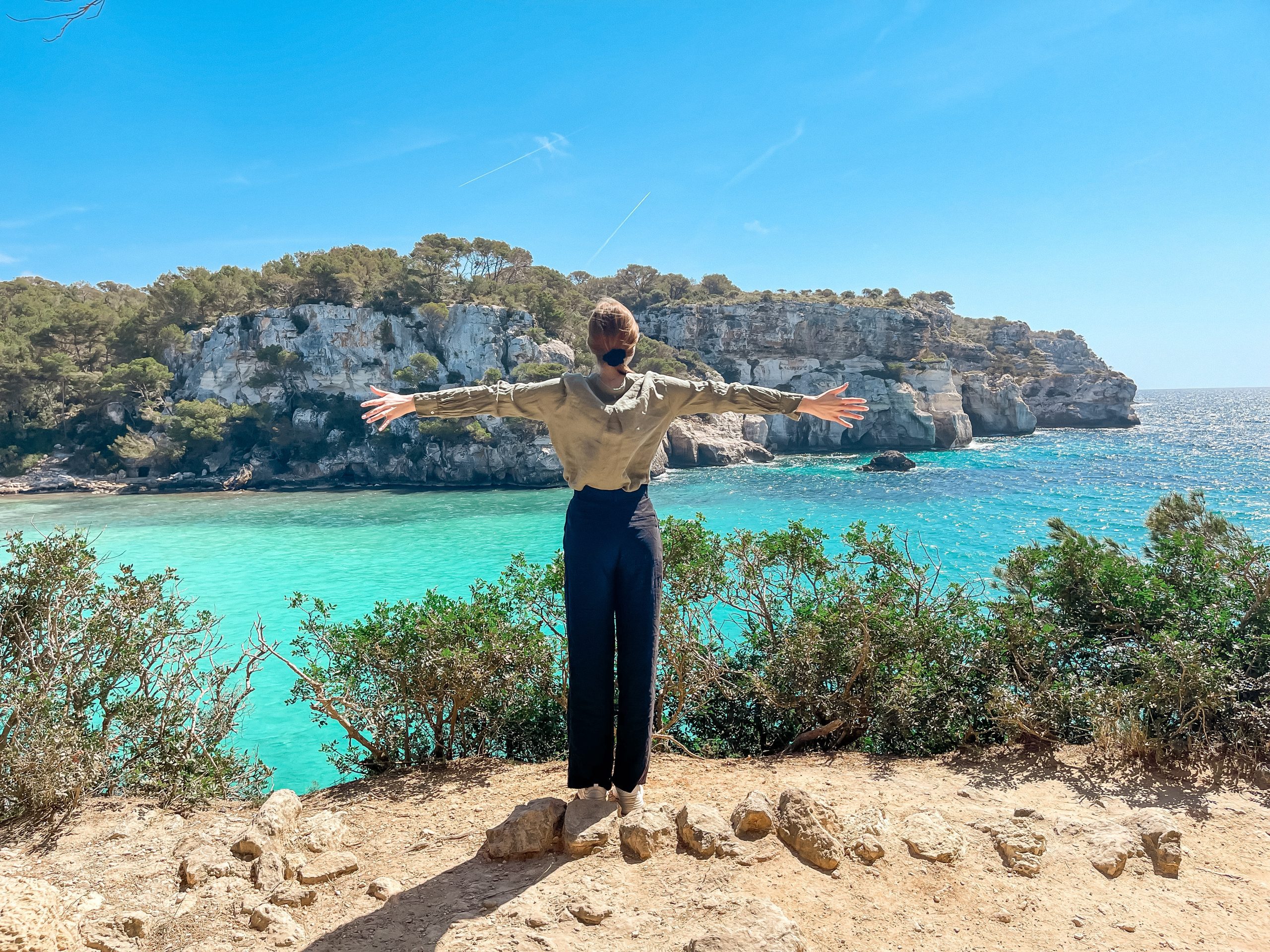 How is the weather in Menorca in May?
We went to Menorca in May 2023 and were very lucky with the weather. It was very cozy and sunny during the day, with temperatures going up to 22 degrees. That does not sound like a lot, but the sun definitely makes it feel much warmer. I sometimes had to look for shade because the sun was quite intense during midday. 
At the same time, it was also very windy. Being an island, Menorca does get a lot of wind at pretty much any season. The wind in the evening was very intense. Especially, if you plan on watching sunsets at popular cliffs or other spots outside, I recommend bringing a proper windbreaker!
At night, it does cool down significantly to a minimum of 10-13 degrees. I wouldn't exactly call it cold, but I think you will need a jacket for the evening. When we stayed in Menorca I had a big jumper with me, but looking back I would have taken a jacket that could protect me from the wind as well. 
Something that I want to mention is that several sources told me that we were very lucky with the weather. Usually, it is colder and sometimes it even rains in May!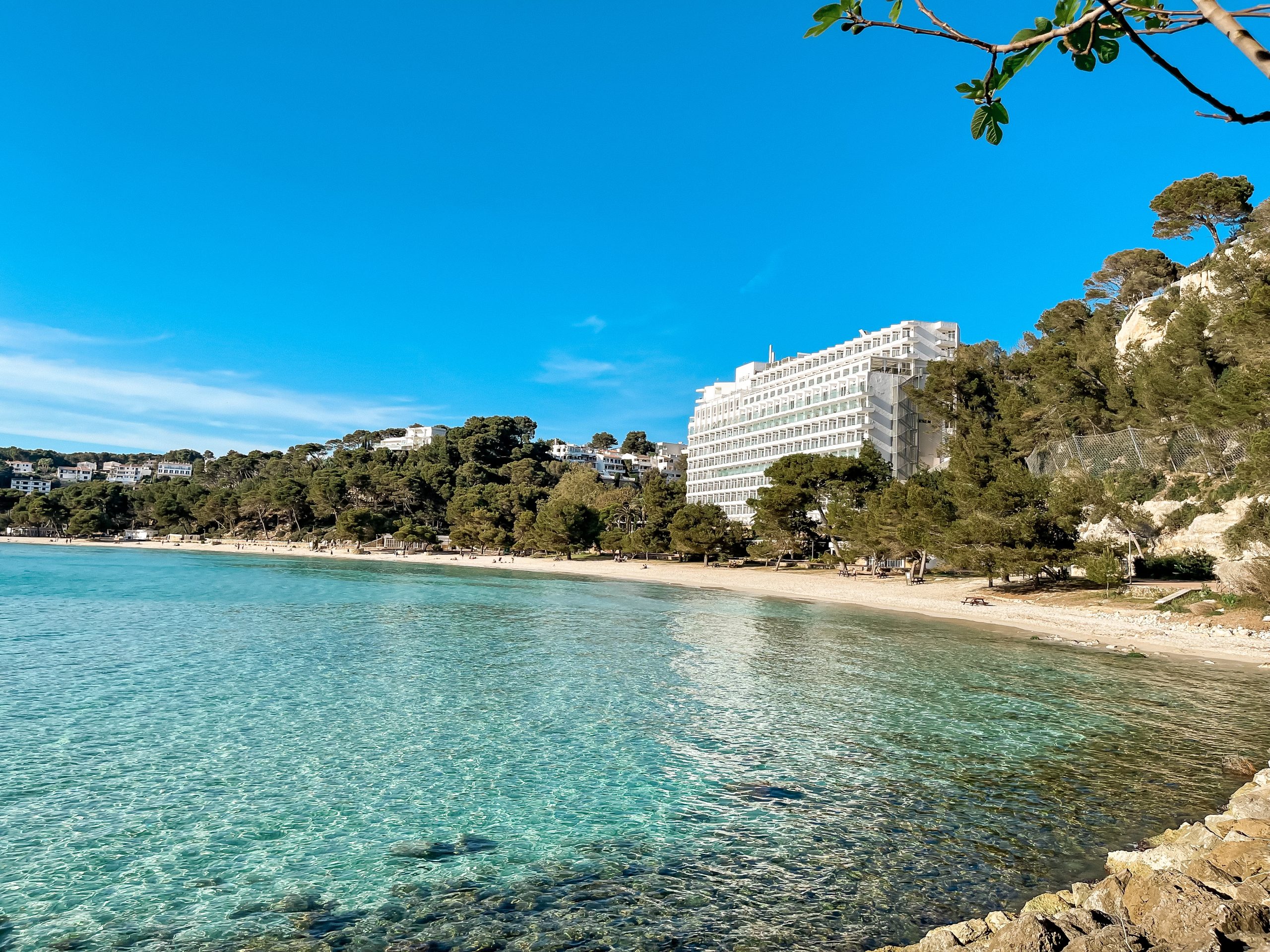 Weather in Menorca in May: Can you swim in the sea?
Oh, that is a tough one! Because technically, you always CAN go swimming if you are okay with cold water 😉
Ok, jokes aside. When my boyfriend and I came to Menorca in May, I think it was a tiny bit too cold to enjoy a swim in the water. We still saw a couple of people trying to go inside (The beaches in Menorca are too tempting!) but the water just felt like tiny needles pinching your leg! 
One day I told my boyfriend that we had to at least try to go for a swim. I mean, we already came this long way and then we just won't even step into the water? Long story short, it took me like 10 minutes to get used to the cold water, I swam for around 10 seconds and then went outside of the water again.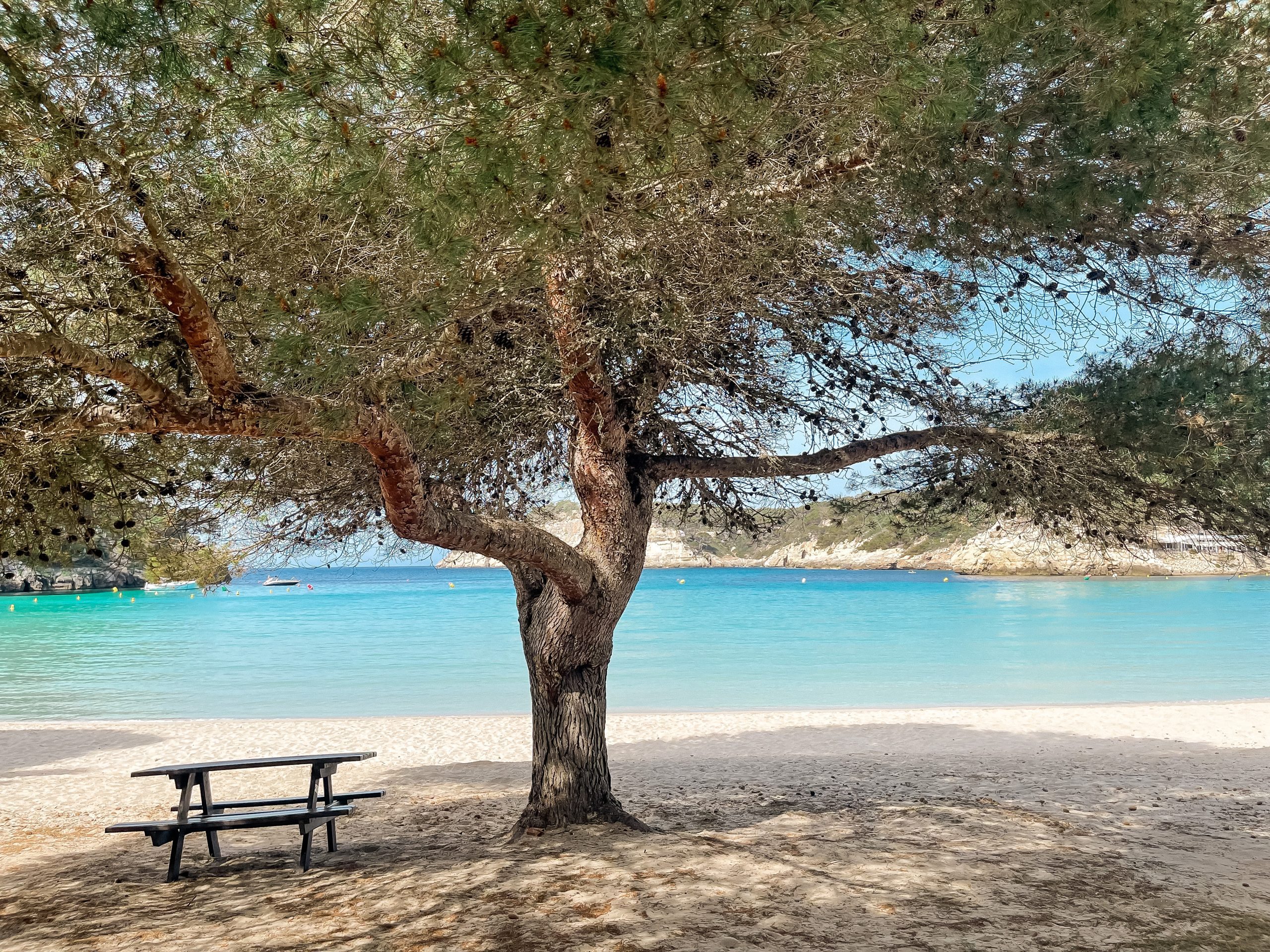 Menorca in May: Is it the low or high season? 
I think that Menorca in May is right on the edge between the low and high seasons. When we visited Menorca, the island felt very empty and cozy. During the weekend, you could feel that the number of people visiting increased, but it was nothing that bothered us in any way. 
Our hotel staff told us that you can tell Menorca is empty because you can find parking spaces everywhere. Something that is very hard during the summer months as most people rent a car during their stay. 
By the way, that also means that some of the restaurants and bars you would like to visit in Menorca might be closed. When we stayed at Cala Galdana, two of the four restaurants close to the beach were open. Which was more than enough for us.
I realized that when we visited Binibeca. We had saved this location before and was looking forward to visiting it. We expected open restaurants with places outside facing the beautiful beach. But almost everything in this area was closed. You can definitely find one or two places that are open. But in general, the island is quieter. 
Menorca in May: Fun activities and things to do
If you don't want to spend the whole day at the beach in Menorca and want to explore the island, keep reading. May is the perfect month for hiking in Menorca, which is what we did when we visited the island. We stayed in Cala Galdana and there were several smaller hikes that you could do in the area. That was perfect for us. For example, you can hike to Playa Macarella, which takes around one hour and the views are perfect!
Apart from that, I would recommend visiting Mahón and Ciutadella as well. Both are very cozy cities that you can visit in one day. When leaving Mahón, make sure to stop at the Lithica quarry. This is an old stone quarry that was turned into an art and cultural center. The whole area is outside and honestly, something I have never seen before!
If you feel even more adventurous, I would check out GetyourGuide for snorkel tours and boat trips. When we visited Menorca not many tours are available. But maybe you will have more luck!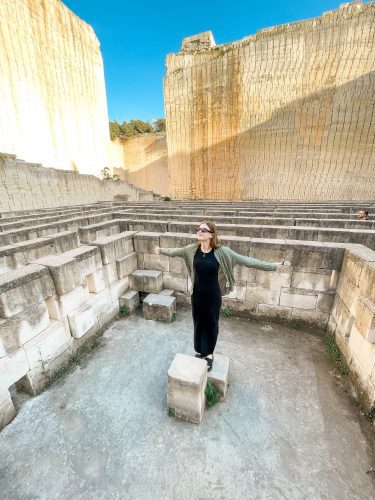 Weather in Menorca in May: Where should I stay? 
There are so many places where you can stay in Menorca, that it will be hard to pick. Personally, I can absolutely recommend the Melía Hotel on Cala Galdana. Make sure to check out the prices as we were lucky to receive the low season price when we stayed there. One night in a gorgous double room cost us 110€/night with breakfast included. The views from the Hotel are absolutely crazy! And you really won't say no to the breakfast buffet.
Apart from that, there are so many other areas and hotels where you can stay in Menorca. I have heard that Menorca is famous for its adult-only hotels that promise their guests a relaxing experience. Check out this beautiful and modern adult-only hotel in Mahón.
Or, if you are more into staying closer to nature, Menorca also has many hotels that promote "agrotourism" which is sustainable tourism on the island. Check out this beautiful hotel which is located on a sustainable farm in the middle of Menorca. A true gem!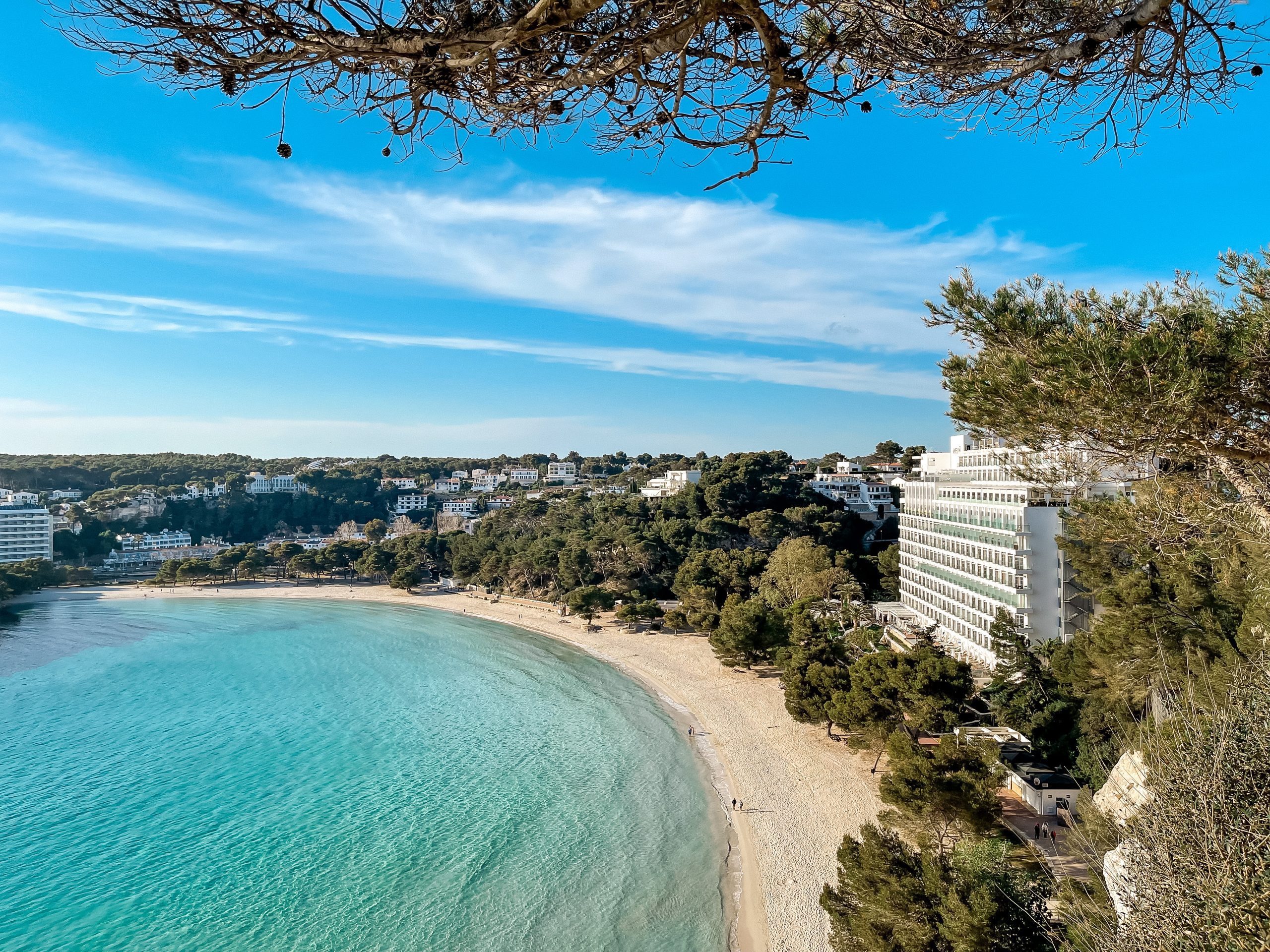 Menorca in May: Make sure to rent a car
As previously mentioned, most of the people visiting Menorca will rent a car. It is the easiest way to move around the island. Especially, if you want to visit different beaches and areas of Menorca you will need a car. And don't worry! Renting a car is by far not as expensive as it seems. We rented a car for 4 days and paid less than 100€ in total.
We used rentalcars.com in order to look up the best deal and were really glad we did! The prices were truly unbeatable! By the way, we thought we were going to spend more money on gasoline than we did. Menorca is a really small island and you can get around by car much easier than you think.
Check out rentalcars.com in order to find the best deal for your rental car in Menorca.
Weather in Menorca in May: What should I pack? 
Very good question! We only traveled with carry-on luggage and it kind of worked. What I would absolutely recommend beforehand is to take sunscreen with you. It may not look like the sun is intense, because the wind is refreshing, but believe me, we saw so many sunburnt people! 
Apart from that, I would suggest packing a good windbreaker because Menorca in May tends to be very windy! Especially, if you want to go outside for a walk after the sun went down, a good windbreaker or jumper will be a lifesaver. 
We ended up walking a lot during our Menorca trip. If you end up staying in Cala Galdana as we did, you can easily walk to Playa Macarella, which will be a pleasant 50-minute walk one-way. While I think you can make it without proper hiking shoes (unless you actually want to go hiking) you definitely need some good sneakers, that can get a little bit dirty. 
Then, I would suggest taking the basics for an island trip, make sure to bring your sunglasses and hat, so that you can hide from the sun.