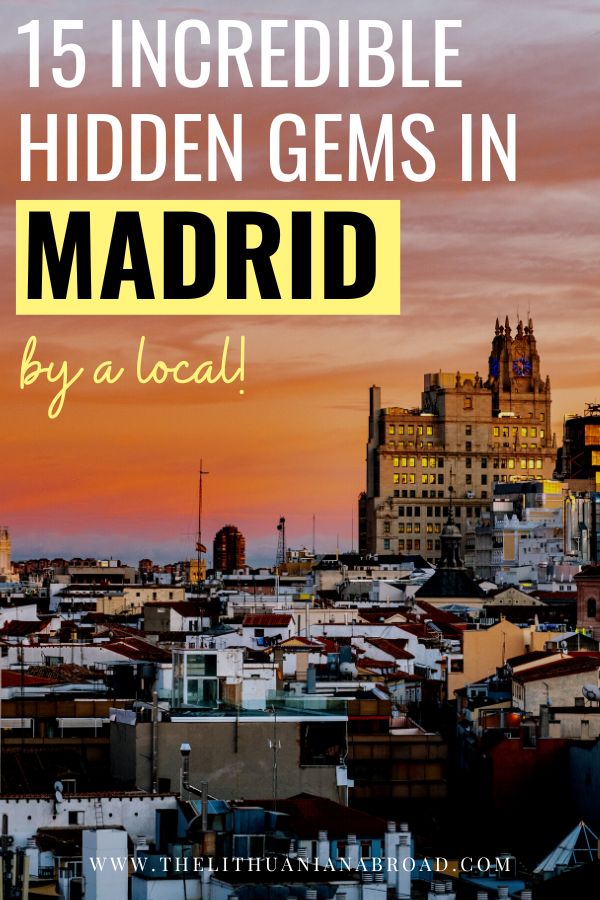 After living in Madrid for more than 6 years, I think I can say I have seen A LOT of the city. So, when people visit me I always know about the best places to take them to. Prado Museum, Retiro Park, the whole tourist itinerary. But if you have already done all of that and would like to find out more about the hidden gems in Madrid, keep reading. This blog post is for everyone who has seen Madrid's essentials and has been to the major points of the city. This blog post won't feature Gran Vía, Puerta del Sol, and the most important museums in Madrid. 
What you will see here are the lesser-known places, the secret spots in Madrid that most people miss. This hidden gem list for Madrid includes my favorite parks, hidden cocktail bars, and rooftop bars you don't have to queue for! Then, of course, we will talk about the best food places, shopping spots, and other interesting locations. So, keep reading, here come 15 hidden gems in Madrid!
---
Affiliate links may be sprinkled throughout the free content of this blog post. If you purchase from one of the links I may receive a small commission while the price for you stays the same. This helps me cover the costs of The Lithuanian Abroad. Gracias!
Other blog posts about Madrid you should know about: 
104 cheap things to do in Madrid: This blog post features an incredible list of all kinds of low-budget activities in Madrid. Madrid does not have to be expensive! And this blog post proves it!
Things to do in Madrid at night: This post features all kinds of fun activities you can do at night in Madrid. And no, not just partying! Find out more about Flamenco shows, night tours, cocktail bars, and more!
25 museums in Madrid you can visit for free: Did you know that many museums in Madrid have times when you can visit without paying entrance? Yes, the Prado and Reina Sofia Museum are on this list as well. Check it out here.
Gifts & Souvenirs to bring back from Madrid: This blog post gives you amazing ideas about what to bring back home to your friends and family from Madrid. We will talk about wines, olive oil, and more original gifts.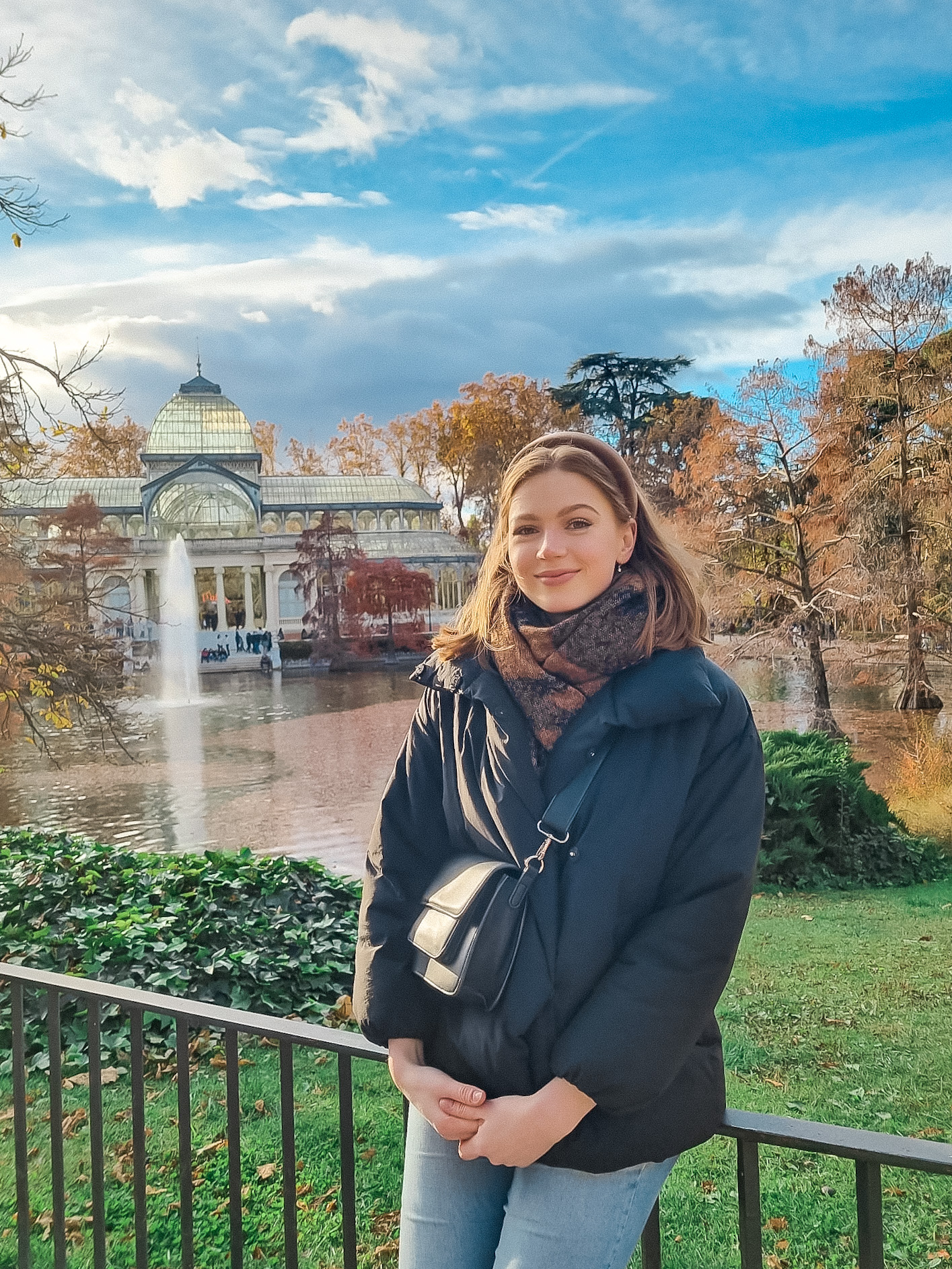 Make sure to do a free walking tour in Madrid: 
Free walking tours are my favorite things to do whenever I am visiting a city for the first time. They are truly the best way to see a city's most important monuments and locations in only one afternoon. You will learn so much about Madrid's history and culture!
How do free walking tours work? Free walking tours do not come with a set price, hence they are free. You will spend one afternoon walking around Madrid with your local guide. The local guides really are the best part of the tour. They really do their best to show you the city from the eyes of a person that lives there. At the end of the tour, you have the chance to give your local guide a tip. And how much you want to tip them is completely up to you! Usually, it depends on your budget and on how much you liked the tour. 
(P.S They offer tours in different languages. I took my mom to a free walking tour in German and she loved it!)
You can find all free walking tours for Madrid here.
The ultimate hidden gem in Madrid: The best Flamenco Show in Madrid
Of course, you cannot visit Spain without going to an incredible Flamenco Show. Even though Flamenco is from the South of Spain, you can also see amazing Flamenco performances in Madrid. I usually always recommend Flamenco Shows to visitors and until now, everyone has enjoyed them so far!
Flamenco is a very emotional dance that origins in Andalusia, the South of Spain. It features men and women dancing in traditional Flamenco gowns. A show is typically accompanied by a Spanish guitar, and believe me, it will be the highlight of your Madrid trip! If you have not been to a Flamenco Show yet, I truly recommend going to one.
There are many Flamenco Shows in Madrid while I really recommend this one. The space is smaller and more intimate. That way, the dancers perform right in front of you. Truly authentic and beautiful!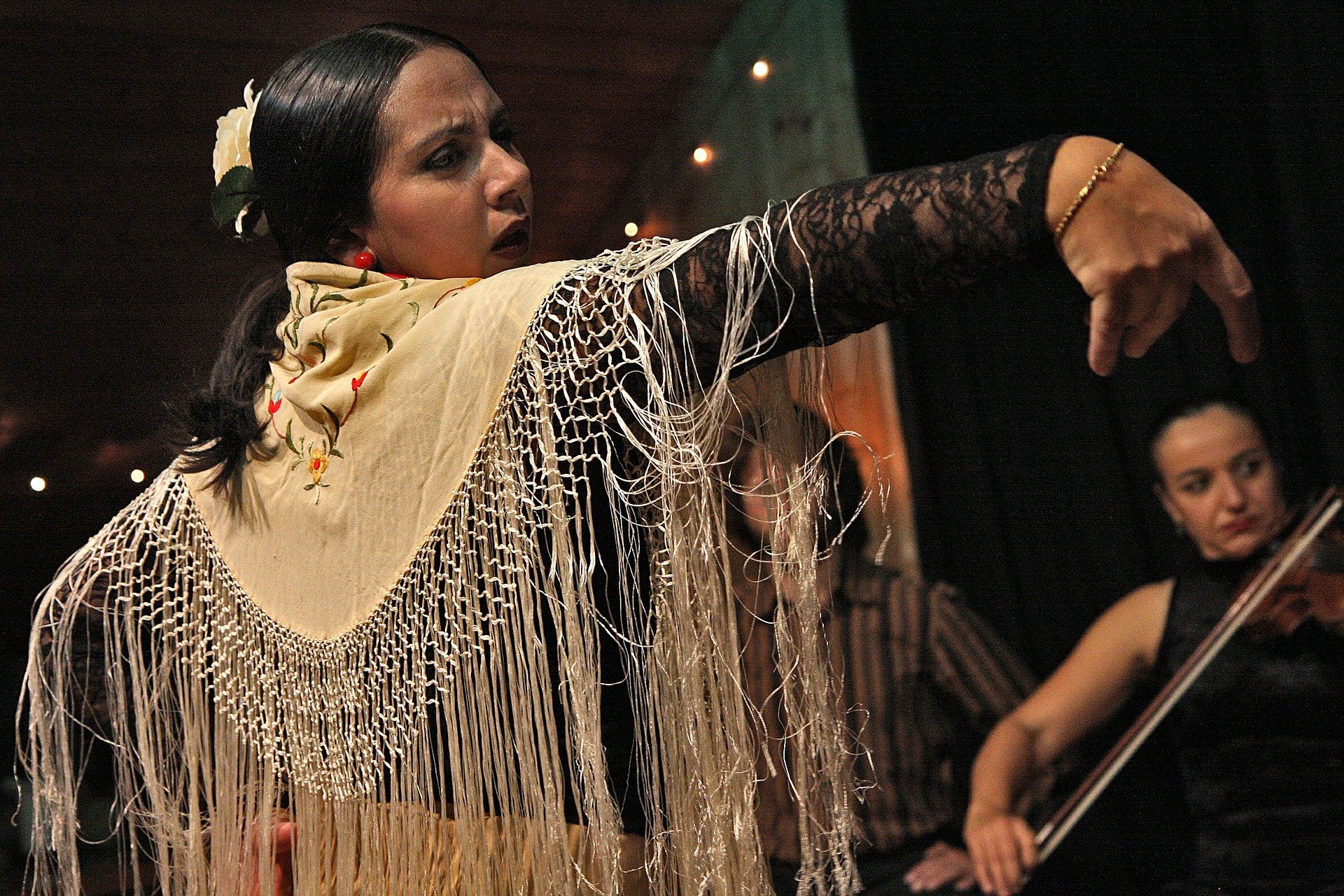 Let's start: A list of the best hidden gems in Madrid!
Anden 0, Madrid's old metro stop you can visit 
The first hidden gem in Madrid on this list is a big one. Because I love sharing my favorite places and you won't find it in any tourist guide. If you have ever been on the metro in Madrid between the stops Bilbao and Iglesia you might wonder why the train is passing a lit area but does not stop there. The answer is that this place used to be a metro stop in Madrid, from 1919 until 1966. Even though the metro stop was closed, the whole area is preserved and didn't change since then. 
The best part about it is that you can go on guided tours around this closed metro station. You can see the old ticket shop, the old tiles in the whole area and learn about Spain's public transport history. I took my boyfriend there once, and we had an incredible time!
You can make a reservation for the guided tours here. (in Spanish!)
Parque de las Siete Tetas, Madrid's underrated park 
"Parque de las Siete Tetas" literally means "parks of the seven bo0bs" in Spanish. Weird name, I know. But this park in the South of Madrid is the perfect place to watch the sunset. And it has by faaaaaaar fewer people fighting over an inch of grass than the area around Templo de Debod at sunset. Apart from that, you have incredible views of Madrid from over there.
This park of Madrid lies a bit outside of the general touristy areas and is therefore not the destination of too many Madrid visitors. But if you feel like spending a quiet evening in the park watching the sunset in Madrid, give this space a try! 
You can reach this park by walking from the metro stop of "Buenos Aires".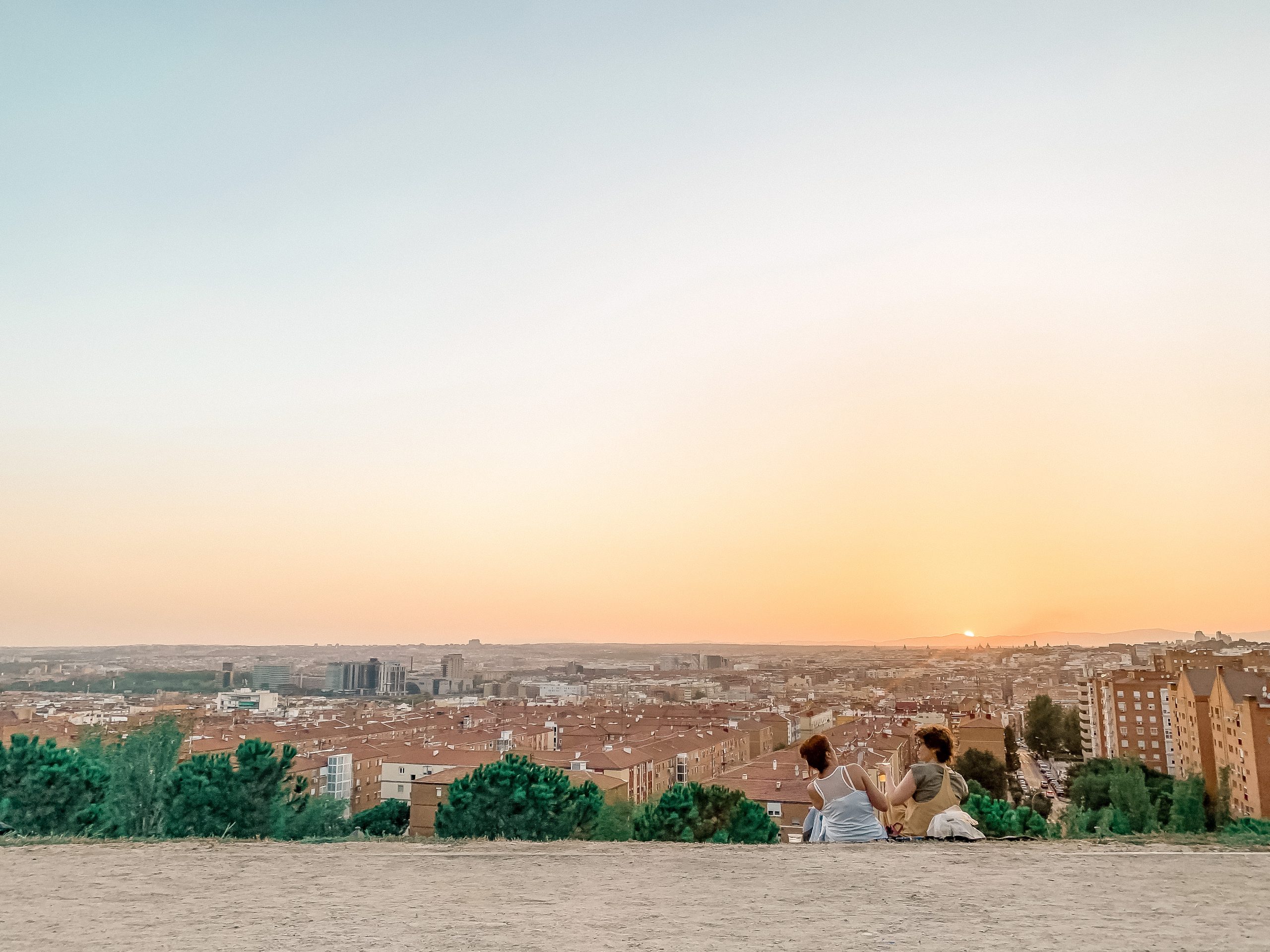 Madrid's most beautiful park: Parque Capricho 
One of the things I have always loved about Madrid is its parks and green spaces. The city itself is so much greener than many other capital cities. That is why there is another hidden gem in Madrid I want to mention here: Parque Capricho. 
Parque Capricho is a park located in the North of Madrid that is very popular amongst locals. Every weekend this park is full of families spending a day in the park together and enjoying nature. What you will find is a park with English influence with a small temple and beautiful statues. One of Madrid's most beautiful parks for sure!
You can reach Parque Capricho by walking from the metro stop "Capricho".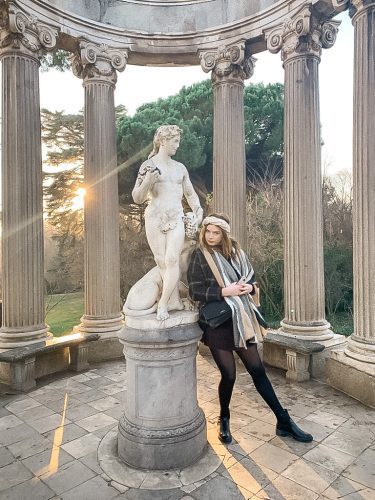 Mercato Italiano, for incredible aperitivos in Madrid 
If you have been in Madrid for a longer time and want to try something else apart from all the incredible Spanish food, I have THE PLACE for you! Mercato Italiano is a gorgeous Italian restaurant in the North of the center, that is really worth visiting. But what makes this Italian restaurant a hidden gem in Madrid? 
On Wednesdays, Mercato Italiano offers incredible aperitivo menus. That means, you pay 17€ and get 2 Aperol Spritz (or Campari Spritz, beer, wine or similar). That already is crazy because Aperol Spritz usually runs for around 8€ each. But apart from that you will get 3 different Italian dishes to try. They are usually a ham/cheese plate, focaccia, and pasta. While you do not get to pick your dishes, they are all incredibly tasty. I have brought my mom, my friends, here in Spain and from abroad to this place and they all have loved it so far!
You need to make a reservation for the aperitivo menu, which you can do here!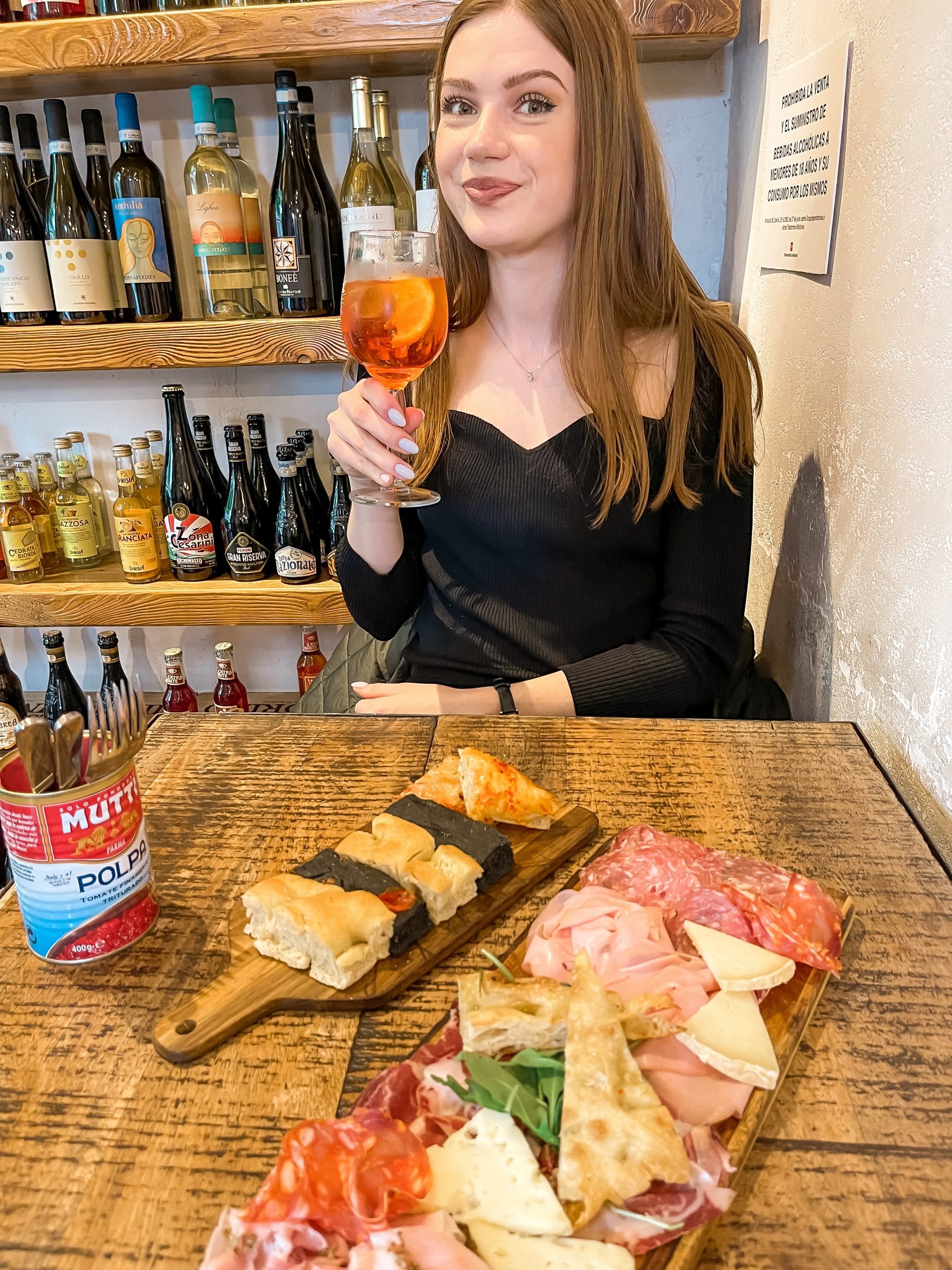 Plaza de Olavide for Breakfast – without queues
This hidden gem in Madrid is so simple, but one of my favorites! Plaza Olavide is a beautiful plaza in Madrid's Trafalgar neighborhood where you will find many locals spending time there. This square is full of restaurants and tapas bars, perfect for an afternoon drink. 
But my boyfriend and I like to come here in the morning to have breakfast at bar "La Oliva". And the biggest plus point: If you come before 11 am on the weekends, you don't even have to queue! La Oliva a very cute place to have a Spanish breakfast outside. 
For me, this is the ultimate hidden gem in Madrid, because my boyfriend and I always pay less than 20€ for both people! We usually order barrita con tomate, coffee, orange juice, one piece of tortilla and one croissant. This place is absolutely amazing!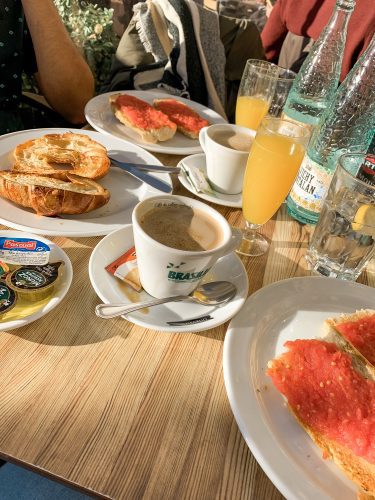 A hidden gem in the Retiro Park: Find the peacocks!
Yes, the Retiro Park is really not a secret spot in Madrid. We all know where it is and we all know how to find it. But I just want to mention a special place inside the Retiro Park that most people miss. Because it is not an obvious spot to walk into. Did you know there is an area in Retiro Park where peacocks are walking around freely? 
I am talking about the gardens of Cecilio Rodriguez which features stunning water fountains, trees, and plants. If you are lucky you should be able to hear and see peacocks while walking around there. Even though many tourists come to Retiro Park, they often miss this incredible area. Put this area of Retiro Park at the top of your bucket list for Madrid!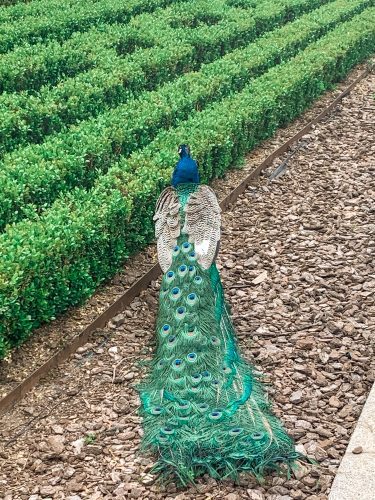 Have the most instagrammable brunch in Madrid!
If you love trying out brunch places just as much as I do, keep reading. Madrid is full of incredible brunch places. It does not matter what your budget is, your preferences, or your go-to dish, there is a place for everyone. Here, I want to mention a place you should try out if you want to make your brunch a bit more extra, a bit fancier, a bit more Instagrammable: Jardín Secreto de Salvador Bachiller
This beautiful rooftop (!) place is located on the last floor of the Spanish chain "Salvador Bachiller" and is probably the most instagrammable brunch place in Madrid. The whole area looks like a garden and is covered in colorful plants. Apart from that, you can find a swing, gorgeous sculptures, and a colorful brunch menu. 
I have to admit that I find 29€ a bit pricey for a brunch menu. But if you are looking for a special experience, you should check this place out! Make sure to make a reservation before here.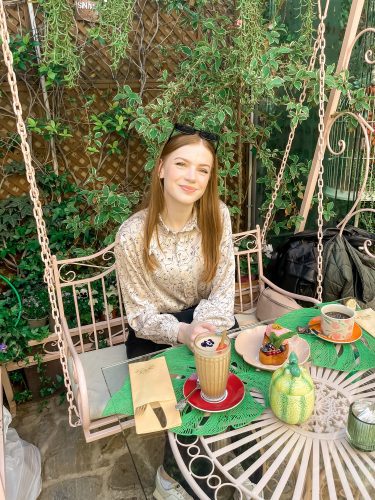 My personal hidden gem in Madrid: The best cocktail bar, I bet you!
I honestly love recommending small businesses in Madrid, the hidden gems of the city that really make Madrid the incredible place that it is. And this cocktail bar will always be one of my favorite places in Madrid. If you really don't know which hidden gems in Madrid from this list you want to try, make it to this cocktail bar!
The bar is called El Especial Taller Bar and is located in Malasaña. Christian is a very talented barkeeper and knows everything about cocktails. The mindblowing thing about this bar is that it doesn't have a menu. Because honestly, Christian doesn't need one. He will make you any classic cocktails you can imagine. By the way, he makes the best Espresso Martinis in town. Hands down.  But if you are unsure, just tell him what you feel like and what liquor you like, and he will make you a custom creation that will be absolutely delicious!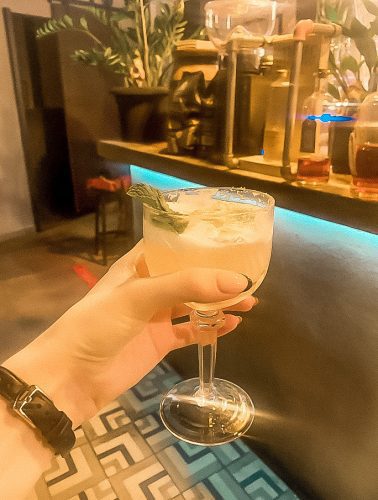 Find the hidden beach in Ojalá
Ojalá is a hip bar in the center of Madrid's Malasaña neighborhood. Malasaña is famous for its original bars with a fairly young crowd. You will truly find all kinds of hipster bars, coffeeshops and restaurants in Malasaña. And Ojalá is one of them! 
This place serves original drinks and nice bar food. But the special thing about Ojalá is actually their downstairs area. Which is a beach. Okay, not an actual beach. But the whole downstairs area is covered in sand, and is pretty dark but lit up beautifully. You can sit down there and enjoy a drink on the beach. Don't believe me? You should check it out!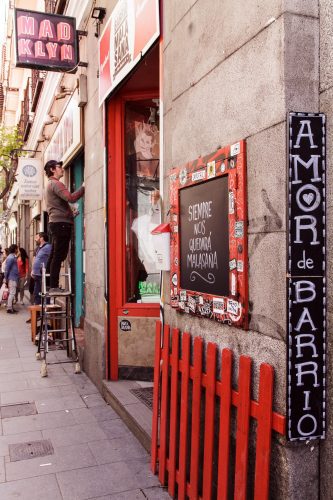 Speakeasies in Madrid you should know about!
If you love cocktails just as much as I do I am sure you love going to speakeasies. Those are places that do not look like bars from the outside at all. So you would never guess this place is actually a cocktail bar, only if you know about it. The concept of speakeasies is getting more and more popular. In Madrid, there are several speakeasies you can visit : 
La Santoría: You really wouldn't be able to find this place unless you know it's actually there. This bar is located in the Las Letras neighborhood and has a very dark and mysterious vibe. You will see religious ornaments and photos in the whole area. It is decorated to the last detail and has an amazing atmosphere. 
Jack's Library: A hidden bar in Madrid's vibrant Chueca neighborhood. This bar really looks like an old library from the inside. You would never guess this place would serve one of Madrid's best cocktails. Put this hidden gem in Madrid on your list!
Maybe you have heard about other speakeasies in Madrid. But I honestly don't consider places with HUGE QUEUES outside as speakeasies. In my opinion, these 2 are the best ones.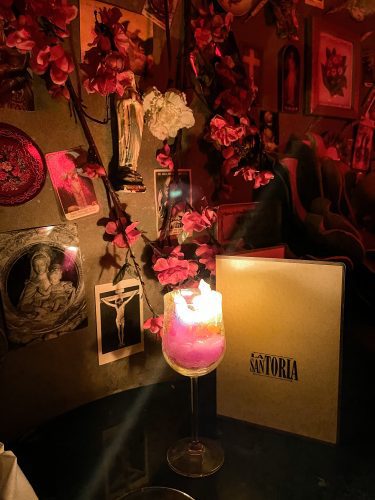 Go to Madrid's lesser-known museums
The Prado or the Reina Sofia museum are not hidden gems in Madrid, and I am sure you know about them and have probably already visited them. Madrid is a great place to visit if you want to learn more about history and art. There are so many museums you can visit in Madrid. I actually wrote a blog post about museums in Madrid that you can visit for free. If you feel like visiting some smaller museums, you should check this list out!
Now back to hidden gems and lesser-known museums in Madrid. Apart from the city's main museums, there are tons of other museums that are worth visiting. Here, I will list three museums that are my personal favorite. Make sure to check them out during your Madrid trip!
Museo Geominero: This little gem of Madrid is the perfect place for everyone who is a fan of gems and precious stones. This museum has all sorts of minerals, fossils, and other interesting artifacts from Spain and all over the world. And the best: Entry is free!
Sorolla Museum: Joaquin Sorolla is a famous Spanish painter that lived in Madrid. His past home is now a museum in the neighborhood of Trafalgar. The home features paintings, old furniture, and a beautiful garden. Absolutely worth visiting!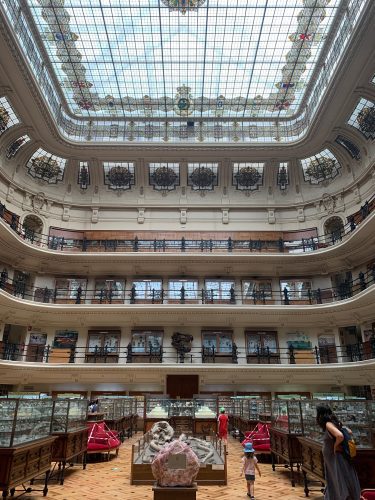 Go Second Hand Shopping in Malasaña!
Malasaña is the boho, hipster, international, and loud neighborhood of Madrid. You will find many students living there, many bars, restaurants, brunch places, and coffee shops. This neighborhood is also home to many smaller shops, local businesses and, most importantly, vintage shops. And that's what I want to put on the hidden gem Madrid list. 
There are countless vintage shops in Malasaña you can visit. That way you can find an original piece that really no one else will have. Of course, there are also many Humana shops here in Madrid, you should check out. Your first destination there should be Calle de Velarde. From there, you can dive deeper into the neighborhood and explore the vintage shops of Madrid. These shops are a true hidden gem of Madrid!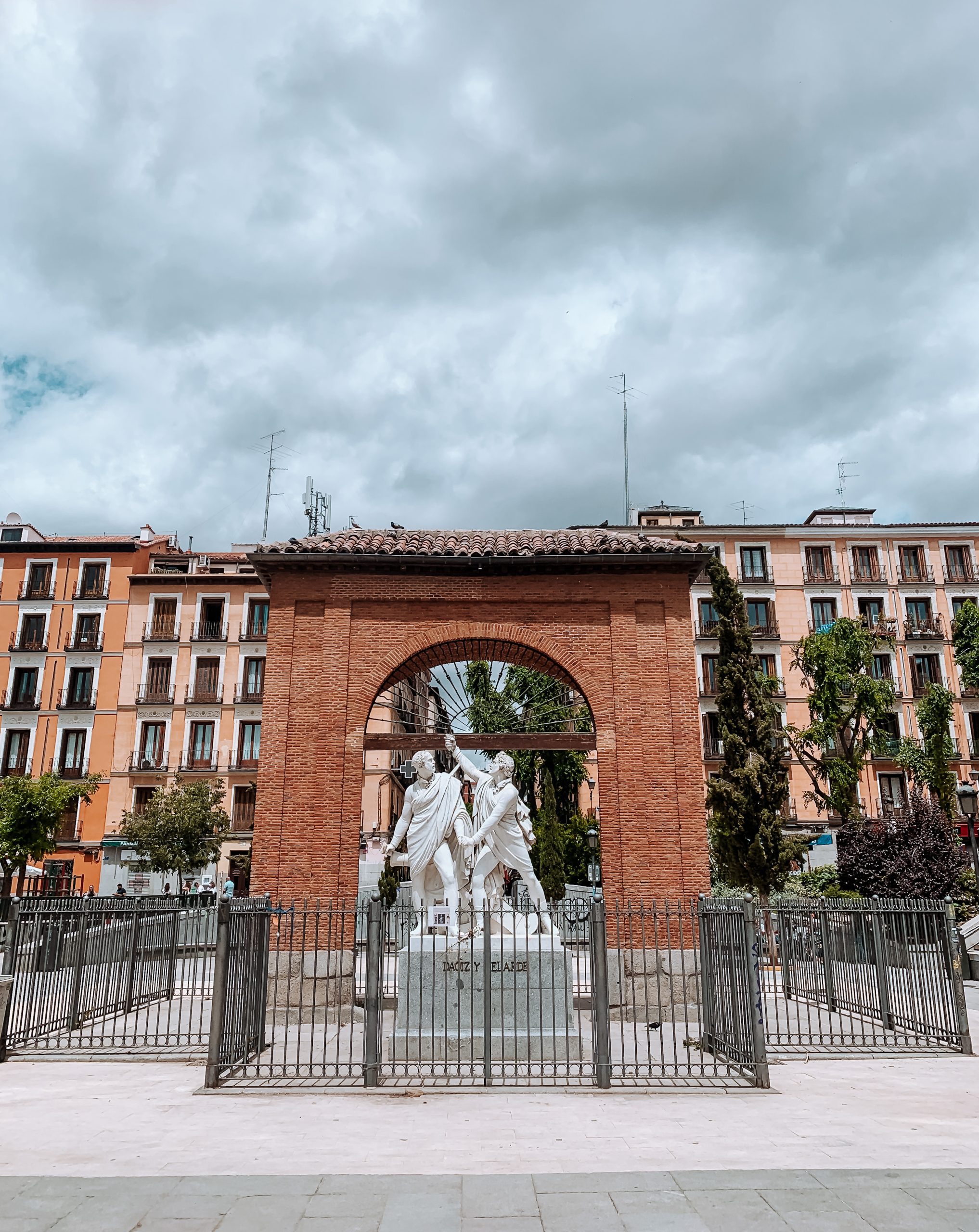 Some Rooftop Bars in Madrid are hidden gems!
Madrid is all about rooftops, rooftops, rooftops! There are so many different rooftops around Gran Vía and Plaza de España inviting you to see Madrid from a bird's eye view. You have probably already heard about Circulo de Bellas Artes and the rooftop on the RIU Hotel. Both are stunning. Both are absolutely worth visiting. Are those hidden gems in Madrid? Not really!
So, let's talk about rooftop terraces that aren't that famous. Where you won't have to queue for half an hour to go inside and will look at the sunset all together with 500 other people. I know about two rooftop bars that I can recommend. And here they are: 
Find the rooftop terrace at the Corte Ingles: 
The Corte Ingles in Callao is one of Madrid's biggest shopping centers. But what many people don't know is that when you take the elevator to the last floor you will find yourself on an incredible rooftop area with bars and restaurants. There will probably be many people present but the area is big enough for accommodating many people. If you are lucky, you might catch a seat outside and enjoy the view. The best thing: Entrance is completely free!
Where to have the best view of the Royal Palace: 
Since most rooftop terraces are located around Gran Via, many people don't even look further when they want to have a drink with a view. That is why the rooftop terrace "Terraza de Sabatini" gets overlooked a lot. This terrace has the best views of the Royal Palace, which is lit up beautifully in the evening! One of my favorite places to take guests to. Check it out!
Do you like sherry wine? I have the perfect hidden gem in Madrid
Have you ever tried sherry wine (in Spanish: vino de Jerez!)? Many people do not think about sherries at first, because they are stronger and have a very potent taste. But Spain is famous for its world-class vino de Jerez and I want to invite you to at least try them out. Who knows, maybe these will be your new favorite drink? 
Now, if you are up for trying sherry wine in Madrid, I have the best spot in Madrid to do so. There is a beautiful bar called La Venencia, which preserved its style from the time when it opened almost 100 years ago. What is on the menu? Only four-five different kinds of sherry wine. Served with a small plate of olives. Enjoy your wine while admiring the vintage flair of the bar. A true gem of Madrid!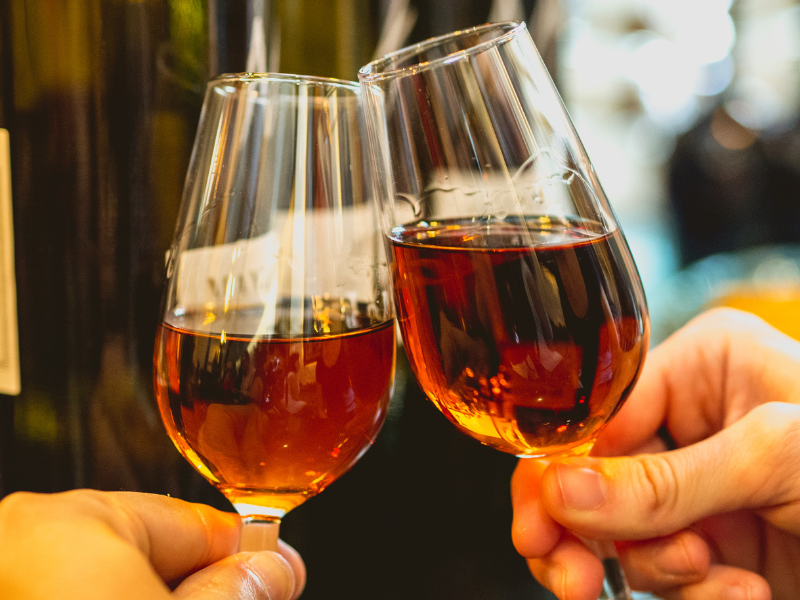 Where to have the best vermouth in Madrid? One of my favorite hidden gems in Madrid
Last but not least, I want to tell you where to have the best vermouth in Madrid. I am actually surprised people do not talk about this place. Because now I am about to tell you about one of the best secret spots in Madrid: Taberna La Concha. 
Taberna La Concha is located in the neighborhood of La Latina on the famous Calle de la Cava Baja. And it is, hands down, the best vermouth place in Madrid. You really have to try their vermouth creation called "Manuela". They will prepare the drink for you by spraying Gin on the ice cubs, filling the cup with their own-made vermouth, and adding a tiny splash of Campari!