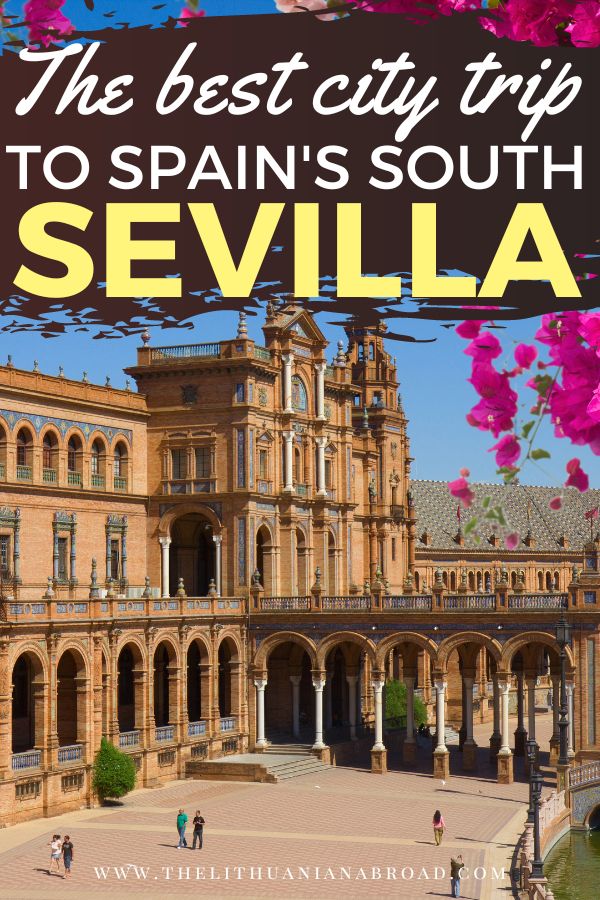 A couple of weeks ago my friends and I did a Citytrip to Sevilla because there was a concert we wanted to go to. This was already my third time visiting Sevilla. But honestly, I enjoyed my time there so much that I would not mind going there again. Sevilla is such an authentic city to visit in Andalusia. The weather is incredible, the people are incredibly nice and the food in the South is spectacular! We had an amazing time walking around and going to different tapas bars.
My friend went to Sevilla for the first time and was very impressed by it as well. The city has so much to offer! So, I decided to write a blog post about visiting Sevilla with all of the city's highlights and monuments you have to see. Get ready for your Sevilla citytrip!
---
Affiliate links may be sprinkled throughout the free content of this blog post. If you purchase from one of the links I may receive a small commission while the price for you stays the same. This helps me cover the costs of The Lithuanian Abroad. Gracias!
Other blog posts you should check out:
13 city break destinations in Spain you should check out: This blog post includes the best destinations for a city break in Spain, more than just Madrid and Barcelona. Make sure to check it out!
Everything about the Tipping Culture in Spain you have to know: Did you know that tipping in Spain is not mandatory? Read this guide to find out when and how much you usually tip in Spain.
Spend two days in Granada, a whole itinerary: There are so many places to explore in Andalusia and Granada is one of them. This blog post features a whole itinerary with all places in Granada you have to visit in 2 days.
35 funny sayings in Spanish, your next travel vocabulary: This post includes 35 hilarious sayings in Spanish. Make sure to learn these expressions for your next Spain trip. And impress the locals with them!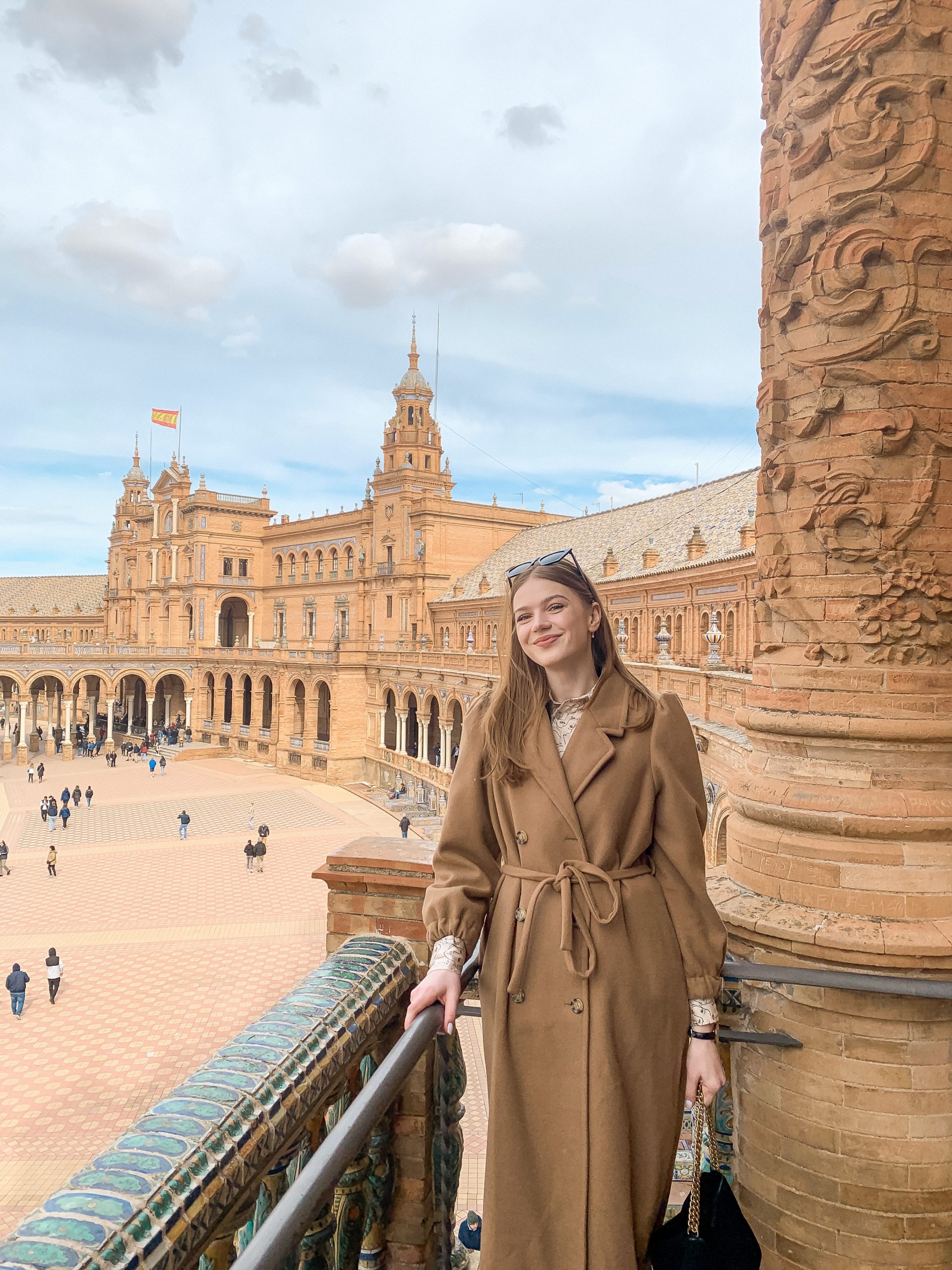 How long should I stay in Sevilla?
Very good question! Sevilla is one of the largest cities in Andalusia. So, if you actually want to see Sevilla's most important places and monuments, you should plan on staying there a bit longer. In my opinion, Sevilla is too big for a one-day trip. Keep in mind, you will be walking around a lot. You might run out of time if you just stay for one day.
I personally would recommend staying 3-4 nights for your Sevilla citytrip. That way, you have enough time to explore the city without a rush. You can go on a walking tour, explore Sevilla's tapas culture and check out a Flamenco Show at night. Then, Sevilla also has different neighborhoods you should check out, like Triana.
If you want to have a relaxed time, you should plan with 3-4 days on your Sevilla trip.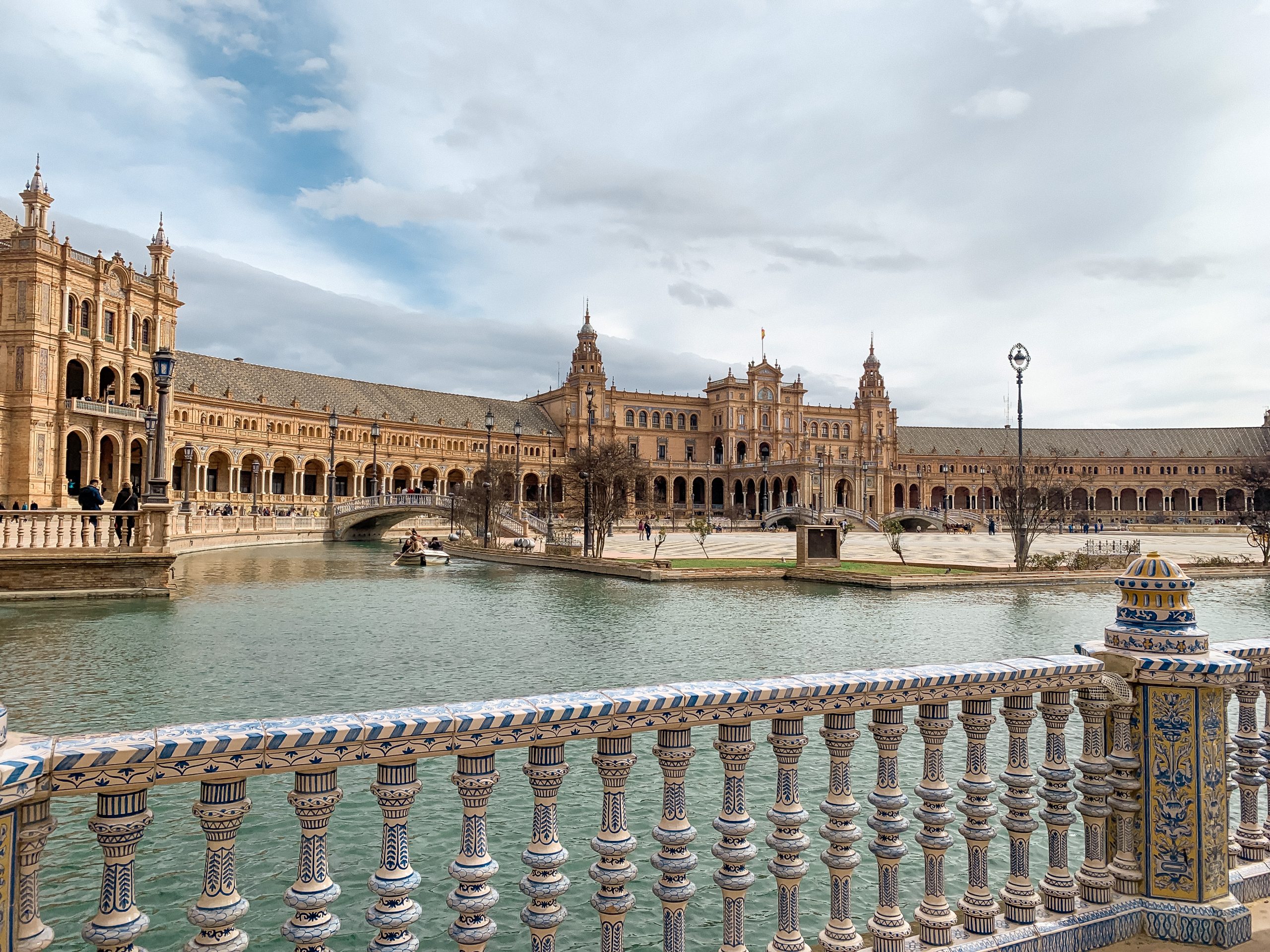 Where to stay during your Sevilla CityTrip
€: Santacruz Hostal Plaza, THE affordable place: When I say affordable, I mean it! This place has everything you need for your Sevilla trip. And for that price you really get the best location in town. Check it out!
€€: Zenit Sevilla, amazing value for money: Stay in this super affordable 4star hotel in the heart of the Triana neighborhood. The rooftop bar, the rooms, the interior design… a whole dream! 
€€€: Hotel Casa Del Poeta, a fairytale palace: This incredible hotel looks like the location of a disney movie. Make sure to check out the beautiful interior!
Do a free walking tour and explore Sevilla!
I love doing free walking tours whenever I am in a new city! Free walking tours are truly the best way to get to know a city you are visiting for the first time. Doing a free walking tour in Sevilla will help you so much in understanding the city better. And you will learn so much about its history!
How do free walking tours work? Free walking tours do not come with a set price, hence they are free. You will spend a couple of hours with your local guide exploring the best areas of Sevilla. These local guides do an amazing job of showing you the city through the eyes of a person that lives there. At the end of the tour you have the chance to give your local guide a tip. And how much you would like to tip them is completely up to you! It usually depends on your budget and on how much you actually enjoyed the tour.
You can find all free walking tours in Sevilla here.
Walk on the Mushrooms during your Citytrip Sevilla
The "Setas de Sevilla," also known as the "Metropol Parasol" or colloquially as the "Mushrooms," is a modern architectural landmark located in the heart of Sevilla. The structure resembles a series of giant mushrooms. This monument is a unique blend of contemporary design and historical significance.
Walking on the mushrooms is a must-do activity for your citytrip in Sevilla. Fun fact: The structure is the largest wooden structure in the world! It has an area of over 1500 square meters, and offers stunning panoramic views of the city from its observation deck. Get the best view of Sevilla 28 meters above the ground!
As you walk on the mushrooms, you can admire the intricate wooden lattice that covers the structure, which creates a beautiful interplay of light and shadow. The mushrooms are also home to a bustling market and several cafes and restaurants. It makes it a perfect place to relax and enjoy a delicious meal or a cup of coffee while taking in the stunning views.
In addition to being a popular tourist attraction, the mushrooms also have an interesting historical significance. The structure is built on the site of an ancient Roman settlement. The remains of a Roman settlement can still be seen at the basement level of the mushrooms. The mushrooms are a must-visit destination in Sevilla and we had such a great time seeing them!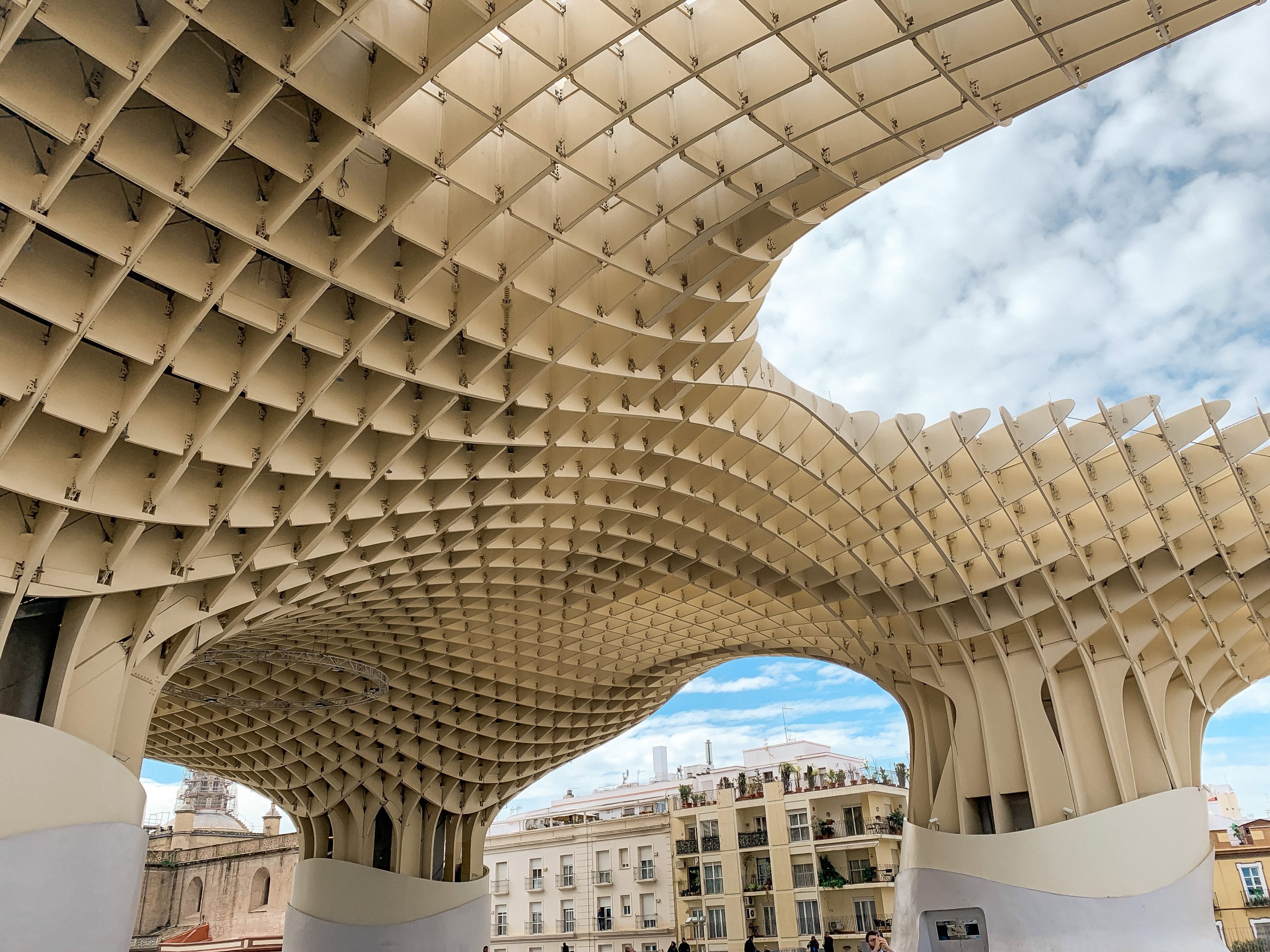 Walk around Los Reales Alcazares in Sevilla!
Los Reales Alcázares is a breathtaking palace located in the heart of Sevilla, Spain. With its stunning architecture and lush gardens, this UNESCO World Heritage site is a must-visit destination for anyone traveling to the city. 
Dating back to the 10th century, the palace has undergone various architectural changes over the years. Nowadays, we can see a mixture of styles like Gothic, Mudejar, Renaissance, and Baroque to create a unique and mesmerizing structure. Visitors to Los Reales Alcázares can marvel at the intricate carvings, tiles, and stunning artwork on display, and stroll through the verdant gardens that surround the palace.
These gardens are such a green oasis in Sevilla. I was surprised to see how green Sevilla as a city is. Keep in mind, we are in one of the hottest areas of Spain! Whether you're an architecture enthusiast, a history buff, or simply looking for a beautiful and peaceful place to escape, Los Reales Alcázares is an attraction that should not be missed on your next visit to Sevilla. The perfect destination, when the weather is great!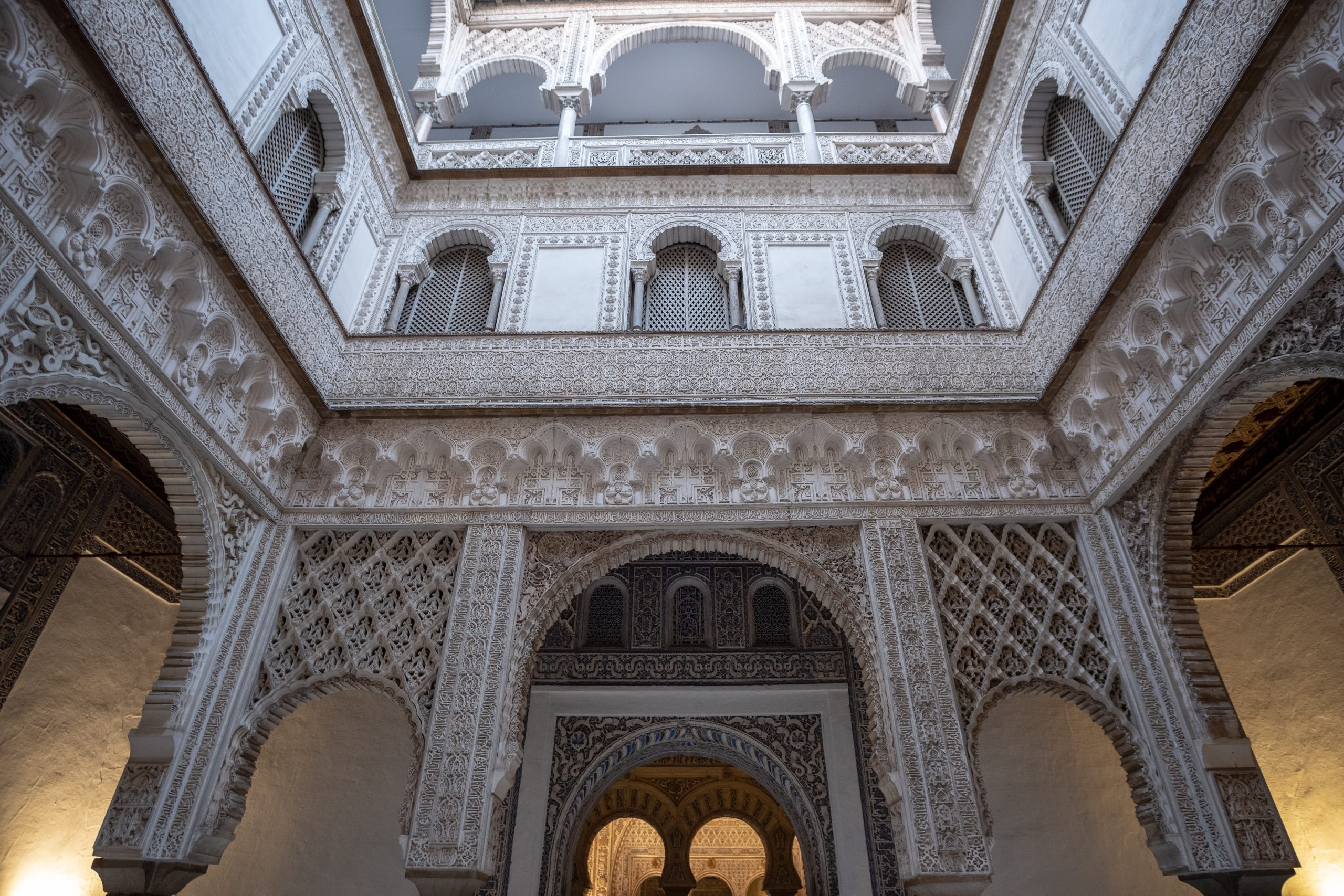 Watch a Flamenco Show during your City trip in Sevilla 
Watching a Flamenco show in Sevilla is truly an unforgettable experience! Flamenco is a traditional Spanish dance form that originated in Andalusia. And Sevilla is considered to be the birthplace of this passionate dance. That means you are in the best place in Spain to watch a Flamenco Show! Flamenco is a unique combination of music, dance, and poetry, and it is deeply ingrained in Andalusian culture. The performers use their bodies, voices, clothes (Check out the shoes!), and instruments to express a wide range of emotions. These emotions go from joy and love to pain and sadness. Every time I watch a Flamenco show I get goosebumps.
In Sevilla, you can witness the best of flamenco by visiting one of the city's many flamenco bars or theaters. Many Flamenco shows in Sevilla also include a brief introduction to the history and roots of Flamenco in Andalusia. That way you really get a deeper understanding and appreciation of the art.
If you're looking for an immersive and culturally enriching experience, watching a Flamenco show in Sevilla is a must-do activity. You'll not only be entertained by the mesmerizing performance but also gain insight into the Andalusian culture. So, don't miss the chance to witness the fiery passion of flamenco in Sevilla. I can assure you it will be the highlight of your Sevilla citytrip!
My friend recommended us to go to this Flamenco Show in Casa de la Memoria, which takes place in a beautiful old theater. She said it's the best in town!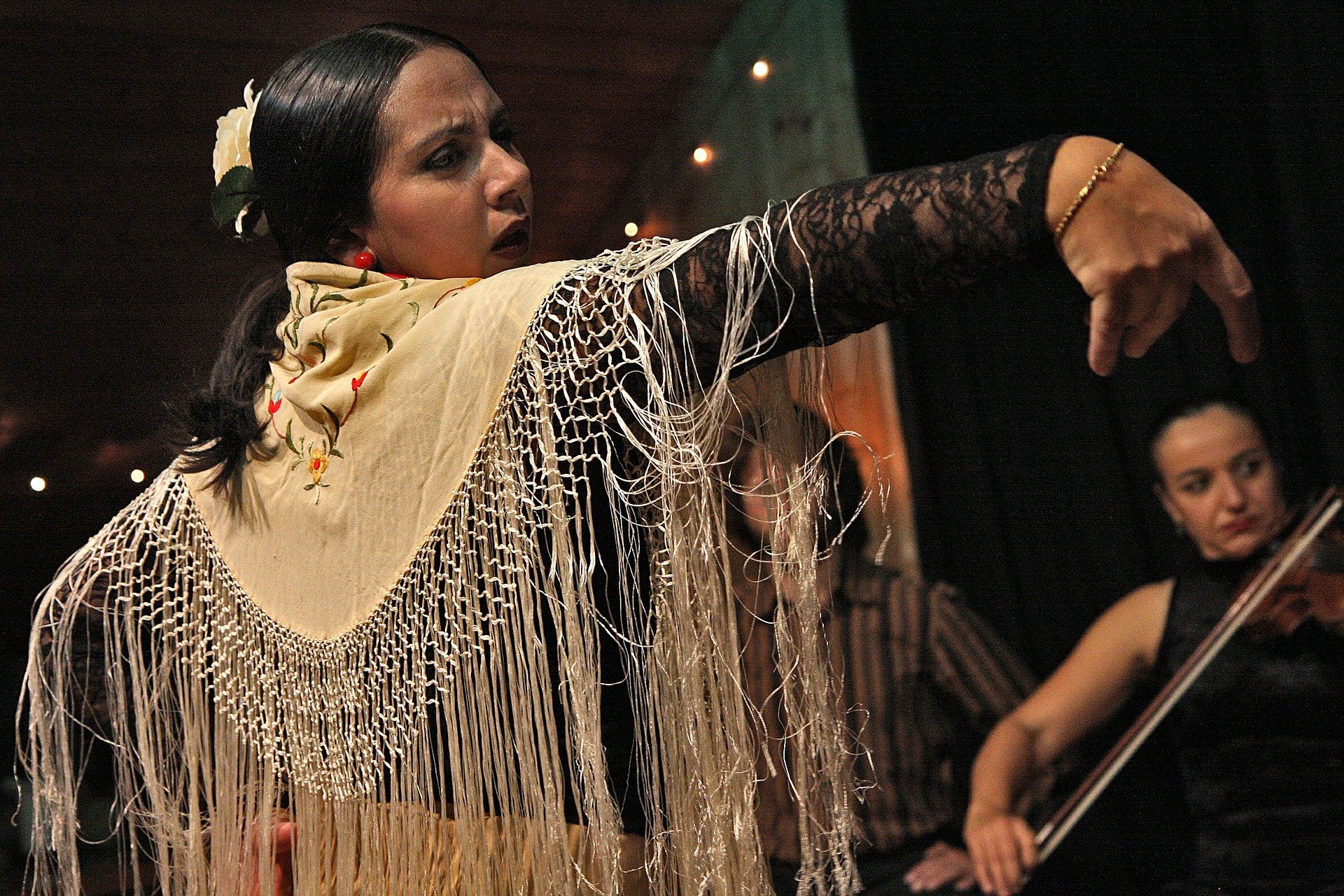 Explore Plaza de España, Sevilla's iconic landmark
Plaza España is one of the most iconic landmarks in Sevilae and is a must-visit destination for any traveler to the city. Built in 1928 for the Ibero-American Exposition, the Plaza España is a beautiful example of Renaissance Revival architecture with a mix of Art Deco and Moorish elements.
The plaza is Sevilla's most popular landmark, with a massive semi-circular building that encloses a large central courtyard. The center of the Plaza features a beautiful fountain. The building is adorned with colorful tiles, frescoes, and sculptures that represent each of the Spanish provinces. We had so much walking around and looking at the decorations of each province in Spain. Of course, I had to take a photo with the decoration of my home town Madrid!
Visitors can take a stroll around the plaza and admire the beauty of the architecture and the lush gardens that surround it. You can also rent a rowboat and enjoy a leisurely ride in the moat that surrounds the plaza. 
But this plaza is not just a beautiful monument! Plaza España is also a hub for cultural activities and events, including concerts, dance performances and fashion shows! During the weekends, the plaza is bustling with locals and tourists alike, who come to enjoy the live music. If you are lucky, you can catch a Flamenco performance on the plaza!
Overall, visiting the Plaza España is an experience not to be missed when in Sevilla. Its stunning architecture, beautiful gardens, and vibrant atmosphere make it a must-visit destination for anyone who wants to soak in the city's rich history and culture.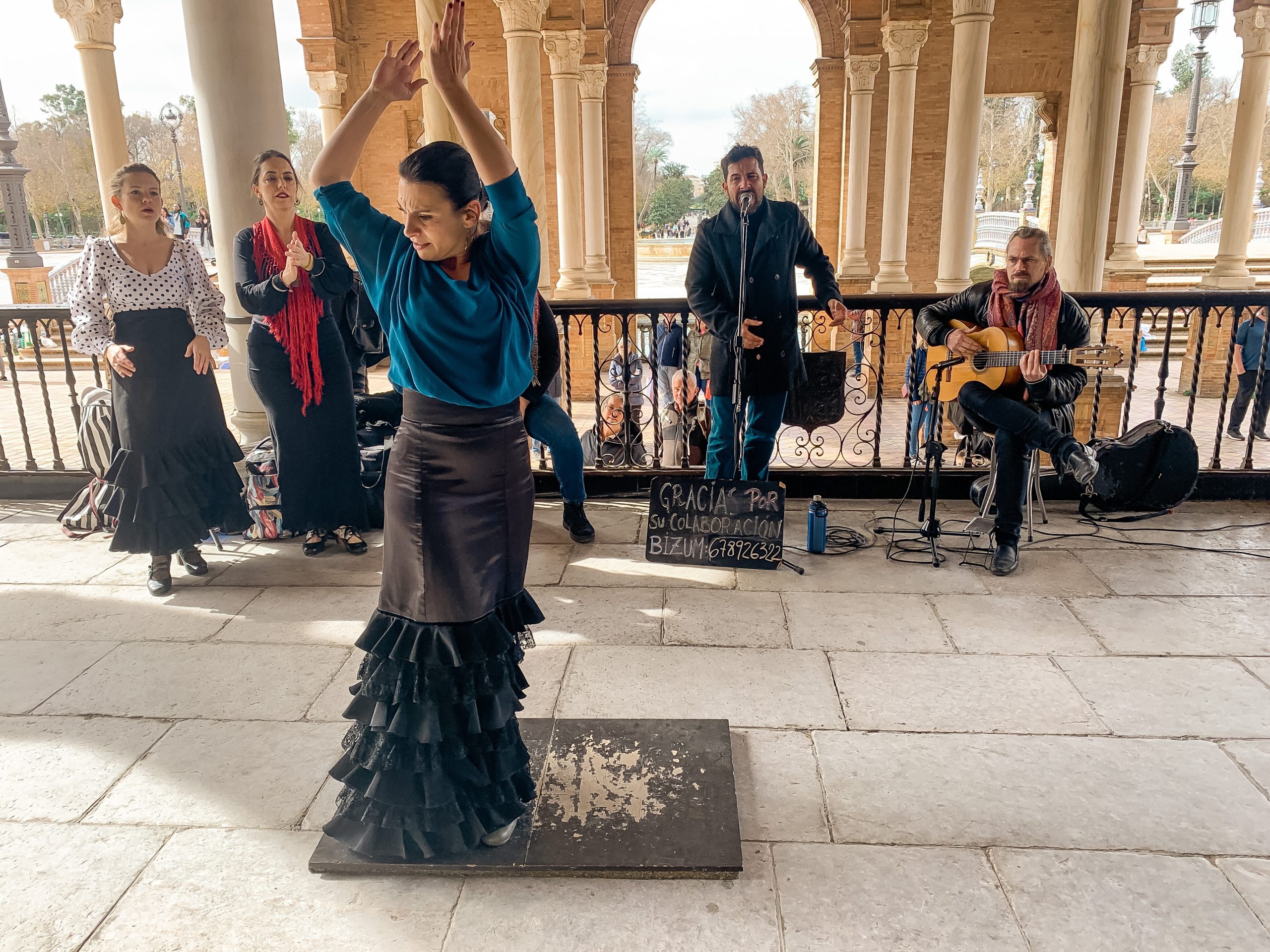 Walk around Sevilla's amazing Triana Neighborhood
The Triana neighborhood was one of my favorite places we visited during our Sevilla trip! Triana is a historic neighborhood located on the west side of the Guadalquivir River. This vibrant and colorful neighborhood is steeped in history, with a rich cultural heritage that dates back to Roman times. Triana has been home to artists, sailors, and traders for centuries. Its narrow streets and traditional houses still exude an old-world charm that attracts visitors from all over the world. It felt like we were in a completely different town once we crossed the river!
The history of Triana is closely linked to the river, which has played a vital role in the neighborhood's development. In the 13th century, Triana became the center of Sevilla's pottery industry. The skilled artisans living in this area produced some of the most beautiful ceramics in Spain. Today, you can still see the legacy of this industry in the numerous pottery shops and workshops that line the streets of Triana.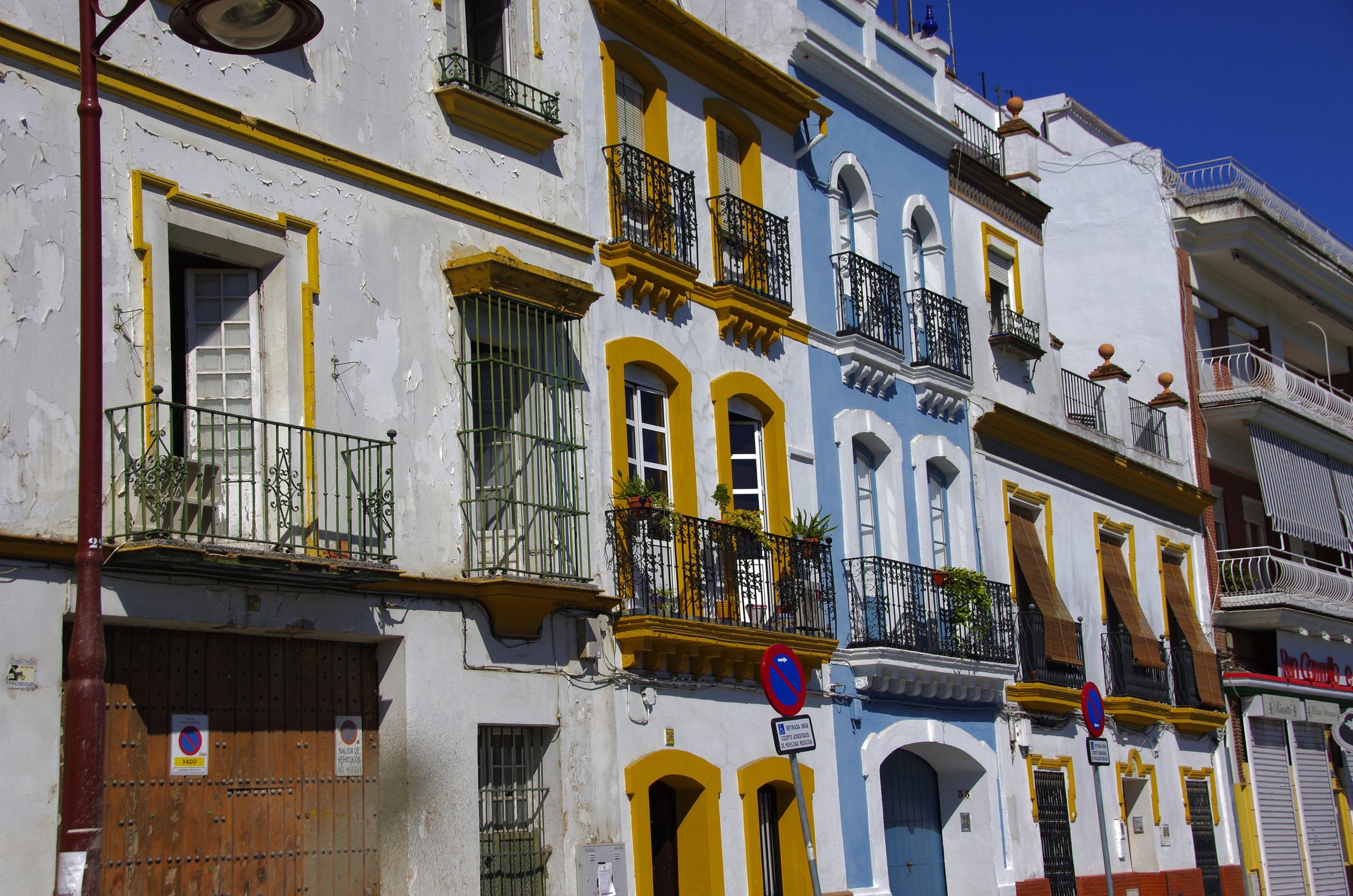 Another important aspect of Triana's history is its Flamenco tradition. Many famous flamenco singers and dancers have come from Triana, and the neighborhood has a thriving Flamenco scene. You can experience this first-hand by visiting one of the many flamenco bars or theaters in Triana, where you can witness the passion and energy of this unique art form.
Triana is also known for its lively markets, including the famous Mercado de Triana, which has been a hub of activity for over a century. Here, you can find an array of fresh produce, meat, fish, and other local specialties, as well as artisanal crafts and souvenirs. We visited this market during our Sevilla citytrip as well. And it seemed like such a great place to try some fresh food and have a glass of wine!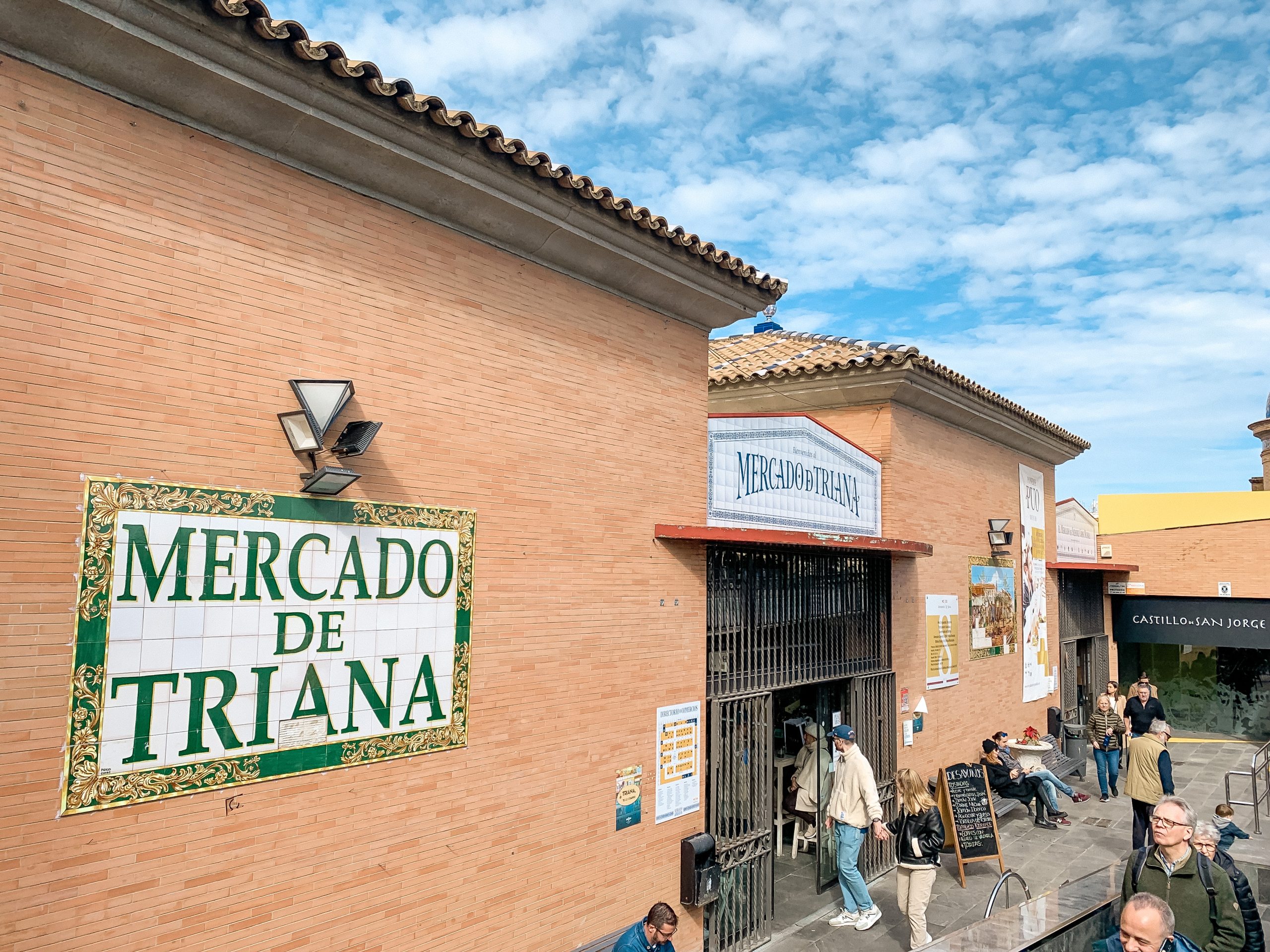 Explore Sevilla's world-class cuisine & tapas culture
Sevilla is a city that is as rich in gastronomic traditions as it is in history and culture. Sevilla's cuisine is a delicious fusion of flavors! The local cuisine is influenced by the city's location on the banks of the Guadalquivir River, its Moorish heritage, and its proximity to the Mediterranean Sea.
One of the most iconic dishes of Sevilla is gazpacho. This is a cold soup made from tomatoes, peppers, onions, and garlic that is perfect for the hot summer months. Another popular dish is the Andalusian fried fish. This is a mouth-watering combination of fresh fish, lightly battered and fried until golden brown. You have probably heard about Spanish cured meats, such as the famous Iberian ham. This ham is made from free-range pigs that feed on acorns and other natural products. Make sure to try it during your Sevilla Citytrip.
The city's tapas culture is also an essential part of Sevilla's gastronomy. In Sevilla, you can really find tapas bars on every corner! Each of them offers a unique and delicious selection of small plates that are perfect for sharing with friends. Some of the most popular tapas in Sevilla include tortilla de camarones (a crispy shrimp omelet), salmorejo (a thicker version of gazpacho served with egg and ham), and the famous Huevos a la Flamenca (baked eggs with vegetables and chorizo).
To finish off a delicious meal in Sevilla, you can indulge in the city's famous desserts.  Here we have pestiños (honey-coated pastries) or torrijas (Spanish-style French toast). And of course, the world-renowned Sevilla oranges, which are used to make delicious marmalades and sweets.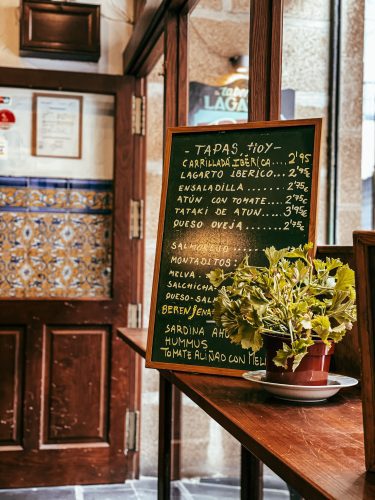 My favorite restaurants that you should visit on your Citytrip in Sevilla:
Bar Casa Morales: An old-style Spanish Taberna with such an authentic interior!
Bodeguita Reyes Antonio Romero: A very nice Spanish taberna where you can order tapas and wine
Mercado de Triana: An authentic market where you can sit down and order some food and tapas
Parcería café: My personal brunch highlight in Sevilla! Such a great place for breakfast!
A must for your Sevilla Citytrip: Walk around Santa Cruz 
The Santa Cruz neighborhood is one of the most charming and picturesque neighborhoods in Sevilla. Santa Cruz is full of winding narrow streets, whitewashed houses, and beautiful patios. You will find yourself in a charming atmosphere that transports visitors back in time to Sevilla's rich historical past.
Santa Cruz was once the Jewish quarter of Sevilla, and its streets are steeped in history and culture. It was during the medieval period when the Jewish population flourished. Their influence on the architecture, music, and gastronomy of the area can still be felt today.
Walking around Santa Cruz is like taking a journey through time. The neighborhood's architecture is a beautiful blend of Christian, Islamic, and Jewish styles, with hidden courtyards and fountains that are reminiscent of the region's Moorish past.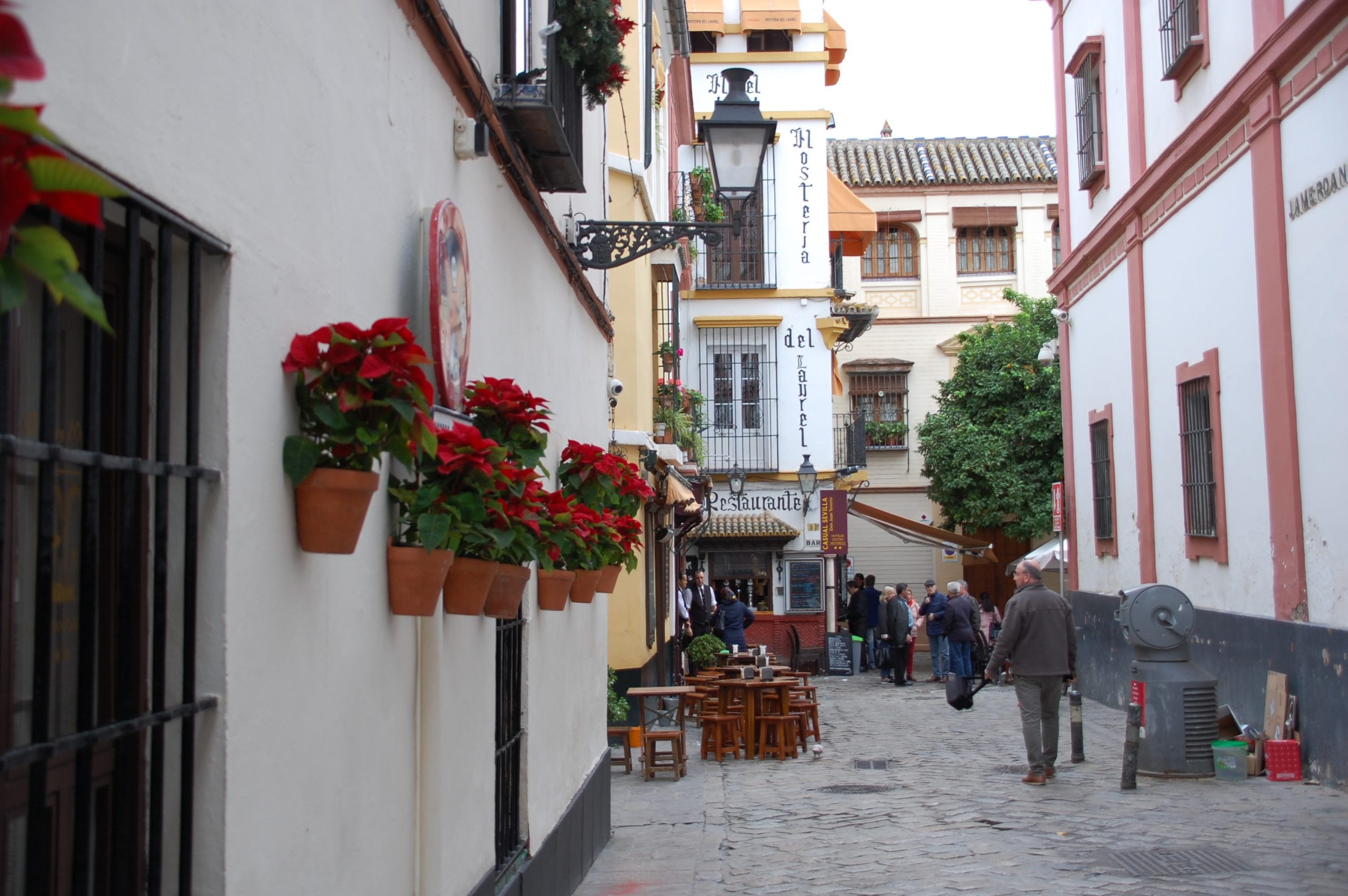 Make sure to check out Sevilla's beautiful Cathedral
One of the most famous landmarks in the Santa Cruz neighborhood is the Cathedral of Sevilla. It's a stunning Gothic cathedral that was once a mosque during Islamic rule. Another must-visit attraction is the Alcazar, a beautiful palace that boasts a mix of Mudejar, Gothic, and Renaissance styles. It served as the residence of the Muslim governors, later becoming the royal residence of Spanish monarchs.
As you stroll through the narrow streets of Santa Cruz, you'll also find many cozy cafes, shops, and restaurants. These really offer a taste of Sevilla's traditional cuisine and hospitality. A must-visit destination for any traveler visiting Sevilla!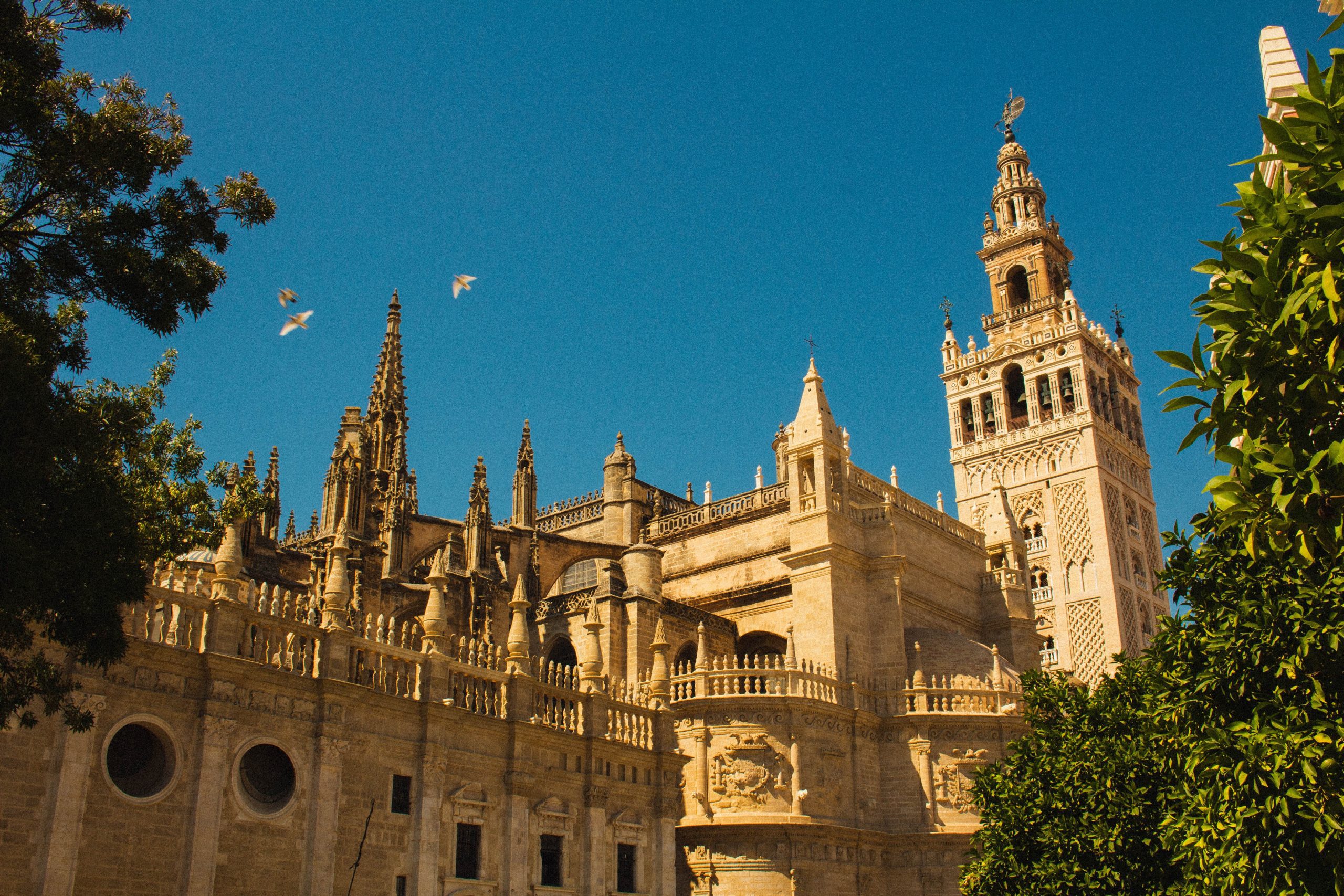 Make sure to visit the Flamenco museum in Santa Cruz
The Flamenco Museum in Sevilla is a must-visit for anyone interested in experiencing the passion and history of this iconic Spanish dance. The museum offers a comprehensive look at the history of Flamenco. You will learn so much about its cultural significance, its history over the years, and its impact on the people of Andalusia.
The museum is located in the heart of Sevilla's historic Santa Cruz neighborhood. It offers visitors an interactive experience through interactive exhibits, multimedia displays, and live performances of Flamenco.
Visitors can also view a collection of Flamenco-related artifacts, including costumes, instruments, and artwork, and learn about the different styles of Flamenco that have developed over time.
You can pre-book your tickets for the Flamenco museum in Sevilla here.