The first time I visited Madrid I was a bit overwhelmed by how big and how busy it was. But after living in Madrid for five years I can assure you: Madrid is a great destination for solo travelers. There are so many things to do and places to explore, you will not feel alone at any time! Apart from that, Madrid is one of the safest European Capitals. It is a very safe place for solo travelers. In this 'Solo Travel Madrid' guide, I will give you recommendations on what you can do when you are traveling to Madrid alone. This guide will help you pick the right accommodation when solo traveling Madrid. And I even give you tips on what to do in Madrid at night if you are visiting the city by yourself. There are so many museums you can visit in Madrid, parks with beautiful sunset spots and food places you have to visit! I mean, I am sure you are here to try some amazing Spanish food, right?!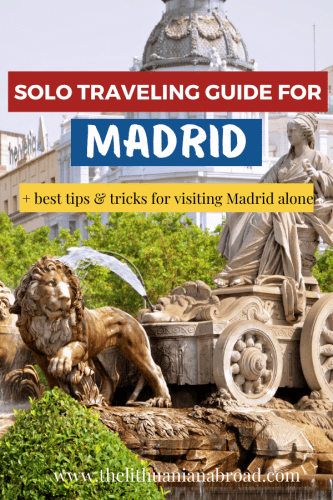 Other Blog Posts about Madrid that could interest you:
Things you should know if you are traveling to Madrid alone:
Is Madrid safe for solo travel?
I can tell you from my own experience that Madrid is an incredibly safe destination for solo travelers, for female solo travelers as well. Madrid has been voted one of Europe's safest capitals by several online sources and newspapers. You can even walk around the city center at night without any problems. The only thing you should have in mind are pickpocketers, which you can usually find in crowded places, like Puerta del Sol and Gran Vía. Make sure to always wear your backpack and your bags in front of you. And if possible, leave your documents and your cash at your accommodation.
Where do solo-travelers stay in Madrid?
In my opinion, when you travel alone and want to meet new people or at least be in a social environment, you have to pick the right accommodation. Thankfully, there are so many different types of places to stay in Madrid. If you are traveling by yourself, I would recommend staying in one of the following (very social!) hostels:
The Hat is one of the most popular hostels in Madrid. You might have already heard about this, and I can assure you it's a great place. I recommend this place for my friends that visit Madrid and for solo travelers coming to Madrid, and here's why: It offers shared dorms, free breakfast, and social activities during the day. They offer walking tours of Madrid during the day and fun pub crawls during the night. If you come to the free Sangría they offer in the evening, I am sure you will meet new people in no time! P.S they have an amazing rooftop!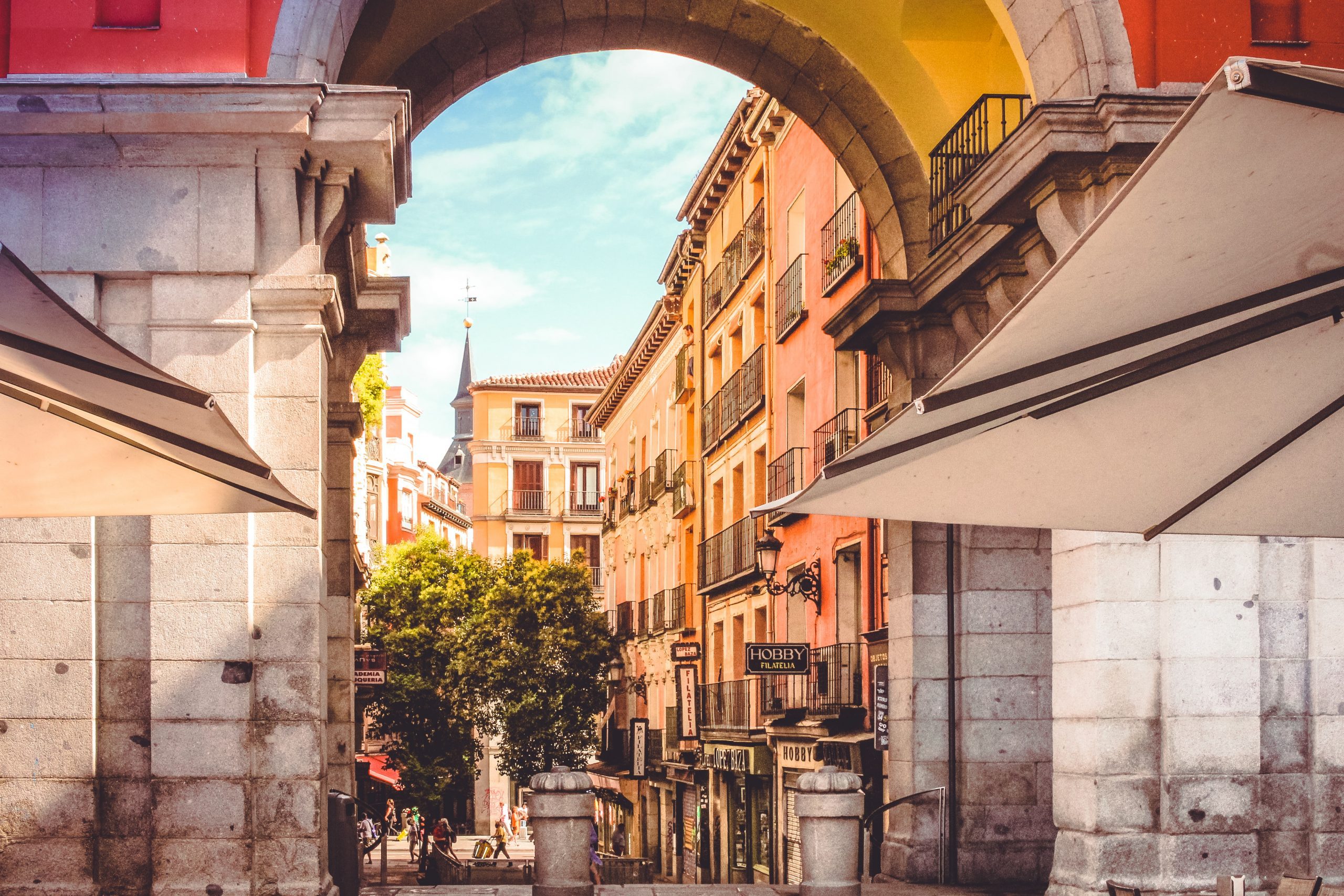 The Cats Hostel is another very social hostel in Madrid in a very good location! And the place itself is very beautiful and has a very "Spanish" vibe. There is a little fountain in the interior patio and a hang-out area where you can get in touch with new people. This hostel offers fun activities during the day as well. And during the evening they even get together with people from the Hat Hostel for Pub Crawls. All in all these hostels are very similar and I do recommend both of them.
Let's jump into the Solo Travel Madrid Guide: Things to do when you are traveling Madrid alone
By the way, I wrote an amazing low-budget guide for Madrid. It includes more than 100 free or ridicolously cheap things you can do in Madrid. You can find it here 🙂
Do a walking tour and explore the city!
There is no better way than exploring the city with a walking tour. As mentioned before, the Cat Hostel and the Hat offer walking tours to everyone staying there. And I think it is a great way to meet new people and already see some spots of Madrid you would like to come back to.
If you want to explore the city by yourself, I recommend you this self-guided walking tour of Madrid. I made sure to add all the important attractions in Madrid. And it will only take you a couple of hours to walk around and try some amazing food!
Another tour I would really recommend is this free walking tour that is organized by locals. There is no official price. You participate in the tour and just pay your guide whatever you think you should pay. I love these walking tours because locals always give you a very unique perspective of the city. And of course, signing up is free 🙂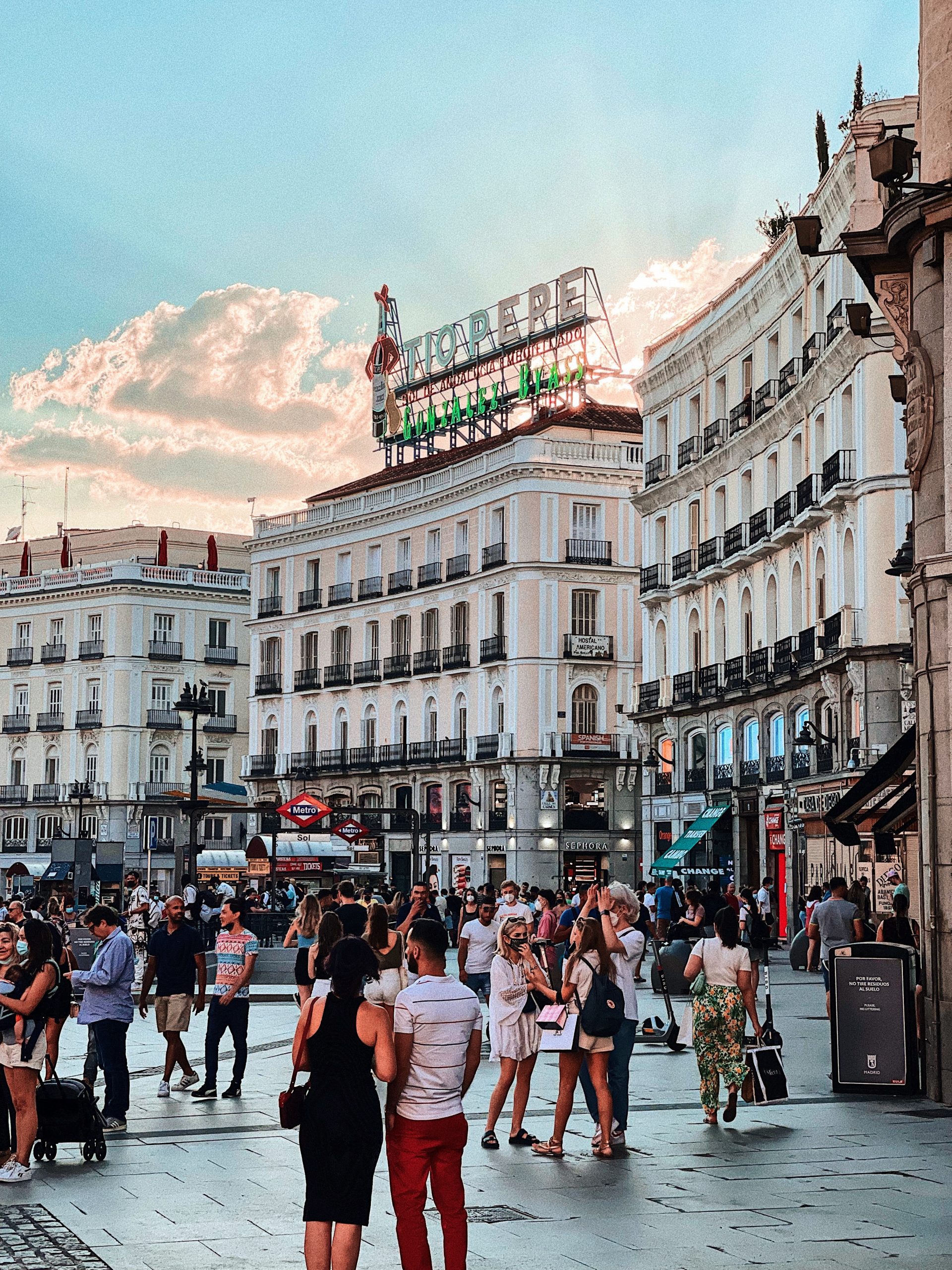 Visit Madrid's world-class Art Museums!
Madrid is famous for its amazing museums, especially Madrid's art museums are a MUST. I wrote this guide with 25 museums in Madrid that you can visit for free. It includes all free museums in Madrid and museums you can visit for free on certain days! Even if you do not usually go to museums, I would recommend visiting at least one of these museums. I am sure you can find a museum for any taste in this list.
Apart from that, I really think you should visit the El Prado Museum and the Reina Sofia Museum:
El prado museum
You probably already heard about it and are wondering why everybody is telling you to visit this museum: The El Prado museum offers an outstanding collection of international art. You can admire not only Spanish art but also paintings by German, Russian and American Artists. This art museum is huge! You could spend there the whole day and you might not see everything it has to offer!
Book your ticket online so that you can skip the long line!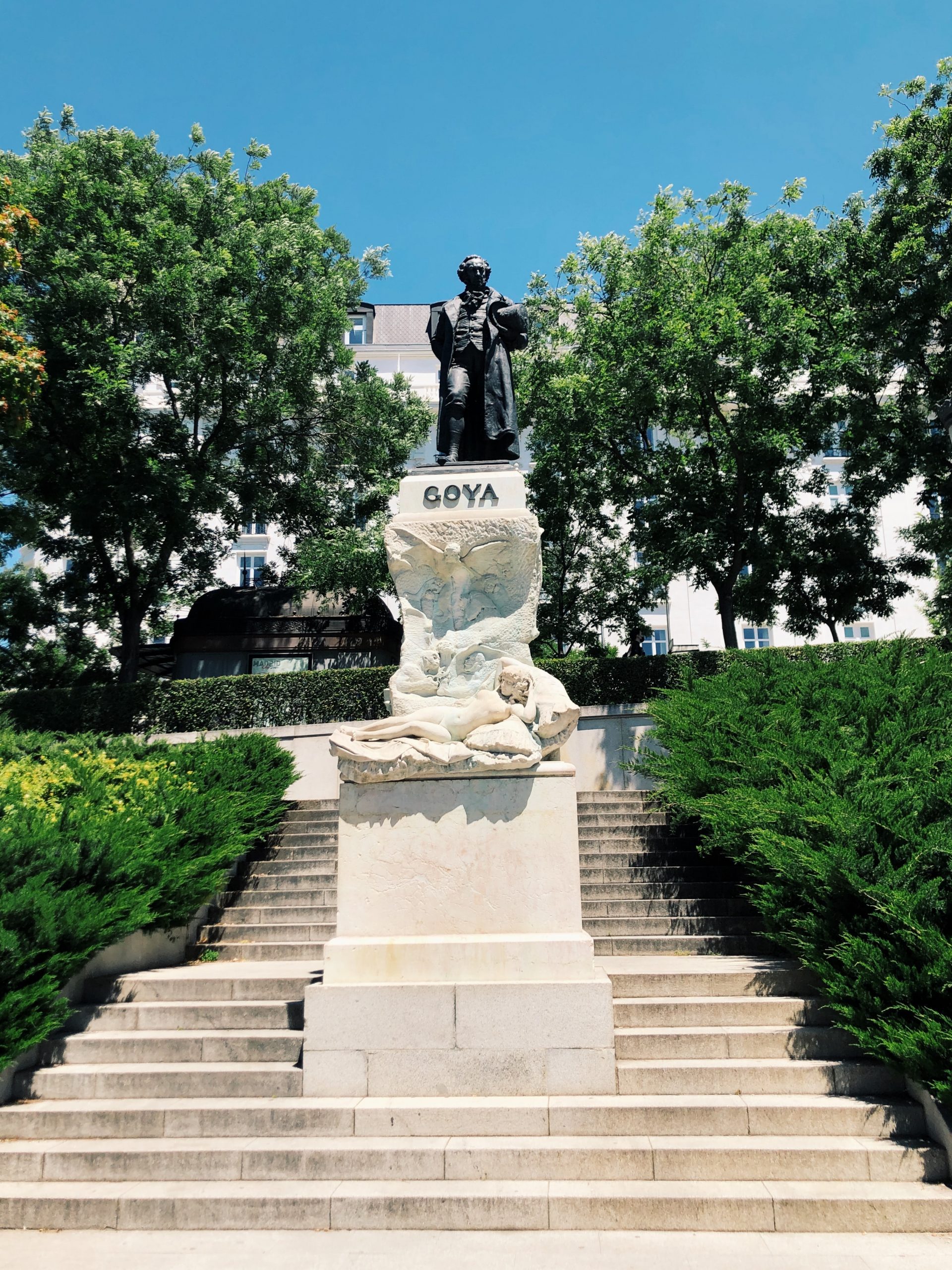 The reina sofia museum
The Reina Sofia Museum is famous for its collection of Spanish arts by painters like Picasso, Goya and Velazquez. It is one of the most popular art museums worldwide so you really cannot miss it during your Madrid trip. The gem of this museum is Picasso's painting "La Guernica". It is an incredible painting to see!
Book your online ticket here so you can skip the line!
Enjoy the views from the Hop-On Hop-Off bus!
A great way to explore Madrid when you do not have that much time or just want to enjoy the city by yourself is taking a hop-on hop-off bus. The principle is simple. These buses stop at over 40 bus stops in Madrid. Mostly close to attractions or other popular places. With your ticket, you can simply catch one of those buses and get off once you arrive at your desired destination. And the best thing: An audio guide will give you facts about the places you pass by! A great way if you are only in Madrid for a day and a perfect activity to do alone in Madrid!
Book your ticket, that you can cancel up to 24 hours before your starting date, here!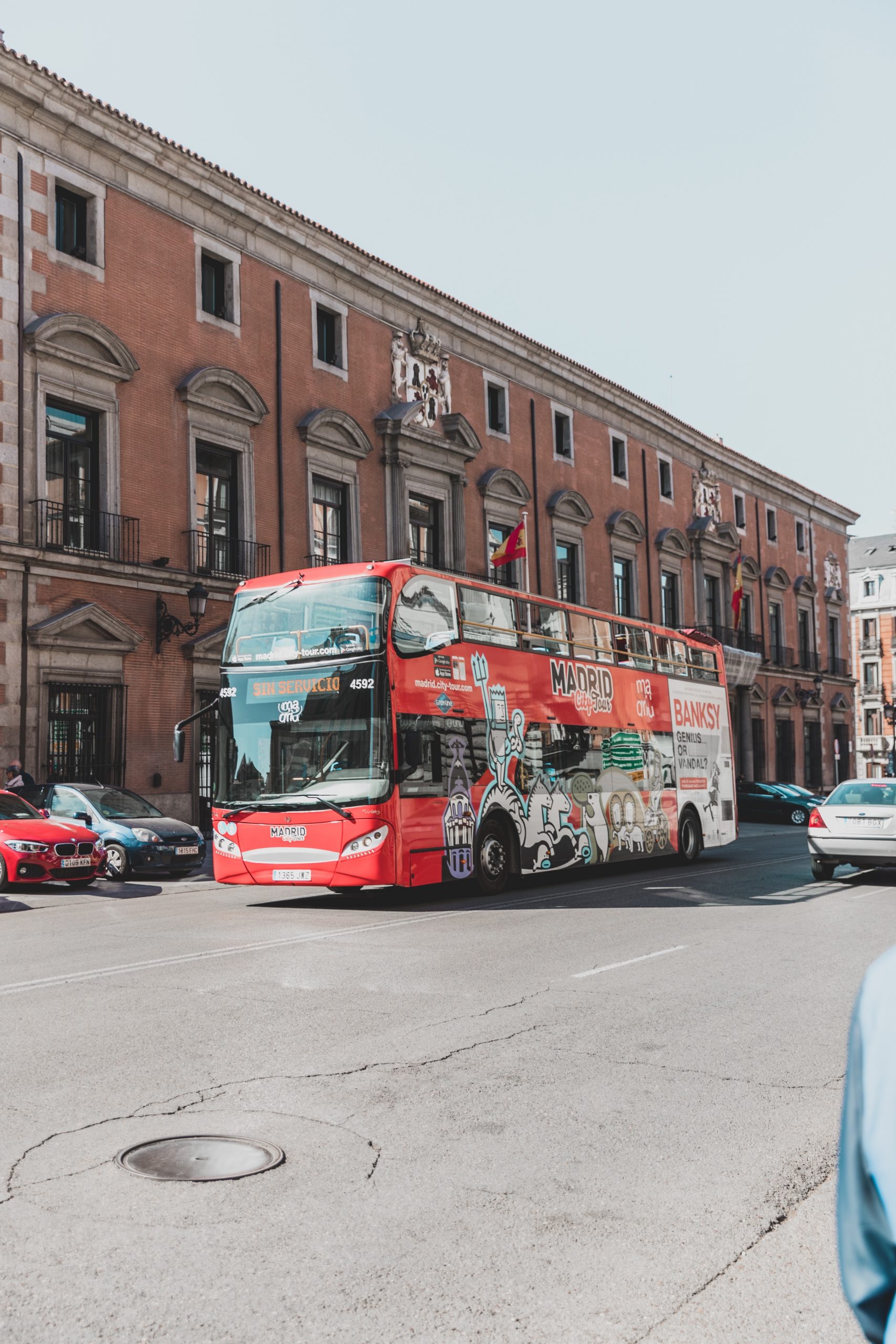 Madrid's nightlife: What to do alone in Madrid at night?
Watch a Flamenco Show in Madrid!
Watching a Flamenco Show is a MUST during your Spain Trip! And it is another activity that is perfect for solo traveling to Madrid. Flamenco is a dance typical for the South of Spain. But Madrid also has great places where you can go and see a Flamenco Show. I would recommend checking out Cafe Ziryab. They have great Flamenco Performances in a Flamenco bar that has a very traditional Andalusian vibe. I am sure you will love this performance.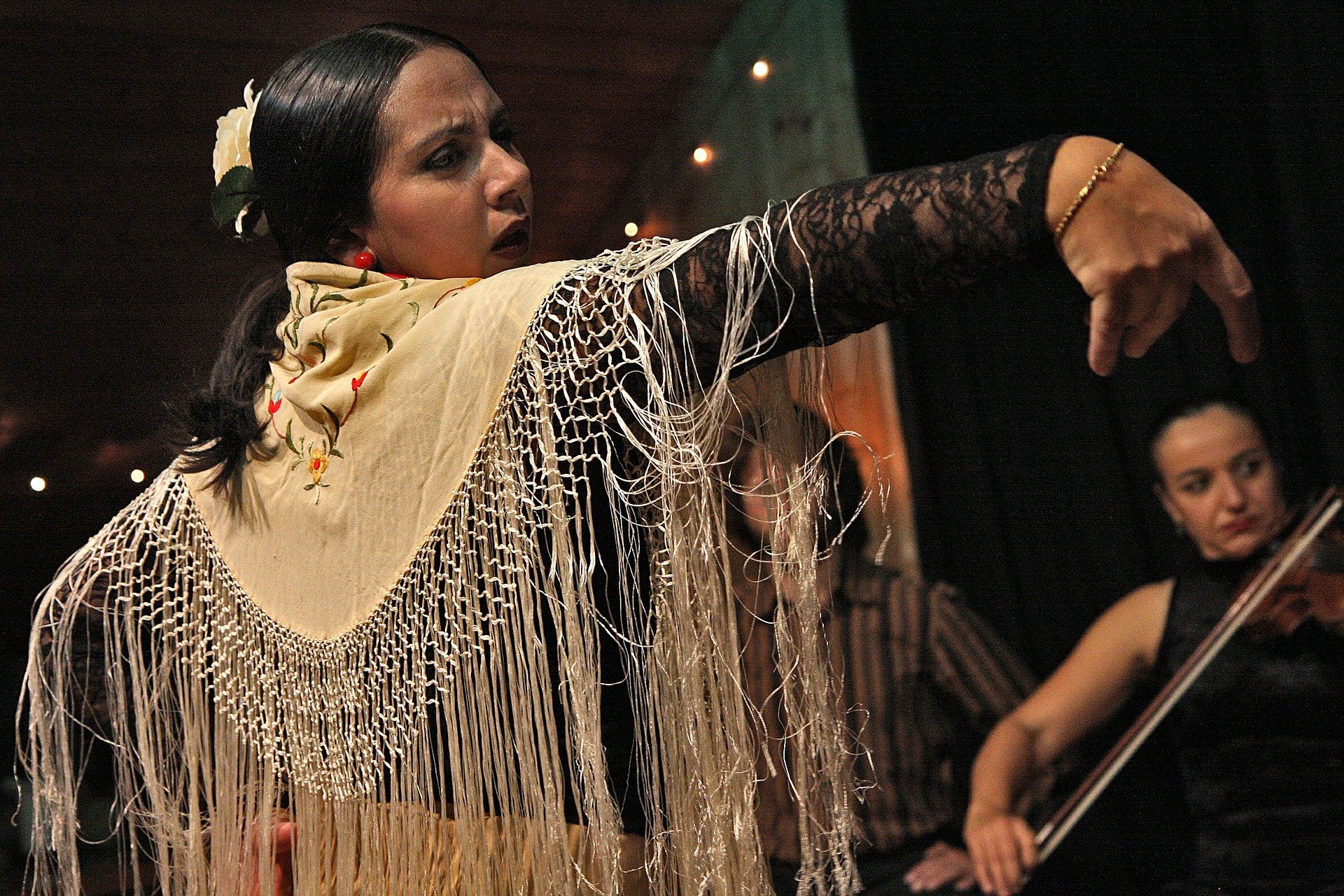 Watch a movie at one of Madrid's cinemas!
A very safe option when solo traveling Madrid is going to the cinema. Many cinemas in Madrid actually show movies in their original language with Spanish subtitles. So you will not have a problem if you do not speak Spanish! I do recommend this website for finding movies to see in Madrid.
"2D VOSE" means original audio with Spanish subtitles, so this is the type of movie you should look for in case you want to watch it in English. I also recommend going to cinemas on a Wednesday, because tickets are usually cheaper.
Explore Madrid at night by joining a pub crawl!
Do you like Pub Crawls? There are many great pub crawls in Madrid you can join as a solo traveler. As mentioned before, the Hat Hostel and the Cat Hostel offer pub crawls during the weekend, which usually cost 20€ and include a couple of drinks. Even if you are not into partying it is a great way of getting to know fellow travelers. The way these pub crawls work is that you visit four bars where you can hang out and dance together before you all go to a club to dance.
There are companies that offer pub crawls as well. Usually, you meet at Puerta del Sol and start going to the bars and clubs close to it. You get a free shot at every bar and get to skip the line at the entrance of each club. I would even recommend going on these if you are a solo traveler in Madrid. I have been to these pub crawls before and have met other solo travelers there. This is the perfect way to meet other travelers from other hostels!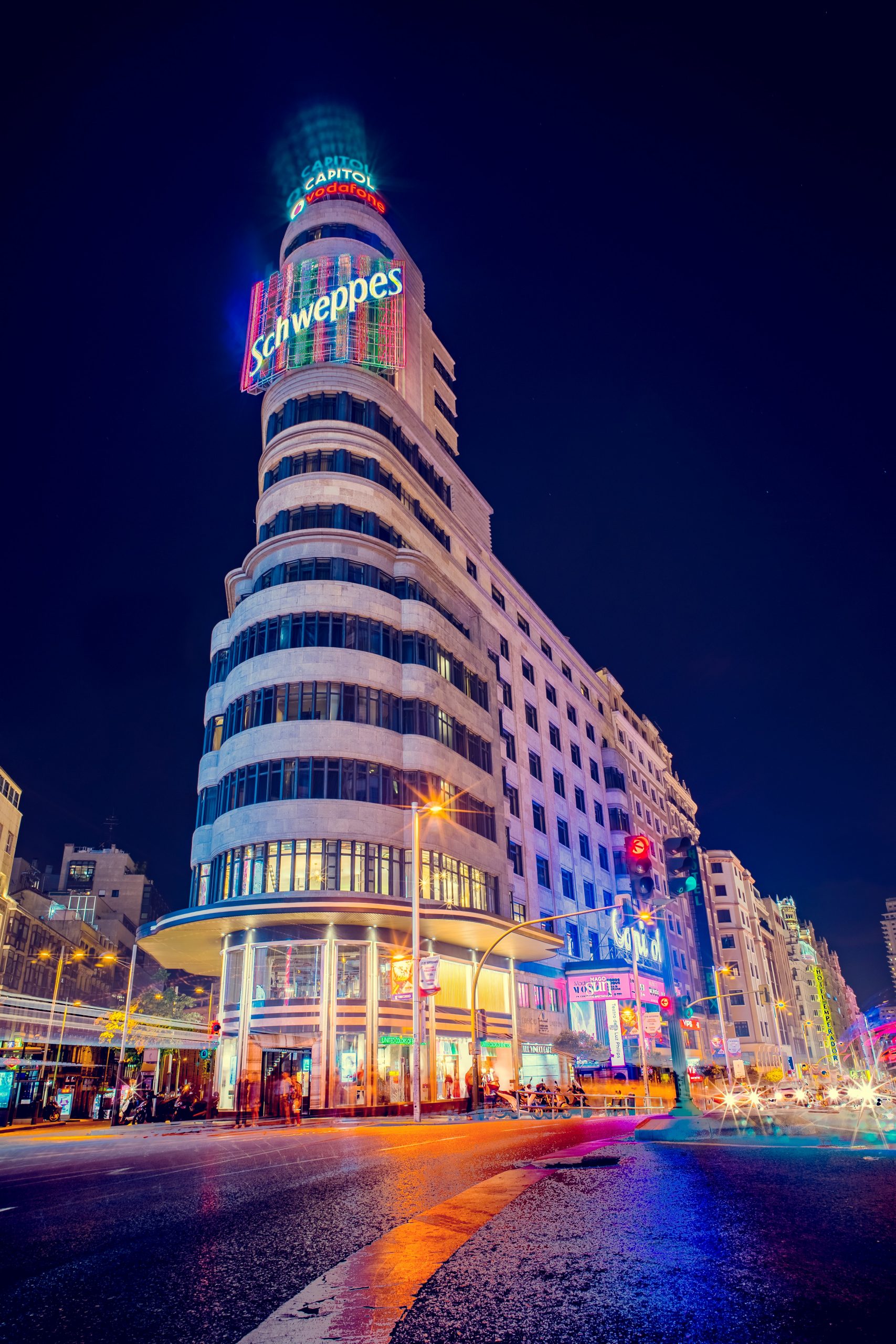 Have fun at one of Madrid's night tours
As someone that lives in Madrid, I can tell you that Madrid at night is an amazing experience. The sunsets in Madrid are magical. And so many buildings are lit beautifully, it makes the city look like a fairytale. That's why I can recommend doing one of the following night tours. Exploring Madrid on a segway or by bike is so much fun! Plus, you even have a local guide that gives you insider info about the city. This will be one of the tours you will never forget!
This is a two hour two by bike through the city center of Madrid. You will see all the important attractions of Madrid while a local guide tells you everything you need to know. Apart from that you also get to see the sunset at Templo de Debod. This is one of the best places to watch the sunset in Madrid!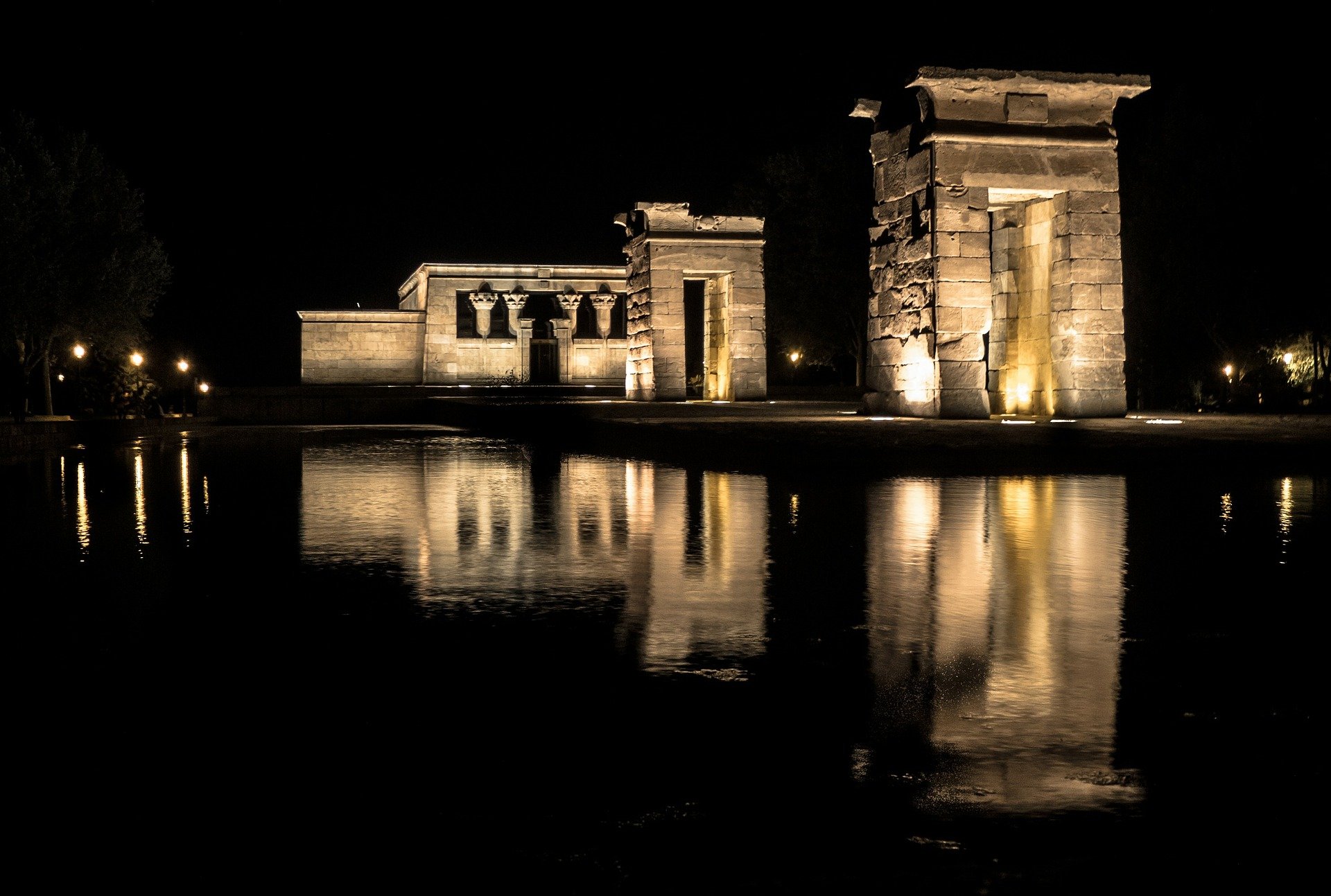 Another short tour that I would recommend doing is this Madrid at night Segway Tour. This tour is much shorter and takes you through the area around Mercado San Miguel, the Royal Palace, and Templo de Debod. Those are great and safe areas to go on a Segway. It is also one part of Madrid which is illuminated at night so you will pass by some really beautiful lit up historical buildings.
Explore the best food spots in Madrid:
You really cannot miss going to one of the best food spots in Madrid. And I encourage you to go alone because you will realize one thing: It is completely normal to have a meal in a restaurant by yourself. I know this is not as common in other countries (like Germany), but if you go to a restaurant in Spain you will sometimes see people having a meal by themselves. And why shouldn't they?! There is nothing weird about going to a restaurant by yourself. If you are uncomfortable, you can take a book with you. But do not miss out, just because you do not want to go by yourself 🙂
Try Churros at the famous La Mallorquína
La Mallorquína is a very famous churros place in Madrid. And rightfully so, since they have been open since 1894 and are specialized in making the best churros of Madrid! If you are not a big churros fan, you can go there for coffee and cake as well.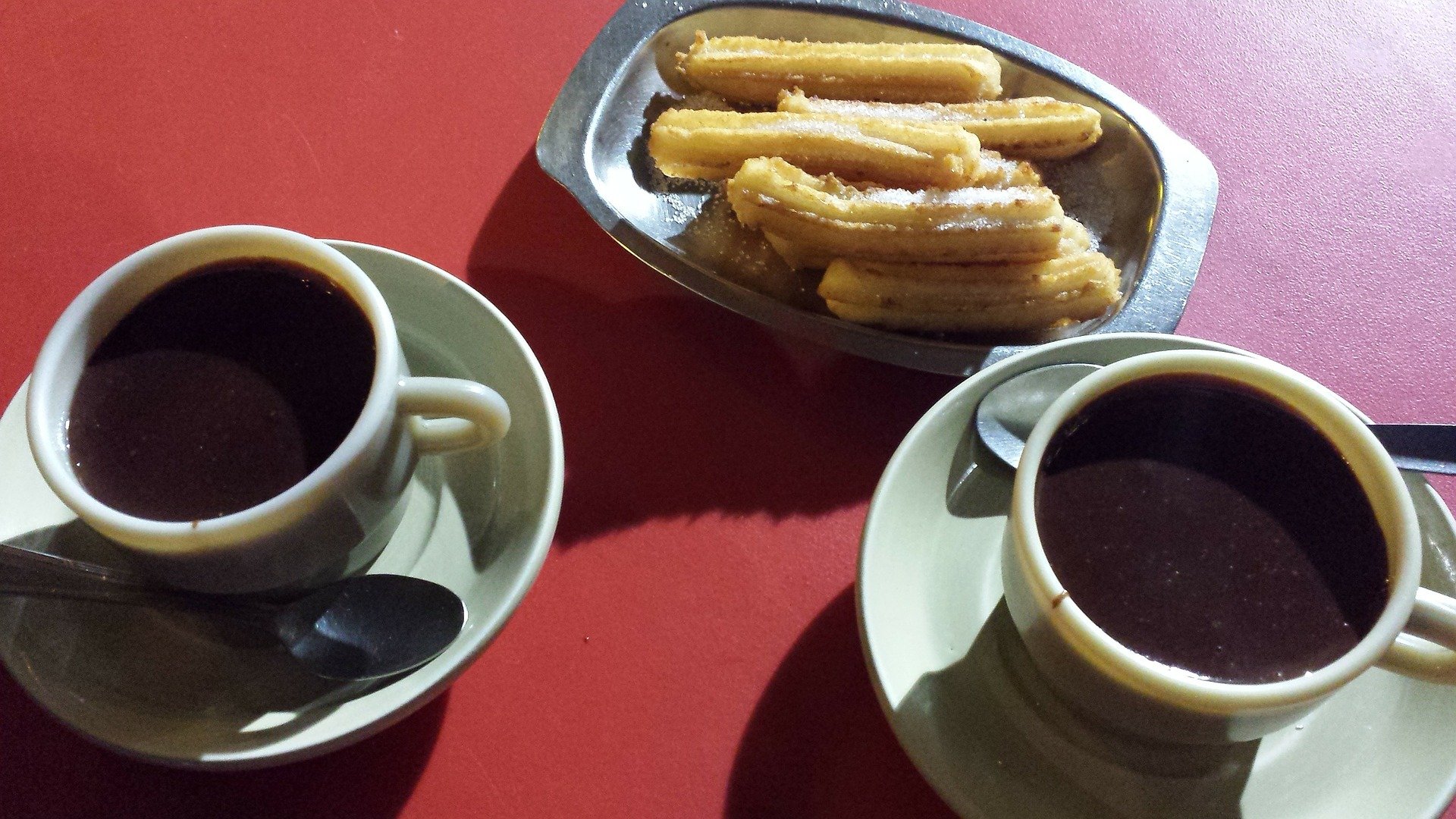 Have a Calamari Sandwhich at Bar La Campana
Madrid is famous for its Calamari Sandwiches. Typically, those are from Andalusia but over the last decades, they became very popular in other regions of Spain as well, like in Madrid. There are many places that offer Calamari Sandwiches around Plaza Mayor, but the most popular one is Bar La Campana. And they are so affordable! Definitely a must-try!
Have coffee and enjoy the wifi at Café del Art
Café del Art is a very beautiful coffee place in the neighborhood of La Latina. It is perfect for brunch, breakfast, or lunch. And they even have spots designated for people who want to get some work done on their laptops. It has a great young atmosphere and delicious coffee! A great place to go when visiting Madrid alone!
Explore Madrid's food markets when visiting Madrid alone!
If you do not feel comfortable going to eat by yourself you can always visit Madrid's amazing food markets and just grab some food to go! Madrid has many different food markets to explore. I can recommend visiting the following ones:
Mercado San Miguel: This is Madrid's most famous food market and is right around the corner of Plaza Mayor. It is definitely one of the more expensive markets. But you do not have to order anything if you do not want to. You can just have a look at all the amazing tapas. So tasty!
Mercado San Ildefonso: This is a very diverse food market in Madrid in the neighborhood of Malasaña. It has food courts from all over the world. In case you feel like trying some international food, this is your place to go.
Mercado de Chamberí: This is a very traditional Spanish Market in the neighborhood of Chamberí. I used to live right around the corner so I can give you an insider tip: Juancho's Burger is a burger place inside the market that has won best hamburger in Spain in 2019. A must-try if you're in the area!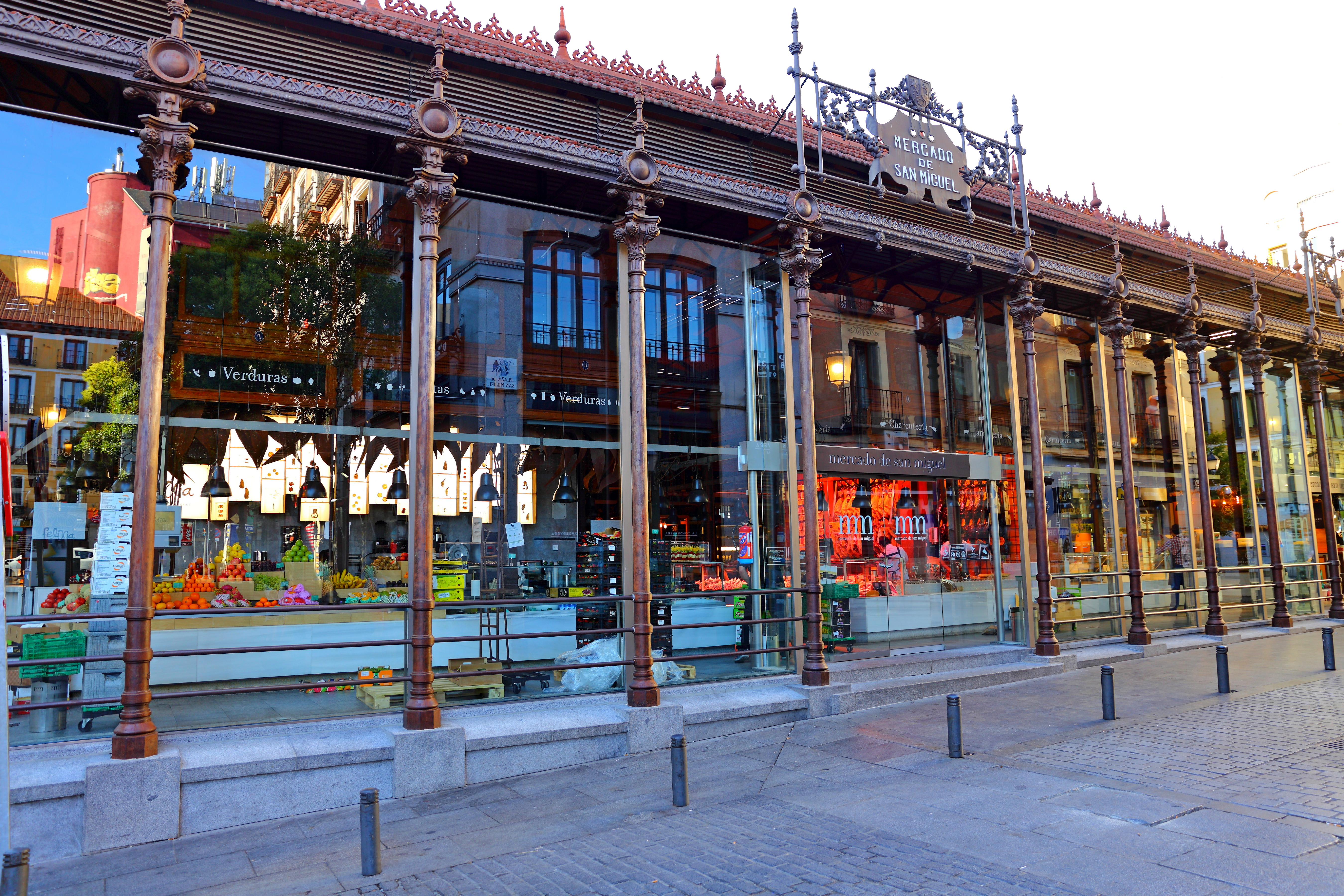 Visiting Madrid alone?! Go on a Shopping Spree
Madrid is a great place to go shopping! Especially if you are solo traveling to Madrid there are many places you can check out. I love going shopping by myself because you do not have to wait for anyone and can just go at your own pace.
A good starting point for a shopping day would be Calle Preciados and Gran Vía in Madrid. There, you can find many popular shops like Primark, Zara, and Mango. Even Stradivarius is present in Madrid. I would even suggest checking out the Spanish mall called "El Corte Inglés". Apart from many Spanish brands, they have a supermarket that is perfect if you are looking for souvenirs or want to bring back typical Spanish goodies.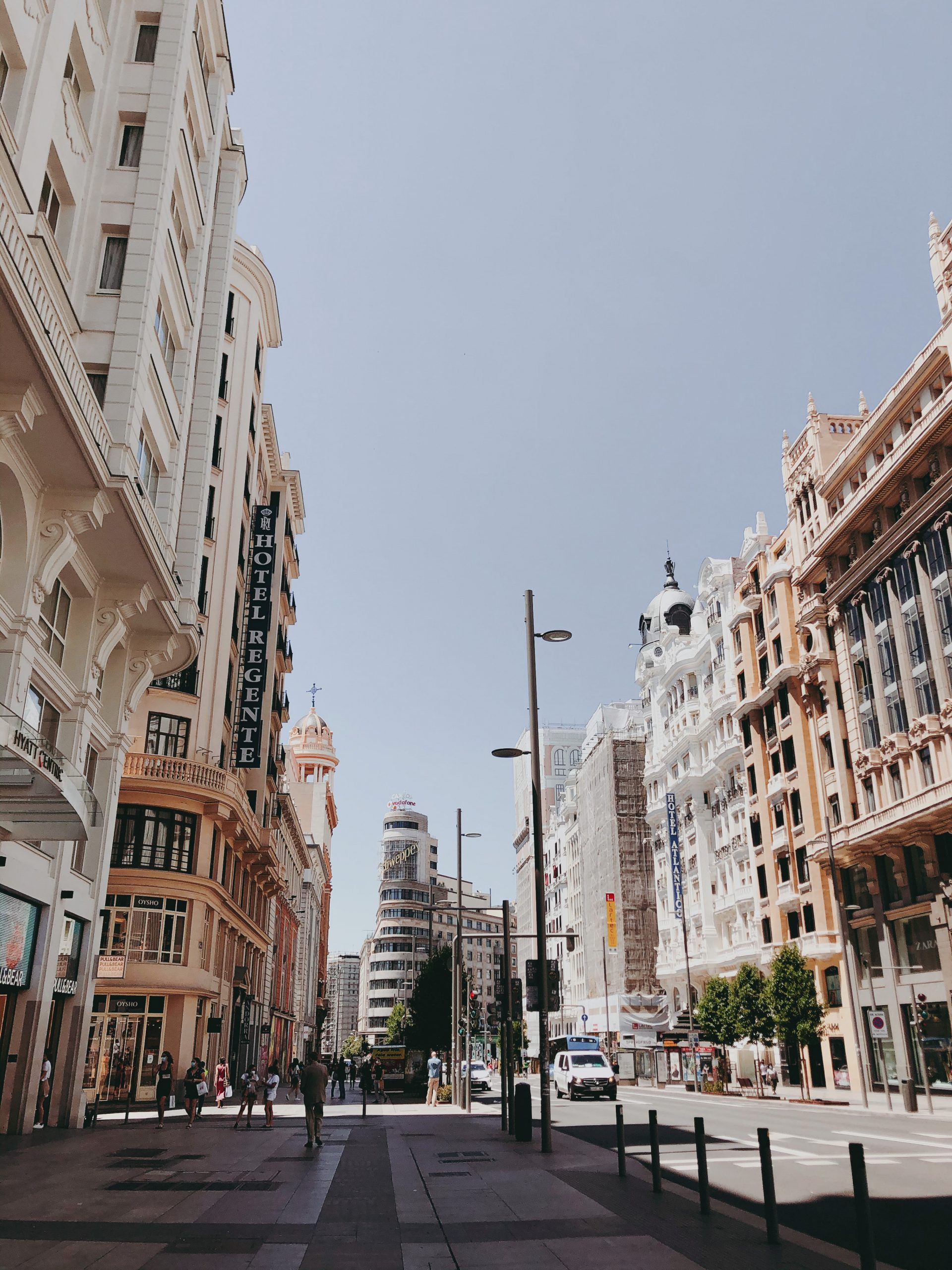 Another place that is great for walking around is Malasaña. There are many unique little shops where you can find really cool souvenirs and clothes. If you are into vintage clothes and second-hand items Calle Velarde is the place to go. There are many vintage or second-hand shops on that street. I am sure you will find a cool vintage jacket in no time!
Relax at the Retiro Park in Madrid!
The Retiro Park is one of my favorite places in Madrid. I think it's amazing Madrid is such a big city but still has so many green places. The Retiro Park is great for a nice afternoon walk. But not only that, this is a park that even has museums, art exhibitions, and amazing sunset places. Especially when solo traveling to Madrid, the Retiro is a great opportunity to escape the noisy capital for a while just relax!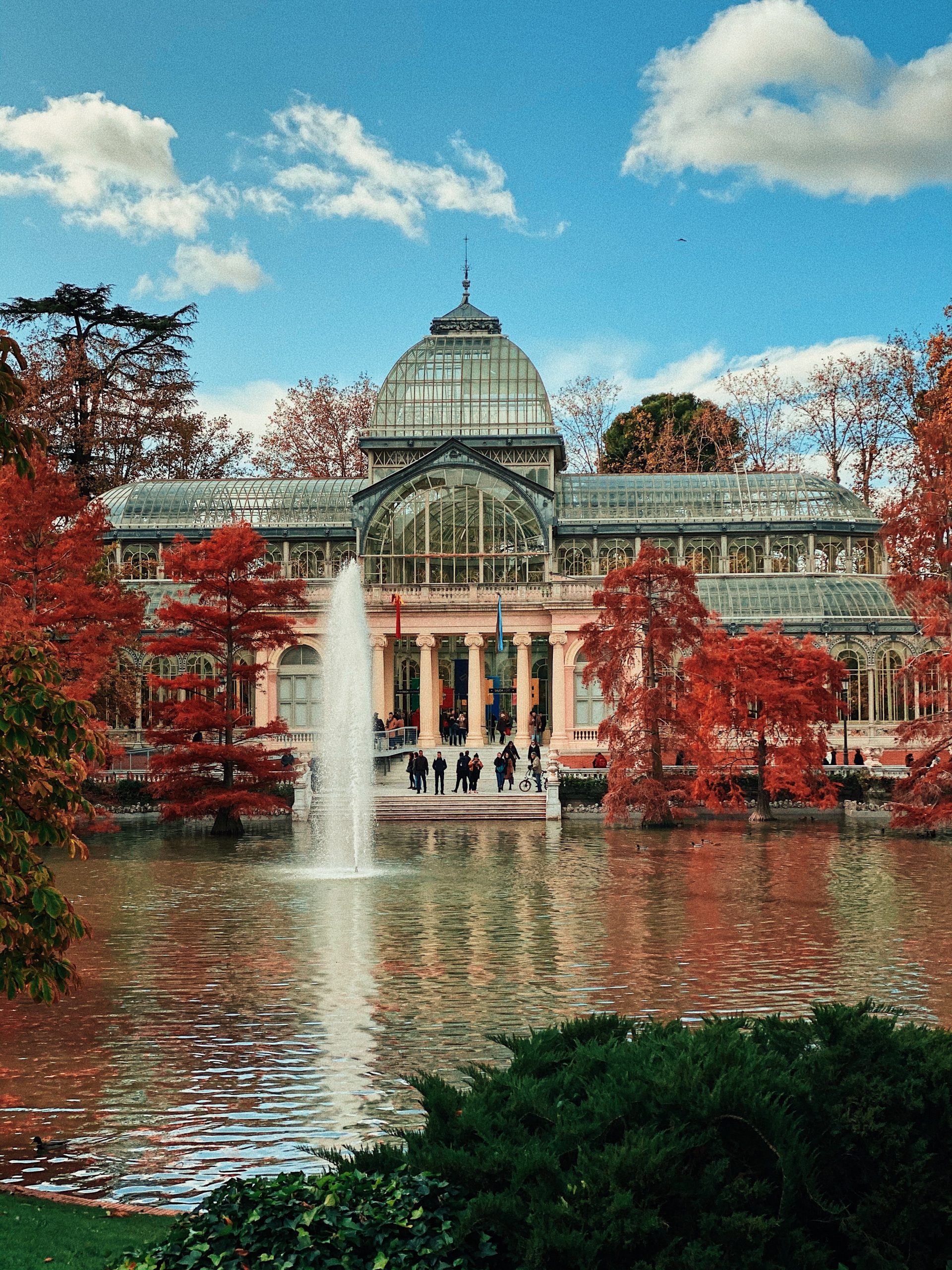 What you have to do at the Retiro Park:
Visit Palacio de Cristal: Palacio de Cristal is a conservatory located in the center of the Retiro Park. It belongs to the Reina Sofia Museum and hosts temporary art exhibitions. It currently shows an art exhibition about Spanish colonialism of the Philippines. Very recommendable!
See the sunset at monument Alfonso XII: This monument is located right next to the big lake in the Retiro Park. It is a very popular place to hang out during the sunset. There is often live music during the evening. Very romantic!
Check out the Roses at La Rosaleda: The Retiro Park has its own rose garden. It owns more than 6000 different roses. If you happen to be in Madrid during the warmer months you have to check it out.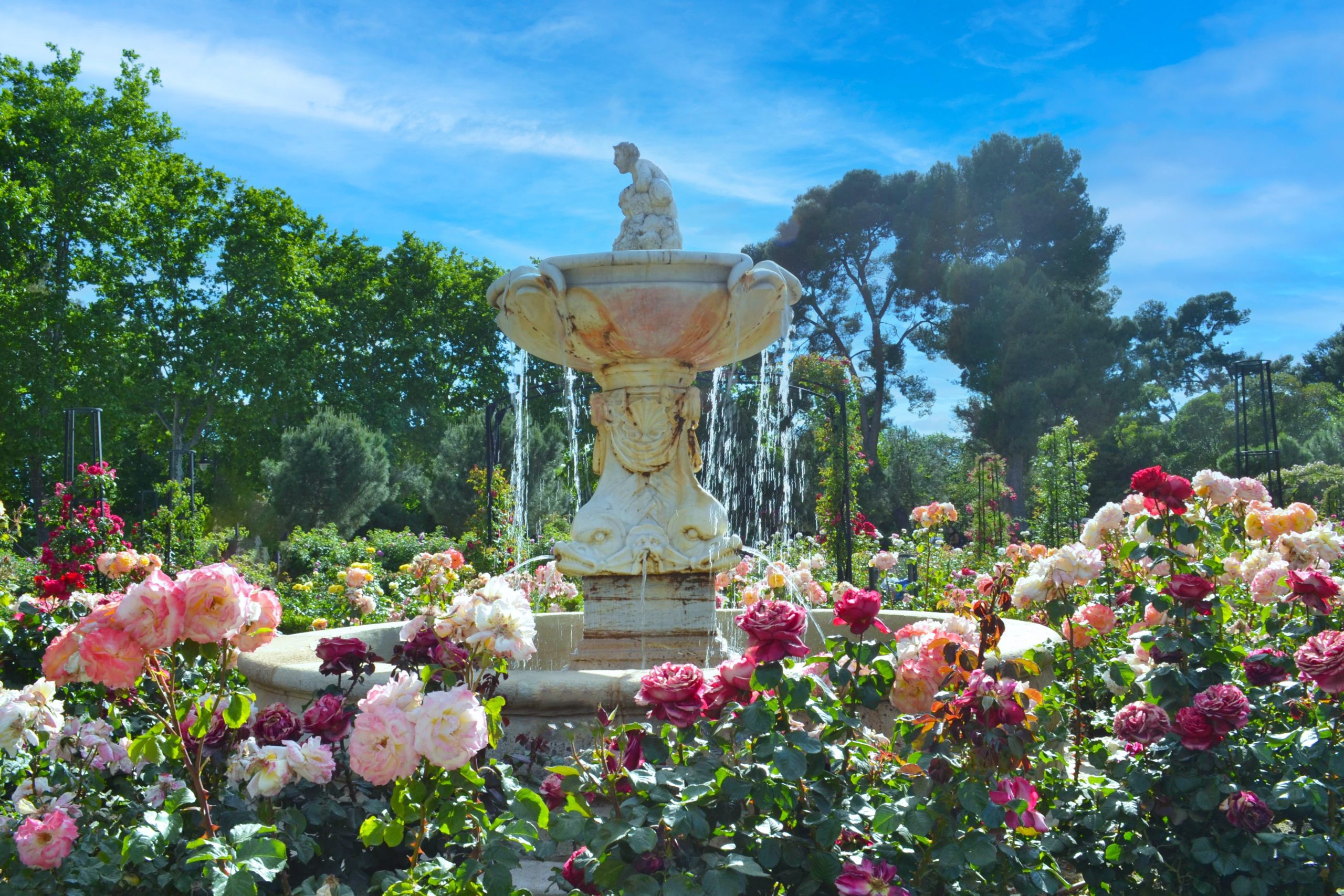 Do a one day trip to the city of three cultures: Toledo!
I always recommend doing a one-day trip from Madrid, because there are many smaller cities and villages full of culture and history to explore. Toledo is perfect for a one-day trip from Madrid. It was declared a UNESCO World Heritage site for its cultural heritage.
It is very easy to get there. You can take the train from the Atocha Train Station or catch a bus from Avenida de America.
I wrote a detailed guide about visiting Toledo in one day, which you can find here.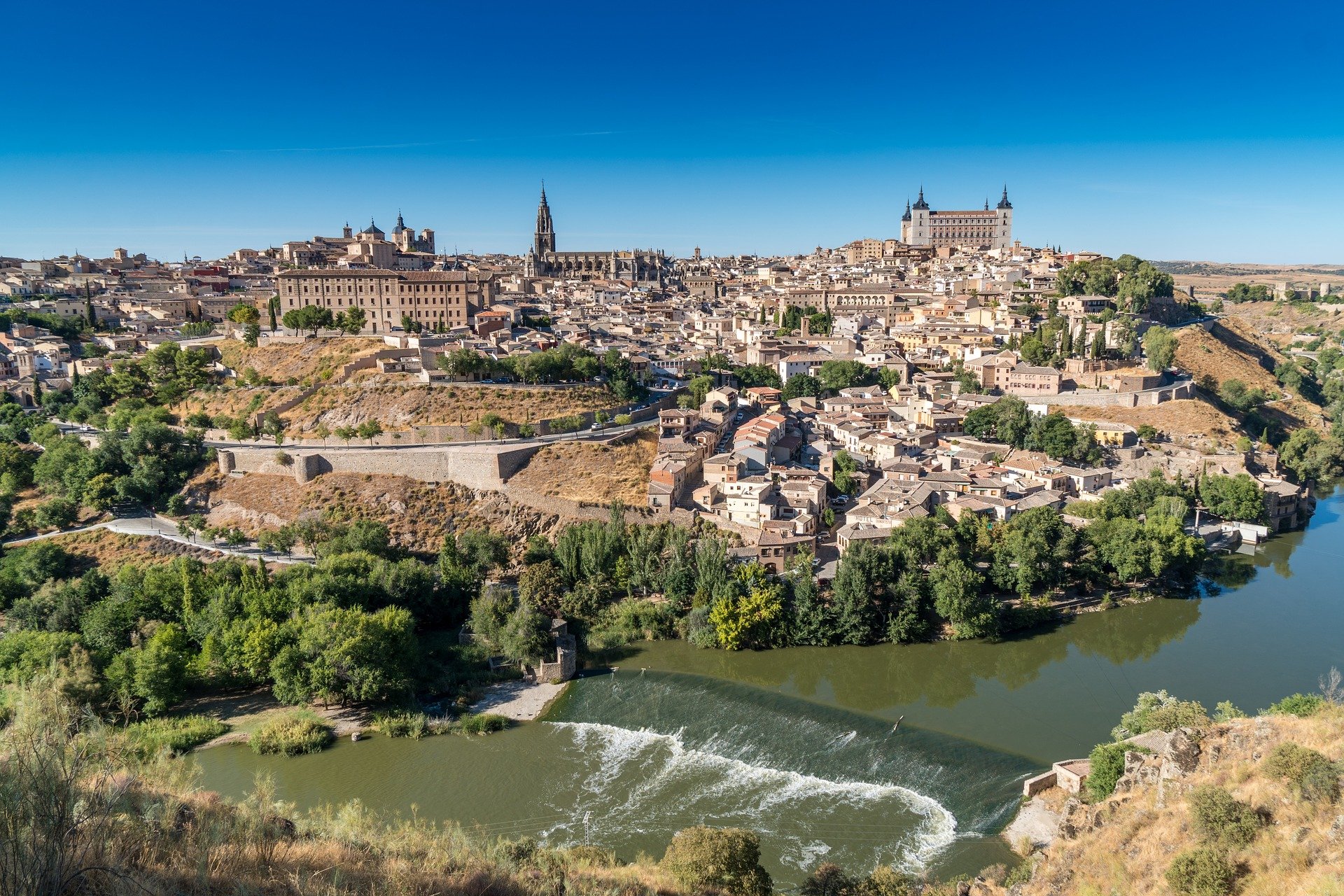 Once you are in Toledo you have to explore the small city around the city walls. Visiting Toledo is like a journey back in time because you will see so many beautiful buildings and can admire the old architecture. Jews, Muslims, and Christians used to live here altogether. This is why you can find a cathedral, synagogues, and mosques in Toledo. You can easily visit Toledo by yourself or maybe take a friend you met at your hostel. I am sure you guys will have fun!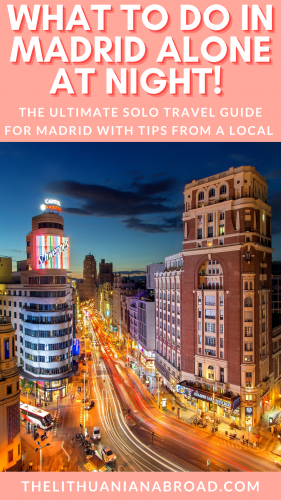 ---
And that was my 'Solo Travel Madrid' guide. Again, I can only encourage you to travel to Madrid alone. You will definitely have a great time and even be able to meet new people that turn into friends very quickly. Madrid has so many places to explore and things to see. And it is such an open city for solo travelers. What do you think? 🙂