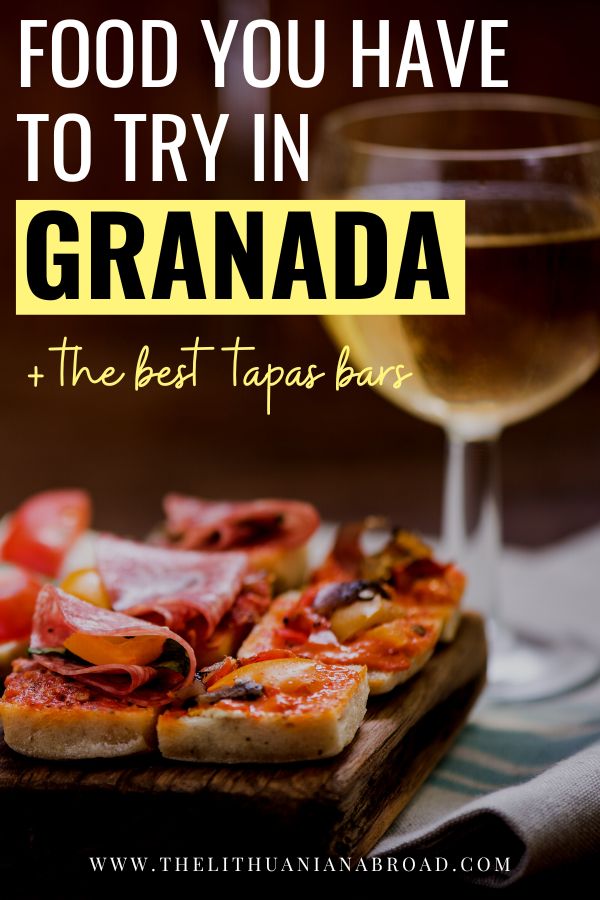 A couple of weeks ago my boyfriend and I visited Granada for a couple of days. And if there is something that I was so looking forward to, it was the food in Granada. You just have to leave it to the Andalusians: They value fresh ingredients and have incredible cuisine.
And that was something we really wanted to enjoy during our stay: Granada's food culture. In order to really dive into Granada's food scene we signed up for a Granada food walking tour. That way we were able to try the best local restaurants in Granada. And a local was teaching us about Granada's dishes, wine culture and so much more. A true delight! 
That is what this blog post will be about: Food in Granada. We will talk about Granada's tapas culture, the incredible wine in Granada, and other things. So, keep reading. Here are 16+1 dishes in Granada you have to try during your stay.
---
Affiliate links may be sprinkled throughout the free content of this blog post. If you purchase from one of the links I may receive a small commission while the price for you stays the same. This helps me cover the costs of The Lithuanian Abroad. Gracias!
Other posts about Granada you have to check out before visiting:
A self-guided walking tour itinerary for Granada: This guide includes a walking tour itinerary for Granada. You can even find an interactive map with the city's highlights that you can download. Make sure to check it out!
How to spend 2 days in Granada: This blog post includes a full itinerary for spending two days in Granada. See the greatest monuments, explore museums, viewpoints and more!
Why you should visit Granada in winter: My boyfriend and I visited Granada in winter, and we had a great time! This post features tons of activities you can do in Granada in winter. And we talk about how cold it gets in Granada in winter as well 
Everything you have to know about visiting the Alhambra: This blog post is super helpful if you (and you absolutely should!!) visit the Alhambra. Everything you need to know before visiting, what type of tours there are, what tickets to buy, and much more!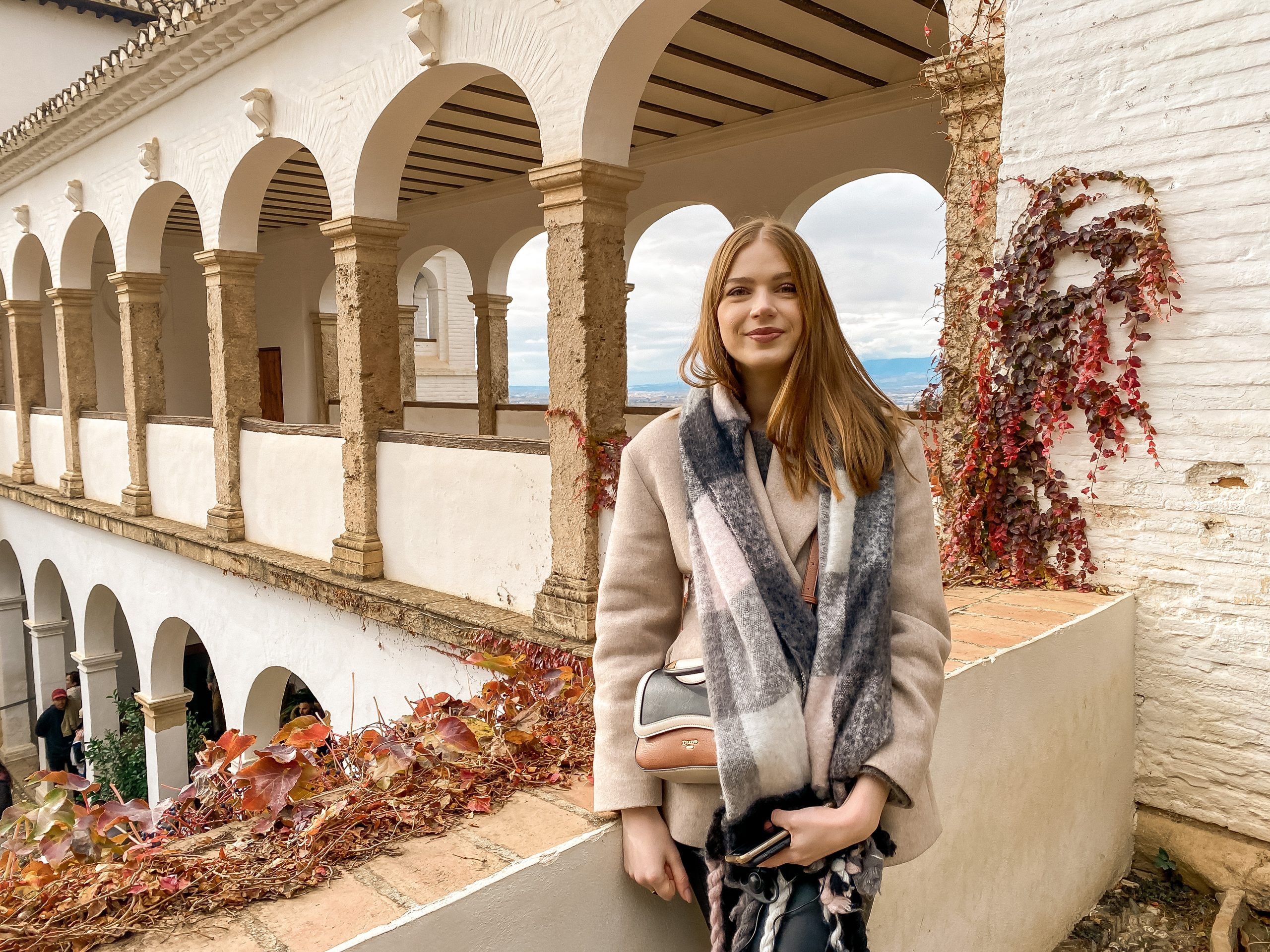 Food in Granada 101: Explore the tapas bars!
Let's start with the most important topic when it comes to food in Granada: Tapas, tapas, tapas. 
Granada is famous for its incredible tapas culture. This means, that when you order a drink in a bar in Granada, you usually get an appetizer with your drink. And these tapas can get pretty huge in Granada. It is very common to go "de tapas" in the evening. That means that people usually go bar hopping, ordering drinks and tapas, and having a great time. This is exactly what you should do on your Granada trip!
But usually, all bars will give you a small tapa with your drink. So, just try some bars out!
Where to find the best tapas and bars for Spanish food in Granada? Try Los Manuelos, Los Diamantes, La Buena Vida, Bar Avila I, Bar Castañeda or La Sitarilla.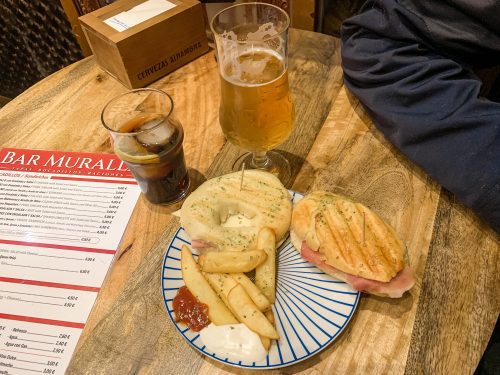 Breakfast in Granada: 
Granada has so many amazing breakfast places
Amazing breakfast and brunch restaurants in Granada are Epicureum Café, AMAZONICA coffee & breakfast, Oteiza Coffee or Perspecticas Café & Honest Food.
When it comes to food in Granada that you have to try, put churros on the list. Churros are a very common afternoon snack, but many people also order them for breakfast. A famous place in Granada to order churros is Café Futbol. 
Apart from that, make sure to try freshly pressed orange juice in Granada. To me, orange juice in Spain always feels so tasty and nutritious. And the perfect breakfast drink.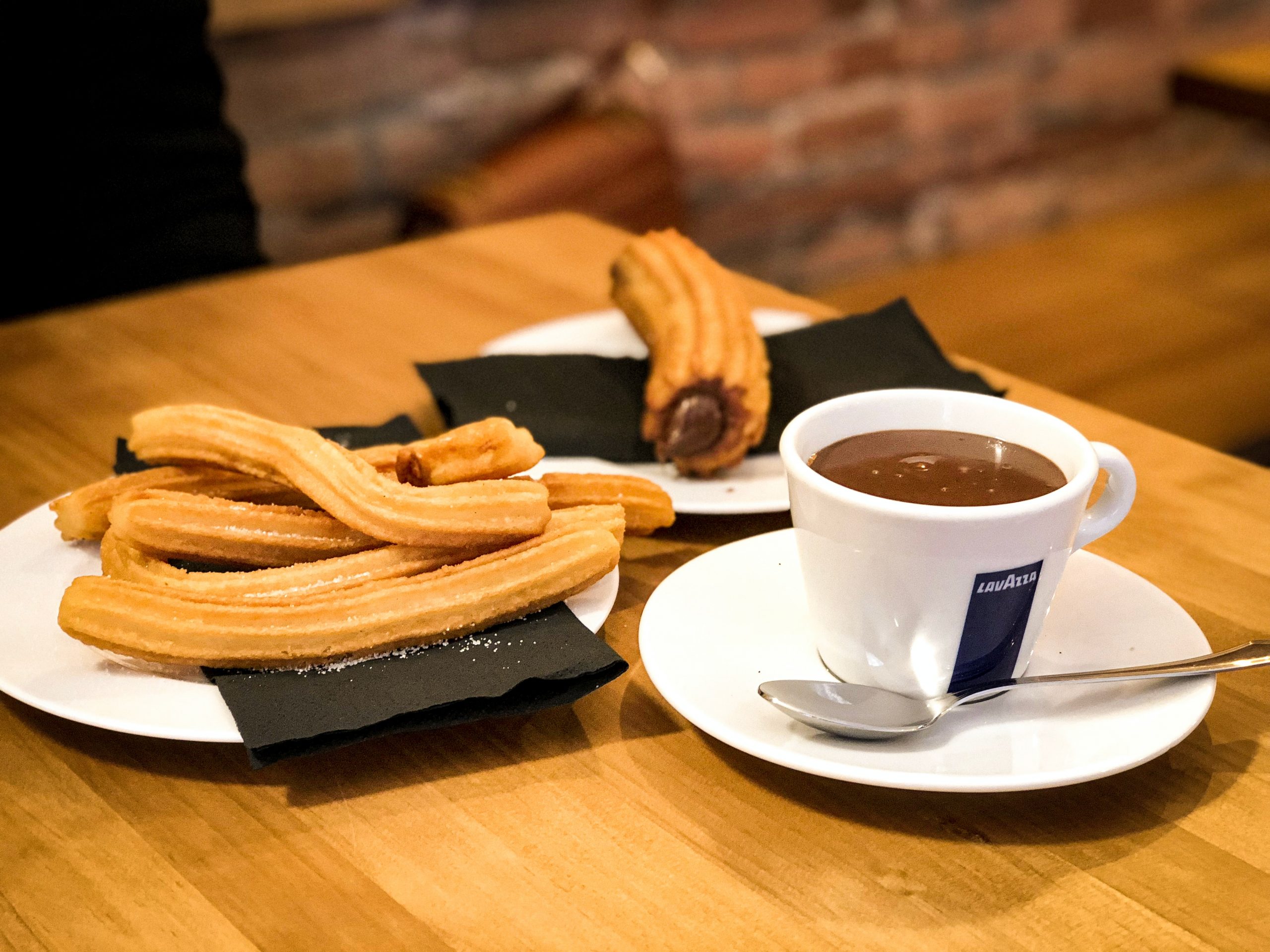 Dinner in Granada:
When it comes to dinner in Granada, I would suggest trying out some tapas bars that you can find all over Granada. We spent so much time tapas bar-hopping and trying all of the fantastic Spanish food in Granada. 
Beautiful you want to go to a nice restaurant in the evening, there are many you can choose from. My favorite on the list is Restaurant Chikito in Granada. This place is just so authentic and iconic. The walls in this restaurant are full of celebrities that have visited this place
Granada is the perfect place to really dive into Spanish cuisine and try different tapas. I am sure you will have an amazing time!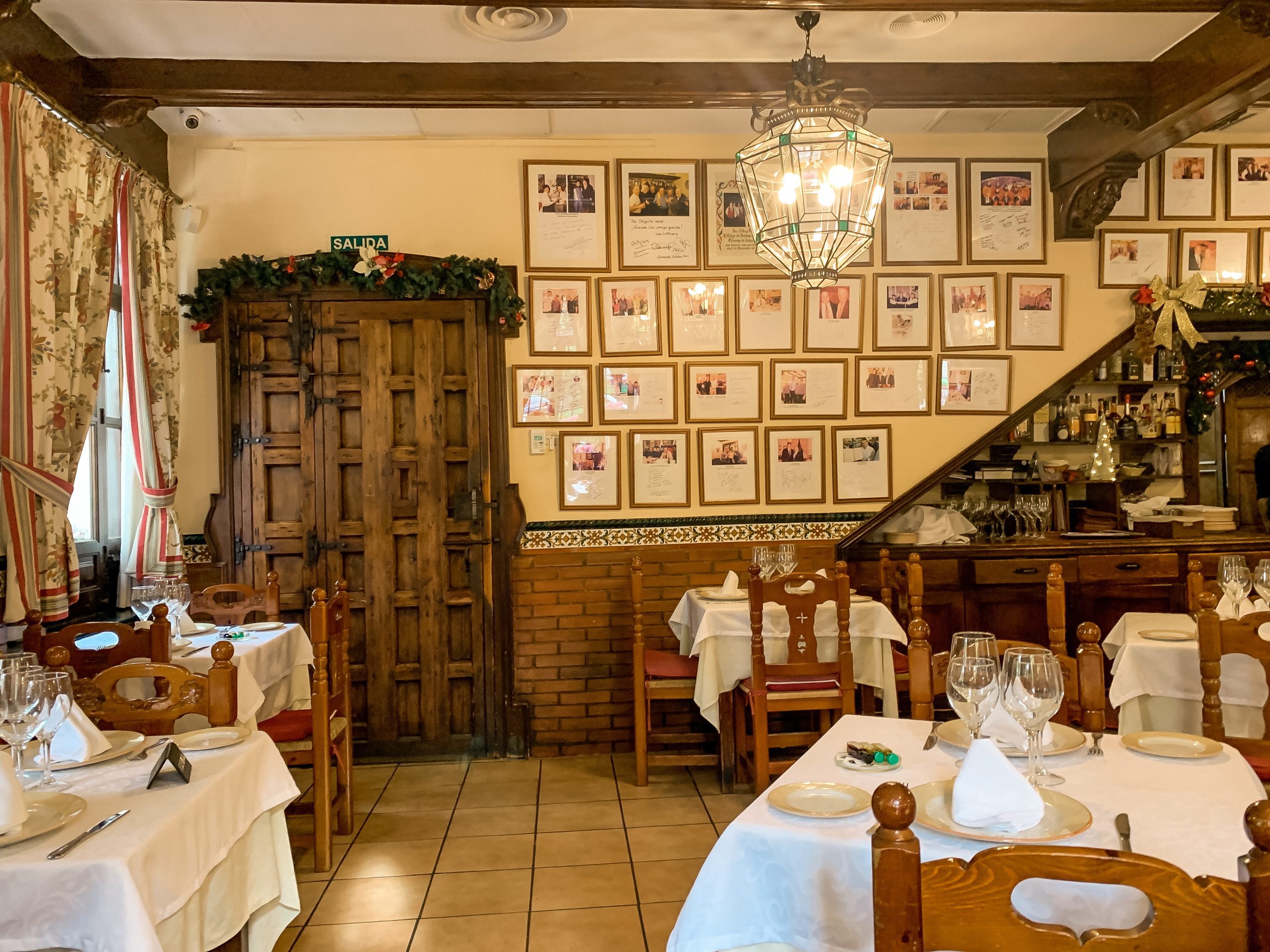 Tips for vegetarian/vegan food in Granada
For my vegetarian readers. At first sight, it might seem difficult to find vegetarian tapas or vegetarian food in Spain. I have to admit, whenever I go to Germany I am so surprised by the number of options there are for vegetarians and vegans. In Spain, we are not that far yet. While there are more vegetarian options in larger cities like Madrid or Barcelona, smaller cities tend to be more limited when it comes to that. 
BUT, it is not impossible. And I would still recommend visiting Granada, even if you are a vegetarian or vegan. During our stay in Granada, I found a couple of vegetarian restaurants. And yes, even some vegan restaurants! For example, Wild Food (vegan!), Restaurante Vegano Hicuri (vegan!), and Restaurante Paprika. 
I do recommend visiting traditional tapas bars and just telling the waiter that you don't eat food (No como carne). Spanish dishes that usually don't have meat are Patatas bravas, Pimientos de Padrón, Gazpacho, Tortilla de Patata, and Alcachofas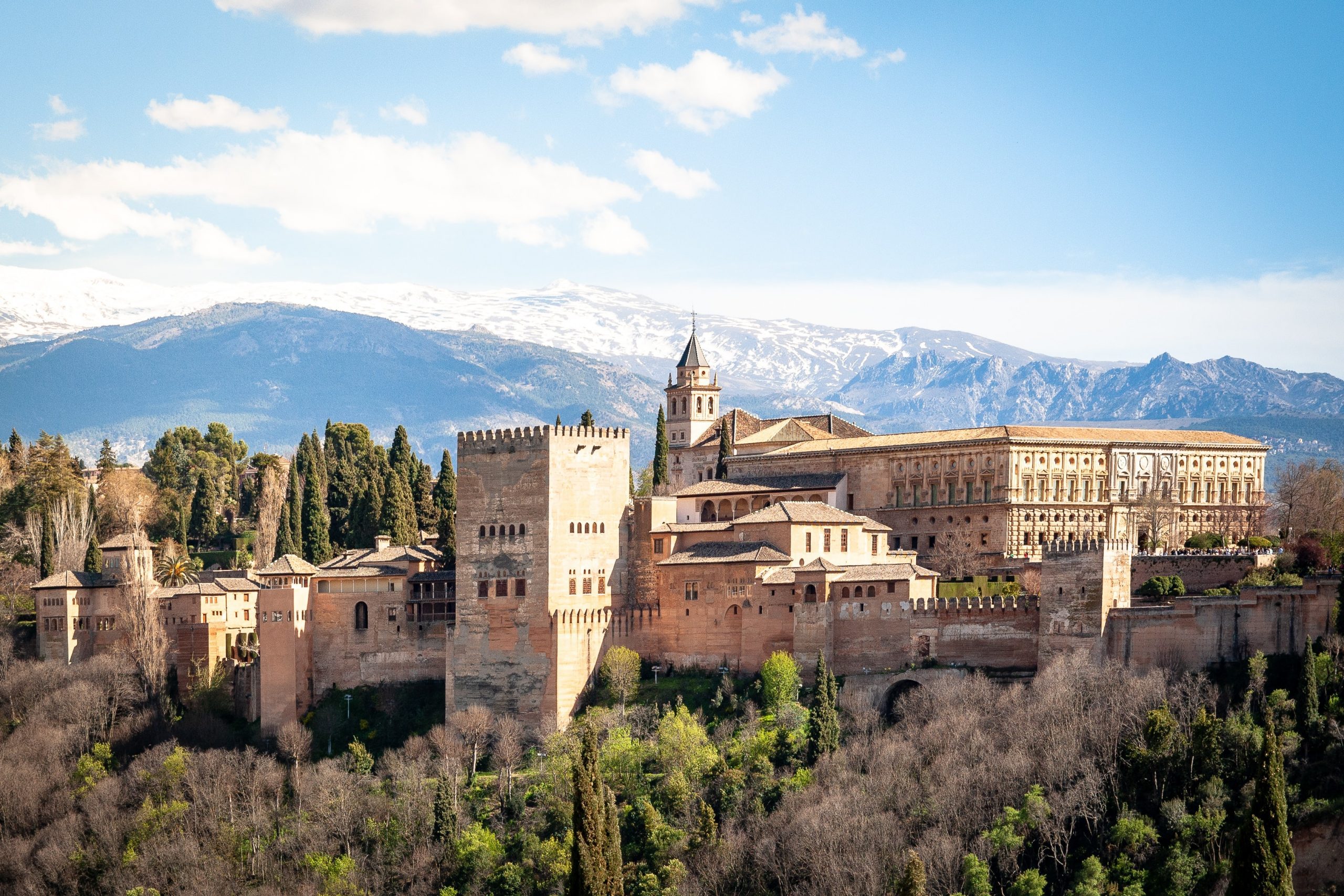 Do a tapas walking tour in Granada 
If there is something that I can really recommend, then it's doing a tapas walking tour in Granada. We decided to go for this tour because I really wanted a local to show us the absolute best places in Granada. And I absolutely loved this tour!
Our tour guide Molly has been living in Spain for many years and really tried to show us the best places for food in Granada. In total, she took us to three incredible places in Granada. 
We tried wine from Granada, Spanish tortilla and other amazing dishes that you can find on the list below. While walking around Molly told us incredible facts about Granada and the food culture there. 
My boyfriend and I enjoyed this tour so so much. You can find information about it here. 
Below you can see a reel that I created about it!
Do a free walking tour in Granada
Whenever I visit a new city I make sure to do a free walking tour on the first day. It will help you so much to understand the new city better. That way, you will already see the most important places and major monuments. And not only that. Your local guide will tell you so much about Granada from the eyes of a person that actually lives there.
We did a free walking tour in Granada and absolutely love it. Our local guide Marta told us much about Granada's history, taking us around the old town and to several viewpoints. We had such a great time! 
How do free walking tours work? Free walking tours do not come with a set price, hence, they are free. But at the end of the tour, you have the chance to leave your local guide a tip. And how much you would like to tip them is completely up to you. Usually, it depends on how much you actually liked the tour and on your budget. 
You can find all free walking tours in Granada here.
Food in Granada you have to try: Here come 17 dishes to put on your list!
Remojón Granaíno, Granada's traditional salad
The Remojón Granaíno is a traditional salad from Granada. Especially during the warm season, this salad will be a huge lifesaver. This traditional salad consists of orange, salted cod, olives, scallions, olive oil, and vinegar. Mixed together this salad is the perfect dish to eat on a warm day. 
When it comes to food in Granada, this is one of the dishes you cannot miss. You will hardly find it in any other area in Spain.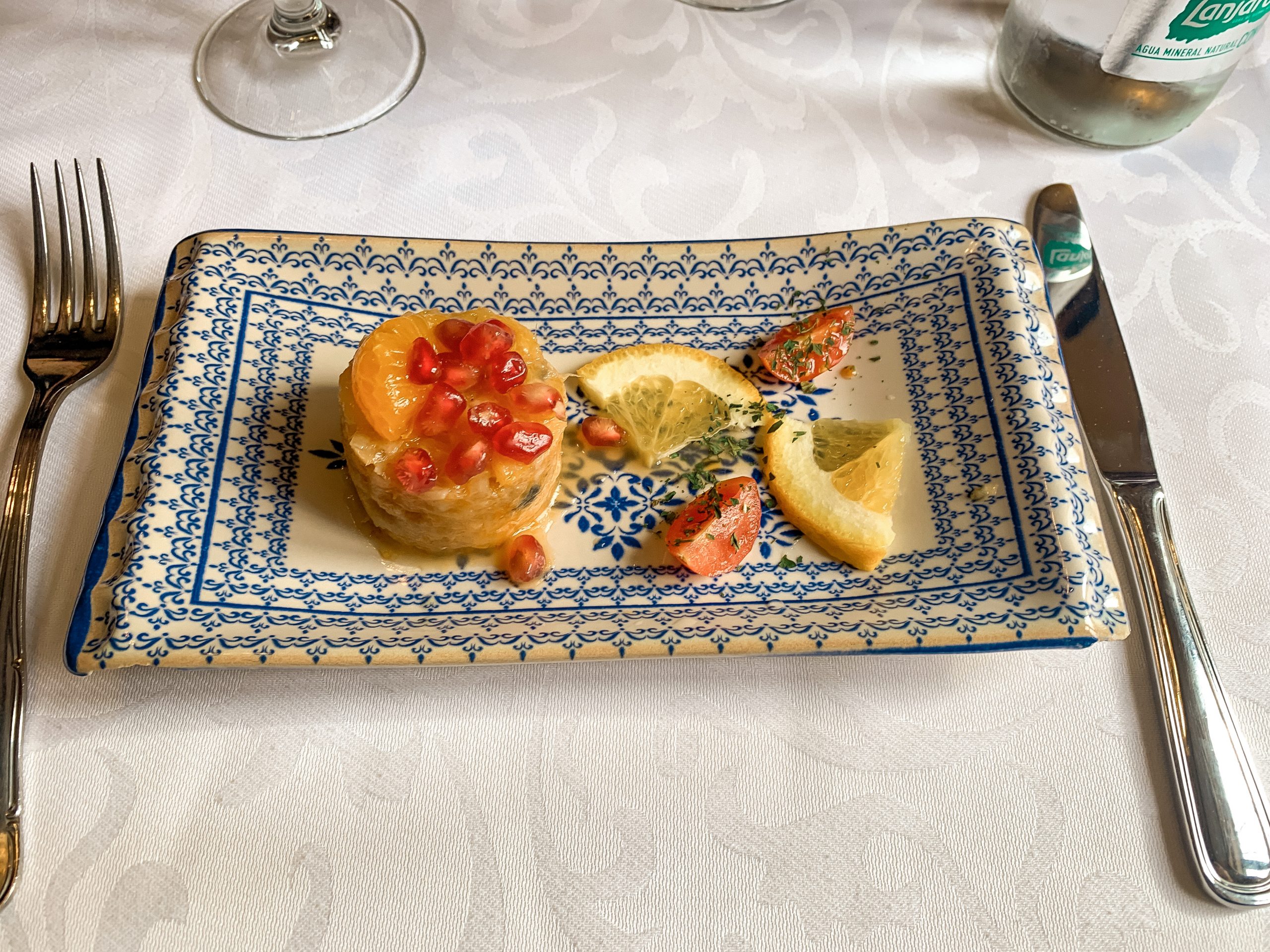 Habas con Jamón, or beans with ham
Habas con Jamón translates to "Baby broad beans and cured jam" and is a popular dish from Andalusia. In Granada, many tapas bars have this dish on the menu, so make sure to look for it whenever you visit a restaurant. 
Especially if you are visiting Granada in spring, you should try habas con jamón. That is when the beans are in season and will be even more tasty and fresh than usual.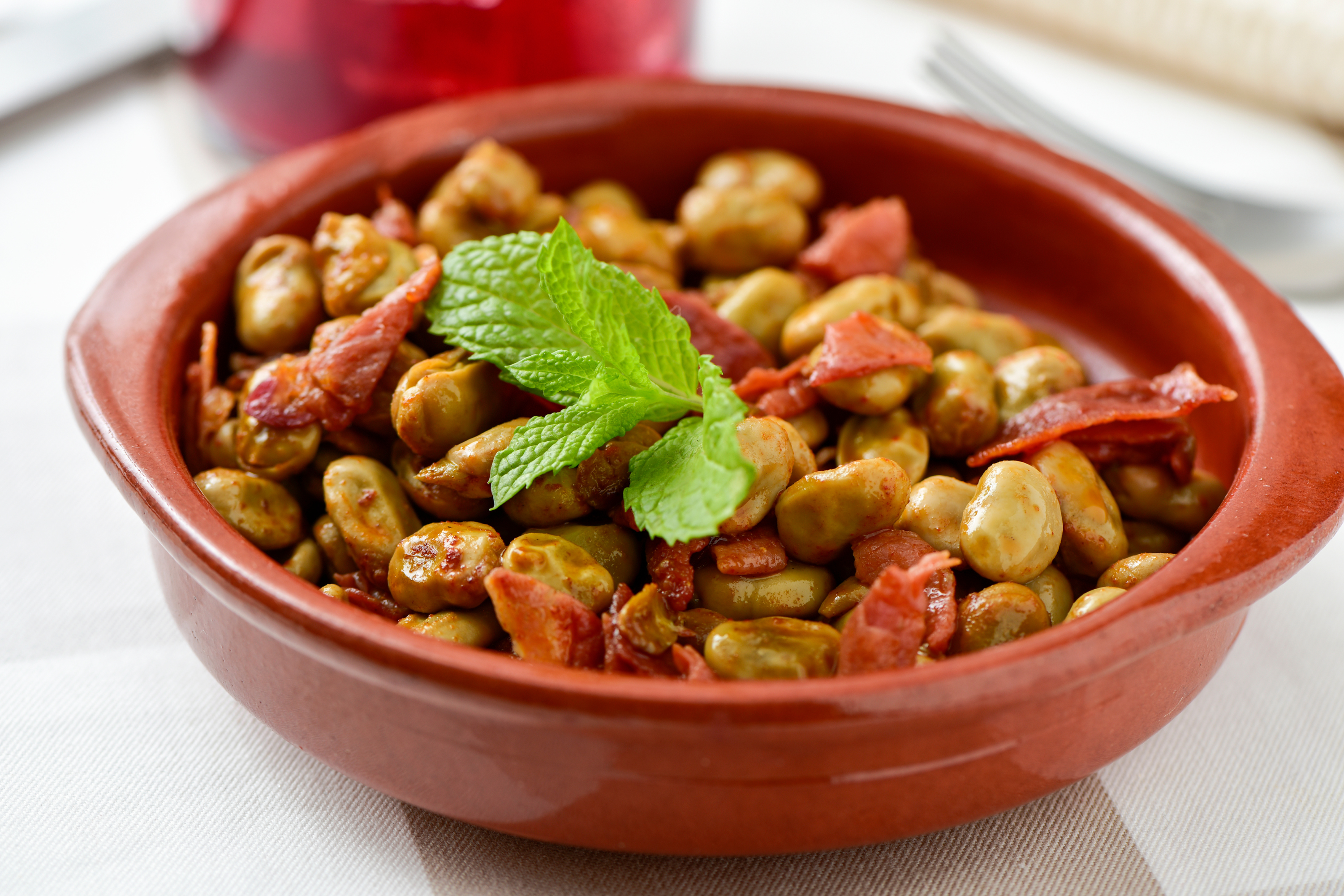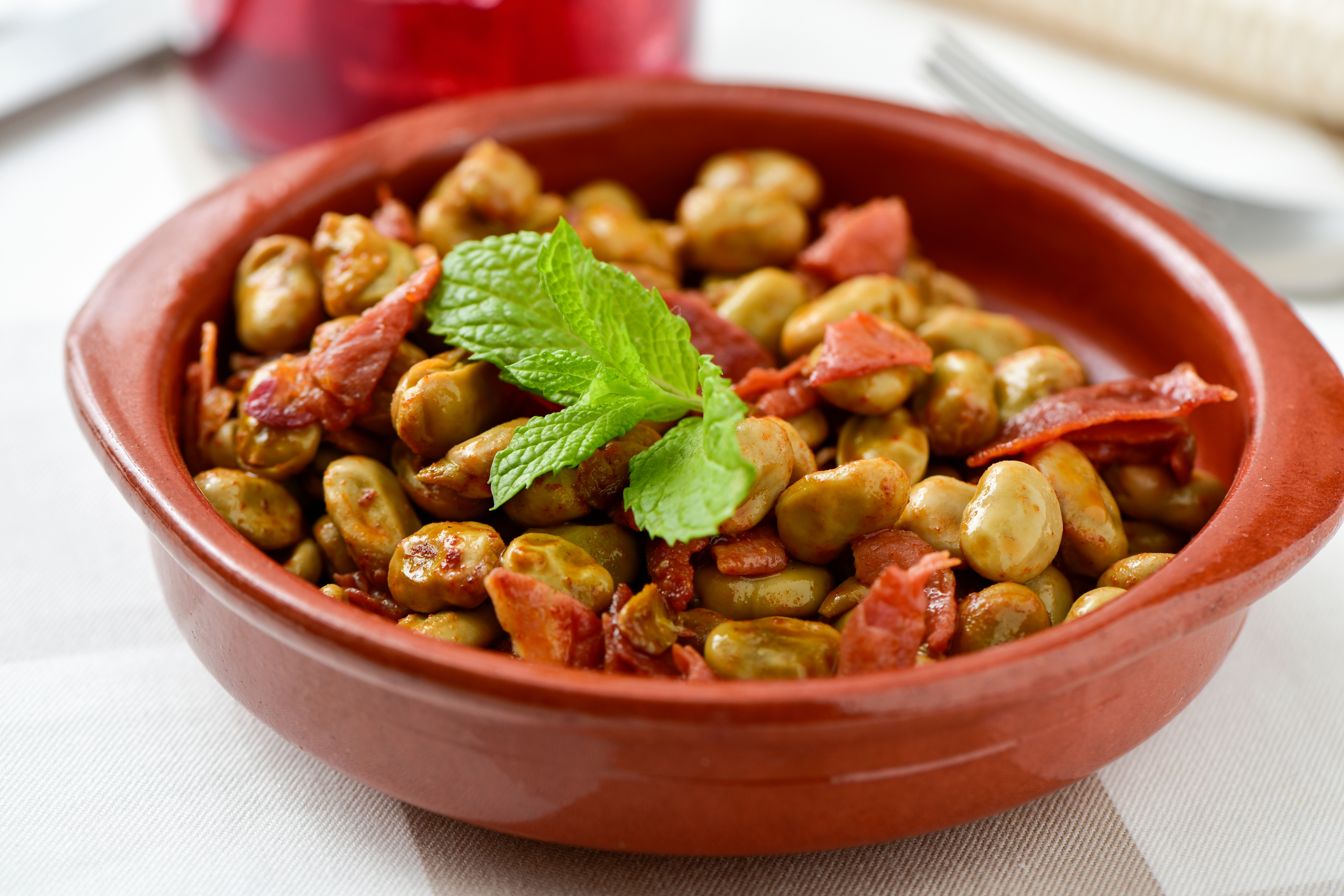 Churros con Chocolate, a must!
Churros. Con. Chocolate. Put this on your Granada food bucket list. You really cannot visit Spain without trying the famous churros. And you are lucky. Because churros are very famous in Granada and there are many places you can get them from. 
Churros are thin and long dough sticks that are fried and sprinkled with sugar. They are served with a hot and thick chocolate liquid which you can dip in the churro. Churros con Chocolate are very common for breakfast and afternoon snacks. Traditionally, they are not a dessert but I see restaurants offering them as dessert as well. 
A very famous place to try Churros con Chocolate in Granada is Cafe Futbol. Make sure to check it out during your stay.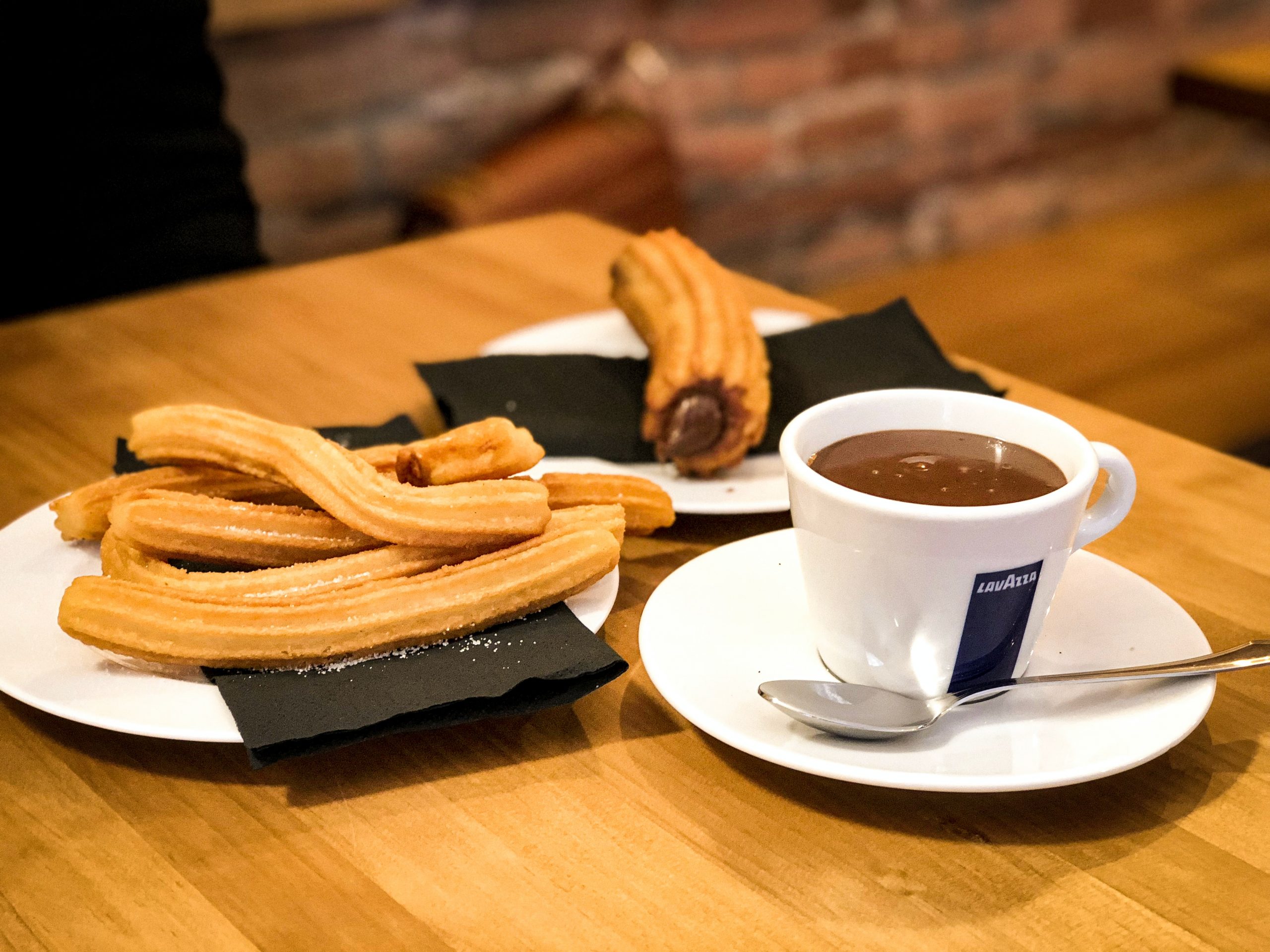 Plato Alpujarreño, the one and only from Granada
The Plato Alpujarreño, the "dish from La Alpujarra" is a typical dish from the Granada and Almeria region.
Even though it's called a dish, it's more like a plate full of typical products of the region: different types of meat such as jamón serrano, morcilla, fried eggs, and potatoes. Super simple! But with the best things from the South of Spain in one dish. 
If you want to try more traditional food in Granada, make sure to try out this one!
Pipirrana, another
Pipirrana is the perfect summer salad from Andalusia. If you happen to be in Granada during the summer months, this salad should be your first choice. There are many variations of Pipirrana, depending on the area you are in the South of Spain. But mostly, the Pipirrana has 4 ingredients tomatoes, cucumbers, onions and bell peppers. I personally have seen it served with hard-boiled eggs as well as olives. 
And of course, at the end the Pipirrana is sprinkled with some delicious olive oil and vinegar. Voila!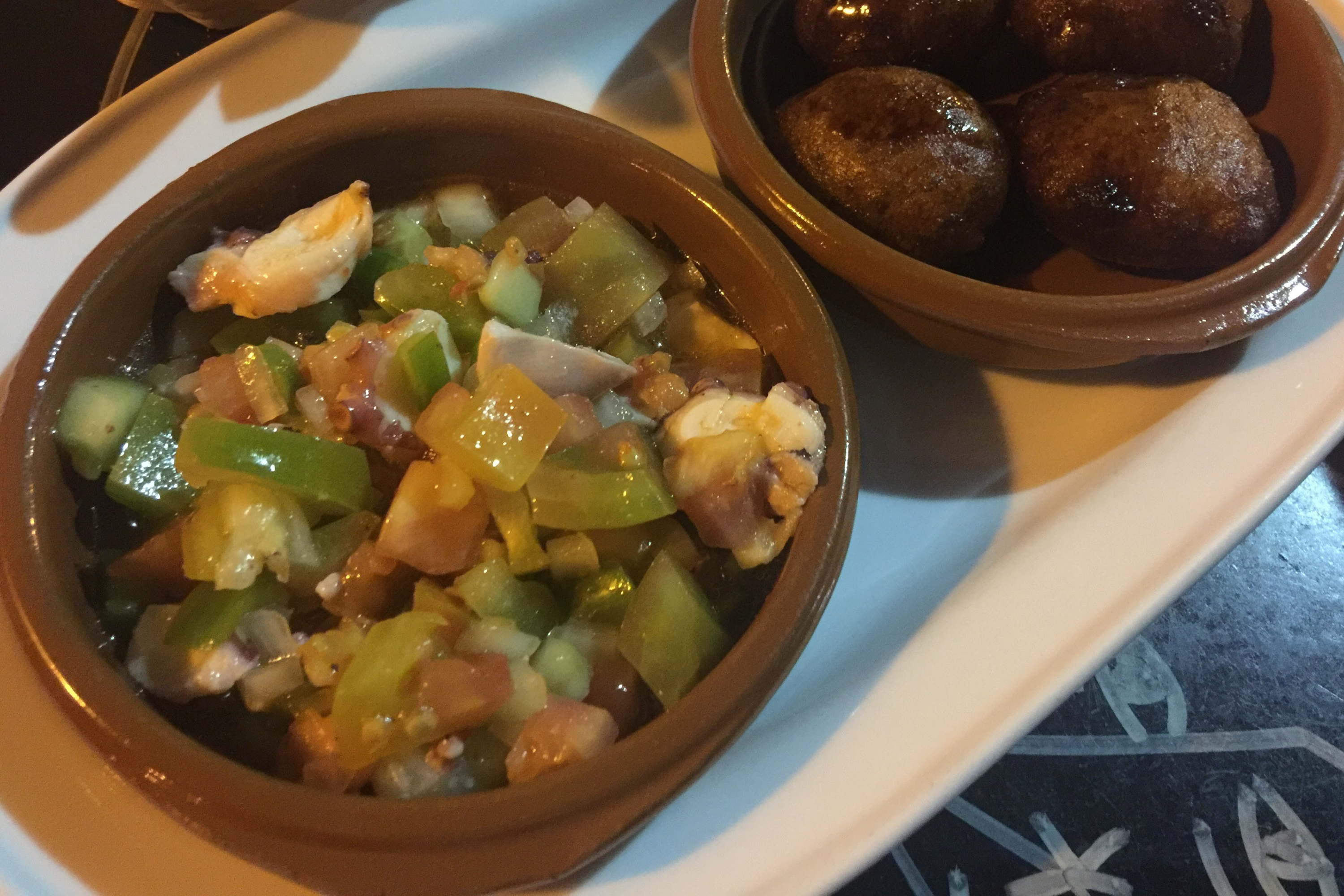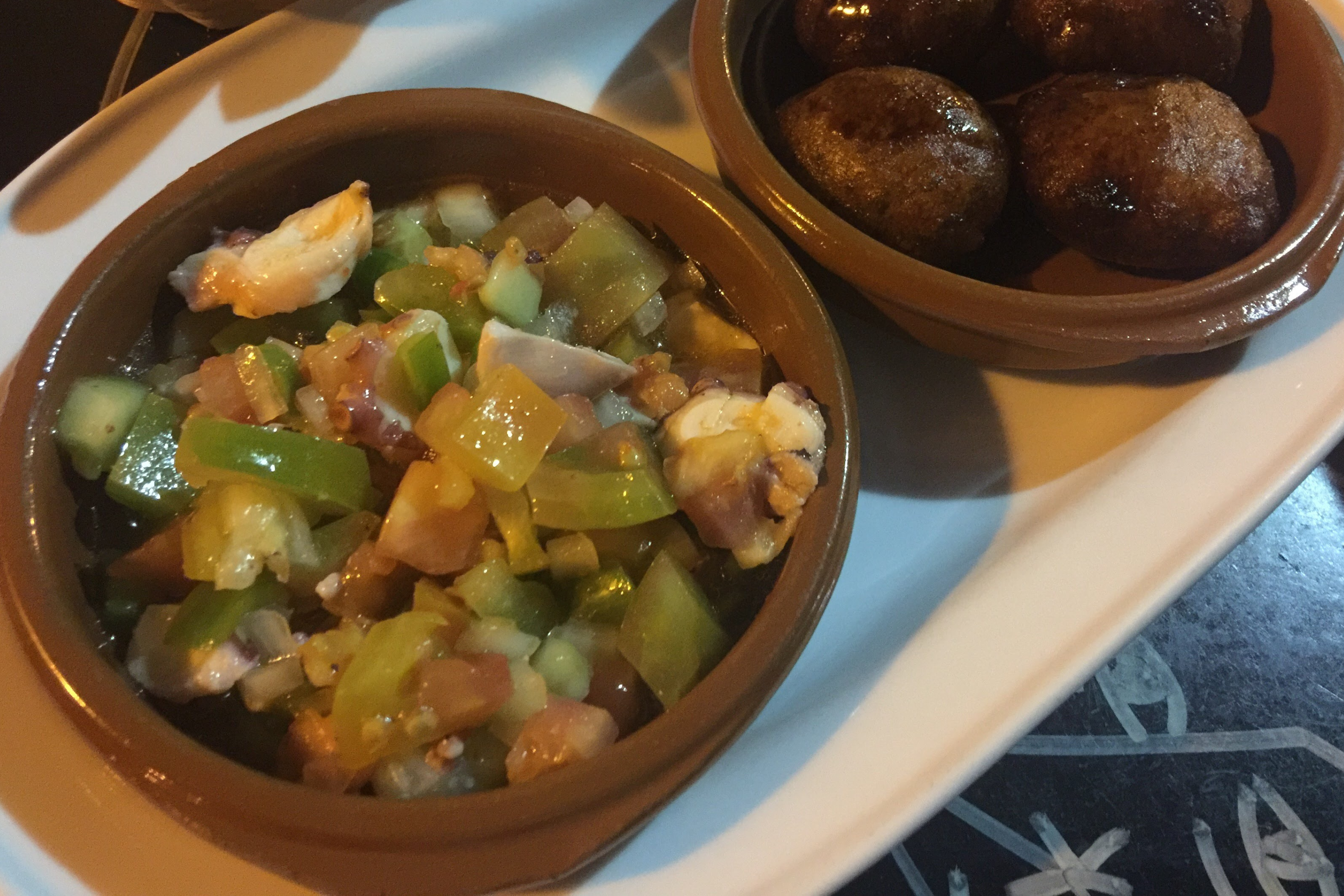 Tea in a traditional teahouse
What I absolutely enjoyed in Granada was its tea culture. Compared to other countries, Spain does not really value tea as much. That is why I was absolutely excited to find out that there are so many tea houses with incredible tea options in Granada. 
Granada has a lot of influence from Marocco, and the tea houses are proof of that. Many of these places offer authentic Arabic tea. If you want to try the Moorish tea, make sure to order the mint one.
There are many teahouses on Calle Calderería Nueva that are worth visiting. My favorite tea house in Granada was probably Tetería El Buñuelo. This place offers incredible views over the Alhambra. My top tip!  Taberna el Beso was another one that is great. Make sure to check out the interior patio. We even ordered other snacks during our stay there. The hummus was absolutely delicious.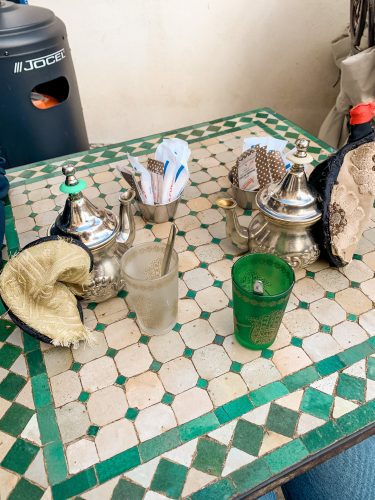 Wine from Granada
If you are a wine lover, then you will absolutely love your time in Spain. Spain offers an incredible variety of wines, both red and white wine. When you go to a tapas bar in the evening, make sure to order a glass of wine to go with your tapas. And, did you know that Granada has been an important wine region for centuries? Vines here are grown at high altitudes and enjoy a lot of sunshine per year.
To get the full Granada experience, make sure to order a white wine called Mencal. This wine is traditional from the Granada region and you can find it in many local bars and shops. Mencal is a dry white wine, that goes amazing with some local tapas. Make sure to try it out! 
My favorite wine place was called "casa de vinos "La Brujidera". There they have hundreds of wines you can pick from!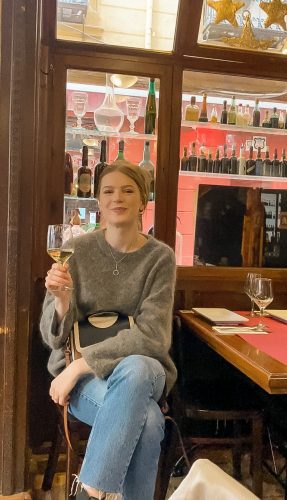 Beer Alhambra
In case you did not already know, there is a Spanish beer brand called "Alhambra". Yes, exactly how the world-famous Moorish palace in Granada. Maybe you have heard of Mahou, the famous Spanish beer manufacturer that is also behind this beer. 
Especially in the South of Spain, Alhambra beer is very popular. It is a very light lager, which makes it perfect for a chill evening with tapas. Whenever you go out for tapas in the evening make sure to order this Spanish beer. Now, I am not a big beer drinker myself. But if you are, put this on your list!
Arab sweets 
When I make a blog post about food in Granada, desserts really cannot be missing here.
As you probably already know, due to Granada's history the city has been heavily influenced by Arab culture. And that is why up to today we can find teahouses in Granada. And most of them also sell delicious Arab sweets. Most of them contain nuts, pistachios, and honey. Make sure to try them during your stay. 
What I would recommend is ordering a couple of Arab sweets whenever you are in a tea house. I promise they won't disappoint.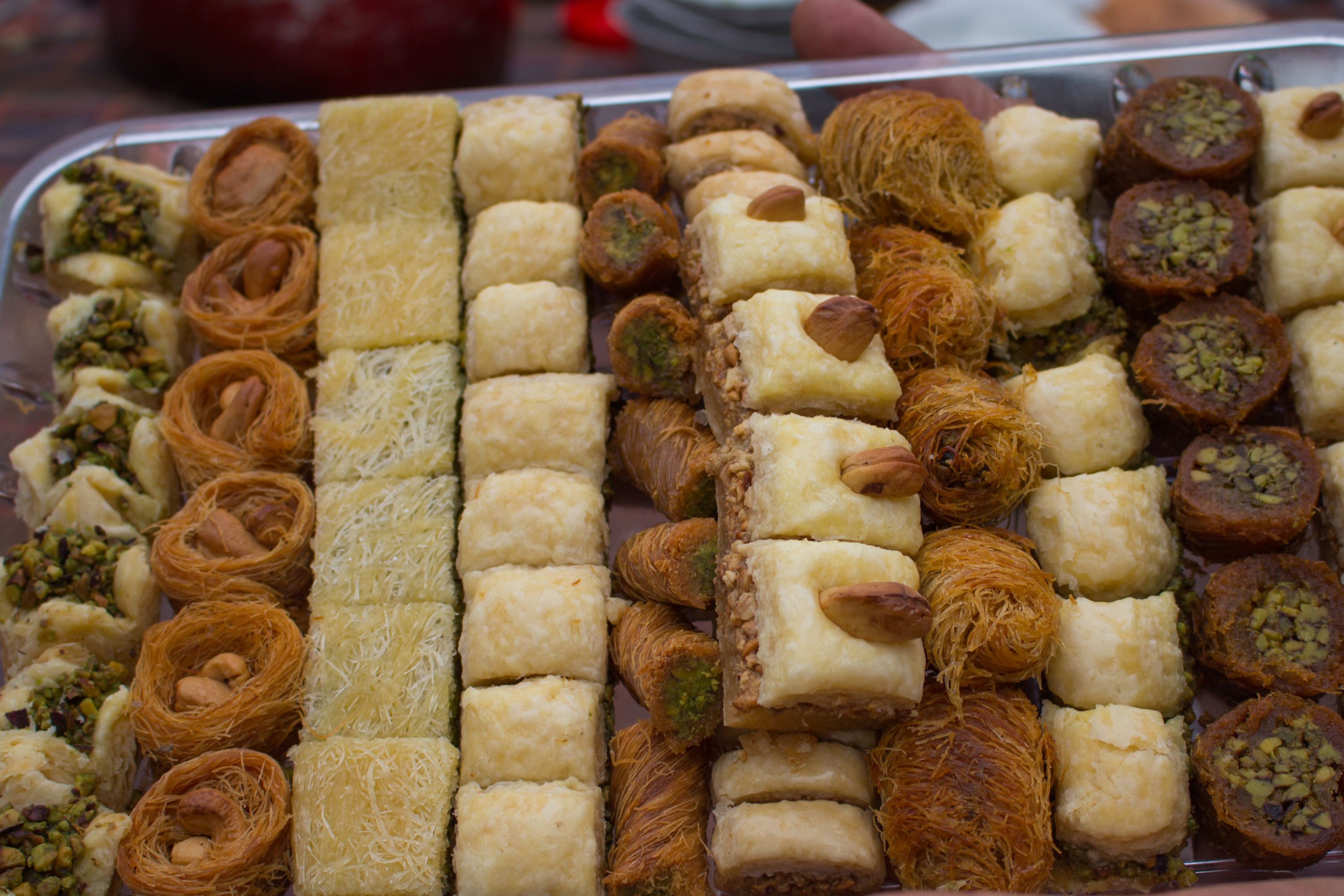 Albóndigas
What I loved about the food in Granada is that it actually can be very simple. But the fantastic ingredients always make it incredibly tasty. Just like albóndigas, which are meatballs. 
When my boyfriend and I tried all the different tapas bars in town, we were surprised to find meatballs on a lot of them. The perfect tapas to try in Granada. Look out for them in the next tapas bar you visit.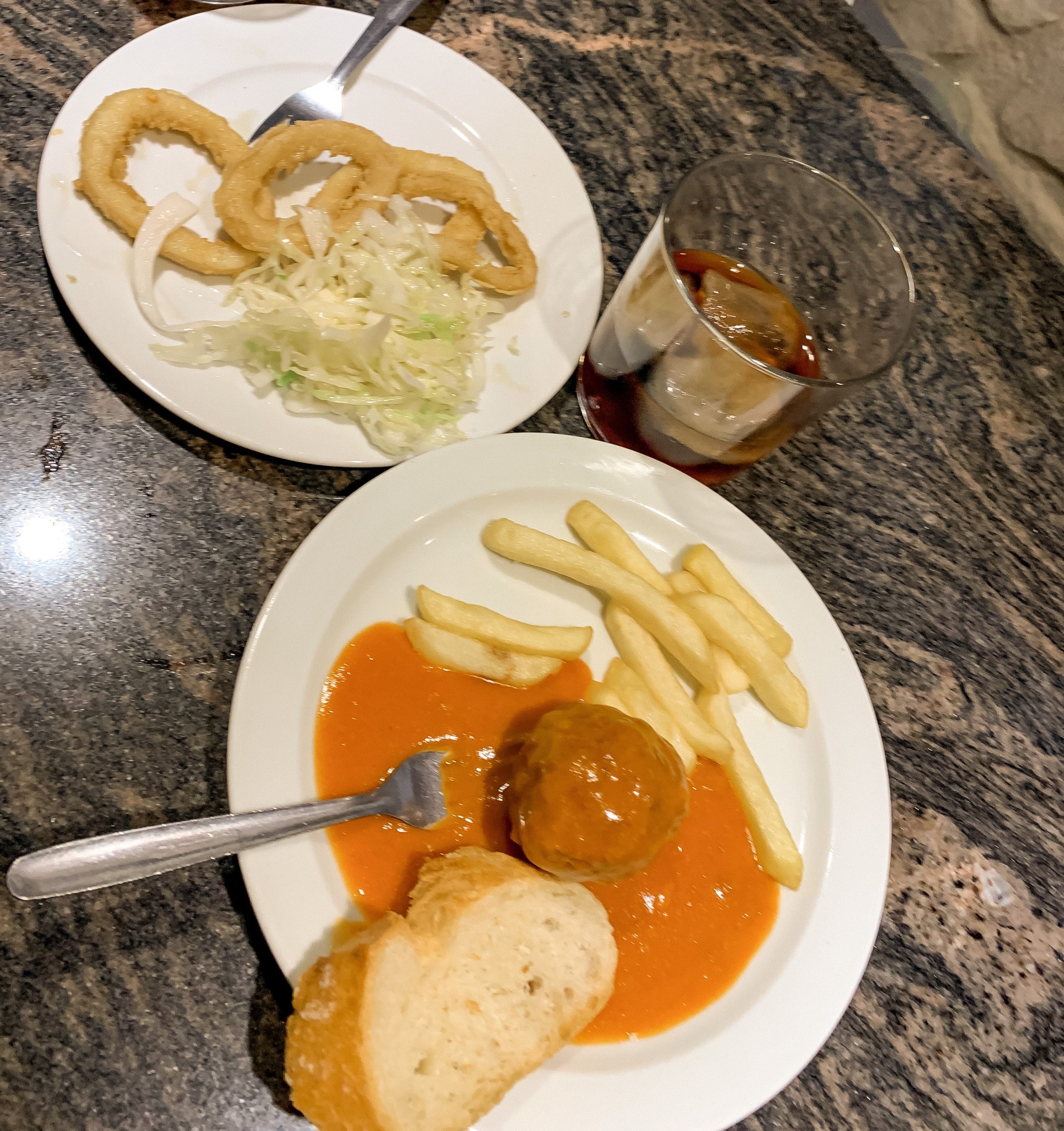 Olla de San Antón
Now we have a dish from Granada that is perfect for the colder days: Ola de San Antón
Usually, this dish is eaten on the public holiday of San Antón, which is on the 17th of January. This dish is a very thick soup containing slowly cooked beans, pork, and vegetables.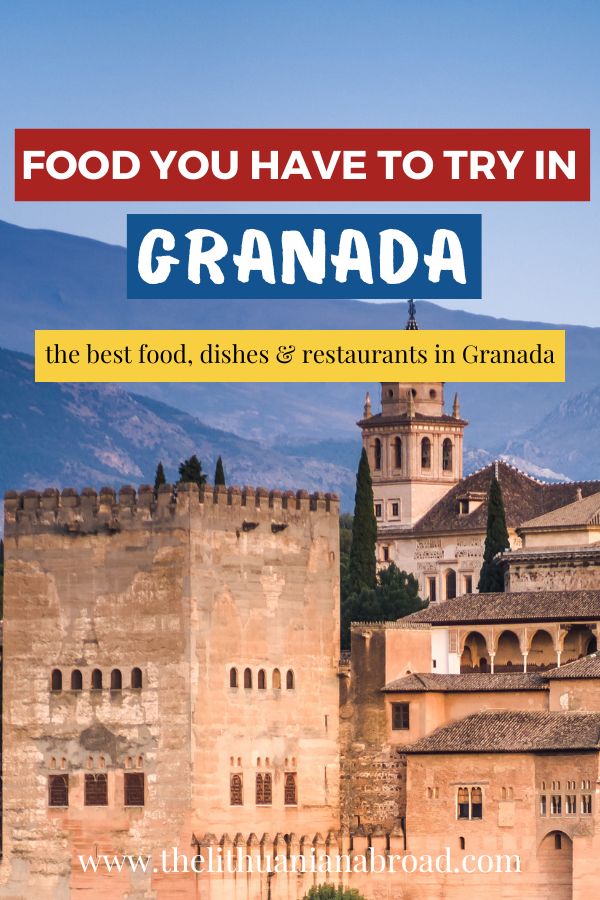 Granadas, or in English "pomegranates"
Did you know that Granada means "pomegranate" in Spanish? That is why you can see decorations of pomegranates everywhere in Granada. You can find them on street signs, roads, dishes, plates, and more. 
But of course, pomegranates are also a popular snack in Granada if they are in season. People usually have them as dessert, but also use them to sprinkle their soups or salads.
Tarta de las lágrimas de Boabdil 
During our tapas walking tour, we tried a "Tarta lágrimas de Boabdil" in the local Restaurante Chikito and I absolutely loved it. Translated, it means cake of the tears of Boabdil. Who is Boabdil, you may ask? Boabdil was the last Nasrid King to flee Granada after the reconquest in 1492.
According to legend, when the family had to leave Granada and Boabdil was mourning his loss, his own mother said to him: You are crying like a woman for a city you could not protect like a man. Now, centuries later we have this cake that is made out of caramelized almonds which definitely has an Arab touch. For sweetness, raspberry syrup is added. A very delicious cake!
We trade this cake in Granada in restaurant Chikito. But people say that you can find the best one in a place called "Tartas Christina". That is the place that introduced this cake in the first place!
Ajoblanco 
Another incredible cold soup from the South of Spain you have to try! When it comes to food in Granada you can tell the Spaniards are very prepared for the warm summer months. And this soup proves it!
Ajoblanco is made out of bread, crushed almonds, garlic, water oil, and sometimes vinegar. Usually, it is served with a couple of grapes.
Sometimes Ajoblanco is called "White Gazpacho", and that is why we are going to continue with Gazpacho below.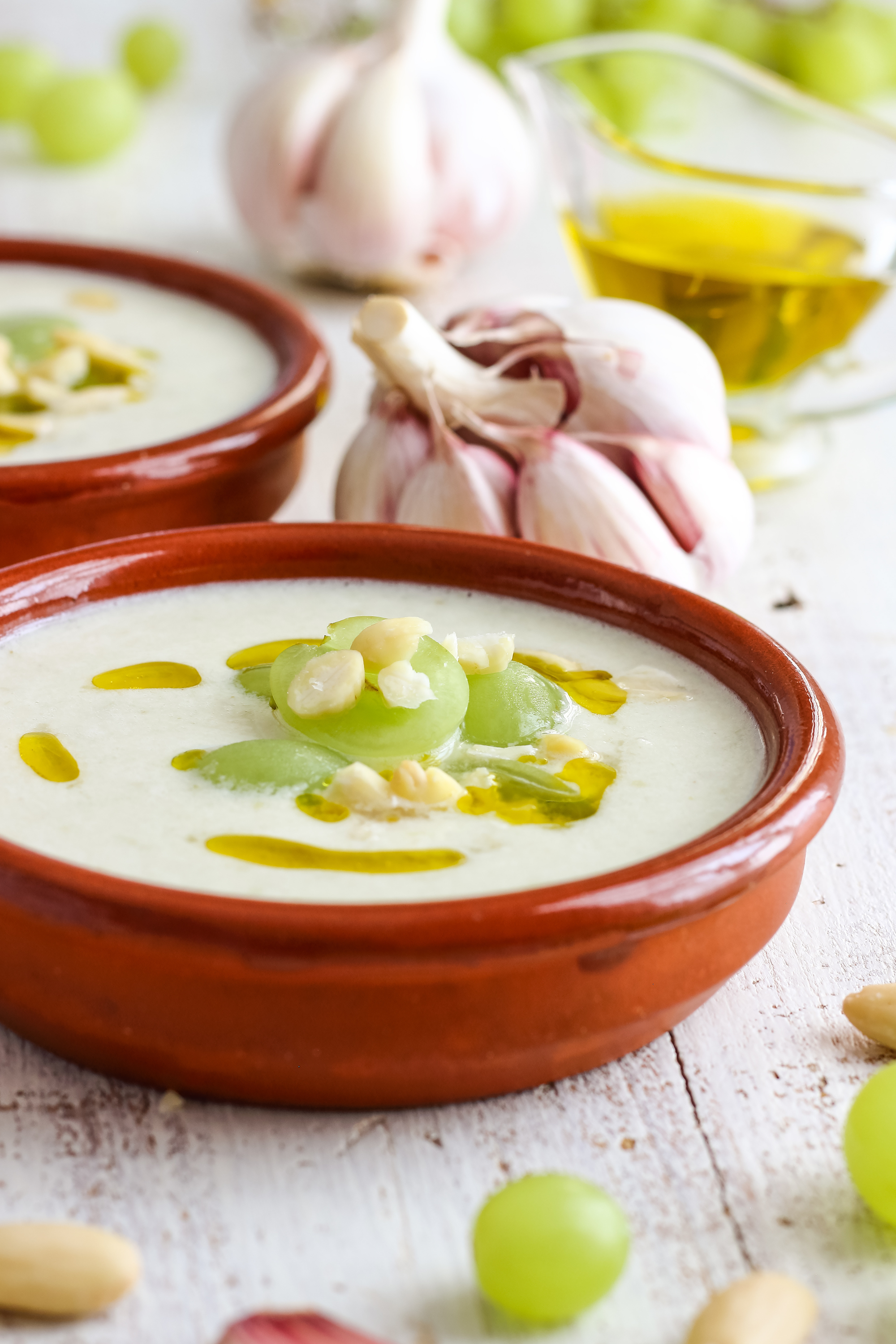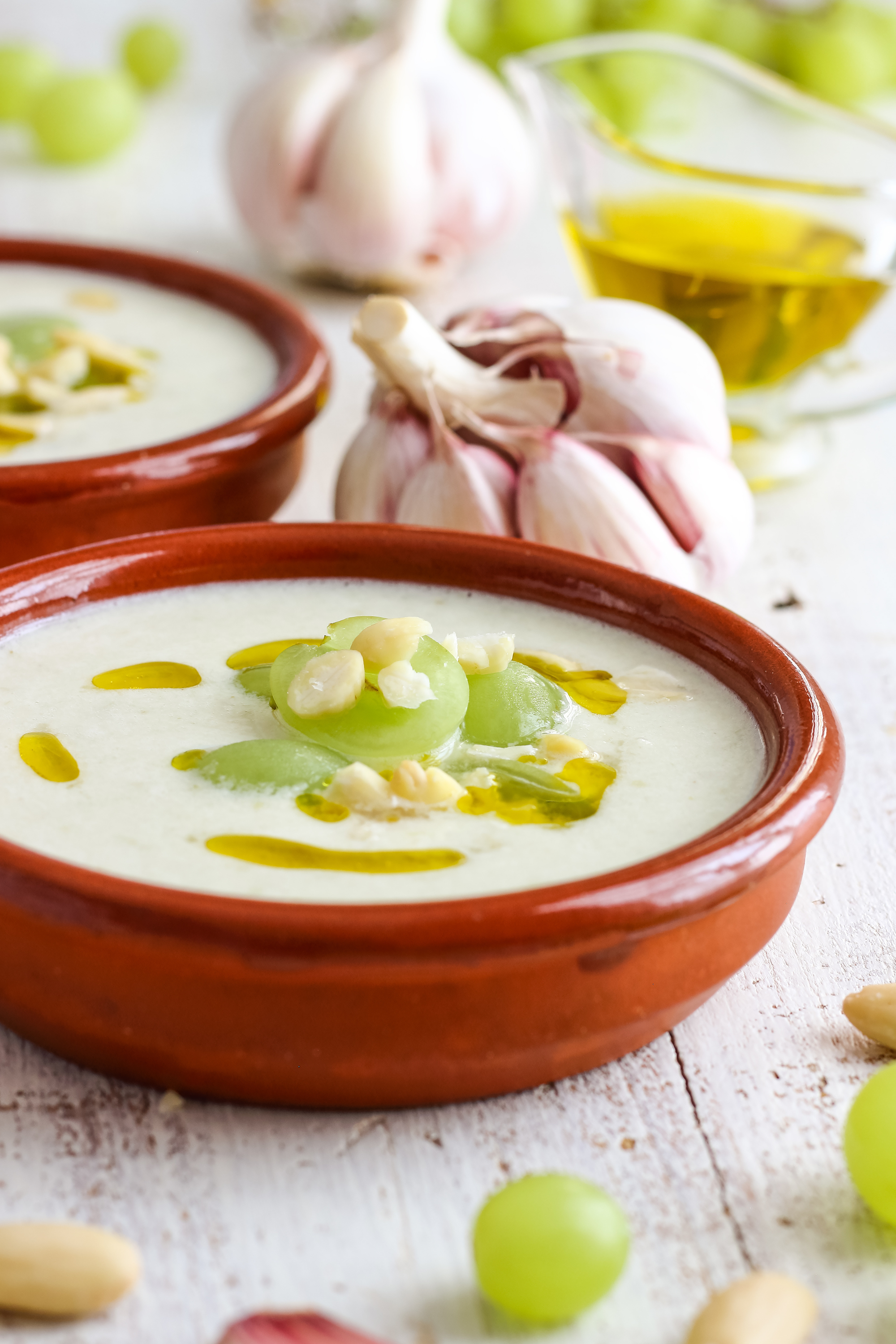 Gazpacho 
Gazpacho is a traditional cold Spanish soup and is the perfect dish for hot summer days! Especially during the summer months, it is THE one thing you will end up eating all the time. Gazpacho is a cold soup made our of a variety of fresh vegetables, Spanish oil, and vinegar. Super simple and so delicious! 
Usually, it consists of many potatoes, bell pepper, onion, cucumber, and garlic. The whole ingredients get blended together until they have the perfect liquid consistency. 
By the way, Gazpacho is also the perfect vegan dish. 
Croquetas
Last but not least, you cannot visit Spain without trying some delicious croquetas. Croquetas are one of Spain's most popular tapas and typically you can find them in every local tapas bar. 
Spanish croquetas are made out of bechamel sauce and some other leftover ingredients, which can be vegetables or meat. These ingredients are usually thrown together and fried. The outcome is this tasty and crispy Spanish dish.
The most popular croquetas are the croquetas de jamón, with delicious ham. But you can also find them with mushrooms (croquetas de boletus) and many other ingredients. 
16 + 1: Ice cream 
Why am I adding ice cream to my food in Granada bucket list?! Well, I asked my Instagram followers to recommend some amazing places in Granada, and so many recommended ice cream places! That totally makes sense if we keep in mind how hot it gets in Granada during summer. Want to refreshen yourself?! Make sure to visit one of the amazing ice cream places in Granada. 
Many of my followers recommended Los Italianos for ice cream in Granada.