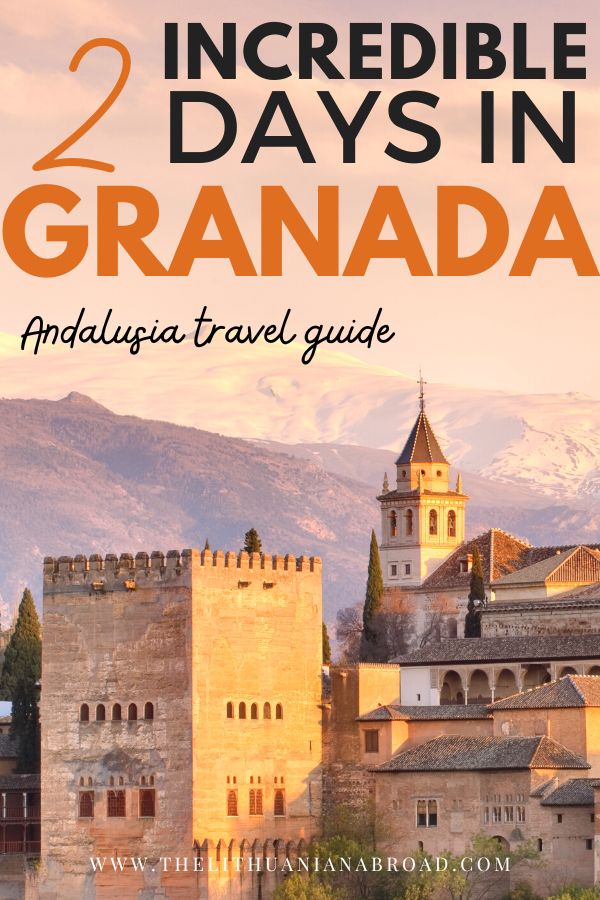 Granada will always be one of my favorite cities in Spain. This winter, my boyfriend and I decided to visit and explore Granada in 2 days. And I am so happy we had the chance to do that because Granada just never disappoints. The Alhambra, the tapas, the people, I cannot stop thinking about it.
Granada, being a small city, still has such an incredible atmosphere. All in all, the perfect place for an Andalusia weekend trip. Since it was my boyfriend's first time in Granada, we also did all the essentials and must-do activities in Granada. And you can find them all in the following blog post. I really made sure to include the best activities and the best things you can do in Granada in 2 days. Make sure to check out the map with all the places saved from this blog post.
So let's go: Everything you have to do when visiting Granada for 2 days.
---
Affiliate links may be sprinkled throughout the free content of this blog post. If you purchase from one of the links I may receive a small commission while the price for you stays the same. This helps me cover the costs of The Lithuanian Abroad. Gracias!
Other blog posts about Granada you have to check out: 
Why you should visit Granada in winter: Granada is a great place to visit in Winter. And this blog post includes the best things to do, what to pack, and other things you have to know. 
Self-guided walking tour for visiting Granada: This blog post includes an itinerary for a self-guided walking tour in Granada. It even comes with an interactive map you can download!
Guide for tipping in Spain: This blog post tells you everything you need to know about Spain's tipping culture. When to tip and how much you have to tip. And is it obligatory to tip in Spain?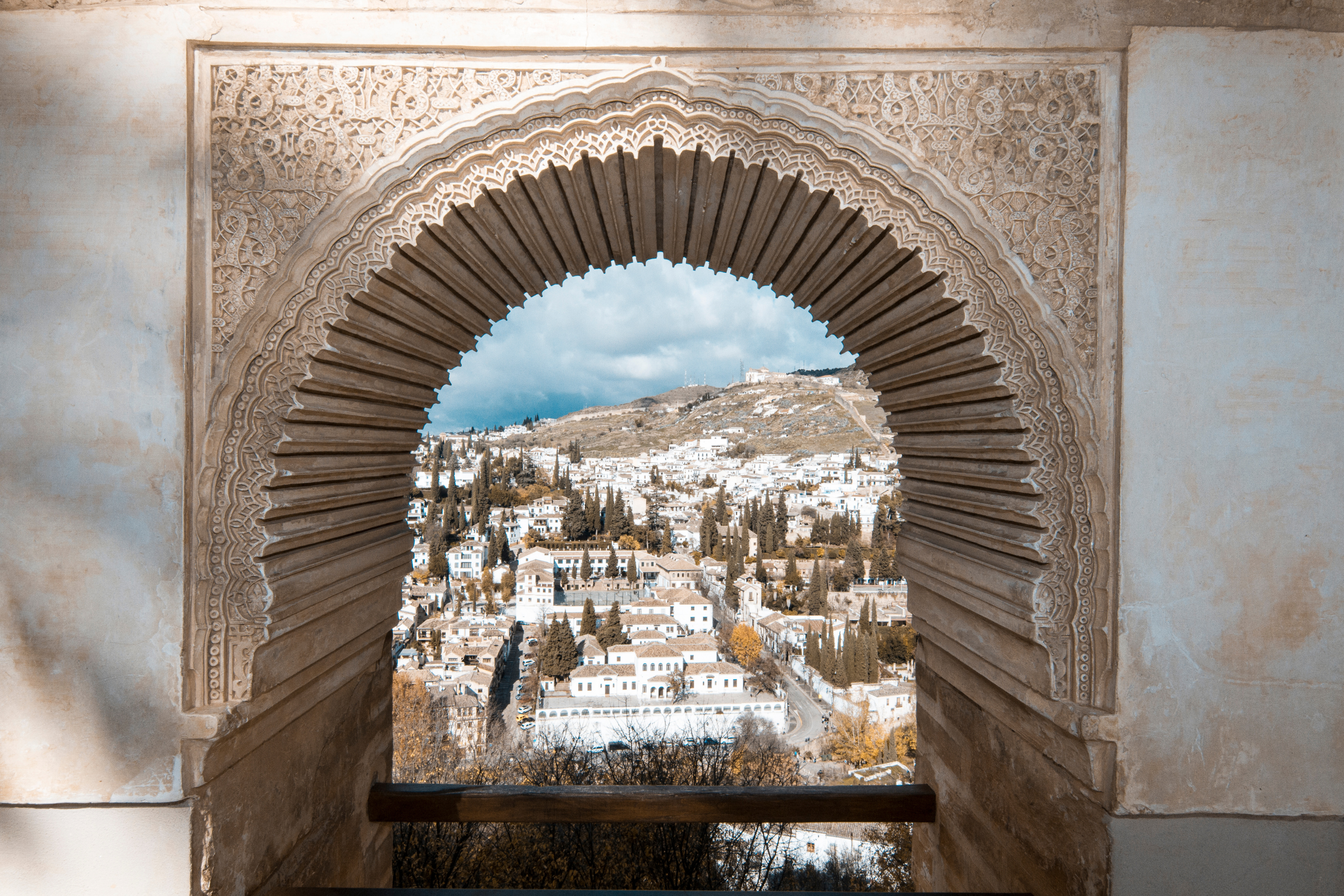 The best places for staying in Granada for 2 days
€€€ Eurostars Gran Vía: That is THE place to stay in Granada if you want to spoil yourself. This hotel really has everything you could ever ask for: charming rooms, a SPA center, and a rooftop bar. A true gem!
€€ Hotel Casa 1800 Granada: This gorgeous hotel is located in a mansion from the 17th century. The interior is absolutely stunning and honestly, looks like a fairytale. The location is perfect, right in the Albaycin. The perfect place for a relaxing stay in Granada. 
€ Hostal Rodri: This place is very affordable and charming. The location is very close to the old town which means that you can reach all monuments on foot. That is probably the best value for the price that you can get!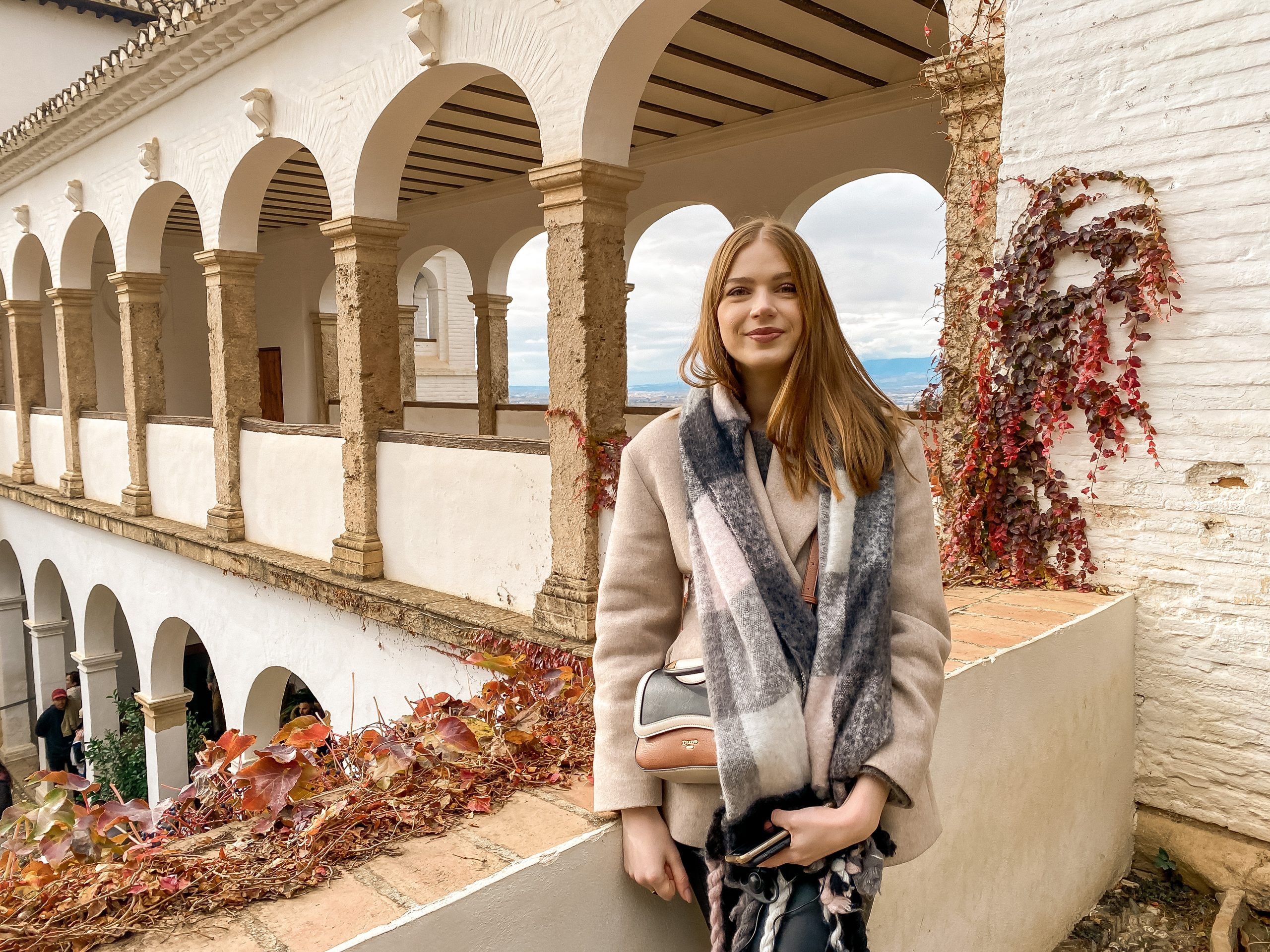 Map with all places mentioned in this 2-day itinerary for Granada
Granada in 2 days: Day 1
Do a free walking tour in Granada
On the first day of my stay in Granada, we did a free walking tour. It really helped us to understand the historical center of Granada so we already knew where the most important places are. That is why I really do recommend doing a free walking tour on your first day if you want to see as much as possible in Granada in 2 days. 
Walking tours are perfect to see the highlights and most important monuments in Granada in only one afternoon. But how do free walking tours work? Free walking tours do not come with a set price, hence they are free. You will spend a couple of hours with your local guide exploring Granada's famous places and viewpoints. You can leave your local guide a tip at the end of your tour. And how much you want to tip them is entirely up to you. It usually depends on your budget and on how much you actually liked the tour. 
You can find all free walking tours in Granada here.
… Or go on a self-guided walking tour in Granada
If you prefer, you can also walk around Granada by yourself. Check out this self-guided walking tour itinerary I wrote with Granada's most important monuments and viewpoints. This walking tour is perfect if you would much rather walk around Granada by yourself and go at your own pace. I made sure to include nice tapas and tea places as well. That way you can always do a break whenever you want. 
You can find my itinerary for a self-guided walking tour in Granada here. (+ an interactive map to download!)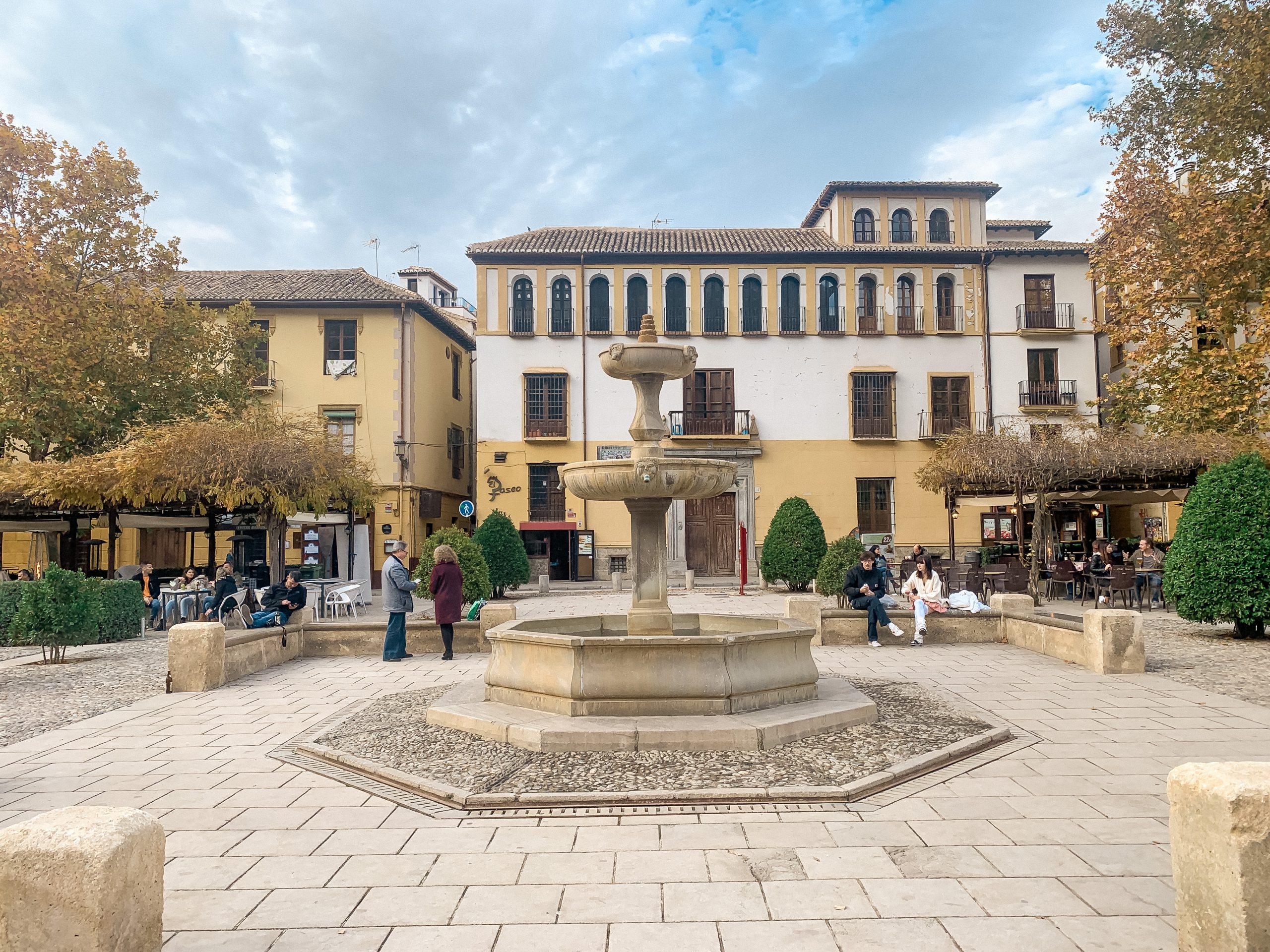 Start your Granada trip with some Churros con Chocolate
Churros con Chocolate (Churros with chocolate) is a very famous snack all over Spain, but especially in Granada. Contrary to popular belief, Spanish people don't have churros as dessert, but instead as a light afternoon snack or brekfast. If you have never tried them before, now is a perfect time! Churros are like long-fried pastries that are usually served with a heavy chocolate liquid.
There are several places in Granada where you can have Churros con Chocolate. The most famous bars are Café Futbol and Gran Cafe-Bib Rambla. But once you walk around Granada you will see many other bars and restaurants that offer Churros. Make sure to try them!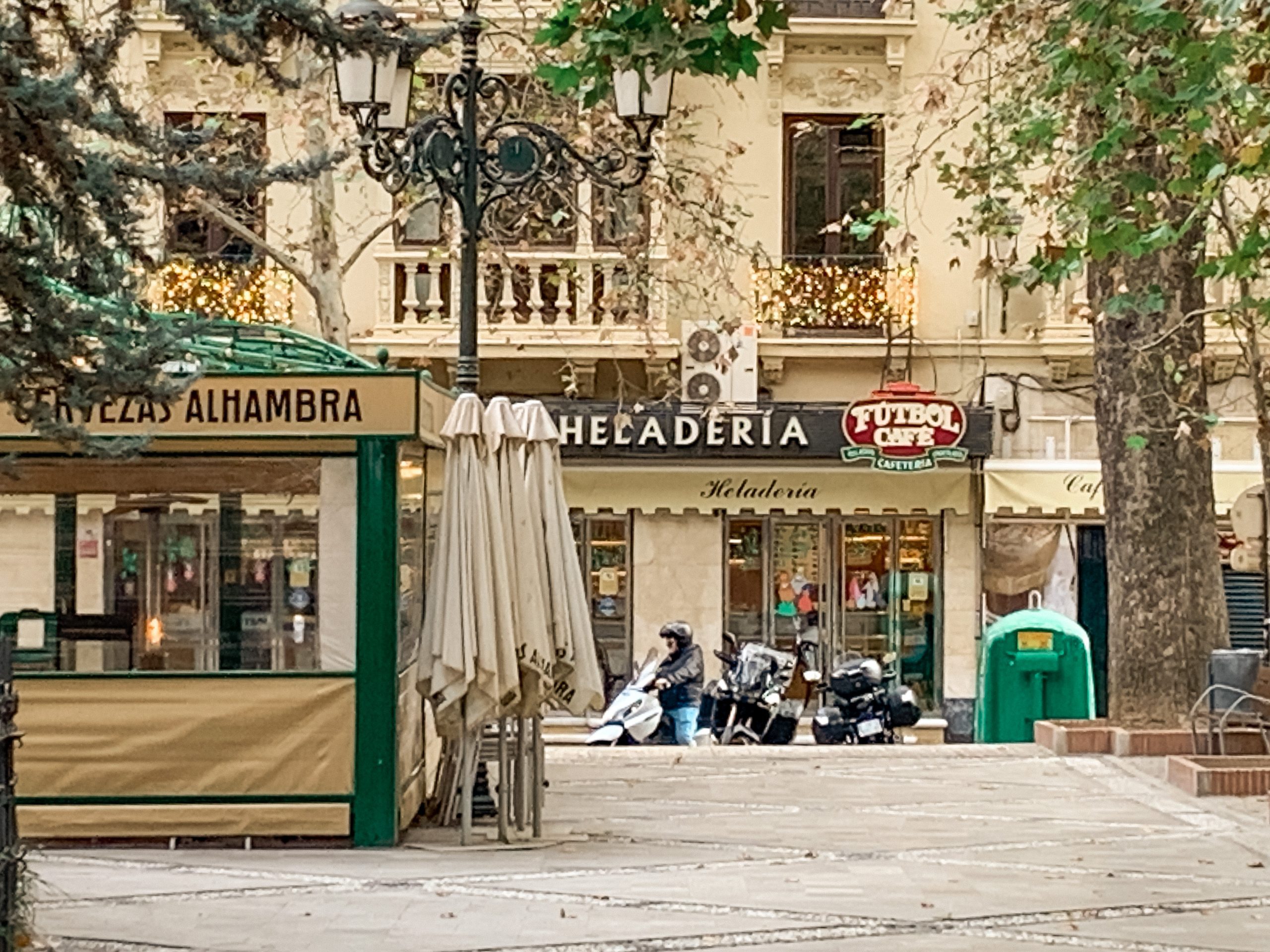 See the impressive Cathedral of Granada
Granada's Cathedral is absolutely impressive and one of the most important monuments in town. Like many other Cathedrals in Andalusia, the Cathedral of Granada was built on top of the city's mosque after Granada was conquested by the Spanish. 
The Cathedral was designed by Spanish architect Alonso Cano and is the fourth largest Cathedral in the world! Now bad for such a small city as Granada. If you get the chance, you should have a look at the interior of the Cathedral of Granada as well. The inside has a gorgeous Renaissance structure with colourful tiles and five main naves.
If you have time, make sure to see the Cathedral from inside. The entry costs 5€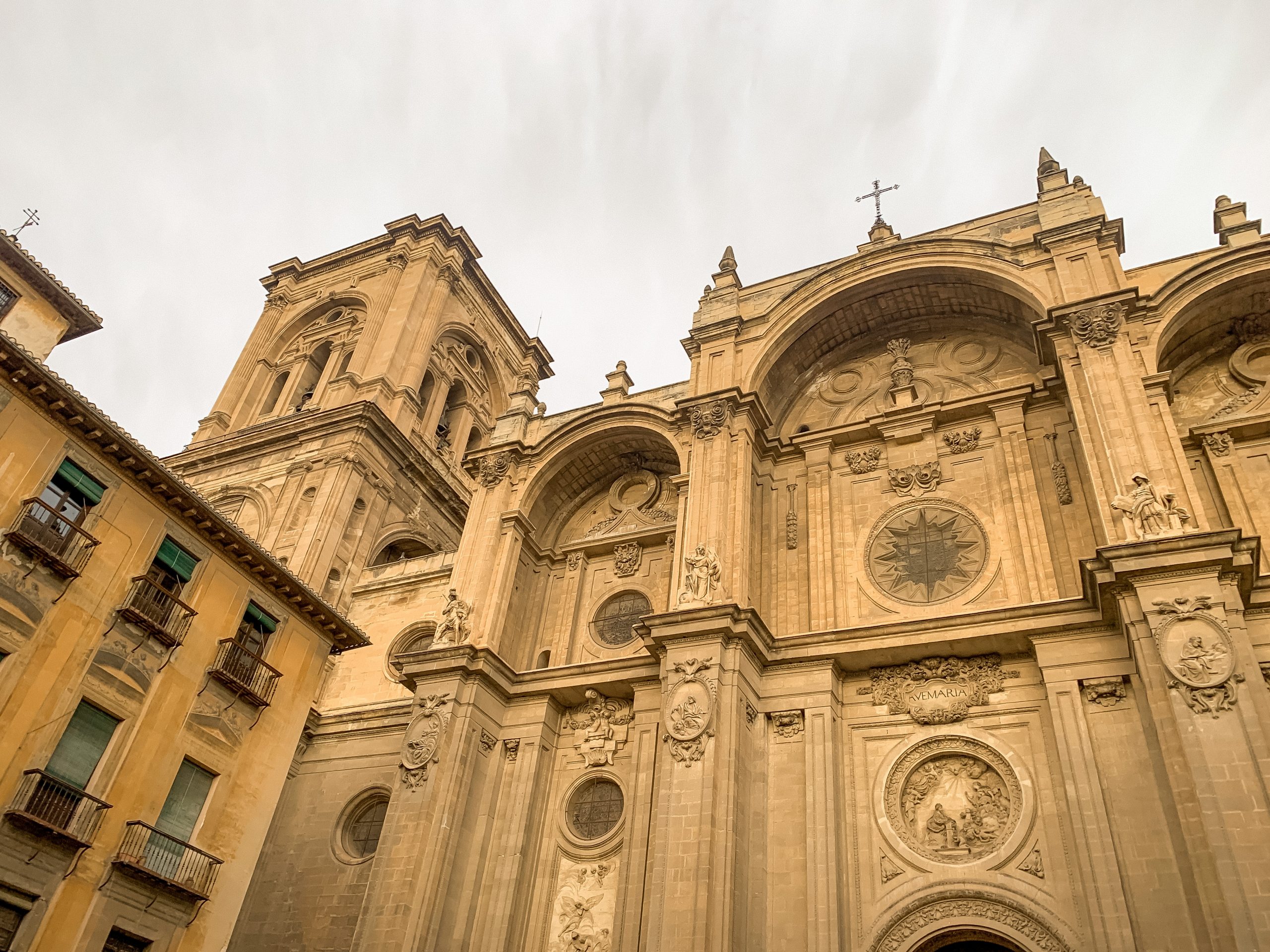 Visit the Royal Chapel right next to the Cathedral
I honestly have to say that I think the Royal Chapel of Granada is very underrated. It is much smaller than the Cathedral and once you see that they charge 6€ to enter you probably debate whether it is really worth it. The Royal Chapel was my and my boyfriend's bad-weather alternative but in the end, we were so glad we checked it out!
The Royal Chapel of Granada is the final resting place of the Catholic monarchs, Queen Isabella, and King Ferdinand. Apart from them, Joanna of Castile, Philip I of Castile, and an infant Royal are also buried there. But their sarcophagus is not the only thing that is worth seeing here. The whole tomb was made out of Marble in the 16th century and is truly a work of art. You can see the fine lines in the marble, which makes the tomb look almost real. In the Royal Chapel are also many artworks from Spanish artists, an impressive altar, and other artifacts. 
The entrance comes with an included audio guide which really helps understand the history of the Chapel better.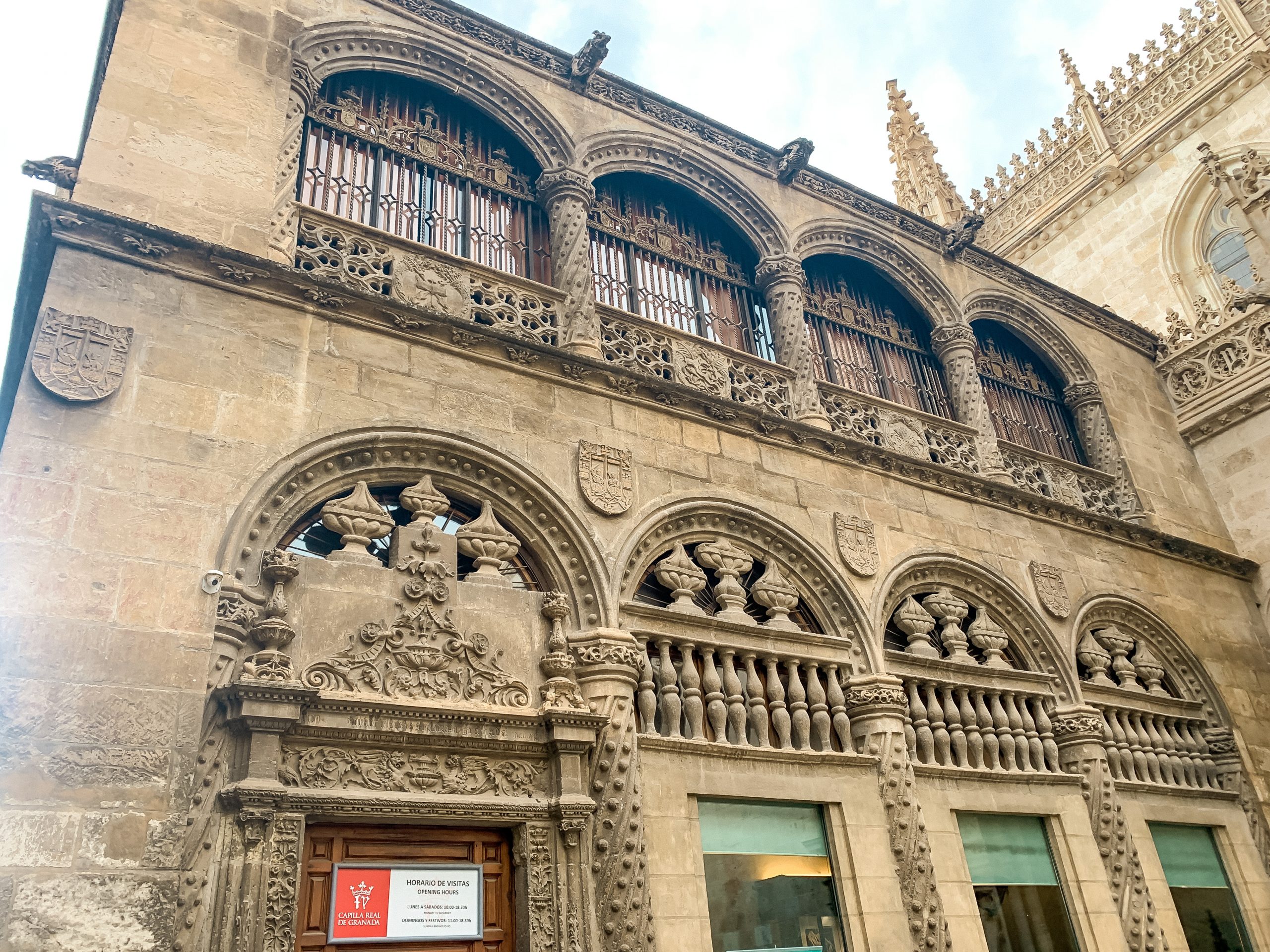 Find the famous Alcaicería market in Granada
The Alcaicería market is a famous Arabic bazaar in the small streets close to the Cathedral of Granada. Its history goes way back to the 15th century.  It was the original Moorish silk market and centuries ago, covered the whole neighboring streets. People were able to buy spices here, tea, and other tradable goods. Nowadays, this area of Granada is very touristy. You can find many souvenir shops here selling gifts, jewelry, and other things related to Granada. 
Make sure to walk by the hidden "Placeta de la Seda" for a small square with beautiful tiles.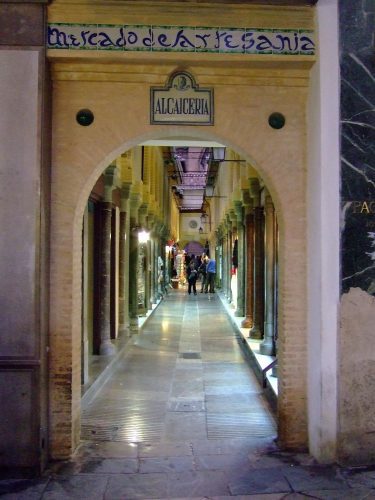 Check out Granada's famous viewpoints
Mirador San Nicholas for amazing views of the Alhambra
The viewpoint "Mirador San Nicholas" is probably the most famous viewpoint in Granada. And rightfully so! This incredible place offers the most amazing views of the Alhambra in Granada with the Sierra Nevada behind it. This view was absolutely mindblowing and one of my favorite places we visited when we were in Granada for 2 days. 
But not only that, Mirador San Nicholas usually also has live music by locals, which really makes this place a highlight in Granada. Especially, during sunset, many people come here to enjoy the music and the views. You can also find people selling souvenirs from Granada there. 
My tip: If you have time make sure to check the Main Mosque "Mezquita Mayor" which is right next to the viewpoint. It's an absolutely gorgeous place. The views from there are very similar, but you will find fewer people there.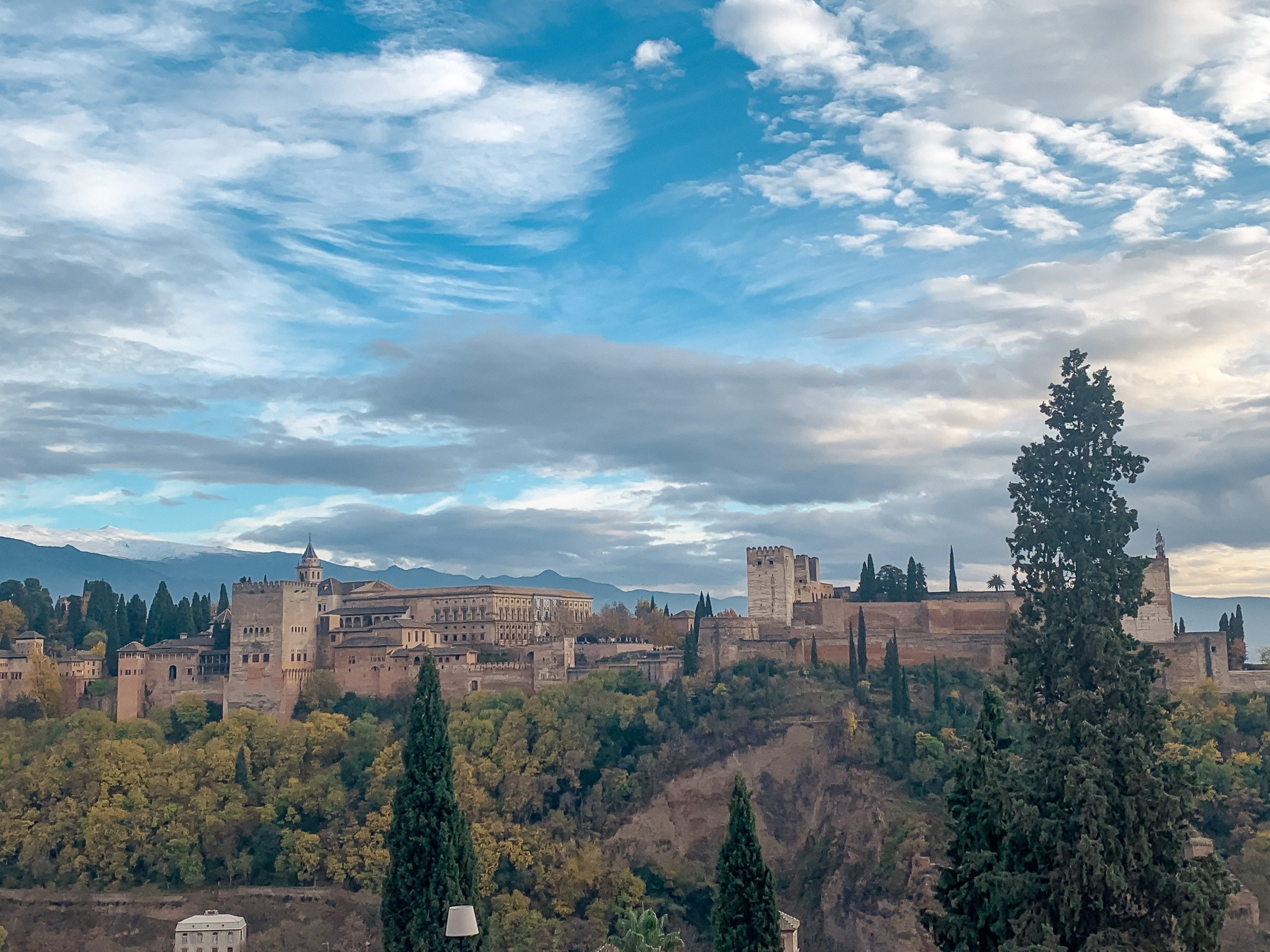 Mirador Placeta de Carvajales
Another impressive viewpoint you have to check out is Mirador Placeta de Carvajales. We visited this beautiful viewpoint in the evening. And if you get the chance to see it at night you absolutely should! The Alhambra is lit up beautifully in the evening and you have the perfect view of it from this place. During the evening, you can find many people admiring the Alhambra from here. The views from here are so picturesque and dreamy! Put it on your Granada bucket list!
Visit this view point in the evening to see the Alhambra beautifully lit!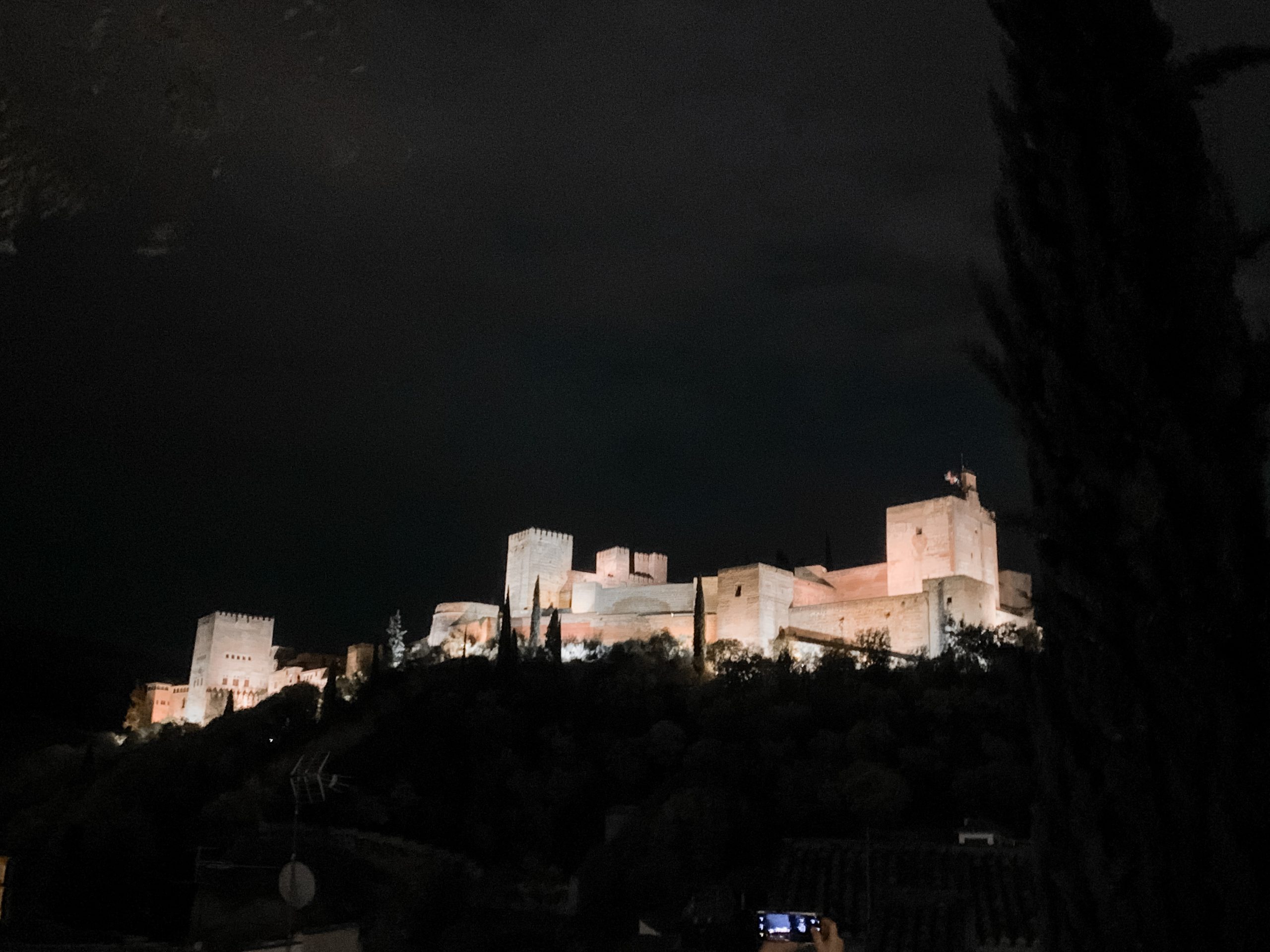 Hungry? The best tapas places you have to visit in Granada
Oh, you will eat incredibly well in Granada! The best thing is the tapas culture in Granada. Usually, when you order a drink in a bar in Granada you get an appetizer "Tapa" with your drink. And these tapas can be quite big! We had all kinds of tapas, from meatballs to calamari, small portions of salads to croquetas or whole sandwiches.
The best tapas bars in town are buena vida, los diamantes, bar avila I, los Manueles, Bar Castañeda. 
Another really nice place for dinner in Granada is the restaurant "Chikito". This is a famous restaurant that used to be the location of Granada's poetry events. Nowadays, it is a local restaurant with photos of Spanish celebrities on the wall. What do I love about it? The food we had there had amazing quality, and it's the perfect place to order some local dishes from Granada. For example, make sure to order a "Remojón Granadino".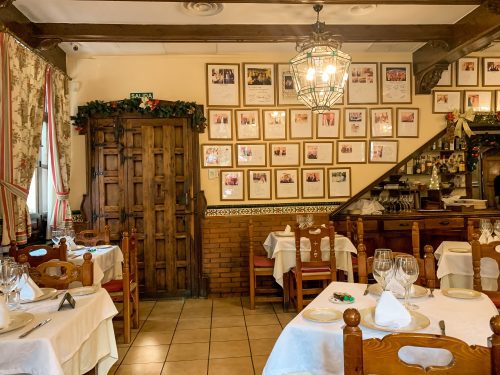 Make sure to watch a Flamenco Show when visiting Granada for 2 days
If you have never watched a Flamenco performance before now is the best time to do so! Flamenco is an emotional dance with origins in the South of Spain. So, you are in the perfect location to go see an authentic Flamenco Show! I took my mom to one of these shows two years ago, and she still talks about it. I can guarantee, this will be a very unique experience on your Granada trip! 
Flamenco is a dance performed by men and women accompanied by an acoustic guitar. Make sure to check out the impressive gowns the performers wear. Absolutely beautiful! You will be able to see the emotions on their faces, and I have not even spoken about the singing yet. It is incredible.
There are locations places in Granada where you can watch a Flamenco Show. Here is one of the locations close to the center.

I absolutely do recommend a Flamenco Show in the Sacromonte neighborhood (To find out more about it, scroll down!)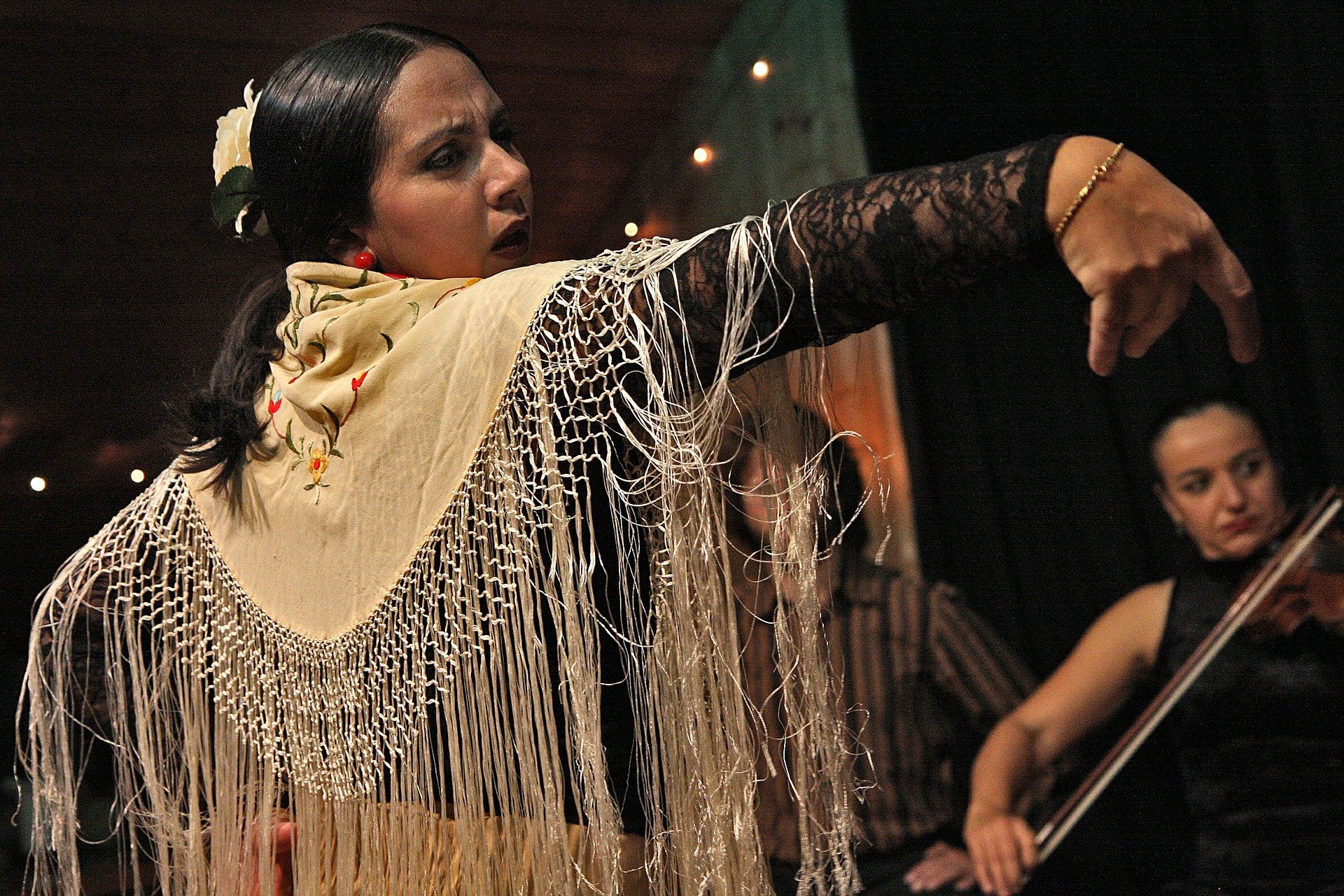 And that was our first day of our 2-day Granada itinerary. Let's contunue with day 2!
Granada in 2 days: Day 2
Let's start our day at the Alhambra, Granada's most important monument
Of course, when visiting Granada for 2 days, you cannot leave without having seen the Alhambra. The Alhambra is an Islamic Palace from the Nasrid Era of Granada. It is a UNESCO world heritage site and the most important monument in Granada. The Alhambra is full of history, incredible architecture and so many places to explore. If you want to see everything of the Alhambra, you should really dedicate at least 4 hours to it. 
My Tips for visiting the Alhambra in Granada: 
Book your tickets in advance! You really have to book your tickets in advance as every day only a limited number of people are allowed to enter the Alhambra. You can book your tickets here. (These include the Nasrid Palaces and Generalife!)
Be more than punctual. When visiting the Nasrid Palaces, you have to arrive at the entrance of the Nasrid Palace (not the Alhambra entrance!) punctually. You can only enter them up to one hour later than the time indicated on your ticket. From the entrance of the Alhambra, it is a 15min walk there. Then, you'll still have to queue for around 15min. Keep that in mind and make sure to arrive early.
Make sure to get an audio tour when visiting the Alhambra. You can get one at the entrance for only 6 €.  It helps you understand the history behind Alhambra so much better. Many other travelers recommended guided tours. If you want to ask questions and learn more about the history of the Alhambra, that could be a good choice. You can book a guided tour here.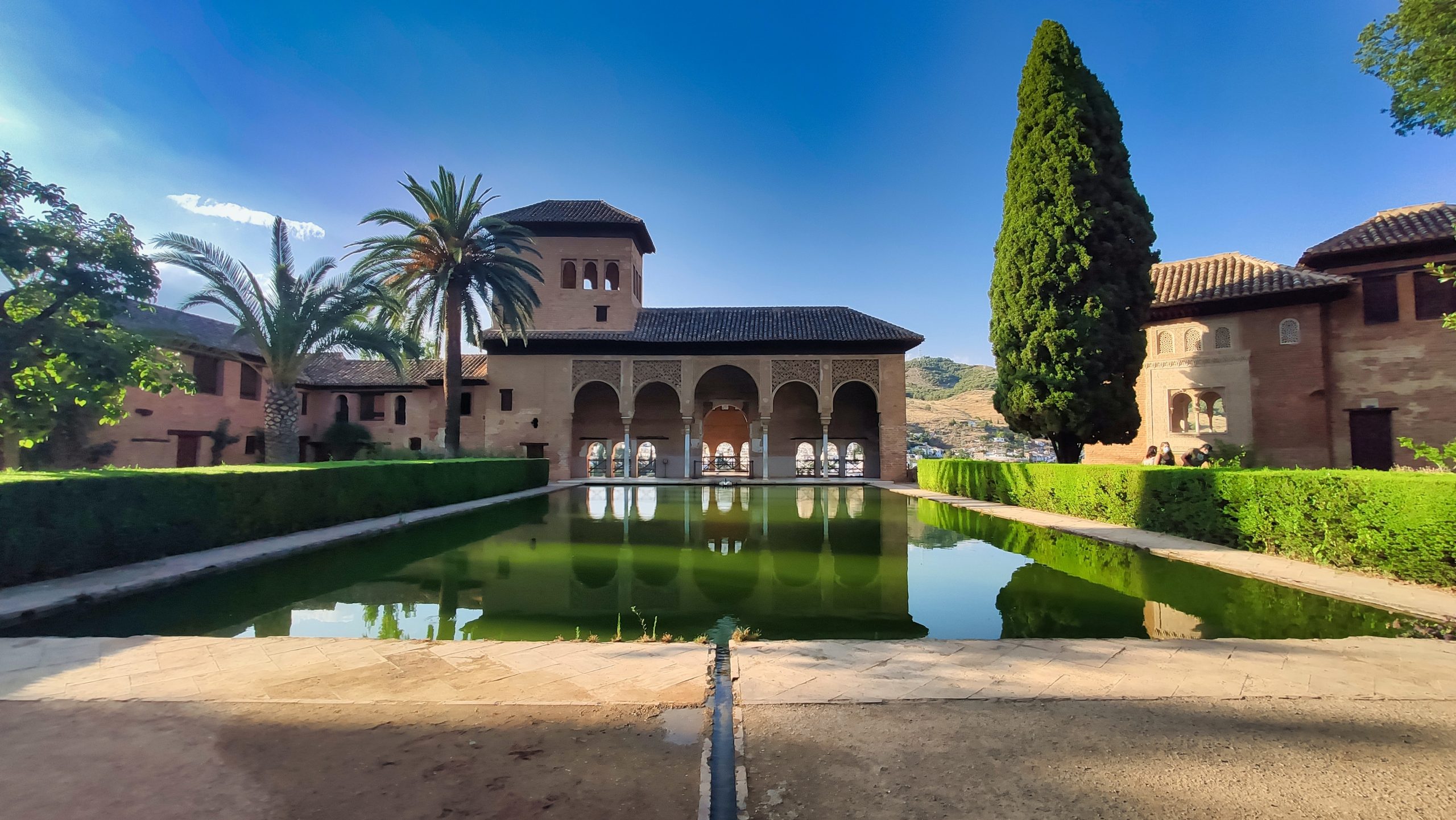 Relax at the Hammam Andalus in Granada
The Arab baths in Granada are definitely a unique experience you cannot miss. In case you are tired after walking around in the Alhambra, you could come here to relax and warm up a bit. 
The Hammam Andalus in Granada includes hot, cold, and steam rooms that you can visit and alternate between. Then, you can spend time in one of the pools and at the end, lie down in the relaxation room. Feel free to take as many sessions in this place, and maybe you even feel like getting a message, too? 
You can find more information about the Arab baths in Granada and book your tickets here.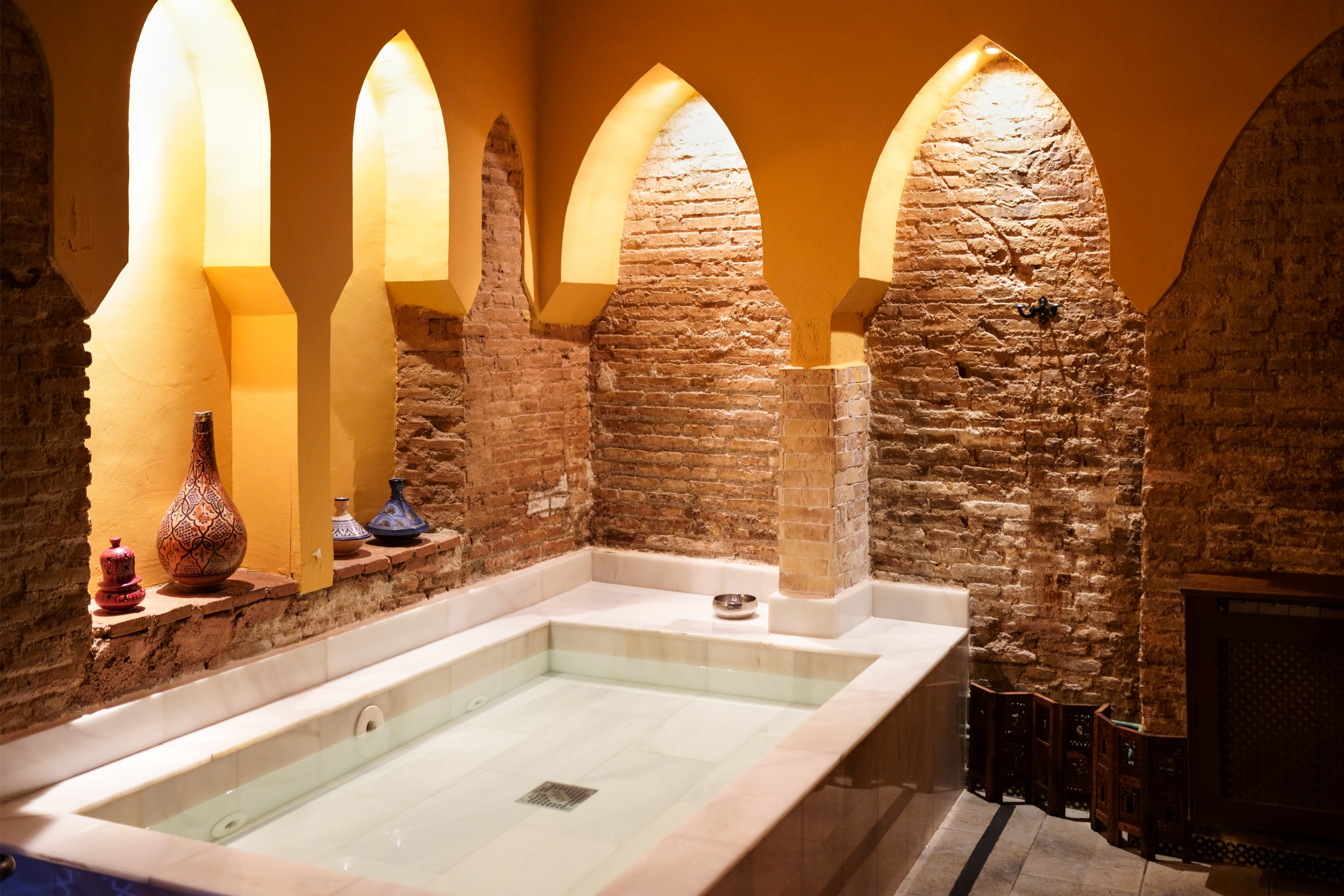 Explore Granada's tea scene: Grab a tea at tetería El Buñuelo
One of my favorite spots in Granada was tetería el buñuelo, a very authentic teahouse with incredible views of the Alhambra. You will find many interesting tea places in Granada as the city is a big Arab influence in its history. The best thing is that the teahouses in Granada offer incredible high-quality tea. Since we visited Granada in December and it was quite cold, we spend a lot of time drinking tea!
My favorite teahouse was el buñuelo, but you can find many others in Granada as well. Tetería Castillo de Aleppo is another famous tea place. Make sure to visit Calle Elvira if you want to check out more tea spots.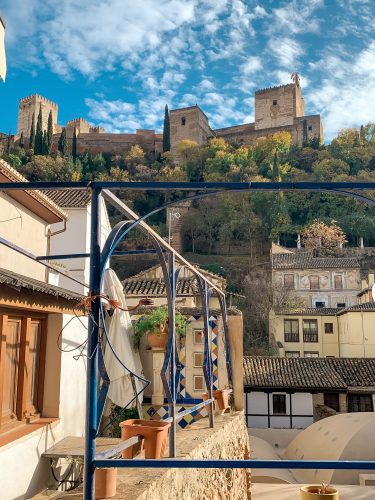 Visit Sacromonte, Granada's famous neighborhood
This is an absolutely unique neighborhood in Granada that you have to visit. It is located in the east of Granada if you keep walking up the Albaicín neighborhood. This part of Granada was the area of the Granadian Romani, who came to Granada after the Christian conquest in 1492. Sacromonte is especially known for its picturesque white cave houses. Yes, caves! Back in these times, people used to live in Caves in the mountains. 
By the way, nowadays many of these caves were transformed into accommodations for tourist. You can find one of these here!
If you want to see a lot in Granada in 2 days but don't have much time to spend in the Sacromonte neighborhood, check out the Museo Cuevas del Sacromonte. It is a small museum located in a cave. It shows how the conditions were when people lived in one of these caves in Sacromonte. You can walk through a cave complex and have a look at furniture, ceramics, and other artifacts. 
Many of these caves in Sacromonte offer Flamenco Shows! You can find book a Flamenco Show in Sacromonte here.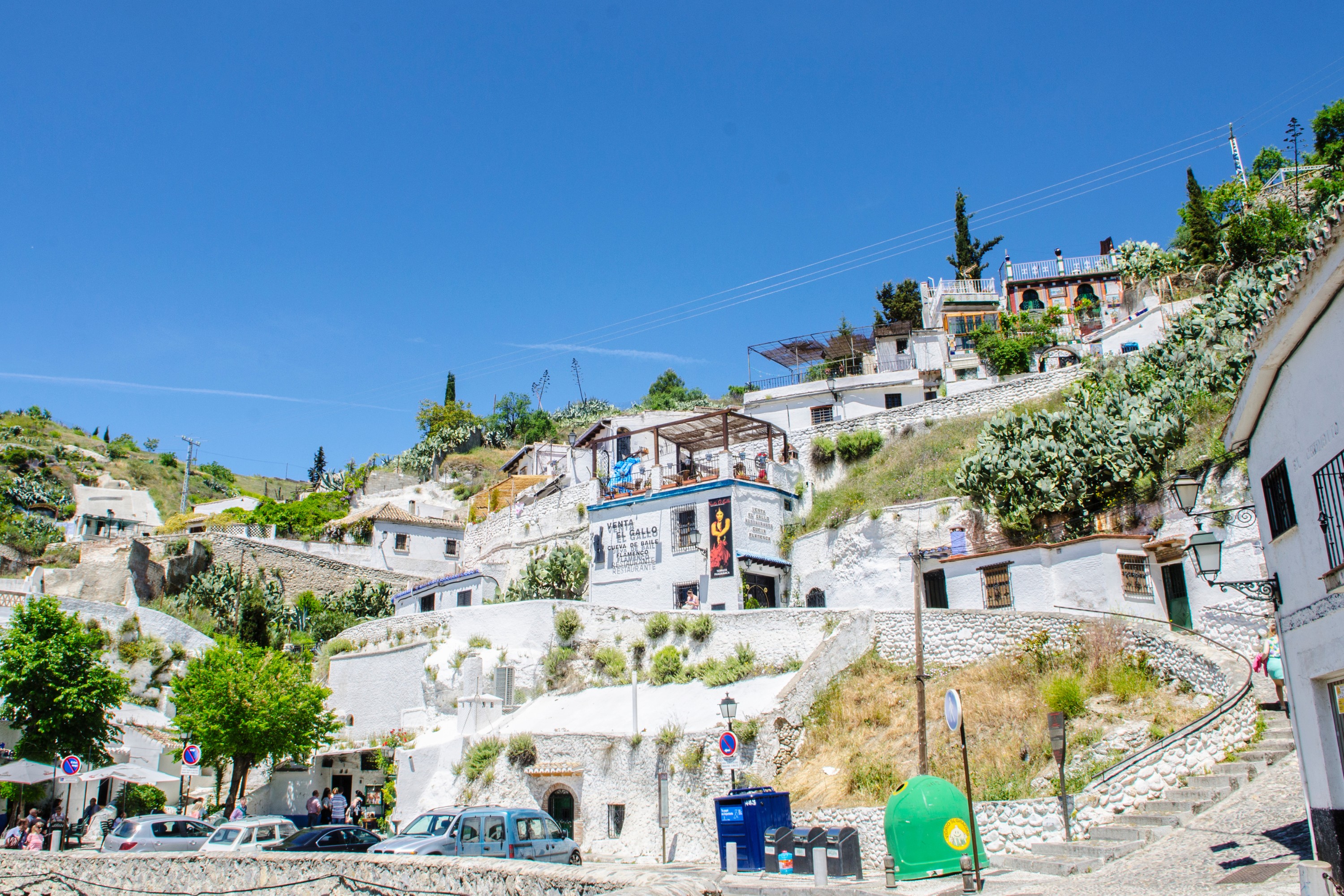 End your Granada itinerary at Bohemian Jazz Café for some live music!
The Bohemian Jazz Café is the perfect location to end your 2 day Granada trip. So many people recommended this place that I even visited it on my own when my boyfriend was feeling sick. And I am so glad I did! The Bohemian Jazz Café is a hidden bar with an amazing interior design. There are movie posters on the walls, tons of books on shelves, vintage furniture, and other crazy things. 
But the best part: On some nights this bar in Granada even has live music. When I was there I was lucky to find a man playing jazz music on the piano. This place is a true gem. For drinks, they offer many different options from Gin Tonics, and cocktails to alcohol-free hot chocolates. There will be a perfect option for everyone!