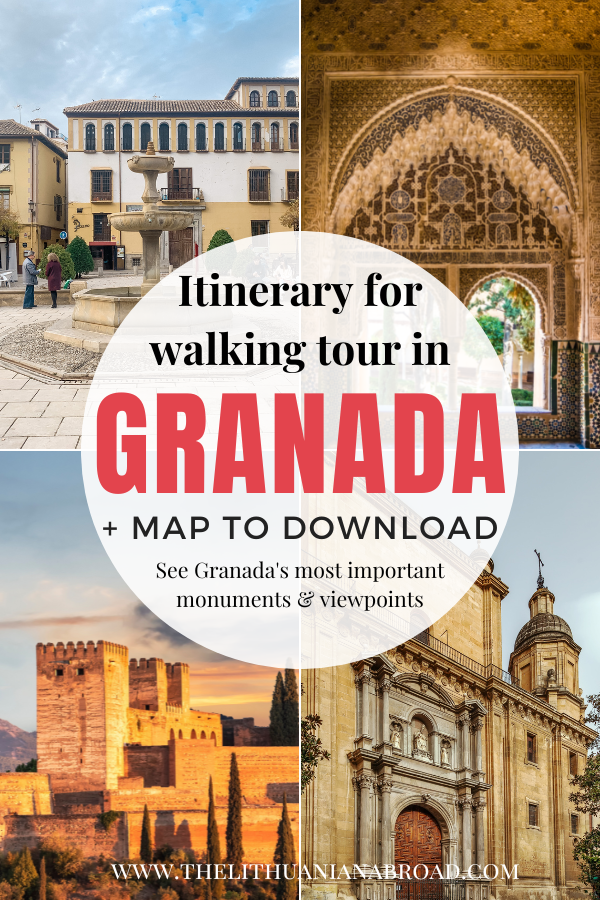 A couple of weeks ago my boyfriend and I went on a free walking tour in Granada, and we absolutely loved it! I had been to Granada before but was so mindblown about how beautiful the city was in December. But regardless of when you decide to visit Granada, I am sure you will have a great experience. But now let's talk about the self-guided walking tour for Granada you can find in this blog post: I absolutely love doing walking tours whenever I visit a new city. They really help to understand a new city better and to know where all the important monuments are.
During my stay in Granada, I did both a free walking tour of the city and a food walking tour. Apart from them, I also found some gems in Granada during my time there that I made sure to include as well. And the outcome is the following blog post: A self-guided walking tour of Granada with the city's most important monuments, viewpoints, tapas bars, and more.
So, if you are interested, keep reading. 
Here is an itinerary for a self-guided walking tour in Granada
---
Affiliate links may be sprinkled throughout the free content of this blog post. If you purchase from one of the links I may receive a small commission while the price for you stays the same. This helps me cover the costs of The Lithuanian Abroad. Gracias!
Other blog posts about Granada you should check out: 
Visit Granada in winter, the best activities & more: This blog post has amazing recommendations for visiting Granada during the winter months. And yes, it is absolutely worth it! You can find more information here.
Tipping in Spain, everything you need to know: This guide includes everything you need to know about Spain's tipping culture. How much do you tip and when is tipping necessary? 
35 funny sayings in Spanish you should know: Here are 35 hilarious Spanish phrases you should know. And we talk about Spain's obsession with milk as well. Check it out!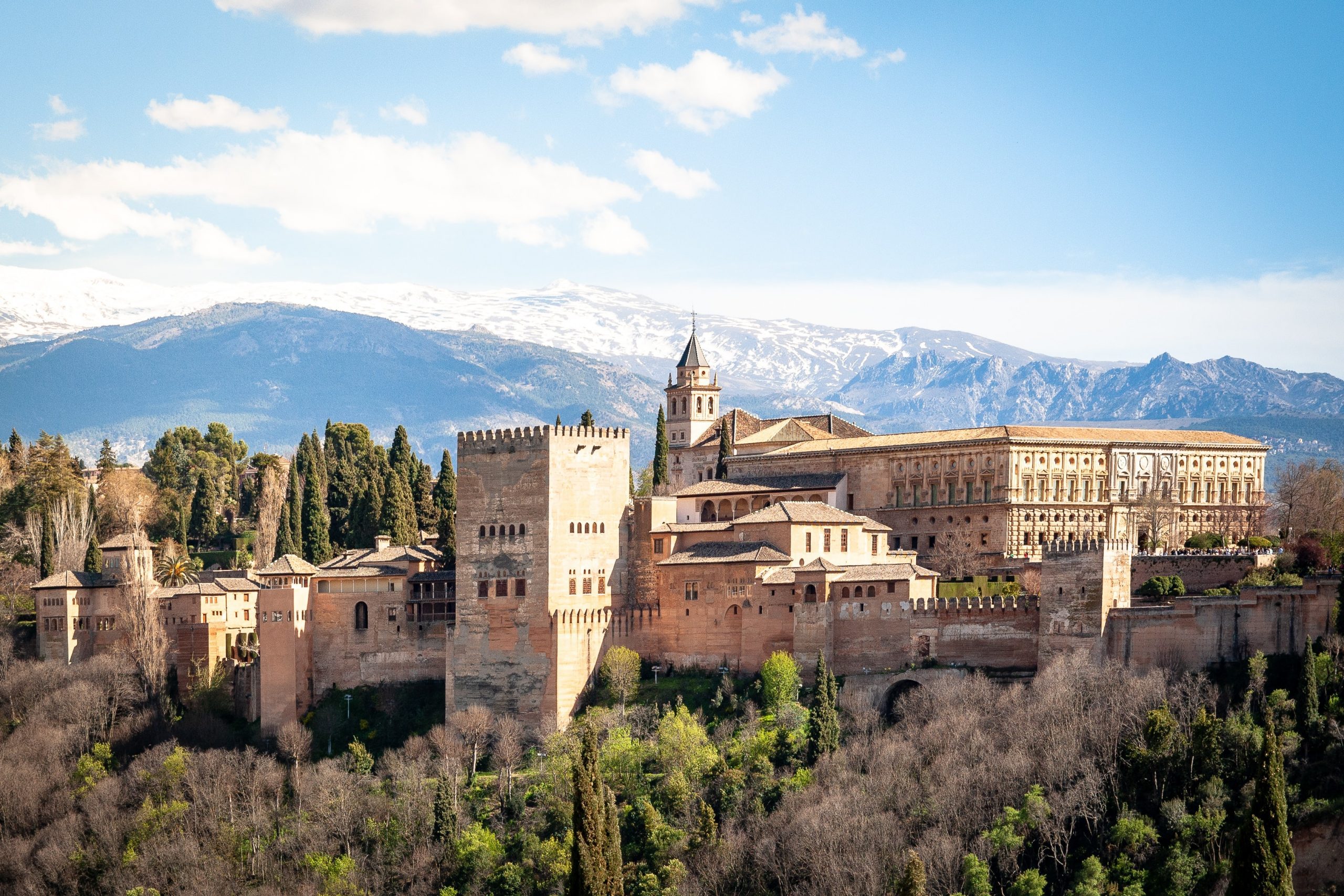 FAQs about Granada and this free self-guided walking tour for Granada:
Is Granada worth visiting?
Granada is one of the many cities in Spain you have to visit! Not only is it home to the Alhambra palace, which is a famous UNESCO World Heritage site. It also is full of incredible history and amazing food. Granada is also close to the Sierra Nevada mountains which makes it a perfect destination for nature lovers as well. 
What if I want to book a free walking tour in Granada? 
Of course, you can also book a free walking tour in Granada. Free walking tours are amazing if you want to see Granada's most important monuments and areas in one afternoon. I did a free walking tour in Granada myself and really enjoyed it. The best part of free walking tours are the local guides who do an amazing job showing you the city through the eyes of a person that lives there. You can also ask them for recommendations for activities after you finished your tour. 
How do free walking tours work? Free walking tours do not come with a specific price, which is why they are free. You will spend a couple of hours with your local guide walking around the city and learning a lot about Granada's history. After the tour, you have the chance to leave your local guide a tip. And it's totally up to you how much you would like to tip them! It usually depends on your budget and on how much you actually liked the tour.
You can find all free walking tours in Granada here.
But if you have a tight schedule and want to explore Granada on your own, keep reading this blog post 🙂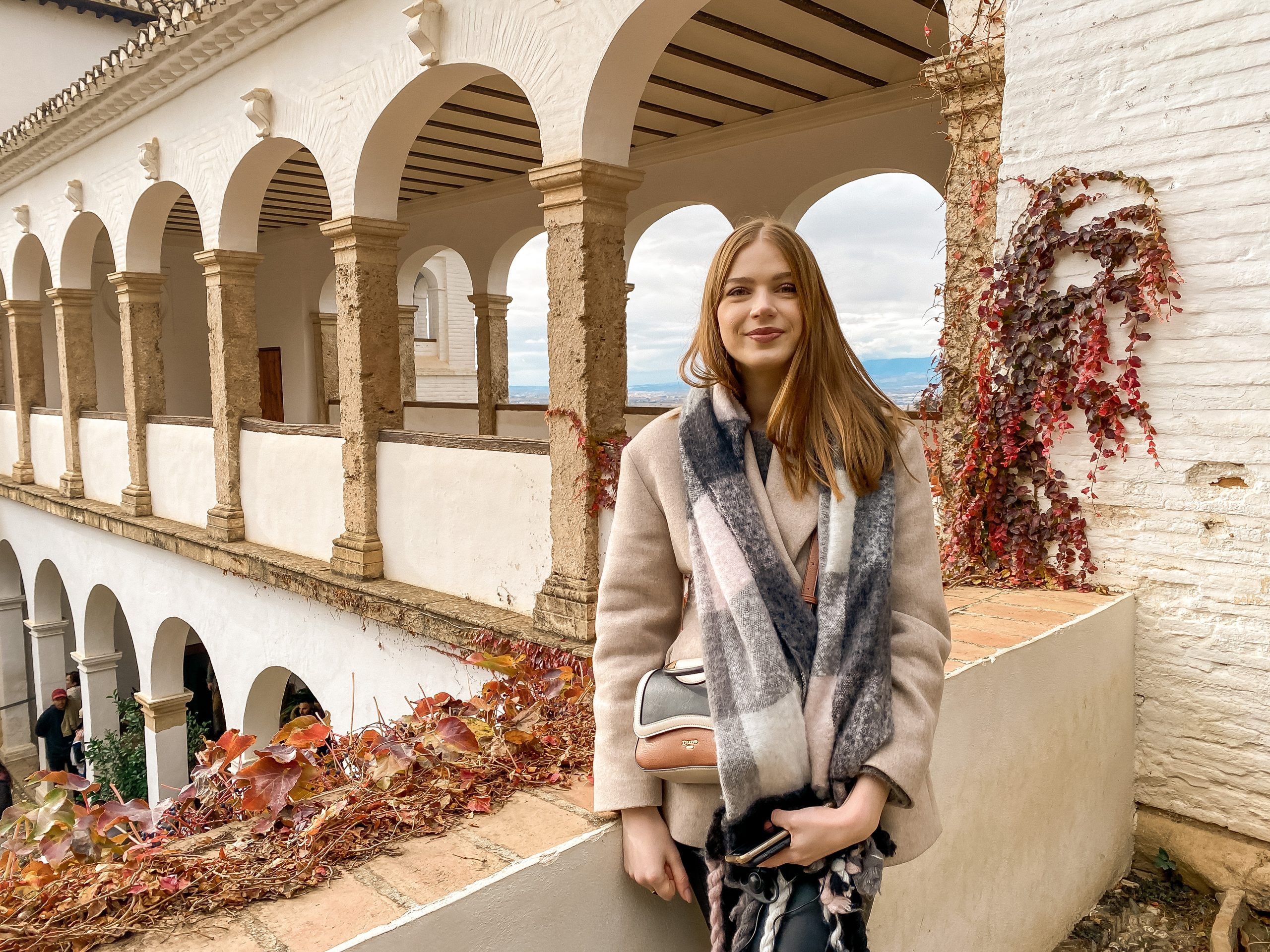 What should I keep in mind before I do a walking tour in Granada? 
Make sure to wear proper footwear! Granada is an incredibly walkable city. So, you should wear should you can walk in for a couple of hours without a problem. Then, you should take a water bottle with you to refreshen yourself during your walk. 
How long does this self-guided walking tour of Granada take? 
In theory, the tour is 3km long and if you just walk to all destinations without a break, you should be done in 45 min. But in practice, I am sure this walking tour will take you much longer. We will walk around the historical city center of Granada, and check out incredible viewpoints and other monuments of the city. If you want to enjoy your time without rushing, this tour will take you around 2-3 hours.
By the way, I made sure to include tea and tapas places that I loved. That way you can make small stops in case you get hungry 🙂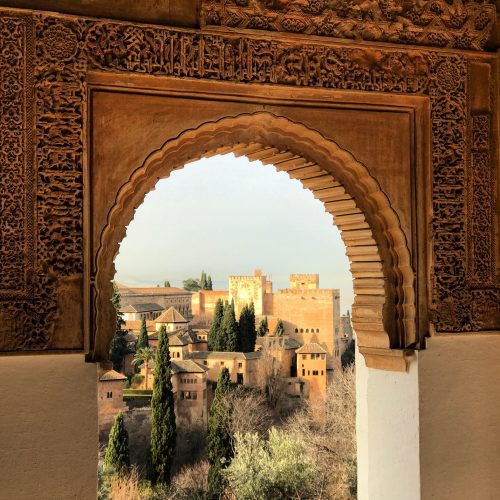 What places are we going to see on this Granada walking tour? 
Our self-guided Granada walking tour starts at Plaza de Bib Rambla, which is a very central square close to the Cathedral of Granada. From there, you will walk to the Cathedral of Granada and see the Royal Chapel. Then, we will walk to the lower areas of the Albaicín neighborhood and see two important viewpoints: Mirador Placeta de Carvalejas and Mirador San Nicolas. After spending some time at the viewpoints you will walk down to the famous Paseo de los tristes with amazing views of the Alhambra in Granada. The walking tour ends in an area full of bars and restaurants. Perfect if you want to keep exploring Granada's surroundings.
Interactive map with our Granada walking tour itinerary
This is an interactive map with the itinerary for our self-guided walking tour in Granada. You can send the whole itinerary to yourself and display it on your google maps. That way you won't get lost! By the way, I also included great tapas and tea places on our way.
Let's start: Itinerary for a self-guided walking tour in Granada
1. Start of our walking tour in Granada: Plaza de Bib-Rambla
Many walking tours in Granada start at exactly this place: Plaza de Bib-Rambla. This place is a small square not too far from the Cathedral. On this square, you can find several restaurants where you can have tapas or churros. 
I got recommended the place "Los Manueles" a lot for their tapas. If you want to have a snack before your walking tour, you could go there! Or what about having churros at Cafetería Alhambra? Churros are very common in Granada. You really should make sure to try them during your stay. 
When I visited this Granada in December, this plaza had a small Christmas market full of souvenirs and gifts. But apart from that, let's not stay in this square for too long. There are many incredible destinations in our walking tour to come.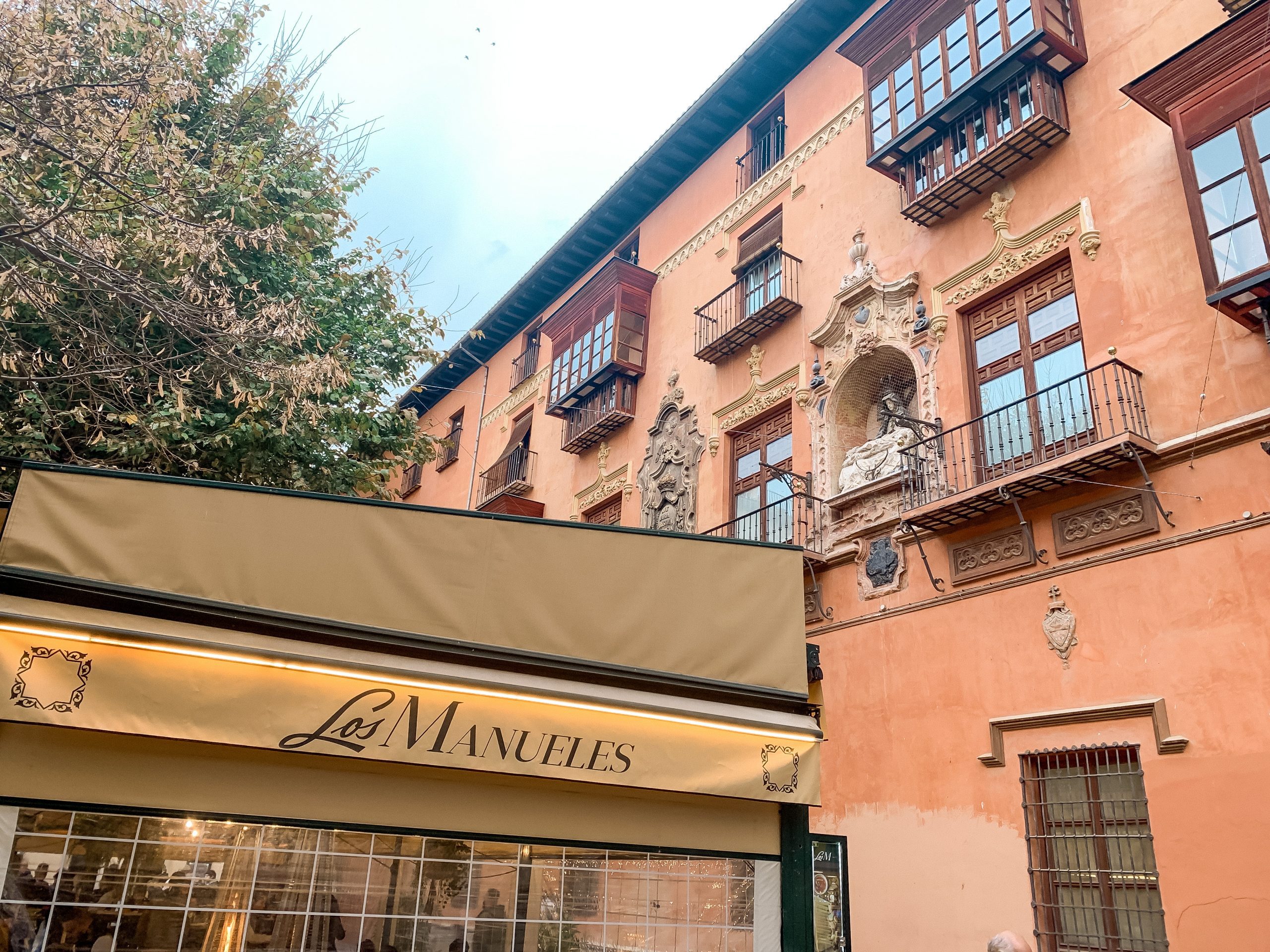 2. Walk to the famous bazaar Alcaicería in Granada
Walking time: 3 min
The Alcaicería is a hidden street full of souvenir shops in the center of Granada. The Arabic-style shops sell all kinds of souvenirs, from jewelry, purses, and t-shirts to other small things related to Granada. If you want to bring back a souvenir from Granada for your loved ones, this is one place you could take a look at!
Walk around the small street and peek inside the shops. This Arabic style is very common in the South of Spain. Make sure to pay attention to the beautiful decorations on the walls. 
Make sure to walk to a small square called "Placeta de la Seda" to admire the beautiful tiles on the walls. Such a beautiful and hidden place in Granada!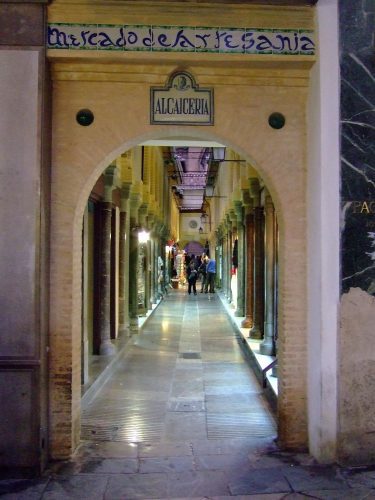 3. Admire Granada's gorgeous cathedral at Plaza de las Pasiegas
Walking time: 2 min 
The Cathedral in Granada is one of the must-see places on this tour. For being such a small city, Granada actually has the 4th largest Cathedral in the world! The construction of this Cathedral started in the 16th century, after Granada's conquest and more than 600 years of Muslim dominance. Like many other Cathedrals in Andalusia, the Cathedral in Granada was built on top of the city's main mosque. 
The exterior structure of the Cathedral is of gothic architecture. The main facade was designed by the famous Spanish architect Alonso Cano. The inside of the Cathedral is also worth seeing! The inside has been constructed in a Renaissance design with colourful tiles and five main naves. The whole building looks absolutely beautiful. 
If you have time and are interested in seeing the Cathedral inside, you should absolutely do it! The entrance costs 5€.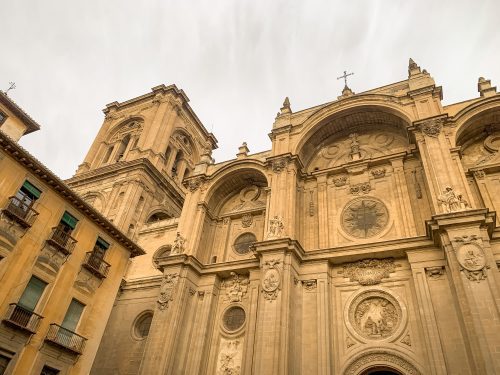 4. Walk to the Royal Chapel, right behind the Cathedral of Granada
Walking time: 2 min 
The Royal Chapel of Granada is a very unique building: This building is the burial place of the Spanish Monarchs Queen Isabella and King Ferdinand I. Apart from that, the building has some very impressive architecture and shows art related to Queen Isabella. Other tombs include the bodies of Juana de Castilla, Felipe I de Castilla and their grandson Miguel who died as a child.
I have to be honest, my boyfriend and I went to check out the Royal Chapel thinking it will be one more religious building to look at. But we were very impressed by the statues, the artwork and how well-preserved everything is! The marble statues look absolutely insane and were crafted with so much detail. Keep in mind that the Royal Chapel of Granada was constructed at the beginning of the 16th century. 
If you have time and are debating whether you should visit it, give it a try. In my opinion, this is a very underrated place and worth visiting (Taking photos is not allowed! Which is why I cannot show you any!)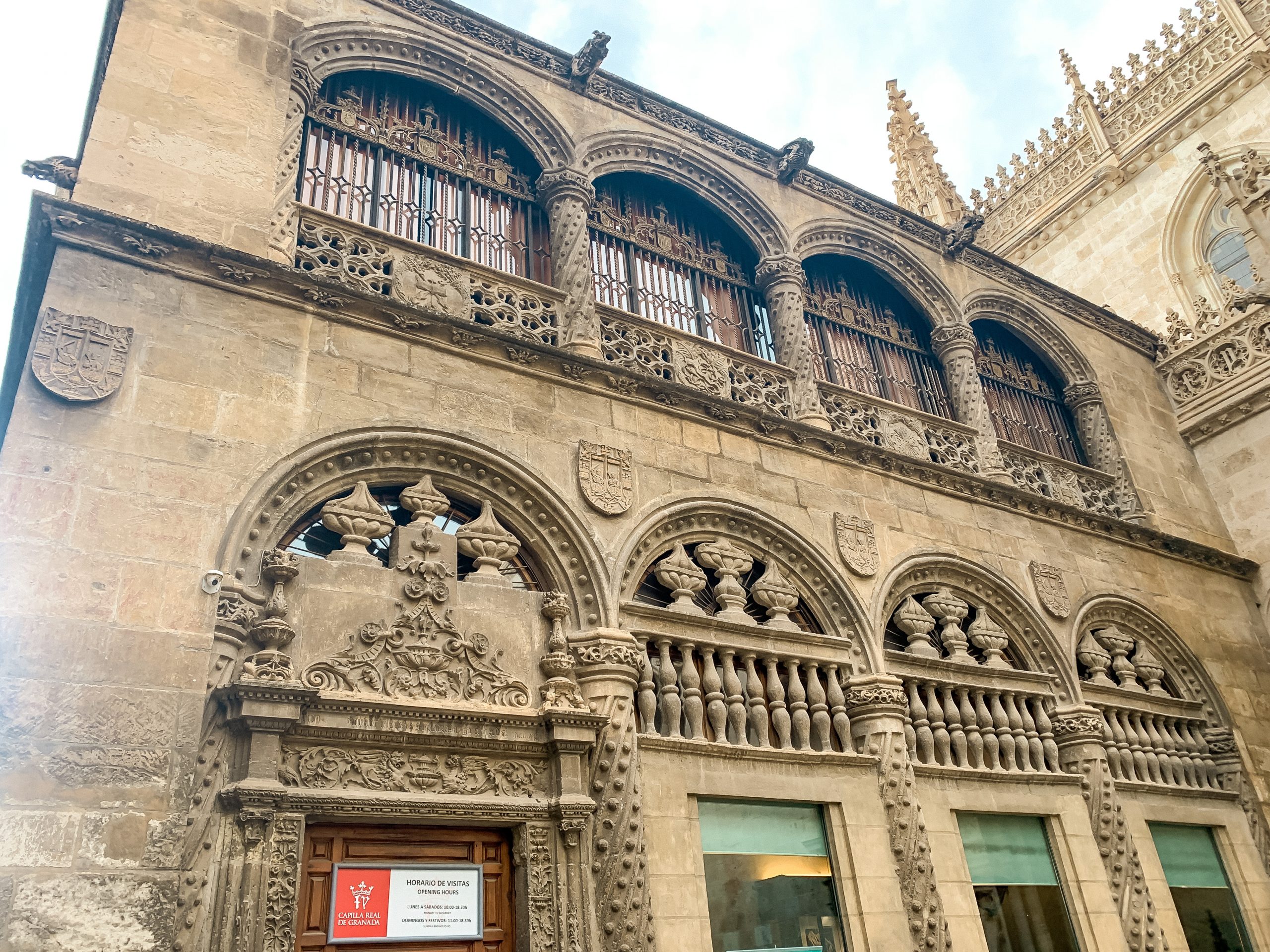 5. Check out the Palacio de la Madraza, 
Walking time: 2 min
The good news is that the old town of Granada is very small and all monuments are very close to each other. By now, we did not even have to walk that far. Right next to the Royal Chapel is the Madraza, a historical Islamic educational institution. 
Nowadays, the Madraza belongs to the university of Granada. It was built in the 14th century by Nasrid Monarch Yusuf I. The Madraza was close to the city's main mosque, which today is the Cathedral of Granada. Close are also the Albaicería bazaar where silk and gold were traded. 
You can enter the front part of the Madraza to admire the beautiful Arabic decoration of the wall, very unique!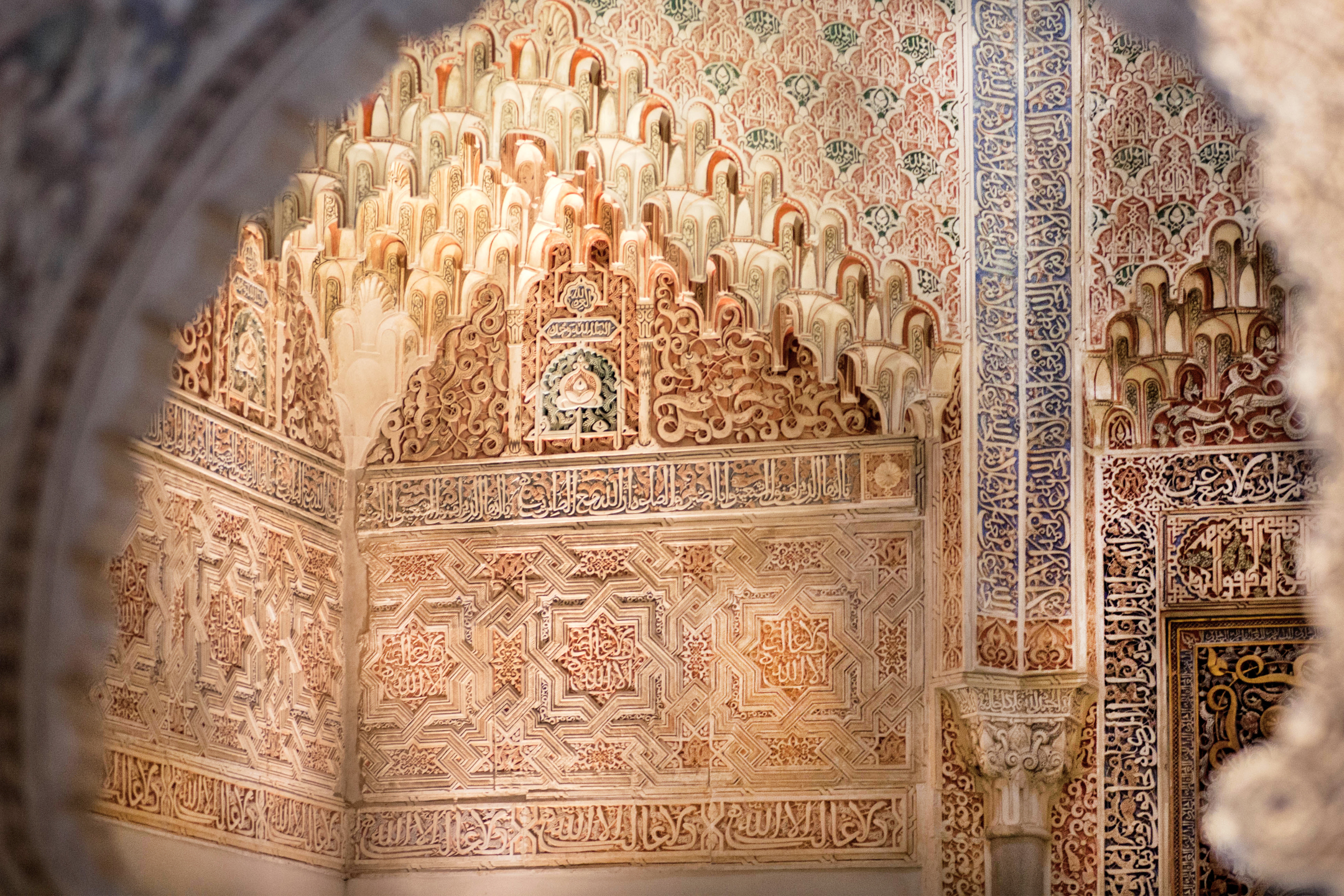 6. Let's go to our first viewpoint: Placeta de Carvajales
Walking time: 10 Minutes
From the Madraza, walk towards Gran Vía de Colón, cross the street and keep walking towards the lower part of the Albaicín neighborhood.
There, our next destination is Mirador Placeta de Carvajales. Once you arrive, you will immediately understand why many travelers recommend this viewpoint: From here, you have a spectacular view of the Alhambra on the hill. Make sure to not skip this viewpoint on your Granada walking tour! 
Apart from that, there is a small square right at the viewpoint with beautiful water plays where you can do a small break. 
Close to this viewpoint is also a place called "La Taberna del Beso", where you can sit down for a tea and a small snack.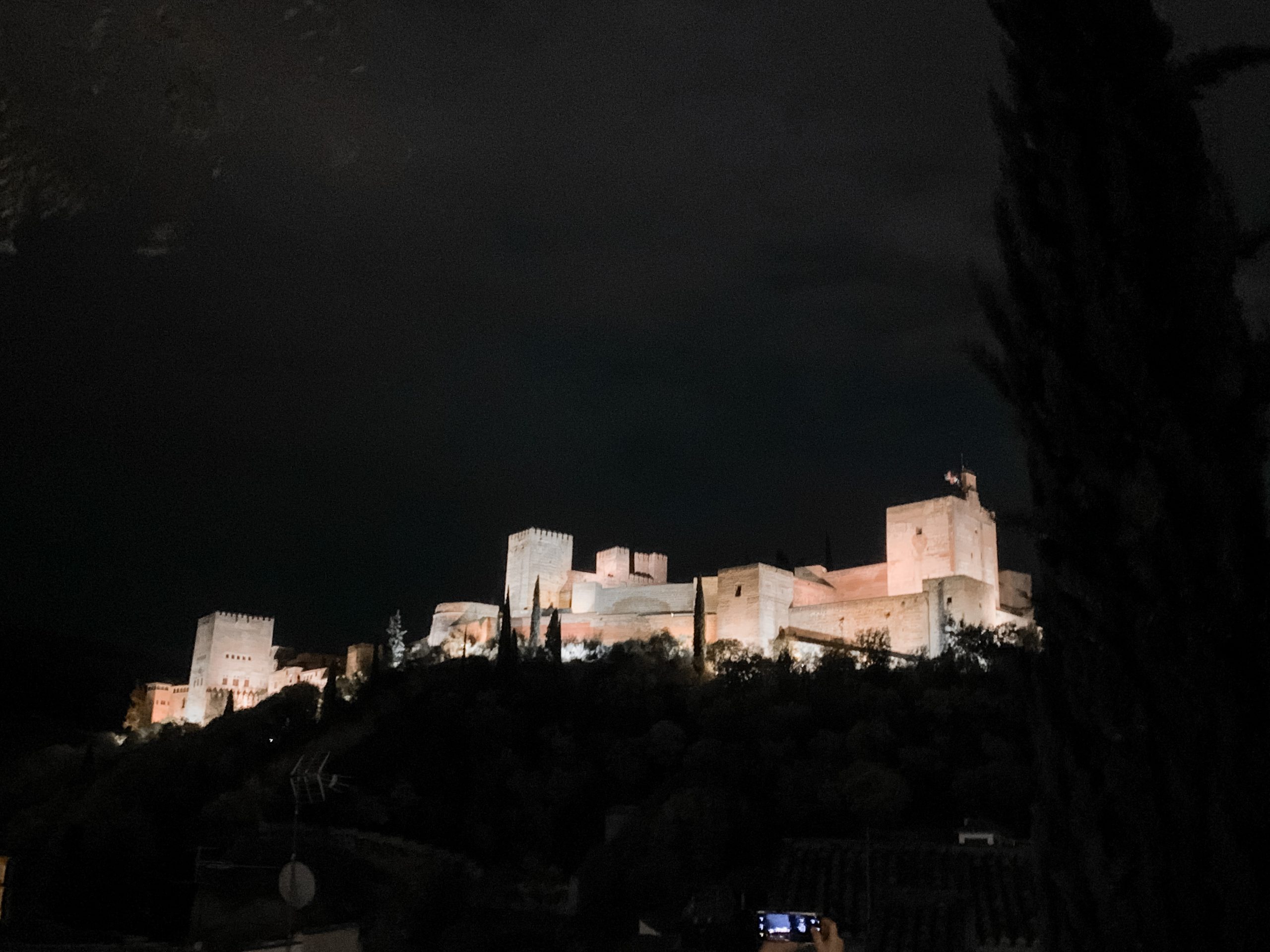 6. Walk to Granada's most popular viewpoint: Mirador San Nicolas 
Walking time: 10min 
Now, we are going to continue walking uphill in Granada's Albaicín neighborhood. Believe me, it is absolutely worth it. Only 10 walking minutes away you can find Granada's most popular viewpoint Mirador San Nicolas. A must-see place during your Granada trip!
This viewpoint has incredible views of Alhambra, and you can even see the Sierra Nevada behind it. This image of the Alhambra with the snow-covered mountains behind it is insane! 
To be honest, this place is not a hidden gem anymore and you will find many people there, especially on sunset. Usually, there is also live music, which really gives this place a special atmosphere. 
What can you do there? You can sit down on the walls of the viewpoint and just admire the incredible view and listen to live music. You can also buy a souvenir from one of the sellers of this viewpoint. I recommend doing a small break and having a tea at "Tetería Marrakesh".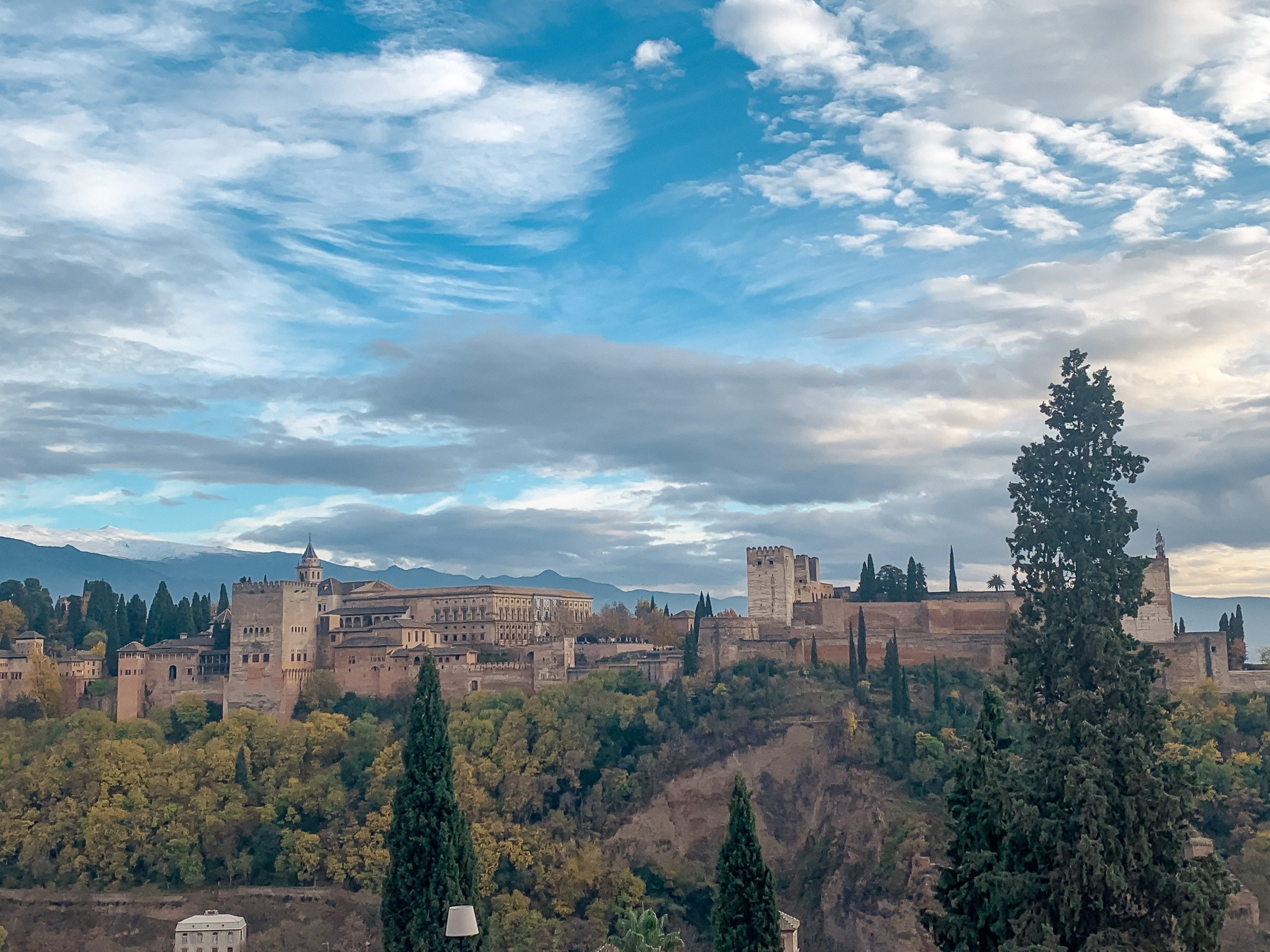 Not tired yet? Then check out the Mosque "Mezquita Mayor"
This Main Mosque in Granada is located right next to the viewpoint and is accessible for free. I really liked visiting it because the views are very similar to the San Nicholas viewpoint, but there are much fewer people there. Apart from that, the mosque is absolutely gorgeous and is also home to a beautiful garden. If you have time, check it out 🙂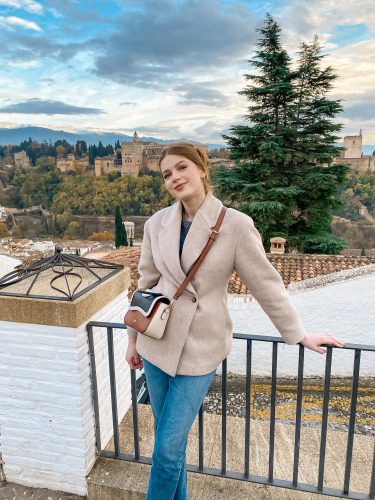 7. Let's continue walking to Paseo de los Tristes!
Walking time: 8 min 
We finally get to walk downhill on this self-guided walking tour of Granada! Our next destination is a street that is officially called "Andres Manjon", but locals call it "Paseo de los tristes". Translated it means "The street of the sad people". This street is right next to the Darro River and you can easily reach it just by walking downhill from the San Nicholas viewpoint. 
The interesting name of the street derives from the funeral processions that would take place on this street on the way to the San José cemetery in Granada. As you can imagine, it was probably not the happiest place in Granada. 
But nowadays, this street is full of bars and local shops you can visit. But not only that. from there you also have amazing views of the Alhambra, which is lit up beautifully during the evening.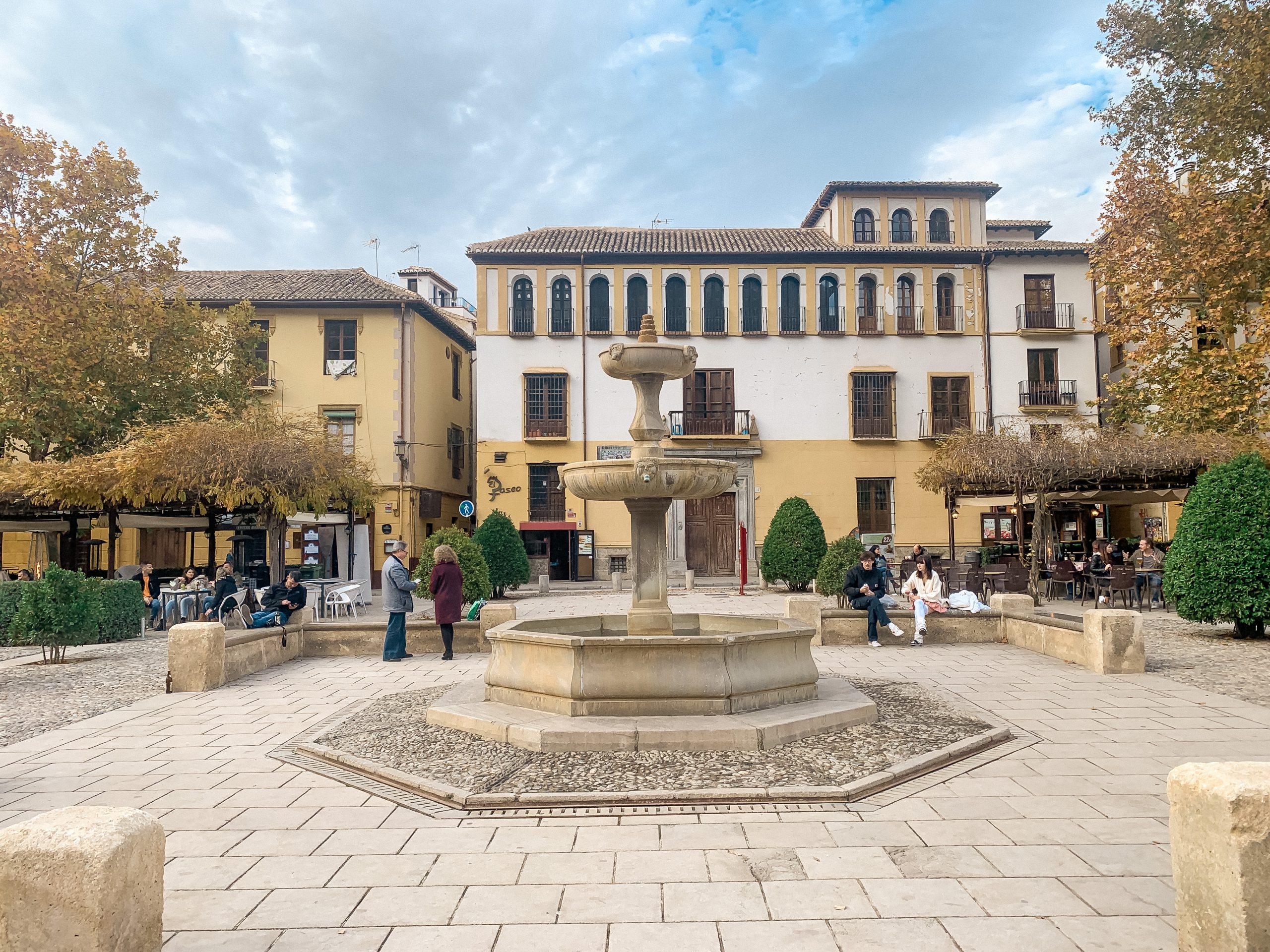 I have to recommend a tea place here which is super cozy with great views of the Alhambra as well: Tetería El Bañuelo.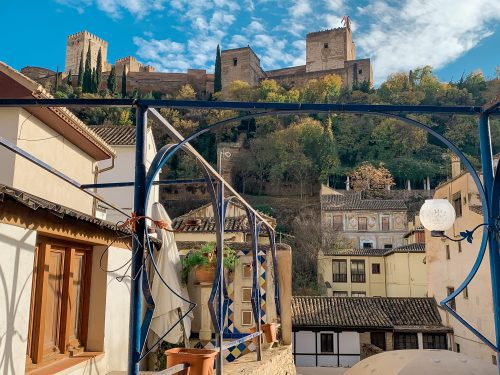 8. Keep walking to Plaza de Santa Ana, the end of our Granada walking tour
Walking time: 8 minutes
Our last stop on this walking tour is Plaza Santa Ana, a central square from which you can continue and go on other activities in the city of Granada. 
On this square, we can find the court of Granada, the tourism office, and a beautiful water fountain. Around this square are many historical buildings, like the Santa Ana church. If you want to extend your Granada walking tour for a bit, you can check it out. 
Apart from that, scroll down if you are looking for more activities you can do after your Granada walking tour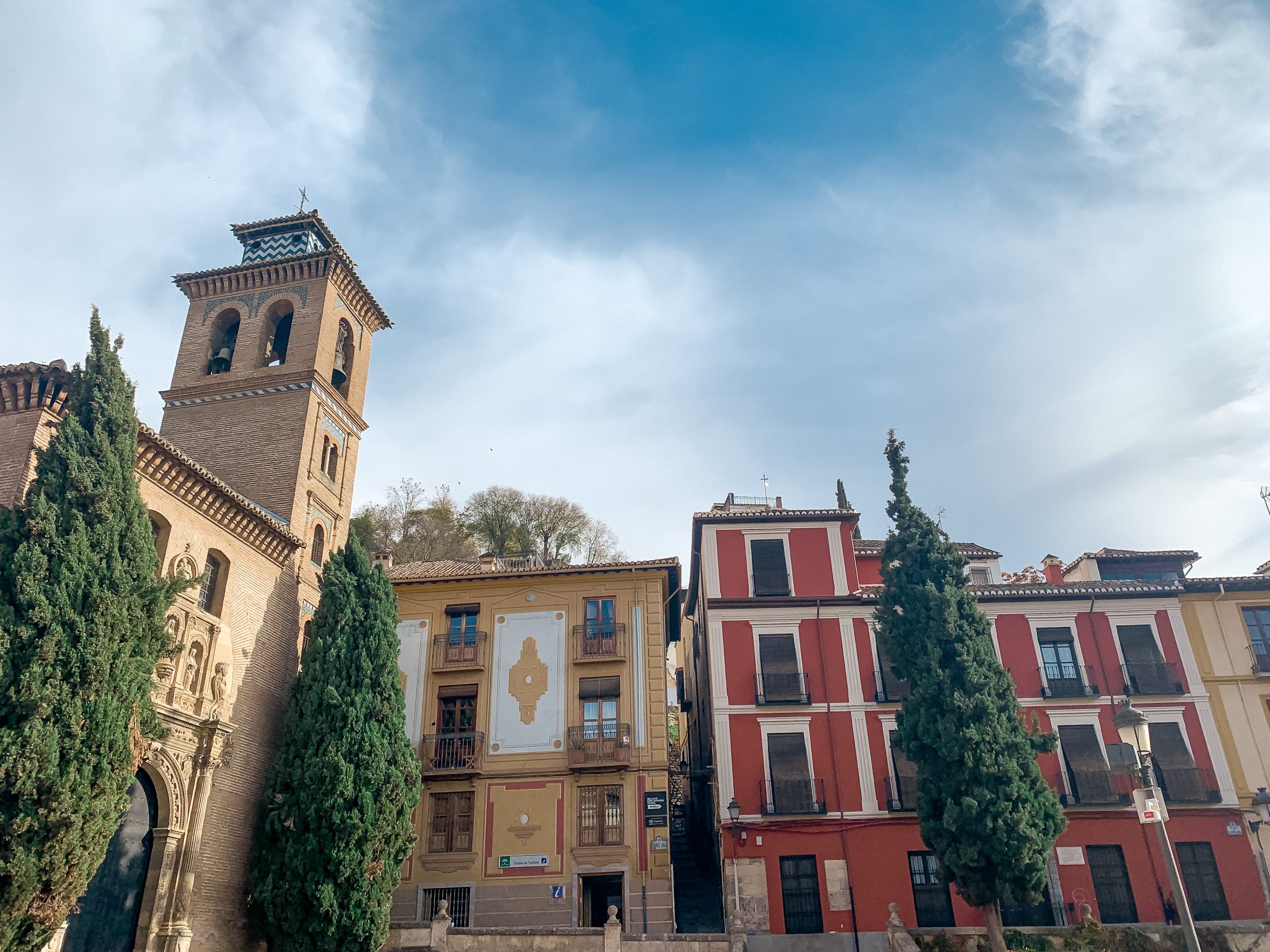 That was not enough? Other activities you can do after this Granada walking tour: 
Visit the Hammam Andalus for a relaxing experience
This is the perfect plan if you want to have a relaxing afternoon: The Hammam Andalus are traditional Arabic baths you can visit for the ultimate SPA experience. These baths include hot and cold pools and other SPA services. Fancy a massage? Then, you should go here.
You can book your tickets for the Arabic baths in Granada here.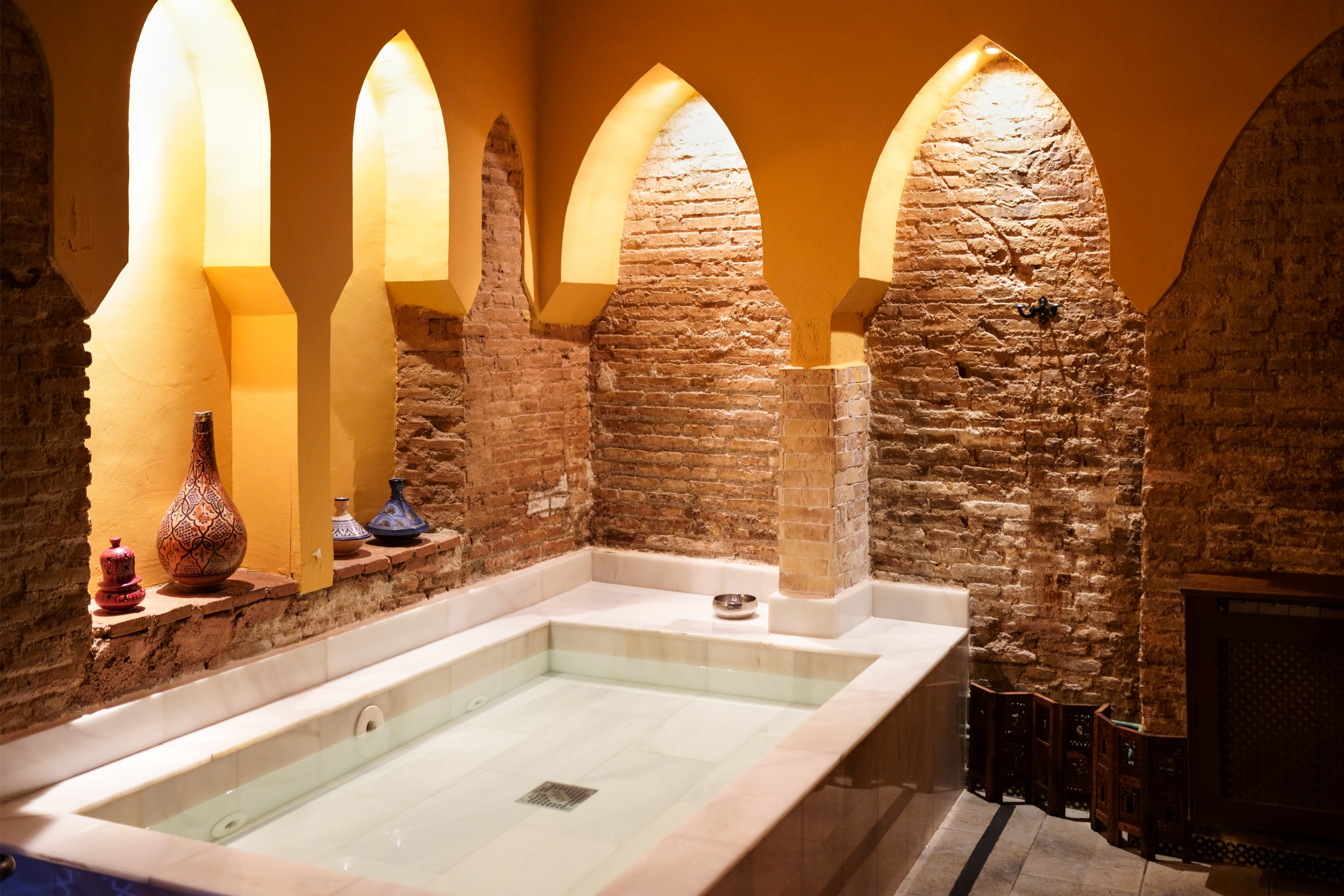 Check out a world-class Flamenco Show in Granada
The South of Spain is known for its amazing Flamenco performances. And Granada has several places where you can go! Close to Plaza Santa Ana is Flamenco Place La Alborea. If you have never been to a Flamenco Show, you will be mindblown!
You can buy tickets and find out more about La Alborea here.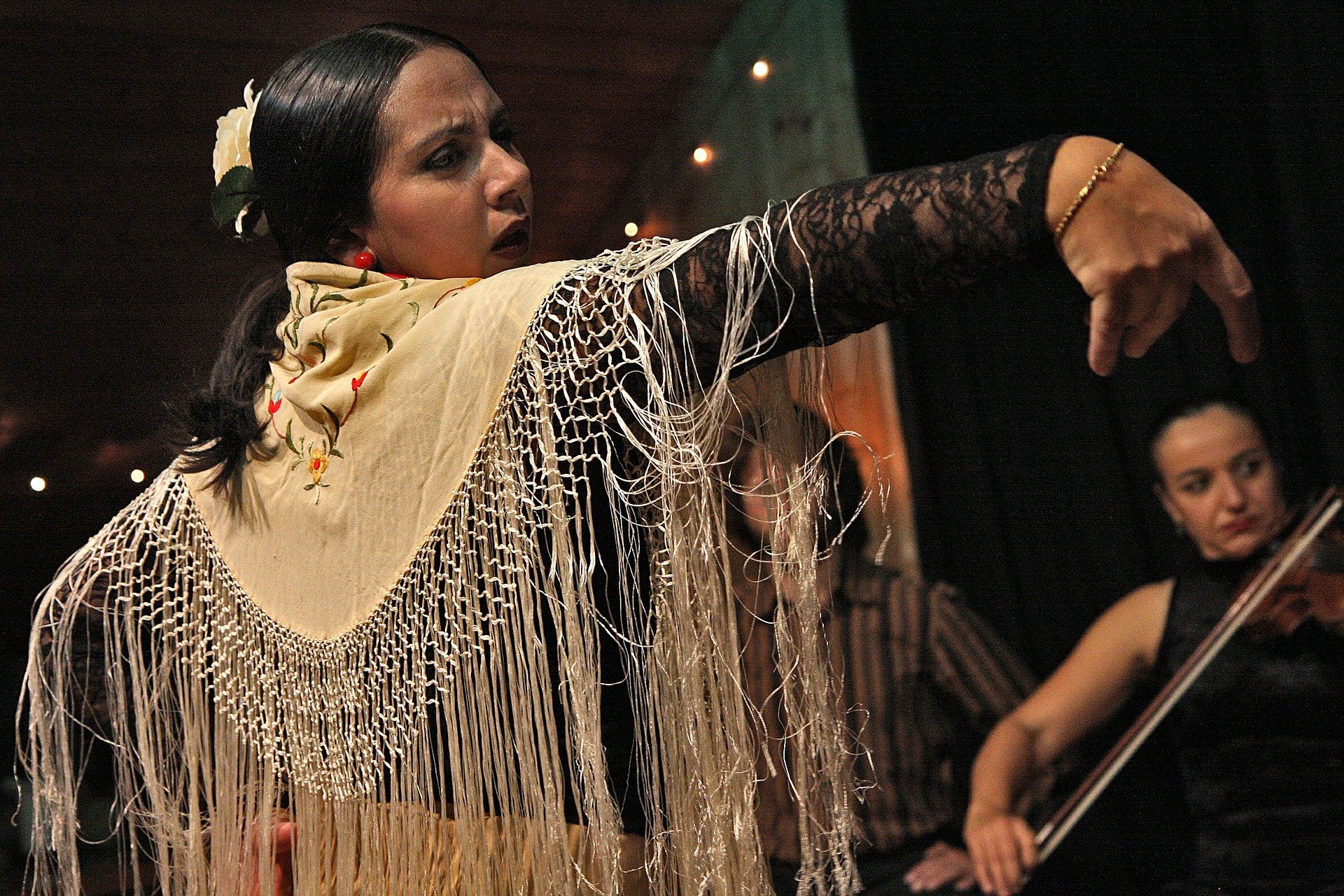 Make sure you bought your ticket for the Alhambra gardens!
Just a word of caution! Make sure you already have your tickets for visiting the Alhambra before you come to Granada. If you still don't have them, make sure to check here if there are still tickets available during your stay in Granada.
Make sure you buy the tickets that include visiting the Nasrid Palaces as well. You can book your tickets here!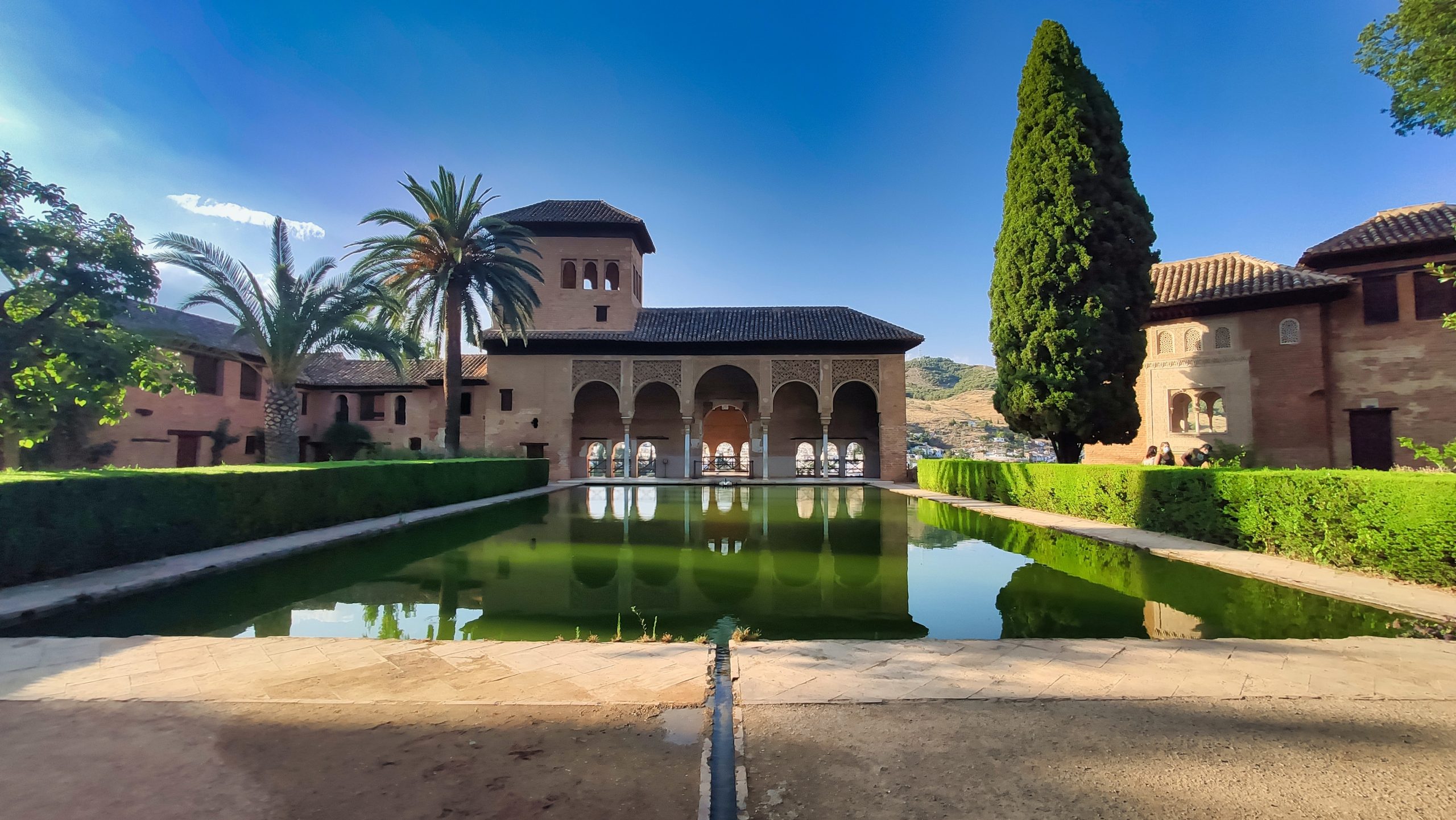 Explore Granada's best tapas restaurants!
Close to our last stop on the Granada walking tour there are a lot of great restaurants you should try! Granada is famous for its tapas culture, where you usually get a free appetizer (tapa) whenever you order a drink. 
Famous tapas places I can recommend are Bodegas Castañeda, La Buena Vida and Los Manueles