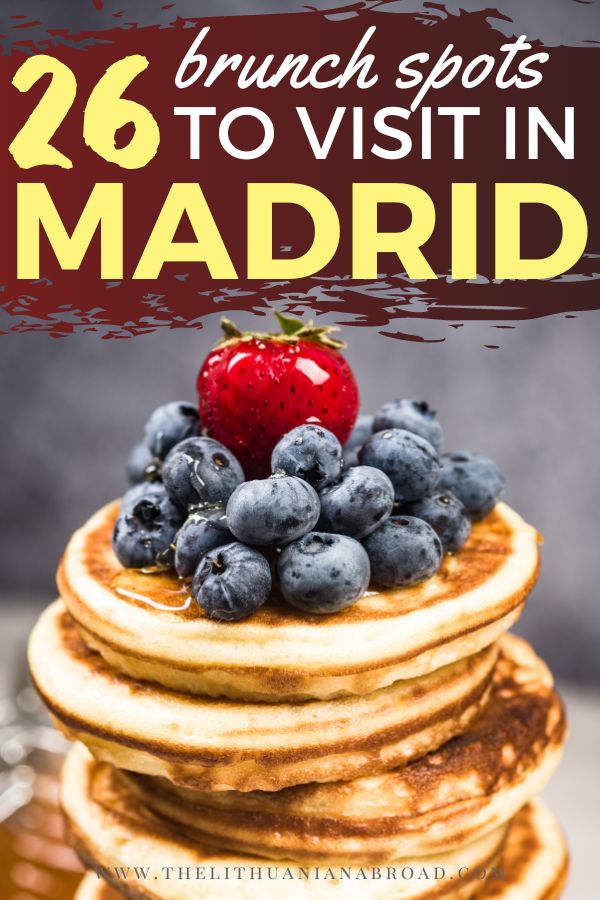 Welcome, fellow brunch lover! You can to the right place. Do you also have this when people ask you what your hobbies are that you want to tell them "Going for brunch and grabbing coffee with friends"? Then yes, I found my people. My friends and I love trying out new brunch spots in Madrid. We are always looking for the best brunch in Madrid. Over the years, we have tried out SO MANY restaurants and cafés for brunch in Madrid. The result is the following blog post. 
When I moved to Madrid in 2017, there were a couple of brunch restaurants, but it wasn't really a popular concept in Madrid. But in the last years, Madrid became so much more international and as a consequence, many brunch spots opened all around the city. Now, are you looking for the best brunch spots in Madrid or are not sure which one you should try out, keep reading! Here are 26 brunch places in Madrid that will serve you the best brunch in town.
---
Affiliate links may be sprinkled throughout the free content of this blog post. If you purchase from one of the links I may receive a small commission while the price for you stays the same. This helps me cover the costs of The Lithuanian Abroad. Gracias!
Other blog posts you should check out: 
104 low-budget things to do in Madrid: This is the ultimate low-budget guide for visiting Madrid. Contrary to popular belief, visiting Madrid does not have to be expensive. And this blog post proves it!
15 Hidden gems in Madrid you have to visit: This blog post includes all kinds of hidden gems in Madrid that most people do not know about! From museums, and viewpoints, to parks and food spots. Check it out! 
Living in Madrid, My personal pros and cons: After 7 years of living in Madrid I wrote a blog post with everything you should know before moving here. 
A self-guided walking tour itinerary for Madrid: Make sure to see most of Madrid in just one afternoon with this itinerary. It includes an interactive map you can download and display on your phone!
Don't just look for the best brunch in Madrid: Make sure to do a free walking tour in Madrid!
Free walking tours are my favorite way of getting to know a city in only one day. These tours are perfect if you visit Madrid for one day and want to see the city's highlights with a local guide. These local guides do an amazing job of showing you a city from the eyes of a person who lives there. If you need recommendations or need local advice, perfect, your local guide is here to help you. 
How do free walking tours work? Free walking tours do not come with a set price, hence, they are free. You will spend one afternoon walking around with your local guide exploring Madrid's highlights and incredible monuments. After the free tour, you get the chance to leave your local guide a tip. And how much you would like to tip them is completely up to you! It usually depends on your budget and on how much you actually liked the tour. 
You can find all free walking tours in Madrid here.
Google Maps Map with all the locations for brunch in Madrid mentioned in this blog post!
1. Starting with a classic brunch spot in Madrid: Pum Pum Café
Pum Pum is truly one of the best brunch places in Madrid. The coffee is absolutely insane and their pastries are to die for. But it doesn't stop there. On the weekends Pum Pum Café and Pum Pum Bakery offer a very wholesome brunch menu. It includes coffee, orange juice, granola, avocado toast, and a dessert for 10€. The place itself is very relaxing, they play great music and it's just a nice place to hang out in general. A very recommended café for brunch in Madrid. 
Little tip: You might have to queue when you visit it during the weekend. I would try to arrive before 10.30am to get a spot before the big groups arrive.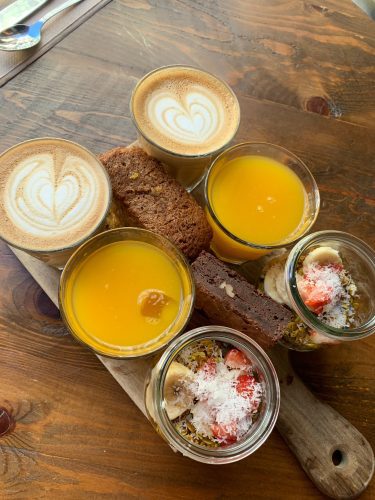 2. Nomade Café for delicious brunch & pancakes
Nomade Café is one of the brunch places in Madrid that has a really nice brunch menu on the weekends. It usually costs 11.50€ and includes a coffee, orange juice, a small granola bowl, a toast, and a dessert. That is why you sometimes have to queue when you go here during the weekend. My tip: If you arrive before 11 am it should be fine. The pancakes are my all-time favorite. Make sure to try this cute brunch place if you are in the area.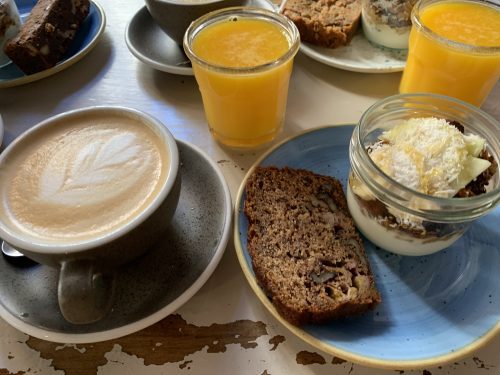 3. Bo Coffee for one of the best brunch in Madrid
Bo Coffee is known to be THE place for delicious, homemade, and wholesome brunch in Madrid. Honestly, everything I have ever tried here was amazing. The avocado toast is amazing, the pancakes are insane, and the juices and pastry are top-notch. One of the best brunch locations in Madrid by far. The only downside is that it became very popular during the last few years. I usually do not go there during the weekend anymore because you have to queue A LOT. But if you are around during the week and are looking for a brunch place, you won't regret it!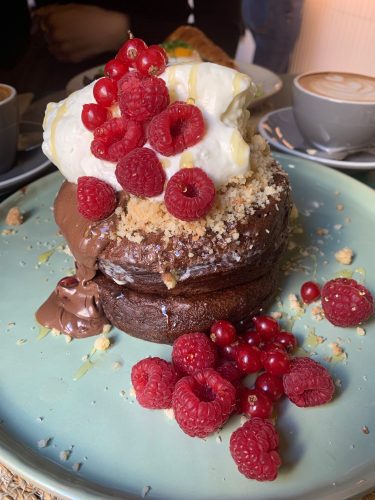 4. Creative brunch place in Madrid: Eat My Trip
Eat My Trip is one of the brunch locations on the more creative side. And when you check out the photos you will know what I am talking about: An ice popsicle in your pancakes, cotton candy, colorful plates and tasty food! A very Instagrammable location, but I honestly think that it's worth visiting. That is one of the brunch spots in Madrid you cannot miss!
By the way, this is one of the locations that serves brunch the whole day in Madrid, even in the evening!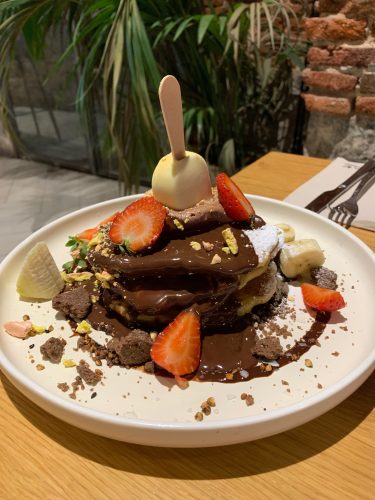 5. Clima Cafecito, one of my personal highlights
Clima Cafecito just feels like a little brunch oasis in Madrid. It's the perfect mix of brunch with a Californian vibe in Madrid. This is for the guys who want to enjoy a light brunch menu with high-quality ingredients. While their menu is always changing, I am still dreaming about the breakfast tacos I had there. 
But, on the weekends, they also have a brunch menu that I can recommend. It usually includes coffee, scrambled eggs, a cookie and a toast. And wow, they know how to make incredible toasts!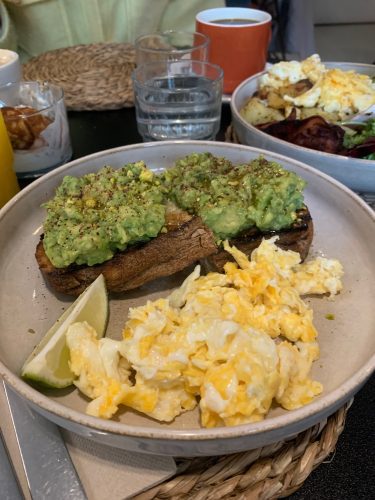 6. One of Madrid's most instagrammable brunch places: Jardín Secreto de Salvador Bachiller
The lovers of instagrammable brunch places in Madrid listen up: Jardín Secreto is probably the most beautiful brunch location in Madrid. Many people don't even know about it since it's on the last floor of the Spanish shop "Salvador Bachiller" on Calle Montera. The concept is the following: The whole area is decorated as a garden and you are surrounded by beautiful plants and gorgeous sculptures. And if you love beautiful cutlery and dishes you will love this place. They use the same ones you can buy on the lower floors. And the dishes are truly beautiful and colorful. 
Now I have to be honest: It is on the pricier side as the brunch menu costs 29€ per person. In my opinion, a place for a special occasion or when you want to impress a brunch lover in Madrid. And make sure to reserve before, otherwise, it will be extremely difficult to get a table.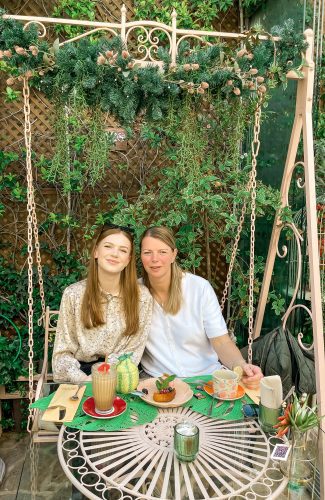 7. Federal Café for a nice brunch in Madrid 
Federal Café is a brunch spot in Madrid that just never disappoints. And what I love about it is that it has so much seating area outside. So perfect if you want to enjoy having brunch outside. I personally really like the cakes they have, especially the crumble. A great brunch place in Madrid you really should put on your list! By the way, their eggs benedict are delicious!
Warning, it does get crowded during the weekend!
8. Café Comercial for a classic & elegant brunch in Madrid
Café Comercial is an elegant and more fancy coffee place in Madrid that also offers brunch menus on the weekends. While it doesn't look like a special place from the outside, the inside is just beautiful. Their brunch menu costs 30€/person and consists of several different dishes. Another perfect brunch place for a special occasion or if you have something to celebrate.
I would advise reserving before, which you can do here.
9. Hanso Café, one of Madrid's most popular brunch locations
Hanso Café is one of Madrid's most famous brunch places and attracts many people on Saturdays and Sundays. Their menu consists of many different dishes, pastries, and cakes. And everything I have tried so far has been really tasty. One top dish on their menu: A delicious croffle, a mixture of croissants and waffles. But also the sandwiches and toast are incredible. This is my friend's favorite brunch spot in Madrid!
If you want to visit on Saturday or Sunday, I would suggest arriving at 10 am at the latest, otherwise, you will have to join a huge queue!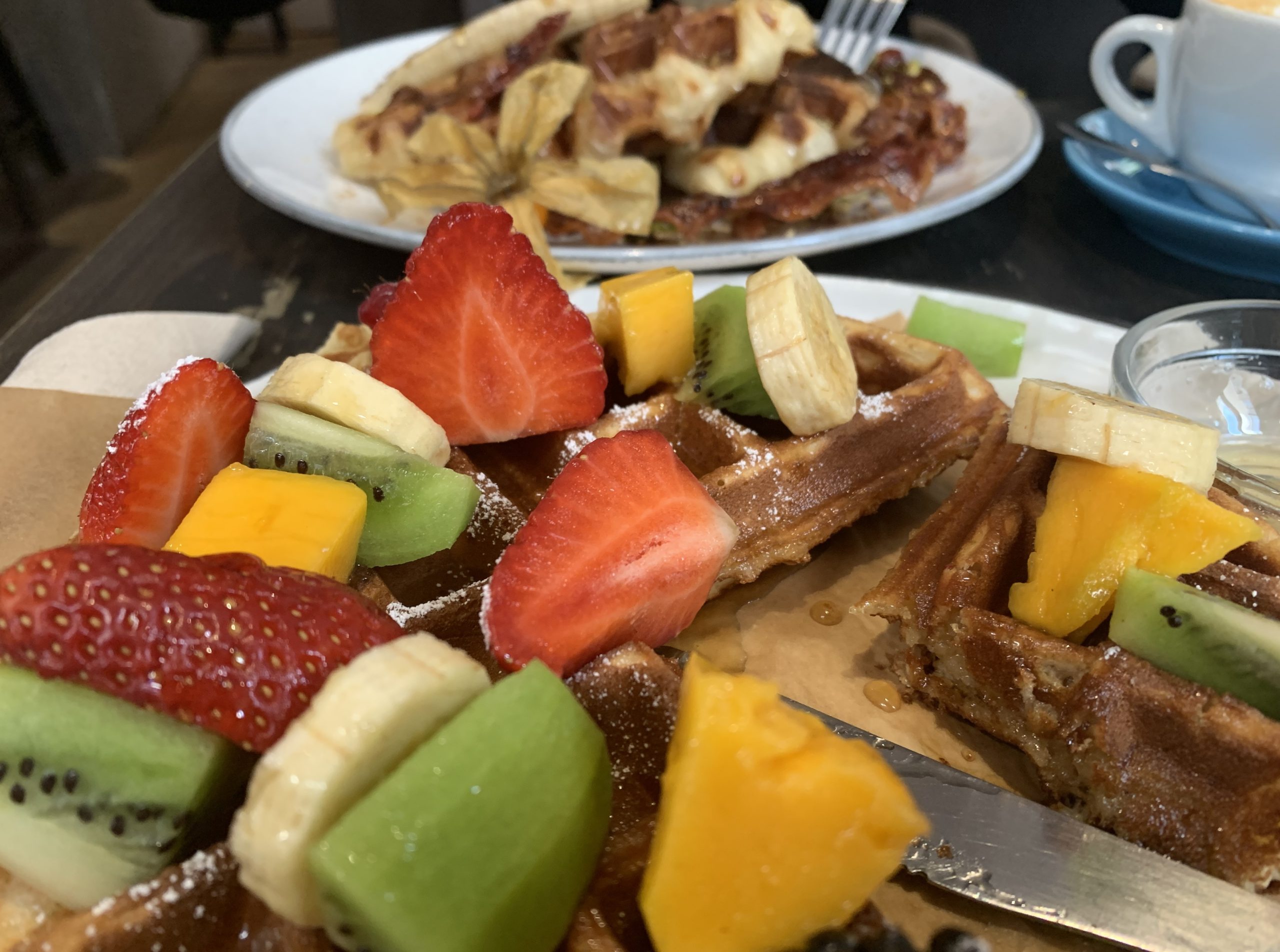 10. Mür Café for a delicious English breakfast
Mür Café is a cozy brunch place in Madrid close to Plaza de España. The interior feels very cozy and looks very beautiful. What I love about it is its menu which does not only have brunch basics but also an English breakfast and even crumpets! As far as I know, this is the only brunch restaurant in Madrid that includes them! They also have several brunch menus you can choose from. Another brunch place in Madrid that does not disappoint. 
If possible, I would make a reservation here.
11. One of Madrid's best brunch places in the North: Rebel Café
This place will always have a special place in my heart because I used to live in this area and met my girlfriends here a lot for weekend brunch. Their brunch menu (16.90€/person) is just perfect and consists of a coffee, orange juice, and a toast of your choice. But wait! You also get 3 tiny croissants to snack on and delicious granola. Apart from that, they have so many other pastries and dishes you can choose from. A great brunch place in the North of Madrid if you are ever in the area.
By the way, you can make a reservation at this brunch place here.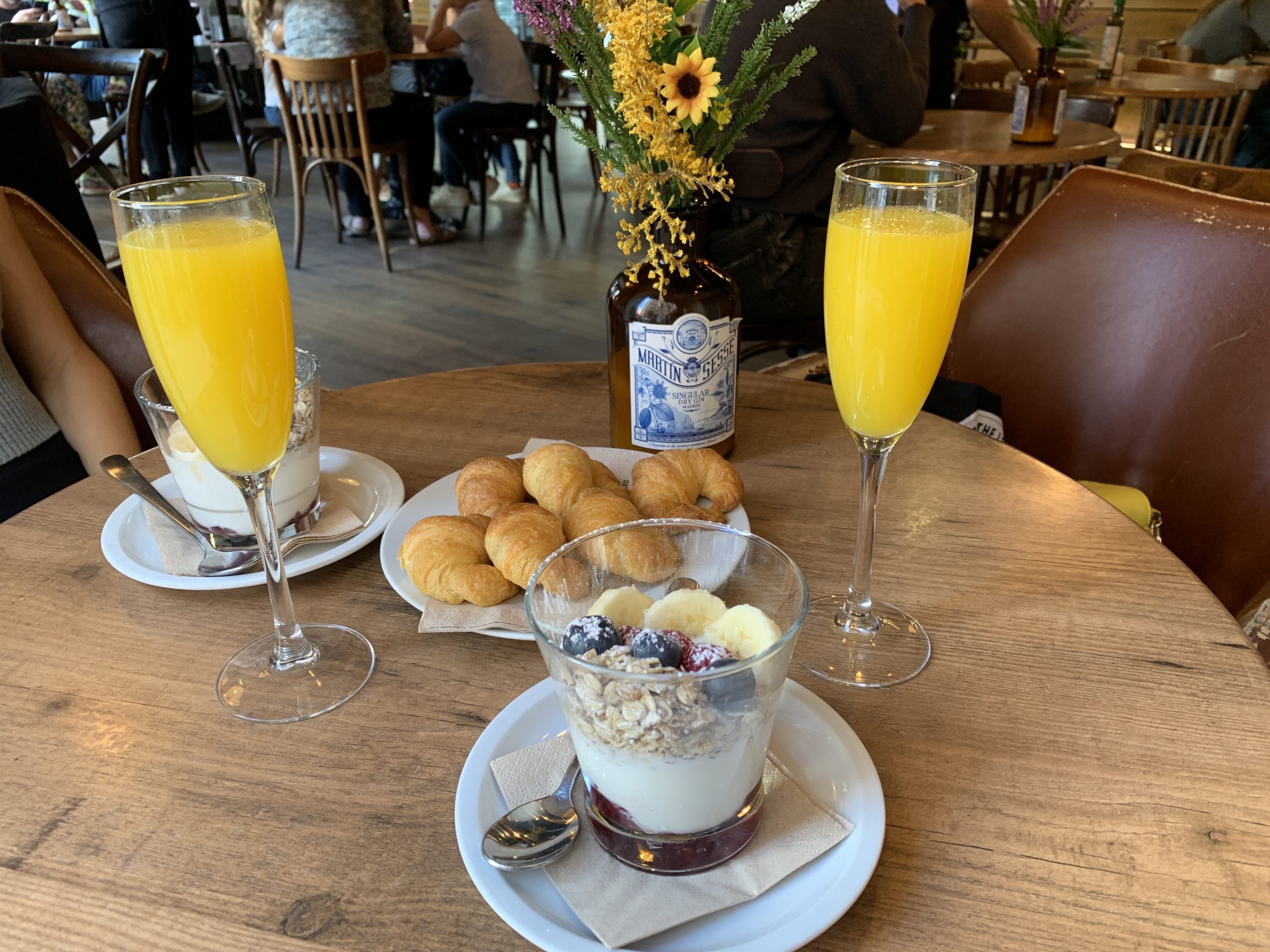 12. Coco House: Vegan & Glutenfree brunch in Madrid, Acai bowls & more
Now this is a brunch place we always go to when we want to feel healthy and do something good for our bodies. But this one is not just healthy, the food is also incredibly delicious and has a little tropical touch to it. 
I also want to recommend this brunch place for vegan and gluten-intolerant people as their menu is almost completely vegan and gluten-free. And the Acai bowls are to die for. Another thing you need to try here are the cocadas. Those are basically coconut shakes with added fruit of your choice. So tasty and ice cold!
One last thing: I find their prices to be very reasonable and fair. Finally, a brunch place that does not charge insane prices for their food. And the quality of their dishes is impeccable as well.
Now, if this is too much for you, just take their regular brunch menu for 17€. I swear it will not disappoint you!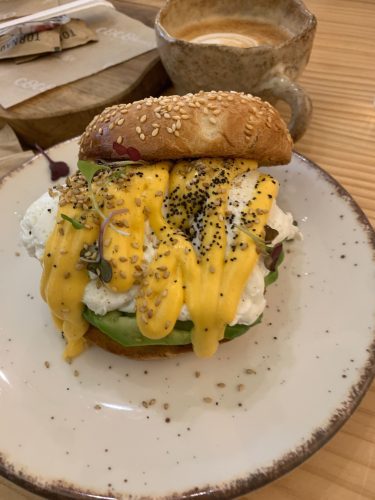 13. Hidden brunch gem in Madrid: Etual Café
This little café place is not exactly known for brunch but I am adding it here because I feel like it deserves more visibility. Etual Café is located close to the Paseo del Prado and offers delicious coffee and food. And my boyfriend and I like to go there for brunch or sometimes even an afternoon snack. I love the overnight oats with peanut butter, and the pancakes are insane as well. Plus points, because sometimes the owner's doggo is there as well.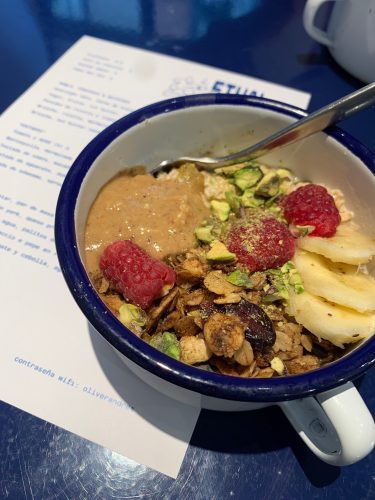 14. Arya Café: Brunch in Madrid with the cutest dog 
Another brunch in Madrid that sometimes has a doggo present: Arya Café. Arya is the name of the cute black doggo that sometimes waddles around the place and greets the visitors. This brunch place is fairly new but it really should be on the top of your list. The owner is really nice and invited us to Arya's birthday party in August. Such a sweet brunch restaurant in Madrid!
Make sure to try the croissants and the bowls. De-li-cious!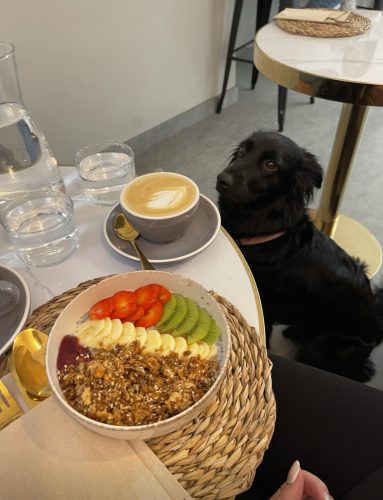 15. Bagels meets Brunch in Madrid: Mazal Bagels
This brunch place in Madrid is dedicated to bagel lovers. If there is one place in Madrid you need to visit for bagels it's this one and forget about all the other ones. Their bagels are delicious and huge! Also, do yourself a favor and try the cheese bagel! The owners are lovely as well and will give you very good recommendations if you are unsure what you should order. By the way, they also have pastries in case you want to finish with something sweet!
16. Natif Coffee & Kitchen for outstanding brunch in Madrid
My friend and I love Natif because of its beautiful interior, incredible food, and gorgeous desserts. Another cool brunch spot for your bucket list for Madrid. Especially if you like chocolate desserts you will be in heaven here. To me, this is one of the brunch spots in Madrid that is worth visiting just for the interior. Everything is decorated with so much attention to detail. And the plates and cutlery are very sweet as well. And I haven't even mentioned the food yet. But I have been there many times now and I have always loved it so far!
My dish of choice here would be the salmon croissant. I am already drooling while I am typing this!
17. To me the best brunch spot in Madrid: FOUR
FOUR is probably one of my favorite brunch spots in Madrid and the place I visit the most, by far. Why? I just absolutely love the outside area on the little plaza. No cars, no noise, or loud people. Imagine having brunch in Madrid on a beautiful tiny square and enjoying your coffee in the shade of one single tree. That is my absolute dream!
And their menu is incredible as well. They change it regularly so you will always be able to try out new dishes. What I love is that their menu always includes a lot of fruit and vegetables. And it is definitely more on the healthy side. The bread is just too delicious!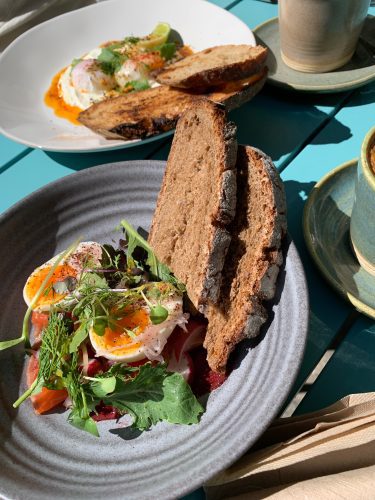 18. Spoil yourself and have brunch in Madrid at The Omar 
This place is quite new and I am so excited to talk about it here: The Omar. The Omar is actually a beautiful hotel that has a restaurant area on the first floor. This is where their guests usually have breakfast. But you can also join for brunch there, even though you are not staying there. That's probably the ultimate tip for an incredible brunch in Madrid that you won't find anywhere else. The pastries are always freshly made by them and are absolutely insane. 
And for being a five star hotel, the prices are actually not too bad!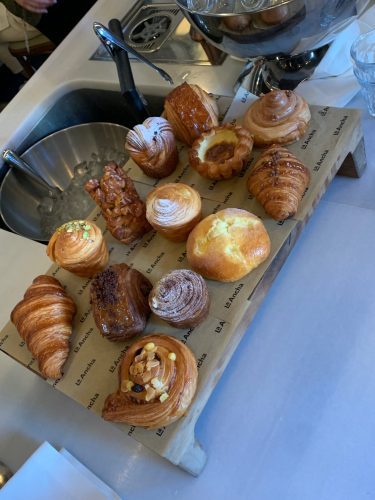 19. Tired of basic and always-the-same brunch in Madrid? Try Café Tamar
A couple of weeks ago my friend took me to Café Tamar, and it immediately made it to my favorites. If you are tired of the usual avocado toast (wow so innovative!) and want to visit a place where the menu will actually surprise you, try Café Tamar! Toast with caramelized pear, delicious poached eggs, fresh bread, and even radish. Then, they have delicious Turkish eggs and yummy Shakshuka. Delicious!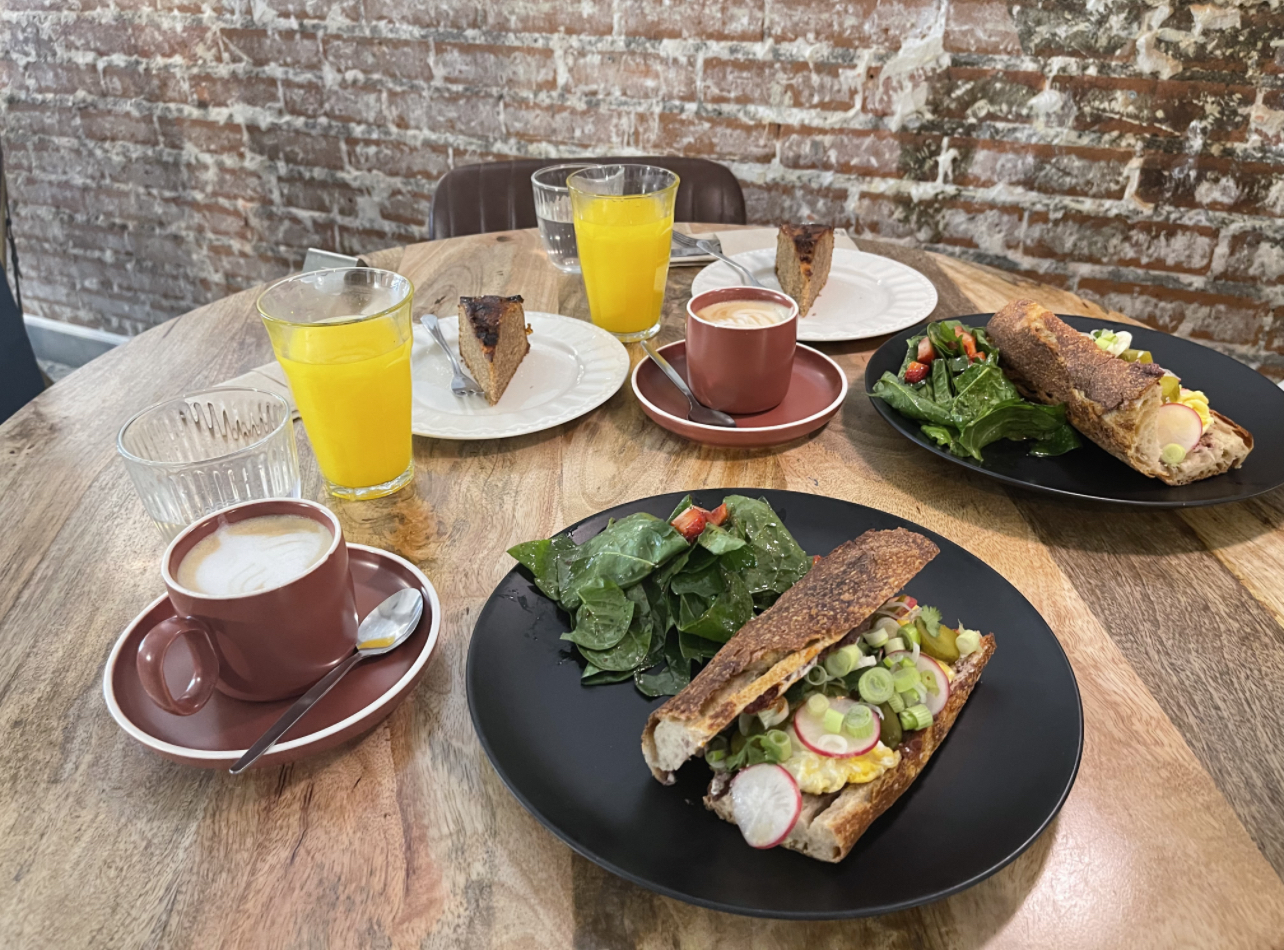 20. Búcolico Café for cozy homemade brunch in Madrid
Búcolico Café is an incredible brunch place in the center of Madrid. To me, their interior is already beautifully decorated and the delicious food is just a cherry on top! The whole place has a beautiful vintage country house vibe and looks very inviting. By the way, Bucolico definitely has one of my favorite avocado toasts. The bread is just too good! And the sandwiches are bomb, too!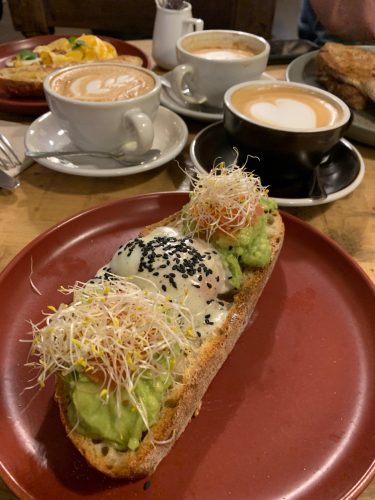 21. Religion Speciality Coffee for an incredible brunch menu 
I just recently discovered Religion Speciality Coffee for delicious brunch in Madrid and since then I have been back several times. So, you are good to say that it made it on my personal list of brunch spots in Madrid. First things first, you HAVE to try the French toast. It's absolutely delicious and you will love it. We also tried the Turkish eggs and waffles and enjoyed them as well. 
Plus points, you can reserve a table there if you wish. That way you don't have to be scared that you won't get a spot!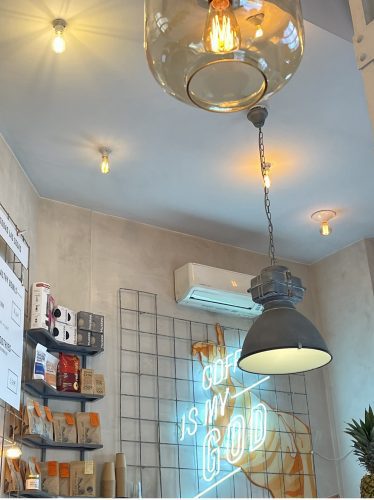 22. Madrid's best vegan brunch: The colorful Frutos Prohibidos
No, I am not a vegan. But this place has convinced me, even though I am usually not the biggest fan of all-vegan restaurants. Frutos Prohibidos has an amazing vegan brunch menu that is not only incredibly creative but also so tasty! They even have vegan alternatives for eggs and whipped cream which surprised me. And everything was insanely delicious, prepared with so much detail and looked very beautiful. To me, THE top vegan brunch in Madrid.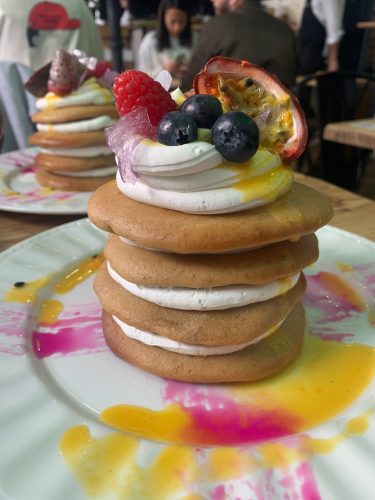 23. Brunch in Madrid Malasaña: The Toast Taproom 
Brunch place by day, beer bar at night: The Toast Taproom. My girlfriends and I enjoyed brunch here a couple of times. My personal highlight of them: The Mexican Chilaquiles. If you are like me and love Mexican food, you absolutely have to try them.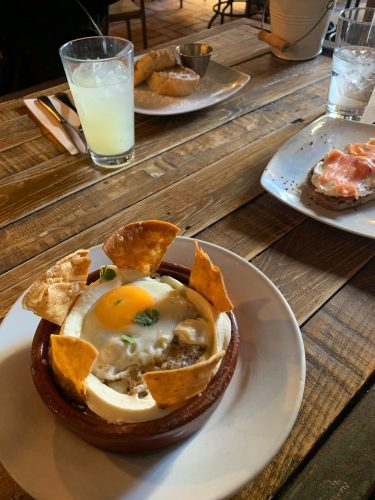 Brunch Places in Madrid I have not visited yet, but are on my list: 
I actually think that these places are great, but I simply have not been there. The most probable reason is that I do not like to queue in order to enter a restaurant. That is why I am still missing a couple of these. But who knows, maybe one day I will be lucky and be able to enter without having to wait. 
Carmencita Brunch, one of the first brunch locations in Madrid
Carmencita Brunch is probably the very first brunch place that opened in Madrid in 2010. And I have not been there? At least not that I can actually remember. I guess we all have that one place we never go to even though there is no actual reason for that… 
But I think I personally never was convinced by the photos online or on Instagram. Yes, I think it was one of the first places ever that introduced brunch to Madrid. Huge thing! But I somehow think that there are better places in Madrid when it comes to brunch. 
La Desayunería for American-Style brunch in Madrid
La Desayunería is known for serving American-type brunch in Madrid. That means burgers, pancakes, and waffles! While writing this blog post, I actually found out that I have been there, not for the brunch but for "Pancakes Thursday" where pancakes only cost 5€, so we decided to try it. And the pancakes were delicious!
But if you actually want to visit La Desayunería for brunch on Saturday or Sunday, you will find maaaany people queueing here. It's very popular and from the photos I have seen so far, it looks like a great place!
Zenith Brunch, Madrid's and Barcelona's famous brunch spot. 
Yes, you probably have heard about Zenith in Madrid or Barcelona. It is a very famous spot but guess what, I still have not been there. The simple reason is that every time we tried we saw a HUGE queue of people outside, and my hunger always wins… But if you are happy to wait for a bit, you will find colorful dishes, eggs benedict, amazing pancakes, and cocktails!