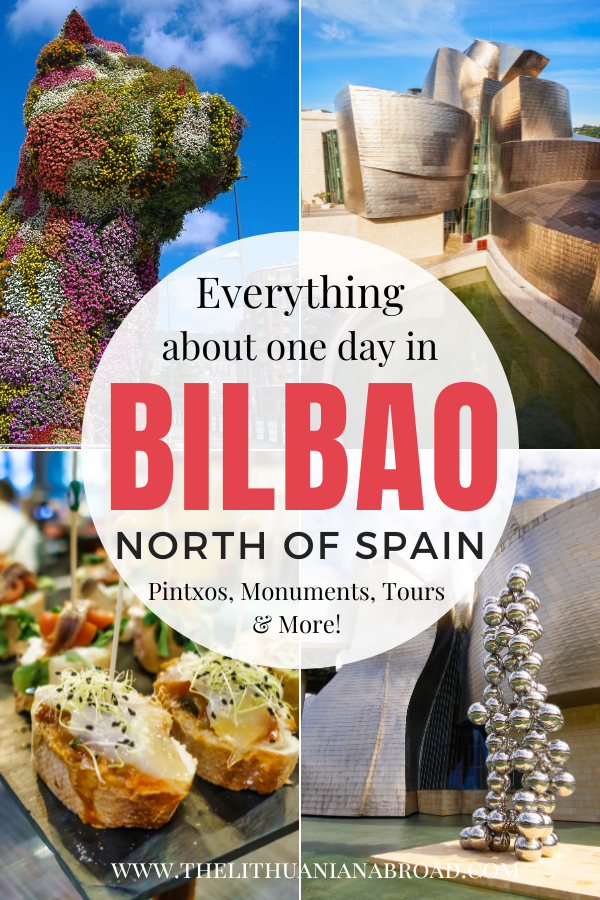 A couple of days ago my boyfriend and I had the chance to spend one day in Bilbao. While he had never been there before, I visited Bilbao a couple of years ago with my university. And what do I remember of it? Delicious food, art, and windy weather. Bilbao is an absolute gem in the North of Spain. This time we really wanted to find out more about its gastronomy and pintos culture.
Something that Bilbao showed us once again is how versatile and diverse Spain is. And that is something I really want to talk about in this blog post as well. Bilbao is THE place to visit if you are a modern art fan, but also want to try out Bilbao's world-class cuisine. Yes, here we will also talk about Bilbao's incredible pintxos and where to find them. So let's jump right into it. Everything you should know when staying in Bilbao for one day: 
---
Affiliate links may be sprinkled throughout the free content of this blog post. If you purchase from one of the links I may receive a small commission while the price for you stays the same. This helps me cover the costs of The Lithuanian Abroad. Gracias!
Other blog posts you have to check out: 
What to do in one day in Santander: The North in Spain has so much to offer! And after visiting Bilbao, your next destination could be Santander, another gem of the North. Find out everything you need to know in this guide.
13 City breaks in Spain you have to put on your bucket list: I wrote a bucket list with 13 incredible destinations in Spain you have to visit. Find out here what city should be your next destination after Bilbao.
What is the tipping culture like in Spain: You should know about Spain's tipping customs before visiting Spain. And this guide tells you everything about tipping in restaurants, hotels, and cabs. 
12 things to do in Barcelona at night: Barcelona is one of Spain's most popular destinations. I have many travel guides about Barcelona but this one tells you everything you need to know about Barcelona's nightlife (And no, it's not just partying!)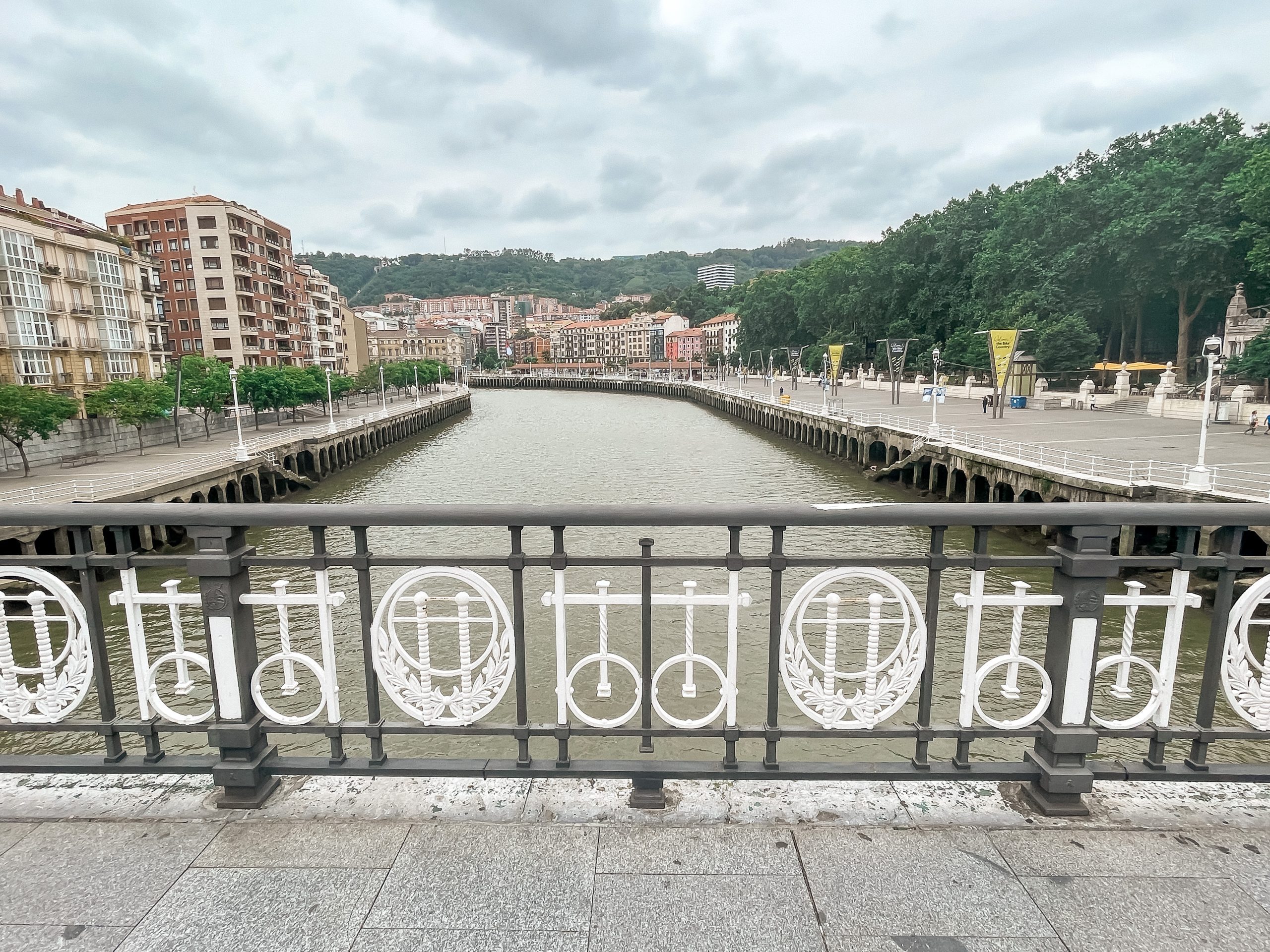 Let's go! Everything about spending one day in Bilbao
One day in Bilbao: Where should you stay?
When we stayed in Bilbao, we booked accommodation in the old quarter (Casco Viejo) which was a very good idea in the end. What you should know about Bilbao is that there is an old town which is full of small winded streets where cars are not allowed to enter. That's something you should keep in mind if you are traveling with a lot of luggage. Taxis are not allowed to enter either, so you might have to walk a couple of minutes to your hotel if you end up staying in the old town. 
When crossing the river, you will find yourself in the newer part of Bilbao. This is where the shopping streets are and where the majority of restaurants and more authentic places are located. We loved staying in the old town because it was full of monuments and beautiful streets. Our accommodation was called Pension Ama Bilbao and was very central. Monuments in the old town were a short walk away but you could also reach the Guggenheim Museum and the new part of Bilbao in no time! This was also one of the most affordable options. So, if you end up staying one day in Bilbao, check it out.
You can find more information about Pension Ama Bilbao here.
One day in Bilbao: How to get from the airport to the city center? 
When we arrived in Bilbao, it was almost midnight. Our flight had a delay of almost two hours, we were exhausted and could not wait to go to our accommodation as soon as possible.
So we chose the easiest option: We went to the city center by taking a taxi. Our driver told us that it usually costs around 30€. But since we arrived at night, we ended up paying almost 40€.
I saw that there was an option to take the bus to the city center. But since that involved changing buses and it was after midnight already, that was not an option for us.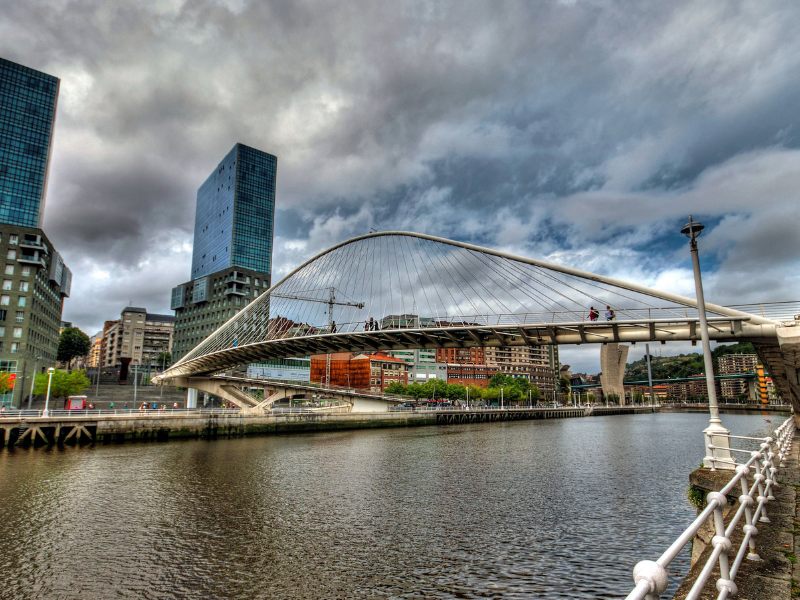 One day in Bilbao: Make sure to do a free walking tour!
Every time I visit a city for the first time I make sure to go on a free walking tour. These tours are the best way to get to know a place you visit for the first time. The best about free walking tours are the local guides. They really do an amazing job showing you the city. You will learn so much about Bilbao in just one afternoon!
How do free walking tours work? Free walking tours do not come with a set price, so they are free. You will spend the afternoon walking around with your free guide who will show you Bilbao through the eyes of a person that lives there. If you have any questions or need recommendations you can totally ask them about it. At the end of the tour, you have the chance to give your guide a tip. And how much you would like to tip is completely up to you. It usually depends on your budget and on how much you actually liked the tour. 
You can find a list of all free walking tours in Bilbao here.
One day in Bilbao: Sign up for a Pintxos Tour!
When we stayed in Bilbao I really wanted to try as many pintxos as possible! My goal was to convince my boyfriend that the North of Spain has so much to offer when it comes to food. That is why we decided to participate in this pintxos tour where a local guide took us to four bars where we tried incredible pintxos and had some amazing wine with it. Warning! Make sure to attend this tour while you are hungry. There was so much food.
We spend the evening walking around with our local guide Desiré who taught us a lot about Bilbao, its history, and gastronomy. And she took us to one of the best bars in town that are famous for its pintxos. That was THE highlight of our day in Bilbao. 
I really recommend doing this amazing pintos tour. You can find more information and book your tickets here.
By the way, in case you have any allergies you can let her know and she will find alternatives at each stop that work for you. I even made a reel about our pintxos tour that you can find here: 
Spending one day in Bilbao?! Make sure to visit the Guggenheim!
The Guggenheim Museum is probably the first thing that comes to mind when people mention Bilbao. The Guggenheim is a museum of modern and temporary art that was inaugurated in 1997. It shows incredible pieces of modern art and is one of the most important monuments in Bilbao. 
The inside of the museum is absolutely incredible and I really recommend visiting it. What you will find are always changing exhibitions that are usually themed, e.g. modern Chinese art. But apart from the temporary exhibitions the museum also has notably permanent exhibitions. In my opinion: Even if you are not a modern art fan, this museum is worth visiting if you visit Bilbao for one day. 
If you are interested in a guided tour through the museum, you can find them here.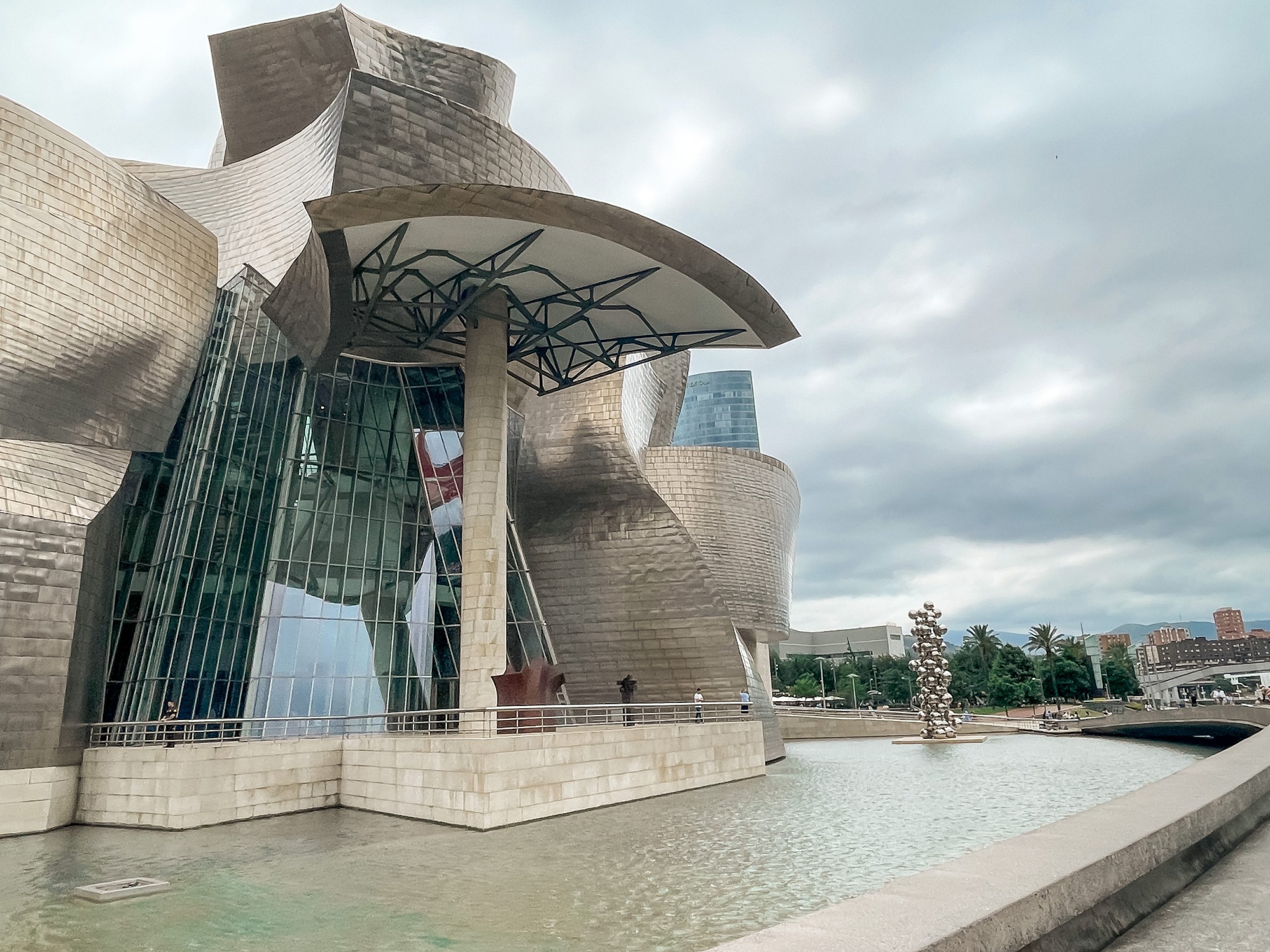 And if you are really not a modern art fan I want to invite you to find the "Puppy by Jeff Koons" outside of the museum that is covered in flowers. What once was a temporary placement turned into a permanent piece after people fell in love with it! So cute!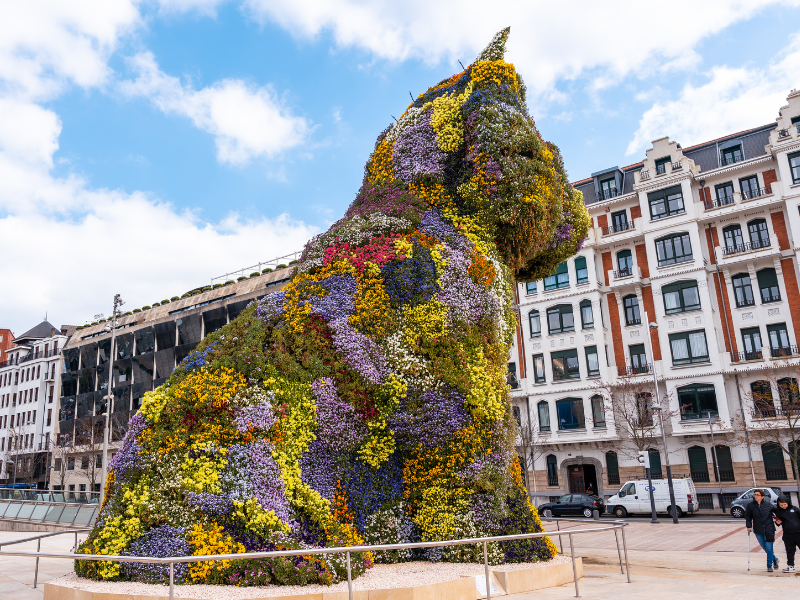 One day in Bilbao: Make sure to visit these monuments!
Plaza Nueva, Bilbao's Main Square 
Every city in Spain has its main square and in Bilbao, it's the beautiful Plaza Nueva. This beautiful square was built in the 19th century and is the center of the old town of Bilbao. Nowadays, it is mainly a place for people to hang out at one of these bars on the square. When the weather allows it, you will find people ordering beer and wine at one of these tables outside of the plaza. 
When we spend a day in Bilbao, my boyfriend and I sat down at "Cafe Bar Bilbao" for a drink with a delicious pintxo.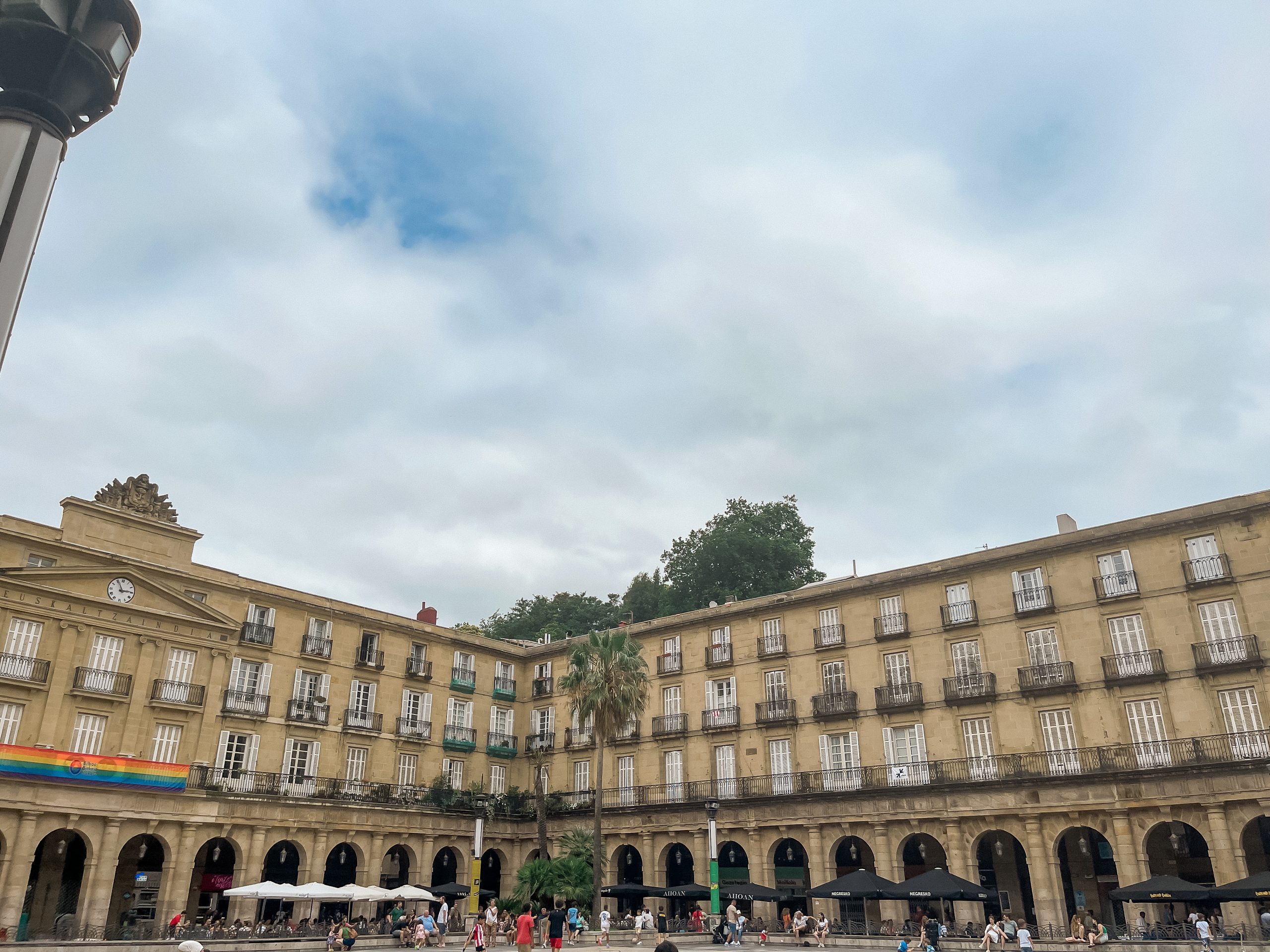 Mercado de la Ribera, Bilabo's famous food market
By now you have probably understood that visiting Bilbao is all about food. During our Bilbao trip, we also checked out the local market "Mercado de la Ribera". While it was great to see all these dishes and different pintxos, I felt like it was not the most authentic place to visit during your stay… Not bad if you are hungry and want some food, but this market is definitely destinated for tourists that visit Bilbao.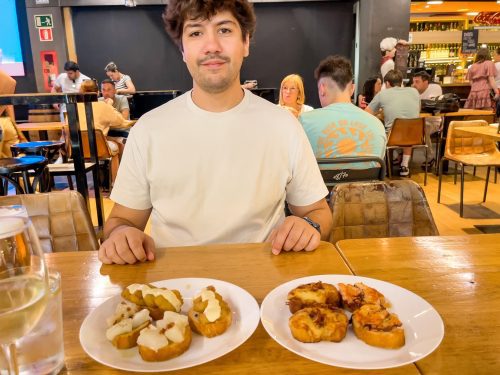 Parque del Arenal and Walk down the river
The great thing about visiting Bilbao is that you can get around walking around the city. The only time we took a cab was when we went from the airport to the city center. We basically explored the whole city of Bilbao just walking around. 
We also walked from the old town to the Guggenheim museum, which is very beautiful because first you pass Parque del Arenal and then you get to walk by the river and enjoy the beautiful view of the buildings. Really cool!
Our last destination was a bar outside called "Frentedelagua". Here, we enjoyed a cold drink right by the river with the view of the Guggenheim museum. The perfect way to finish your one day in Bilbao!
Monument of the SIRGUERAS, the rope girls, that used to tow vessels using their strength and ropes
One day in Bilbao: Everything you should know about food and pintxos! 
Bilbao is home to incredible cuisine, world-class seafood, pintxos, and so much more. And the best thing is: You can eat very well in Bilbao, it does not matter what your budget is. If you are looking for a more budget-friendly stay in Bilbao, you can just order pintxos at bars and snack them together with your drink. 
Or, if you want to have a fancier experience: Bilbao is also home to many Michelin Star restaurants that have a very good reputation all over the world. If this is more your vibe, you should check out Nerua Guggenheim Bilbao or Ola Martin Berasategui. For the real foodies: Check out Azurmendi. It has three Michelin Stars and was voted to be one of the 50 best restaurants in the world!
Okay, but what are pintxos? 
Pintxos are basically a little snack that people in Bilbao have with their drinks. They usually consist of a piece of bread and something on top of it. This could be squid, codfish or meat, or even salad or vegetables. Nobody really knows where the idea of pintxos comes from. You will hear stories from people saying that pintxos were invented to keep the flies away from your drink. But that sounds more like an urban legend to me and I am not sure if that is actually the truth. 
But, you can order pintxos in pretty much every bar in Bilbao. They usually cost around 2€.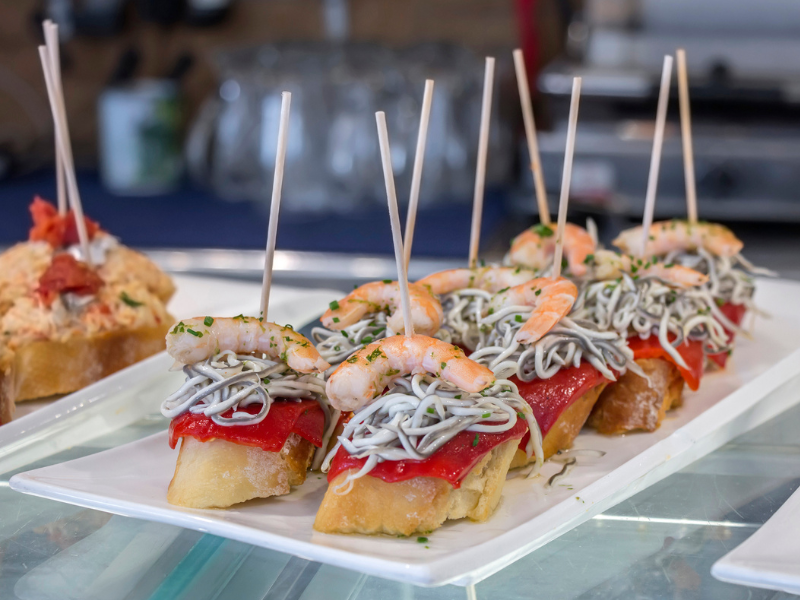 Apart from that, these are the restaurants I recommend visiting for your day in Bilbao: 
The Beetle Bar for breakfast to start your day in Bilbao
My boyfriend and I ordered breakfast at the beetle bar and enjoyed the beautiful view of the Miguel Unamuno Square outside. 
The best thing is that they offer vegan breakfasts as well! And not only that. You can even order wine or cider there if you end up being there a bit later and feel like it. Make sure to try their juices as well. They were delicious.
Bassko for an amazing lunch menu in Bilbao
Spain is famous for their incredible lunch menus, called "menu del día". Those menus usually consist of a first and second dish, dessert, and a drink. When we visited Bilbao we ended up having lunch in Bassko, a pretty restaurant in the neighborhood of "Abando". Their menu includes dishes that are typical for the North of Spain as fish, but also more international dishes. I would invite you to try out the fish though. It is delicious! What we especially loved were the croquetas! 
The menu del día at Bassko costs 13.50€ in total.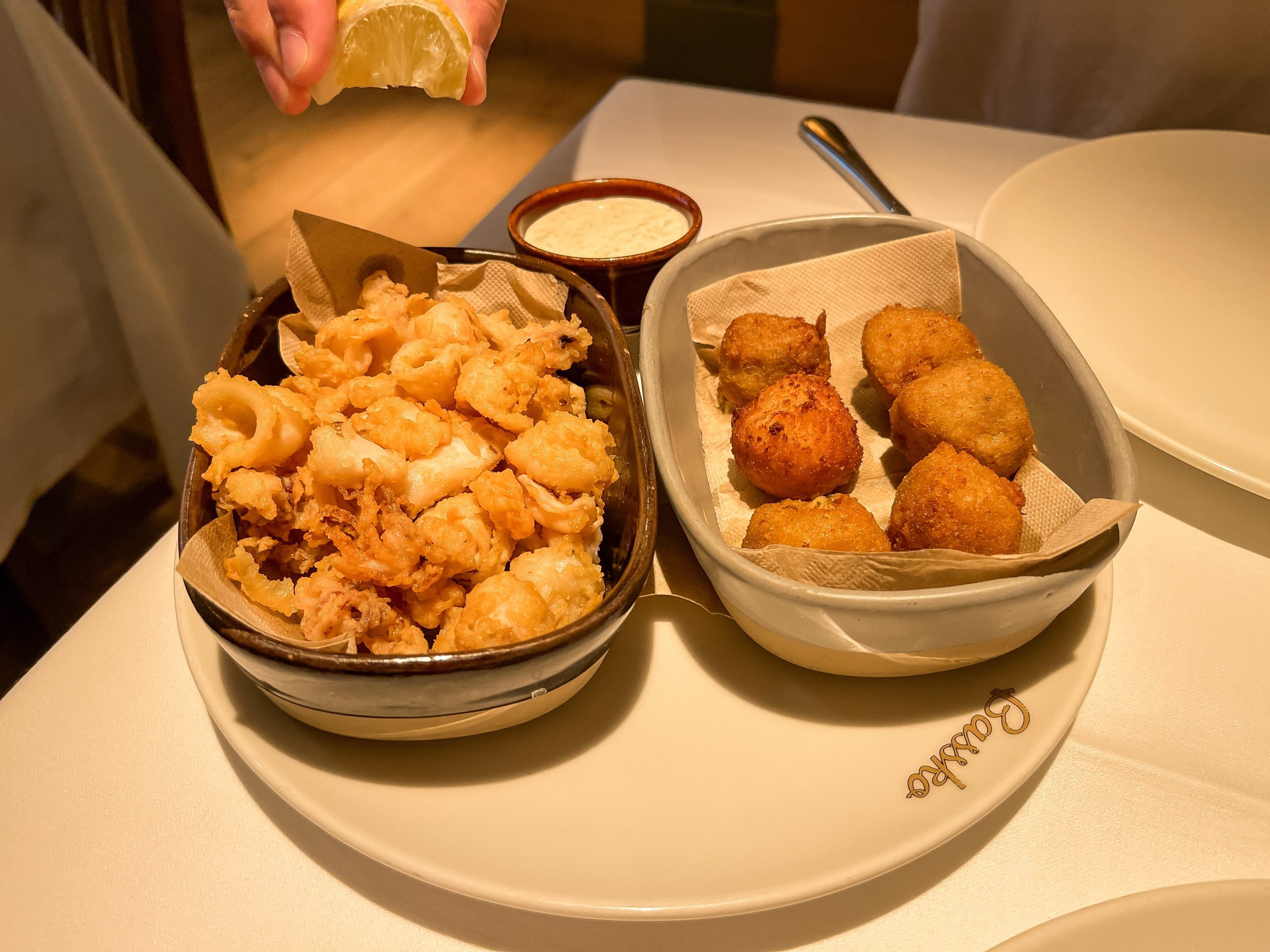 The Globo for amazing pintxos and Txakoli wine
Put "Txakoli wine" on your Bilbao bucket list! This wine is famous in the Basque country and when you order it you should check how they pour it: Txakoli wine is usually poured from a height above the glass to keep the tiny bubbles intact. When you taste it you will realize it feels almost sparkling and a tiny bit salty. That is why it is recommended to drink this wine when ordering seafood. It's the perfect match. 
That is why I recommend visiting Bar "El Globo" during your Bilbao trip: This bar has won the prize for one of the best pintxos in Bilbao for the last few years. So make sure to try a couple of their pintxos when you visit this bar. Especially, the seafood pintxos are worth it.
We tried the Karraspio and Txangurro Pintxo. Fantastic! 
Gure Toki for amazing Basque cheesecake
I had to add this for the dessert lovers because I myself LOVE dessert. The Basque country is famous for its mindblowing cheesecake. What makes this cheesecake so perfect? It's completely different to the New York Style cheesecake that you have probably tried in other places. 
Basque cheesecake is less sweet, but incredibly creamy. Actually, there are people that believe that the runnier the cheesecake, the better it is. There are even bars that offer basque cheesecake with specific flavors, like goat cheese (yes, goat cheese!) or salted caramel. 
As you can guess, I absolutely adore this cheesecake. Our local guide from the pintxos tour recommended Gure Toki specifically for their cheesecake. We ran out of time and did not get to visit it during our stay in Bilbao. But maybe you have the chance.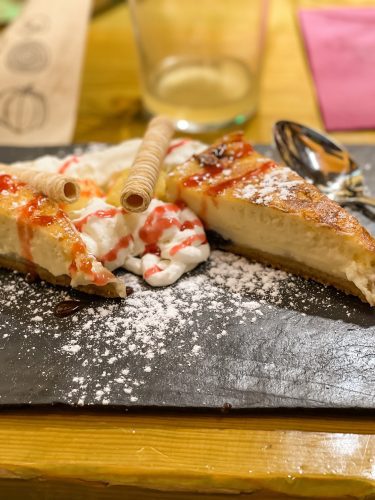 Are you staying in Bilbao longer than just a day? A couple of ideas: 
Gaztelugatxe and Gernika Tour
If you are a Game of Thrones fan, listen up! You can do a one-day trip from Bilbao and visit one of the filming locations of the series, islet Gaztelugatxe, which is only one hour away. If you don't have a car, don't worry. There are tours offered where you are picked up in Bilbao, spend the day there, and go back to Bilbao in the afternoon. By the way, the landscapes in that area are from out of this world. The perfect trip for fans!
You can find more information about a tour to Gaztelugatxe here.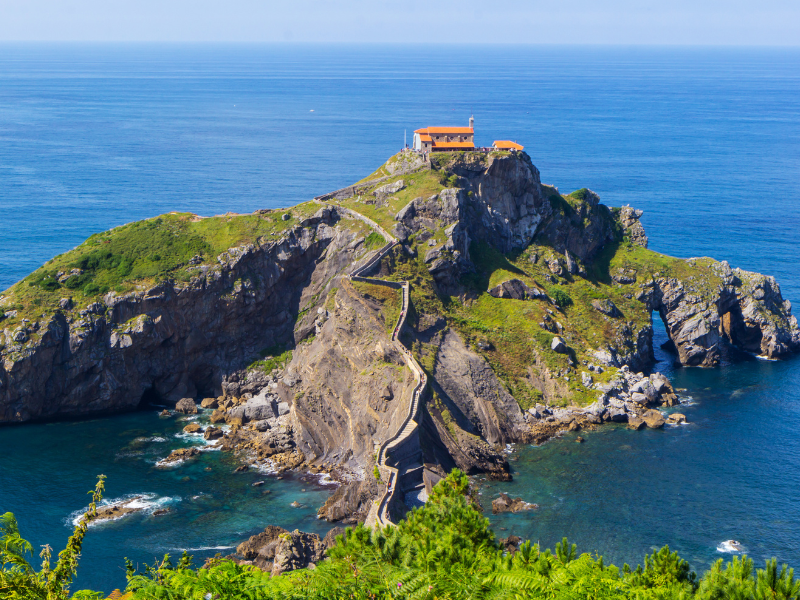 San Mames Museum and Stadium tour in Bilbao
Now, I want to talk to the football fans visiting Bilbao. Bilbao is home to one of Spain's most famous stadiums. Locals call it the Cathedral of football. This tour does not only give you access to the museum but also takes you through the locker rooms and the press room. Are you getting hyped up already?
You can buy tickets to visit the stadium in Bilbao here.