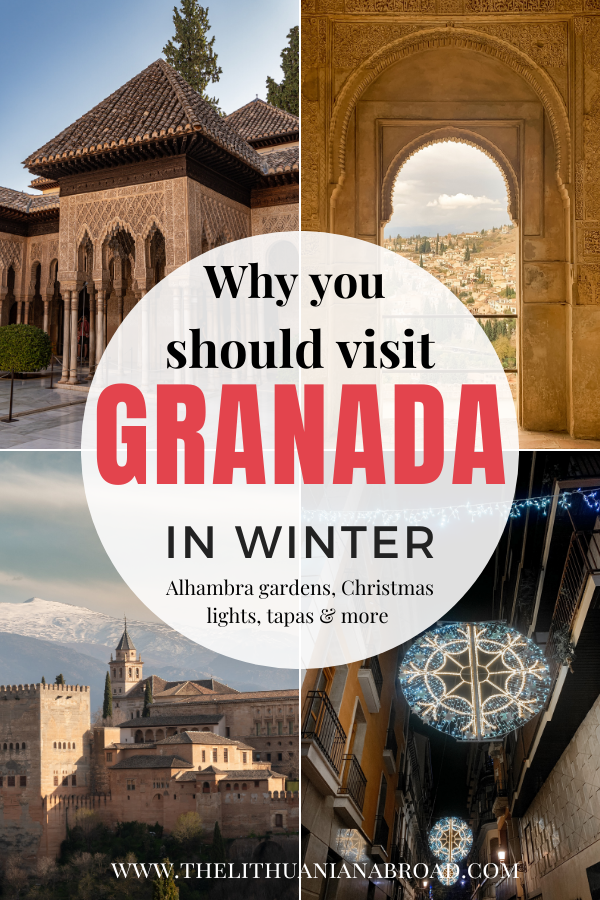 A couple of weeks ago my boyfriend and I decided to visit Granada in winter. I have been to Granada in the past but when my boyfriend told me he has never been before, my response was WE HAVE TO GO NOW! Thanks to the public holidays in December we wanted to enjoy a couple of days without work and took a train to Granada. And what can I say, the South of Spain just never disappoints. We had some very nice and relaxing days in Granada, ate a lot of amazing food, and explored the different areas of the city.
It really blows my mind how diverse and rich in history the South of Spain is. And I have not even mentioned the Alhambra yet. Of course, the one thing you cannot miss on your Granada trip, even if you are coming in winter. So, if you want to find out about Granada in winter, the weather, and the activities you cannot miss, keep reading!
Let's jump into it: Everything you need to know about visiting Granada in winter, the weather, and things to do
---
Affiliate links may be sprinkled throughout the free content of this blog post. If you purchase from one of the links I may receive a small commission while the price for you stays the same. This helps me cover the costs of The Lithuanian Abroad. Gracias!
Other blog posts you have to check out: 
Guide for what to wear in Spain in winter: This blog post tells you everything you need to know about what to pack for your Spain winter holiday. You might be surprised how different temperatures are depending on where you are!
Everything you need to know about tipping in Spain: Tipping customs in Spain might be very different from your own country. This blog post tells you everything about when and how much to tip. 
35 funny Spanish expressions you should know about: If you want to learn some Spanish expressions before visiting Spain, this guide is perfect for you! And we talk about the obsession Spanish people have with milk!
How cold does it get in Granada in winter? 
Even though Granada is located in the South of Spain, it is also very close to the Sierra Nevada. This means it does get quite cold for Spanish standards in Granada in Winter. Keep in mind, you can go skiing in winter only a 30min drive away from Granada! At the same time, summers are very dry and hot. If you are coming in winter, make sure to bring your jacket and scarf. Honestly, I kind of wanted to have gloves in the evening as well. We stayed in Granada in December for a couple of days and we also had to deal with some rain during our stay. If you can, bring an umbrella as well. And most importantly, shoes that are comfortable to walk in and can withstand any weather!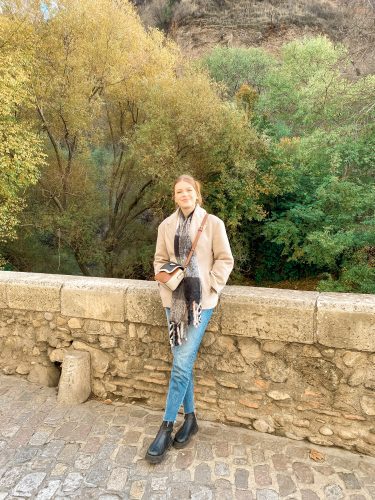 Is Winter a great time to visit Granada? 
We visited Granada in December and I can really recommend doing so. Even though it does cool down during winter, we still got a lot of sun during our trip! Apart from that, you can always warm up in a tea place, and Granada has lots of these!
The only thing you should have to keep in mind is that you can always have bad luck when it comes to the weather. We had a couple of rainy days during our visit and had to think of bad weather alternatives. But this blog post will help you in case you have bad luck as well!
Granada in December
We visited Granada in December and were able to see the city during the festive season. The whole month of December Granada is decorated with beautiful Christmas lights that light up the city! This is truly something special and we absolutely enjoyed walking down the streets and admiring every corner for its beautiful lights. 
If you visit Granada in December, remember that there are a couple of public holidays apart from Christmas and New Year's Eve. On the 6th of December, Constitution day is celebrated and the 8th of December is the Feat of the Immaculate Conception. Many Spaniards do not work these days. Then, they take the other three days off to enjoy a whole week of holidays. This means we were definitely not the only ones who thought about coming to Granada. There were many people in the city, especially in the evening. It did not really bother us that much, but I wanted to mention it here.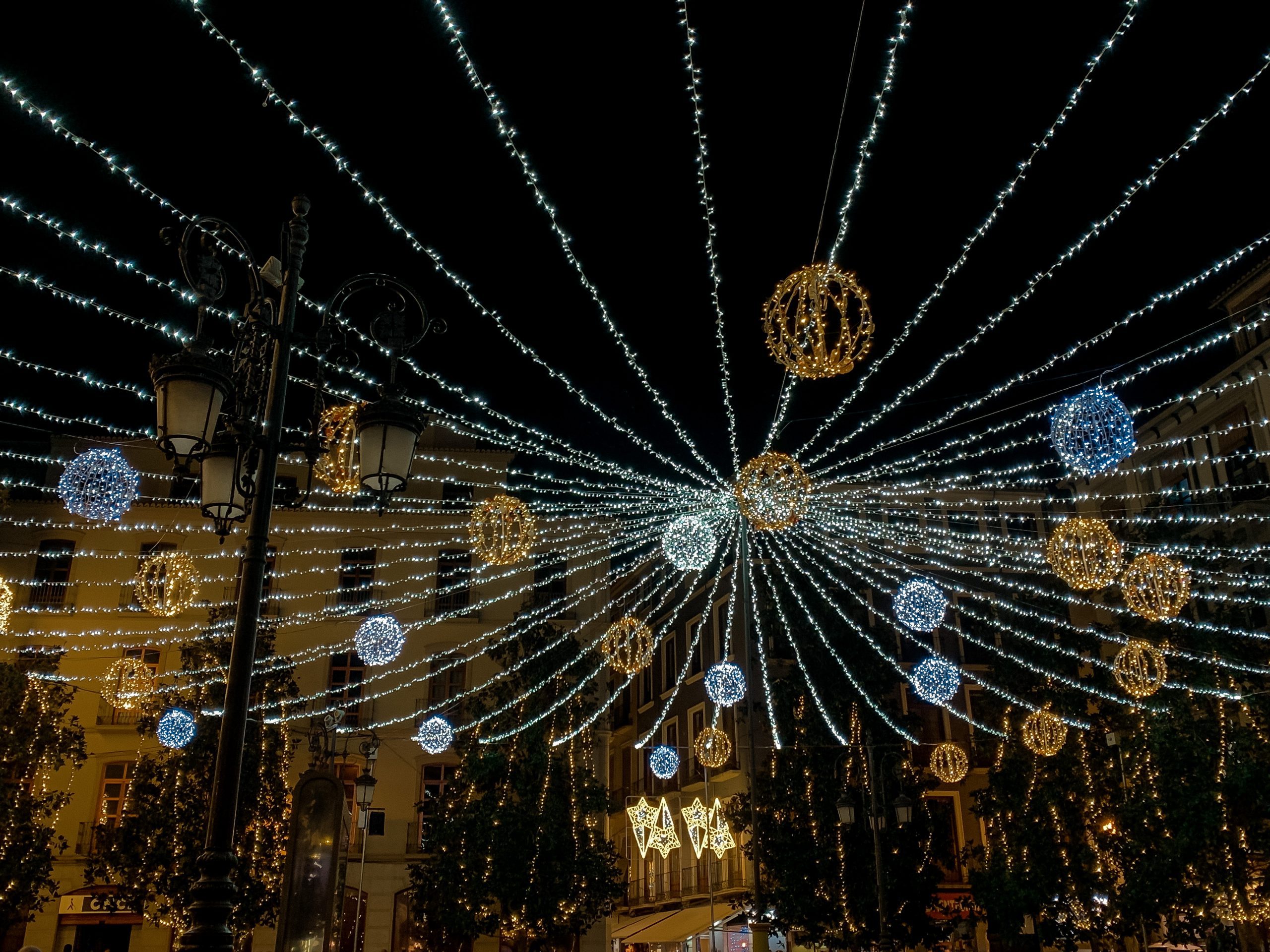 Granada in January
January is perfect for winter sports in Granada! You absolutely should visit the Sierra Nevada and go skiing or for a hike. During January we might experience the lowest temperatures in Granada, going down to almost 0 degrees. Make sure to bring many layers with you! Then, don't forget a warm winter hat, gloves, and a big scarf. 
Then, you can still warm up in the Arab baths or in one of the city's teterías to enjoy a warm tea. Many tapas bars also offer broth that you can order so you can warm up. Make sure to try it!
Granada in February
February is usually a calm month in Granada. It is considered to be off-season as it is still cold and not too many tourists end up here. Hotel prices are low and it should be easier to get tickets for famous monuments like the Alhambra. 
It is still the perfect time in order to go skiing and find fewer people in the Sierra Nevada. The only thing to keep in mind is that there are probably higher chances of rain. But that really should not stop you from visiting Granada in winter!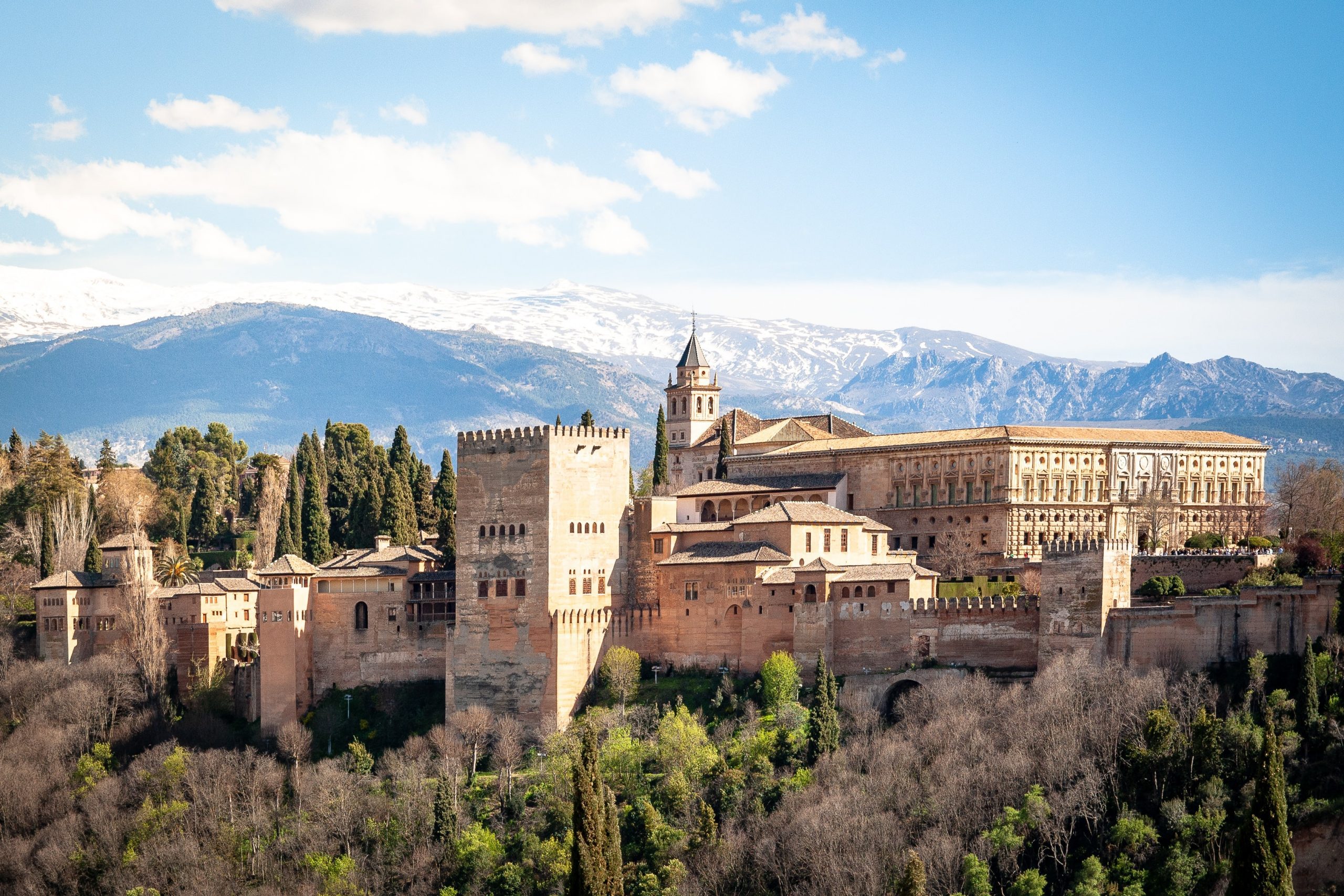 Go on a free walking tour in Granada 
I am the biggest fan of free walking tours which is why I would like to warmly recommend them to you. In my opinion, these tours are the best way to get to know about a city's most important areas, monuments, and history. We did a free walking tour in Granada and it really helped us understand its past. Granada is so rich in history! We even walked to the Albaicín neighborhood, the part of Granada from the Nasrid period (13th-15th century).
How do free walking tours work? Free walking tours do not come with a fixed price, hence, they are free. You will spend a couple of hours with your guide walking around the city and learning about Granada's most important places. The best part of free walking tours are the local guides that show you the city from the eyes of a person that lives there. At the end of the tour, you can give your guide a tip. And how much you would like to tip is completely up to you! It usually depends on your budget and on how much you liked the tour.
You can find all free walking tours in Granada here.
Things you can do & places you have to see when visiting Granada in winter:
A must! Visit the Alhambra in Granada in winter
The Alhambra must be at the very top of your Granada bucket list, even if you are visiting in winter. I can already tell you, it will absolutely blow your mind and definitely be the highlight of your Granada trip. The Alhambra is an Islamic Palace from the Nasid Era from Granada that is incredibly well preserved. Apart from that, it is a UNESCO World Heritage and probably one of Spain's most famous monuments. 
The Alhambra consists of several parts: Charles V Palace, Medina, Rauda, The Nasrid Palaces, Generalife, and La Alcazaba. There is so much to see! We spent more than 3 hours at the Alhambra. But honestly, we probably could have stayed even longer!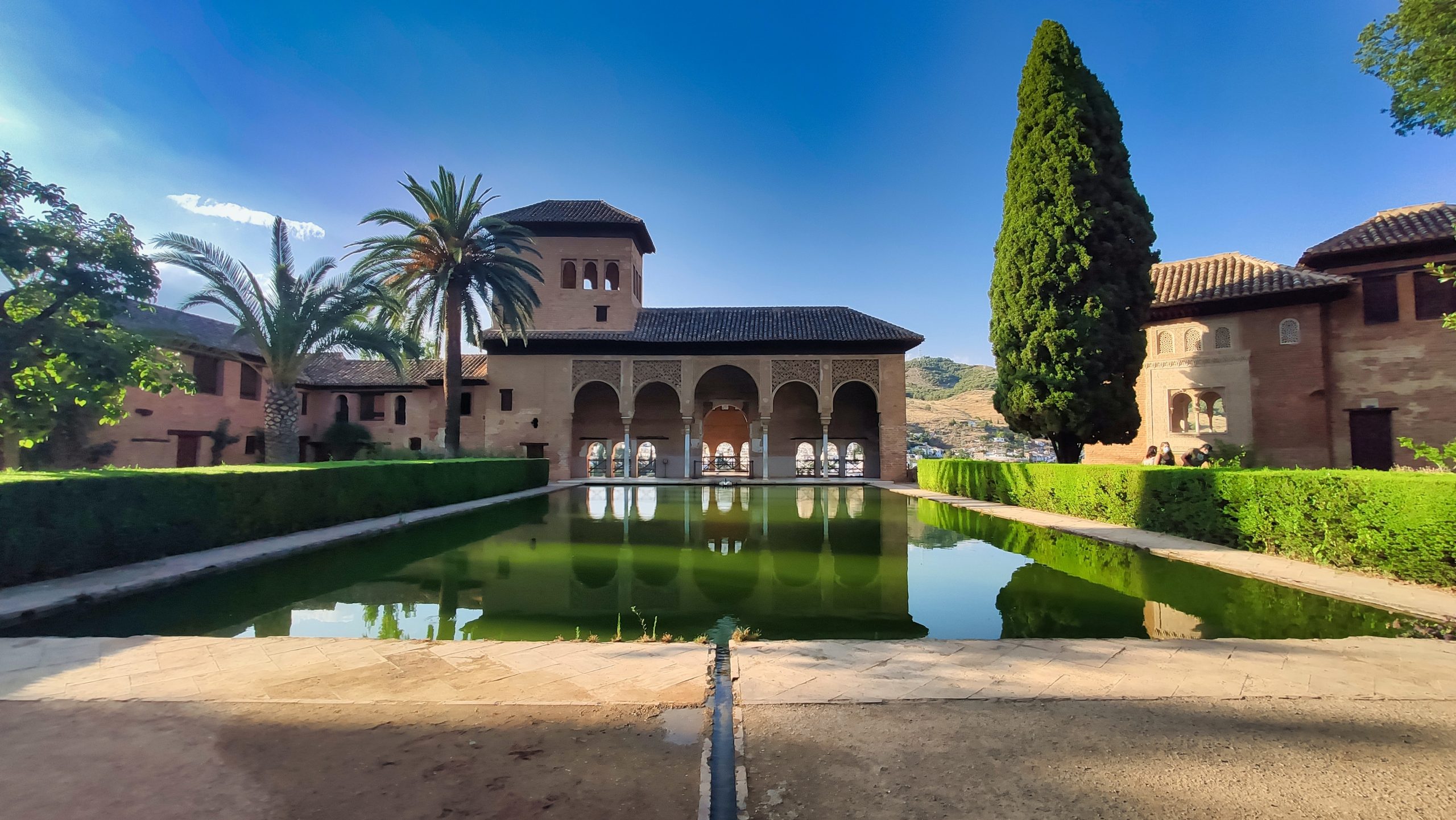 Things to keep in mind visiting the Alhambra Gardens:
Book your tickets in advance! Every day, only a limited number of people are allowed to enter the Alhambra. I booked our tickets one month in advance, and there were only a few tickets left. You can book your tickets here. (These include the Nasrid Palaces!)
Make sure that your tickets include access to the Nasrid Palace, which is the most impressive area of the Alhambra. That is something you really cannot miss!
Be more than punctual. When visiting the Nasrid Palaces, you have to arrive at the entrance of the Nasrid Palace (not the Alhambra entrance!) punctually. You can only enter them up to one hour later than the time indicated on your ticket. From the entrance of the Alhambra, it is a 15min walk there. Then, you'll still have to queue for around 15min. Keep that in mind and make sure to arrive early.
We booked an audio tour, that costs 6€/person and really liked it. It helps you understand the history behind Alhambra so much better. Many people recommended I do a guided tour of Alhambra. If this is something that interests you and you want to ask specific questions, this could be the right choice. You can book a guided tour here.
You can book your entry ticket for the Alhambra (including the Nasrid Palaces) here. Click here to book your ticket with a guided tour.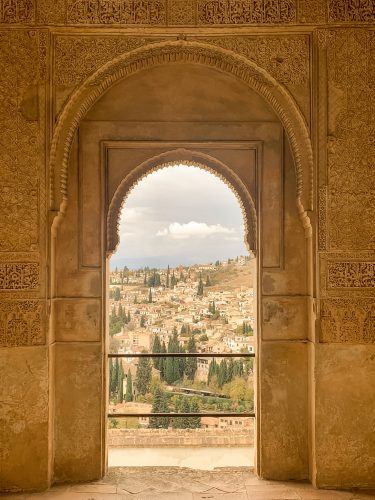 Watch a world-class authentic Flamenco Show in Granada
If you have not been to any Flamenco performance yet, then this is your time to do so! Flamenco is an emotional dance based in the South of Spain. And honestly, in the South, you will find the most authentic and wonderful Flamenco shows. If you have the chance, make sure you attend a show for yourself. I took my mom to a Flamenco show when she visited me a couple of years ago. And she still talks about it!
A Flamenco show is a very emotional experience. The dancers are dressed in traditional Flamenco gowns. The show is usually guided by an acoustic guitar. Pay attention to the dancer's emotions, the acoustic, and the pain in their voices. I can guarantee that it will give you chills! 
Check out this Flamenco show in the Albaycin neighborhood. You can find another option here.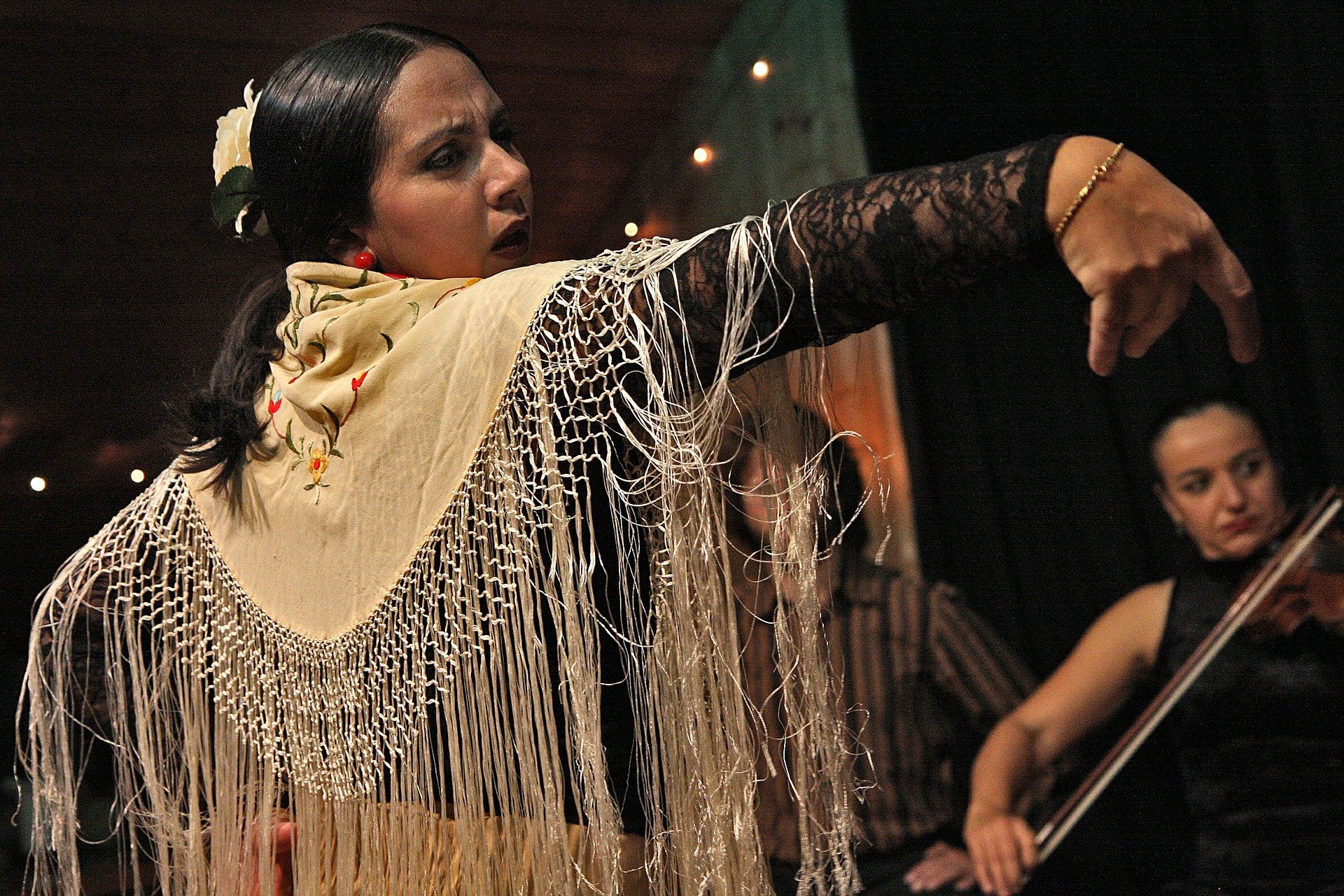 Visit the Cathedral and the Royal Chapel of Granada
As mentioned before, Granada is full of incredible history. And the Cathedral of Granada is one important part of it: After the end of the Islamic rule in Granada in 1492, the Cathedral of Granada was built on top of the city's mosque. To be fair, this is a practice that happened quite a lot in Andalusia. We did not end up visiting the Cathedral, but I have to admit that it looks very unique. It took a whole 181 years to build, and if you have the time, you should definitely check it out from the inside!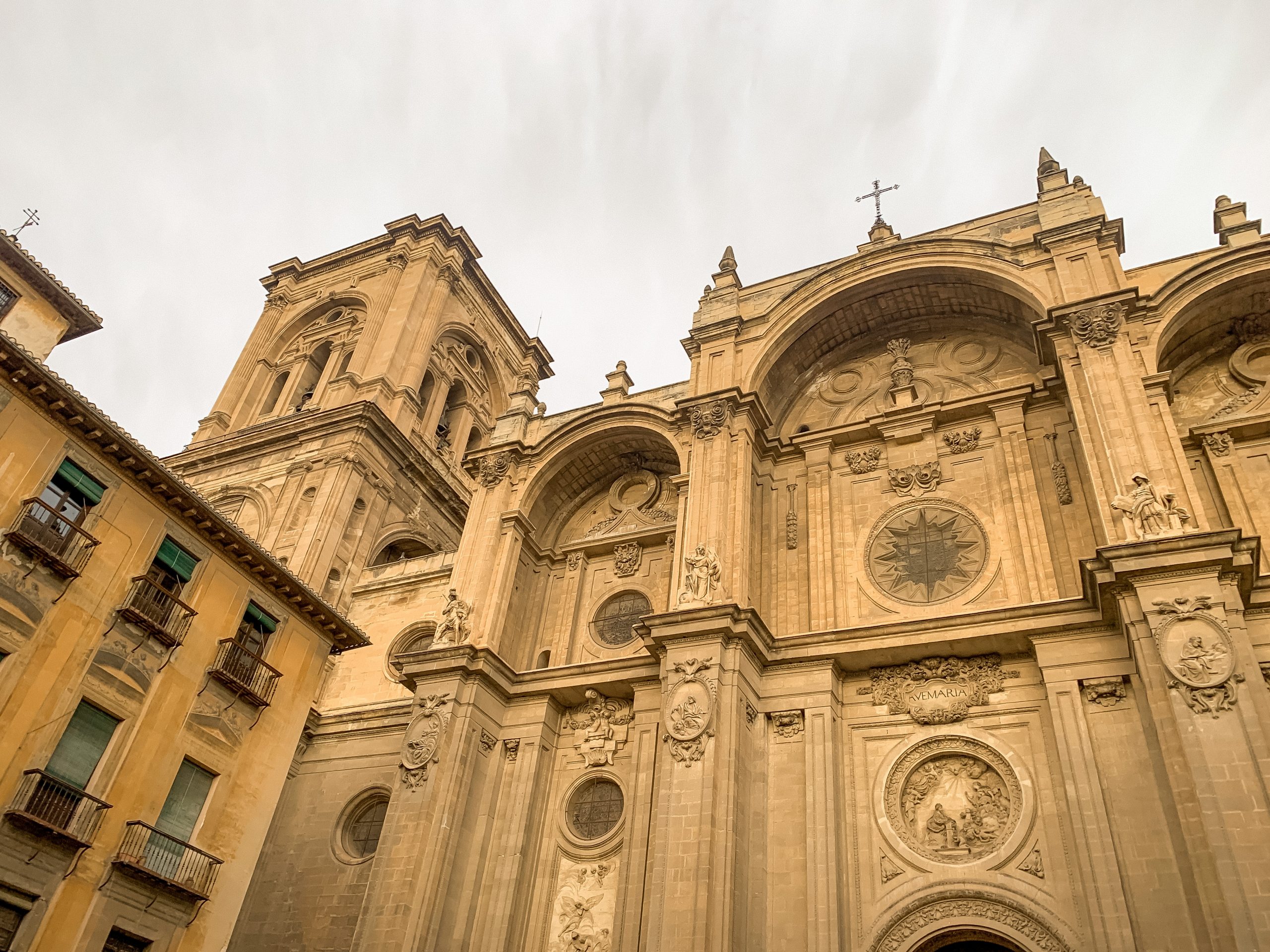 Instead of going to the Cathedral, we decided to visit the Royal Chapel. For the simple reason that we did not have time to see both. Also, the Royal Chapel is something absolutely unique. The only real usage that building has is that it is the burial place of the Spanish monarchs, Spanish monarchs, Queen Isabella I and King Ferdinand.
Apart from that, inside you will find many incredible artworks and other artifacts related to Queen Isabella. The tombs include statues made out of marble and look absolutely incredible. The marble stone has been worked with such care that you can even see patterns in the statues' clothing. Taking photos is not allowed, which is why I cannot show you any.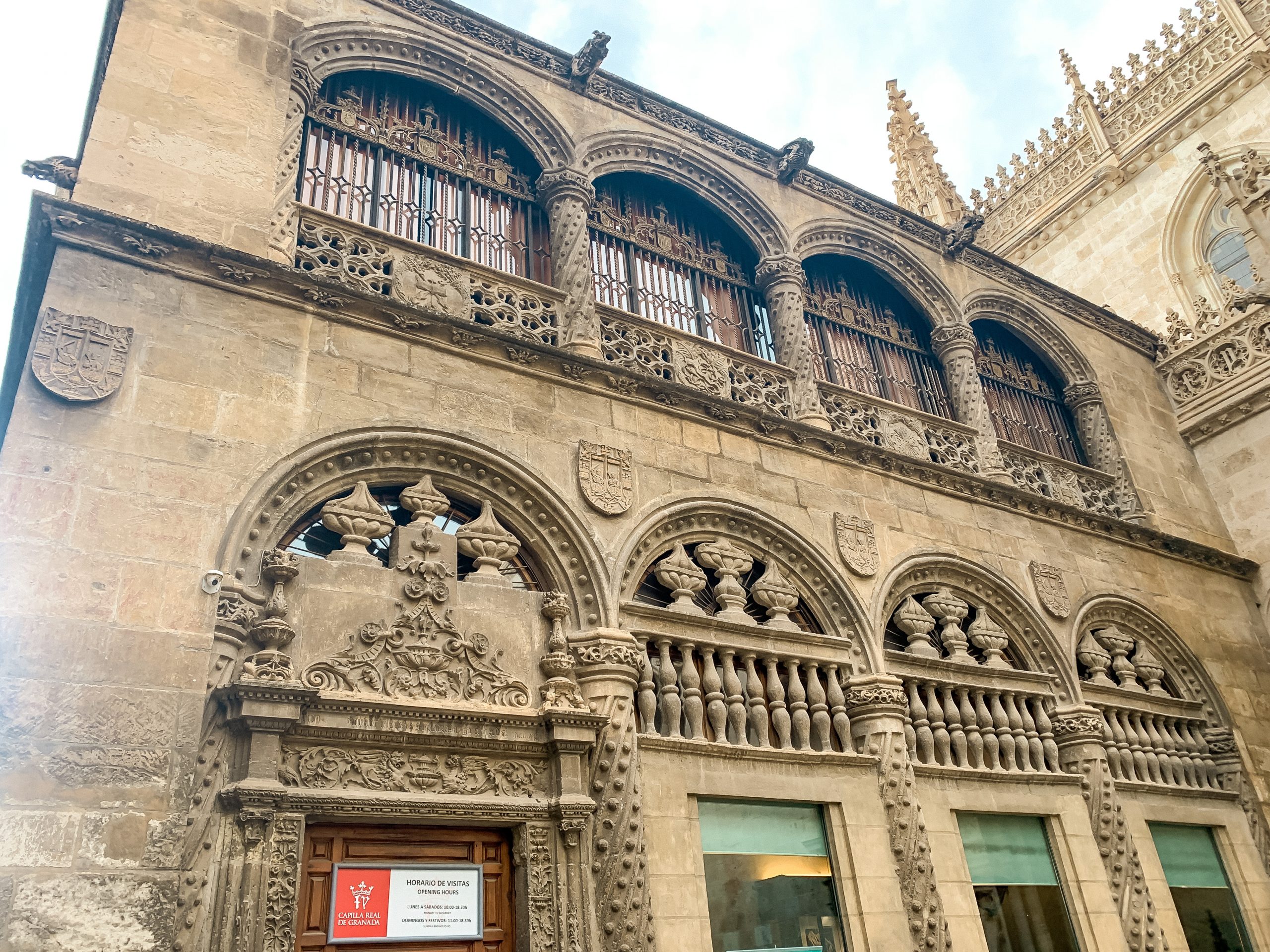 Are you in Granada in December? Enjoy the gorgeous Christmas lights!
We visited Granada in December and were lucky to see the Christmas lights light up the whole city center of Granada. Every street had other colors and patterns in their Christmas lights. It really gave the city a very festive atmosphere and made walking around the city during the evening so much nicer.
The main street Gran Vía was lit up very beautifully, but many streets and squares in the city center are lit up as well. If you are lucky and come to Granada in December, check out the following photos to see what is waiting for you: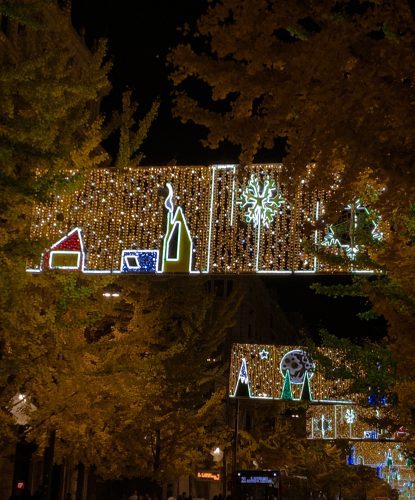 Tapas! Tapas! And more tapas! Explore the local cuisine of Granada
Granada is famous for its Tapas culture. That means, most bars will give you a free snack (tapa) whenever you order a drink. And Granada makes it even better as some bars even let you choose your tapa. And that is one of the best things you can do in Granada in the evening. Many people go out and go tapas-hopping! After having a couple of drinks and tapas, you will probably not even be hungry anymore!
Tapas bars you can try out are Bodegas Castañeda, Casa Castañeda, Bar ávila and Bar ávila II, La Buena Vida, Los Diamantes, La Sitarilla, and Rosario Varela. As you can already tell, you will eat a lot during your stay in Granada!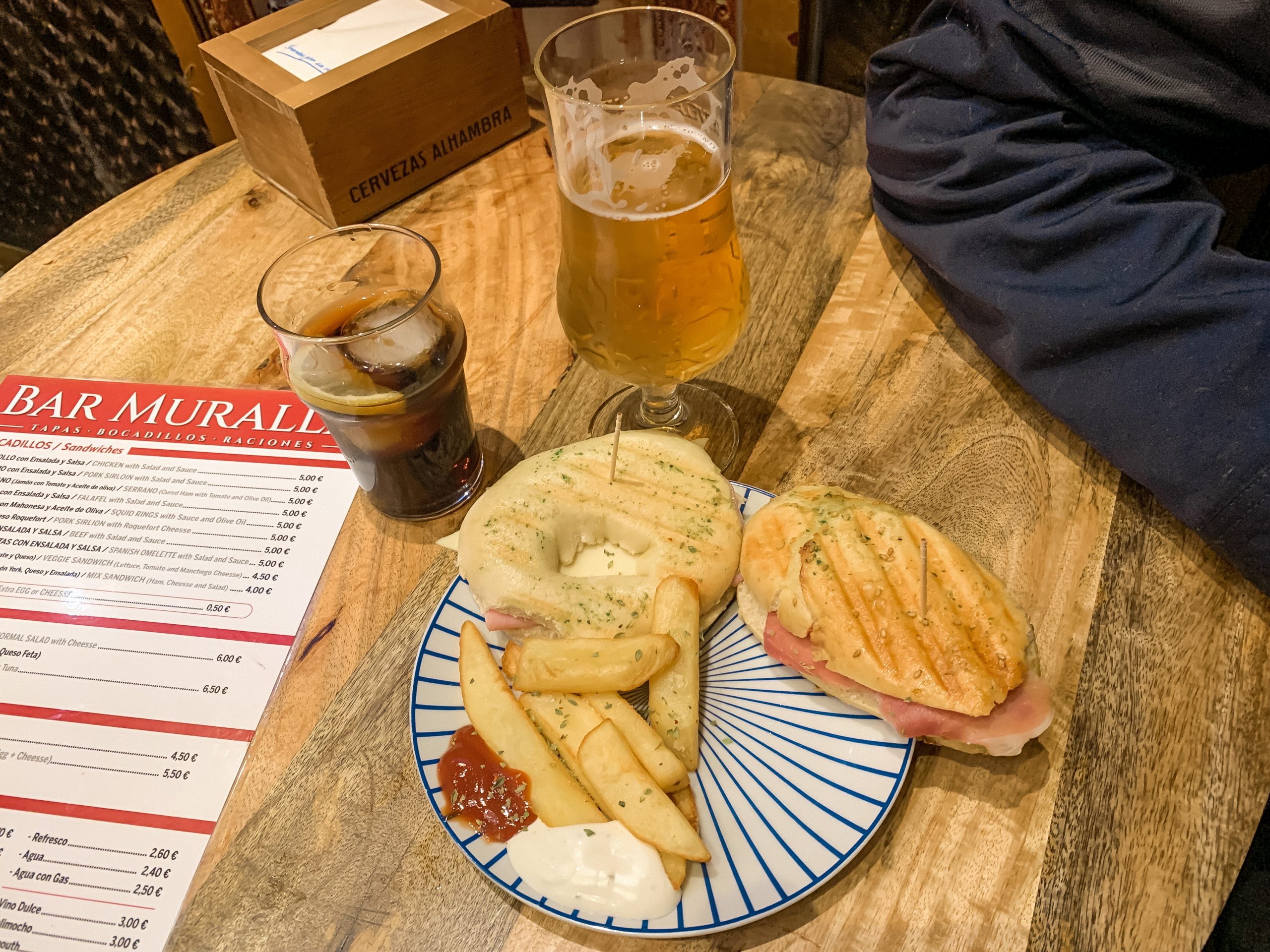 Perfect for Granada in winter: Warm up in the Arab baths
The Hammam al andalus baths are famous all over Spain and you can find them in pretty much any bigger city all over Spain. We did not end up going because my boyfriend got sick, but I really really wanted to check them out. Especially in winter, this could be your option to warm up and escape the cold and rainy weather. 
What I love about these baths is the gorgeous interior and the unique experience. These are not just common pools! You can find steam rooms of different temperatures and just spend a relaxing time in the hot pools of the hammam. In the end, you can relax in the resting room and repeat the sessions as many times as you like.
You can book your ticket for the hammam an andalus here (with an optional massage)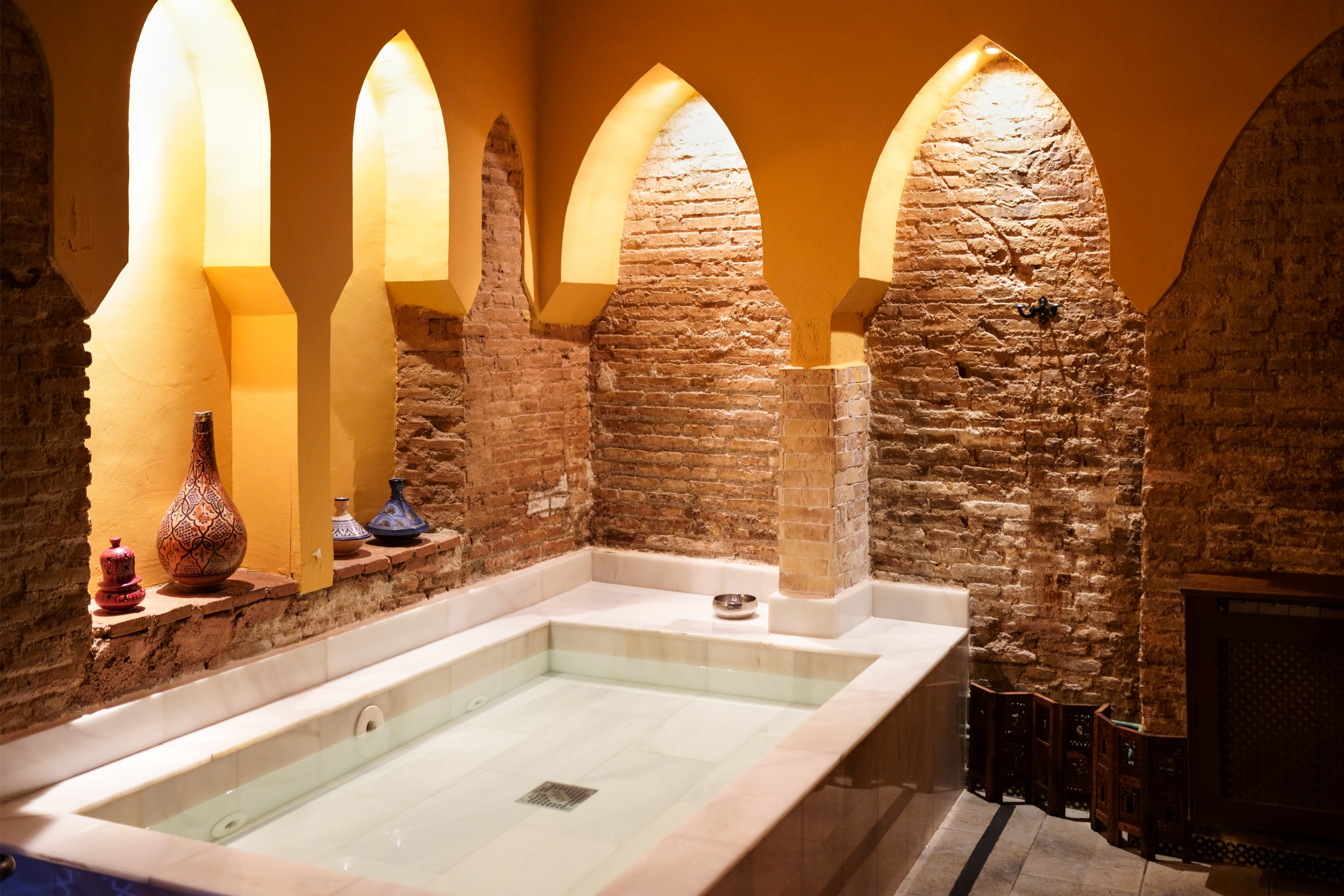 What?! Skiing in Granada? Go to the Sierra Nevada 
During one of our walking tours in Granada, we were told that close to Granada you can go skiing for five months every year. That is why I always tell everyone that Spain offers the right thing for all kinds of travelers: Spectacular beaches, mountains, and yes, snow if you want to go skiing. Not only that, but the Sierra Nevada is also the southernmost ski destination in Europe. And let's be honest how cool does it sound when you say "I went to the South of Spain to go skiing"
Ski season usually goes from November to April, which means that this is definitely something you should check out in case you are a fan of winter sports. The Sierra Nevada ski resort is only 30km away from the city center of Granada. 
If you want to know more about skiing in Granada, you should check out this article. It has a lot of useful information for your ski trip.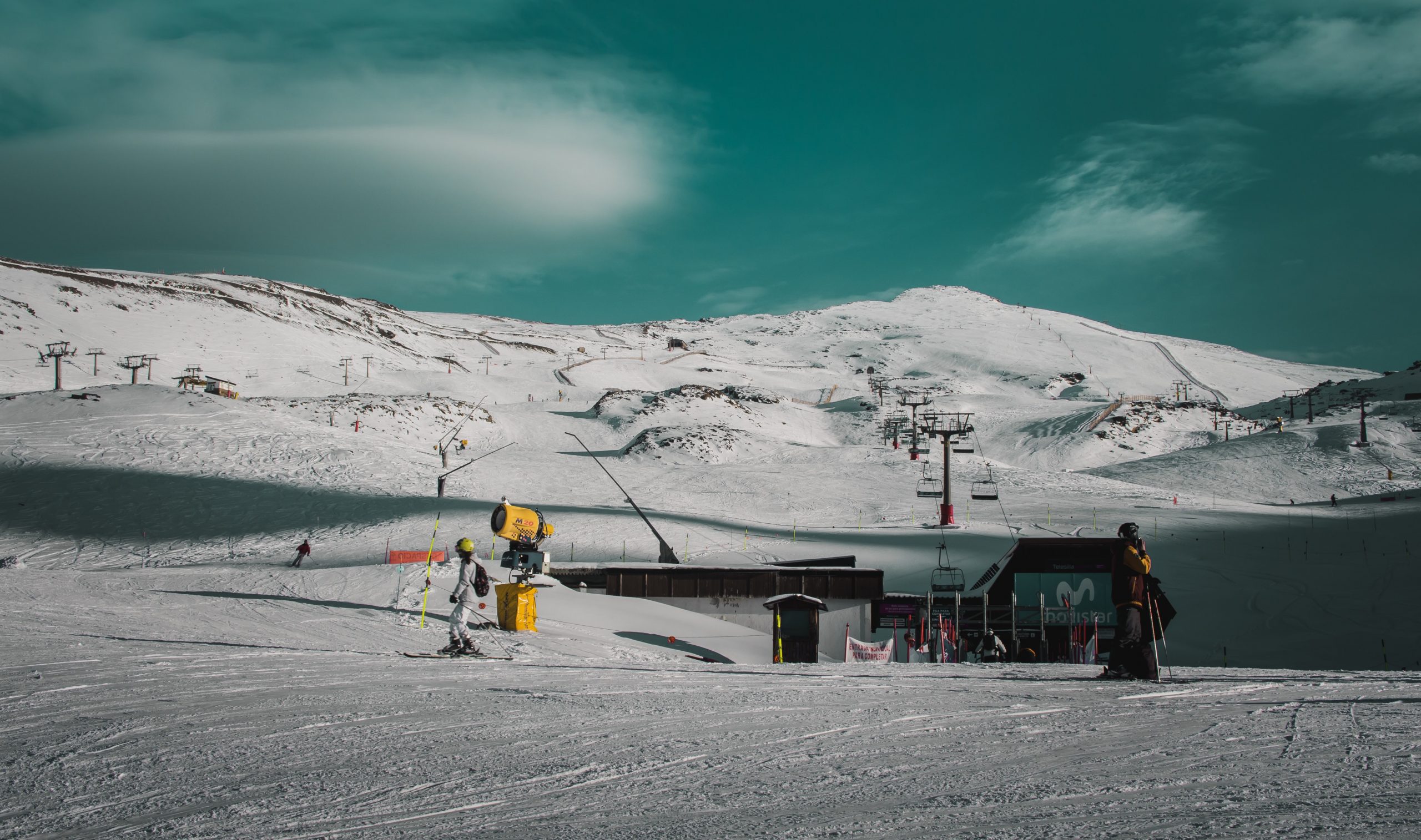 Find the best viewpoints for sunsets in Granada!
Due to its proximity to the Sierra Nevada Granada is home to incredible viewpoints. The only thing is, you just have to know where to find them! There are so many incredible places with views of the Alhambra or the Sierra Nevada, or even both. If you happen to be in Granada during winter, you will see the Sierra Nevada covered in snow. 
Let's talk about the best viewpoints you can find in Granada:
San Nicolas 
No doubt, this is one of the most popular viewpoints in Granada, and rightfully so! This place gives you a mindblowing view of the Alhambra and the Sierra Nevada behind it. There is usually incredible live music that makes this whole place an attraction and perfect for a sunset!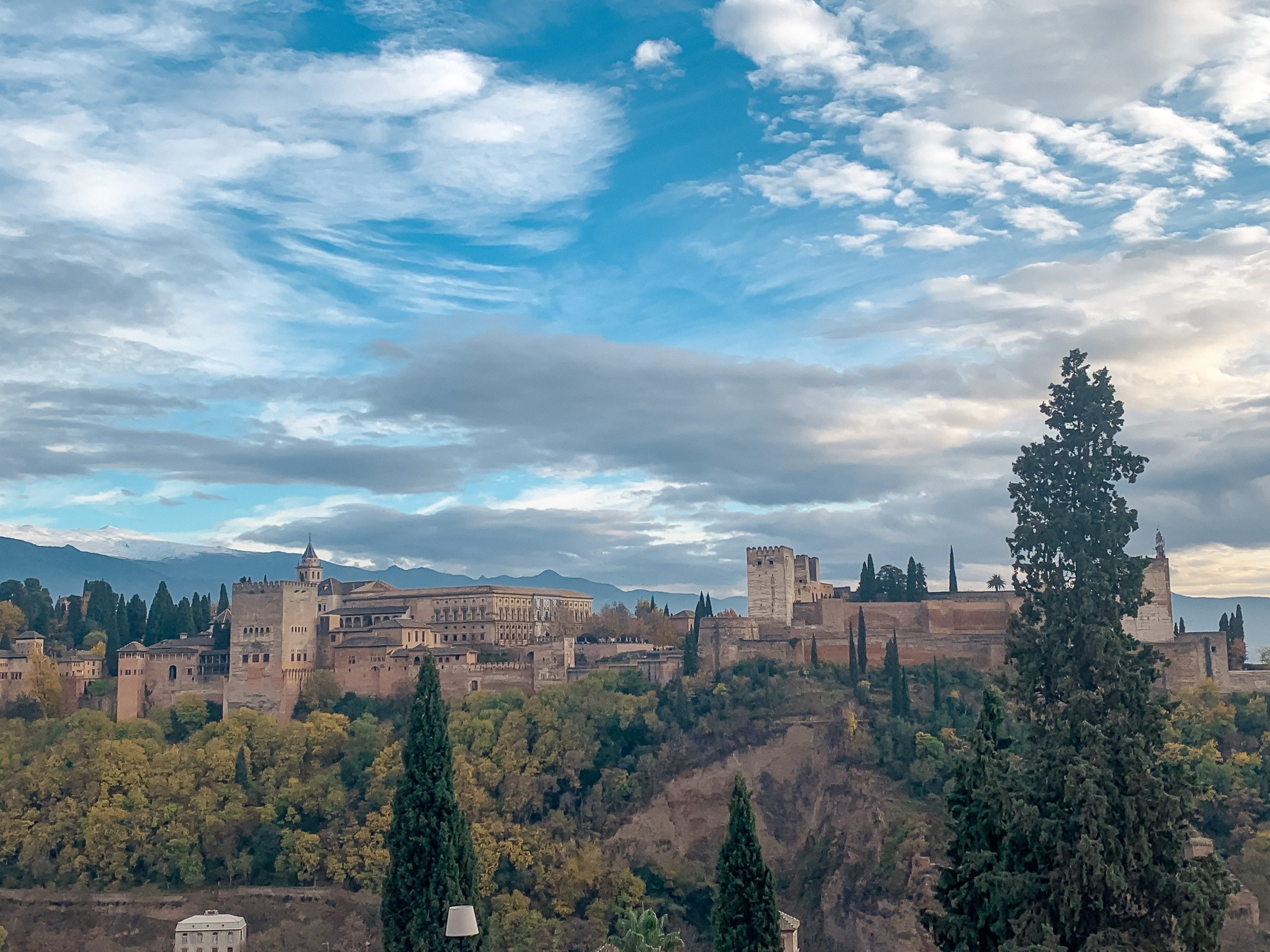 Mirador Ojo de Granada 
Walking down from Mirador San Nicolas, we found another viewpoint with epic views of the city of Granada: Mirador Ojo de Granada. It seems a bit hidden, but once we got there we had it completely for ourselves!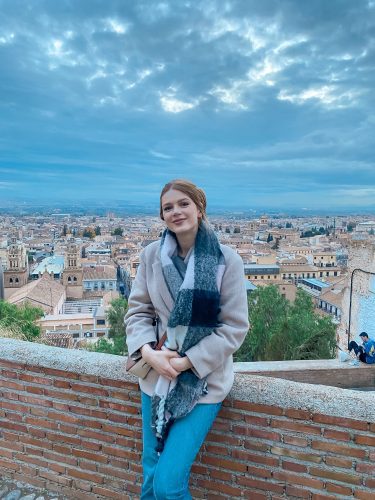 Mirador Placeta de Carvajales
During our free walking tour, we came up to this viewpoint to enjoy the Alhambra beautifully lit up in the dark. Such a gorgeous spot!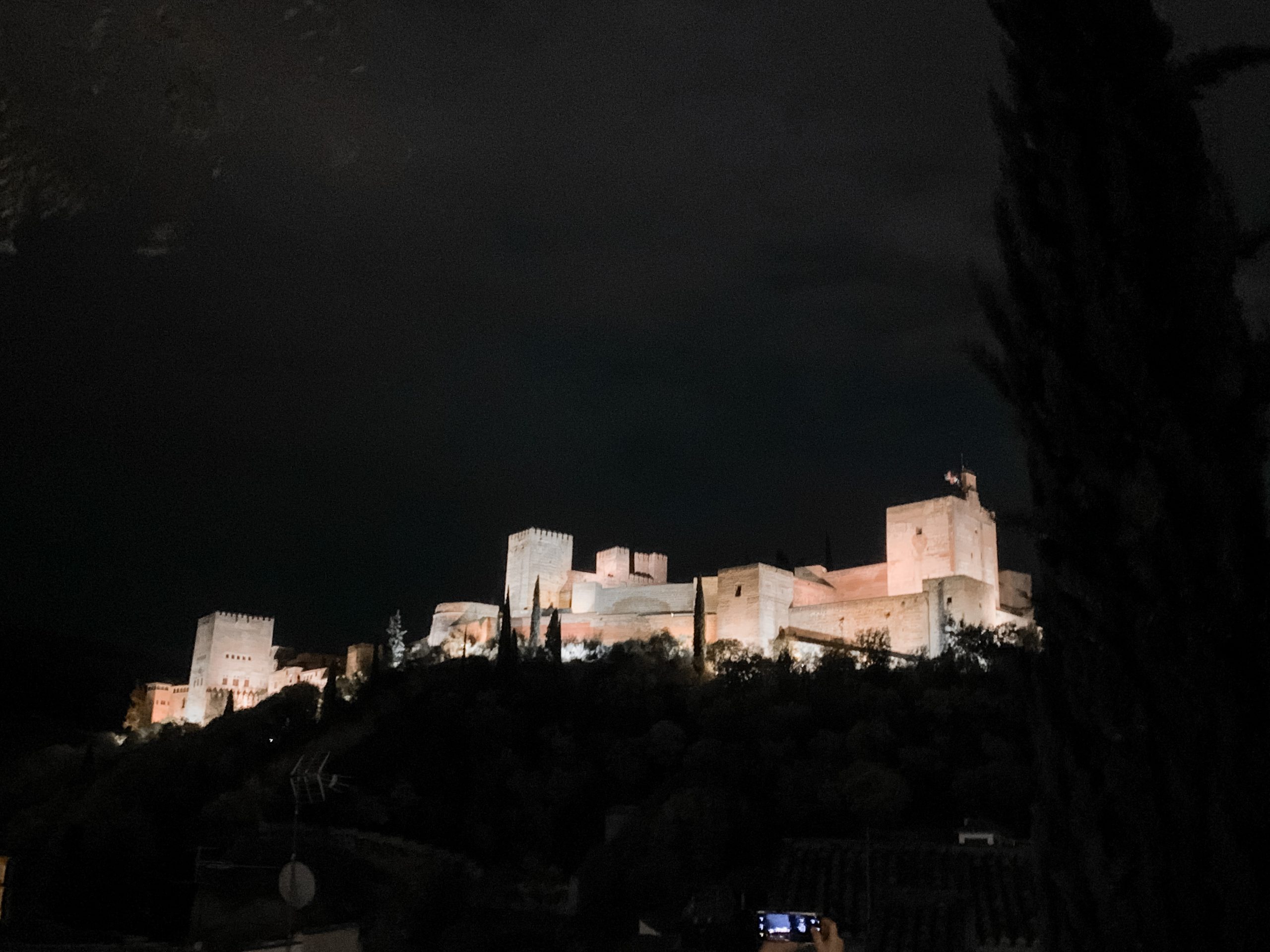 Enjoy a warm tea in a traditional tea place called "tetería"
My boyfriend got a cold during our stay in Granada, so we ended up spending a lot of time in tea places (teterías) in Granada. We don't have a lot of tea variety in Madrid, which I, a tea fan, am always complaining about. But every tea place we have been to in Granada offers incredible and comforting teas. Even with milk! The perfect plan if you want to warm up after a cold winter day in Granada. 
My favorite tea place was tetería buñuelo with amazing views of the Alhambra. Make sure to try it out! During my visit, I even became friends with the owner's cat. What a cutie 🙂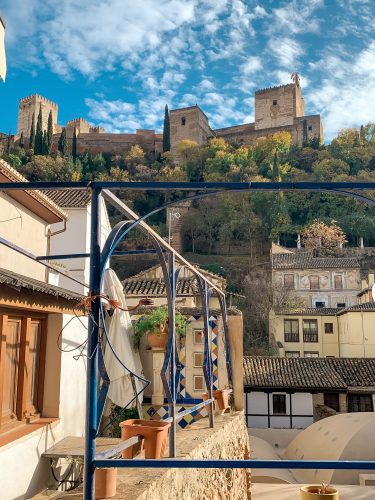 Explore the dreamy Albaicín, Granada's oldest neighborhood
The Albaicín neighborhood in Granada really deserves to be mentioned here, so let's talk about it! The Albaicín is the oldest neighborhood of Granada, and it is absolutely impressive. Most of the buildings are still from Moorish times, some even from the Roman and Iberian Times. Visiting this part of Granada is already worth for its dreamy views of the Alhambra. A truly gorgeous place. The Albaicín neighborhood is also a UNESCO World Heritage site since 1994. 
Impressive monuments in the Albaicín neighborhood are the Muralla del Albaicín, once the city walls of Granada. Another place I recommend visiting is the Mosque ¨Mezquita Mayor¨ of Granada which is right next to the Mirador San Nicolas. The views from there are just as great but it is much quieter and the gardens of the mosque are very dreamy as well. The houses in this part of Granada are all painted white and really make this area of the city so unique and charming.
The Albaycin is also known for its tea houses (teterías), Morrocan restaurants, and beautiful gift shops. So, if you are in Granada in winter, make sure to visit the Albaicín and have a comforting cup of tea in one of the teterías.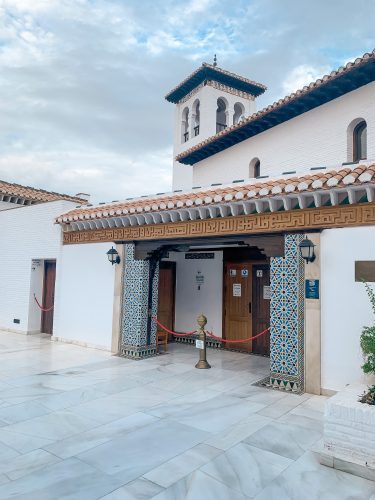 Visit the Bohemian Jazz Bar for a cozy night with live music!
Many of my followers recommended the Bohemian Jazz Café for cocktails and live music. The first time, I visited it by myself as my boyfriend stayed in our hotel room due to his (dramatic) cold. The interior of this place is very unique. We can find all kinds of old books, posters, paintings, and other pretty random things on the walls of this beautiful place. 
They have a wide menu, full of cocktails, long drinks, and sweeter drinks, like hot chocolate. Once my boyfriend felt better we came back together and were so happy to see a man playing jazz music on the piano. A great place to finish the night in Granada!