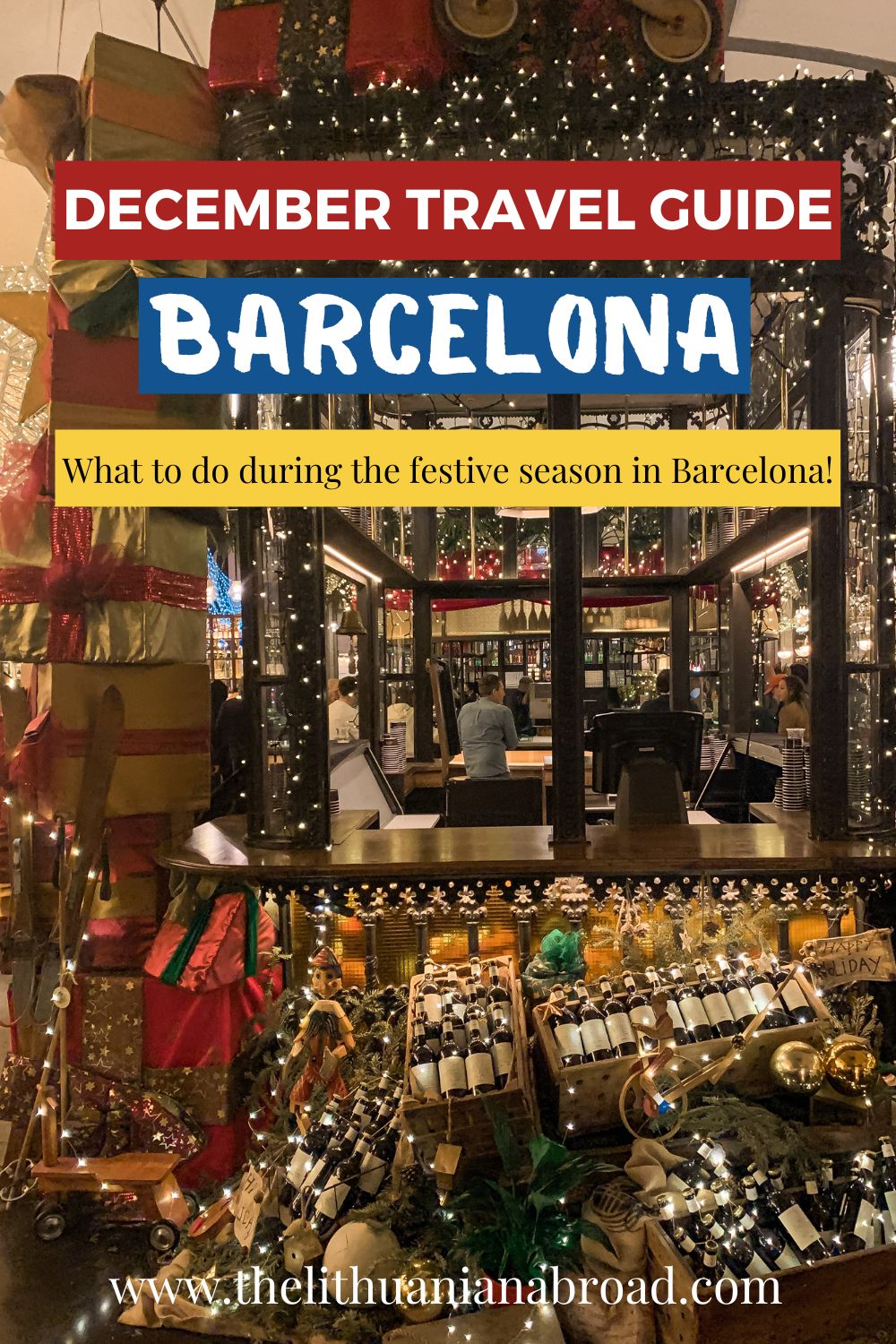 Good news! Visiting Barcelona in December is the perfect plan. Thanks to Barcelona being a beach city the temperatures are very mild and you can have a great time outside even during the winter months. Apart from that, Barcelona is absolutely gorgeous during the festive season. The whole city is decorated with beautiful Christmas lights which makes Barcelona look like a fairytale. Christmas markets, Christmas lights, and the festive spirit. This and so much more is waiting for you on your Barcelona city trip in December. 
And that is why I decided to write this blog post with activities and places that you have to visit during your stay. Because Barcelona is the perfect destination if you want to escape the cold dark winter of your home city.
So let's go, here are 20 activities and everything you need to know about visiting Barcelona in December.
---
Affiliate links may be sprinkled throughout the free content of this blog post. If you purchase from one of the links I may receive a small commission while the price for you stays the same. This helps me cover the costs of The Lithuanian Abroad. Gracias!
Other blog posts about Barcelona you should check out: 
Barcelona bucket list with more than 20 activities: This blog post includes the most important bucket list places and activities you cannot. The perfect blog post for first-time visitors.
Self-guided walking tour for Barcelona: This blog post includes an itinerary for a self-guided walking tour in Barcelona. The perfect way for seeing Barcelona's most important places in one afternoon.
14 famous buildings in Barcelona you cannot miss: Barcelona is full of incredible buildings full of history and mindblowing architecture. This blog post covers the most important ones you cannot miss. Gaudí buildings are included as well. 
25 free activities you can do in Barcelona: Visiting Barcelona does not have to be expensive. And this blog post with more than 25 free activities proves it. Free museums, parks, viewpoints, and more!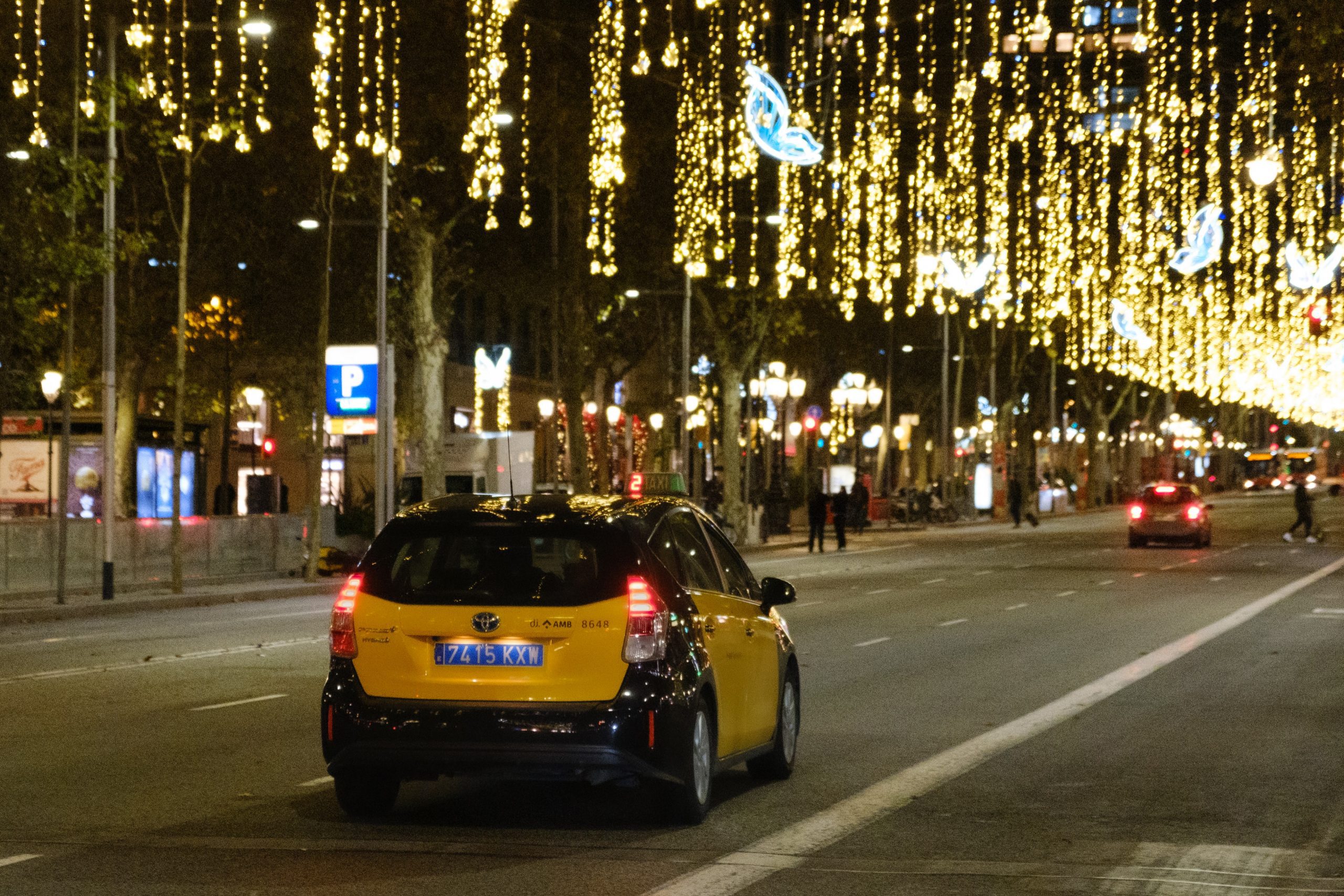 How is the weather in Barcelona in December?
Good news! Barcelona being a beach city offers very mild temperatures the whole year round. It does not get too hot during summer and at the same time, it does not cool down too much during winter. It's December that I am writing this blog post, and there are currently 17 degrees in Barcelona. Unbeatable, right? At night, the temperatures go down a little with temperatures of around 7-10 degrees. 
I have to admit, if you decide to visit Barcelona in December, you might get some rainy days. These should not last too long and you should be able to really enjoy your Barcelona trip. 
Is December a good time to visit Barcelona? 
December is a great time to visit Barcelona if you want to escape the cold winter temperatures in other areas. Barcelona offers very mild weather during winter. There are usually a lot of sunny days and you can even grab a meal outside. 
Because of the public holidays, there might be slightly more people in Barcelona than usual. Some people call December the low-season of Barcelona. To be honest, I don't agree. Many people visit the bigger cities in Spain during December in order to enjoy the festive season. Or, in order to visit family or do the Christmas shopping here. But that should not stop you from visiting Barcelona in December. The festive season there is unbeatable!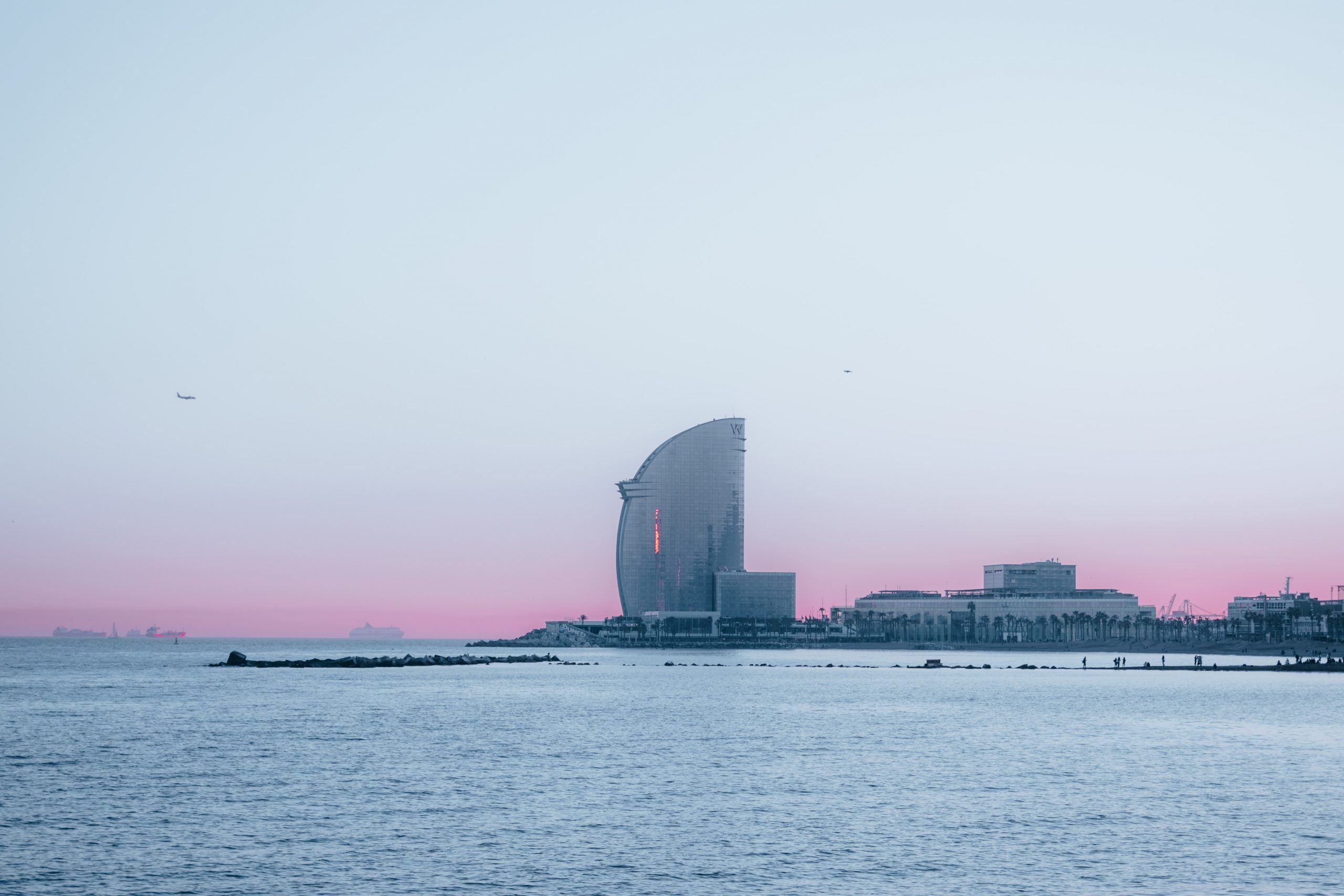 What about the public holidays in Barcelona in December?
Of course, there are a couple of public holidays in December that you have to consider before coming on your Barcelona trip. And there is more than just Christmas and New Year's Eve in December!
On the 6th of December, Constitution day is celebrated and the 8th of December is the Feat of the Immaculate Conception. During that time, a lot of locals don't work and could come to Barcelona. The city could be a little more crowded than usual.
Then, of course, we have Christmas Eve on the 24th of December. On that day, many shops are closed or already close early. On the 25th of December, the majority of shops are closed. You might get luckier on the 26th of December, as some stores and museums are already open again. The 31st of December is usually only a short working day or people do not work at all. So, keep that in mind in case you wanna do some shopping in December in Barcelona or visit the monuments. There are several public holidays in December to consider!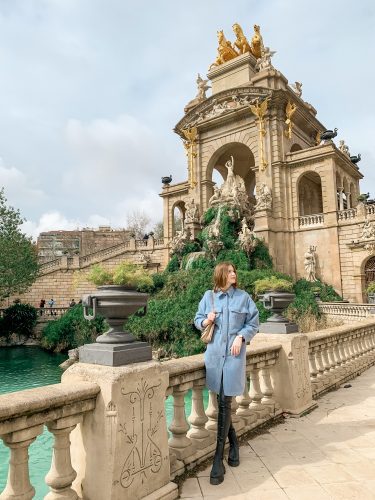 Make sure to do a free walking tour in Barcelona in December
Free walking tours are my favorite way of exploring a new city and seeing the most important places. At the same time, you learn a lot about the history and culture of the place that you visit. Barcelona is an extremely walkable city. And even in December, the temperatures are perfect for an amazing walking tour of Barcelona. 
How do free walking tours work? Free walking tours do not come with a set price, which is why they are free. You will spend a couple of hours walking around Barcelona and seeing the city's most important monuments. The best part of free walking tours are the local guides that show you the city from a local's eye.
You can find all free walking tours in Barcelona here
What to do in Barcelona in December? 
Get on the hop-on hop-off bus in Barcelona
I always recommend the hop-on hop-off bus if you do not feel like walking too much or simply don't have too much time in Barcelona. That way, you can move around Barcelona and even visit the monuments that are a bit further away in the city center. Or maybe you happen to be in Barcelona during (the very few) days of bad weather? Then, the hop-on hop-off bus could be a great option to get you from one place to another. 
How does the hop-on hop-off bus work? These buses drive in a circle around the city of Barcelona. They stop at more than 40 stops which are all very close to the city's most important monuments, like the Sagrada Familia. With your ticket, you can simply get on one of these stops and stay on the bus until you reach your next destination. Once you want to get going you just have to wait for the next bus to come which is usually only a couple of minutes away.
If you want to buy your ticket and want to find out more about these buses, you just have to click here.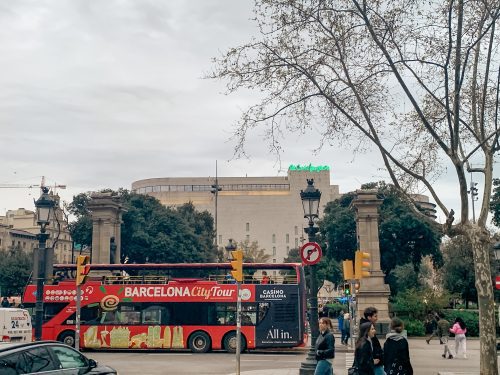 A Must! Visit the Sagrada Familia
Of course, you cannot leave Barcelona without visiting the Sagrada Familia first. This incredible Gaudí building will be the absolute highlight of your Barcelona trip. As you probably already know, the Sagrada Familia up to this day remains unfinished. Interesting fact on the side: It is planned to finish this masterpiece in 2026, which would be the 100-year anniversary of Antoni Gaudí, the architect. 
I would really recommend visiting the Sagrada Familia from the inside. This is the one thing where I feel like spending money is really really worth it. The colors inside are just absolutely mindblowing and will be a memory for a lifetime. 
Make sure to buy your tickets in advance so you can skip the line and enter right away. You can book your tickets here.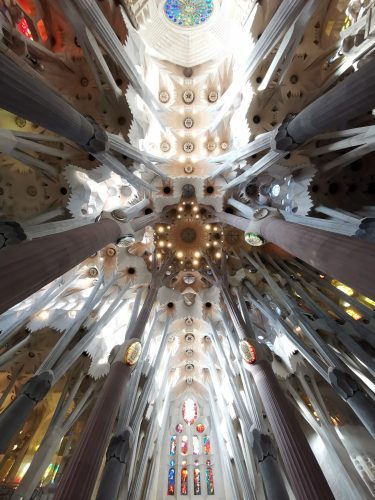 Check out some of the mindblowing museums in Barcelona in December
Apart from incredible architecture Barcelona also offers mindblowing museums as well. Especially, if you are a modern art fan, you have to keep reading. To me, visiting a museum in Barcelona is the perfect plan for a Sunday. While many shops are closed, the museums are always open and some of them even have free entrance on Sundays!
Incredible modern art at the MOCO museum
This is probably one of the most popular art museums in Barcelona. It offers incredible pieces from well-known artists like Andy Warhol and Salvador Dalí and even Banksy! When I visited it, they even had NFTs in the museum. And parts of it are even interactive. We had lots of fun!
Book your tickets for the MOCO museum here.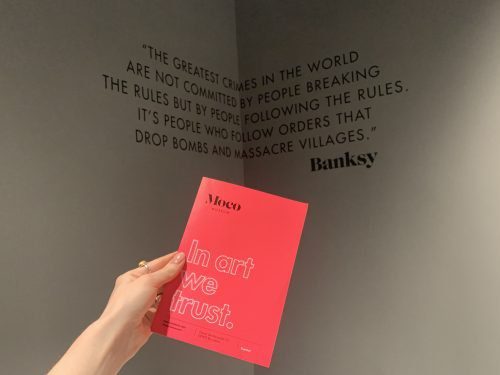 Pablo Picasso museum with pieces of one of Spain's most important artists!
Did you know Picasso went to an art school very close to the place where his museum is now? This museum owns more than 4000 pieces painted by the one and only Pablo Picasso. An incredible treasure of a museum and a place I really recommend visiting. 
Book your tickets for the Pablo Picasso museum with a guided tour here.
Maritime museum with ships, photographs, and lots of history
This museum is maybe not on most "Barcelona recommendations" but it is one of my favorite ones I have visited in Barcelona so far. This museum shows an incredible collection of photographs of Barcelona's port throughout the years. And apart from that, incredible boats of all kinds. Really cool for visiting with children as well!
The best part, entrance is free on Sunday from 3 pm!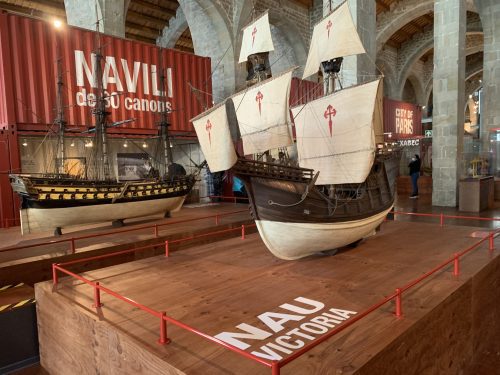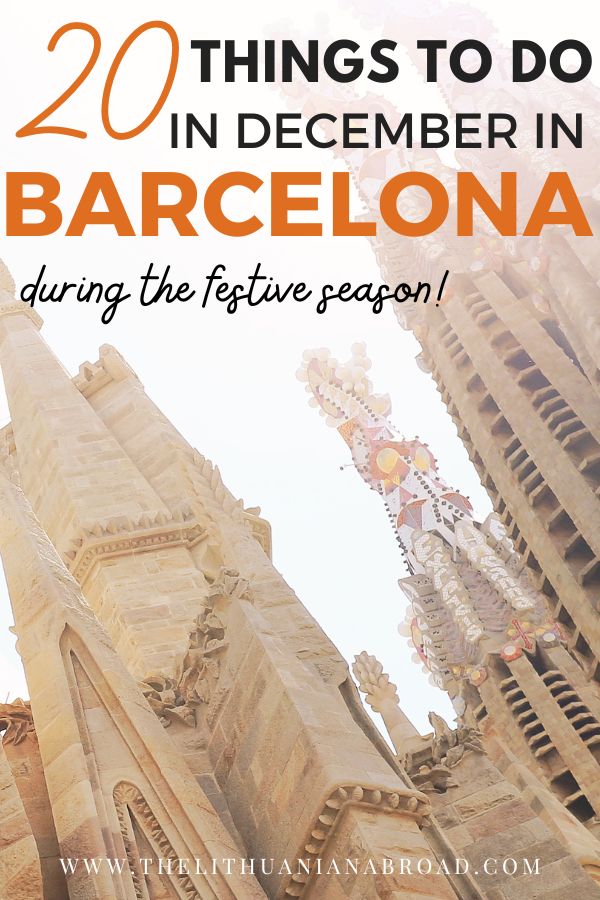 Let's talk about Food! Try some amazing tapas in Barcelona
Let's talk about food. You cannot miss trying some amazing Spanish food during your stay in Barcelona in December. Trying some amazing traditional food should be high up on your Barcelona bucket list. 
I can really recommend Ciudad Comtal and Vinitus for tapas in Barcelona. Both restaurants have a huge menu of Spanish food and appetizers. That way you can order several small dishes and try them all out. I do recommend the bread with tomato, fried calamari and the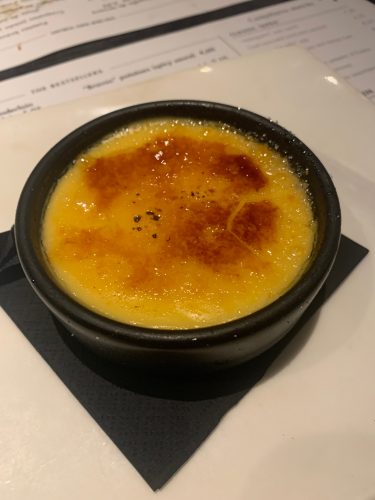 Another hidden gem for tapas I want to recommend is bar "La Plata". This tiny tavern in the neighborhood of "El Born" serves the same handful of tapas right now just when it opened during the 1940s. You really have to try the vermouth there! I took my mom to this place when she visited and she absolutely loved it. A true gem in Barcelona!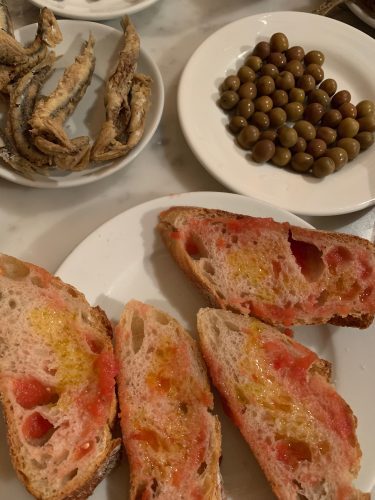 More Gaudí buildings you have to check out: 
Palau Güell
I visited Palau Güell a couple of months ago and I still cannot understand why don't more people talk about it. Palau Güell used to be the house of businessman Eusebi Güell who hired Gaudí as the architect for his mansion. It was built between 1886-1888 but you can still see many of the original pieces in there. The architecture of this house is just insane.
This house was built to impress people who were invited to social gatherings by Güell and let me tell you, it fulfills this purpose very well! If you are a fan of architecture and have already seen the Sagrada Familia, you really should visit it!
You can book your tickets and find more information about Palau Güell here.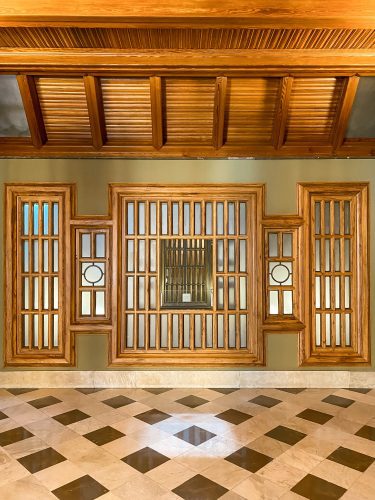 Park Güell 
Park Güell is probably the most popular park in Barcelona, which was designed by the one and only Antoni Gaudí. If you happen to be in Barcelona during a warmer December day you should definitely have a nice walk in this park. You will get to admire the gorgeous mosaic artwork in the park and really enjoy this green oasis in Barcelona. I would advise getting your ticket in advance as the number of people allowed in the park is regulated. 
You can book your tickets for Park Güell here.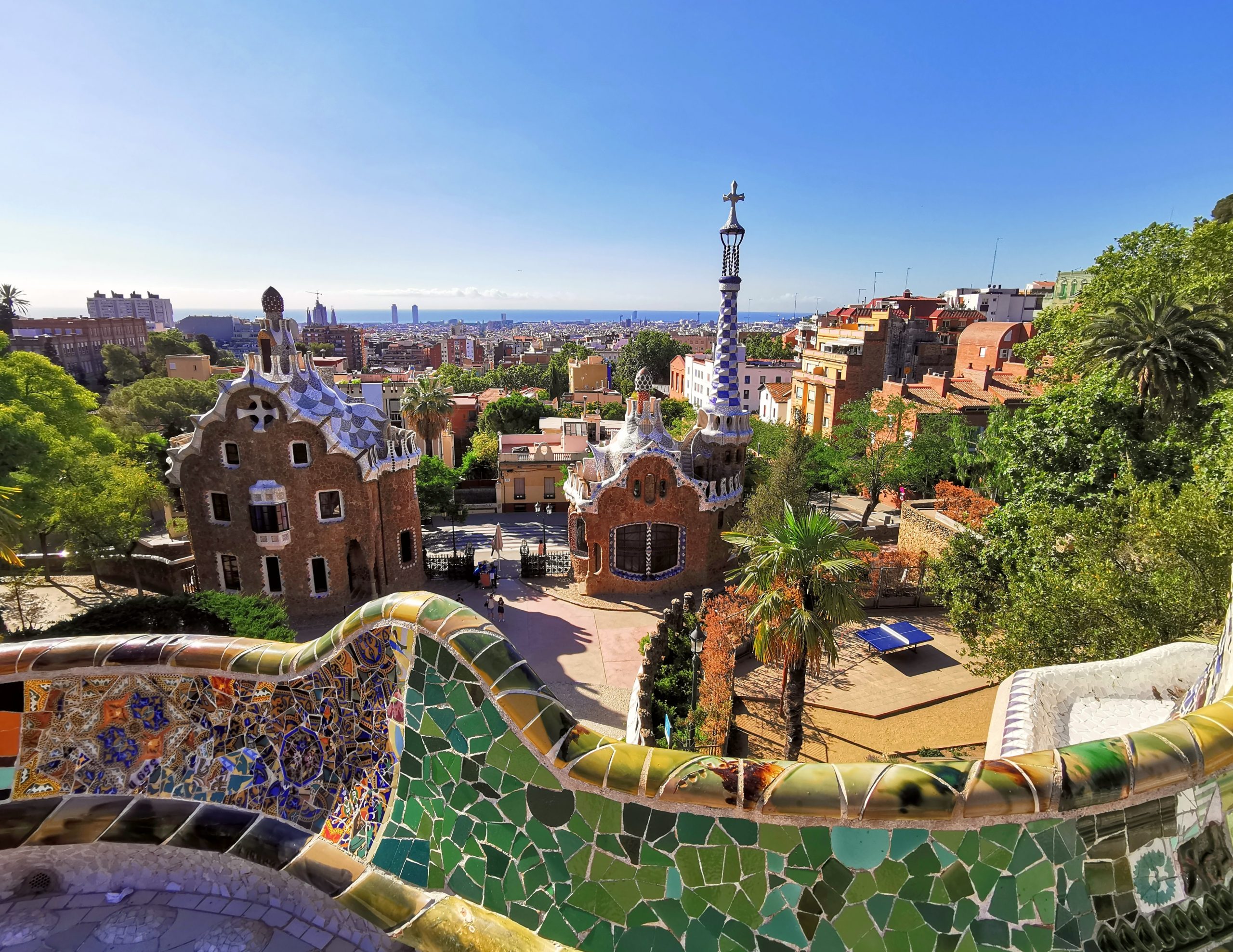 Check out the terrace at Ayre Hotel for mindblowing views
This is the one place I recommend everyone to visit during their stay in Barcelona. The Ayre Hotel right by the Sagrada Familia offers incredible views of the building. Honestly, when I was there I could not stop staring at it! 
I actually visited this rooftop in December last year right before New Year's Eve and the weather was perfect. We ordered some wine and a couple of tapas. All in all, it was an amazing experience that I can really recommend. 
You have to make a reservation if you want to go to the rooftop. While the reservation is free, you'll have to order food and drinks. You can make a reservation here.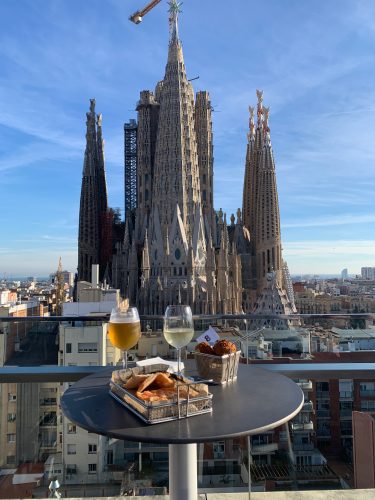 Visit the Christmas markets in Barcelona in December
Visiting Barcelona in December means you are coming just in time for the festive season! Even in Barcelona, Christmas markets have become more and more popular. If you have time you absolutely should check the Christmas markets. They might be a little bit different than the ones you know from your country. Something that you will definitely find a lot in Christmas markets in Spain are figures from the nativity scene. These play a big role in Spanish culture!
The most popular Christmas market in Barcelona is Fira de Santa Llúcia. It is located right in front of the Cathedral in Barcelona in the Gothic quarter. This Christmas market takes place from the end of November to the 23rd of December. Make sure to check it out!
This Christmas market is free of charge!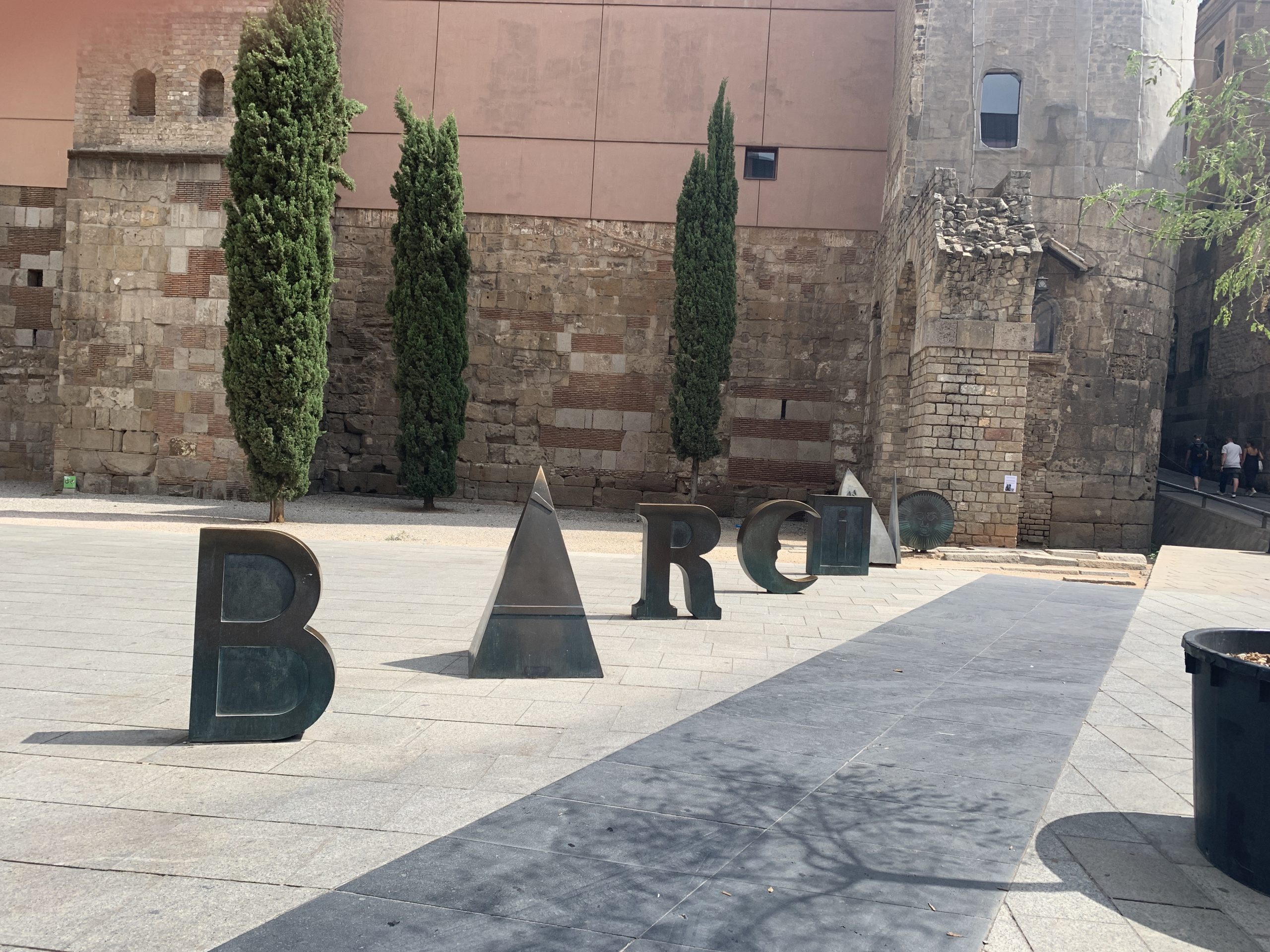 Visit El Nacional Market in Barcelona in December
El Nacional is a food hall in Barcelona that has several areas with several restaurants. It is THE perfect place for a relaxed evening with tapas and a glass of wine. It is also a place with a lot of history. Since its inauguration in 1889, this place has been a factory, a café theater, and a garage, before it became the iconic place it is now.
I visited El Nacional in Barcelona in December last year and absolutely adored the Christmas decoration there. There are Christmas lights and decorations everywhere. It really makes this whole place very cozy and Christmassy. 
You can simply go to El Nacional whenever you like or make a reservation on the website here.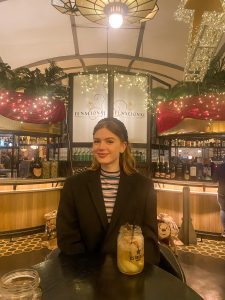 Look at the beautiful Christmas lights all around Barcelona
During the month of December, the streets of Barcelona are beautifully decorated with Christmas lights. These lights are turned on every evening and really light up the whole city!
Here is a picture of the Christmas lights on the Passeig de Gràcia with gorgeous butterflies! But I invite you to just walk around the streets and check out the Christmas lights. They are different on every main street and honestly, one looks just more beautiful than the next one.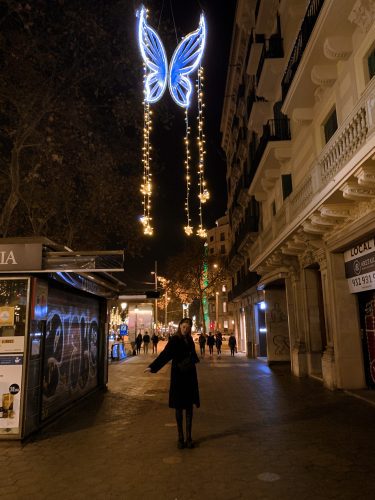 Watch an impressive Flamenco Performance in Barcelona
This could be the perfect bad-weather plan when you visit Barcelona in December. But I also recommend watching a Flamenco show regardless of the season you are visiting. A Flamenco show will be the highlight of your Barcelona visit. Flamenco is a very emotional dance that origins in the South of Spain. You can probably find the most authentic Flamenco shows there. But, if you don't make it to the South of Spain, you can still watch incredible Flamenco performances in Barcelona. Make sure to pay attention to the emotions of the dancers, the Flamenco gowns, and the acoustic guitars!
I would recommend the City Hall theater for a Flamenco performance. The interior is just gorgeous and the tickets are very affordable. You can find more information here.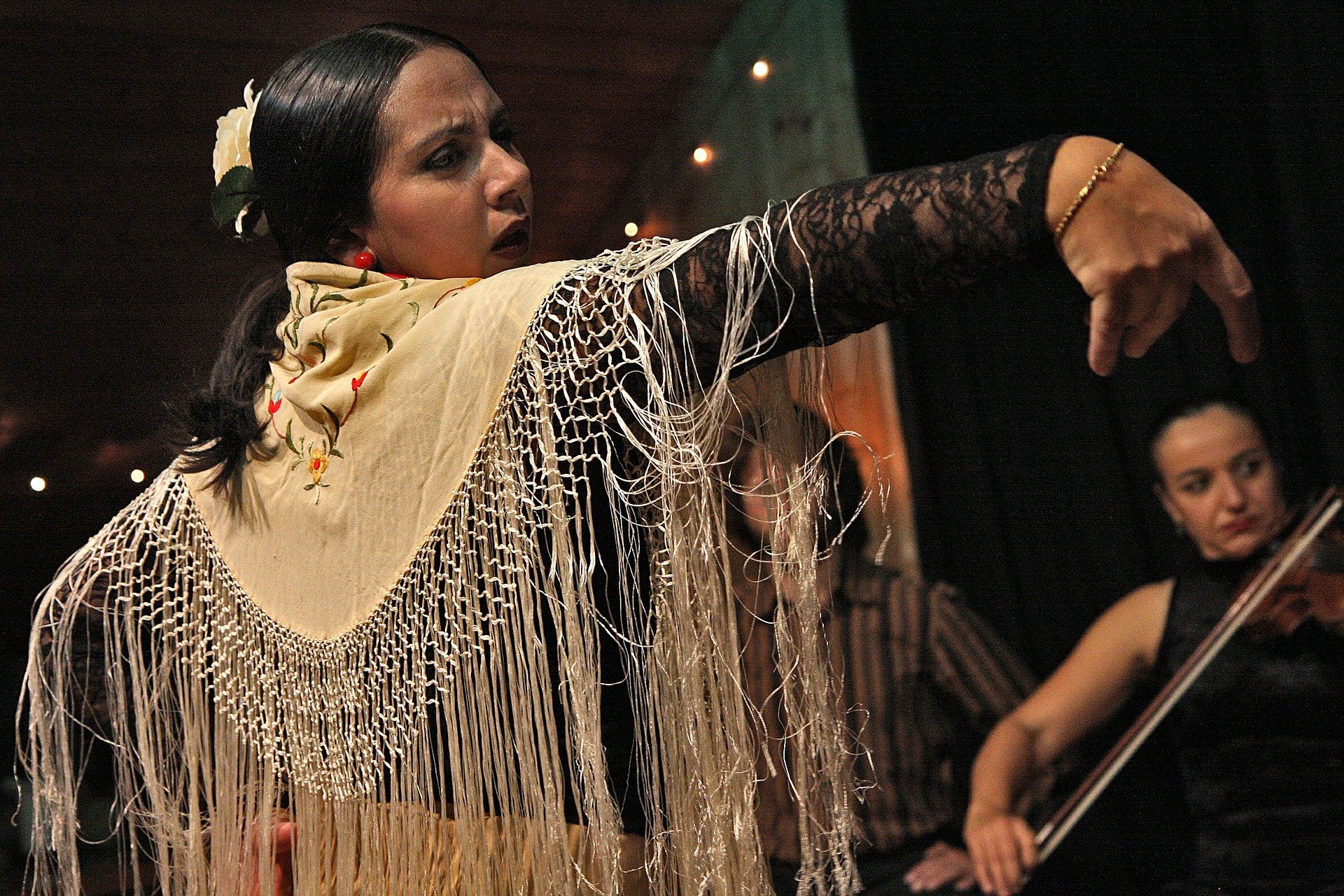 Explore the bars in the neighborhood of El Born
Let's talk about your evening plans when you are visiting Barcelona in December. In my opinion, the El Born neighborhood is the perfect place if you want to go out for food and drinks. 
Here are a couple of recommendations if you are going out in the El Born neighborhood: 
Dr. Stavinsky
Dr. Stravinksy is one of my favorite bars in Barcelona. And if you don't believe me what if I tell you that it made it onto the list of the 50 best bars worldwide? This place serves only the unique cocktails you can find on the menu. A must-see place in my opinion.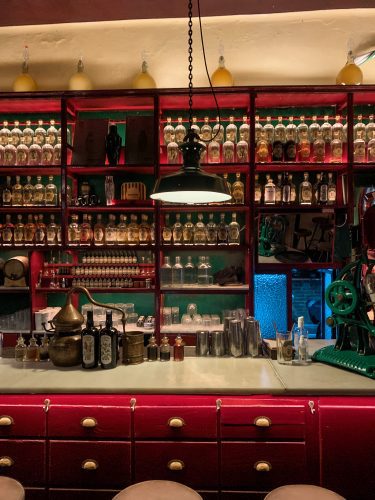 Dux Gins & Cocktails Borne
Right next to Dr. Stravinsky is this amazing cocktail bar with incredible cocktails. All of them are absolutely unique in their taste and presentation. If you are a cocktail fan, you have to visit this place in El Born.
Walk down Paseo Maritim and maybe get on a boat tour!
Even though it might be too cold to go for a swim in Barcelona, you can still enjoy the walk past the empty beach. The beach in Barcelona attracts thousands of tourists, so you will probably never see it this empty again. My boyfriend and I really enjoy long walks by the beach during winter. The air is so fresh!
You will find many beach bars, so-called chiringuitos, on your walk. How about sitting down and enjoying a nice glass of wine? 
Another idea would be doing a boat tour by the port of Barcelona. That way, you can see the city from a completely different point of view. You also get to see the skyline of Barcelona. And let's be honest: It's incredibly gorgeous!