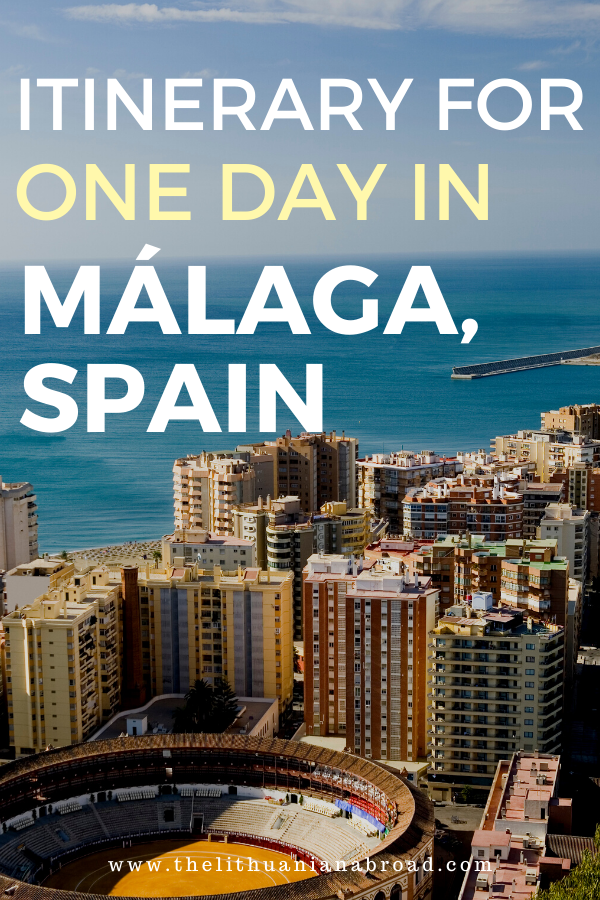 After living in Spain for almost six years I finally went to Málaga for the first time. And let me tell you upfront: Don't be like me and wait for so long! Málaga is a wonderful town in the South of Spain and I guarantee that you will fall in love with it. Málaga has everything from historical fortresses, to amazing food, incredible architecture, and nature… the list does not end!
And then, of course, we also have the beach. In this blog post, we will talk about everything you can do in one day in Málaga. Even though I can already tell you, one day will not be enough and you will want to stay much longer and really embrace this Andalusian gem.
So let's jump right into it: Here is a one-day itinerary for visiting Málaga. I made sure to include everything you need to know about Málaga, its monuments and the best places to visit.
---
Affiliate links may be sprinkled throughout the free content of this blog post. If you purchase from one of the links I may receive a small commission while the price for you stays the same. This helps me cover the costs of The Lithuanian Abroad. Gracias!
Other blog posts about Spain you should check out:
Mallorca bucket list for first-time visitors: Do you want to extend your beach holiday and are looking for information about Mallorca? This blog post features amazing activities you have to do in Mallorca. Check it out!
104 free things to do in Madrid you did not know about: I have a lot of posts about Madrid, the city I currently live in. If you happen to stay there for a couple of days and want to check out this fantastic guide with free activities in Madrid, you can find it here.
22 free museums in Barcelona you have to visit: Visiting Barcelona does not have to be expensive. And this post proves it! I wrote an extensive guide with all museums in Barcelona you can visit for free. If you happen to be in Barcelona, this will be a lifesaver.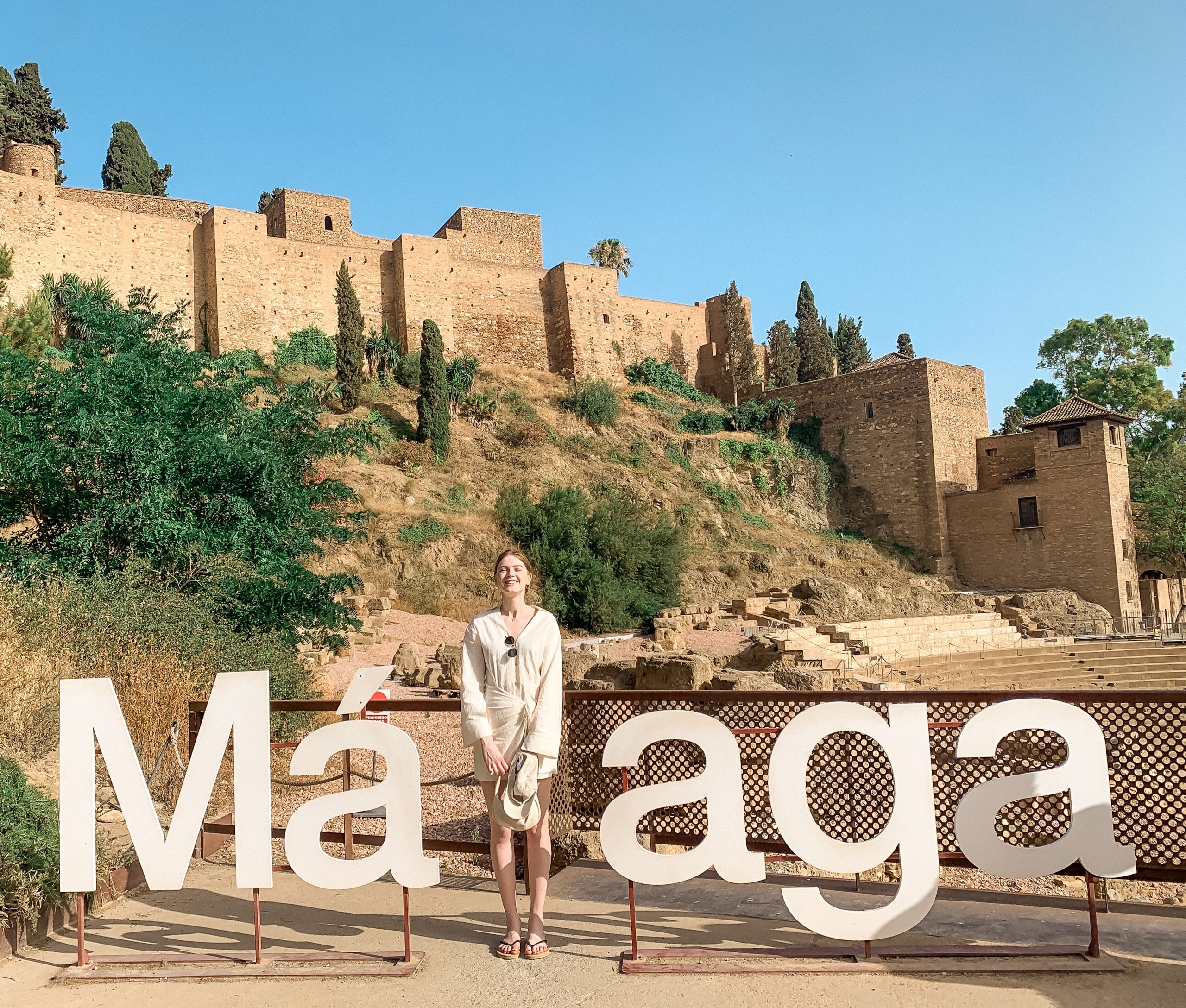 Get a discount for your rental car in Málaga with my code!
If you are planning to go on a road trip and see the beautiful surroundings of Málaga (and beaches!) renting a car will be the best option. By the way, popular destinations like Nerja, Frigiliana, and Marbella are only a short drive away. And the best thing: I have a discount code for you so you can save on your road trip.
I teamed up with offugo, who made it their mission to offer easy car rentals. What does that mean? Unlimited kilometers, no random deposit you have to pay, and no other surprises. And it does not stop here. The whole process of picking your car up is done online. You do not need to wait in any lines in order to receive your car. 48-72 hours before your booking date you will receive the instructions to pick up your car and can upload all your documents online. So easy! You can get 10% off of your booking with offugo.com with the code GABI10
Get a 10% discount when renting you car with offugo with the code GABI10!
Let's do a free walking tour of Málaga and explore the city!
Free walking tours are my favorite way of exploring a city I have never been to before. But even if you have been to Málaga I am sure you will learn some new things that you did not know before. Because the best part of free walking tours are the local guides that do an amazing job showing you the city through the eyes of a person that lives there!
How do free walking tours work? Free walking tours do not come at a fixed price. That is why they are free. You will spend a couple of hours with your local guide who is going to show you the best places in Málaga. And you will learn a lot about its history! After the tour, you have the chance to leave your local guide a tip. How much you would like to tip them is really up to you. It usually depends on your budget and on how much you enjoyed the tour.
You can find more information about free walking tours and book a tour in Málaga here.
From the airport in Málaga:
When you arrive at the airport in Málaga and just want to get to your accommodation it is sometimes good to have an airport transfer waiting for you. You can pre-book a taxi transfer to collect you at Málaga airport, using a company like Solhop airport transfers. The good thing is you can book before you travel and pay the driver on arrival. Super easy!
Let's start: How to have the best time in one day in Málaga
Get some churros at Casa Aranda for breakfast!
Even, if you are only in Málaga for 24 hours, I hope you have time to grab a typical Spanish breakfast. A trendy place that has been recommended to me a lot is Casa Aranda. People say they have the best churros con chocolate in town. But, you never really know unless you try, right? 
But even if you do not like sweet breakfast, you will also find other options. I usually like to order a sandwich with tomato and ham. And make sure to order orange juice as well. So delicious!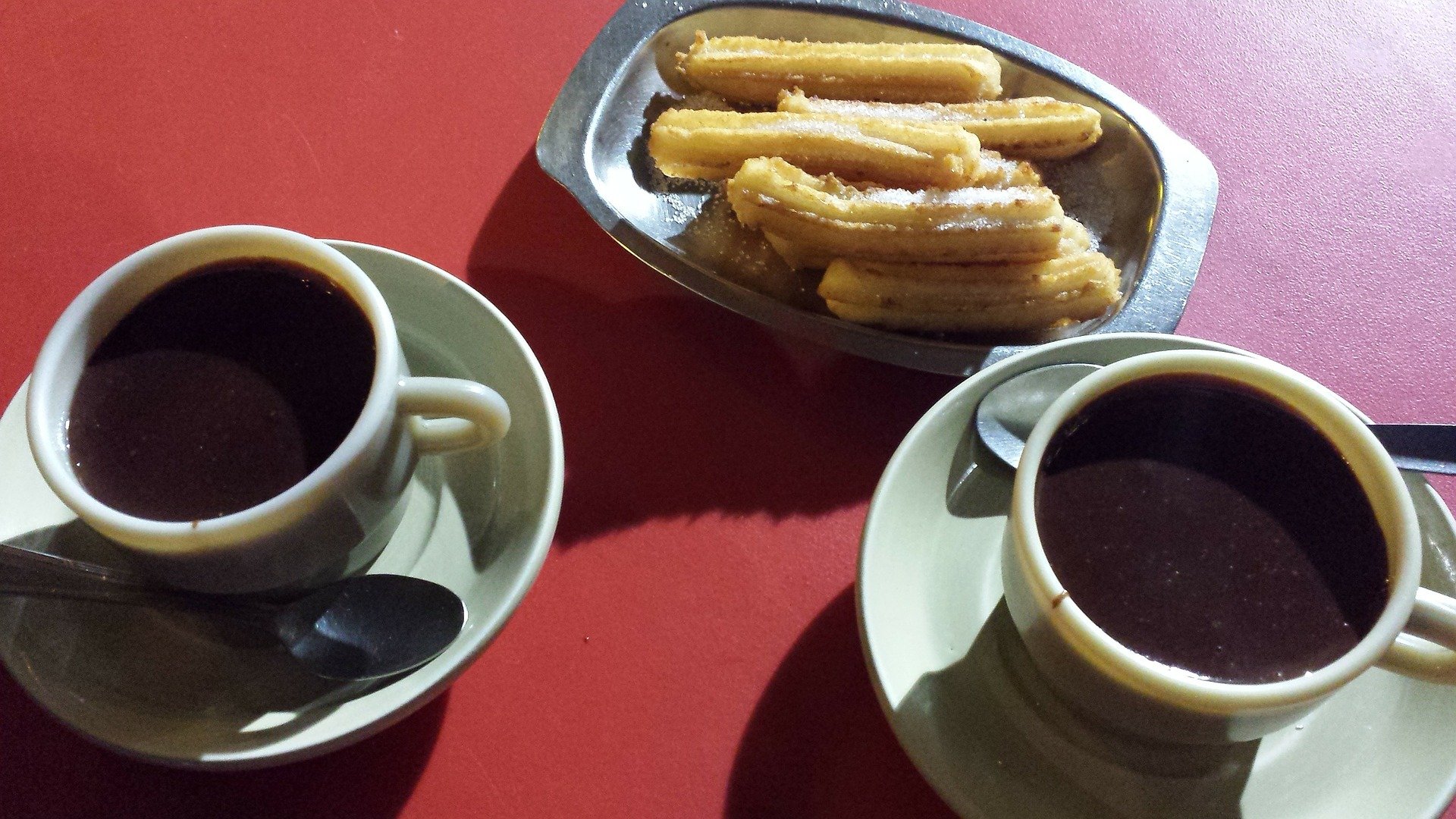 Try some churros con chocolate! If you don't like sweet breakfast, have a sandwhich with olive oil and tomato instead 🙂
Walk down Larios Street, Málaga's famous commercial street
Calle Larios is the main shopping street of Malaga. And no, it does not have to do anything with the Gin Larios, in case you were wondering. Just as Barcelona has its Passeig de Grácia and Madrid has Gran Via as a shopping street, Calle Larios is the place to go shopping and maybe have some ice cream afterward. You will find shops from bigger brands like Mango or Bimbo y Lola. If you are hungry you will be able to find chains like The Good Burger there.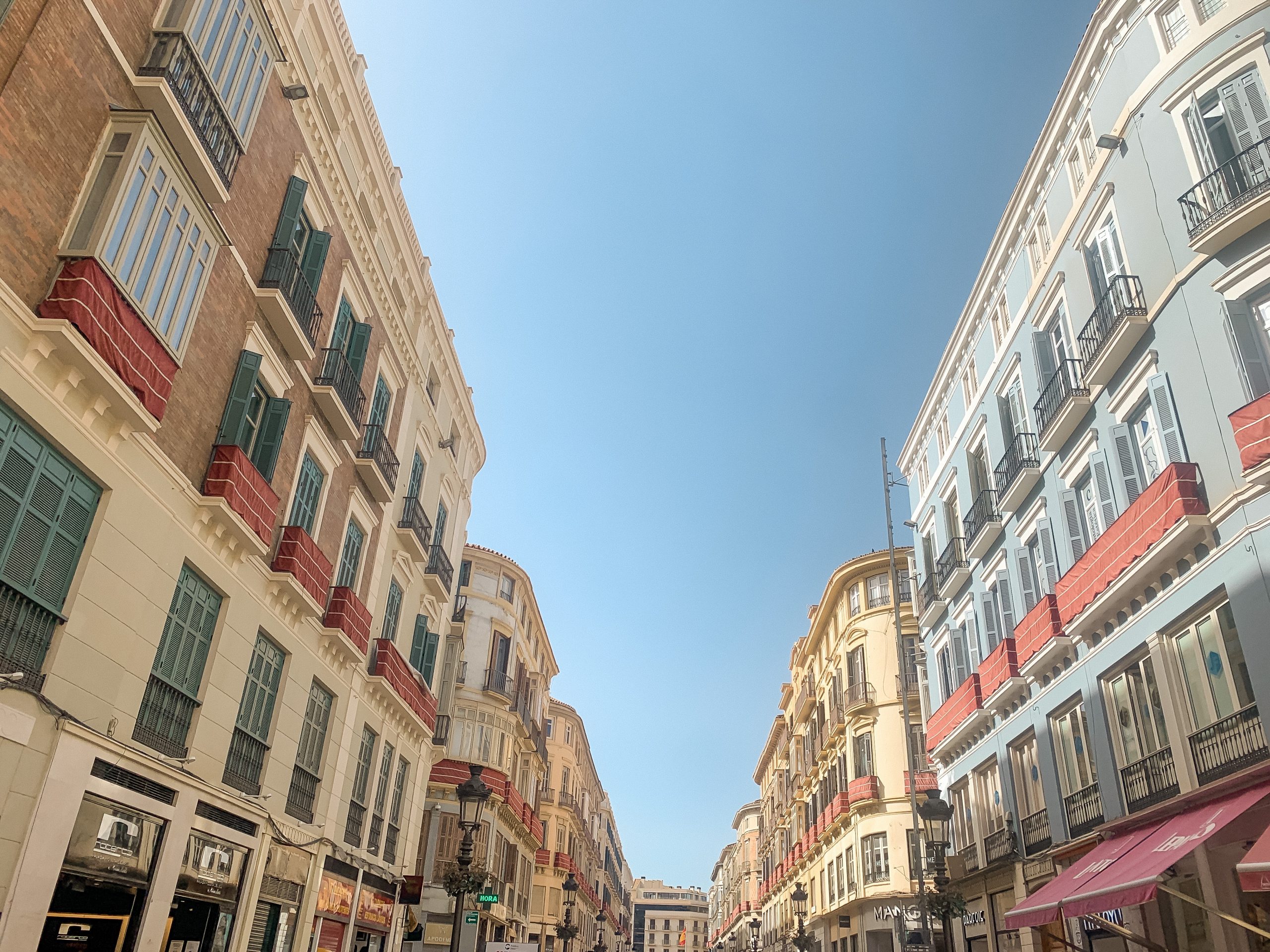 The exciting thing is that Calle Larios is that it is always decorated according to the current season. If you are lucky and make it to Málaga in December you will see one of the most impressive Christmas lights in the whole of Spain. Check out the photo below!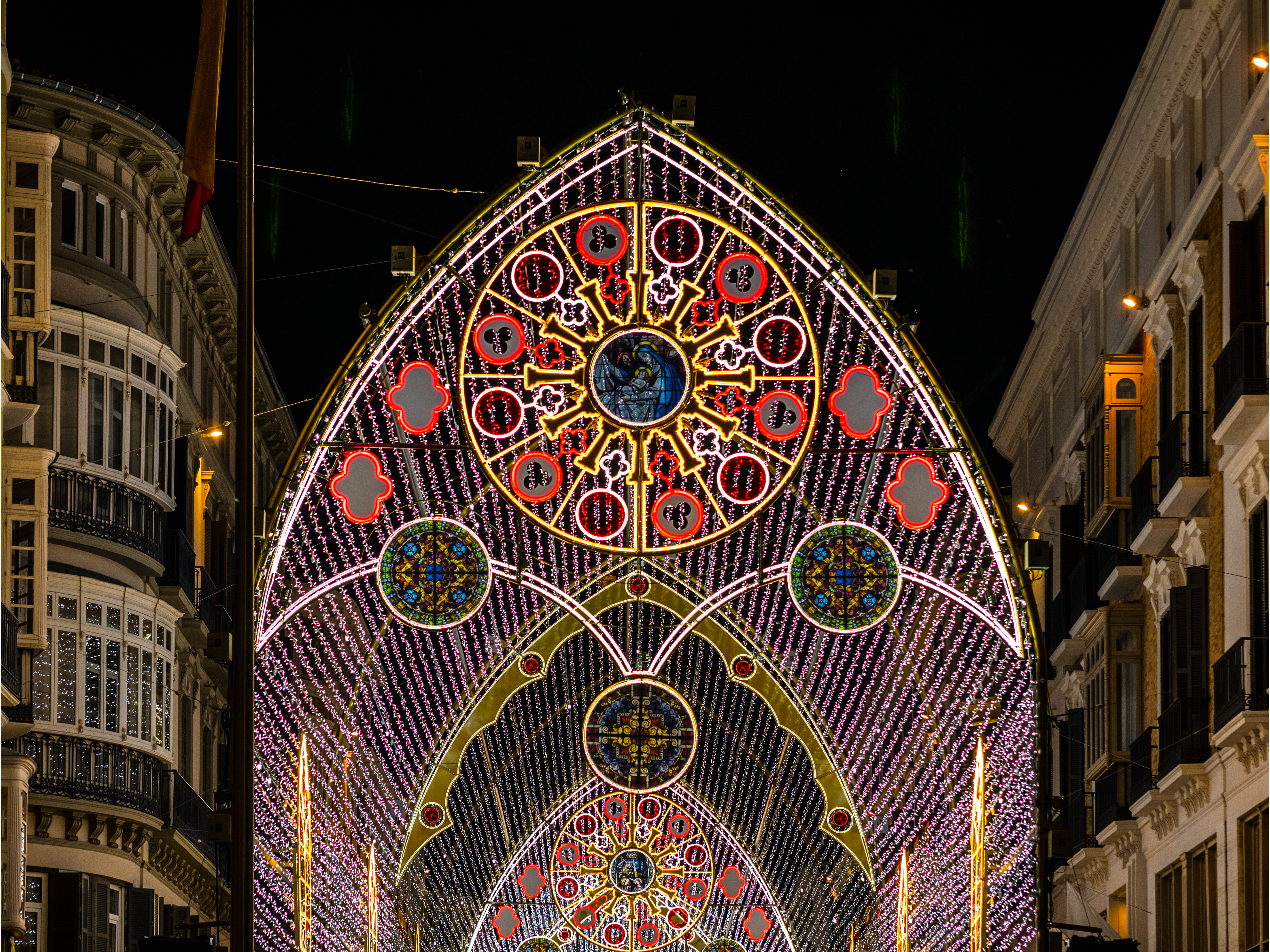 Admire the beautiful Cathedral of Málaga
The Cathedral of Malaga, Santa Iglesia Catedral Basílica de la Encarnación,  is a gorgeous Roman Catholic church that is located right next to Calle Larios. The interesting thing about the Cathedral is that it used to be surrounded by Moorish walls, which nowadays are not there anymore.
Admire the beautiful Renaissance architecture of the church and if you have time, try to have a look at it from the inside!
Look for shade in the Parque de Málaga
I was very impressed by how green Málaga is! I really did not expect to be surrounded by so much nature. And then, having this dreamy little park in the middle of the city center. A true green oasis of Málaga.
The Parque de Málaga is of great historical value: When it was constructed in the 19th-century land had to be reclaimed from the sea. Nowadays, it is a beautiful city park full of tropical plants, like palm trees or ficus. Apart from that, you will also run into beautiful water fountains and sculptures. Even if you are only spending one day in Málaga, I do recommend seeing this park.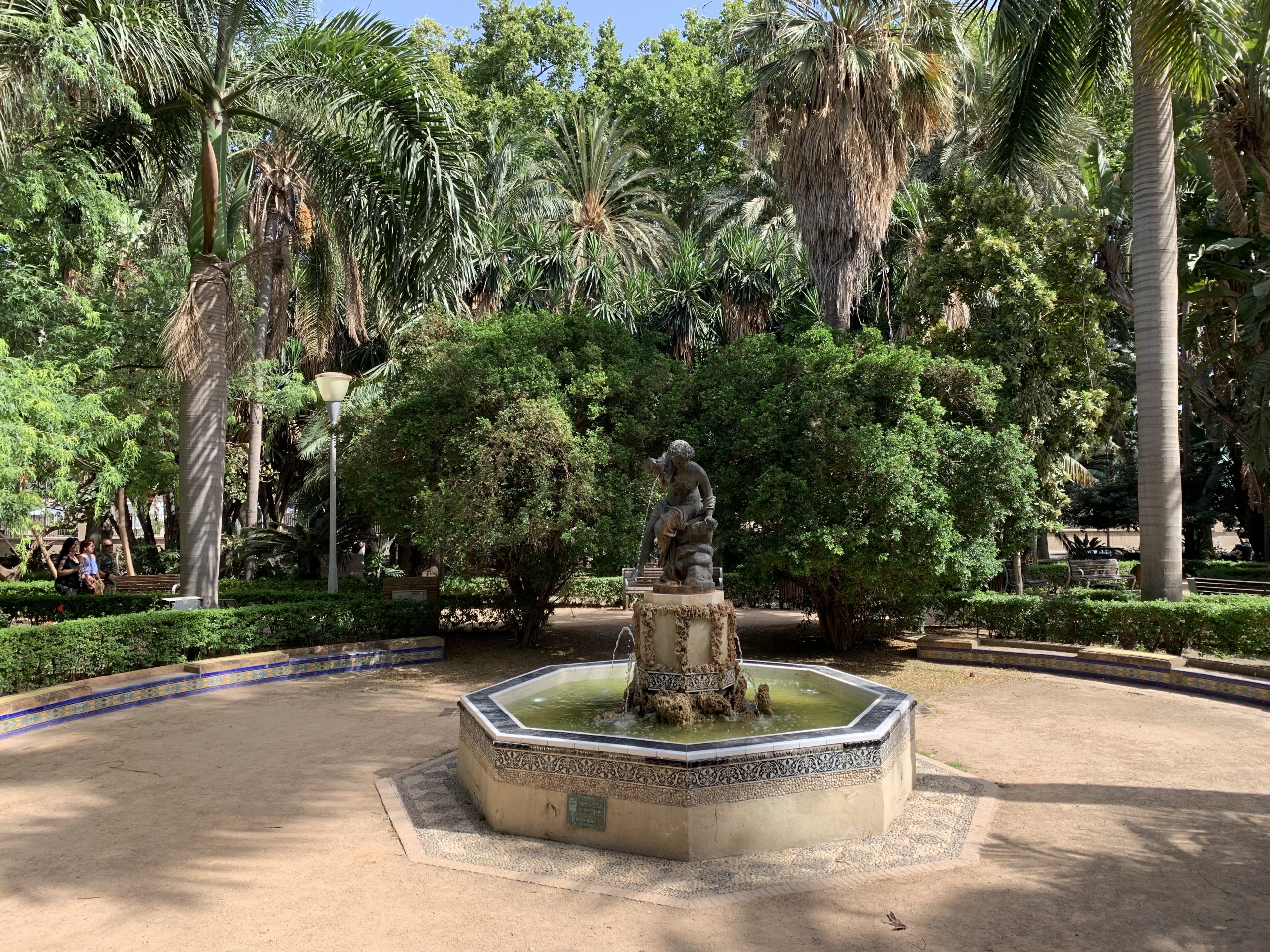 Gibralfaro, a beautiful fortress with mindblowing views
After the Alcazaba, the fortress of Gibralfaro is the second Moorish fortress in Málaga. It is located on the top of a mountain overlooking the port and the city. It was built in the 10th century which makes it even older than the Alcazaba.
In the 14th century Yusuf I of the Kingdom of Granada expanded the fortress and build a double wall that connected the fortress of Gibralfaro with the Alcazaba.
What can you see at the Gibralfaro today? The best-preserved remains are the ramparts rising above the trees. The fortress was used as a military base until 1925. A small museum shows the history of the Gibralfaro throughout the centuries. 
People say that on a sunny day with no clouds you might be able to see Morocco from the Gibralfaro fortress!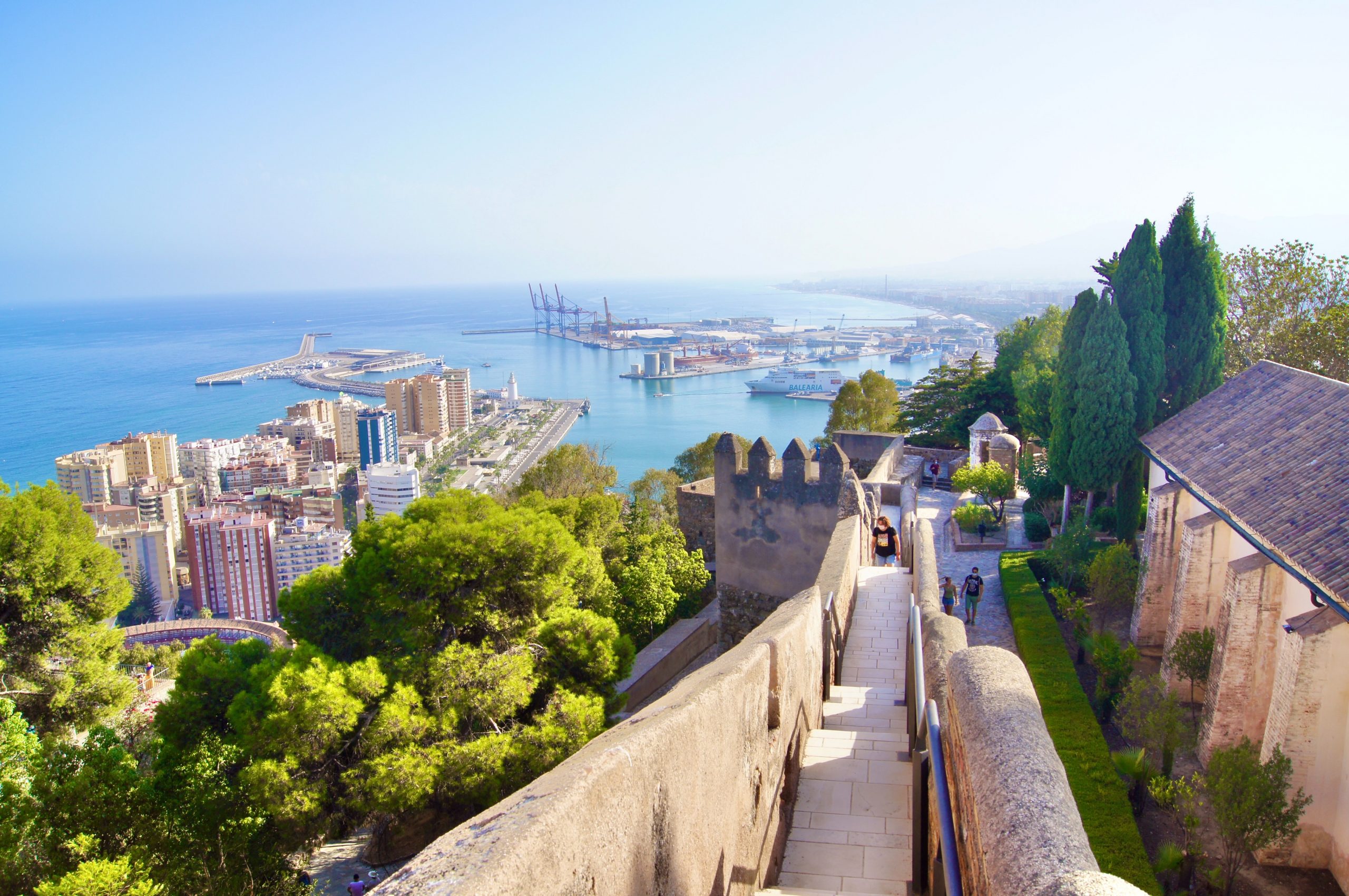 By the way, I do recommend going to the view point called "Mirador de Gibralfaro". The views from there during sunset are incredible! When I went to Málaga we walked the whole way up from Parque de Málaga, which took us around 25 min.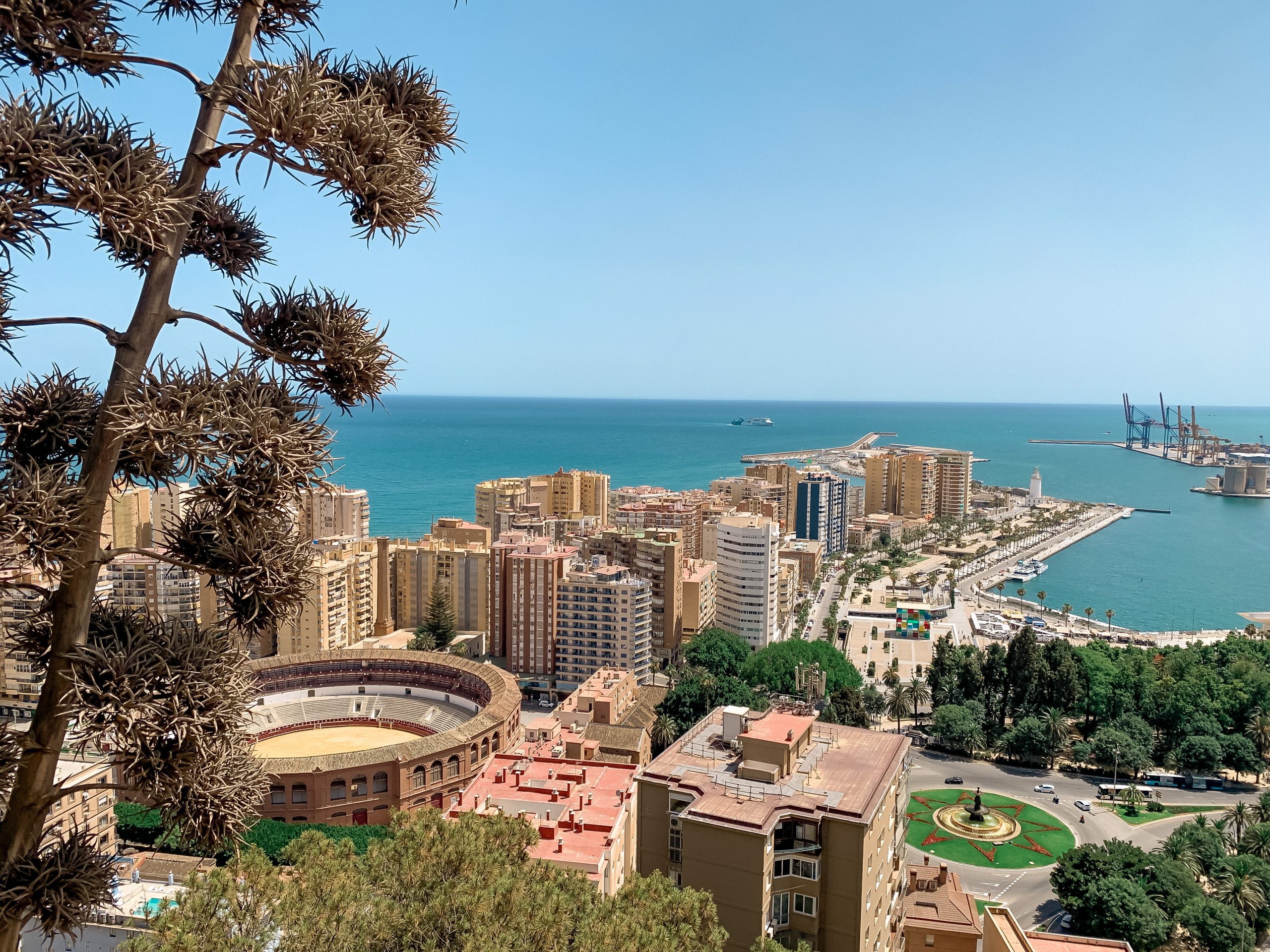 Visit Alcazaba, Málaga's most famous fortress
I am still sad I could not visit the Alcazaba as it closed early that day due to the elections in Andalusia. It is THE monument you have to visit when you are in Málaga. This also means that I definitely have to come back to Málaga, soon!
More about the Alcazaba: It is a Moorish fortress that was built in the 11th century and later used by the Romans. The situation of the Alcazaba is very strategic: On the top of a hill overlooking the whole city. What can you see during your visit to Alcazaba? Apart from the beautiful historical fortress, you will get to see its gorgeous gardens and unique architecture.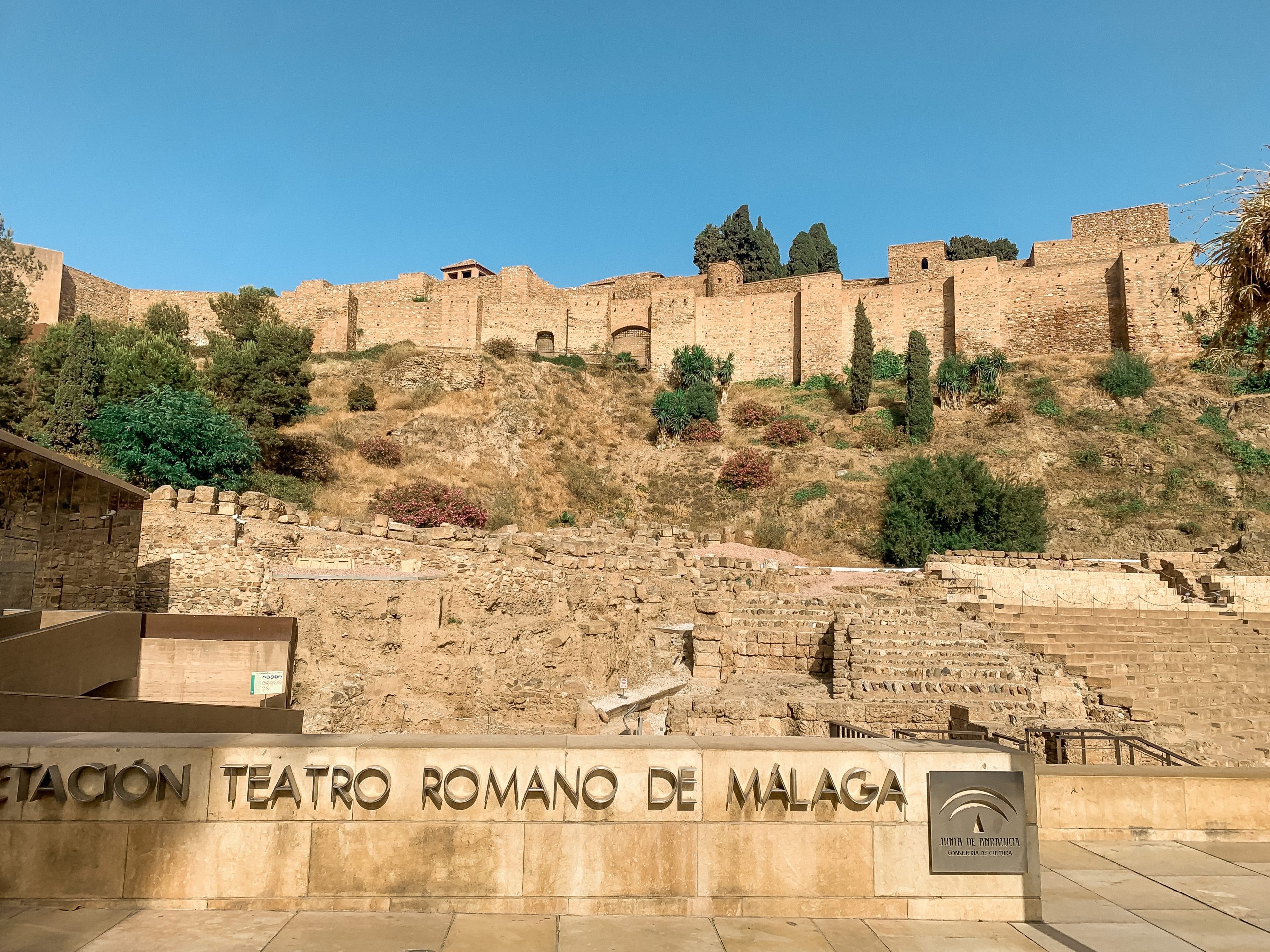 Does it also remind you of Alhambra in Granada? I am sure it will be your highlight during your stay in Málaga. Right behind the Alcazaba is a gorgeous viewpoint that we went to since we were not able to visit the Alcazaba itself: Pasarela Mirador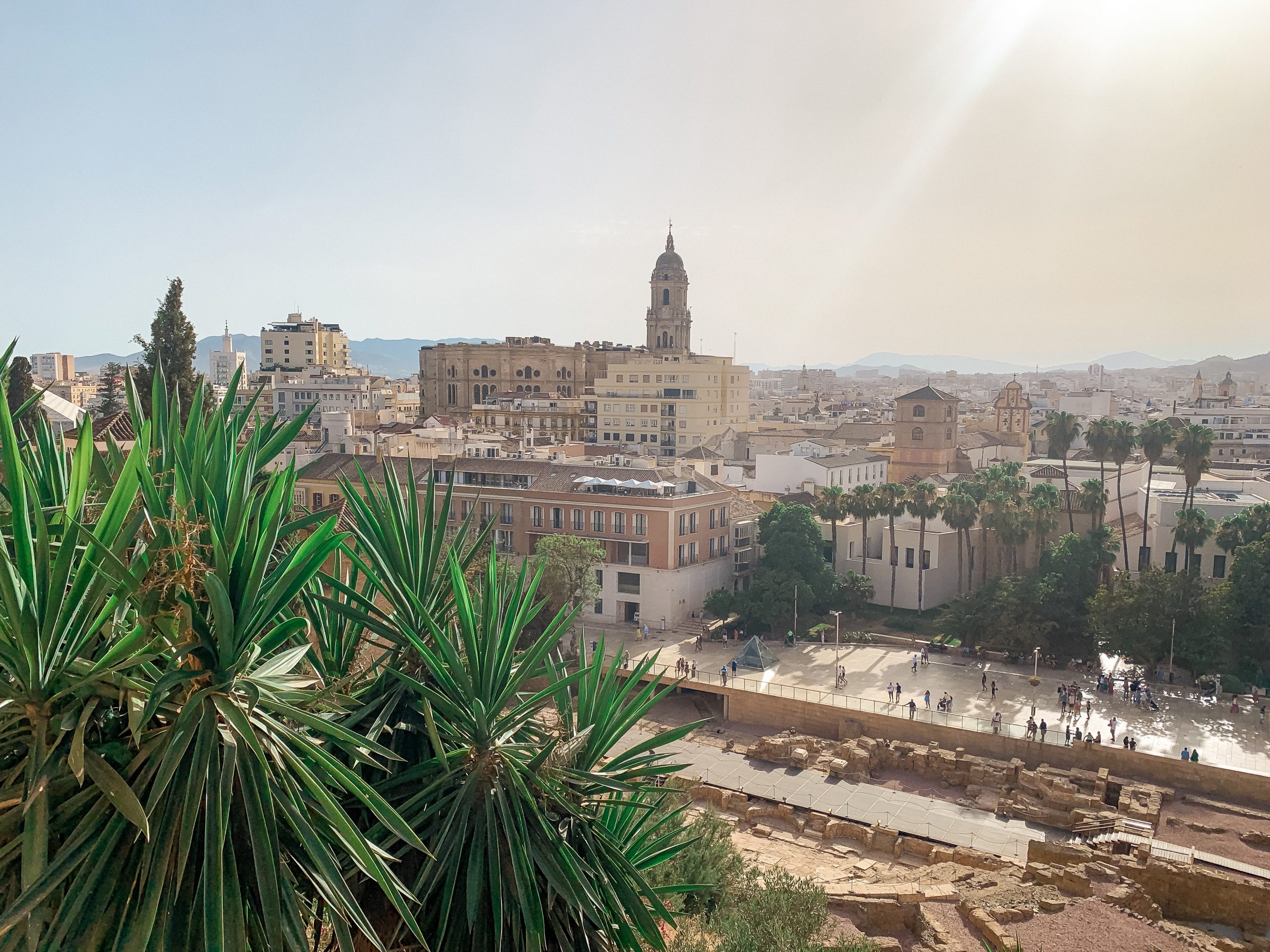 Other interesting activities you can do in Málaga:

Enjoy the evening at a Flamenco Show: Flamenco is a traditional dance from Andalusia that you have to see at least once in your life! And Málaga is the perfect place to go. You can find tickets for a Flamenco Show in Málaga here. 
Look for local goodies at the Atarazanas Market in Malaga
Do you also enjoy visiting local markets when you are on vacation? Then you will love the Atarazanas Market in Málaga! Many locals go there every day to buy fresh fruits, vegetables, meat, or fish. The market is also a nice place to hang out with friends while having a refreshing afternoon drink. Maybe you would like the Spanish classic "Tinto de verano"?
What I can definitely recommend is trying some "Pescaito" (fried fish) with a refreshing drink while you are there. If you are a big cheese fan, you should look out for the typical goat cheese from Málaga. It is usually made with milk from the local goats called "cabra malagueña". During your little stroll through Atarazanas market, you will also find other tapas and seasonal products. A true gem of Málaga you cannot miss!
An interesting fact about the Atarazanas Market: The market hall where the market is located in today was constructed in the 14th century and used to be a shipyard! It only became a market in the 19th century.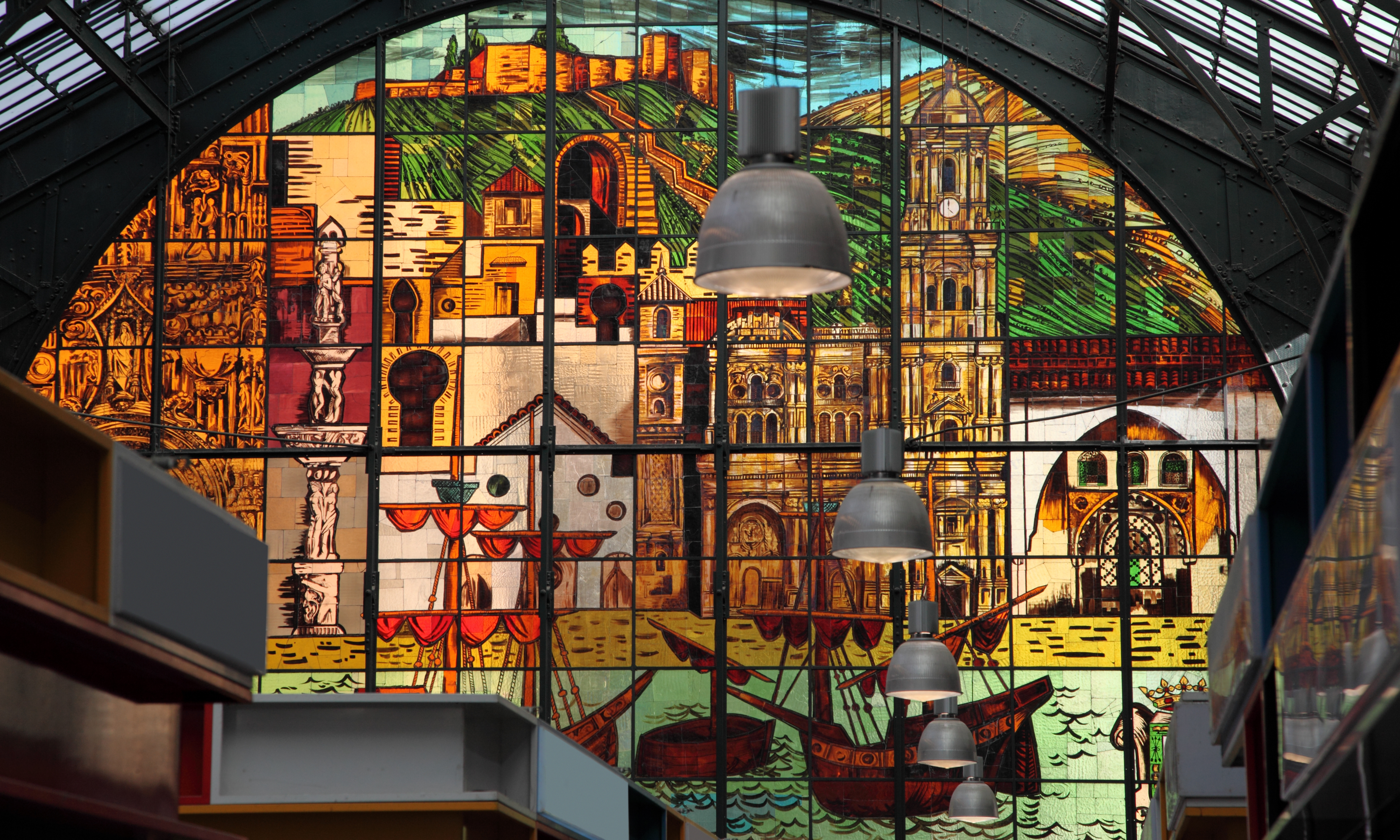 Spend time at the beach in Málaga
Of course, you cannot leave Málaga before checking out the beautiful beach! And the best thing is: You can easily reach the beach of Málaga from the city center. Playa de la Malagueta is one of the first destinations for a beach afternoon. Here, you will see locals and tourists sunbathing, relaxing, swimming or doing watersports.
Just a word of caution, it does get very hot during the day during the summer months. Don't stay in the sun for too long and wear protection!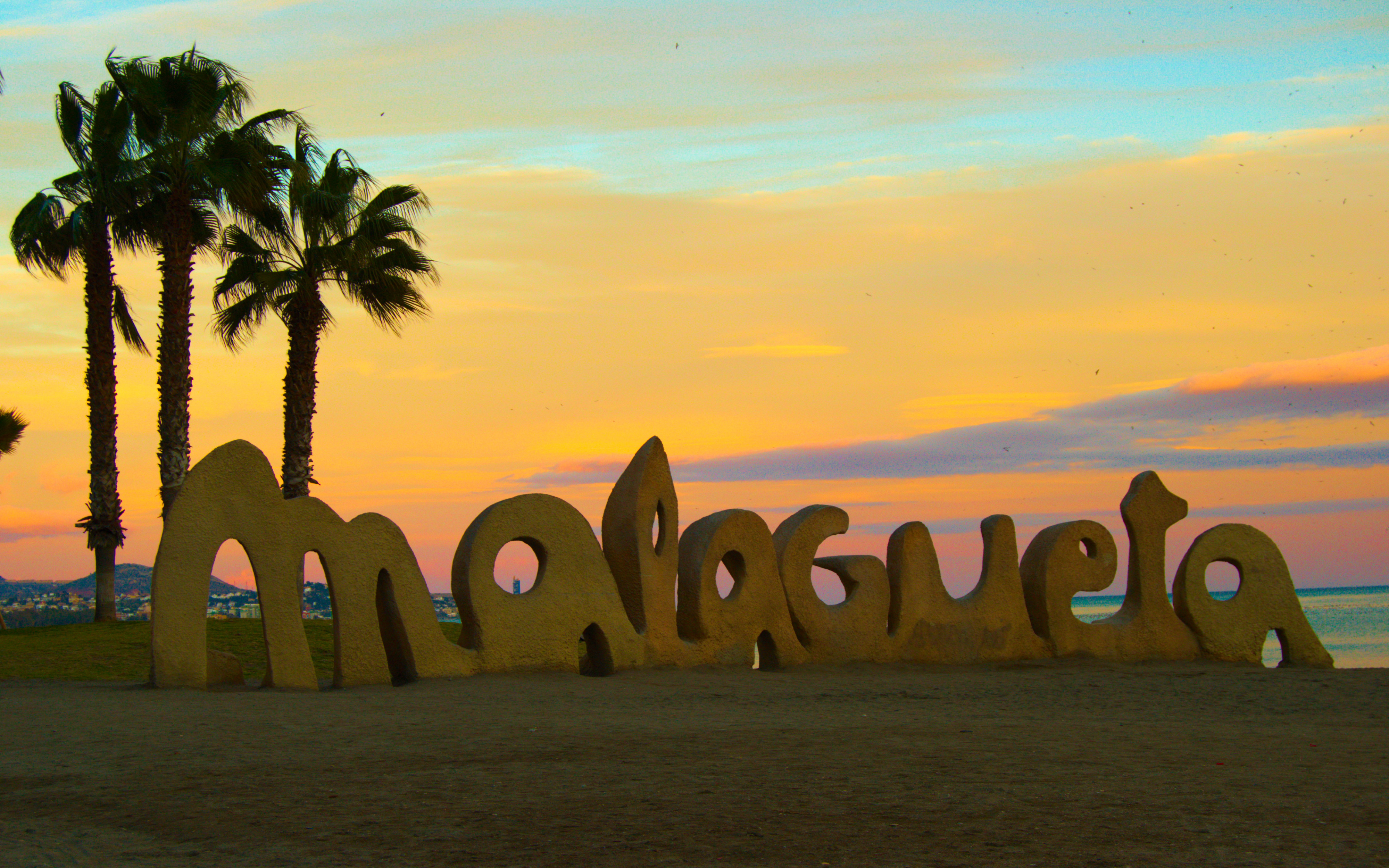 While you are already at the beach I really recommend trying the famous "Espetos" of Malaga. You can find them at pretty much any "Chiringuito" (beach bar) along the beach.
What are Espetos? Espetos are a dish common in Málaga that includes six sardines skewered on a stick and grilled at the beach. What started decades ago with fishermen grilling their own meal when they returned from the sea is now one of Málaga's most famous dishes!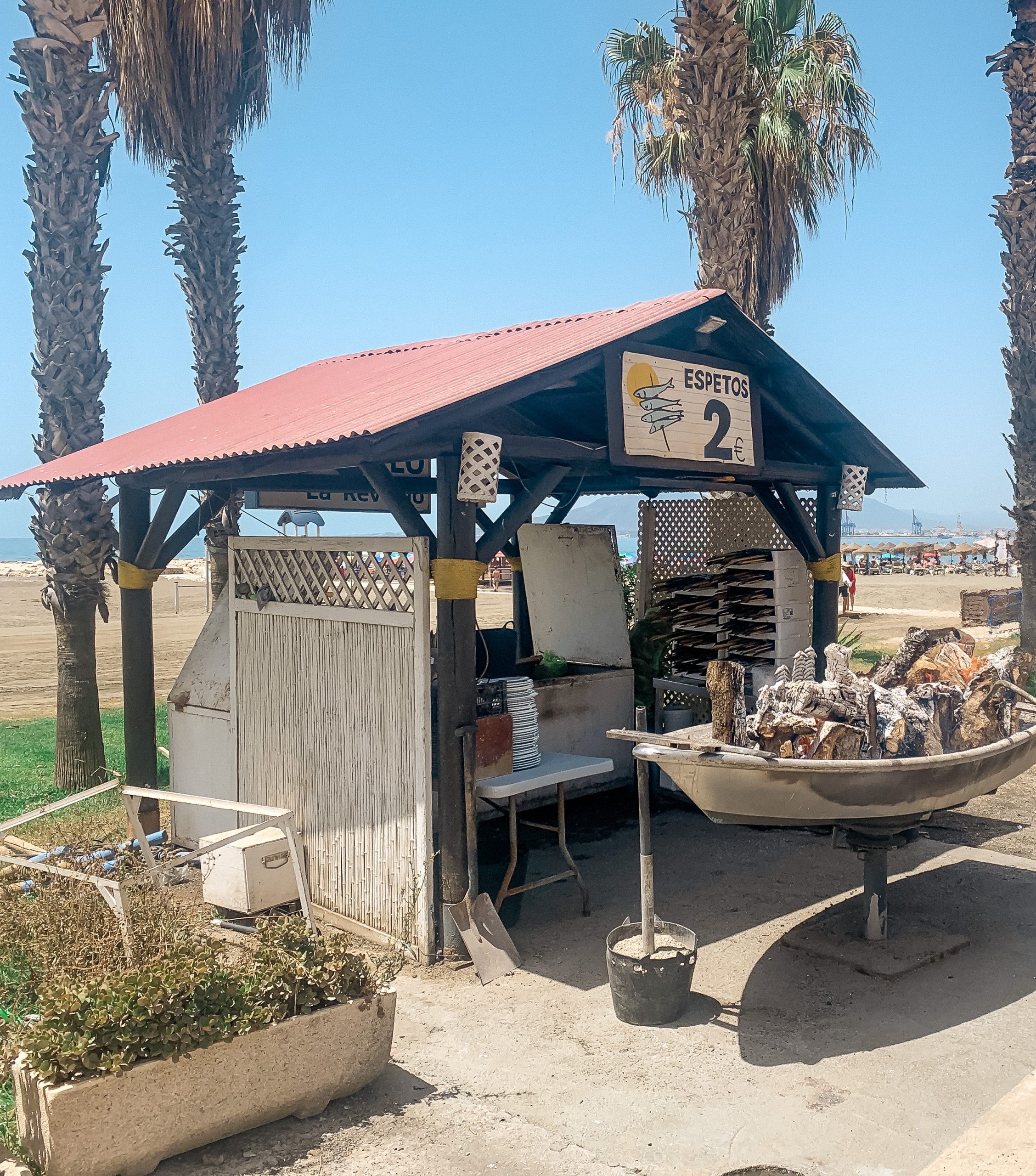 What about a sailing trip along Málaga's coastline?

If you are looking for a highlight of your day in Malaga, maybe it could be this boat trip along Malagas coast line? This trip only goes for one hour and costs 12€. A great deal!
Check out the Soho neighborhood, the bohemian area
Right behind Plaza Marina, which borders the Parque de Málaga, is the Soho neighborhood of Málaga. This is the bohemian and artsy area of the city. The perfect place to relax in the afternoon and grab a coffee.
This area is full of street art and murals of local artists. Here, you can look up "mural las ratas" on google maps to find the famous mural of rats. Apart from that, there are many coffee shops in the area you can explore.
What you really should visit is the CAC (Centro arte contemporáneo) Málaga, the modern art museum that shows local as well as international artists. It is located in a building that used to be a market and nowadays shows incredible contemporary art. And the best part: The entrance is free!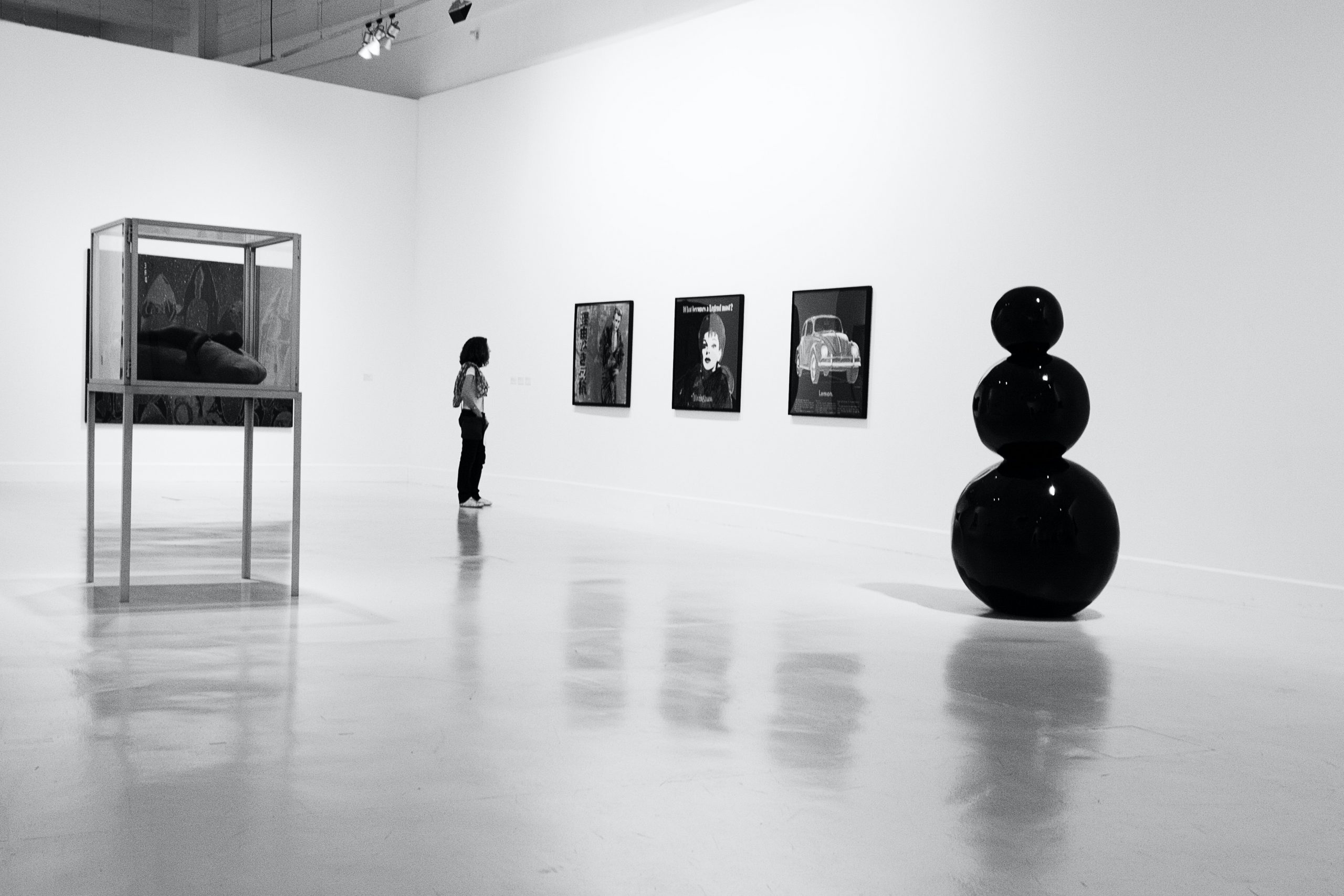 What are some nice food places in Málaga?
If you are in Málaga for one day, these are the places I can recommend:
Casa Aranda for a breakfast of churros con chocolate, coffee and orange juice
El Pimpi, a famous Spanish bodega that opened in 1971. You have to visit it during your day in Malaga
Pez Tomillo, a beautiful restaurant on the beach that offers amazing Mediterranean cuisine
Miguelito el Cariñoso, a restaurant that is famous for their seafood (try the espetos!)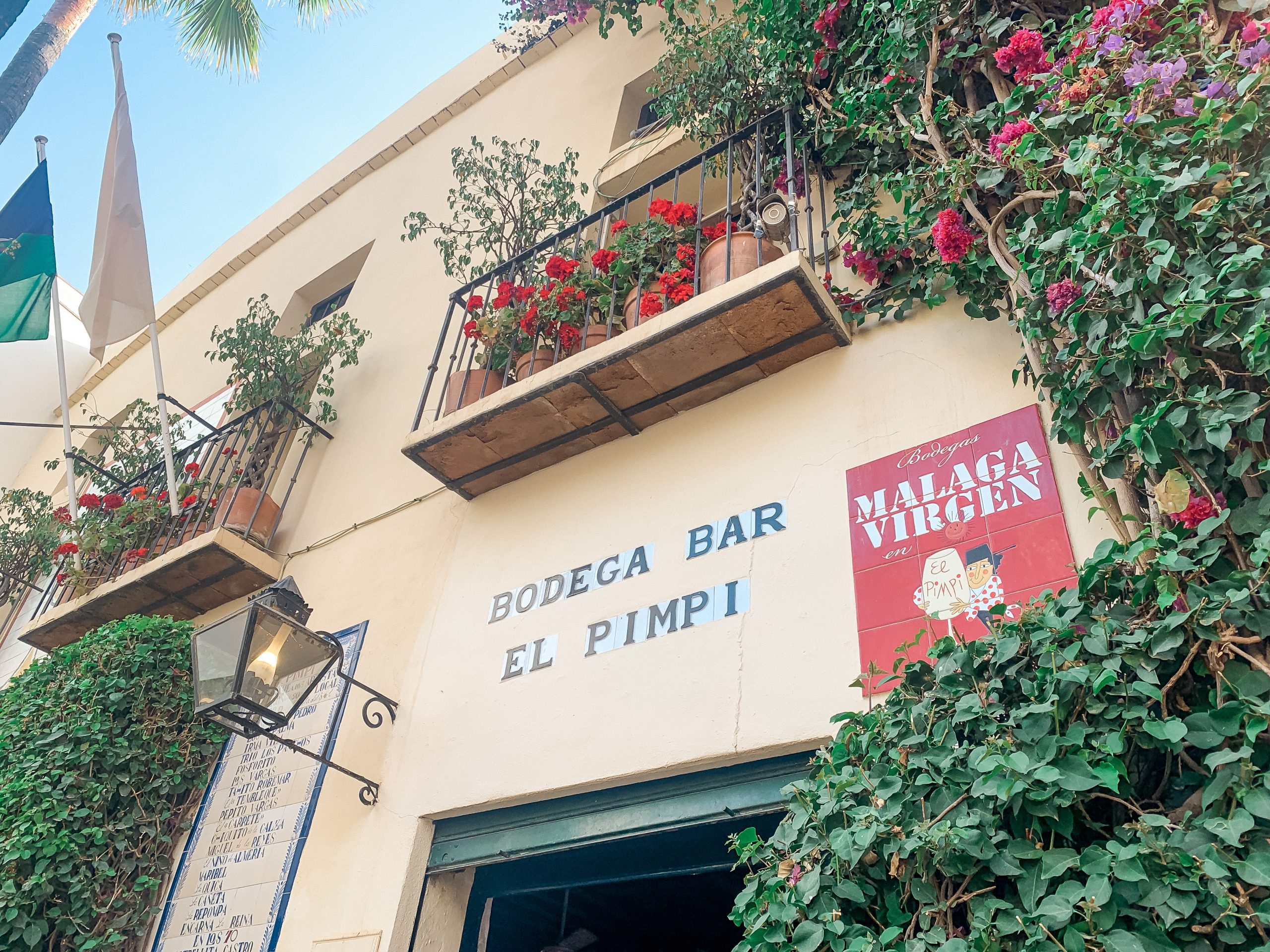 That was not enough?! If you end up staying longer than just one day in Málaga:
Look at the art in the Center Pompidou in Málaga
The Centre Pompidou in Málaga is a famous art gallery that was installed in 2015. It presents a couple of temporary exhibitions each year. It is located in the shopping mall called Muelle Uno. On top of the building is the famous colorful cube that you have probably seen in many photos before.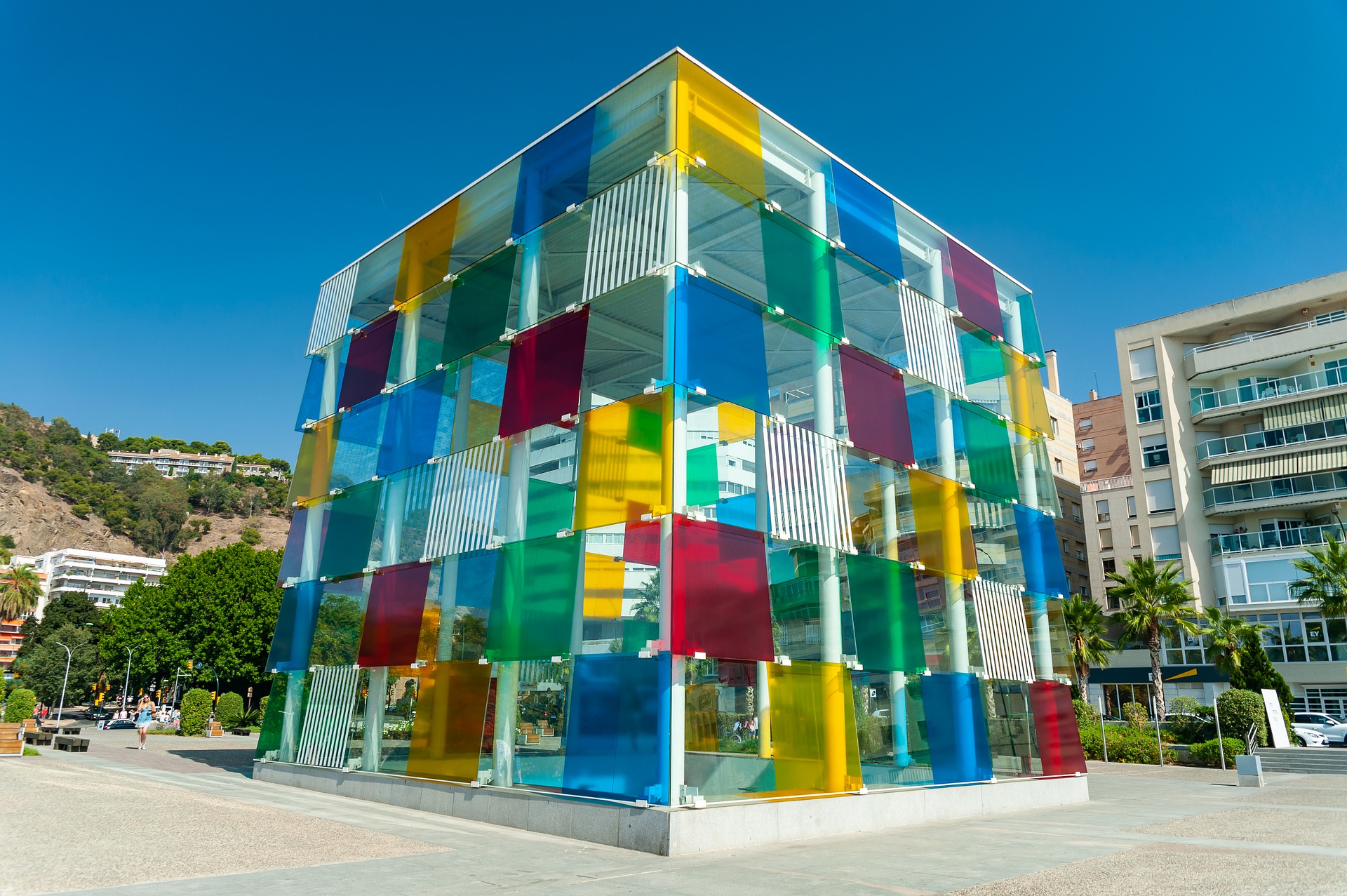 Visit the Pablo Picasso Museum
Did you know that Pablo Picasso is from Málaga? The Museum of Pablo Picasso is located close to his family home and shows more than 200 art pieces. This collection includes paintings, sculptures, and ceramics. But not only that! The museum is located in the Palacio de Buenavista, an incredible building from the 16th century.
Go for a one-day trip!
There are so many places close to Málaga that you have to visit! Andalusia is full of beautiful places. Here are a couple of destinations where you can go for a one-day trip from Málaga: A popular destination is Nerja, a beach town that is not too far away from Málaga. Frigiliana is also very close to Nerja, and is a village that is famous for its dreamy white buildings.