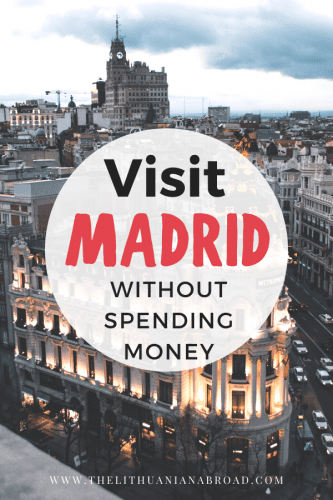 First of all, I want to thank you for choosing to come to Madrid, instead of going to Barcelona, where I figure the majority of people go. Maybe you were debating whether Madrid was the right choice and you actually wanted to go to a place by the beach. But let me tell you, you will fall in love with Madrid and you will not miss the beach. It has so much to offer culturally wise and, in my opinion, is so much more authentic than many other cities in Spain. I have been living here for more than three years, so I think I can tell you some secrets to visit Madrid on a budget! Get ready for 9 free things to do in Madrid, and add them to your bucket list 🙂
By the way, if you are looking for more low-budget things to do in Madrid, I wrote a blog post about 104 Cheap Things you can do in Madrid, that you can find here.
Other Madrid on a budget posts that could interest you:
Visit Madrid on a budget: Tips & Tricks
It is definitely possible to come to Madrid if you are traveling on a budget. Food, drinks and public transport are pretty cheap, compared to some other European Capitals. And if you add some of my following tips to your bucket list, you will end up saving A LOT of money!
1. Affordable places to stay in Madrid
Staying in the center can be quite expensive, but here are the places that I found that are budget-friendly. The ones I can recommend are the following ones:
I really recommend the Cats Hostel for its amazing location and international environment. Especially for backpackers and solo travelers, this is a great choice. They also plan social events so you will not have any problems meeting new people.
The Hat is a very great hostel as well and is known for its international environment. Apart from that, they also offer free breakfast and free Sangría in the evening. You will not have any problems meeting people as they organize events and pub crawls during the evening. The location is great, too. No wonder this is one of the most popular hostels in Madrid!
I stayed in Hostal Alexis while I was looking for a new flat in Madrid, and can recommend it! The location is great and they only have private rooms. And the best: I always struggle to find good Wifi when staying in cheap hostels. But their Wifi was so great that I had no problems working from my room!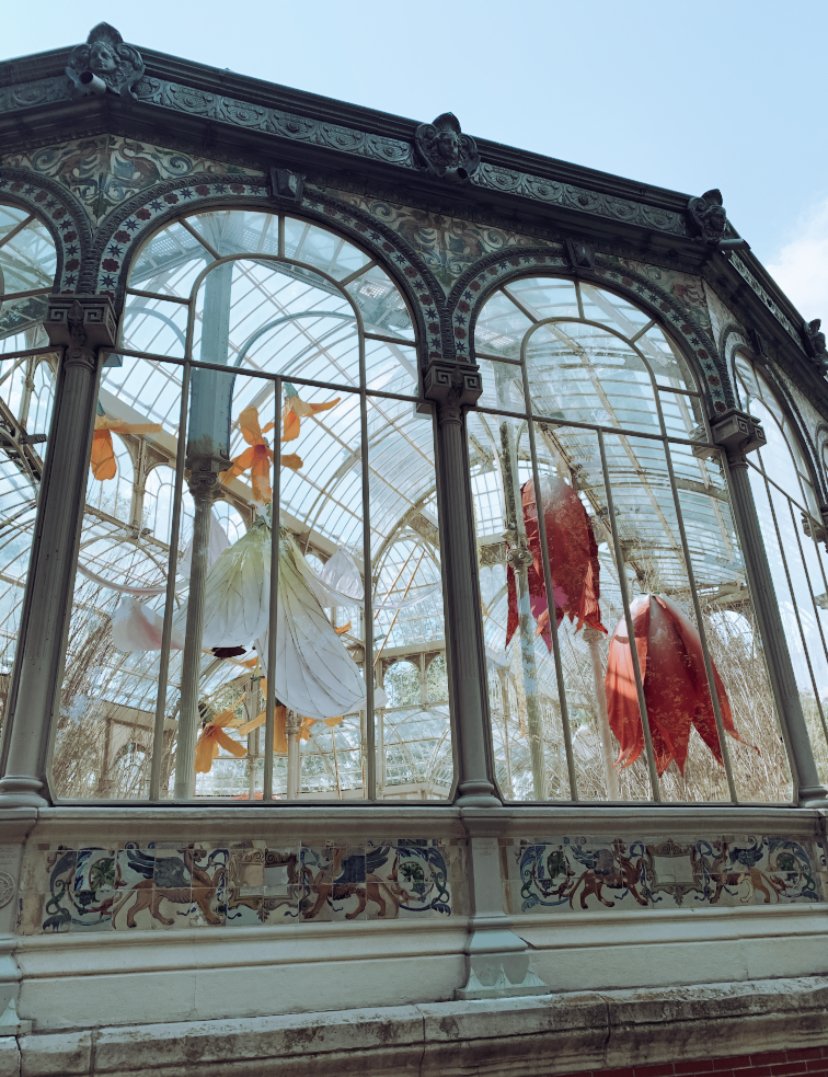 2. Templo de Debod, THE perfect spot for sunsets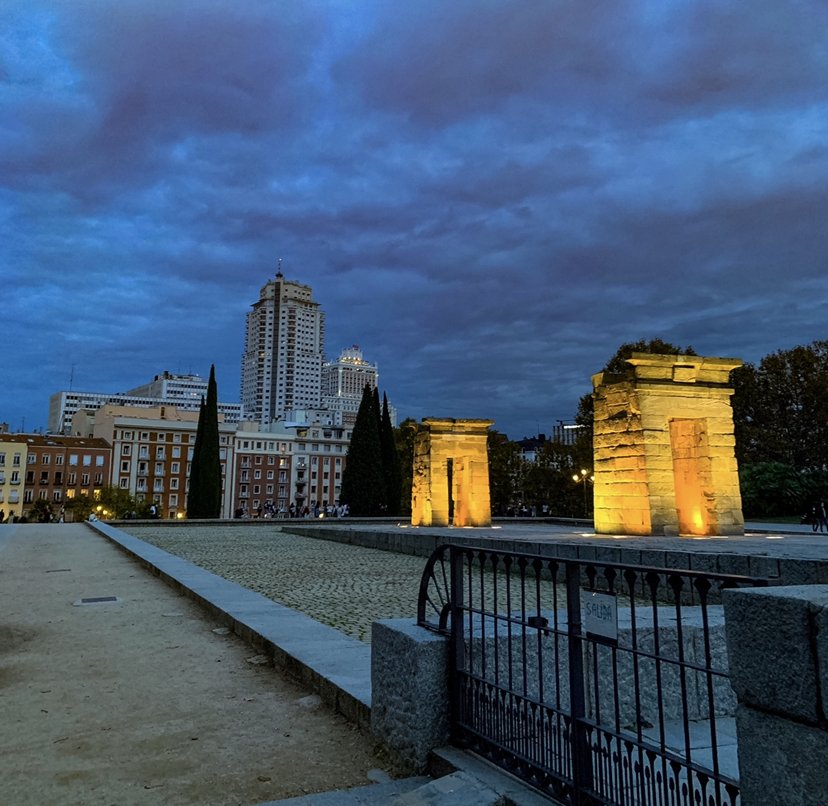 Let's just start with one of the most obvious places you can go for free in Madrid: Templo de Debod.  It's an Egyptian temple from the 2nd century that was initially dedicated to the goddess Isis. In 1968 it was donated to the city of Madrid due to the present risk of floods when Aswan High Dam was built. 
You can simply walk there from the city center or reach it by taking the subway to the "Plaza de España". Especially in the evening, the lighting is absolutely beautiful, which makes it a great place to see the sunset. You have an amazing view of the western part of the city and if you are tired, you can just sit down in the park. To me, it is one of the most beautiful spots in Madrid where I love taking people that come to visit me. And yes, it is free!
3. Go to the biggest art museums in Madrid for FREE!
Madrid has some really great art museums, and even though you don't really speak Spanish you can still visit them since most of them offer English translations. What some people actually do not know is that most of the museums in Madrid do offer free entries during specific times. Check out the information below:
Free Entry for the Reina Sofia (Arts museum)
The Reina Sofia is one of the most visited art museums worldwide and offers a wide range of mostly Spanish Art. Its collection includes paintings from Pablo Picasso and Salvador Dalí. Be smart, don't spend money on the entrance. Instead just go there during the last two opening hours, when the entrance is free:
Monday, Wednesday-Saturday: 19.00-21.00 (It's closed on Tuesdays!)
If you cannot make it during the free-entrance hours, you can book your ticket here.
Free Entry for the Museo del Prado (National Art Museum)
Together with the Reina Sophia, the Museo del Prado is one of the most important museums in Spain. It is known for having a fine art collection of European Art. The museum itself is huge. If you really want to see everything one day probably won't even be enough. But if you wanna see the most important things, I recommend you to go during the last two opening hours, which is free as well. 
Monday- Saturday 6-8 pm
Sundays & Public Holidays 3-5 pm
If you cannot make it during the free-entrance hours, you can book your ticket here.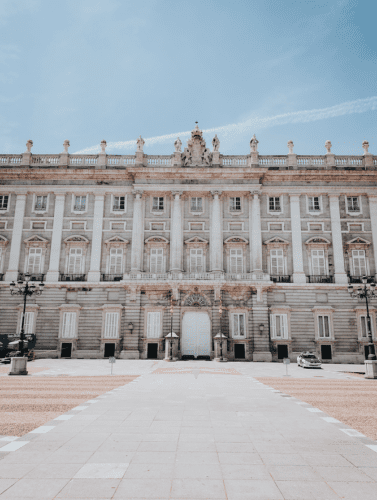 4. Free Entry for the Royal Palace (Palacio Real)
The Palacio Real is the official residence of the Royal Family in Madrid, but, needless to say, they do not live there anymore. It is almost twice as big as Buckingham Palace making it one of the largest royal palaces in Europe. Again, you can visit it for free, if you come during the last two opening hours: 
October-March: Monday-Thursday 6 pm-8 pm April-September: Monday – Thursday 5 pm-7 pm 
If you cannot make it during the free-entrance hours, you can book your ticket here.
5. Take a walk through Retiro and see the Glass Palace
In my opinion, the Retiro is one of the most beautiful parks I have ever been to. I love going there for walks on Sundays. You can go to the Rose garden, go to the "Jardines de Cecilio Ródriguez", which is a garden that has peacocks or go on one of the little boats on the main lake. Of course, going to the park is free, but while you are already there you can go to another place, which is absolutely stunning, and you guessed right, free as well!
Palacio de Cristal (Glass Palace):
It is a conservatory right in the center of the Retiro Park. It belongs to the Reina Sofia (see above), and is used nowadays for art exhibitions. The last time I was there, there was an exhibition on flowers. It is definitely worth checking it out.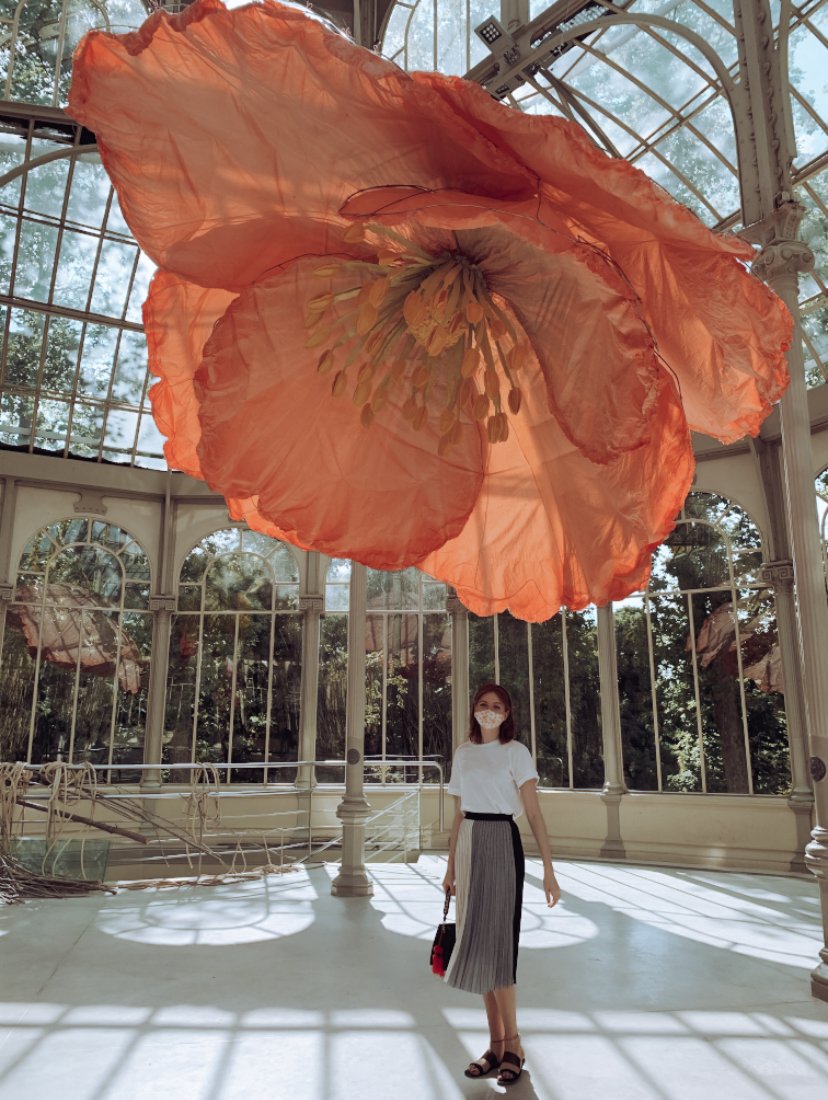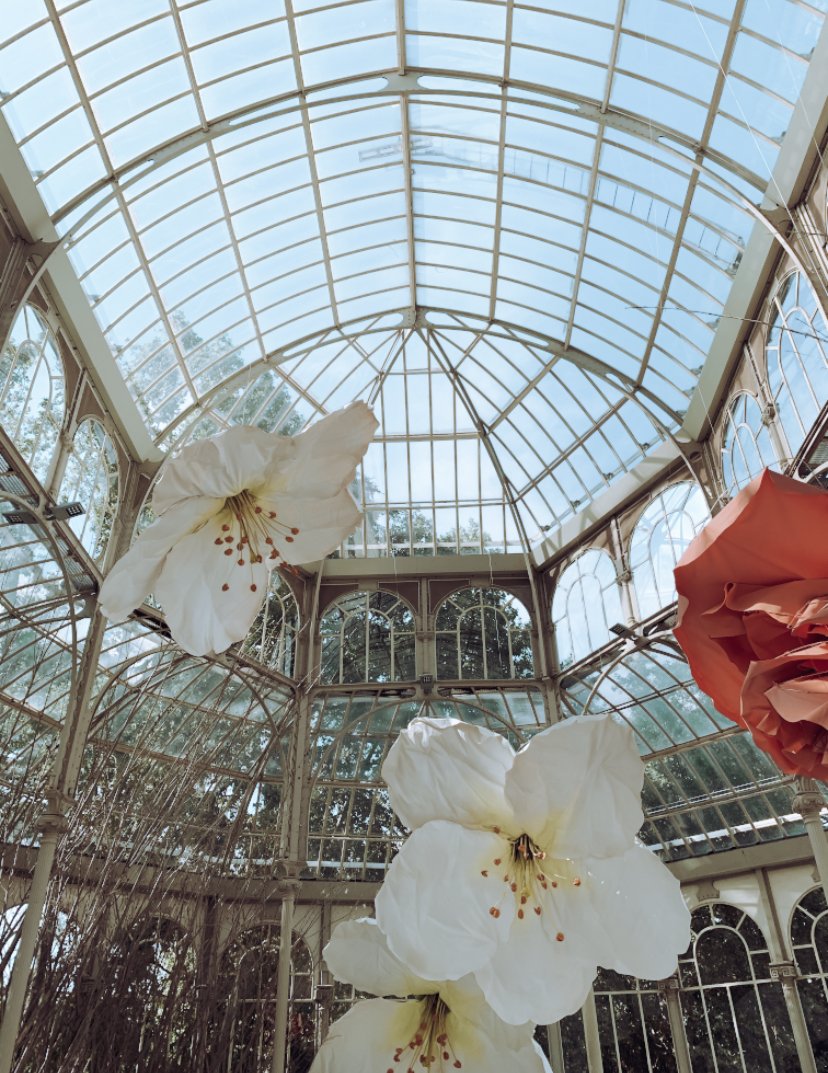 6. Check out the "Rastro", the most popular open-air flea market in Madrid
Are you in Madrid on a Sunday not sure what you should do? Then you should definitely check out the "El Rastro" in La Latina. It is a huge open-air market, where you can buy all different kinds of new and used products. The neighborhood is around the market is full of hidden and unique small shops and cafés. I definitely recommend getting lost there for a few hours 🙂
Sundays + public holidays from 9 am-3 pm
7. Do a free walking tour in Madrid!
I love doing free guided city tours when I go to cities for the first time. The first time I did a guided city tour in Madrid was before I even moved here. I visited the city with my mom and while she just went to one of those red buses that I always found quite boring I decided to go on one of these city tours where everyone meets up in Sol.
Even though I do not remember which company was the one offering the tour that day I have heard amazing reviews from both (Guruwalk & GetYourGuide) listed below. I have used Guruwalk in many cities and was always surprised by how great they are. The most important thing: The guides are always locals, so nobody knows the city better than they do. You as a visitor decide how much you actually want to pay your guide, depending on how much you liked the tour and how much you can actually afford.
Explore Madrid with the Hop-On Hop-Off Bus!
Madrid is a big city, so I understand that maybe you will not have the time and the energy to explore a whole city on foot. That's why the hop-on hop-off buses are a great alternative. The principle is simple: There are many buses driving around the city center of Madrid, covering more than 30 bus stops. You can simply hop on one of these buses and leave the bus once it arrives at your desired destination. If you want to take another bus again, you just have to wait for a new bus to come, which is usually less than 10 min away.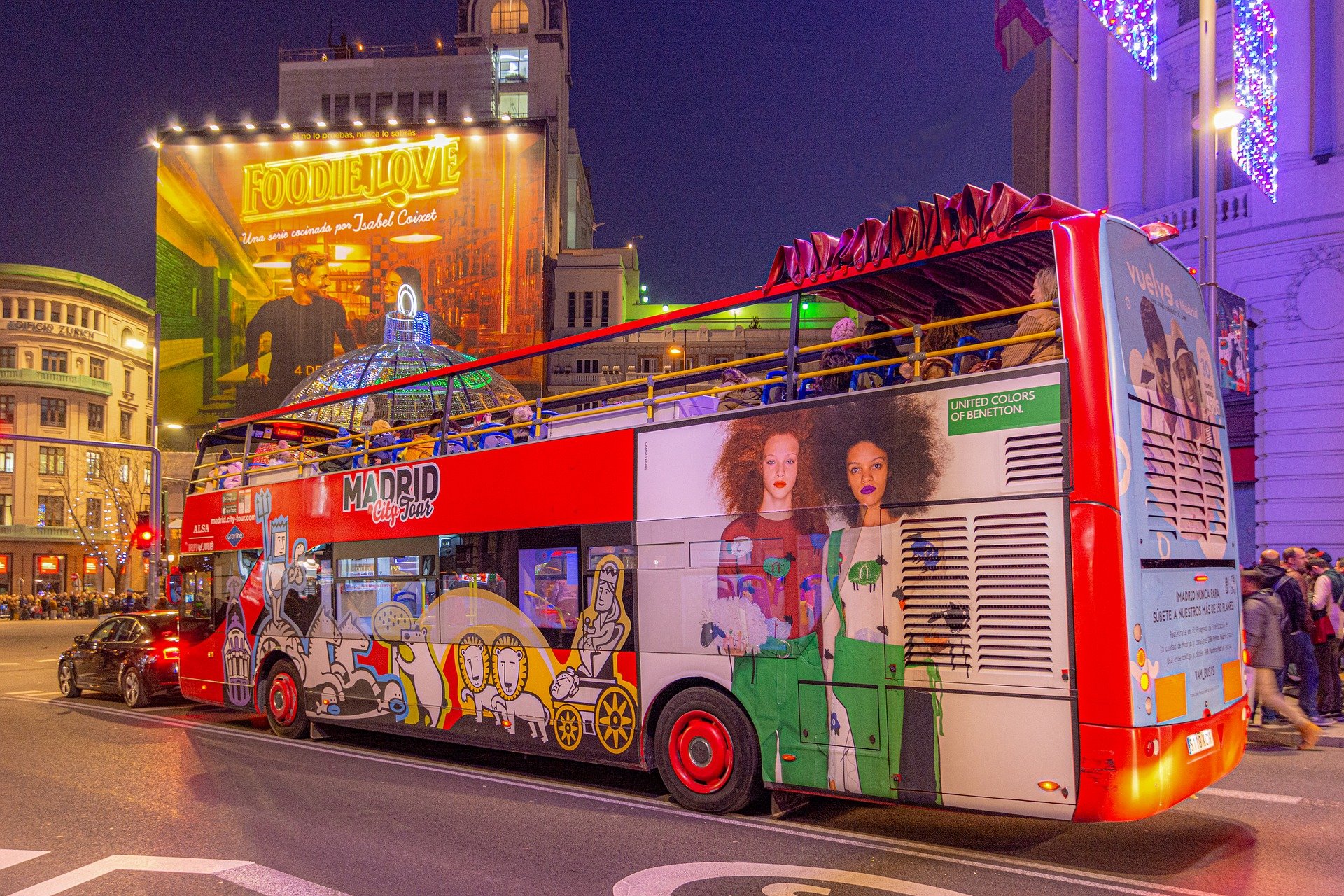 This is perfect if you plan on visiting Madrid with older travellers, that may not be able to walk so much. My mom went on one of these buses to explore Madrid, and absolutely loved it! It is definetely easier to see many attractions of Madrid in one day. Apart from that, it is very affordable. A ticket for one day costs 23€. If you want to select a ticket for two days, it's only 27€. By the way, an audio guide in 14 languages is included! 🙂
If you are unsure about booking a ticket: You can cancel up to 24 hours before the date starting date of your ticket and receive a full refund. You can find more information here 🙂
8. Try amazing Spanish food!
When it comes to food I always struggle to stay on my budget. You are on vacation, so you bloody deserve that dessert, an extra drink, and eating out three times a day, right? It definitely is possible to splurge in Madrid, but I am gonna get to that topic in another post. For now, I just want to tell you about the secret places where you can go to get amazing food for an amazing price.
100 Montaditos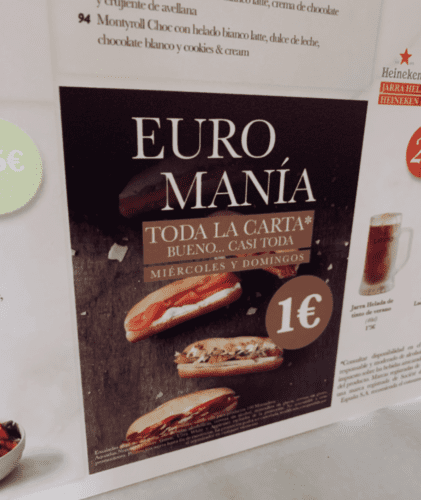 This place was a lifesaver when I was on my horribly paid internship. The whole menu consists of small sandwiches (=montaditos) and snacks like nachos or cheese balls. And here comes the best part: On Wednesdays and Sundays, each Montadito is just 1€. Yes, you read right, only 1€. There are several of these restaurants all over Madrid. 
---
El Tigre
There are two "El Tigre" in street "Calle de las Infantas" in the neighborhood Chueca in Madrid. They might look a little bit messy from the outside, but believe me, they serve great food here. So this is not exactly a restaurant, where you can order the food you desire. Here, you order a drink and you will get a plate full of tapas. This plate is usually enough for a meal. And if not you can just order another drink, and you will get a new plate full of food. Easy, right?
9. Enjoy the amazing view at Circulo de Bellas Artes!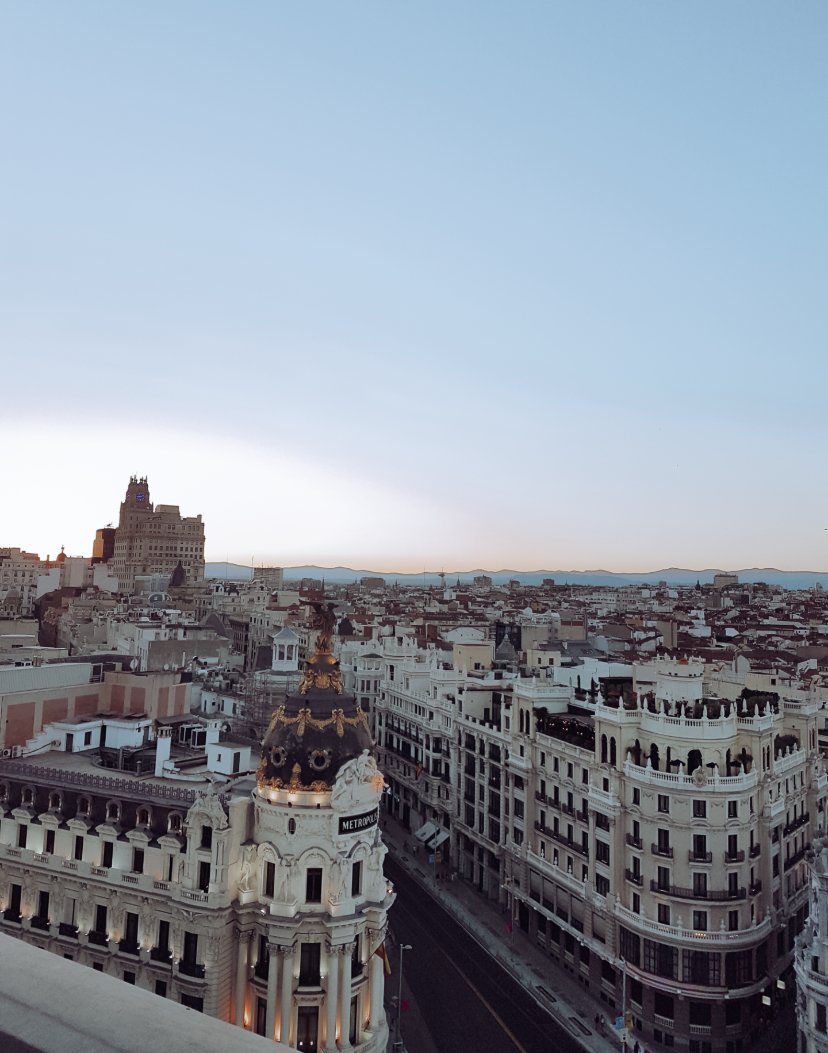 Madrid is full of rooftop bars and once you start going to one, you won't ever be able to stop. Unfortunately, because they are expensive as hell. There are many cute rooftop places I enjoy but this one is often my choice when friends are visiting me. First of all, entry is only 4€ (no drinks included). If you do not feel like it, you don't have to spend any more. Just enjoy the view and have a great time there. There are other places that charge you 12€-15€ with one drink included, but the view here is just as gorgeous.
Do you need more low-budget tips for Madrid?
I hope you enjoyed this 'Madrid on a budget guide' as much as I enjoyed writing it. Let me know what you think. Did I forget something? I wrote a veeeery detailed low-budget guide in Madrid where I give you more than 100 things you can do in Madrid for free, which you can find here.