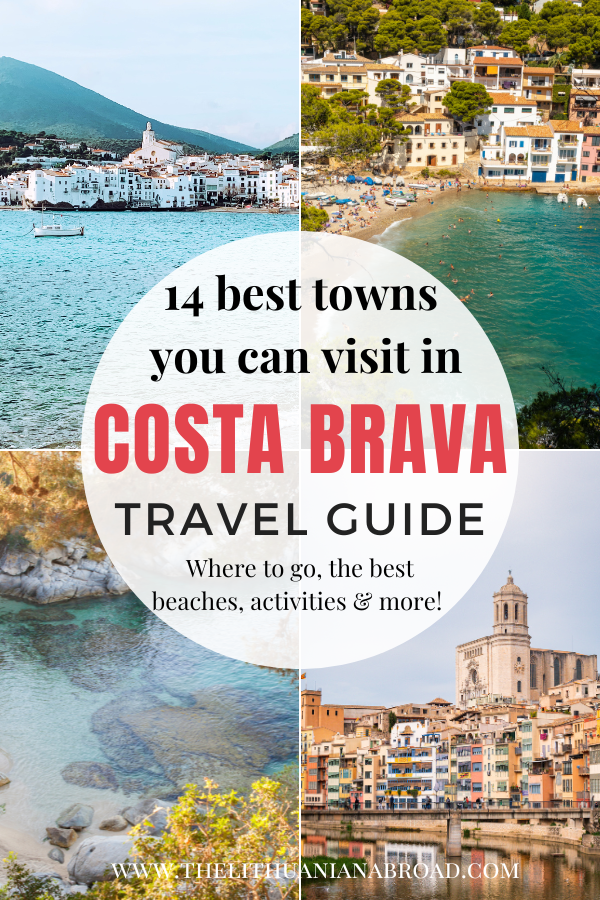 This summer my boyfriend and I decided to spend our summer holidays on the beautiful coast of Costa Brava. In total, we spent one week exploring the most beautiful towns, beaches, and remote areas. And the outcome is the following blog post. Here, you can find the best towns in Costa Brava you have to put on your bucket list. 
If you are planning to visit Costa Brava soon, you made the right choice! The Costa Brava is a great place for a couples trip, for a family holiday but also for a trip with a friend group. Here, you will find idyllic landscapes, incredible beaches with clear blue water, and tons of activities to do!
Apart from that, I will tell you everything you have to know before visiting Costa Brava's best towns. We will talk about the best activities, day trips, places to stay, and more. That way, your Costa Brava trip will turn out incredible!
---
Affiliate links may be sprinkled throughout the free content of this blog post. If you purchase from one of the links I may receive a small commission while the price for you stays the same. This helps me cover the costs of The Lithuanian Abroad. Gracias!
Other blog posts you have to check out: 
Barcelona Bucket List with the best activities to do in Barcelona: This post includes the ultimate bucket list for visiting Barcelona. Full of incredible must-do activities to make your stay unforgettable!
Spain's Tipping Culture, everything you have to know: You can find everything about Spain's tipping culture in the following blog post. Check it out!
Everything you have to know about visiting Cadaqués: Cadaqués is one of the most beautiful, and one of my favorite cities in Spain. I wrote a blog post about visiting it that you can find here.
13 incredible city breaks in Spain for your bucket list: This post includes 13 amazing destinations that you have to visit in Spain. The most amazing cities for your Spain bucket list!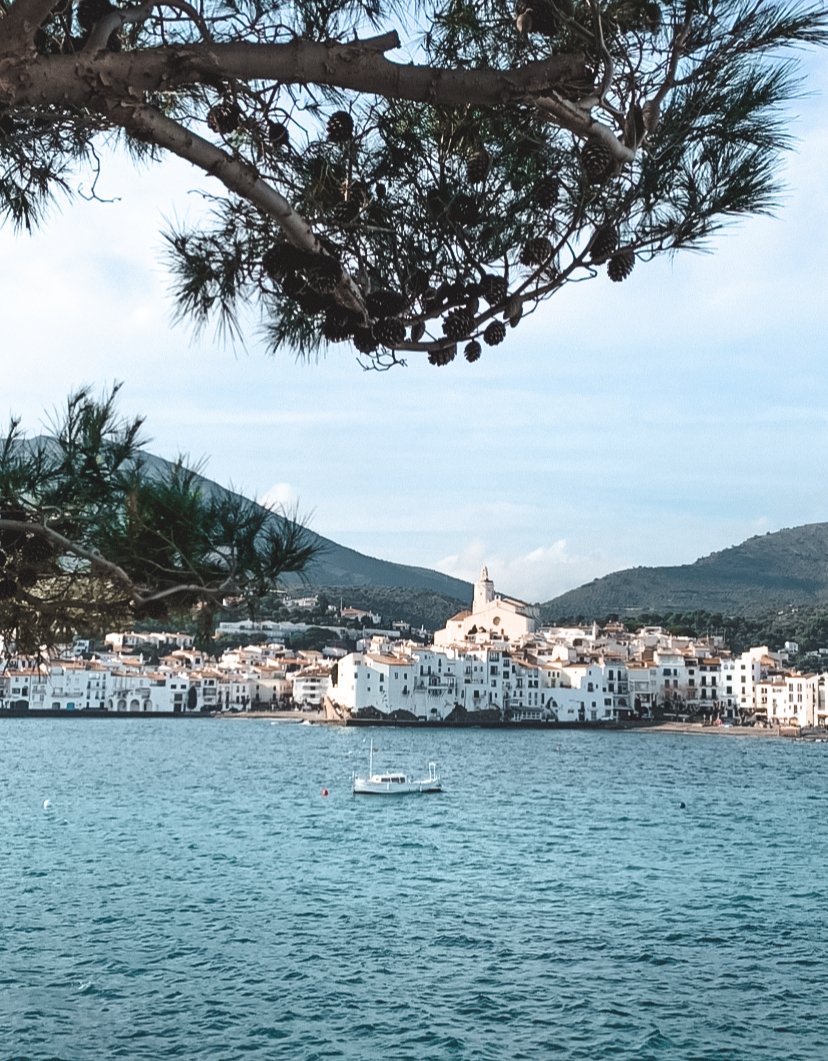 Before we start with the best towns in Costa Brava: Make sure to rent a car for your road trip 
A very important tip before we start talking about the most beautiful towns in Costa Brava: Make sure to rent a car on your Costa Brava road trip. Out of experience, I can tell you that it will be rather challenging to reach the best towns and beaches if you are relying on public transport. Most of the destinations at the Costa Brava are smaller towns that are not exactly well connected to the local bus system. 
Apart from that, you will be so much more flexible when you rent a car and can visit beaches and other places at your own pace. We rented our car on rentalcars.com and it was way cheaper than expected. I would recommend renting your car from the airport in Barcelona (if your road trip starts there) or the Barcelona Sants Train Station. That way you don't have to go all the way to the airport to pick up your car. 
By the way, you can already get your car with insurance on rentalcars.com. That way you don't have to worry about damages on your holiday. 
Let's start: The 14 most beautiful towns in Costa Brava you cannot miss!
Girona, probably one of the best-known towns in Costa Brava
Girona is the perfect town to start our "best towns in Costa Brava" list! This is a town in the Northeastern area of Spain, known for its medieval buildings. While we have already mentioned that, Girona is surrounded by incredible medieval walls that you can walk on. This is the place where you can get to see the most incredible views of Girona! 
Apart from that, Girona is also famous for its Jewish Quarter, which is really worth visiting as well. This area of town is incredibly well-preserved and almost still the same as it was when the Jewish population lived here, almost 500 years ago.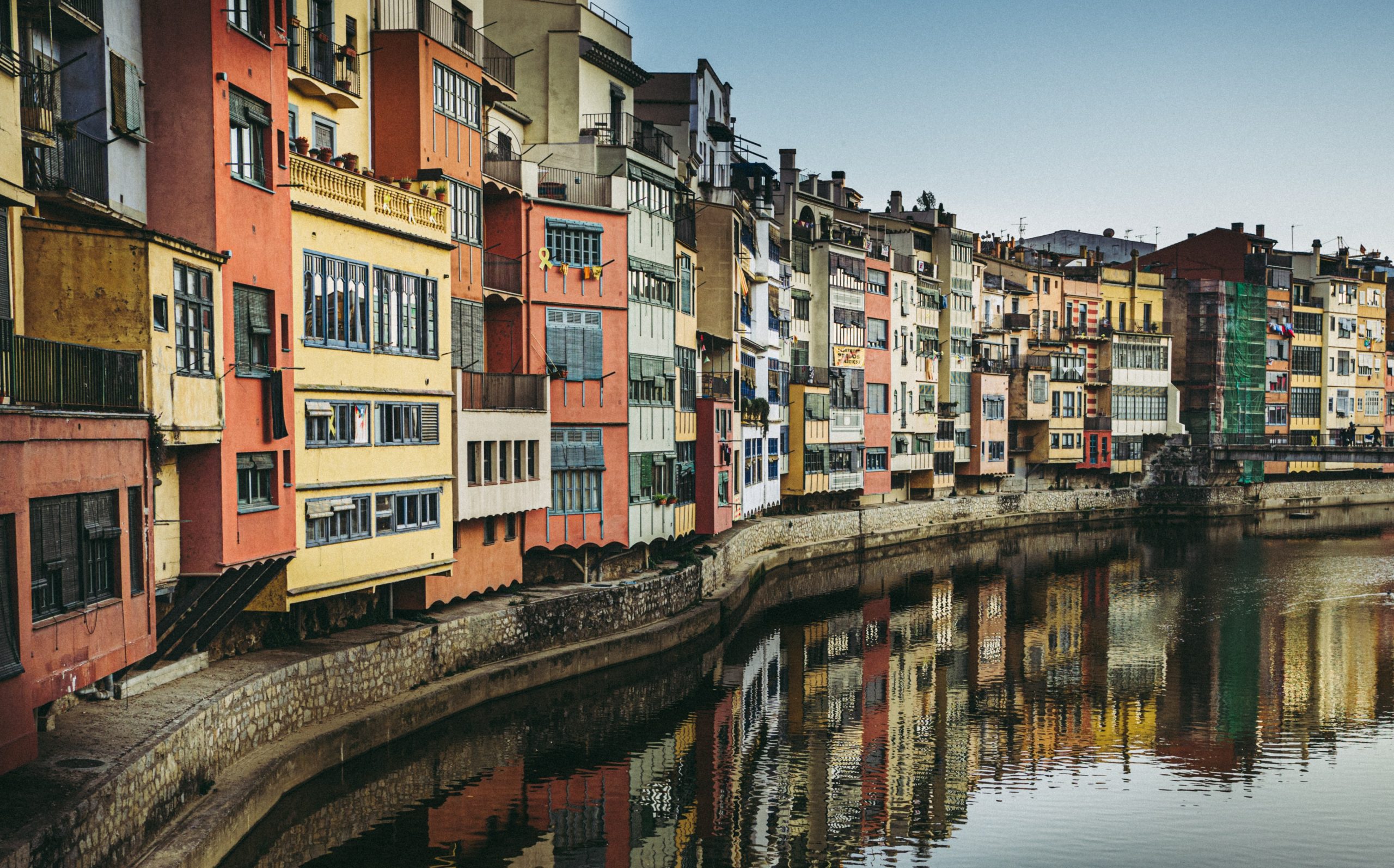 And last but not least, Girona is THE PLACE that Game of Thrones fans have to visit. You probably already guessed it: Girona was used as one of the filming locations in season 6. To be specific: Girona was Braavos in season 6. By the way, there are specific walking tours that take you to the filming locations and give you all the insider information that you probably did not know yet! The perfect tour for Game of Thrones fans.
By the way, I would really recommend doing a free walking tour in Girona! It is such an incredible town full of history and architecture that I am sure you would love going on a tour with a local guide here. You can find all free guided tours in Girona here.
2. Figueres, the famous birthplace of Salvador Dalí
Figueres was the last stop on our Costa Brava trip, but just as impressive as we had imagined it. As you probably already know, Figueres is famous as the birthplace of the Spanish artist Salvador Dalí. Figueres also houses the incredible Teatre-Museu Gala Salvador Dalí, an incredible museum that you really have to visit. Dalí himself designed this museum, which attracts a lot of visitors every single day.
Let's start with the museum: We ended up staying much longer in the museum than expected, for two hours. If you are a Salvador Dalí fan, you could even stay there much longer. This museum is incredibly interactive and interesting, even if you are not the biggest art lover. My tip would be to get your tickets beforehand. Thankfully, we booked our tickets a couple of days before, because when we arrived the museum only sold tickets for the following days. So there was no way of entering the museum on the same day. 
I think that Figueres is perfect for a one-day trip. That way you can visit the Teatre-Museu Gala Salvador Dalí and explore the beautiful city center.
3. Cadaqués, the town in Costa Brava many painters were in love with
Cadaqués will always be one of the best cities in Costa Brava I have ever visited. I have been there twice already and I would always love to come back. Cadaqués is located further North of the Costa Brava close to the French border. The way going there is a bit tricky, but once you are there you will see that it is absolutely worth it. Cadaqués looks like a small fairytale town, full of small white houses that look insanely beautiful next to the blue water. It used to be a small fishing village before it turned into the popular tourism destination that it is today.
But not only that. Cadaqués is also full of history! Spanish artist Salvador Dalí had a house in Cadaqués which nowadays is a museum that you can visit. We visited it a couple of years ago and found it so impressive! Cadaqués is also famous for attracting many famous artists over the last years. Pablo Picasso and Joan Miró were frequent visitors to this dreamy town in the Costa Brava in the 20th century.
Apart from that, you can just walk around the city, spend a day at the beach, try the amazing food there, and just enjoy the incredible views in Cadaqués.
4. Roses, the town in Costa Brava with the most beautiful coast
Roses is another beautiful town in Costa Brava very close to Cadaqués. Nowadays, it is an important fishing port and tourist town. And once you are there you will understand why: Roses offers incredibly dreamy beaches and picturesque bays, full of crustal clear water. This is one of the best towns in Costa Brava if you want to spend your days relaxing at the beach. 
That is why Roses offers many water activities and different tours you can do during your stay there: 
Rent a boat without needing a license!
In Roses, you can rent out a small motor boat without needing a license or hiring someone to go on a boat with you. My boyfriend and I did this exact activity in Platja D'Aro and had so much fun! I just found the same tour in Roses, so make sure to check this one out!
You can find more information about boat rentals in Roses here.
Do a boat trip to Cap de Creus and see Costa Brava's most beautiful bays
Costa Brava is all about the different beaches and bays. Some of them are only reachable by boat which is why doing a boat tour is very recommended. These boat tours take you to different bays where you can go snorkeling or for a swim. The best about it is that these remote bays usually don't have other boats/people present. Which means that you have the whole bay for yourself. Check out this boat tour that will take you to Cap de Creus Natural Park, one of the most beautiful natural parks in Spain.
You can find more information here.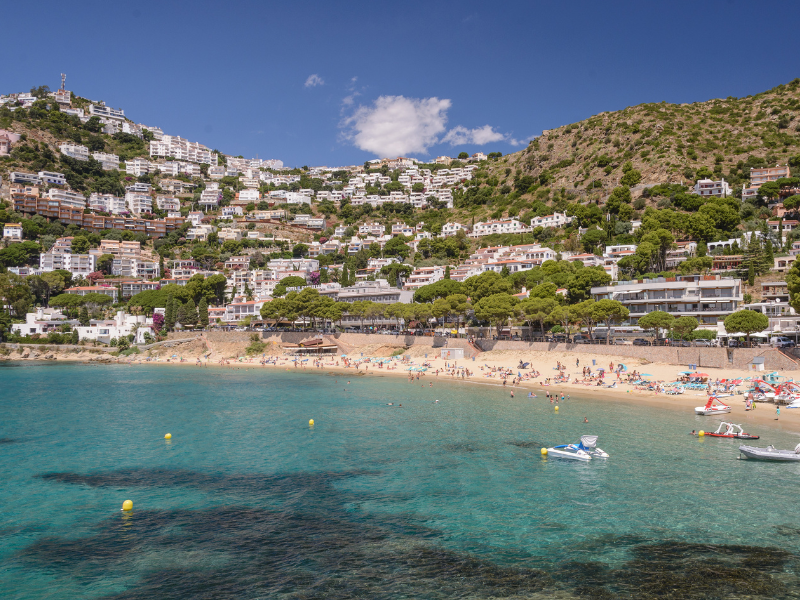 5. Platja D'Aro, one of Costa Brava's most popular areas
Platja d'Aro is another popular destination you can visit on the Costa Brava. We were surprised about how big it was and how many people ended up staying there! This is a place that offers many different shops, restaurants, and bars. You can find many different chains there, from lefties to KFC to La Tagliatella. Platja D'Aro is full of different hotels, tall buildings, and different places to stay for all kinds of travelers. 
While the town seemed very busy, the beach was actually very nice and not too crowded. I think that since this beach is incredibly long and spacious there is enough space for everyone to stay there during the day without fighting for a spot.
From what I have seen, it is especially popular amongst traveling families and larger friend groups. My followers on Instagram confirmed that many families end up staying in Platja d'Aro because the beach is very family-friendly and there are many activities there you can do with children.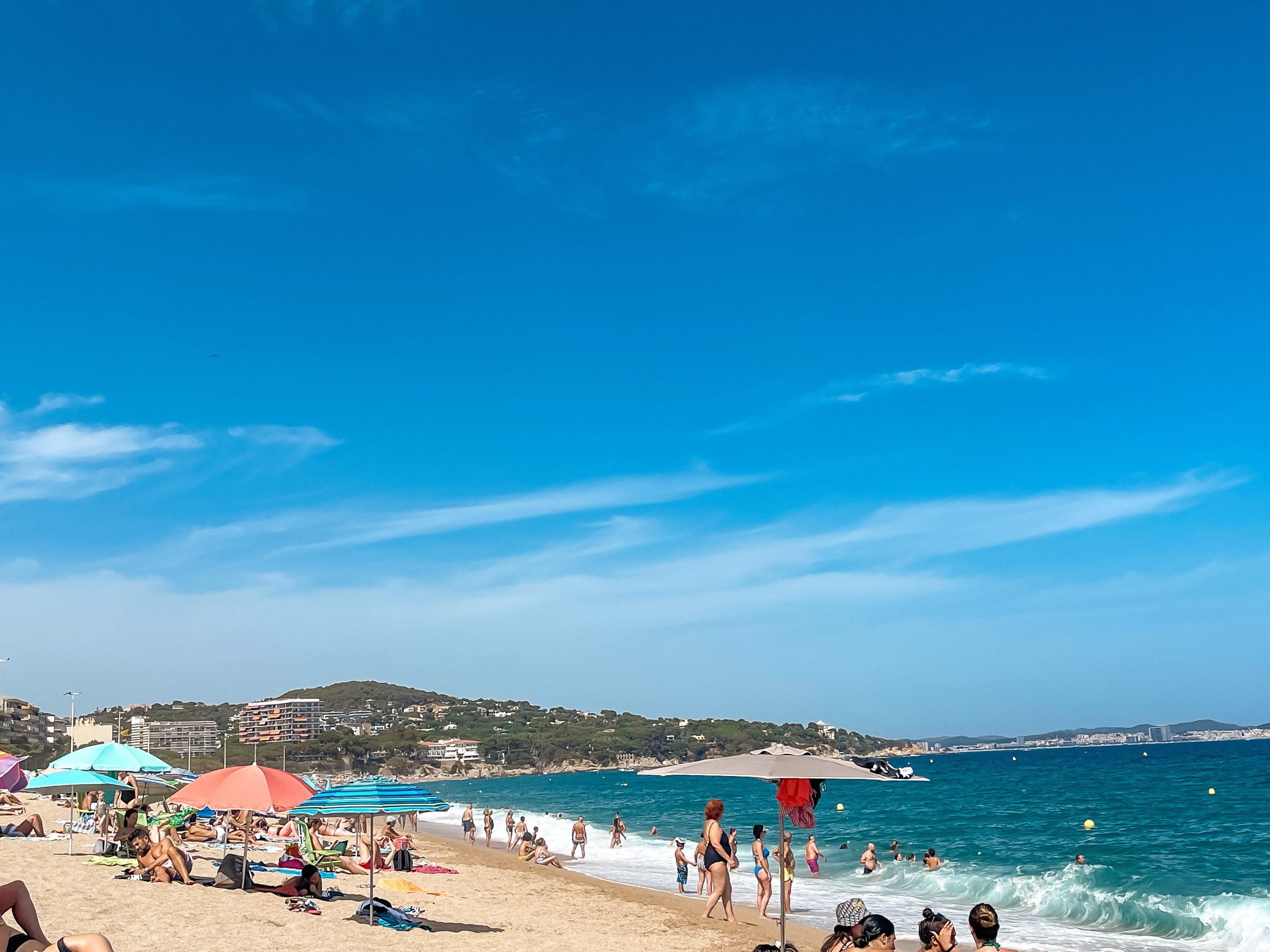 My Instagram followers recommended visiting the nearby beach Cala del Pi, which we really enjoyed. It is much smaller and calmer, and the water is incredibly clear! Make sure to check out the photos below: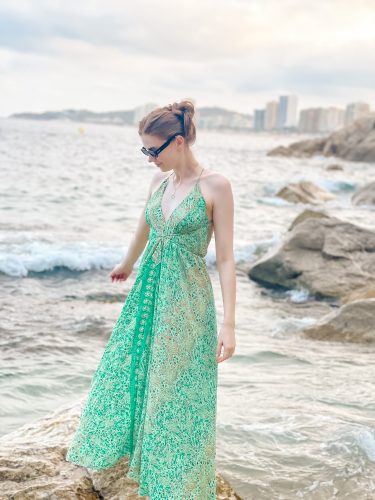 6. Tossa del Mar, one of Costa Brava's most beautiful towns
Tossa de Mar is probably the most famous town in Costa Brava. You have probably seen it in photos online or maybe even postcards if you are already in the Costa Brava. Tossa de Mar is only 100km away from Barcelona and a very beautiful place to visit. 
As you can tell in the photos, Tossa del Mar shows a walled-in old town, called "Villa Vella Enceinte" that you can visit today. Those are the only ruins of a medieval town still standing that you can find on the Catalan coast. If you keep in mind that its history goes back to the 14th century it is actually insane how well-kept it is. 
After visiting the medieval town, you can keep walking around the beautiful narrow streets of Tossa del Mar. This is such a picturesque place to visit in Costa Brava! And of course, we have to talk about the beaches in Tossa del Mar. In total, you can find three beaches here. First, you can see the main beach, called Platja Gran, which is the long beach you can find in front of downtown. Apart from that, there are two smaller beaches behind the walls and on the other side of the bay. These two beaches are smaller and you have to get there early if you want to get a space there!
While we really enjoyed Tossa del Mar, we ended up coming here in high season, which means that the town was very packed!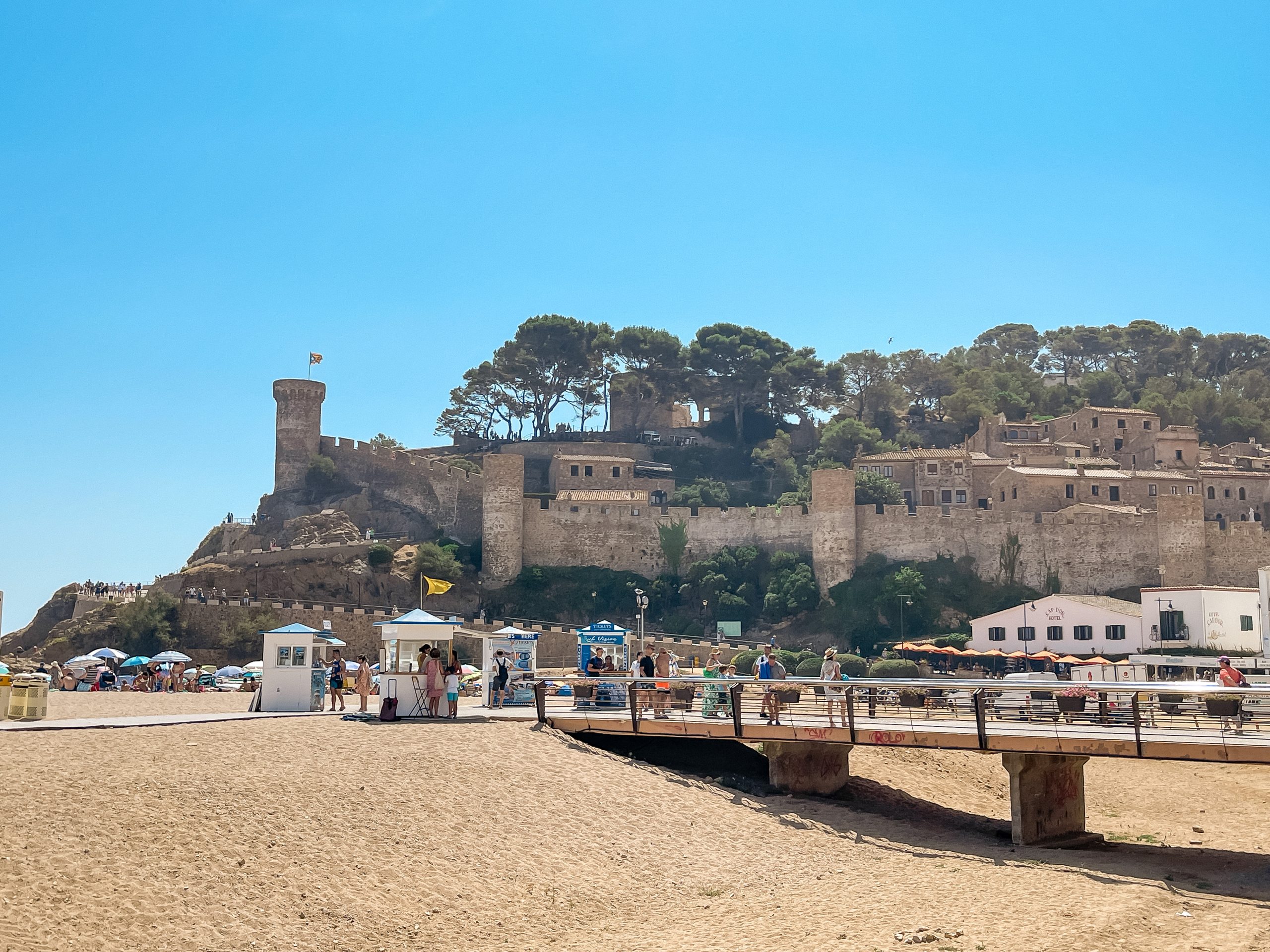 7. Palafrugell, for a relaxing beach holiday in Costa Brava
My boyfriend and I really enjoyed visiting Palafrugell and had an incredible time there. Palafrugell is located in the heart of the Costa Brava and is one of the largest towns in the area. What we loved especially about Palafrugell was how authentic it felt. To me, it was one of the less touristy areas of Costa Brava. 
Apart from that, you can visit the Cork Museum in Palafrugell, which is located in an old cork factory. It shows the cork industry of Catalunya, from how cork was produced to different machines and old artifacts. A very unique place to visit in Costa Brava!
My personal tip if you end up visiting Palafrugell: Make sure to check out the restaurant called De Tres. This place offers incredible Spanish food while we especially enjoyed the seafood here. Make sure to check it out!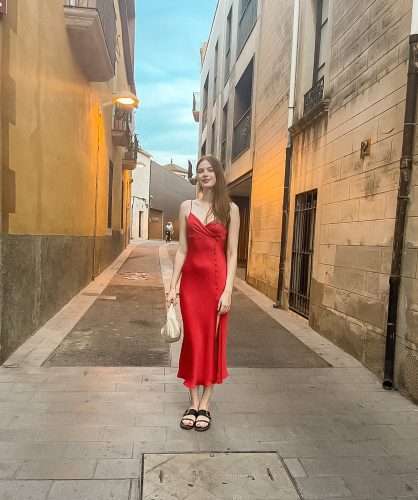 8. Tamariu, the perfect place for dining, diving, and thriving
According to my boyfriend, Tamariu is the best town in Costa Brava. We had so much fun there, that we actually came back another day just to spend more time there. Tamariu is a small beach town at the Costa Brava that offers an incredible beach, perfect if you are looking for a beach to go snorkeling. 
Another reason why I want to mention Tamariu here is because it's a popular diving destination in the Costa Brava. I have never been diving before, and my boyfriend booked a diving trip in Tamariu which was an incredible experience. We booked the "beginners dive" with Stolli's Divebase. If this is something that interests you, you can check it out here. 
Apart from that, this beach is absolutely incredible and offers really fun activities for everyone.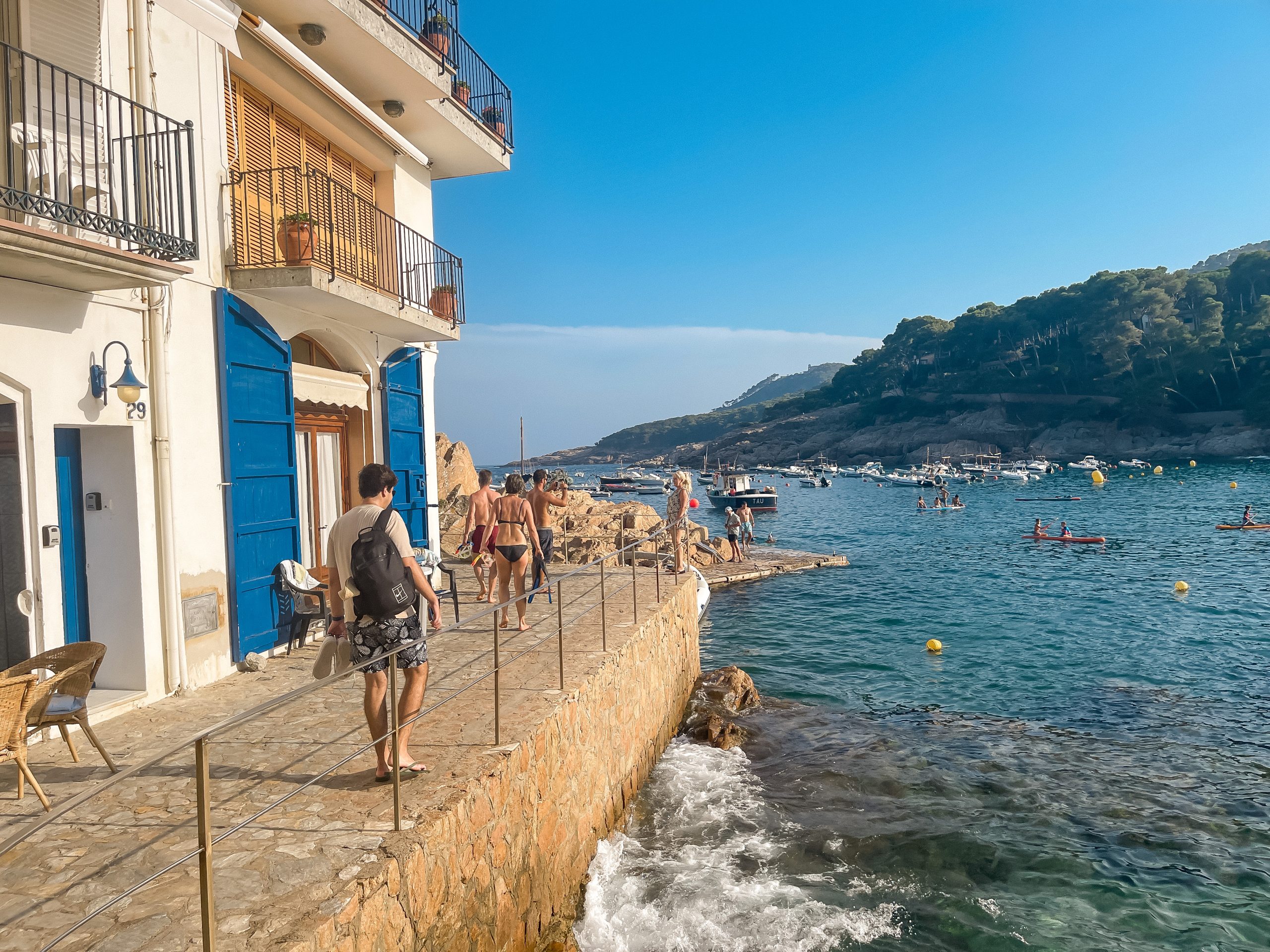 9. Blanes, the perfect place to explore bays and long sand beaches
Blanes was one of our first stops during our Costa Brava trip, and we ended up having an incredible time there. It is located right next to Lloret de Mar and offers a beautiful long sand beach. 
I especially enjoyed visiting the Botanical Garden in Blanes: Jardí Botànic Marimurtra. It was nice to visit "something different" than only beaches. This place does not only have a lot of plants and trees, but it also offers incredible views of the Sea and the surrounding areas. There are several viewpoints you can visit that will really take your breath away. Check out the photos below.
Another fantastic activity we did in Blanes was renting a small boat and going to the smaller Calas and beaches for a swim and spending the day together. And no, you do not need to have a boating license in order to rent these boats. These are smaller boats and even though they do not go super fast we had such a great time on this boat. We took our snorkel masks and some snacks with us and spent the whole morning exploring the coast of Blanes. 
You can rent these boats per hour. We paid for 220€ for four hours but there are many different options which you can find here. This truly was the highlight of our trip! The photos above show the botanical garden. Later, we came back to this area by boat and saw it from the water!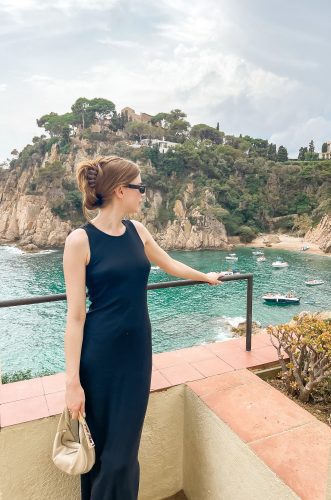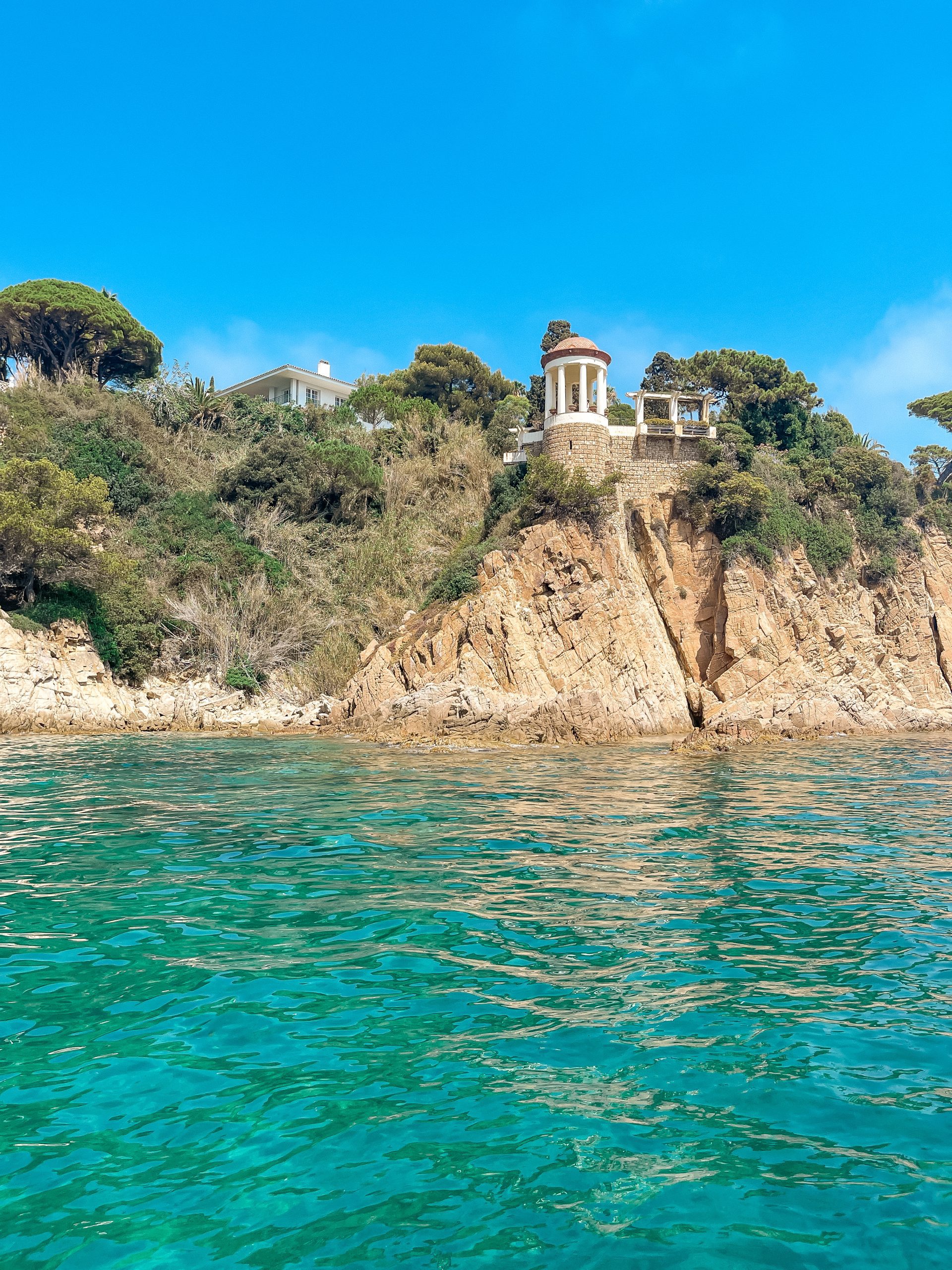 10. Pals, to me the most beautiful town in Costa Brava
Pals is probably the most romantic city that you can find in the Costa Brava. My friend recommended visiting this city and it really did not disappoint. This city is full of beautiful old buildings with postcard-like colorful flowers, cobbled streets, and cute souvenir shops. One of the most idyllic places we have seen during our trip! Once I researched about it I saw that many people say Pals is the most beautiful town in Costa Brava. And I agree!
The city itself is quite small but perfect for a little walk. The narrow streets really take you back in time. Keep in mind that Pals is one of the oldest towns in Costa Brava! Points of interest include Plaza Mayor, the main square of Pals. Then, you can also go to "La Torre de las horas", the medieval tower.
You can check out one of the many souvenir shops in the city and get an ice cream at "Cal Malirash". This place won several awards for their ice cream and I can definitely recommend it!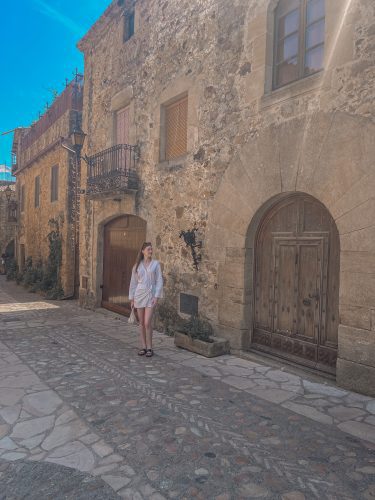 11. Castello d'Empuries, the perfect place to stay in Costa Brava
My boyfriend and I spent two nights in Castello d'Empuries and to me, it was one of the best towns in Costa Brava we visited during our trip. It was so much more calm and relaxed than Platja d'Aro, where we had spent our previous days. There were only a few tourists in town so we could enjoy our stay there without any big
If you end up staying there, there is one hotel that I can 100% recommend: Palau Macelli. This elegant hotel is located in an old monastery and really spoiled us during our stay. The rooms are very spacious, luxurious, and light. The hotel even has a SPA area that you can go to for 30€/person for 90min and you have the whole area to yourself without having to share it with anyone else. And my personal highlight was the bar in the garden behind the hotel. The perfect place for a drink outside with a beautiful view. This is usually where we spend our evenings before going back to our hotel room. Oh, I haven't even mentioned the rooftop pool yet. My boyfriend and I are already sure that we will come back. 
Check out the photos below of this romantic hotel. You can find more information about it here.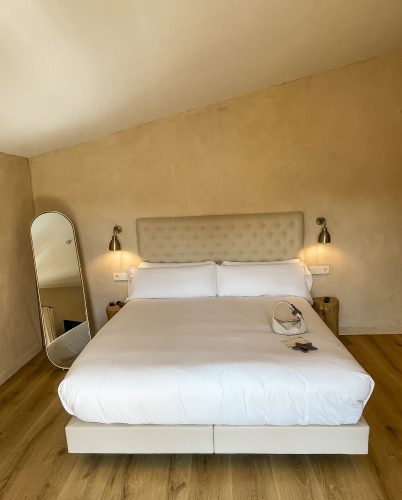 Another place in Castello d'Empuries you have to visit is the Cuban Restaurant "Cal Patufet". After having pretty much only Spanish Food for an entire week we were looking for something else to eat and this restaurant was perfect. It's a family-owned business that really cares about their food. We had a great time there and in the end, we felt that the food was so much better than in some fancy over-priced restaurants we visited during our trip.
Make sure to try the steak (Chuletón) and check out their Cuban meals as well (I had the picadillo a la cubana and it was delicious)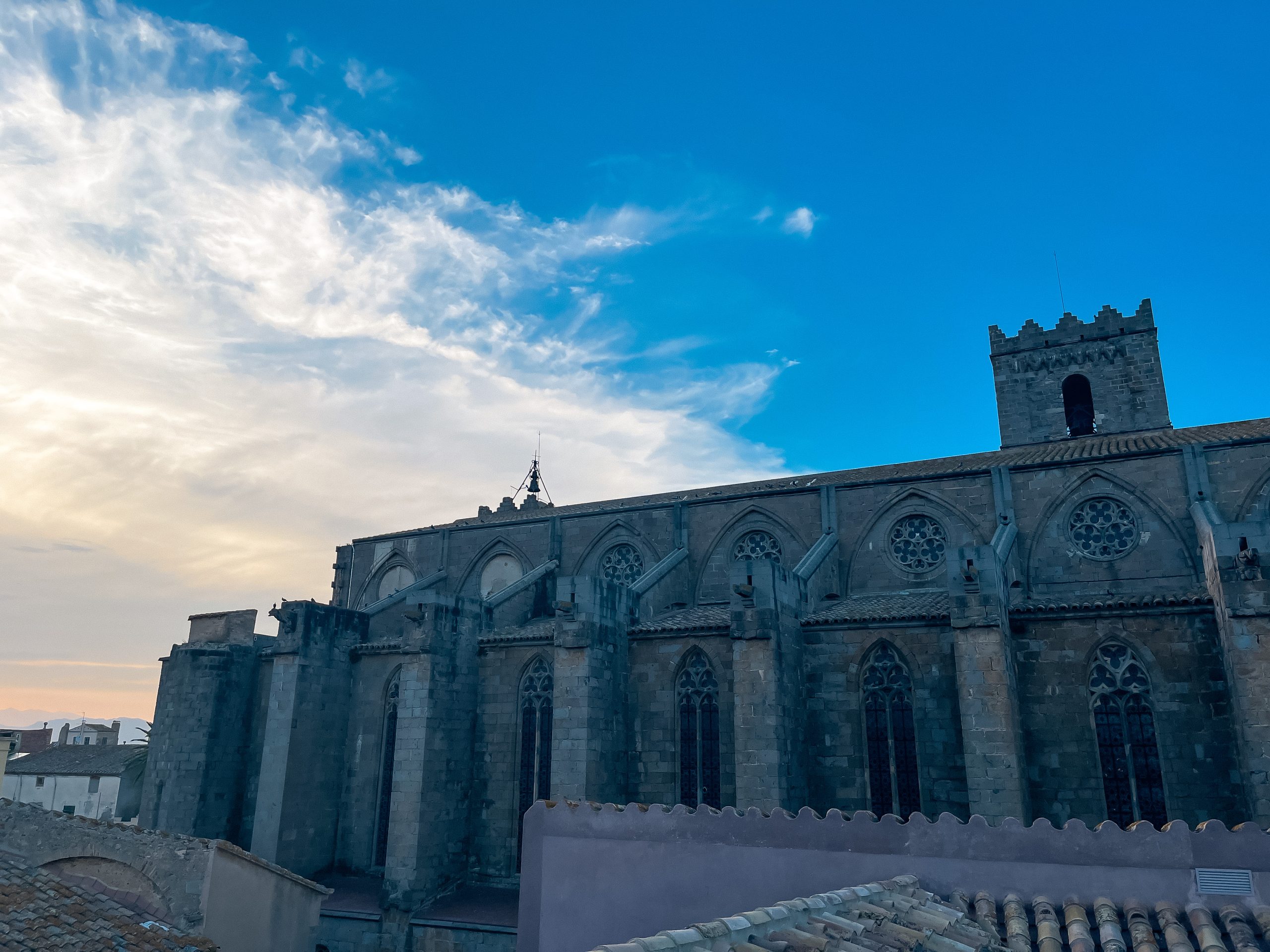 12. Begur, for the most beautiful beaches in Costa Brava
Begur should be at the top of your Costa Brava bucket list for incredible beaches and landscapes. Let's jump into it!
Begur actually includes several areas, for example, Esclanyà, Aiguafreda, Sa Riera, Sa Tuna, Aiguablava, and Fornells. Many of my followers recommended visiting Playa Sa Tuna. Unfortunately, we did not have time to visit it. But looking at the photos I really wish we had time to visit it!
Personally, I really had a great time visiting Playa Aiguablava. The views of the surrounding mountain areas were just insane. We happened to visit the beach while some really low clouds were passing through the mountains and it just looked spectacular!
By the way, we made a reservation at the beach restaurant "Toc al Mar", which is right at the beach. From there, you will have amazing views of the clearblue water and the surrounding areas. Another benefit is that you can park your car close to the restaurant if you have a reservation there. Which is really a great thing because there were A LOT of cars looking for a spot and it really did not look like it was easy to find something there. But if you have a reservation you can enter the parking area that is closed.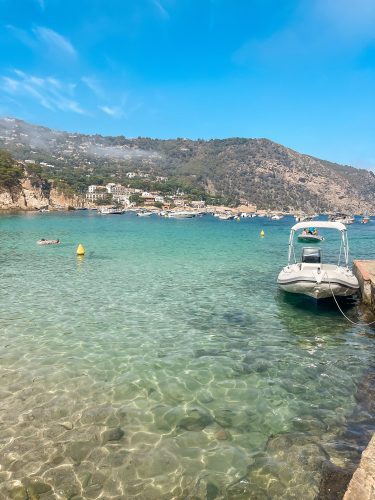 14. Palamós, Costa Brava's cozy and dreamy port town
Palamós is the last town on our Costa Brava list. It is located right between Palafrugell and Platja d'Aro, which you can also find on our list further up. Palamós is an important port city in the Costa Brava, but its gorgeous beaches attract thousands of tourists every year. 
Palamós offers an incredibly long beach that is especially popular amongst families. The town itself has many restaurants and bars you can visit until late in the evening. Palamós is especially famous for its seafood. You definitely have to try one of the local seafood restaurants during your stay!
You can also visit the Fishing Museum "Museu de la Pesca" in Palamós. There, you can see old ships or even do a seafood workshop! Check it out for a unique place to visit in Costa Brava.
By the way, there is also a boat tour you can do in Palamós. And not just any boat tour! You will be on board of a vessel from 1906! You can find more information about this boat tour here.