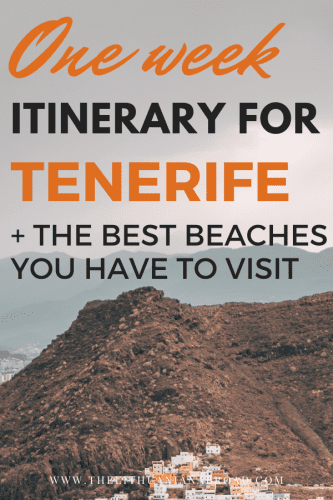 In September 2021 I visited Tenerife for a friend's wedding. And my boyfriend and I decided to extend our stay a little and explore the island. What a great decision! Because not only is Tenerife an amazing location for a wedding. We were absolutely surprised by its variety in nature, remote black-sand beaches, cuisine, and amazing climate. That is why I came up with the idea of writing a one week in Tenerife itinerary. Even though, I can already tell you: One week will probably not be enough and you will want to extend your stay. But I made sure to write an itinerary that includes the most important places to see in Tenerife, and I also tell you which places you can better skip. And psst, I even tell you where you can go whale watching in Tenerife. So exciting! And without further talk, let's start with our one-week itinerary for Tenerife:
This post is part of my Tenerife blog post series. Check the following blog posts out to plan your trip:
But before we start. Let's answer the most important questions about visiting Tenerife:
Is one week in Tenerife enough?
Tenerife is three hours away by plane from the Spanish mainland. And even though the island seems small there are so many places to explore. In my opinion, to get the most out of your Tenerife trip you should be staying for at least five days, even though I think staying seven to ten days would be even better. I stayed for ten days and was really happy to see a lot of the island. We did not have to rush anywhere and were able to relax at the beaches.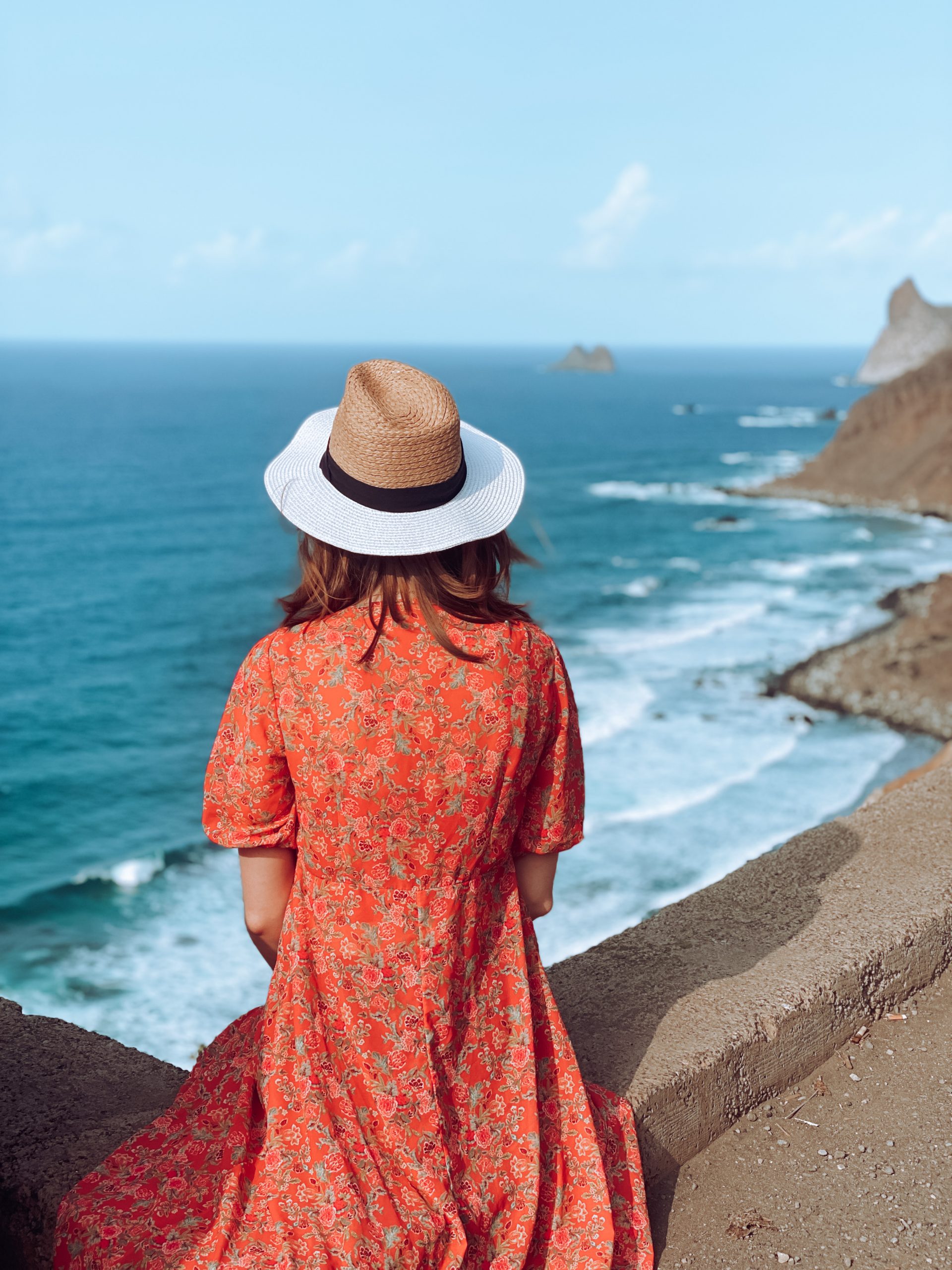 When is the best time to visit Tenerife?
The good thing is that you can visit Tenerife the whole year-round. The climate is very warm during the summer months, but the temperatures do not drop below 15 degrees during the winter. I went to Tenerife in February a couple of years ago and enjoyed it.
What you should keep in mind is that the summer and winter months usually cover the high season in Tenerife. This means that accommodation could be a little bit more expensive. And there will be more people at the beach and the cities are more crowded in general.
What you should know before visiting Tenerife:
Bring clothes for warm and cold weather in Tenerife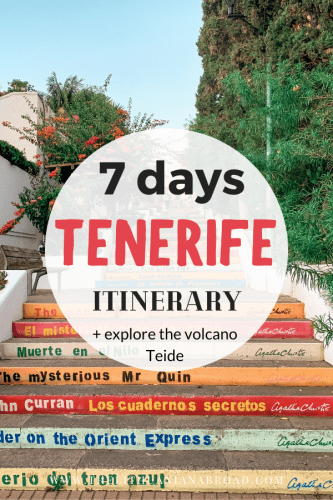 The great thing about Tenerife is that the weather is great the whole year-round. But it gets colder in the higher areas of the island, like for example at Teide National Park or the National Park Anaga. When I went to Teide it was very windy and I needed a jumper and long pants.
Museums are closed on Mondays
Tenerife offers a variety of museums and botanical gardens, and they are open even on Sundays. That is the reason why many of them close on Mondays. So be aware of that during your stay and try to plan all your museum visits around that 🙂
Bring Sunscreen on your Tenerife Trip
I have heard about so many people burning themselves because the temperature might not be that hot, but don't be fooled! The sun in Tenerife can be very intense. Especially in the Natural Park of Teide I felt that the sun was very intense even though it was relatively cold.
Go hiking in Tenerife!
I have to admit, I am not the biggest hiker. But, make sure to bring proper shoes or sneakers that you do not mind getting dirty. There are stunning hiking trails in the National Park Anaga. And you will also need sneakers for when you visit the National Park Teide. Apart from that, many beaches in Tenerife require walking through sand and rocks. So make sure you come prepared. By the way, our one-week itinerary for Tenerife includes a hike through the natural park of Anaga. Very beautiful!
What is the best way to reach Tenerife?
Tenerife has two airports, one in the North (Aeropuerto Norte del Tenerife) and one in the South (Aeropuerto Sur de Tenerife). Chances are higher you will arrive at the airport in the South which is the destination of most international travellers. If you can, I would still check out flights to the airport in the North. We only paid 50 Euros from Madrid round-trip!
How to get around Tenerife?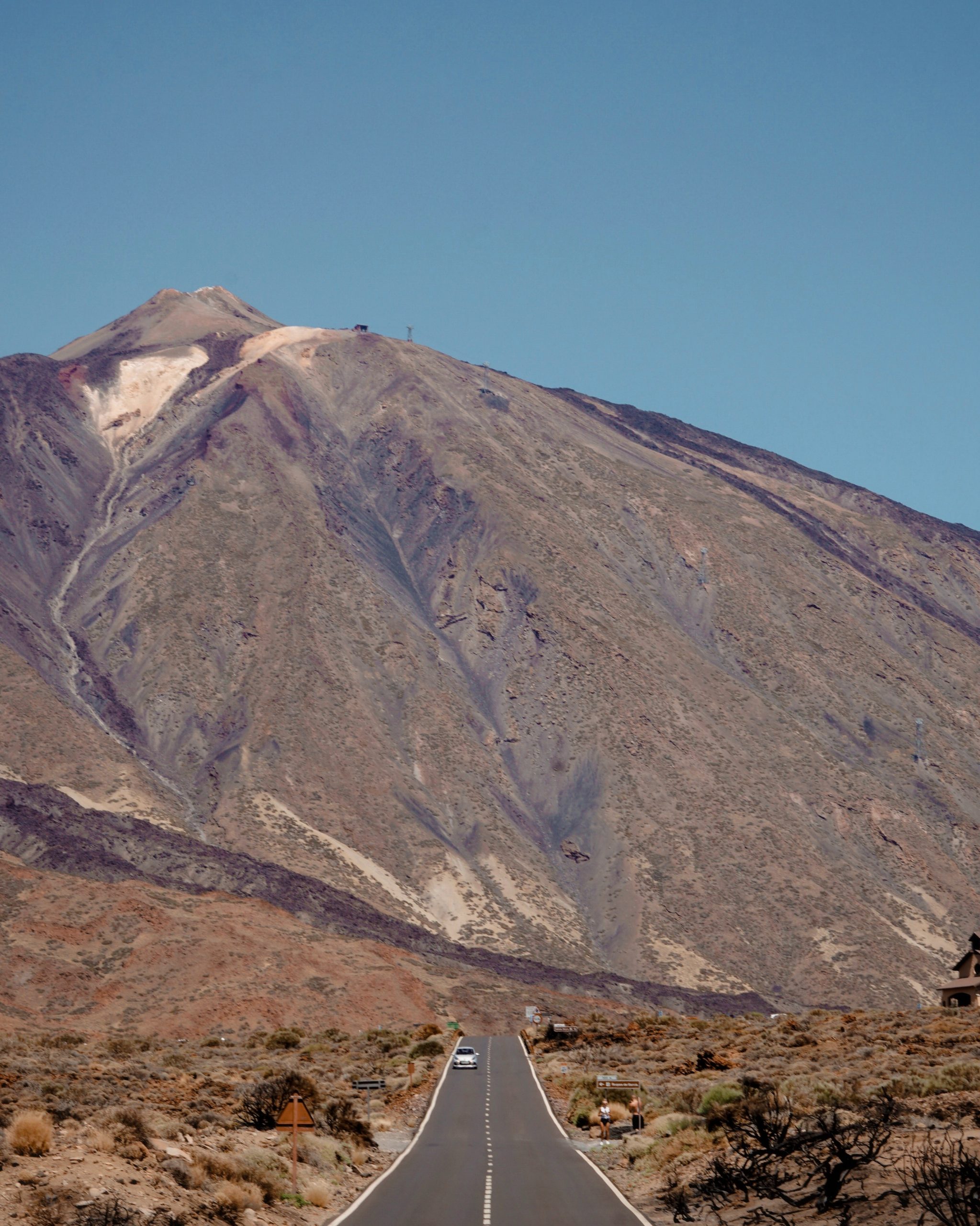 I was very surprised by how great public transport in Tenerife is! You can reach almost every destination on the island by public transport and I found google maps to be very accurate with its timetables. Bus stops even have a QR code that you can scan with your phone to see when the next bus is arriving at the bus stop. And it was very affordable as well! You can find the timetables for buses here.
Having said that, I still think that you should rent a car for at least a couple of days to explore the more remote parts of Tenerife. Especially if you want to go to the National Park Teide or to the very North of the island where Playa del Benijo is, it is easier to get there by car. The good news is that renting a car in Tenerife is very affordable with prices of around 20-30 Euros per day if you end up renting a car for a whole week. 
The only thing is that we sometimes had trouble finding a parking spot in busy areas. And while renting a car in Tenerife is quite cheap, parking isn't. 
When hiring a car, I would recommend using Rentalcars.com and booking in advance. My boyfriend and I had the idea of renting a car spontaneously and it went very wrong. There were no cars available anywhere and we were so frustrated. By the way, if you just want to ask for a car at the rental places at the airport, trust me, they are so expensive. So, we had to go with an expensive option. I have never had problems with Rentalcars and when I used them in Portugal we even got an upgrade!
You are all set! Let's start with our one week in Tenerife itinerary!
Interactive Map with all attractions and destinations mentioned in this blog post
I wrote this one week in Tenerife itinerary in a way that it does not matter whether you arrive in the North or in the South of the island. This itinerary starts in the North of the island, but even if you arrive in the South, that is not a problem either. San Cristobal de La Laguna is only a 45-minute drive away from the South of Tenerife.
Day 1: Explore San Cristobal de la Laguna and relax at Playa de las Teresitas in the evening!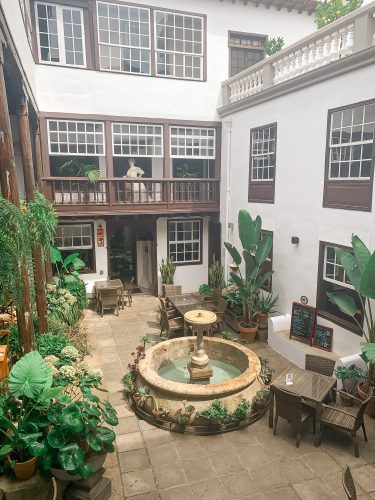 Hello and welcome to Tenerife! Your first destination will be San Cristobal de la Laguna and you will not be disappointed. San Cristobal de la Laguna is a town from the 15th century that is full of beautiful colourful buildings and narrow streets. It has so much Canarian culture that it was the first place in Tenerife to receive world heritage status. 
You really have to visit Casa Museo Cayetano Gómez Felipe must have been my favourite little spot in San Cristóbal de la Laguna. It is located in a typical Canarian house from the 18th century with a stunning interior patio. It owns a very big collection of art and furniture from the Canary Islands from the 18th century. Apart from that, there is a very cute cafe inside, so you can relax in the Interior Patio for some time. There are tours through the inside of the house, but I would definitely recommend making a reservation in advance. 
Apart from that make sure to walk around the beautiful historical centre of San Christobal and try some Canarian Food at a local restaurant, that the Canarios call Guachinche. We went to a really great one that is called Rincón Lagunero. 
Playa de las Teresitas, one of the few white sand beaches of Tenerife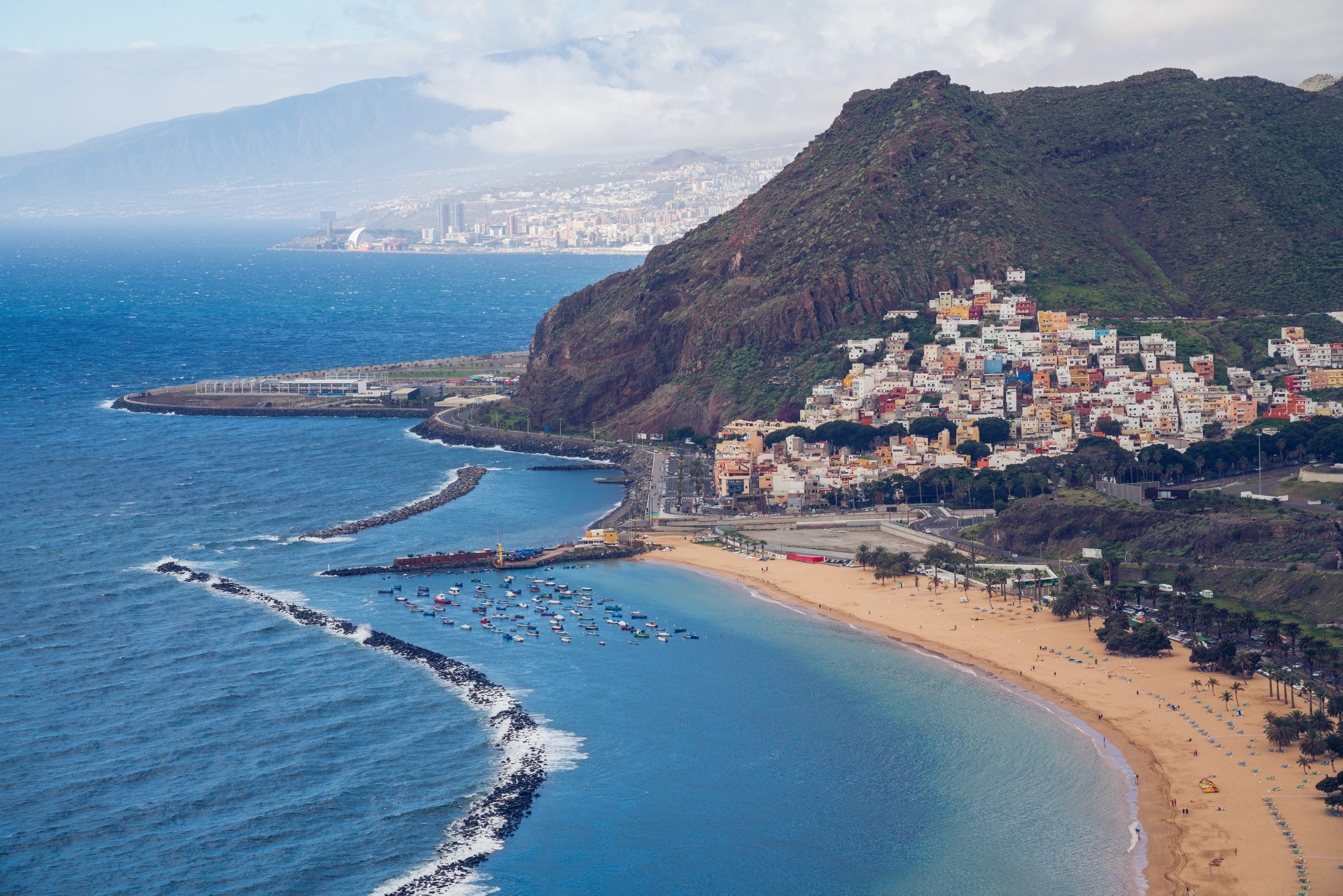 In the evening you can go to Playa de las Teresitas, which is one of the few white sand beaches in Tenerife. Playa de las Teresitas has an interesting history as well: 
Like most beaches in Tenerife, Playa de las Teresitas used to be a black sand beach with rocks and little stones. But in the 1950s several beaches in Tenerife kept disappearing as locals would use the sand for construction work. So the city of Santa Cruz decided to build an artificial beach instead. Since black sand was too expensive due to its scarcity on the island the Spanish government bought Sand from Western Sahara. White sand also has the advantage that it's more appealing to tourists who were not used to the typical black sand in Tenerife.
Day 2: Go to Parque Rural de Anaga, the rainforest of Tenerife
The Rural Park of Anaga is an absolutely stunning mountain landscape in the northern part of the Island. If you are not a big hiking fan, there are so many paths to just walk around and enjoy nature. It is very popular for its diversity and beautiful viewpoints.  You definitely have to check out the vertical trees Parque Rural de Anaga is famous for.
Once you approach the higher areas of Anaga you will feel like in a rain forest of Tenerife! One viewpoint you should definitely check out is Mirador Anaga Forest.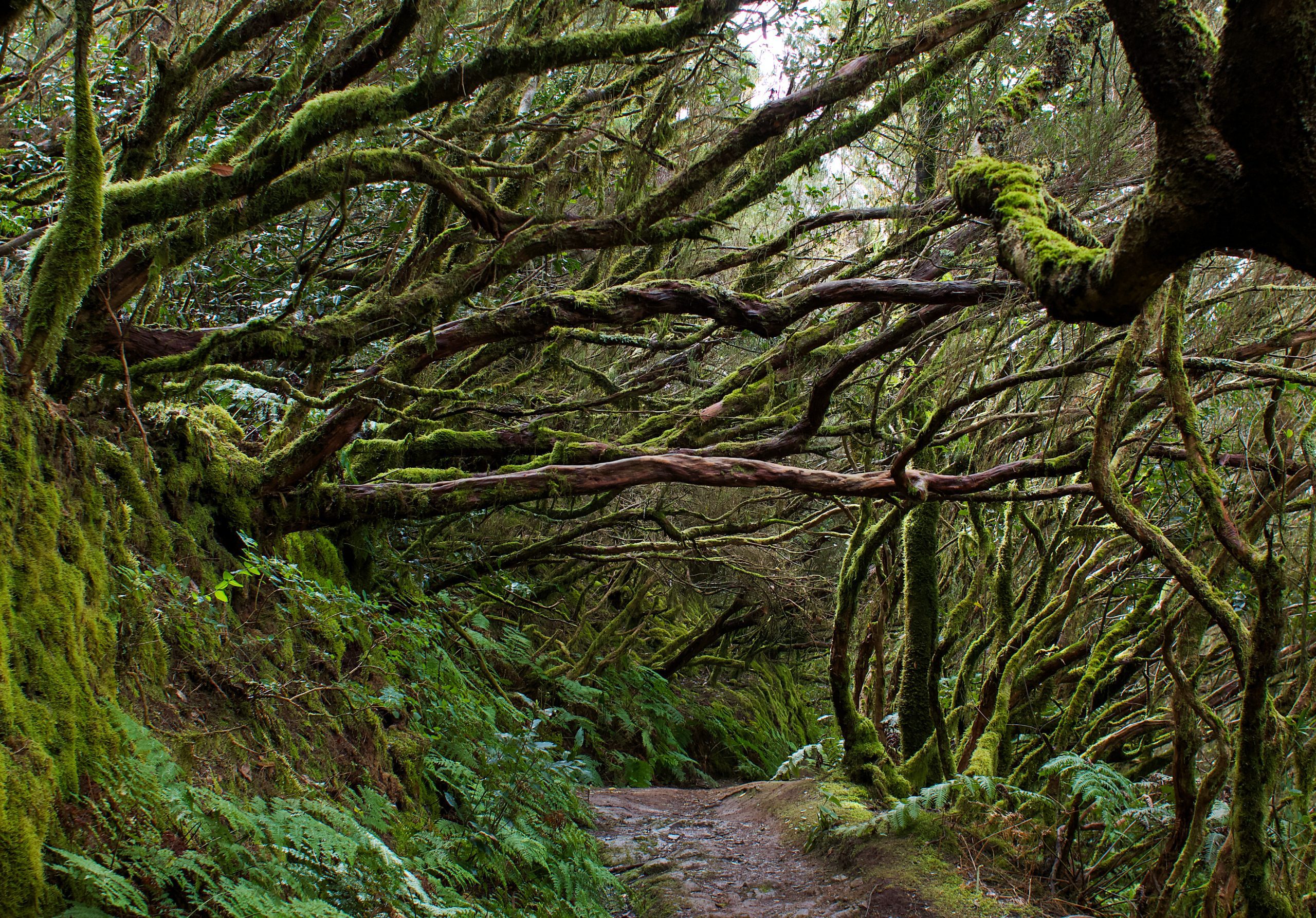 And if you would like to go for a hike I would recommend booking a tour with a local guide here. Another option would be downloading the app Wikihikes and picking a hike that suits your desired level of difficulty. 
By the way, in case you want to reach Parque Rural de Anaga by public transport, I will leave the instructions for you here: There are buses going from Intercambiador de Laguna. They are not too frequent so make sure you arrive on time! You can take one of the following buses (#76, #77, #273 or #275) at the bus stop "Cruz del Carmen". Once you are there make sure to check out the viewpoint "Mirador del Cruz del Carmen!" Check out this website for the bus timetables in Tenerife.
Day 3: Let's go to the North: Visit Taganana and Playa del Benijo

If you were to ask me what the most beautiful beach in Tenerife is I would tell you: Playa del Benijo. I had it saved on my Tenerife Bucket List for so long and I was incredibly happy when we finally went there.
Taganana is a small village in the North of the island. It has a very relaxed atmosphere and, in my opinion, did not seem touristy at all. The streets of Taganana are very curvy. If you get car sick easily this will be a nightmare! But it is worth it: The nature surrounding Taganana seems so much different from the South of Tenerife. You will pass by a couple of very beautiful viewpoints. Make sure to stop to admire the beautiful landscapes.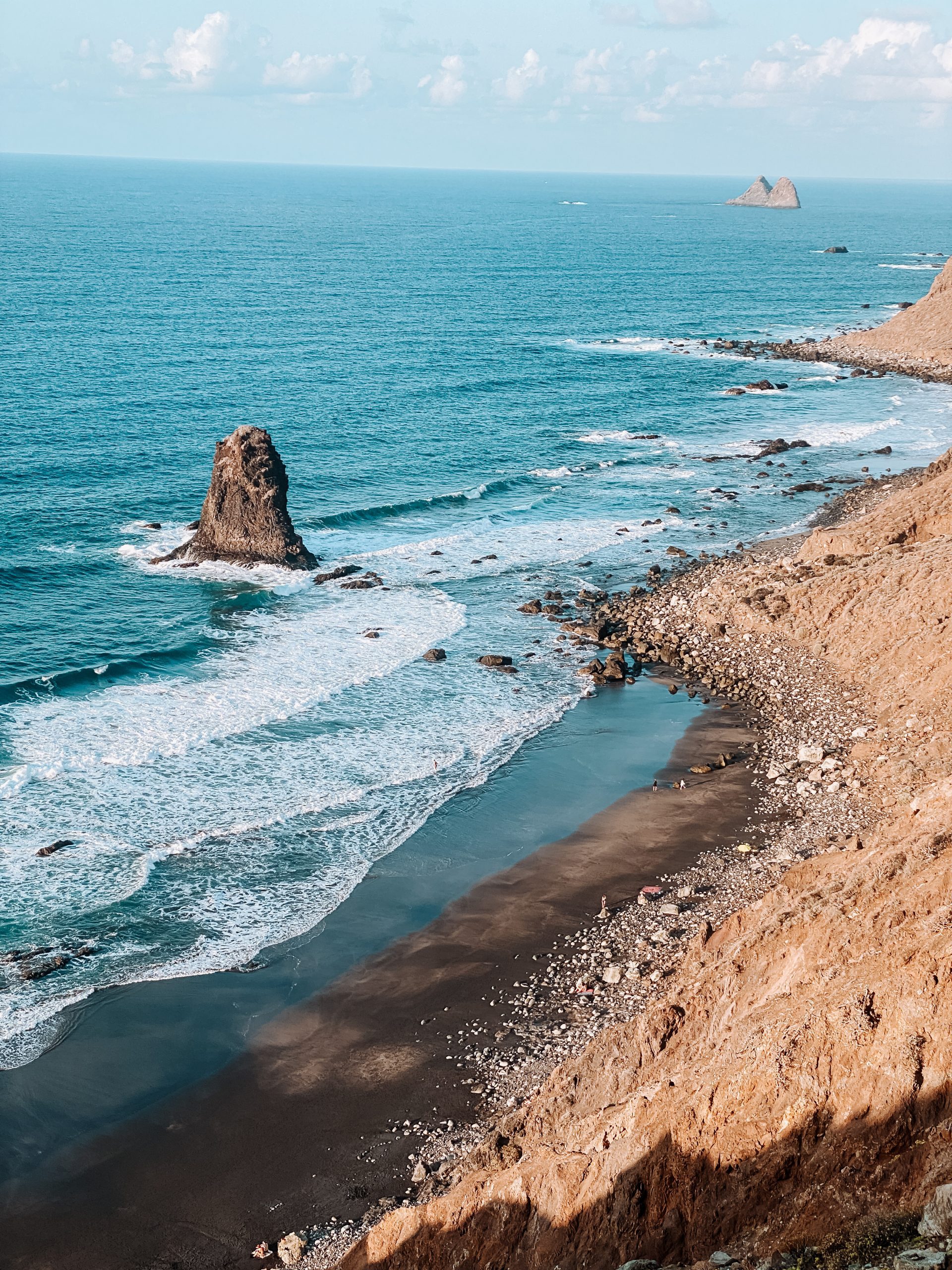 Playa de Benijo is a black-sand beach not too far from Taganana. It is famous for its rock formations and clear water. This day is for relaxing at the beach and having Canarian Food at a local restaurant. If you have time, make sure to walk around Taganana.
Day 4: Visit Puerto de la Cruz and check out the colonial buildings in the historical centre
Now that we relaxed one day it is time to explore a bigger city in Tenerife! Puerto de la Cruz is a cute town in the North West of the island. It used to be a dreamy fishing village that gained popularity due to increasing trade to the Spanish mainland. 
Puerto de la Cruz is the perfect destination if you want to go out for some drinks and explore the nightlife. It also is the biggest city in our one-week Tenerife itinerary, so that is as busy as it will get.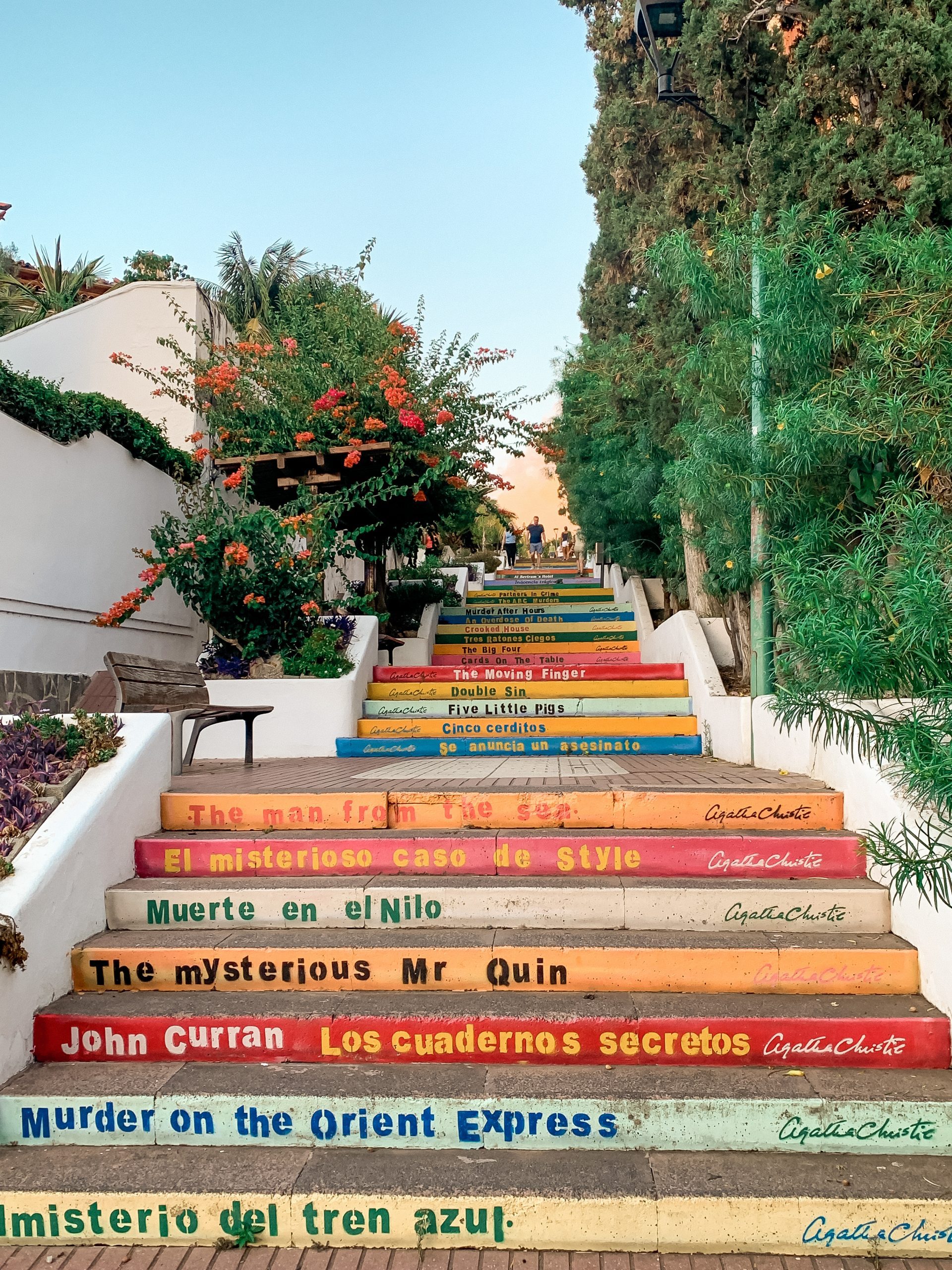 There are several places you need to see in Puerto de la Cruz: Make sure to watch the sunset at "Mirador la Paz". When we were there we even had live music there. Absolutely romantic!
Not far from the sunset place are the famous Agatha Christie stairs. A very instagrammable place you cannot miss. They are a tribute to the writer that visited Tenerife in 1927, and apparently loved it there! Did you know there is an Agatha Christie festival in Tenerife once a year?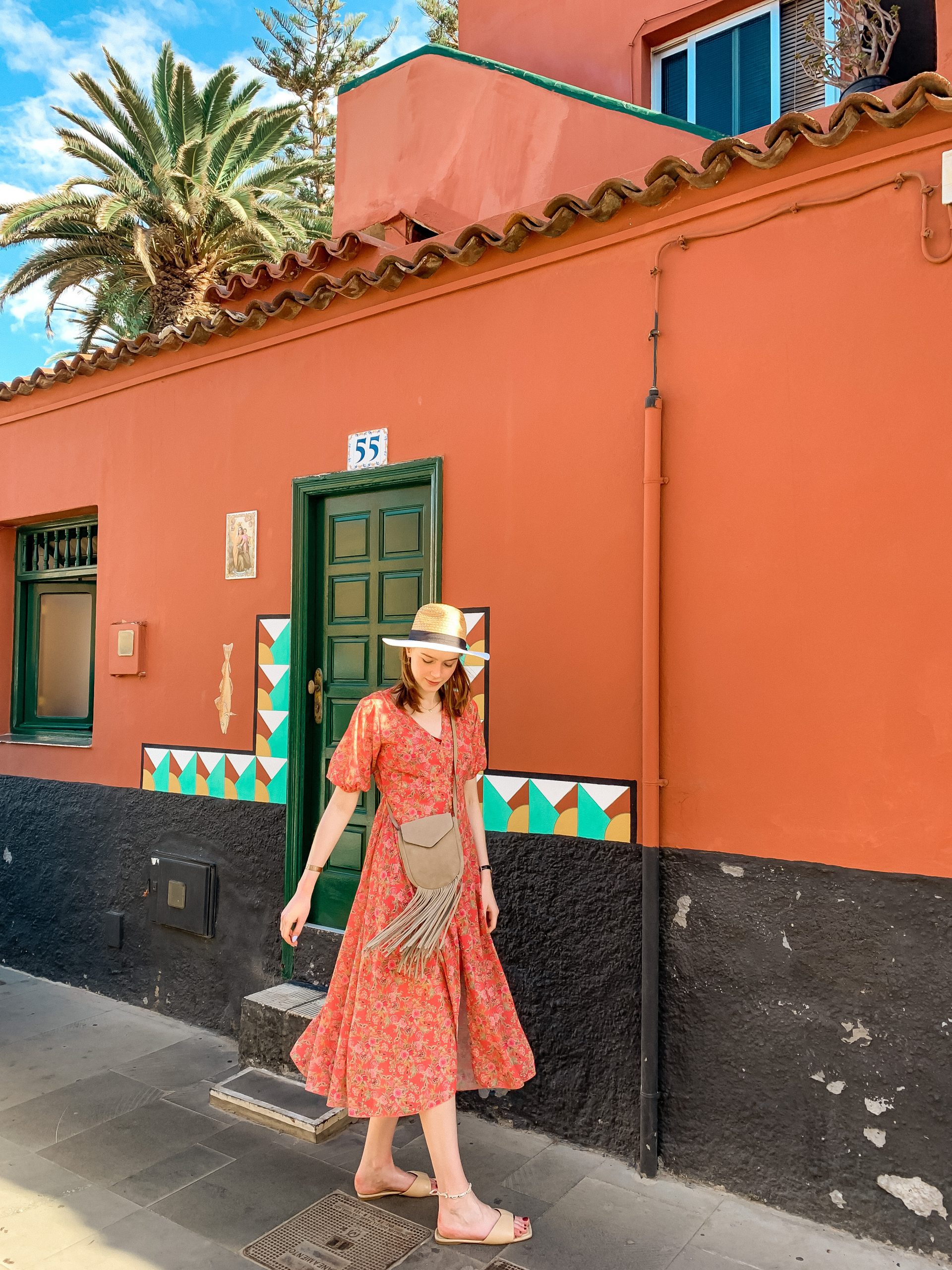 I also really enjoyed walking around the Historical centre and old port of Puerto de la Cruz. A perfect place to sit down and have a glass of wine.
If you are looking for more detailed information about Puerto de la Cruz, I wrote a travel guide about it that you can find here.
Day 5: Explore Teide National Park, the highest peak of Spain
You cannot leave Tenerife without visiting Teide, the famous volcano in Tenerife. Which, at the same time, is also the highest peak in Spain. 
I would strongly recommend going there by car. You will pass by so many viewpoints and believe me: You will want to take a photo at each single one of them. The possibility to stop for a photo will be very limited if you go to Teide by public transport. Once you reach the cable car there is a lot of space of free parking where you can leave your car without problems.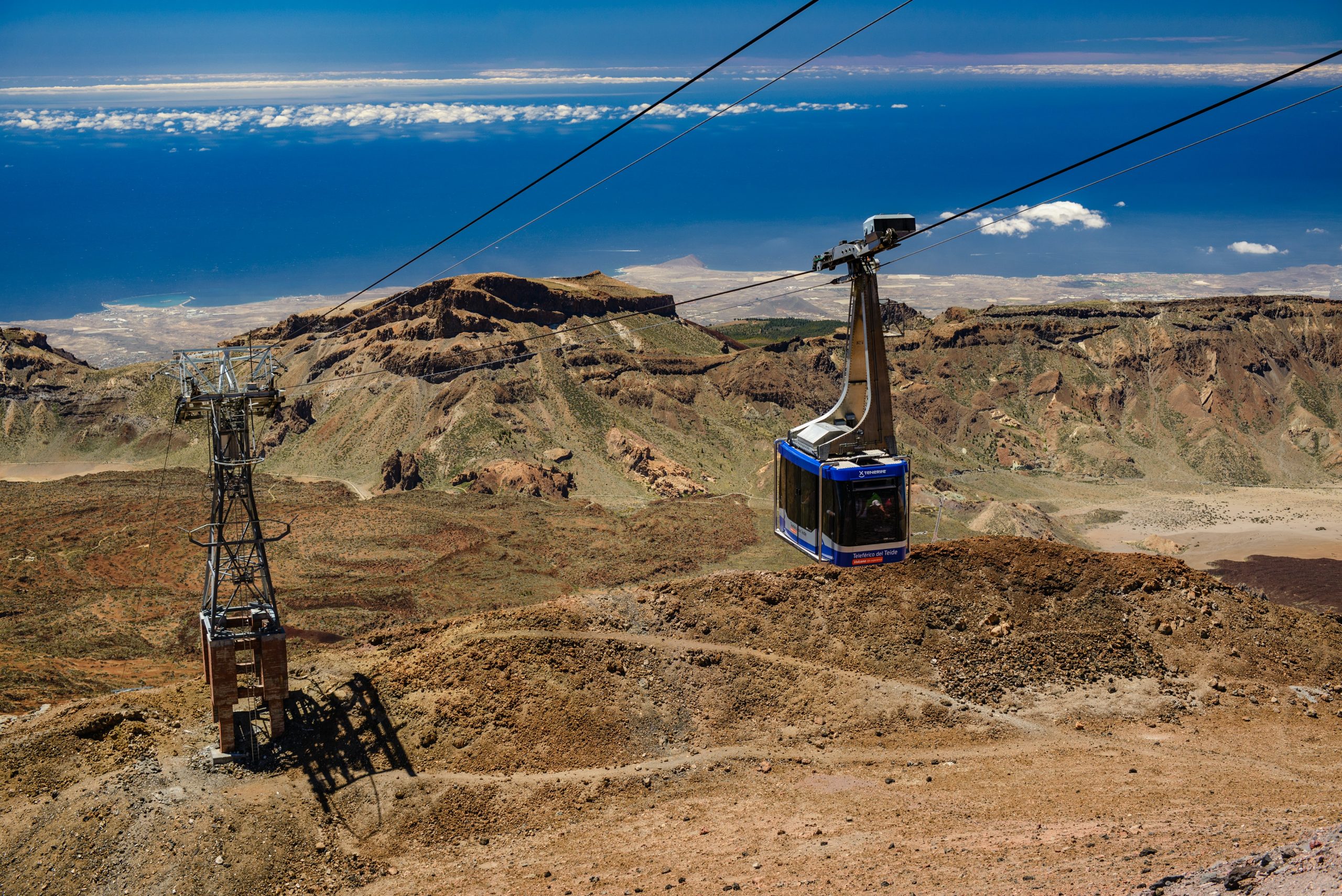 But of course, renting a car is not always possible. So here are the instructions for visiting National Park Teide by Public Transport:
There is a bus (#348)  that leaves Puerto de la Cruz at 9.30 AM every day to go to National Park Teide and returns at 4 pm. As seats are limited I would suggest going there early to make sure you get on it. 
Cable Car Ticket for Visiting Teide
Once you arrive at the parking lot in front of the cable car you will be very surprised by the number of people. The queue is always huge! I would recommend booking a cable car fast-track ticket online before going there. Don't worry about possible bad weather: you can cancel it up to 24 hours before and get a full refund.
As previously mentioned, make sure to take warm clothes when visiting National Park Teide. It gets cold once you reach the higher parts of the park. At the same time, I also needed to apply sunscreen. At the same time, the sun was very strong!
Day 6: Visit Garachico and check out the famous Dragon Tree!
Garachico is home to the famous 1000-year-old dragon tree. Or if you prefer to call it by its whole name: Dracaena draco. The whole island is covered by younger and smaller versions of this tree. But this one is huge and looks like some took it from a movie. 
Make sure to check out one of the many viewpoints that Garachico has to admire the beautiful seaside of this little town. Some of the beautiful viewpoints include Mirador de Garachico, Mirador de Atalaya.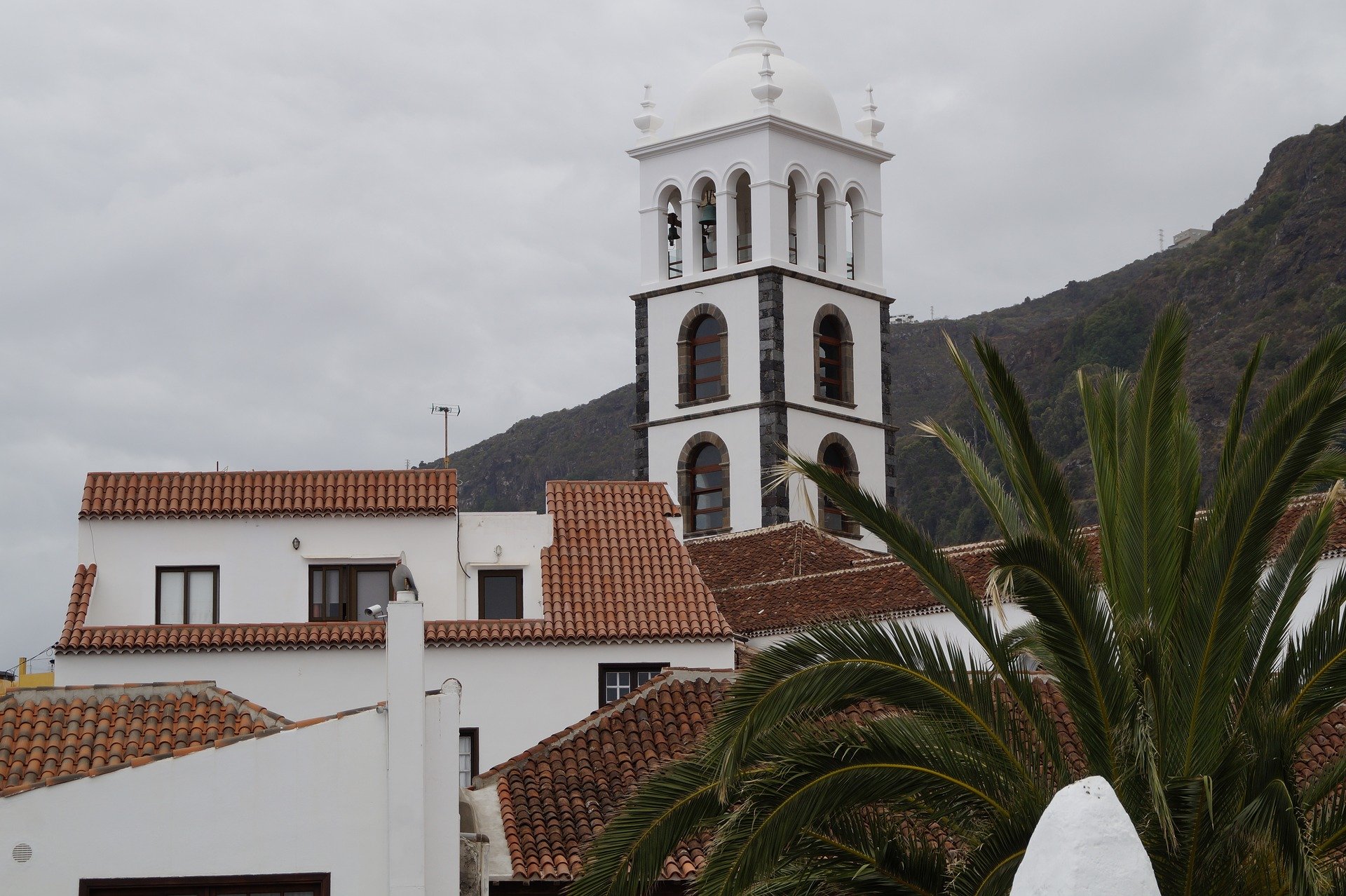 Have you had the chance to go to any piscinas naturales (in English: Natural Pools) by now? I would describe them as protected pools in the ocean, where you can go swimming protected from the strong currents and Tenerife's ridiculous waves. The Piscina Natural in Garachico is absolutely beautiful and one of the most popular ones on the island. This one tends to get really crowded during the morning. But if you are able to catch it during the afternoon, you should go for it. 
Random Fact about Garachico: Half of the town was covered in ashes after a volcano eruption in 1706. That is why the land surrounding it is very fertile and you will find many banana plantations there!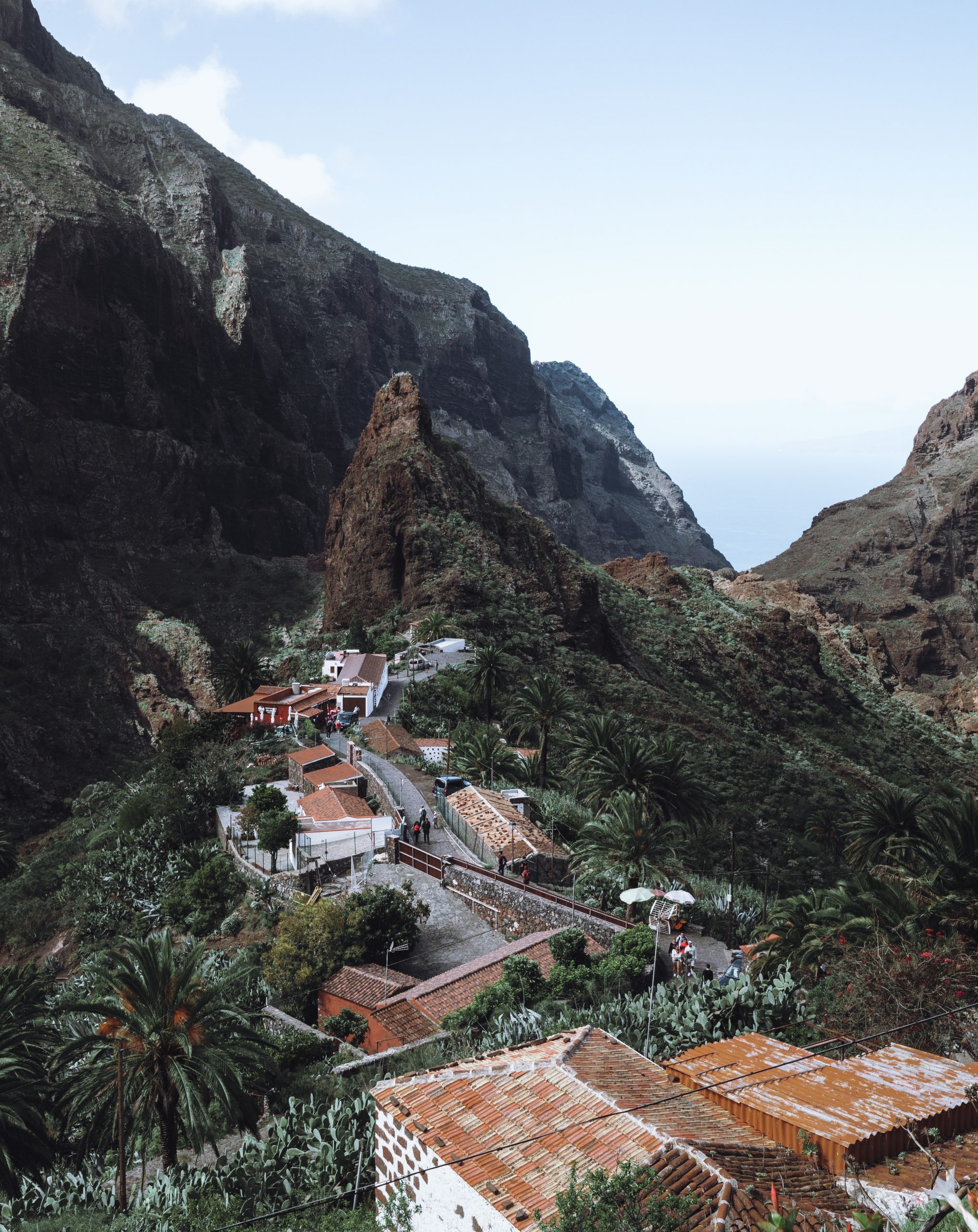 If you end up having a little bit of extra time I would highly recommend going to Masca for lunch. It is a small village not too far away from Garachico that is famous for its beautiful views. So worth it!
Day 7: Go whale watching in Los Gigantes on the last day of our one week in Tenerife itinerary
I know you are sad that this is the last day of our Tenerife itinerary. But therefore we will be spending it in a very special place: Los Gigantes. Los Gigantes is a small town in the municipality of Santiago del Teide. It is famous for its huge cliffs and rock formation that are up to 700m tall. You can admire these huge rocks from Playa Los Gigantes.
Whale Watching in Los Gigantes
One incredible thing you can do in Tenerife is whale-watching. This item was on my Tenerife list, but unfortunately, we did not stay long enough to book a tour like that. Honestly, one of my biggest regrets from our trips.
You can book a tour with a sailboat from Los Gigantes that takes a small group of people (max. 9) on a 3-hour boat trip. During that time you will have the chance to see dolphins, turtles and even pilot whales. And you get to snorkel around the beautiful cliffs of Los Gigantes. Sounds incredible, right?
There are several tours from different providers you can book. The one that I wanted to go to was the cheapest option that I found, which was 65€. Since there can only be 9 people on the sailboat I would recommend booking your tickets in advance.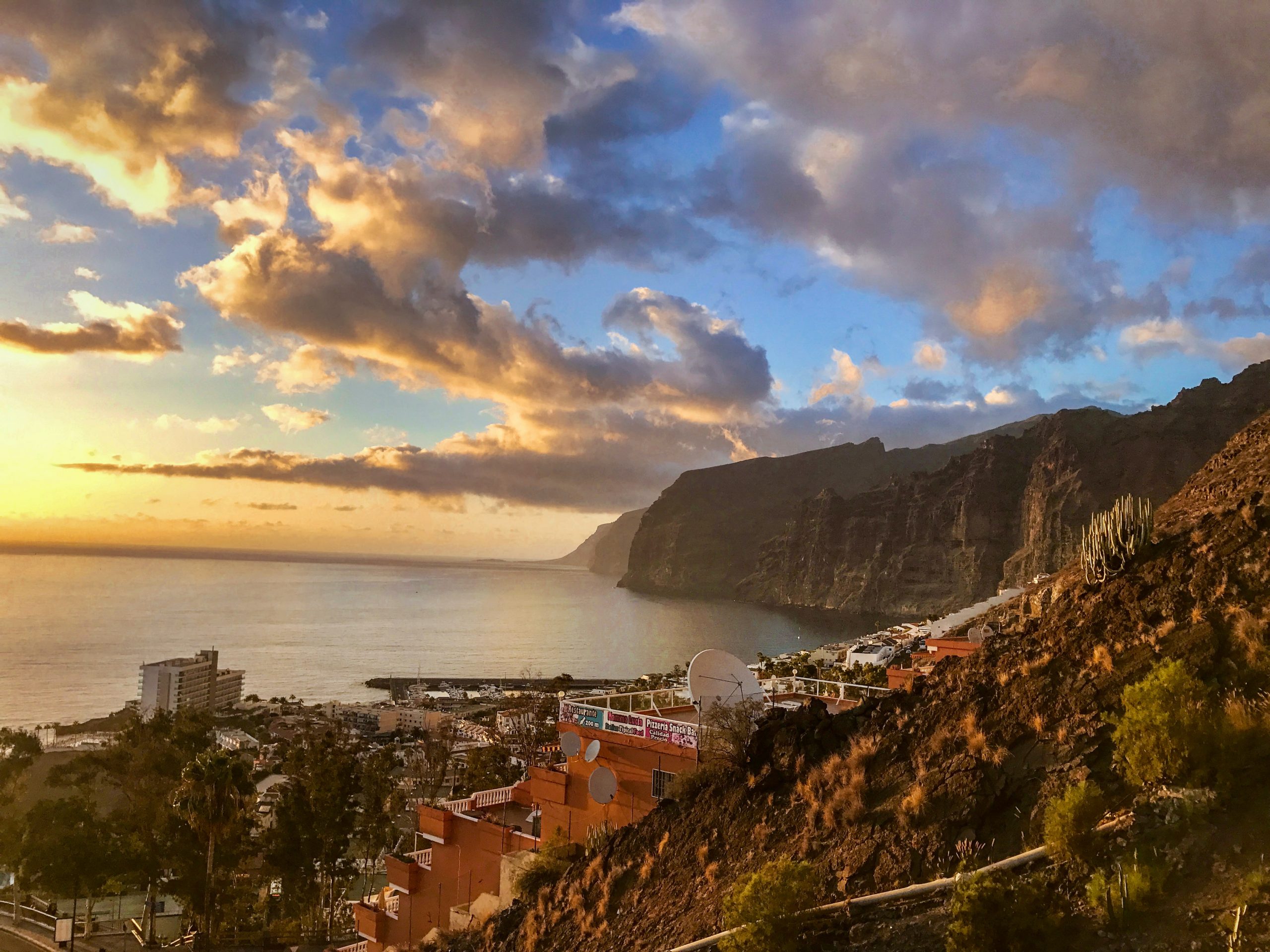 Apart from that, there are two viewpoints in this little village to have the best views over the rock formations: Mirador Archipenque & Mirador Tancón. The views at Puerto de Santiago are great, too.
If you end up with free time in Los Gigantes you can also visit Las Montañas Negras for a hike. And after that, you can prepare for your trip back to the airport. I know! One week in Tenerife just isn't enough.
---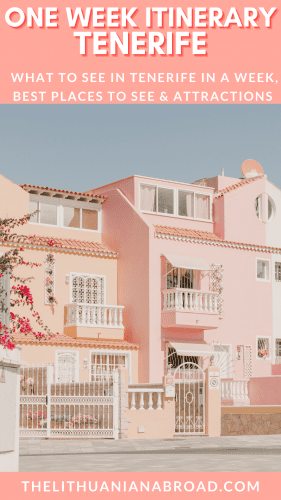 And that was it! I hope you enjoyed this one-week itinerary for Tenerife just as much as I enjoyed writing it. In case you are looking for Santa Cruz on this itinerary, you will not find it. We spent one last night in Santa Cruz but looking back I really do not think that was necessary. To my liking, this big city did not have that much to offer. And you will spend a lot of time (and money!) looking for a place to park your car. I wish we would have spent another night somewhere else on our trip. Nevertheless, we had a great week in Tenerife and I am looking forward to going back one day!