I feel like no one really talks about this, but isn't it super helpful to know which apps could be useful for you when you go to Spain for a holiday? Just think about how many apps you are using in your everyday life for transportation or ordering food. But do you know if those apps are the same in a different country? For example, did you know there is no uber in Barcelona? In this blog post, I will tell you alternative apps, that you can use instead.
So let's say you are going to Spain for a vacation. Do you know what apps do you need to order food or for making a dinner reservation? It is definitely easier to do this via an app instead of going there directly if you do not speak the language. So I thought that in this blog post I will make a short summary of what apps can be useful when you go travelling to Spain. And make sure you read the whole post because some of them will help you save money while you are here. I also made sure to include apps that not only are helpful for travelers, but also for expats in Spain.
Apps you should have when travelling Spain:
The apps you need for ordering food in Spain. To be honest with you, my favorite is Glovo because it has more local restaurants. And you can also order groceries there. I also feel like it tends to be cheaper than the other ones. But still, I have all three of them on my phone and tend to use them whenever I do not feel like cooking or going anywhere. Especially when you have been walking around the city the whole day and just want to stay in during the evening, these apps will be super helpful.
These apps are a must for everyone coming to Spain. Even though public transport is quite amazing here, especially in bigger cities like Madrid and Barcelona you might need to take a cab at some point. So those are the three apps I usually use in Madrid. My favorite is Cabify, because it is usually the cheapest and the waiting times are not that long. Uber is great, too, but be aware that there is no uber in Barcelona. So make sure you have the other ones installed as well when you are there.
Local Apps for Public Transport
I really think that the public transport in Spain is amazing. Not only is it super safe and fast, but also so affordable! There is nothing more annoying than spending much on transport when you are traveling! For Barcelona, this would be the TMB app. This app is amazing as it tells you where you need to go AND you can buy your tickets and use it. You do not even have to go to a metro stop before buying the tickets!
Have you ever thought about traveling Spain by train? In case you have not, I definitely recommend that you look into it. Especially, if you are planning a road trip or want to see multiple cities. Traveling by Spain is not only time-efficient, but also quite affordable. Here, I have to mention that a couple of months ago we finally have the affordable Ouigo trains that connect a couple of cities in Spain (I wrote a blog post about it here). You should definitely check it out. They sell tickets for Madrid-Barcelona and the starting price is 9 Euros!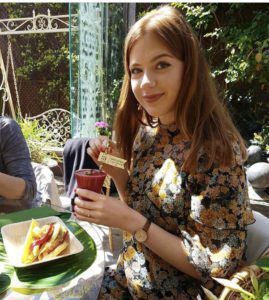 The fork ( El tenedor) is THE app for making dinner reservations. It is really great and I am using it all the time. It does not only make the whole process of making a reservation easier, some restaurants even offer discounts (up to 50%!!) when you make a reservation over El tenedor. Another reason why I think the app is great is that it lets you filter through the restaurants. Which is a great way to find new restaurants when you do not know the area that well.
If you feel like learning Spanish before your trip, you can do it with these apps. I always feel like its great to at least know some basics before coming here. Be prepared that there will be many people who do not speak English. Also, Spanish is such a beautiful language, isn't it? Anyway, I do recommend those apps to learn some basics. Who knows, maybe you will love it so much you will become fluent in it 🙂
This might seem like a random one, but somehow every time someone visits me they ask me where to get a beauty appointment. So I decided to include Treatwell here. Treatwell is an app for making all kinds of beauty appointments, from manicures to getting your hair done. It is also great if you are looking for last-minute appointments. Some salons give discounts on their last-minute slots. It is definitely worth checking out if you are feeling like spoiling yourself during your trip.
This will be the most obvious one, but I still wanted to include it. I think booking.com is the best platform for booking a place to stay. (Yes, even better than an Airbnb). And it is great for hostels, too! The reason why is that I consider it to be the safest platform out there. That being said, be careful, when you book places to stay on unknown websites. I have heard some horror stories from travelers before. And I have never had problems with booking.com. You should also check out their "attractions" section. In many places, they offer some really authentic events!