Are you thinking about going to Barcelona for the weekend? Or are you planning to stay there for one day? I can already tell you, it does not matter how long you will stay here. You will always want to stay longer and explore the city. Barcelona has everything you could ask for in a city- amazing weather the whole year around, the beach in walking distance from your house, and amazing food spots everywhere in the city. If you are a fan of the Mediterranean diet, Barcelona will be perfect for you. Then, Barcelona also has a lot of culture, history and beautiful architecture everywhere. You will feel like in a fairytale. As you already might be able to tell, I think Barcelona is an amazing city to visit. You will definitely want to come back!
What you should know about Barcelona
Check the local Covid-19 Restrictions: In August 2021 Barcelona still has a curfew at 1am. Make sure you avoid arriving too late or staying somewhere
Are you afraid that your Spanish is not good enough for going to Barcelona? Almost everyone speaks English here. You can get around without knowing Spanish easily.
Many people speak Catalan. Many locals take pride in their language and might just start speaking to you in Catalan. Ask nicely to repeat in Spanish or English if that ever happens to you.
Barcelona has very mild temperatures the whole year around. I do not think there is a bad time of visiting, as it is not too hot in summer and quite moderate in winter. So go, book your trip 🙂
Take the bus from Airport Barcelona El Prat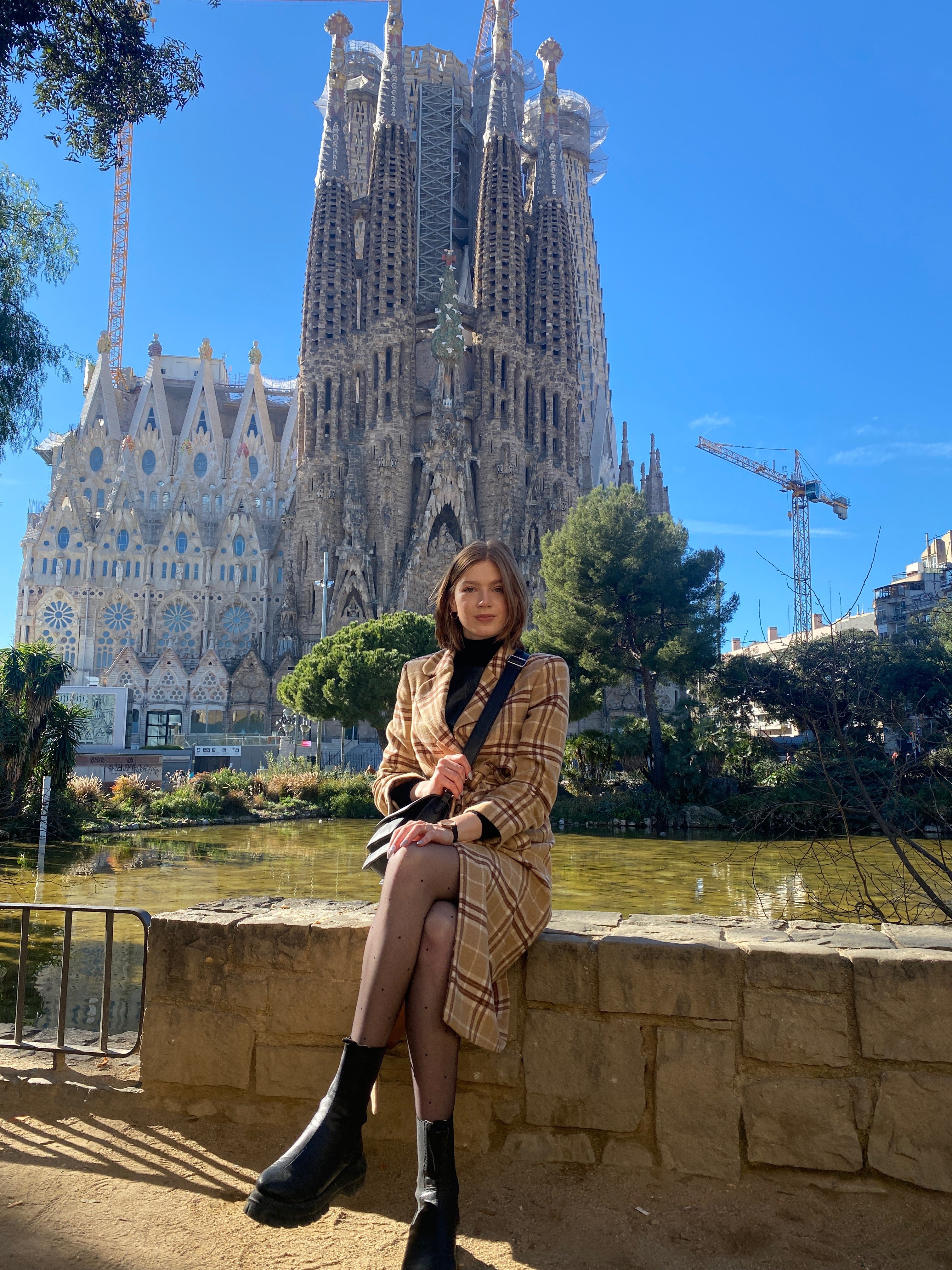 Now that you arrived in Barcelona at the airport how do you actually get to the city center? Option one would be taking a cab, but that will be very expensive. Especially if it's just one or two people. Taking a cap from the airport from Barcelona to Plaza Catalunya will cost you around 25-35 Euros.
Instead, you should take the bus at the airport that will bring you to the city centre for only 5.90 Euros. If you buy a round ticket it will only be 10.20 Euros. They do not have fixed timetables but usually leave around every 15 minutes from the airport during the day. You can find those blue buses with "Aerobús" written on them outside of terminal 1 and 2. When they leave the airport they stop at the following stops: Plaza Espanya, Gran Via/Urgell, Plaza Universitat and Plaza Catalunya. Most of the people will leave at Plaza Catalunya.
Interactive Map with all Attractions from this Blogpost
Getting Around in Barcelona during your weekend trip
I might be biased because I am someone that enjoys walking a lot. And Barcelona has just the right side that you can get around walking easily. However, if you are planning to have a packed day walking might not be the best choice. You could use the metro, but I feel like it will not be the fastest choice and it can be tricky to understand the whole metro system of a new city.
If you really want to try to see as many things as possible you could get a ticket to the Hop-on-Hop-Off bus. You could purchase the Barcelona City Pass, which costs 28 Euros. By purchasing it you also get free access to the Sagrada Familia (after 2pm) and Park Guell. There are 3 routes that include more than 40 stops. The average waiting time is 10 minutes.
I also want to add that getting a cab is surprisingly cheap in Barcelona. If you are going around the city you will not spend more than 10-15 Euros for a trip. Please keep in mind that there is no Uber in Barcelona. The apps that are used for getting a cab are FREENOW and Cabify.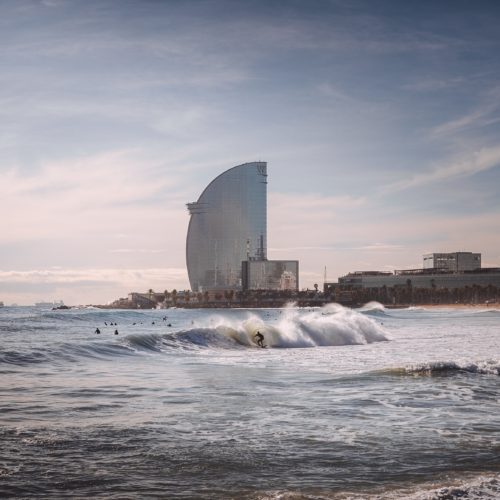 Start in Plaza Catalunya
Plaza Catalunya is the main square of Barcelona. It is the equivalent to Alexanderplatz in Berlin or Sol in Madrid. There is a Tourist Shop where you can pick up brochures or ask any questions you have. Before moving out check out the fountains and sculptures on it.
To be fair, it is really not too pretty so you should not stay there for too long. If you want to grab some breakfast around there I would recommend Alsúr Café or Citizen Café. By the way, I wrote a whole guide with restaurants in Barcelona you have to check out, that you can find here.
Head Over to Las Ramblas
Las Ramblas or La Rambla is the famous street going From Plaza Catalunya to the Monument of Colom at the port. One this street there are many souvenir shops, coffee shops and other types of little kiosks. Make sure to check out the architecture as well while you are walking there. My boyfriend always jokes that you have to always look up while walking around Barcelona, cause Barcelona's beauty lies in the buildings.
Please be cautious of pickpockets while you are there. Barcelona has a problem with pickpockets and tourists in crowded places are an easy target.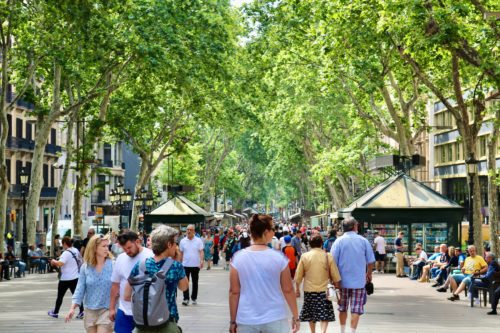 Important Landmarks you will walk past at La Rambla: Font de Canaletes, Mosaic de Juan Miró, and then the Mercado de la Boquería
Check out Mercado de la Boquería
Mercado de la Boquería is the a famous indoor market of Barcelona, that was built in the 19th century. It offers different stands with meat, cheese, wine and other international food. The entrance is free.
You do not have to buy a lot of things here as it can be quite expensive (in my opinion), but its definitely worth walking around and checking out the different wine bodegas. Or maybe even order a small tapa.
Walk to the Cathedral of Barcelona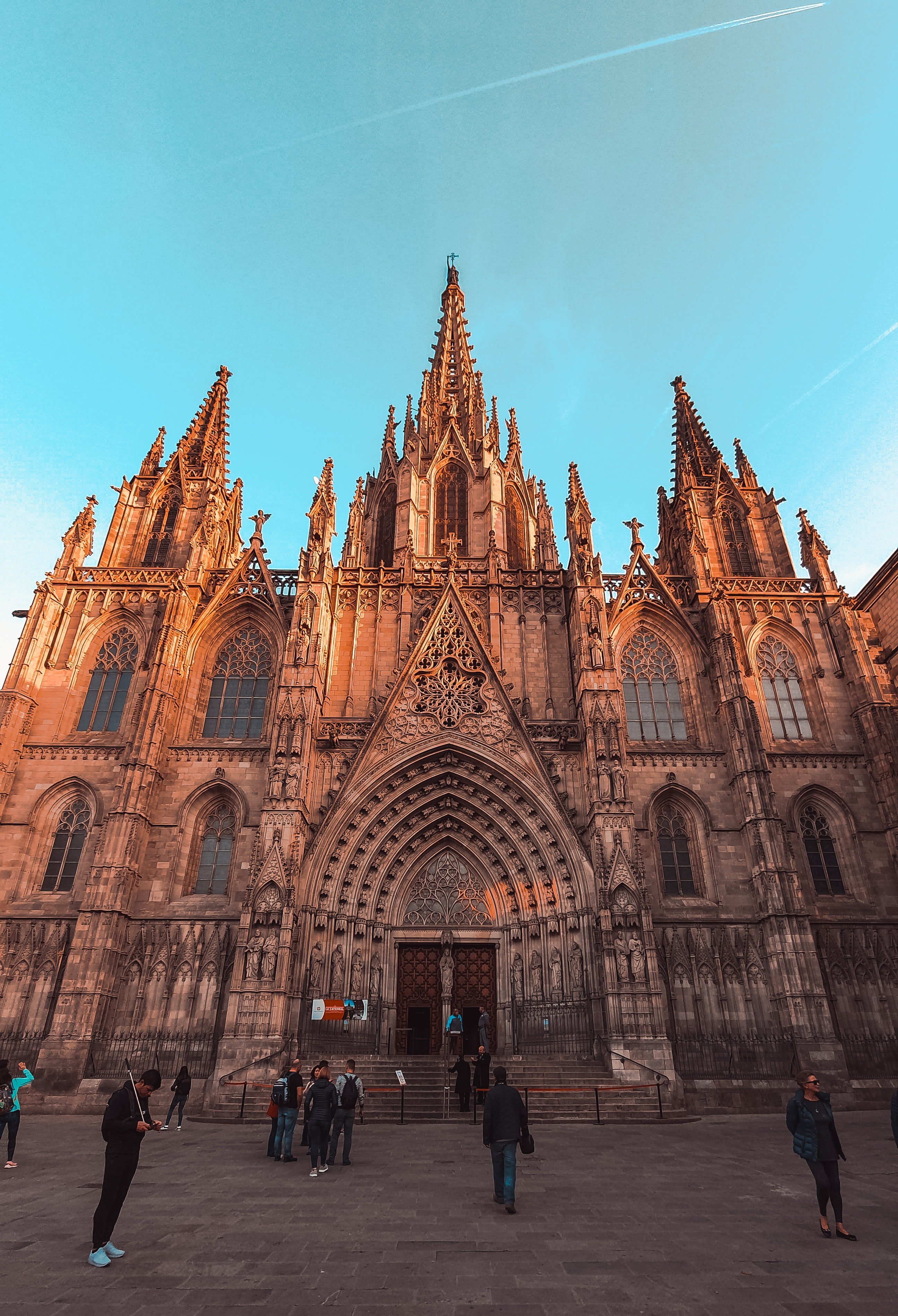 The Cathedral of Barcelona is in the Gothic Quarter of the city, which is definitely one of my favourite parts of Barcelona. This Landmark was built from the 13th-15th Century and is dedicated to Santa Eulalia, the co-patron saint of Barcelona. Therefore its whole name actually is Cathedral of the Holy Cross and Saint Eulalia (Catalan: Catedral de la Santa Creu i Santa Eulàlia)
The entrance is 9 Euros and you can decide for yourself whether you actually would like to enter it. To me, it was enough to just look at it from the outside. The facade itself is already very beautiful and detailed.
If you have time, you can go to the terrace of Hotel Colón with views of the Cathedral from above.
In case you are already getting hungry, I would recommend having lunch at Can Culleretes (Barcelona's oldest restaurant!) or at the beautiful terrace of The Circle.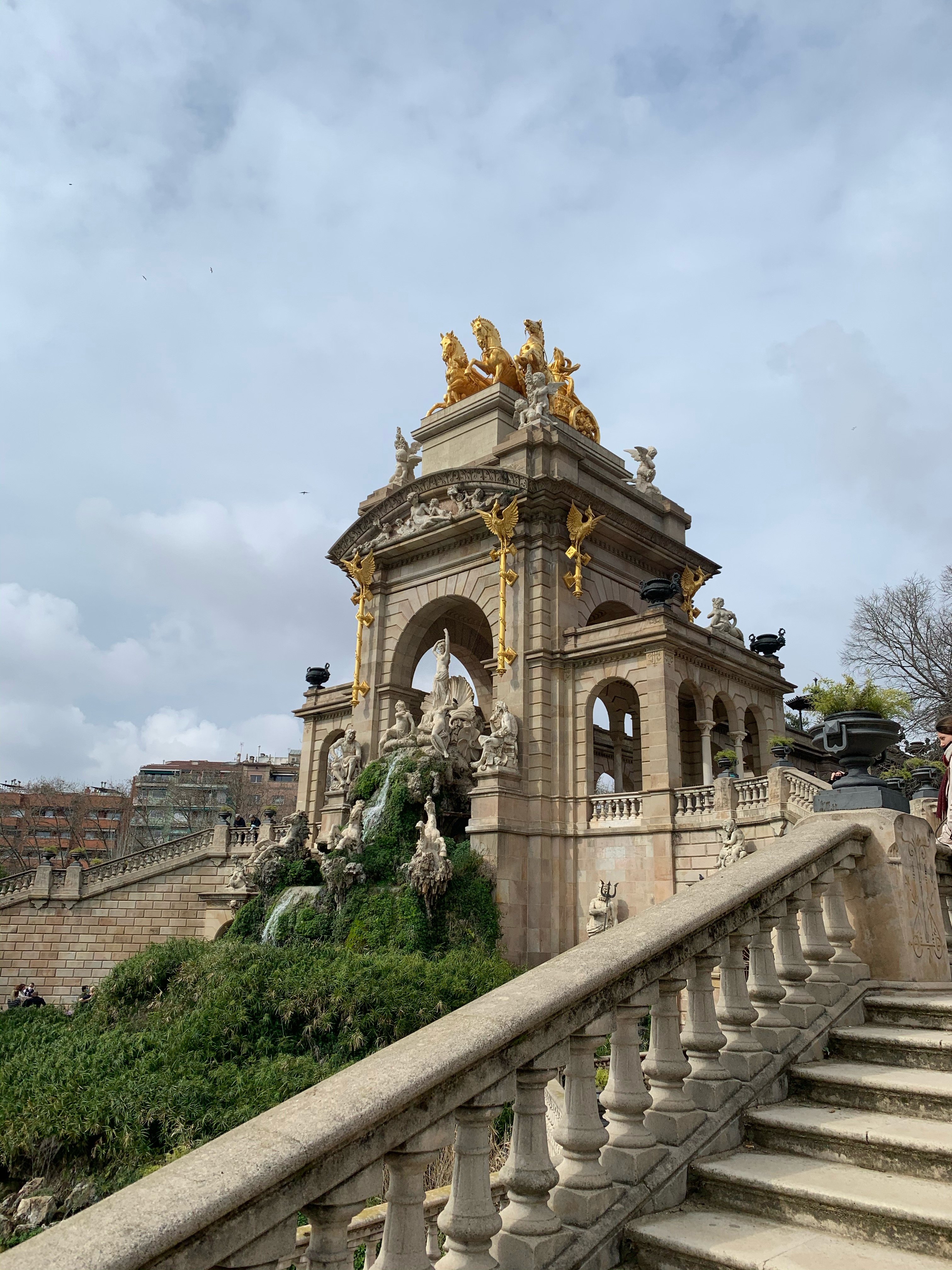 Check out Parc de la Ciutadella
Parc de la Ciutadella is the biggest downtown park of Barcelona and unlike Parque Güell, the entrance is free. It is very popular for all kinds of outdoor activities. If you are like me and love parks, this one will be perfect for you. There is also a boating lake. The highlight of the park is the "Cascada del Parc de la Ciutadella", which is a fountain from the 19th century with beautiful golden decorations.
Go to The Beach
The closest metro stop to the beach is "Barceloneta" which is also the name of the beach in Barcelona. Another option could be "Ciutadella Viola Olimpica" or just simply walking there from the Parc de la Ciutadella.
You can start by walking up the Port and stopping for a drink at "Restaurante Brisa" if you have time. The views from up there are incredible! Afterwards, you can walk in the direction of the "W hotel Barcelona". You really cannot miss it. It is the huge skyscraper really close to the water. From there you can walk the Barceloneta beach and maybe have another drink at a beach bar that the locals call "Chiringuito".
The beach might be a bit crowded, but is a really nice place for a walk and to enjoy the sun!
Dinner in Born
Did you know that in today's Passeig del Born lance fights between the medieval knights used to be held? You can still find gothic elements in the architecture, small streets and inside of the buildings.
El Born is a really unique area of Barcelona. And it is especially known for its bar and nightlife. That is exactly the reason why I said you should stay in this area if you feel like staying out for a longer time. A good place to have dinner here is Euskal Etxea (a Galician Tapas restaurant). For drinks afterwards I can recommend Mr. Robinson.
Day 2 in Barcelona: Parque Güell in the morning
I am really not a fan of packing my day full of sight-seeing which is why I decided to write a post that focuses on a weekend in Barcelona instead of just one day. Once you are in Barcelona you will realize that the distances between two attractions are not always too close. So it might be tricky to cross the city a couple of times during rush hour. If you are planning to see the Sagrada Familia or go to Parque Güell, I would recommend you stay another day. Should that not be possible, you could try to go to Parque Güell in the very morning or right before it closes, to avoid many people. But then your day will be packed!
Parque Güell is a beautiful Park a little bit further away from the city center of Barcelona. The closest metro stop is "Vallcarca". From there it is only 10 minutes to the entrance of the park. Parque Güell was built between 1900-1914 by Antoni Gaudí and is famous for its architecture, which is very typical for Gaudí and part of the Catalan Modernism.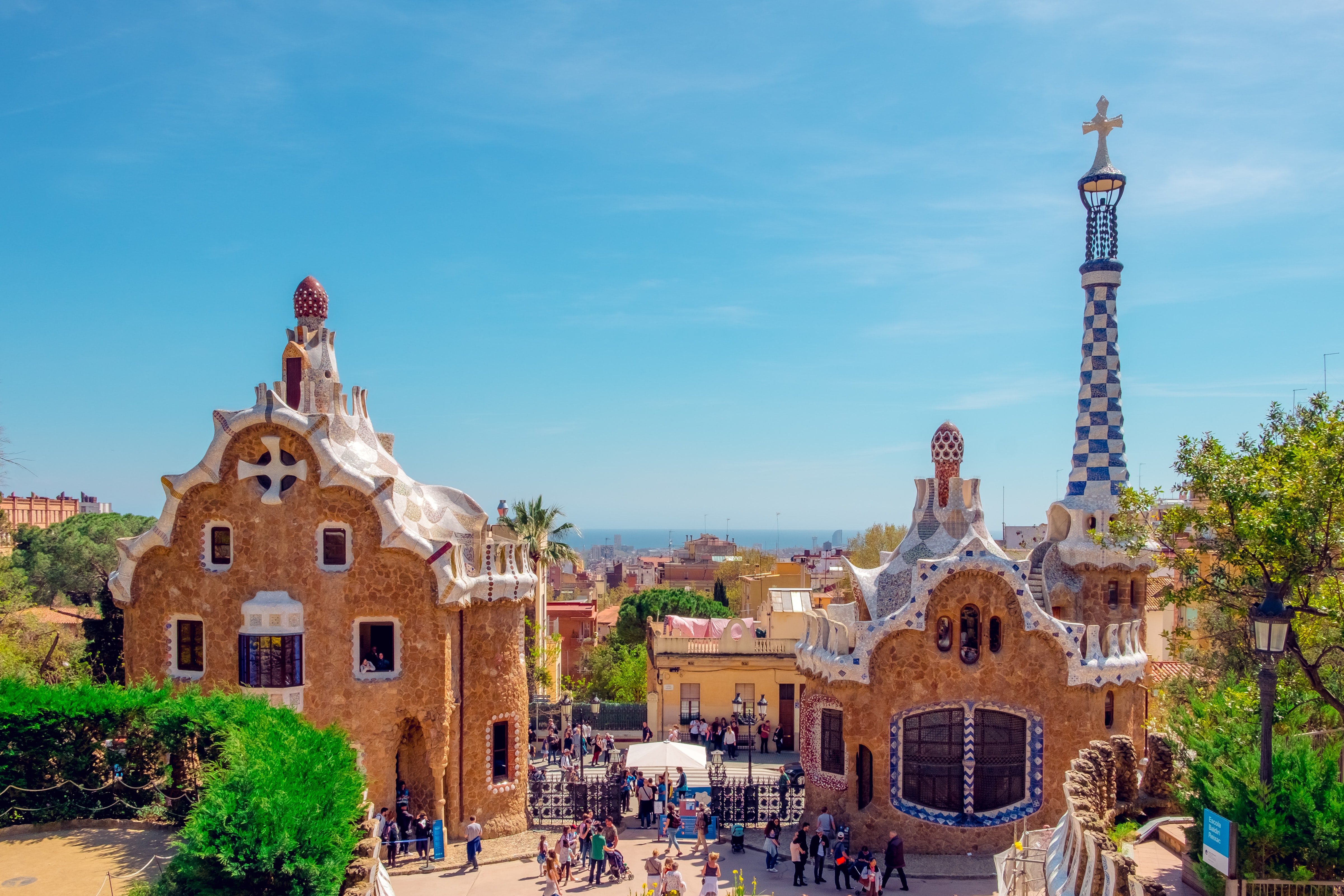 I definitely recommend going there and for me, it will be one of the highlights of Barcelona. The park is full of mosaic work and is quite big. There are many beautiful places to look at . That is why I would not recommend rushing through it.
Sagrada Familia: The iconic landmark of Barcelona
Of course, you cannot miss the Sagrada Familia during your stay in Barcelona. Did you know that Antoni Gaudí, the initial architect, was hit by a tram in 1926 and died, is buried there? Up to this day, the Sagrada Familia is still unfinished. It is planned to finish this landmark by 2026, the 100 year death anniversary of Gaudí
It costs 25 Euros to go inside. In case you want to do that you should buy your tickets here, which is the official website. Do not buy your ticket from shady resellers! Usually visitors spend around one hour there, even more if you really want to see everything. There are audio-guides that are really recommendable if you want to know more about its history!
Believe me, this Cathedral is an architectural masterpiece like no other on this planet. Every little details of this church had meaning to Gaudí and finding out about it is just really powerful. Make sure you have enough time to visit it. You will not regret it!
Continue with Gaudí's Work: Casa Mila (La Pedrera) & Casa Batlló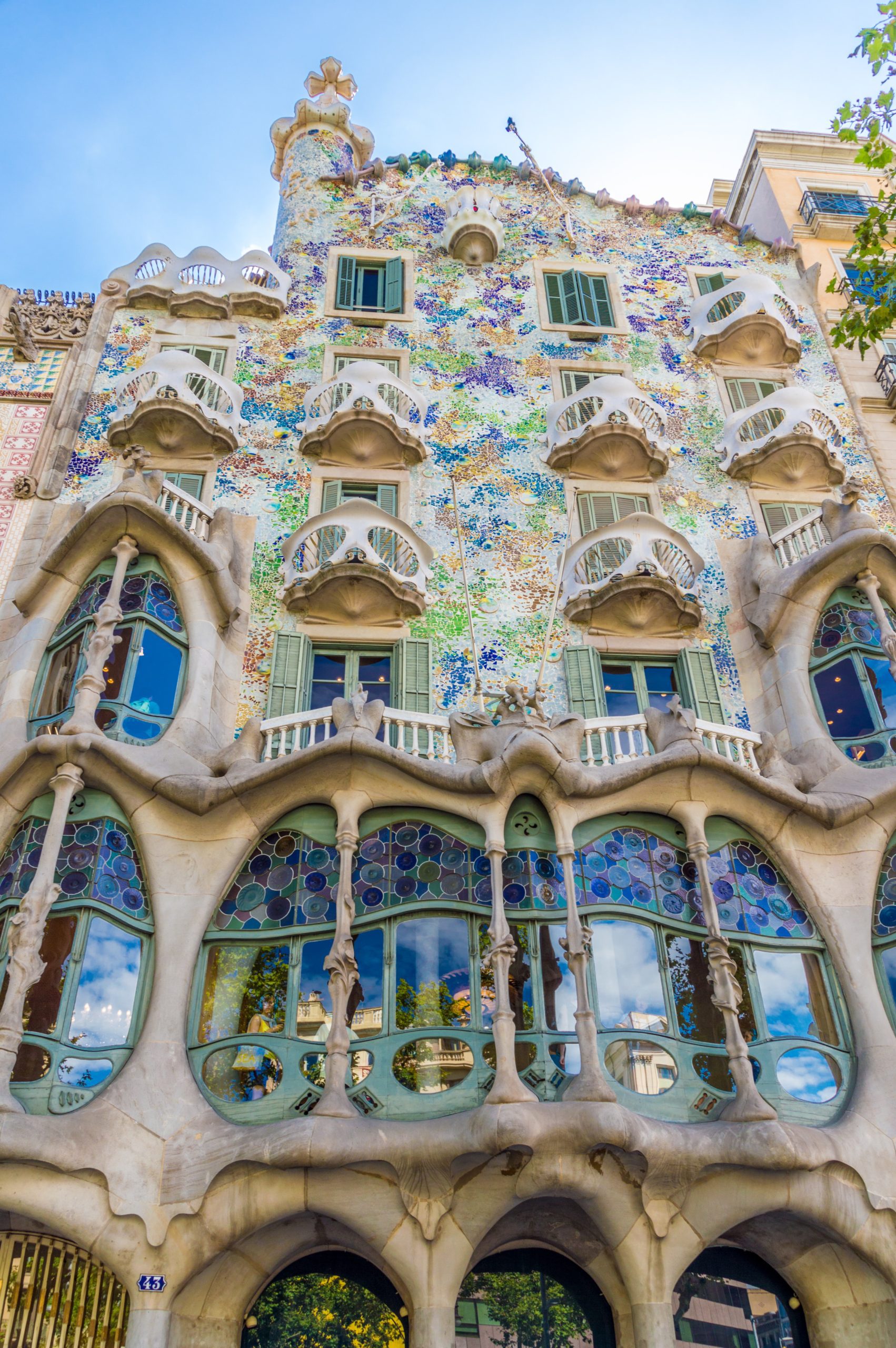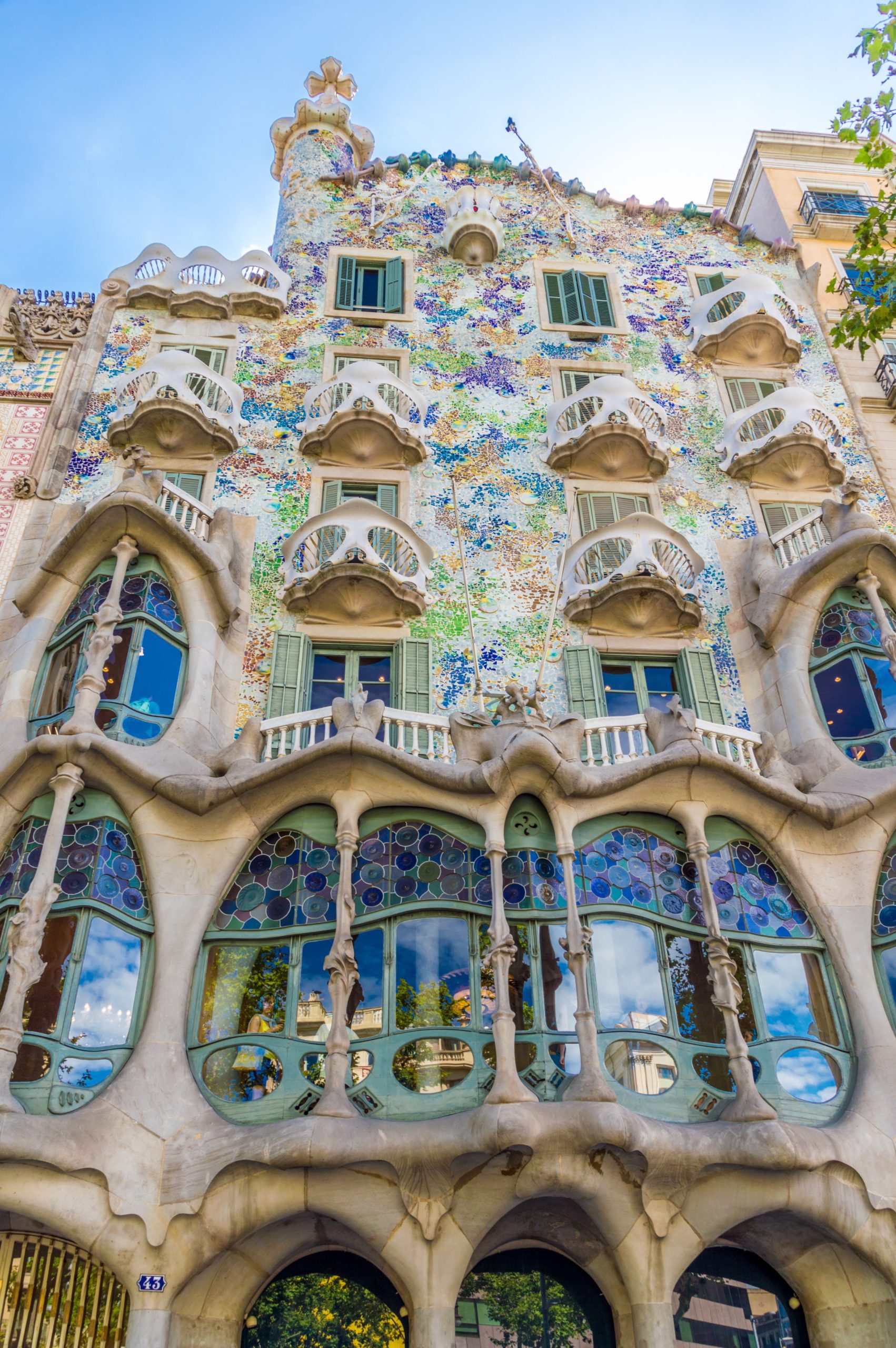 La Pedrera & Casa Battló are two big buildings in the neighborhood of Grácia that were designed by Antonio Gaudí. They are both located in the most expensive shopping street (Passeig de Grácia) of Barcelona. What is really eye-catching about them is their unique architecture that is very typical for Gaudí. He designed both of these houses in the beginning of the 20th century.
You can go inside of both houses to see the architectural master work of Gaudí. Be aware that the entrance is 25 Euros each. In case you do not feel like spending 50 Euros to go inside both of them, I can help you decide: La Pedrera is famous for its beautiful rooftop. If you are more interested in the inside of the houses, Casa Batlló might be the better choice. There, they let you see almost all parts of the building.
I would recommend booking your entrance beforehand on the official website here. Otherwise you will have to wait in line for a long time which could mess up your schedule.